On this page, you will find 25 all new Princess Peach coloring pages that are completely free to print and download.
Super Mario, a video game created by Nintendo has gained such popularity since being introduced in the market. Many fans of the game have learned to love not only the game but also all of its characters.
Princess Peach of the Mushroom Kingdom is one of the famous characters in the game – both being a damsel-in-distress where Mario rescues her and a protagonist as well where she's the down who helps Mario.
She has appeared in many games of the Super Mario series and many versions of her are available as well. She can be sweet and caring and can be bold and fierce the next.
This beautiful character is the highlight of our new set of coloring pages. Our Princess Peach coloring pages contain many new and cute sketches that kids will surely love and enjoy.
Download these Princess Peaches printables for free and let your child's creativity shine!
25 Brand New Princess Peach Coloring Pages – Free to Print and Color
This Princess Peach coloring sheet shows our favorite princess taking a leisurely stroll outside. She seems as if she is really enjoying it too!
She is looking behind her, and this suggests that one of her friends may be nearby. Maybe you could print this page on a big piece of paper and draw another Mario character walking with her!
You could also draw a background to show where she is taking a stroll. What setting would you choose if you were to draw a background for her?
You could use some favorite settings from the games or create your own!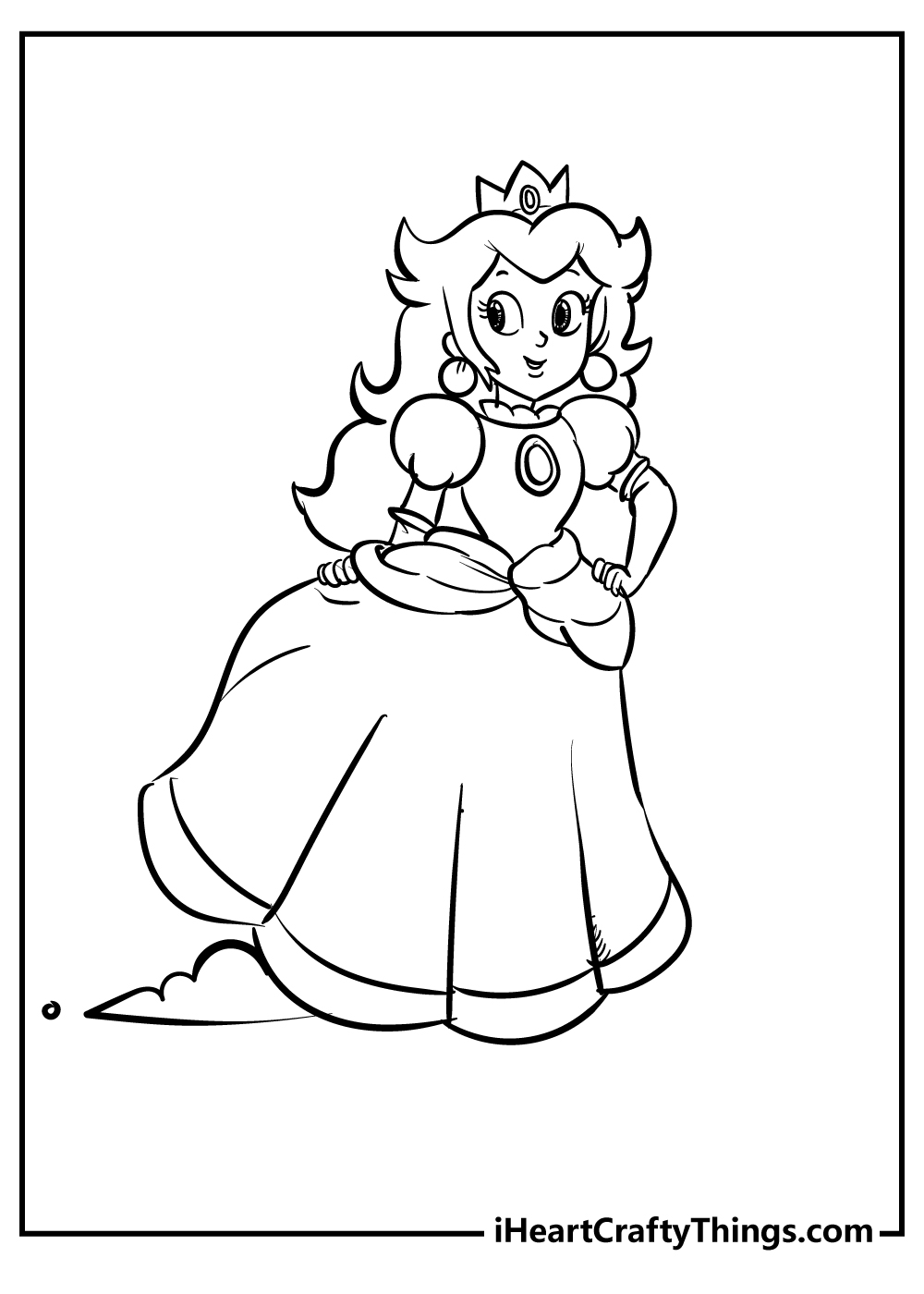 Our beautiful Princess Peach stands tall and elegant with her crown atop her flowing blonde hair that falls gracefully past her shoulders. Her dress with ruffled trim falls elegantly around her.
Let's use our brightest pinks, peaches, golds and creams to color in her gown and give her a radiant glow.
What other colors would look lovely on our princess? Should we add woodland creatures like bunnies or birds at her feet? Or give her a bouquet of colorful roses and tulips to hold in her hands?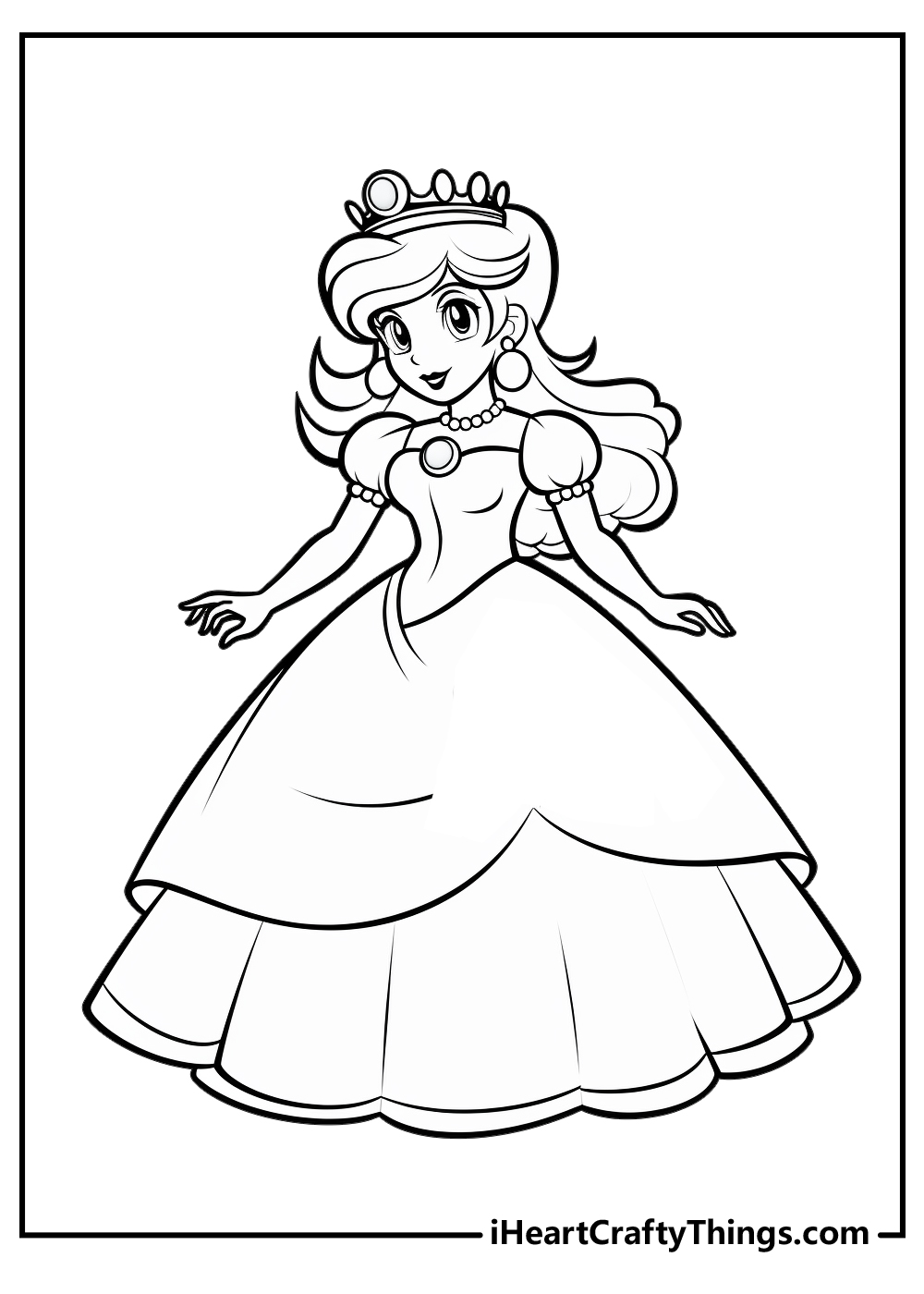 In this next image, Princess Peach is showing that she enjoys the prettier things in life. She shows this as she is holding onto a beautiful tulip flower.
The flower not only looks nice, but it also gives you the opportunity to use some pretty colors for a bright detail to the image.
If you enjoy the flower aspect of this page, you could draw many more pretty flowers surrounding her for a truly stunning scene!
If you were to do this, you could draw more tulips or add some more of your favorite flowers.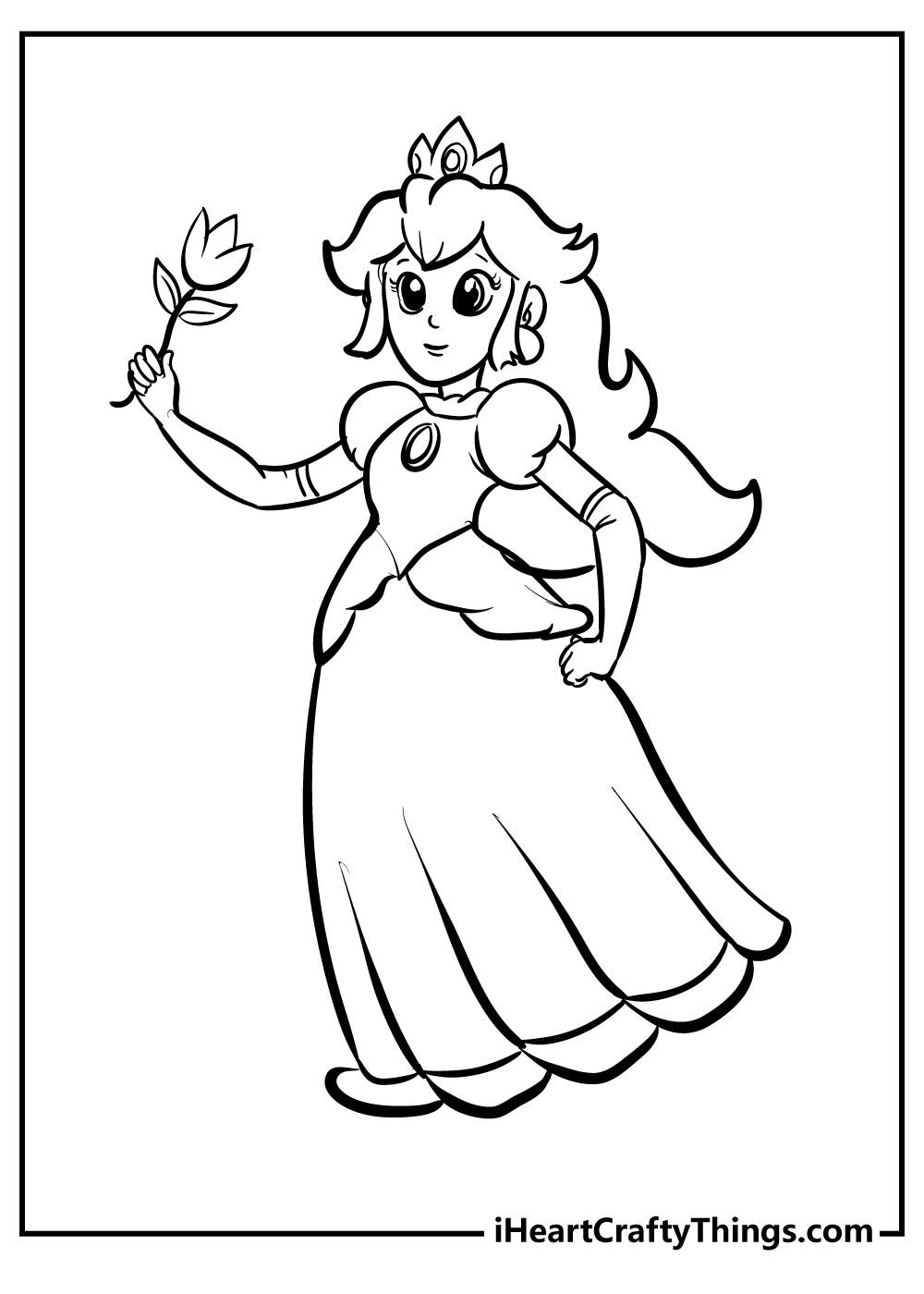 Princess Peach first appeared in the original Super Mario Bros. installment in 1985. She has long, blonde hair with blue eyes, an hourglass figure, and a rosy complexion.
She is famous for always wearing her gold crown and her pink dress with white evening gloves.
This first Princess Peach coloring page for kids is the princess' first portrait in the series. She is smiling and is seemingly walking towards you.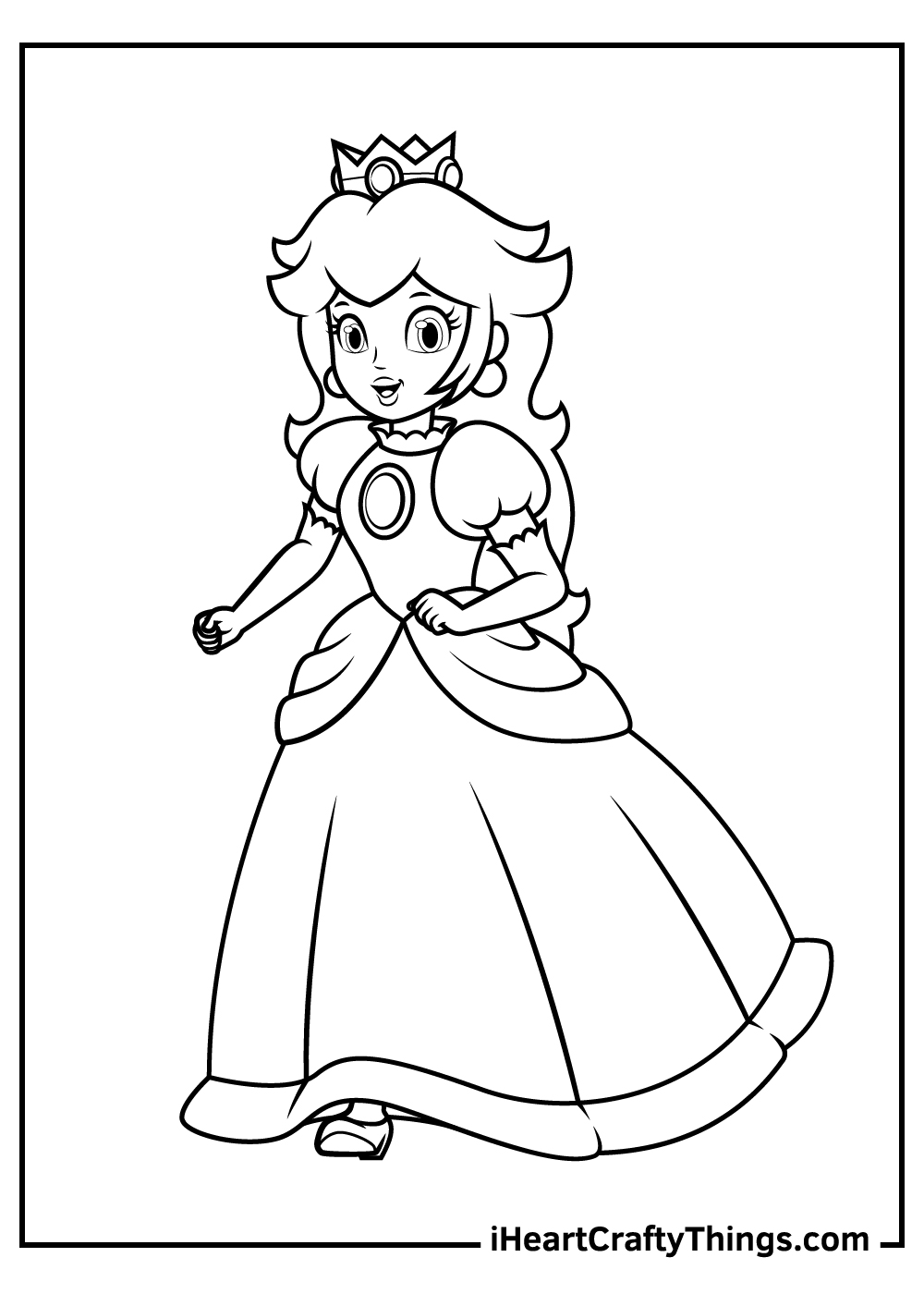 Here is Princess Peach looking as lovely as can be in her multi-colored gown. Let's use vibrant purples, blues, greens, yellows, oranges and reds to color in her dress today.
Peach loves wearing gowns of all colors of the rainbow when she attends royal balls and village festivals. Maybe she's getting ready for a masquerade ball later!
What shapes and colors of gemstones should we decorate her crown and necklace with? Should we give her a matching bejeweled scepter to hold? And glass slippers for her feet?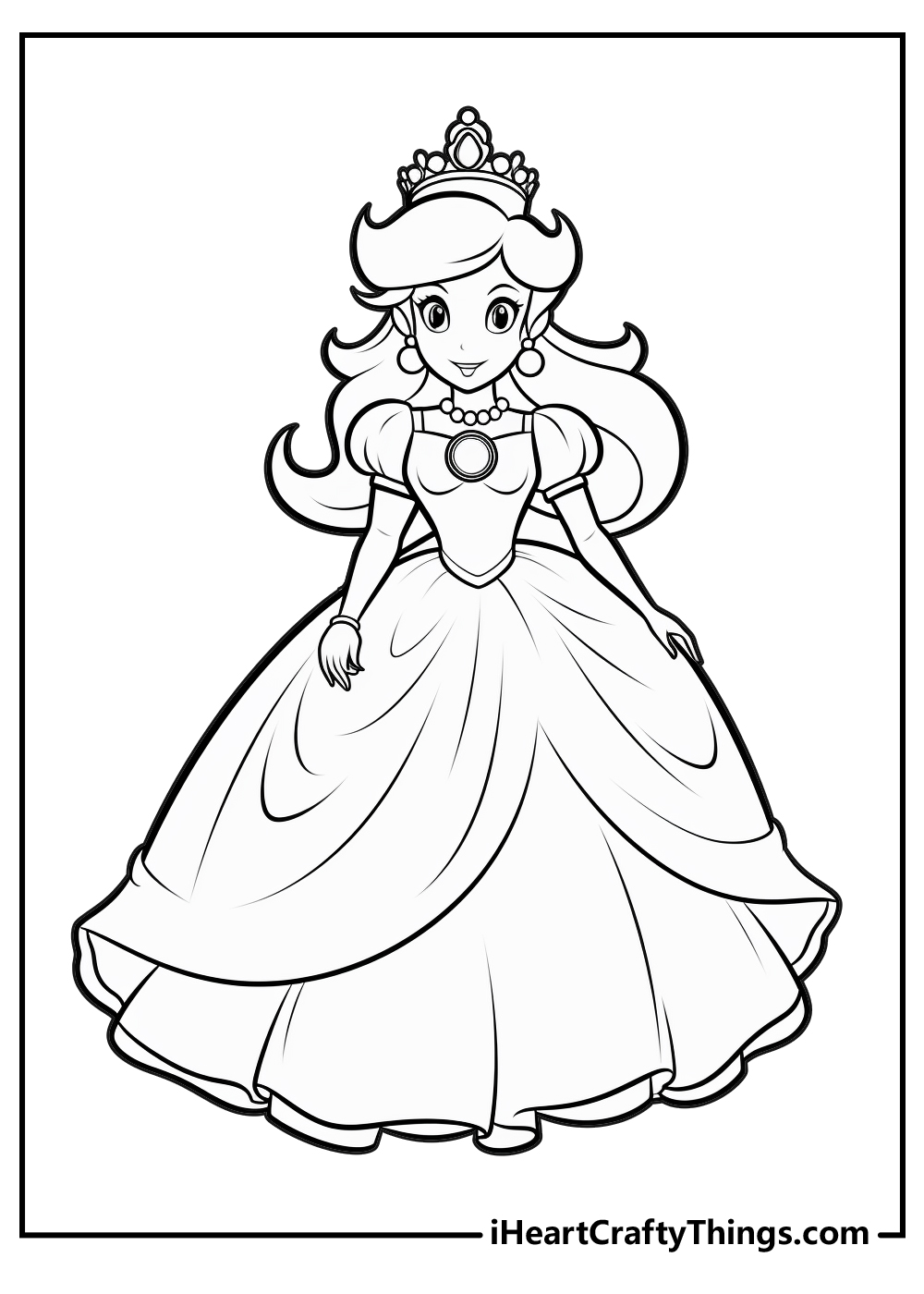 In this next Princess Peach printable, she is seen wearing her usual pink gown. She is generally sweet and well-mannered and, in this image, she is seen smiling sweetly with sparkles twinkling beside her.
Her dress is designed with a ruffled hemline and short puffy sleeves. She's also known to have a huge pannier-style overskirt.
Her accessories include her gold crown adorned with rubies and sapphires, a sapphire brooch, and sapphire earrings.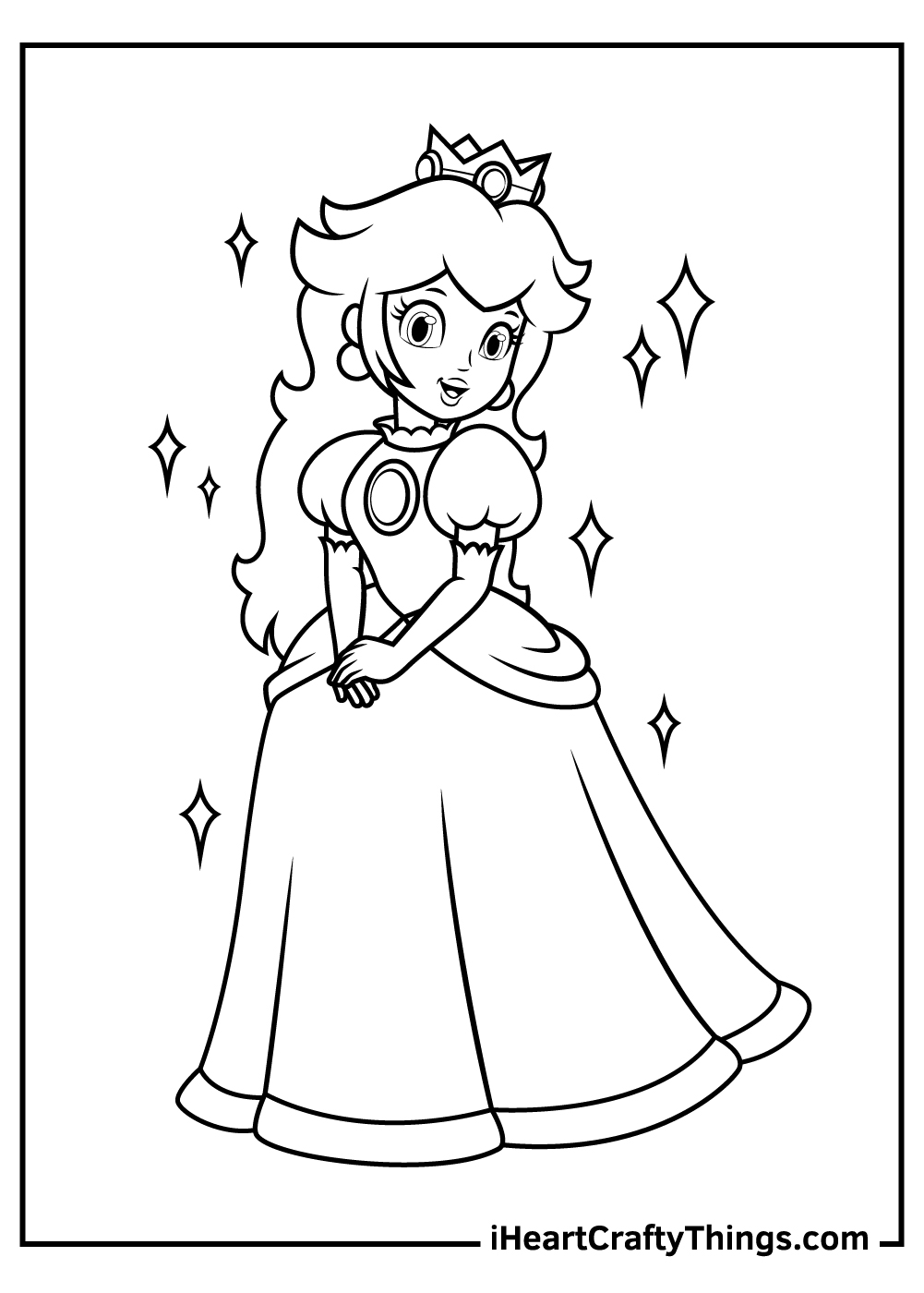 Though initially regarded as a damsel-in-distress on her first game appearance, Princess Peach's character has evolved over the years and is now capable of defending herself and helping Mario defeat evil.
In this Princess Peach coloring page for kids, she is seen happily welcoming guests to her Mushroom Kingdom. Her arms are lifted in the air with her happy smile.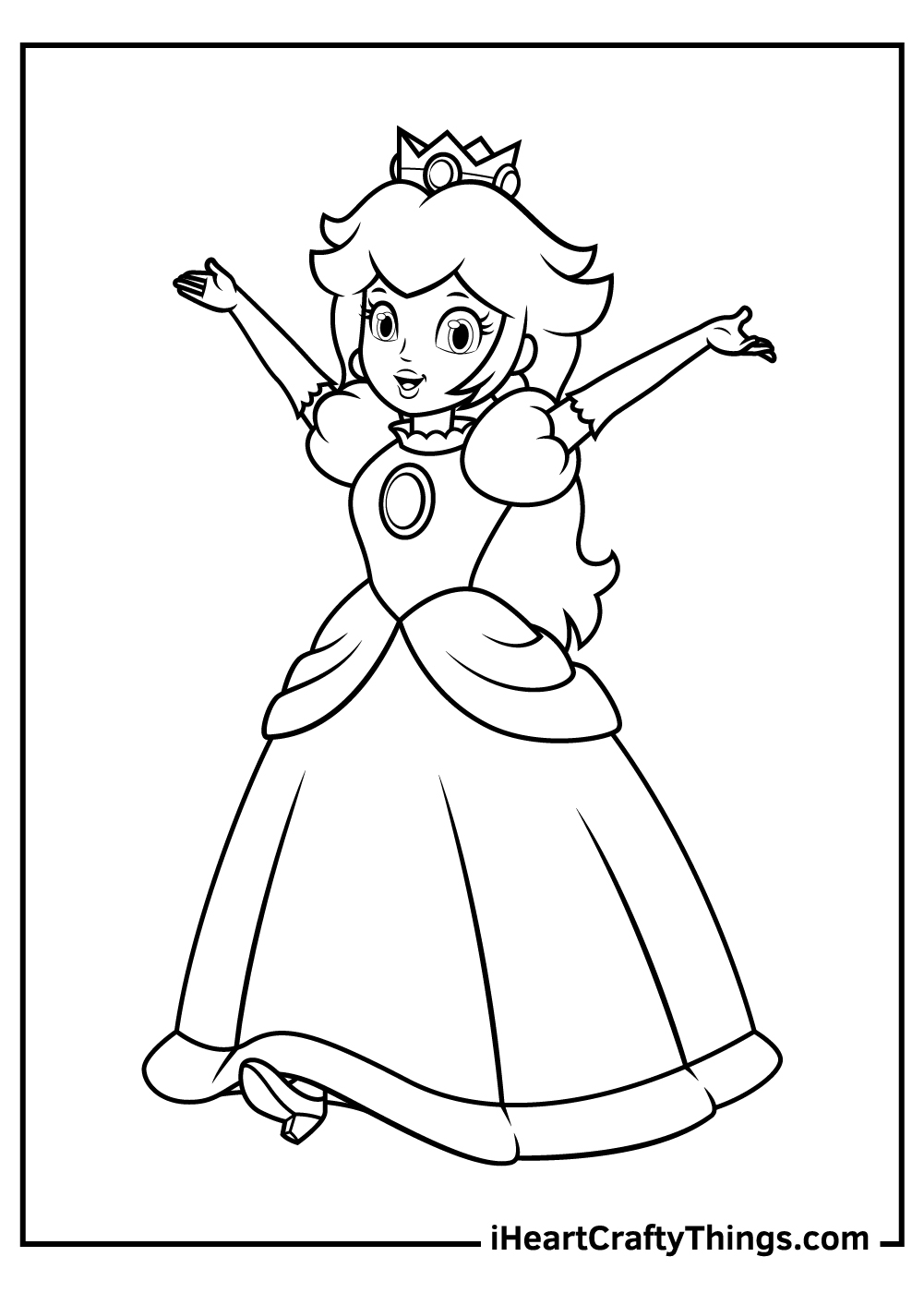 Princess Peach is ready for a relaxing daytime stroll through the castle gardens. Let's color in her dress with sunny yellows, flowery pinks, whites and greens today.
She'll likely need a lacy parasol to shade her from the bright sunshine so she doesn't get overheated!
Let's draw woodland creatures like owls, deer, squirrels and chipmunks to keep the princess company on her journey.
Our goal is to keep the princess safe as she quests through the tranquil forest!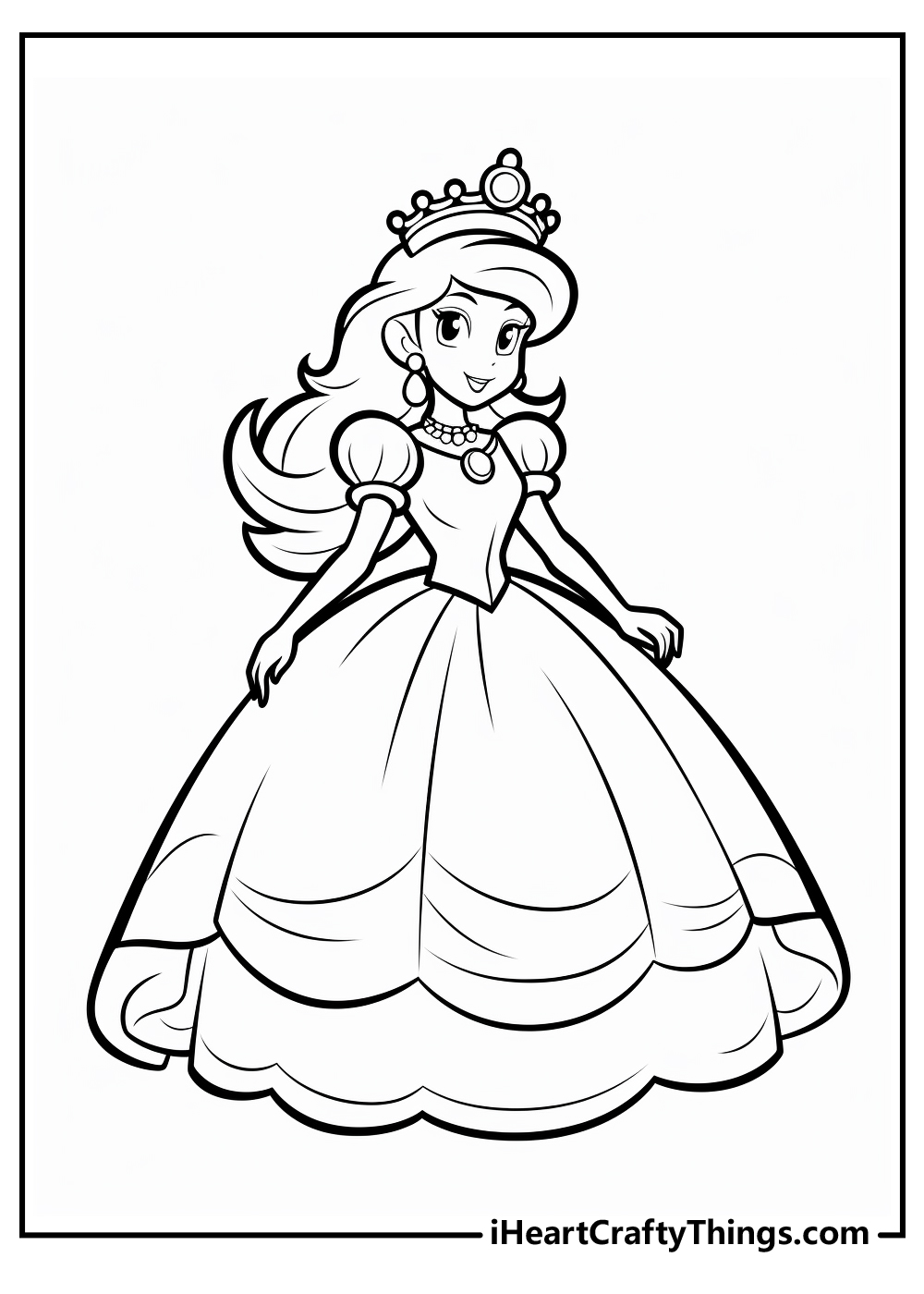 Here we have another page that shows Princess Peach looking happy and relaxed.
It's a picture that gives off a lovely calm feeling, and we think it would look great to represent that with appropriate colors and mediums.
You could use some watercolor paints or some colored pencils in order to create some soft, cozy colors for this page.
If you were to use watercolors, you may want to use small paintbrushes, as there are some small details on this page that could be tricky with larger ones.
What sorts of colors and mediums do you think would look best here?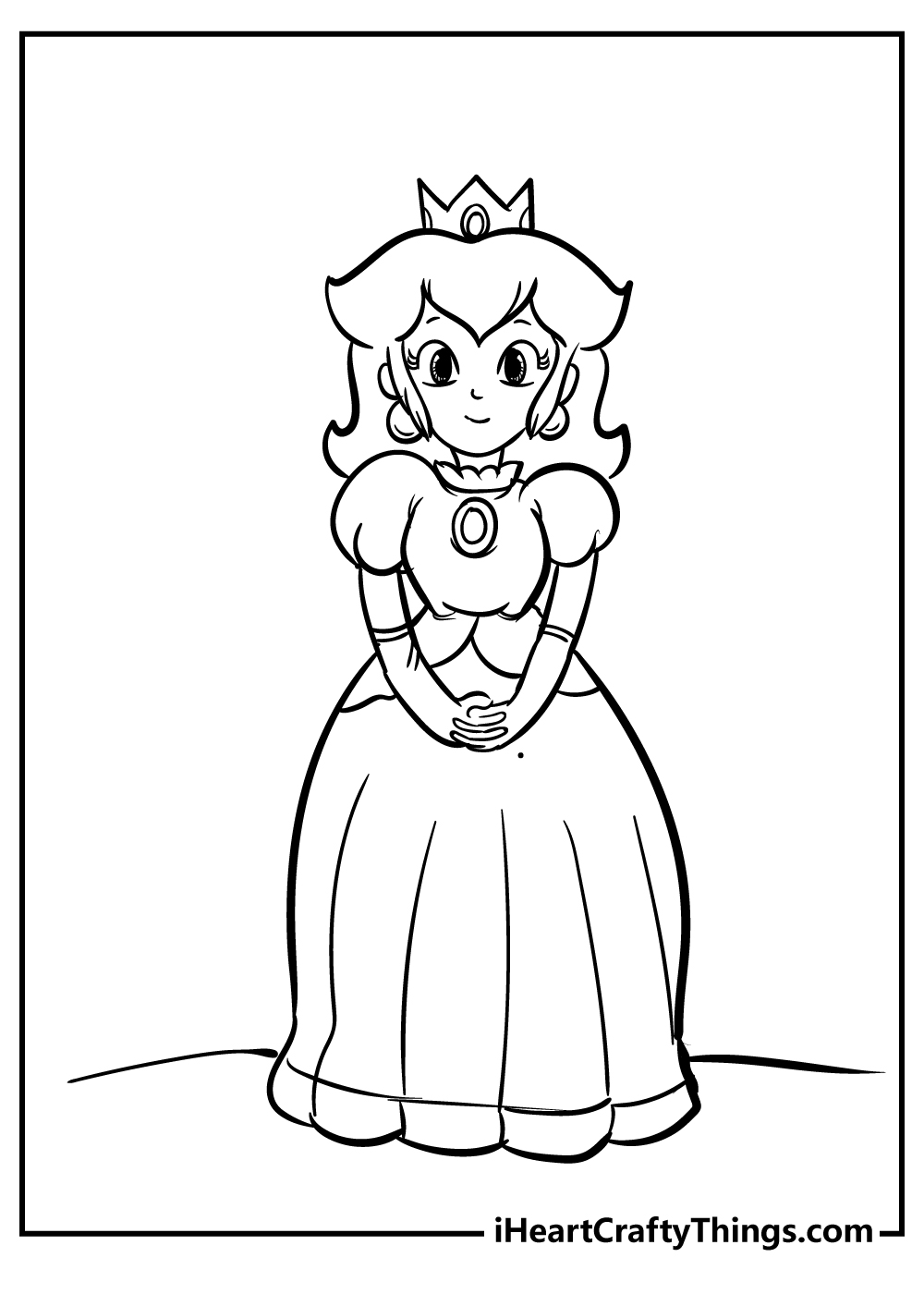 This next page in our collection of free Princess Peach coloring pages for kids features a great view of the princess.
You can have a great time coloring all of the small details of her outfit on this one, and you could work in all sorts of amazing colors.
When coloring this page, you could also give her some additional details, add some accessories or maybe even draw extra characters for her to interact with.
These are just a few ways that you could put your own spin on this image, but what else can you think of?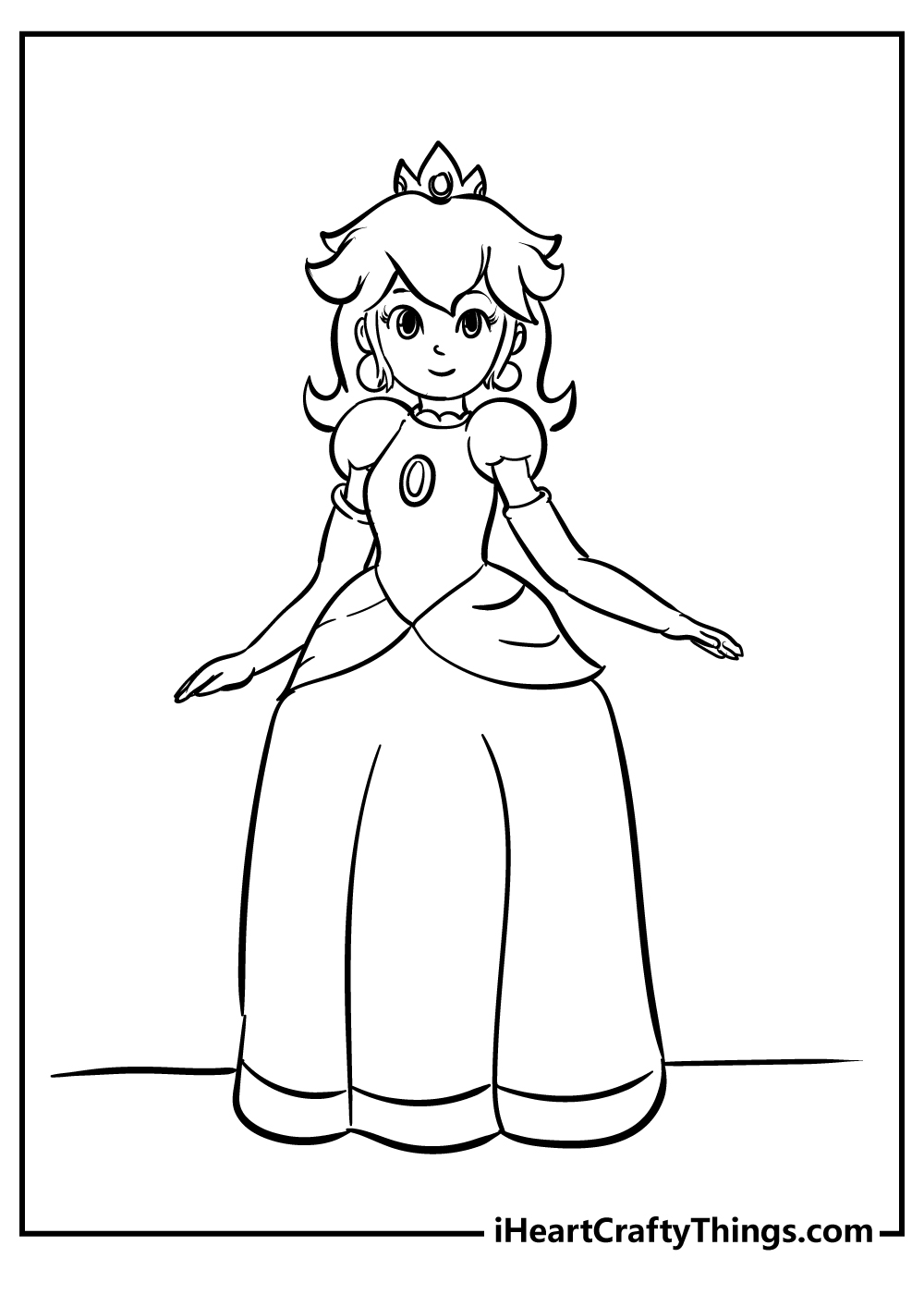 Today Princess Peach is adventuring on a quest through the dense Mushroom Kingdom forest.
Let's use earthy greens, browns, tans and blues to color in her gown so she can try to blend in with the forest surroundings.
We have to be very careful not to make too much noise or lead any of Bowser's minions to her location!
What kinds of mushrooms, plants, flowers and trees should we add to create a whimsical forest for her to explore?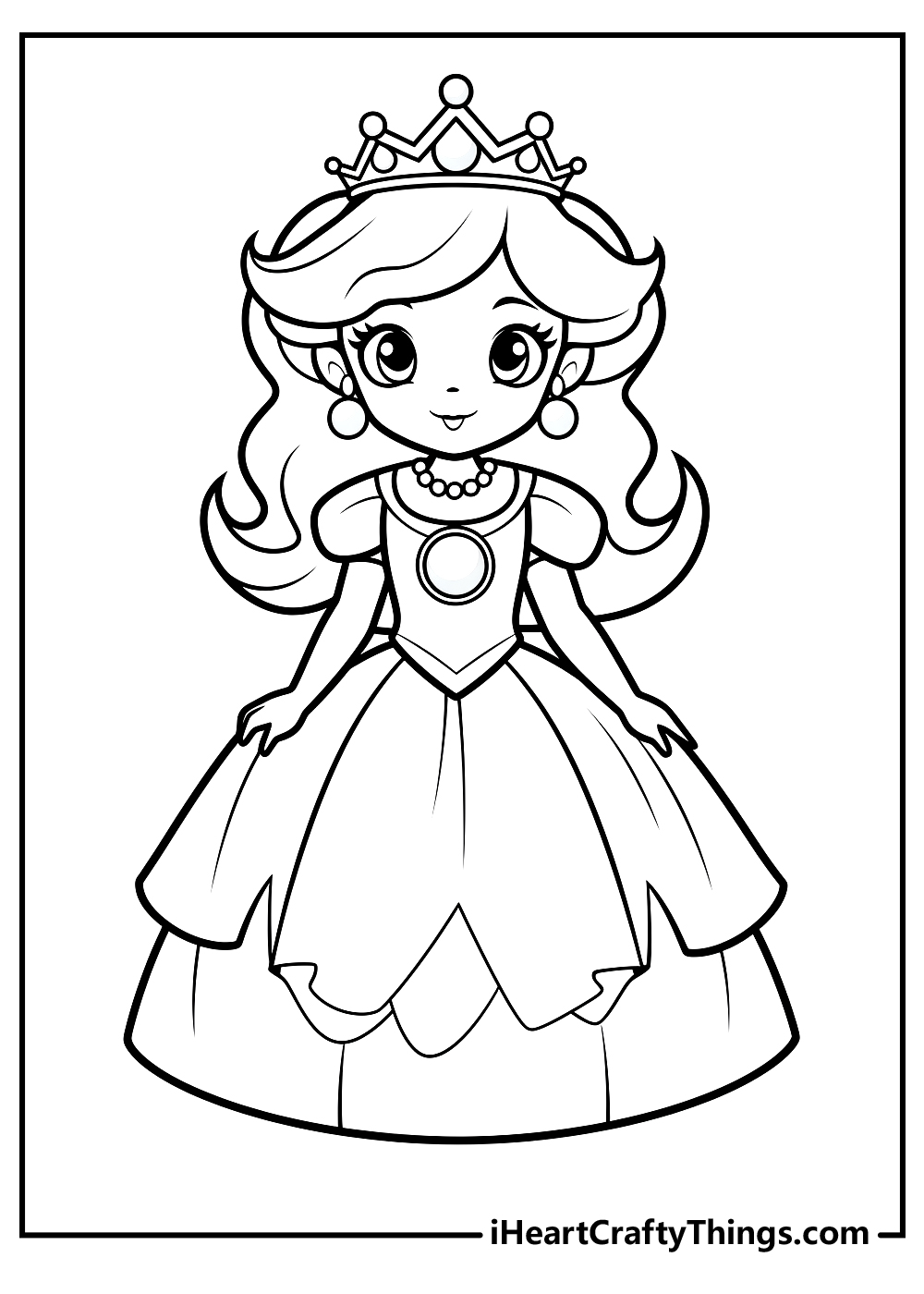 Princess Peach is from the Mushroom Kingdom and so she has mushroom friends accompanying her everywhere.
In this free printable, she is seen sitting on the floor with her mushroom attendant. Stars surround them.
It's a nice page to play around with bright colors. What colors would you use? How colorful would you want this page to be?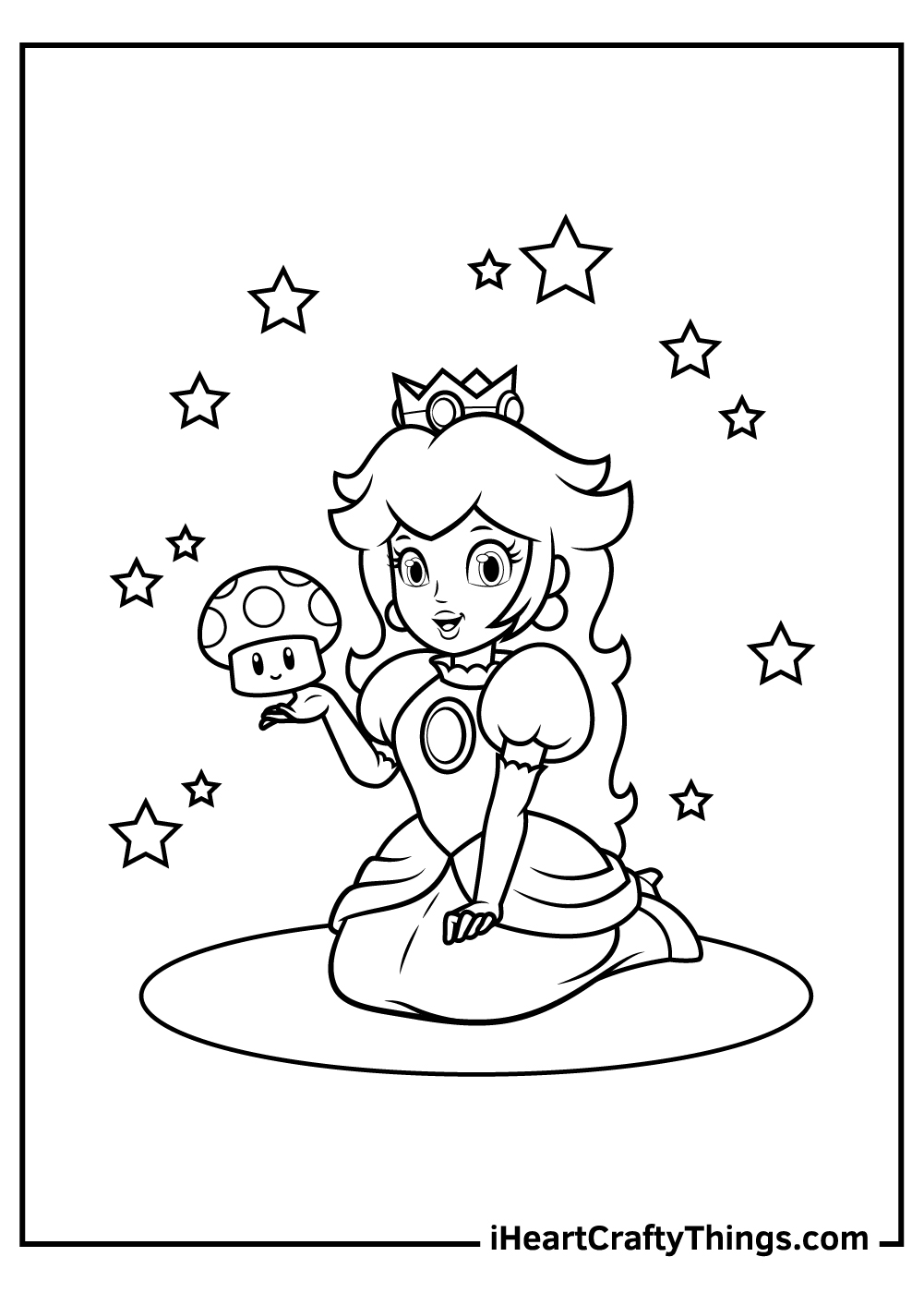 Our Princess Peach coloring pages are designed to activate a kid's color association skill and creativity.
This free printable page features Princess Peach, wearing her famous pink dress, is turned on her back.
This allows kids to focus on the other details of her dress and what colors they think would work and compliment her overall look.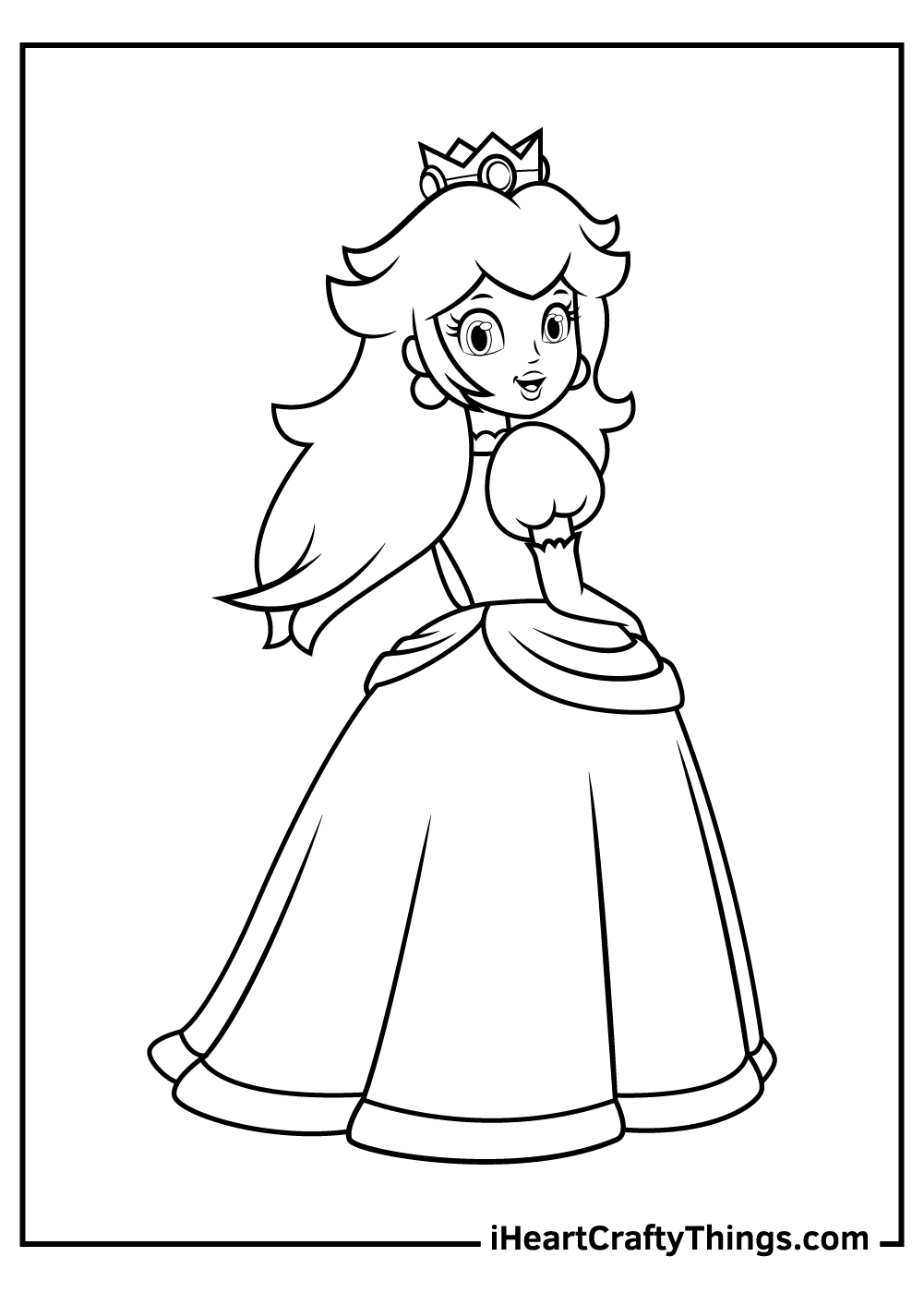 In this Princess Peach coloring page, she's looking regal with her simple but elegant slim golden crown atop her head, accentuating her long, flowing blonde hair.
Her gown looks absolutely lovely in cream, white, pearl and pastel shades of pink and blue.
What shapes, sizes and colors of jewels, beads and embroidery should we add to the neckline and trim of her dress to make it sparkle?
Let's color in a lush background scene fit for royalty to make our princess look her very best for her royal portrait today!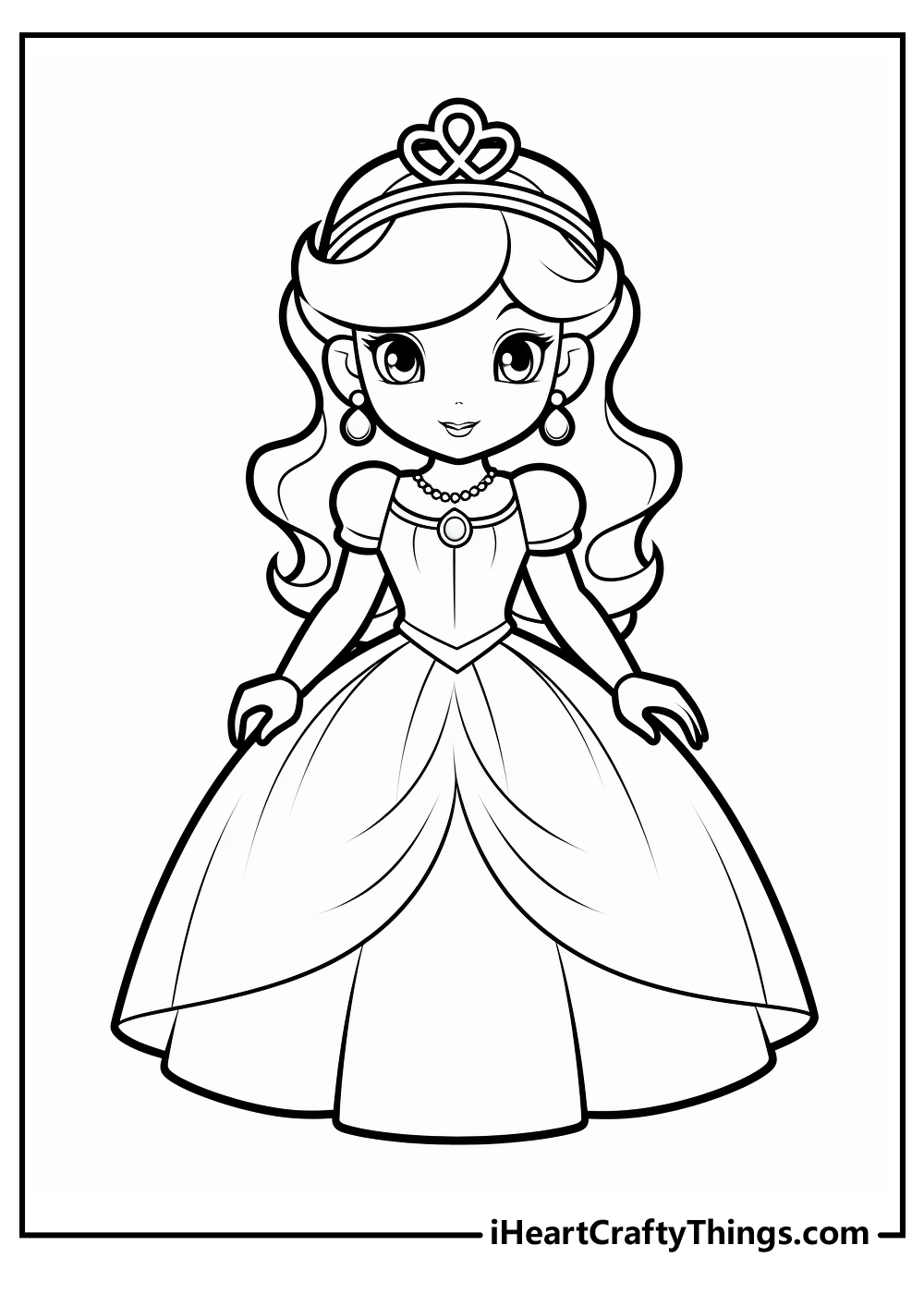 We love the facial expression that Princess Peach is drawn with here! She looks very pleased, and it also looks as if she could be saying something.
If you wanted to show what she could be saying, you could add a speech bubble above her head and add a quote.
She may not say much in the games, but you could still put a funny line for her here if you want to add an extra element to the scene.
What else could you do to show why Princess Peach is looking so pleased here?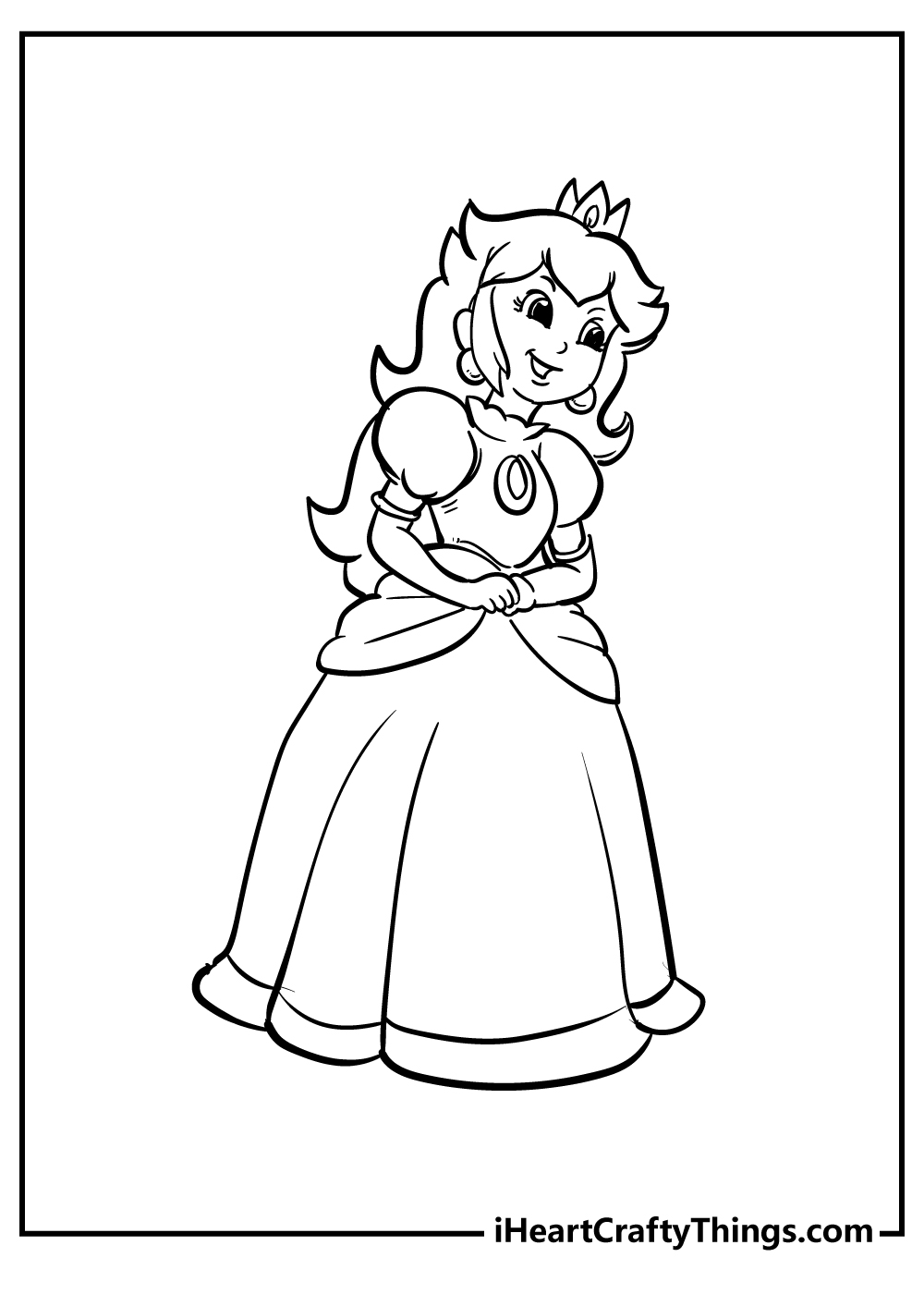 As a princess, Peach needs to be posed in an elegant and dignified way whenever possible. That is certainly the case on this next page, as she is really looking like royalty here!
If we were to color this page, we would draw a lovely palace background behind her to show her in her favorite environment.
You could use Peach's castle from the Mario games as inspiration if you also wanted to create a setting like that.
What other places would you like her to be standing in here? There are so many possibilities!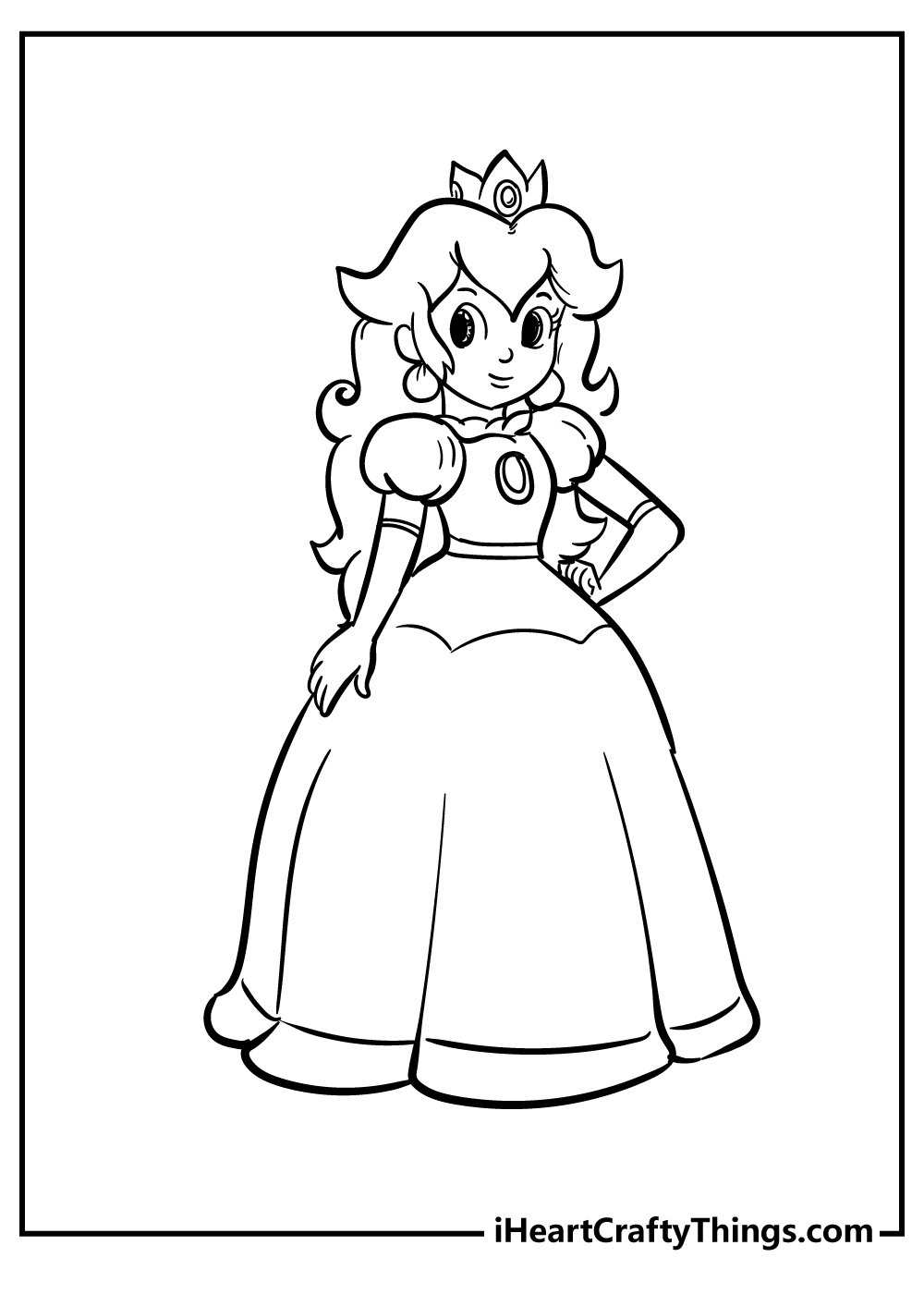 Princess Peach appeared in many Mario Bros. game versions. One of the versions she appeared in is the Mario Kart – a video game series of go-kart style racing.
This Princess Peach coloring page for kids shows the princess of the Mushroom Kingdom on her go-kart. Unsurprisingly, her kart is also colored pink with the design of her crown.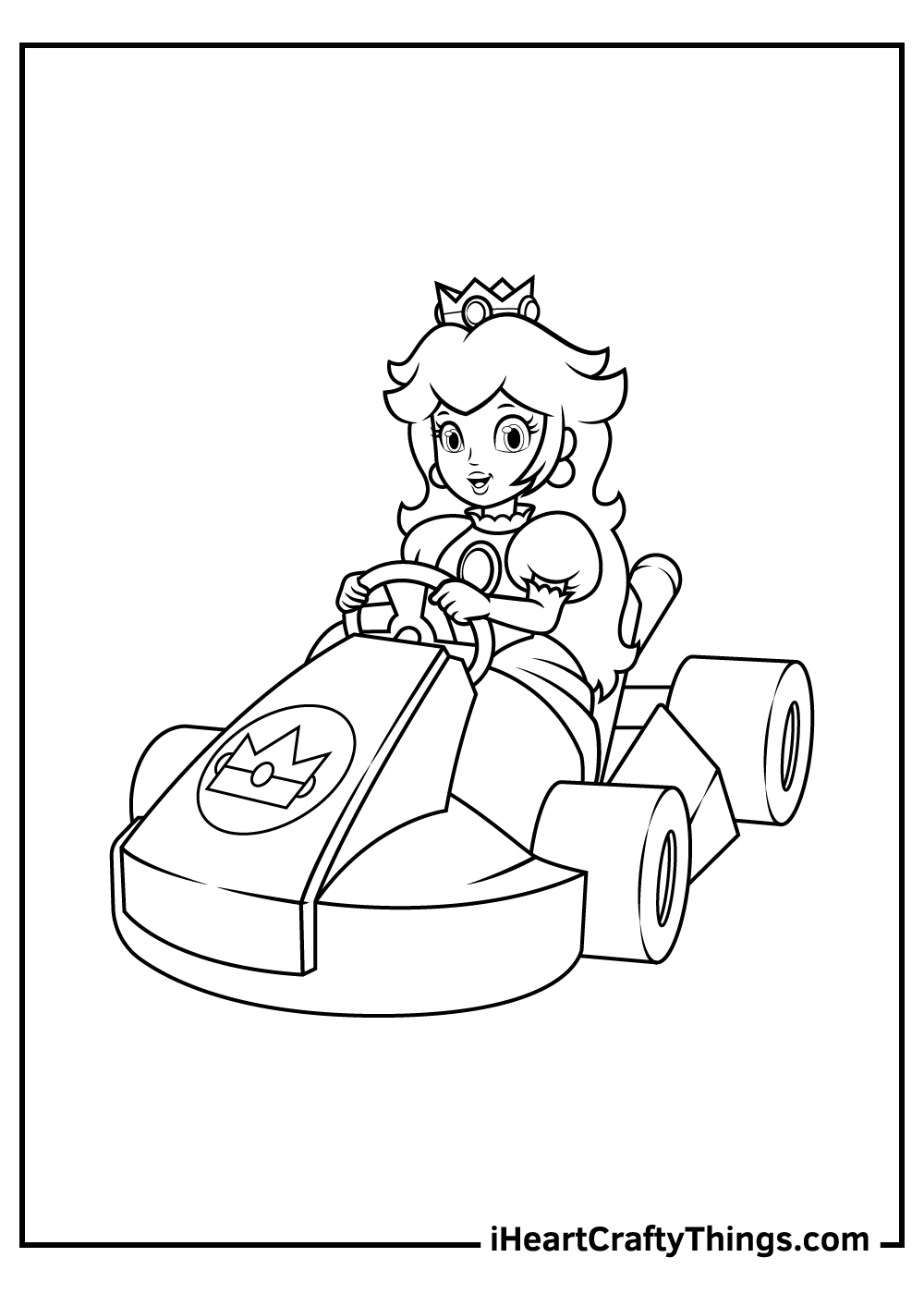 As Mario's romantic interest in the whole game series, Princess Peach in a wedding dress is also famous.
In this free printable, she is seen wearing her wedding dress with mushrooms as her bridal bouquet.
For this wedding dress, are you sticking with the same white color or are you trying something else?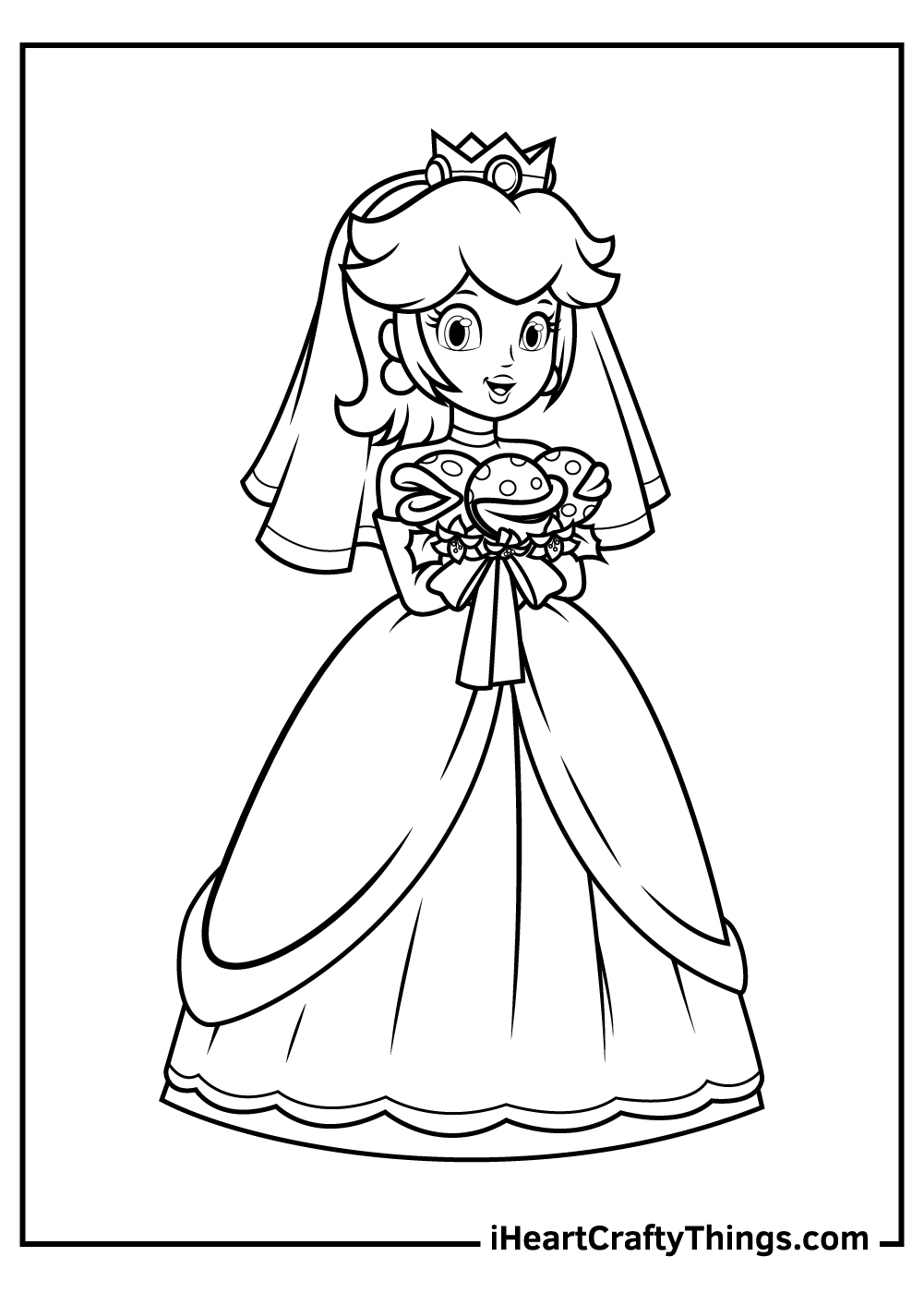 In the Mario games, the princess has had a number of different looks, but she most commonly dresses in a white and pink color scheme.
You could use that classic look for this Princess Peach coloring printable, but you could also try out some new colors!
If you wish to do that, then you could use a look she has had in the games as one way. Or, you could also create a brand new look for her by using some unique colors of your own choosing.
Do you think you will create a classic look for her here or give her a color makeover?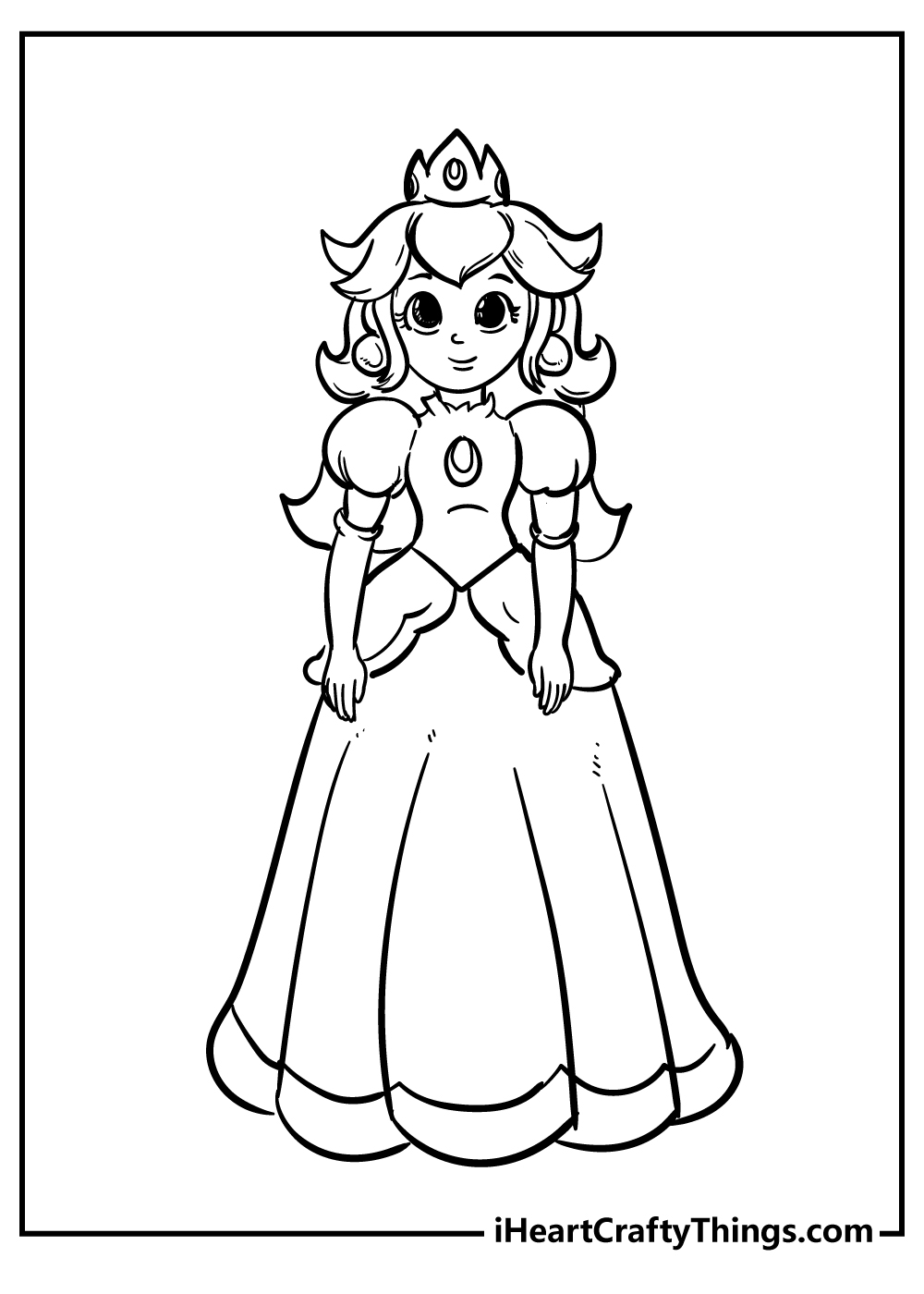 It's time to take a lovely walk outside for this next page. Princess Peach is taking a stroll in a really calm and relaxing scene, and you get to finish it off with some colors!
There are some great details to color here such as the clouds and the umbrella she is holding. You could work in a lot of your favorite colors and art tools for an image like this!
It would look great whether you use bright or more muted colors, as either approach would bring something great to the scene.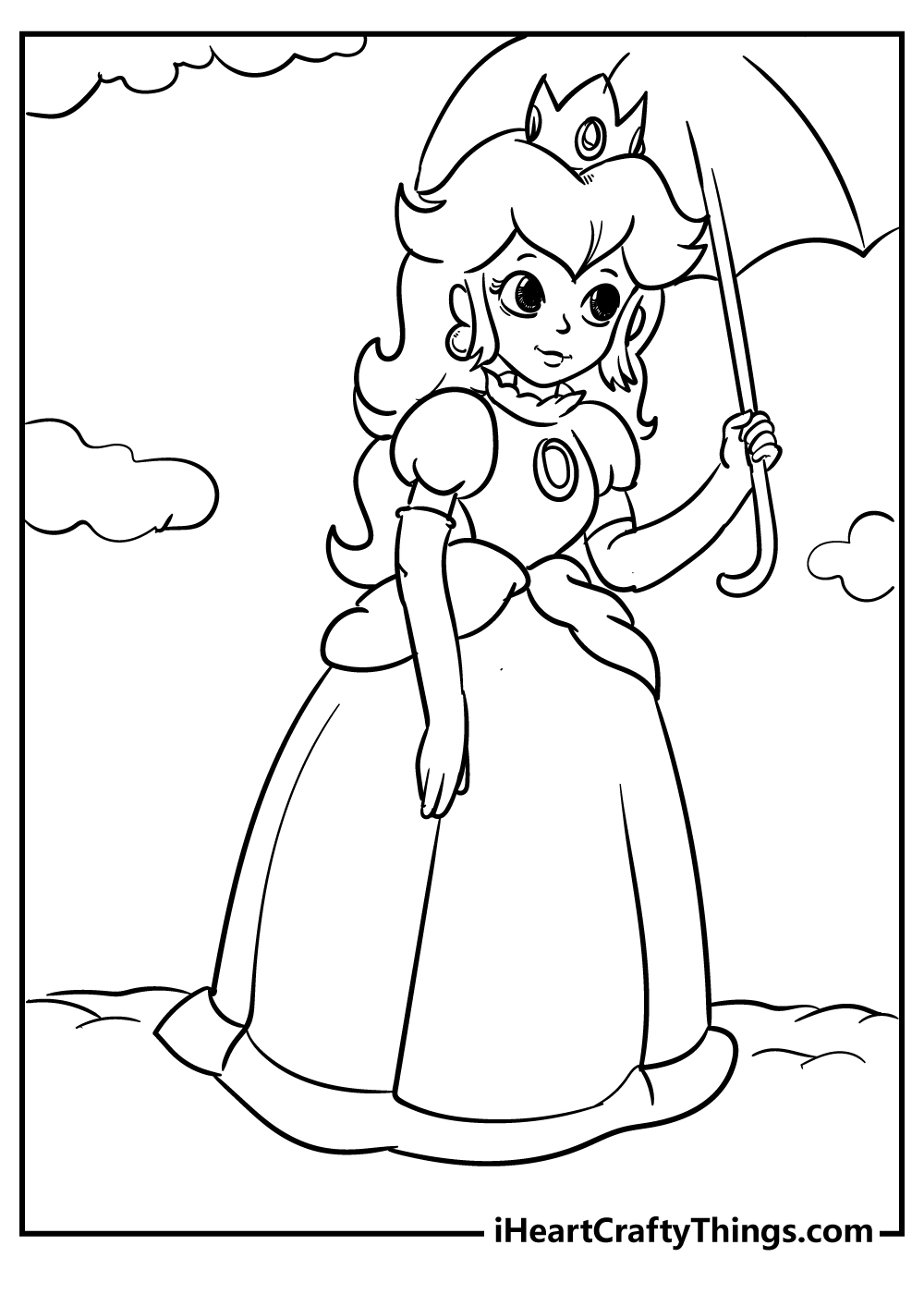 Our Princess Peach coloring pages feature the common features and traits of the main female protagonist of Super Mario.
And one of her playable traits is her ability to float in the air using her large skirt or with her parasol.
On this coloring page, she is seen holding her parasol. Her parasol is usually pink. But if you could choose another color, what color would you give her a parasol?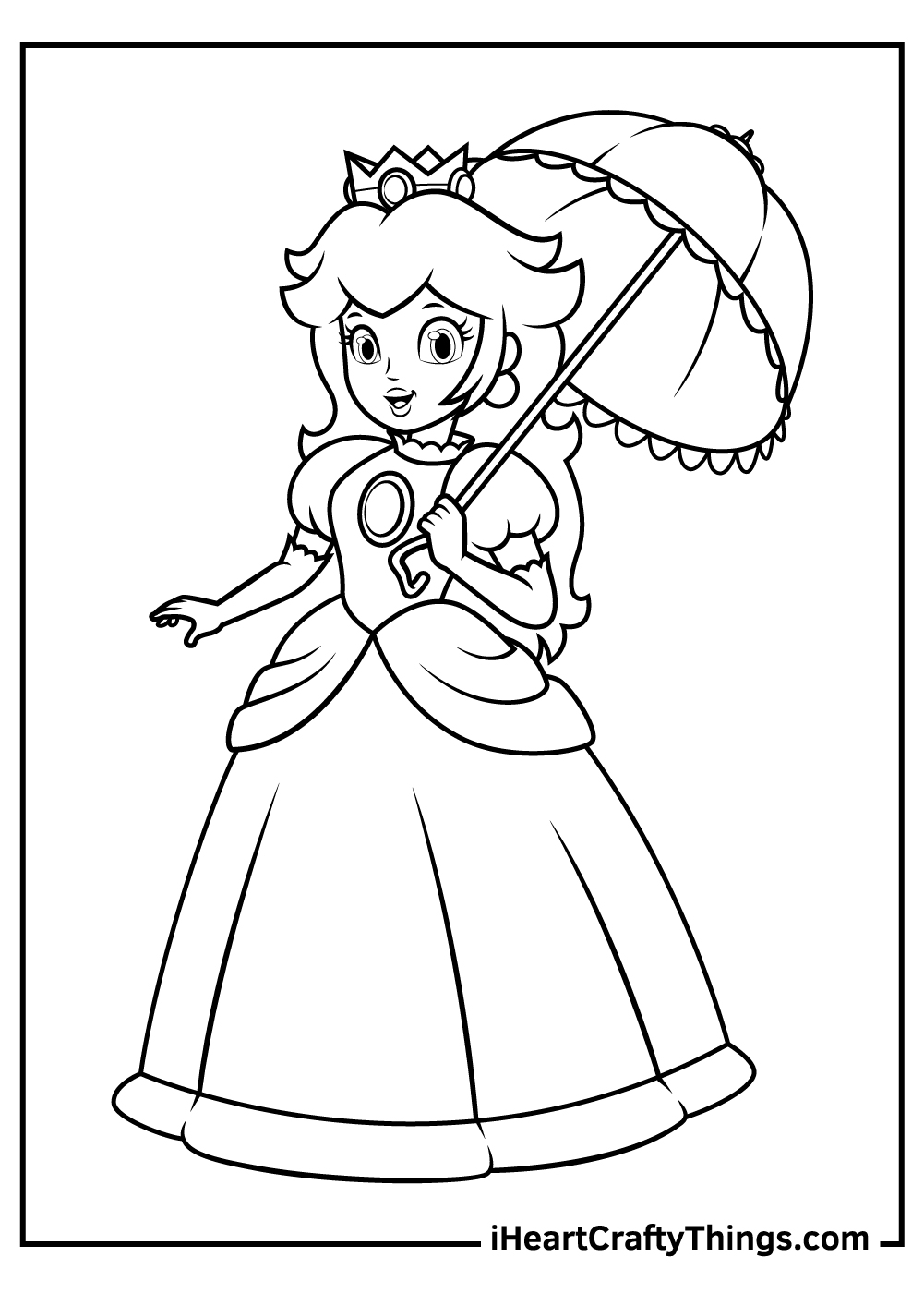 In most Super Mario games, Princess Peach is shown to be perky and selfless. Oftentimes, she is sweet.
But in other game versions, she also tends to show mood swings as well – from joy, calm, gloom, and rage. These mood traits are somewhat related to the powers she possesses.
This free Princess Peach printable can be converted to a poster once kids are done coloring it. It shows Princess Peach sitting down and smiling happily with sparkles all around her.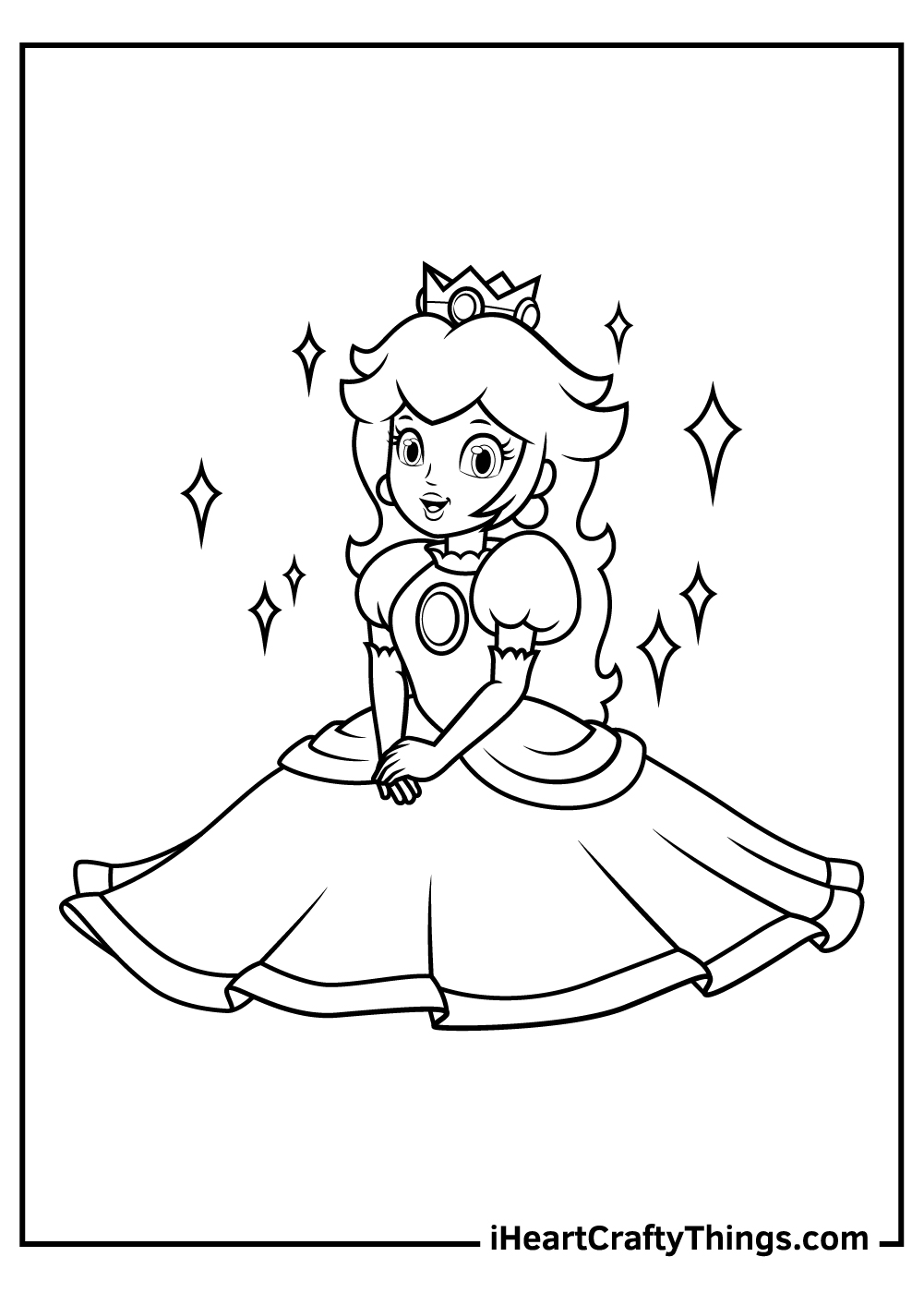 Princess Peach is looking very pleased with herself here, and it's such a great portrayal for you to color!
With the facial expression she has here, it looks like she is thinking about something that makes her happy, and she is looking very dreamy.
This would be another page that you could add to by drawing a bubble over her head to show what she is thinking of.
That would be great for adding your own creativity, and you could show us what you think is making her look so happy here!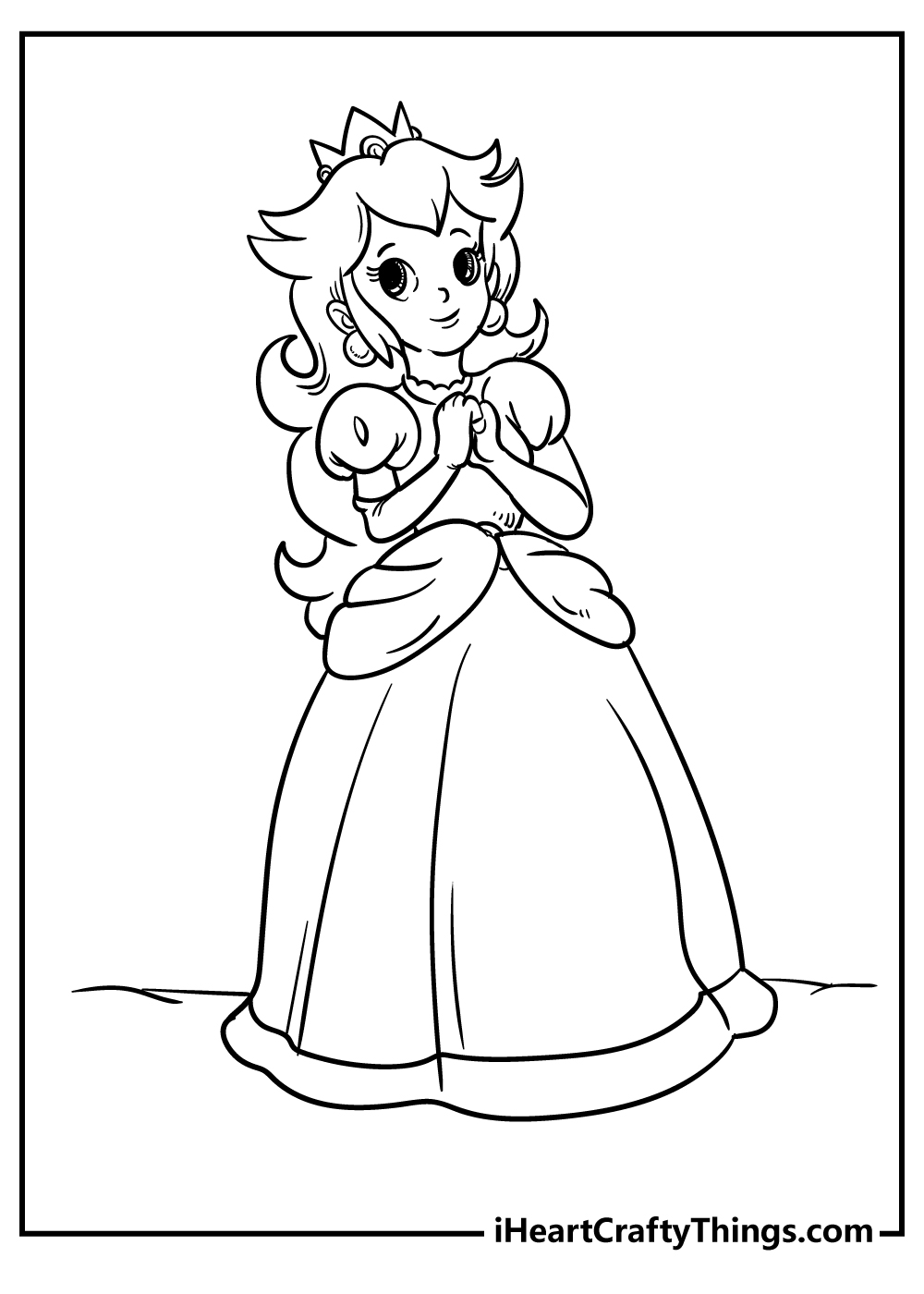 The portrayal we have on this Princess Peach coloring page is one of the most detailed interpretations we've seen yet for her.
Because there is so much detail here, we would recommend using mediums that allow for more precision. Colored pens, pencils and small paintbrushes would be ideal for adding all of these details.
These mediums can make it take longer to finish a page, but it is worth it because the color details always look amazing!
This is one approach to take, but it's up to you! How will you finish off this page?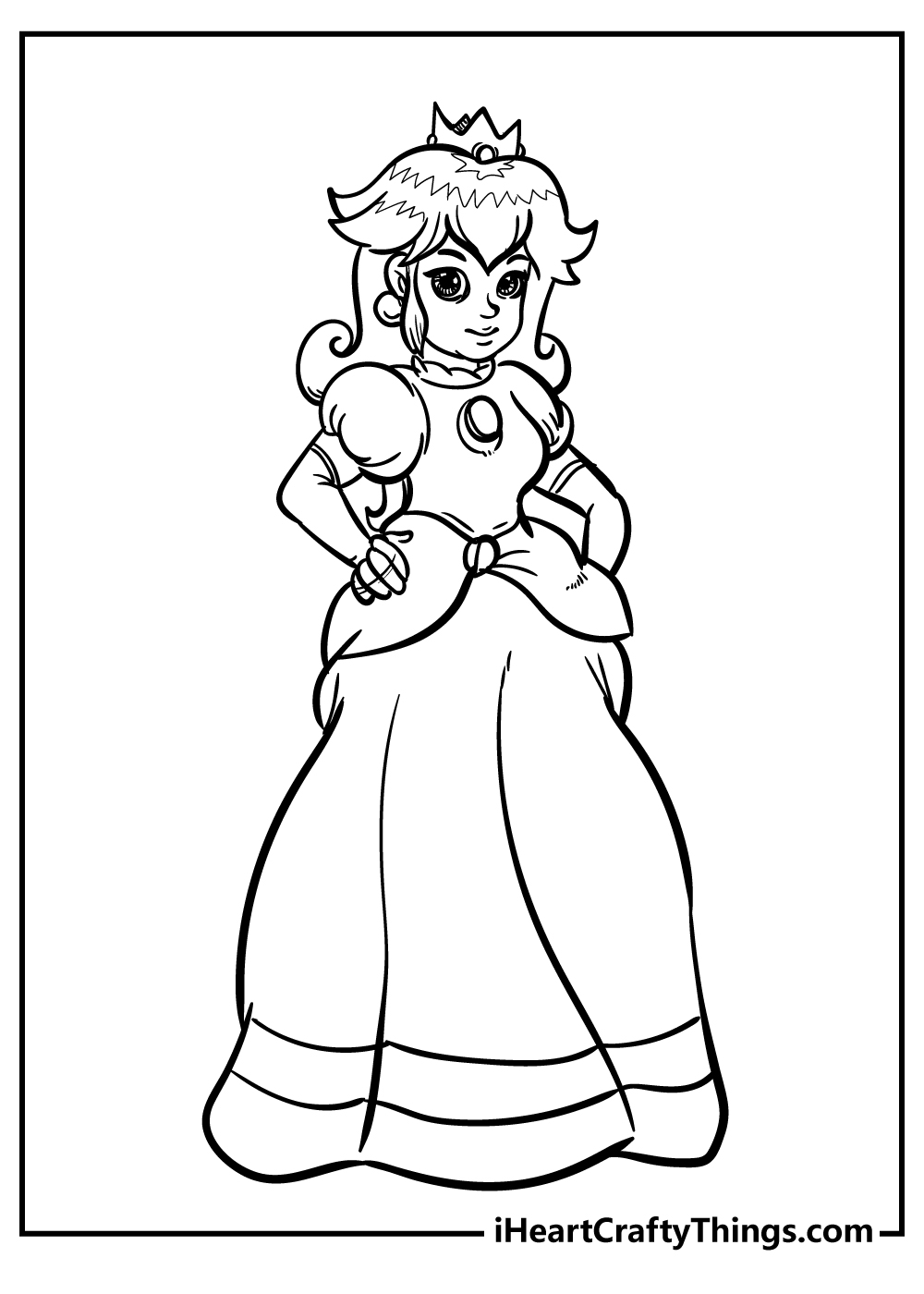 The last page of our Princess Peach coloring pages is our female fictional character holding a star in her hand.
Did you know that Princess Peach has made many cameo appearances in non-Mario games? One of the games she starred in is in Kirby Super Star. This is where she probably got her star friend.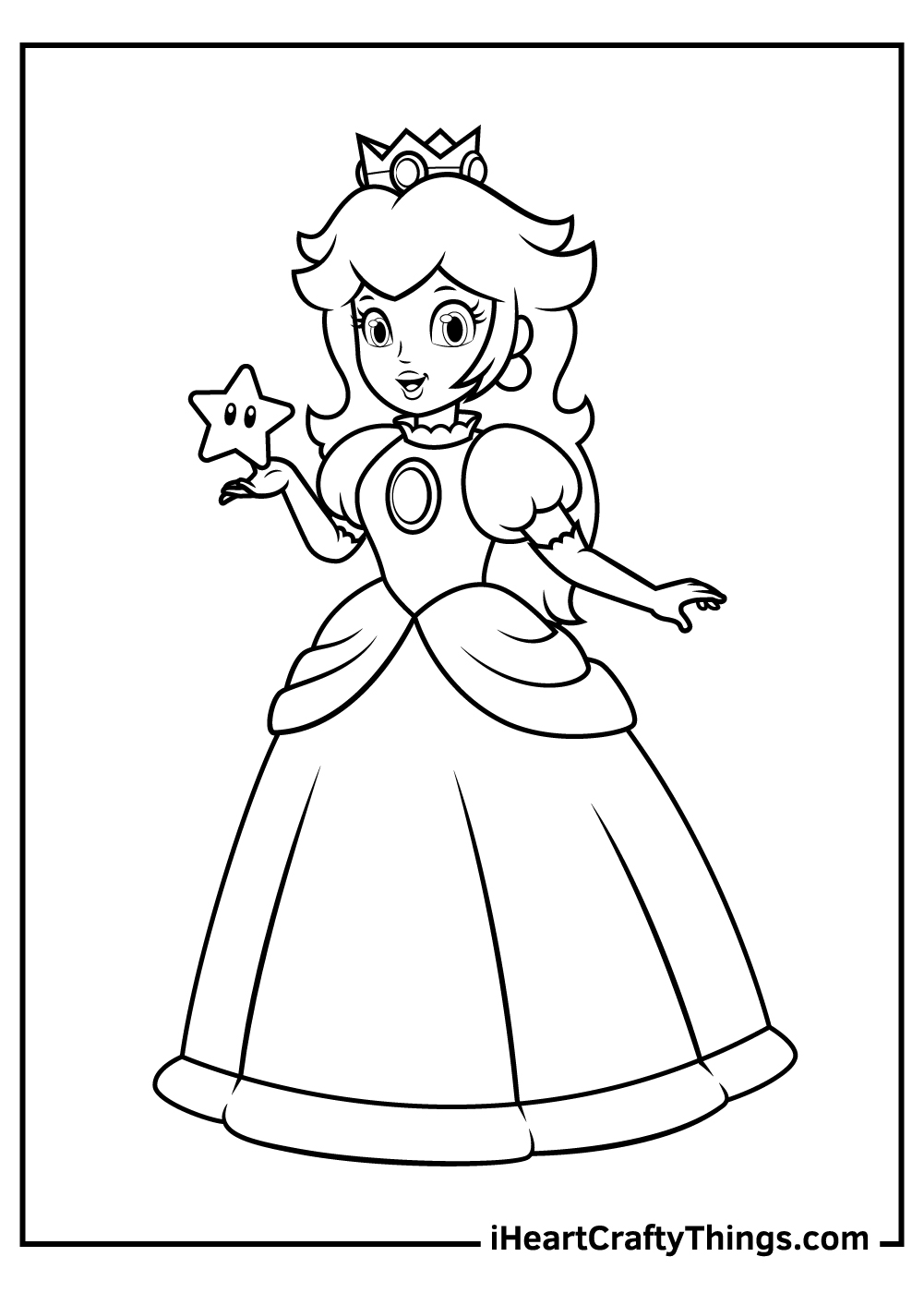 Princess Peach Coloring Pages – Cute Princess Peach Free Printables
Super Mario has been around for decades and kids and adults alike have grown to love it and its characters. The characters, including Princess Peach, have developed and changed over the years.
With its many changes, what is retained is the bright and colorful colors they are associated with.
We hoped that the new printables we created bring in your love for this Super Mario character.
These cute and free Princess Peach coloring pages are designed to bring out any child's creative side. We hope you get to enjoy these printables while bringing the life out of these illustrations.
If you're a fan of Super Mario or Princess Peach, and you love all the bright colors of these characters, you're sure to enjoy these free printables.
We would love to see your work! Post it on our Facebook page so we can see your creativity!