Super Mario, a video game created by Nintendo has gained such popularity since being introduced in the market. Many fans of the game have learned to love not only the game but also all of its characters.
Princess Peach of the Mushroom Kingdom is one of the famous characters in the game – both being a damsel-in-distress where Mario rescues her and a protagonist as well where she's the down who helps Mario.
She has appeared in many games of the Super Mario series and many versions of her are available as well. She can be sweet and caring and can be bold and fierce the next.
This beautiful character is the highlight of our new set of coloring pages. Our Princess Peach coloring pages contain many new and cute sketches that kids will surely love and enjoy.
Download these Princess Peaches printables for free and let your child's creativity shine!
10 Brand New Princess Peach Coloring Pages – Free to Print and Color
Princess Peach first appeared in the original Super Mario Bros. installment in 1985. She has long, blonde hair with blue eyes, an hourglass figure, and a rosy complexion. She is famous for always wearing her gold crown and her pink dress with white evening gloves.
This first Princess Peach coloring page for kids is the princess' first portrait in the series. She is smiling and is seemingly walking towards you.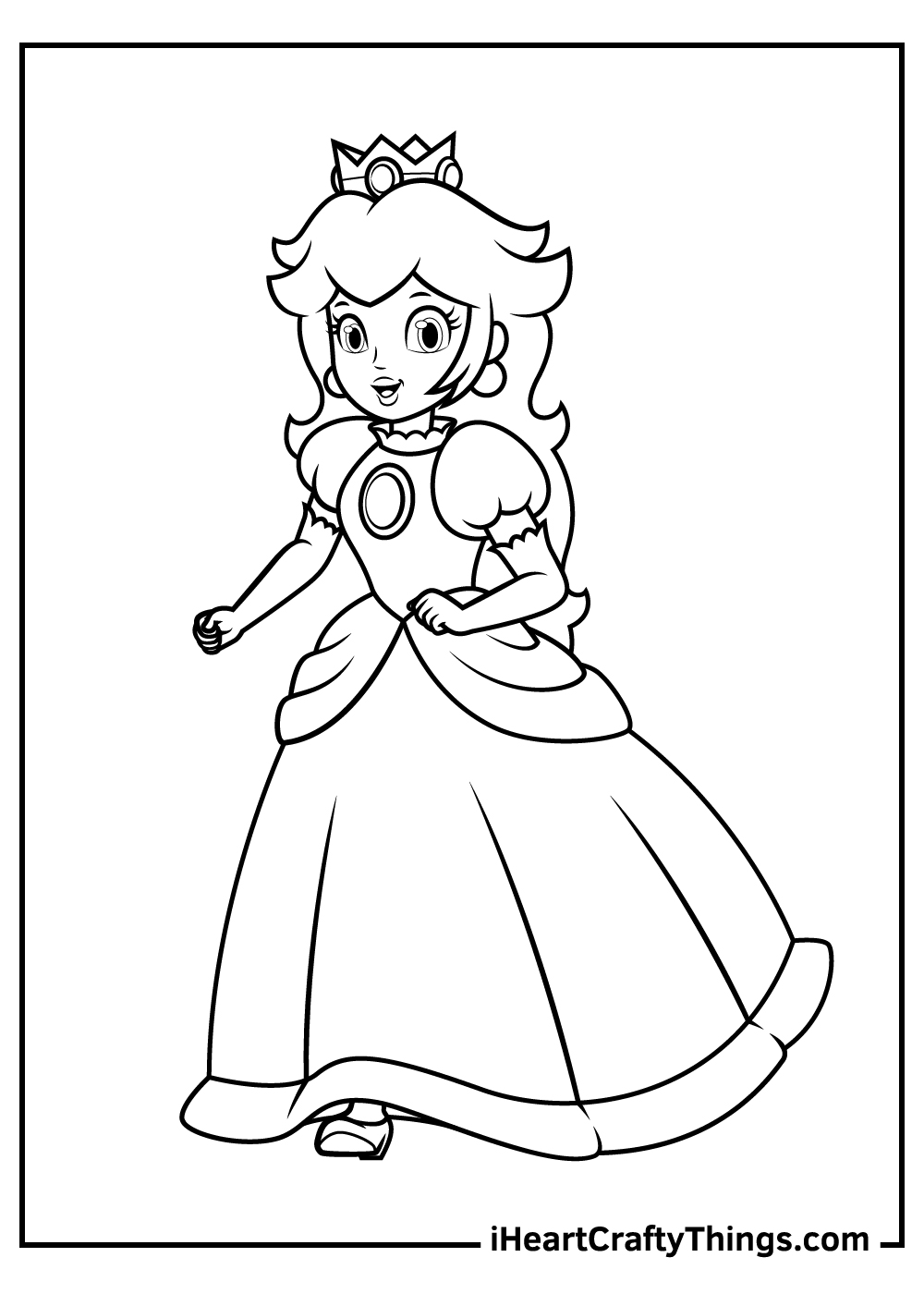 In this next Princess Peach printable, she is seen wearing her usual pink gown. She is generally sweet and well-mannered and, in this image, she is seen smiling sweetly with sparkles twinkling beside her.
Her dress is designed with a ruffled hemline and short puffy sleeves. She's also known to have a huge pannier-style overskirt. Her accessories include her gold crown adorned with rubies and sapphires, a sapphire brooch, and sapphire earrings.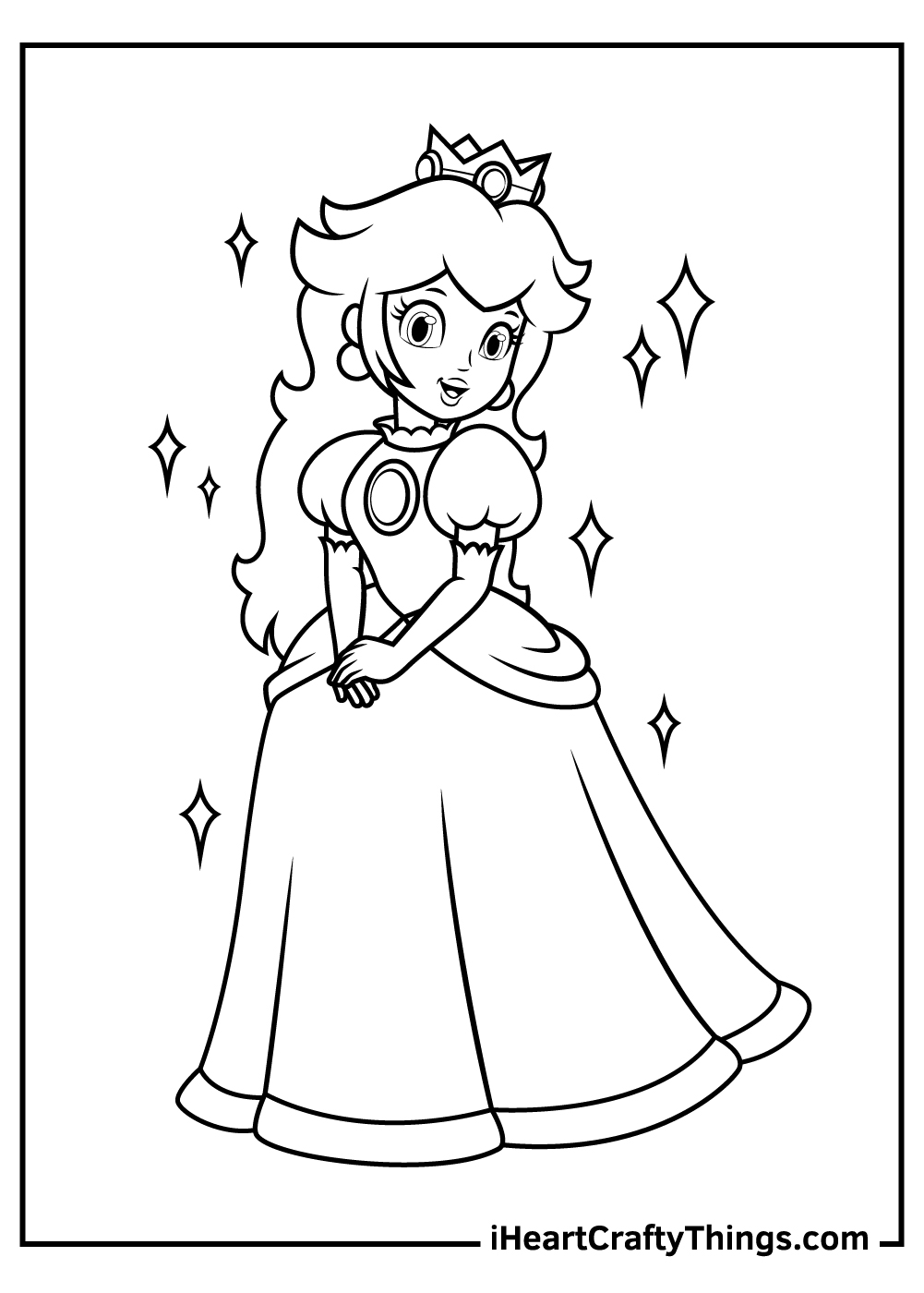 Though initially regarded as a damsel-in-distress on her first game appearance, Princess Peach's character has evolved over the years and is now capable of defending herself and helping Mario defeat evil.
In this Princess Peach coloring page for kids, she is seen happily welcoming guests to her Mushroom Kingdom. Her arms are lifted in the air with her happy smile.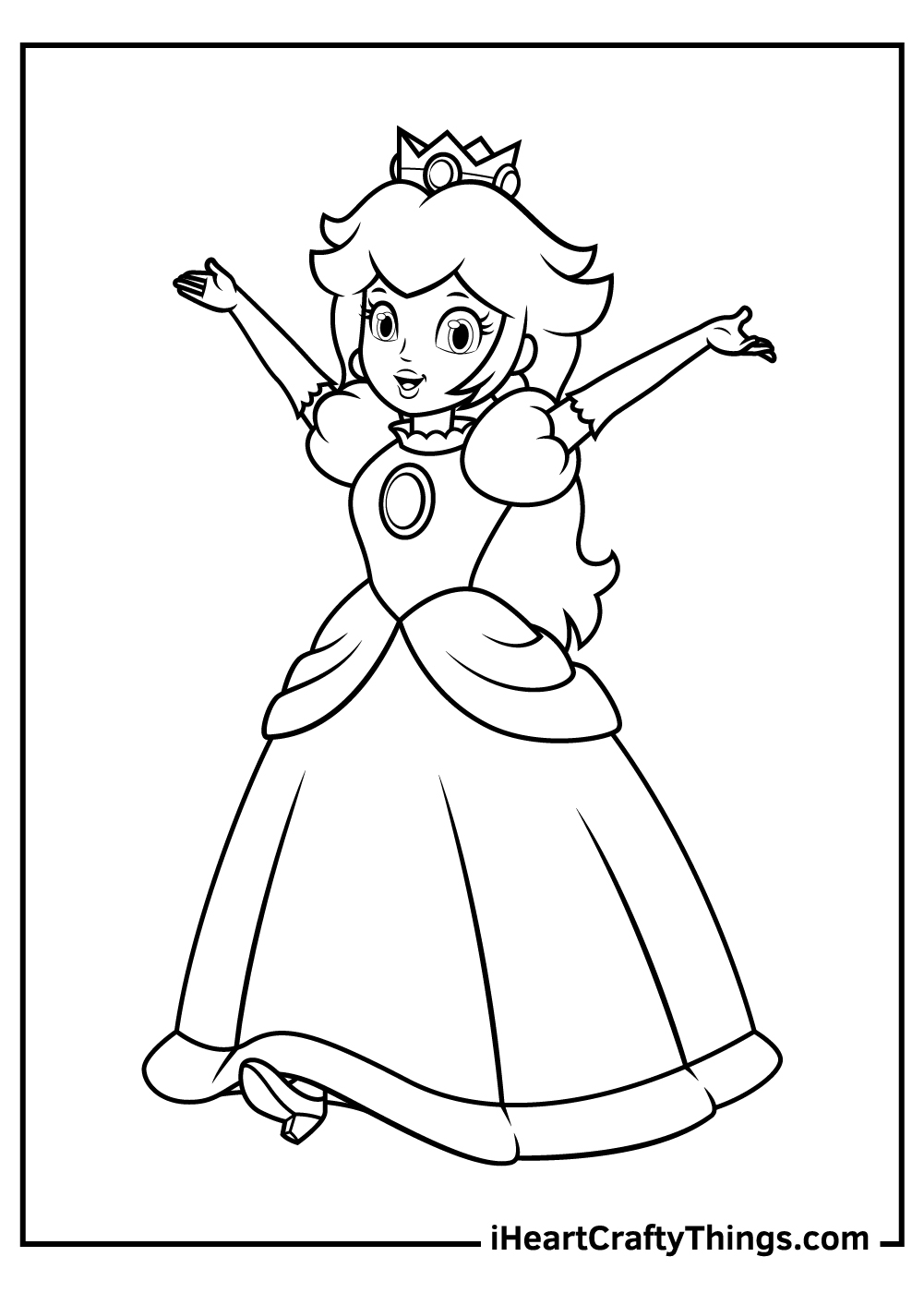 Princess Peach is from the Mushroom Kingdom and so she has mushroom friends accompanying her everywhere.
In this free printable, she is seen sitting on the floor with her mushroom attendant. Stars surround them.
It's a nice page to play around with bright colors. What colors would you use? How colorful would you want this page to be?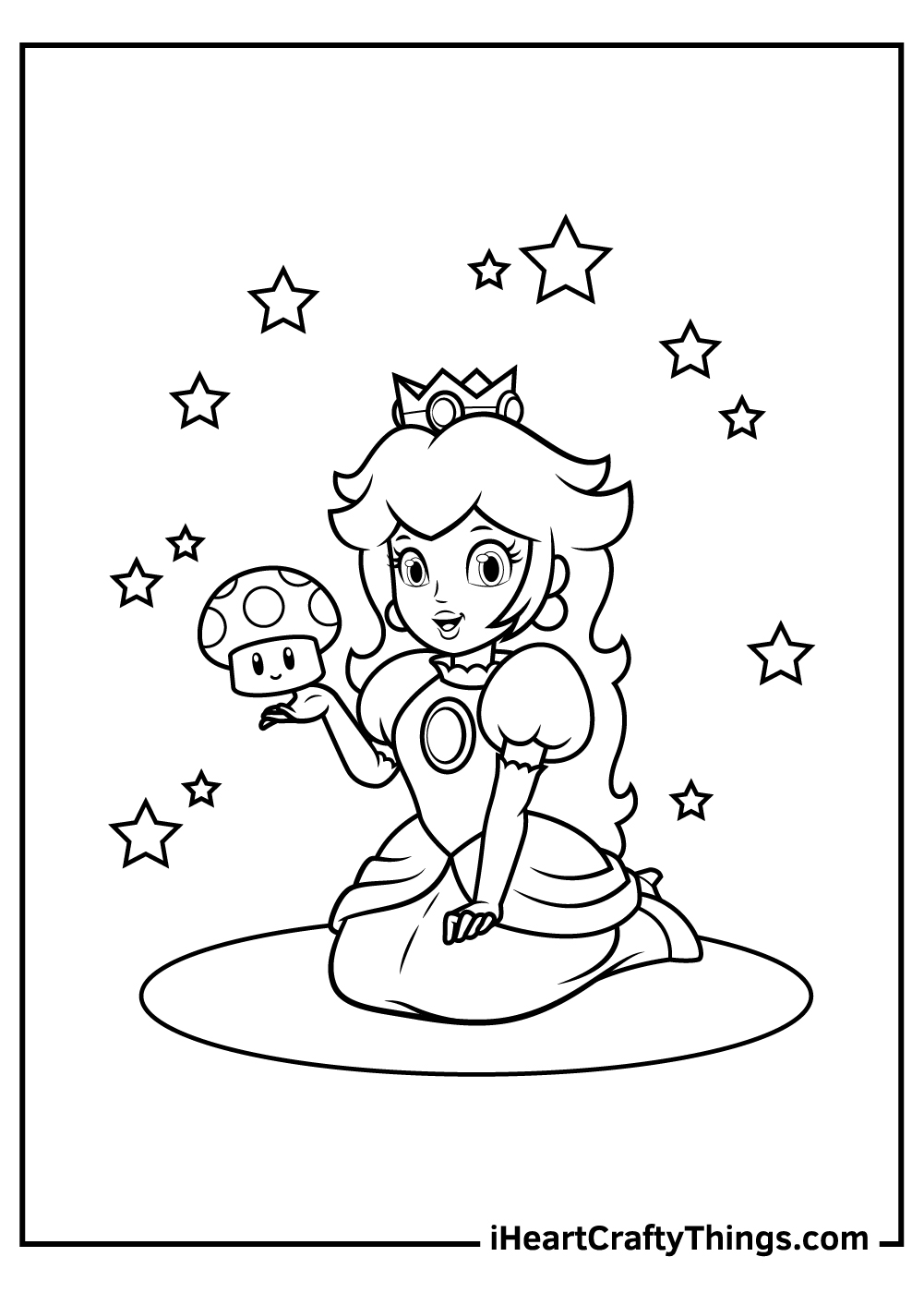 Our Princess Peach coloring pages are designed to activate a kid's color association skill and creativity.
This free printable page features Princess Peach, wearing her famous pink dress, is turned on her back. This allows kids to focus on the other details of her dress and what colors they think would work and compliment her overall look.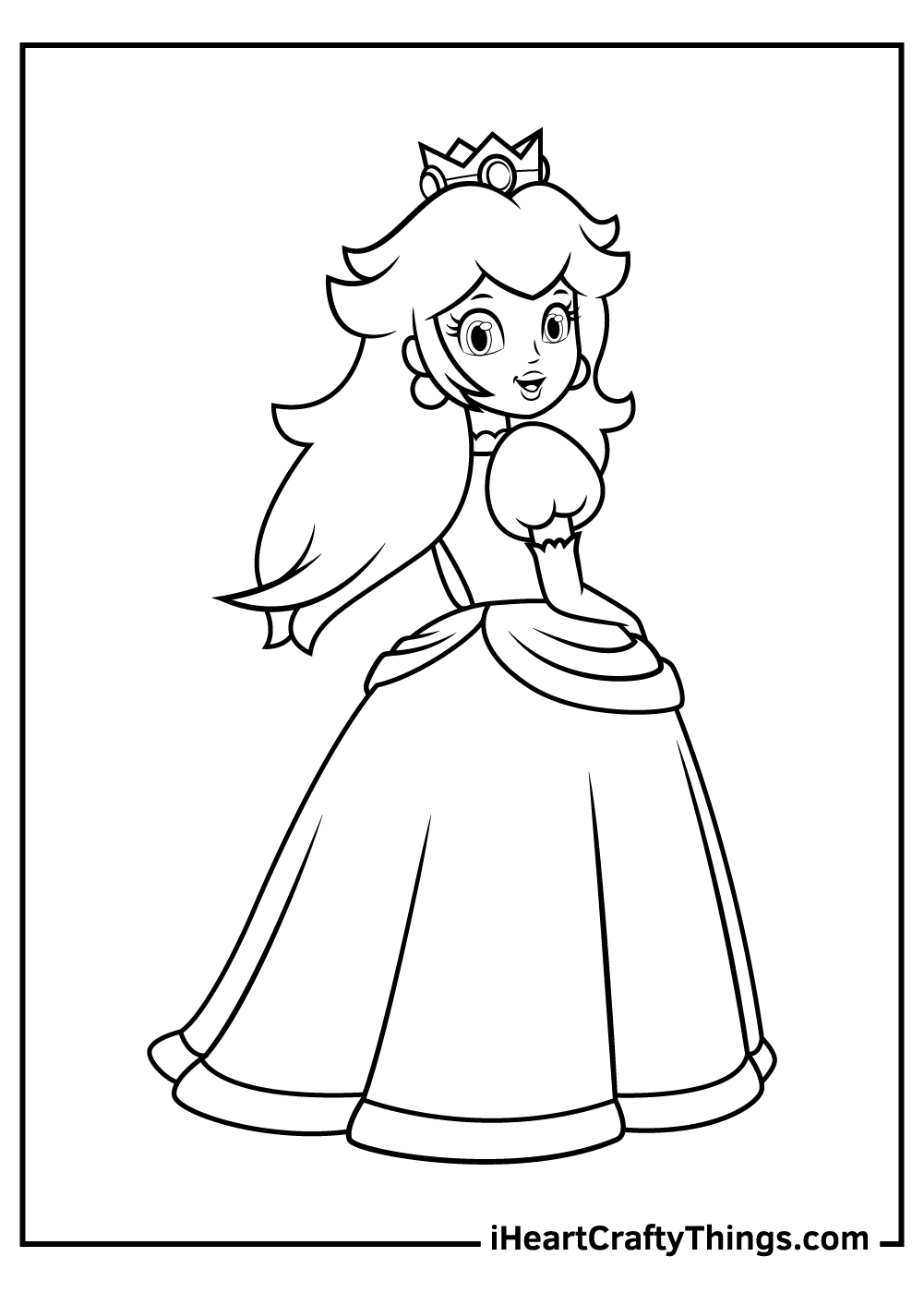 Princess Peach appeared in many Mario Bros. game versions. One of the versions she appeared in is the Mario Kart – a video game series of go-kart style racing.
This Princess Peach coloring page for kids shows the princess of the Mushroom Kingdom on her go-kart. Unsurprisingly, her kart is also colored pink with the design of her crown.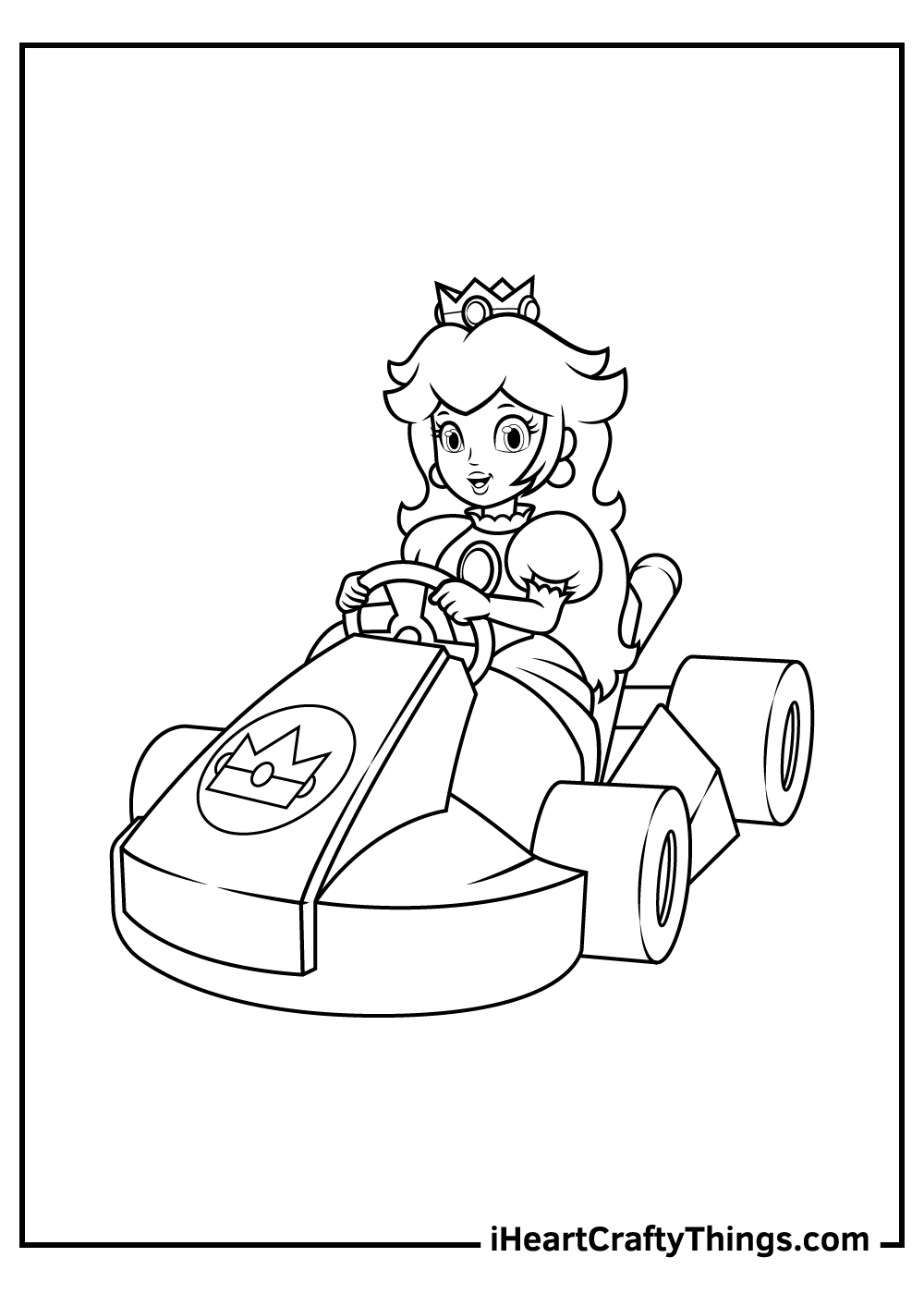 As Mario's romantic interest in the whole game series, Princess Peach in a wedding dress is also famous. In this free printable, she is seen wearing her wedding dress with mushrooms as her bridal bouquet.
For this wedding dress, are you sticking with the same white color or are you trying something else?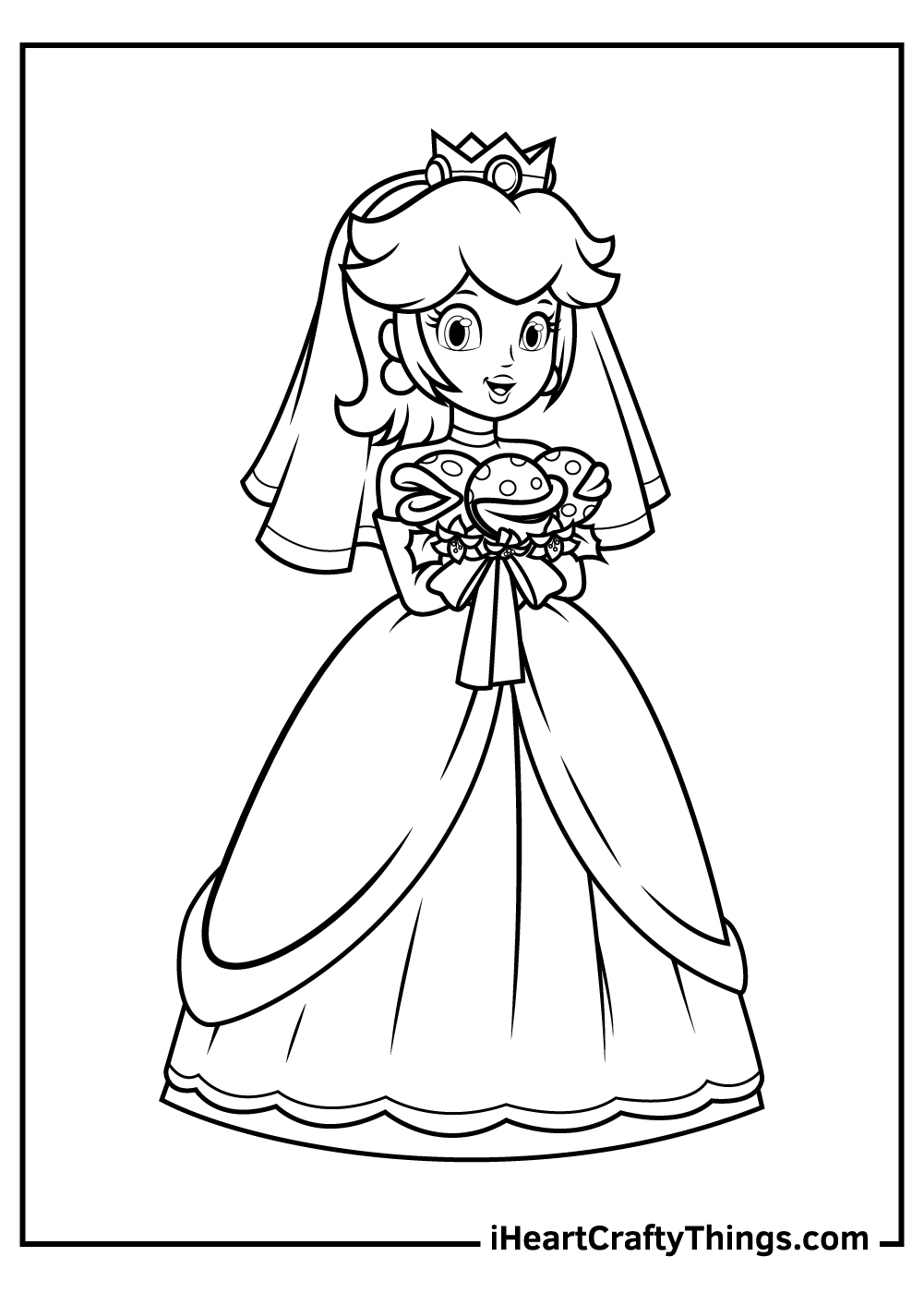 Our Princess Peach coloring pages feature the common features and traits of the main female protagonist of Super Mario. And one of her playable traits is her ability to float in the air using her large skirt or with her parasol.
On this coloring page, she is seen holding her parasol. Her parasol is usually pink. But if you could choose another color, what color would you give her a parasol?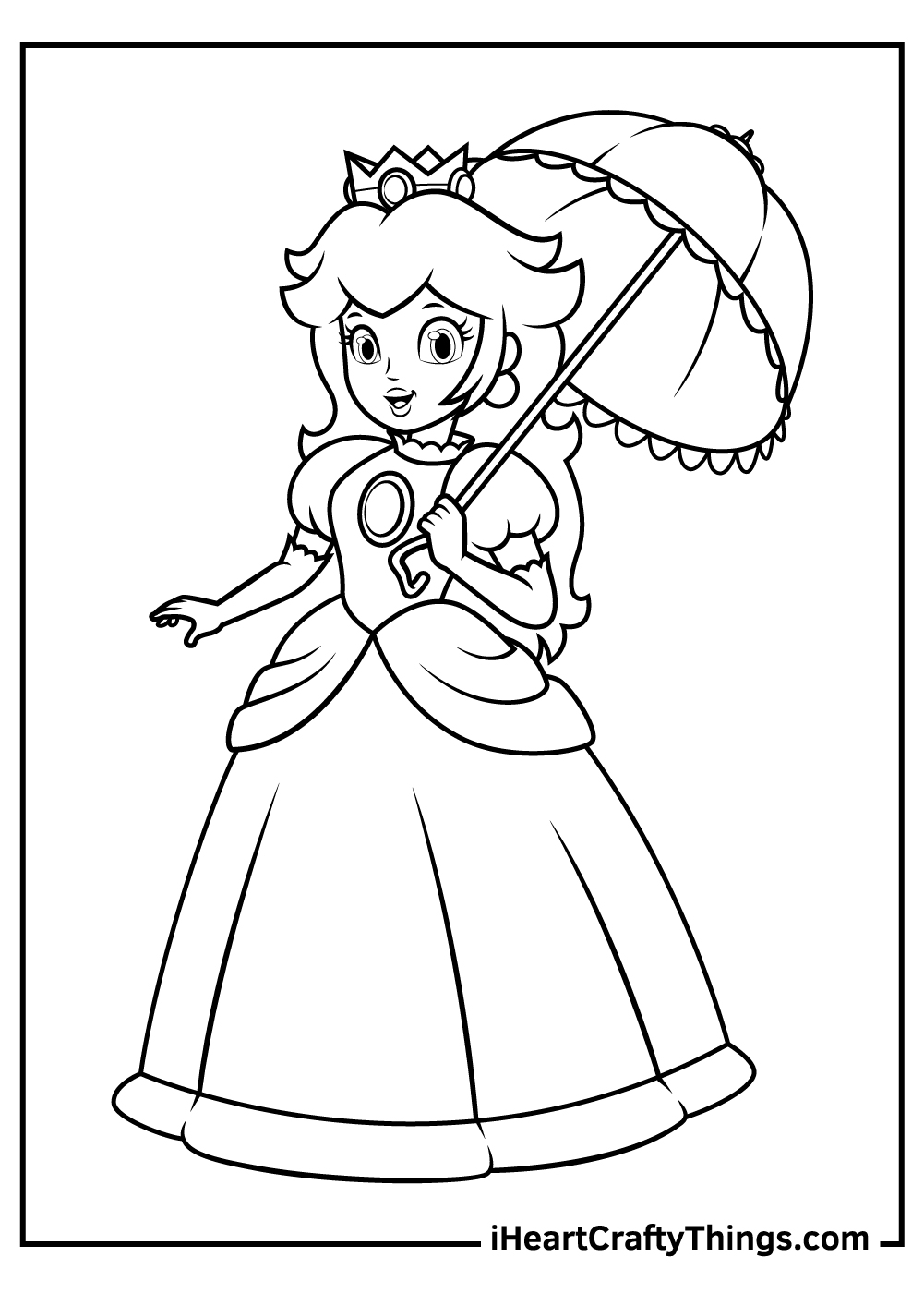 In most Super Mario games, Princess Peach is shown to be perky and selfless. Oftentimes, she is sweet. But in other game versions, she also tends to show mood swings as well – from joy, calm, gloom, and rage. These mood traits are somewhat related to the powers she possesses.
This free Princess Peach printable can be converted to a poster once kids are done coloring it. It shows Princess Peach sitting down and smiling happily with sparkles all around her.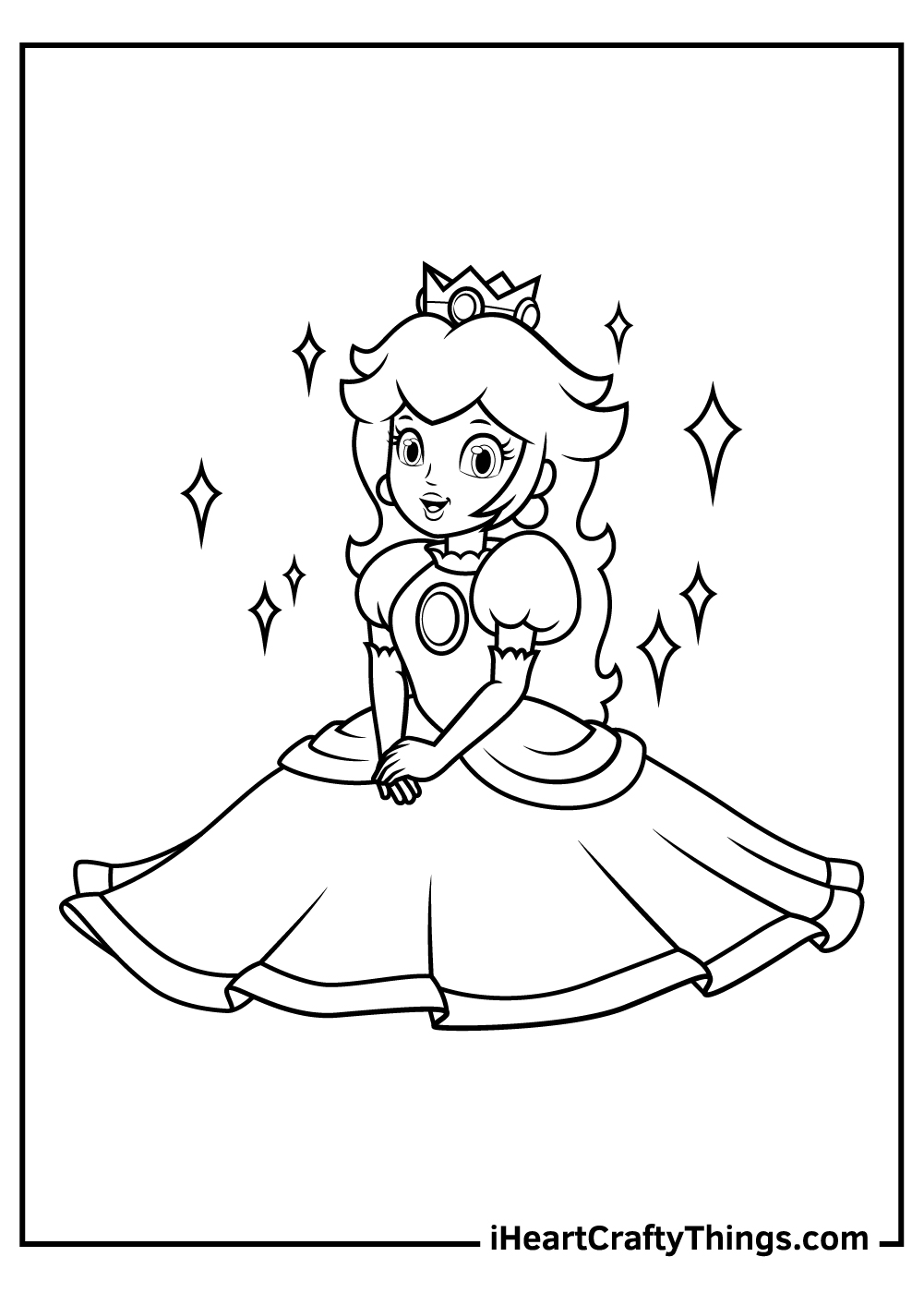 The last page of our Princess Peach coloring pages is our female fictional character holding a star in her hand.
Did you know that Princess Peach has made many cameo appearances in non-Mario games? One of the games she starred in is in Kirby Super Star. This is where she probably got her star friend.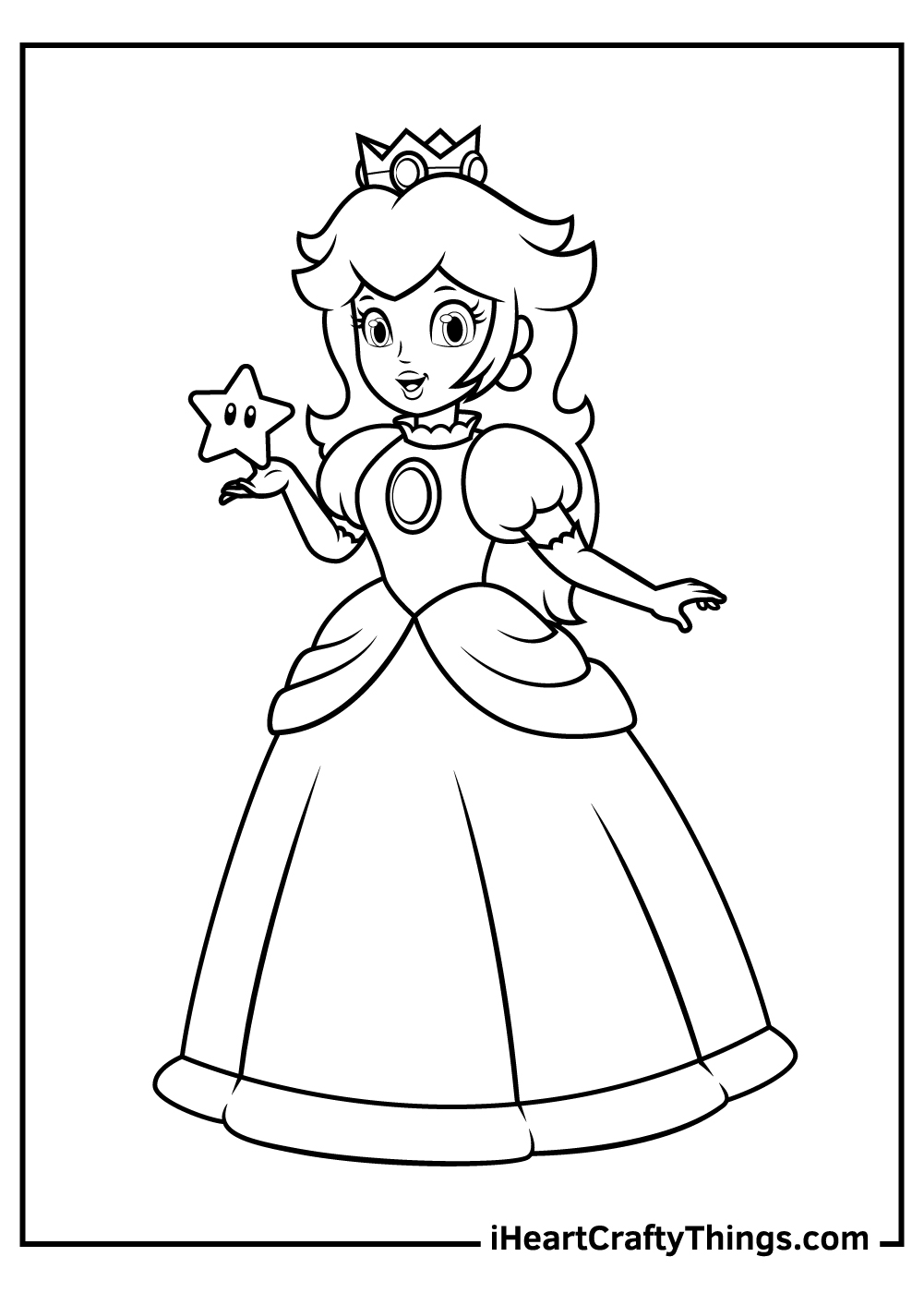 Princess Peach Coloring Pages – Cute Princess Peach Free Printables
Super Mario has been around for decades and kids and adults alike have grown to love it and its characters. The characters, including Princess Peach, have developed and changed over the years.
With its many changes, what is retained is the bright and colorful colors they are associated with.
We hoped that the new printables we created bring in your love for this Super Mario character.
These cute and free Princess Peach coloring pages are designed to bring out any child's creative side. We hope you get to enjoy these printables while bringing the life out of these illustrations.
If you're a fan of Super Mario or Princess Peach, and you love all the bright colors of these characters, you're sure to enjoy these free printables.
We would love to see your work! Post it on our Facebook page so we can see your creativity!