Nintendo produces some of the most popular and iconic games on the market, and their various characters have become incredibly popular in its history.
While Yoshi may not have the star power of characters like Mario and Link, he is still a beloved character worldwide. His many fans may be looking for a collection of free Yoshi coloring pages for kids.
Anyone searching for such a collection has come to the right place! This collection has 15 fun and inventive images featuring the lovable Yoshi.
Any Yoshi fans out there will want to pick and color their favorite pages to make an awesome collection. Let's press Start on this collection and see what adventures there are to have!
15 Brand New Yoshi Coloring Pages – Free to Print and Color
The exclamations on this Yoshi coloring sheet make it seem as if Yoshi had a great idea about something.
It makes you wonder what it is that Yoshi has thought of, and you could showcase your ideas on this page.
One of the ways in which you could do this would be to draw a speech bubble over his head and draw a picture inside of the speech bubble.
This would be a great way for you to show off what kinds of ideas Yoshi may be having on this page, so what do you think he is dreaming up?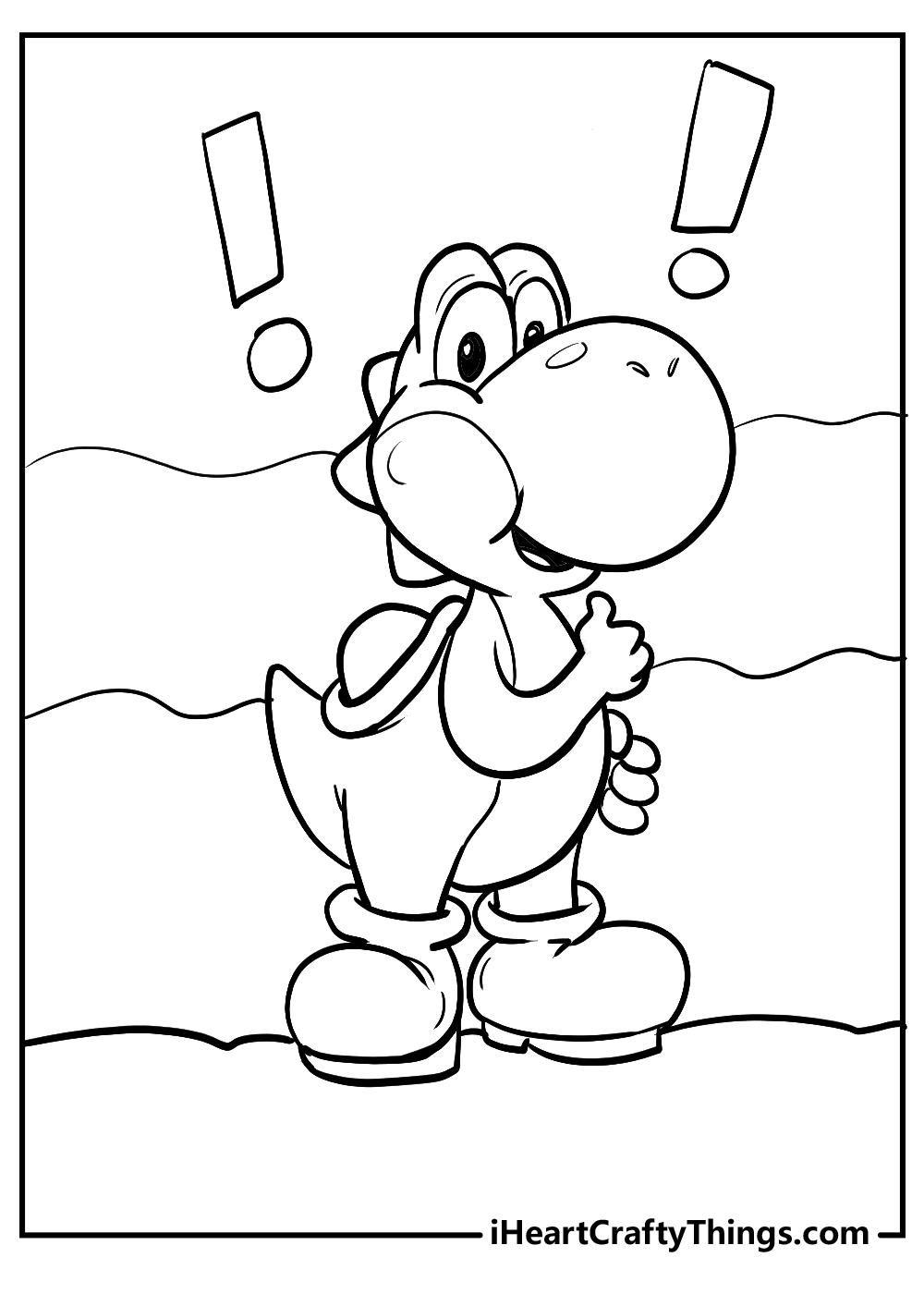 There is a lot of excitement on this next page! Not only is it a great representation of Yoshi, but it also has extra effects around his hands.
This gives you an extra set of details to color as well. If I were coloring this page, I would probably use some bright yellow or red for these details around his hands.
Of course, those are just two examples of the colors you could use. You could not only choose any colors you like but also the art tools and mediums you would like to use to apply them.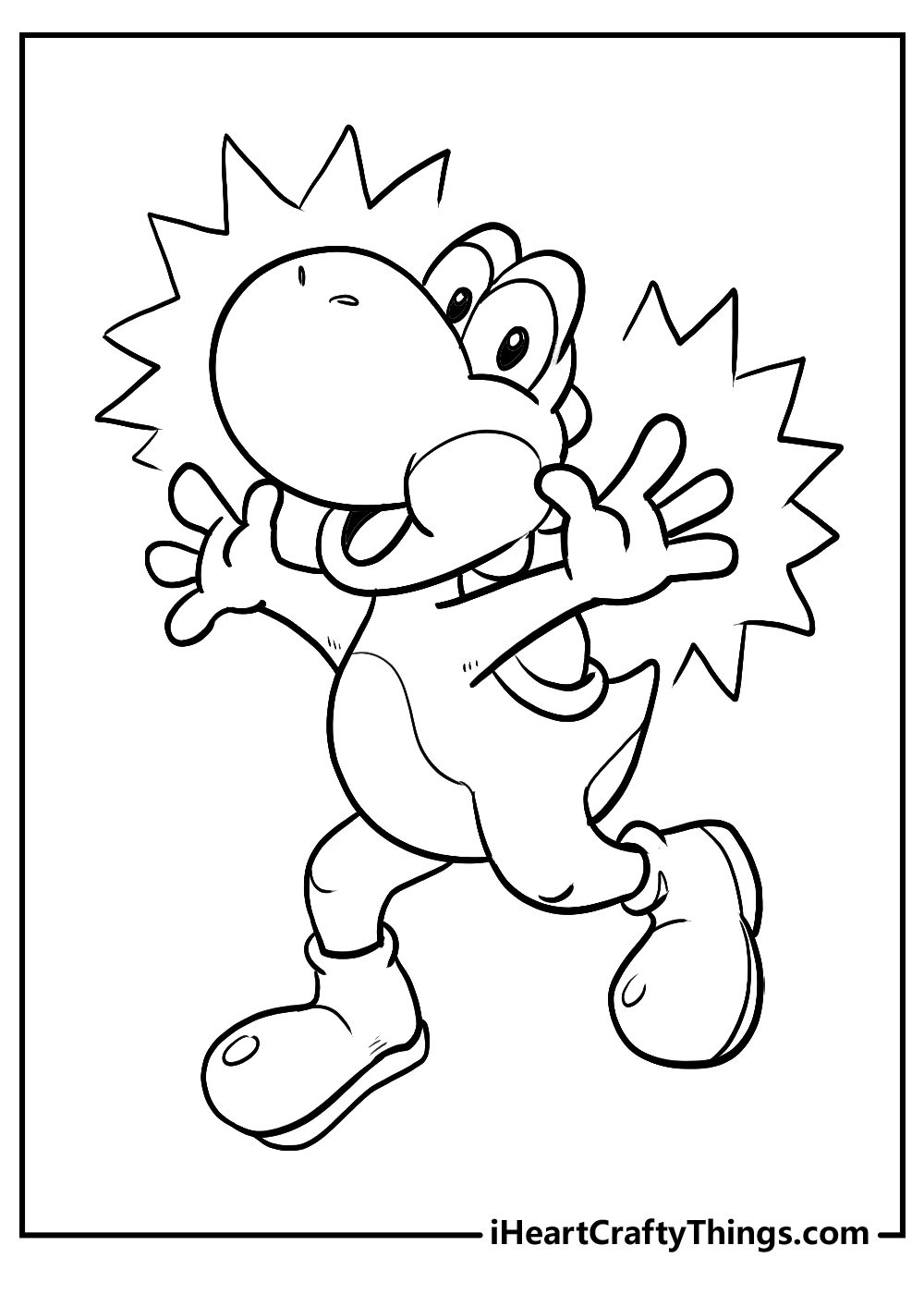 The next page in the collection has Yoshi holding a star as he is surrounded by some sparkly shapes.
This helps to give this page a lovely bright feeling, and you could represent this with your art tools!
Using some craft tools can help to add some magic to any picture, and that would be true here as well. For example, I would use some gold glitter glue for the stars on the page.
Sprinkling some glitter over carefully applied glue would also be great! That would be what I would do, but what are some crafts you could use?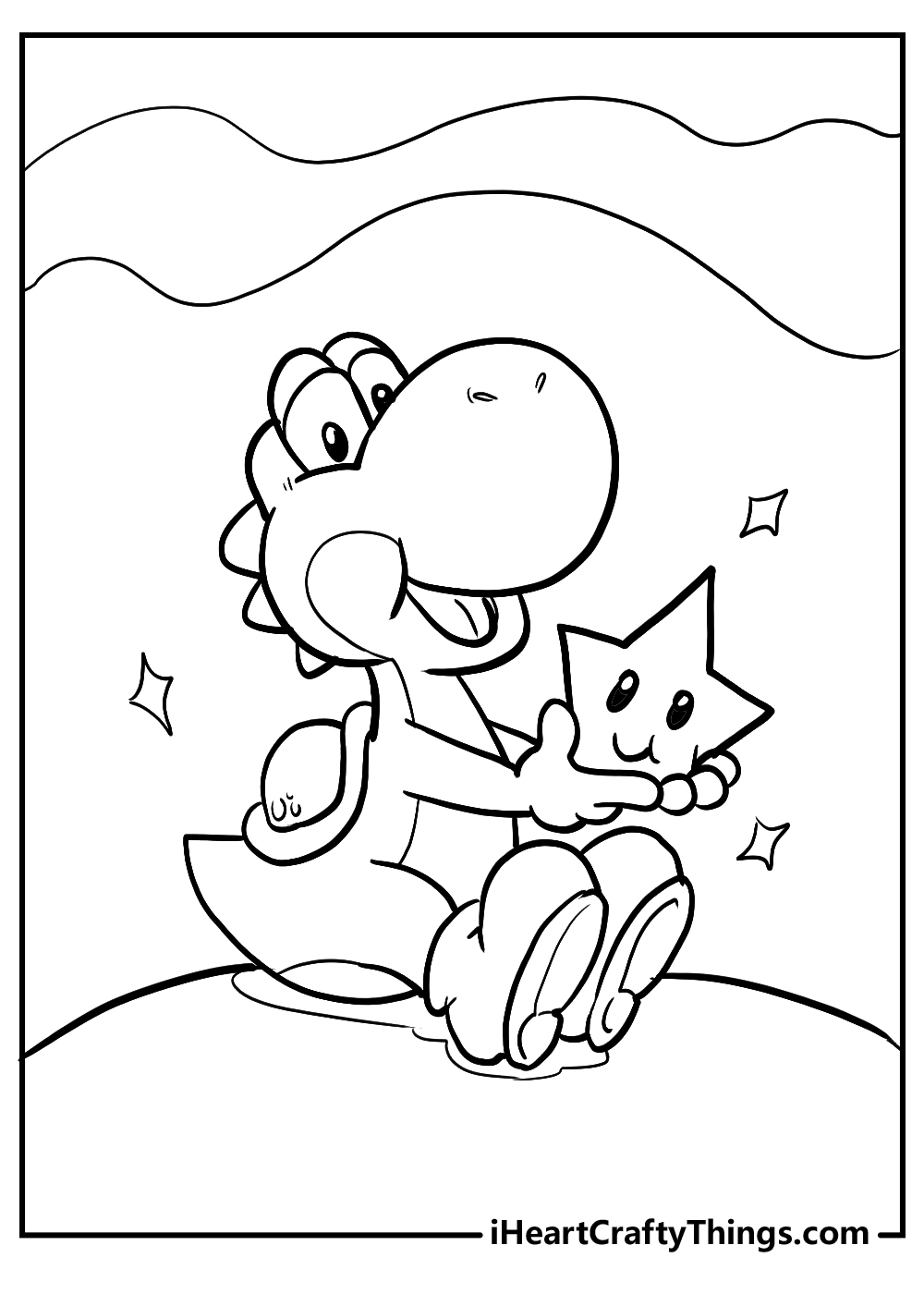 Yoshi is ready for some fun on this next page! This time, the focus is purely on Yoshi, and you could add some interesting details and additions to the picture.
One of the easiest ways to customize a picture like this would be to add a background or some extra props and characters. Luckily, you have dozens of games to use as inspiration.
You could use your favorite levels, situations and game props to add to the background of this page. This would be a perfect way to make this even more of a unique portrayal of this famous character!
Which levels would you use as inspiration?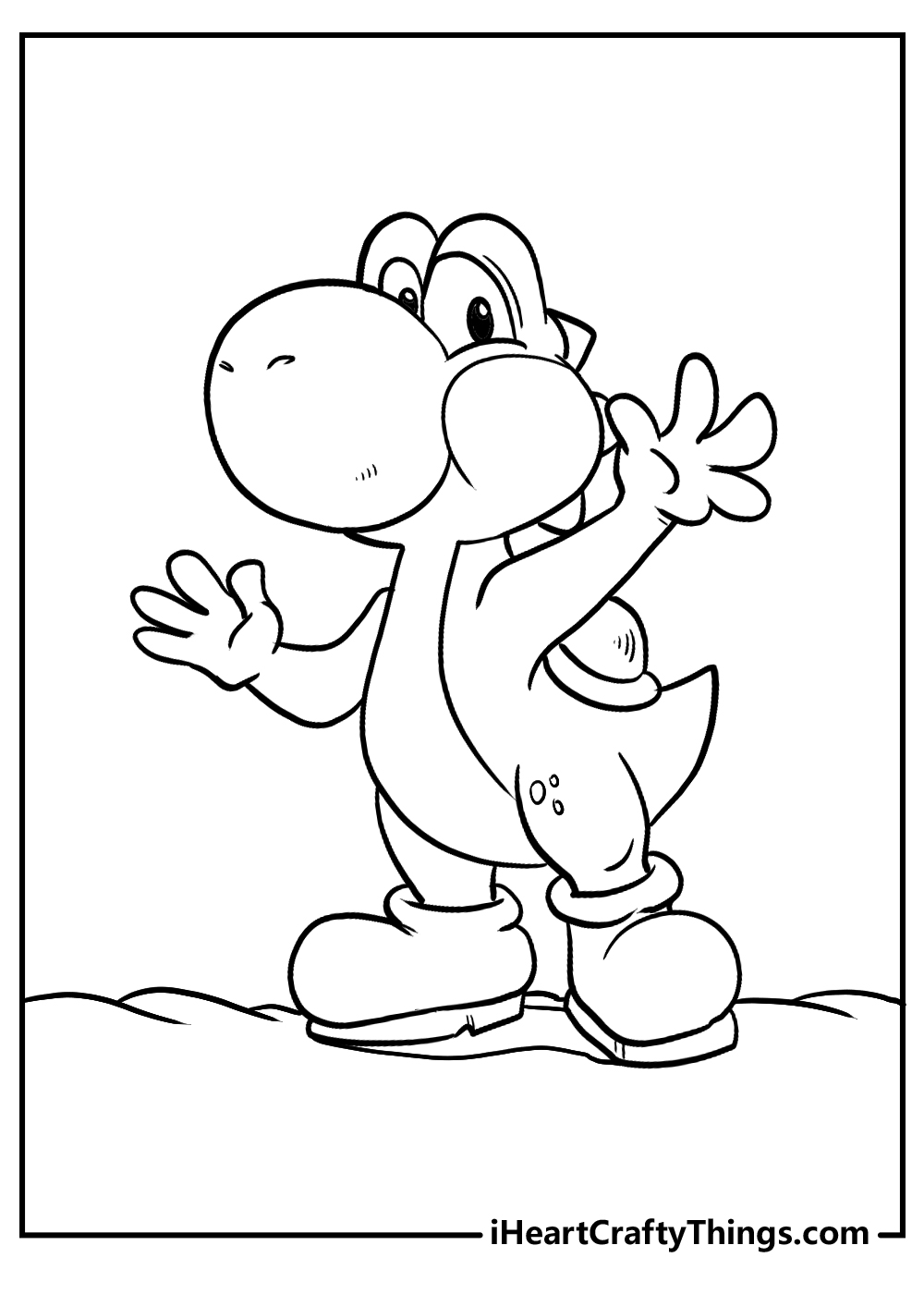 This next Yoshi coloring printable shows him carrying something, and it makes you wonder what could be going on here. Luckily, you have your imagination and your art tools handy for this one!
That means that you could create a little story on this page. It could be something very simple, or you could create something more involved.
Once again, using your favorite levels and items from the games would be a great place for you to start. What kind of day do you think Yoshi could be having on this page?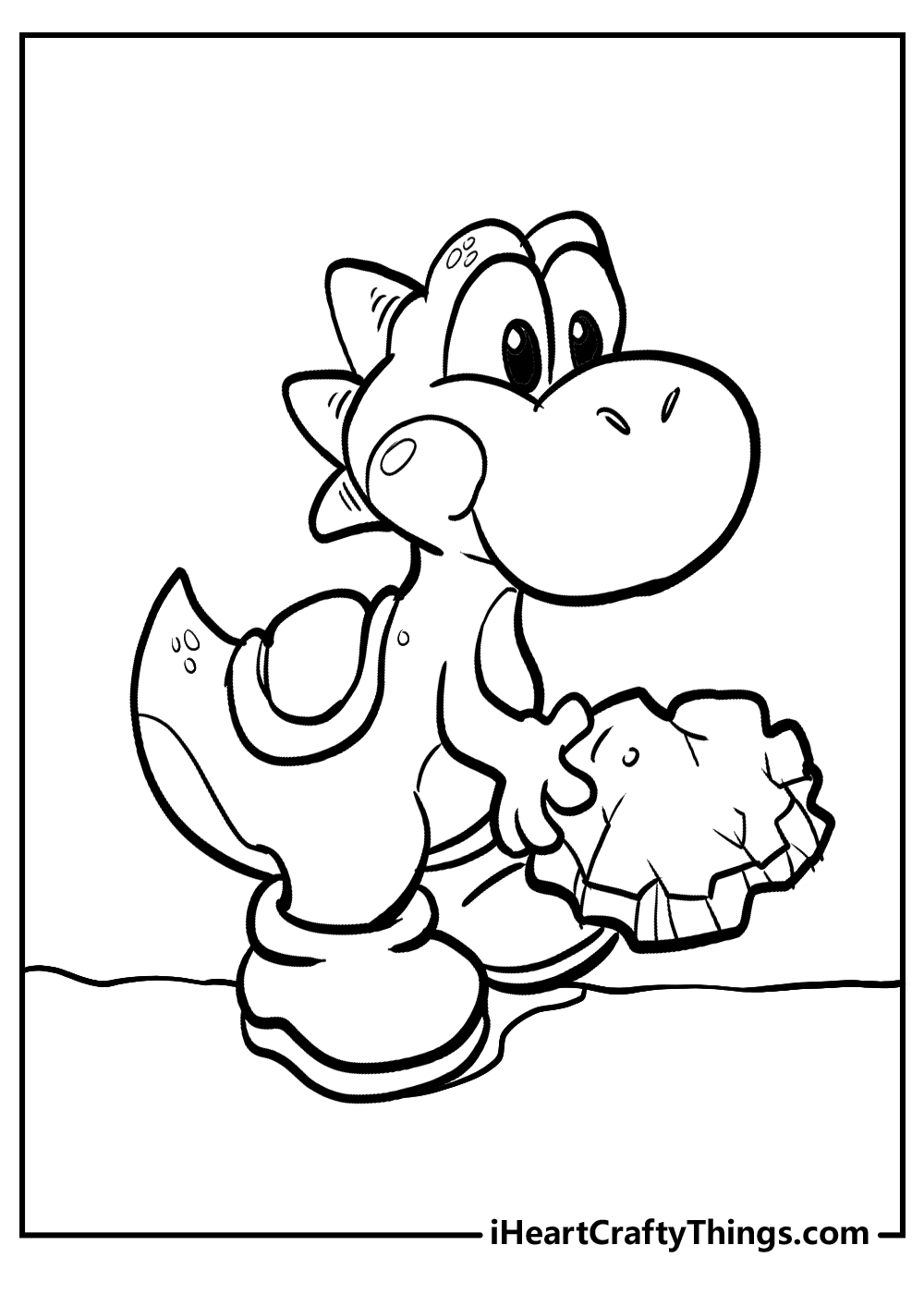 Everyone needs to take a break for a snack every now and then. This is true for Yoshi who looks ready to tuck into a tasty apple!
The detail of the apple not only serves as a nice addition to the picture but also presents an opportunity for you to add some bright color.
Red or green would be perfect for this particular detail, and I would personally use colored pens to add these colors. That would help the colors to really stand out on the page.
Of course, you should use any colors and mediums you like for these details!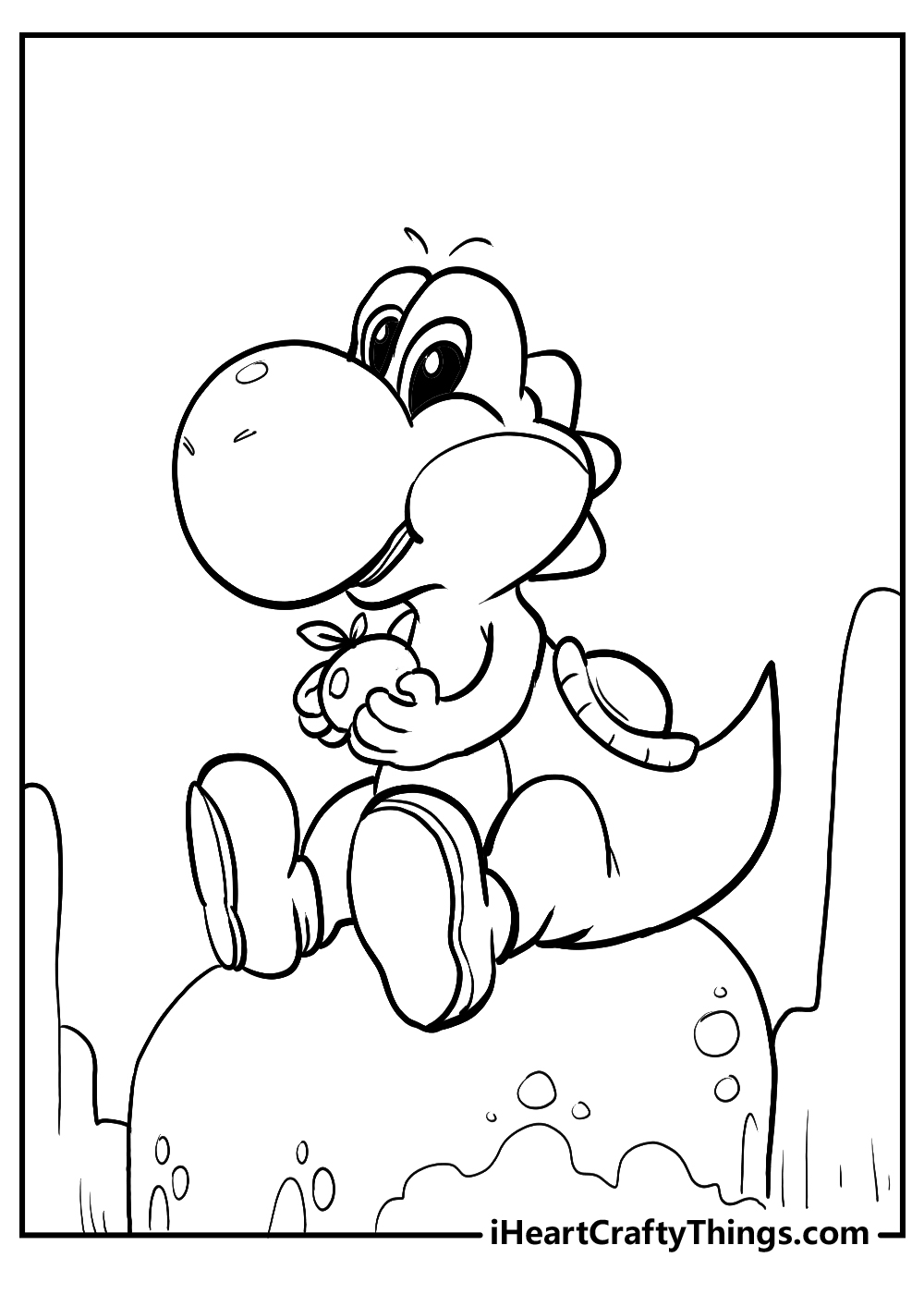 Coloring can be hard work, and sometimes you need to take a little break. Yoshi has the right idea on this next page we have for you!
He is taking a nap on a giant mushroom, and it makes for an absolutely adorable picture. Not only that, but there are plenty of details for you to have fun coloring on this page.
Not it's up to you to have some relaxing coloring fun as you fill in this adorably chill page!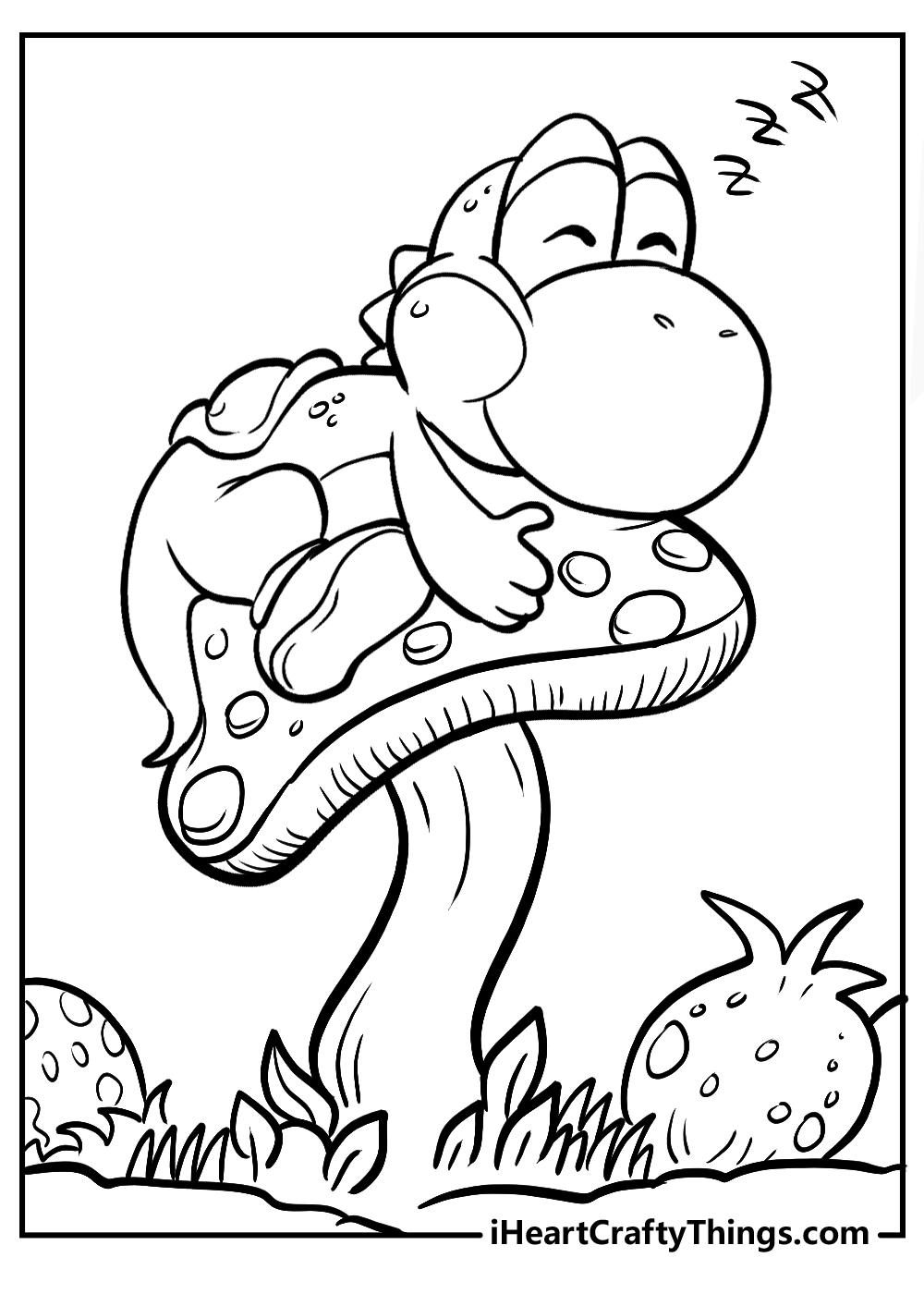 Yoshi may not have the acrobatics of Mario, but he has a few tricks up his sleeve (even though he doesn't technically have sleeves.) One of his signature moves involves him shooting his tongue out to reach objects.
This next coloring page shows him performing this move, and it looks really cool! Coloring his
tongue could be tricky, as it is a very narrow space.
Using certain coloring mediums like colored pens or pencils would allow you to carefully color within this thin space. Will you use those kinds of art tools or do you have others in mind that you would prefer?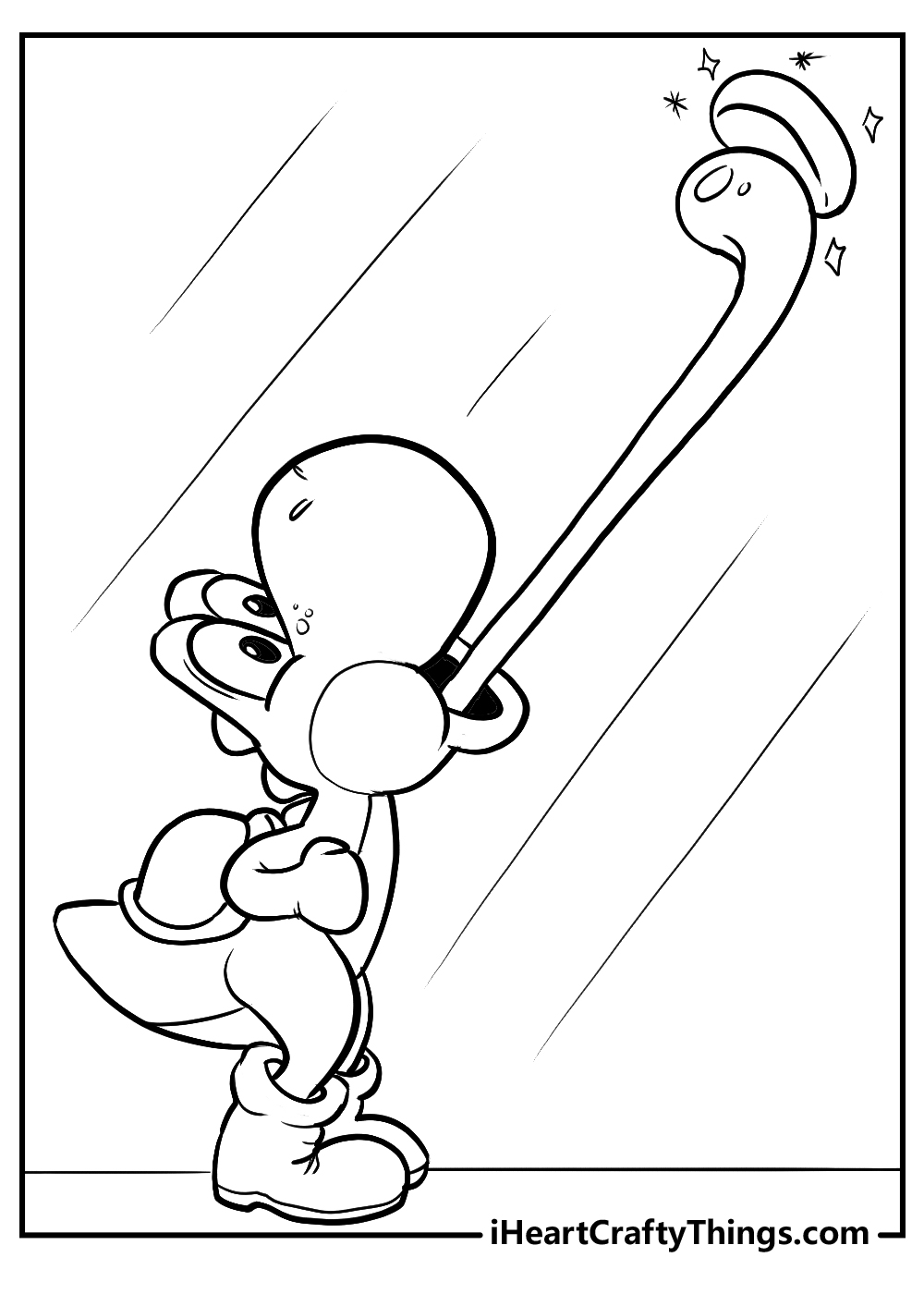 This next Yoshi coloring page presents our hero looking very happy! He's jumping around while holding a flag, and it makes you wonder if he is playing capture the flag.
If you think that is what is happening, then you could draw some other characters playing the game with him. You could use some characters from other Nintendo games or perhaps some unrelated ones.
It's up to you to decide, and it would be very interesting to see which characters you would have playing the game with Yoshi.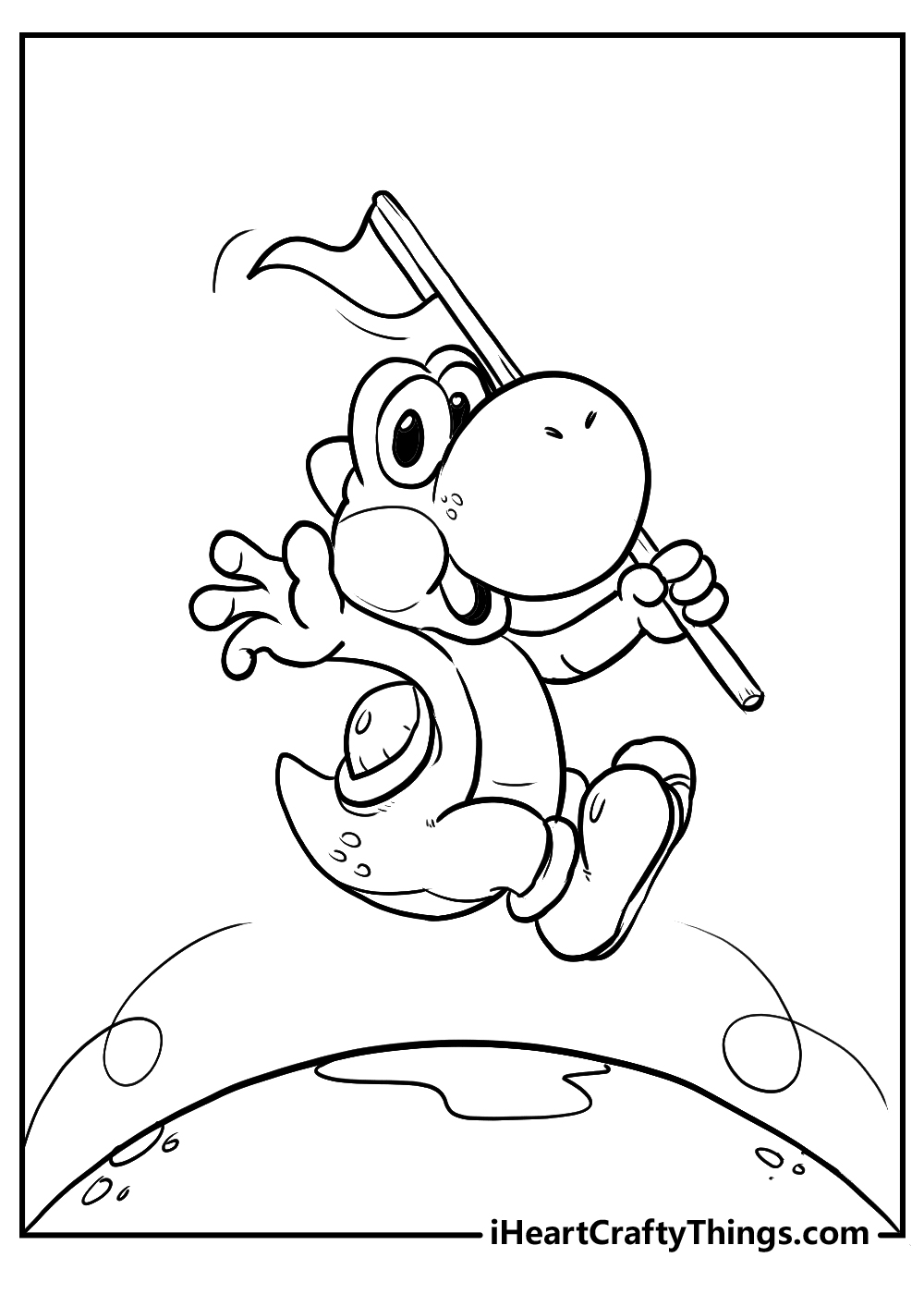 Yoshi looks like he is floating on this next page, and that opens up all sorts of interesting possibilities. When I saw this picture, I immediately thought that it would be fun to have him high in the sky.
If you agree with that idea, you could portray it by coloring a light blue background. Then, you could draw and color some clouds to finish off the effect.
Sticking some cotton wool over the clouds would give them some very real fluffy texture. Have you got any other ideas for a background for this particular page?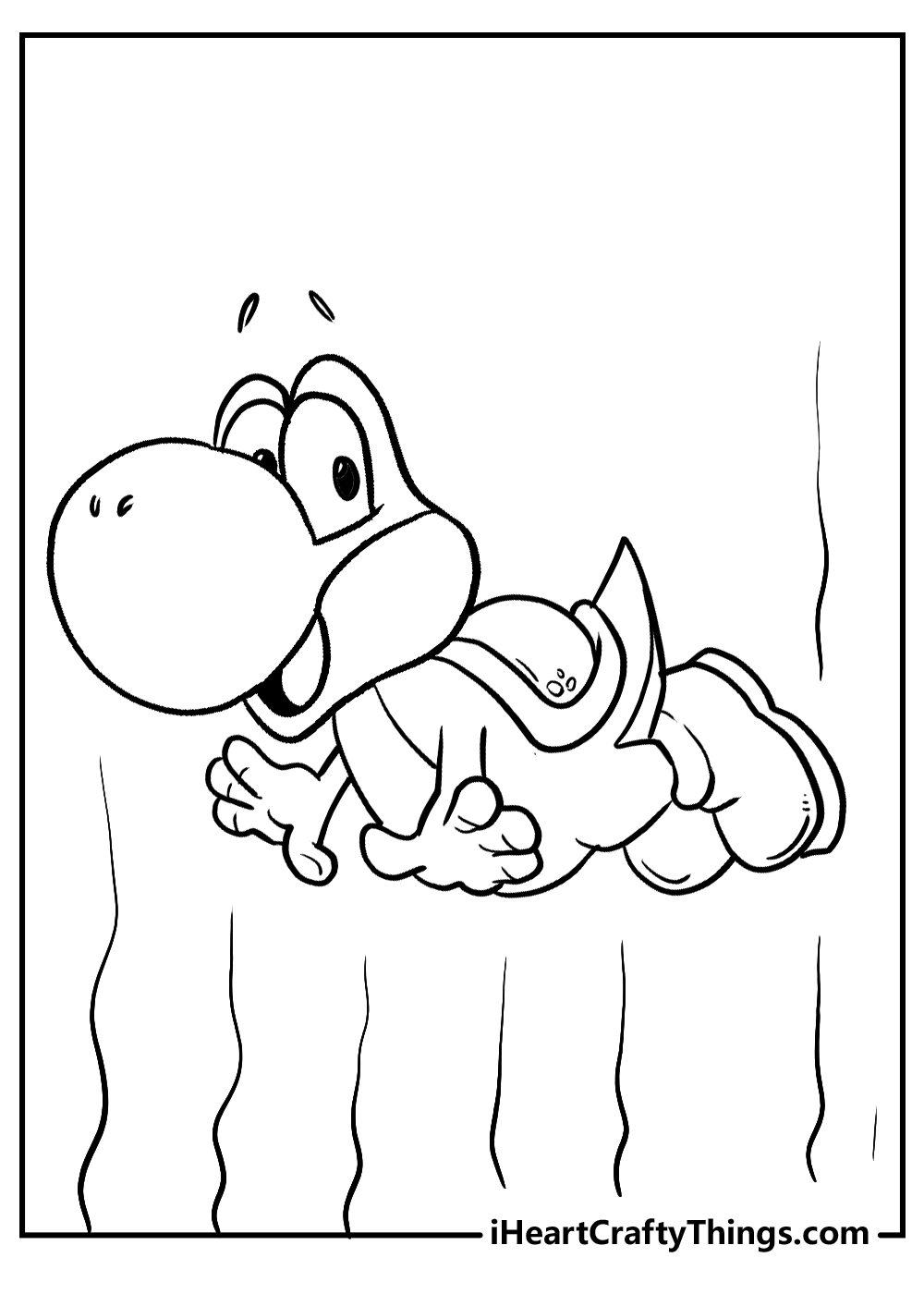 What a charming image this next one is! Yoshi is joyfully chasing after a butterfly, and the look of joy on his face is infectious.
Not only is this a really fun picture, but there are so many ways that you could add some great colors to the image. The butterfly is a great place to start.
You could use some of your favorite bright and vibrant art mediums to make this butterfly a colorful focal point of the image. What colors would you use for the butterfly?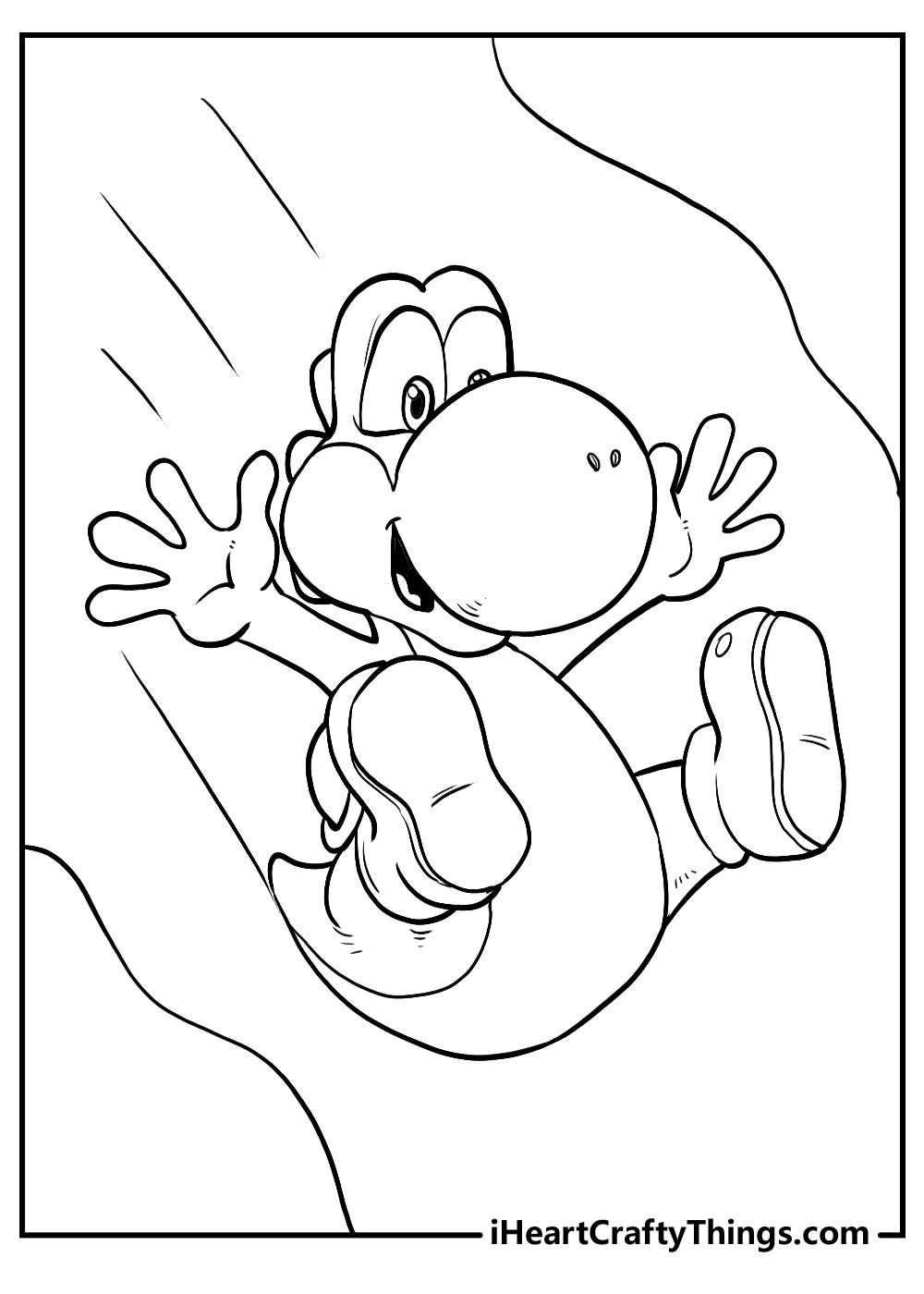 I certainly wonder what is happening in this next picture! Yoshi looks as if he has just dodged some kind of aquatic attack.
Maybe he is in the middle of a water balloon battle with some of his friends. If you think that could be it, then you could create the scene by adding a background setting and some additional characters.
You may have some other ideas as to what is happening here, so be sure to show off what you think it could be!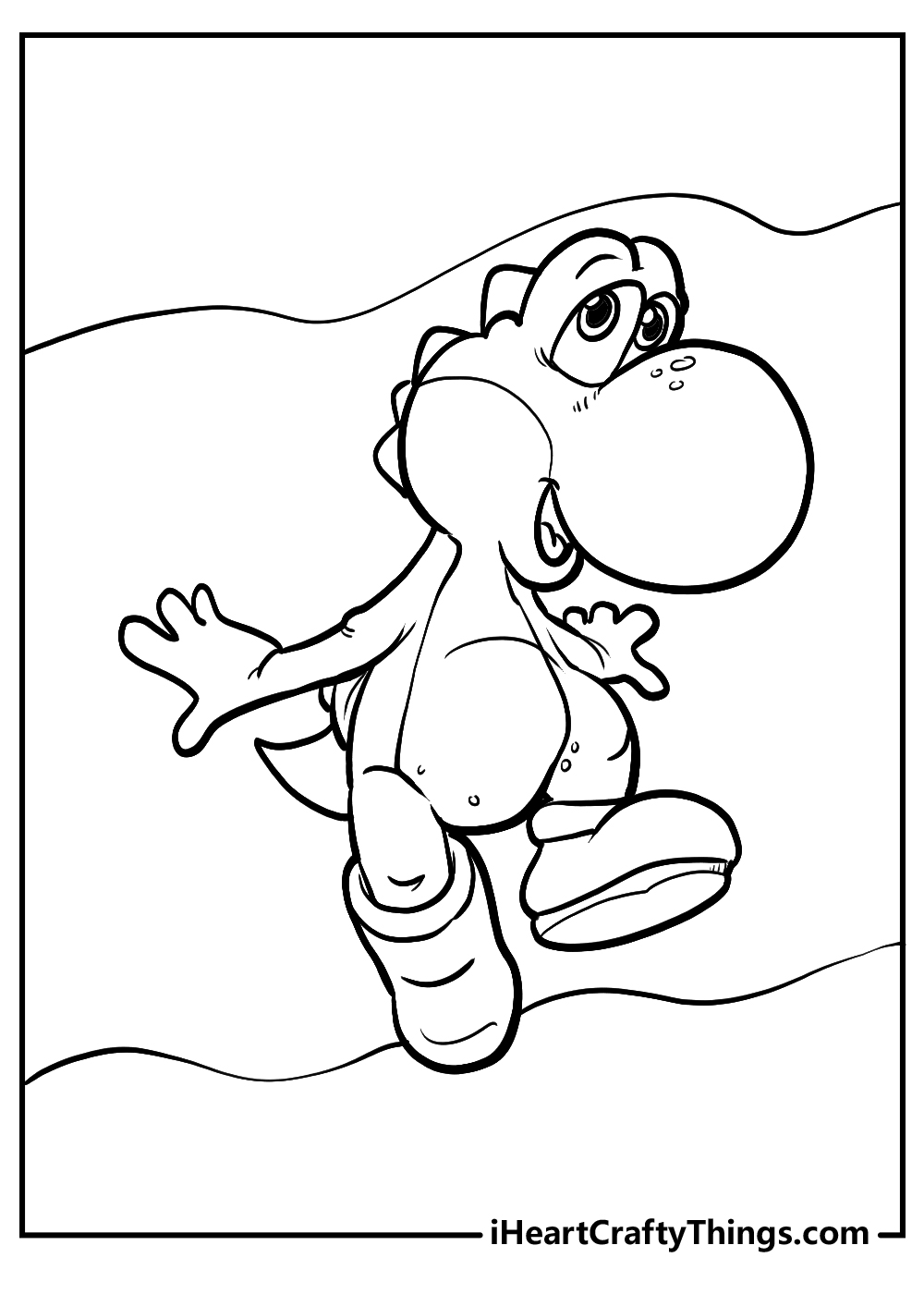 This next page looks pretty simple and straightforward when you first look at it. On the surface, it's a picture of Yoshi standing next to his name written out.
Okay, maybe it's not any more complicated than that, but it still presents a challenge. Coloring the letters of his name could be a bit of a challenge, but it's nothing that the right art tools can't handle!
I always suggest colored pens or pencils for details like this, but you could also use a thin paintbrush. Which colors would you use for his name?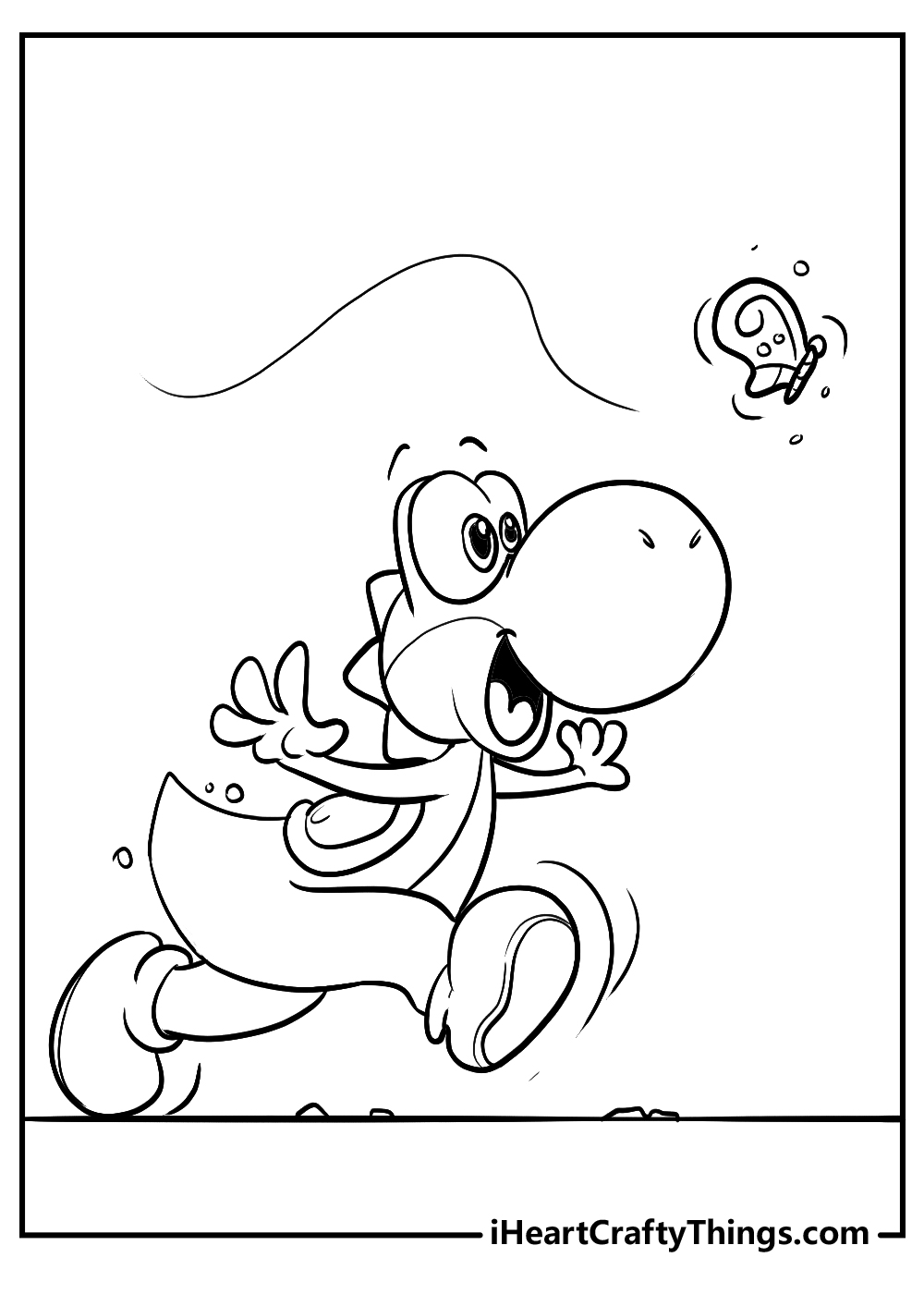 Yoshi looks as if he is going down a big slide on this next page. There are so many scenarios that could be going on here, and you could show what he is up to.
Drawing a background would be a great way to do this. I would draw a big Nintendo-themed waterpark behind him, and you could fit all kinds of great details if you did that.
Of course, you may have some other ideas as to what is going on here, and you should draw any ideas that you may have!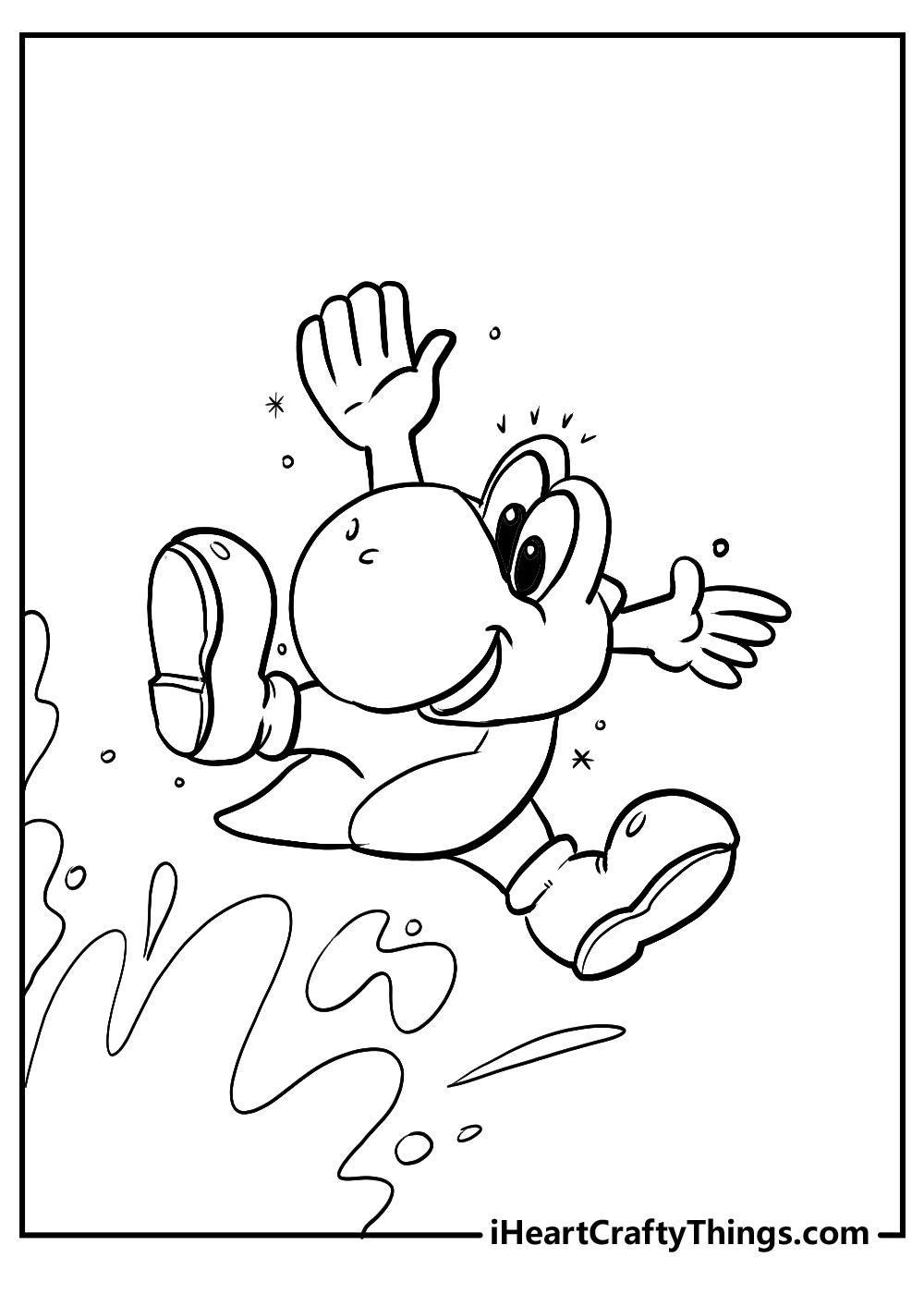 This last Yoshi coloring printable in this collection shows him running along, and it's another image rife with possibilities. Drawing a background is always a way to make a picture even better.
You can also use solid colors, shapes and other effects instead as well. There are no wrong ways to go about it, and anything you do will look awesome in its own way.
You can also print out a few different copies so that you can experiment with all of your awesome ideas for this coloring page!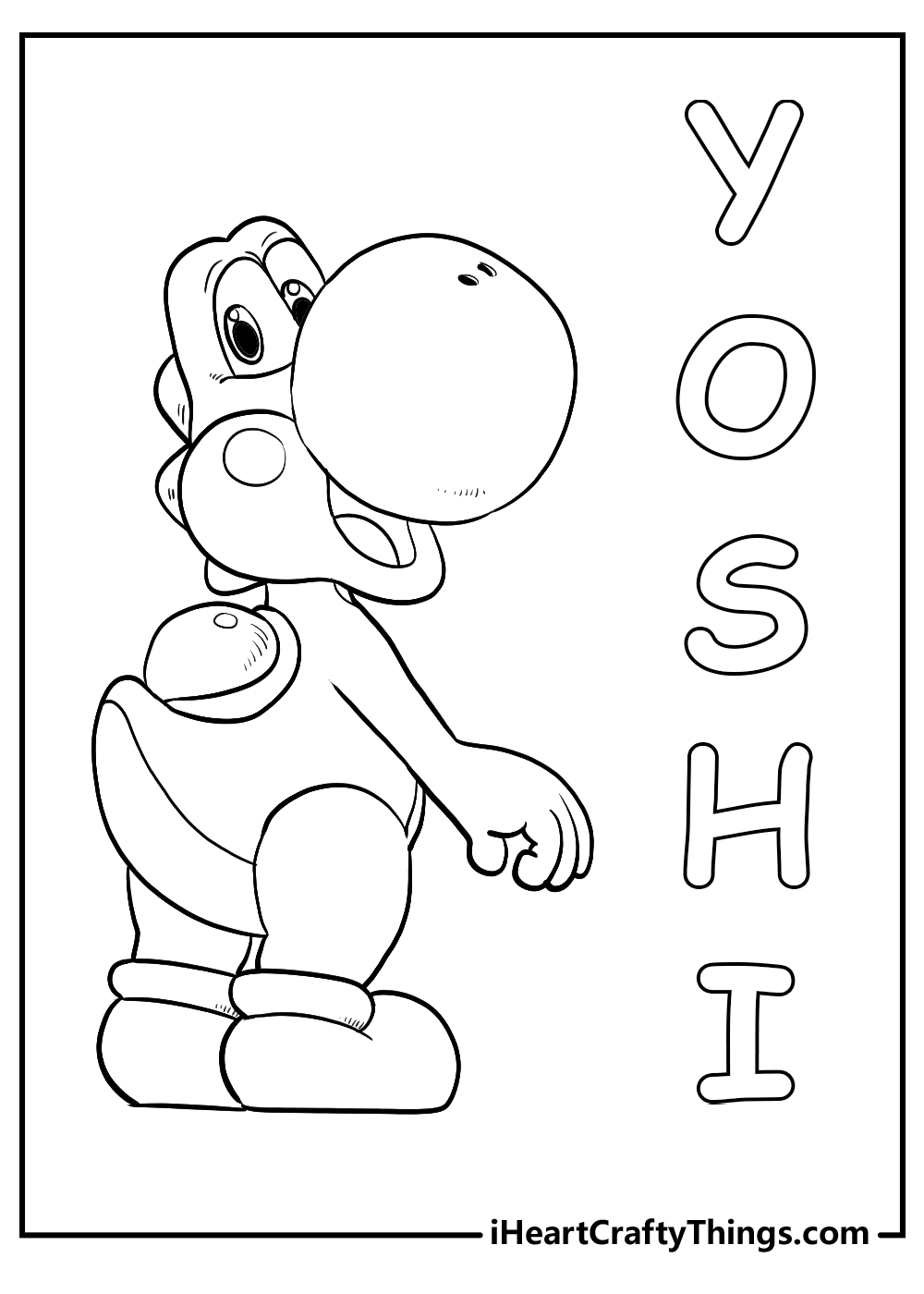 Yoshi Coloring Pages – Which will you choose?
You have finished this journey and seen all 15 of these free Yoshi coloring pages for kids! Each and every page in this collection is free for you to print and enjoy as many times as you like.
There are no limits, so you can experiment and have fun as much as you like on all your favorite pages. You can also share the collection with other Yoshi fans you know to spread the adventure!
Don't be shy about trying different art tools and coloring techniques to recreate all of your favorte Yoshi moments. We also love to see how your artwork turns out!
Sharing them on our Facebook and Pinterest pages is a great way to show off your incredible work!