Mother's Day is a holiday honoring mothers around the world. It's a worldwide celebration that highlights the importance and influence of mothers.
Are you looking for a personalized present you can gift to mom on Mother's Day? What better way than to give her something homemade, and something that came from your heart?
We crafted these 10 new Mother's Day coloring pages that you can download for free. After you're done coloring, you can turn it into a Mother's Day card. You can frame it and give it to her personally.
The Mother's Day printables on this page range from simple ones that are perfect for little kids to complex ones that are suitable for older kids. There is also a bunch of designs to choose from – from flowers to trophy, to intricate lines and shapes. Take your pick and surprise mom on Mother's Day!
10 Brand New Mother's Day Coloring Pages – Free to Print and Color
This Mother's Day coloring page is filled with flowers. Its design is pretty basic and straightforward – perfect for little ones. The Happy Mother's Day greeting is across the top of the page.
If your mom loves flowers or has a garden at home, she'll surely like this one.
Colors can be mixed and matched on the different flowers, even on the petals. This coloring page can be made in colors that you think match mom's personality.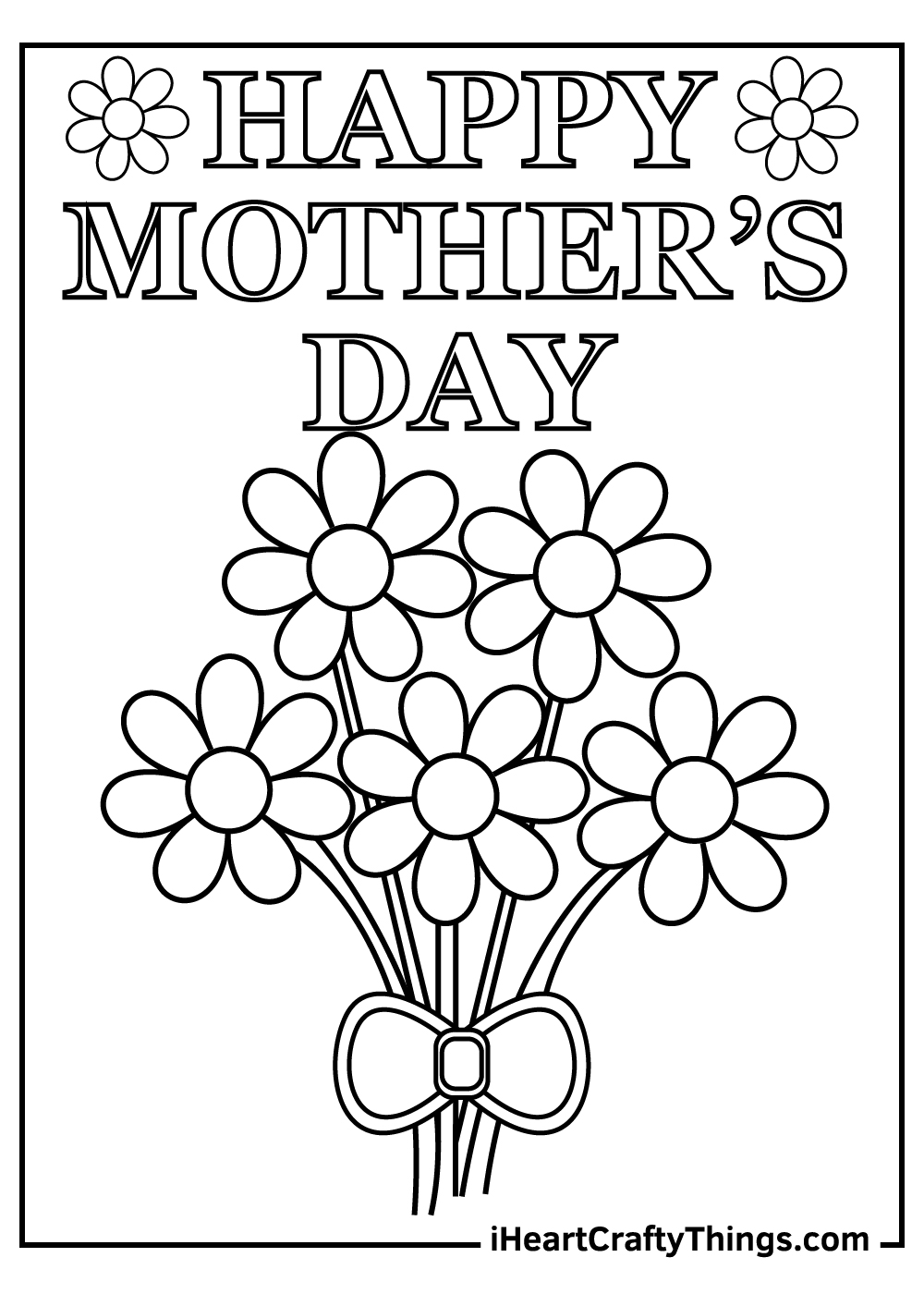 An image that contains more designs, this Mother's Day coloring page features geometric flower designs with the Happy Mother's Day greeting inside a big heart. Heart and flowers? Sounds like a good plan.
The designs are made of simple and big lines so it's easy for little kids to color them in.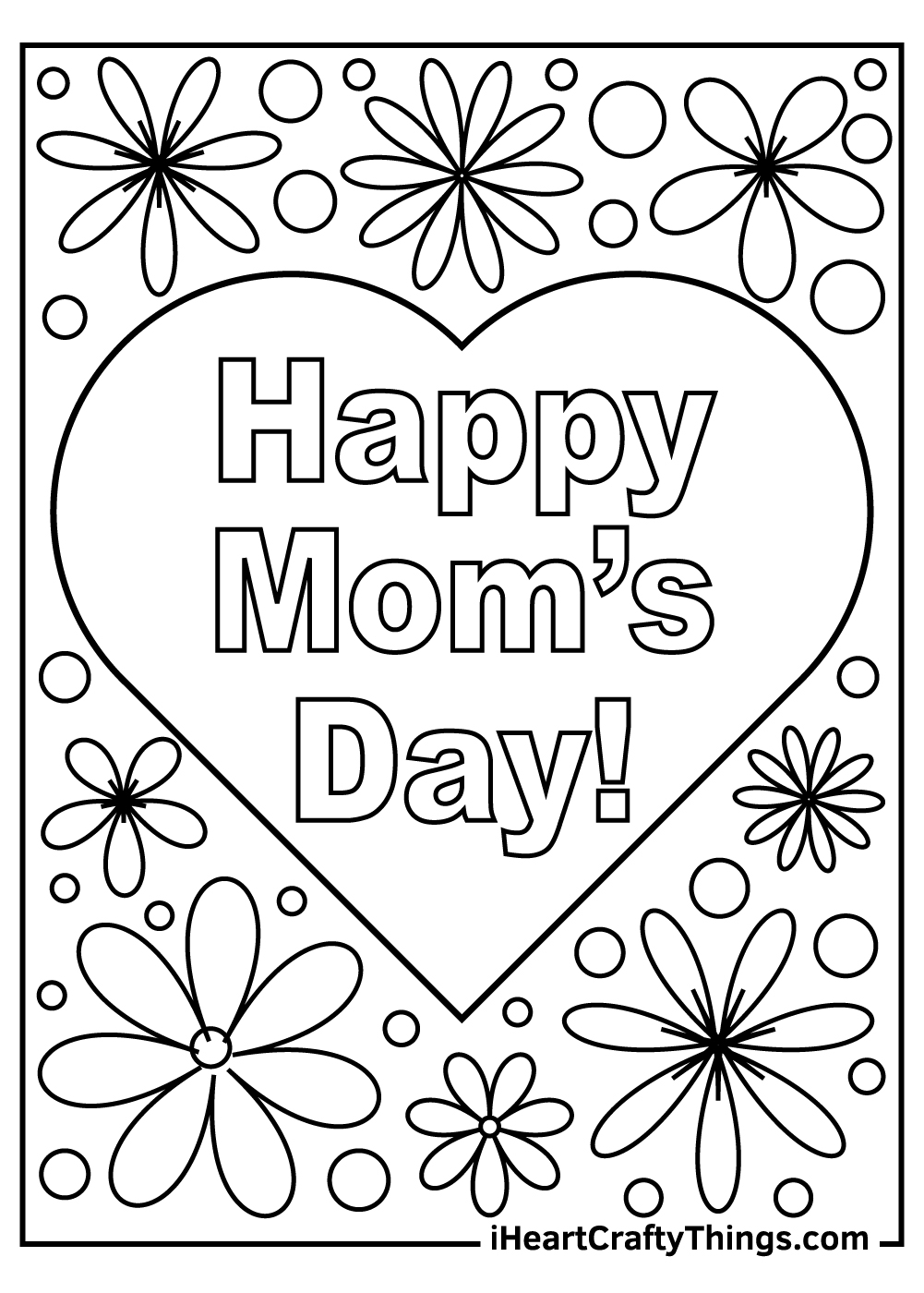 Our Mother's Day coloring pages are a unique collection of high-quality posters that you are free to download, print, and color at home.
This one free printable contains the Happy Mother's Day greeting at the center using a cursive font with many special shapes and designs scattered around the page. This coloring page is much more suitable for older and advanced kids.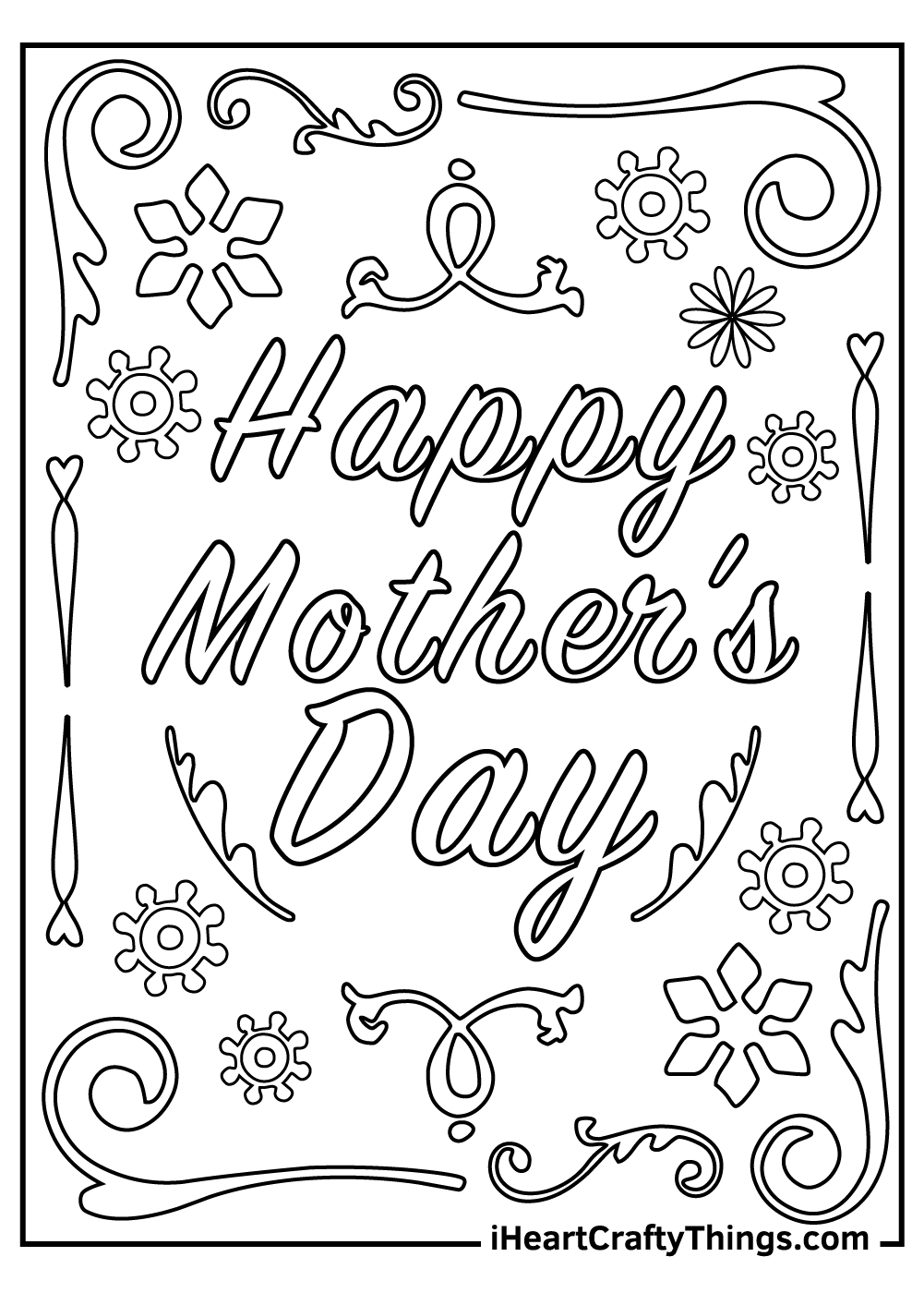 Mother's Day is a day meant to honor our mothers. It's also the day to thank them.
This Mother's Day printable is a Thank-You card once printed and colored. Instead of the usual Happy Mother's Day greeting, this card gets straight to the point. The words "Thank you, Mother" are in this printable with an accent design of big flowers.
This coloring page will surely challenge you to pick the right colors that mix and match well together!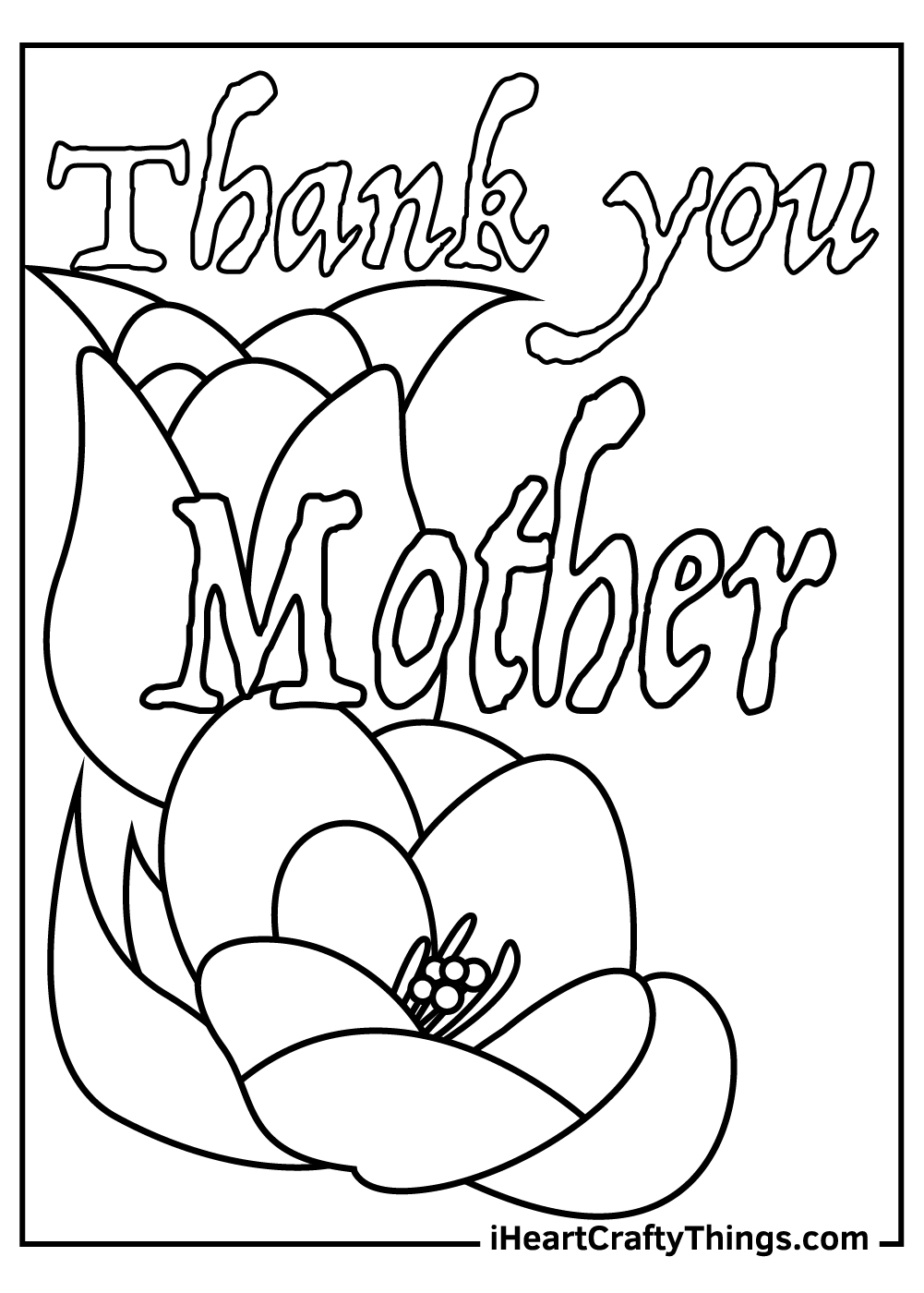 Does your mom have a dynamic personality? Then this Mother's Day coloring page is for her!
The layout of this page screams eclectic and hippie, with lots of unconventional shapes and lines.
The words "Happy Mom's Day" are sprawled across the center of the page with flower designs above and below the greeting. The letters are also filled with many different lines and shapes.
It can be challenging but mom will surely appreciate it.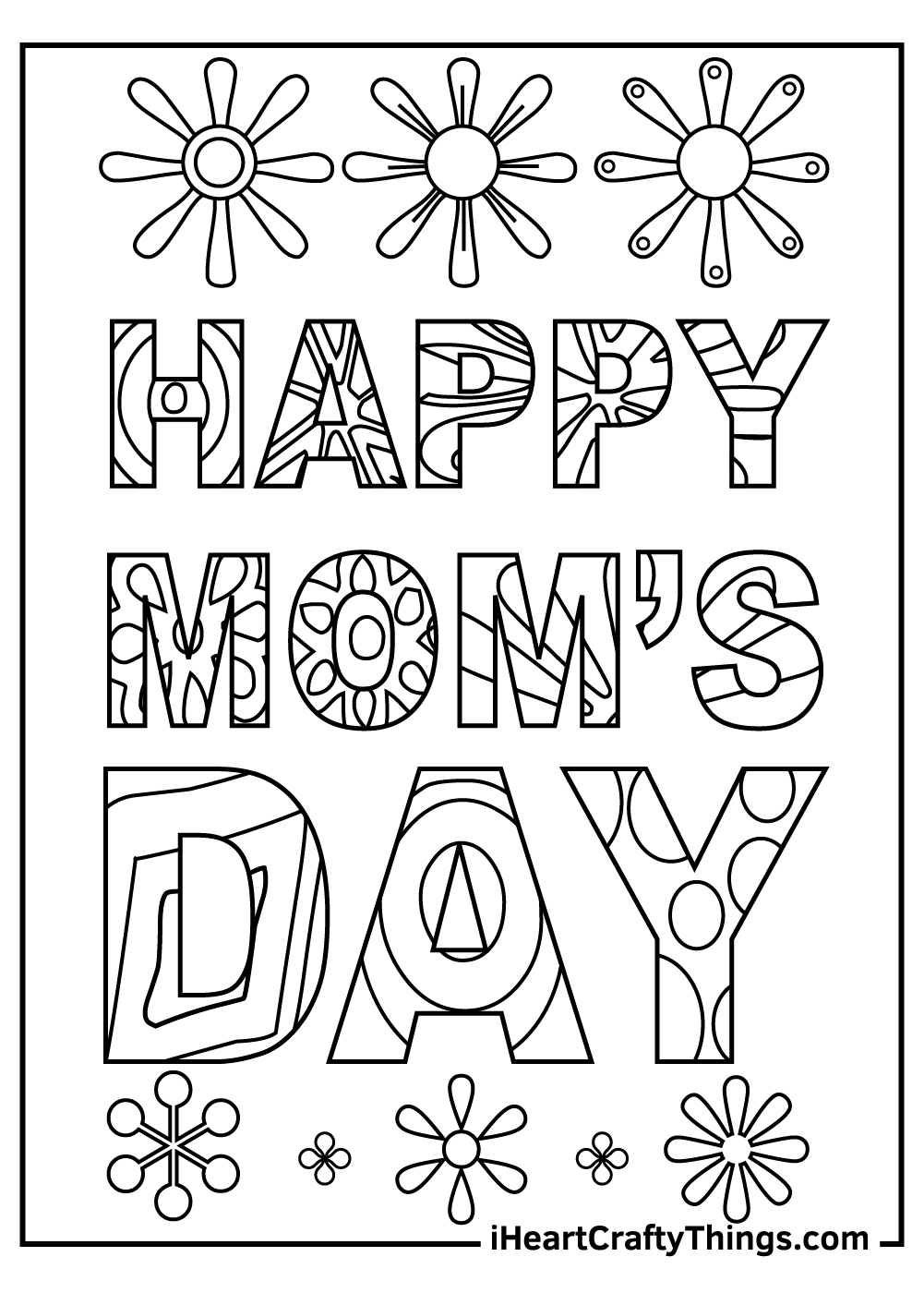 Now, if your mom is a lover of all things sparkling, then this page is perfect for her.
This Mother's Day card contains many sparkly designs (stars, diamond sparkles, snowflakes, flowers, etc). "Mom, you are the BEST" is screaming on the center of this coloring page. It's also advisable for advanced kids because of the many designs and patterns that will make it harder for small kids to color.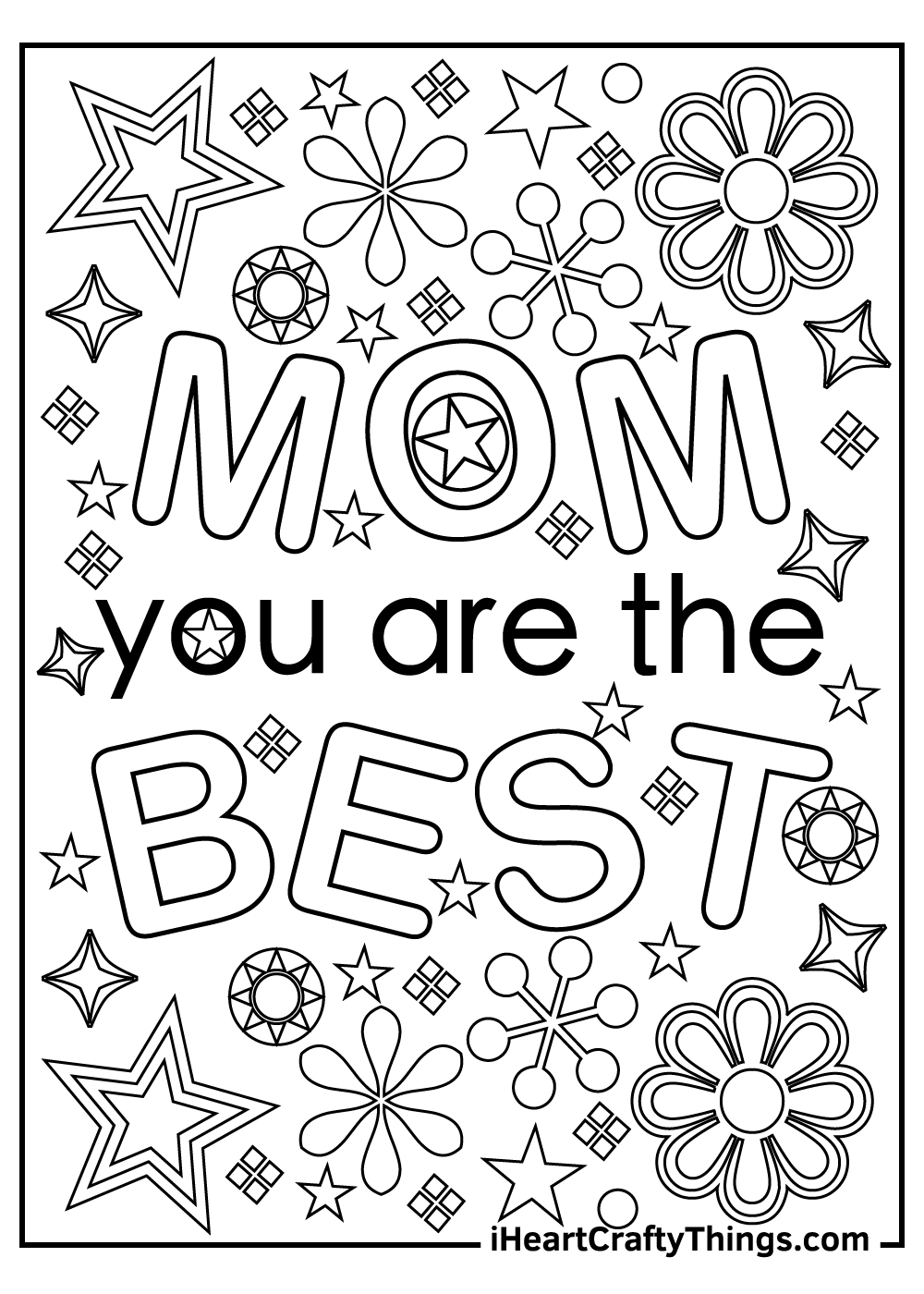 We want our Mother's Day coloring pages to highlight the different characteristics and traits of moms. Each one is different and we would like to honor and highlight that.
On this page is a trophy with the words "#1 MOM" and "I LOVE MOM". Many circular designs filled the paper so this page is highly encouraging for older kids.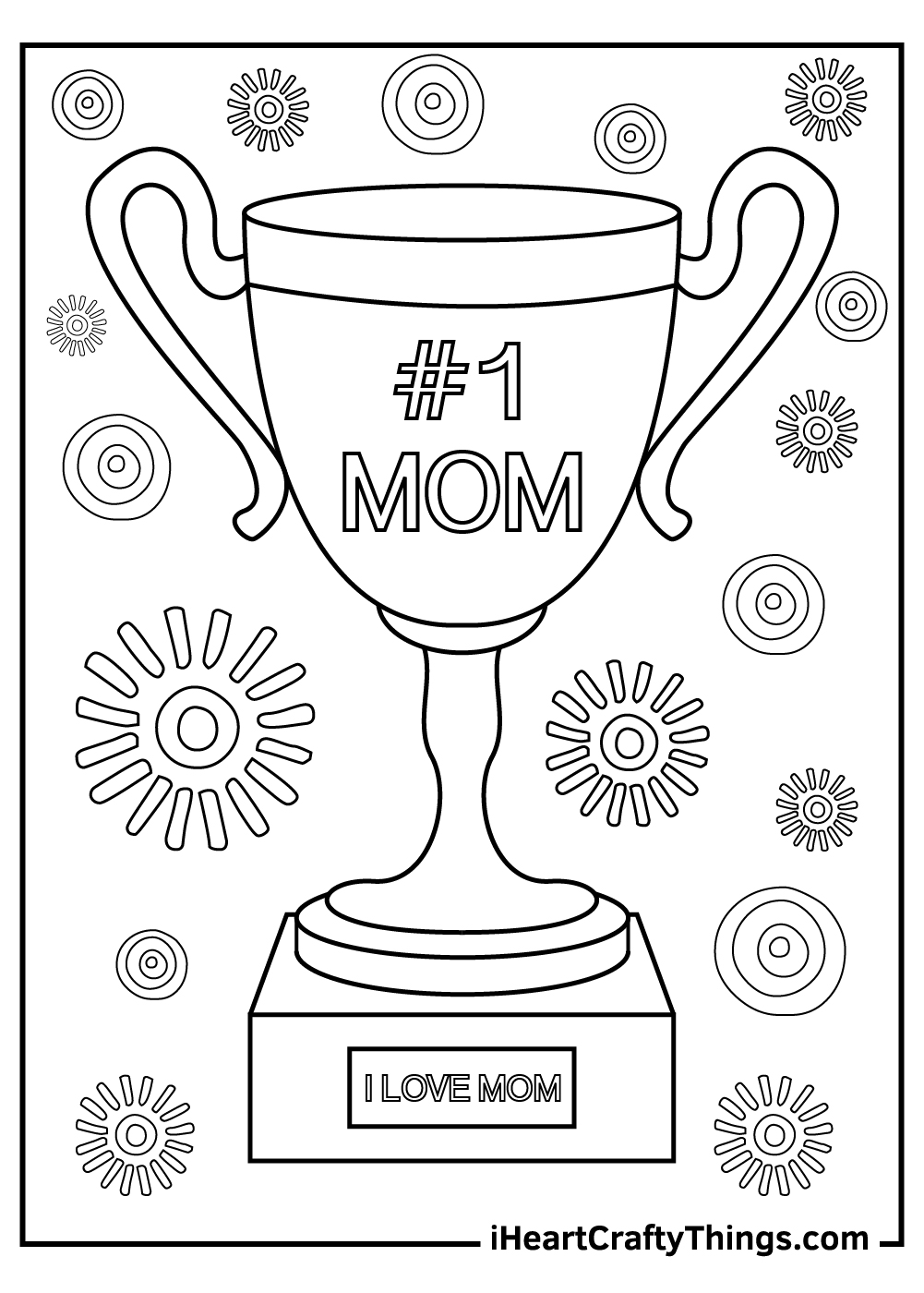 The next highlight of our Mother's Day coloring pages is a simple and basic coloring page that little kids can take on.
"THANK YOU MOM" in big bold letters can easily be colored by small hands. Basic shapes that contain lines with huge gaps allow for a much more relaxed and beginner skill.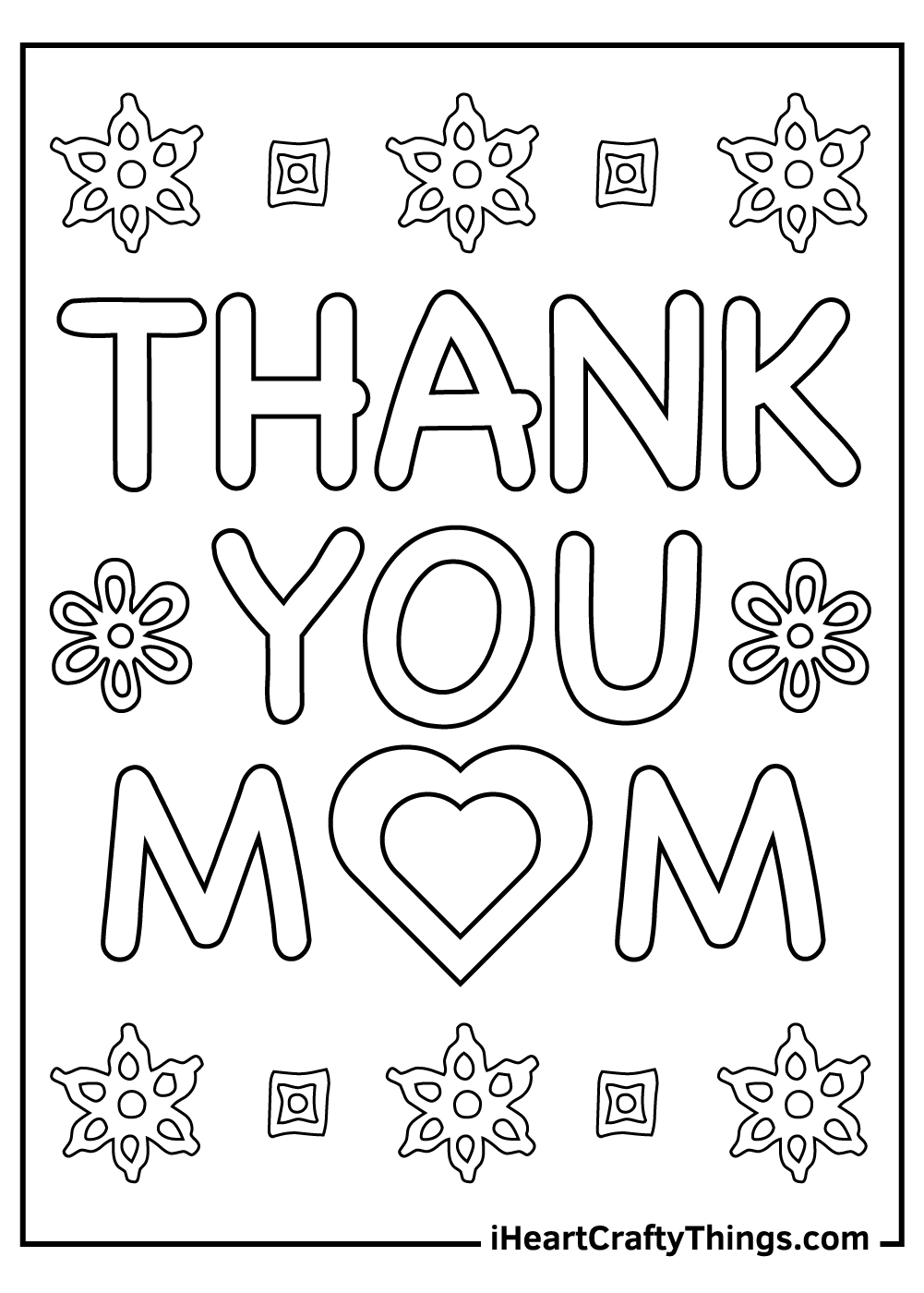 Here's another easy-to-color one from our Mother's Day coloring pages set.
On this page are big tulips with the words "You are the Best" written in big bold letters. Kids who aren't used yet to coloring can use this one.
Our Mother's Day coloring pages are made for kids who have just started to color and those who have been coloring for some time now. The designs range from simple to detailed ones.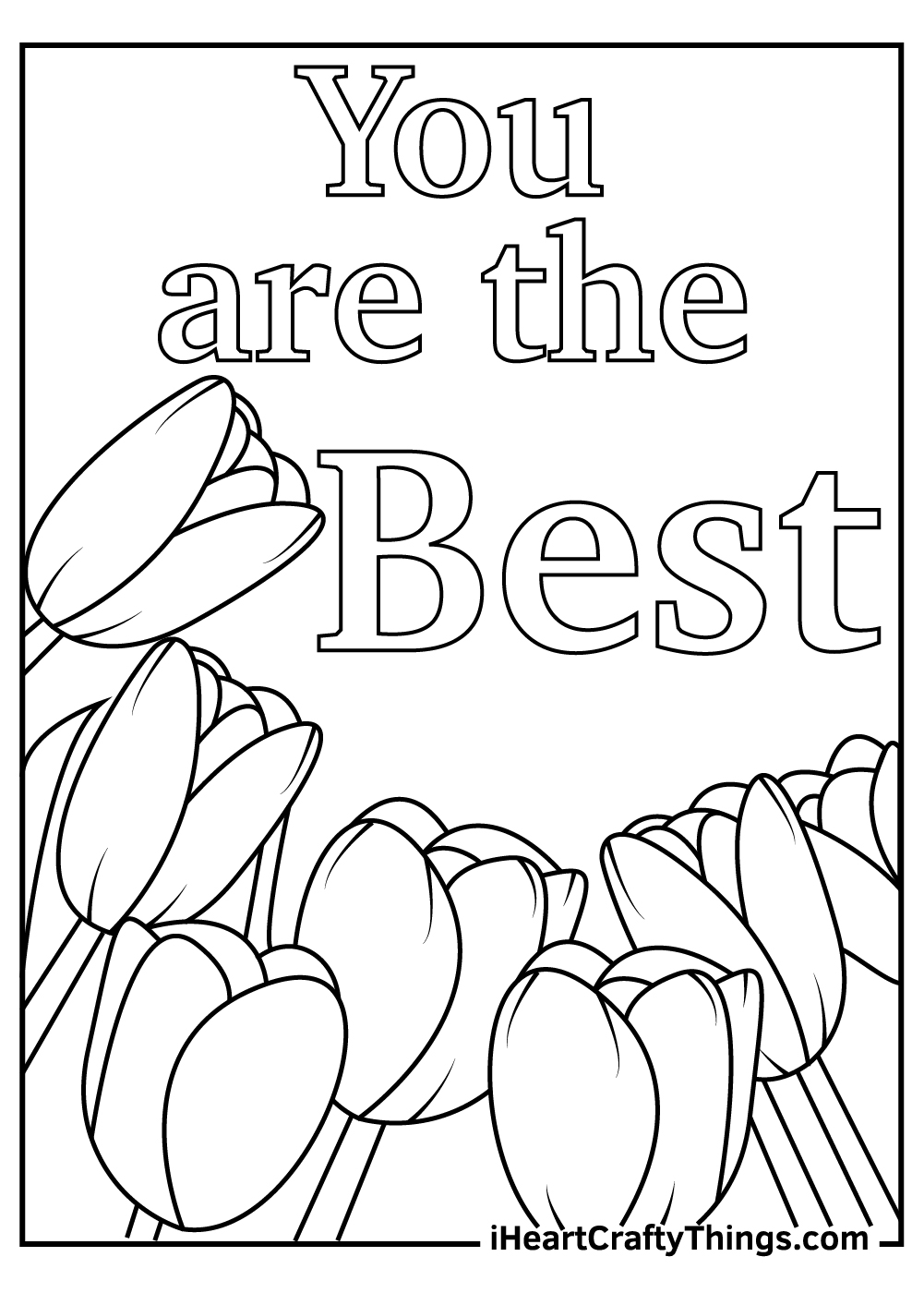 The last page of our free Mother's Day printable is another simple layout meant for beginners.
"Best MOM Ever" is written on the side with huge flowers. There seems to be a rainbow with a heart on the end. Kids can play around with colors on this one. The big designs are surely helpful to the little ones.
The layout of this coloring page is easy to print.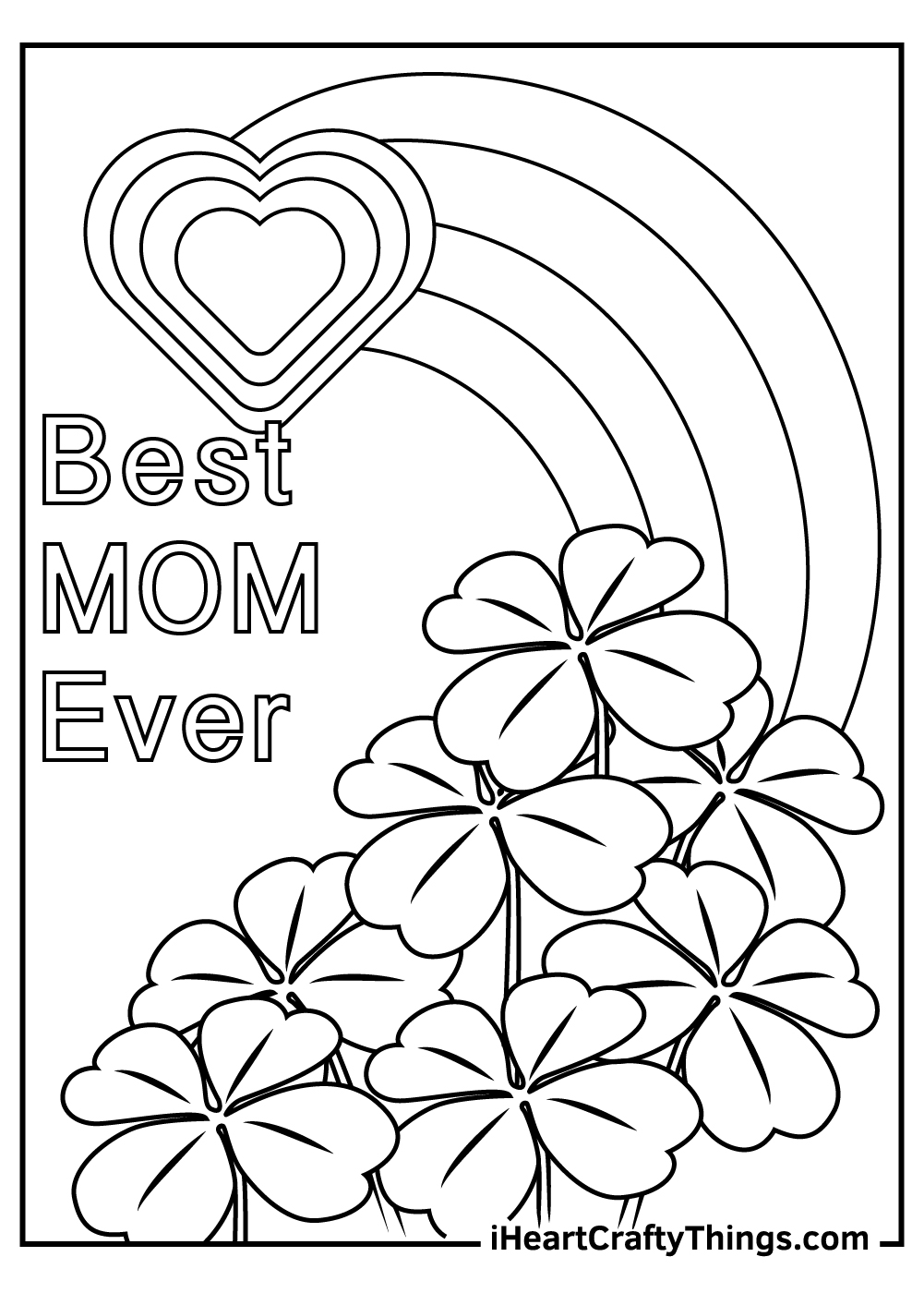 Mother's Day Coloring Pages – High-Quality Printables
These Mother's Day coloring pages are a great resource for card ideas to give to mom. It's diverse and contains various layouts meant for beginners and advanced kids.
Mothers will surely love these prints once all the colors are filled in. Not only because of the design but the thoughtfulness that comes with it.
The high-quality printables are downloadable for free. Just download, print, color, and then voila, your personalized gift is ready.
What other designs would you like to see? Post on our Facebook page to let us know! You can also share your artwork with us. We'd be very happy to see them!
If you were happy with these pages, please share them with friends and family.