On this page, you will find 20 all new Happy Birthday coloring pages that are completely free to print and download.
Birthday anniversaries are funnier with printable coloring cards! These Happy Birthday printables make an excellent free birthday activity and a gift from kids.
Simply print these coloring pages and keep them on hand whenever there's a birthday party with creative kids as guests.
We've designed a huge variety of Happy Birthdays coloring sheets so you can find the perfect picture that your kid will love to color in!
20 Brand New Happy Birthday Coloring Pages – Free to Print and Color
The cake on this happy birthday coloring page is truly a sight to behold! It has three layers with plenty of icing, and it's all topped by a large candle.
The cake is so tall that it seems like it's a bit wobbly and unsteady! For such a chaotic cake and image, we think that some bright and vibrant colors would perfectly suit the image.
We would go for the brightest and most clashing colors we could find, but that is just how we would go about it. How do you think you will color this epic cake?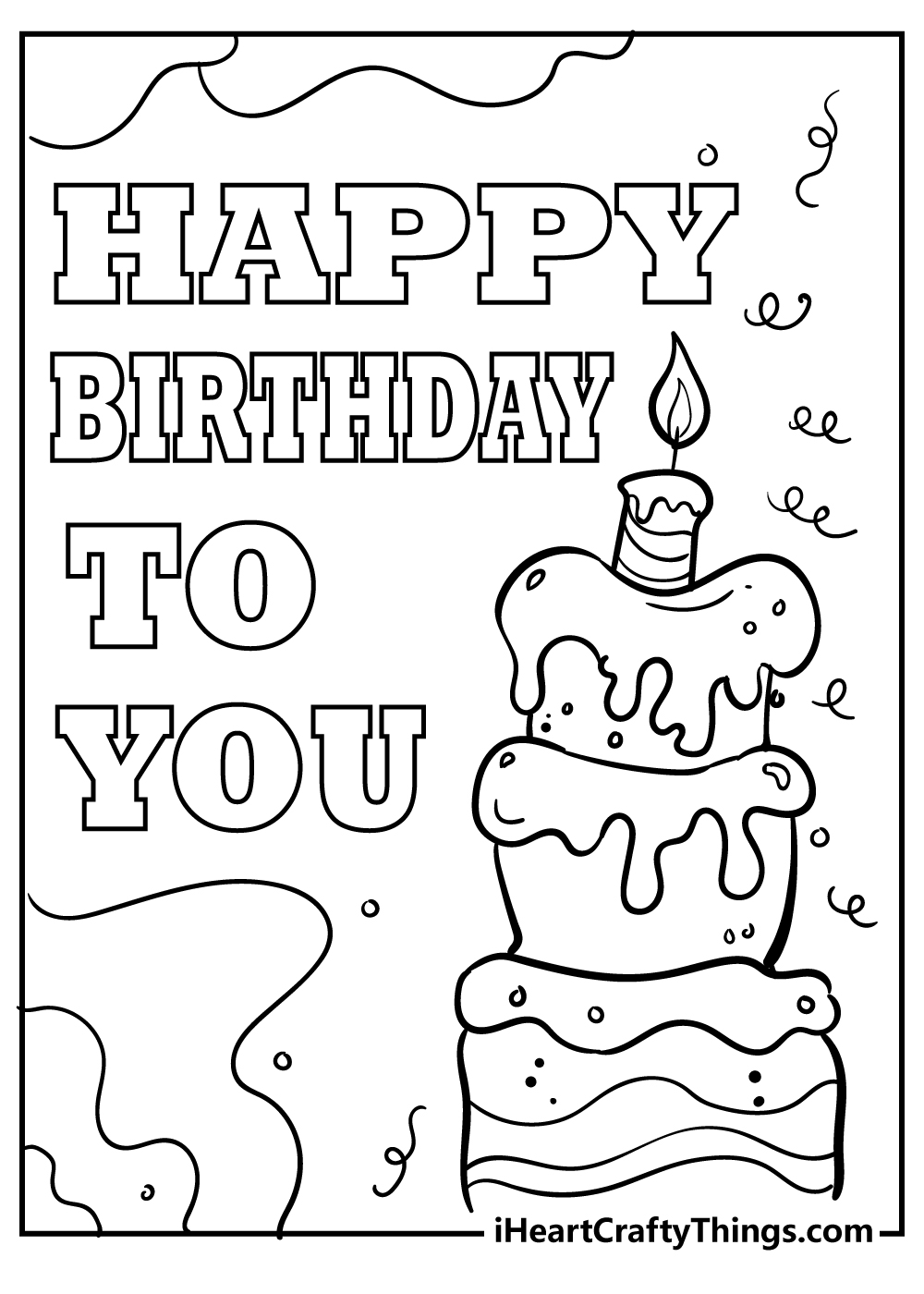 We hope you love balloons, as there are plenty to enjoy on this next page! There is a banner with happy birthday written on it in bold letters, and behind that is a regular herd of balloons.
With so many balloons to color, it can be tricky choosing the colors that would work best!
If we were to color this one, we would try to use a different color for each one in order to create a really vibrant and striking birthday extravaganza!
Will you try to use a lot of different colors or stick to just a few?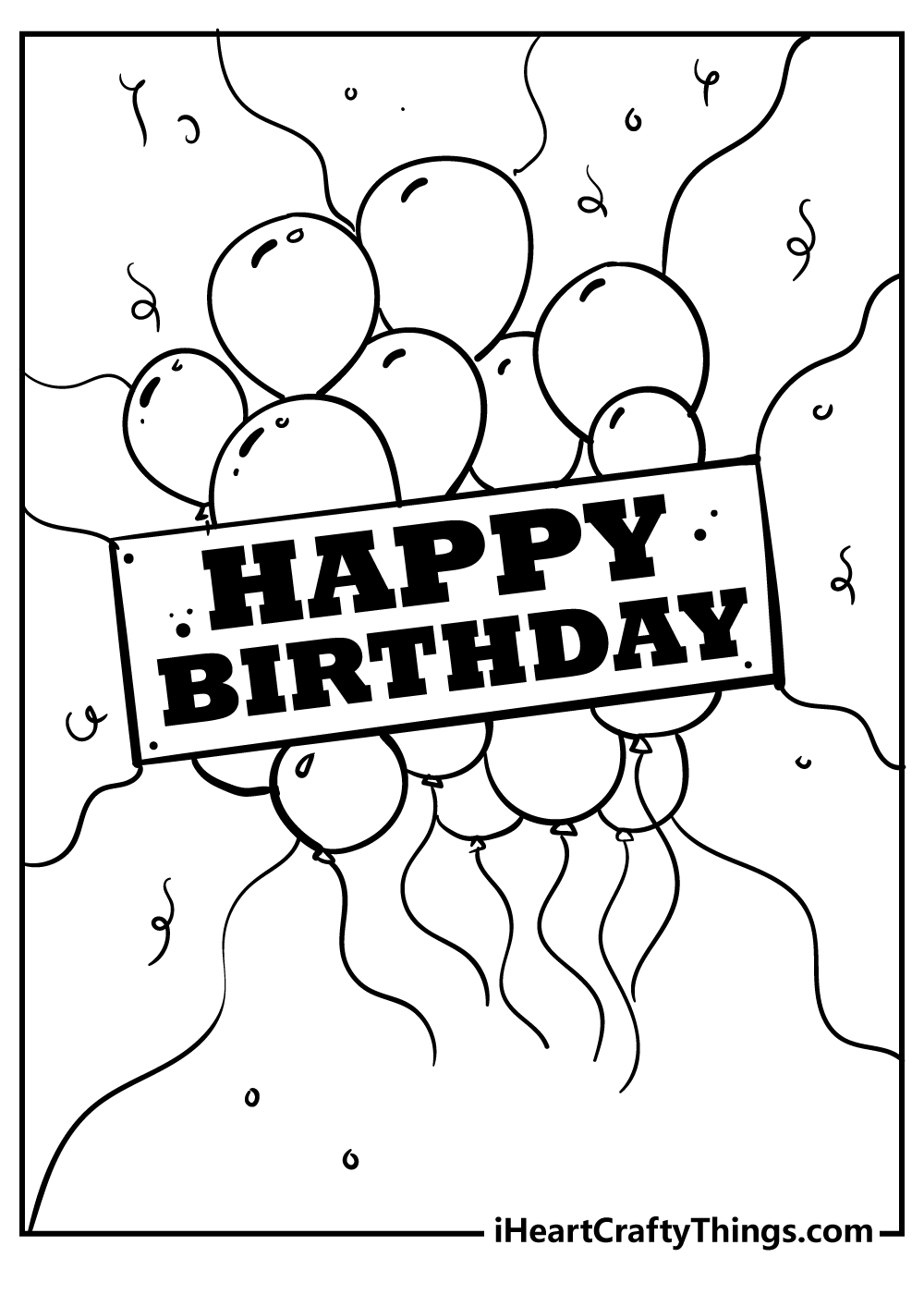 Colorful balloons and garlands are two of the most symbolic decorations for birthday anniversaries. They quickly turn any space into a party location.
This coloring sheet features birthday party decorations that your kids will love to color in.
Your kid can get creative with their colors to decorate and color the balloons on the page. For example, if you have a themed party, your kid can color all balloons in a single color like red, blue, or pink.
The garland and the letters can be colored in with various fun shades too.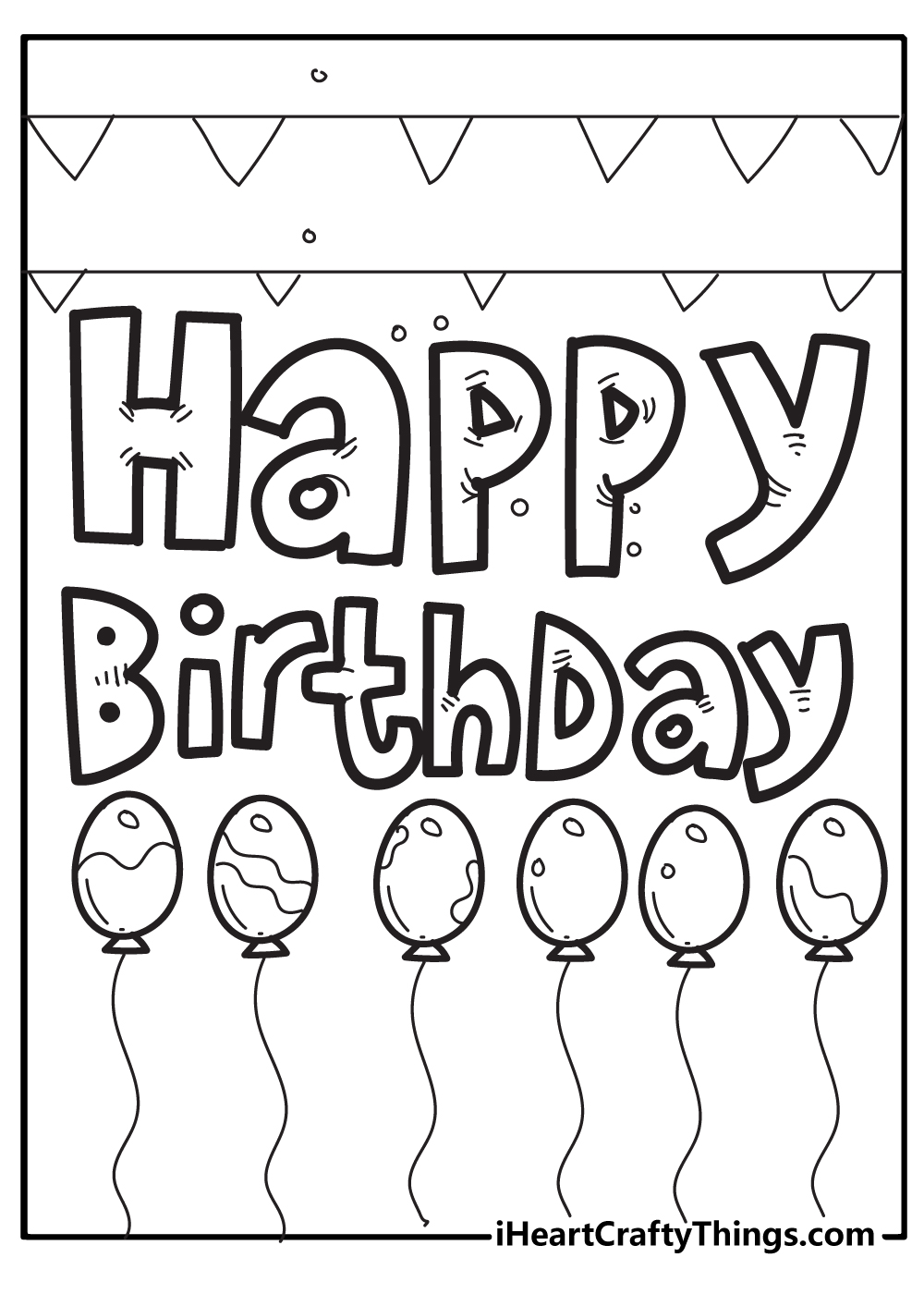 Who doesn't love a cute unicorn on their birthday card? Unicorns are mythical creatures that make a popular design for birthday sheets for kids and adults alike.
If your kid's birthday is just around the corner, print this Happy Birthday coloring page for them.
You can have fun together while coloring the letters, the smiling unicorn, the stars and clouds, and the other design details.
There is no rule when it comes to coloring a mythical creature like a unicorn. So, your little one can get creative and color on this page exactly as they like.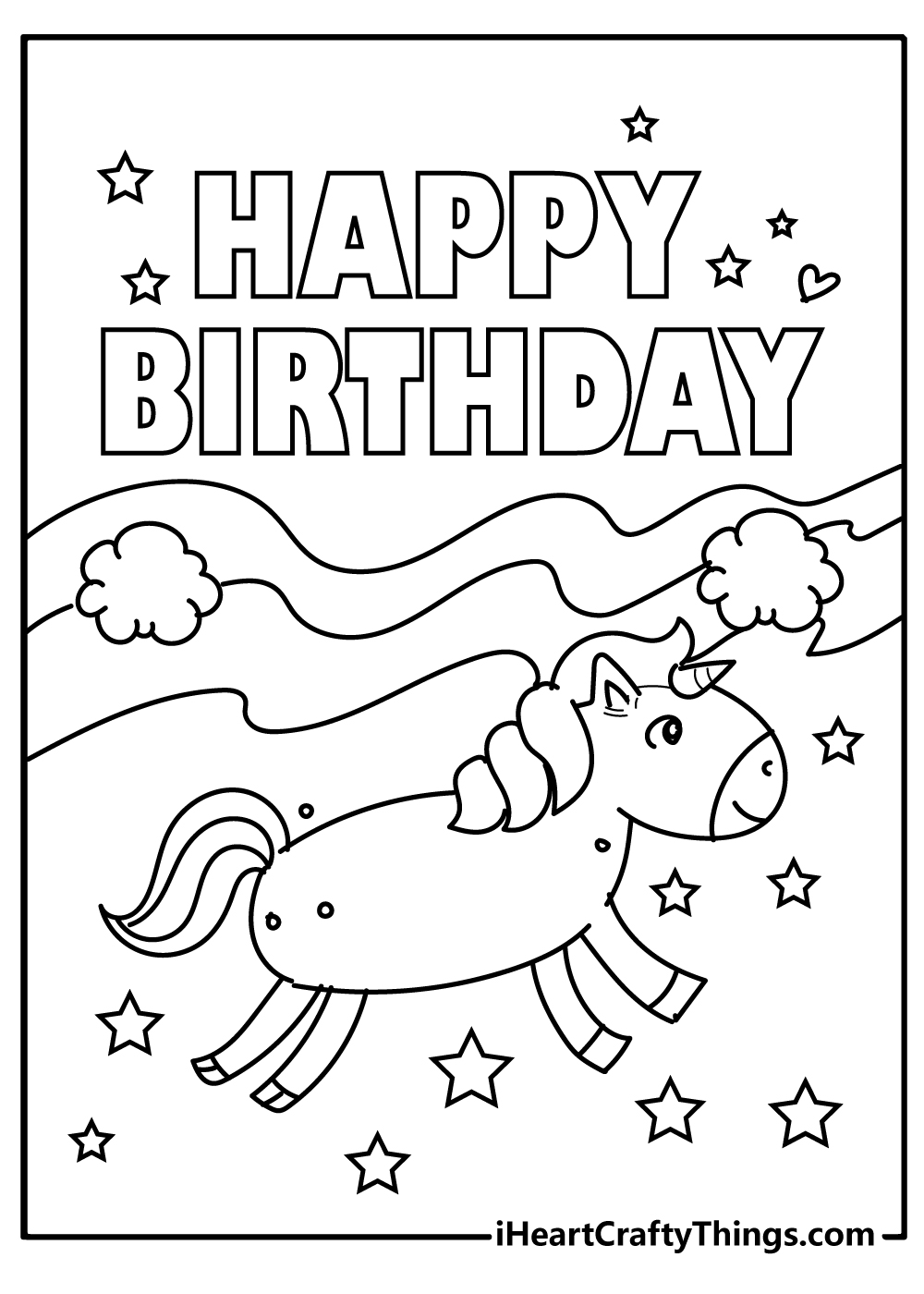 Funny and cute prints are a perfect match for Happy birthday coloring sheets, just like this one.
Featuring a smiling bunny that carries a present and a balloon, this coloring page will allow your kid to get artistic with color combinations.
This coloring sheet includes various design details that will test your child's artistic flair. For example, your kid can imagine the clouds to be blue or gray.
The bunny can have whatever shade your little one likes. The other coloring items of this sheet can be colored in various shades to express a festive vibe.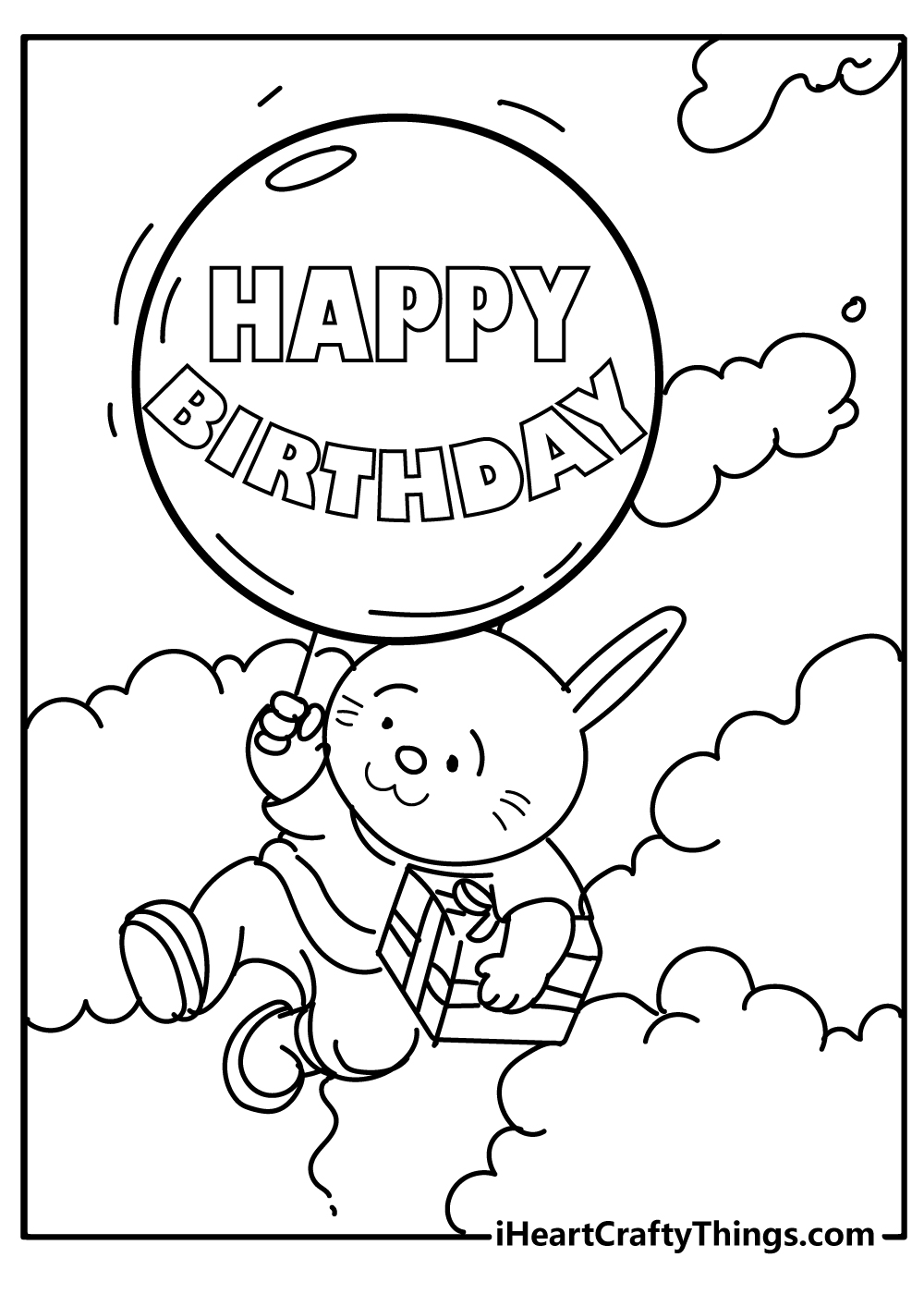 Flowers represent delicate beauty and joy. Flowers are a beautiful present for any celebrated person, both kids, and adults.
That is why they are a popular design for Happy birthday cards and coloring sheets.
This coloring page features a large sunflower that is a symbol of warmth and adoration.
It is surrounded by multiple smaller flowers and stars that decorate the Happy Birthday card your child can give you after coloring it in.
Your kid can imagine the colors for all the designs here however they like, even if that means coloring the sunflower in different shades than yellow. Allow your child to get creative!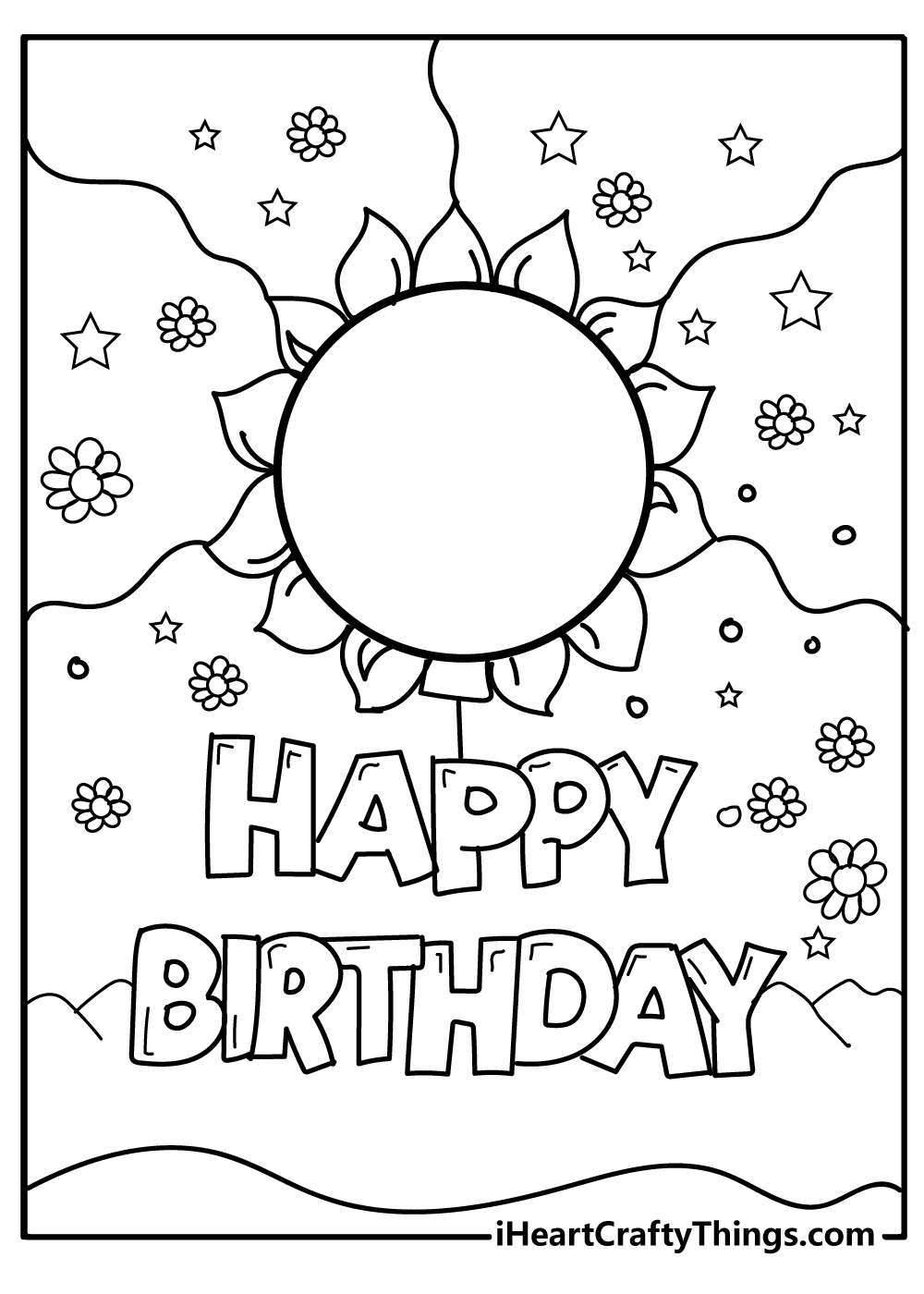 The next picture we have for you is a bit simpler than some of the previous ones, but it still creates a really effective birthday greeting!
This time, the happy birthday phrase itself is the center of attention, and it is presented in a really vibrant font that presents a lot of possibilities.
Will you color all of the letters in one or two colors or maybe choose a unique color for each one?
These are two ideas to try, but there are so many ways you can get creative and have fun with it in order to create a stunning picture!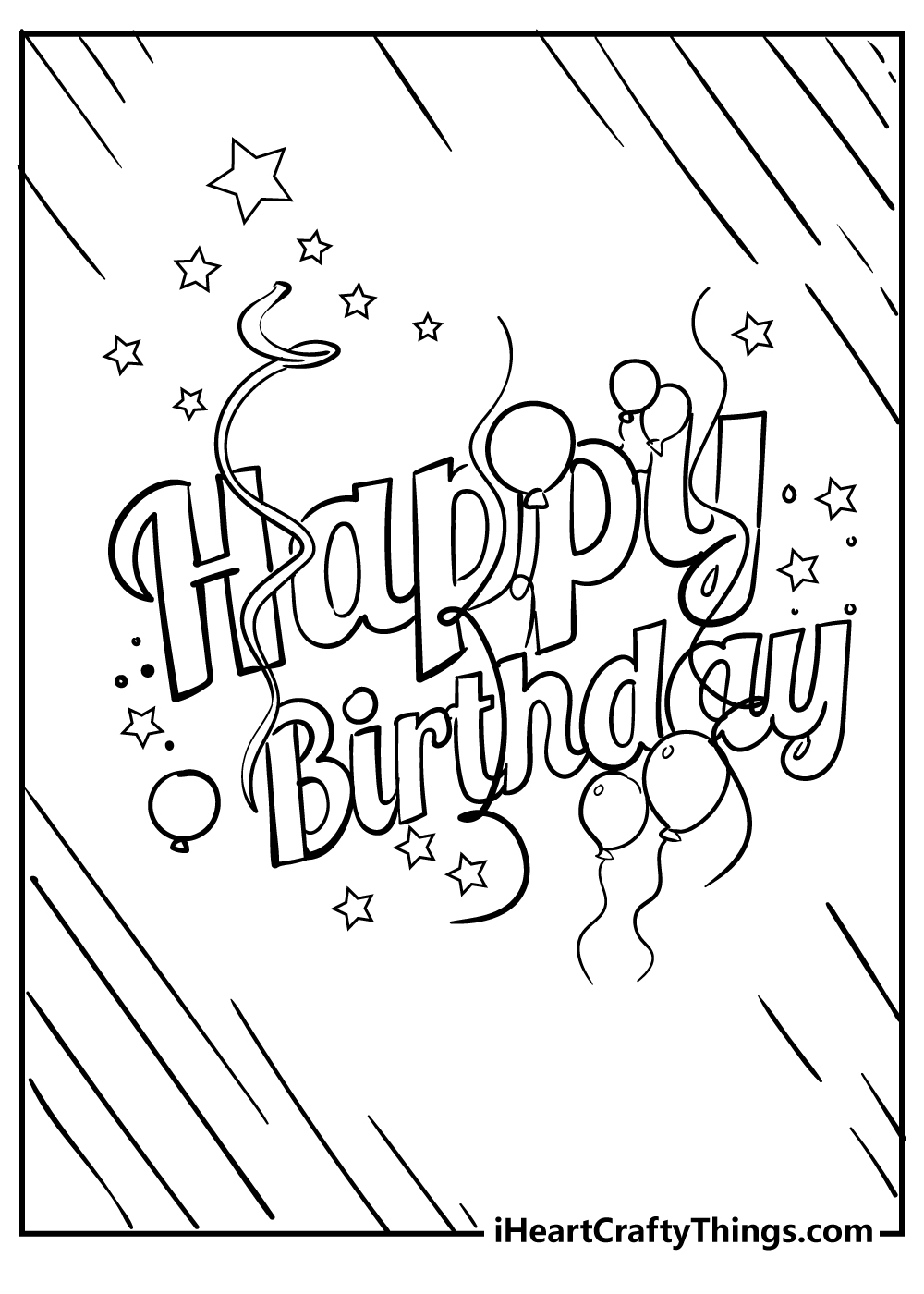 Next up in our collection of free happy birthday coloring pages for kids, we have another highly creative and interesting depiction of the phrase.
There is another really cool font used for this one, and even in black and white it really manages to catch the eye.
Surrounding the phrase, we also have lots of curvy lines and small shapes, so you have plenty of room to get creative with your colors, mediums and techniques.
It will be very interesting to see how you color this page!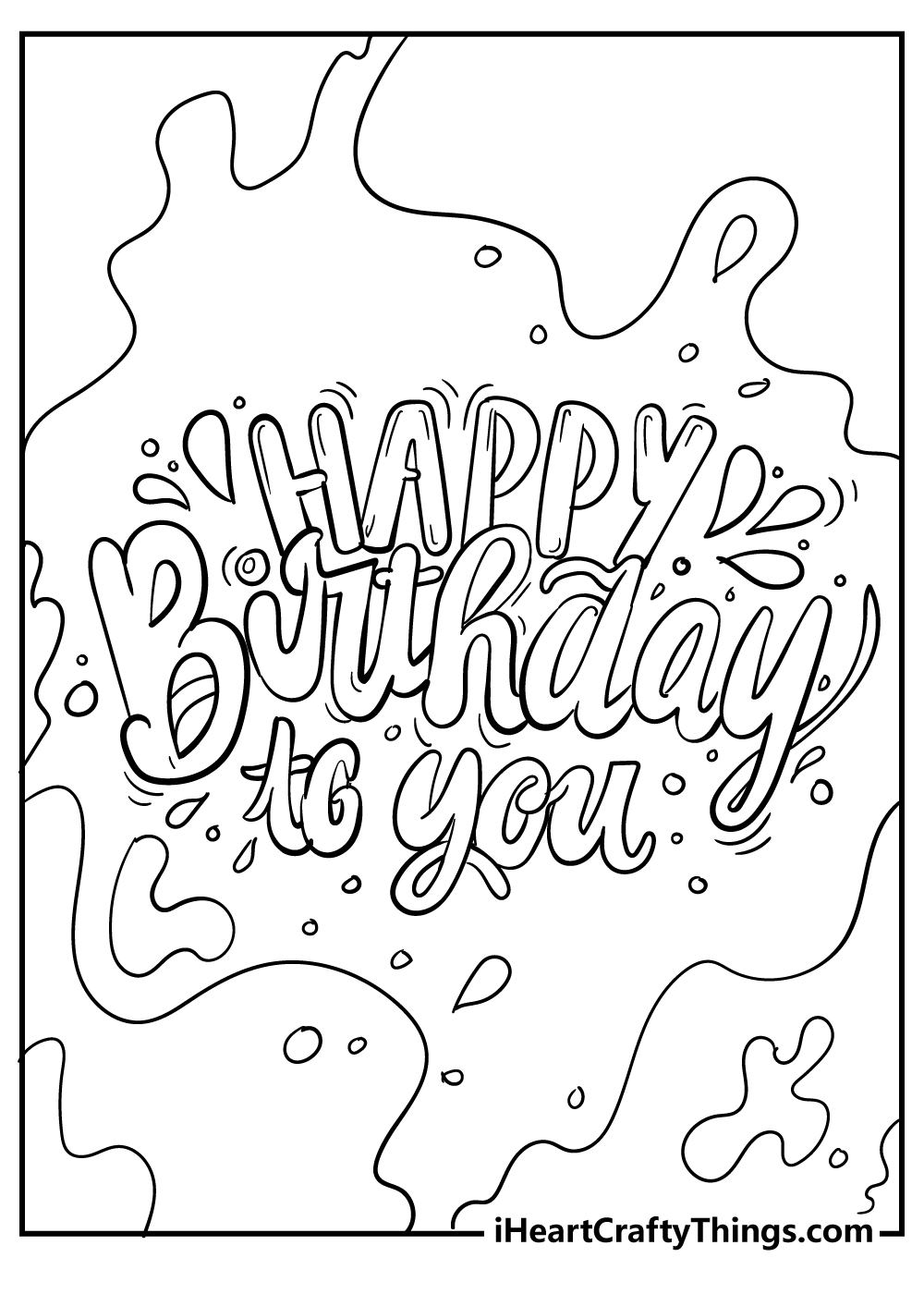 Putting candles in birthday cakes is a very old tradition, traced back to Ancient Greeks who burned candles on cakes to pay tribute to the Greek moon goddess, Artemis.
Today, candles on cakes are a fun way to make wishes at your birthday party.
This coloring sheet has a candle on a cake as its central design item, ready for your kid to color it in just as they like.
The flowers, smiley faces, hearts, letters, and geographic shapes on this coloring page also allow your little ones to unleash their creativity and use whatever shades and tones they love.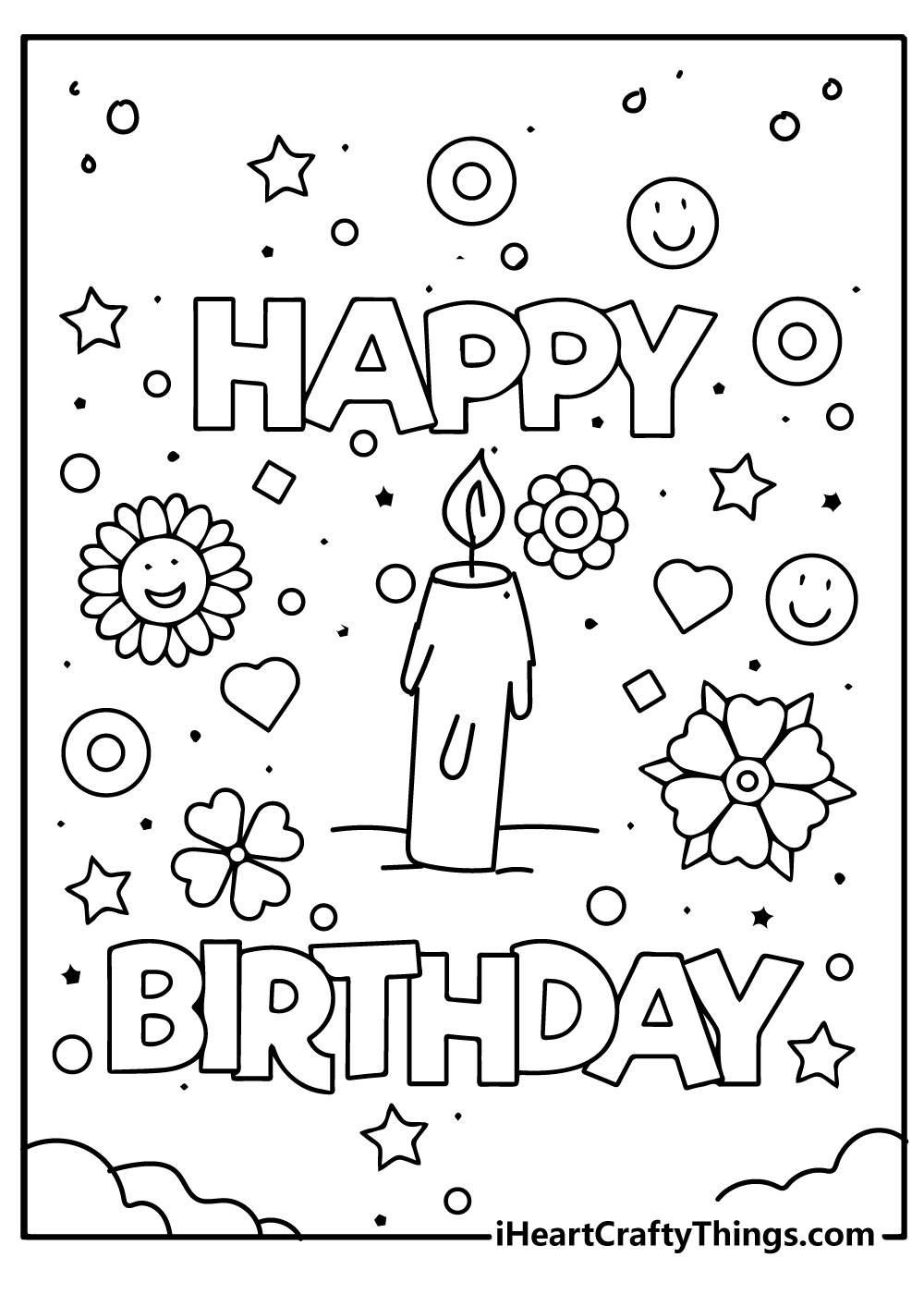 A festive vibe is what makes a birthday party more fun! This is exactly what this Happy birthday coloring page expresses: a joyous celebration of someone's birthday.
You can have fun with your little one while coloring this sheet together or allow them to get artistic with shades while you make the rest of the preparations for the party.
This coloring sheet features balloons and confetti, items that should never miss from a fun birthday party.
Your kid can color the Happy Birthday letters and balloons in various colors, from red to blue, pink, green, or yellow.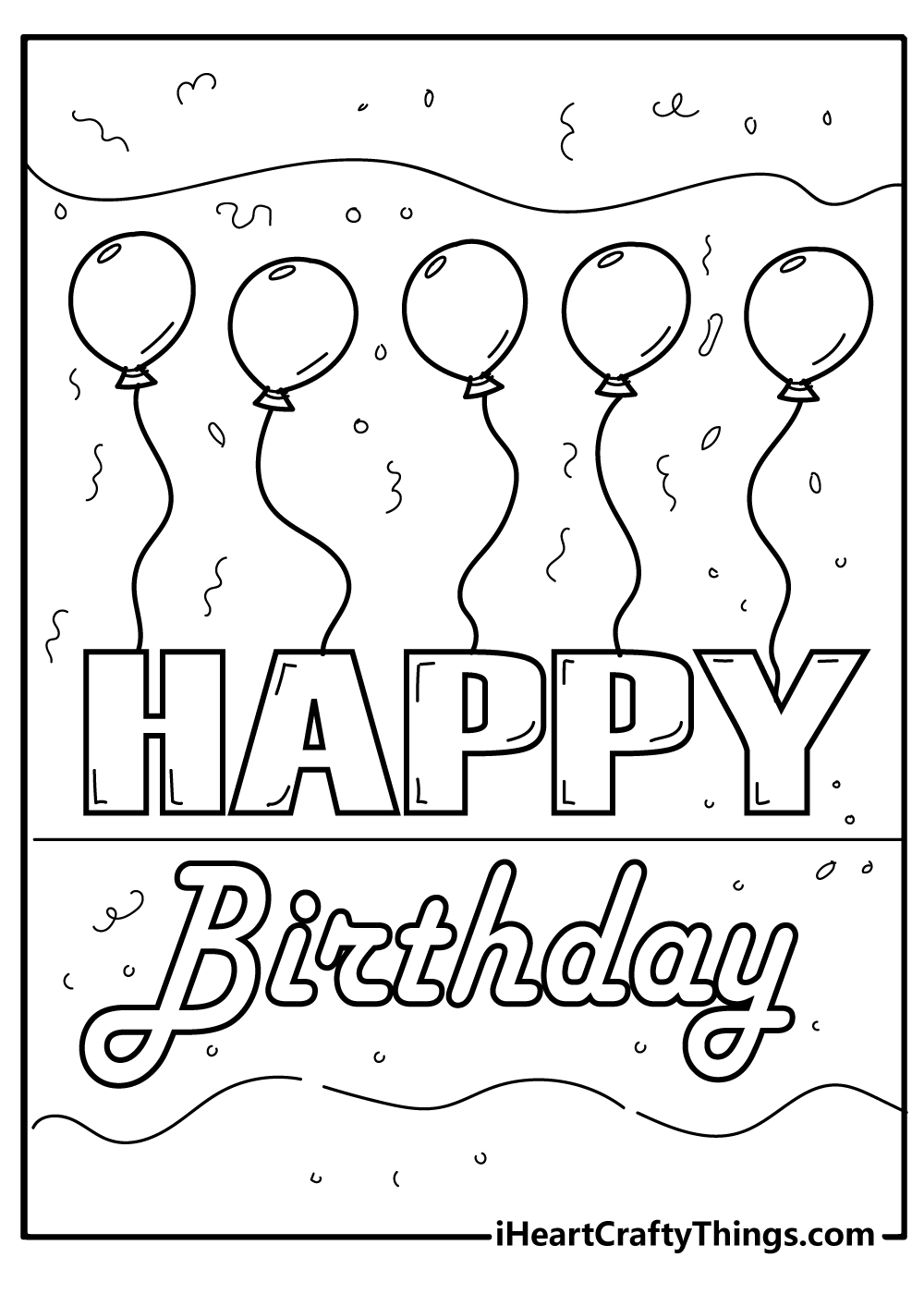 Here's another really fun and creative way of wishing someone a happy birthday!
Once again, we have the phrase written out in bold letters you can color, but this time they are being suspended by some balloons.
It makes for a really fun and whimsical visual, and there are some creative ways that you could color all of these details.
We would use some colored pens or markers for this one, as these mediums would be great for some really bright colors.
Will you use bright mediums like these or go for a softer, more subtle approach instead?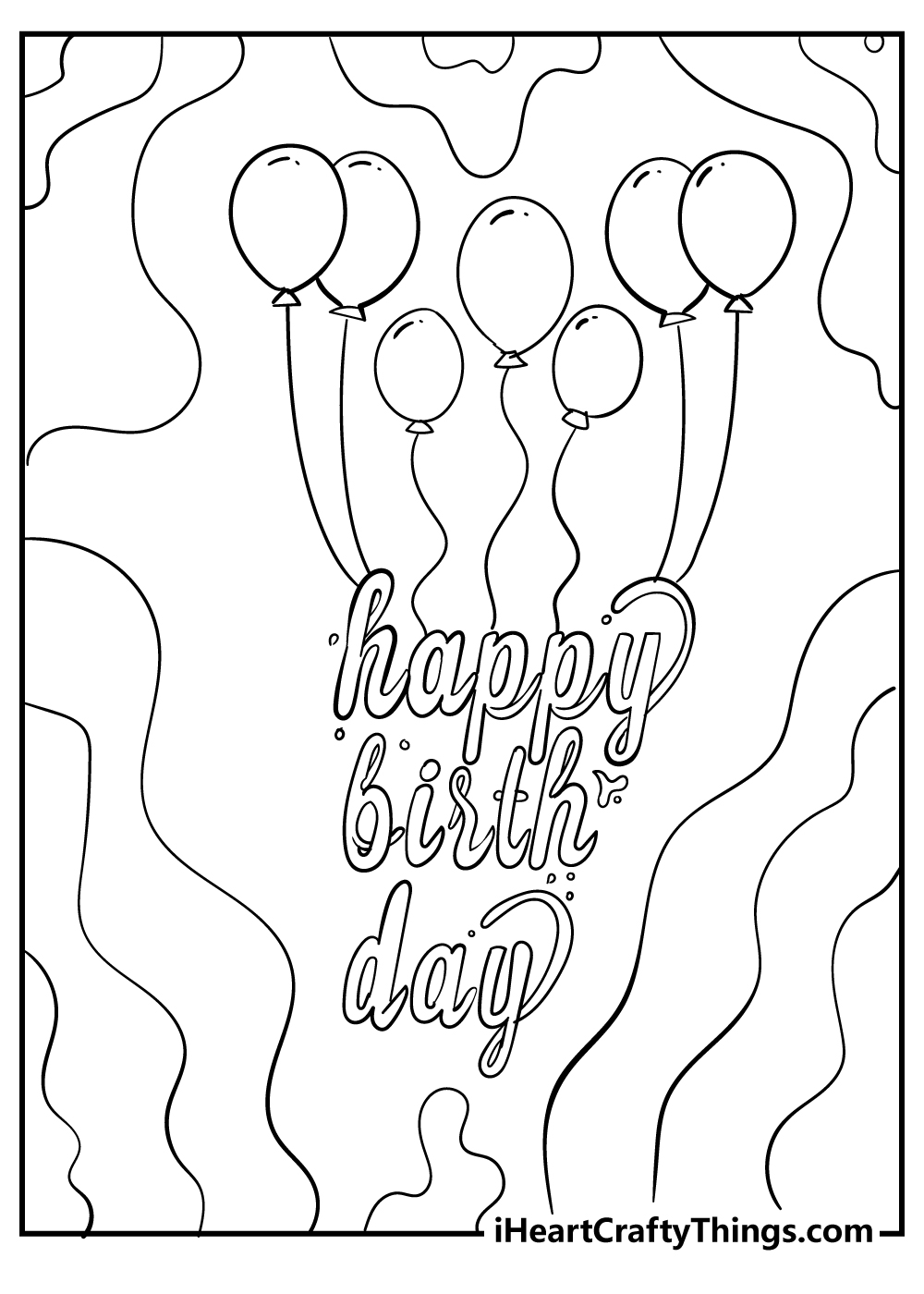 There's nothing better than seeing a big stash of cake and presents for you on your birthday, and that is the sight we have to behold on this page!
There is a wonderful three-layered cake to enjoy, and it is surrounded by presents of all shapes and sizes.
It all makes for a picture that is one of the most highly detailed out of all the ones we have colored so far, and that means you can have a lot of fun with it.
When coloring, remember that you can also mix your mediums in order to create a more dynamic look for your picture!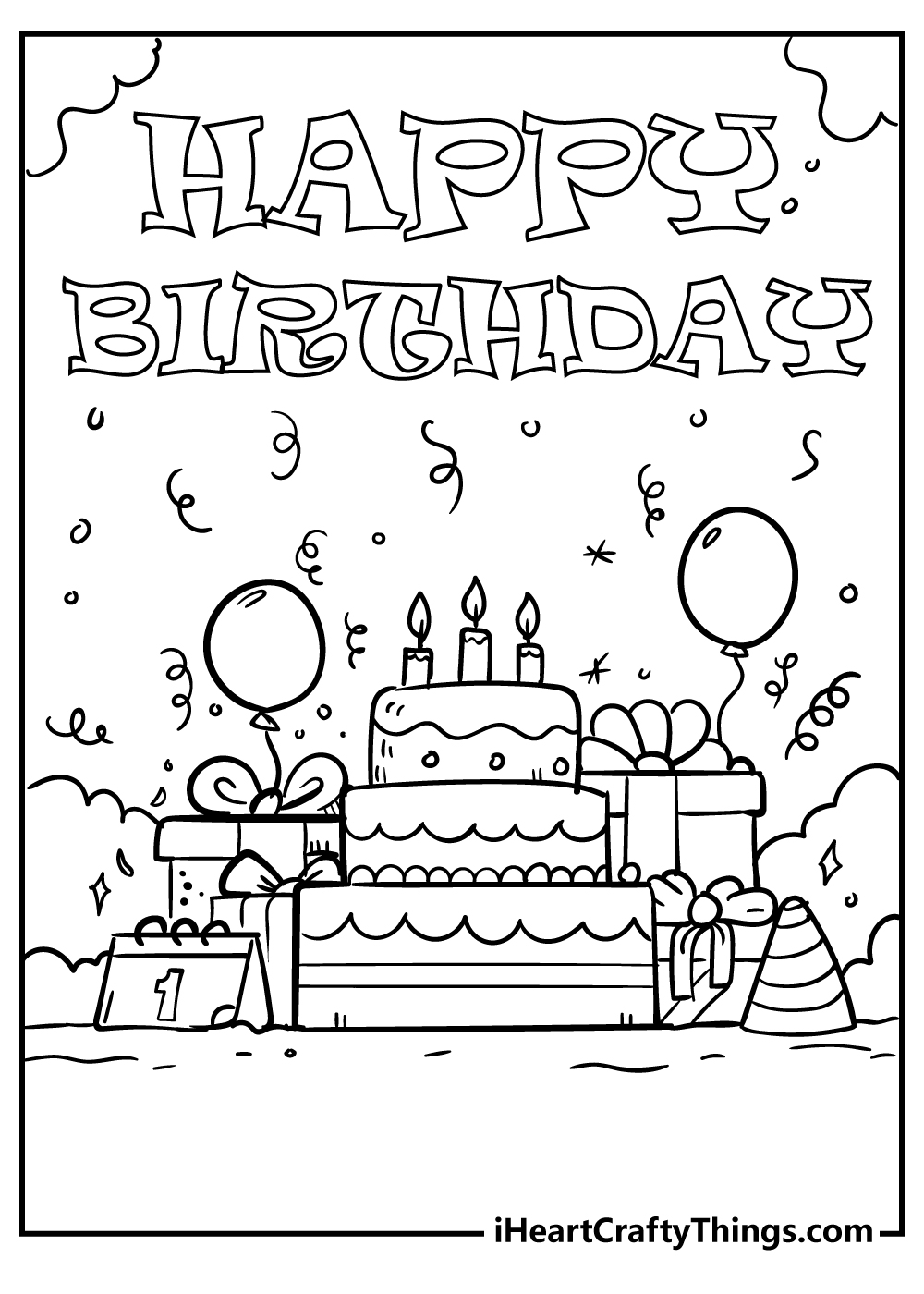 There's no birthday party without a delicious cake! Cakes are symbolic of all types of celebrations, from birthdays to weddings, anniversaries, and so on.
This Happy Birthday coloring page features a delicious-looking cake with candles for birthday wishes. Your little one can decide on whatever colors they want to use to color it in.
For example, your kid can color the frosting of the cake in the color of their favorite flavor. If they like chocolate, they can color the cake brown and make the cherries on the cake red.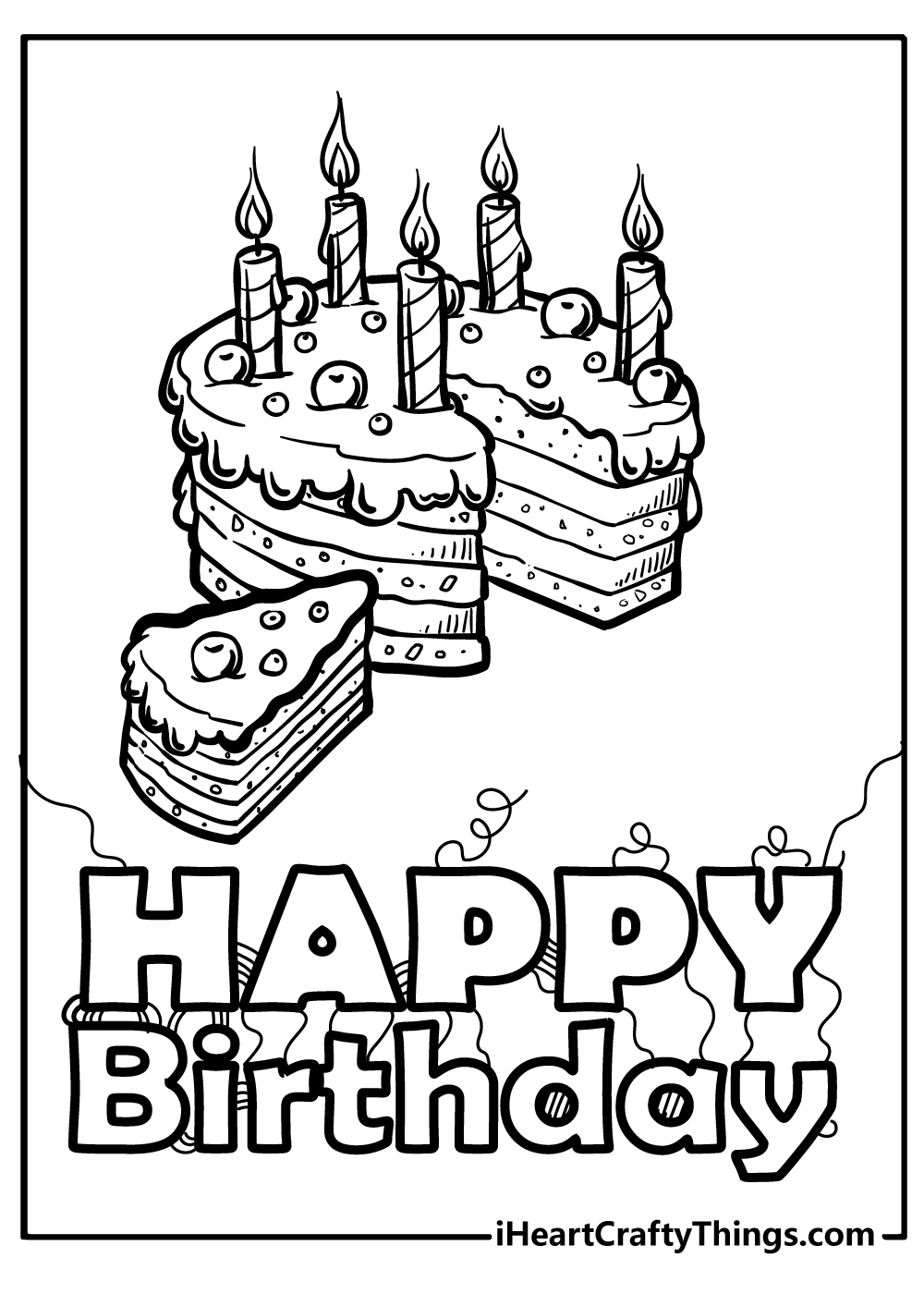 Moms are real-life superheroes! Your little one knows that and wants to surprise you with a small gift on your birthday. You can help them do so with this Happy Birthday Mom coloring sheet.
Your child can color on this page and give you a handmade gift that will matter a lot to you. And, they can have a lot of fun in the process too.
This page features multiple balloons that allow your little one to get creative with colors and shades, and letters in a lovely and cute font that your kid can fill in with various colors.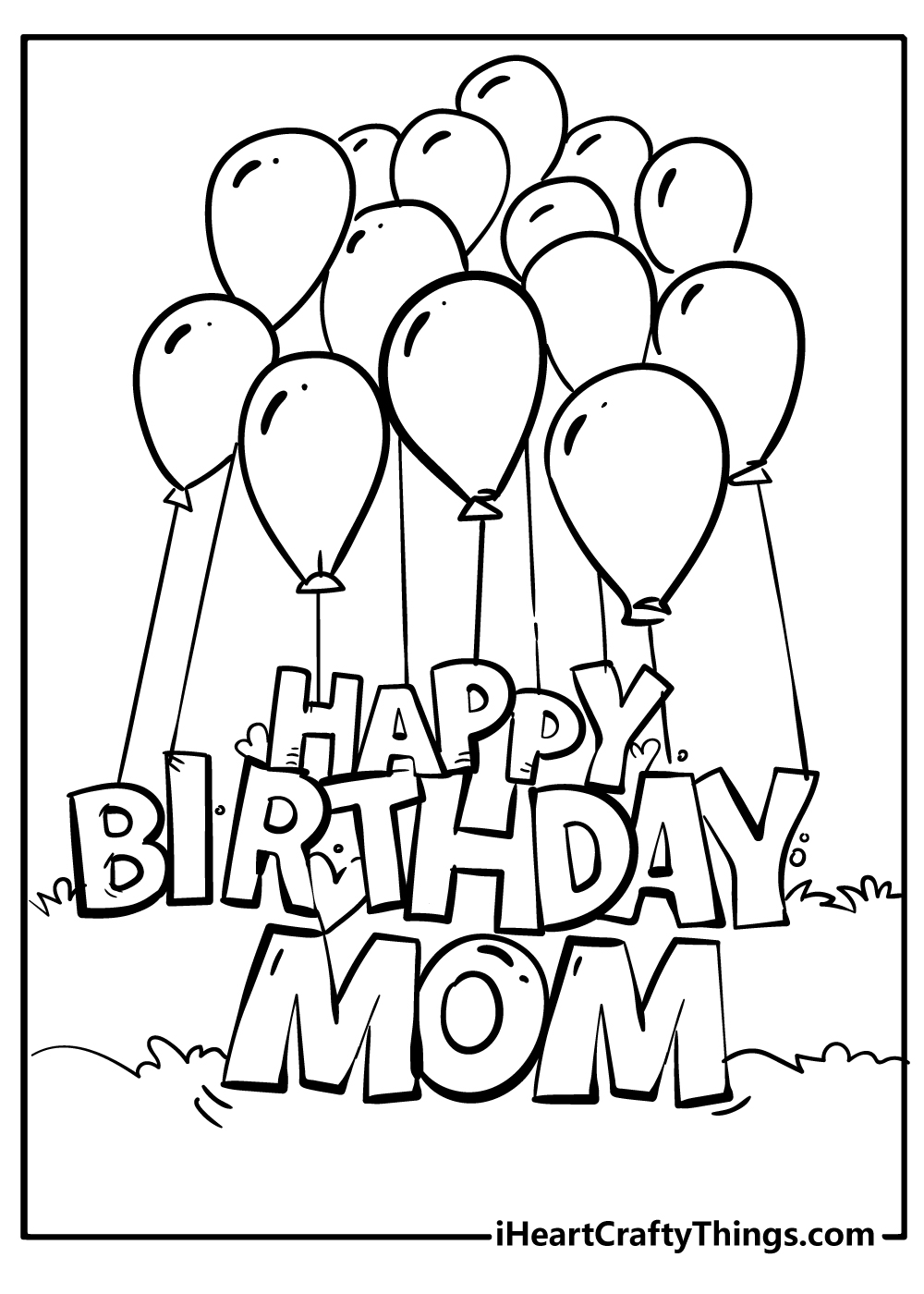 Dads are superheroes without capes! They are always there to help and protect their little ones. So, they deserve at least a lovely birthday card colored by their kids.
This Happy Birthday Daddy coloring sheet is perfect for your kid to color in and gift it to you on your birthday.
They will have a lot of fun coloring the cake, the candles, all the fruits, and frosting. Plus, you'll have a lovely memory to save forever.
This coloring page has so many design details that allow your little ones to unleash their creativity and use whatever shades they like.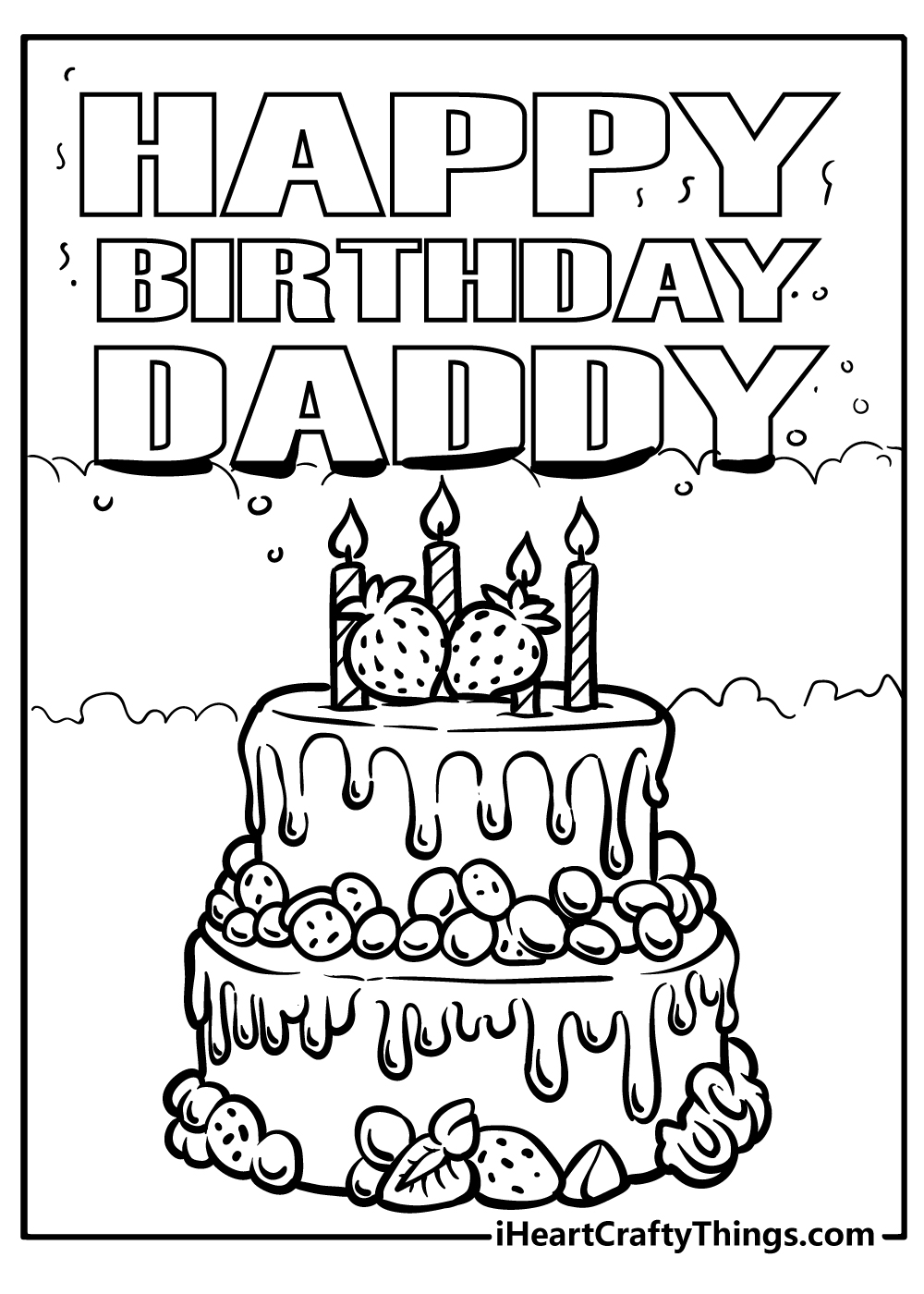 A delicious cake is a must-have for any birthday party!
That is why this Happy Birthday-inspired coloring page has a big cake as its central design detail that your little one can have a lot of fun coloring it in.
Besides the delicious-looking cake, this coloring sheet features festive details like stars and a lovely font for the Happy Birthday letters.
Your kid can color each of these designs with whatever colors and shades they find fun and they like.
This Happy Birthday coloring page will keep your little one busy creatively and productively while you're taking care of the finishing touches for the party.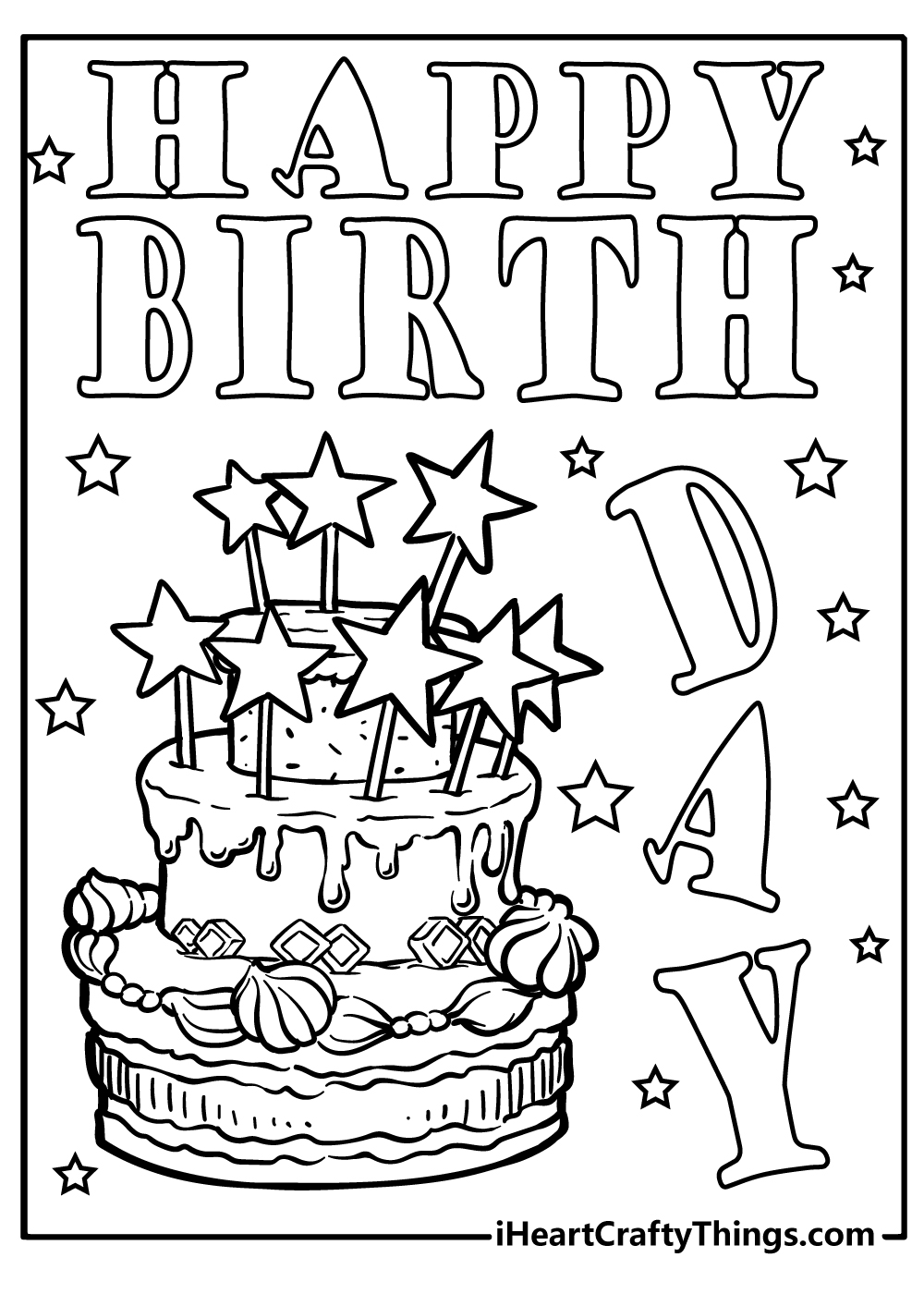 Birthdays are meant to be loud and exciting, and that is the feeling given off on this happy birthday coloring printable!
We have 'happy birthday to you' written out, and for a fun touch each row of words is done in a different style.
For this one, we would use a new color for each layer to further distinguish them.
That's our idea, but no matter how you choose to color these words you can also get creative with the many shapes and birthday objects surrounding them.
This is sure to be one of the most eye-catching pages yet!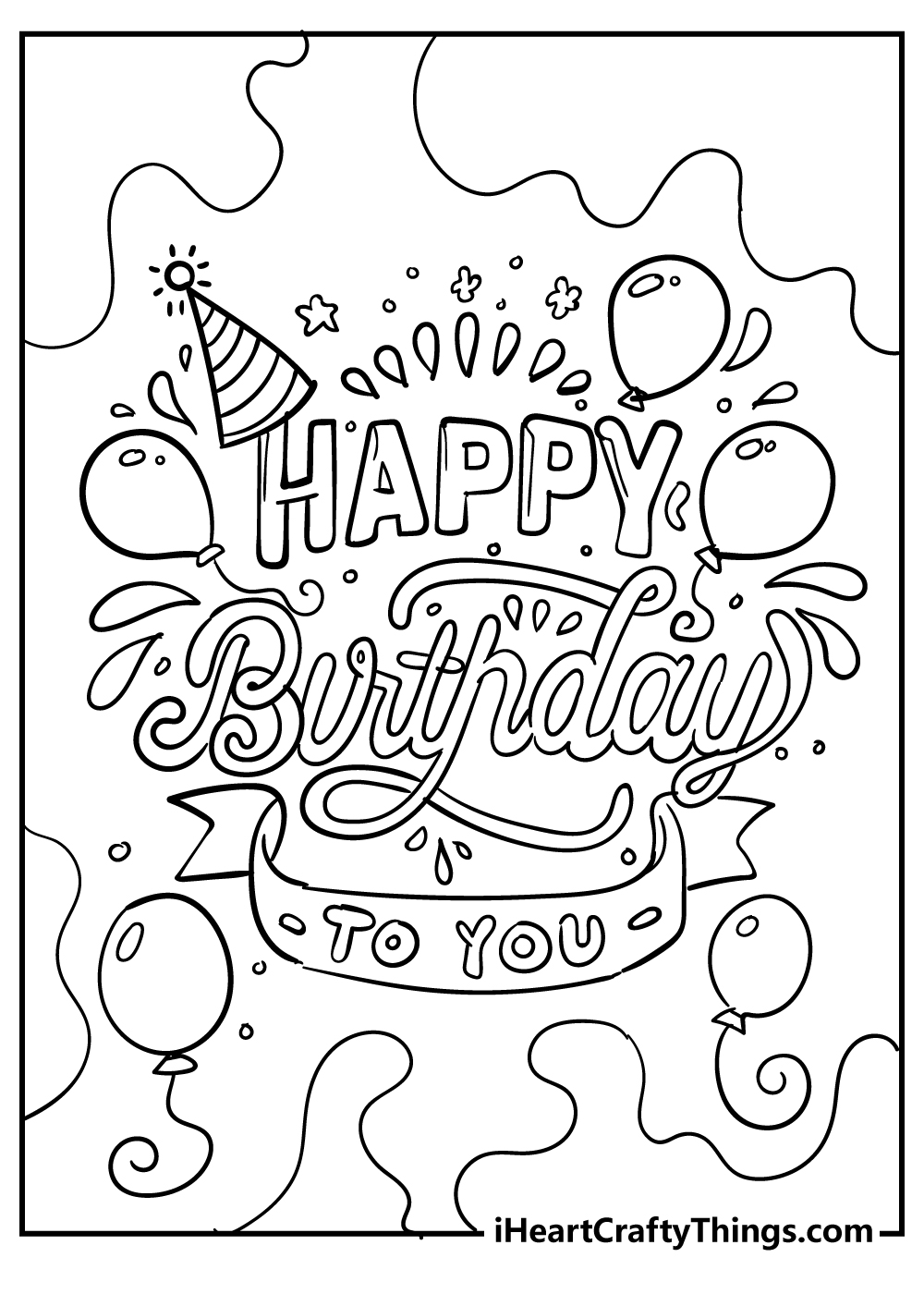 The details on this next page are really fun, and they present quite a coloring challenge!
Not only do you have lots of bold letters to color, but there are also cakes, balloons, candy and other shapes surrounding them.
Once you have colored all of these details, you could also draw some more of your own design.
These objects cover the usual birthday features pretty well, but there are many more you could add as well! What other birthday features can you think of that you could draw onto this page?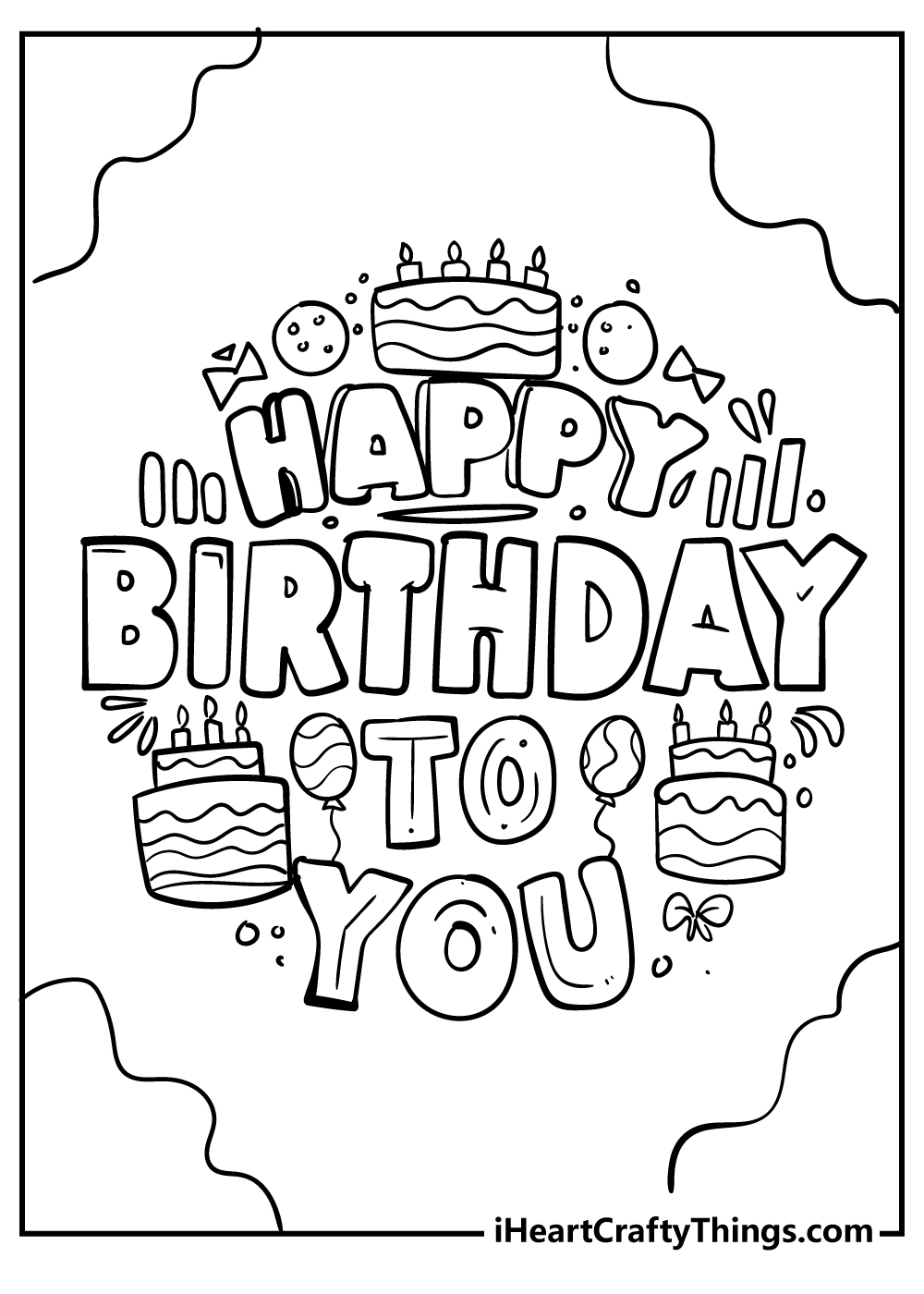 We love the design of the letters featured on this next page! It's another one of those images where it is loud and vibrant without even having any colors yet.
While this is the case, we know it will look even more incredible once you have added some colors!
There are some hearts featured on this design, so that makes us think of colors like reds, purples and pinks.
We think that it would look amazing to incorporate some of these colors into the design! That's what we think, but what will you choose for this page?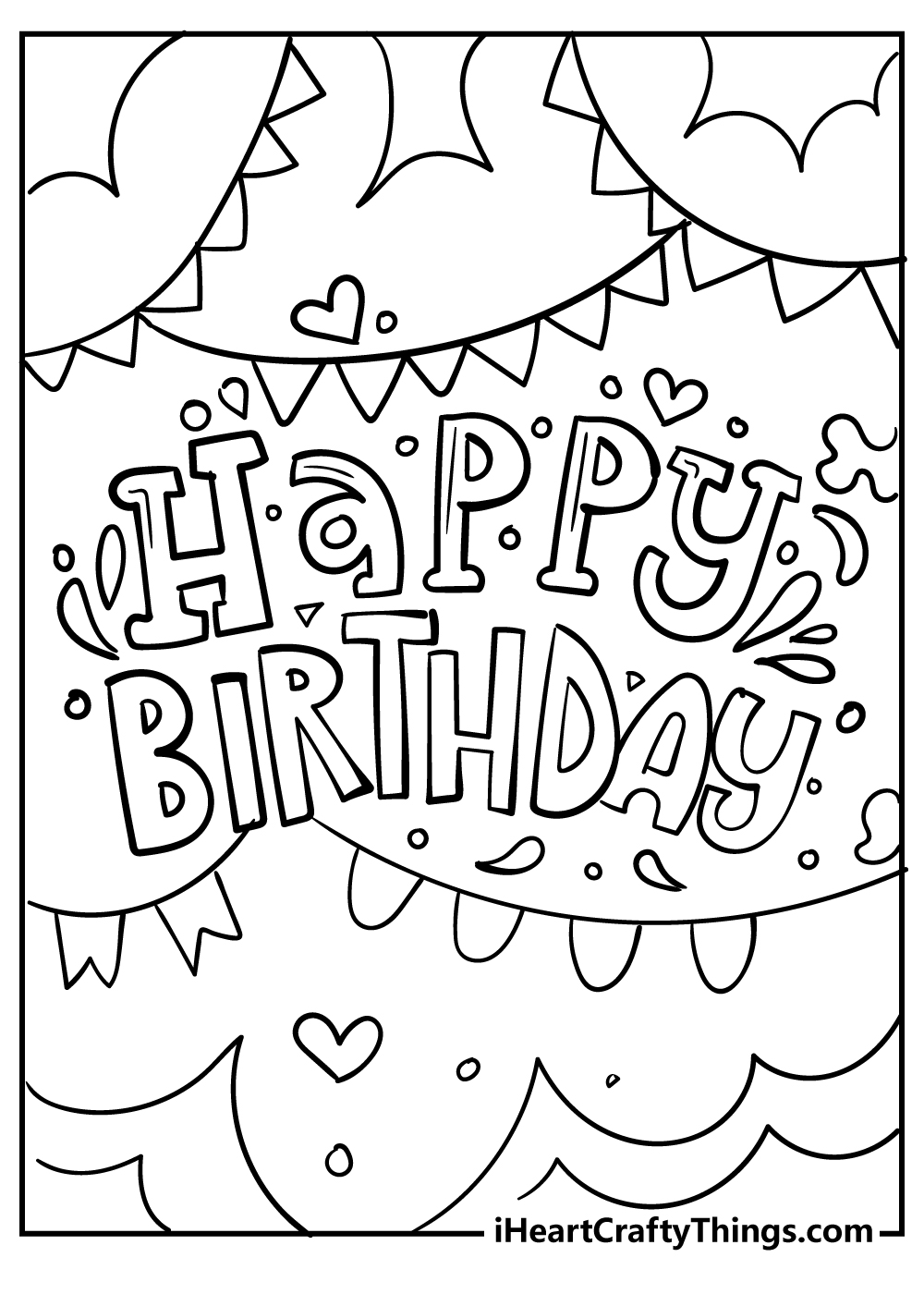 Another happy birthday coloring page packed with detail is here for you to enjoy! The design of this page is both fun and vibrant, and there are so many little details to appreciate.
When coloring an image like this, it can get a bit intimidating due to all the small details that are included.
Whenever taking on a coloring challenge, remember that it is no race, and you can take as long as you need to finish everything.
You can also use various art tools to make it easier and even more fun!