On this page, you will find 15 all new Happy Birthday Dad coloring pages that are completely free to print and download.
Be it for Father's Day or dad's birthday, handcrafted presents are frequently the greatest options, so why not encourage your children's creativity this year?
These Happy Birthday Dad coloring pages are free and offer a variety of fun images that youngsters will enjoy coloring.
You'll have everything you need for a fun Father's Day project with children if you have a printer and a few crayons, markers, or colored pencils.
These coloring sheets are a great place to start if you're searching for a sincere way for your little ones to celebrate dad's birthday.
Spend the morning or the afternoon before the big day with the children, breathing life into these Happy Birthday Dad coloring sheets, or print them ahead of time to give the children something to do in the vehicle, restaurant, park, or wherever your Father's Day activities take you.
15 Brand New Happy Birthday Dad Coloring Pages – Free to Print and Color
This first Happy Birthday Dad coloring page gives out a comic book vibe, so it's perfect for all the Super Dads out there.
Which superhero would their dad be in a comic book? Ask children to use their imagination and imagine their dad as a great superhero saving the world, then color this printable in those colors.
They can even give dad a list of superpowers written on the back of this birthday card, and we guarantee it will melt any father's heart in an instant.
If Super Dad is not a great name, maybe they can also come up with another one.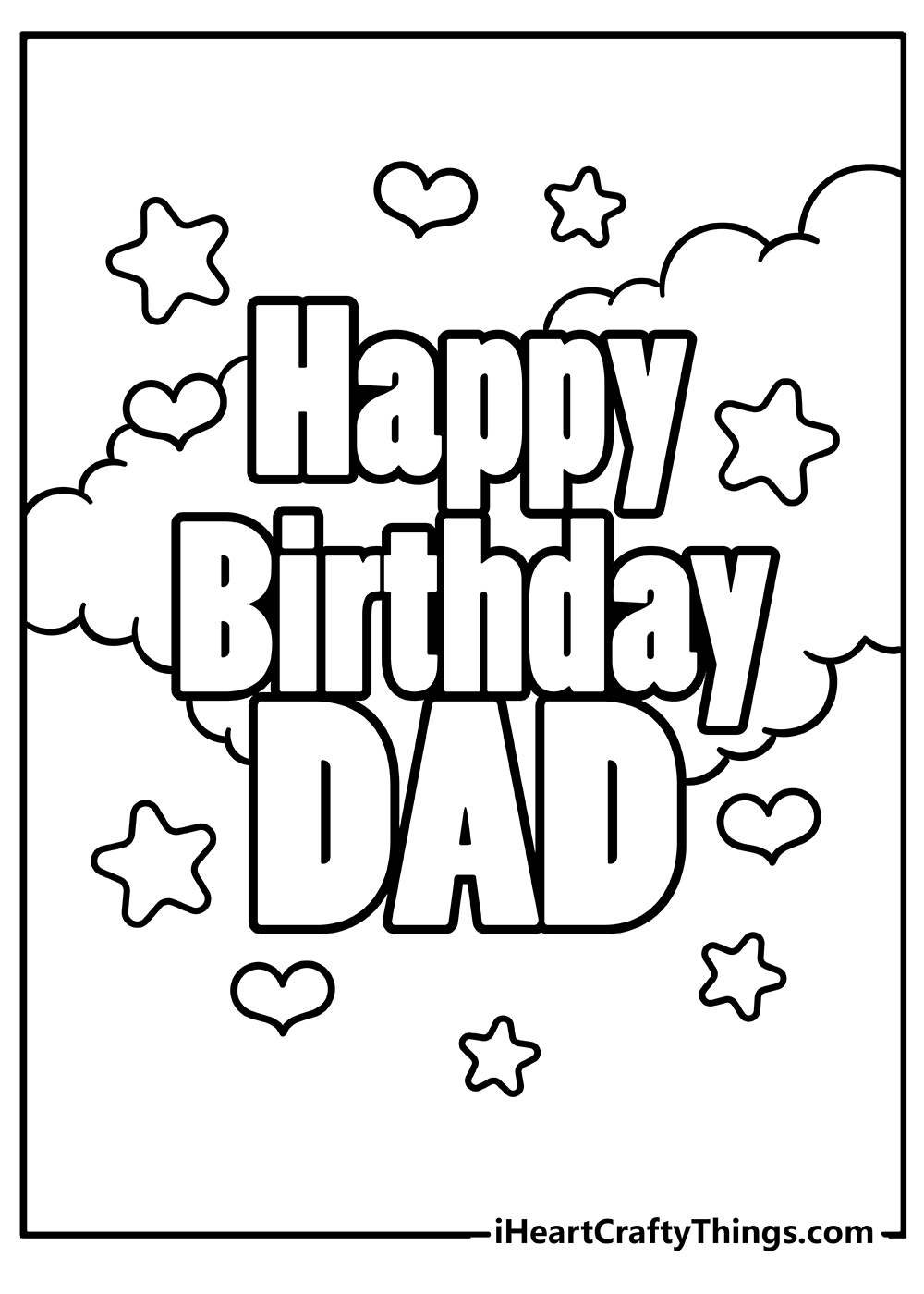 A birthday party without balloons is as sad as summers without ice cream, and the children will surely agree with this. Dads are awesome, so they deserve an awesome birthday as well.
You can ask the children to help you prepare for the party by setting up balloons, confetti, and lots of birthday props all over the house, then surprise dad when he wakes up.
Make sure they color this Happy Birthday Dad coloring printable using dad's favorite colors and, given that there is so much white space available on this sheet, they can also add their own elements, such as a birthday present or a cake in one of the corners.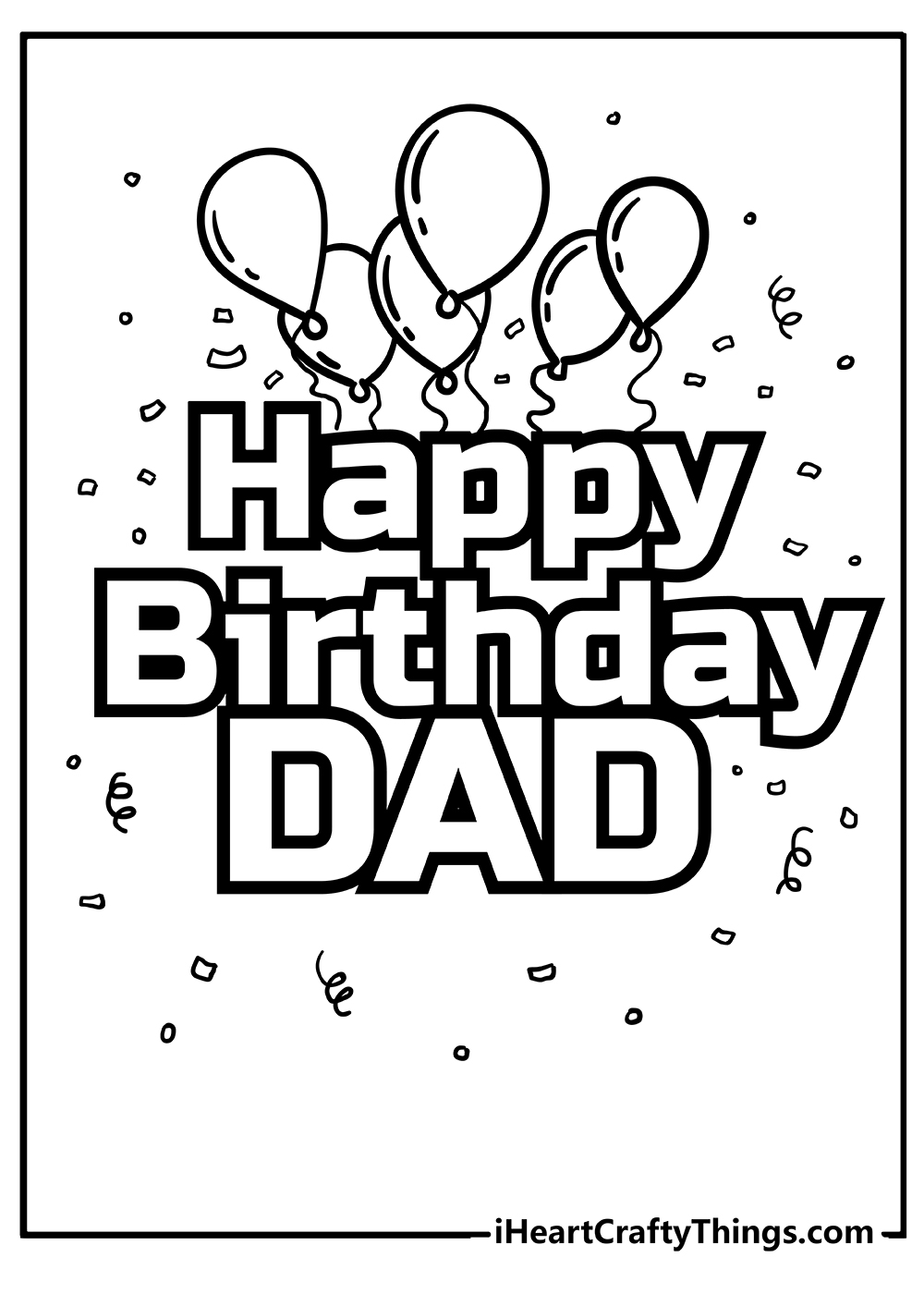 This adorable happy birthday dad coloring page features a big heart with the words "Dad, you're my hero" "Happy Birthday" written in a fun font.
A sweet teddy bear wearing a party hat and polka dot bow tie smiles a toothy grin.
Color the heart with dad's favorite color and use glitter glue to add sparkle to the letters. The teddy bear's fur can be colored brown, and his party hat and bow tie colored with blue, fun colors.
This beautiful coloring sheet shows dad how much you love him on his special day.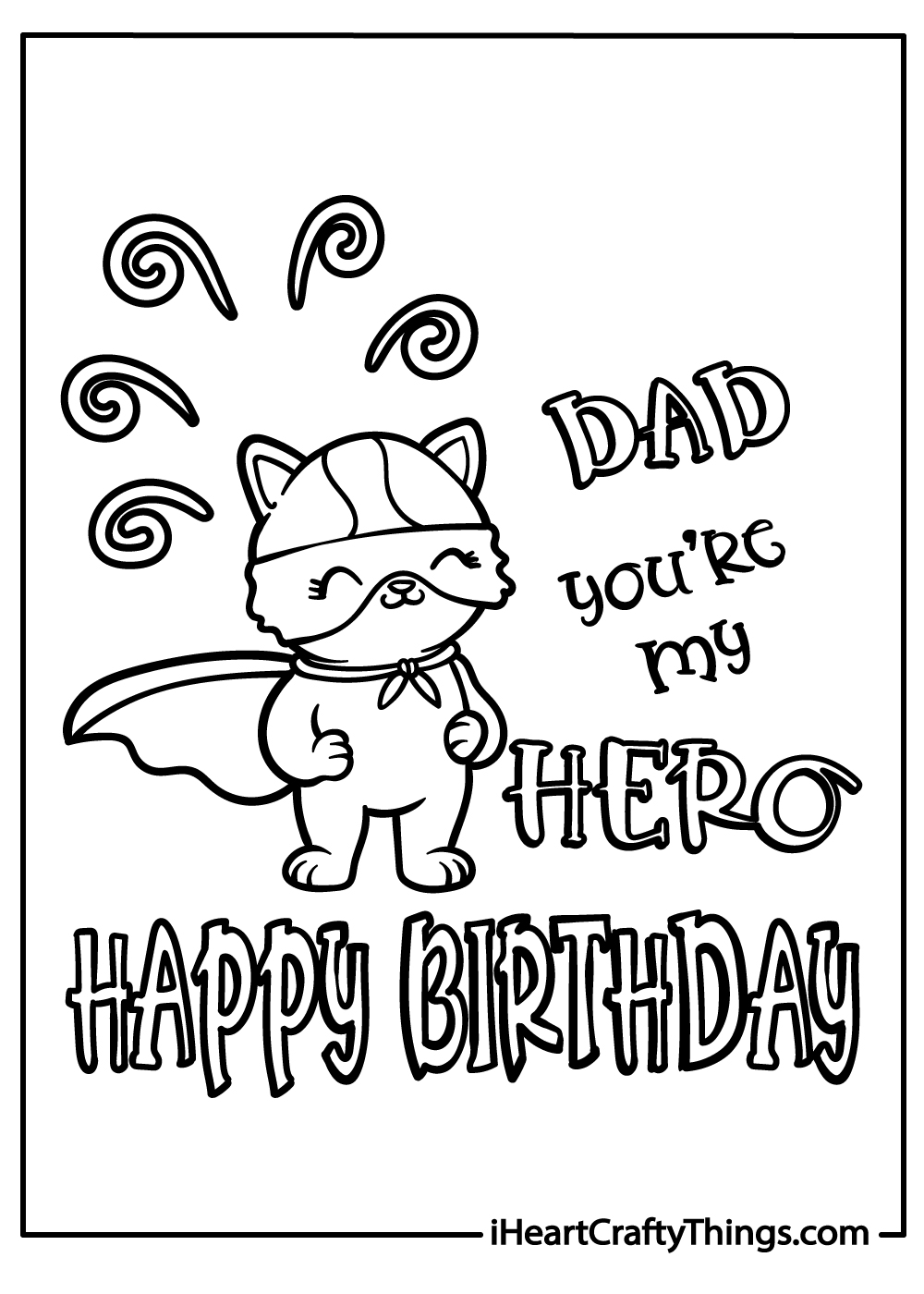 Speaking of cakes, this page features a yummy one that awaits to be colored in delicious shades. What's dad's favorite cake flavor?
Ask the children to color this cake in the colors of their dad's preferred dessert and use it as a birthday card.
The little hearts can be colored in multiple shades, and you can even add glitter or confetti to the finished drawing for a pop of sparkle.
Let children get creative with this, and they will surely have lots of fun.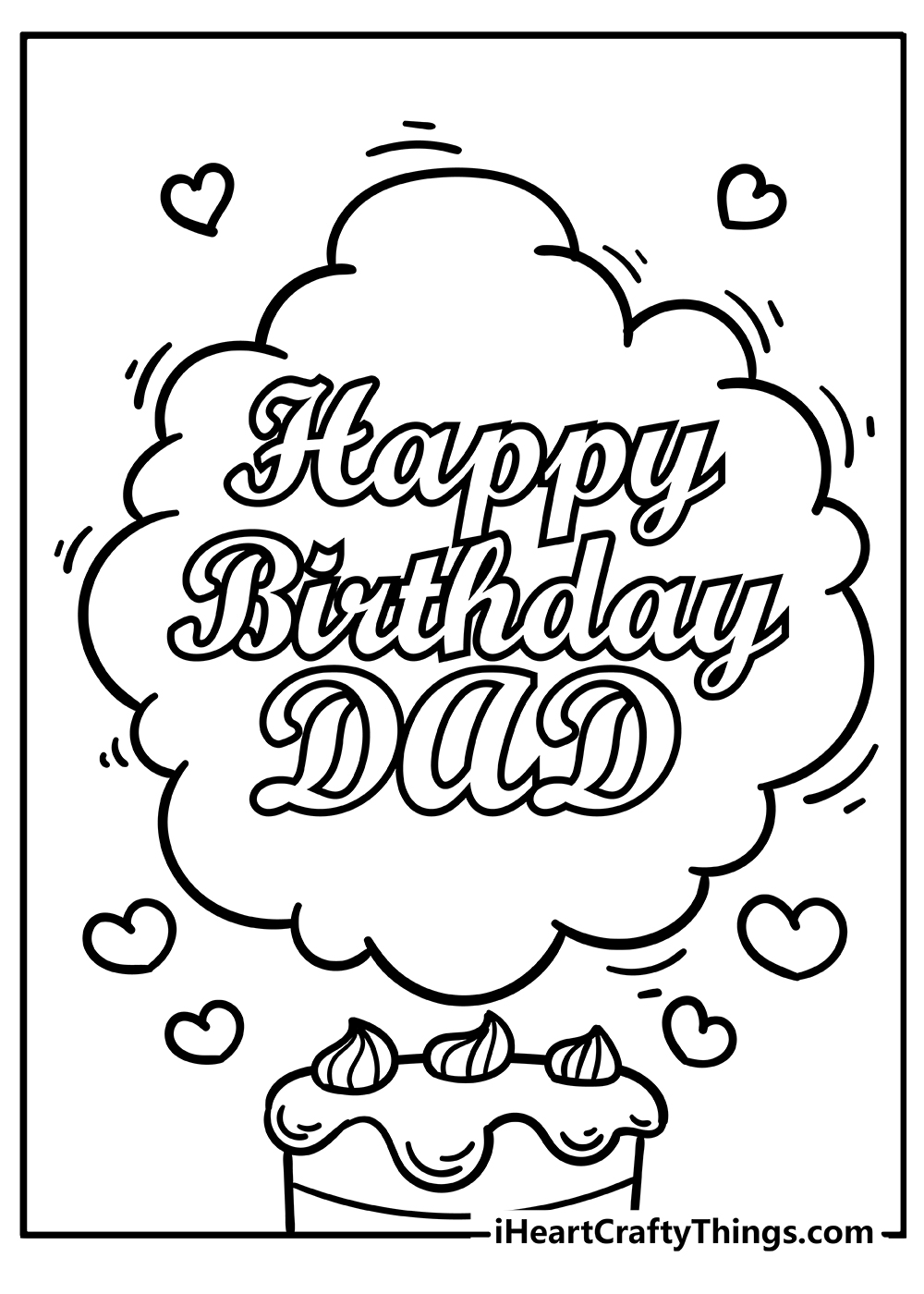 Get ready for superhero adventures with this happy birthday dad coloring page.
A muscular super dad wearing a billowing cape and mask flies through the sky carrying his two giggling children on his shoulders.
The excited kids wear matching superhero masks and capes as they soar over a cityscape background filled with skyscrapers, clouds, and fireworks spelling out "Happy Birthday Dad!!"
In bold letters.
Unleash your inner comic book artist by coloring super dad's costume in bold oranges, reds, and yellows.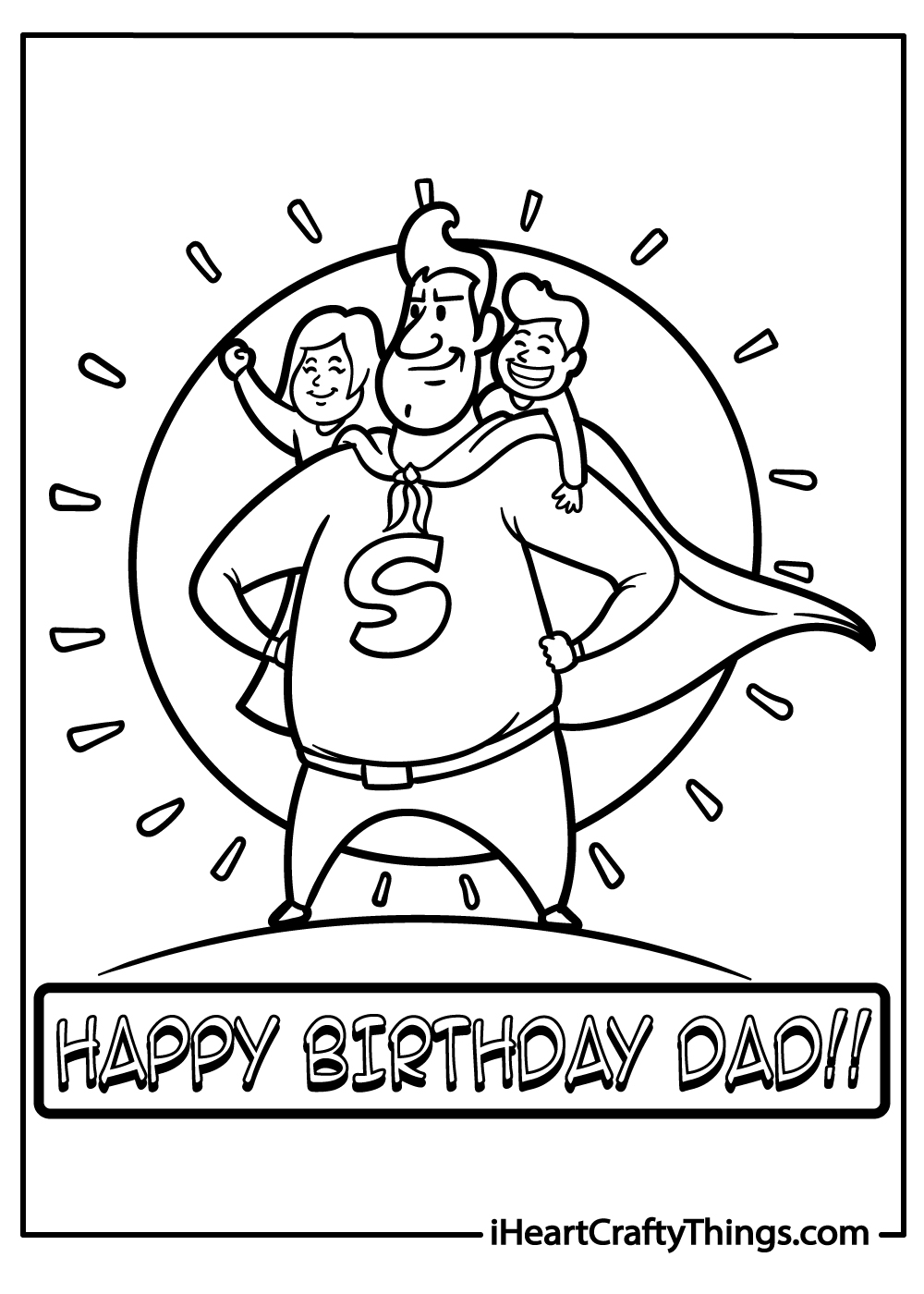 What kinds of activities do you anticipate at birthday parties? What sort of cake is this one, and what color is the candle?
While bigger children can easily be left to do their own thing at birthday parties, this list of Happy Birthday Dad printable sheets is great for toddlers that need to be kept busy for a while.
You can ask them to compete on who manages to finish more of these pages in a limited time. Sure, dad's going to have lots of birthday cards, but that is never a bad thing, right?
After all, who does not love birthday cards?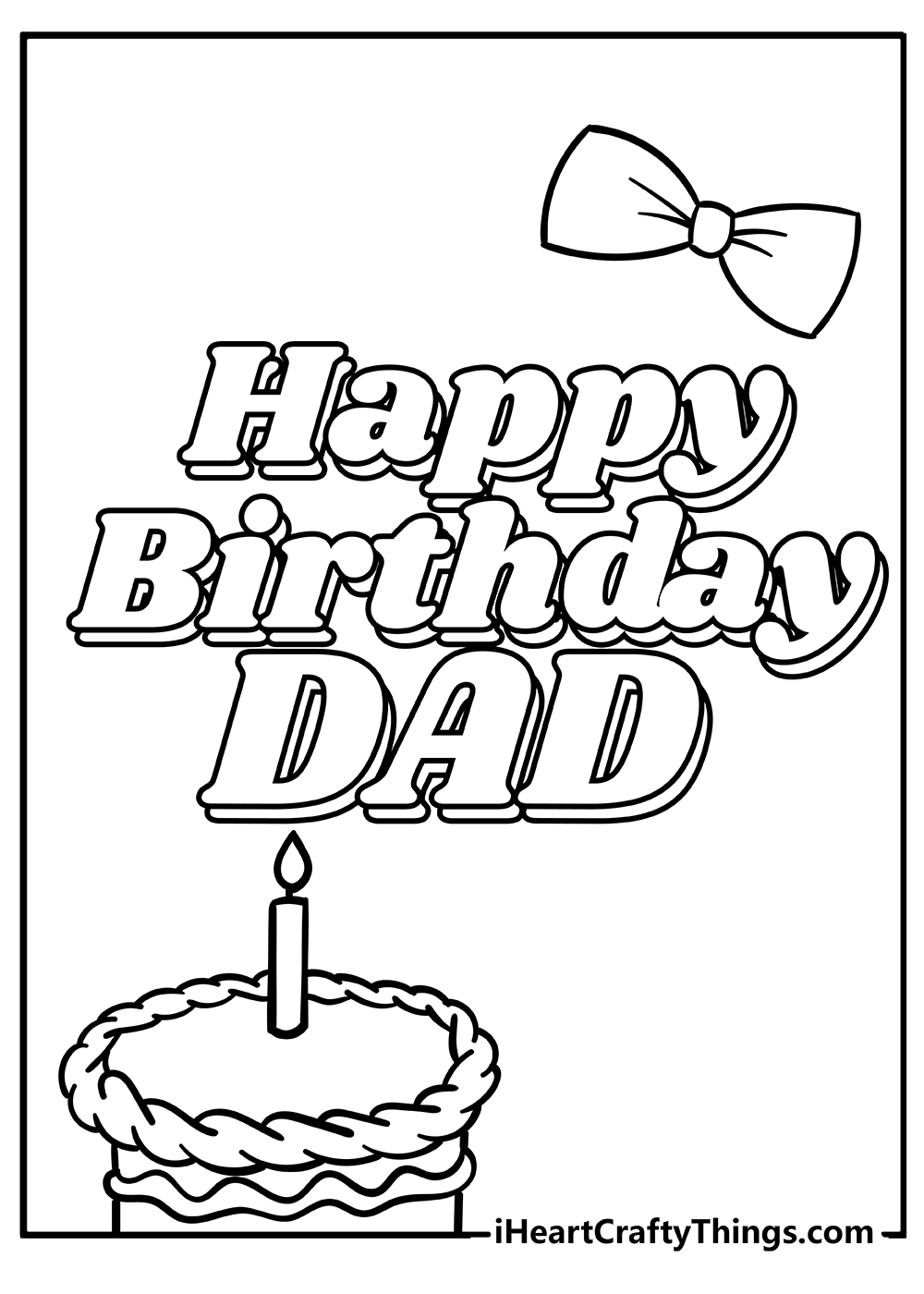 This unique coloring page is the perfect way to say "I love you" and wish dad a very happy birthday.
Here we have a bright white heart frame decorated with flowers, stars, and looping lines containing the message "Love You Dad" in letters.
Add your own artistic touch by coloring the frame pink or blue or dad's favorite color.
Outline the letters in glitter glue and use markers, crayons, or paint to color the flowers, stars, and doodles with your choice of cheerful colors.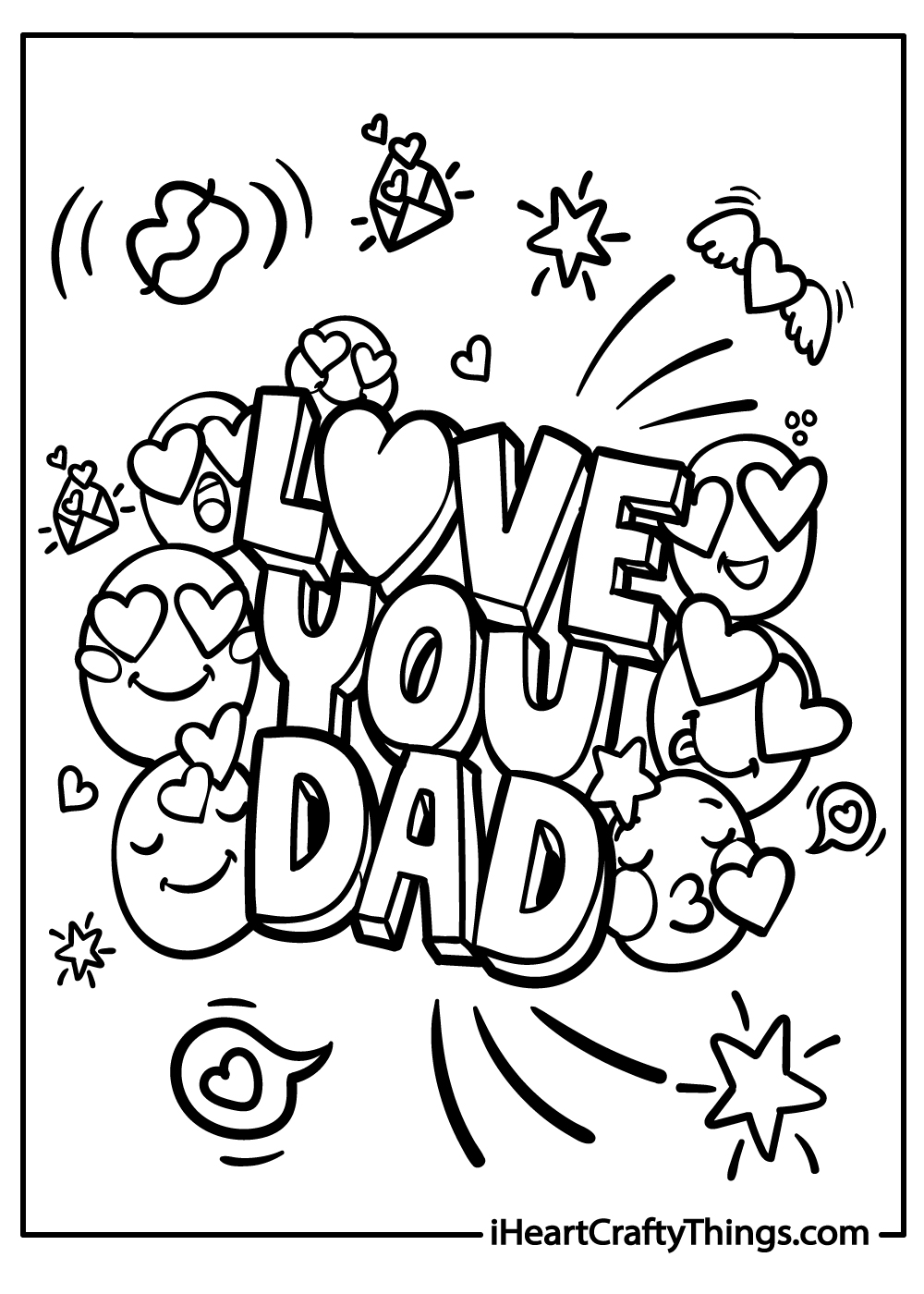 Balloons are among the favorite things to use at birthdays! And who doesn't like them?
While this page is entertaining on its own, your budding artist may practice sketching balloons and adding them to the bundle by copying the balloon design.
Wouldn't this Happy Birthday Dad printable look great in shades of blue and green? We think it would, and the font can be colored in a contrasting shade such as orange or red, to stand out.
Other great color combos include purple and yellow or brown and pink.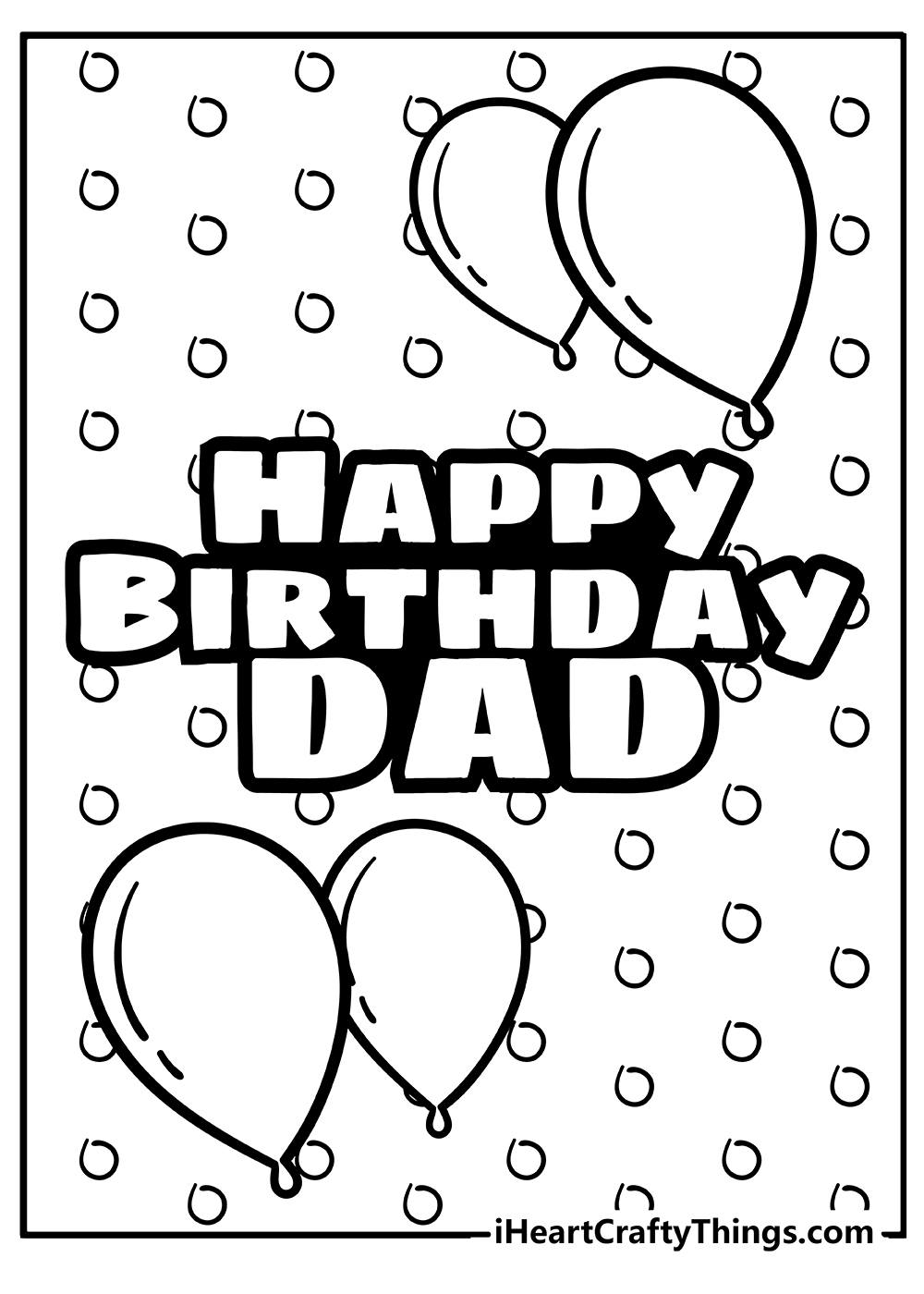 Because you can never have enough cake on birthdays, here's another Happy birthday dad free printable for your little children to enjoy.
This one has lots of white spaces, which means that children can add their own colorful elements to personalize it.
Suggest them to draw some of dad's favorite items or use dad's favorite colors to give life to this birthday card.
They will surely have something entertaining to do for a few hours, and you can plan the party. Dad's surely going to love the result!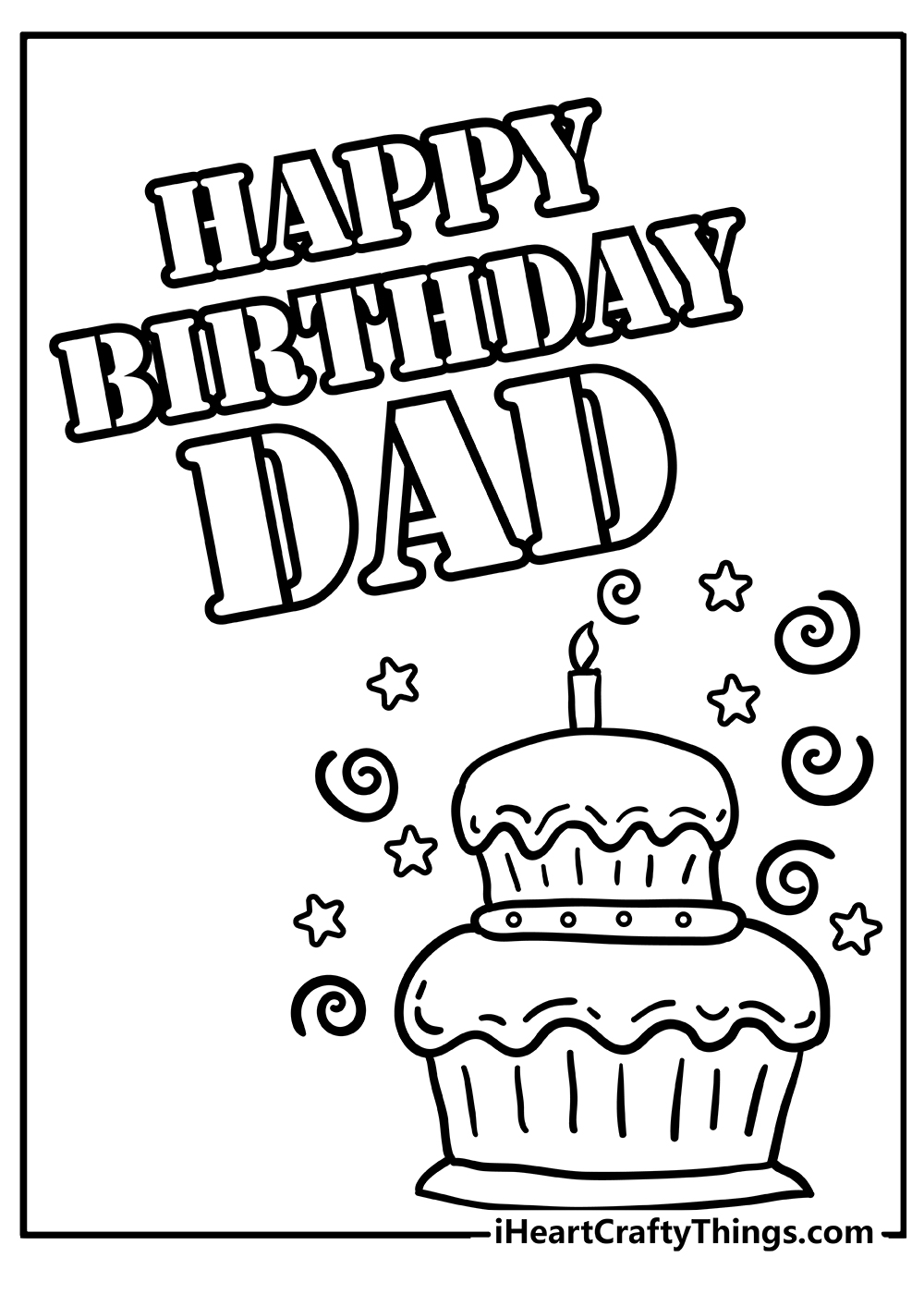 Make your dad feel like a superhero with this fun coloring page. Bold letters spell out "Super Dad" in the middle of a dramatic comic book style bubble and starburst explosion.
Unleash your inner artist to color the letters in dad's favorite colors. Use bright reds, oranges, yellows, blues, and purples to color the starbursts and jagged lines of the dramatic background.
Dad will feel on top of the world when he sees this imaginative birthday coloring page you made just for him.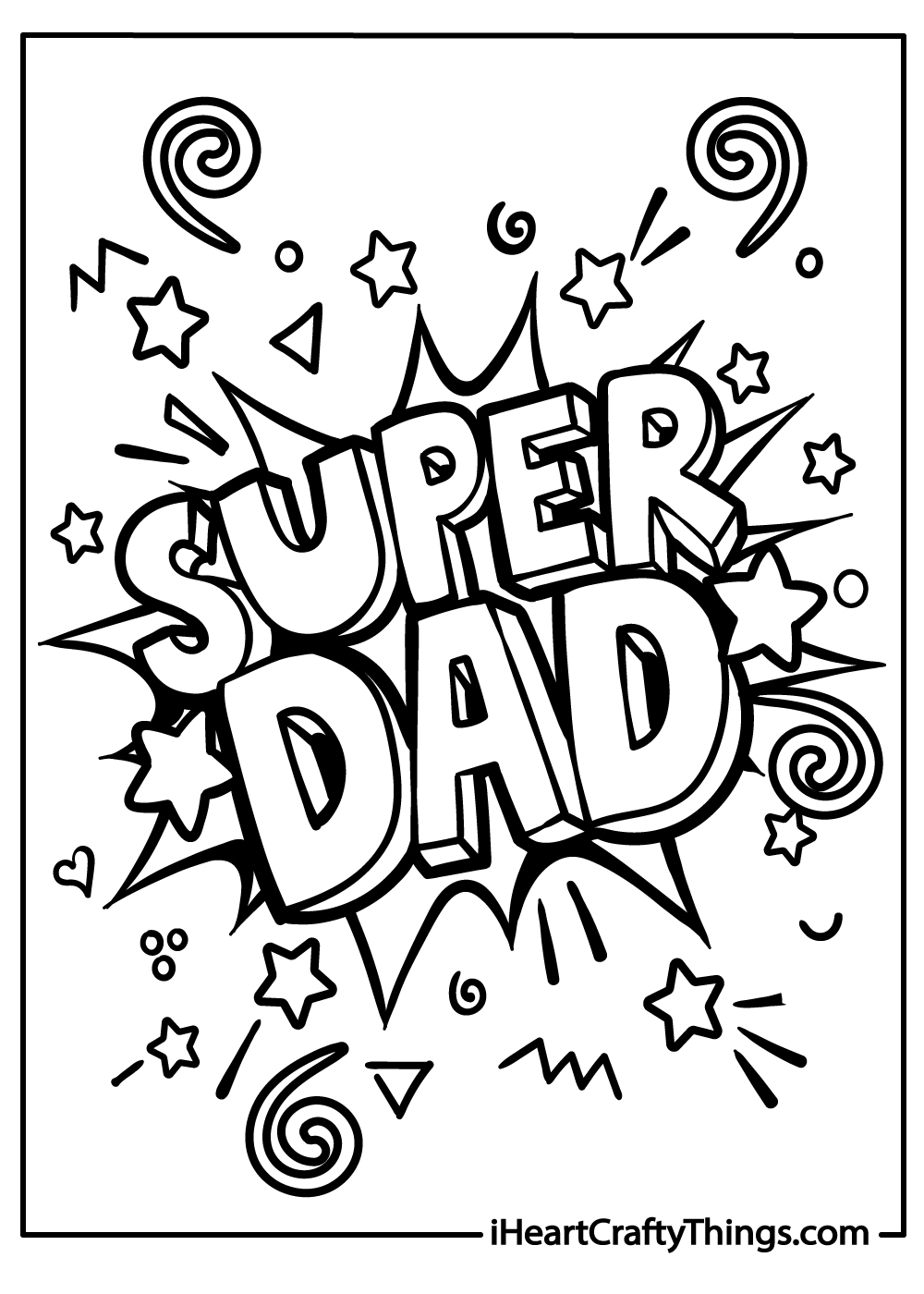 While the font on this one is already colored black, it does not mean children can't draw some colorful borders around the letters.
They can make it look like the text has a colorful aura to make dad feel special.
What's in the gift box? Can it be a new gadget for dad, a hand-made gift, or a photo of the family?
Use this coloring printable to brainstorm ideas with the children on what to buy daddy for his birthday. You will surely be surprised to hear the great ideas they have!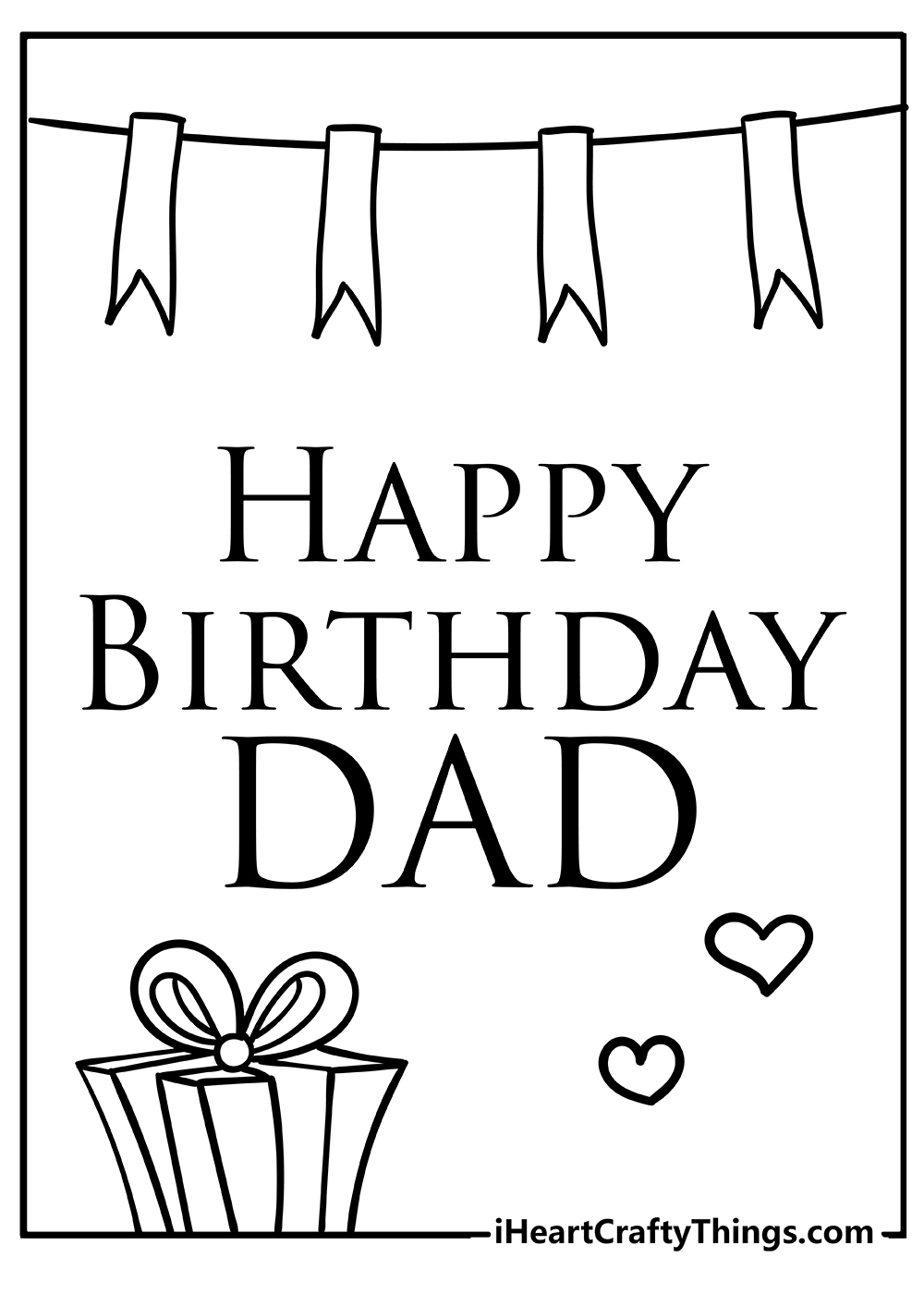 Presents are not the most important thing about birthdays, but they sure are nice to receive. What do children think dad's gift is going to be?
Maybe something they have crafted themselves, like this happy birthday dad coloring card?
If your children are creative and like to craft, you can work on a gift for dad together. Maybe a family photo in a DIY frame?
Or even a fun hat that the children can paint on. Sure, dad may only wear it around the house, but it's still going to be fun!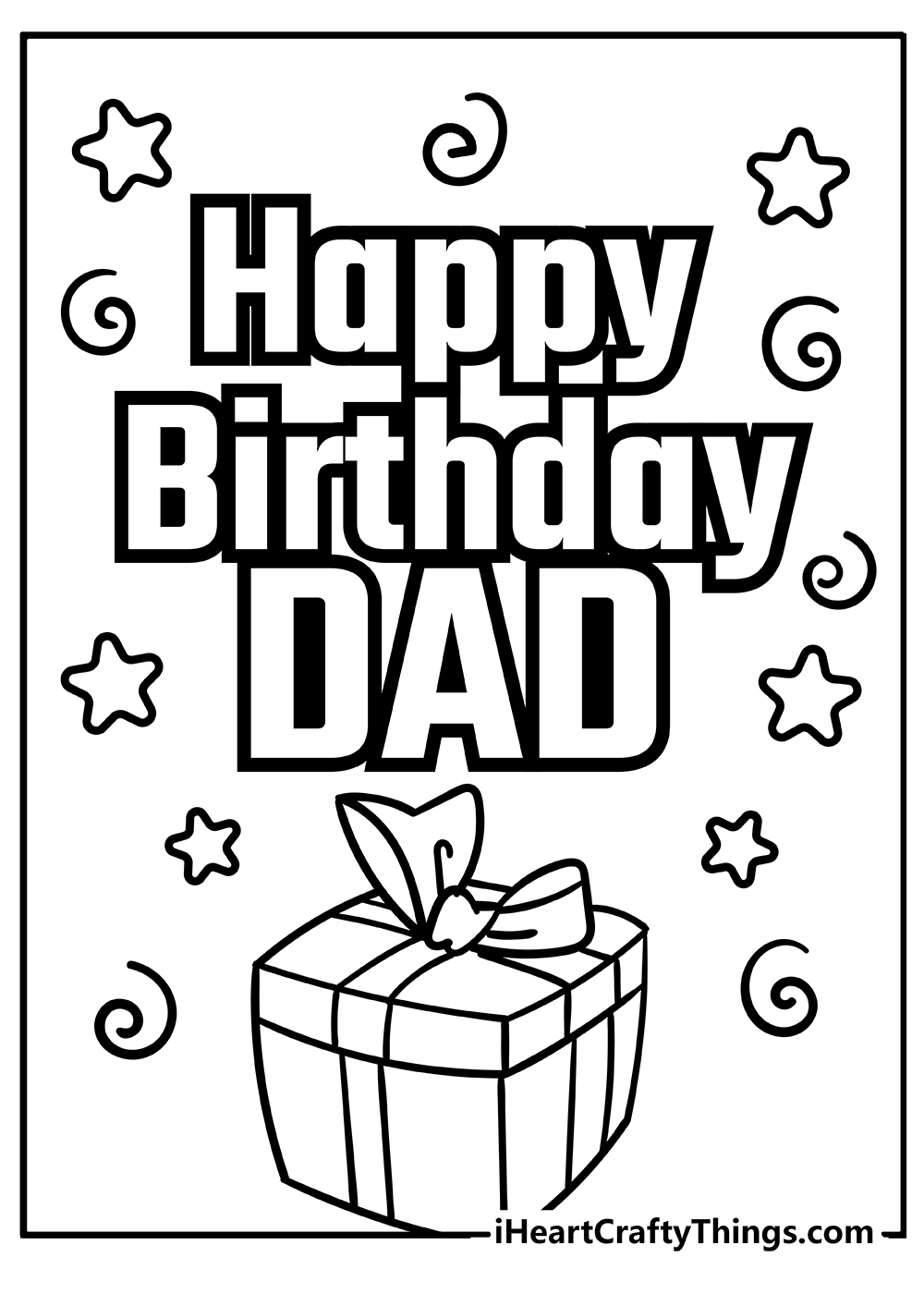 Celebrate the world's greatest dad with this one-of-a-kind happy birthday coloring page. The words "The Best Dad Ever" appear in the center of a colorful comic book style bubble and star explosion.
The explosion is made up of jagged lines and star shapes.
Dad will be grinning ear to ear when he sees this vibrant tribute to his super stardom. You can color the explosion and the background with your favorite colors.
Make this coloring page extra fun by adding some sound effects or comic bubbles to it.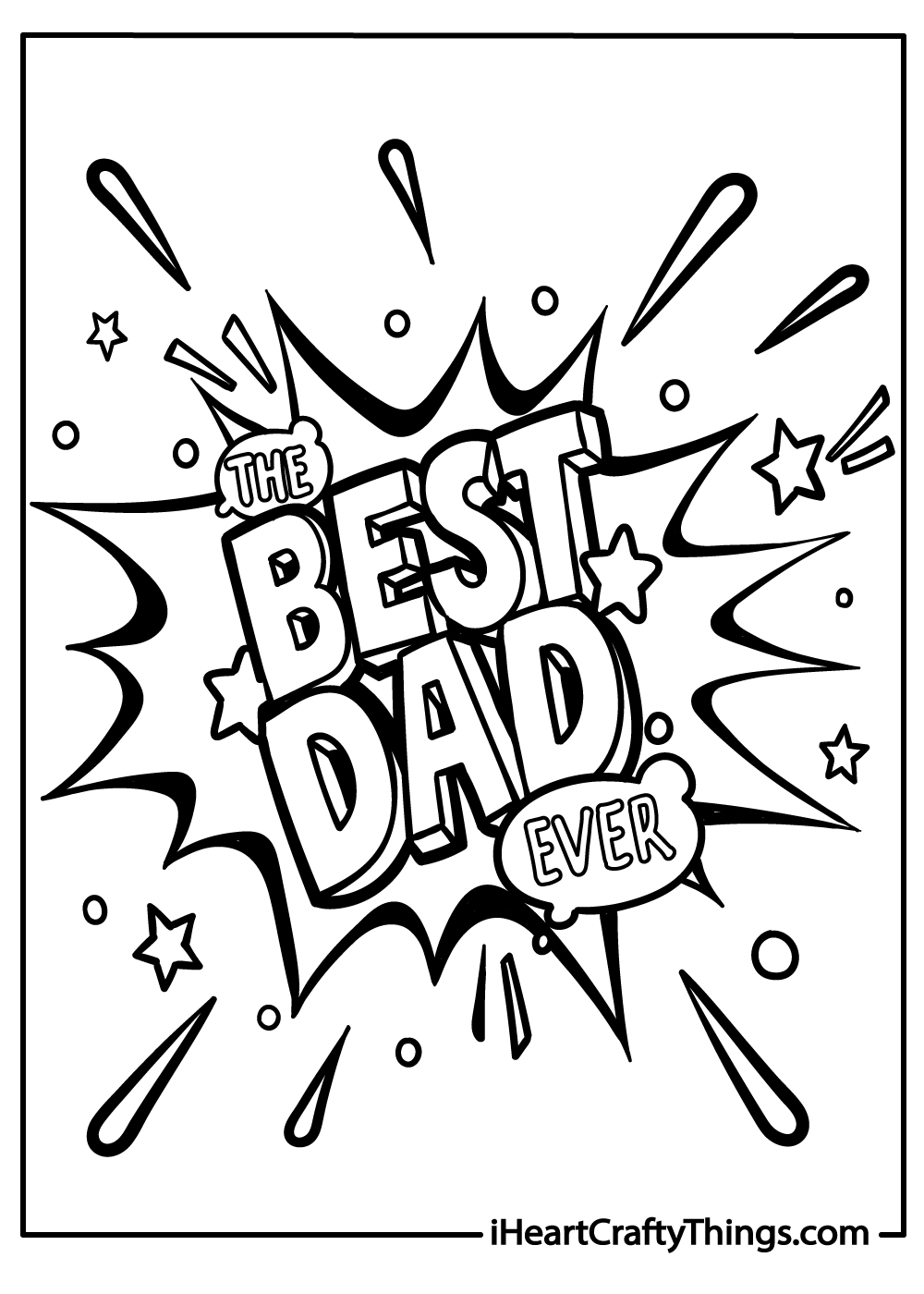 This is another simple design that might be used as a birthday card for the best dad ever! You may also print it on colored paper to add a personal touch. What a fantastic idea!
The children can then skip coloring the background and focus on the festive elements in this Happy Birthday Dad coloring page.
What will the text's color be? It needs to be something that pops out from the colorful background as well, so ask children to use their imagination!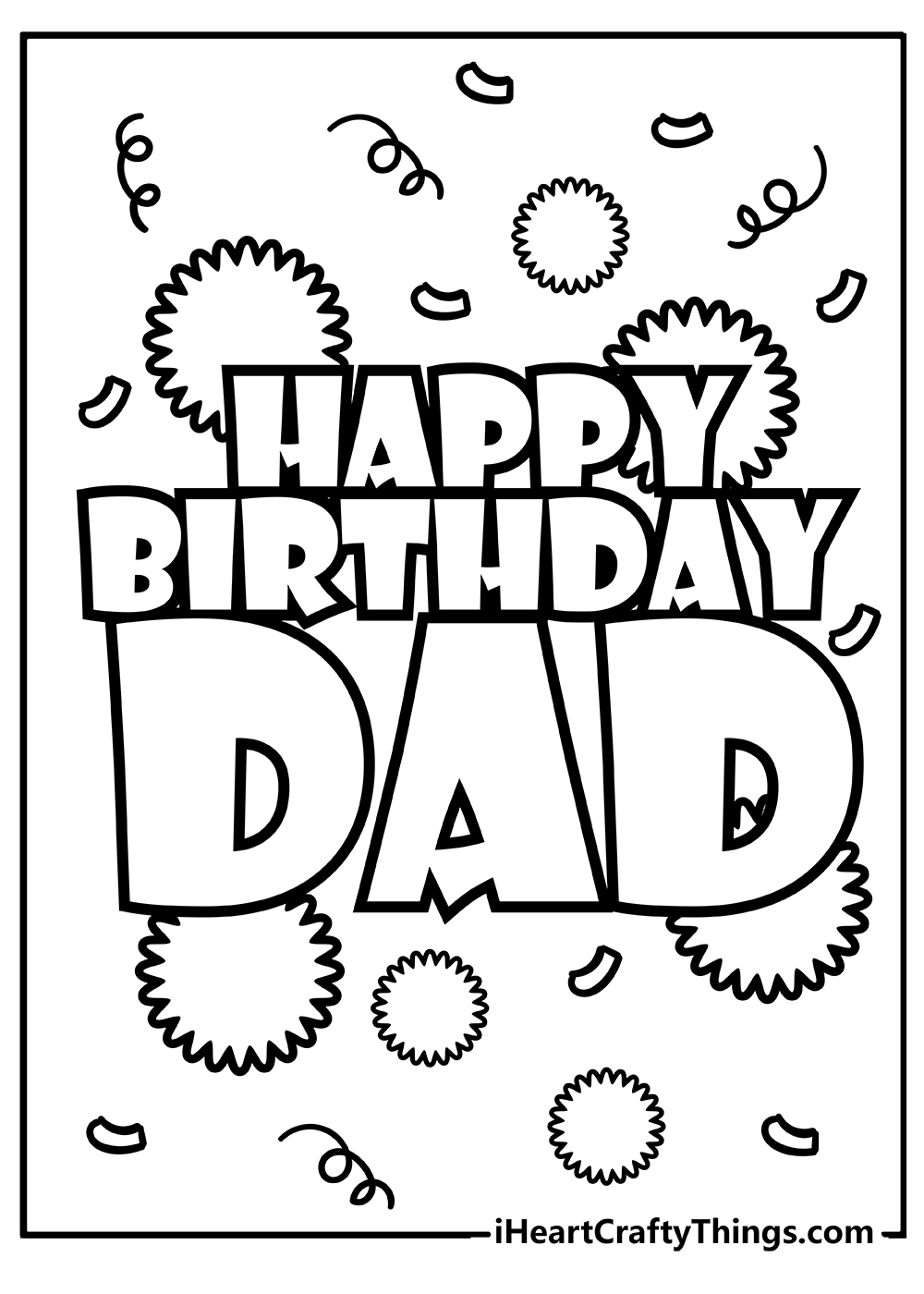 Coloring is a screen-free activity that every child enjoys, and when you count on the fact that these coloring pages will serve as a great gift for dad, the activity becomes even more fun.
Children can include some customized Father's Day messages with the completed Happy Birthday Dad coloring sheet for added emotion, which will completely melt dad's heart.
You could even have the children complete a few of these coloring sheets ahead of time and give dad the "book" as a gift.
Consider including some other fun coloring pages that you can find on our website to really spark up the celebrations this year since the creative possibilities are nearly unlimited.