On this page, you will find 20 all new Fathers Day coloring pages that are completely free to print and download.
Being a father is a full-time job, and it's a job that can be thankless sometimes!
That's what makes days like Father's Day so important, as it is a time to show the fathers in our lives some gratitude for all that they do.
This collection of free Father's Day coloring pages for kids is here to help you represent your love and gratitude!
All 20 pages are free to enjoy as you please, and you can color them all or color a few favorites.
We hope you enjoy this collection as we begin with the first page we have for you!
20 Brand New Father's Day Coloring Pages – Free to Print and Color
There is such a sweet scene shown off in this first Father's Day coloring page for kids that we have for you!
A father has just been given a gift by his loving daughter, and it's a picture that simply radiates love and affection.
There are so many great details to color in here, and we know this will be a bright and vibrant image once you're done with it!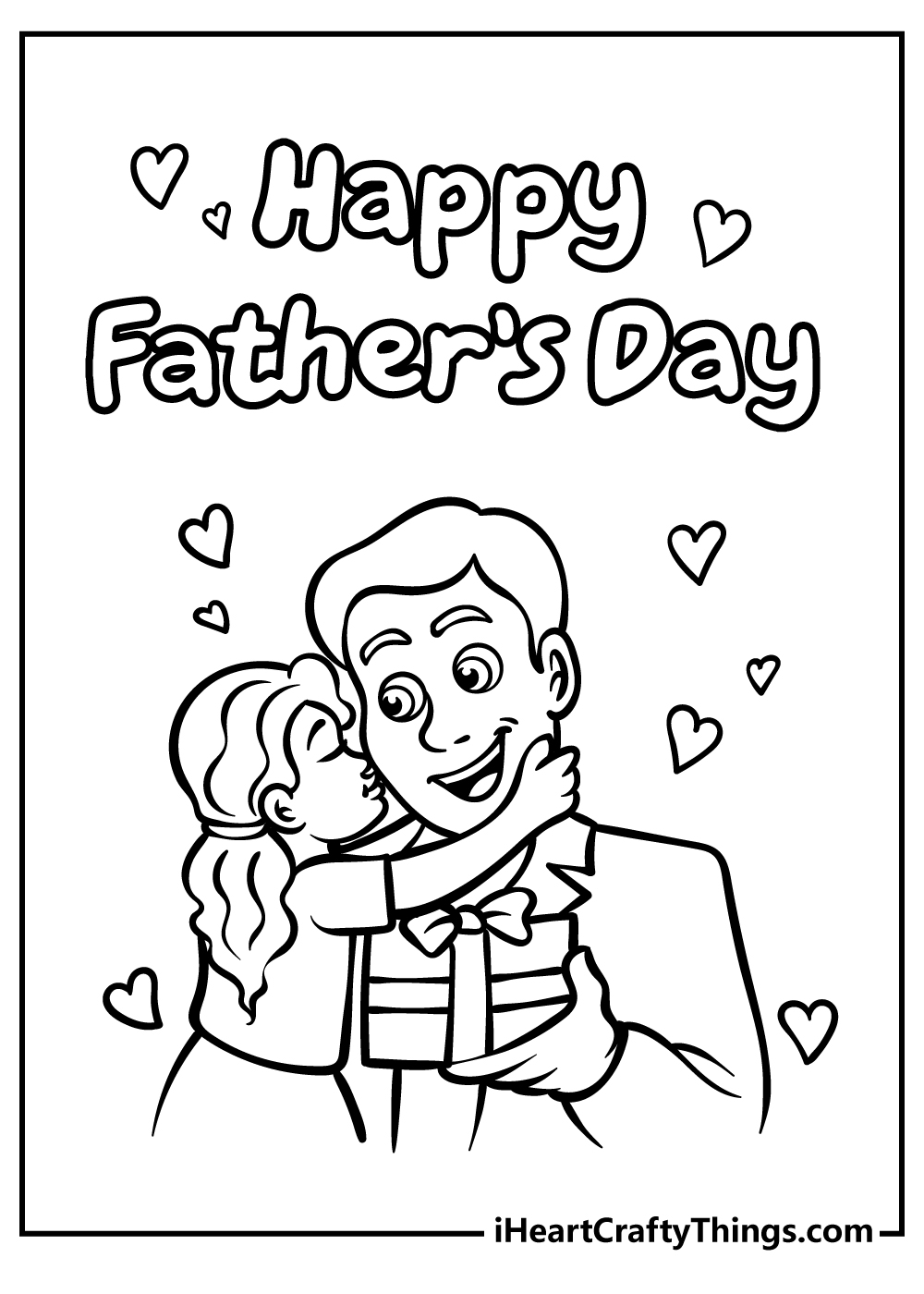 This heartwarming Father's Day coloring page depicts a loving family celebrating their super dad.
The beaming father towers over his two adorable young sons, who gaze up at him with pure joy. "I LOVE YOU DAD" is emblazoned above in bold block letters.
The dad's face is cute so you can create his features – try giving him a fun mustache or beard. Dress the cute boys in vibrant shirts and jeans.
You could even add details like trees, flowers or clouds in the background to complete the scene. This page is sure to make Dad feel extra special on his special day.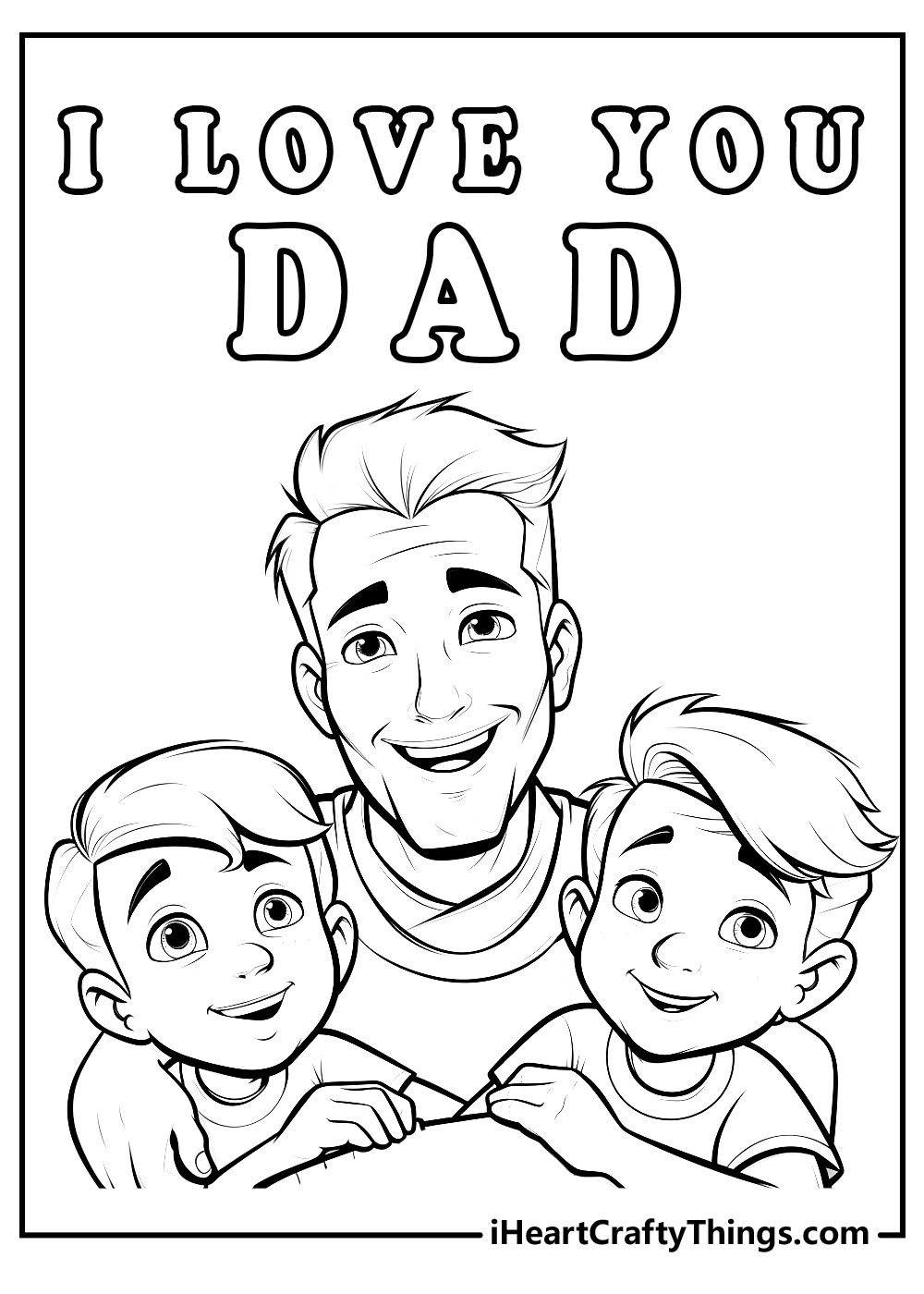 It would be impossible to decide who the best dad ever actually is, but for each person that claims this honor it's certainly true for them!
This fun page legitimizes the claim by presenting a trophy for a deserving dad. This would be a great page to gift to your own dad to show that he's the best ever as far as you're concerned!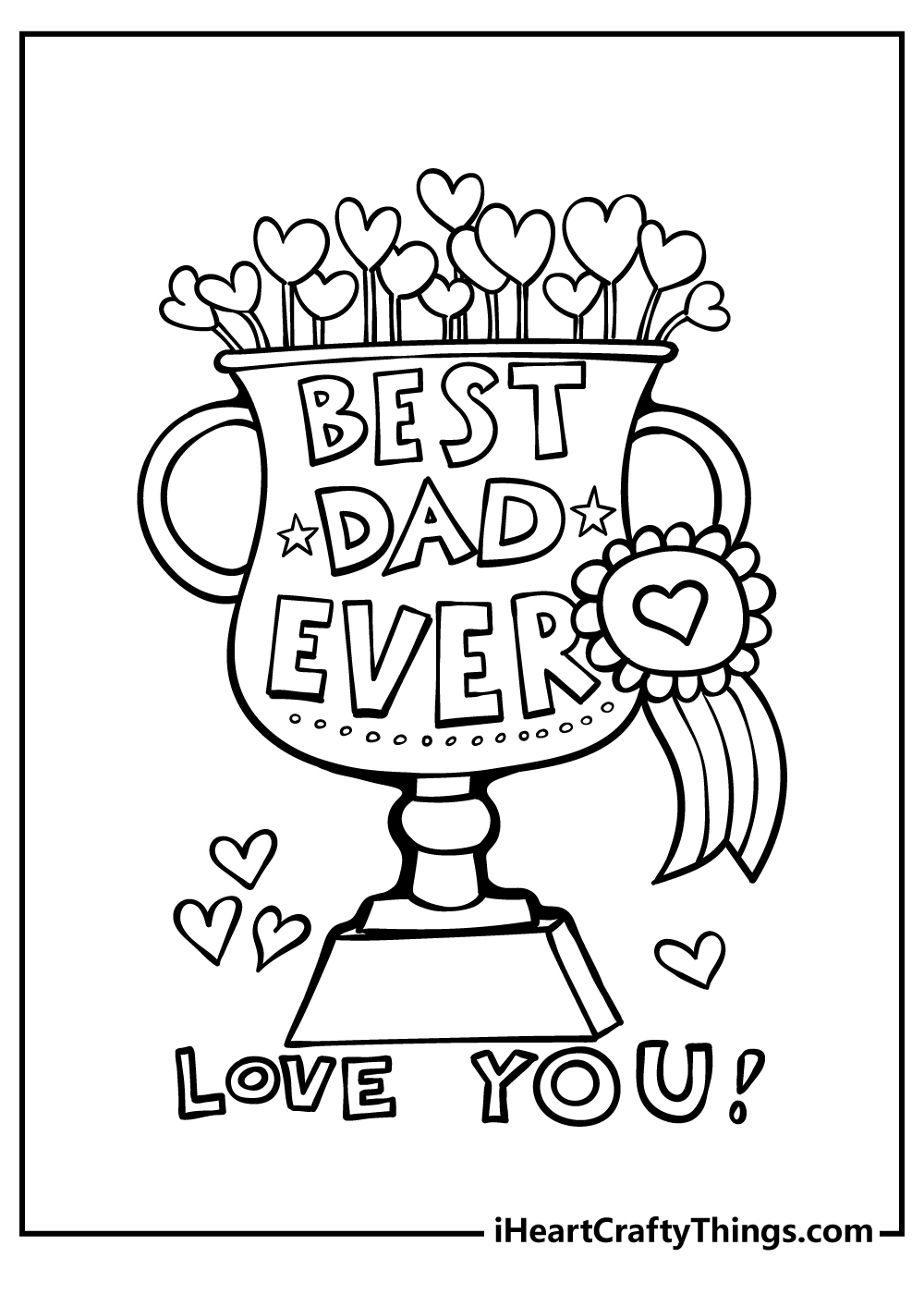 We love this fun and creative third page, as it has so many little details and elements involved with fatherhood to appreciate and color!
With all these little elements, there are also some great opportunities for some interesting color details.
When coloring these smaller details, we would recommend some colored pens or pencils to make coloring the smaller elements much easier.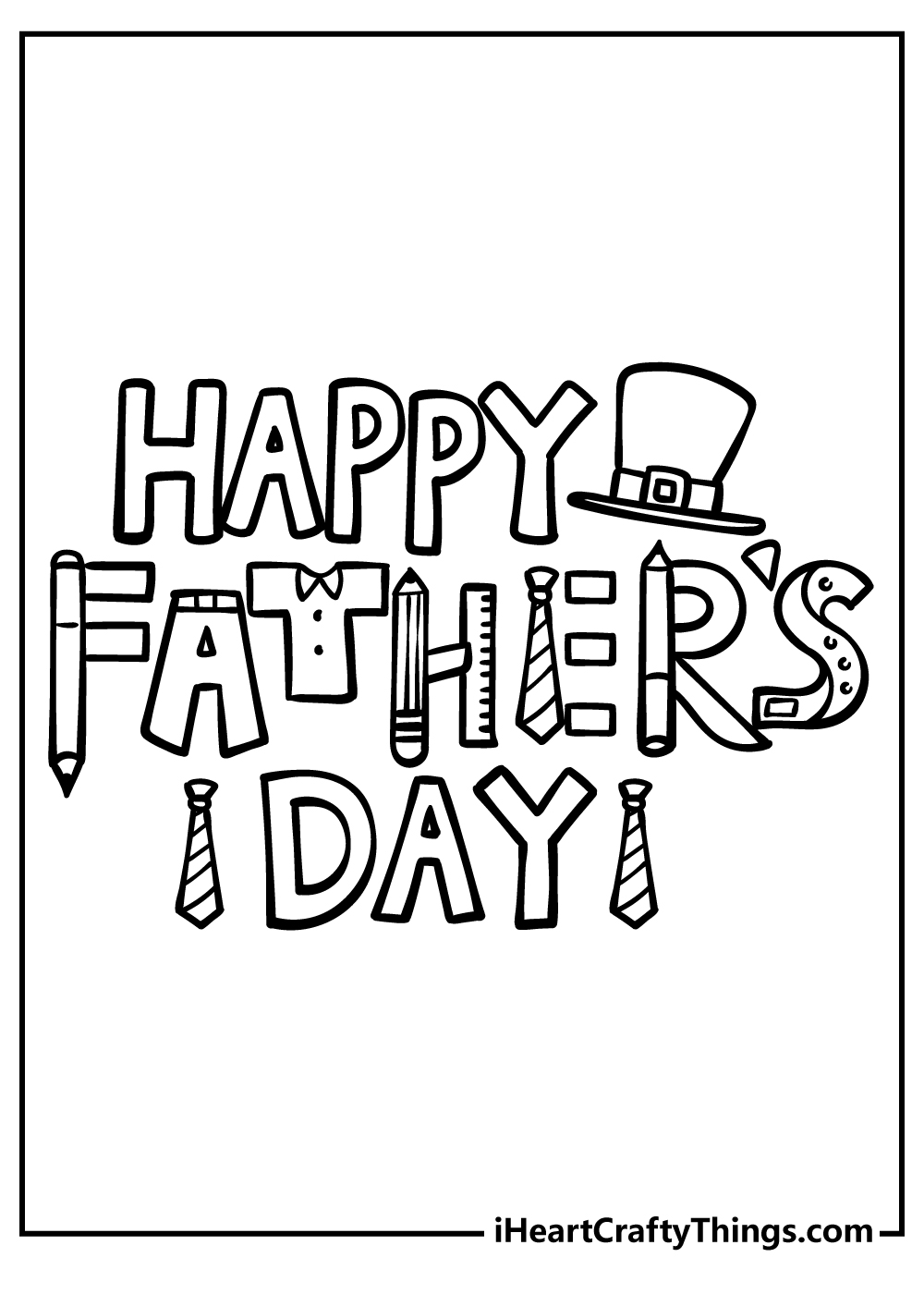 Wish your dad a happy Father's Day with this delightful coloring sheet. It captures a special moment between a stylish dad with a trendy quiff hairstyle and his two grinning children.
Their eyes shine with love and admiration for their father. The words "HAPPY FATHER'S DAY" stretch across the top in large block letters.
Make this page pop by using bright, festive colors to color the figures and background. Consider adding fun touches like stars, hearts and balloons to surround the loving family.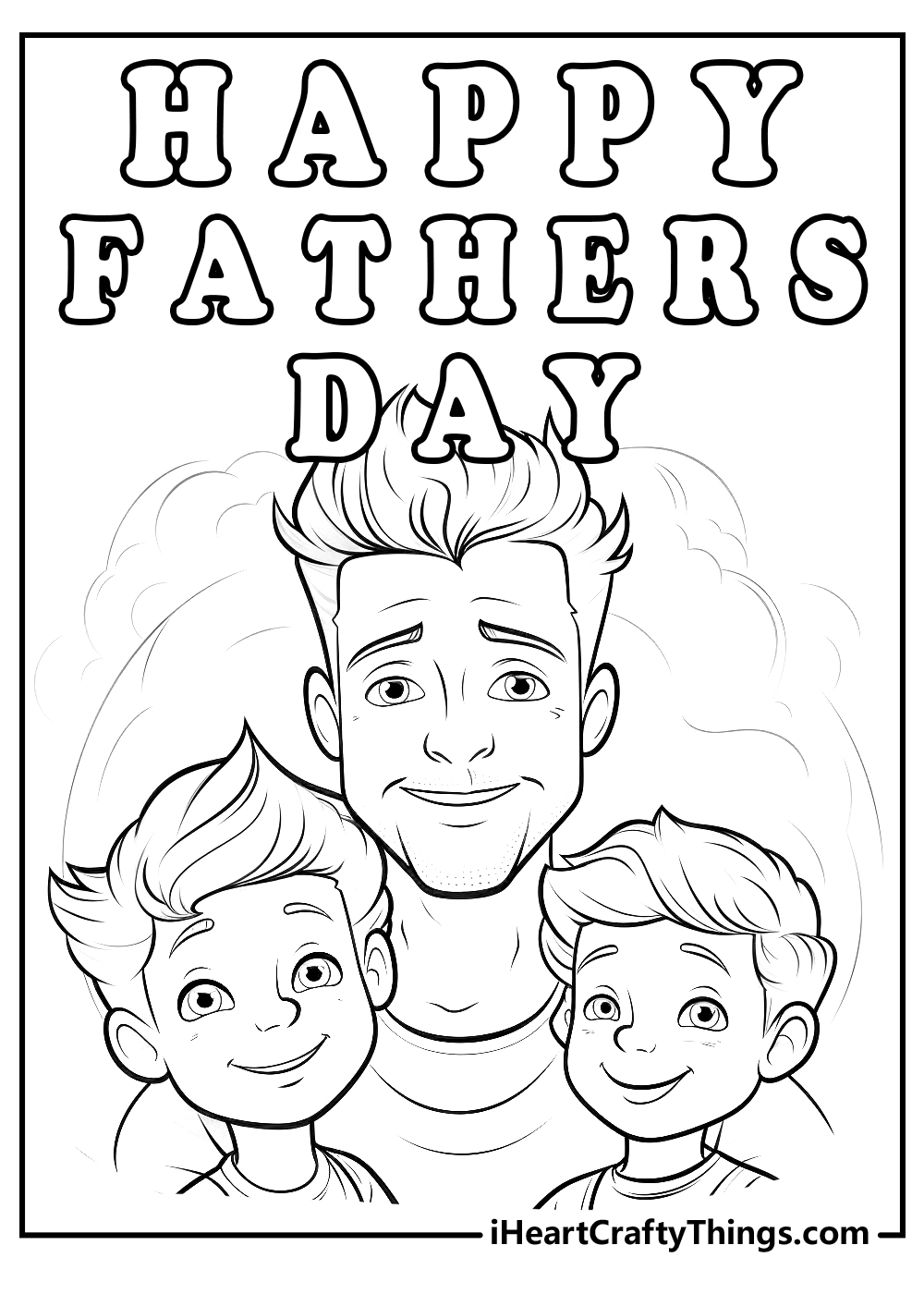 In this fourth page, we have another collection of little objects that you would associate with fathers, and it makes for another fun page to enjoy!
There are so many ways that you can color this collection of objects, so have some fun getting creative with your colors and art mediums and see what happens.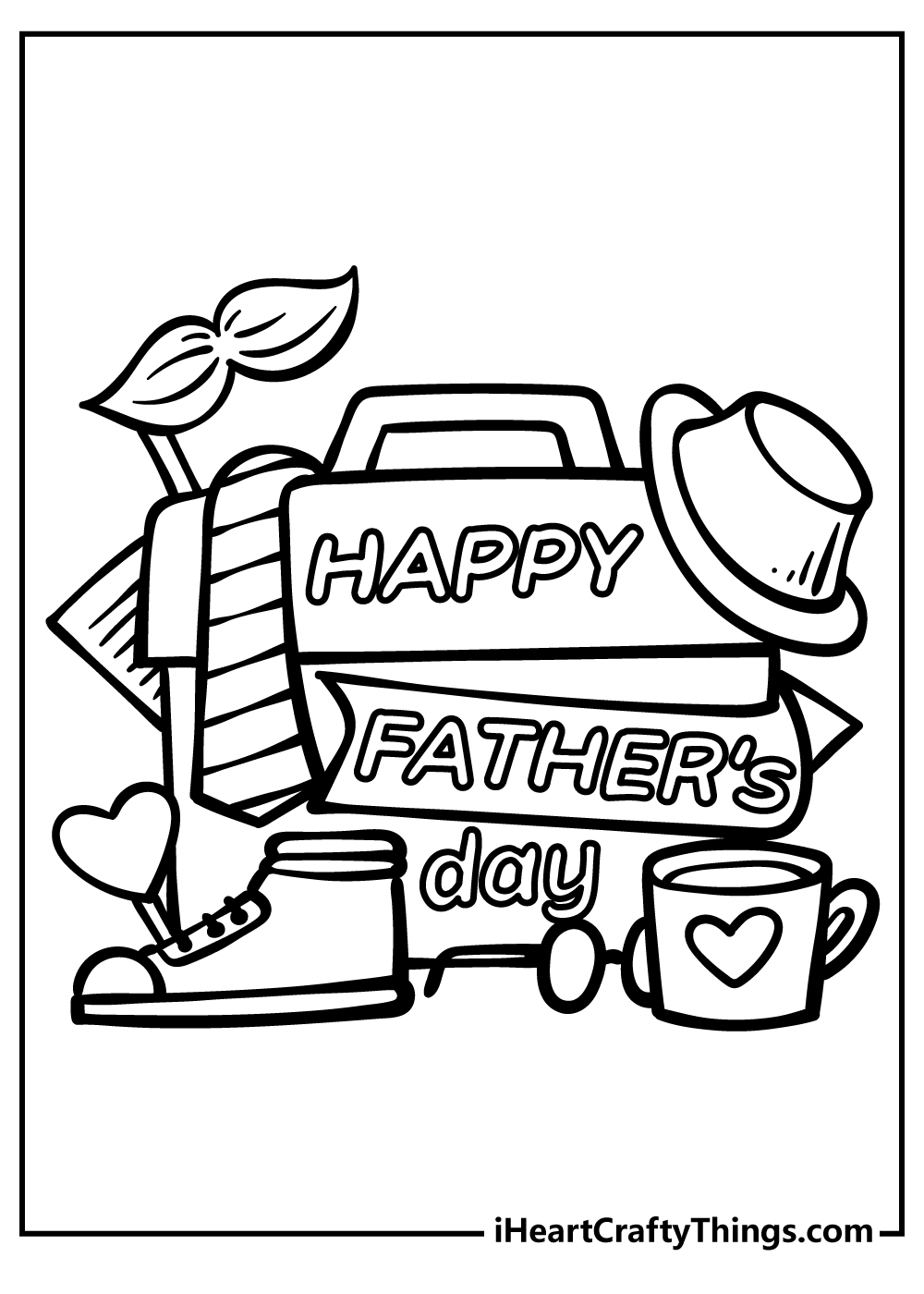 For the fifth Father's Day coloring sheet that we have for you, we are wishing a happy Father's Day with the help of some vibrant and fun fonts!
It's great how each word of the phrase is drawn in a different style, and we think it would be fun to use different colors for each word.
Is this the approach that you think you will try to take?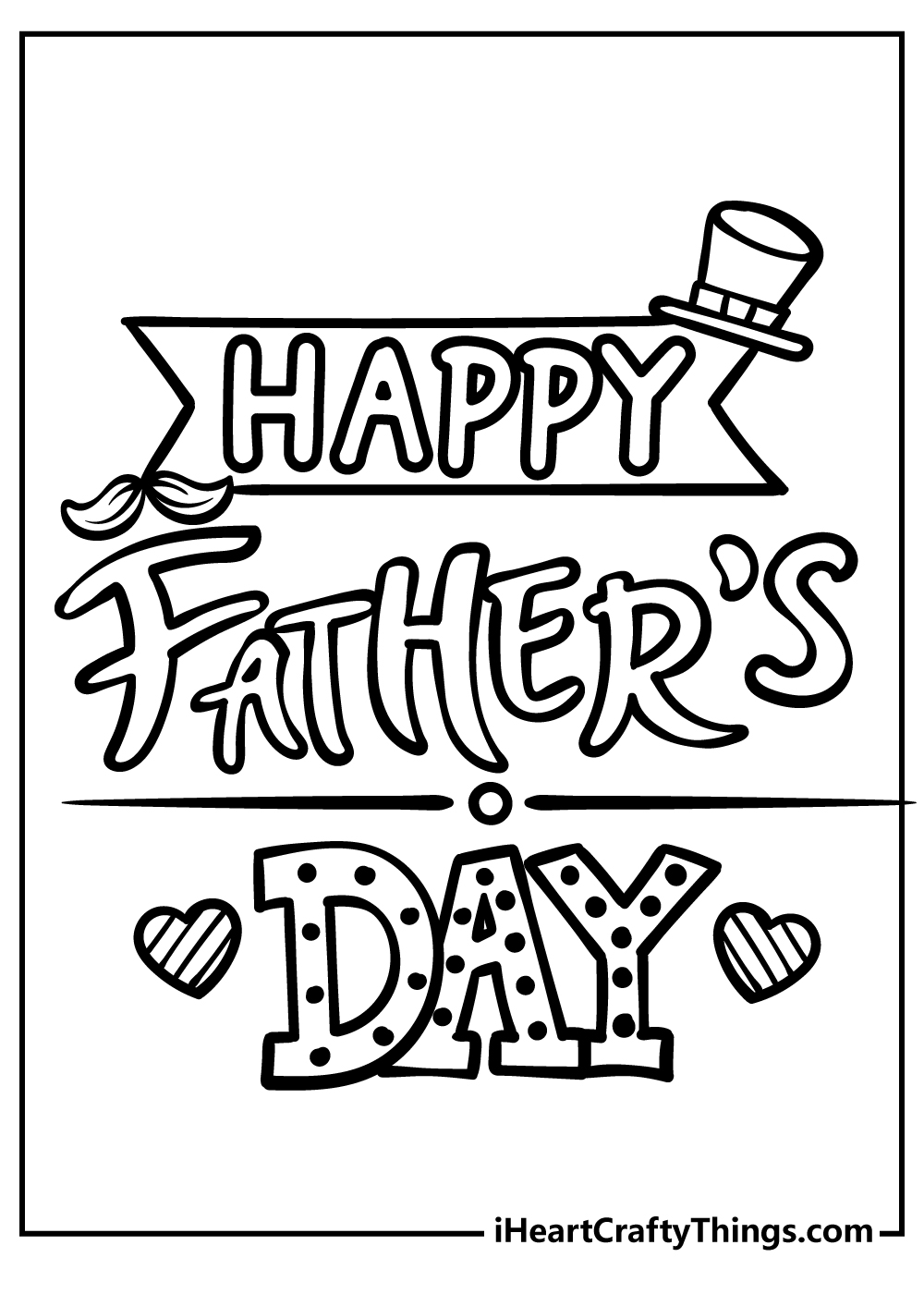 Get active with Dad on Father's Day with this fun coloring printable. It shows a dad and son duo fully engaged in a game of catch.
The athletic dad reaches high to catch the ball while his exuberant son looks thrilled to be playing. "BEST DAD" is boldly stated above in all caps.
Color this page in your dad's favorite shades, and add stripes, dots or stars to the ball. You could also draw in a grassy field, flowers and trees to complete the scene.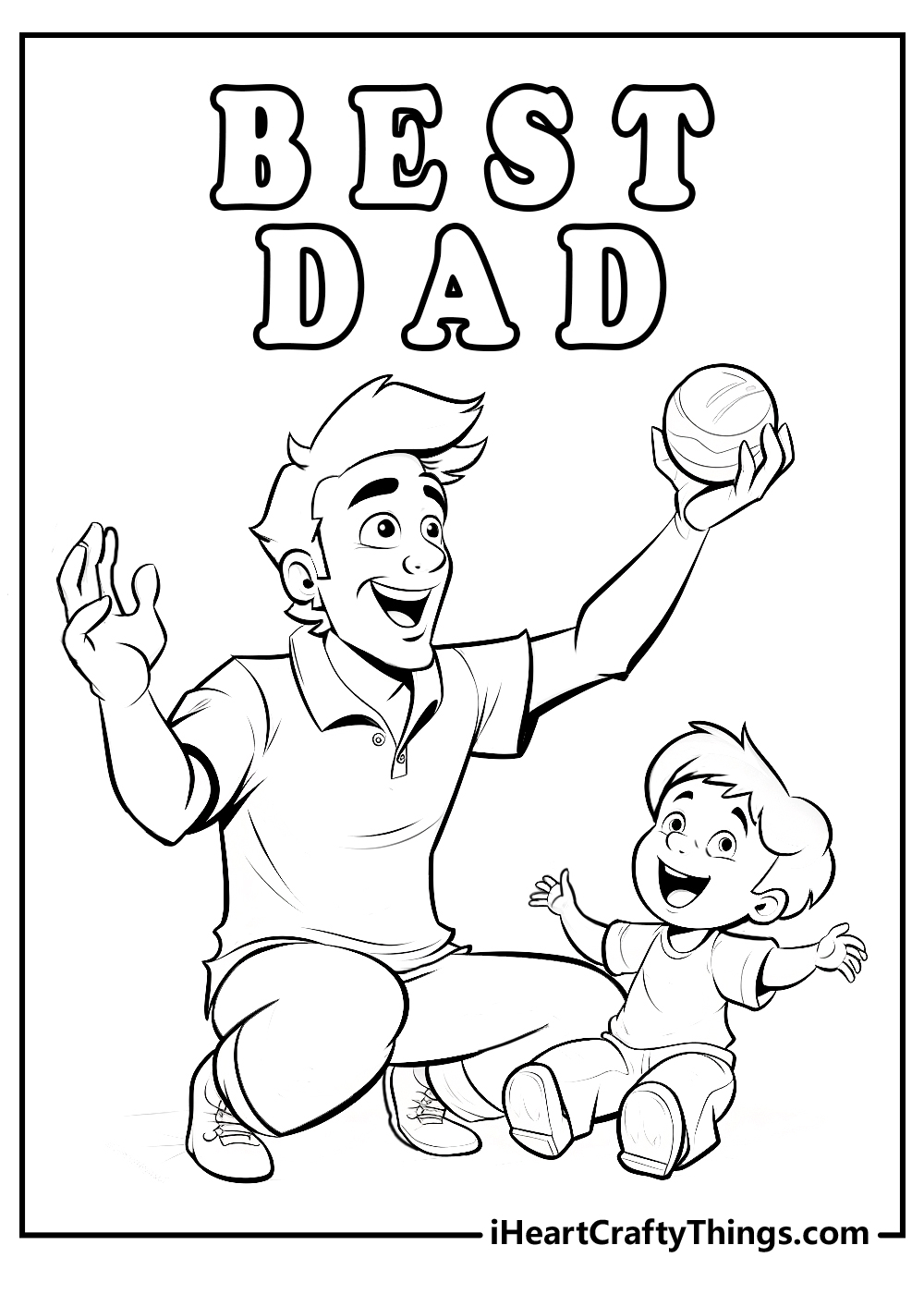 We have a simple yet striking image for you in this next one. For this one, we think that the brighter the colors you use, the better!
We would not only use bright colors but also vibrant mediums such as colored pens and acrylic paints to make it really pop.
That is just one way you could color this one, so how do you think you will finish it?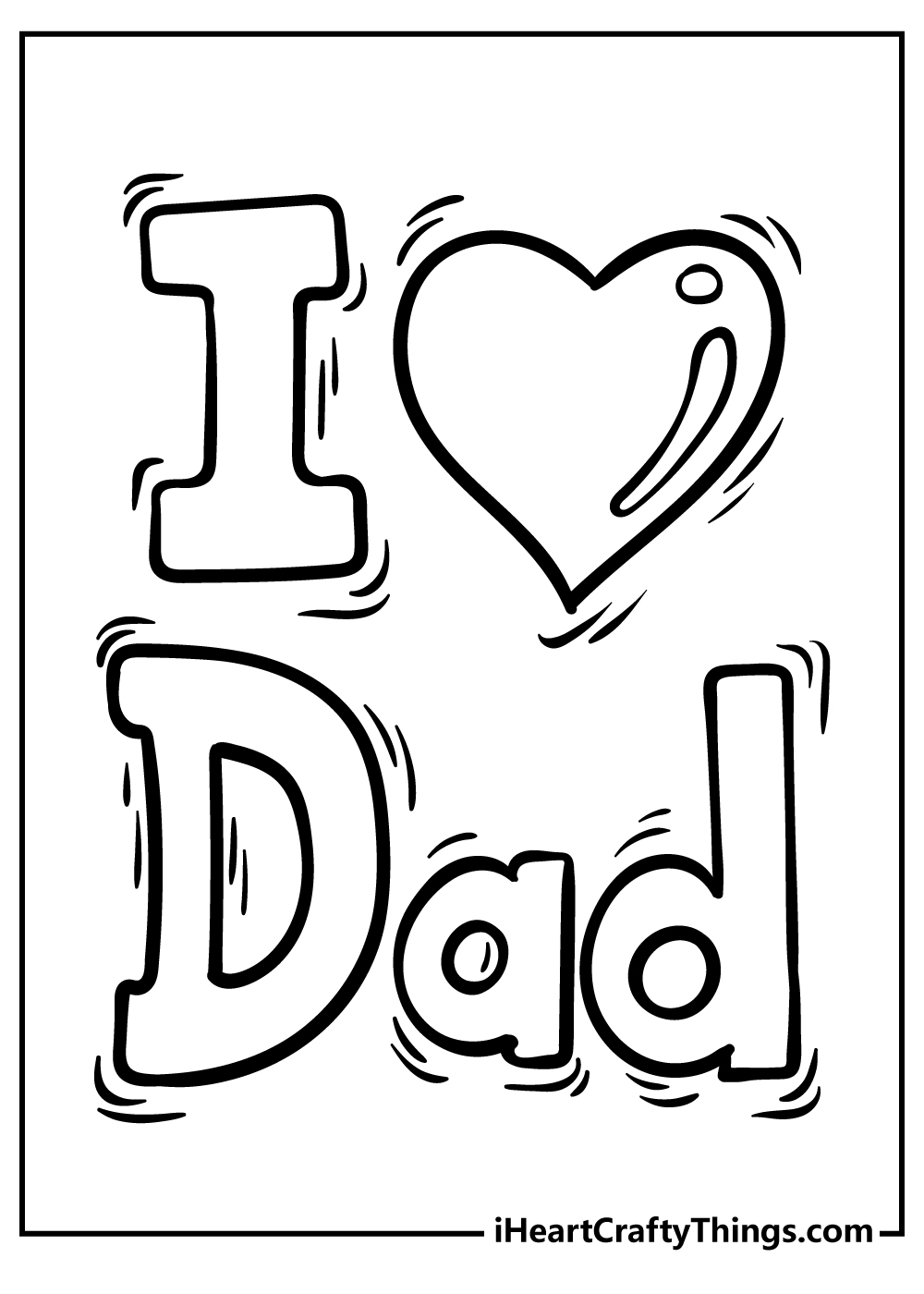 The way that the phrase on this next picture is written is so fun to look at!
Each letter of dad has got a different pattern on it, and it's another one where we would try to use some different colors for each letter. What do you think you will do for the background here?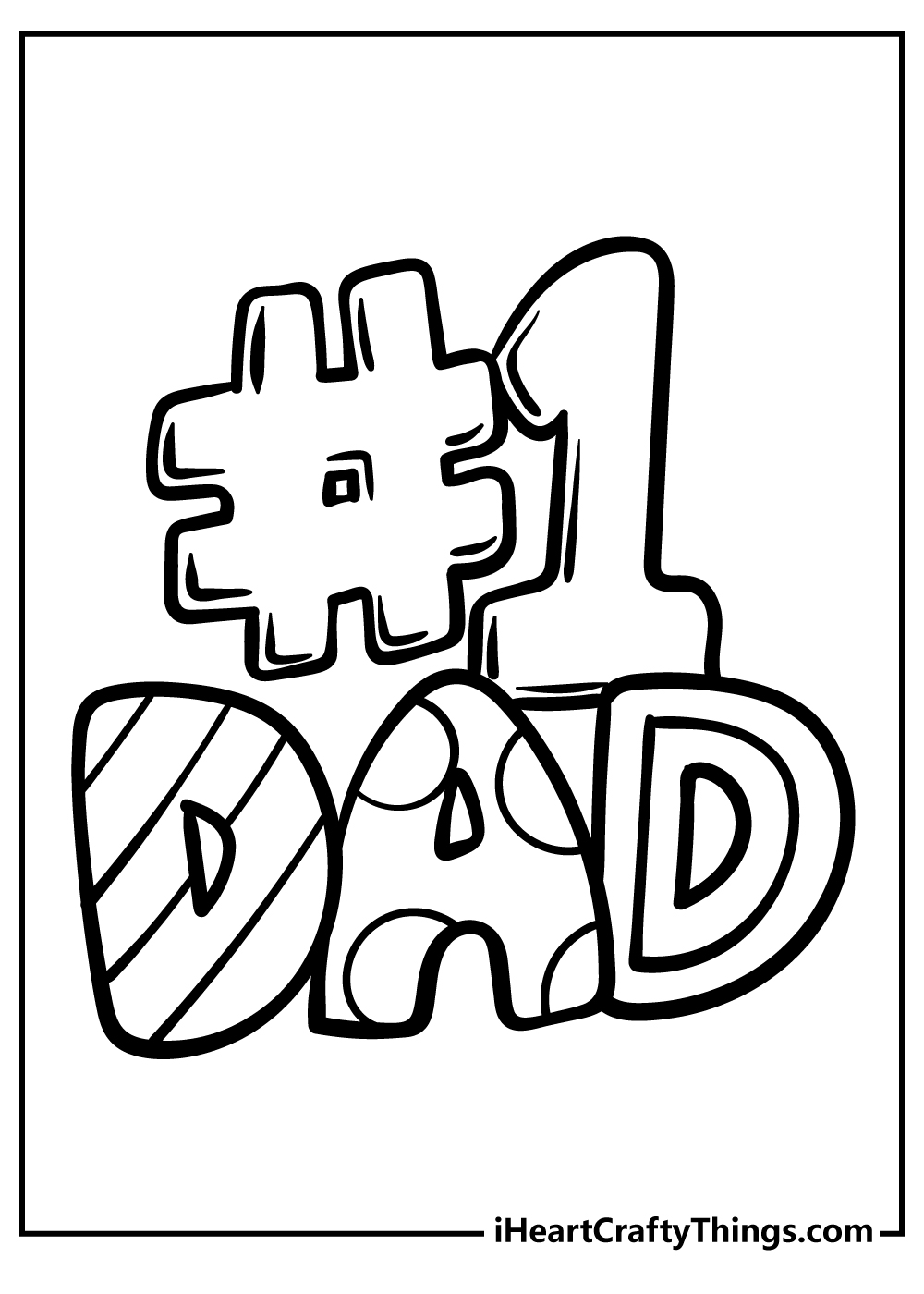 Build special memories with Dad using this cute Father's Day Printable. It depicts a doting father and child bonding over a game of blocks.
The kind dad holds out a block, smiling tenderly as his little one reaches for it.
Their sweet interaction is so heartwarming. "Father's Day" is written at the top in all capital letters.
Color this page with your favorite colors, drawing letters, numbers or shapes on the blocks.
You can also add more details like bookshelves, toy cars or rugs in the background.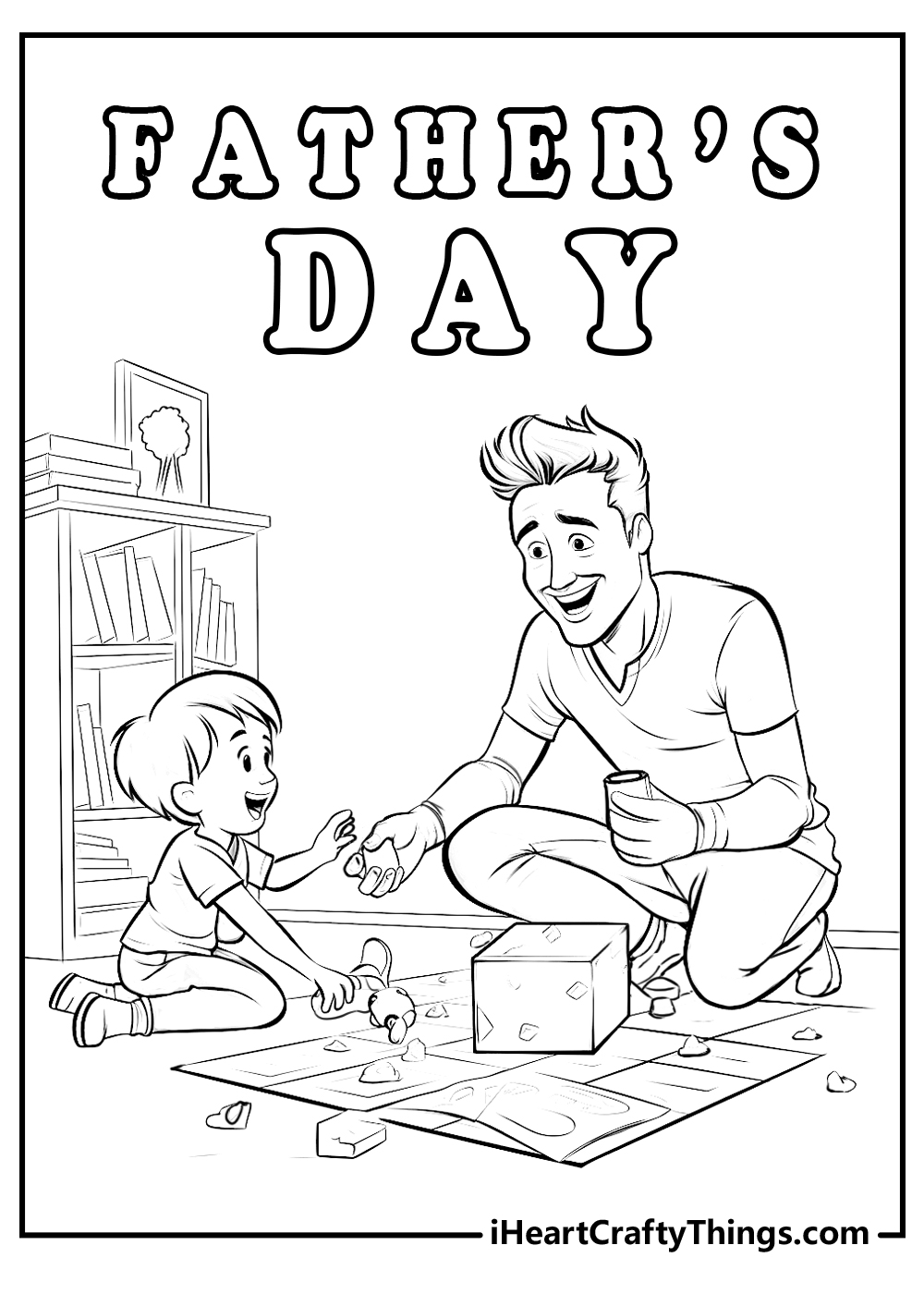 In image 8, we have a lovely ribbon that you can present to your dad to show that he's number 1 in your life!
All that it needs before you present it are some wonderful colors, and there are tons of great details that you can add some color to.
Maybe you could even print it on some harder cardboard and then cut it out to turn into a badge for your dad!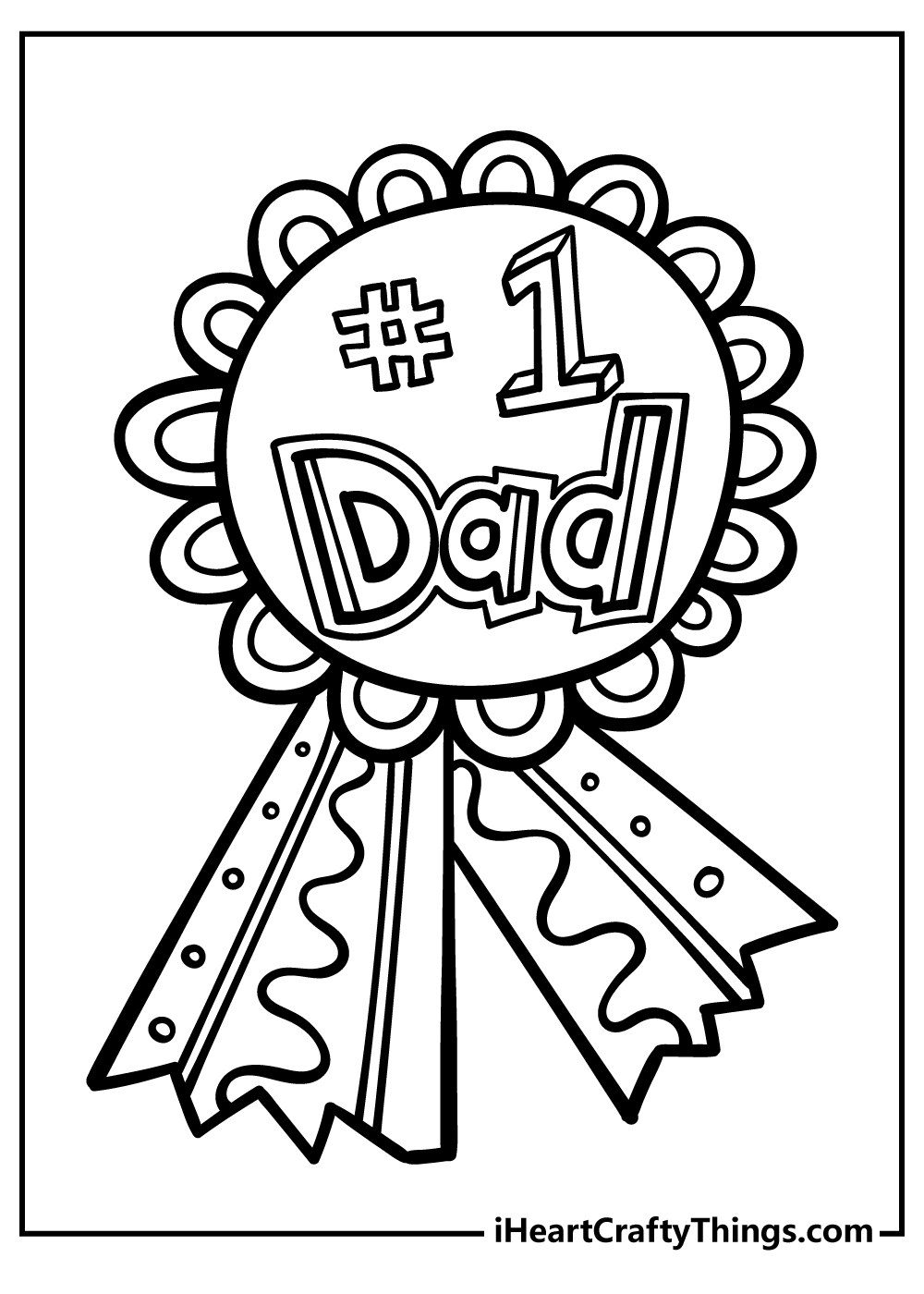 For the next Father's Day coloring printable that we have for you, we have another great representation of this phrase.
There is some empty space on this design, so you could also draw some extra pattern details or other elements to add even more personality to it.
What will you do to complete this awesome page?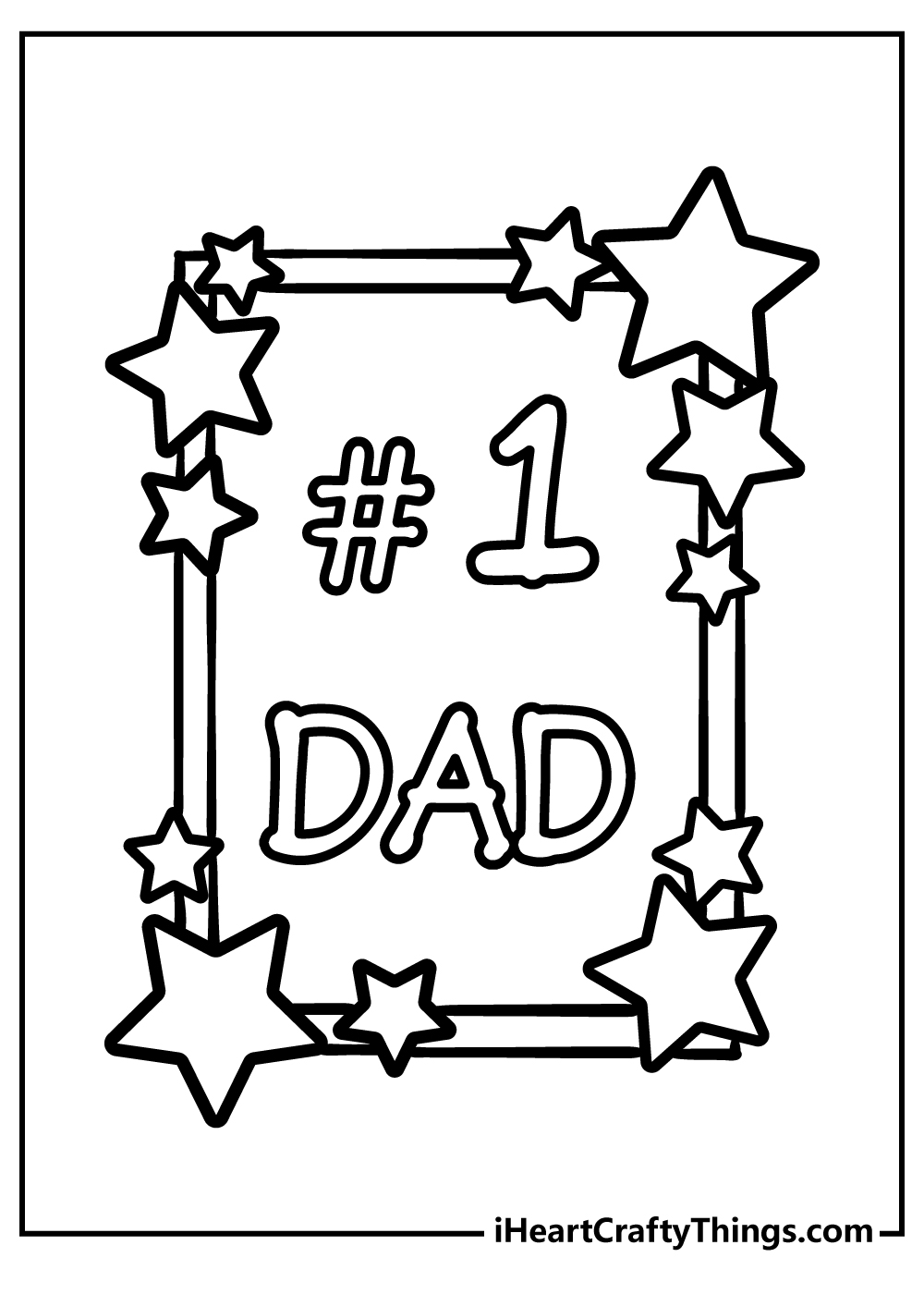 Thank Dad for everything he does with this beautiful Father's Day coloring page. It shows a loving father receiving a gorgeous bouquet of roses from his smiling child.
The roses symbolize gratitude and devotion. "FATHER'S DAY" is lettered across the top in all caps.
Color the page with red, yellow, blue, detailing the roses with intricate petals, leaves and thorns. You could also draw in a sunny sky, rainbow or other natural elements in the background.
This page is a wonderful way to show Dad how much you care and appreciate him on his special day.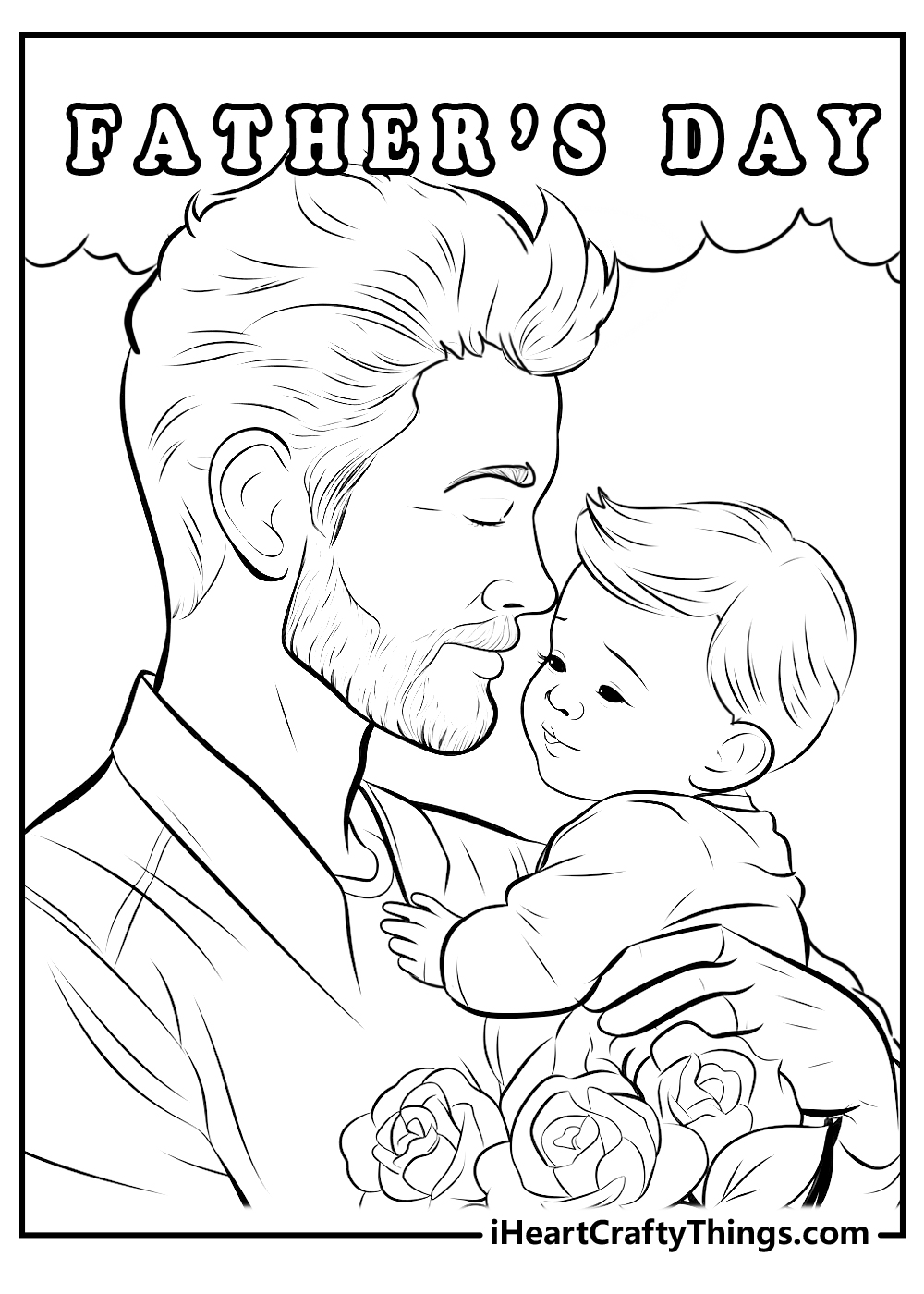 This page is big, bold and really catches the eye! It's simple in design, but sometimes simplicity can be good when trying to create a striking design.
We would again definitely go for the brightest colors possible for this one, as that would suit the striking design brilliantly.
Will you go for that or use some milder colors?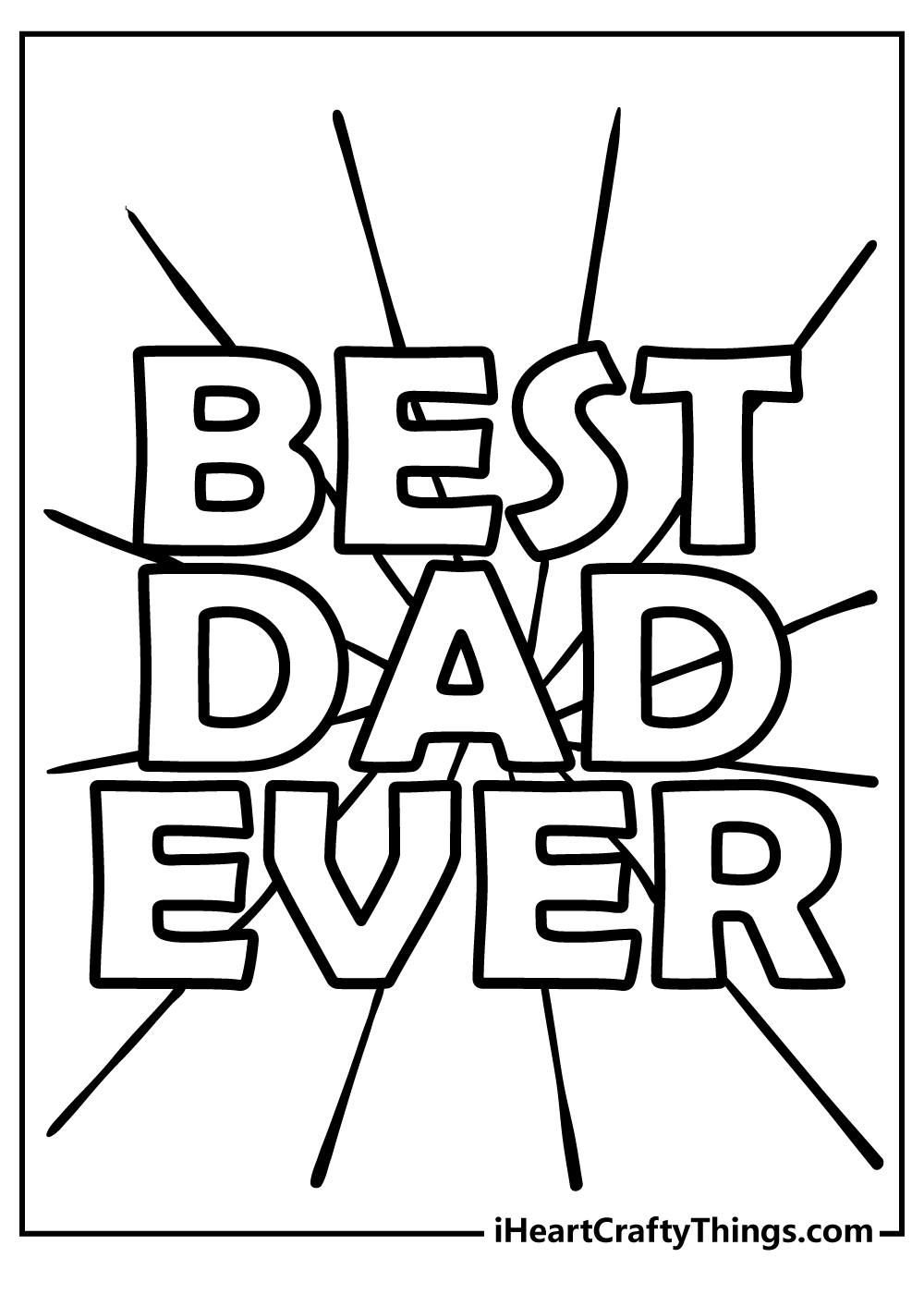 There is a really creative page for you to color in here! We have the phrase of Father's Day written in bold font, and there are three ties hanging in the middle.
The ties have some different patterns adorning them, and it would be another great opportunity to play around with different colors for each one.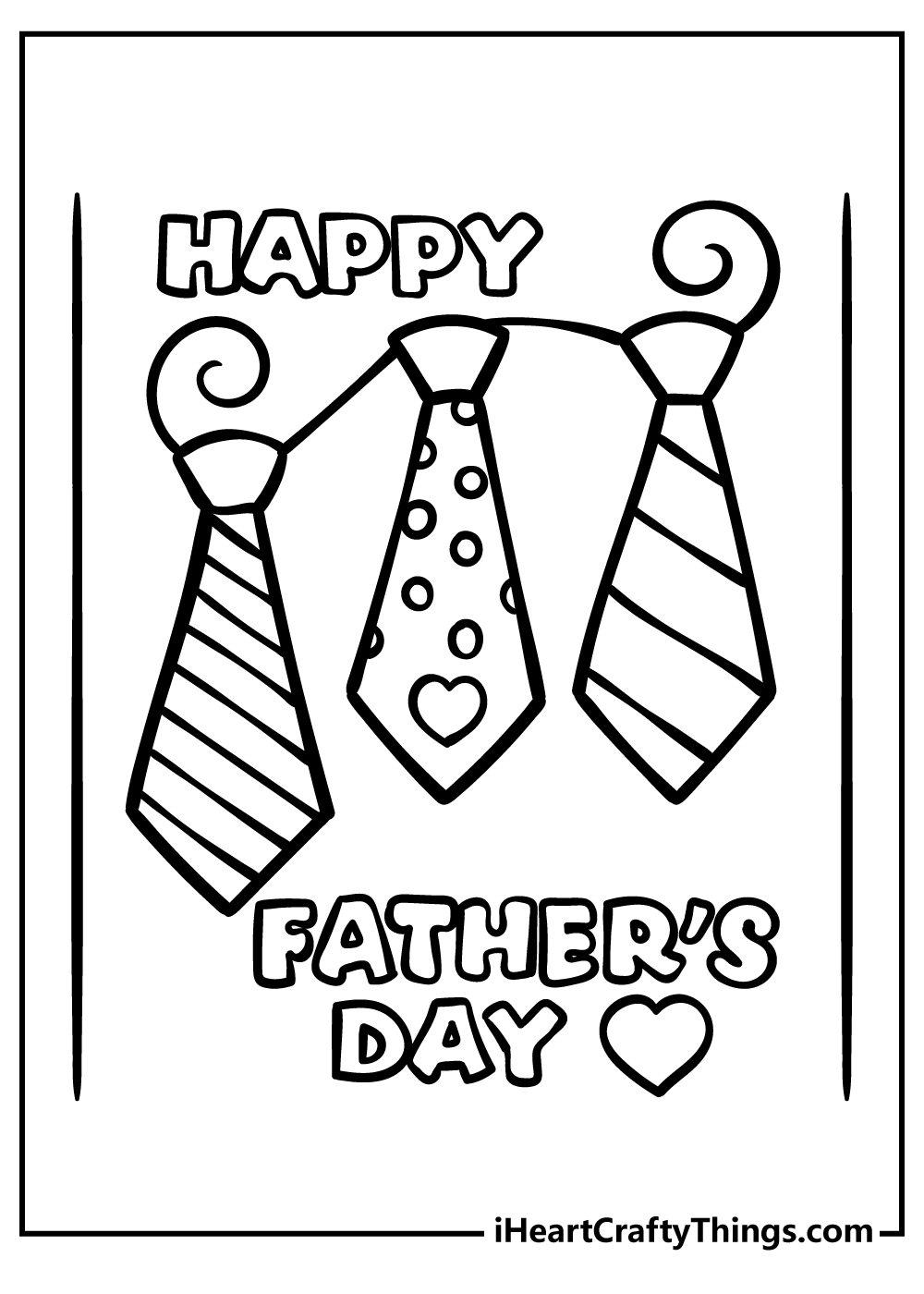 Many fathers enjoy woodworking, and this next page follows that theme with a really fun picture.
Happy Father's Day is printed on a wooden texture for this one, and there are certain mediums you could use to color the wood that would make it look more realistic.
We would recommend some watercolor paints for the wood, but what else could you use?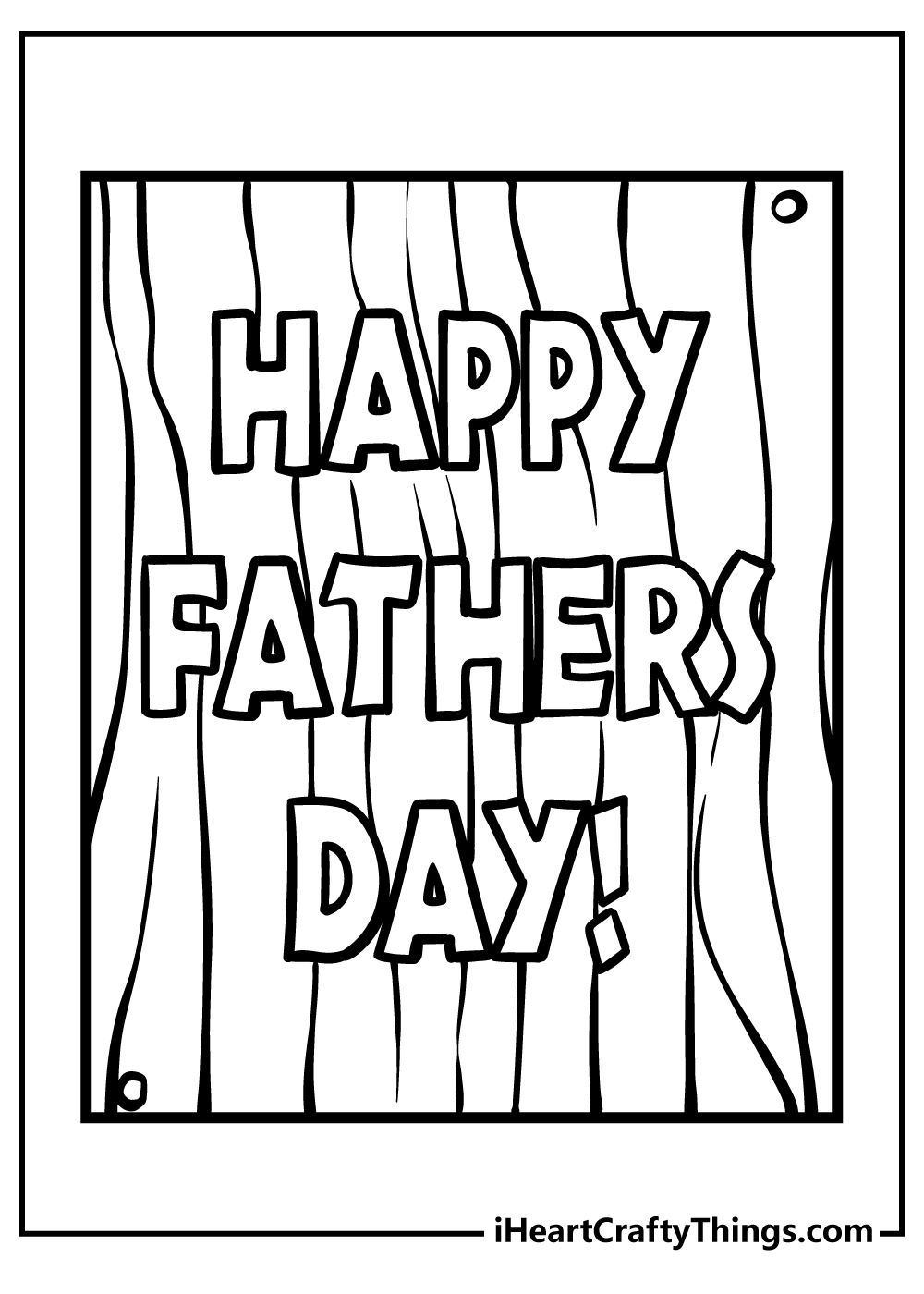 We have another trophy to present to a great dad in this next picture!
Once again, there are some wonderful details on this one, and the more details a picture has the more you have fun coloring in all the small touches.
We're sure this one will look amazing when it's done!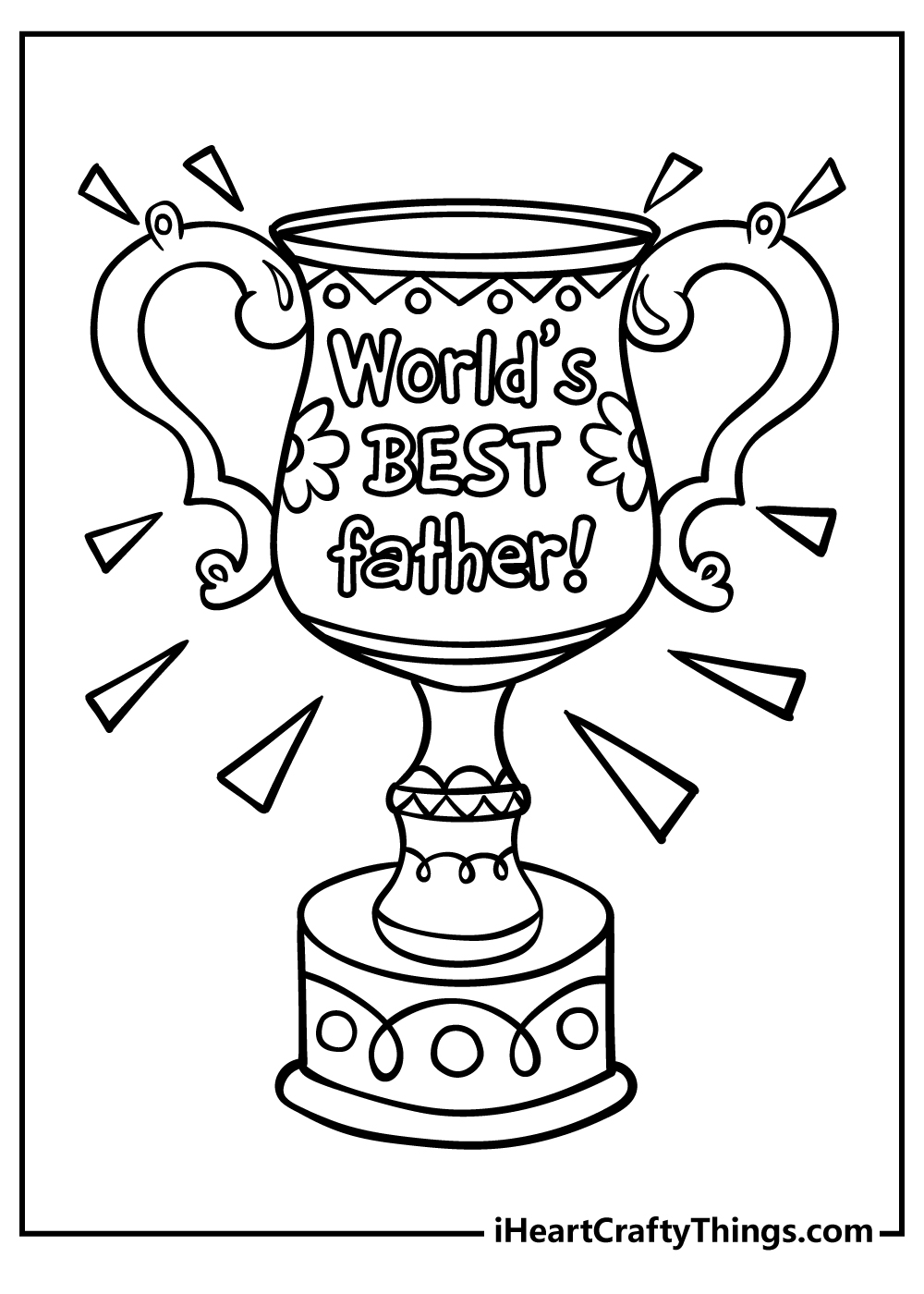 This has to be one of our favorite pages in this collection!
We have a really cool moose dressed in some fancy patterned clothing to wish a happy Father's Day, and it makes for a really fun and happy image.
Not only will this be a really fun one to color, but it would also make for an amusing card to gift to your father!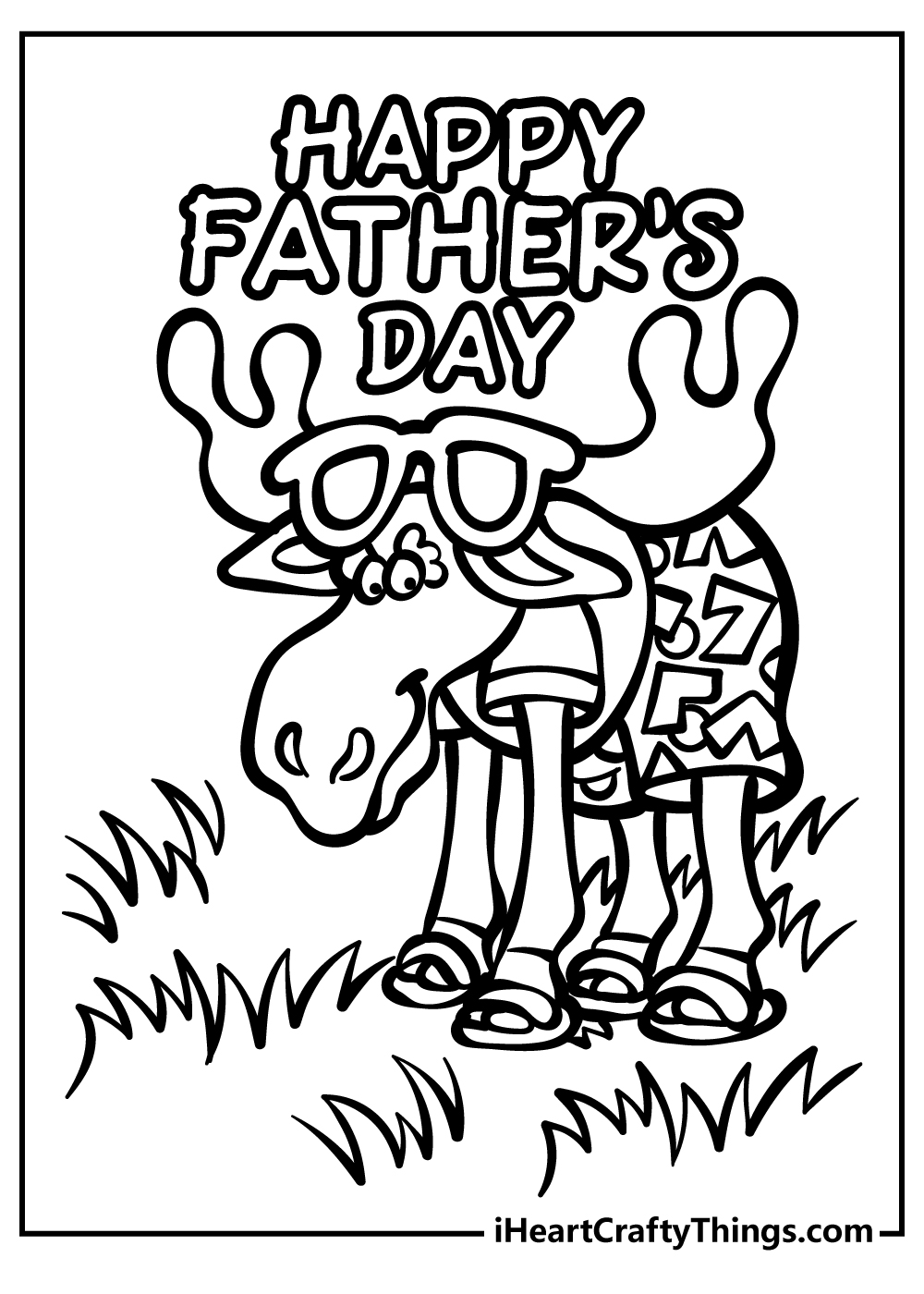 For the last Father's Day coloring sheet, we have the phrase world's best dad printed out in some bold letters, and to make it even more fun there is a little Earth used as the O.
This is another great image to color and present to your dad, and serves as a fitting end to this incredible collection!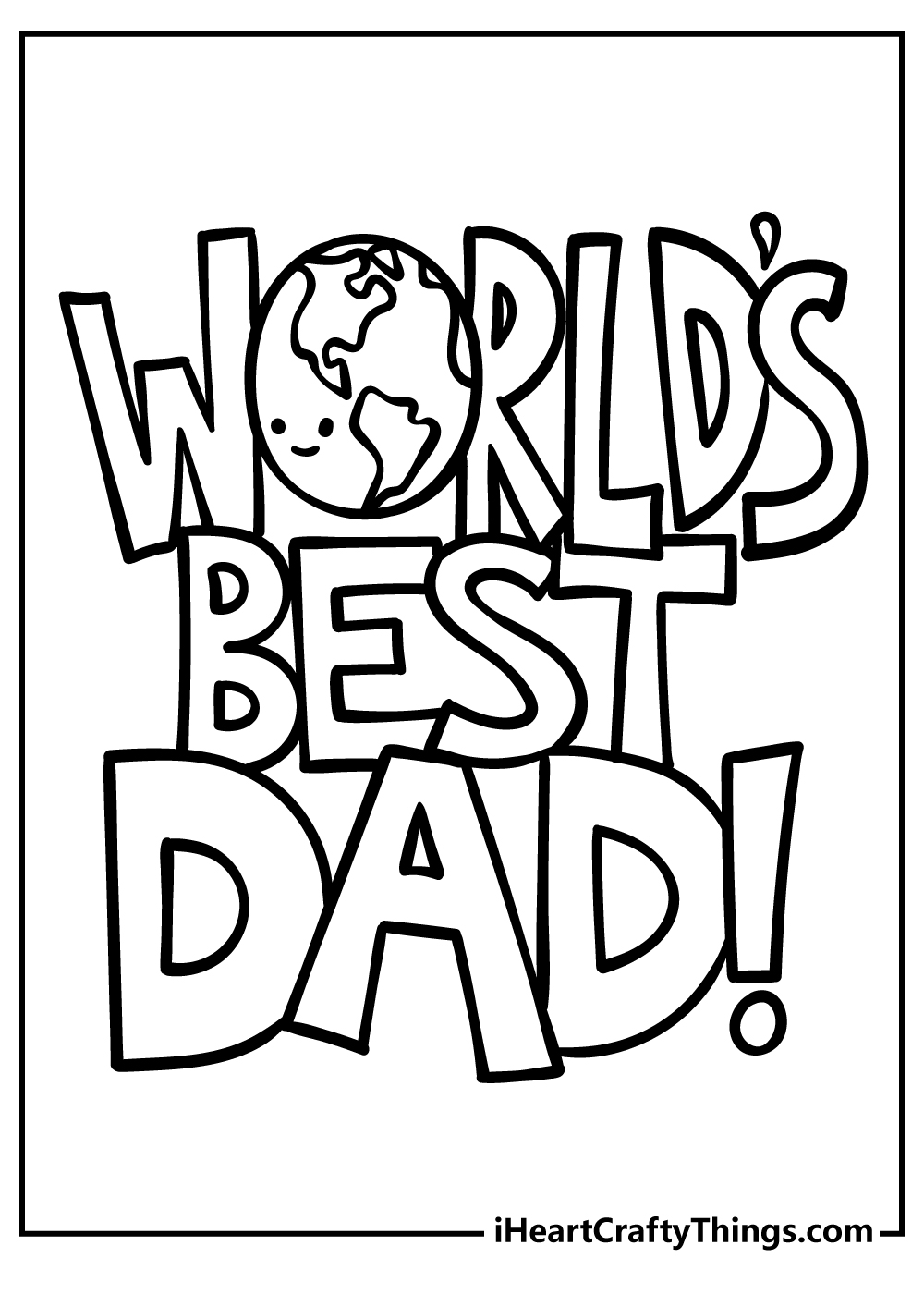 Father's Day Coloring Pages – Which will you choose?
We hope you enjoyed creating some fatherly appreciation as you worked on this collection of free Father's Day coloring pages for kids!
There was a great variety of different designs featured in this collection, and you really have a chance to use all of your favorite colors and mediums.
When you have finished coloring your favorite pages and shared them with the dads in your life, we would also love to see them!
You can show us how they look by sharing them on our Facebook and Pinterest pages.