On this page, you will find 15 all new Flamingo coloring pages that are completely free to print and download.
One of the most beautiful and exotic-looking birds in the animal kingdom, Flamingos are known for their bright pink feathers, stilt-like legs, and S-shaped legs.
Flamingos, with their pretty pink looks and peculiar movements, have become very popular animals around the globe. They are associated with vacations at the beach and relaxation, establishing them in pop culture. They are usually found in swamps and mudflats and are known to live in colonies.
As these creatures are very much pleasing to the eyes with their bright and pretty colors, we are happy to share our newest Flamingos coloring pages that you can print for free.
Here are 15 Flamingos printables we created for you to enjoy!
REMEMBER: You can get the COMPLETE set of these coloring pages >> HERE
15 Brand New Flamingos Coloring Pages – Free to Print and Color
Did you know that flamingos mate for life? Once they found a mate, they tend to stay with their partners for life.
The first image of our Flamingos printable is an intimate one. These two beautiful flamingos are gazing at each other, with their beaks touching in the shape of a heart. They are in the swamp with a heart-shaped line as their background. The leaves around them are also heart-shaped.
It's a heart-filled page, a perfect representation of these animals.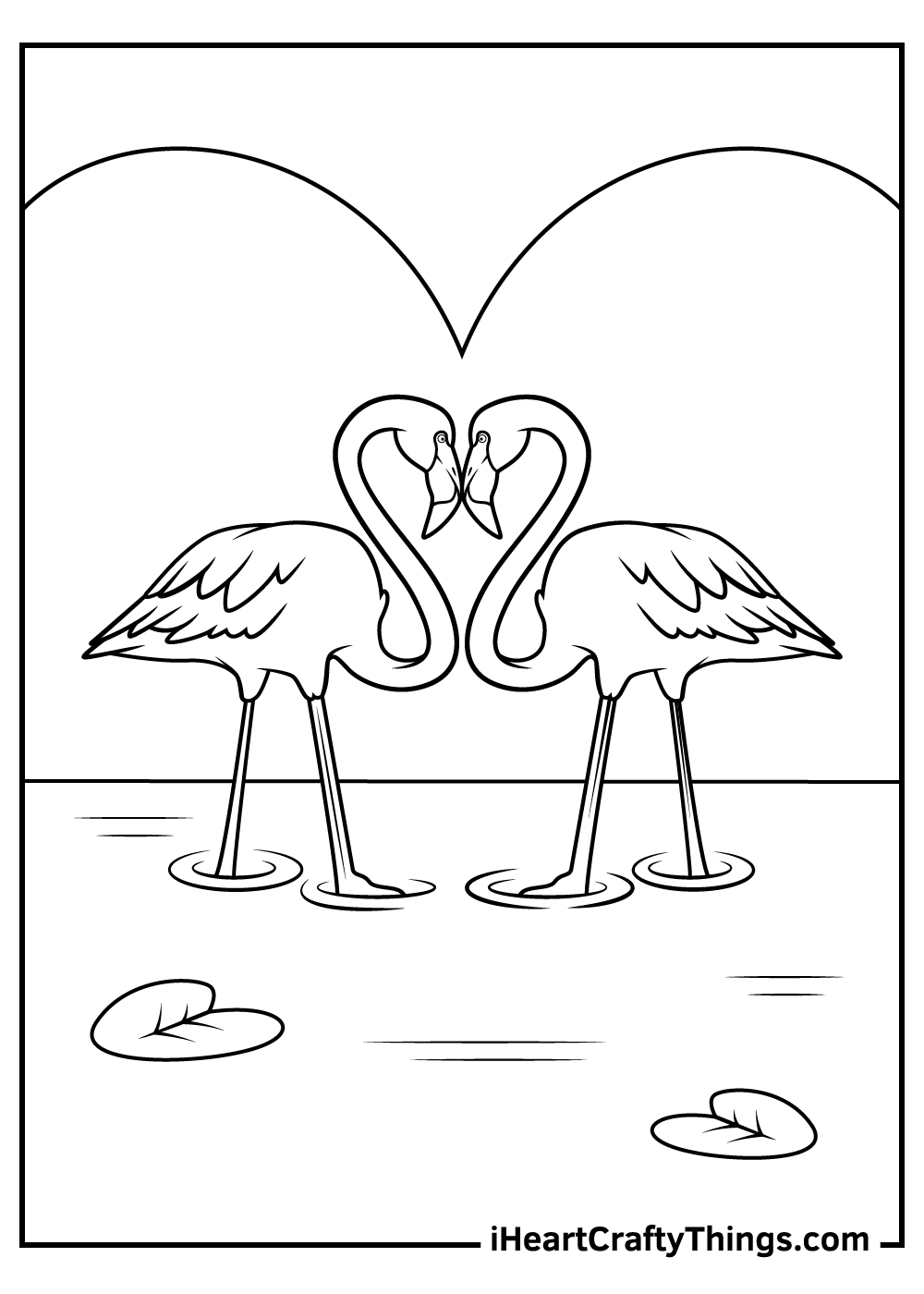 Flamingos live in groups called colonies. Even young flamingos, after five days, leave the nest and tend to start going with small groups.
In this second image, a group of flamingos is in the swamp, heading to the right. Behind then, the sun is setting down behind the mountains with clear skies and haze.
This free Flamingo printable page offers a vibrant mix of colors.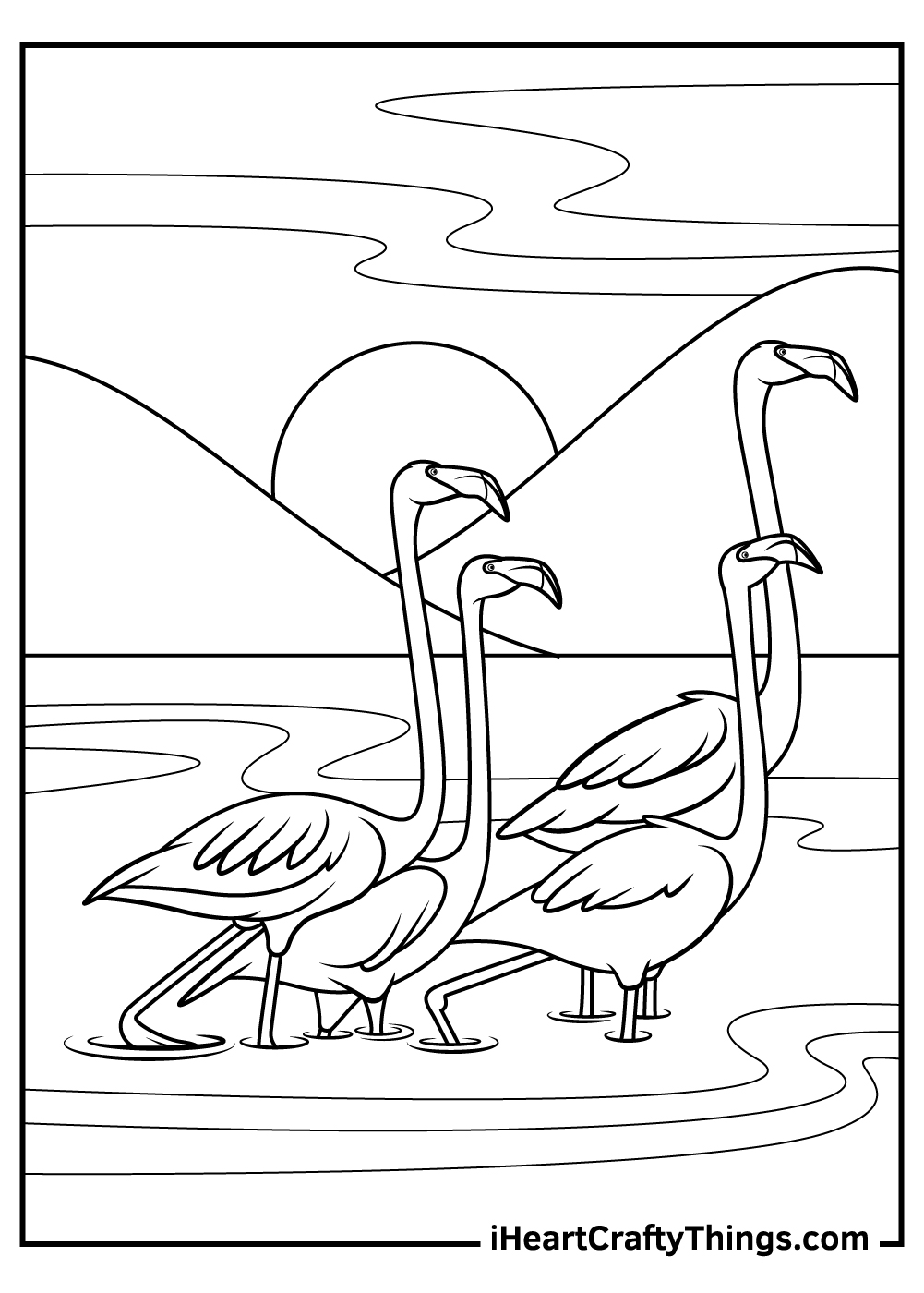 A young flamingo is on this flamingos coloring page for kids standing on its one leg. Behind it are a big leaf and one beautiful hibiscus flower. Outer layers are present in this image as well, where you can try to play around with colors.
You will mix and match colors here and your coloring skills will be put to a minimal test. What colors are you going to use on this coloring page?
REMEMBER: You can get the COMPLETE set of these coloring pages >> HERE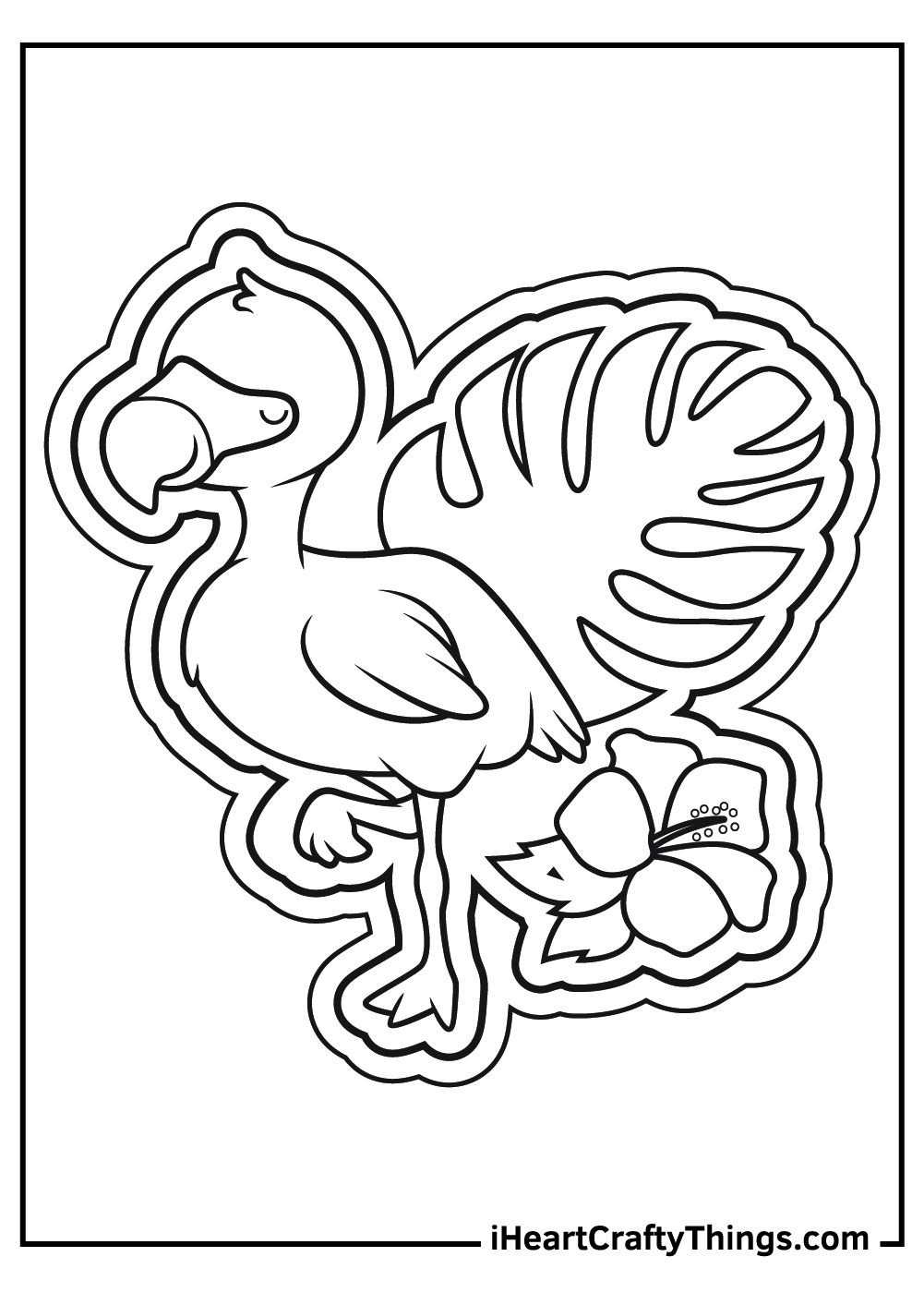 It is a beautiful day in the swamp!
These two flamingos in the swamp look so in love as they're having their moment, touching their beaks against each other, forming a heart. Lotus flowers and heart-shaped lily pads abound in the swamp, surrounding the two love birds. There is also an intricate haze in the sky.
It is sure to a gorgeous image once you have colored this page.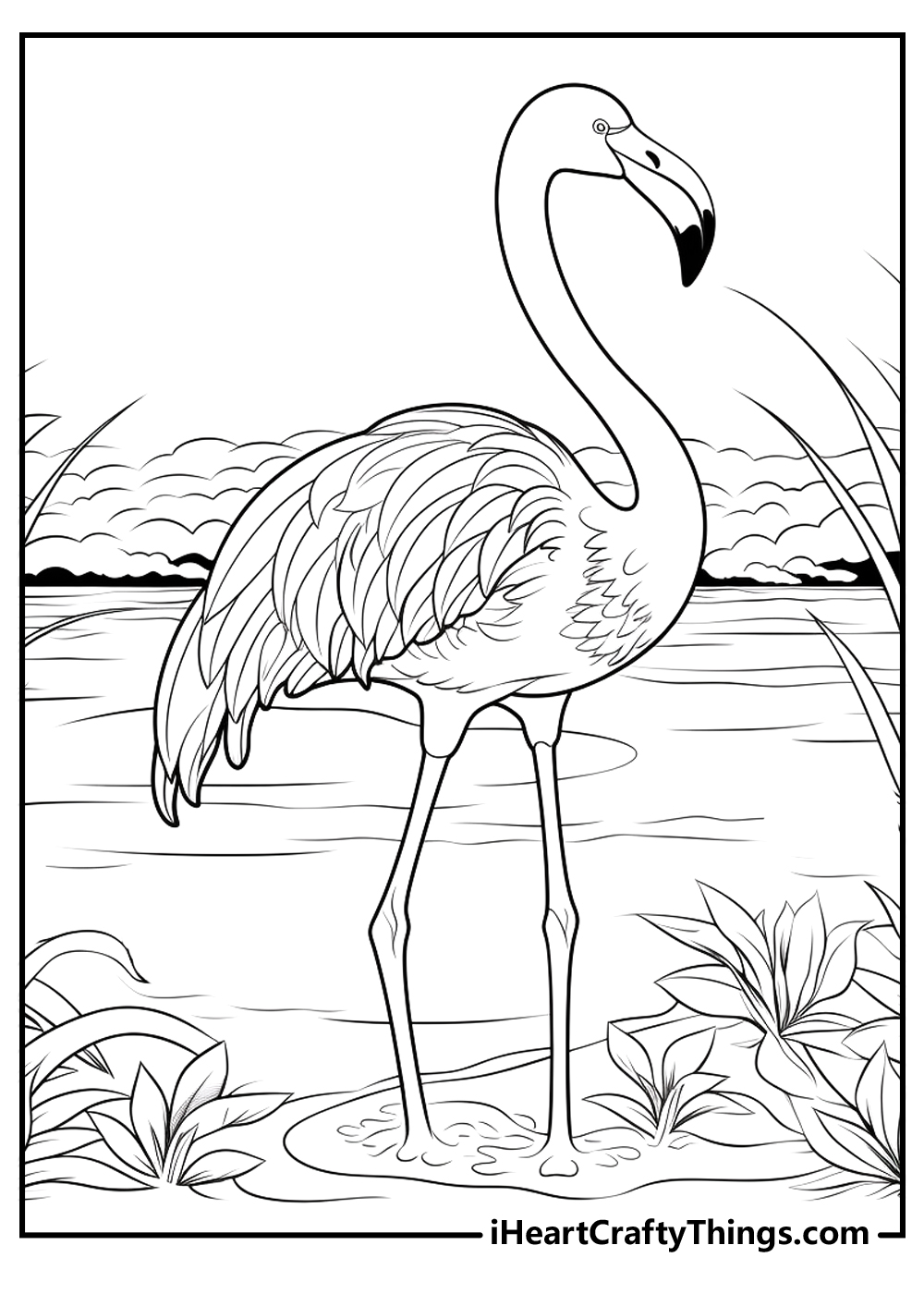 This coloring page features a beautiful flamingo standing in the water with plants around it. The flamingo's body is covered in feathers, with the wings slightly spread.
What could this elegant flamingo be thinking about as it stands in the serene water?Perhaps it's longing for the wide open wetlands where it can splash through marshy pools looking for shrimp.
I would use orange, red, coral, or red tones to create a sunset-inspired look.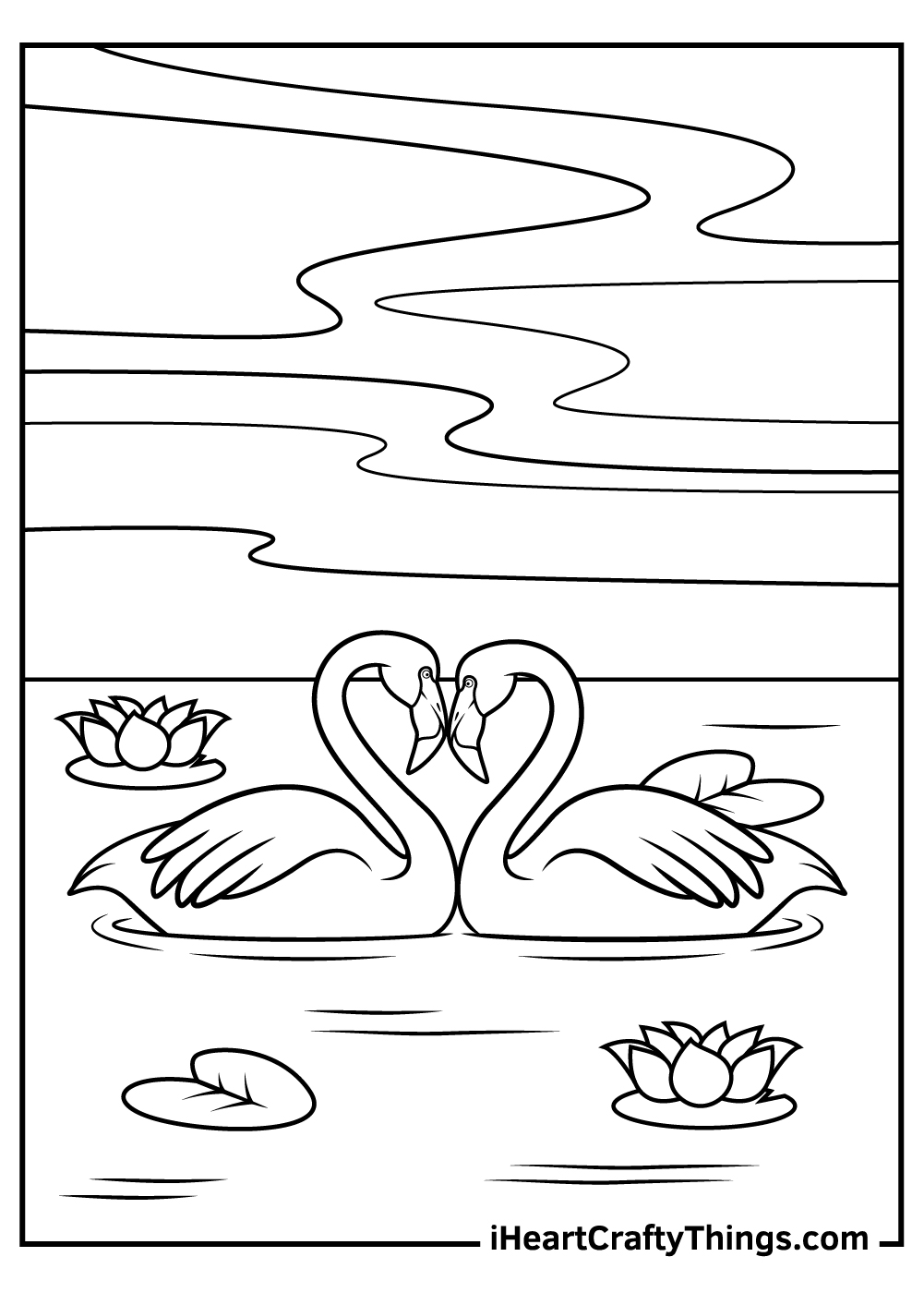 A fully-grown flamingo can get up to 4-5 ft tall.
This flamingo printable showcases a gorgeous adult flamingo standing on the swamp with large palm leaves on its background. It is looking over the water, trying to look for food.
Some of their favorite foods include shrimps, snails, and algae (which is rich in carotenoids – the pigment that gives them the pink or reddish color they're known for).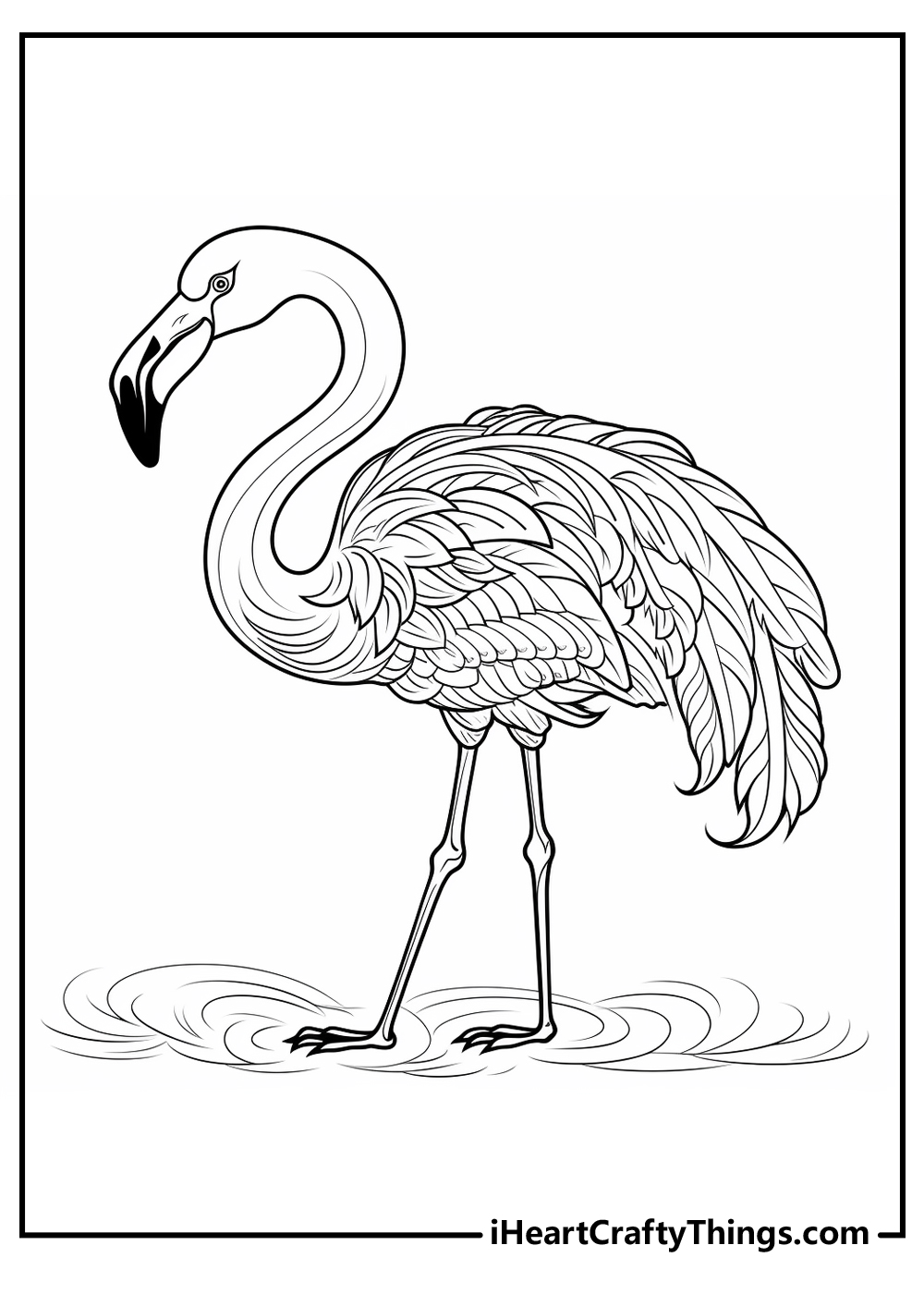 This graceful flamingo is having a splashy summer day at the pond. It is standing in the water, balancing itself with ease. It has fluffy white feathers covering its plump body.
The water ripples around its feet, creating a calm and serene scene. The flamingo's feathers ruffle slightly in the breeze as it dreams of catching tasty shrimps for lunch.
You can get creative using exotic colors like purple, turquoise, yellow, and orange to make the scene pop.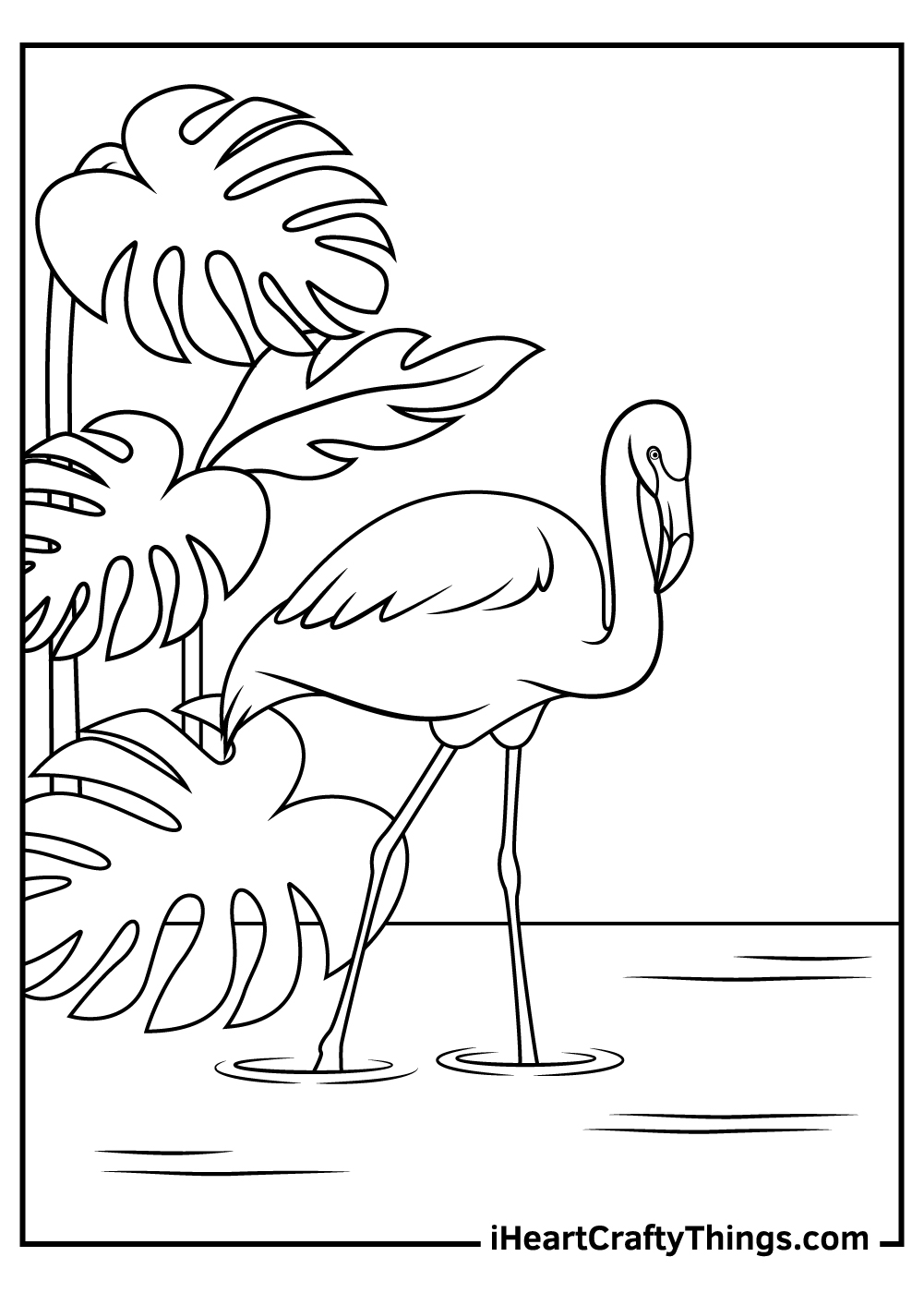 Flamingos like to stand using their one foot, and no one knows why!
Shown on this Flamingos coloring page for kids is a flamingo with intricate background details of different shapes that you can paint and color according to your liking! Playing with colors is always fun and exciting.
This image will be a bit of a challenge but you got this! It's up to you to decide on what colors you think would work best!
REMEMBER: You can get the COMPLETE set of these coloring pages >> HERE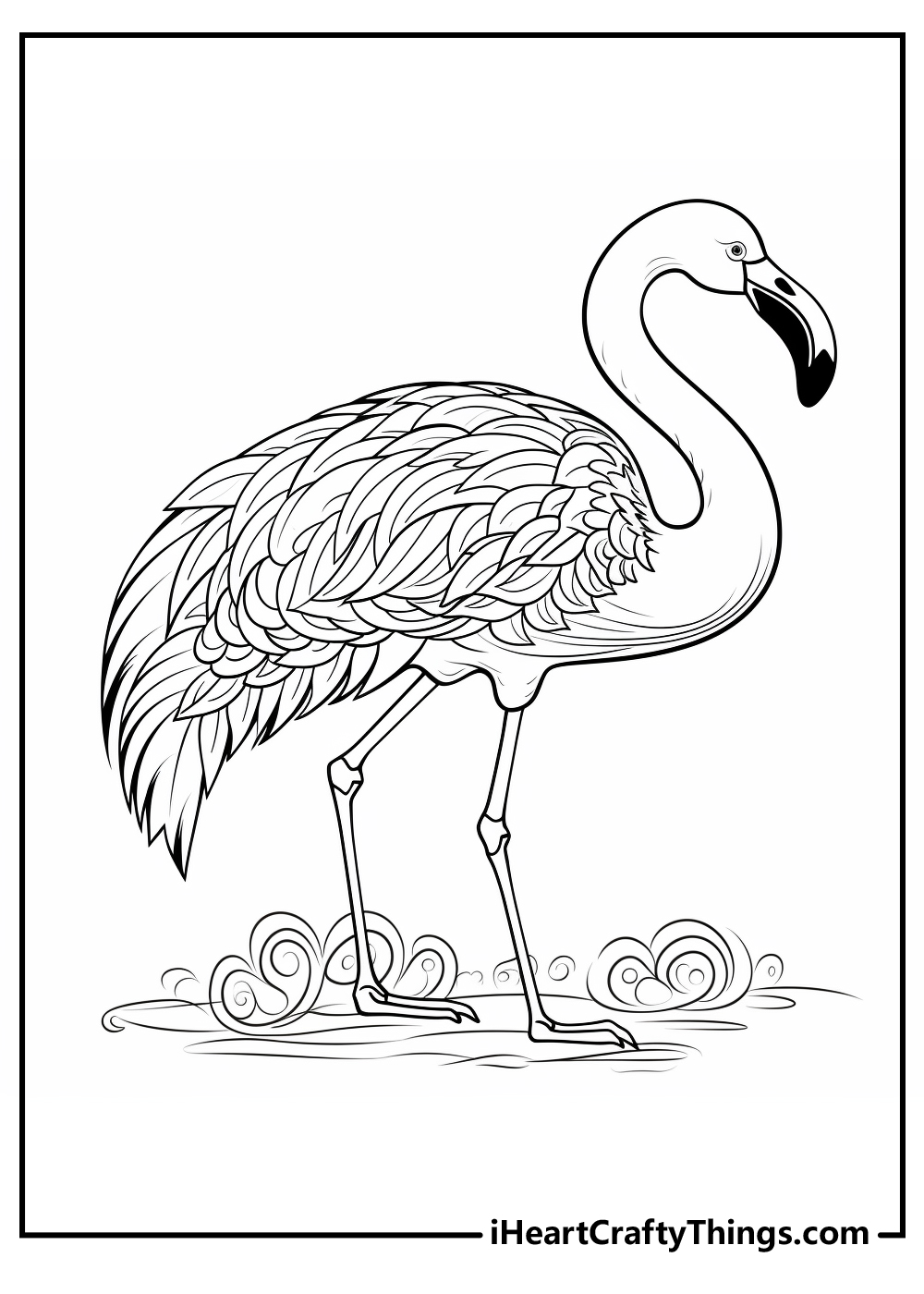 Check out this fun flamingo friend. He's standing tall on one skinny leg like a feathered ballerina. The legs of the flamingo are thin and long, and they balance the flamingo's weight.
His long, bendy neck curves up to his big beak that he uses to gobble up yummy shrimp.
You can add splashes of your favorite color to color the feather, and also use your brightest crayons and markers to make this flamingo shine.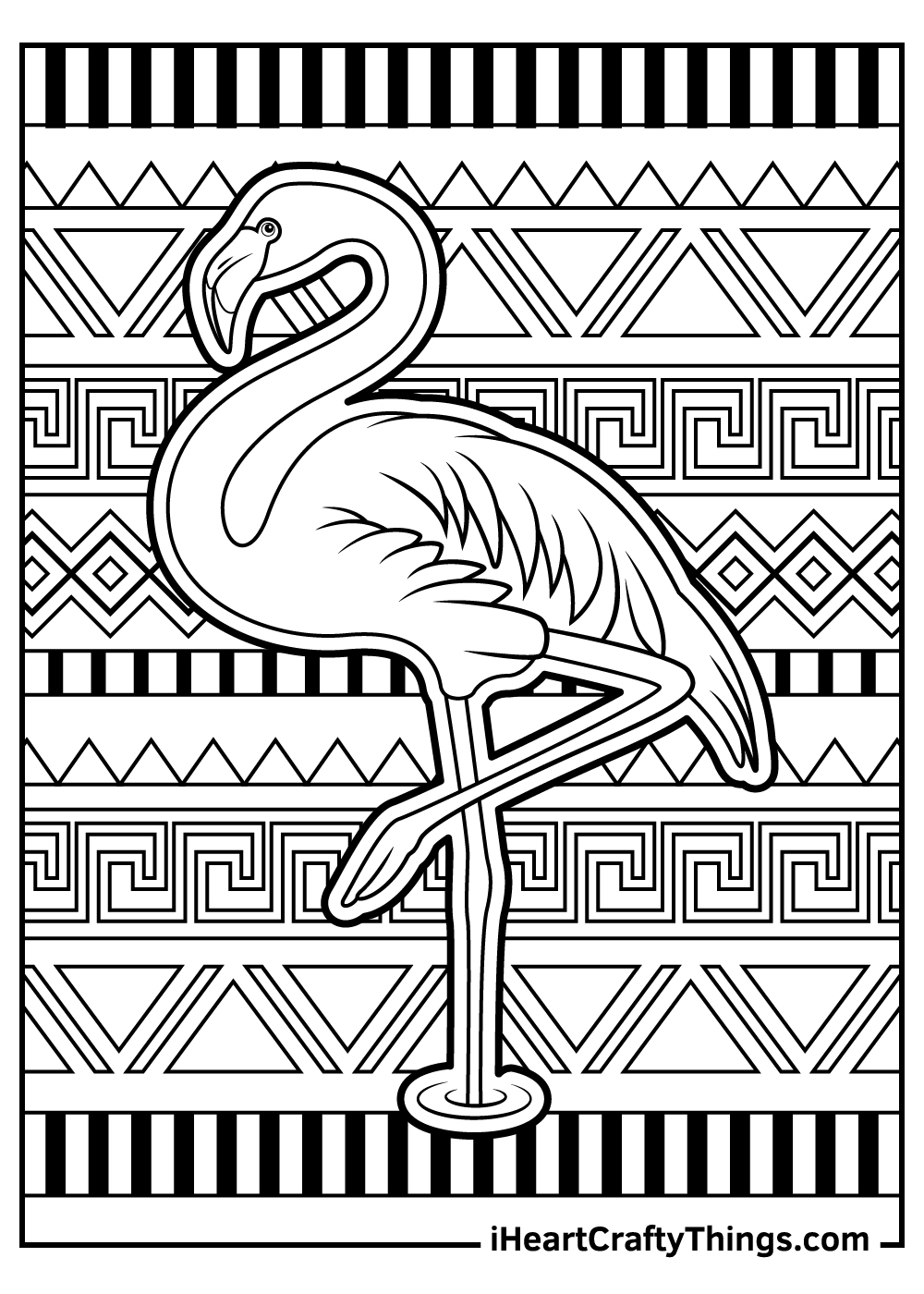 Two beautiful flamingos are looking right at you. They're probably thinking of what colors you are going to play around with this time.
Leaves and flowers are also present in this Flamingos printable. It's looking so beautiful and calming as natural colors are going to dominate this page.
Are you sticking with the usual colors of the hibiscus flowers, or are you going to play around with it a little?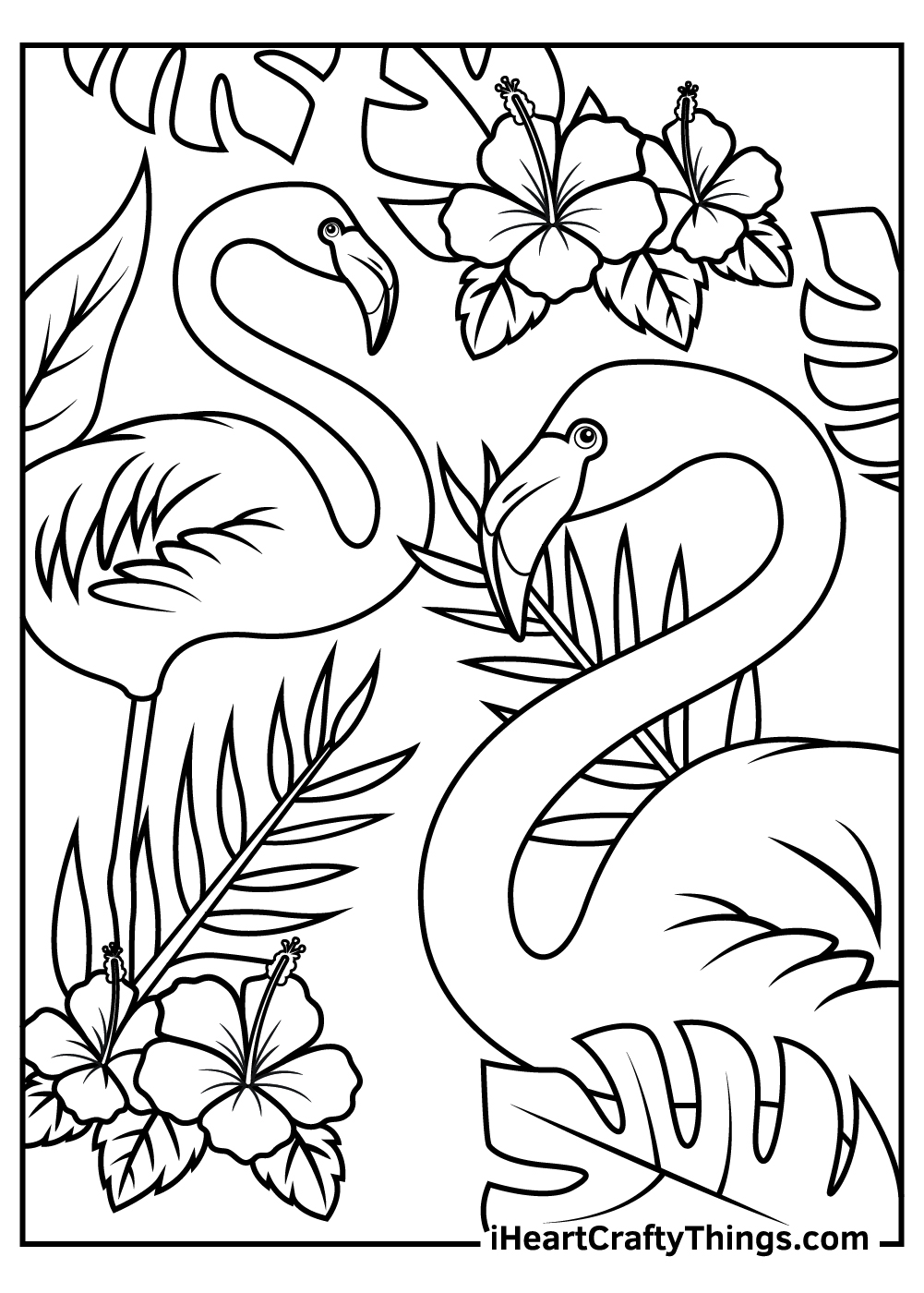 Our Flamingos coloring pages are for you to enjoy, and with this beautiful coloring page, it's one you're sure to be challenged and at the same time, enjoy doing!
Four flamingos are placed in a circle, with their legs touching at the center. Beautiful flowers and leaves abound in the image.
This printable is a bit tricky but will surely be a feast for the eyes once you're done coloring it!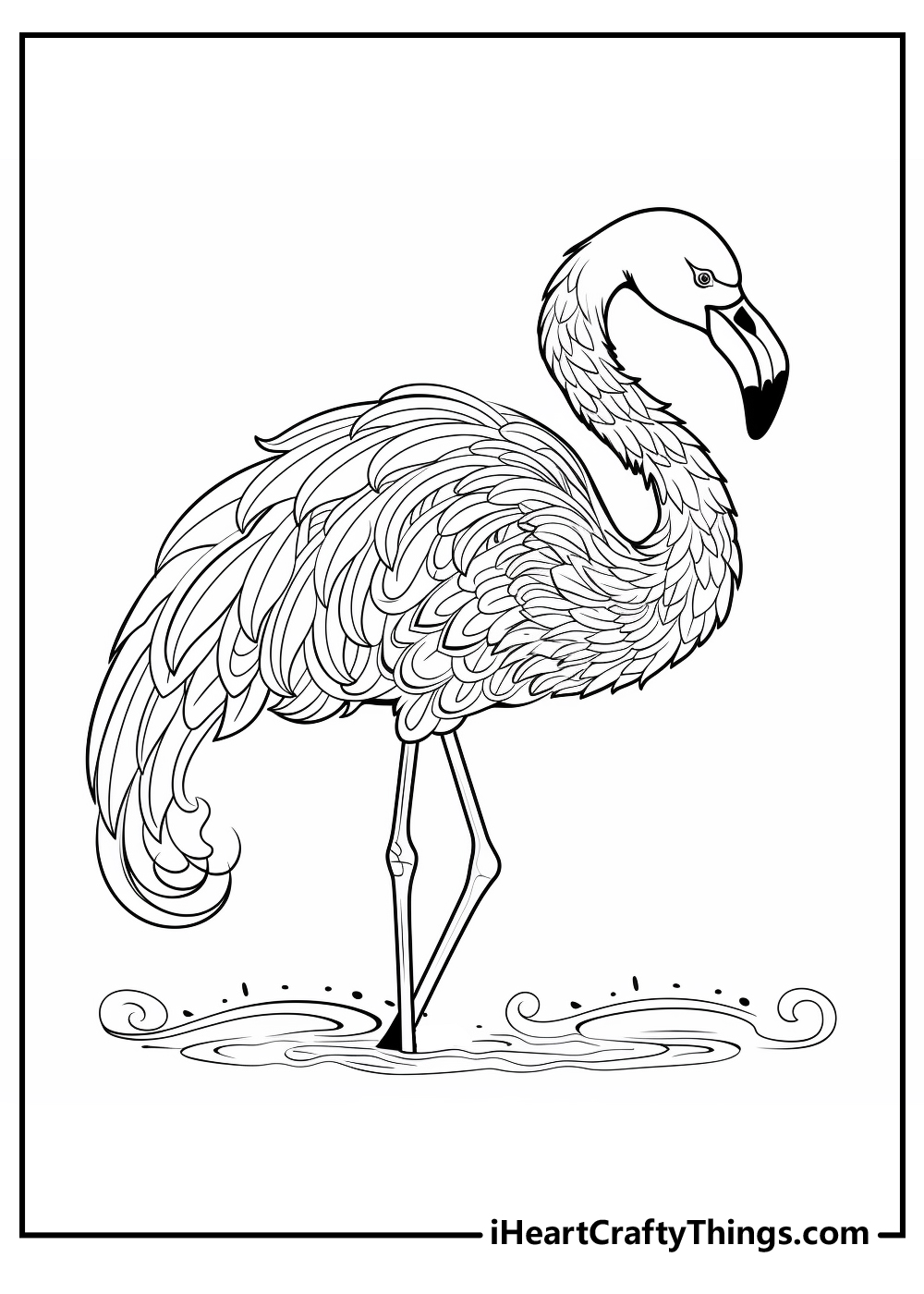 This cheerful flamingo is posing cutely in the water with its head turned to the side. Its beak is slightly open as if it's smiling at you. The body is covered in flowing feathers, shaped like petals or scales.
The water is represented by a few curved lines that create a sense of movement.
You can color this flamingo coloring page with any colors you like, but you might want to use some shades of pink for the feathers and some blue for the water.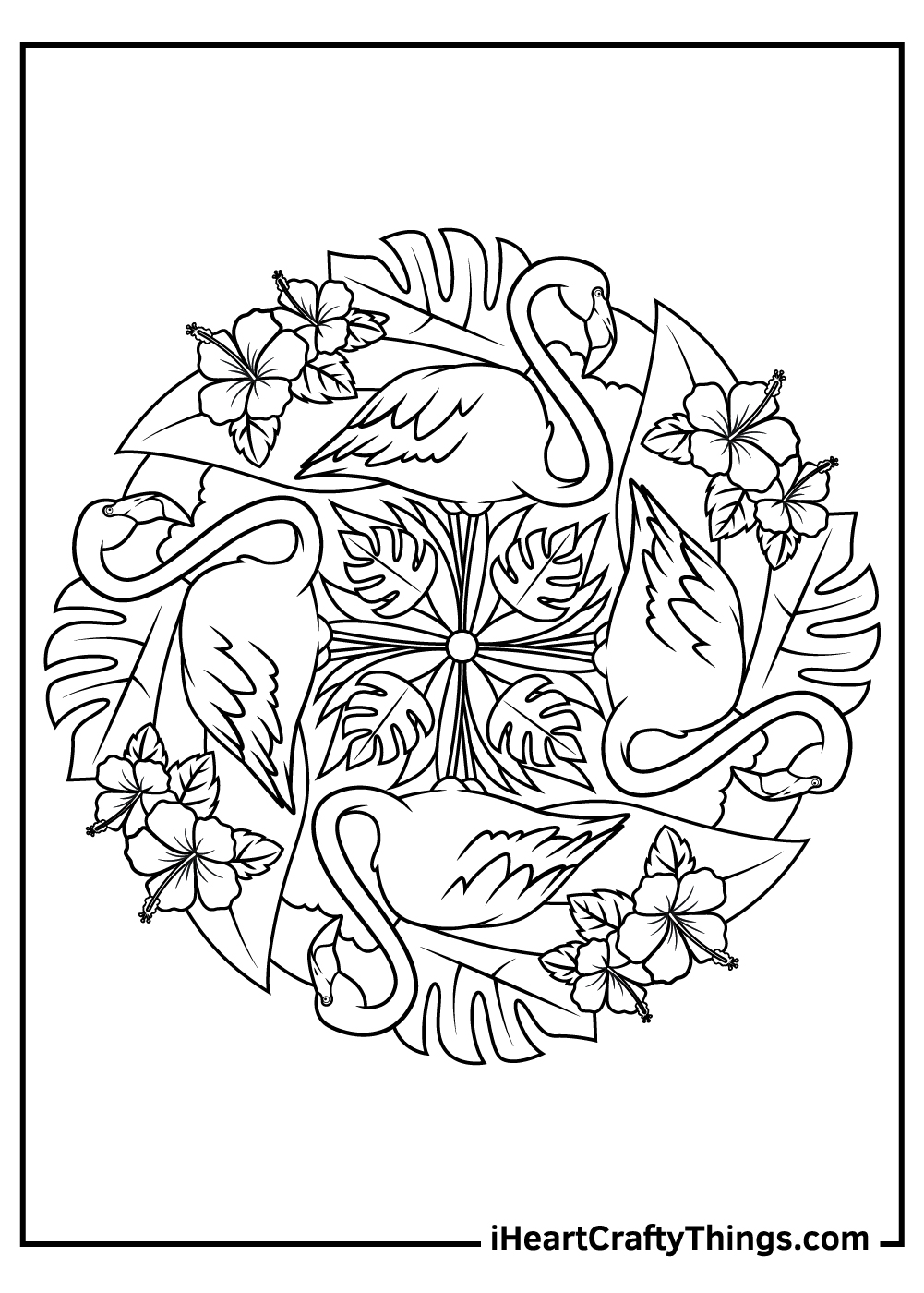 Here is another picturesque image from our Flamingos printables.
The flamingos here are looking elegantly pleased as big and beautiful leaves and flowers match them. You can see the big curved beaks of the flamingos that are specifically designed to filter food from the mud and water.
Oh, and did you also know that they don't have teeth? Their beaks and tongues are lined with a hair-like structure called "lamellae" that filters their food from mud and silt.
REMEMBER: You can get the COMPLETE set of these coloring pages >> HERE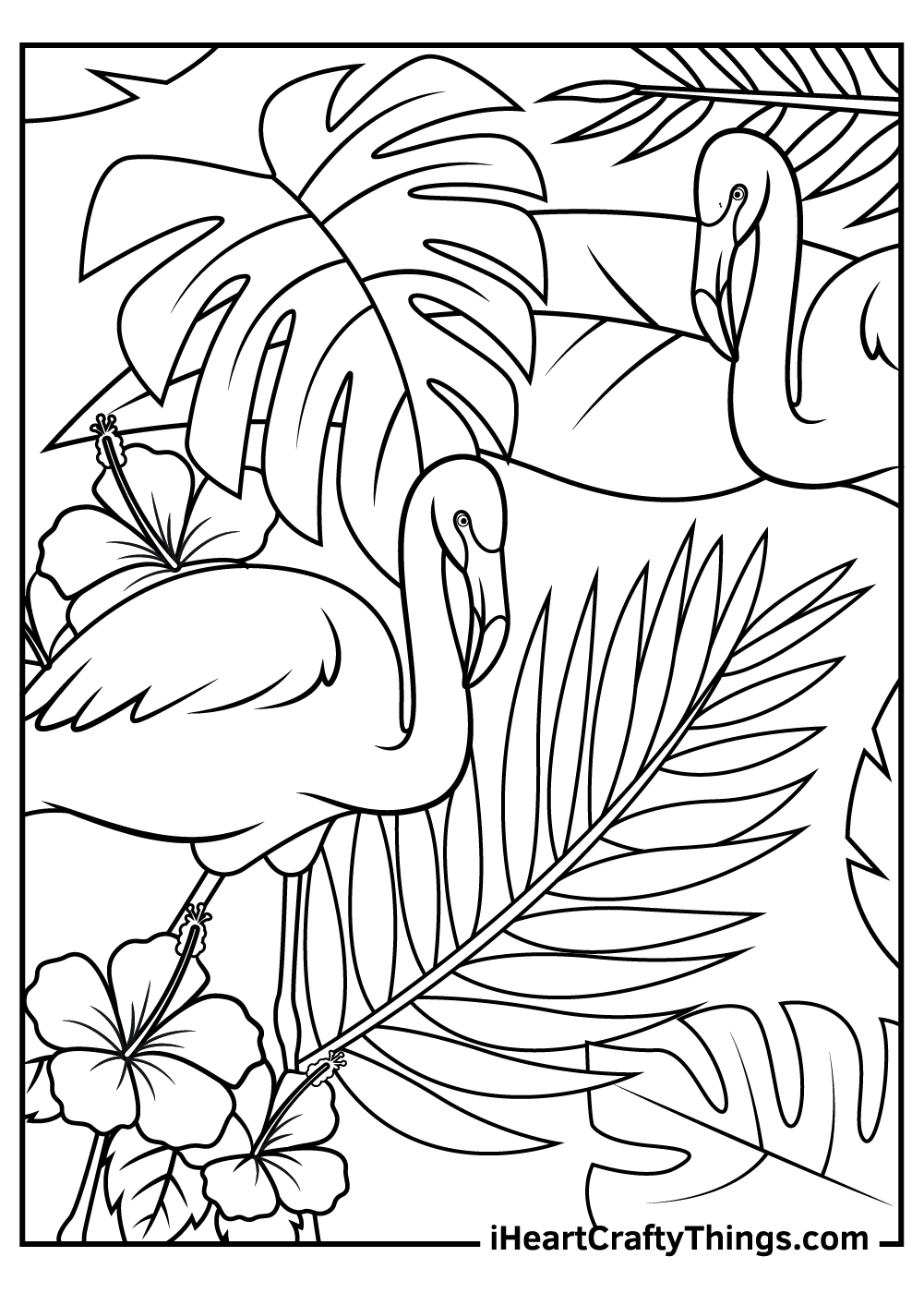 The last image from our Flamingos Coloring Pages is a wallpaper-worthy one!
This page is filled with a young flamingo standing on its one leg with a bitten watermelon slice and a cocktail drink.
Flamingos have become such a symbol of beach vacation and relaxation in pop culture hence it is always associated with tropical fruits and drinks – things you are never without when you are on a beach vacation!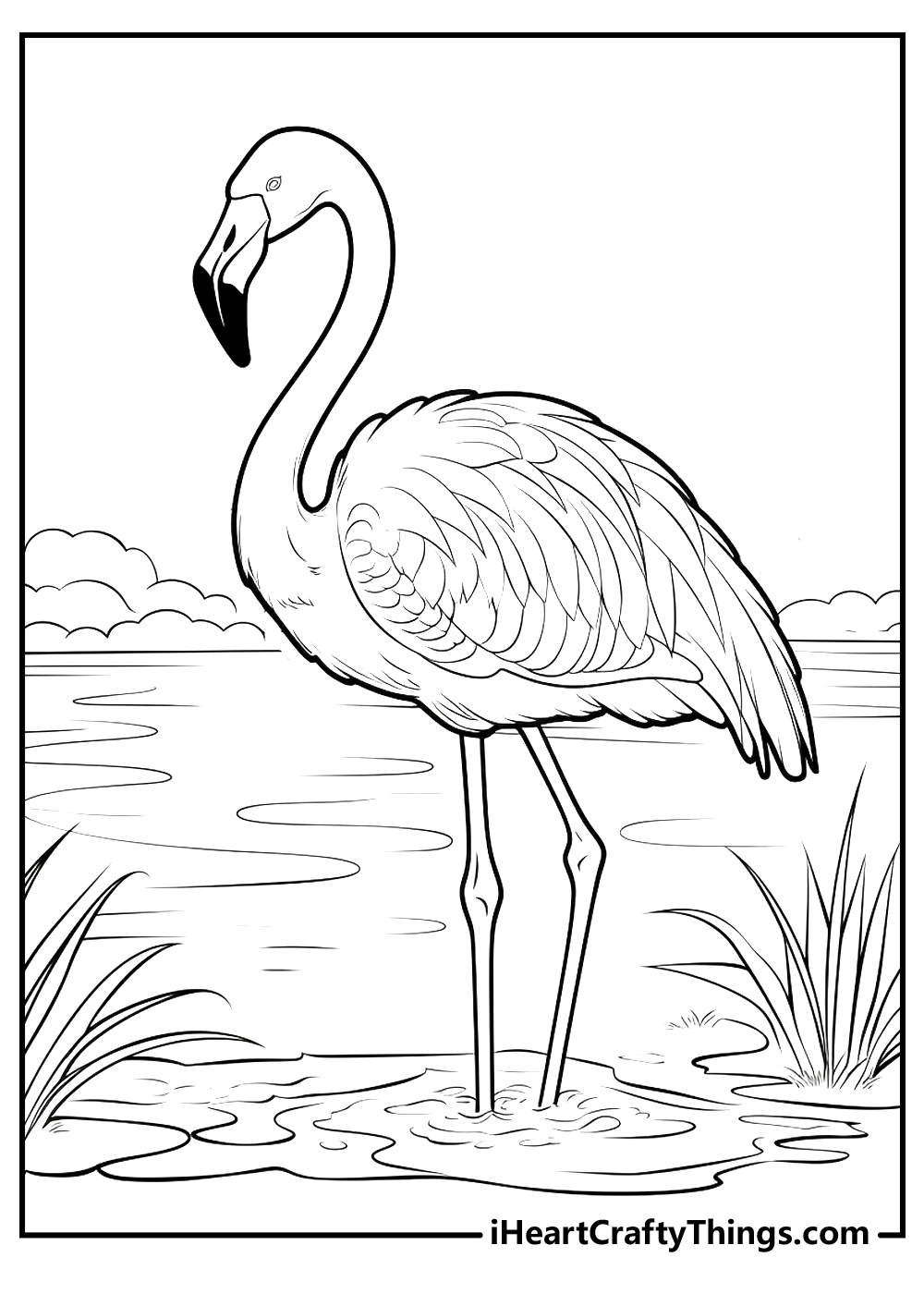 This flamingo coloring page captures a long-legged bird poised gracefully in the water. The water is rippled and there are plants in the background that add some greenery to the scene.
The flamingo has a long neck and a curved beak that is perfect for catching small fish and shrimp.
You can color this flamingo with any colors you like.
You can also use some watercolors to create a soft and realistic effect on the image.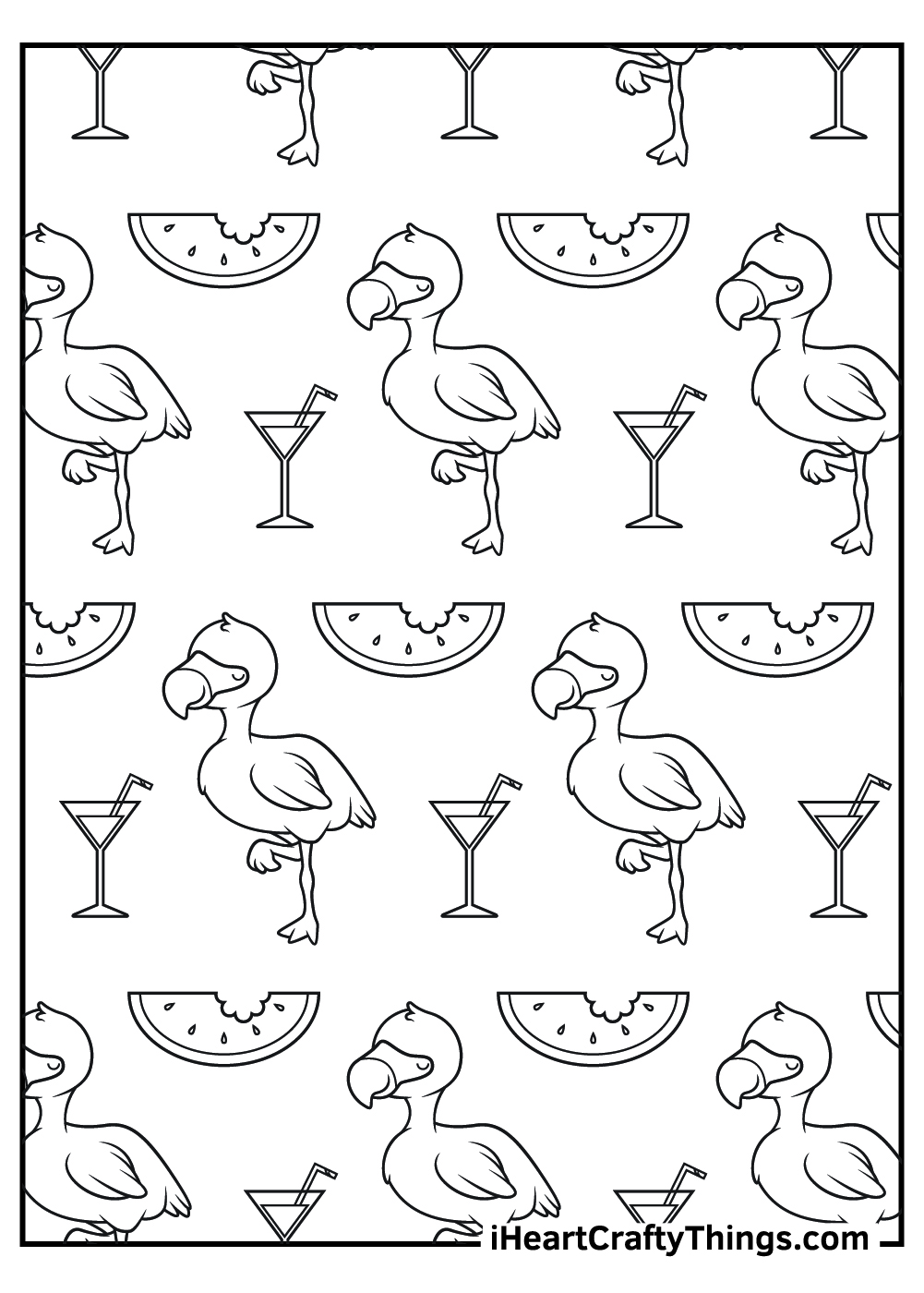 Flamingos Coloring Pages – Wallpaper-Worthy Printables
Flamingos are such beautiful creatures and have become very popular in pop culture in recent years. Their beautiful colors matched with nature's colors provide wallpaper-worthy images.
With their pink coloration, these birds are easily one of the most gorgeous creatures to paint or color, and having nature as their backdrop, it's something you can enjoy coloring and look at after!
We designed these free Flamingos coloring pages for you to enjoy and we hope you find them as pretty as we do. We are regularly updating our catalog of printables so check back for other wallpaper-worthy printables once you're done with this set.