It's always great to relax by a pond while looking at the ducks floating and flying by. Sometimes it's nice to bring along some bread to feed them, too! Ducks can be many different colors, like whites, blacks, greens and more.
These free duck coloring pages for kids are the perfect way to have hours of fun coloring these new feathered friends!
You can really get creative with your color choices, and we're sure to see many interesting looking ducks by the end! You could even print out multiple copies of your favorite images and try out different colors and mediums until you create the perfect duck.
Be sure to share your favorite finished duck printables on our Facebook page so we can admire your wonderful colorful artworks! We always love to see your coloring talent on display and are looking forward to seeing some bright and colorful ducks.
REMEMBER: You can get the COMPLETE set of these coloring pages >> HERE
10 Brand New Duck Coloring Pages – Free to Print and Color
Our first free duck coloring page shows a mother duck floating on a pond with her two ducklings.
Ducklings are usually yellow and fluffy at this stage, so maybe you could use a pretty light yellow for these cute little ducklings.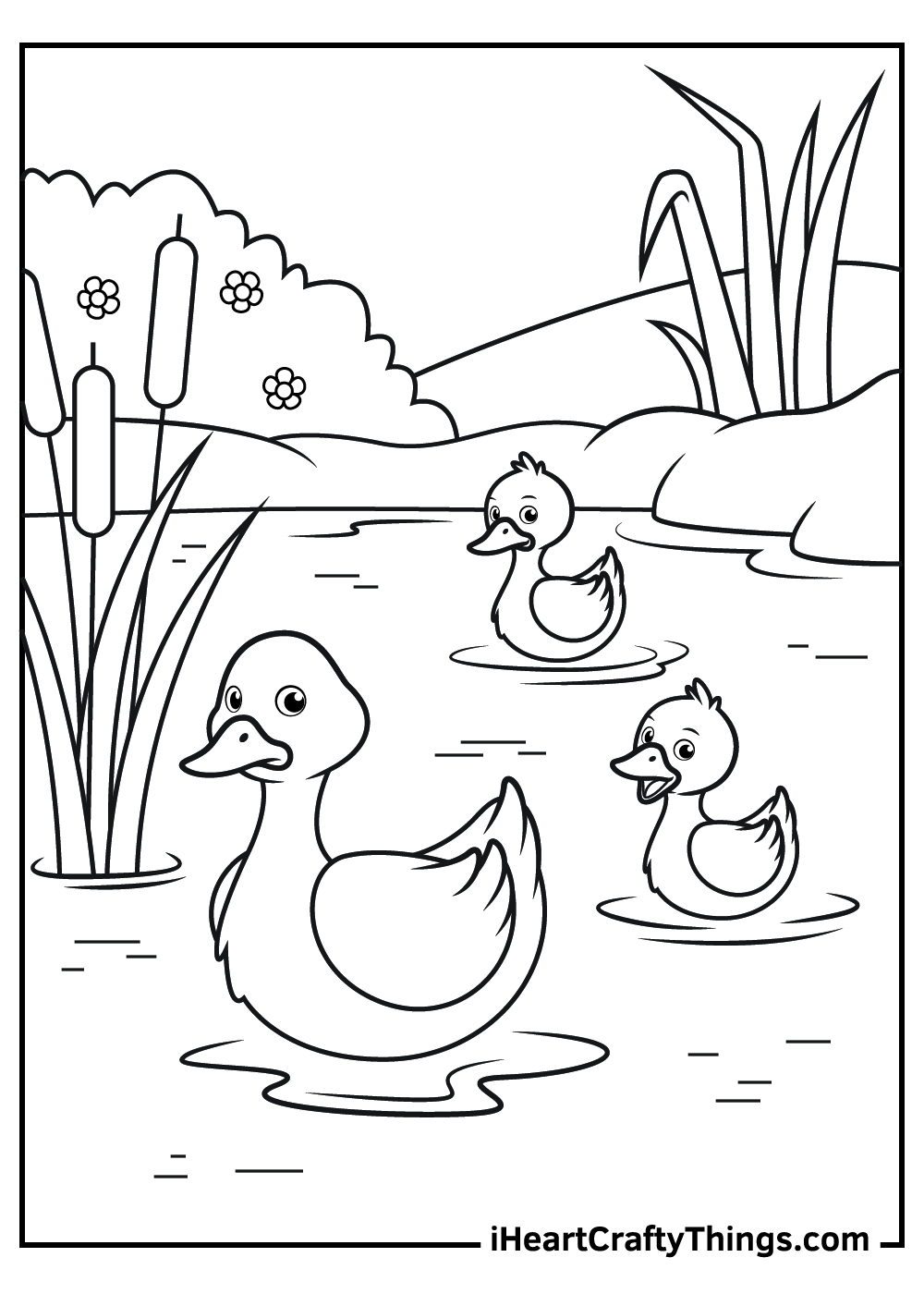 The next duck printable shows a happy looking feathered fellow. I bet he just saw someone with a big bag of breadcrumbs and is hoping for some!
There are many different colors you could choose for this cute duck, and you could finish off this duck printable by making the sky behind him a brilliant blue with some fluffy clouds as well.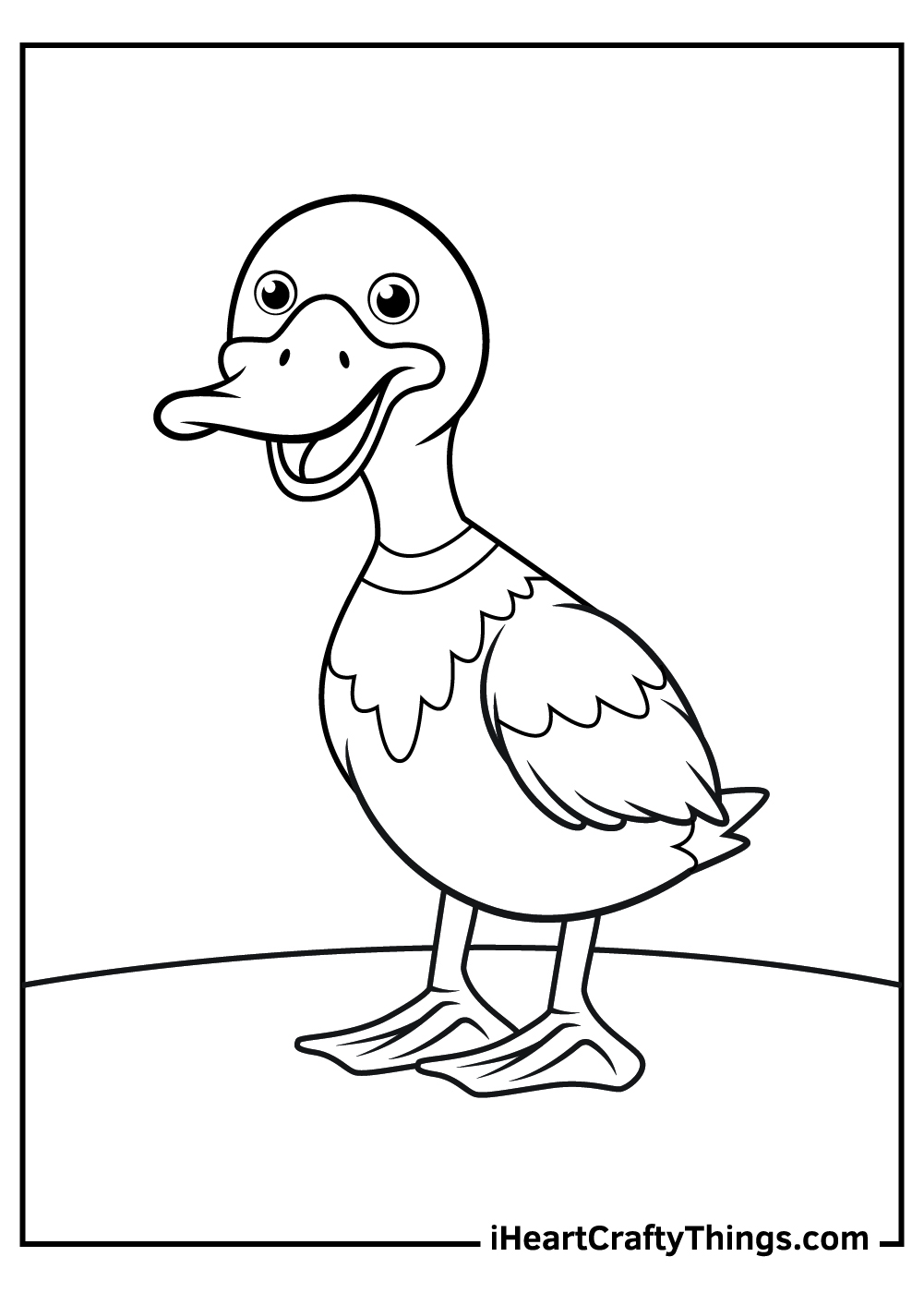 It looks like a beautiful Spring day in this third duck coloring sheet. A little duck is taking a stroll in the wilderness with flowers and butterflies all about.
I would think this duck coloring page will end up being one of the most colorful in this series, as you have a lot of objects and details to fill in with your favorite colors.
REMEMBER: You can get the COMPLETE set of these coloring pages >> HERE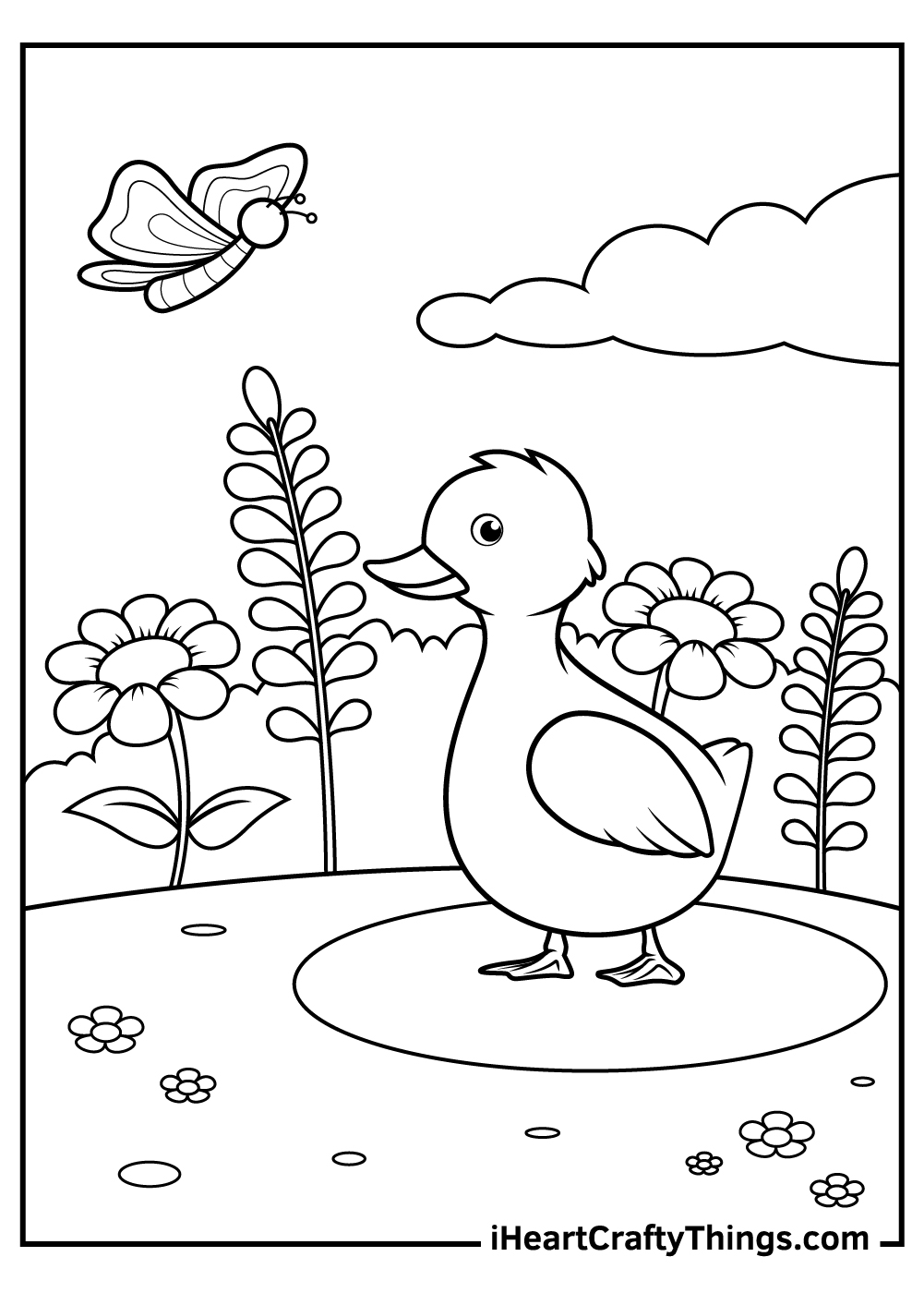 Have you ever seen a duck looking as fancy as the one in this duck coloring page? He's wearing a tie and collar, and I can only wonder where he might be heading to. Maybe he's going to a fancy duck party!
How will you color in the background? I would use a blue for the background with the dots around him a bright red, but I bet it would look great no matter what you choose!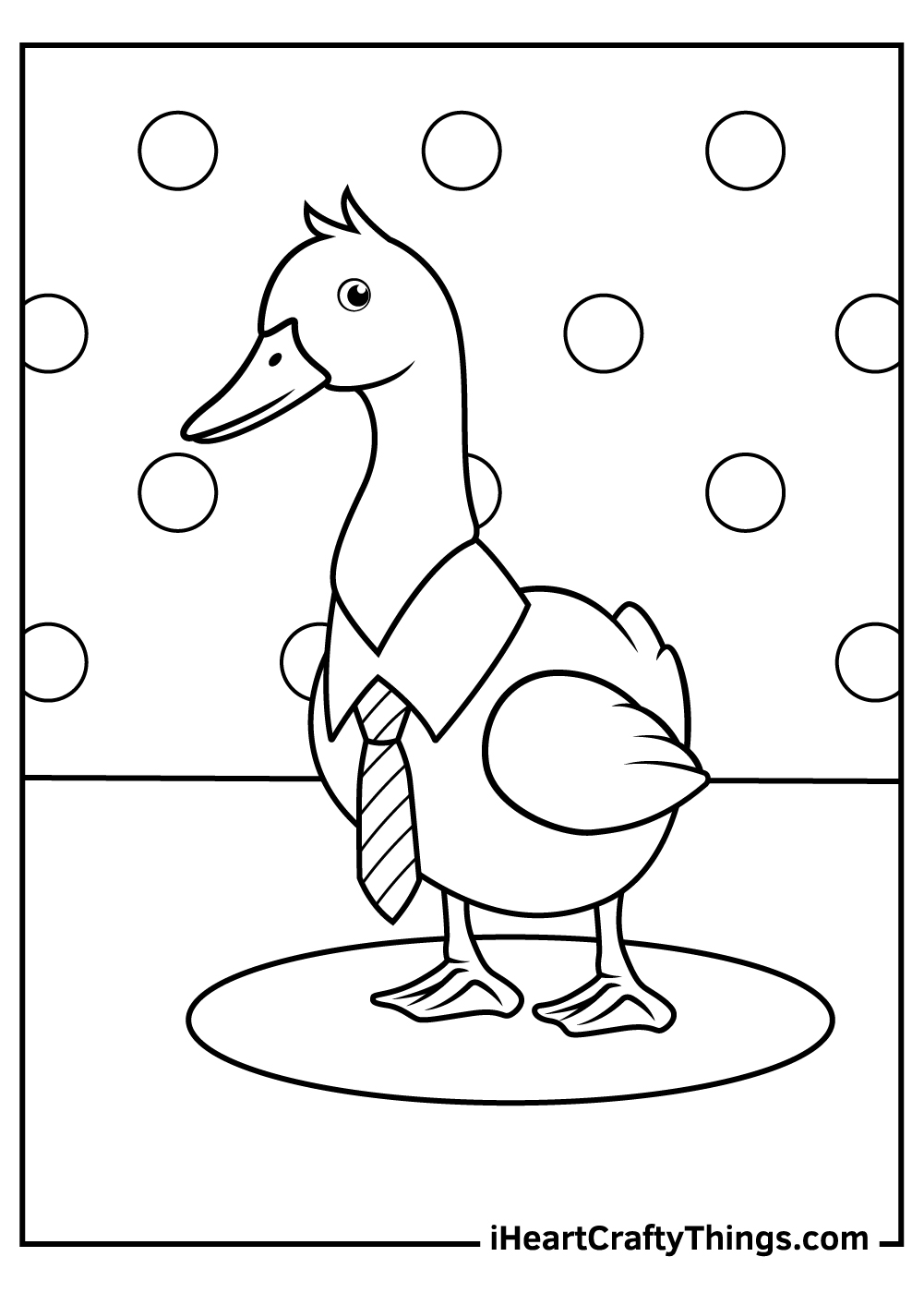 We have a pair of happy looking ducks having a relaxing day on the pond in this duck printable.
If you colored in the water a nice blue with a rich green for the lily pads and reeds I think it would really finish off the relaxing vibe of this duck coloring sheet.
REMEMBER: You can get the COMPLETE set of these coloring pages >> HERE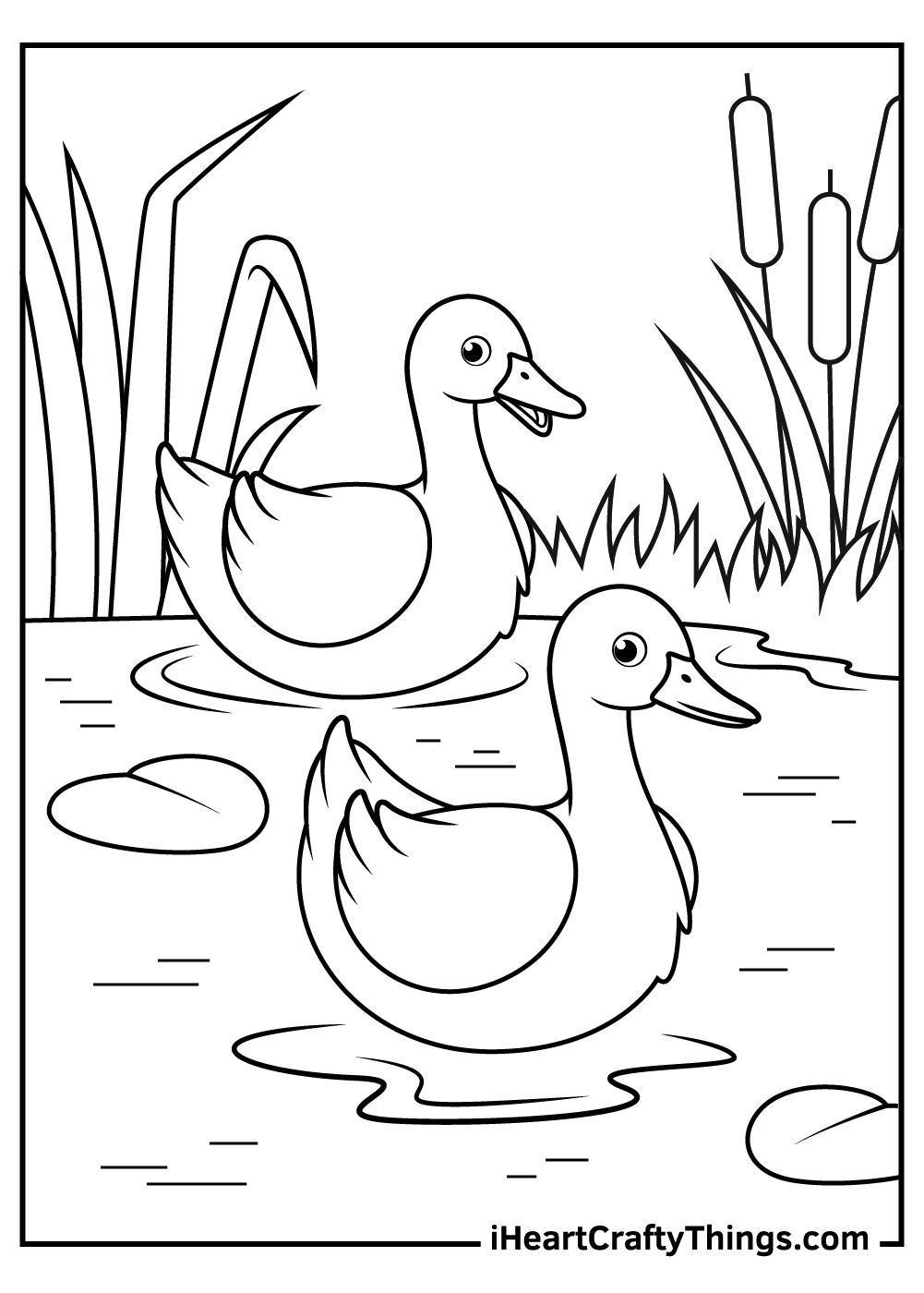 There's another fancy looking duck in a hat in this free duck coloring page. He looks like he's standing in a spotlight!
The word 'duck' is above him, and if you colored each letter a different color and used a bright background color then this duck printable might look a bit like a movie poster starring this fancy duck!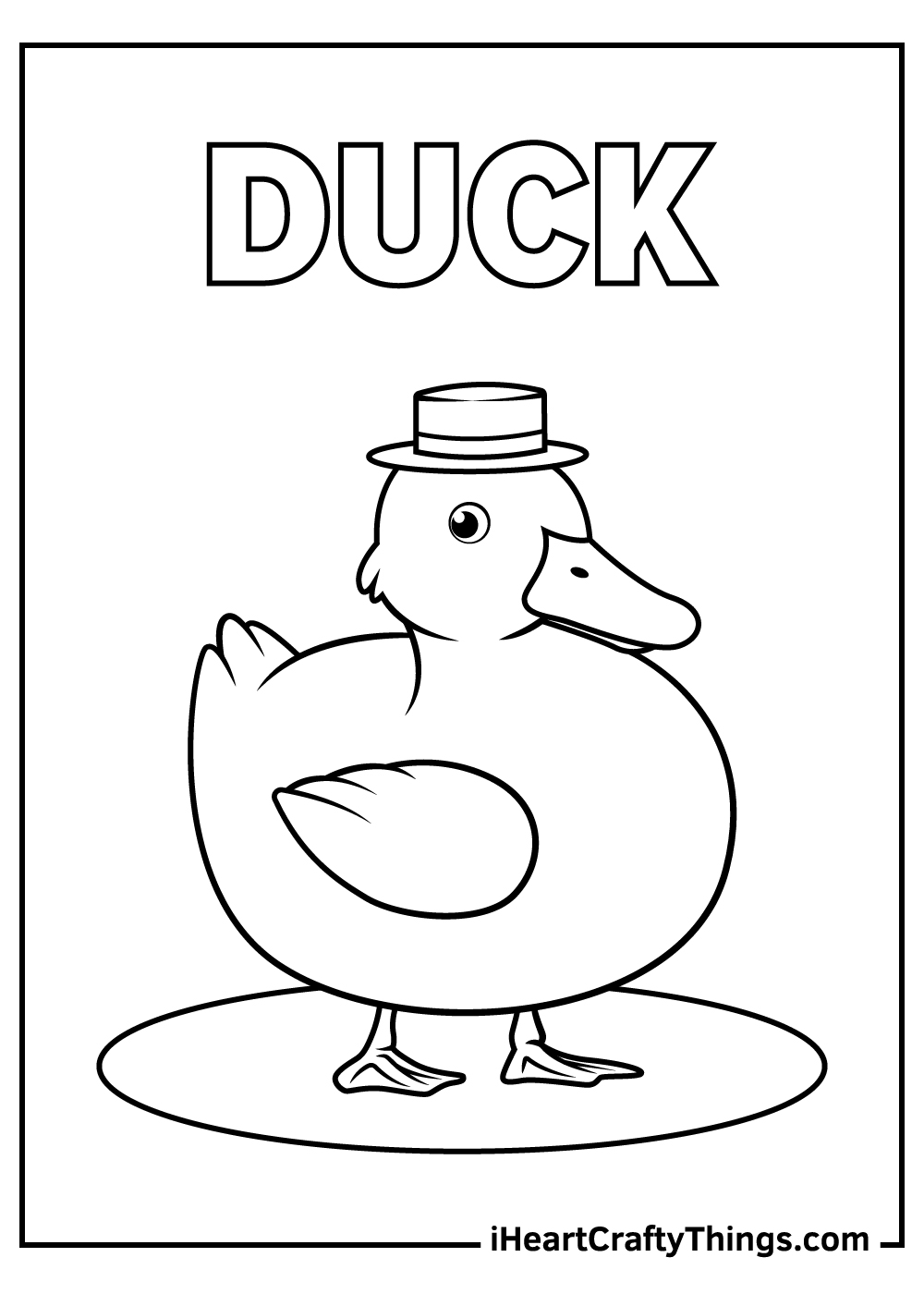 The duck floating in a pond in this duck coloring sheet is looking a little uncertain. Maybe for this image, you could use some more muted colors to reflect that this duck is looking a little unhappy.
Maybe you could make the sky grey to make it seem like it will rain soon to finish the mood of this duck printable.
REMEMBER: You can get the COMPLETE set of these coloring pages >> HERE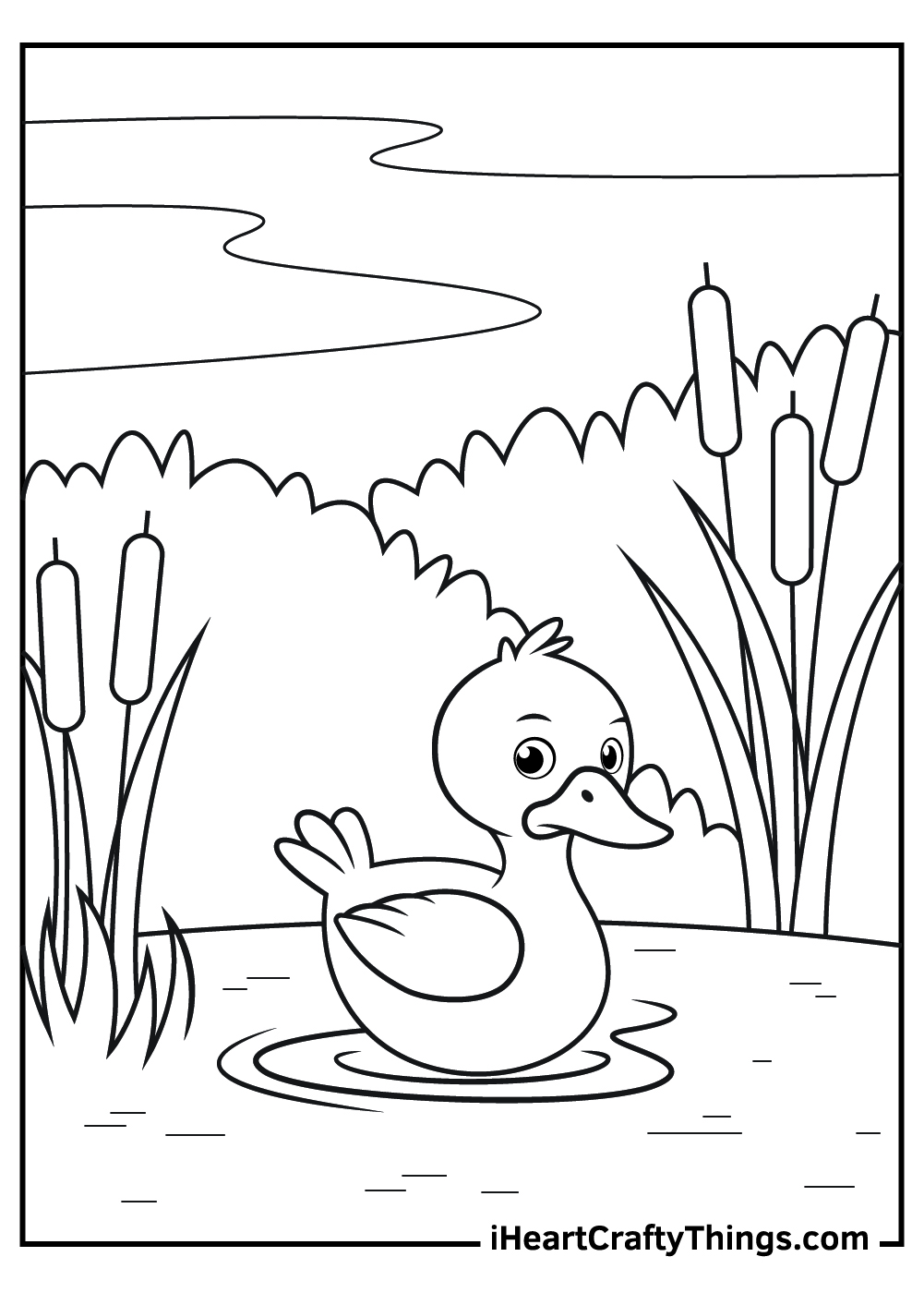 The next duck coloring page features another happy looking duck, and we're given a unique view of him floating in the water!
The underwater view we get makes this an interesting image, and you could maybe draw in and color some fish below the water to make the image even more fun to look at.
What kind of aquatic life do you think is beneath the surface of this pond?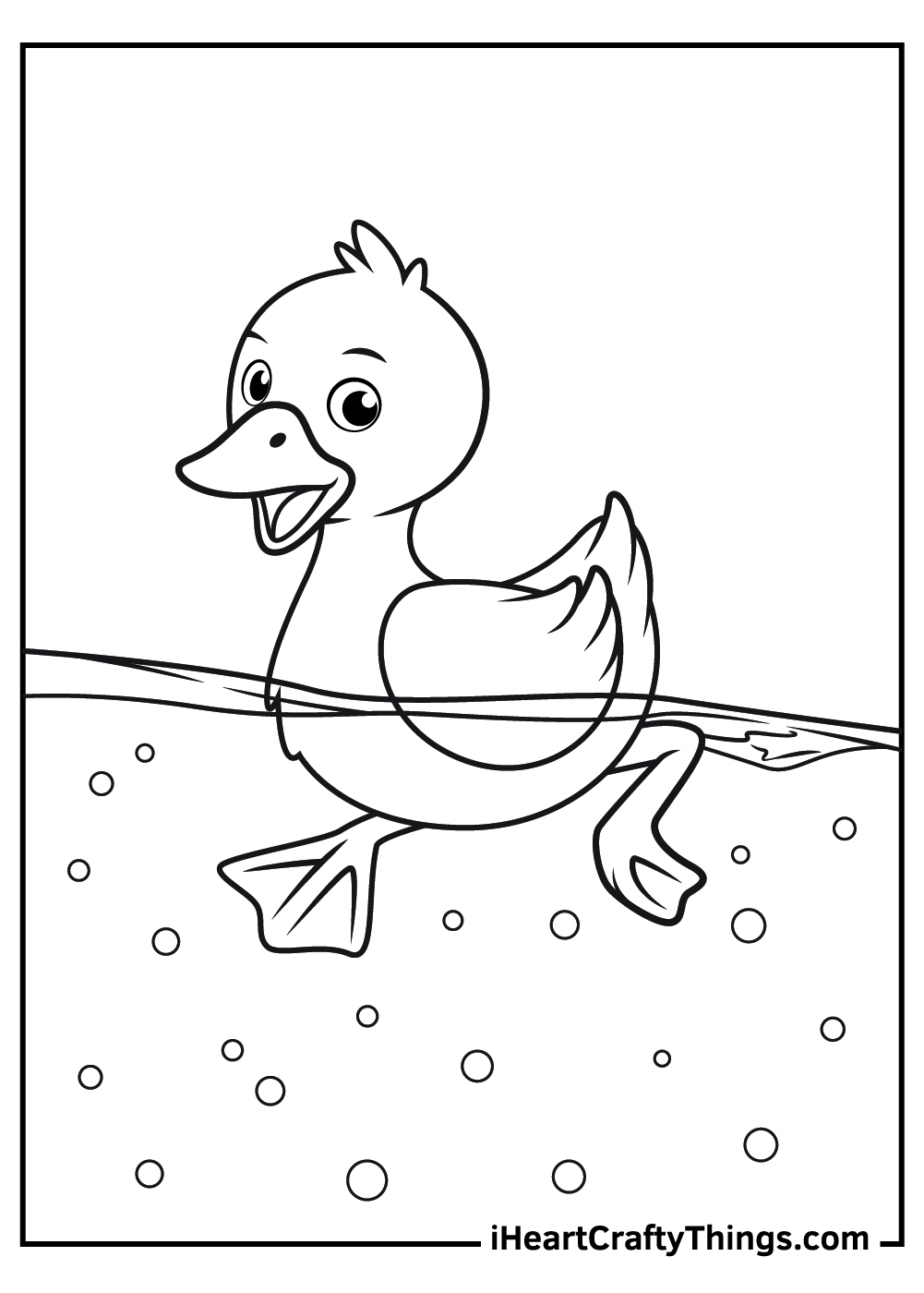 It's another beautiful day outside in this duck coloring page! With all the flowers around it must be Spring or Summer and this duck seems to be enjoying it.
For such a cheery image I think it would be a great opportunity to use your favorite bright colored pens, pencils and crayons to make this duck printable a real treat to behold!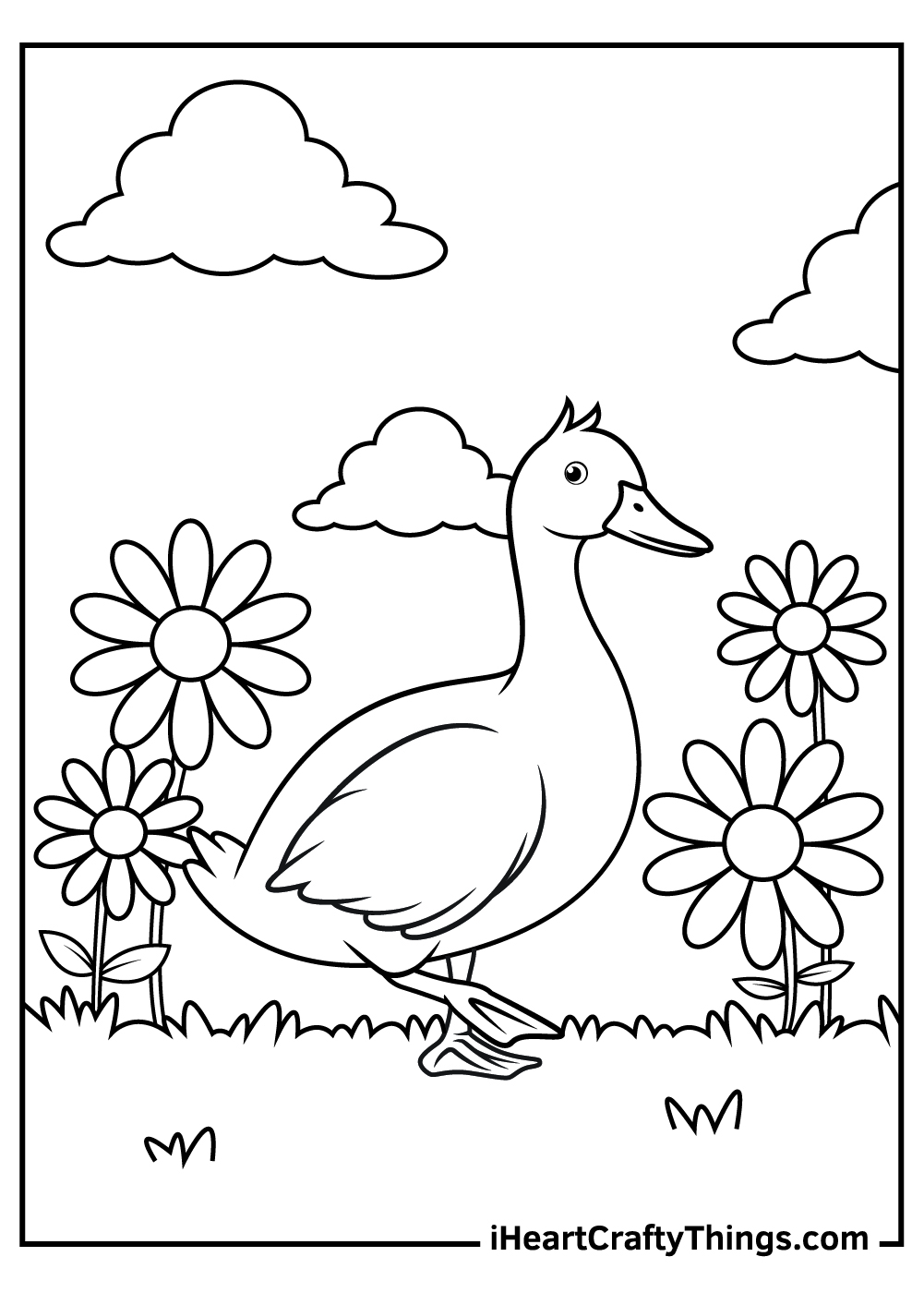 Our final duck coloring page has a cute duck surrounded by stars and looking very pleased. I think this image would look great if you used as many colors as you can for the stars around the duck.
Once you've picked your background colors, what will you choose for the duck itself?
We can't wait to see what you decide for this last duck coloring sheet!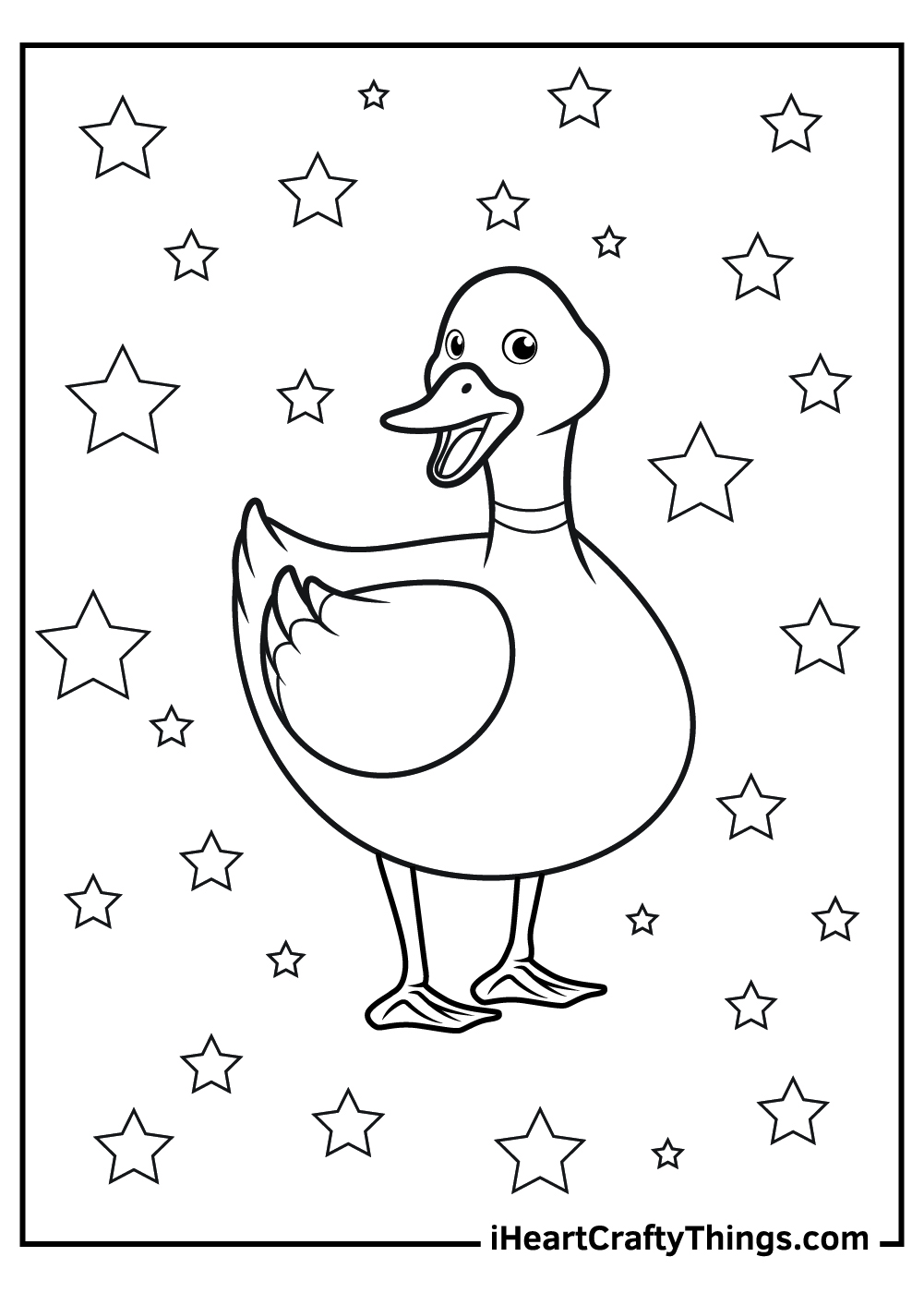 Duck Coloring Pages – Which will you choose?
We hope you had a lot of fun coloring in these free duck coloring pages! Remember that you can print out your favorite duck coloring sheets for free, so why not print a few copies of each to play around with different colors and make a great variety of different ducks?
You could also try out some different mediums, and for these scenes featuring water and lakes I think some watercolors would really look amazing to give these duck printables a unique and pleasant look to them.
Don't forget to like and share our Facebook page, we have tons of free coloring pages and printables like these ones for you to print, share and enjoy!
Once you've finished coloring in your favorite duck coloring pages, we'd love it if you would share them on our Facebook page so we can all see and enjoy your colorful creativity. We're looking forward to seeing lots of bright, colorful happy ducks from you all!
REMEMBER: You can get the COMPLETE set of these coloring pages >> HERE