There are many different sports and activities that people partake in to test their skills. Few are as intensive as hunting, as this is a truly extreme activity!
A good hunter needs to be a master of their gear, surroundings and even their own bodies.
This collection of free hunting coloring pages for kids aims to capture some of the excitement of this extreme sport!
We have a great selection of 10 images focused on some hunters doing their thing for you to color!
You will also get to show off your drawing skills as you add extra details and backgrounds to some of these images.
These pages we have created for you are not only cool, they are free for you to print out and enjoy as much as you like!
For extra fun, you can share the collection with other hunting enthusiasts to enjoy as well. Comparing how different people approach the same image can be a lot of fun to do!
So get ready for some exciting coloring fun as you dig into this collection!
When you have completed your favorite pages, you can share the results of your creativity by sharing your finished pages on our Facebook and Pinterest pages for us to see and enjoy.
10 Brand New Hunting Coloring Pages – Free to Print and Color
This first hunter that is featured in our collection of free hunting coloring pages for kids features one that looks like he means business!
Hunters take their sport very seriously, and this guy seems to be living up to that seriousness.
He is also wearing an exaggeratedly large old-fashioned hunting hat, which makes the picture even more fun to look at.
How will you color this first hunter of the collection?
There is a cool pose being struck in this second page. This hunter is drawn in a different style to the first one, but he looks no less serious than that first one.
He is also dressed in some old-fashioned hunting gear, and his rifle also looks rather vintage.
What do you think this hunter may be going for? Maybe you could draw some small extra details that show what this hunter is on the lookout for!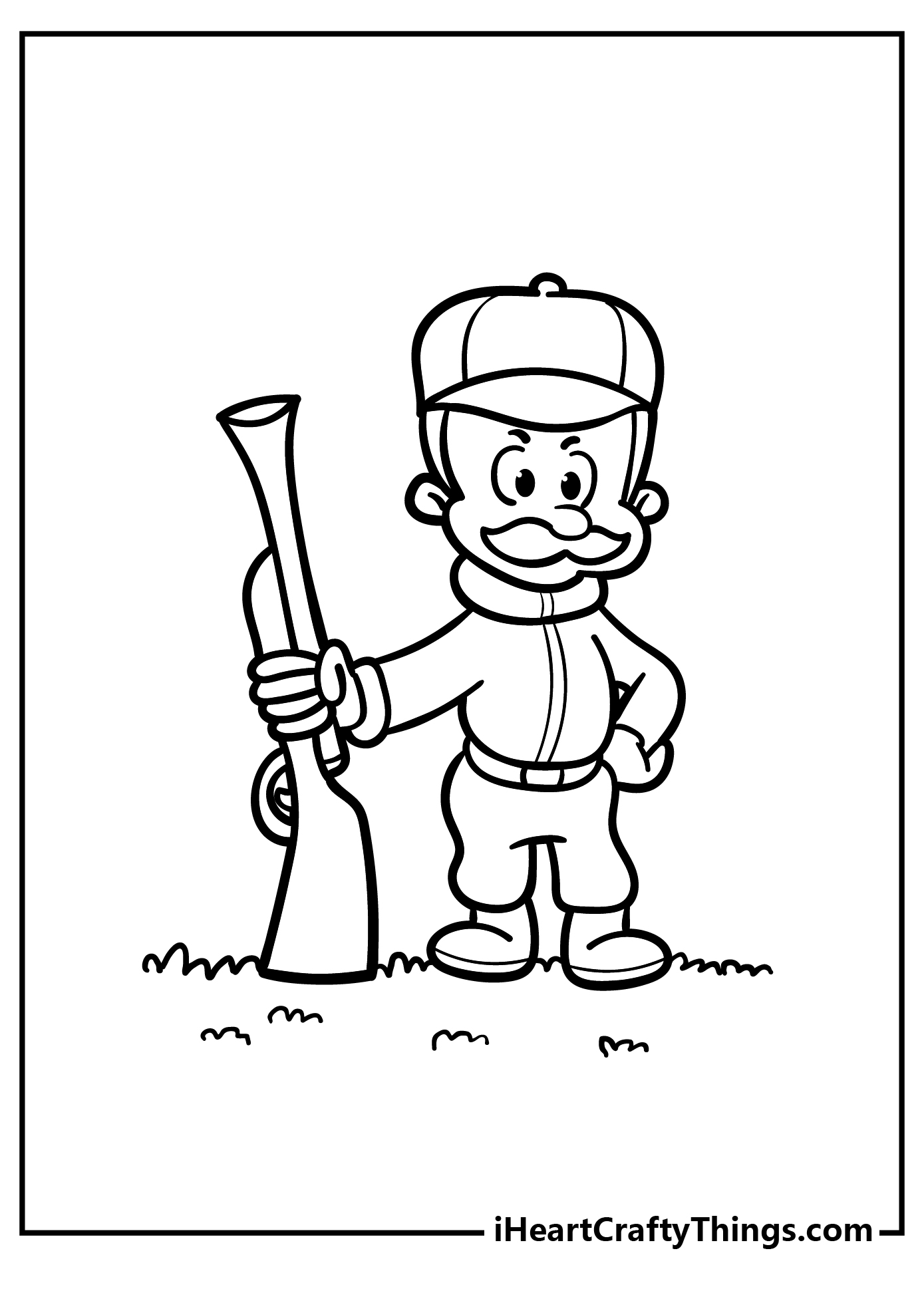 Hunters can't be afraid to have wet shoes if they want to get the perfect shot! This hunter seems to have the right idea, as he is wading deep into a lake.
He seems a bit less serious than the men in the previous two hunting coloring sheets, and he seems to be having a lovely day out.
Because of the watery setting, we think this one would look great with some amazing light blue colors.
How will you color this watery scene?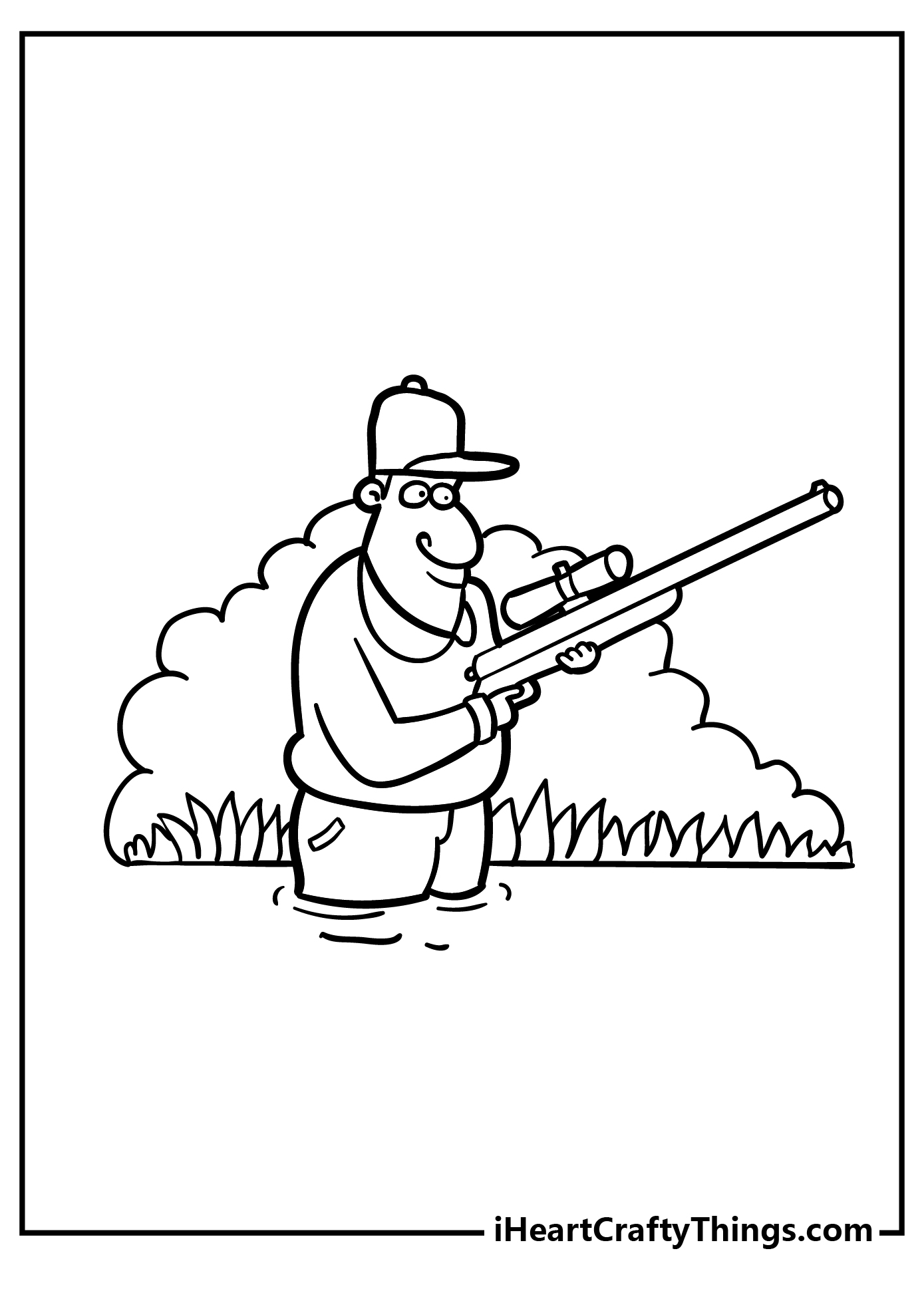 This next hunter has successfully completed a hunt, and it's fair to say he is looking rather pleased with himself!
During hunting season, duck is a common animal to hunt for, and they are quite a challenge to nab. That's why it's easy to understand why this man is so proud of himself!
The background has been left blank for this one, so you could draw some background details to show where he got this duck. A lake setting could work well for this one as well!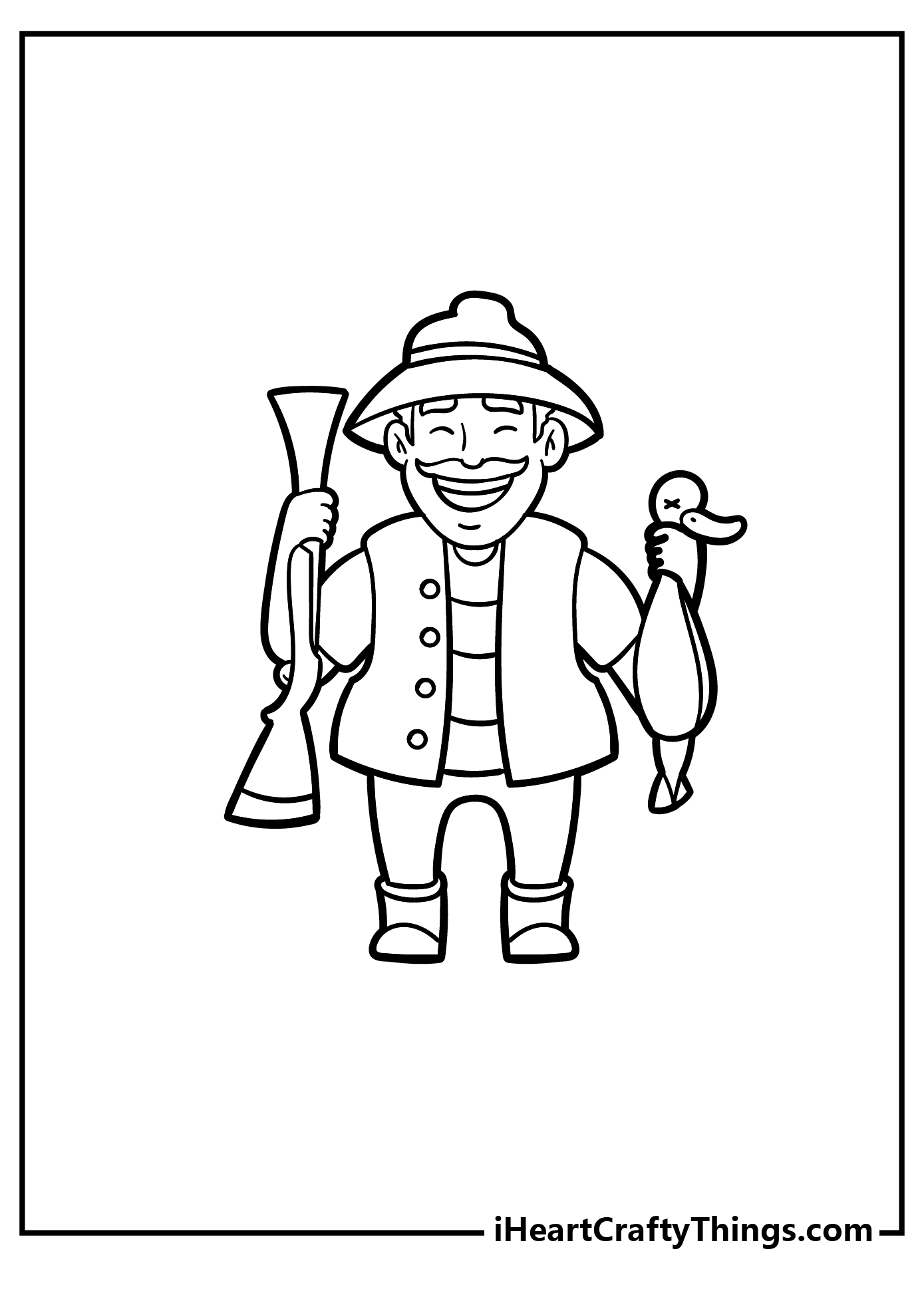 As well as ducks, rabbits are also a common source of game for hunters. This hunter has also successfully hunted his prey, and that means that dinner is sorted for him and his family tonight!
Rabbits can be hunted in a large variety of environments, so if you choose to add a background you will have many options for how you can go about it.
What kind of setting would best suit this rabbit hunter?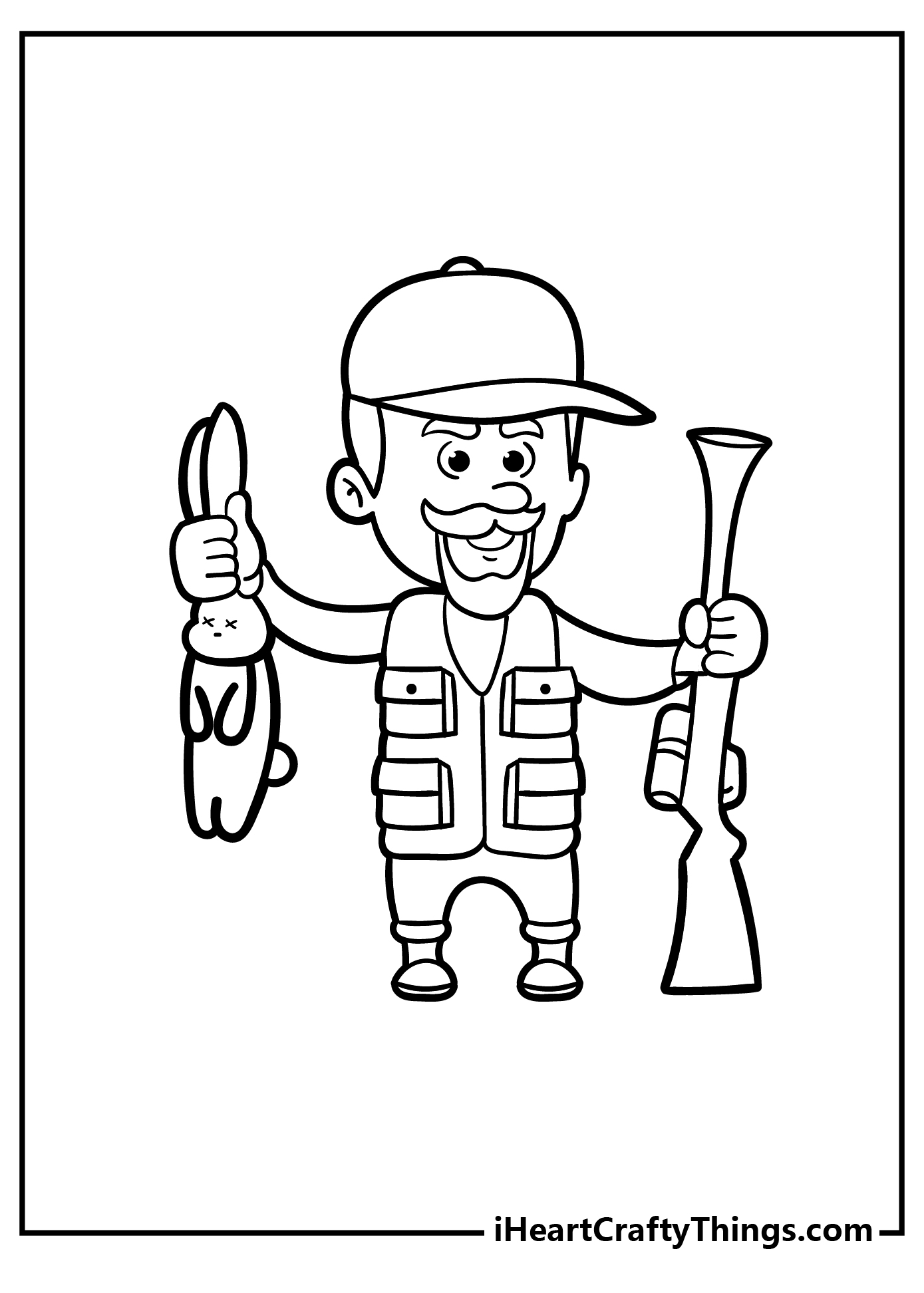 Our next hunting coloring printable shows a hunter that's enjoying a quiet moment. Hunting is as much about patience as it is about skill, and you have to wait around for the perfect shot.
It's all worth it once you succeed, though!
This hunter almost seems like there is something other than hunting preoccupying his mind, though. What do you think he could be thinking about?
You could show what you think he's thinking about by drawing a bubble above his head with a picture drawn inside!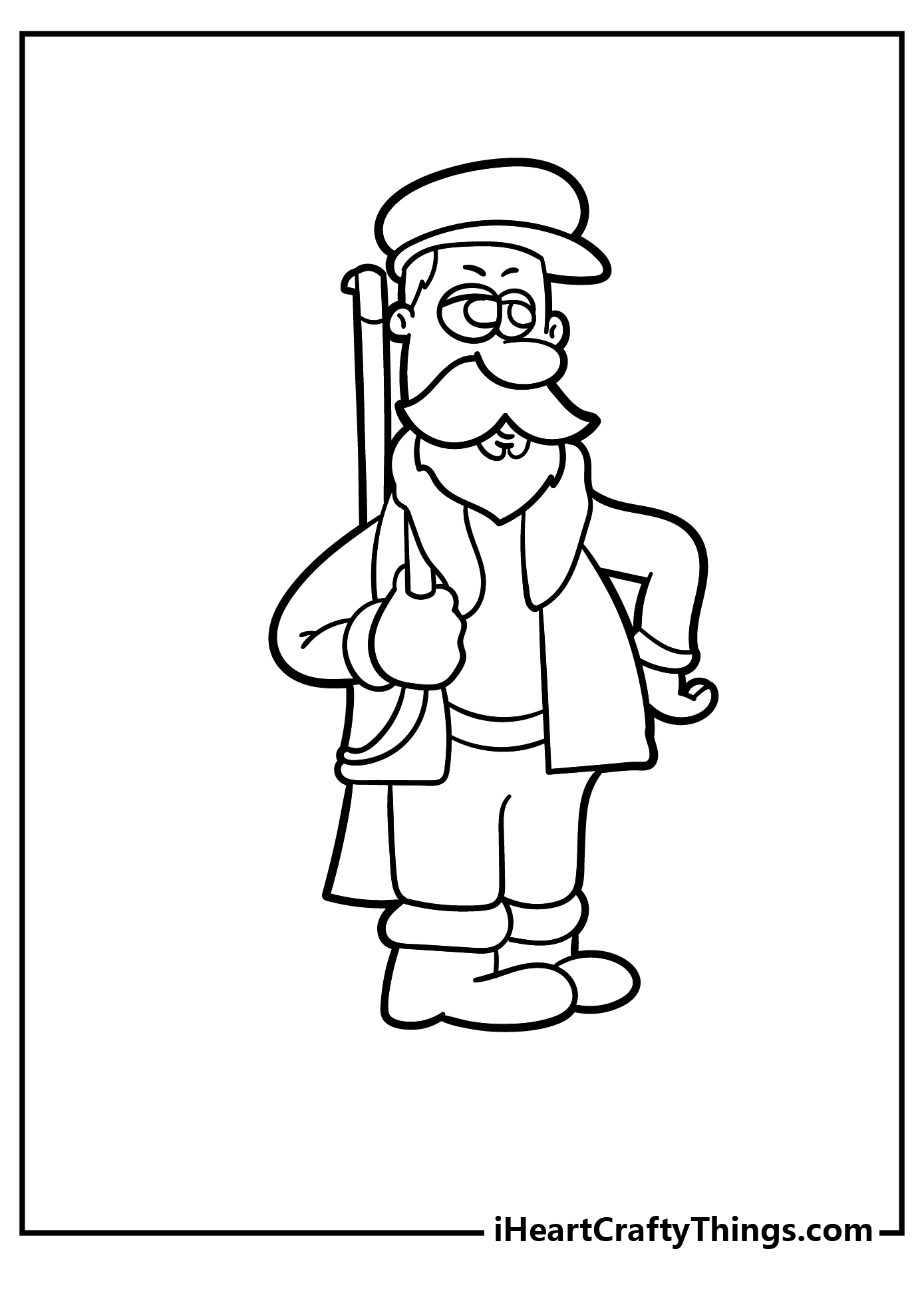 Here we have another duck hunter that has succeeded in his goal! This hunter is drawn in a more modern style, and his rifle reflects this as well.
There are some great details to color here, so you can have fun getting in there with some intricate color details.
What mediums will you use to help you with these smaller details? For these small details, we would recommend mediums such as colored pens, pencils or paintbrushes with thin tips.
These are just a few of the mediums you could use, so what do you think you will go for?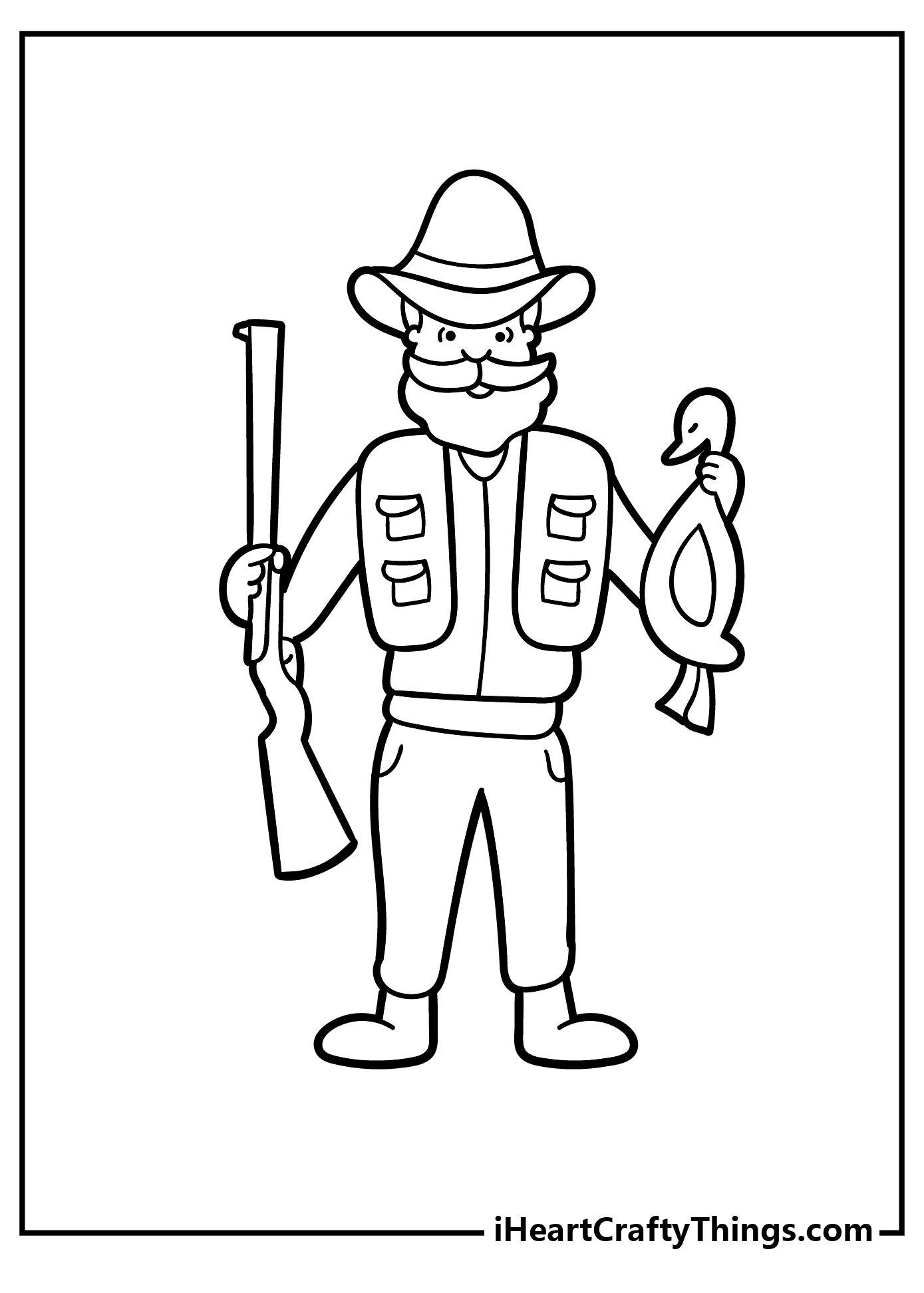 We will need to be very quiet for this next hunting coloring page! This hunter is creeping up on whatever he is hunting for, and this requires a lot of skill and patience.
We would use some milder, cool colors for this one to reflect the suspense of the scene. Do you think you will take that approach as well?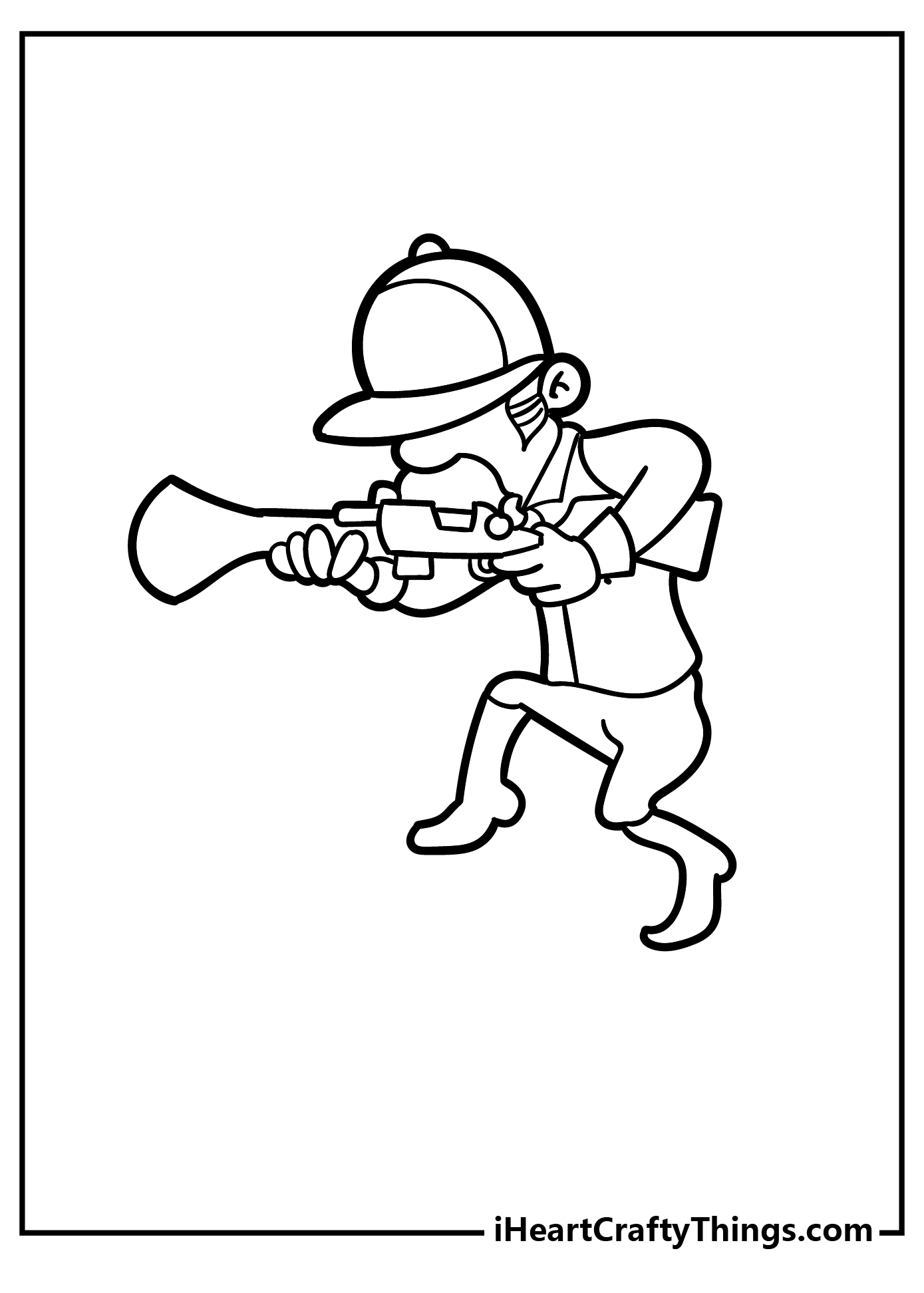 This man is going for the shot in this next scene! He is aiming up into the air, so he could very well be a duck hunter as well.
Judging by the happy look on his face, it seems he will get the shot. It's another image where there is a lot of free empty space, so you could again draw some fun background details.
Will you add some personal touches to the scene?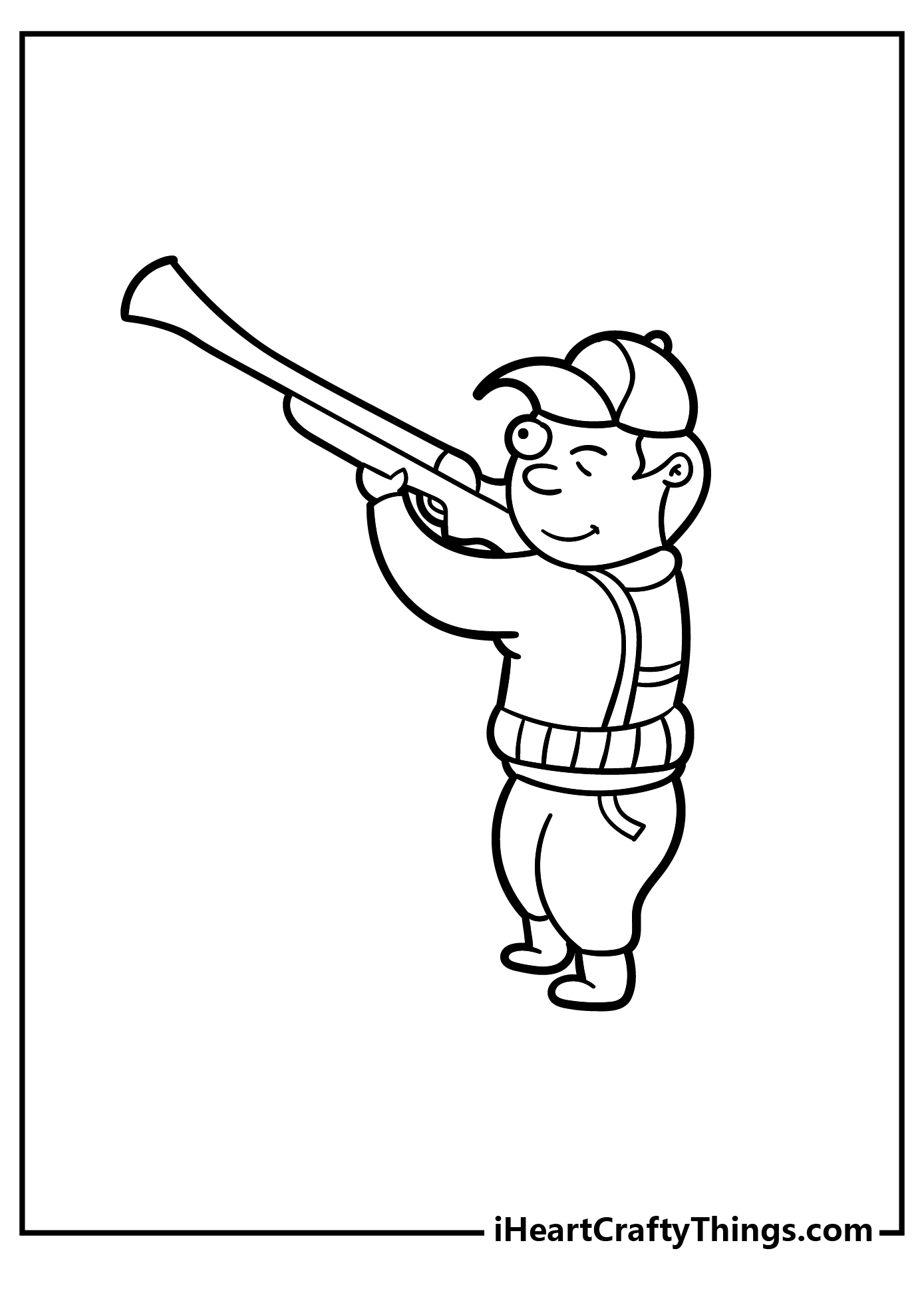 This final hunter is drawn in a fun cartoon style! He is also a rabbit hunter, and he looks very happy with his end result.
Because of the cartoon style and the look on his face, we would use bright and vibrant colors when coloring this guy in.
Do you think you will also go for bright colors or do you think you will go for milder colors instead?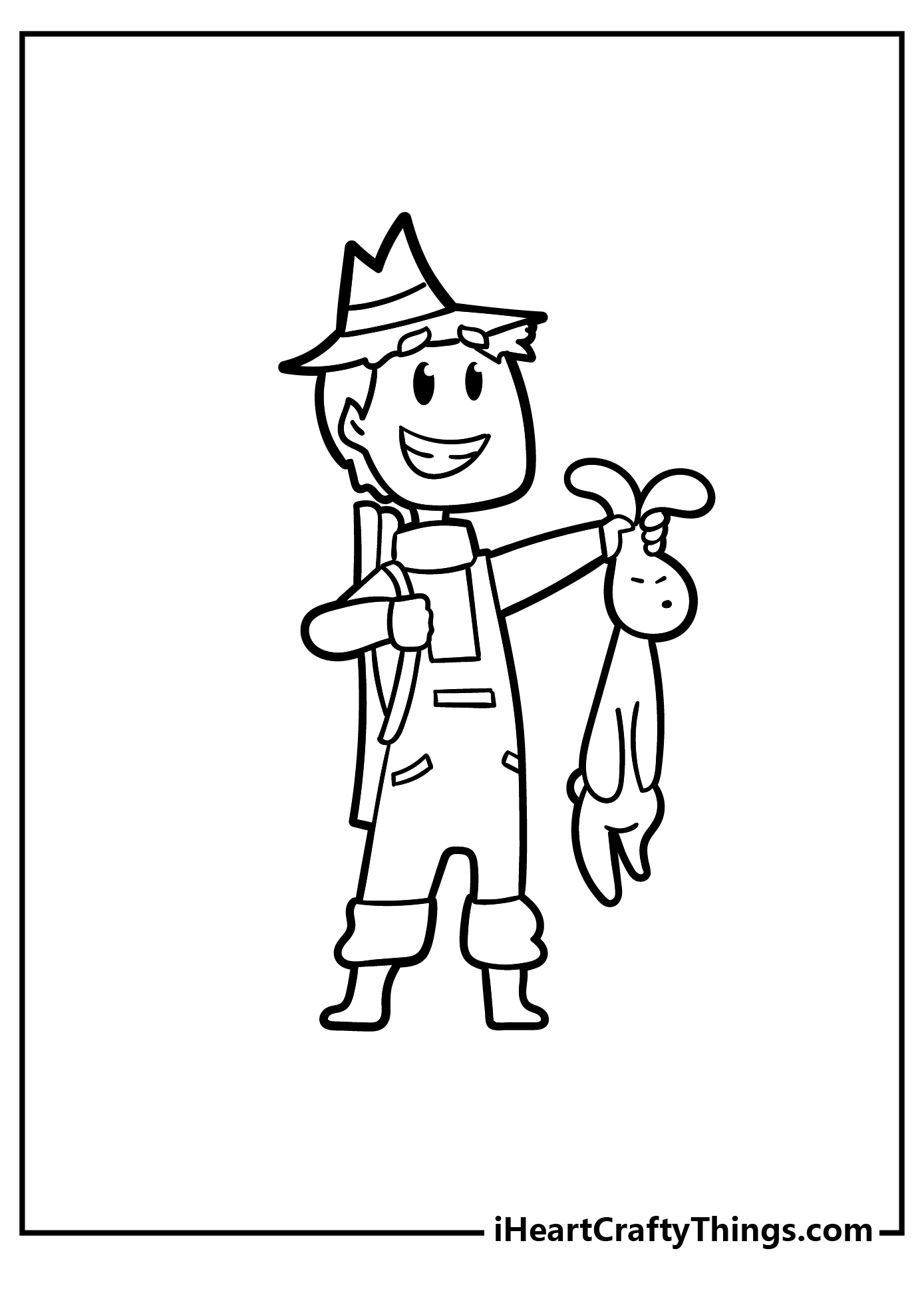 Hunting Coloring Pages – Which will you choose?
You have reached the end of this collection of free hunting coloring pages for kids! We hope you had lots of fun going through the collection while choosing your favorites to color.
There were so many great scenes in this collection that will really put your coloring skills to the test!
There are many more awesome coloring page collections and other activities on our website, and we can't wait for you to experience them!
We upload new ones often, so be sure to keep checking in to never miss out.
When you have colored your favorite pages, you can share your artworks on our Facebook and Pinterest pages for us to see. We can't wait to see how they turned out!