There are many important religious occasions and festivals that are celebrated around the world.
In Judaism, the festival of Hanukkah is one of the most important times for the faith, and it ranges from mid to late December every year.
This collection of free Hanukkah coloring pages for kids aims to celebrate this special time with lots of pages that cover different aspects of it.
These pages are all free to enjoy, and you can also freely share them with friends or family that celebrate as well.
With that, let's begin this happy celebration of this special time as we begin the very first page of this collection.
15 Brand New Hanukkah Coloring Pages – Free to Print and Color
This first Hanukkah coloring sheet that we have for you features many of the traditional aspects of this special occasion.
In the foreground, we have a plate of sufganiyah, a traditional jelly doughnut often enjoyed during the occasion.
We also have a dreidel, some presents and of course the menorah; the symbolic candle holder that is common during Hanukkah celebrations.
There are so many amazing details to color with this first page!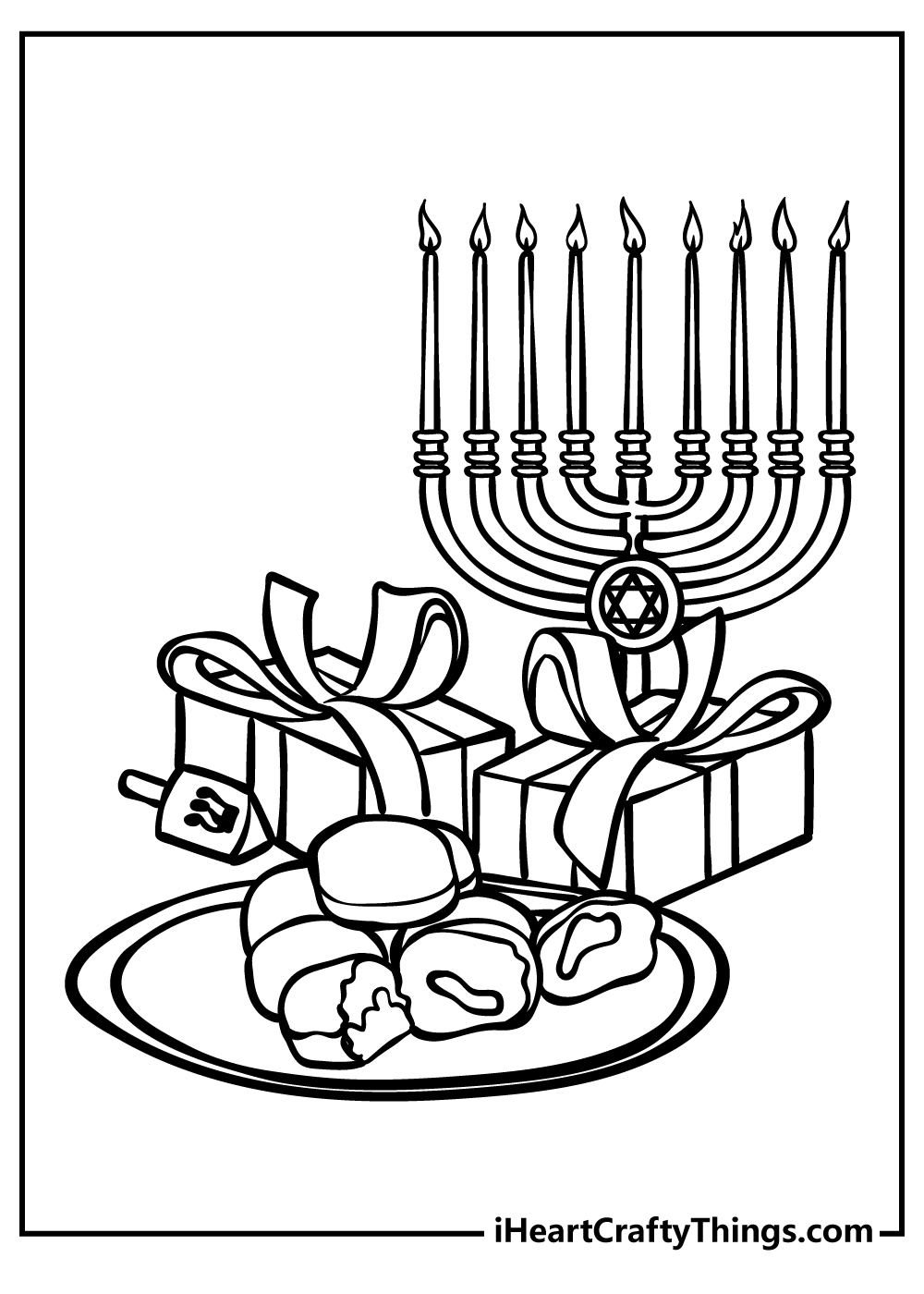 It's time to wish everyone a happy Hanukkah with this second page! The phrase is written in big, bold letters that you can color in, and there is a kid admiring a menorah full of candles.
For the phrase, do you think you will use one color for all the letters or alternate different ones?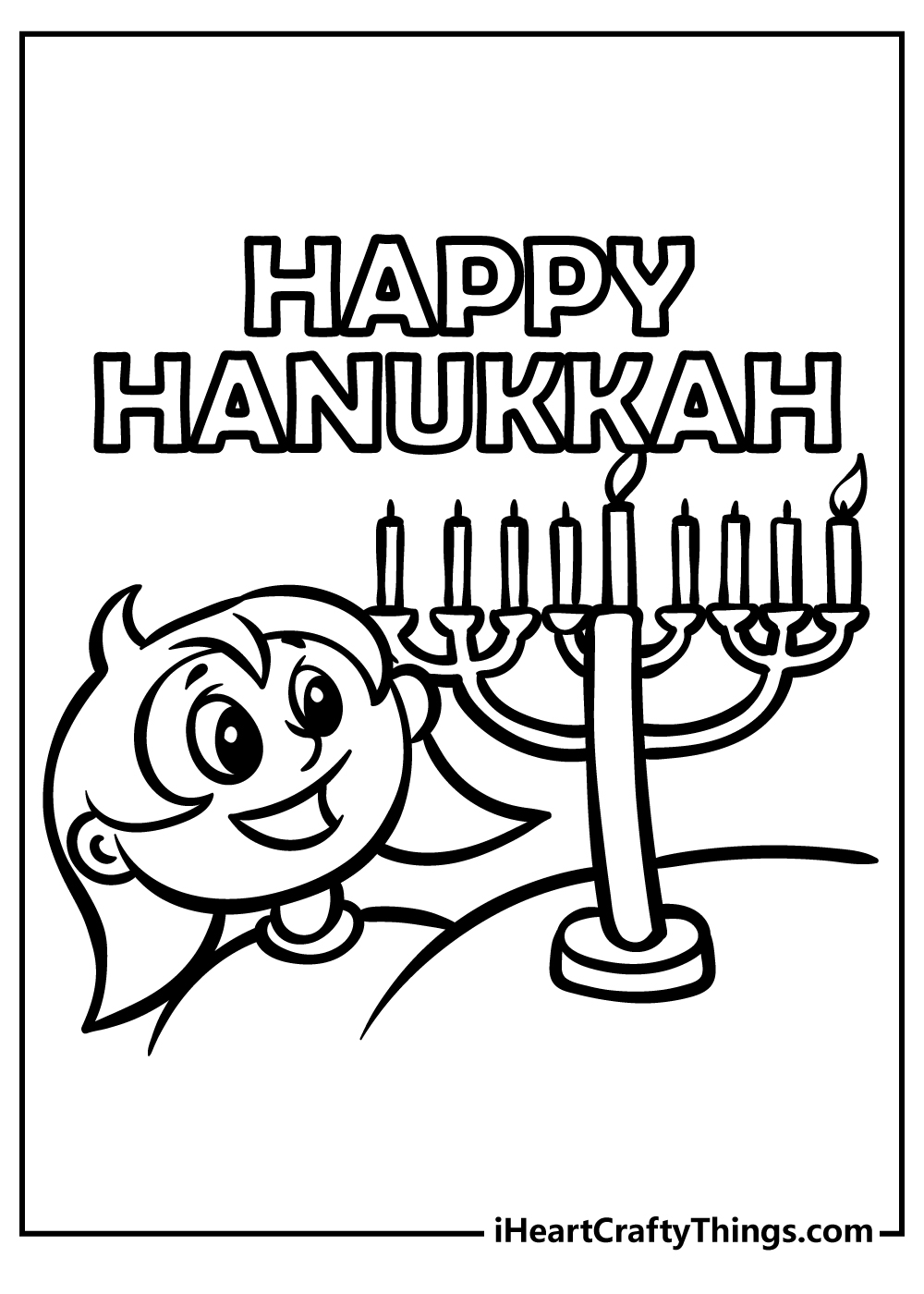 We are bringing the focus to some more iconic Hanukkah objects for this third page. We have two spinning dreidels along with more candles.
A dreidel is a spinning top that is used in a traditional Hanukkah game, and they have lots of great details that you can color in. This one should look great when it's done!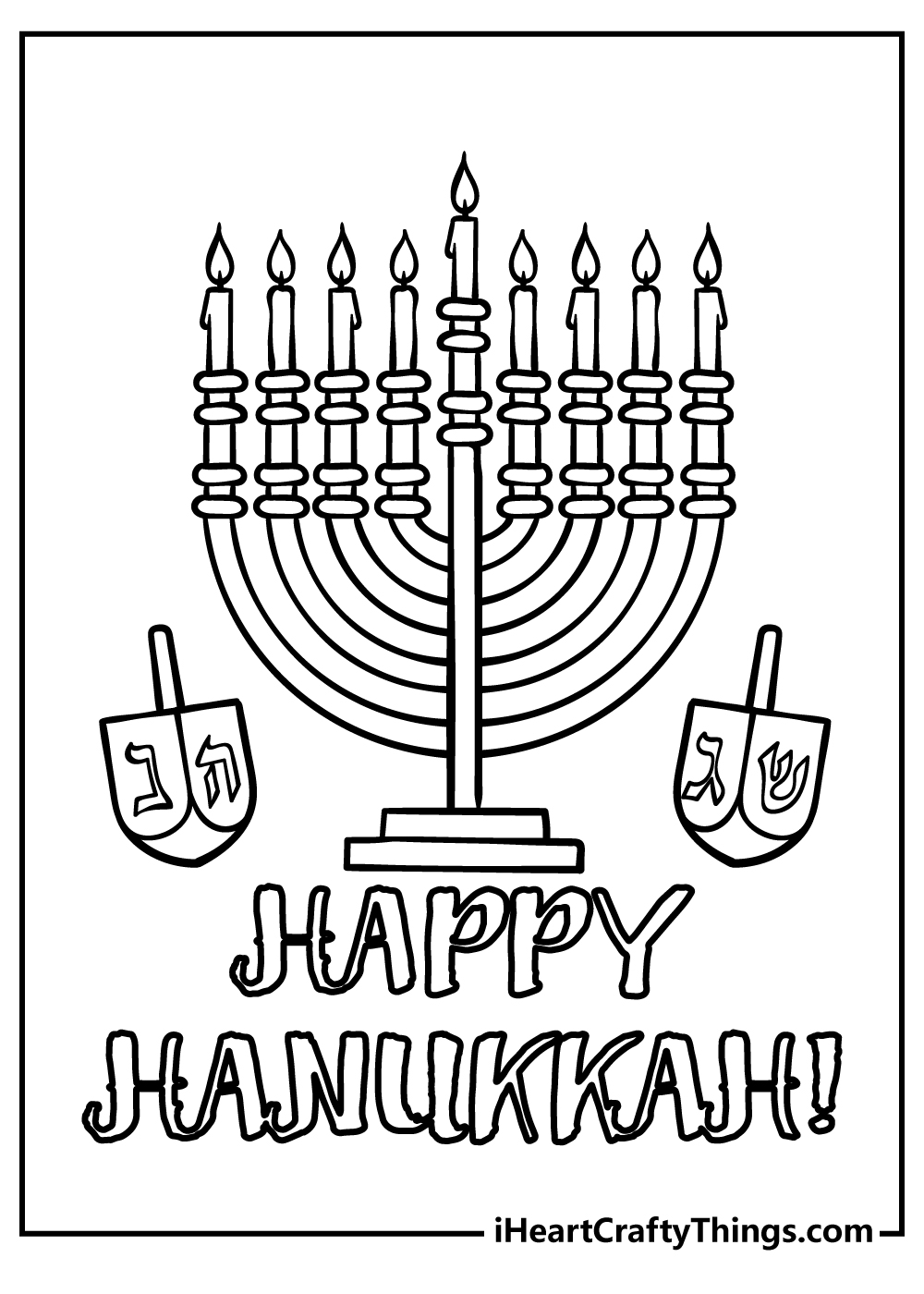 Our next Hanukkah coloring page features so many fun details to color in! There are tons of Hanukkah objects here, all surrounding a young boy who is celebrating the occasion as well.
'Happy Hanukkah' is written below him, and it's done in a really fun and interesting font, and it should be lots of fun to color!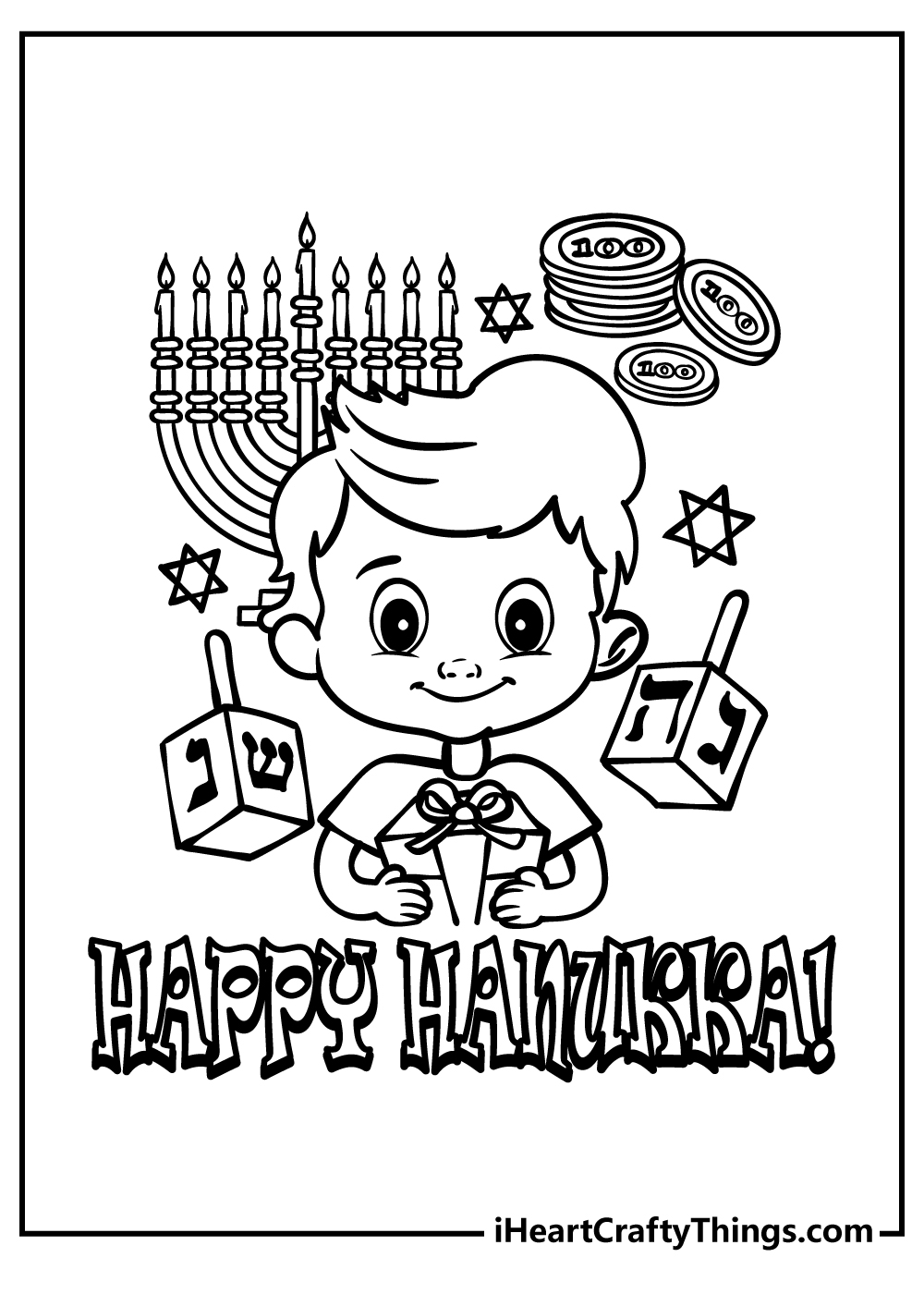 This next page has a really calm and relaxing feeling to it, as there is a boy admiring the candles of the menorah.
For this one, we would use some art tools and mediums that fit the calmer mood of the image.
Some examples would be some watercolor paints or colored pencils to give a softer look to the colors.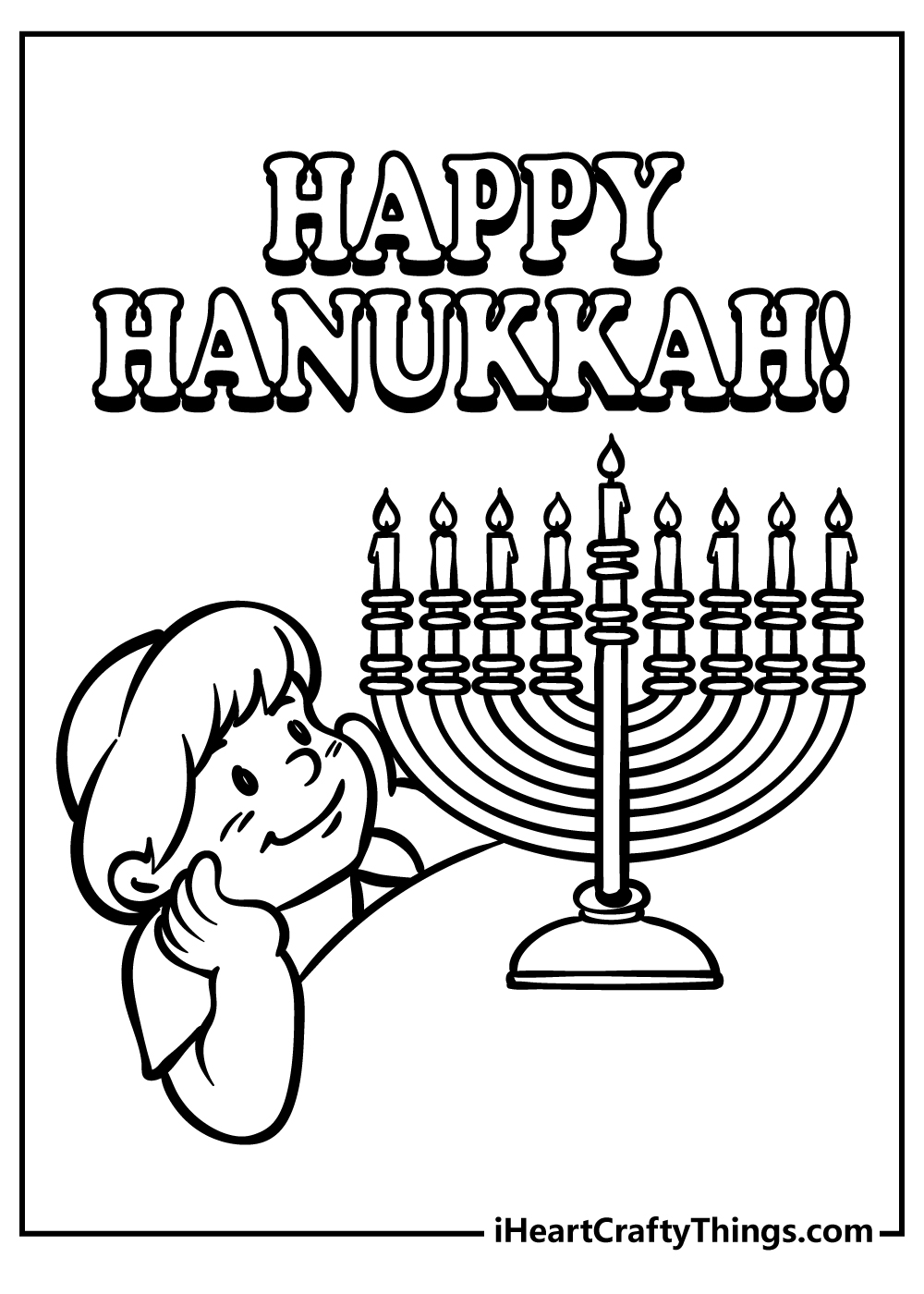 Next, we have a page that is quite different from the previous ones! We have two happy kids next to a menorah that's bigger than both of them!
For something different, we have happy Hanukkah written in Hebrew script above the image to make it even more authentic. How will you color this special picture?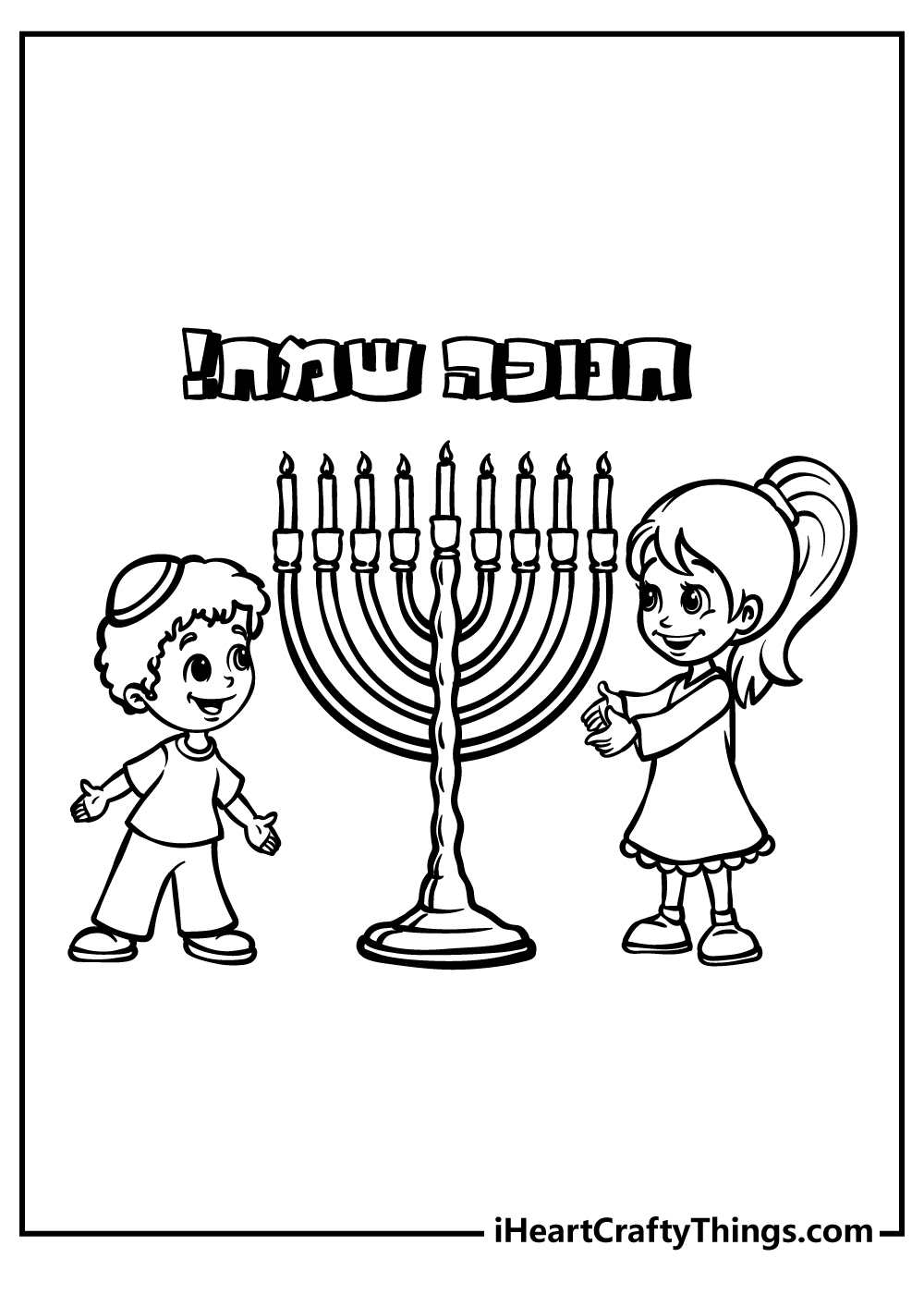 There is a wonderful spread for you to enjoy with this seventh page in our collection of free Hanukkah coloring pages for kids.
There is a menorah here, and it has some small and intricate details that you can color in.
Some of the smaller details can be tricky, but you can color them with mediums such as colored pens or pencils to make it much easier.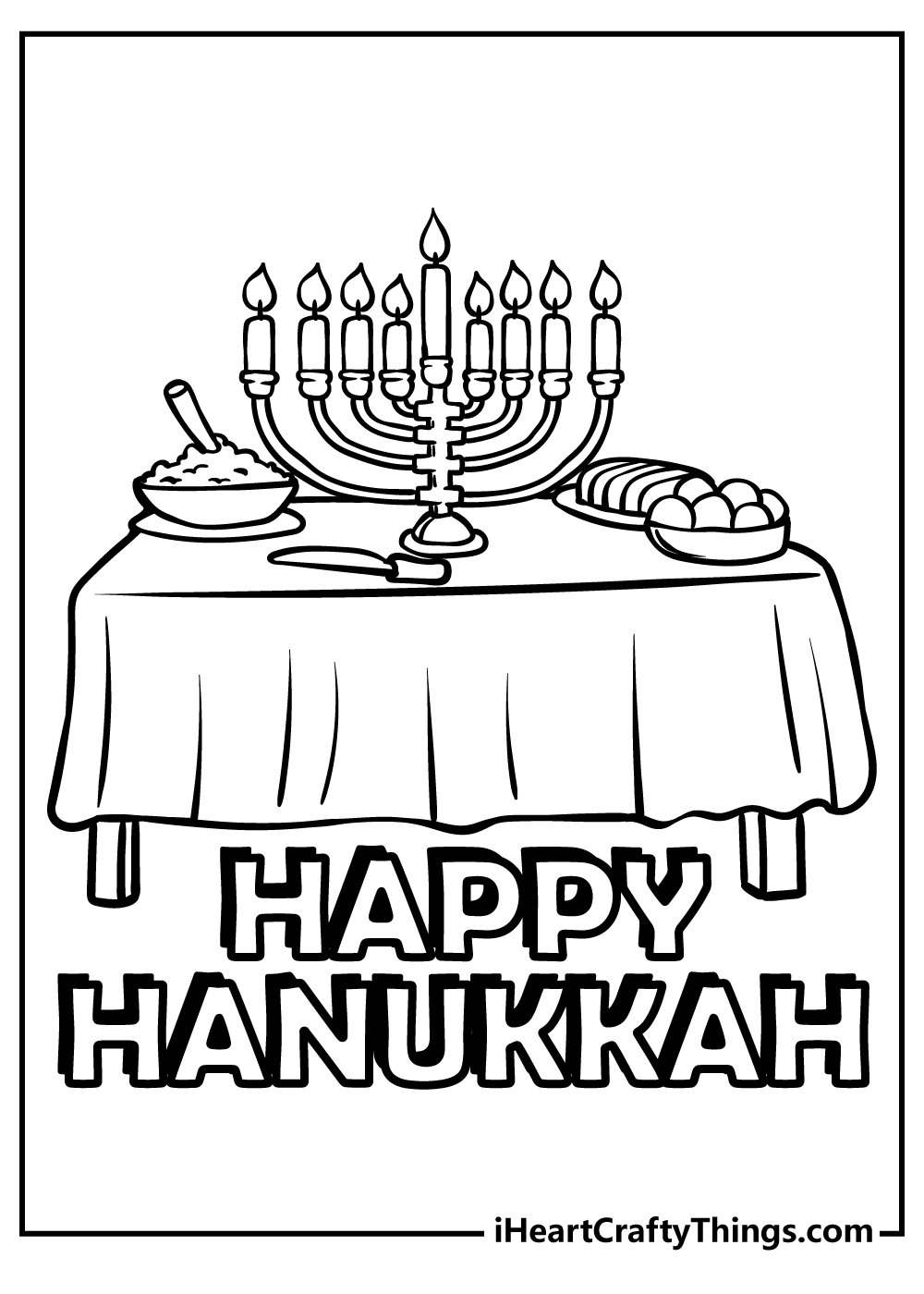 We have a lot of Hanukkah fun for you to color up next!
The girl in this image has a plate of yummy jelly donuts, and the boy is playing with a dreidel. His attention seems to be on the plate that the girl is carrying, however!
This is such a fun Hanukkah scene, and it will look even better when you have colored it in.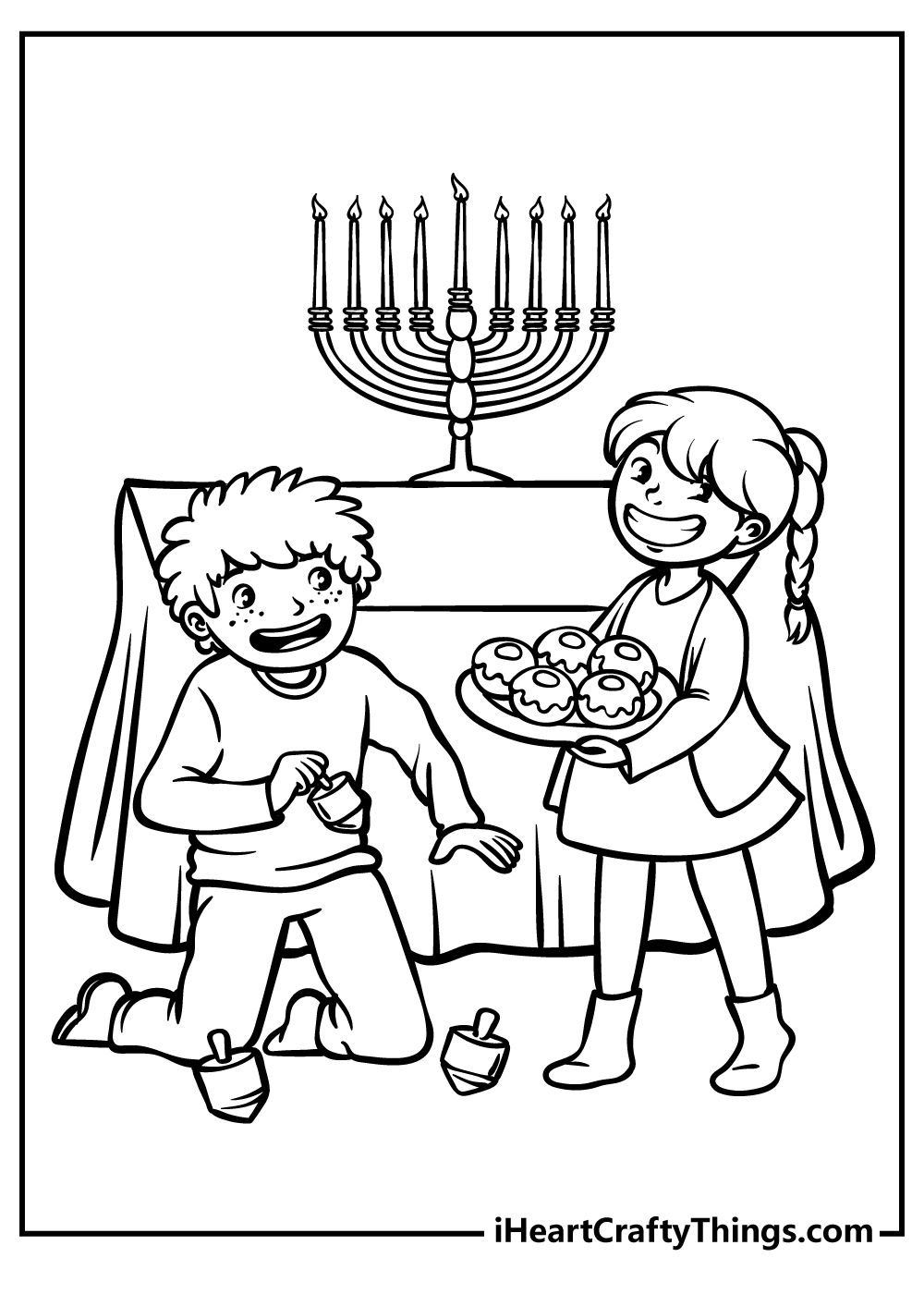 Our ninth page in the collection is again featuring a wish for a happy Hanukkah, and this time it is arranged in front of the Star of David.
This star symbol is one of the main symbols of the Jewish faith, and now you can color it in to finish off this Hanukkah greeting! How do you think you will go about coloring this famous symbol?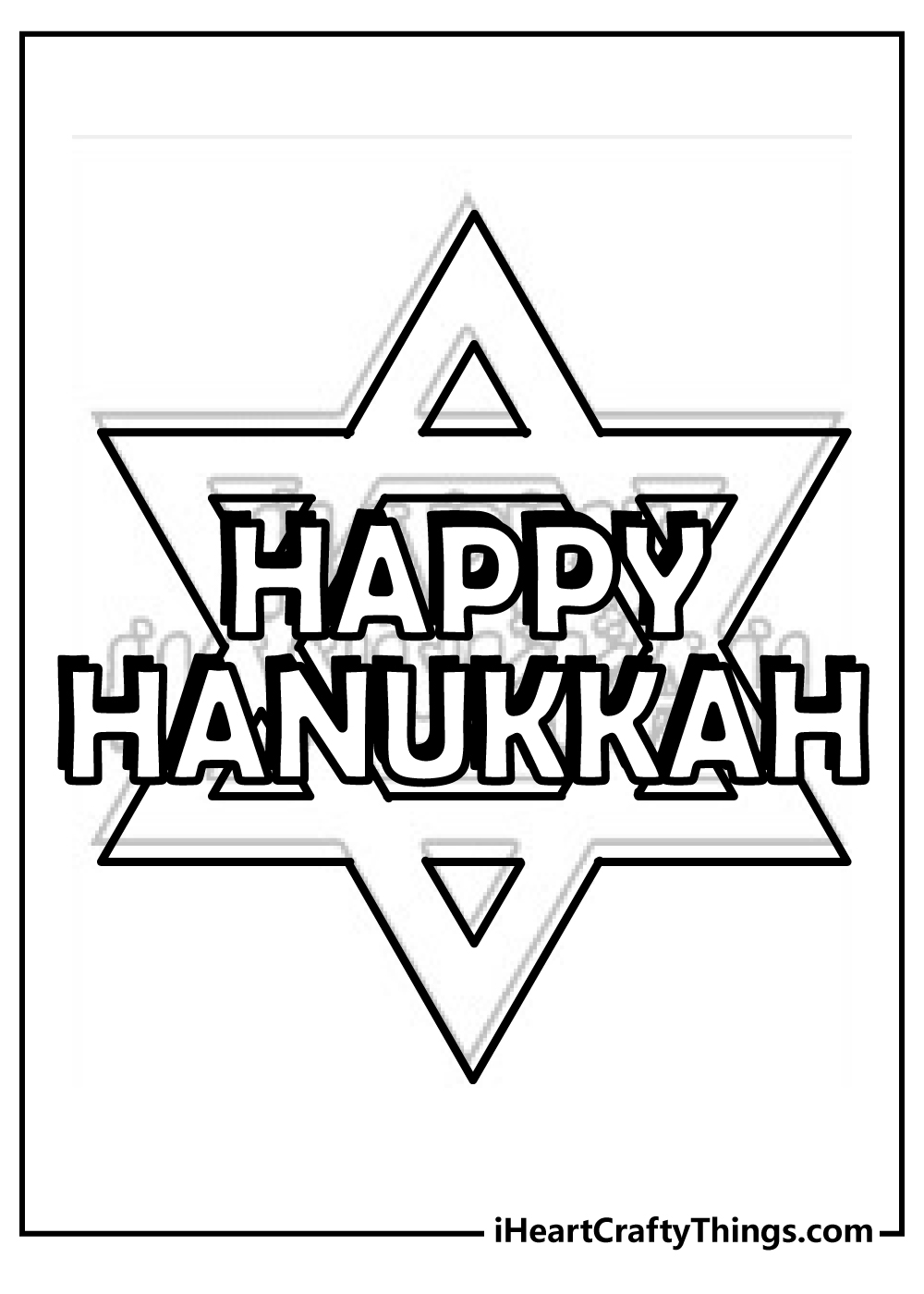 This next page is simple but effective! Happy Hanukkah is written on a banner in a bold font, and there are some fun stars flying off of the banner.
We think that this is one that would look great with some really bright and vibrant colors. Do you agree, or will you use lighter shades?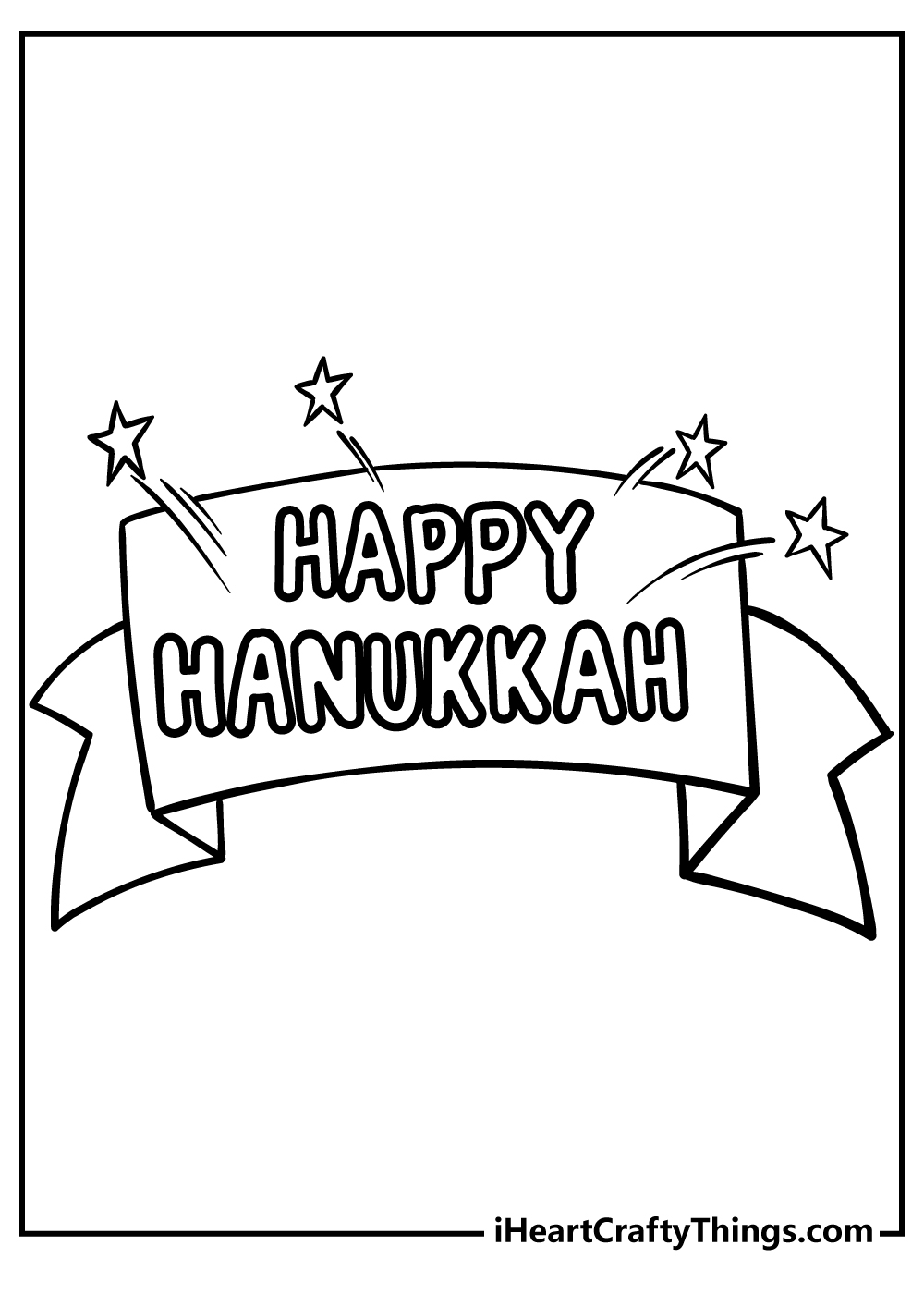 There are plenty of stars to color in with this next Hanukkah coloring printable. There are also some dreidels, and this closer look gives us a better sense of all of the details on these tops.
To finish things off, Hanukkah is again written in some lovely bold letters, so there is plenty to have fun coloring in this picture.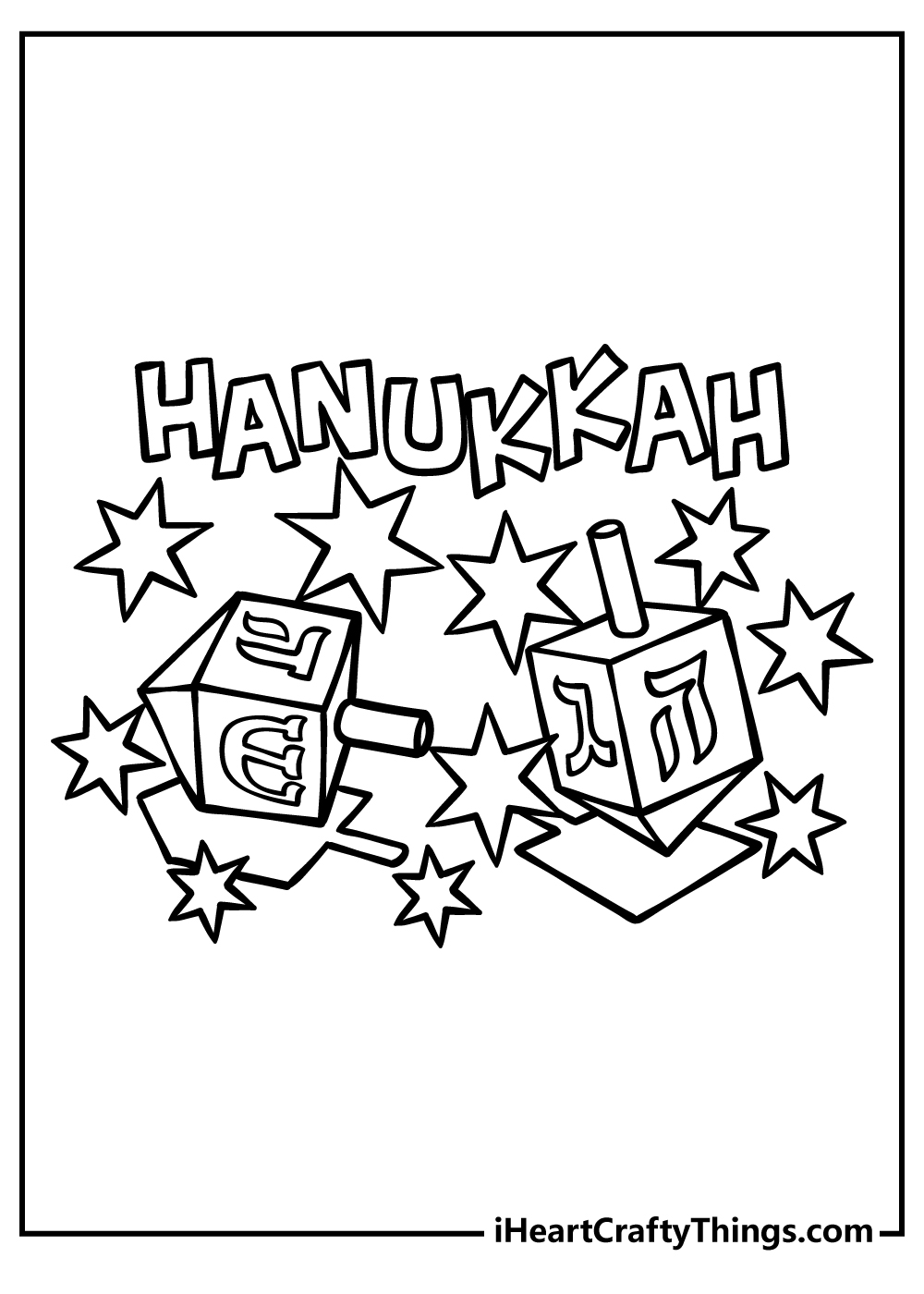 The design on this next page is really cool and interesting. The font used for happy Hanukkah is perfect for coloring, and the star behind it has some nice texture lines on it as well.
To finish off, it is all surrounded by a circle made up of lots of smaller shapes. There are so many ways to color this page in, and we can't wait to see how you do it!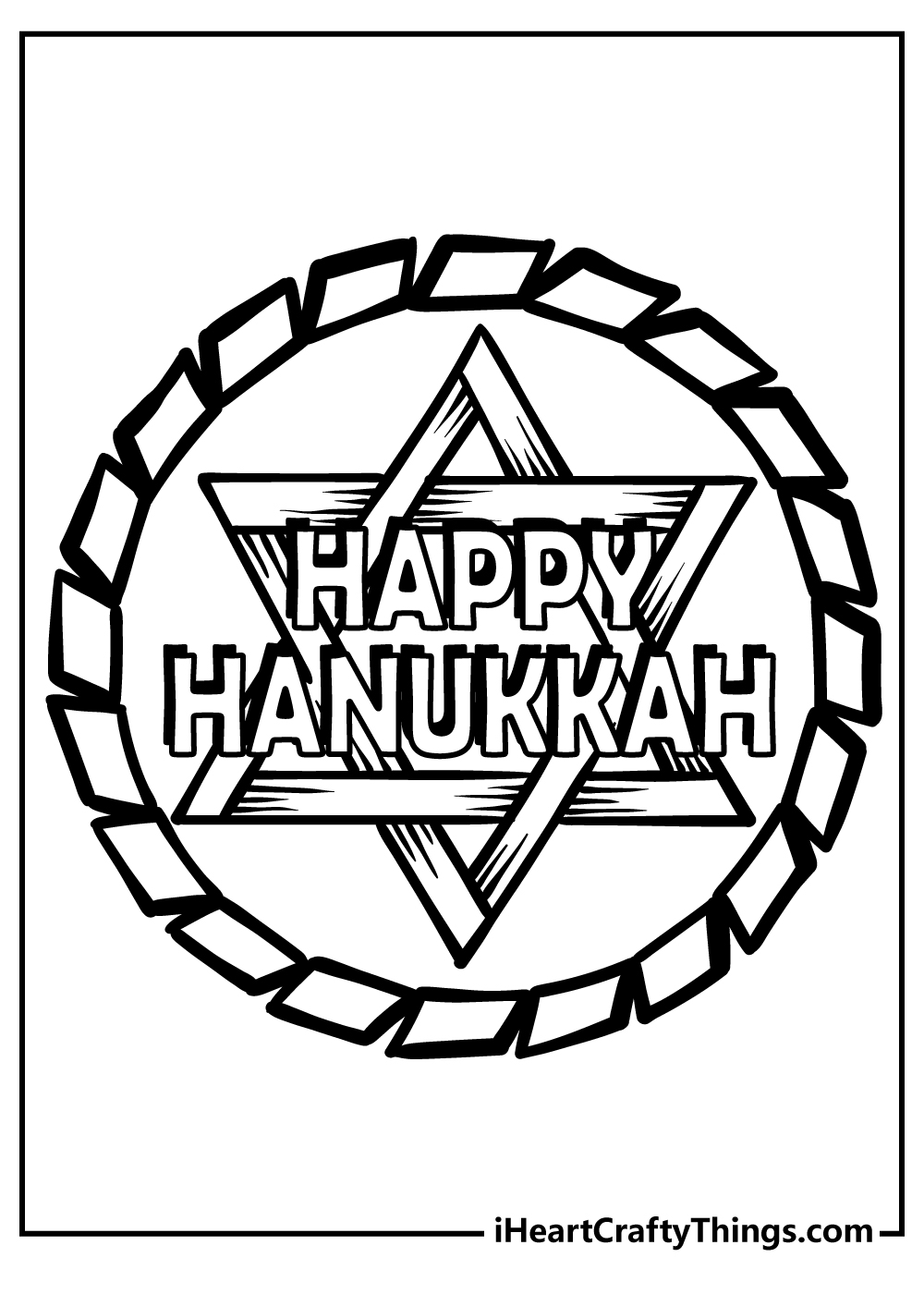 This next design is another really effective one! There is another menorah to color in, and it is all surrounded by a really interesting shape.
Will you make the colors bright and bold or will you choose a more subtle approach for this wonderful design?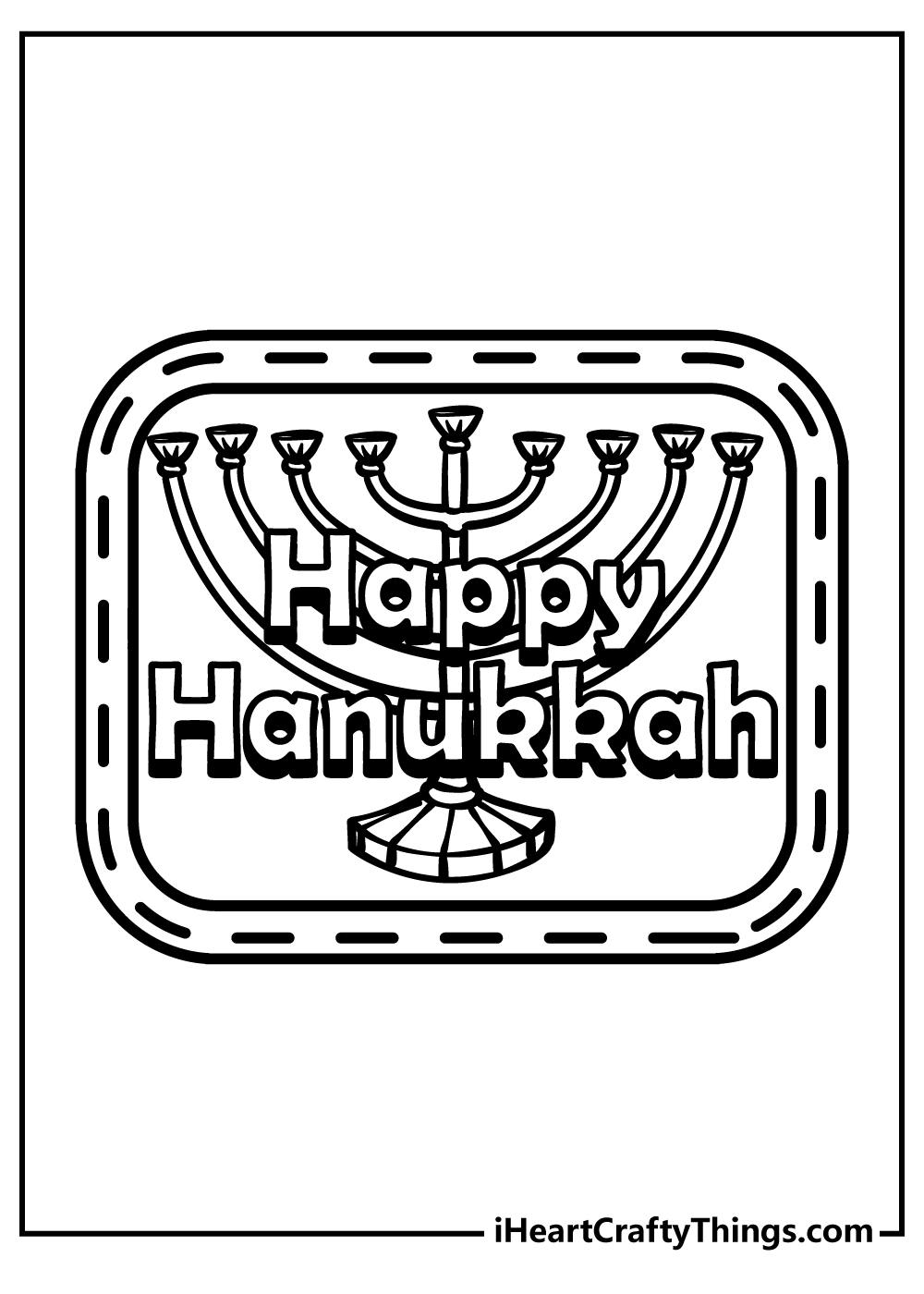 Next, we have a design that is really elegant! Happy Hanukkah is written in a fancy font, and it is above a nicely detailed drawing of a menorah filled with candles.
We would probably again go with some milder colors done with certain mediums like colored pencils, but that is far from the only way you can color this one in!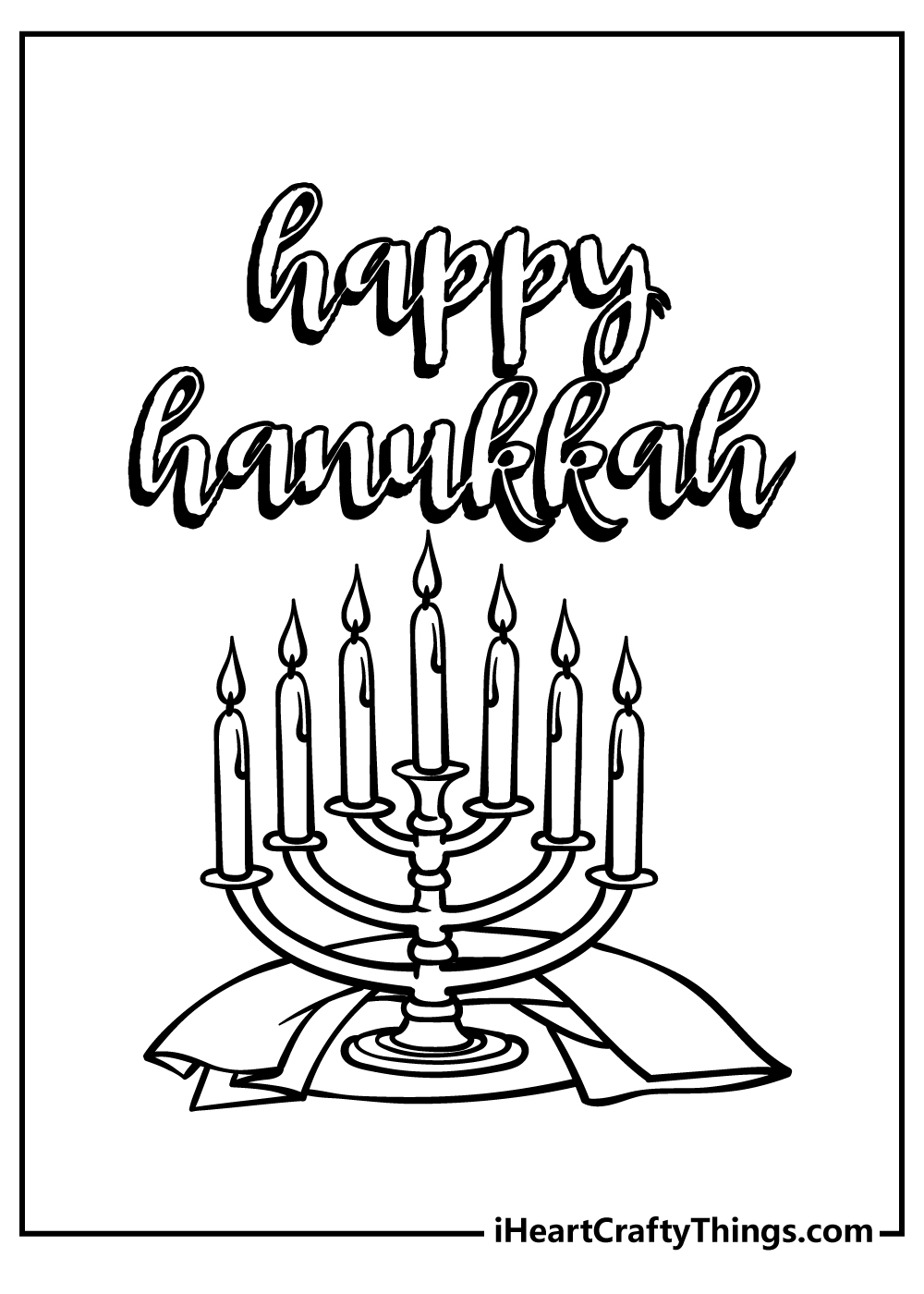 You have arrived at the final Hanukkah coloring sheet we have for you, and it's a really creative design!
This time, the star has been made into a menorah, as some candles are poking off the top of it.
Hanukkah is also written in a really great font, and it already looks so cool even without color. We can only imagine how much better it'll look when you have worked some color magic on it!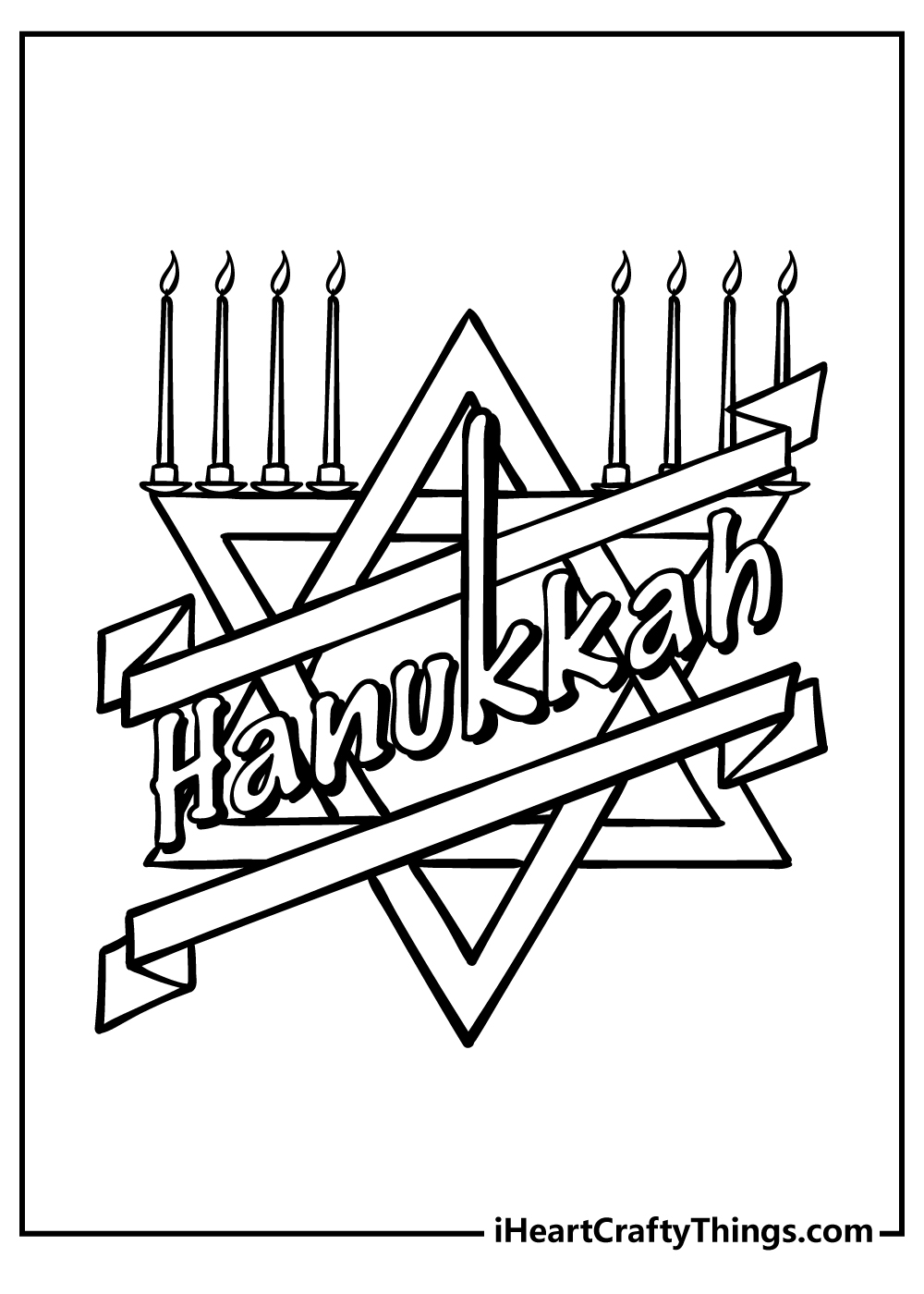 Hanukkah Coloring Pages – Which will you choose?
This is one of the most special occasions celebrated around the world! We hope that you had an amazing time celebrating with us with this collection of free Hanukkah coloring pages for kids.
We tried to feature many aspects of the occasion, and that allows for you to use so many amazing colors and mediums.
We would be thrilled to see some of your finished pages, so please go ahead and share some of your artworks on our Facebook and Pinterest pages!