There are many different sports that you can go out into the sunshine to enjoy. Volleyball is a great example of this, as it is high energy and lots of fun!
There is a lot of skill involved in this hectic sport as 12 players compete for the coveted ball.
Because of this, it has also become a popular sport around the world that is enjoyed by millions of players.
There are many great moves and techniques involved in this game, and we have attempted to capture the fun and skill of the sport in these 10 pages.
When working on these pages, we think that you should definitely feel free to use all your favorite colors and art tools!
If you love every page in this collection then you could print out every single one, but you can also choose some of your favorite images if you prefer.
Either way, each page is free to print, color and enjoy!
We hope that you have an incredible time working on this collection of free volleyball coloring pages for kids!
When you have finished coloring your chosen pages, remember to share them on our Facebook and Pinterest pages for us to enjoy!
10 Brand New Volleyball Coloring Pages – Free to Print and Color
We have a great action shot for the first page in our collection of free volleyball coloring pages for kids!
This page is capturing the moment of contact between the volleyball and the players hands, and this is always a tense moment.
The boy in this image is looking pretty confident about his chances!  What colors will you use to capture this moment?
You could keep the colors looking more realistic, but you could also use stylistic, bright colors to create more of a sense of drama instead. Which approach will you take?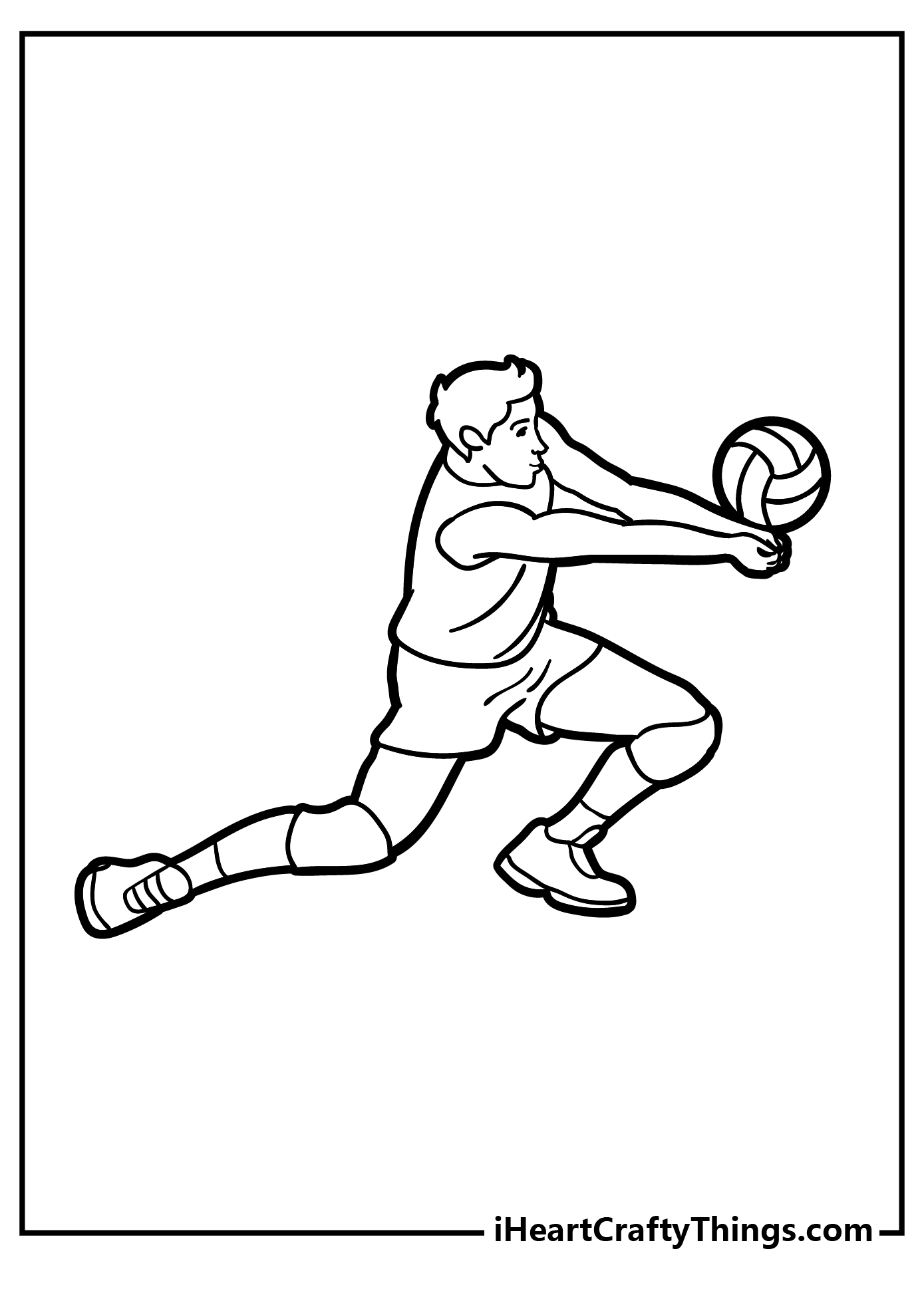 This second page captures a similar moment to the first page, but from a slightly different angle.
This time, we are looking head on at the boy going for the boy, and because of this we get a better look at his facial expression.
He looks a little less confident than the first player, and he almost looks a bit surprised that he managed to hit the ball!
How will you portray this less confident moment with your colors and mediums?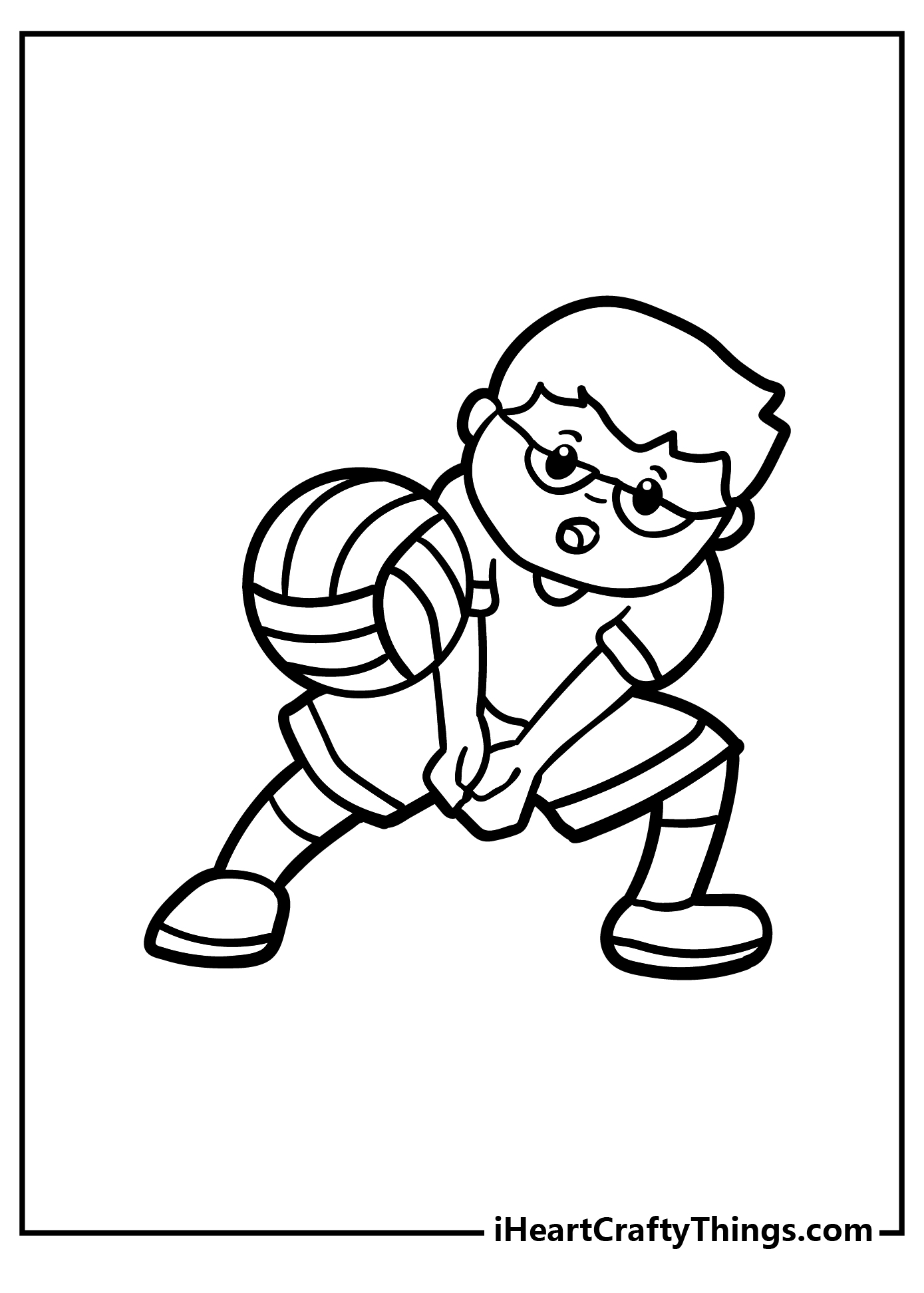 We get to witness a daring maneuver in this next scene. This woman is going for quite a tough shot, and it's a moment that would probably elicit a gasp of suspense from anyone watching!
Volleyball is full of exciting moments like this, so now it's up to you to highlight the feeling of this moment with colors.
Maybe you could also add a background such as a crowd that is enjoying this exciting moment! What other background ideas can you think of?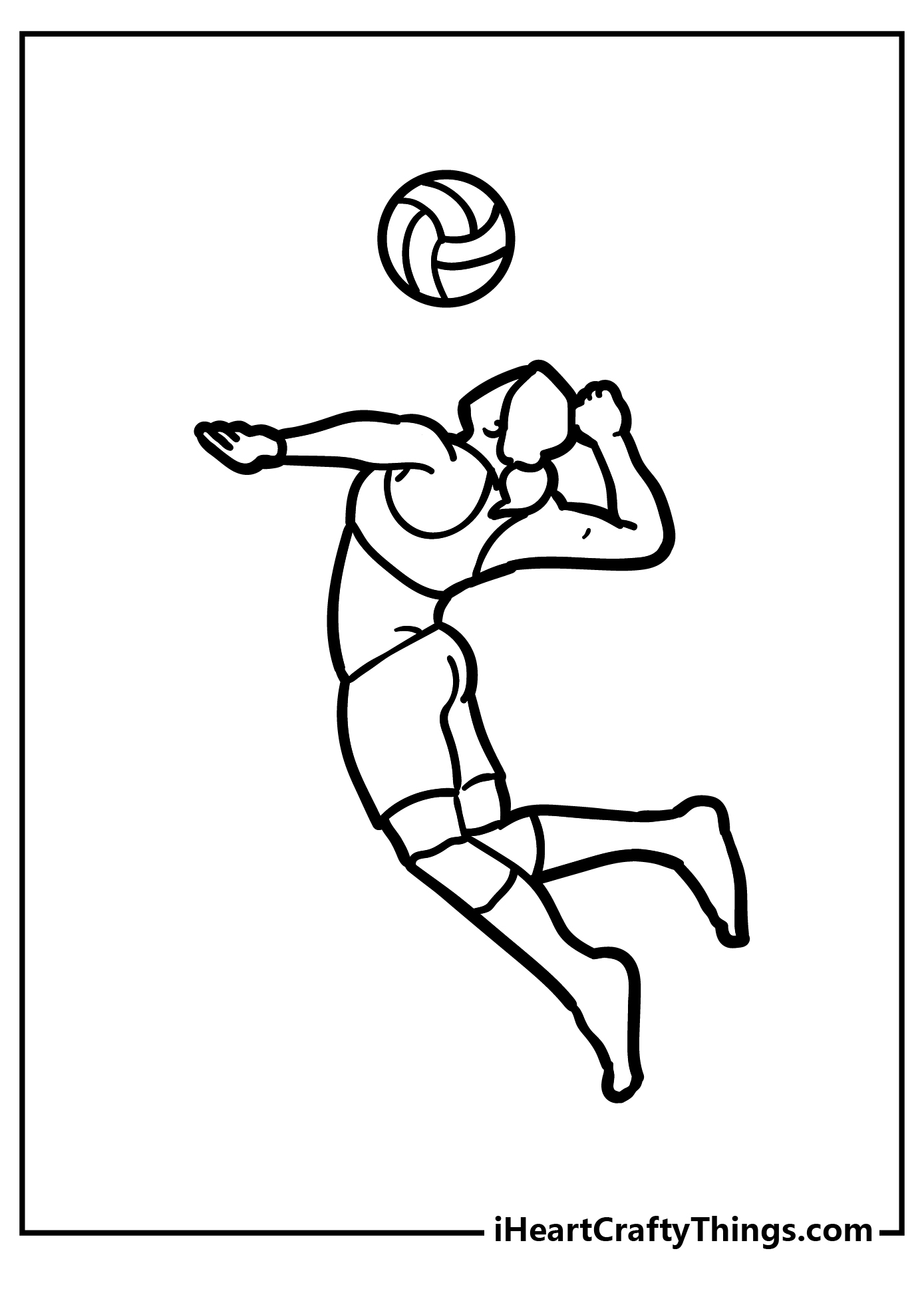 The fourth volleyball coloring sheet that we have for you features a similar tense moment to the previous one.
Unfortunately for this player, it looks like he may have missed the ball. The look on his face gives an insight to the annoyance he's feeling!
It's a moment that happens often in any sports, but it's important to not let it get you down as you try even harder next time. It will be interesting to see how you color this moment!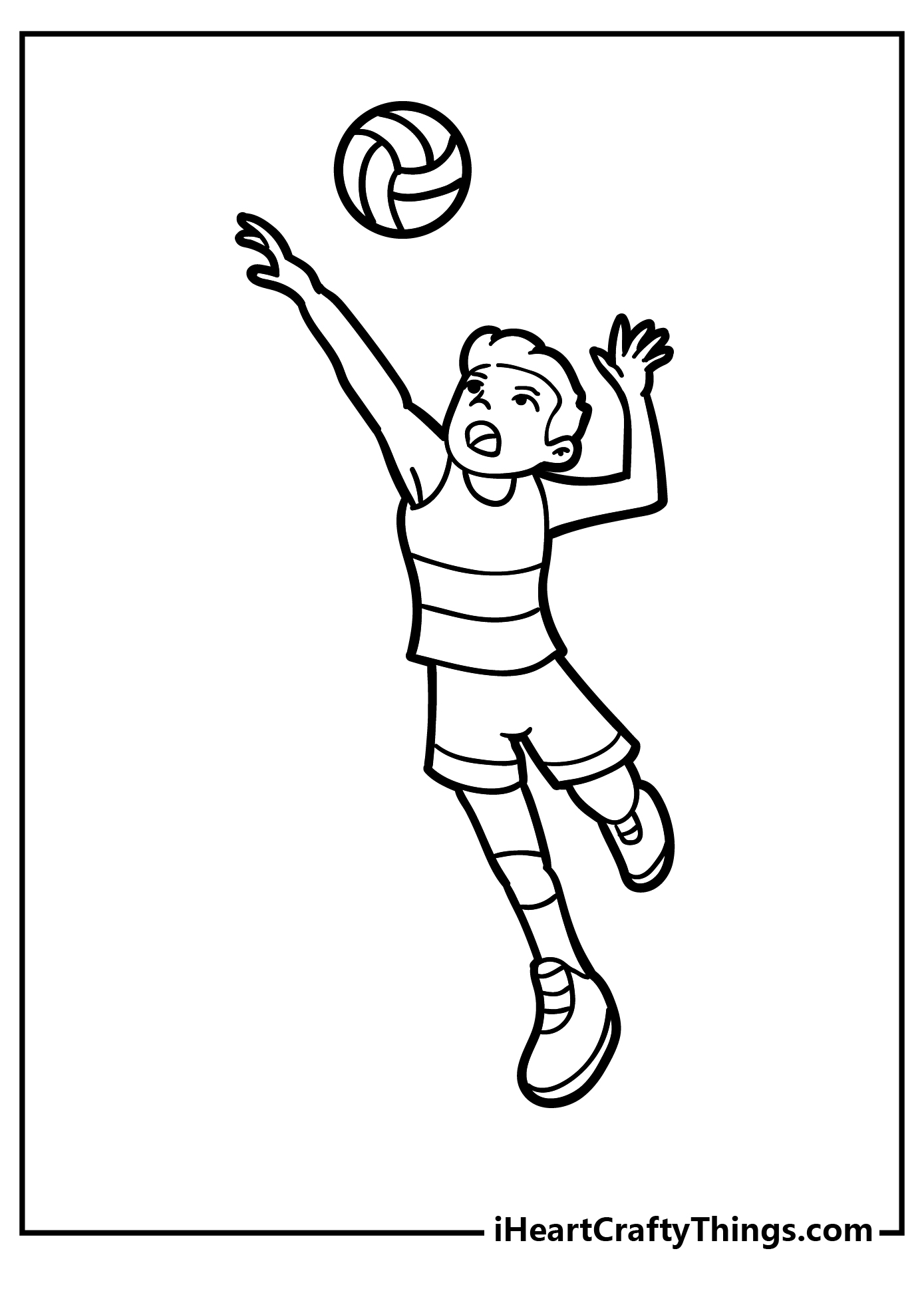 This girl is looking rather relaxed and confident as she goes for the ball in this scene. She looks to be in full control here and doesn't seem to be worrying about not nailing the shot.
She is also drawn in a fun cartoon style, so this may be a good one to use some bright, fun colors on.
Remember to also change up the art tools and mediums that you use! We think colored pens and markers would be great for this one, but what are you thinking of using?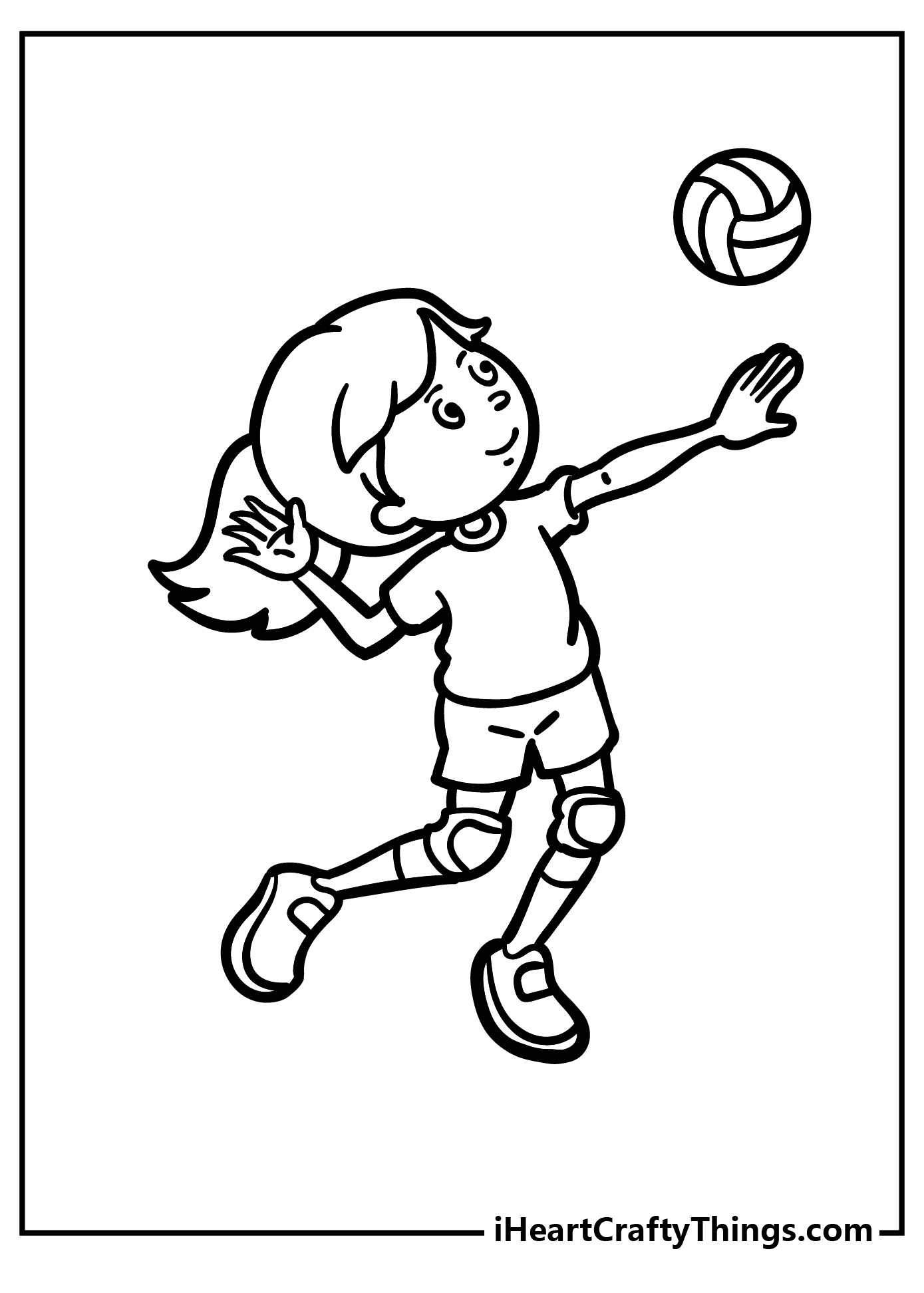 For this next page, we have a boy that seems to be having the time of his life! He is about to nail the shot as well, and he looks like he's very happy about that.
When playing sports, winning is great but having fun is the most important part. Luckily, this boy seems to be achieving both! Now, let's see how you color this fun moment!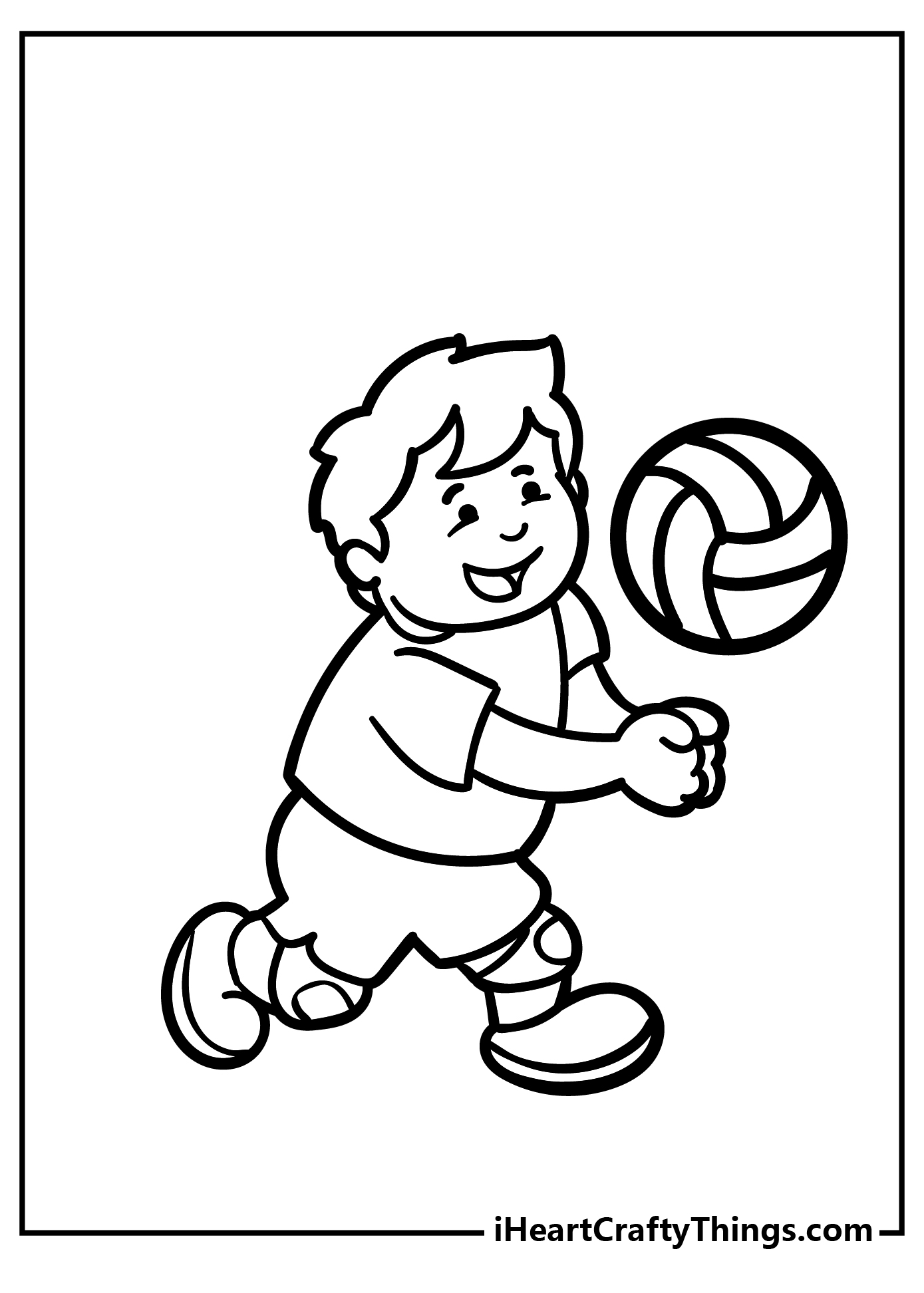 Another daring shot is being portrayed in this volleyball coloring printable! This girl is going for a tough shot, but the look on her face seems to show that she is feeling good about achieving the hit.
This is another one that we think would be well suited to bright, vibrant colors! Do you agree with this assessment, or do you think you will take a different approach with your colors and mediums?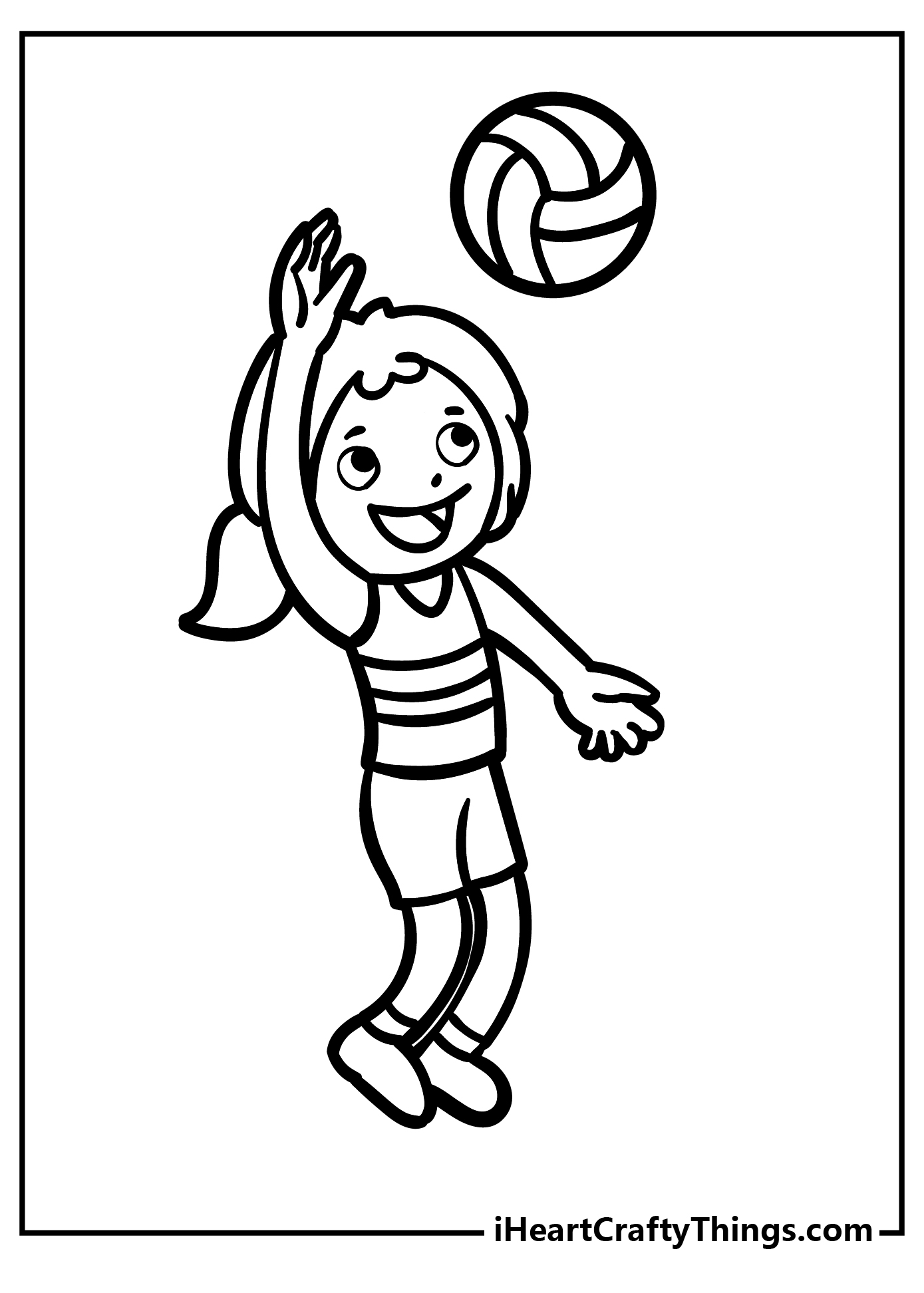 Here's another fun moment captured for you to color. This happy boy is hitting the ball, and he also looks like he's having a great time while playing.
If you've ever played for a volleyball team in real life, maybe you could color his uniform to look like the uniform that you wore!
Or, you could show off what the colors of your very own volleyball team may look like. How will you color this boy's clothing?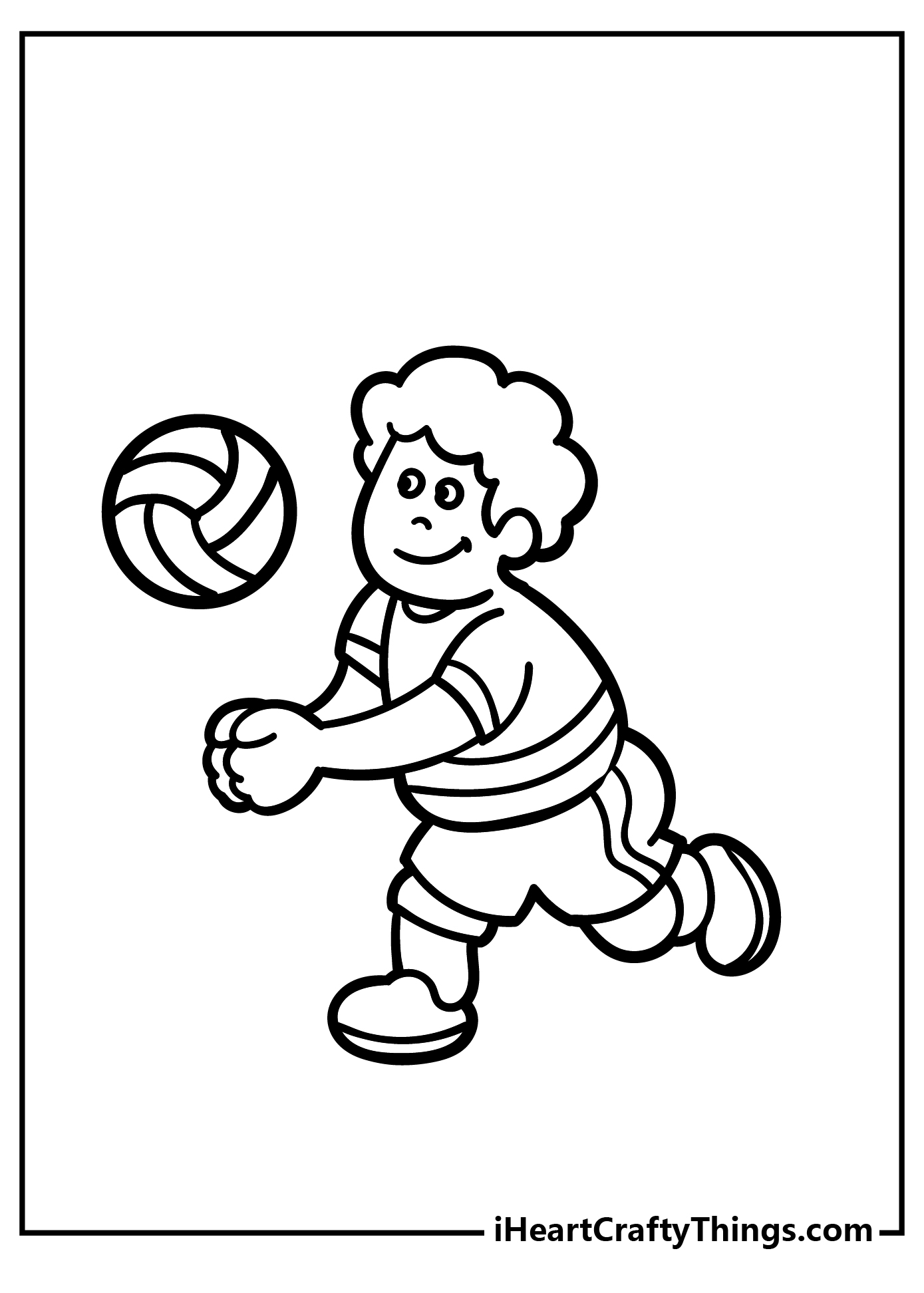 Any sport is filled with many emotions, and sometimes negative emotions such as anger and frustration can come through.
It's best to avoid these negative emotions as much as possible, but they're inevitable when tensions are high!
This page captures one of these tense moments, as this boy has a bit of an angry expression. When coloring this scene, we would use some reds and yellows to highlight the emotion being given off.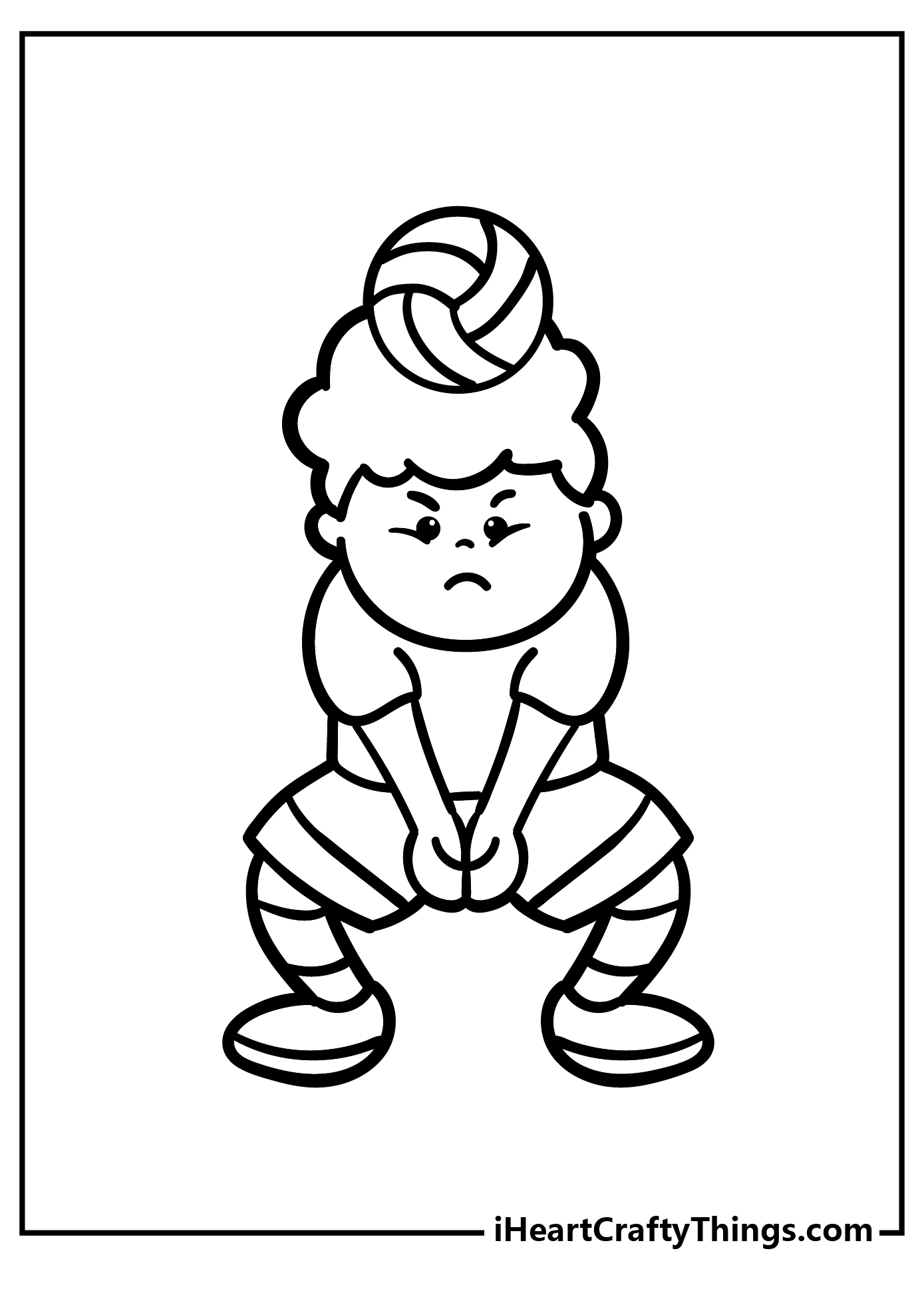 There's another tense expression on the face of the boy on our final volleyball coloring page.
This time it seems as if the expression may be one of concentration, as he looks as if he is going to successfully hit the ball.
Now it's up to you to choose how you will color this moment! This could be a great opportunity to use some unique colors and art mediums that you wouldn't normally use for the other pages.
What kinds of colors do you think would best suit this one.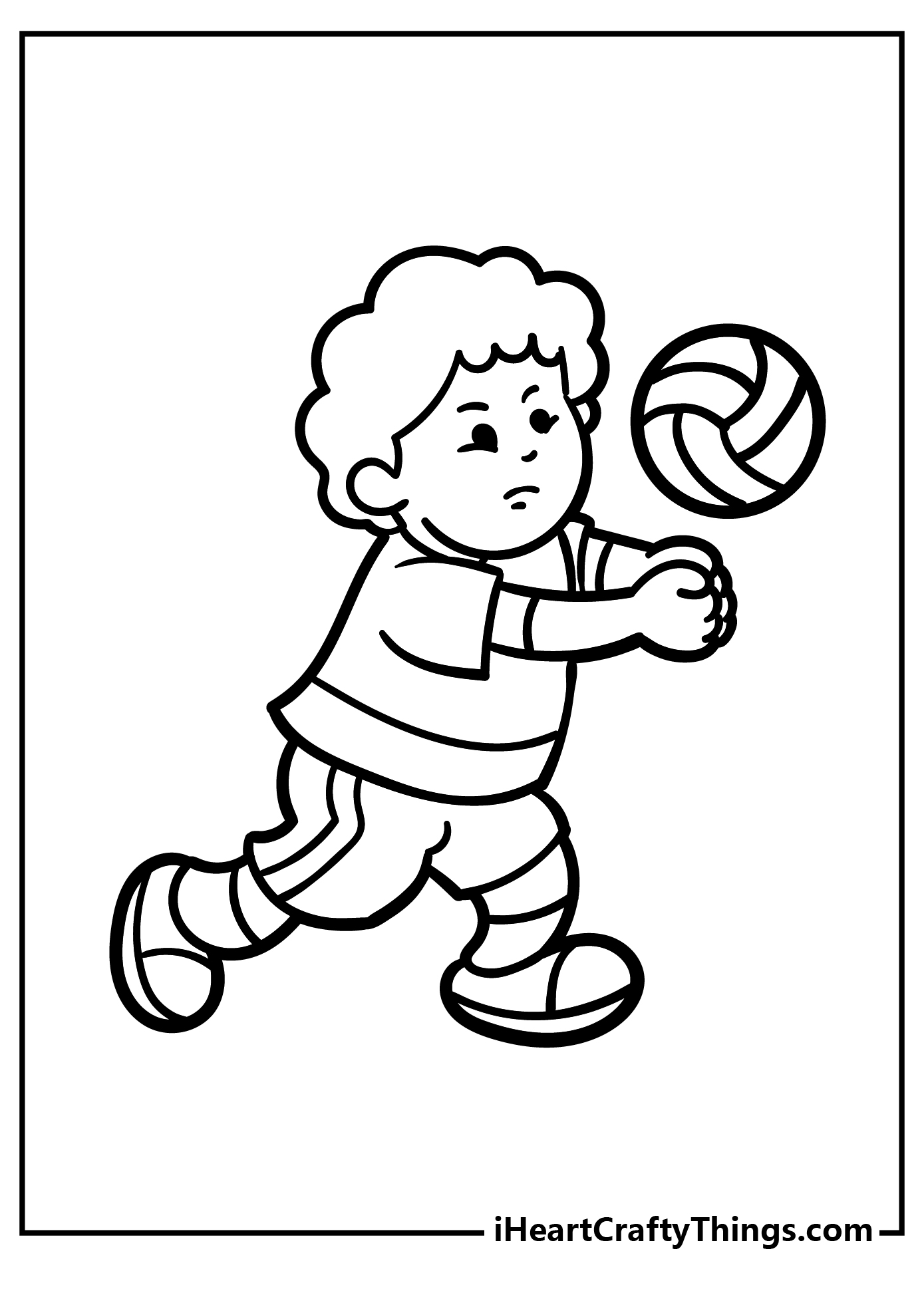 Volleyball Coloring Pages – Which will you choose?
This was an action-packed collection of free volleyball coloring pages for kids! We hope that you enjoyed reliving some incredible volleyball moments as you worked through this collection.
It will be interesting to see what colors and mediums you choose for all of these pages!
If you had a great time coloring these volleyball players, you can find many more coloring page collections covering a wide variety of subjects on our website.
We upload new ones often, so keep visiting to never miss out!
When you have chosen and colored your favorite volleyball coloring sheets, please share your finished artworks on our Facebook and Pinterest pages. We can't wait to see them!