It can be thrilling to visit and experience a big city, but sometimes it's nice to escape the hustle and bustle to enjoy some peace and quiet.
Visiting the countryside is a great way to do this, and when doing so you will behold some beautiful farms and picturesque barns.
These idyllic structures are what we shall be represented in this collection of free barn coloring pages for kids!
These 15 pages feature a wide variety of different barn styles and settings for you to color, and you can also add some of your own fun details and other elements.
We're sure that you will come up will all manner of interesting colors and art mediums when finishing these pages!
With this collection, every single page is free for you to print, color and enjoy as many times as you like. You can also share the fun by sharing the collection with friends and family to enjoy as well!
You're now ready to experience a fun trip to the countryside with these barn coloring pages!
Remember to share some of your finished pages on our Facebook and Pinterest pages for us to enjoy as well.
15 Brand New Barn Coloring Pages – Free to Print and Color
The first picture we have for you to color features a peaceful, relaxing barn scene! This barn is rather simple, but it is still rather calm and inviting.
It is surrounded by some beautiful trees, wooden fencing and other elements. These not only add to the scene, but also allow for some fun and creative color choices.
With so many little details for you to color, we know this one will look great once you're done with it!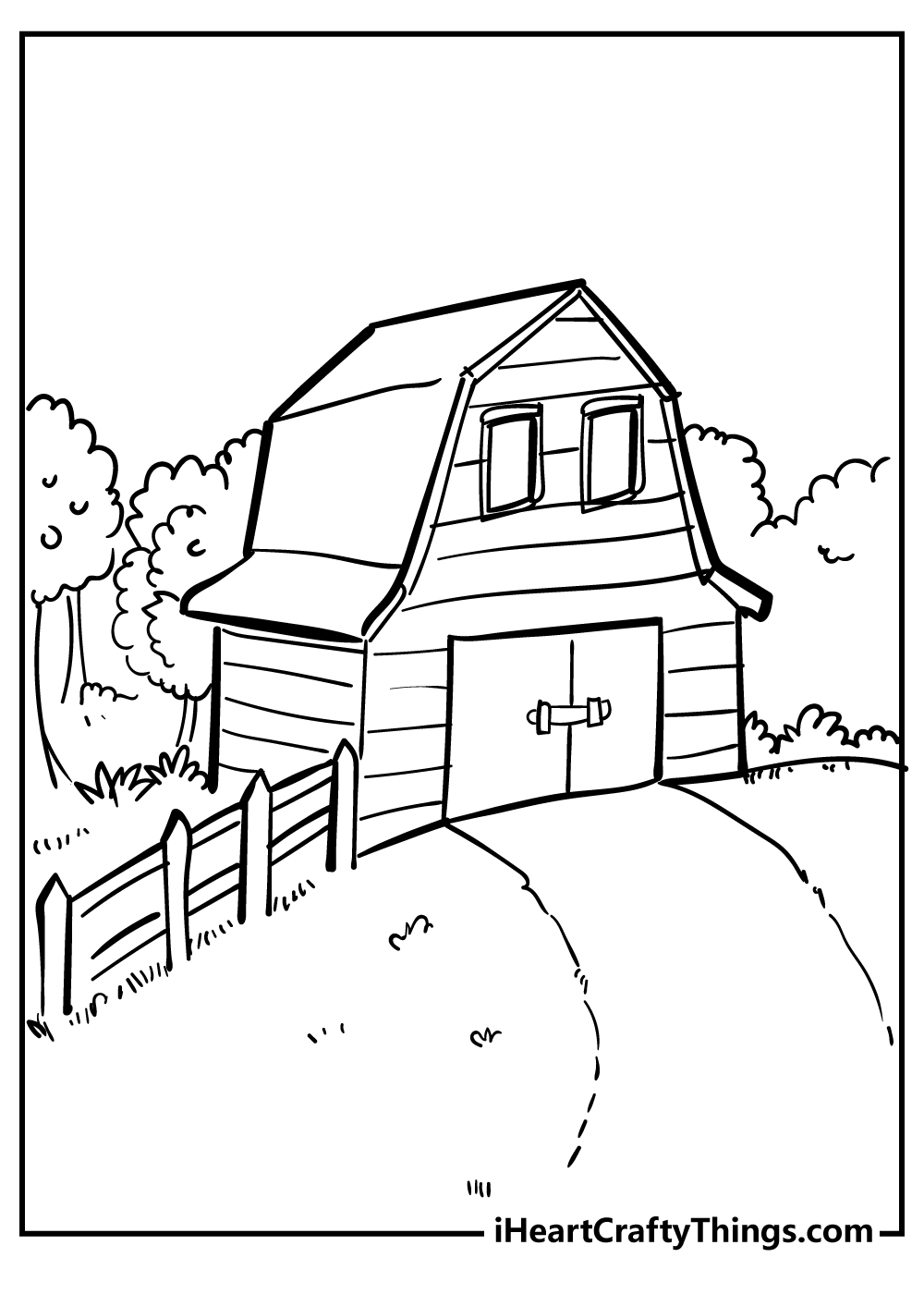 This barn coloring page has a simple yet great looking one for you to color. Barns come in many different colors, so you have plenty of options.
If you can't decide on just one color, then you could use any of your favorites to make this a multi-colored barn! Do you have some colors in mind that would work for this picture?
We have another pretty barn for you to have fun coloring in our second free barn coloring page for kids!
This barn has a silo attached to it, and these silos always manage to make a barn look even better.
There is a lot of open space both in the surroundings and in the sky above this barn. This means that you could add some fun extra details of your own!
Maybe you could draw some clouds or other weather effects above it to add even more to the scene. What other ideas do you have for this barn?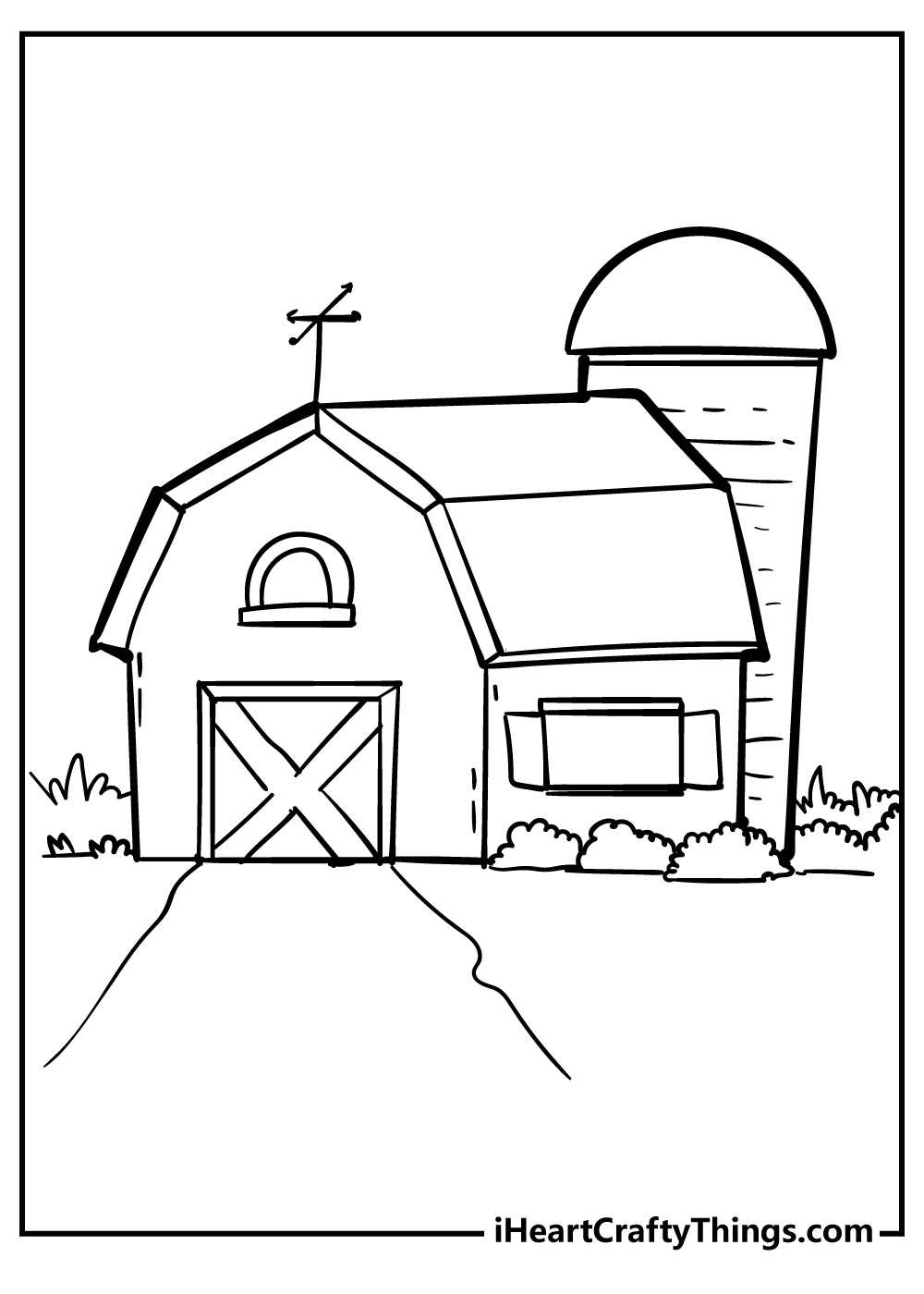 The next barn we have for you to color is a rather traditional one with lots of sharp angles. You could go for a standard white or red color scheme to make it look even more traditional.
That is one way of doing it, but you could use any colors you like, and anything you choose will look great!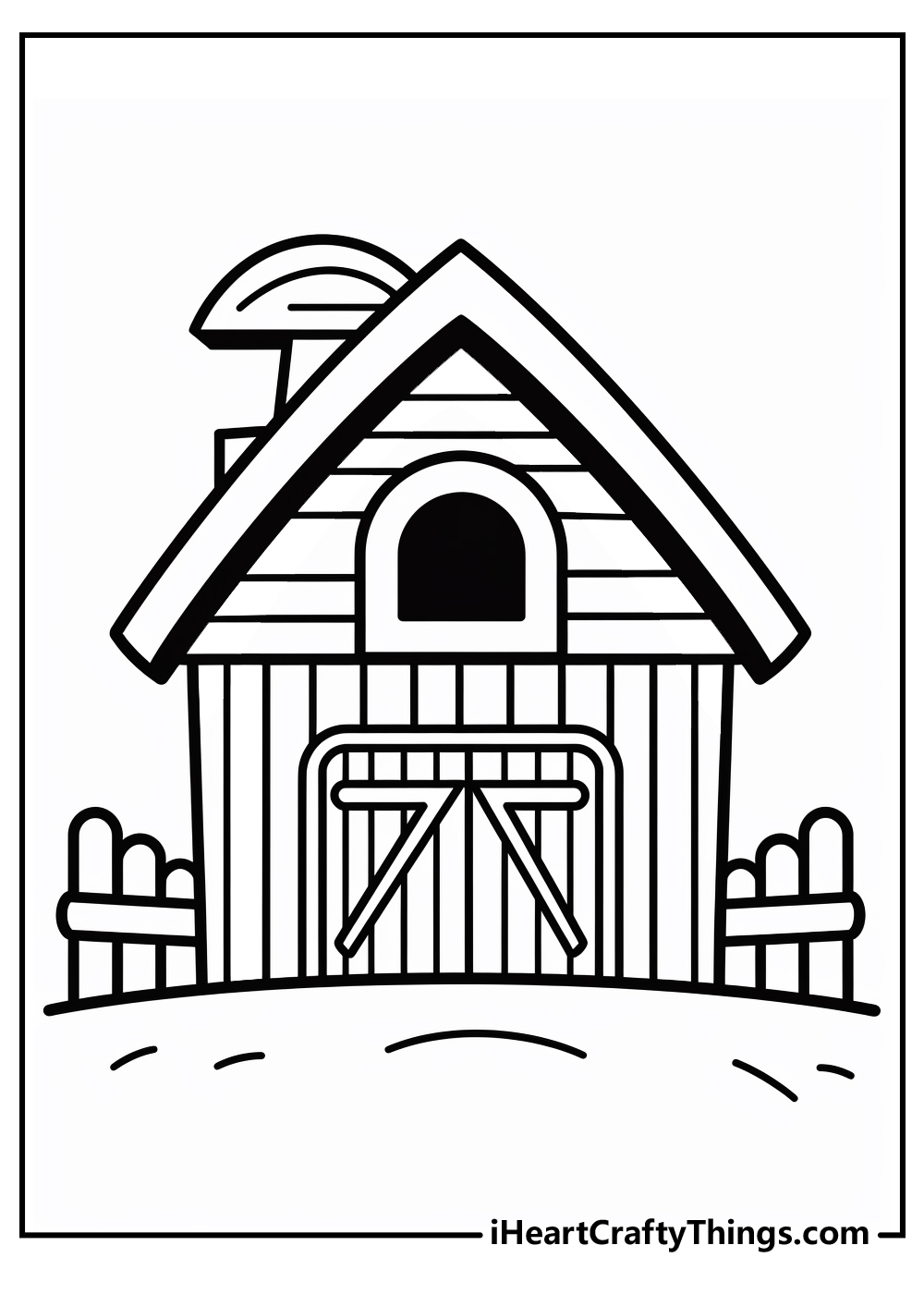 There is a stunning scene to color in this next page! We are a bit further back in this one, and that means that the focus is not only on the barn but also on the surroundings.
This presents a beautiful farm setting, and now you get to choose which colors and mediums would best suit it.
We would recommend some lovely watercolor paints to really give this one a classic look, but what colors and mediums do you think would work best?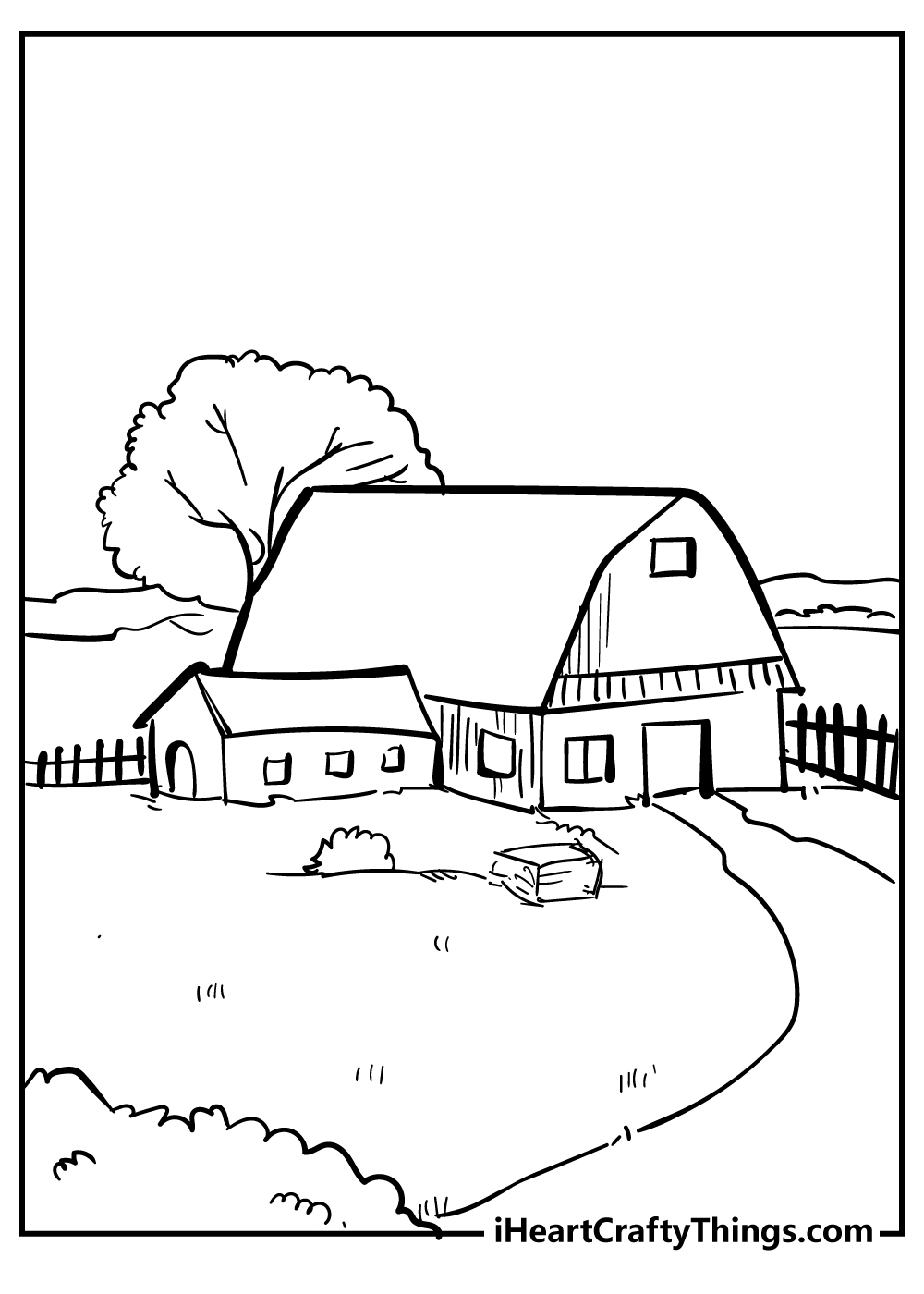 In this next picture, we have another barn that has an impressive silo attached to it! There are some lovely large clouds above this one, and this opens a few possibilities.
You could make the clouds dark and grey to create a moodier image, or you could make them white with a blue sky for a beautiful day.
These are just a few ideas, but how else can you think to finish this one off?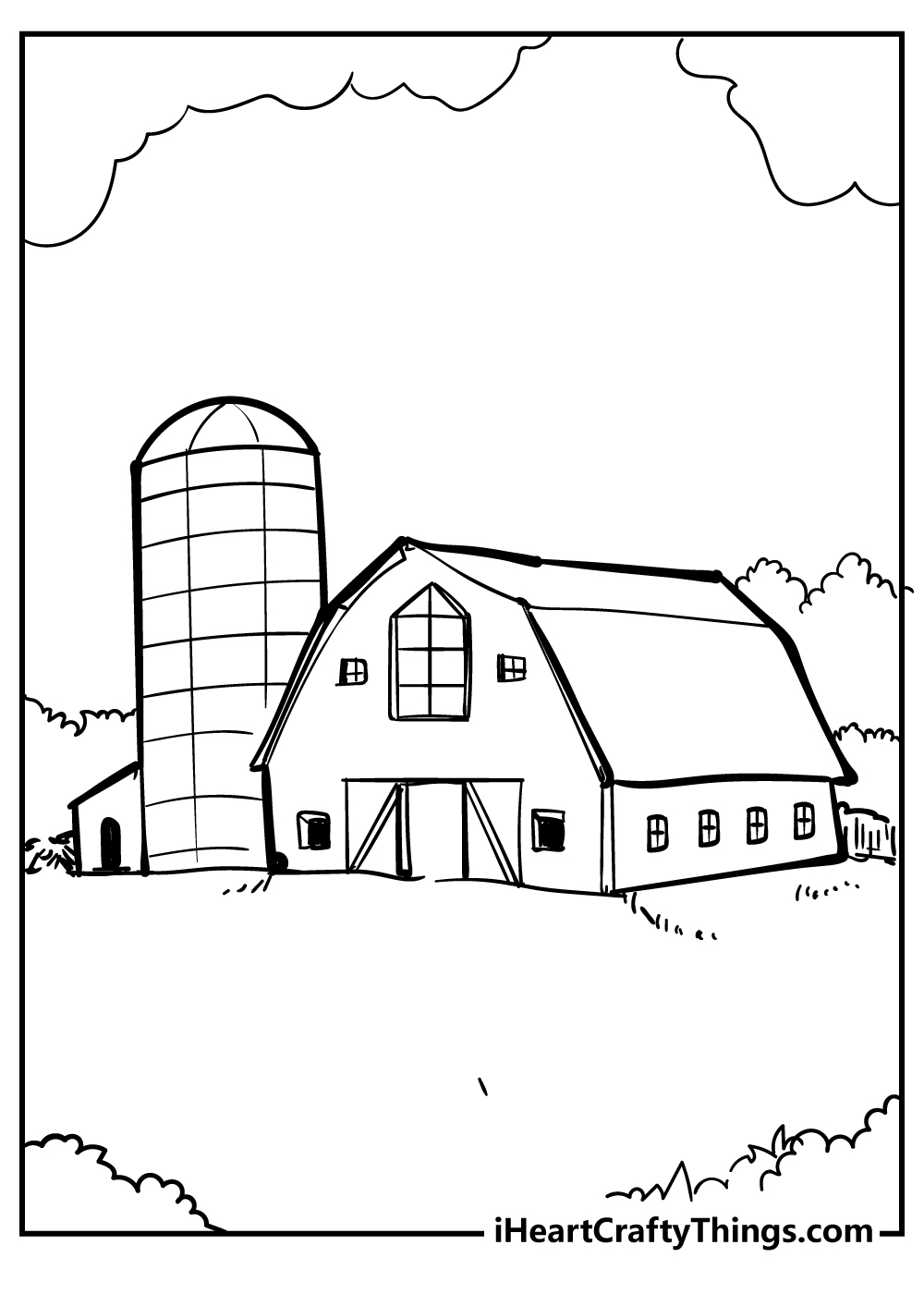 Adding your favorite colors to this barn coloring sheet is one way to make it look better, but you could also use a pen to draw extra details.
These could go on the barn itself, or you could add some animals or people,
What sort of farm scene could you create in this picture?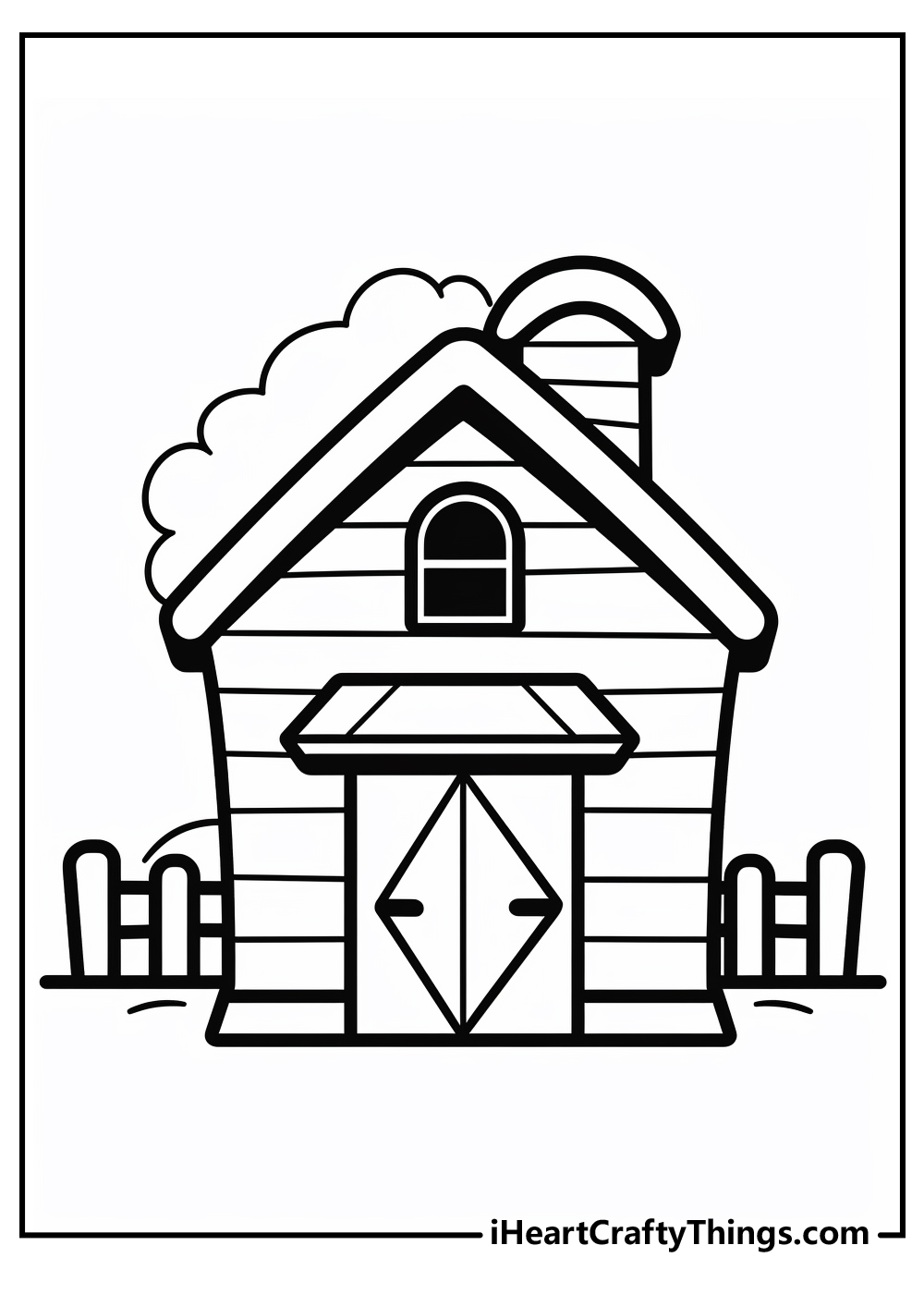 We have a great unique design for you to color in this next barn coloring sheet! This one has a huge roof that is curved, and there is another stunning landscape surrounding it.
The background of this one is already rather detailed, but that doesn't mean that you can't add even more details of your own!
What extra details can you think of to enhance this beautiful drawing?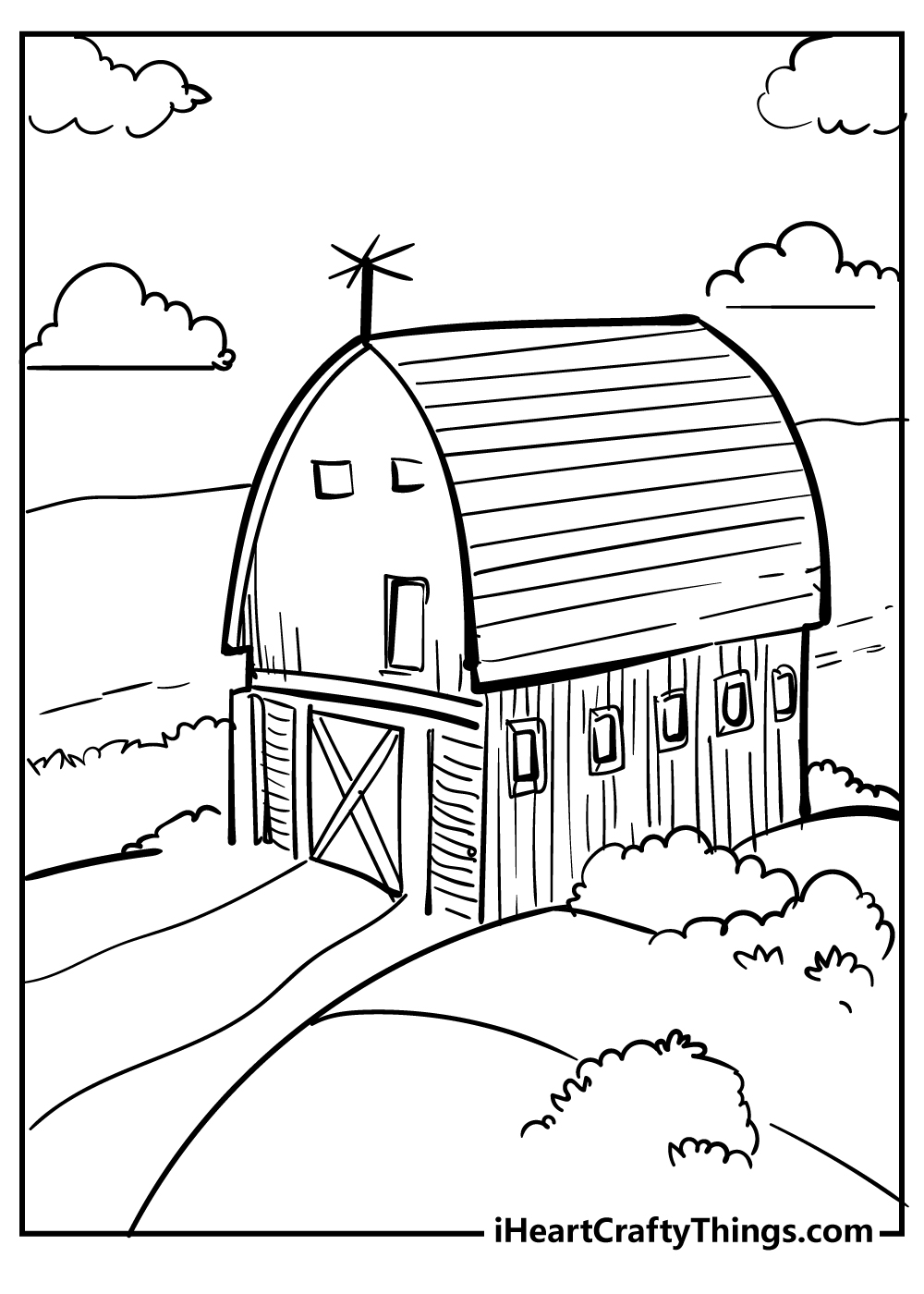 The tree featured in this next page is bare and barren, and that suggests a Fall or Winter setting for this scene.
If you agree with that assessment, then you could use some colors that will suit that kind of scene!
This is another one where we would use some watercolor paints or colored pencils combined with some lighter colors.
That would help to give this image a classic look that would fit the potential Fall or Winter theme.
Do you think you will go for a lighter, moodier look to this image or will you make a contrast by using some brighter colors?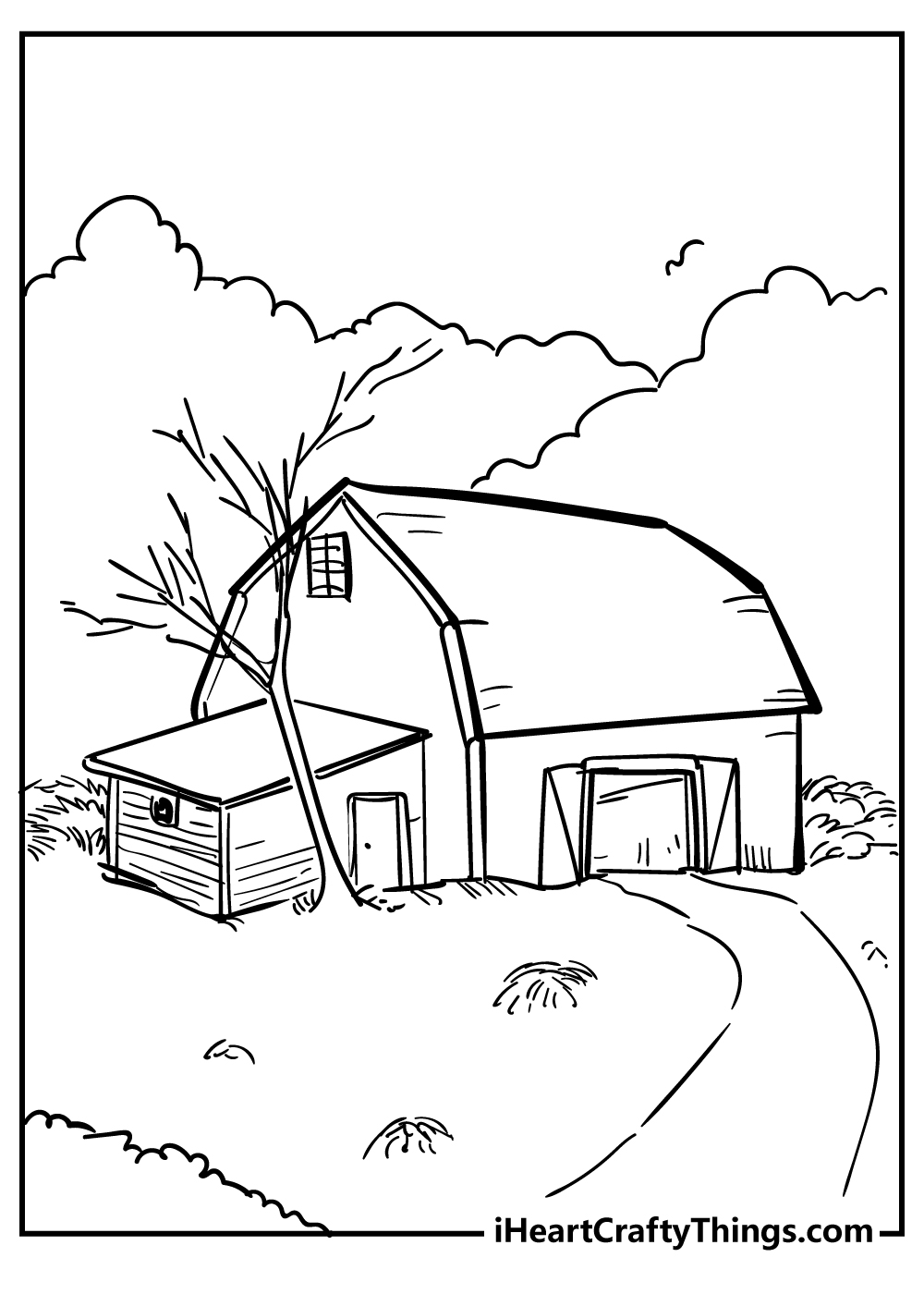 Barns need to withstand many different types of weather. The background has been left pretty blank here, so you could go for any weather conditions you would like.
Would you make it a dreary rainy day or perhaps a beautiful sunny one? You could print a few copies to draw different weather conditions if you like!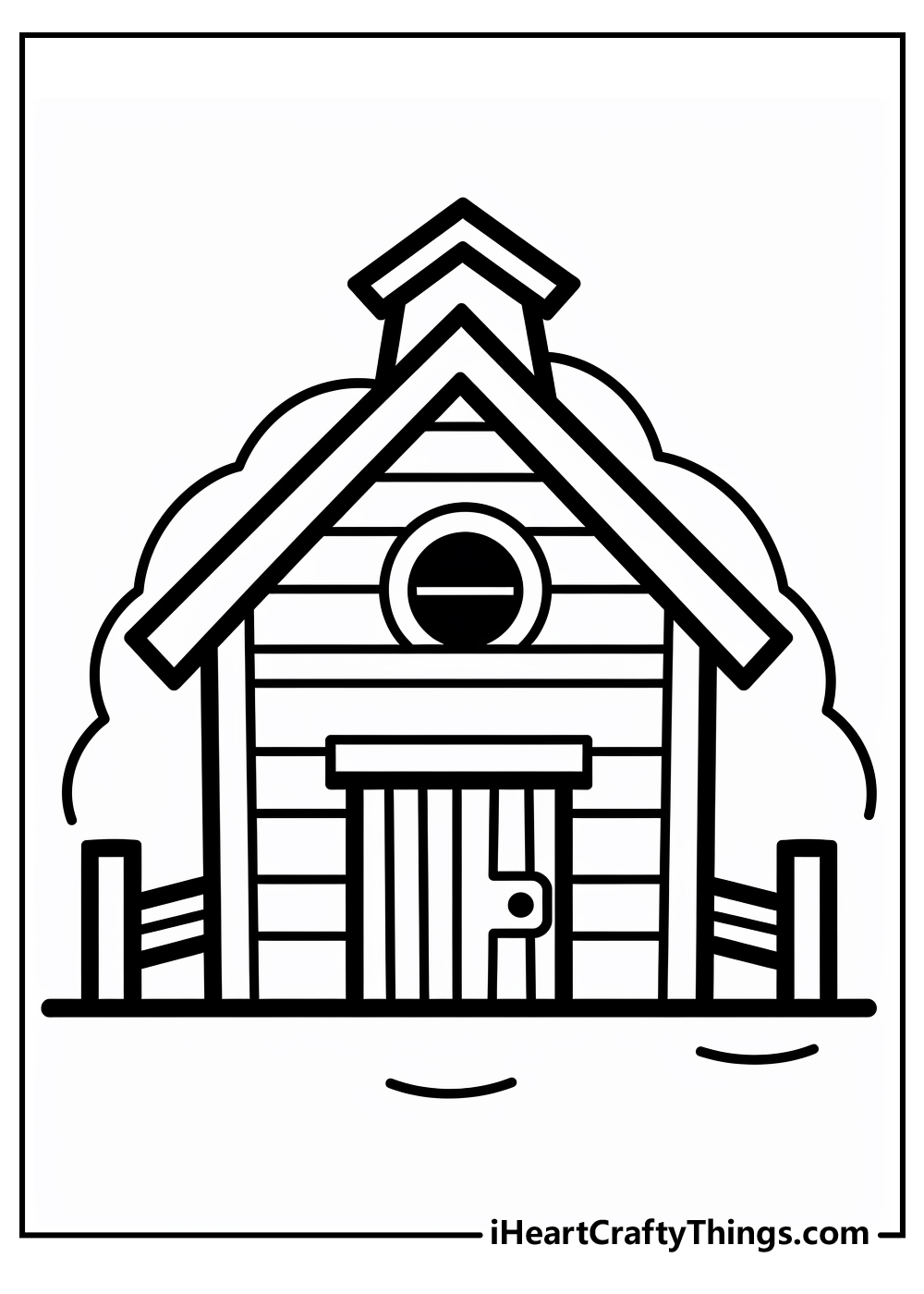 There is a lot of hay present in this next picture! The hay is piled up both in the window and also to the side. We think that this hay would look incredible if you used some bright yellows to color it in.
If you did this, then using some colored pens, markers or acrylic paints would help to make the colors really pop.
We would also use a bright red for the barn, but what colors are you thinking for this one?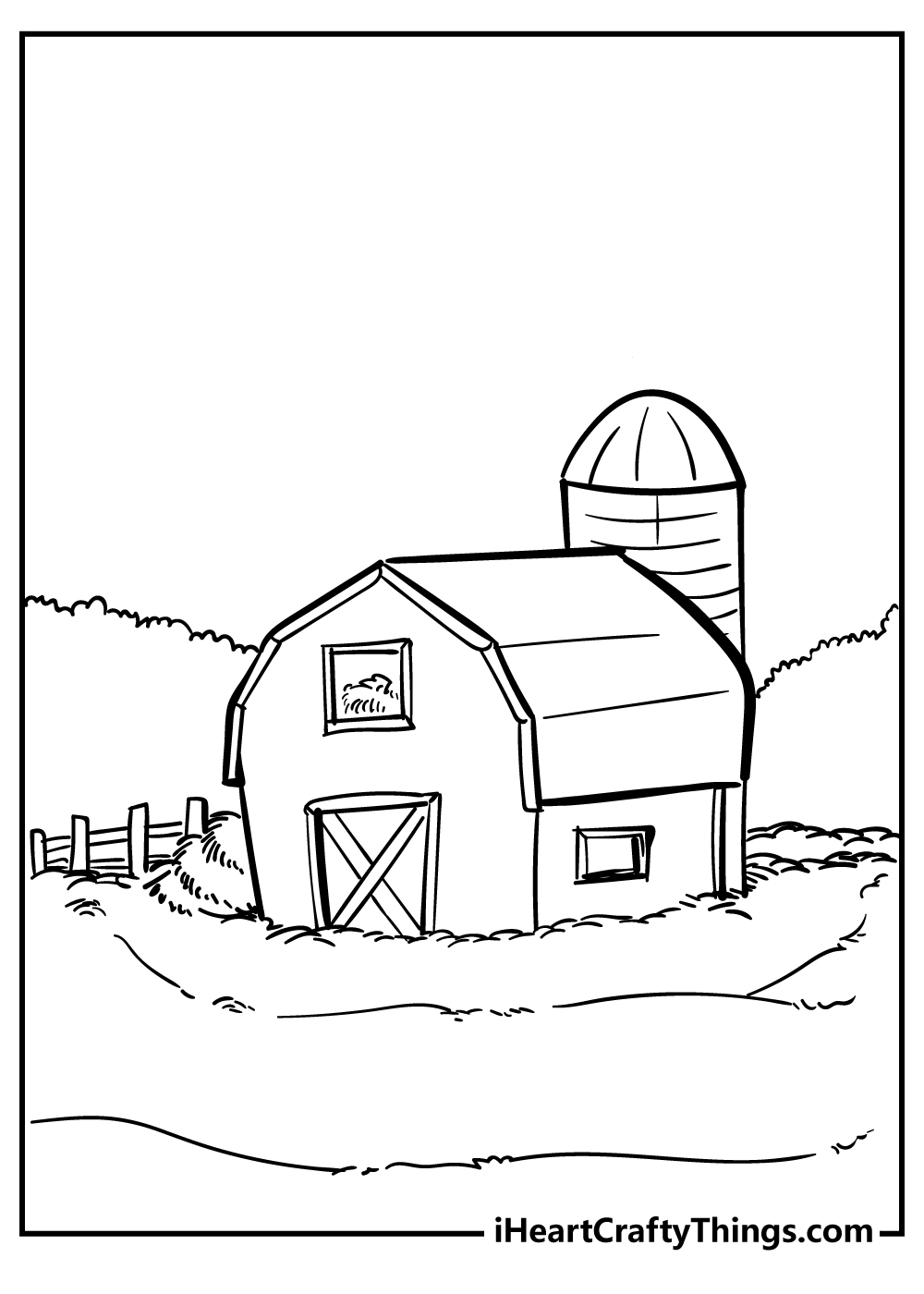 In this next barn coloring printable, we have another beautiful, tranquil scene for you to have fun coloring!
This is another one that has a wide empty sky above it, and that again means that you could add some extra sky and weather details.
One idea that could be fun to try would be to print out 4 copies of this image.
Then, you could draw and color each one to look like it is in each of the 4 seasons! This is one fun idea to try, but what else can you think of?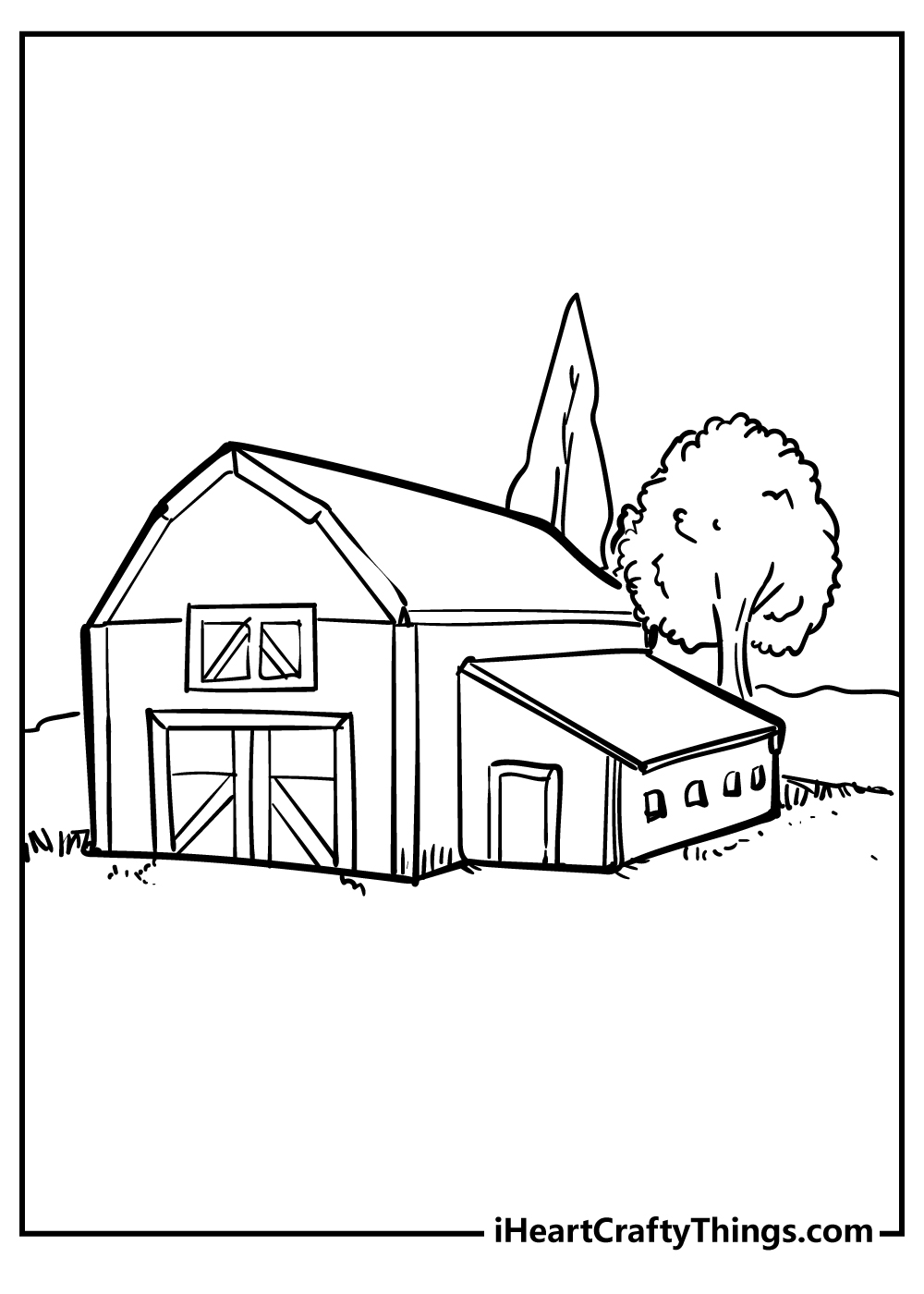 We have another amazing scenic landscape here for you to color! This one is drawn in a looser, sketch style that helps it to stand out from the other pages in the collection.
For this one, we think it would be well suited to colored pencils, as these would go nicely with the sketch style that this drawing is done in.
There are many other mediums that would look just as great, so why not experiment with a few to see what you like best?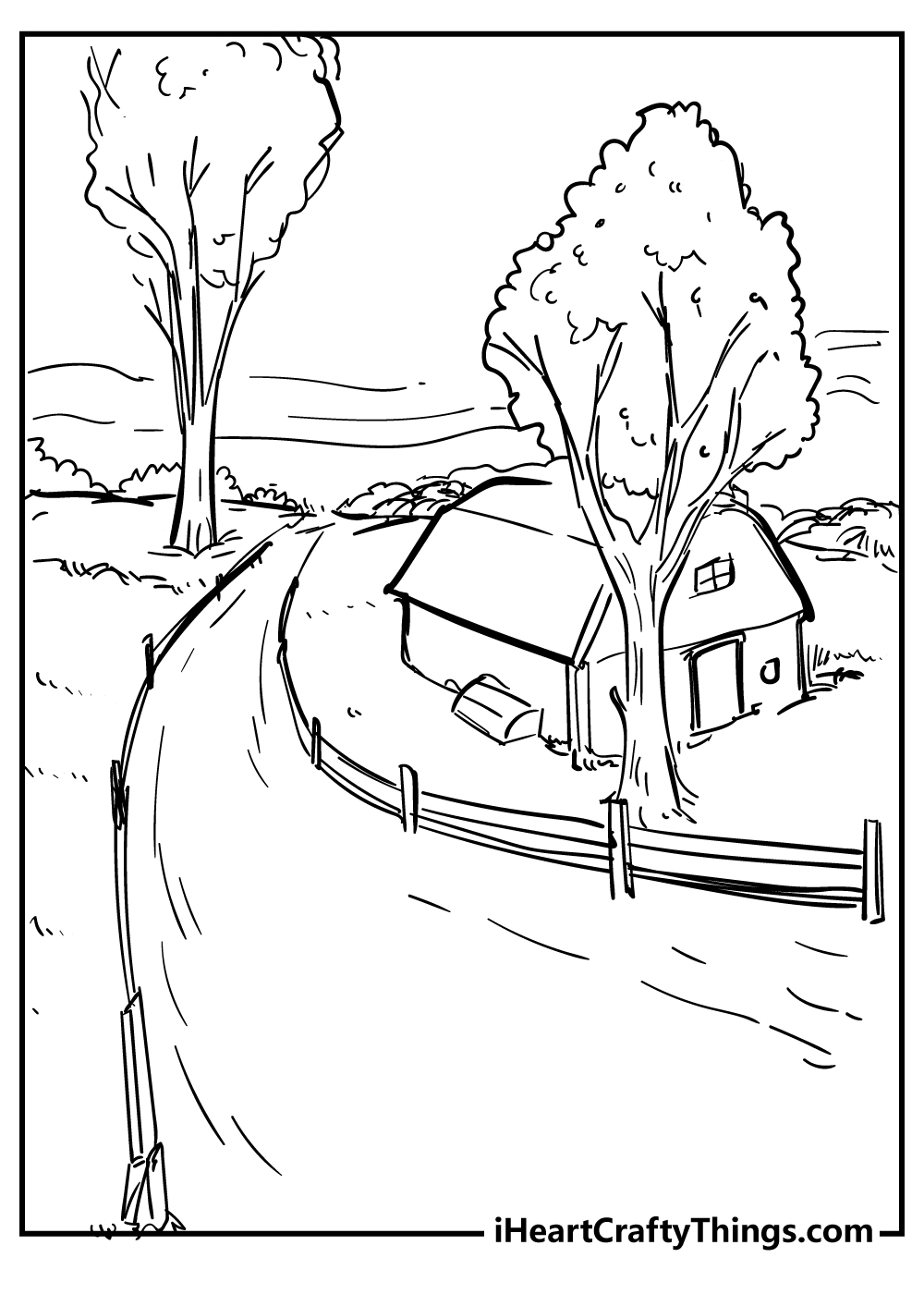 This next barn coloring page has so many small details to color. These details could be colored using certain art tools and mediums which allow for greater precision.
Colored pens and pencils would be a good place to start, or you could use a very small paintbrush if you want to work with paint.
Which art tools would you like to use?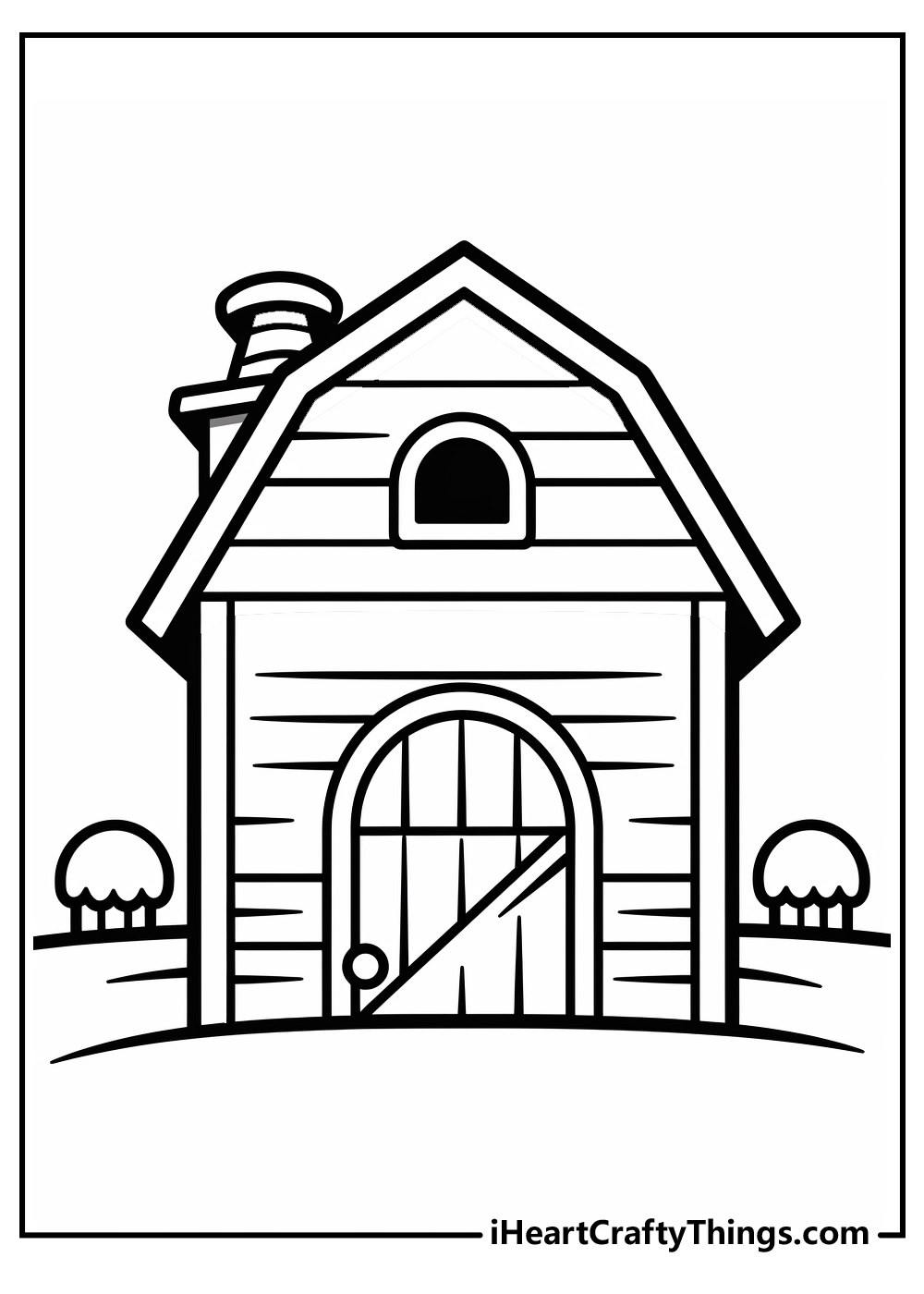 This is the final barn coloring page that we have for you, and what a great one it is! This calm and peaceful barn setting really creates a relaxing feeling.
It also has lots of clouds above the barn, and that again lets you decide what kind of weather conditions you would like for the image.
Will you go for a nice day or a grey, cloudy setting?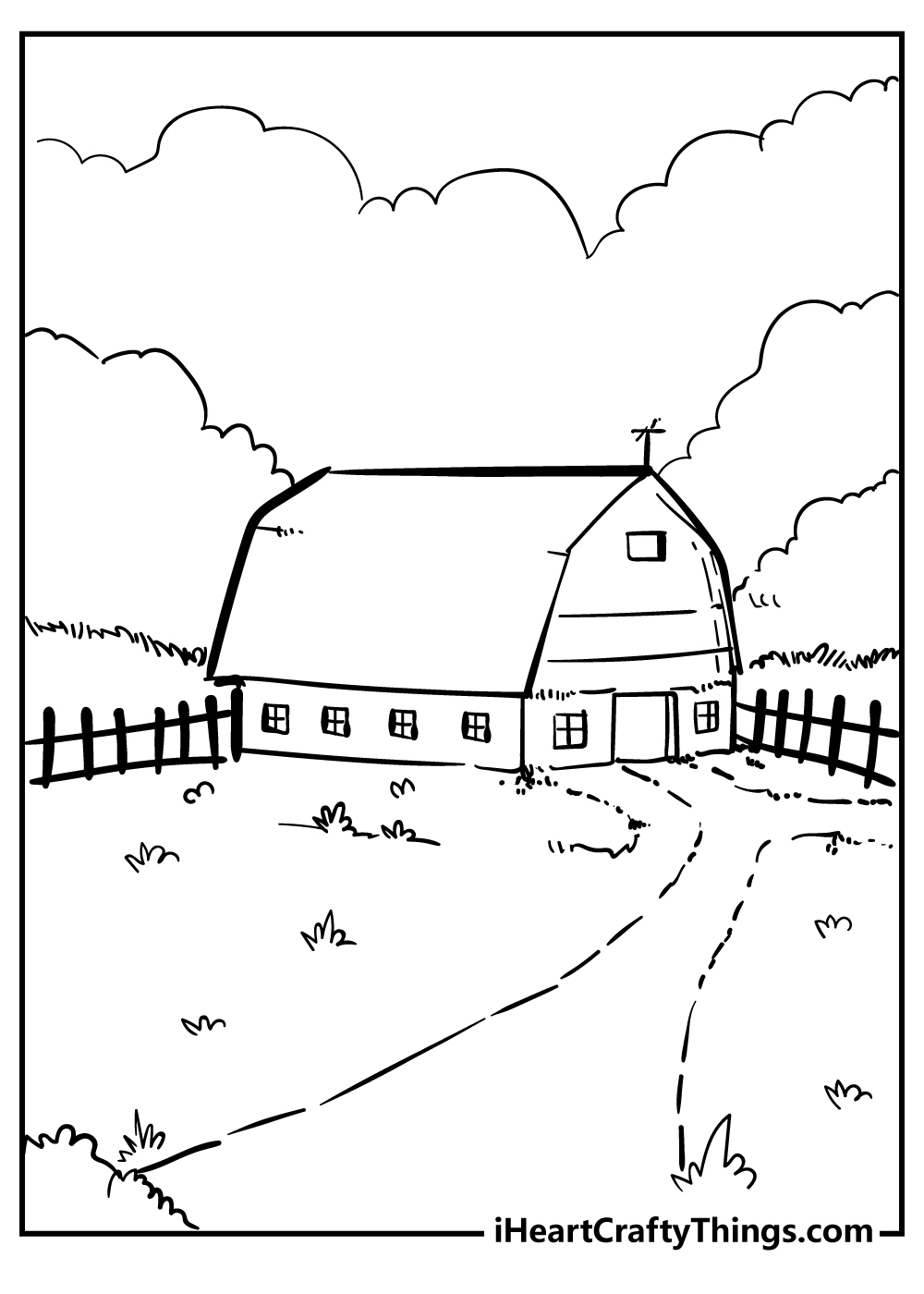 Barn Coloring Pages – Which will you choose?
That will conclude this collection of free barn coloring pages for kids! We hope you enjoyed these calm, beautiful country scenes as you added some amazing colors to them.
We know that they will look incredible after you're done!
The fun doesn't end here, as there are already tons of amazing coloring page collections to enjoy on our website. More are coming soon, so be sure to keep checking in to never miss out!
Lastly, we look forward to seeing some of these barn coloring sheets once complete! You can share your favorites on our Facebook and Pinterest pages for us to see!