When looking at various animals in the animal kingdom, you'll find that different animals have various traits that they come to be known for.
Some may be known for their intelligence while others come to be known for being dangerous.
The bull is an animal that is associated with strength and power, and it's easy to see why when you see one in person!
These powerful creatures are truly a sight to behold, and that's why we have chosen to feature them as the stars of this coloring page collection.
You will see some awesome bulls in all kinds of positions and scenarios in this collection, and it should really put your coloring skills to the test!
With this collection, every single page is free for you to print, color and enjoy. This is the case whether you choose individual pages or color every single page in the collection.
It's up to you to decide, but either way, there is plenty of fun to be had!
Hopefully this collection of free bull coloring pages for kids provides you with plenty of fun to enjoy.
When you have completed your chosen pages, you can share the results of your coloring fun on our Facebook and Pinterest pages for us to enjoy!
10 Brand New Bull Coloring Pages – Free to Print and Color
Let's kick off this collection of free bull coloring pages for kids with a  real action shot! This first bull is looking really cool as it runs at full speed.
This is a scenario where you certainly wouldn't want to get in its way! How will you color this image to capture the excitement of this scene?
We think that some intense colors would be perfect for this one, and would help to highlight the angry feeling of this bull.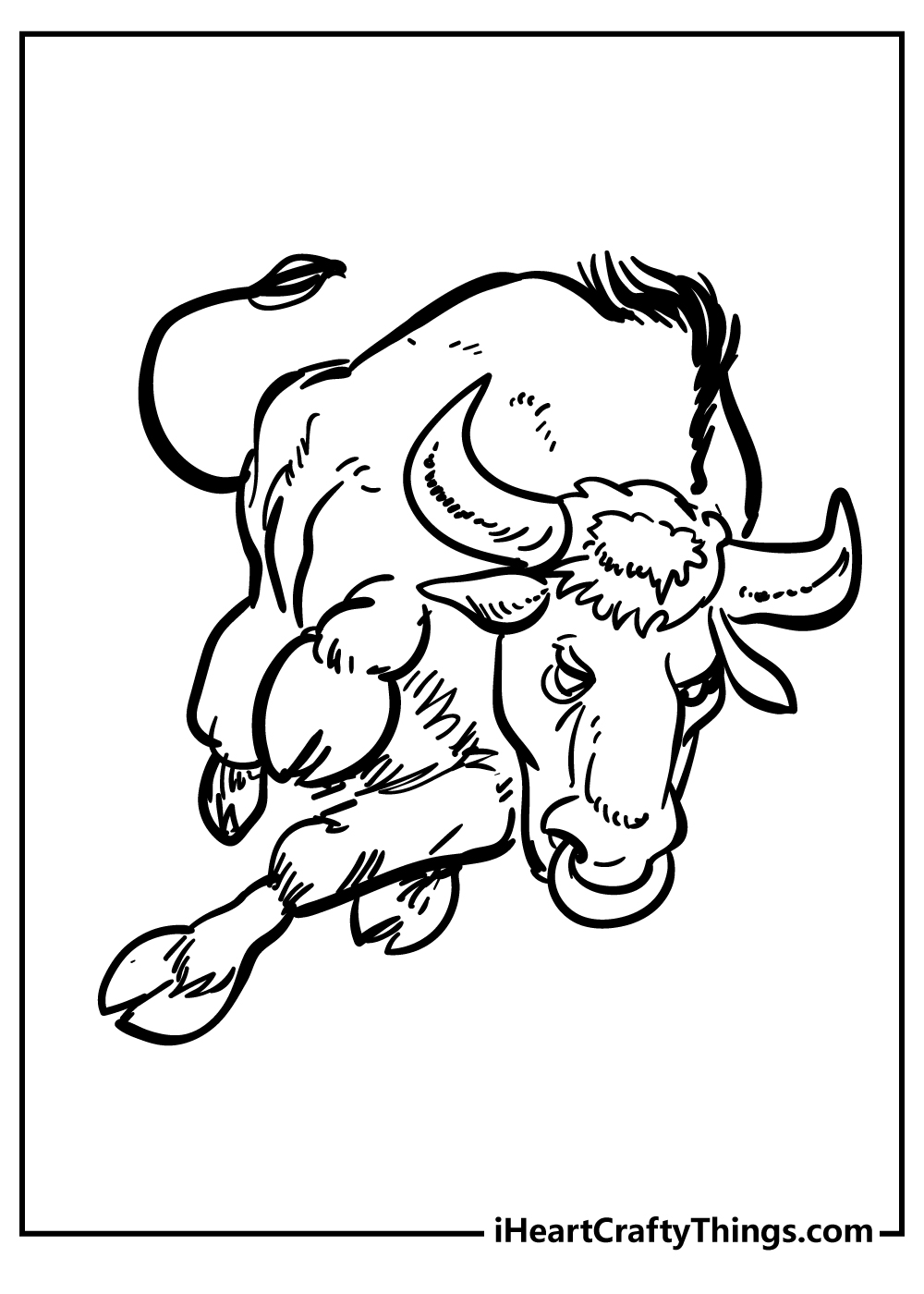 We have another awesome bull for you to color in this second scene. This one is also in the middle of an action pose as it seems to be doing what bulls do best: charging!
It makes for a really cool image, and there are so many great ways that you could color it in.
You could go for some realistic, muted colors or you could go for a more stylistic, colorful approach. What will you choose for this cool picture?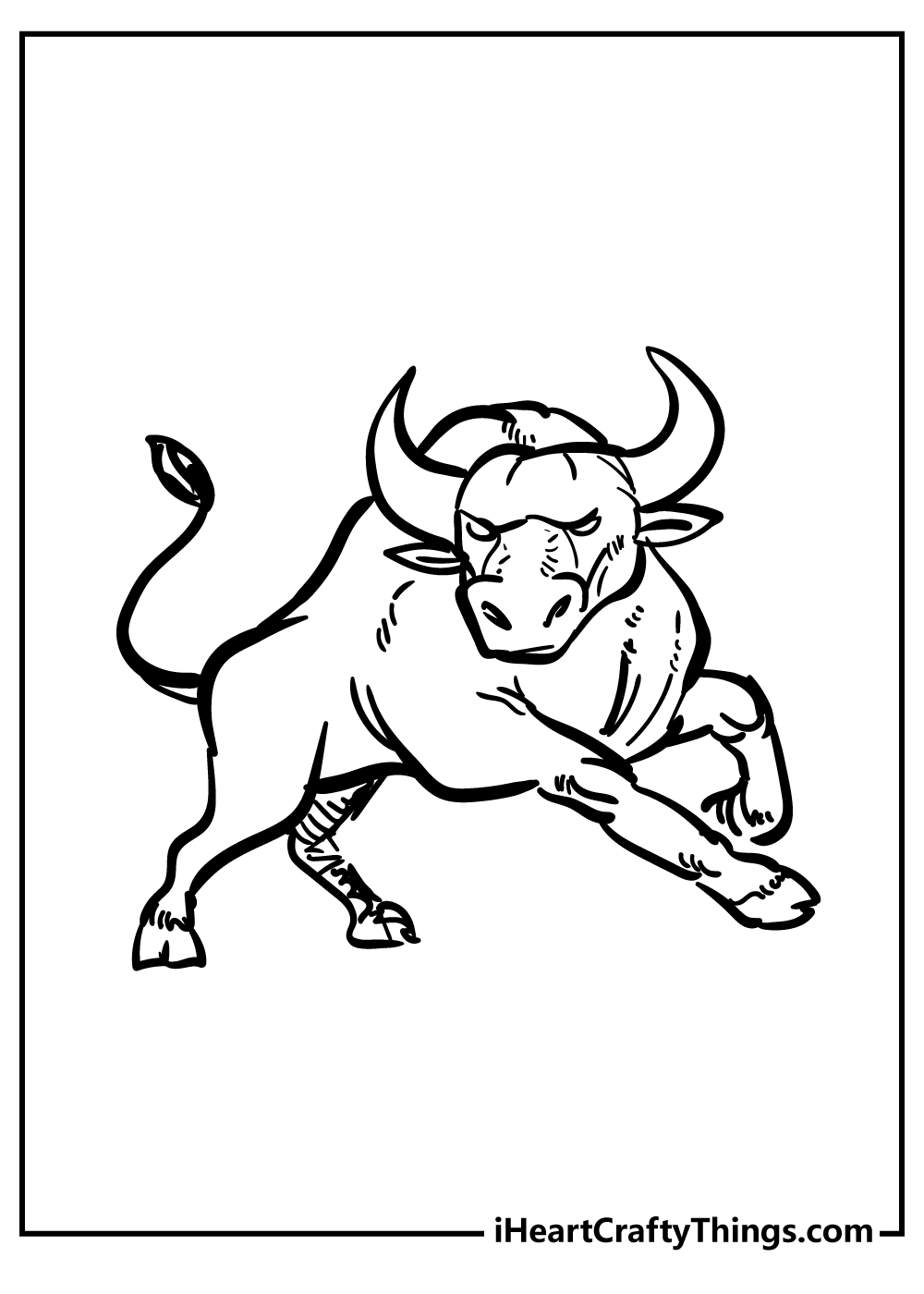 The scene being portrayed on this next page is really great! This bull is also charging, and there is a cloud of dust being left behind it.
It's a scene that again makes you glad you're not in this bull's way in real life! For the dust being kicked up, we would use some watercolor paints with light browns to give the dust a softer look.
Do you think you will try a technique like this or will you go for something different when coloring it in?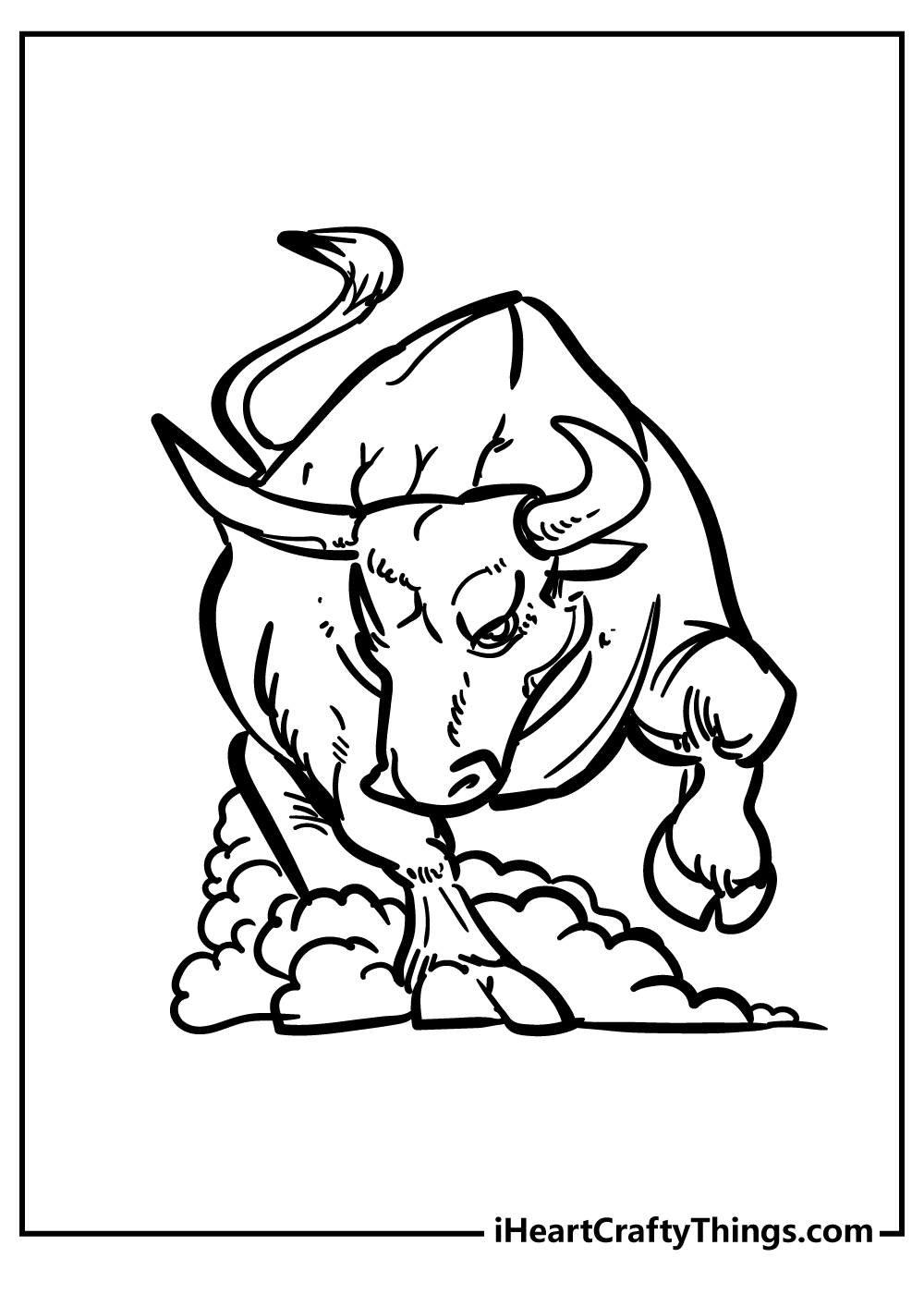 Our fourth bull coloring sheet features one that is looking rather furious!
There is a really angry look on this bull's face, and while it makes the bull look more intimidating it also creates a great composition.
For this one, we would use bright, warm colors to show off the anger this bull is feeling.
What art mediums do you think would best suit this angry bull? We look forward to seeing what you end up going for!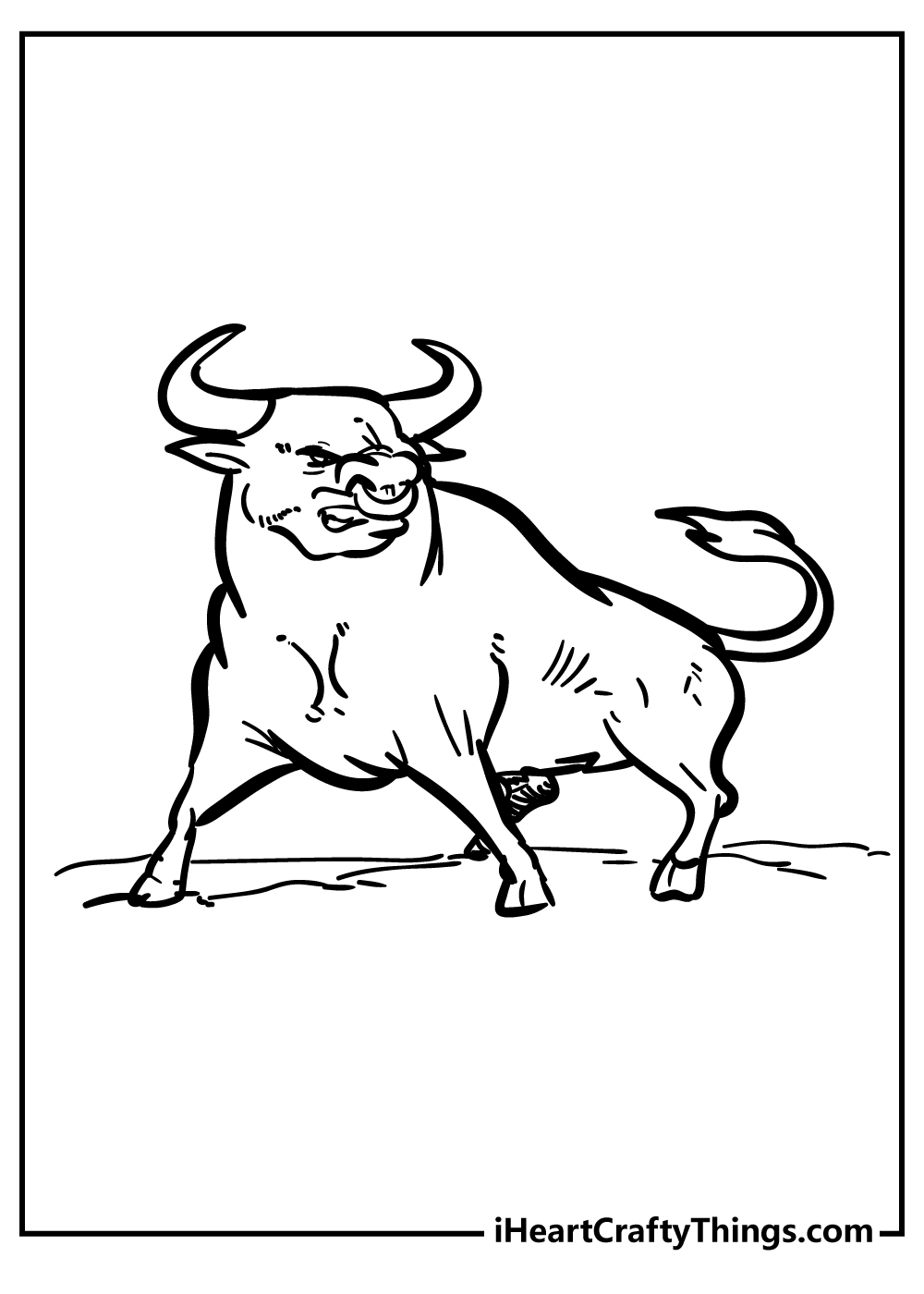 Here's a page that shows off a place you would not want to be, in a bull's warpath!  There is another angry look on the face of this bull, and it is also kicking up a lot of dust as it charges.
Bulls are often used in rodeos, so you could draw a rodeo background for this page to finish off the scene. You could also look up pictures of rodeo rings in order to get some inspiration.
Will you add a setting for this scene or keep it as is?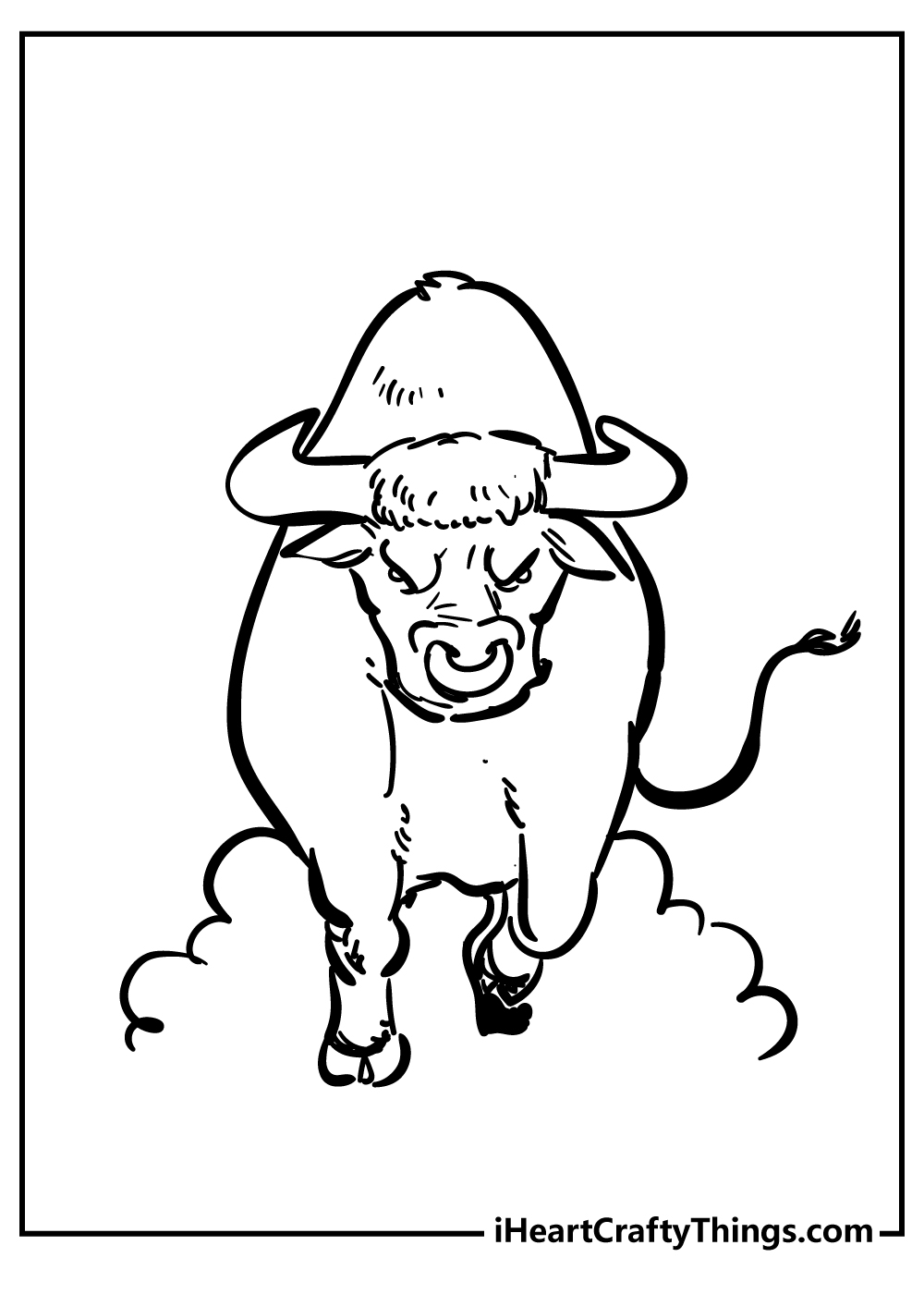 This next bull is leaping into the air, and you wouldn't want to be below it! This is another one where you could add some fun extra details of your own.
Maybe you could draw a cartoon person running for their life beneath the bull for a funny touch to the image!
This is just one idea, but what else can you think of that would make a fun addition to the picture?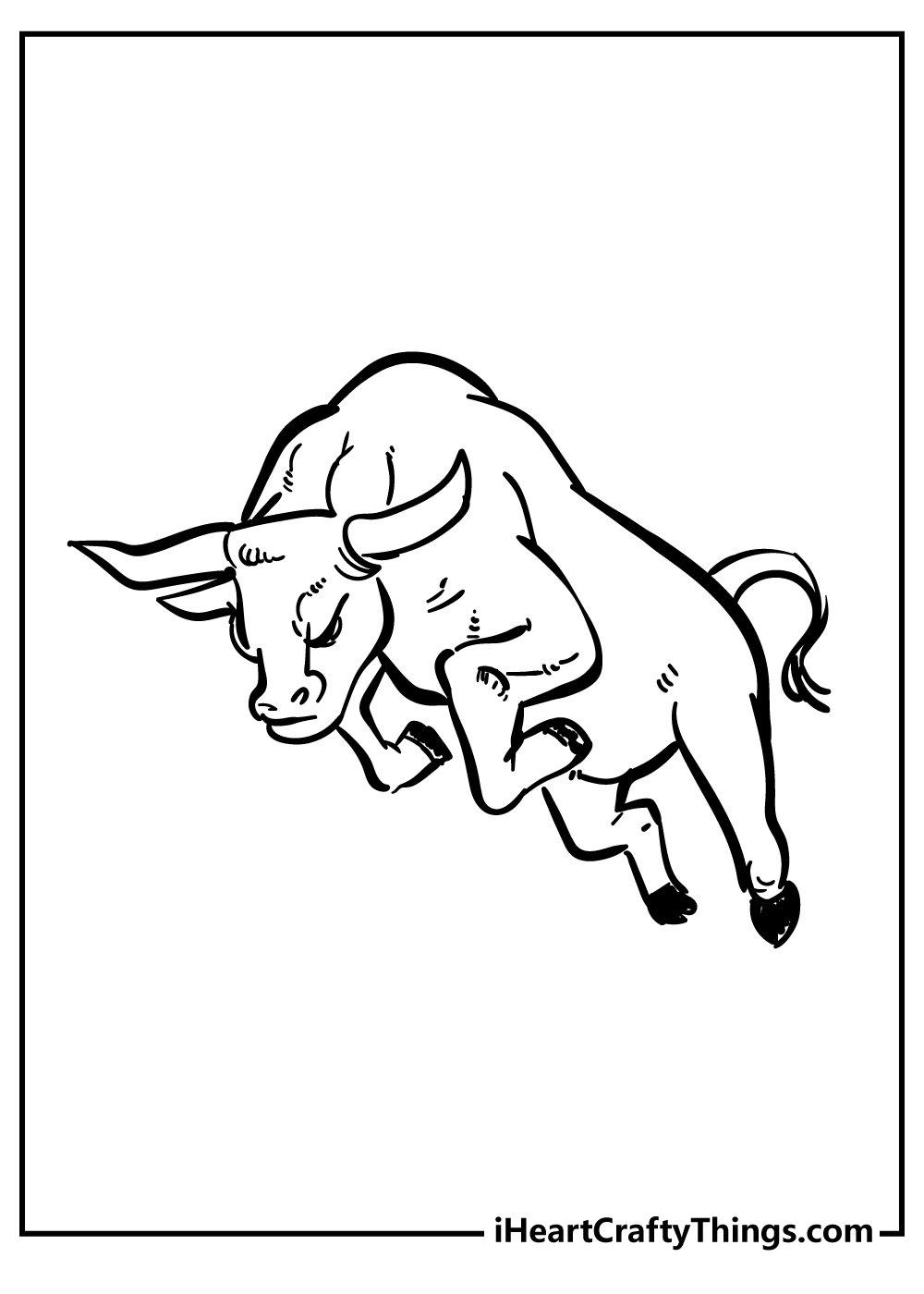 In this bull coloring printable, we have a bull that is actually looking somewhat calm! This one has a less angry look on its face, and that makes for possibly the calmest image in this collection.
For this reason, we would use milder colors for this one. For the background, we would use some lighter blues and greens to fit the mood this bull is giving off.
What colors do you think would best suit the mood of this picture?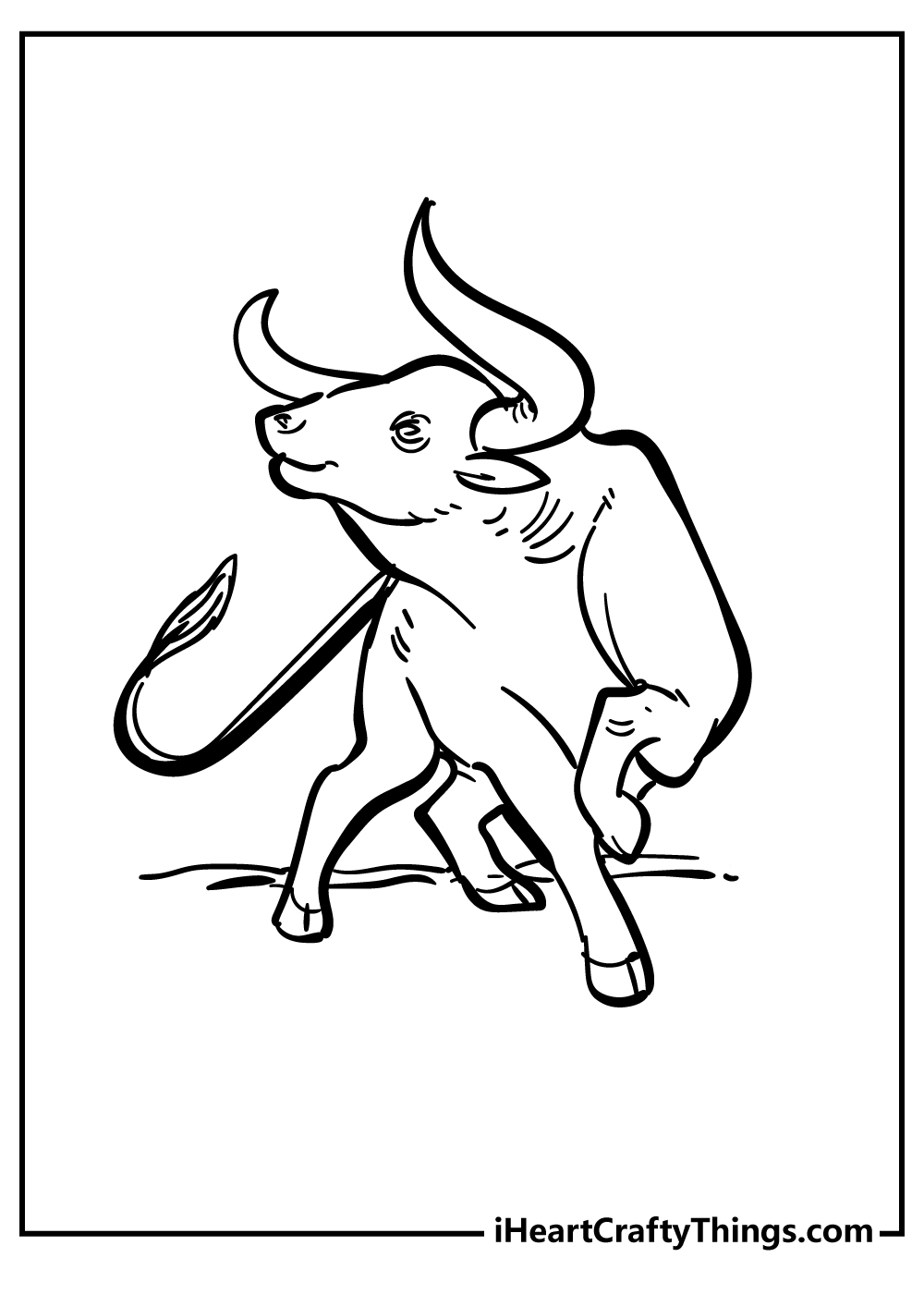 It's time to charge into some more color fun with this next bull! This guy is going for it in a cool charging pose.
Bulls can come in a few different colors, so you have a few options even if you wish to keep the colors true to life. You could also experiment a bit with more stylistic colors if you prefer!
What do you think you will choose for this bull? If you want to try out a few options, you could print out a few copies and try out some different approaches.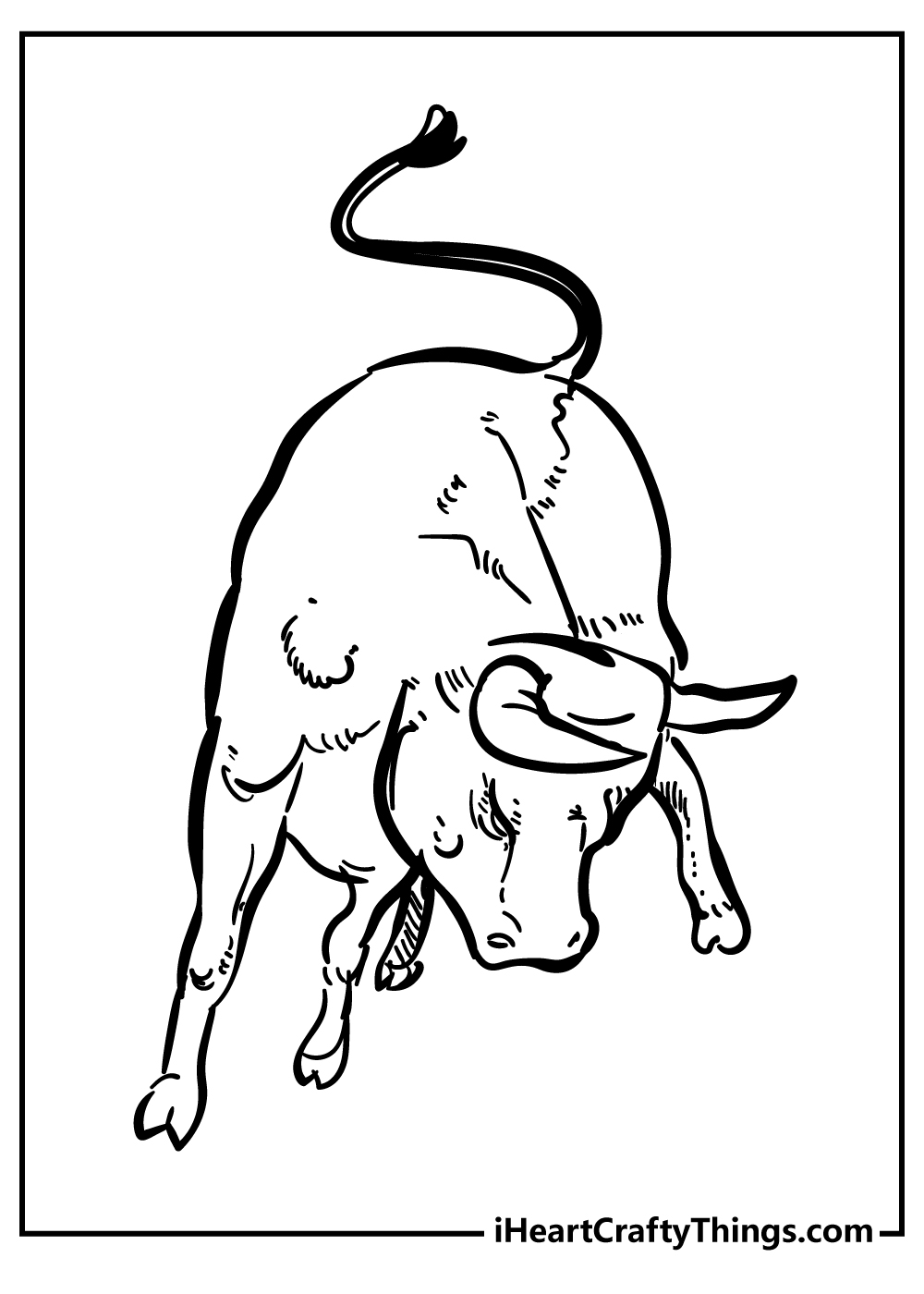 We have another action pose as this bull leaps into action! This is another image that has a lot of free space in the background, and that opens up a lot of possibilities.
Will you add some more characters to the scene or maybe create a background?
Adding your own details and additions is the perfect way to make a great image even greater, so we look forward to seeing what you choose to do for this one!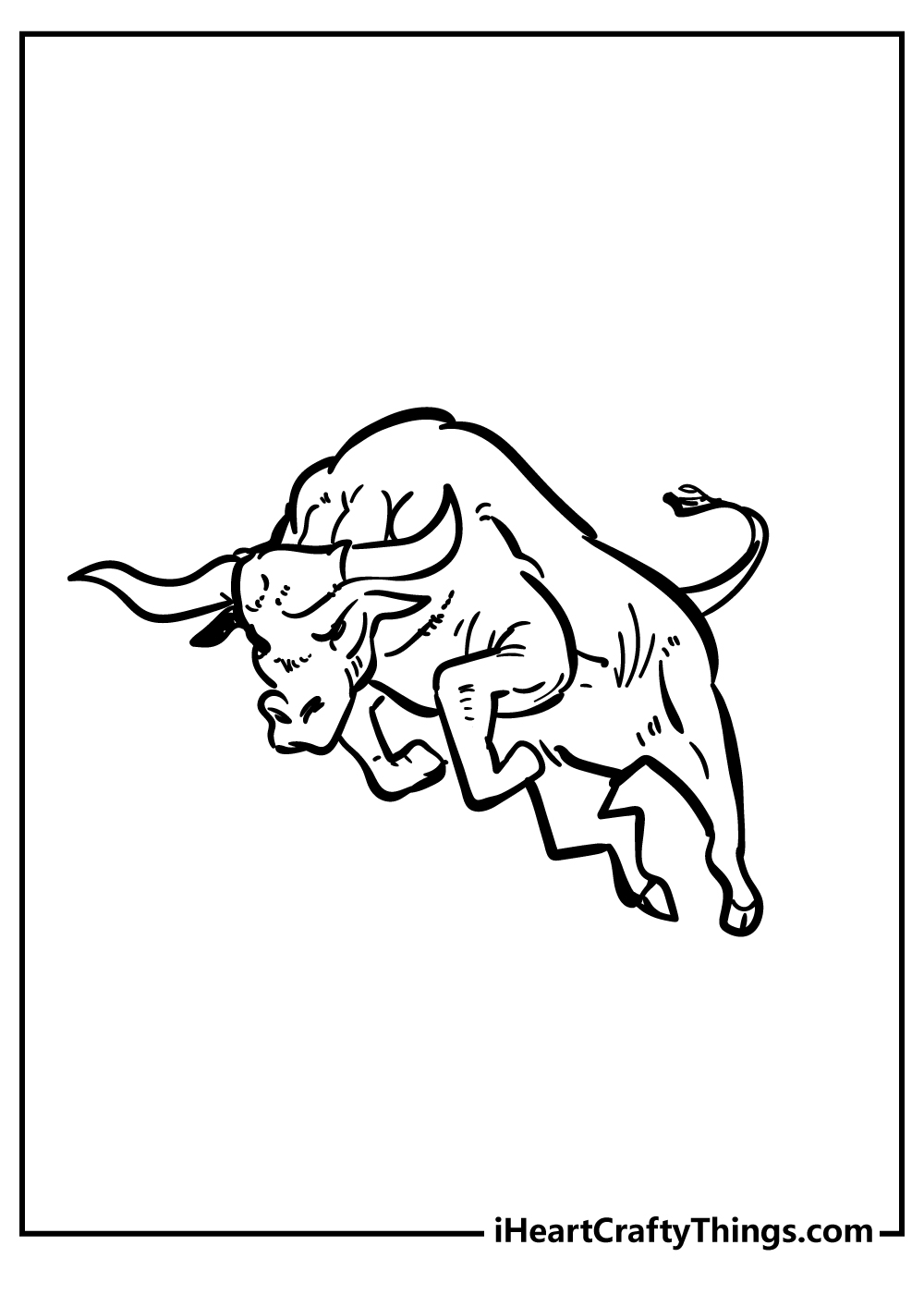 It's time for the final bull coloring page of this collection, and it's another awesome portrayal of this mighty beast.
This one is also looking a bit on the calmer side, at least when compared to some of the previous pages in this collection.
Now it's up to you to see how you decide to close off this collection! The colors and mediums you use are up to you, so let your creativity take over and see what happens.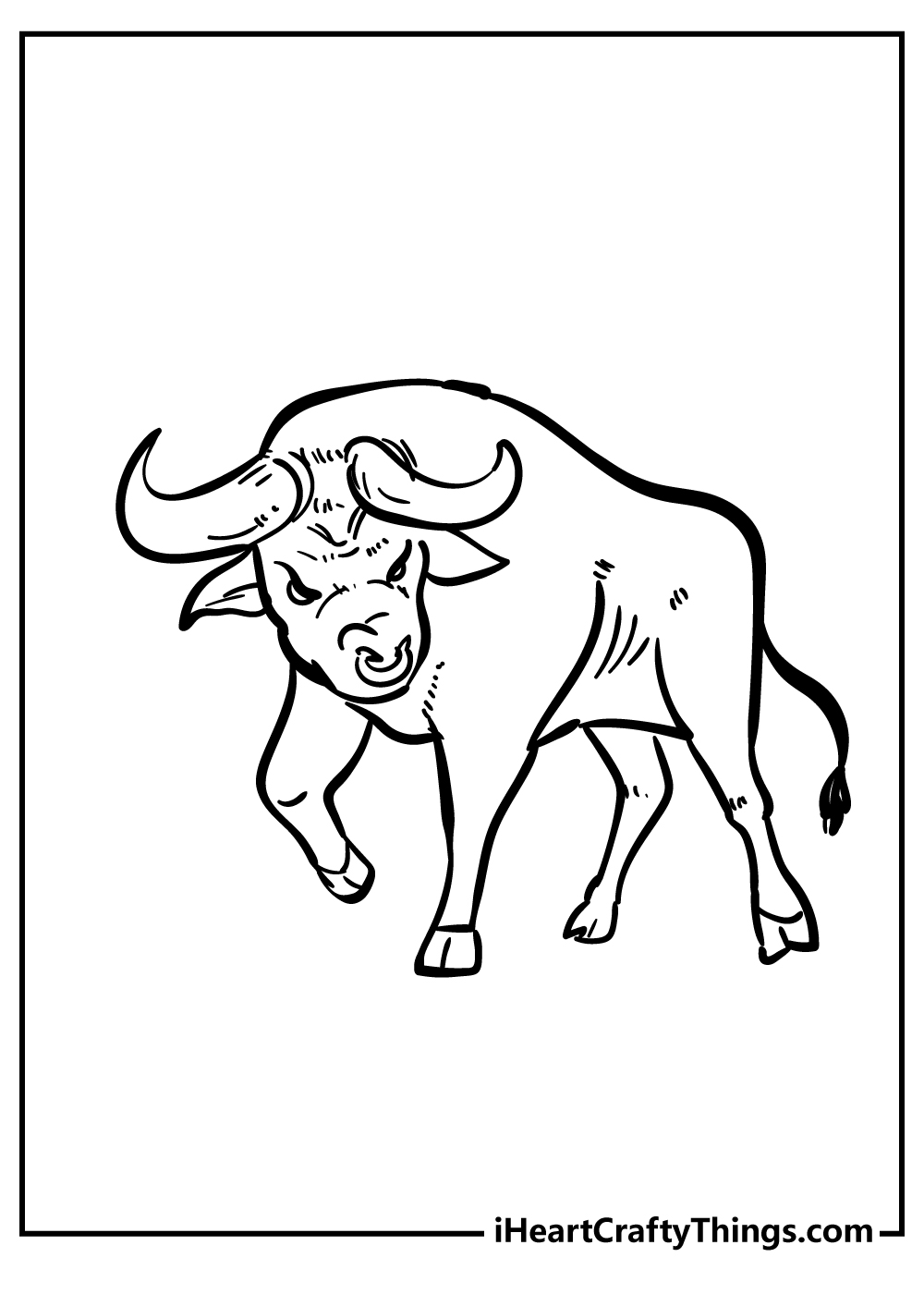 Bull Coloring Pages – Which will you choose?
That brings you to the end of this collection of free bull coloring pages for kids!
We hope you had an incredible time coloring these powerful bulls and that you got to use all of your favorite colors and art tools.
If you enjoyed working on this collection, you can find your next collection to enjoy on our website! We upload new ones frequently, so be sure to keep checking in to never miss out.
It would be fun to see how some of these bull coloring sheets turned out, so please share some of your finished pages on our Facebook and Pinterest pages!