On this page, you will find 15 all new Farm Animal coloring pages that are completely free to print and download.
Isn't it amazing when your child can learn through games and cute pastime activities such as coloring?
With our farm animal coloring pages, your little one can see all the different beautiful animals present on a farm while choosing for them any shades and colors they want.
This way, children of all ages explore their creativity in an enjoyable way. You won't even notice how fast the time flies by.
So, what are you waiting for? Download these farm animal printable sheets and encourage your little ones to get creative.
15 Brand New Farm Animal Coloring Pages – Free to Print and Color
Would you look at this cute little piglet? This is probably the most adorable baby pig we have ever seen. Truthfully, it isn't far from how they look in real life.
Some people even get piglets as pets, so they aren't necessarily present only on farms.
With this little pig's snout, small ears, and adorable look on its face, our piglet seems to be having an excellent time on the farm, playing in this puddle.
There are so many details on this farm animal coloring page that your child will be so excited to start coloring.
For our piglet, a pastel pink would look fantastic! You could choose a light blue for the puddle, surrounded by the bright green grass and a darker blue shade for the sky.
The barn and fence behind would look lovely in brown and red hues.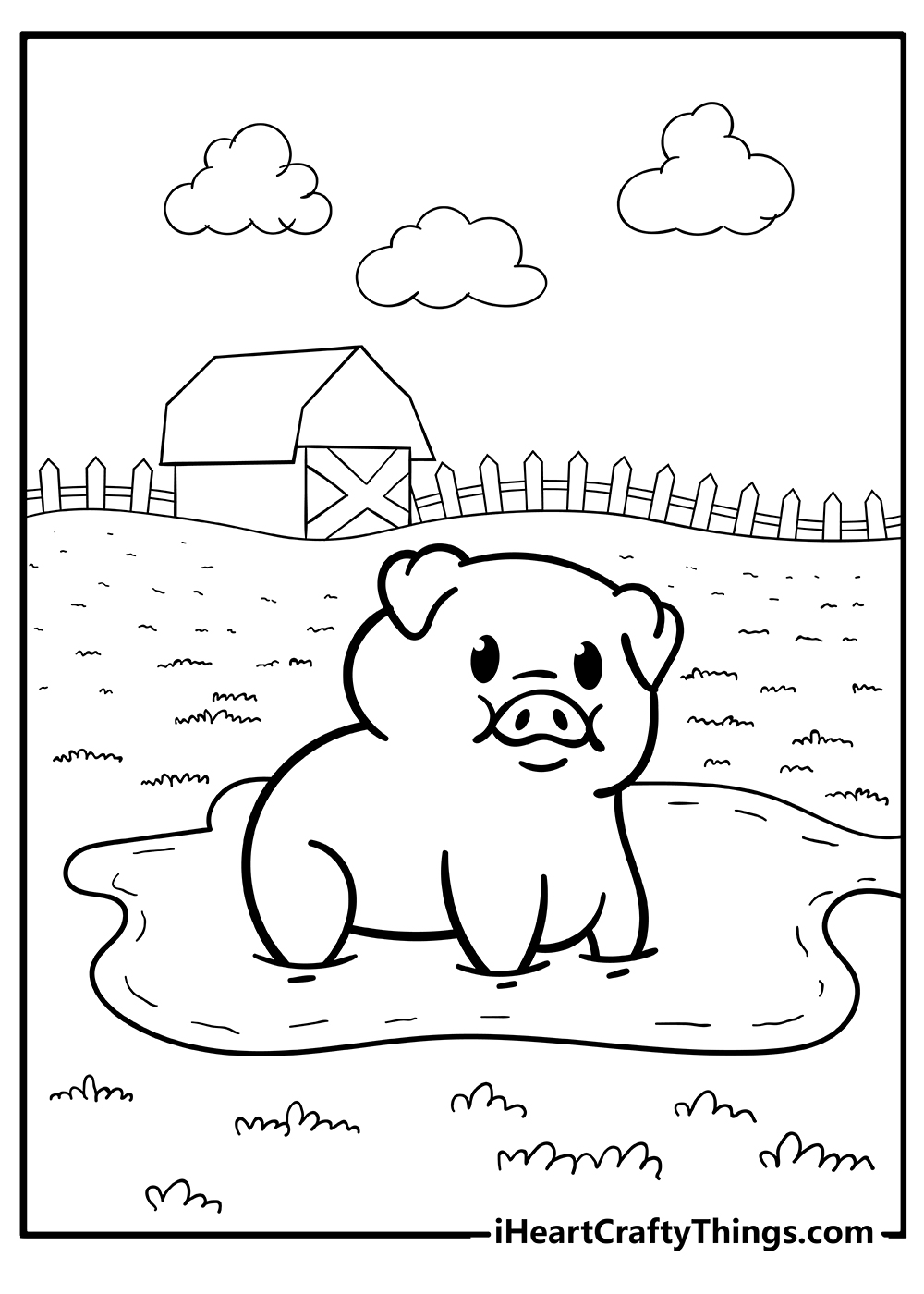 Meet these three adorable baby chicks in this farm animal coloring page. They are so fluffy and cute, don't you think?
They are having fun together on the farm, chirping and pecking at the ground.
These cotton ball chicks radiate the promise of new beginnings on the farm. Soon they'll grow into clucking hens or crowing roosters.
You can color these baby chicks any way you like. Maybe you want to make them yellow, brown, or white. Or maybe you want to give them some colorful patterns or spots.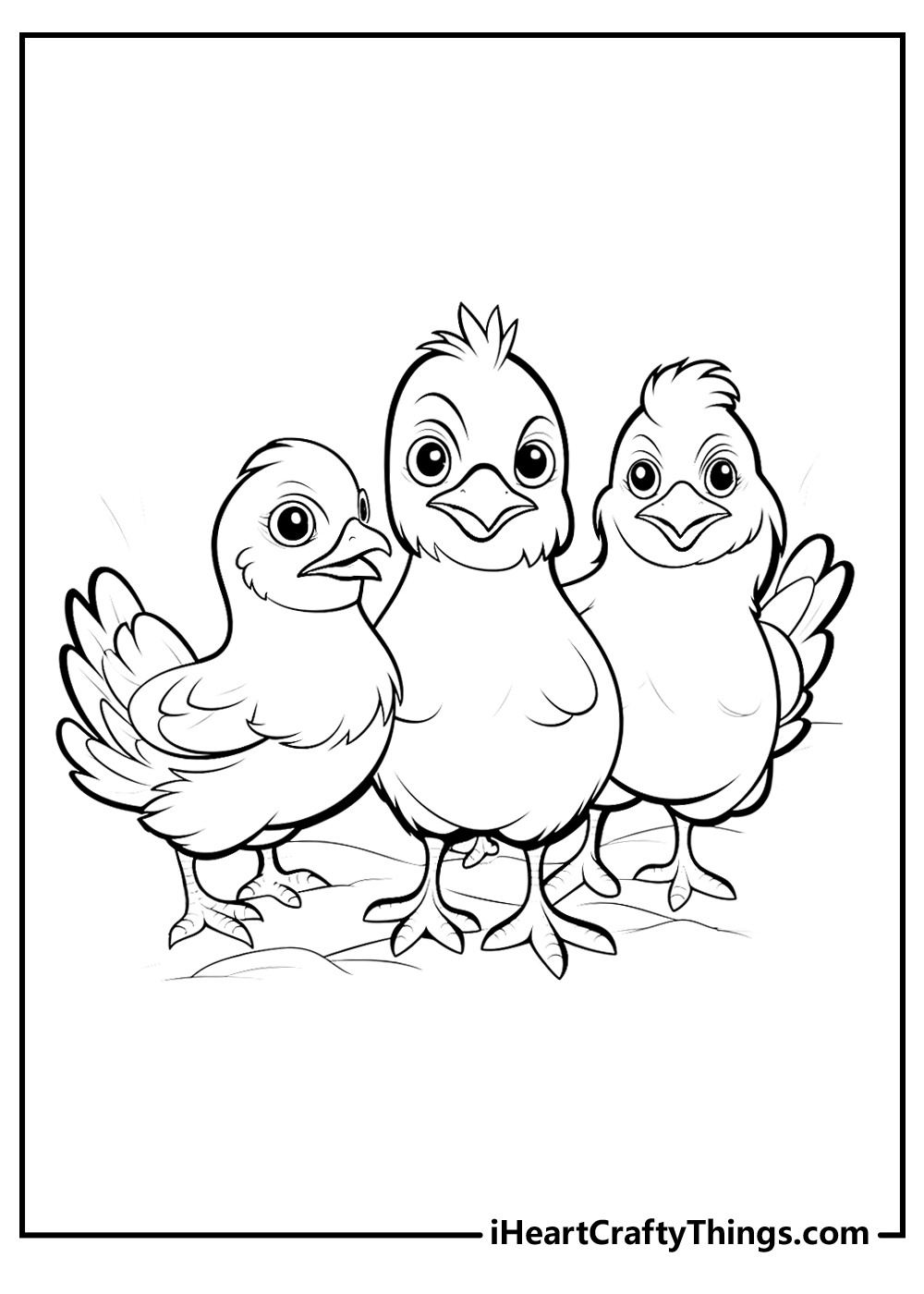 We are sure you and your child will love our next farm animal coloring page. This charming little duck appears so happy about something.
Perhaps it is excited that spring is finally here, or maybe its mother is approaching.
You have many great coloring options for this delightful duckling's feathers. You could choose a shade of white for its plumage, or perhaps you prefer to add green and light brown.
Either way, with its yellow beak, we are sure this duckling would look fabulous!
By the way, did you know that ducks' plumage helps them keep warm when temperatures are low?
Our duckling seems to be doing fine, swimming in a puddle surrounded by nature, but it is undoubtedly an interesting fact to know.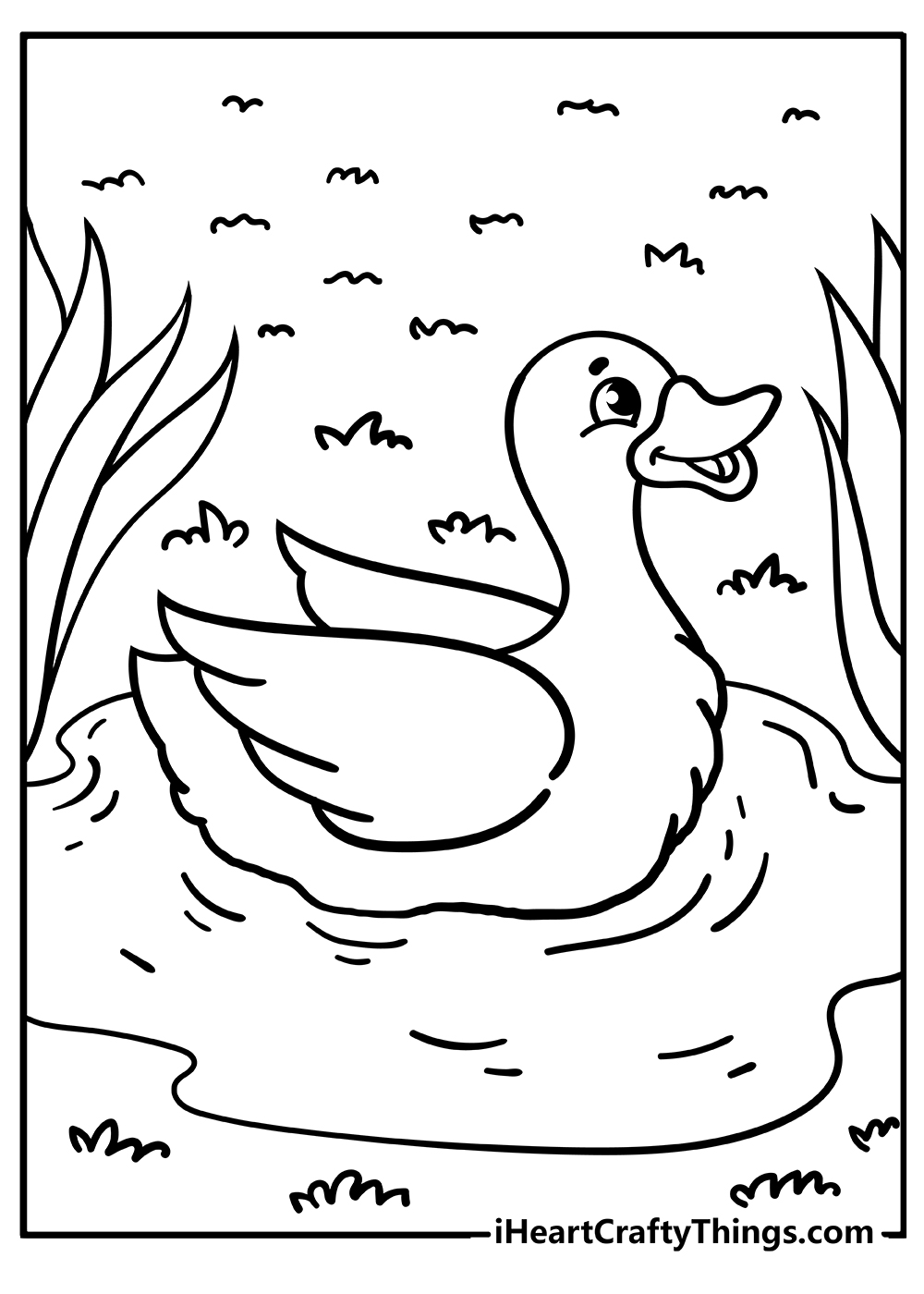 The next animal farm is this adorable-looking cow.
With its characteristic spots on the hair, adorable bangs coming from in between its horns, and smiling expression on its face, this cow is definitely the friendliest animal on the farm. It will even let you pet it!
For the coloring palette, your child could choose different shades of purple and violet for the cow's hair and its spots, green and a bit of yellow for the grass, and bright blue for the clear sky.
Imagine how fantastic this farm animal coloring page would look!
There are truly no rules when coloring these printable sheets!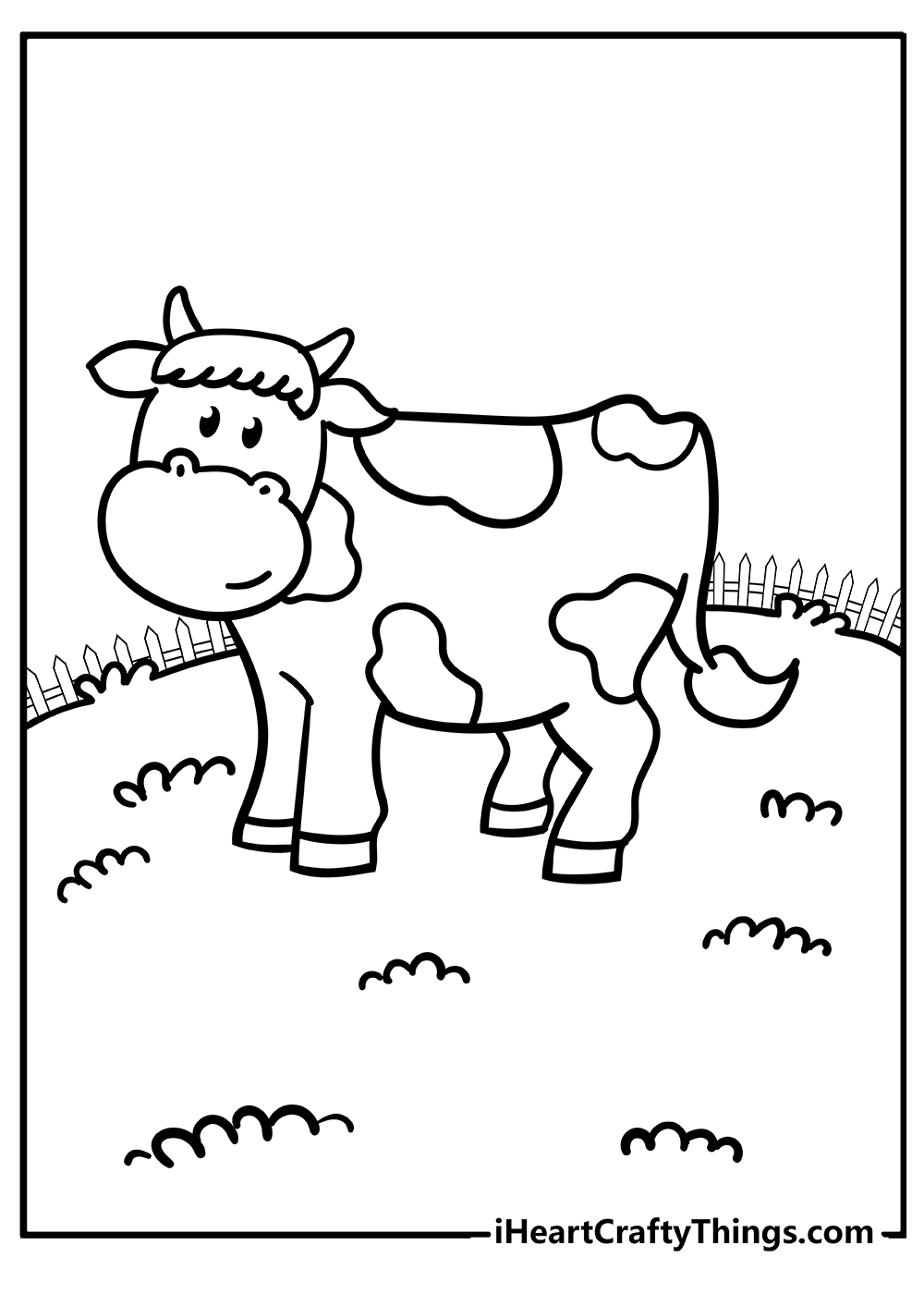 Say hello to the most curious resident of the farm – the friendly goat! This coloring page captures a goat's playful personality as it balances on a wooden fence post.
It also have a distinctive beard and horns that make them easy to recognize. Did you know that goats are very social animals and can communicate with each other using different sounds?
You can also choose different colors for the fence, the grass, and the flowers. Maybe you want to add some more details, such as a sun, a cloud, or a bird in the sky.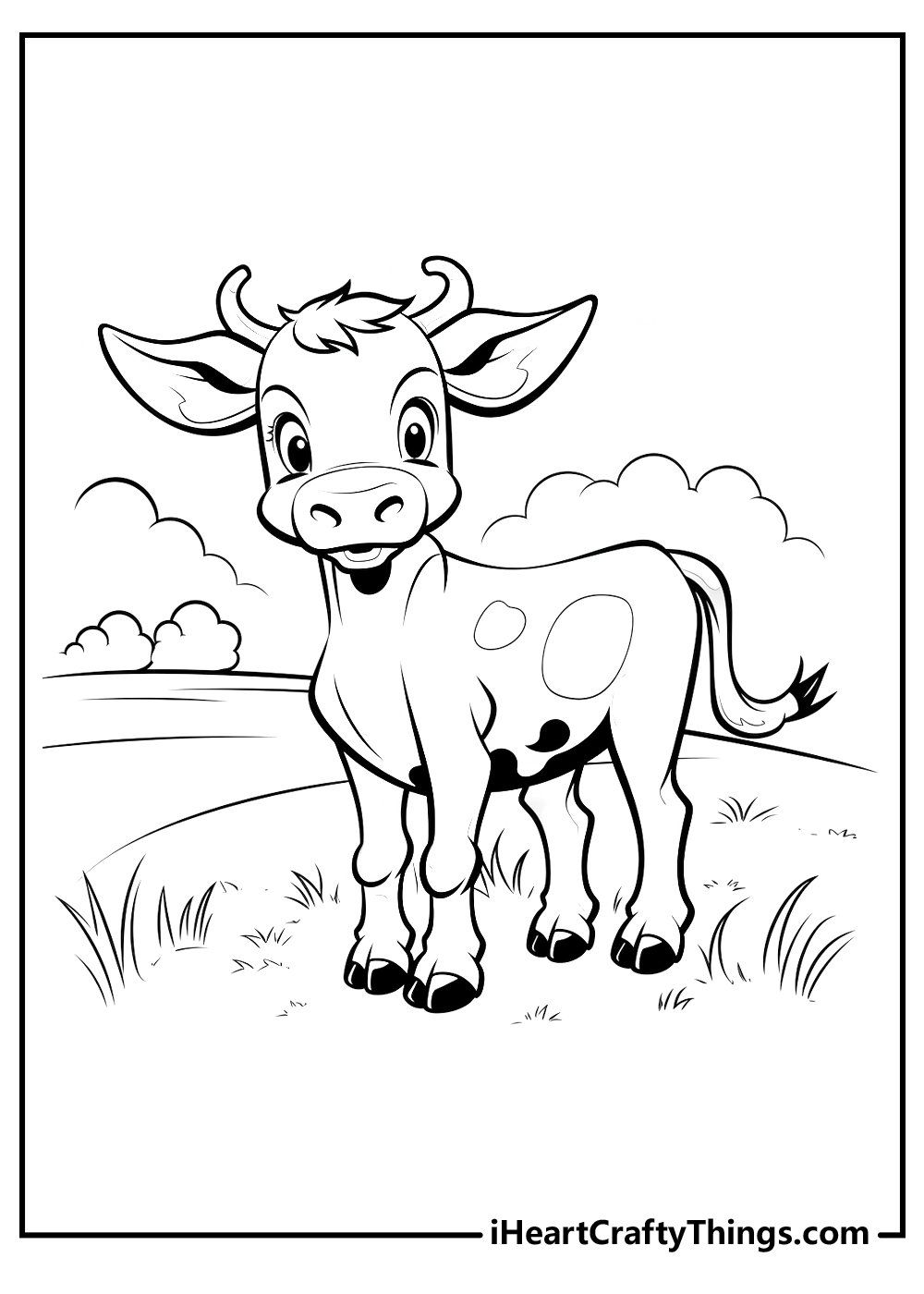 On our next farm animal coloring page, we have another beautiful cow. This time, it is extremely curious about something, given how it is trying to sneak a peek from the barn.
Or maybe this endearing cow is happy to see you and wants to greet you right away!
How about if this printable page was multicolored? You could choose yellow, orange, and brown for the barn, which would definitely look fantastic with the blue sky and bright green grass.
As for our curious cow, you could choose any shade you would like. Why not color it pink and purple?
Encourage your little ones to let their imagination run free!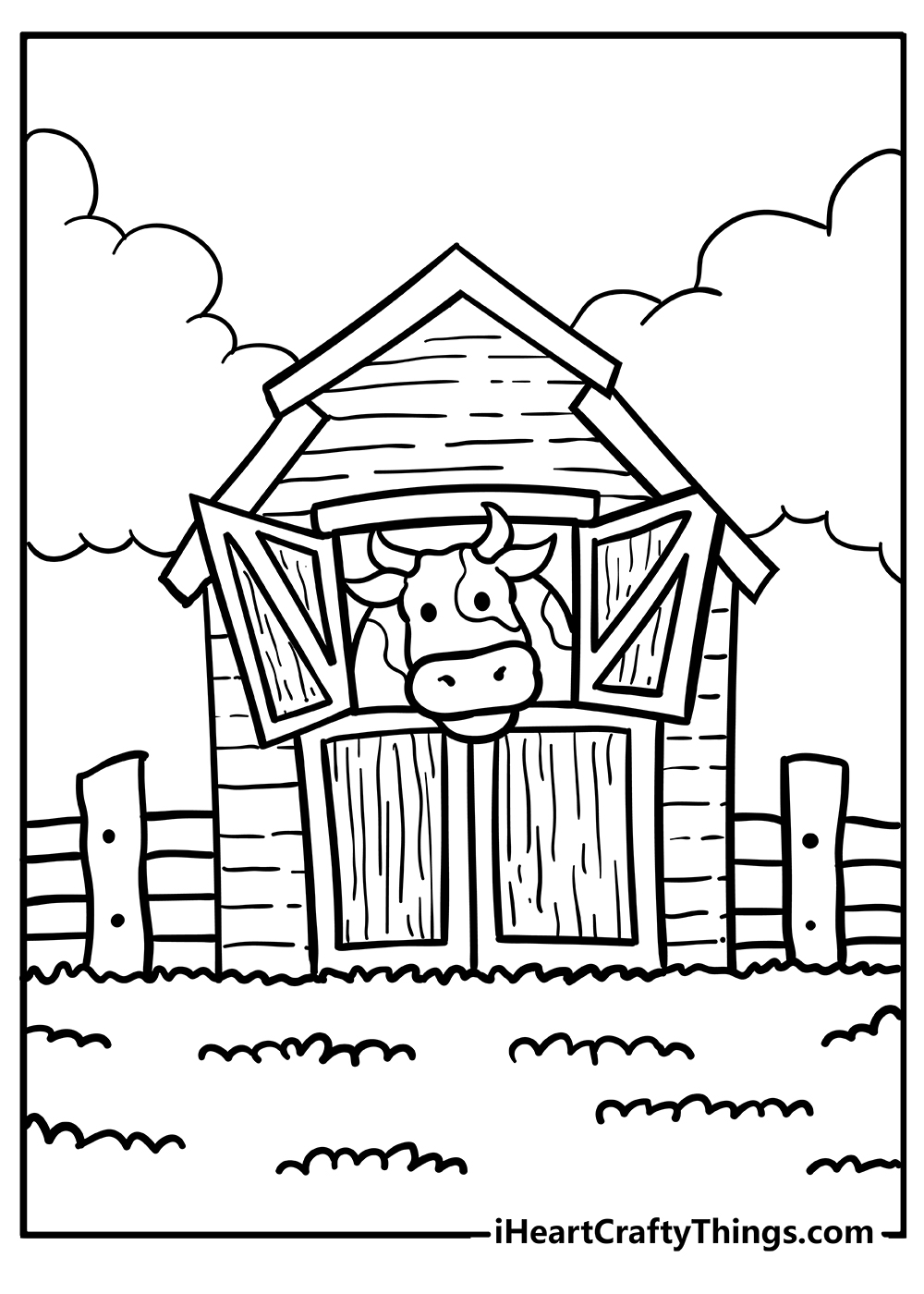 Chances are you have heard about roosters crowing mainly at daybreak. While this is entirely true, it is a common misconception that they only crow during this time.
You will be able to hear roosters' characteristic loud cries throughout the day and even during the night.
So, on this farm animal coloring page, our proud-looking rooster could be ready to start crowing. As for the time of day, we don't know – it could be day or evening.
It is up to you how you wish to color the sky, whether a light blue or add some red, yellow, and purple to make it look like a beautiful sunset or sunrise.
Rooster feathers, especially his tail, feature a beautiful and bright color palette.
So, you could pick red for its comb, and electric blue and green, bright golden yellow, orange and red for the rooster's showy feathers.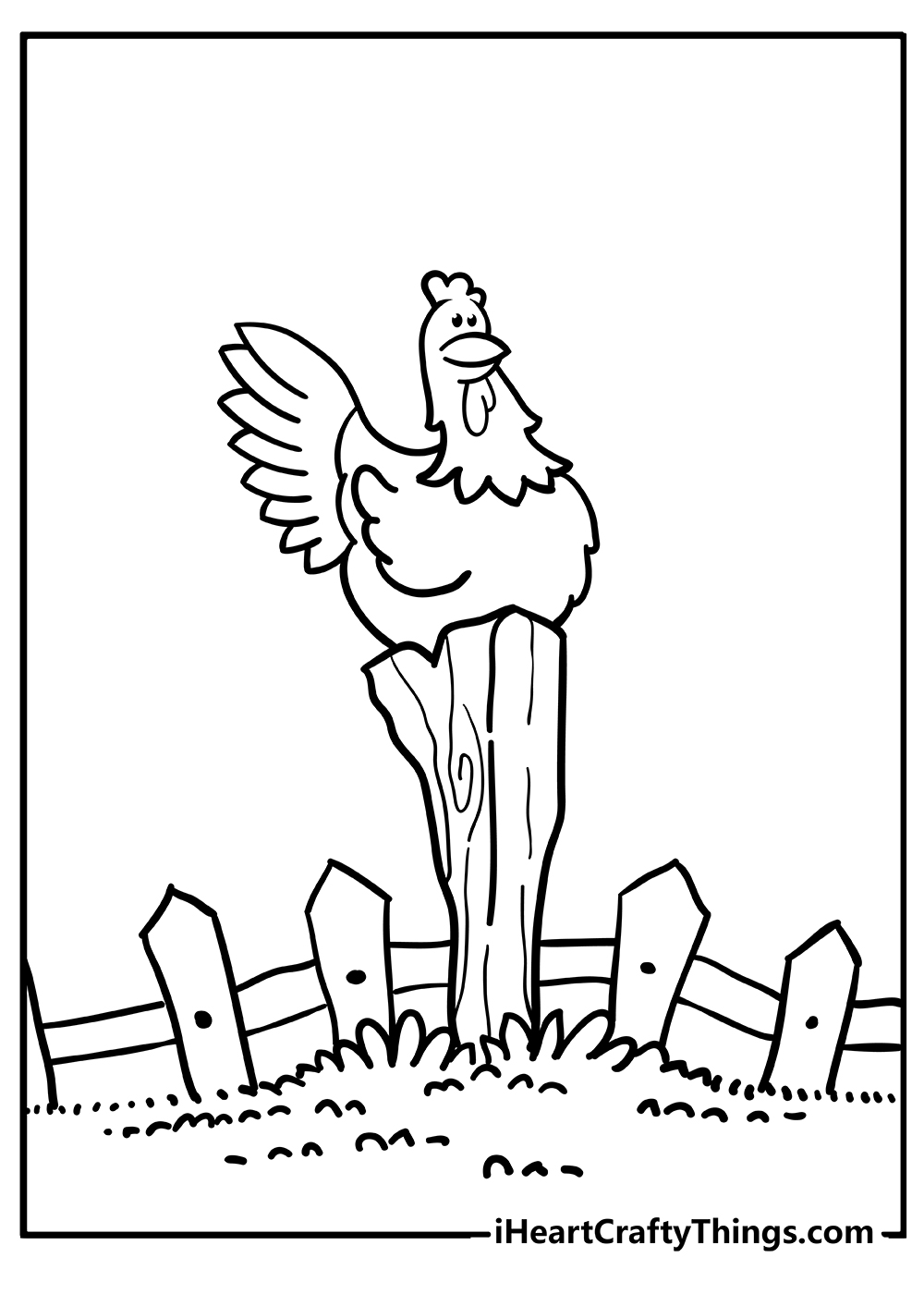 In case you have missed our adorable cows, we've got you covered! On this farm animal coloring page, your child has the chance of coloring another of our charming cows.
There are no spots on its hair this time, so you can choose your favorite color for it.
A suggestion could be yellow and a bit of brown for those charming bangs, but it is your child's choice if they want other tones for this peaceful-looking cow.
For the bell hanging around its neck, you could choose a golden orange and red for that little bow.
The background is typical for a day spent at the farm! Add the color you want to bring this farm animal printable sheet to life.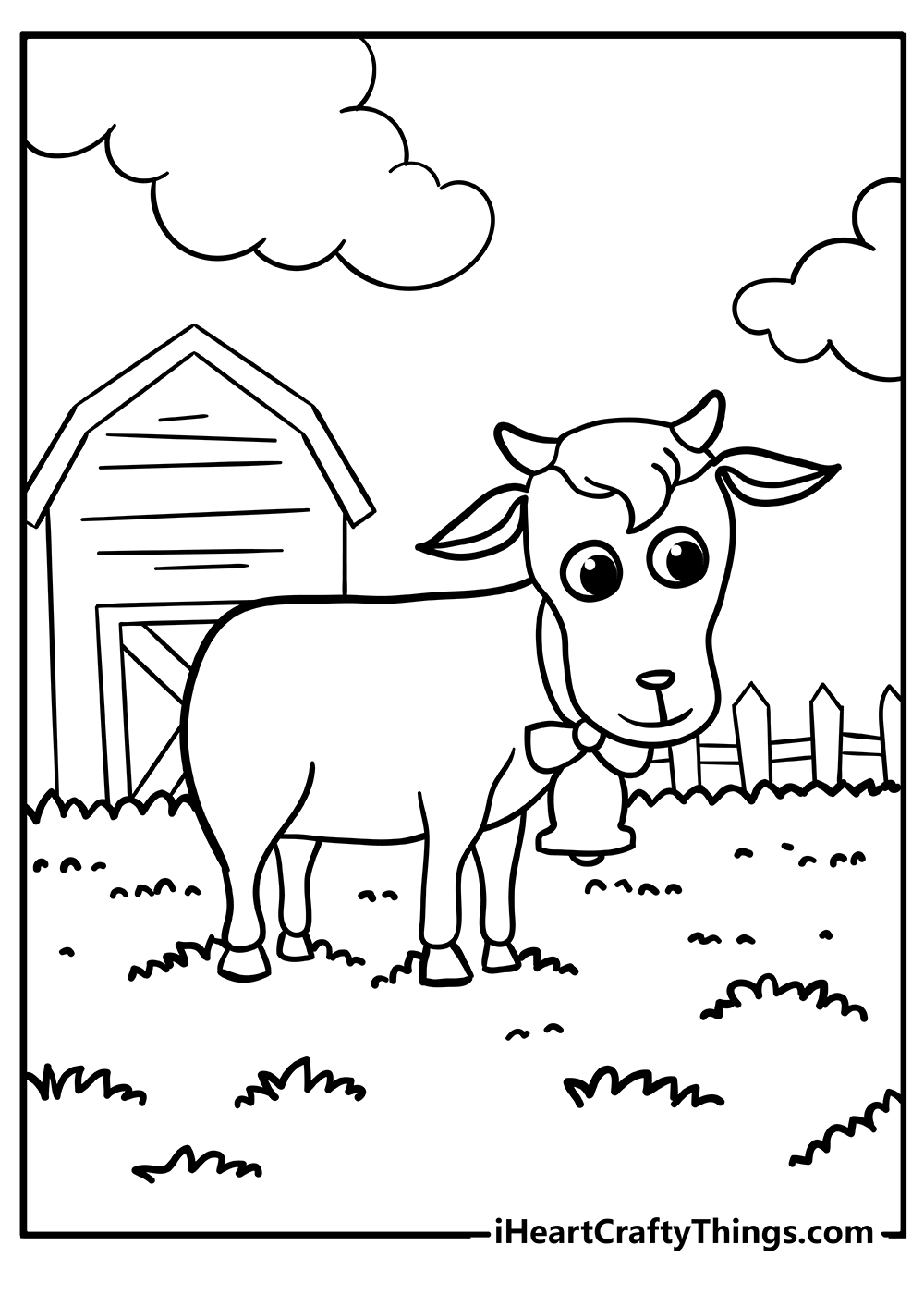 Look at these two chickens enjoying a sunny day in this farm animal coloring page. They are standing close together and facing the same way. Maybe they are best friends.
You can make these chickens come to life with your colors. You can use realistic colors like white, brown, or black, or you can use your favorite colors to make them unique.
You can also add some details to the background, like grass, flowers, or other farm animals.or siblings. What do you think?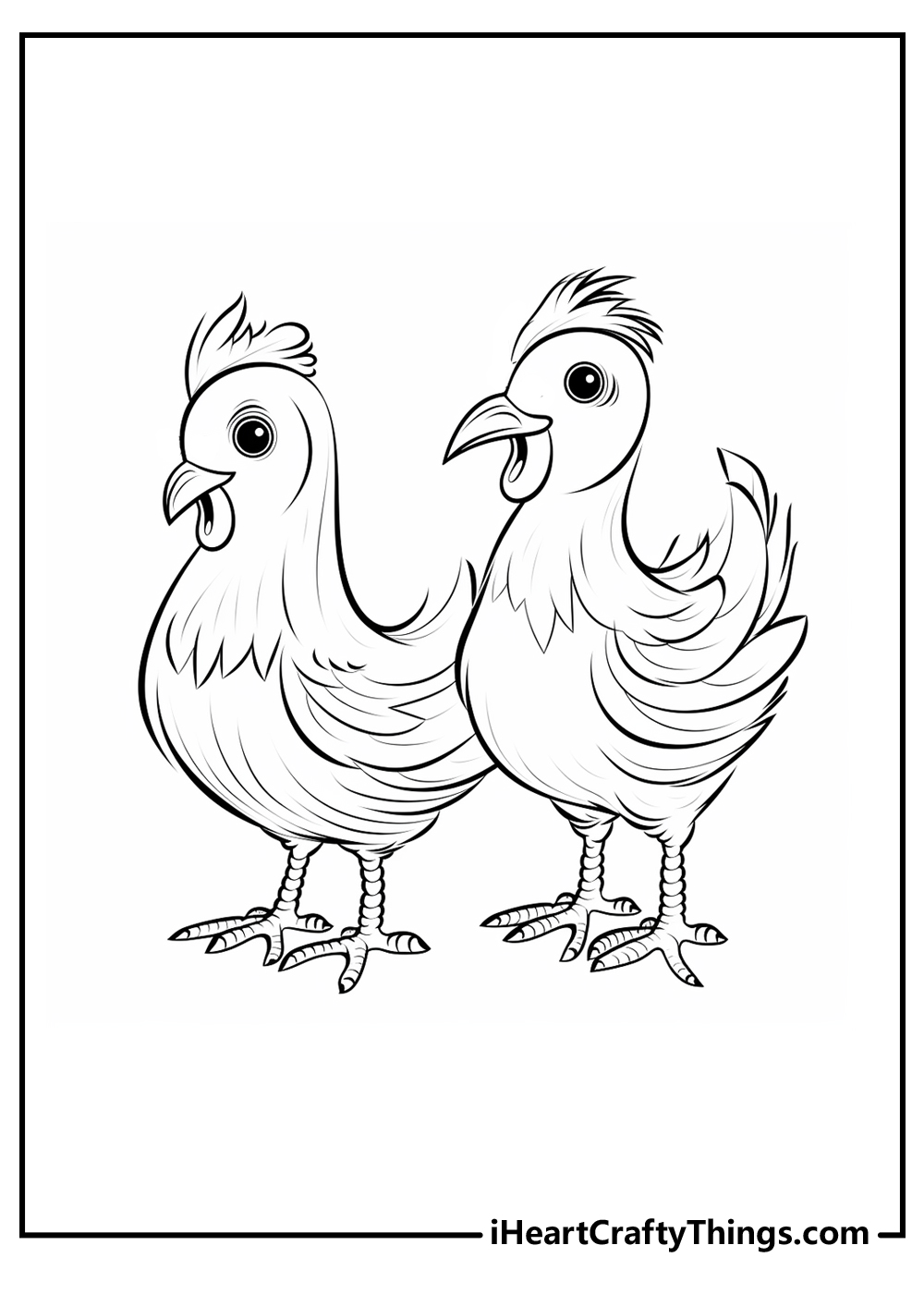 A chicken mother taking care of its adorable chicks is an endearing picture for mothers everywhere!
It is definitely a joyous occasion for you to spend quality time with your little one coloring this printable page.
You could go for the classic yellow tone for this farm animal coloring page with a hen sitting on her nest – perhaps laying other eggs – surrounded by her children!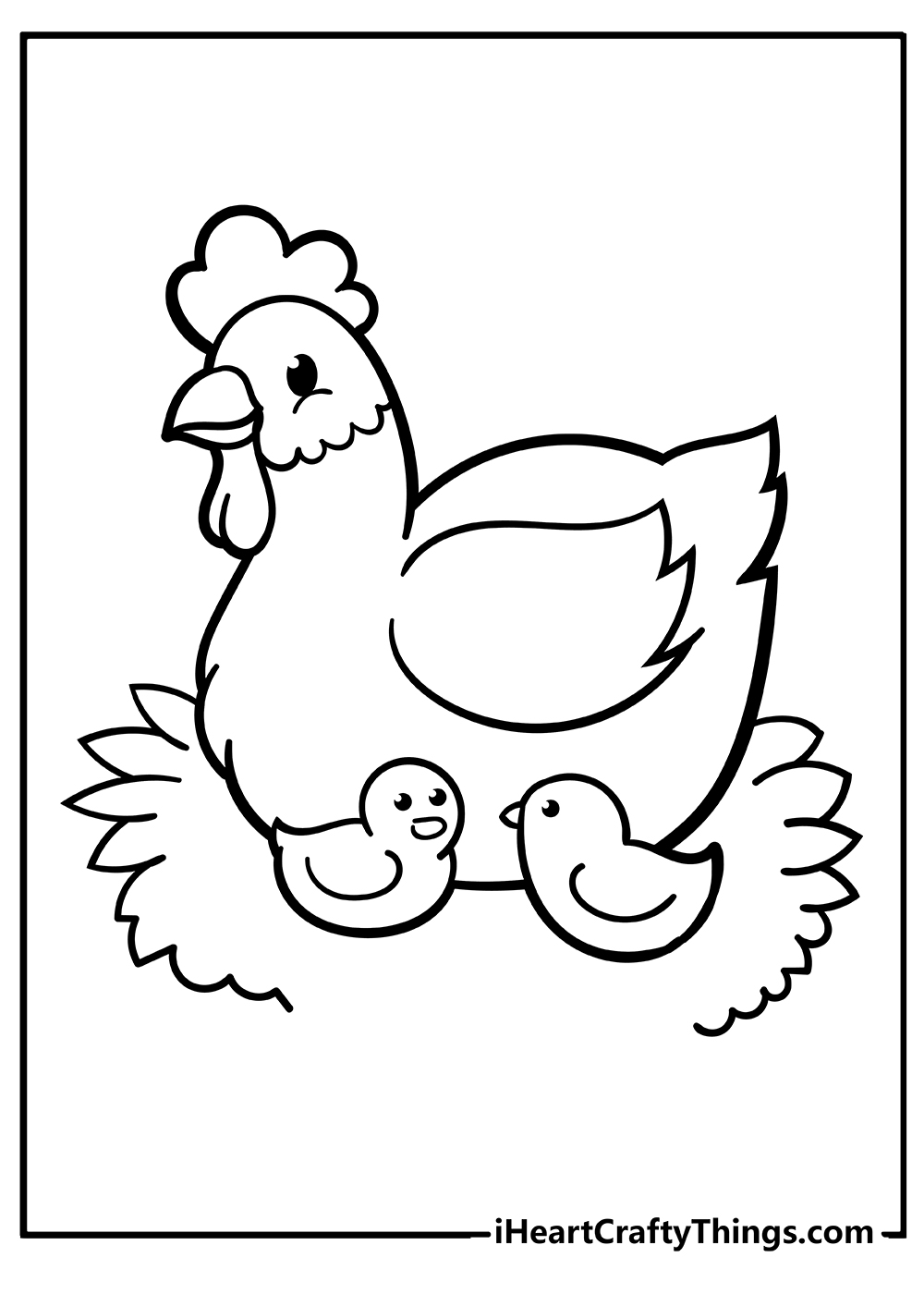 Meet two fluffy new friends on this delightful farm coloring page. These friendly sheep are spending a sunny day grazing on a grassy hillside.
Their soft, woolly white coats and curly horns make them look so cuddly.
One sheep has spotted a colorful butterfly and wants to get a closer look. The other is munching on tasty green grass behind a bush bursting with purple and yellow flowers.
In the background, you can see tall green trees and a bright blue sky dotted with puffy white clouds. What colors will you choose for these happy sheep?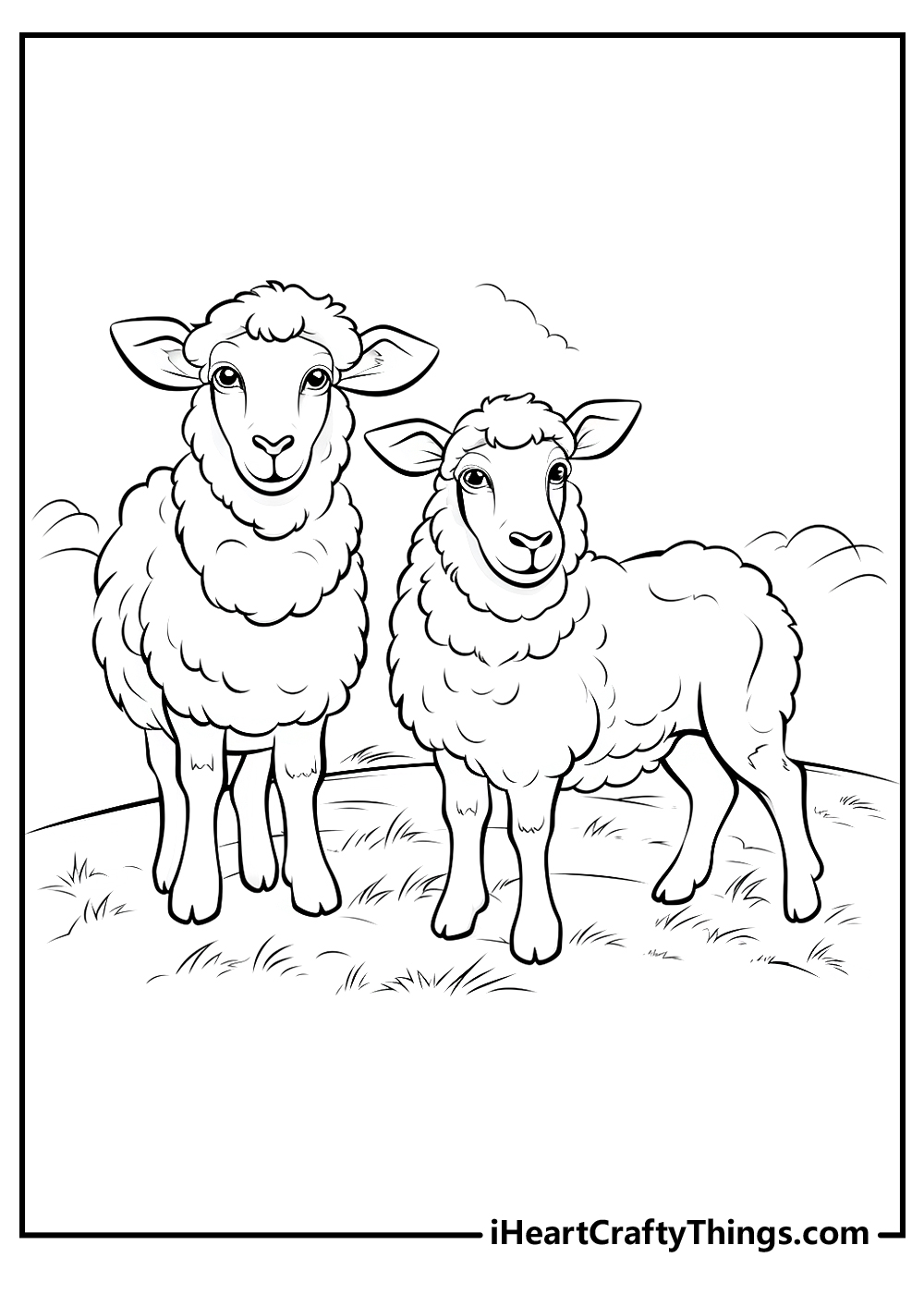 With its woolly hair, sheep is probably the fluffiest farm animal. On this coloring sheet, our sheep looks so at peace, surrounded by nature, with a few hills in the distance.
With green all around, our adorable sheep on this farm animal page would look stunning colored with a sandy white and beige for its wool hair and a light gray tone for its face and feet.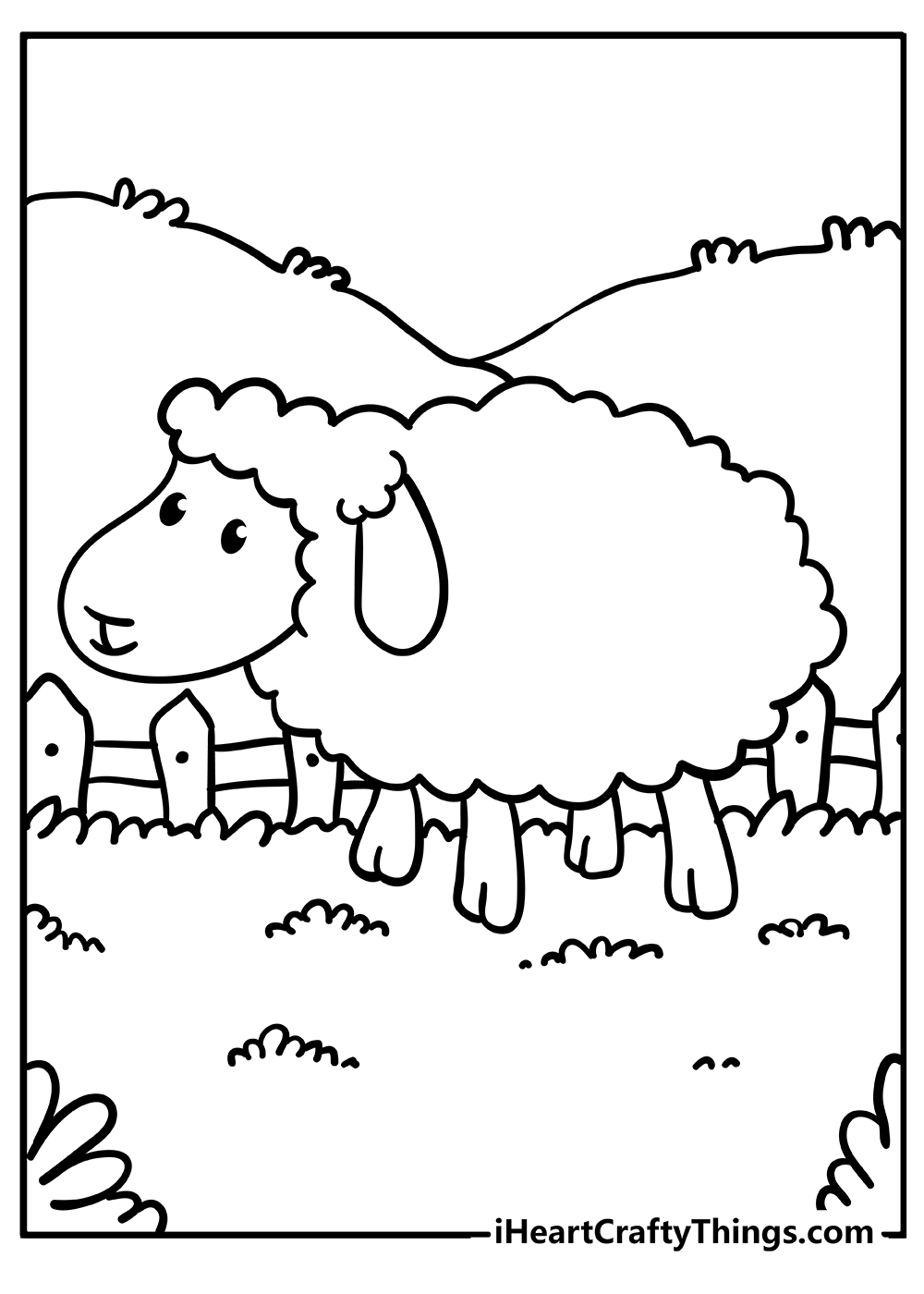 On this second to last farm animal coloring page, this small goat calmly eats its favorite weeds and hay, looking gleefully in the distance.
Did you know that you can tell a goat's age by looking at its horns? Knowing this, we can assume that our charming goat is still quite a baby, as its horns are certainly still in the growing phase.
Your child is in charge of coloring this delightful farm animal. For example, they might want to choose yellow and blue to color this goat.
A child's creativity should be entirely explored, so encourage your little ones to choose any shades and tones they want.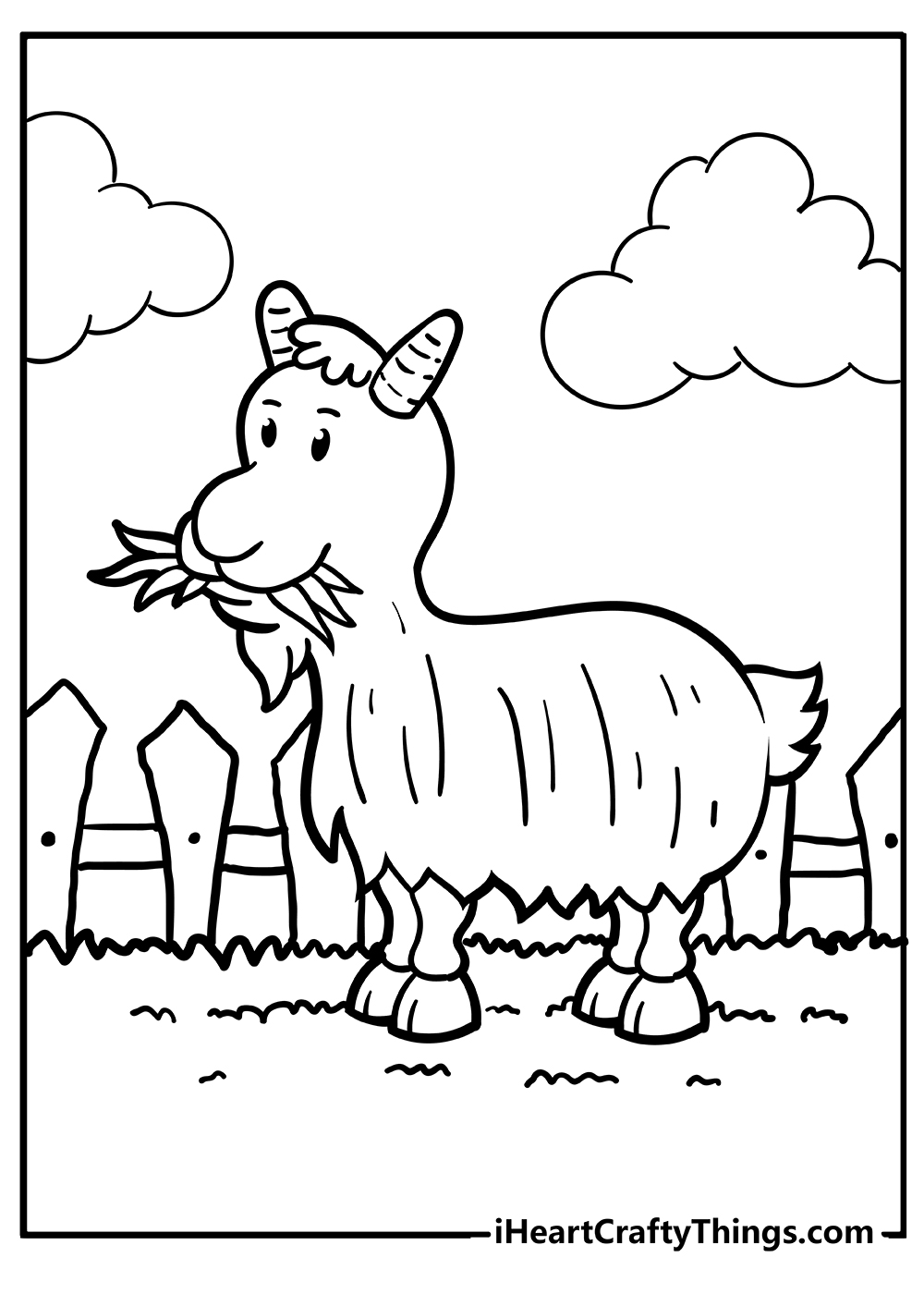 And we have finally reached our last farm animal coloring page! But don't worry, we have many more.
Plus, you can print multiple pages and let your child make different versions of the same coloring sheet, should they wish to do so.
Now, this baby horse, called a foal, seems to have the time of its life, given the cheerful expression on its face! And who wouldn't feel happy when playing in a field of grass full of wildflowers?
If you wish, you could color this charming horse with dark brown and golden yellow for its beautiful mane. Surrounded by green grass and multicolored flowers, this printable page will look delightful!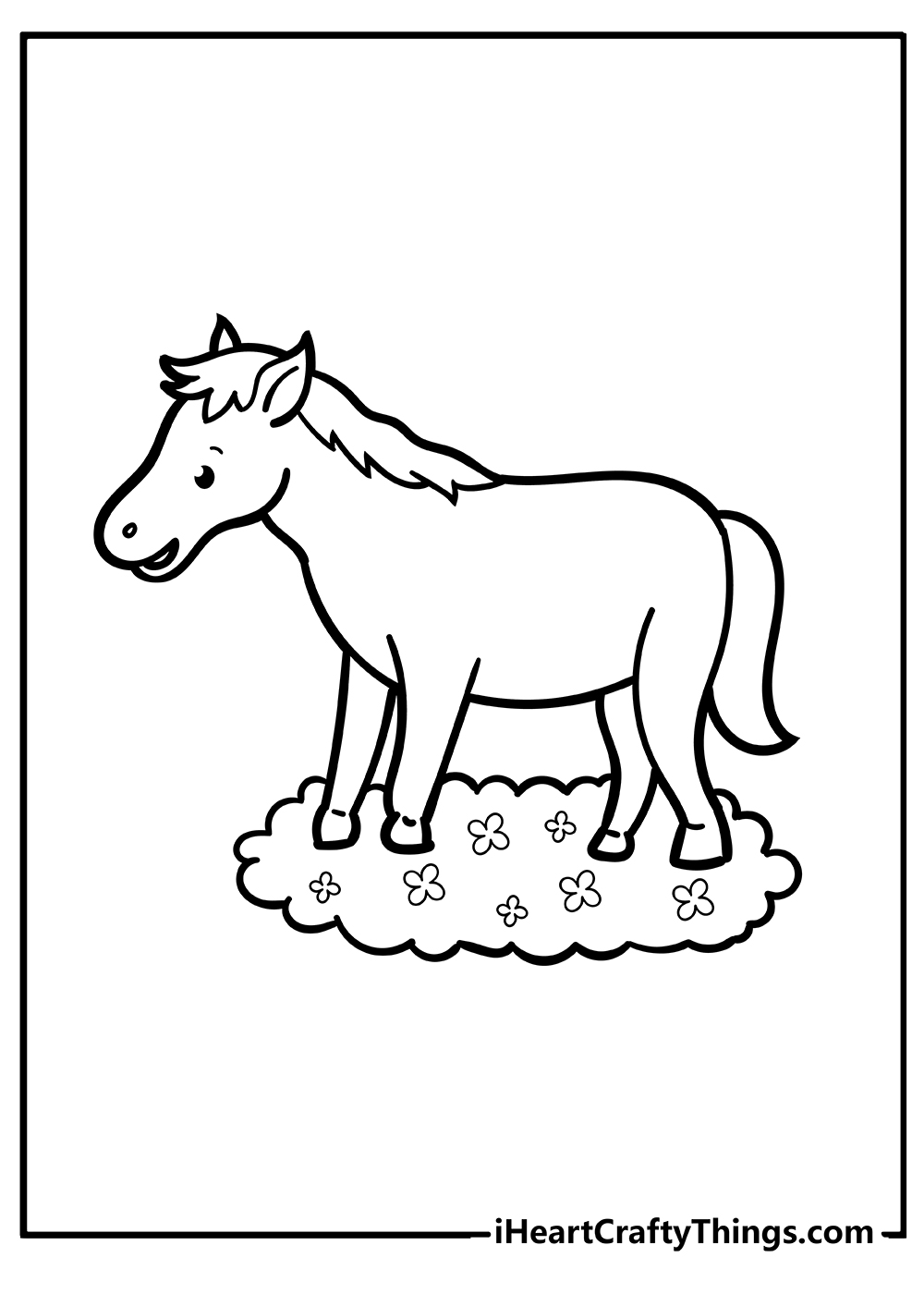 Meet the playful goat, one of the most adventurous animals on the farm. This friendly goat is standing on its four legs, peering at you with curious eyes.
It has a sturdy body covered in shaggy fur, a long beard, and two short horns on its large head. The goat's fur is white with speckles of gray and brown.
As you color this fun farm scene, think about what colors would capture this goat's playful personality. You could make its nose pink and its collar red to show how friendly it is.