On this page, you will find 15 all new Cow coloring pages that are completely free to print and download.
Cows are no longer underrated in the cute department. We're all starting to see that they are too adorable.
Your child can get familiar with these lovely animals in an enjoyable way: by coloring these cute cow coloring pages!
These free printable cow coloring sheets are suitable for kids of all ages. Download and print them to teach your children more about these farm animals in an enjoyable way!
15 Brand New Cow Coloring Pages – Free to Print and Color
Smiling cows just like the one on our first coloring page are simply adorable.
The cow in this image looks like she is having a great time, and she is going to help your little one enjoy their time coloring her too.
This cute cow will look fantastic in any color, so your child can use their imagination while coloring it. You can also invite them to use brown shades and black to color it.
Your child can also use whatever color they like most to color the lovely bell she has around her neck.
Since the background of this page is white, your little one can get creative and color it green to mimic grass.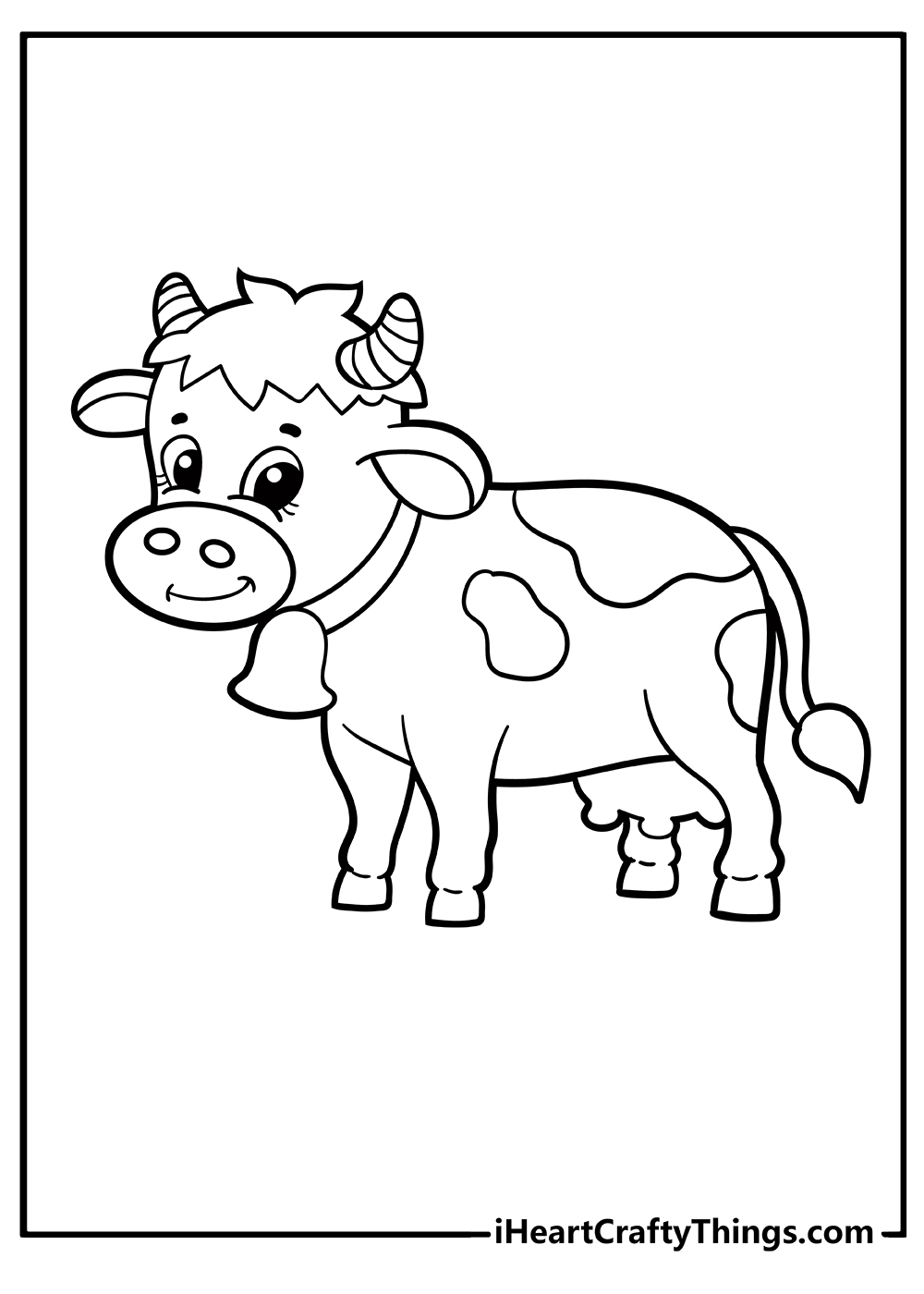 This cow coloring page features a friendly bovine standing. The cow has a tuft of hair on its head and a short tail swishing back and forth. Its gentle eyes look right at you as if waiting to be colored.
Grab your brown crayon to shade the cow's horns and black to fill in its spots. Use green for the ground and blue for the sunny sky.
Add some flowers or bees buzzing nearby. This cute cow coloring page is moo-velous fun.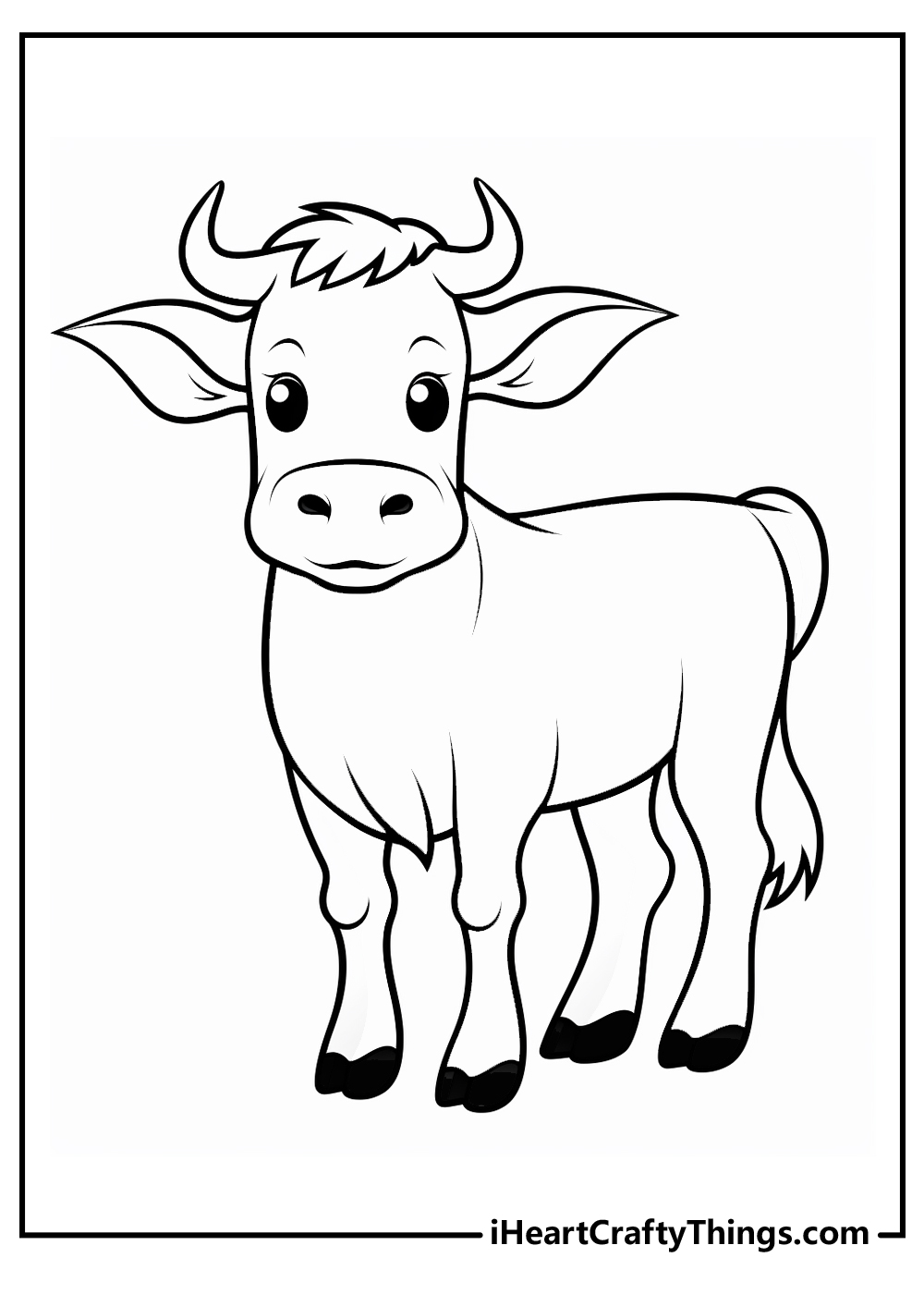 Our next cow-inspired coloring page shows a cute smiling cow that looks like she is enjoying her time out.
This coloring sheet captures a lovely cow that looks somehow curious to see what is happening around her. The spots on her hair give her a bit of personality, don't you agree?
This coloring sheet can allow your child to color outside the norm. They can add some cute color hues to make this little cow look cool.
How about some purple or yellow spots of hair? There's no limit to imagination!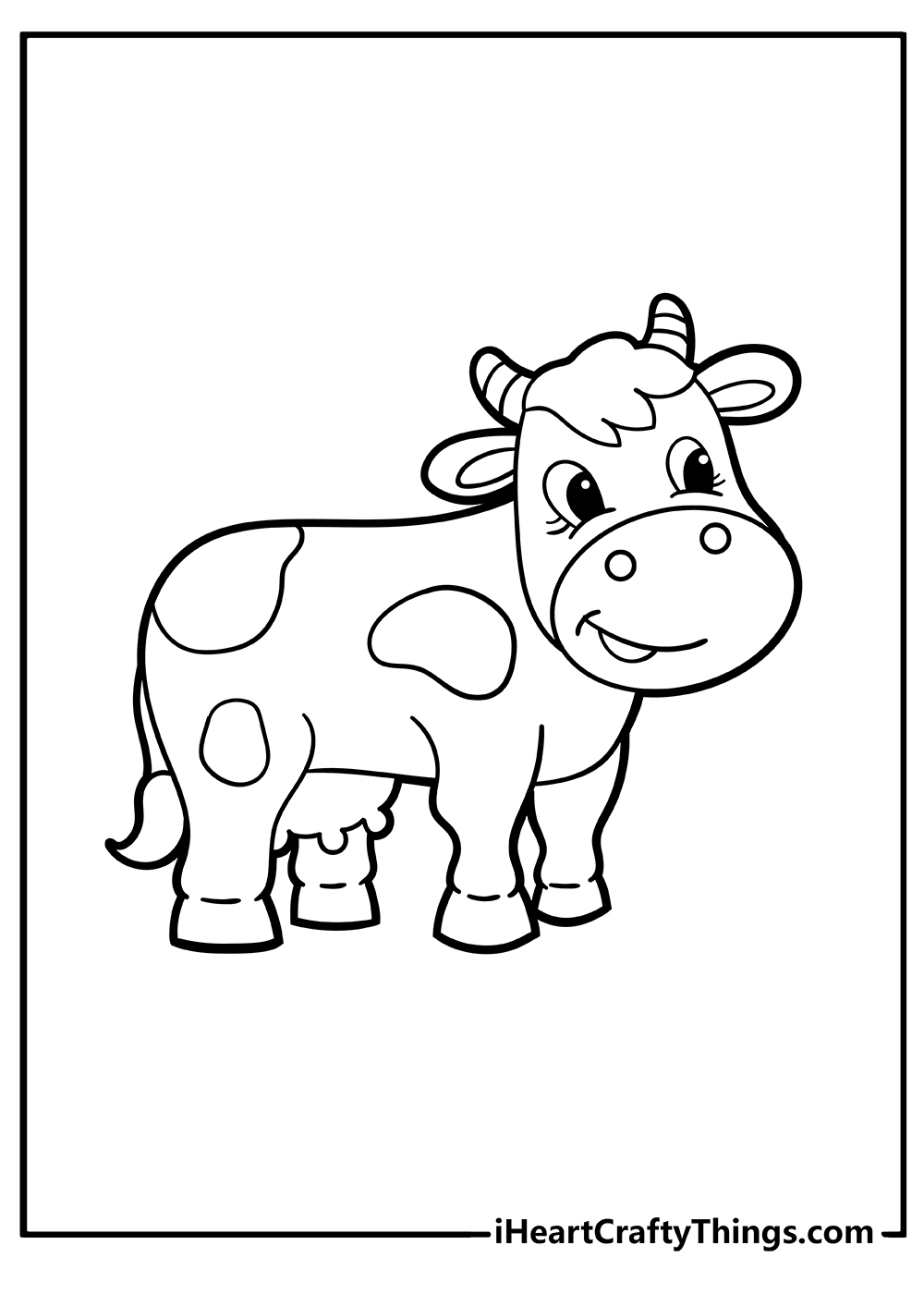 This cow looks like she is feeling moo-velous! The smiling cow on our next coloring page has all the reasons to be happy.
She has some lovely spots on her hair and a cute bell around her neck, which looks like a great accessory.
This coloring page could benefit from some exciting color combinations. For example, your child can color the bell red or yellow.
The cow's hair could also use a bright, exciting color like pink or purple. Why not? Print this coloring sheet and invite your child to reinterpret this cute farm animal's looks!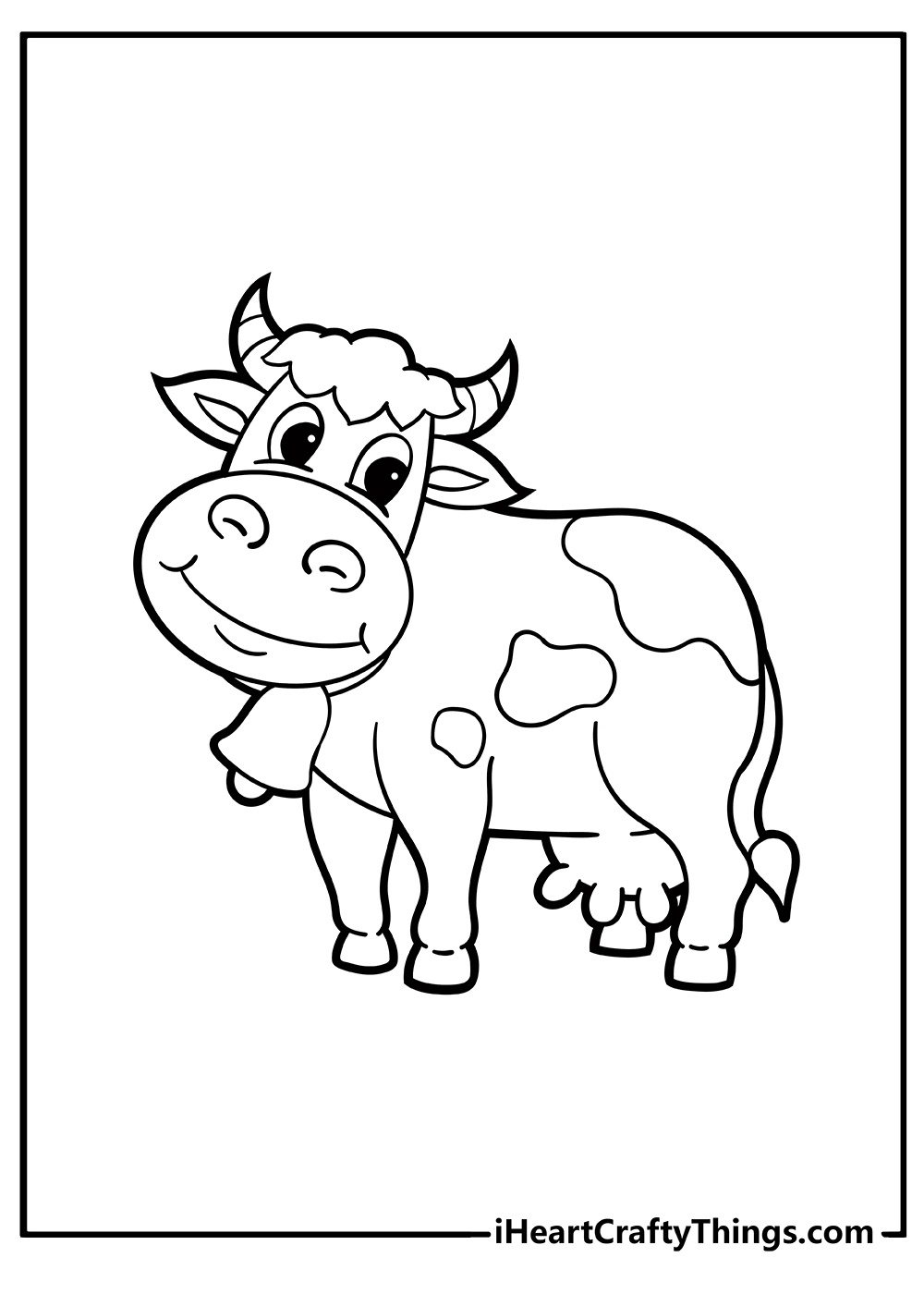 Here comes an energetic young calf ready to color. This coloring page shows a baby cow frolicking across the page.
It has a tiny tail that curls upwards and floppy ears that seem to flap as it moves. Its tiny horns have just started to sprout.
You can use pink to color its nose and brown for its patches. Let your imagination guide you on its coat – try purple, blue or rainbow colors.
Leave the background blank or draw in fences, grass or other farm animals.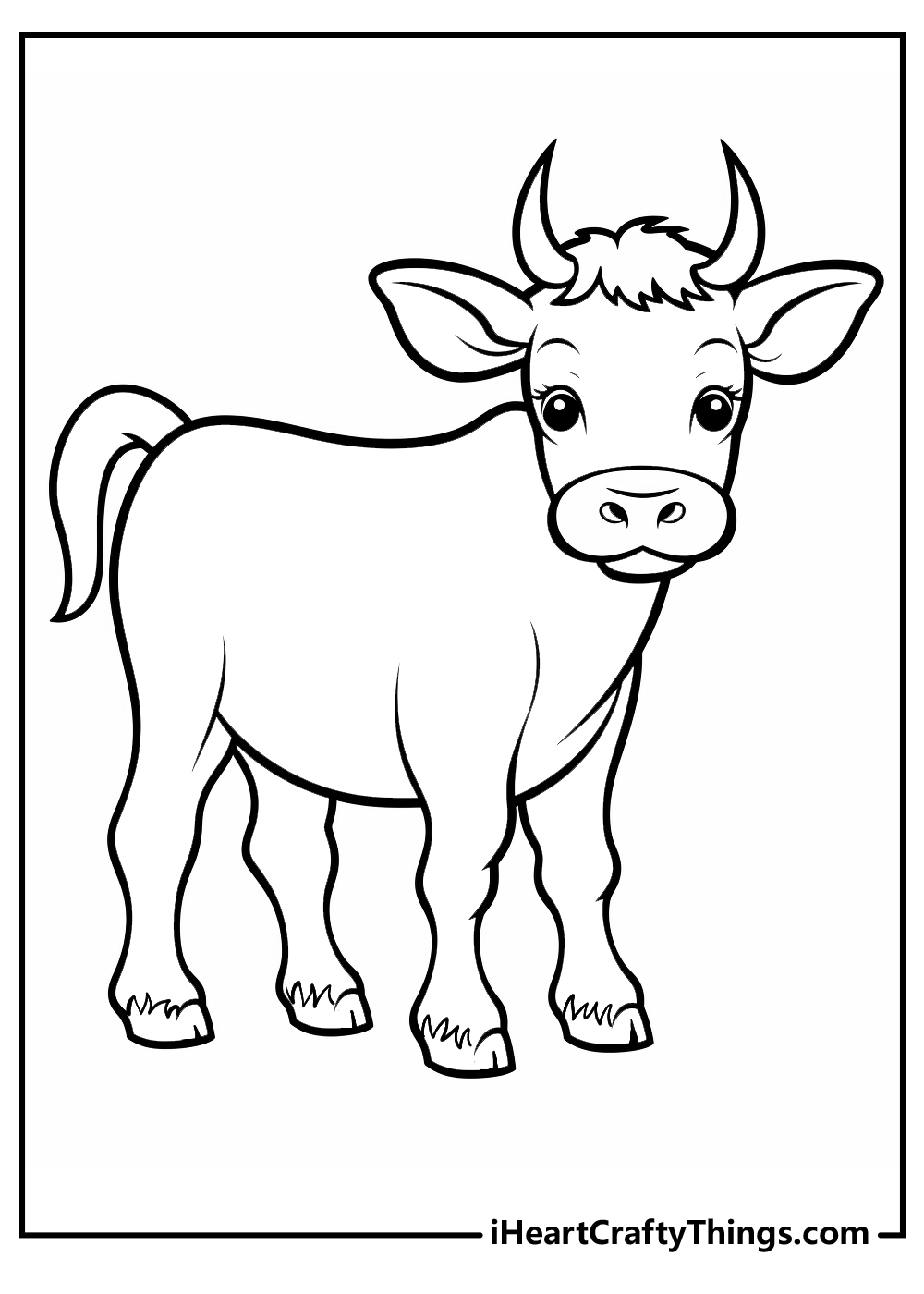 Looking like a friendly mama-cow, this cow features so many design details your child will have plenty of fun coloring.
This coloring sheet captures an adorable cow with a cool hairstyle with bangs. Its hair is covered with spots of different shapes and sizes that could use some exciting colors.
This coloring page leaves plenty of room for your child's imagination to run free.
They can use brown, black, and white shades to color this cow, or they can get creative and play with some intricate color schemes.
Print this page for your little one and invite them to have an entertaining time coloring this lovely cow!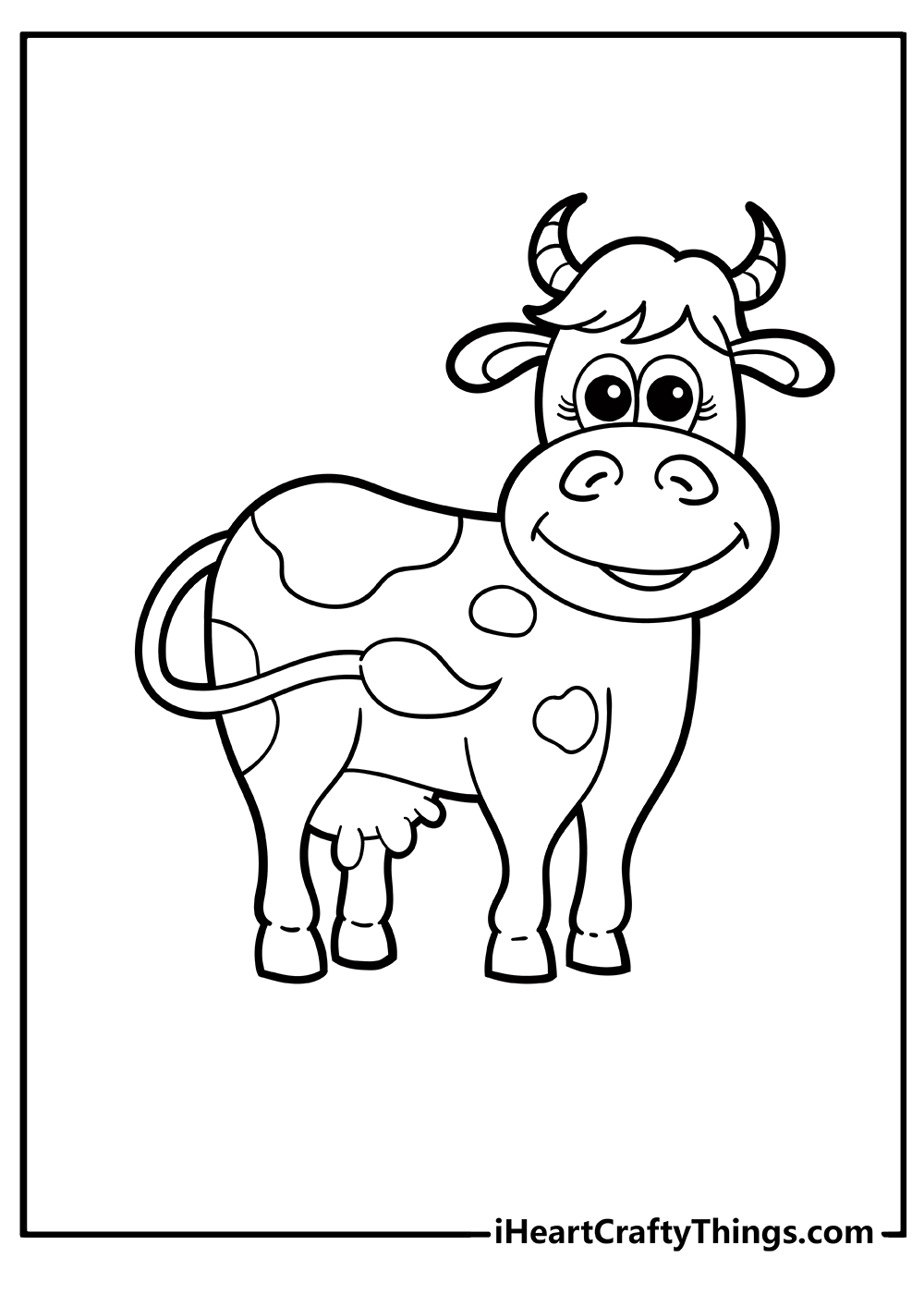 Cows are popular cartoon characters, and they have friendly roles in many movies and TV shows for children.
The cow in our next coloring sheet looks very much like a cartoon character looking for her farm friends to play together.
This cartoonish cow can benefit from some interesting colors, be it pink, red, or even some blue, to accentuate its friendly personality.
For example, your child can use various bright colors for its horns. They can also color the spots on her hair with some interesting hues.
Invite your child to be creative and create a cow cartoon character they would like to see in a movie.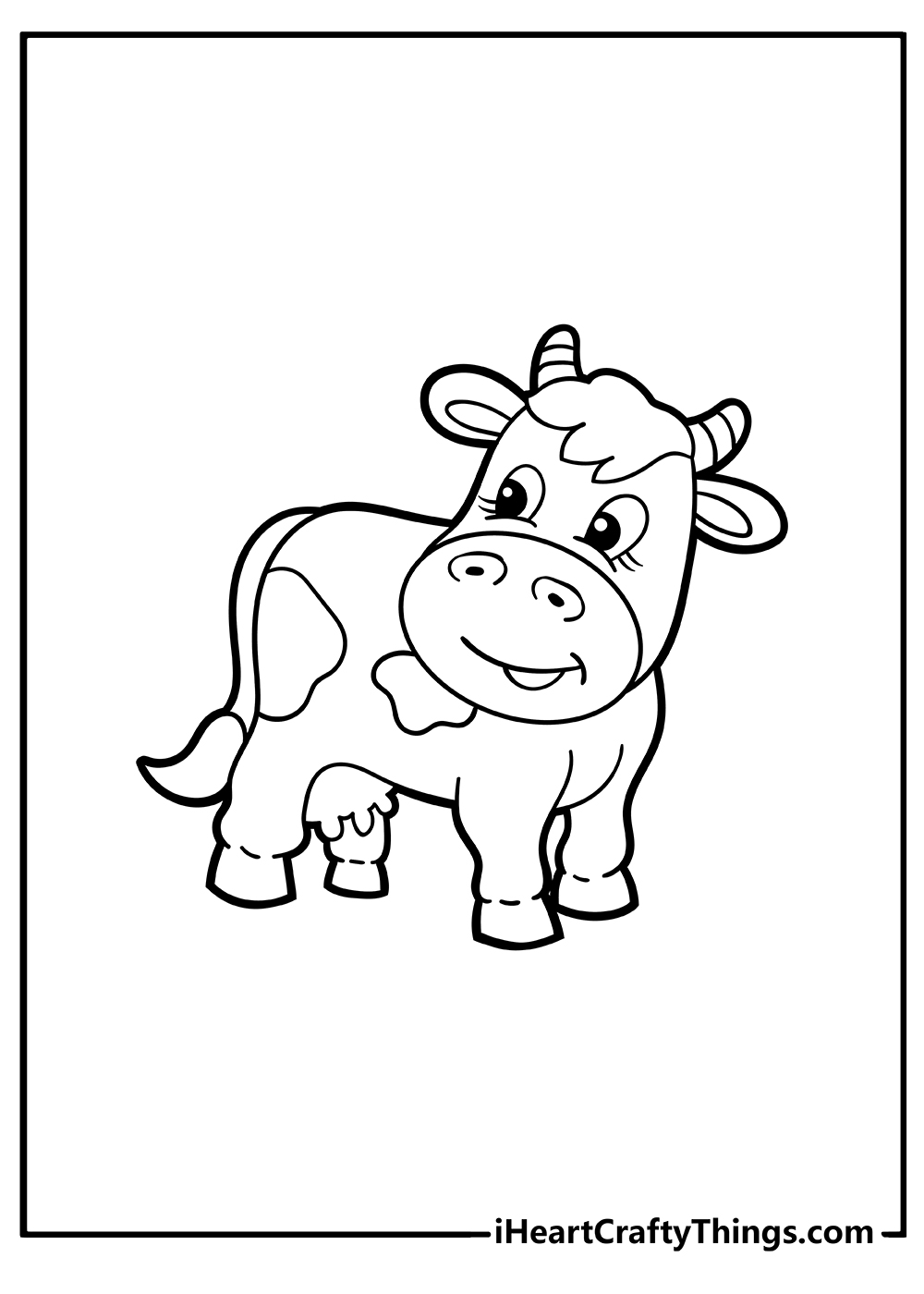 Say hello to this cheerful cartoon cow! With her puffy ears, cute tuft of hair, and cinnamon roll tail, she looks so friendly and fun.
Cows are very social animals who love being around other cows and people. Let's add some happy colors to match this cow's sweet personality!
The background is blank so you can get creative. Why not draw a big grassy field for the cow to graze in?
Cows spend most of their day eating yummy grass and plants. Did you know cows can sleep standing up? But they really love napping in soft hay too!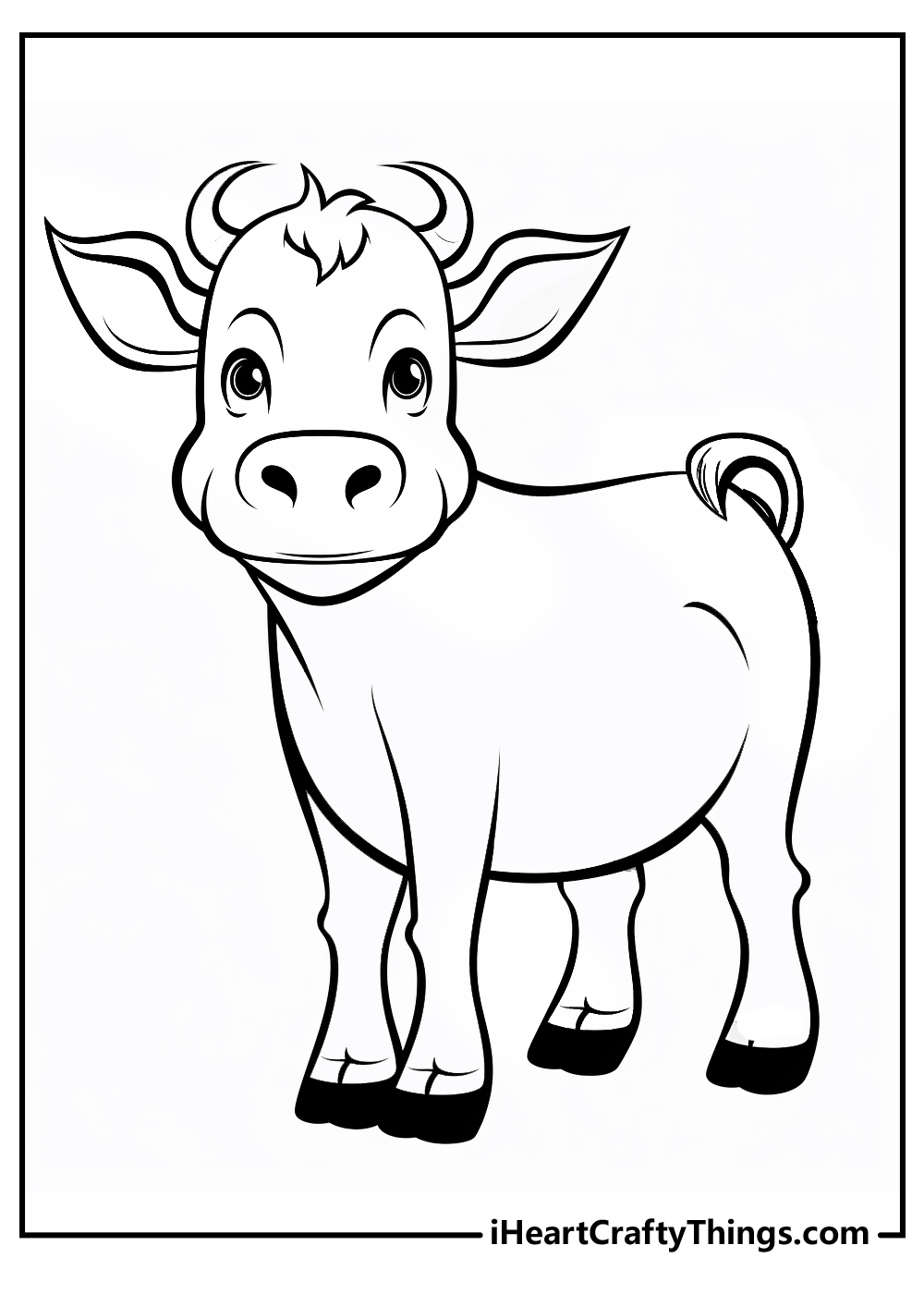 It looks like a chill day at the farm for this adorable cow. Our following cow-inspired coloring page captures an adult cow that looks like she is enjoying her time out.
This coloring page features an adorable cow that is nicely decorated with some intricate hair spots of different shapes and sizes.
The cute bangs on her head make this cow look a lot more realistic and funny, don't you agree?
Invite your children to color this page and get more familiar with this farm animal in a fun way. Which colors should they use?
Whatever shades they like most! Your little ones will surely have fun creating a piece of art with this cute cow image.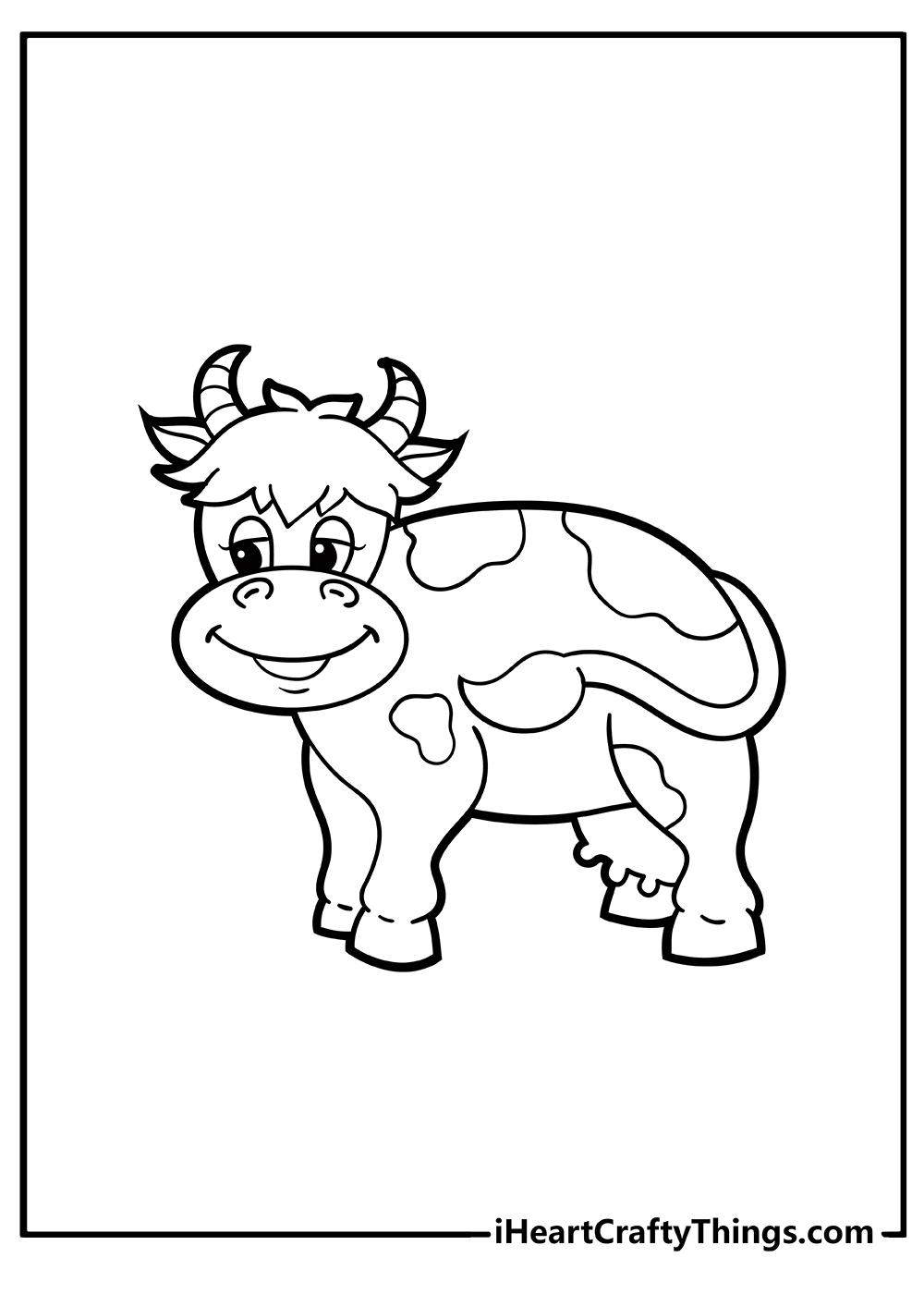 Fun fact: daily rest time is important to cows for their health. Research shows that the average cow needs 12 hours of resting time daily.
The cow in our following coloring page shows how important rest is for these farm animals. She looks like she is taking a break from running and playing with her other farm animal friends.
This coloring page has various design details your child can color, like the spots on this cow's hair, her bangs, and her horns.
The bell around her neck gives your child the opportunity to break out the silvers and golds if they would like to add a bit more sparkle to this image.
Ask your child to add some green on the white background to mimic grass.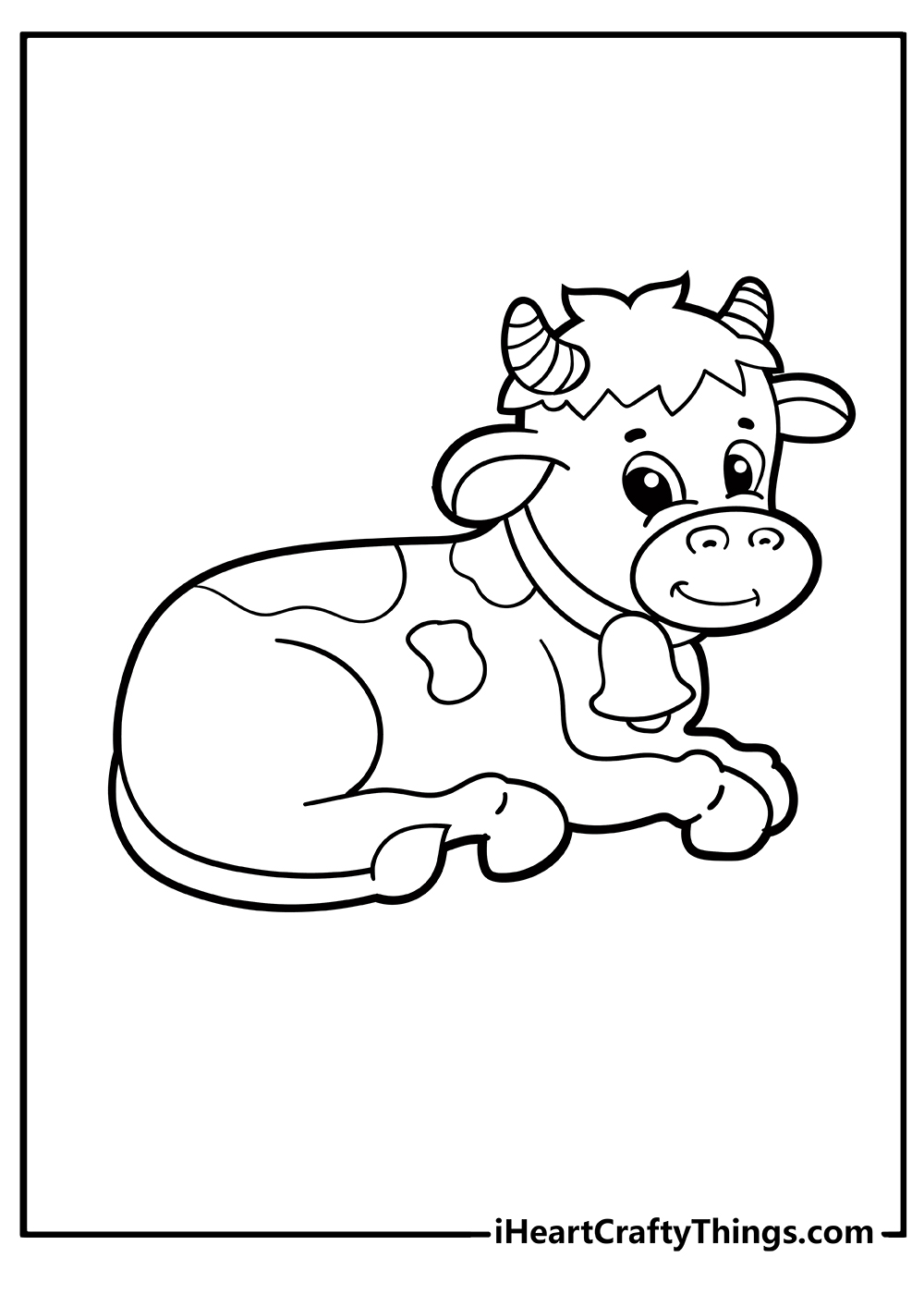 This cow coloring page features a lovely and gentle cow. He has a large head with two horns and big ears. It also has a small body with a tail.
Grab your pencils and crayons and draw some clouds above in white and blue. Use black to outline the friendly cow and brown to fill in its patchy fur. Add your own flowers, bees and birds in the sky.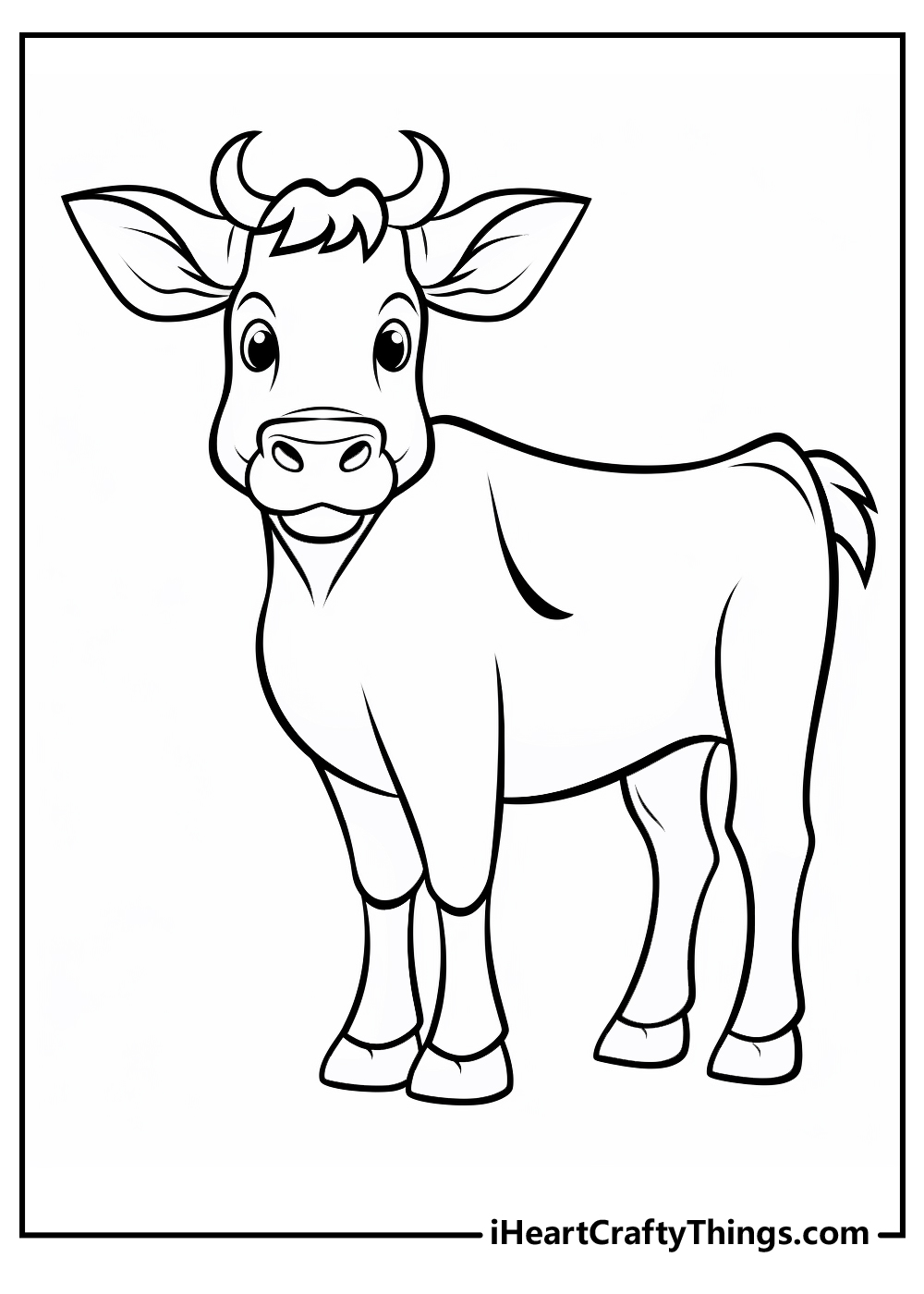 This next coloring printable page captures a cute simple cow that is waiting for its hair to get some exciting colors. This cow has a pretty smile and a curious look.
She is probably curious to see what's happening at the farm. Ask your little one to create a story about what this cow might be looking for.
Your child could use colors like brown, black, or shades of yellow and orange to color this adorable cow.
Plus, you can encourage your child to use different hues to create spots on her hair, maybe pink, purple, or blue.
Considering the white background, your little one can get creative and draw other design elements to surround this cow.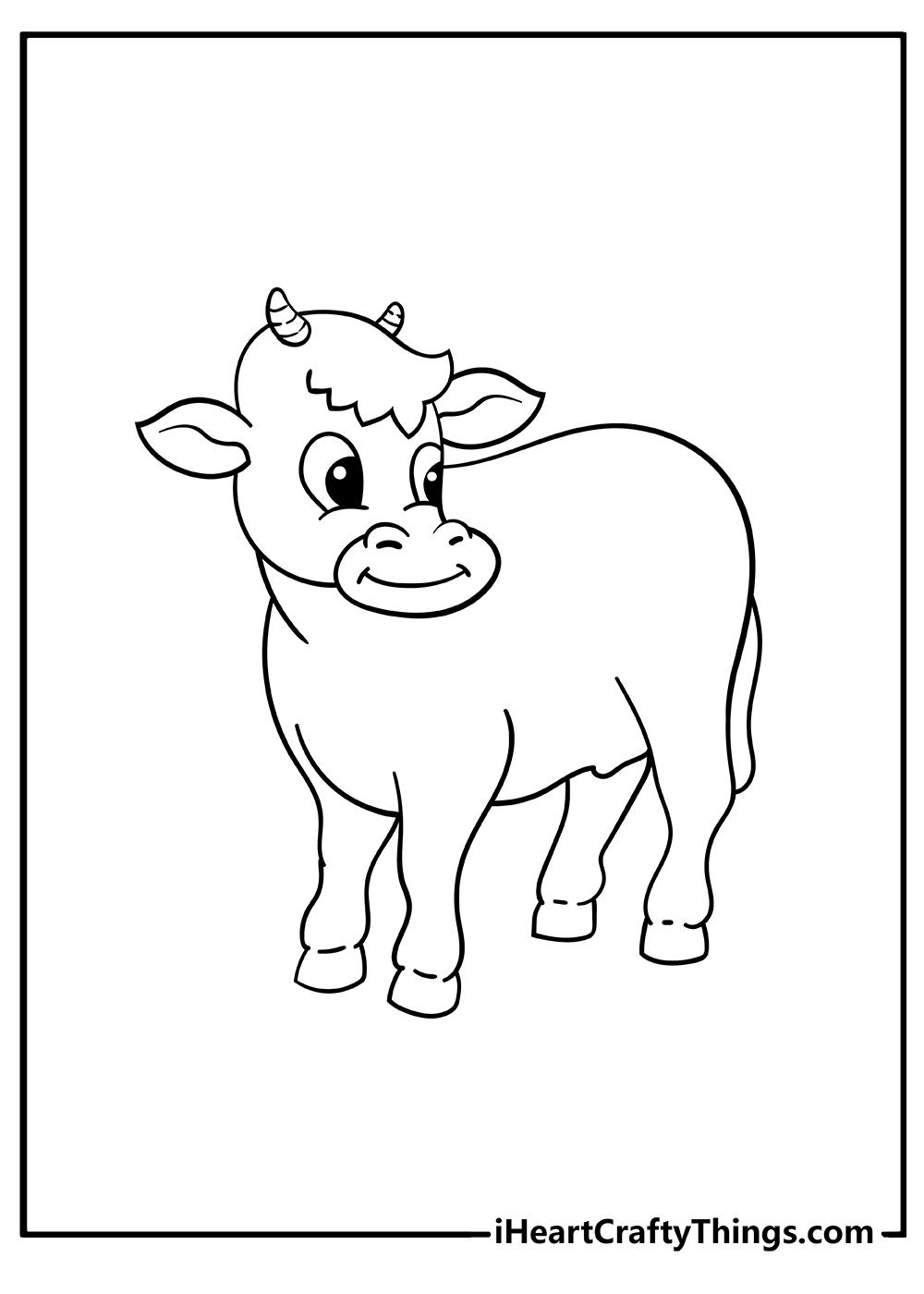 They say, "take the bull by the horns," which symbolizes that you should deal with a challenge directly and confidently.
This is a great life lesson to teach your child while they color our next coloring page capturing a chill bull enjoying some fresh grass.
This printable coloring sheet is a great exercise for your child to practice their creativity.
They can use various colors for the design elements on this page, including the bull's horns, hair spots, and the grass he is eating.
Encourage your little one to draw something on the white background for a personal touch on this work of art.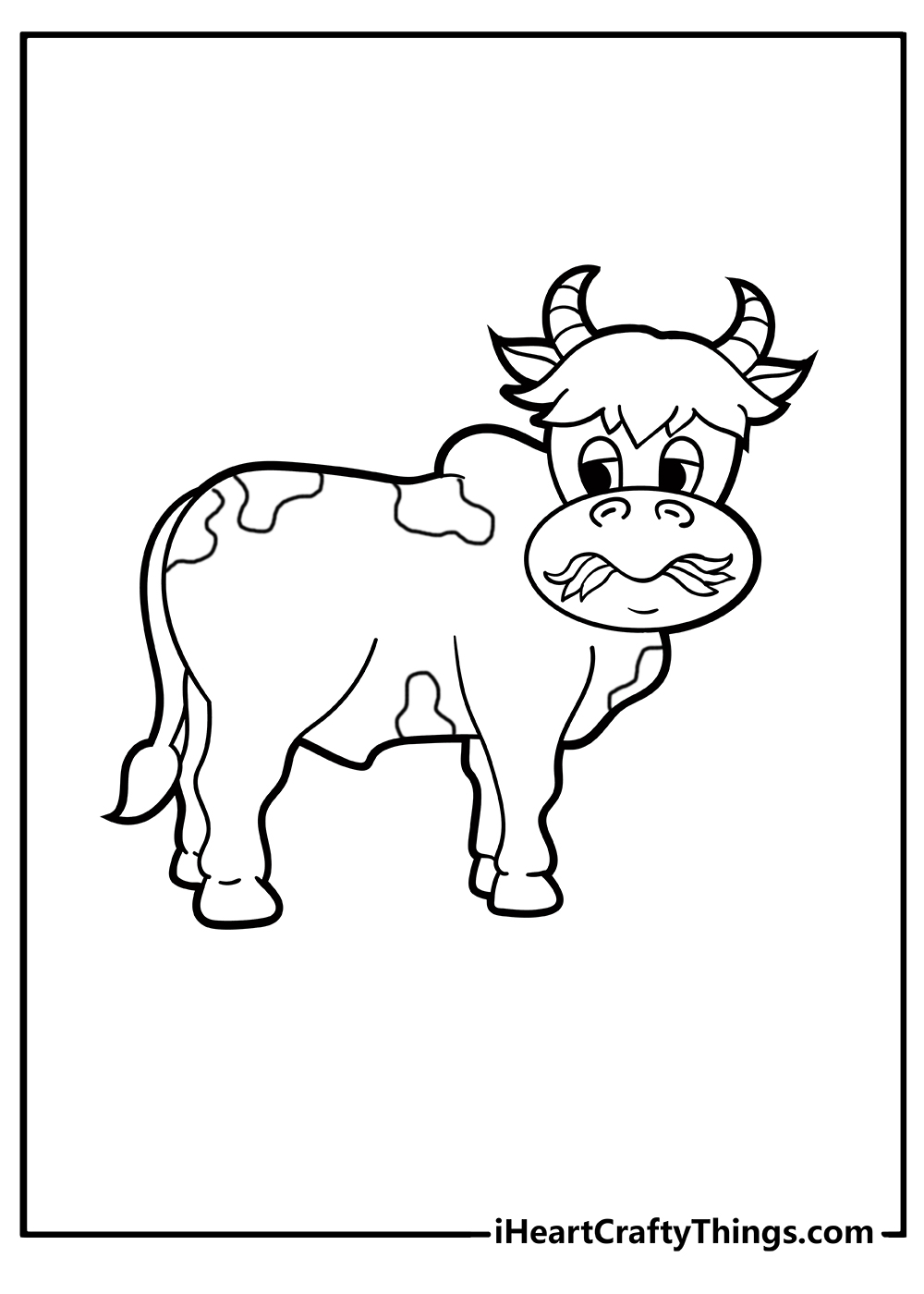 Our last cow-inspired coloring page features a large bull that, despite its size and sharp horns that can be scary, looks very friendly, just like Ferdinand the Bull. Remember him?
Your child will have plenty of fun coloring this page. They can think of this bull as Ferdinand and use dark brown shades to color it.
Or, they can simply reimagine a different friendly bull and color it with whatever shades they like the most.
For example, your child could color his ample horns using colorful hues like blue, purple, yellow, and green.
We are constantly adding more printable coloring pages, so visit us again for more fun sheets to create your child's own coloring book!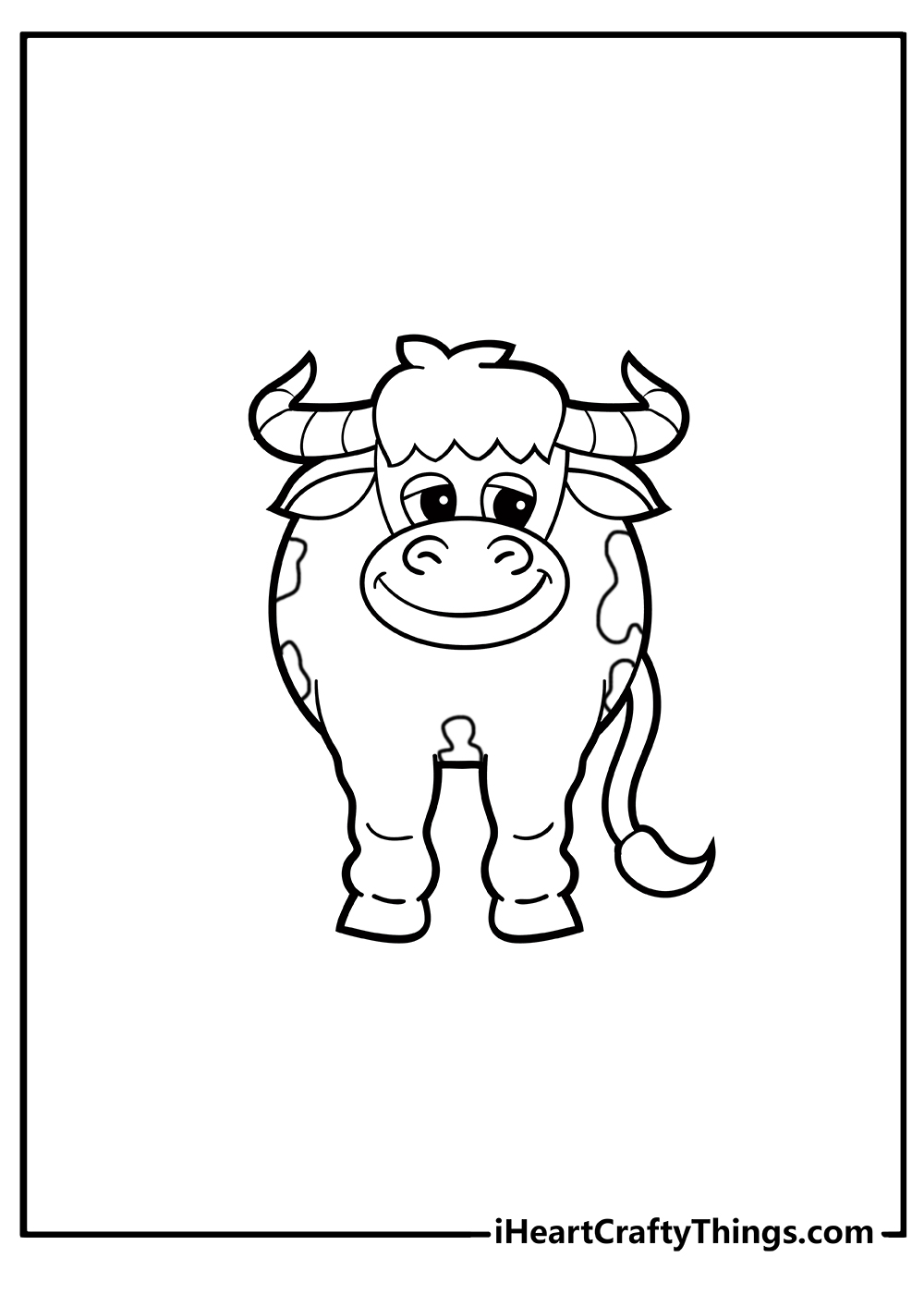 This cow coloring page features a plump and sweet cow that is standing on a white background. The cow has a large nose and two horns on its head. It also has a short tail that is slightly curled.
Give it brown fur with white patches to match a real cow's markings. Get creative by making them polka dots, hearts, or star spots on its body.
Leave the background blank to draw in green grass, yellow dandelions and a big red barn.
You can add some farm animals like chickens, horses, sheep or even a friendly farmer.