Africa is one of the most incredible continents on the planet! It contains many different countries, cultures and different kinds of natural beauty to behold.
Africa is possibly most famous for its wide variety of different incredible animal species as well.
We will be using some of these animals along with other aspects of the country within this collection of free Africa coloring pages for kids!
We have tried to represent a wide array of things that Africa is famous for in these pages for you to enjoy.
You can also spread the joy by sharing these pages with your friends and family to color as well! One two three four five six
Every page in this collection is free for you to enjoy, and you can even print our multiple copies so that you can experiment with different colors and approaches.
You should really let your creativity flow as you work on these amazing pictures!
You can pick your favorite pictures or color every one if you like! Then, when you have colored your favorites you can then share them on our Facebook and Pinterest pages for us to see.
Now you're ready for a color safari as you begin this collection!
10 Brand New Africa Coloring Pages – Free to Print and Color
To begin this collection of free Africa coloring pages for kids, we will start with an image that features the shape of the continent.
This is a great design that gives you many options for how you could color it in. We think that some bright, warm colors would help to portray the vibrancy and diversity that Africa is known for!
You could also draw some small details that represent Africa to you in the background to add even more to the image.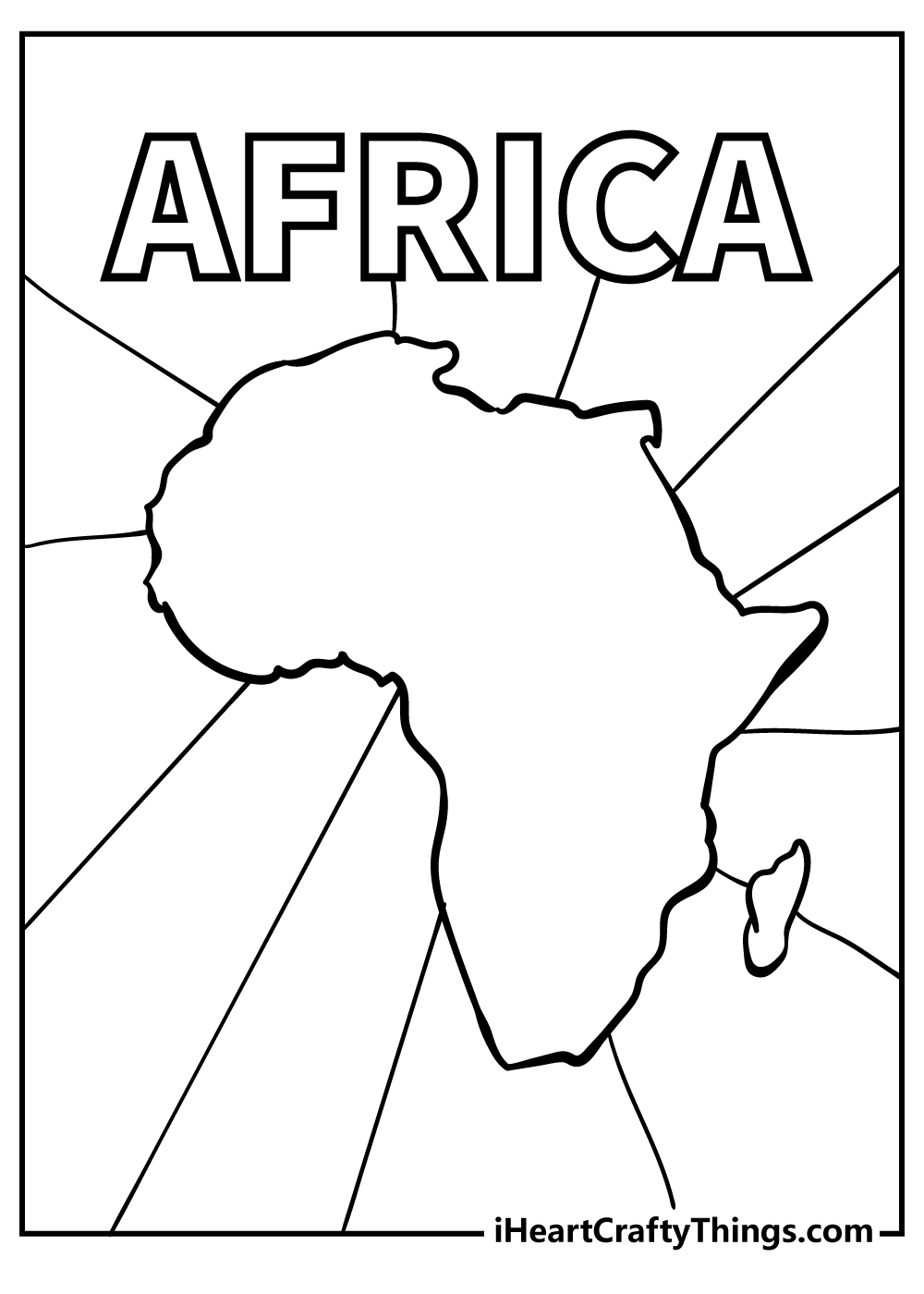 As we mentioned in the introduction to the collection, Africa is known for its incredible diversity of wildlife.
One of the most famous animals the continent has to offer is the lion, and one is featured in this picture.
It is posed in front of the shape of Africa, and it helps to create a really cool portrayal of this incredible creature.
What colors will you use for this stunning image?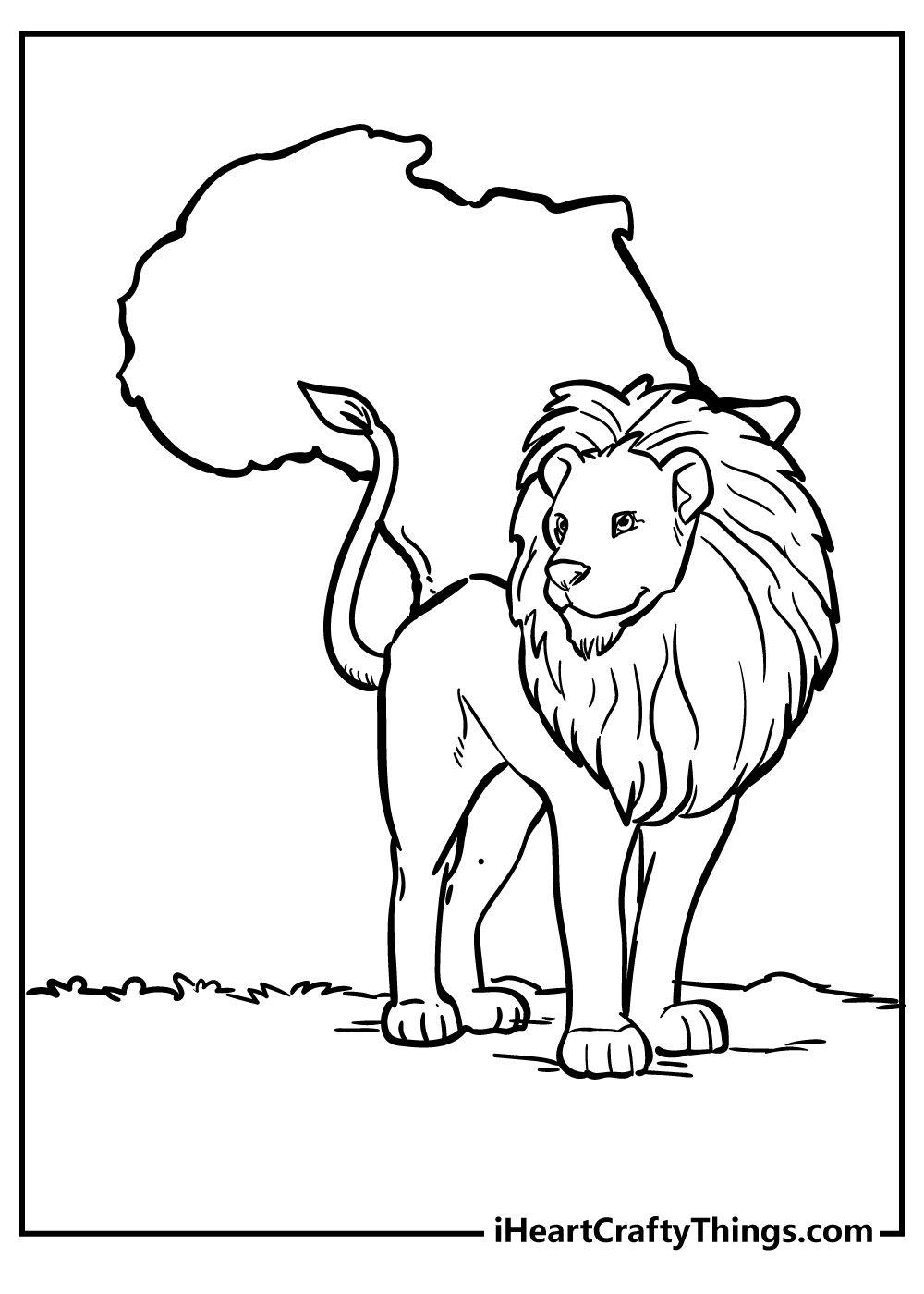 There are so many amazing details to color in this next page, and we're sure this will be one of the most stunning pictures in the series after you're done with it!
In this one, a woman decked out in traditional African dress and decoration is portrayed, and that gives you the opportunity to use some incredible bright colors to bring this image to life.
For this one, we would recommend art tools and mediums that allow for precision, such as colored pens, pencils and thin brushes.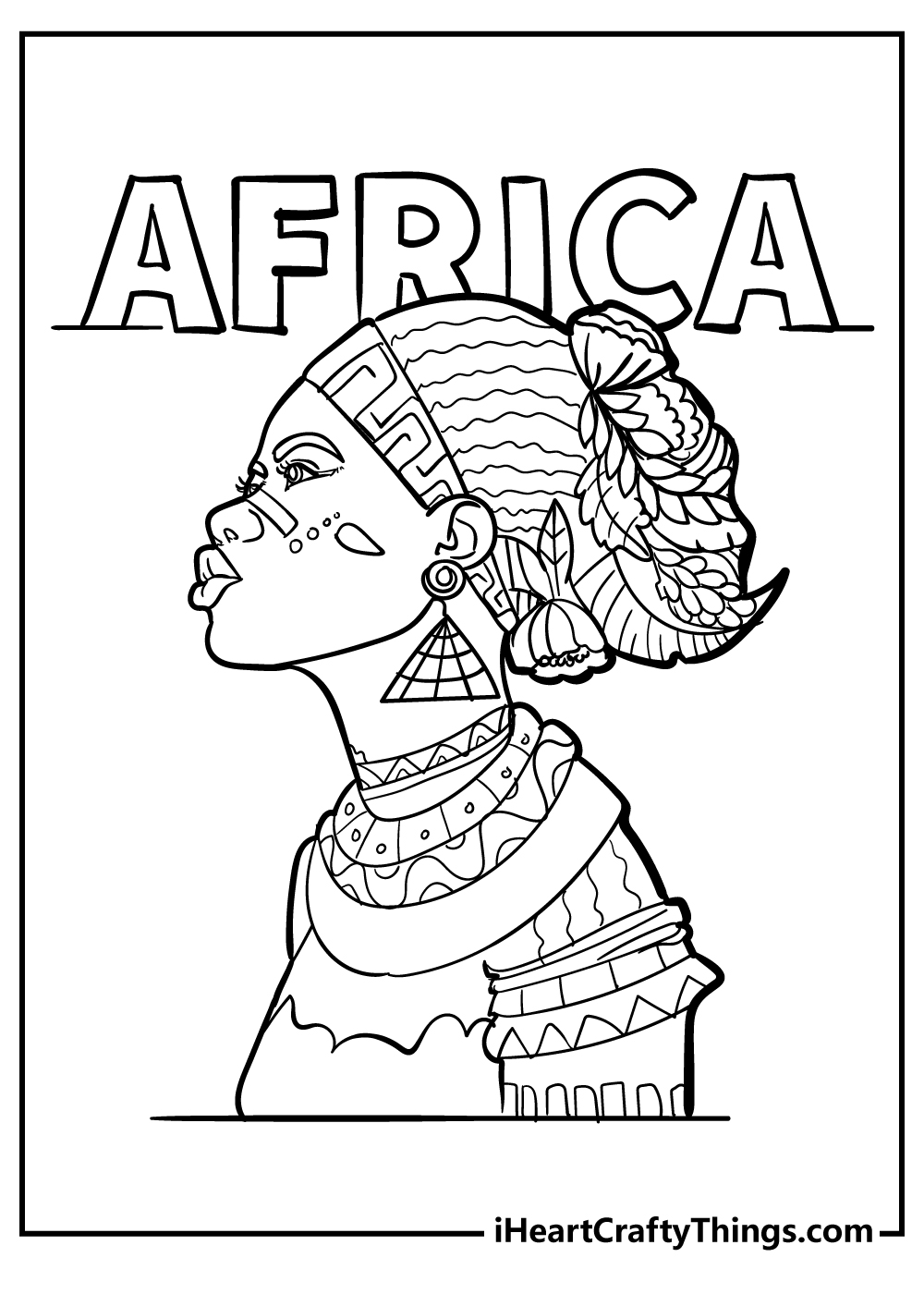 Our fourth free Africa coloring sheet features another iconic African animal; the elephant! These giants are a sight to behold, and they are known for their incredible intelligence.
This one is also posed in front of Africa for a really incredible picture to color. You can also have some fun coloring the background elements for this scene to really finish it off in style.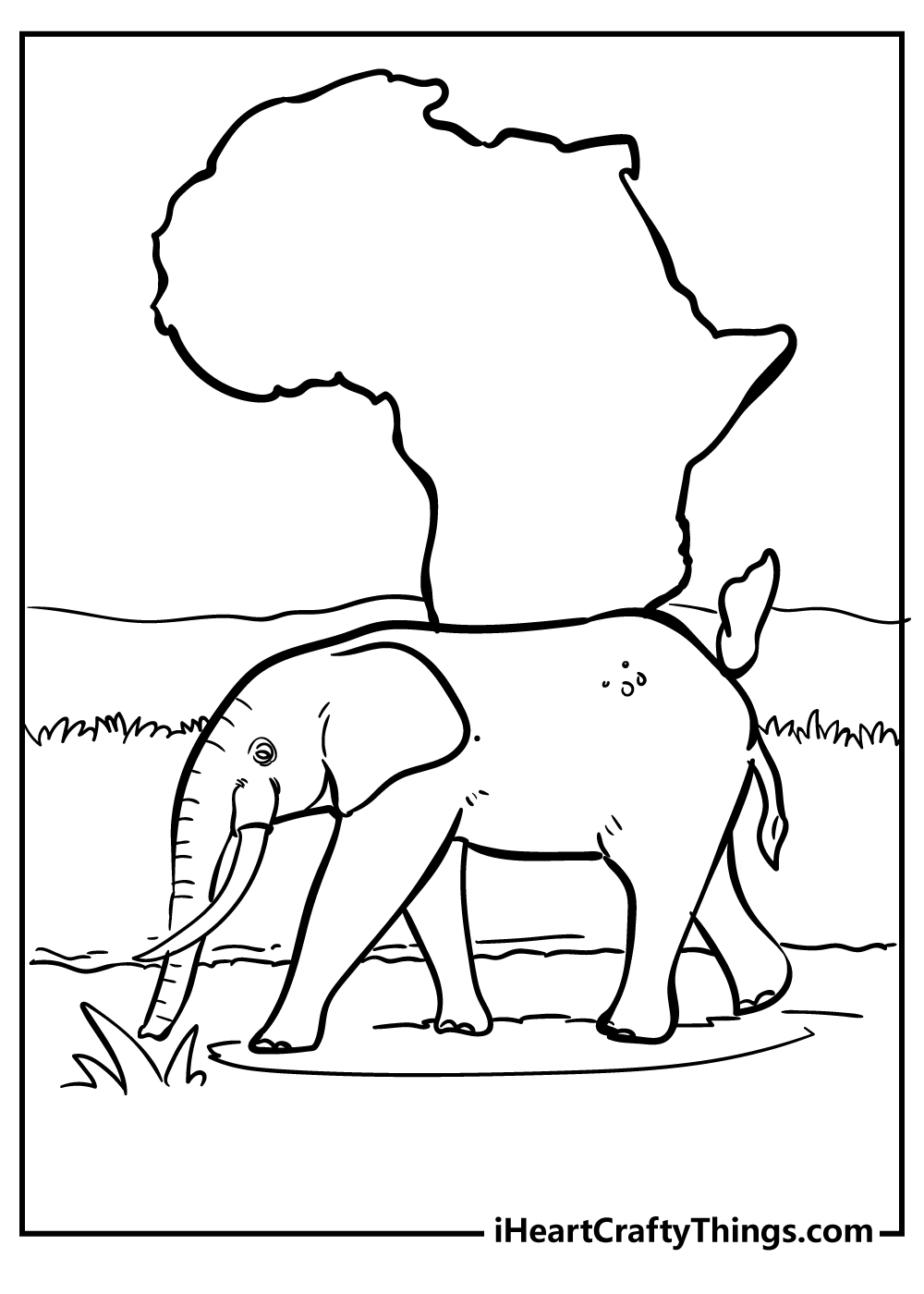 Now here's an adorable scene for you to color! There is a zebra with its baby in this picture, and it is a really cute little scene.
Zebra are black and white, and even if you stick to that color scheme there are still ways to bring some bright colors to the image.
You could use these colors for the letters of the word Africa, but you can also color the background elements for some contrast!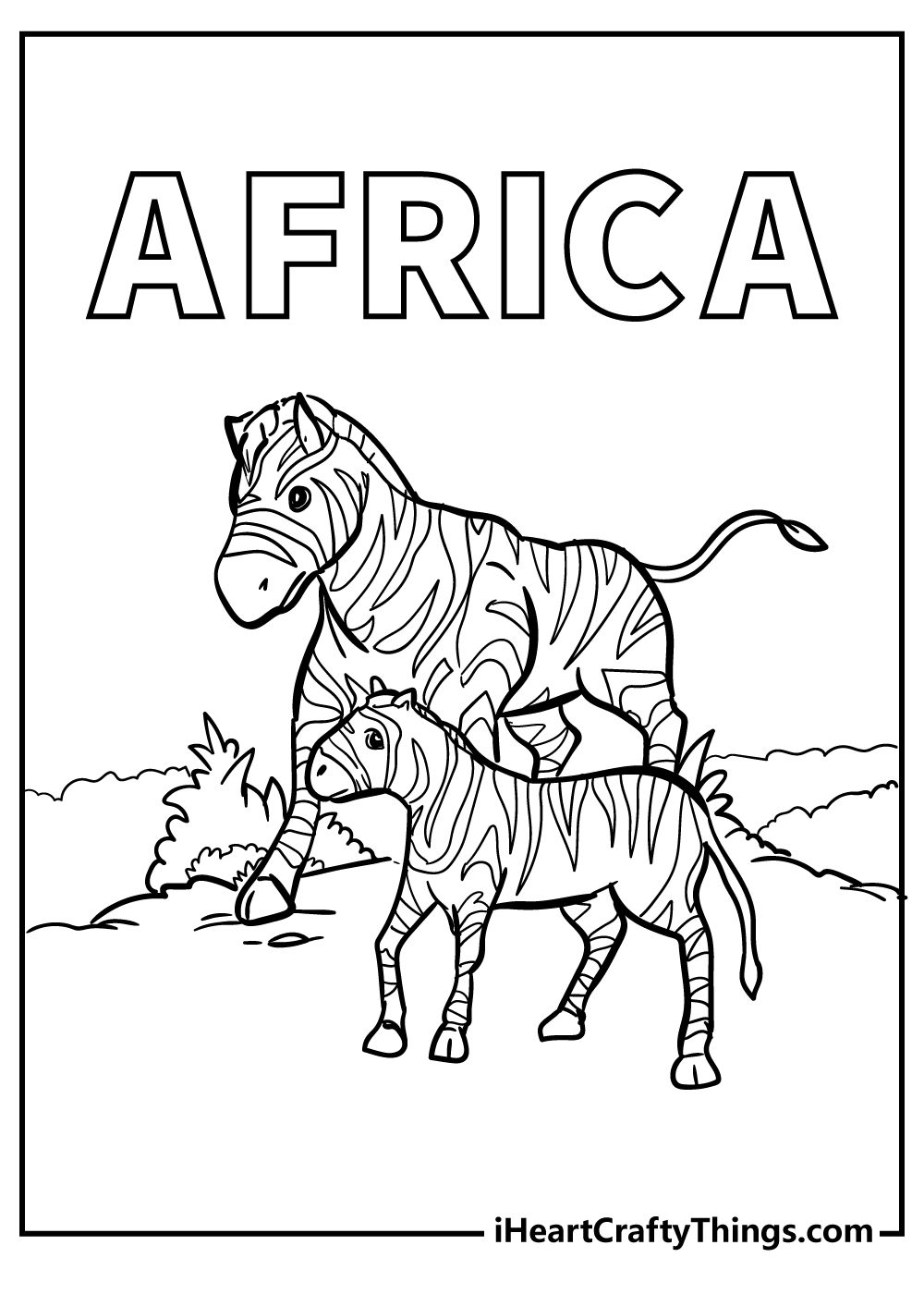 A baboon is up next in this fun image for you to color! Baboons are mischievous animals that can be a bit of a nuisance, but they are also really intelligent and have a unique look to them.
The background is separated into several sections, and it could look really great to use some contrasting bright colors for the background to help create a stunning picture
What color scheme will you use for the background and the letters of Africa?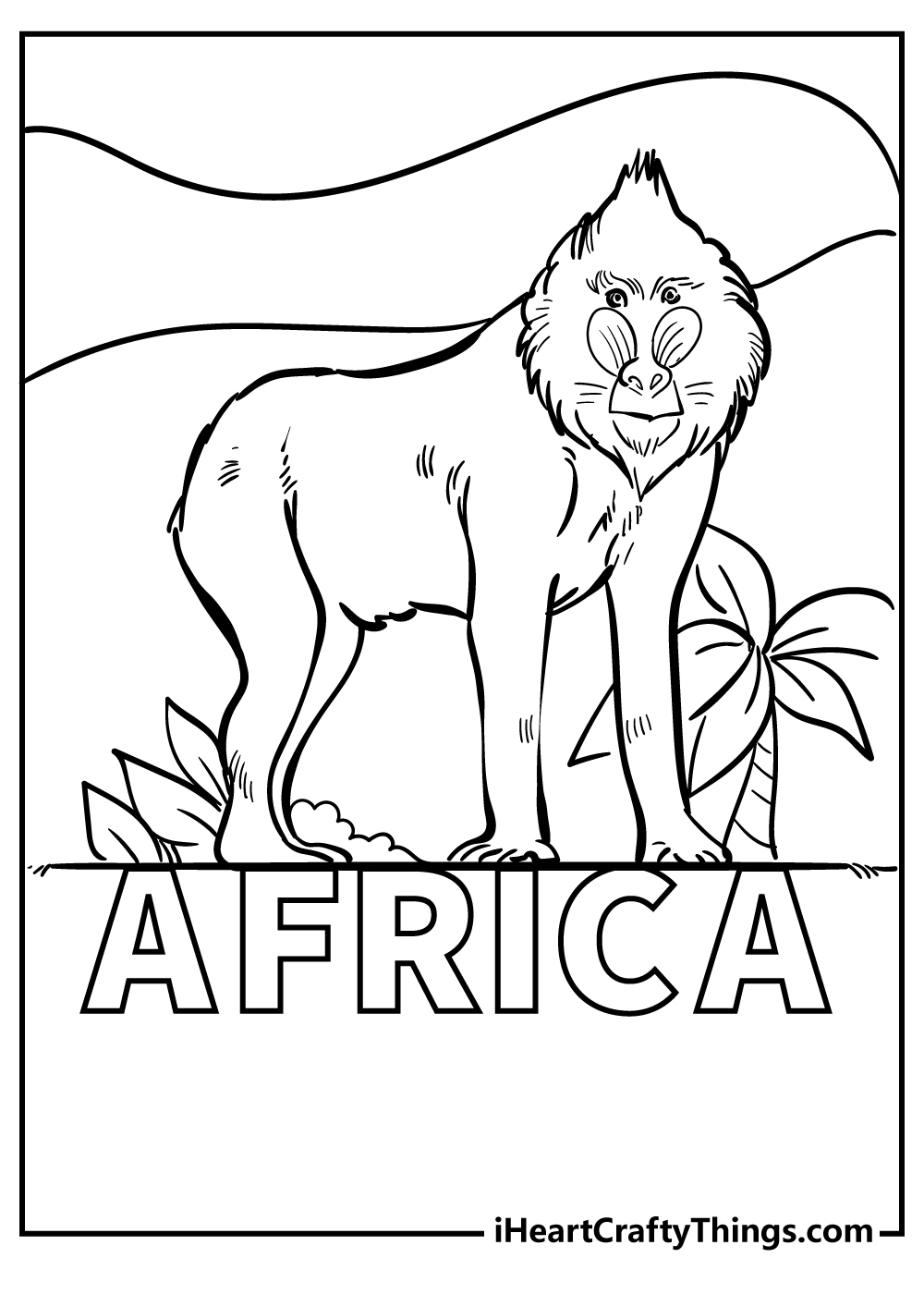 For the next free Africa coloring printable that we have for you, there is another majestic lion for you. This one is wandering the Africa savannas, and there is a wide, beautiful sky above it.
For the sky, you have a few options for how you could color it. One would be to color it with some bright blues, but you could also use some oranges and yellows for a sunset scene.
You could also color in some grey to create an overcast setting, and these are just a few of the ideas you could go for! What kind of setting will you go for when finishing this one off?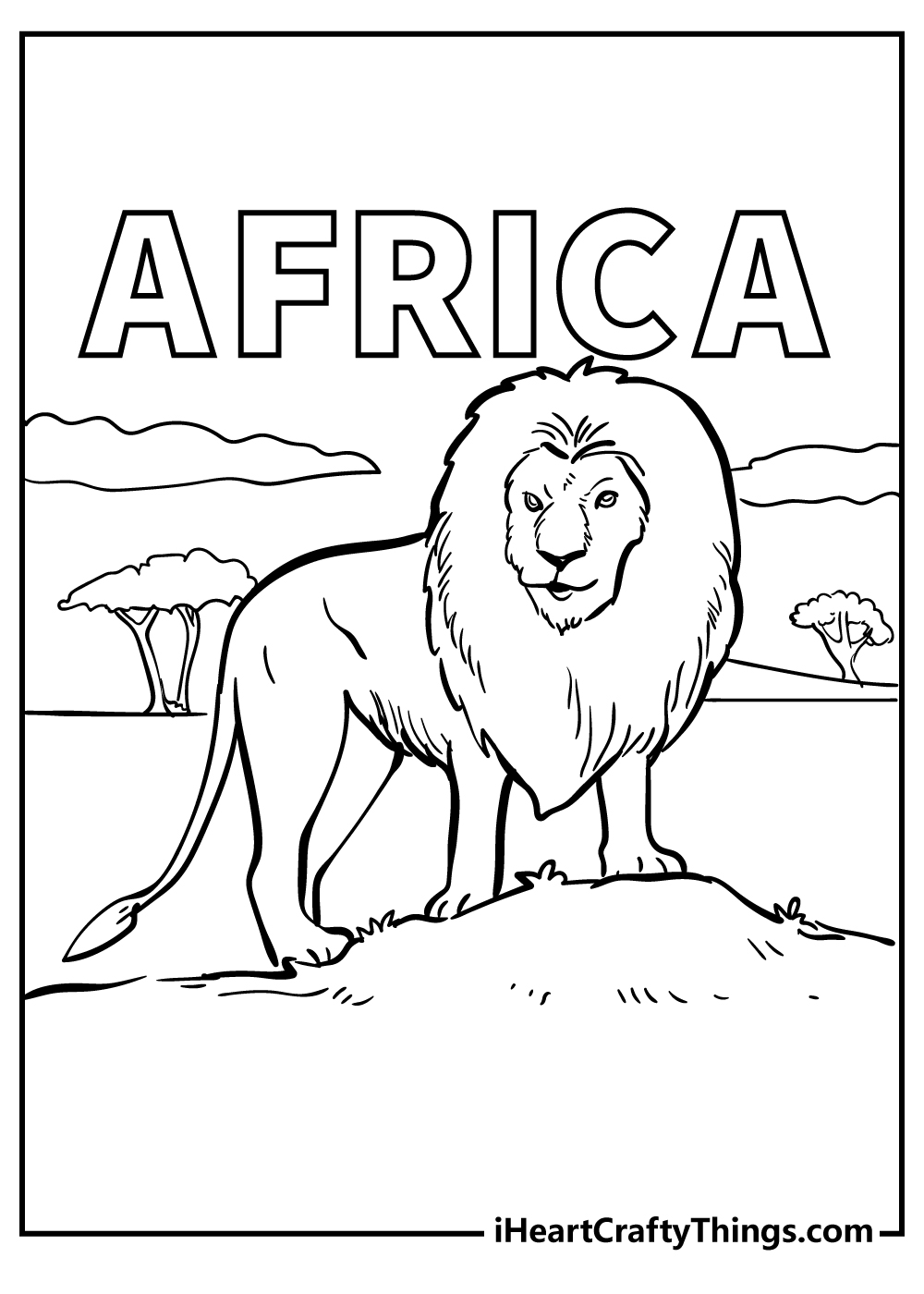 What a great design we have for you in this next picture! The outline of Africa is again featured, and it contains a great portrayal of a mighty elephant.
When coloring the interior, you could go for some realistic colors or maybe a more stylistic approach.
You can also create a really incredible background with the colors that you use for that wide open space. We will be interested to see how you go about coloring this one!
A beautiful giraffe is up next in this picture. This creature is one of the most unique that Africa has to offer, and it is also one of the most beautiful.
This amazing animal is a beautiful yellow tan color with lots of brown spots all over its body.
It can take a bit of patience coloring all of these spots, but it will be worth it when you have a beautiful picture to show off!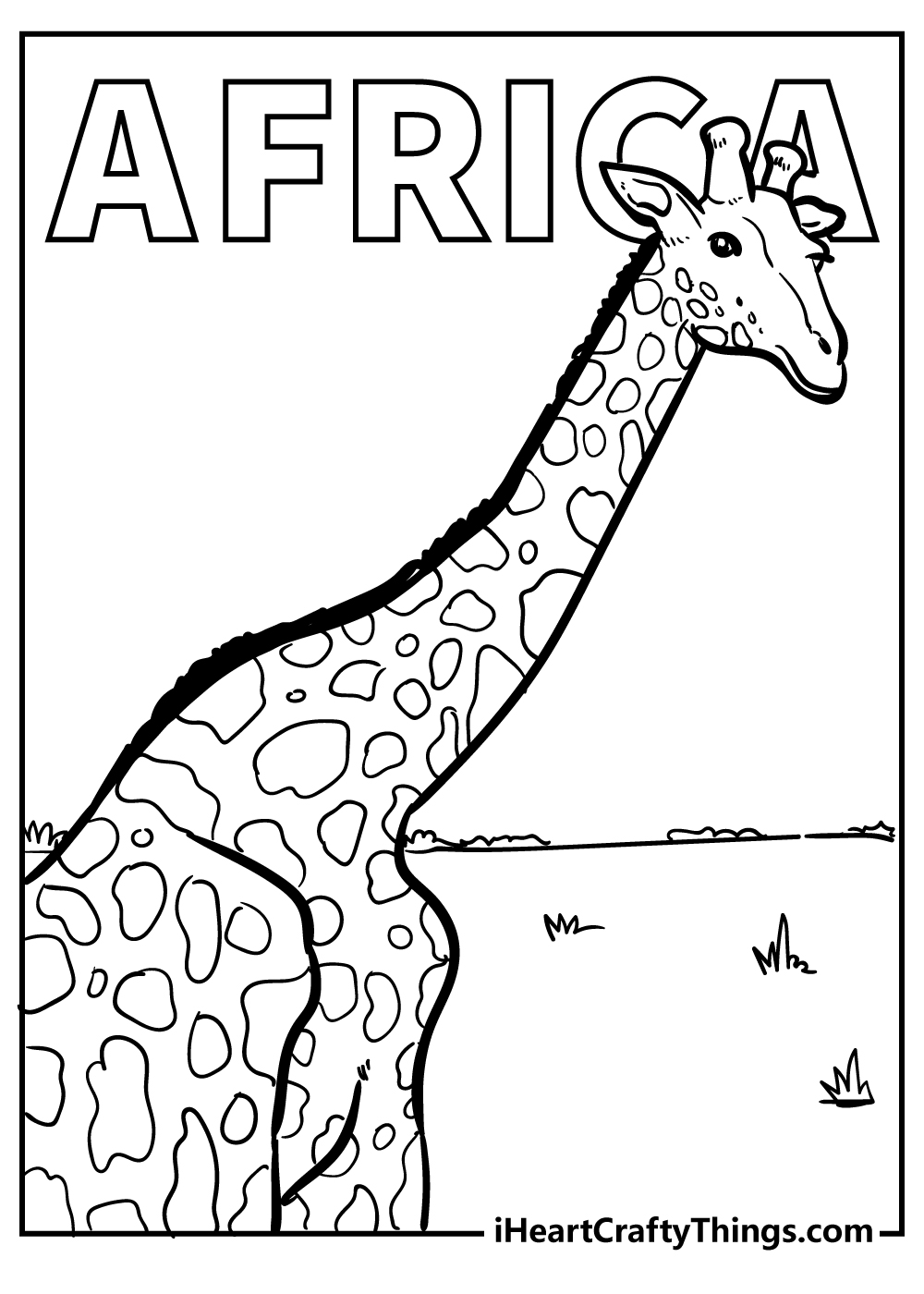 This is the final Africa coloring page in this collection, and it's another stunning picture! We have the outline of Africa with the word written in a lovely bold font within.
Then, the background is separated into many different sections for you to color.
We would use lovely bright colors for the background that are portrayed with vibrant mediums such as colored pens, markers or acrylic paints.
Will you take a similar approach for your version or do you have something else in mind?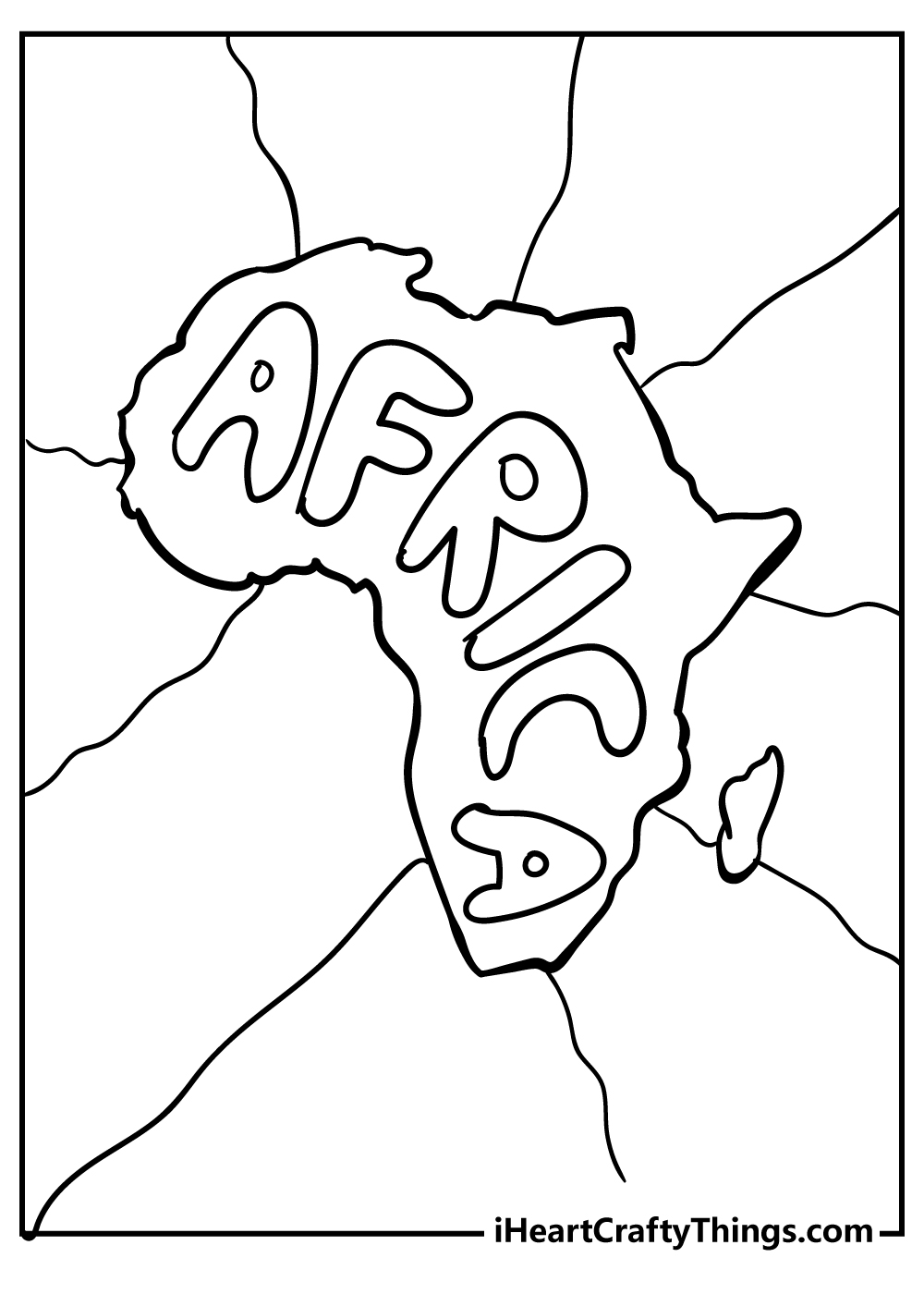 Africa Coloring Pages – Which will you choose?
We hope you enjoyed this colorful trip to Africa as you worked through this collection of free Africa coloring pages for kids!
There were many incredible scenes, animals and other aspects to celebrate this amazing continent, and we know they will look amazing once you're done with them.
You can check out our website for more incredible coloring page collections when you're ready for more!
There are tons to enjoy already with more on the way soon, so keep checking in to never miss out.
Lastly, please remember to share some of your completed Africa coloring sheets on our Facebook and Pinterest pages for us to see!
We can't wait to see some awesome creative portrayals of this incredible continent.