Sometimes, it can be great to venture out into the great outdoors for some relaxing adventures.
There is so much natural beauty to behold, and many people like to create artwork that captures the beauty of nature.
These 15 free nature coloring pages for kids are here to provide some colorful outdoor thrills from the comfort of your own home!
All of these pages are completely free for you to print and enjoy, and you can share them all for other nature lovers to enjoy as well!
So get ready to venture out for some amazing coloring fun as we begin!
15 Brand New Nature Coloring Pages – Free to Print and Color
Rolling hills and beautiful cloudy skies await you with this first in our collection of free nature coloring pages for kids!
There is a winding path snaking along the hills with flowers dotting the landscape and mountains looming above.
There are so many great colors you could use for this image, and you can really let your imagination run wild as you color!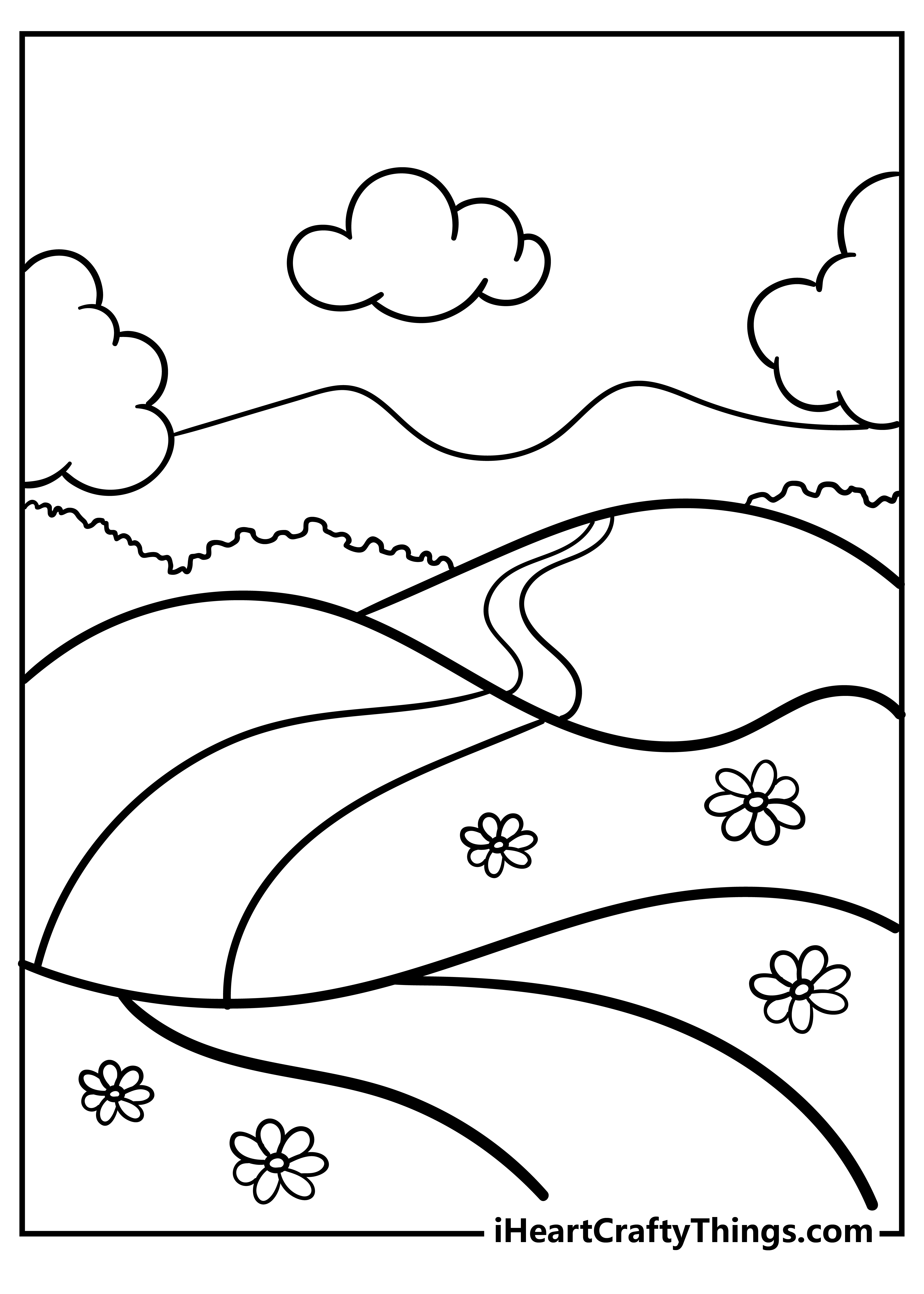 A lake and some mountains are the main features of this second scene. With the lake and the snow on the mountains, we can imagine that this would be a chilly scene to exist in.
For that reason, we would use some cooler colors like blue and green for this one. You can also use mediums like watercolors and colored pencils for a softer look.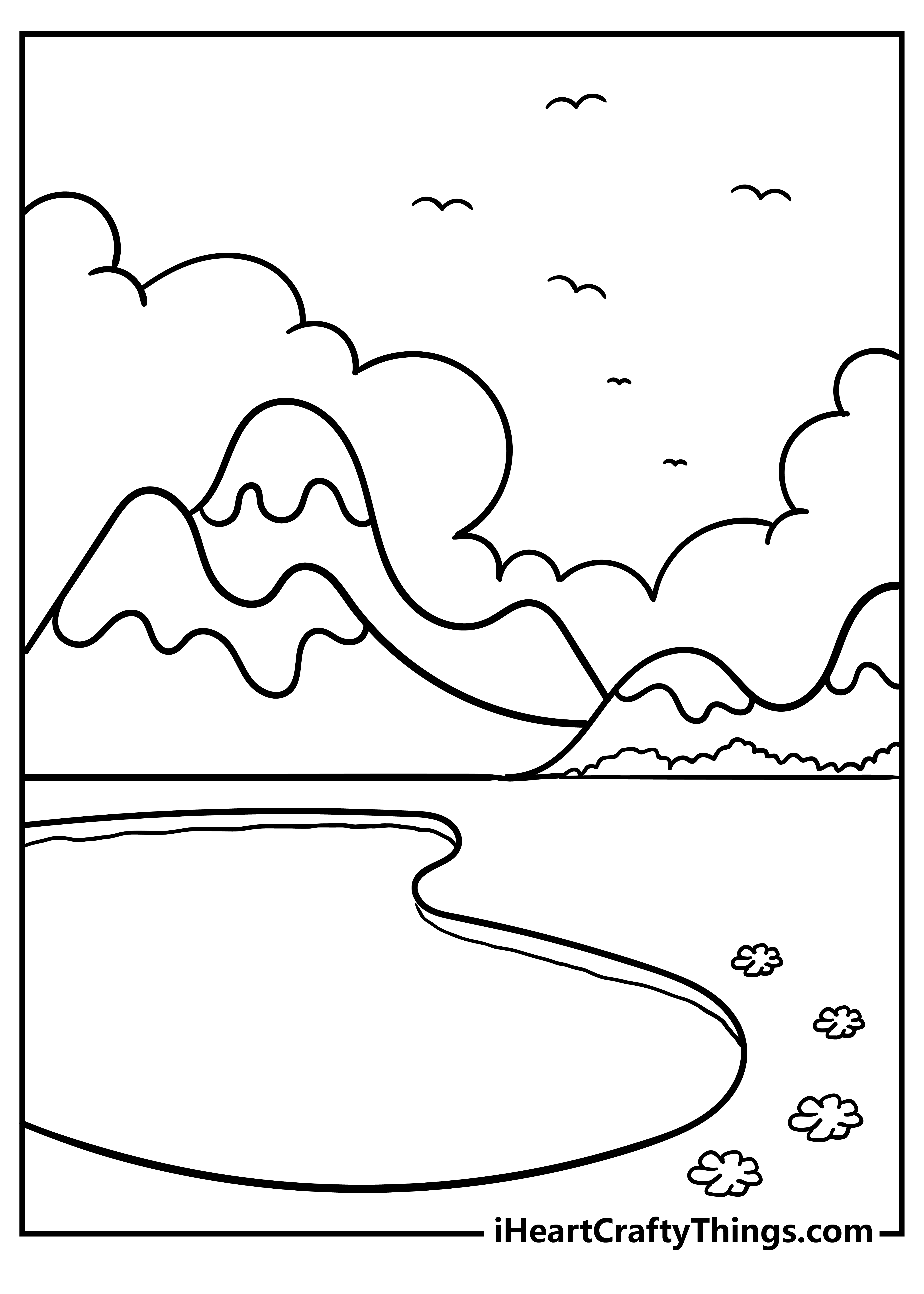 Another peaceful lake is here for you to color in this third image. There are some great details such as tall grass and lilypads in the water, and there are also trees and clouds filling the background.
With so many layers to this image, you can really play around with colors to create perspective!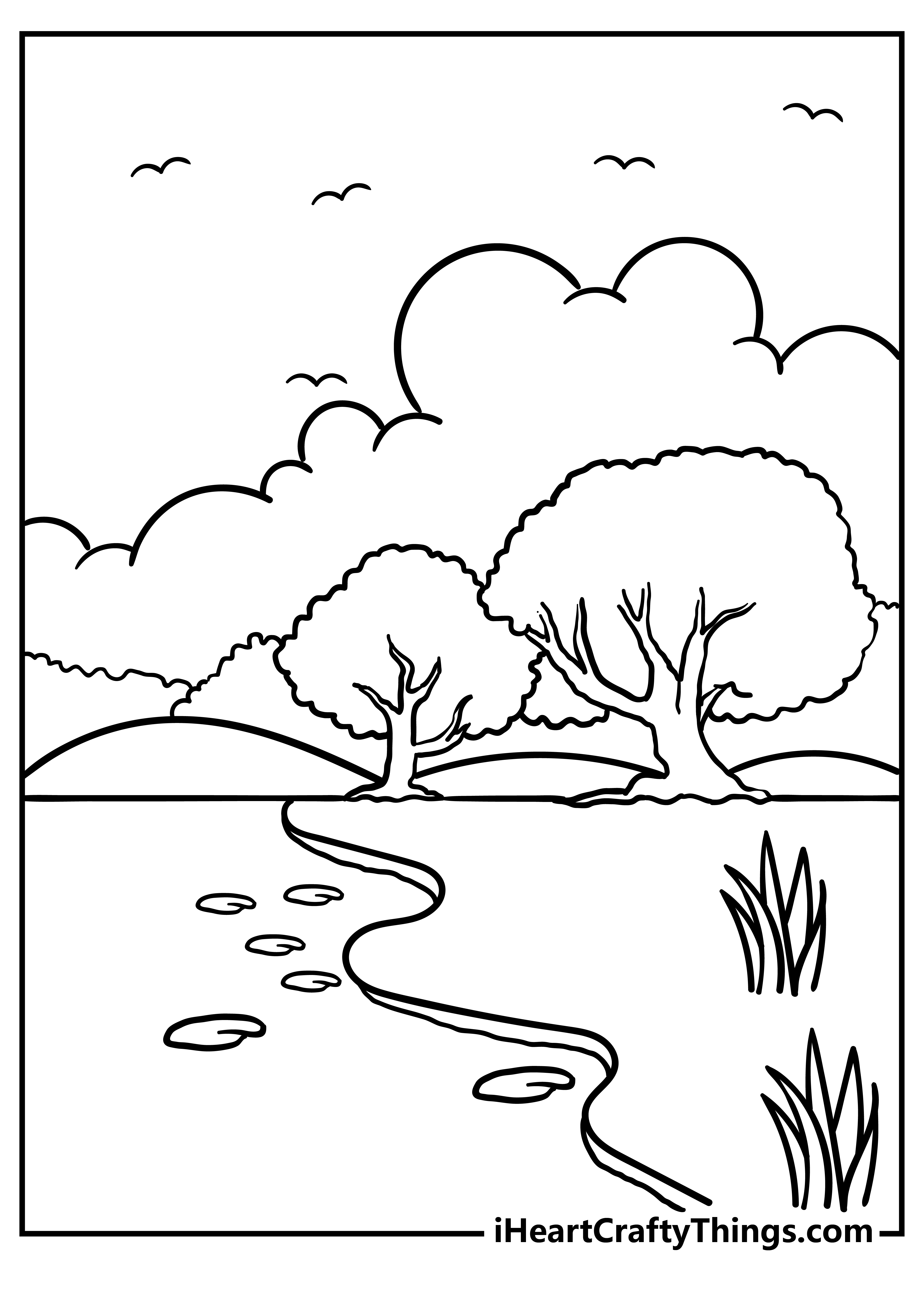 You can take a stroll up a mountain path with this next page! Being on a path like this would really allow you to enjoy the solitude of nature, and it's a wonderful scene for you to color.
This is another image with so many elements and details that will look stunning when done!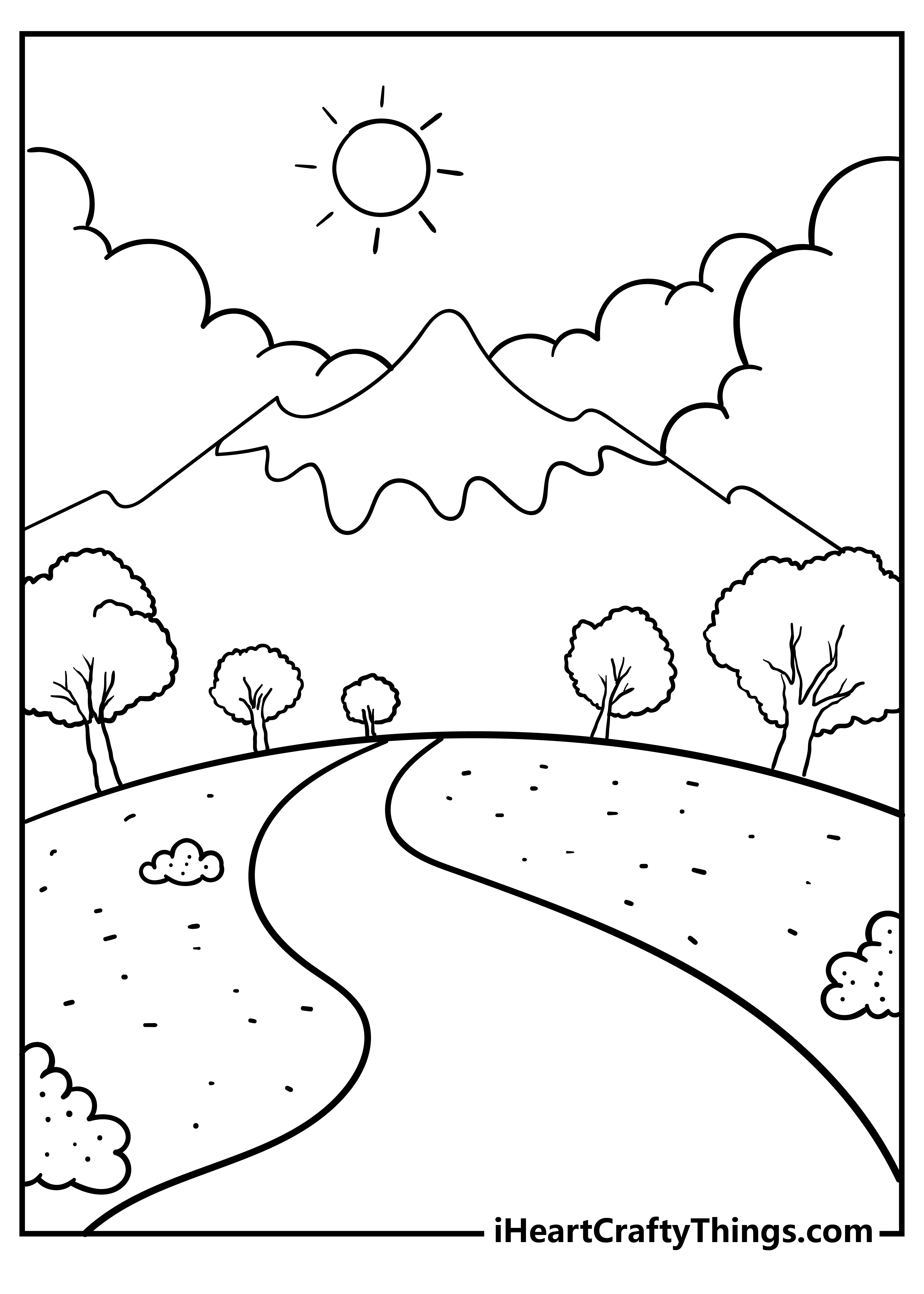 For the next nature coloring sheet, there are tons of smaller details packed into the image.
What you end up with is layers upon layers of stunning details, and it gives you a lot to play around with as you color.
Don't be afraid to really get in there with some smaller color details! If you mess up you can always print more copies to keep experimenting on.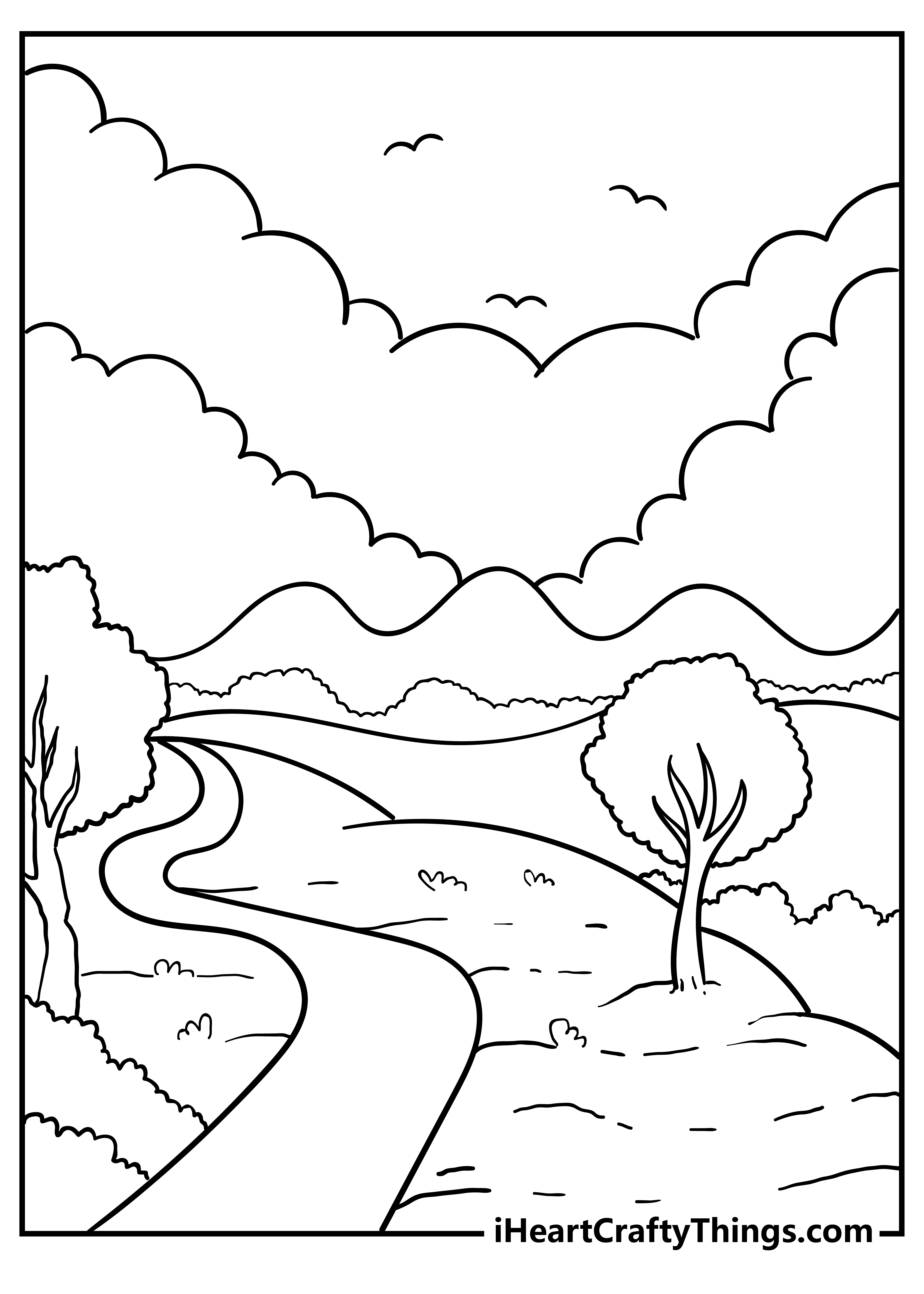 The countryside in this next image is truly a sight to behold. Dotted in the foreground are some tulips, and these flowers are known for their beautifully vibrant colors and elegant forms.
If we were coloring this page, we would try to use a different color for each tulip, and maybe draw in some extra ones as well.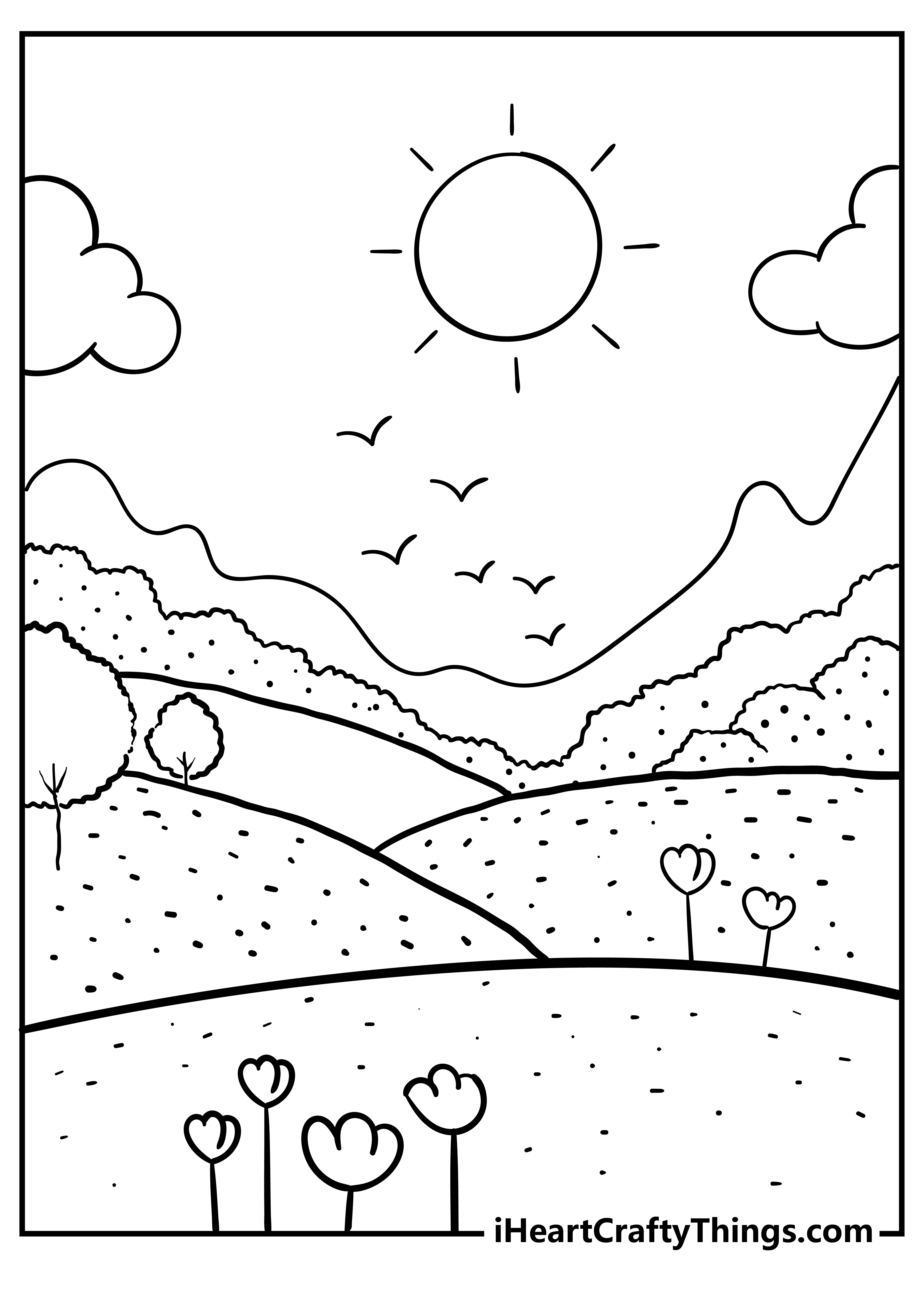 It's time for another mountain getaway in this next image! For this page, you again have so many amazing details to color in.
From rocks and bushes to the sun and mountains above, you can work in so many different colors to make this image pop. How will you bring this wonderfully peaceful scene to life?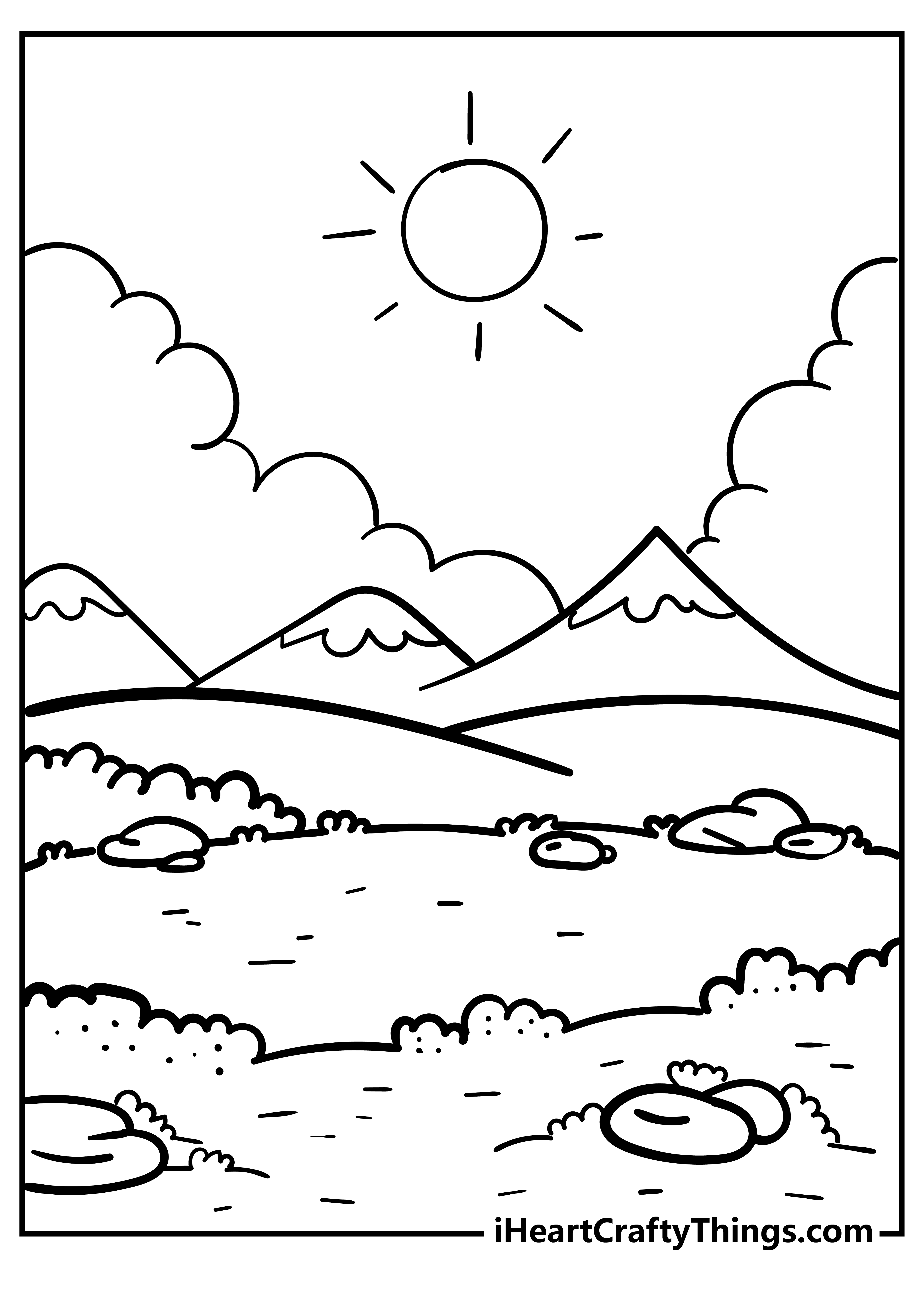 Most of these pages have been larger scenes of nature, but this next one zooms things in a bit to show off how beautiful nature can be at any level.
This butterfly is hovering over a beautiful flower, and these two elements alone give you so much to work with color-wise.
We would certainly use some bright and vibrant colors for this one if we were coloring it in, but what will you choose for this page?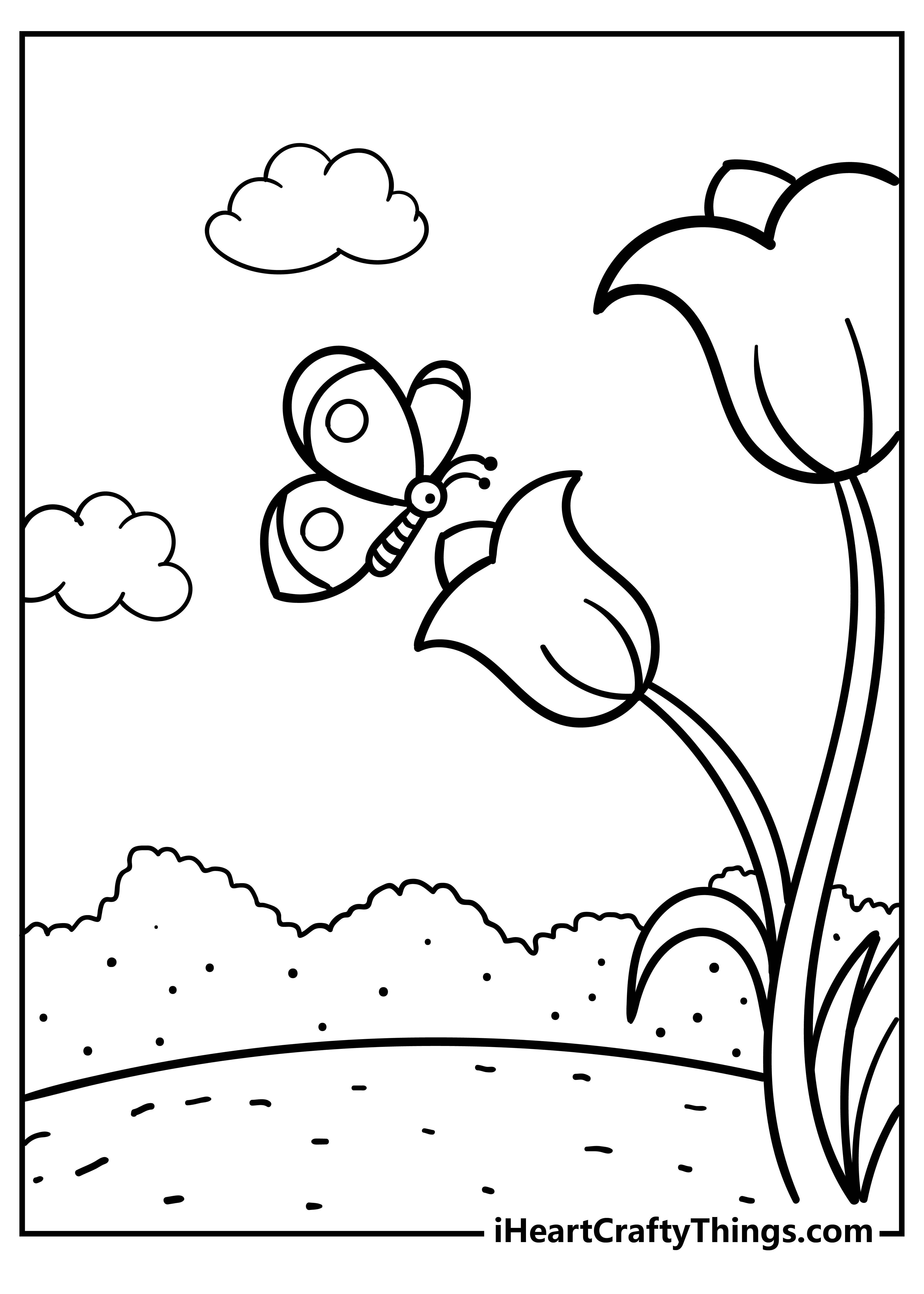 We have another beautiful butterfly for you to enjoy with this next page.
Butterflies have some of the most stunning colors and patterns of any living creature, so they are the perfect subjects for coloring pages.
There are no wrong ways that you could color this butterfly, and then you can also fill in the amazing flowers that is is flying over.
We're sure this will be one of the most colorful pages in the collection when you're done!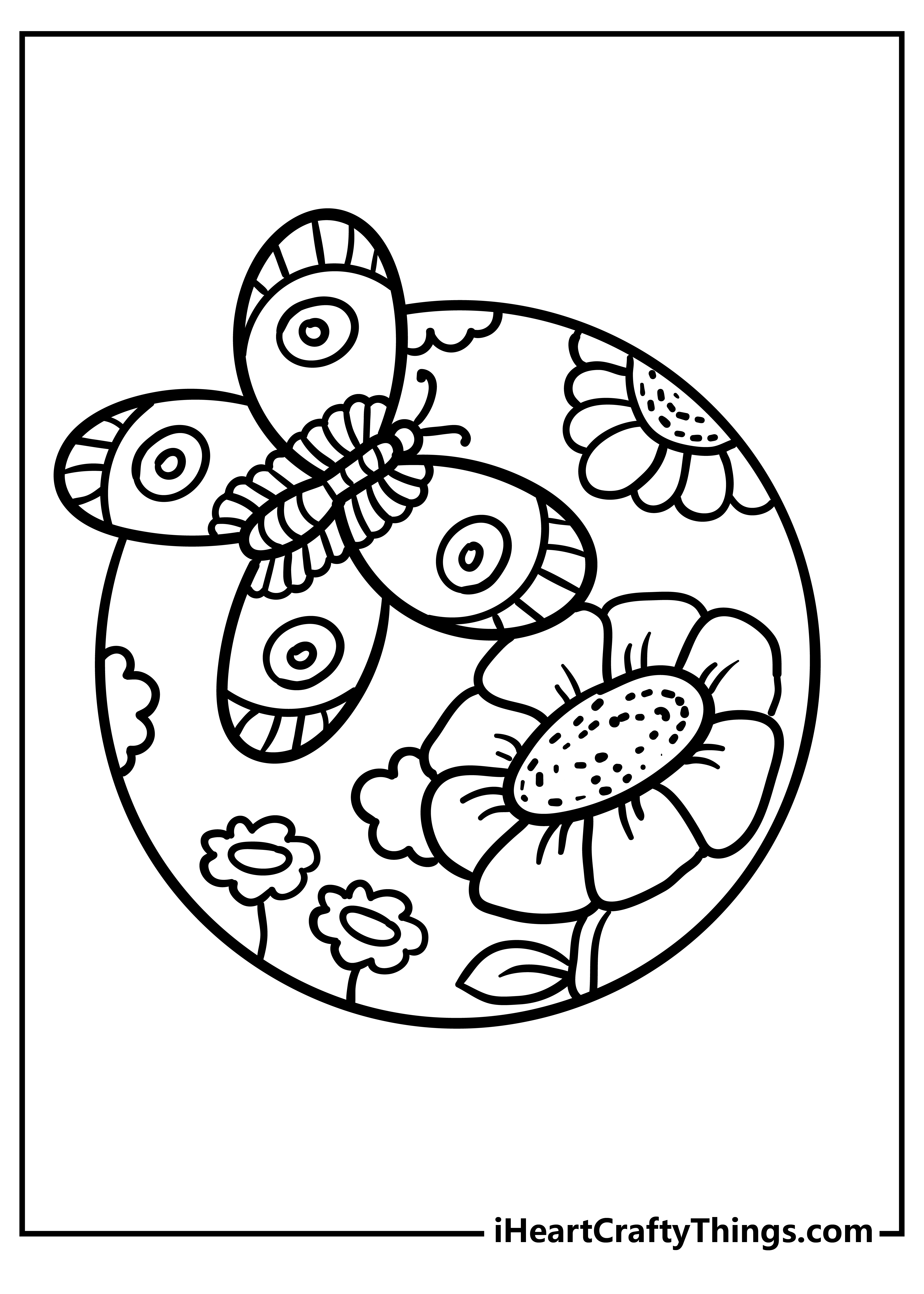 In this next nature coloring printable, we have another charming outdoors scene.
It's a beautiful spring day with the flowers blooming and the sun shining bright, so it's another one where we would use some bright and breezy colors on.
When coloring, remember that you can use different art tools and mediums when coloring to add some extra dimension to the colors that complete each picture!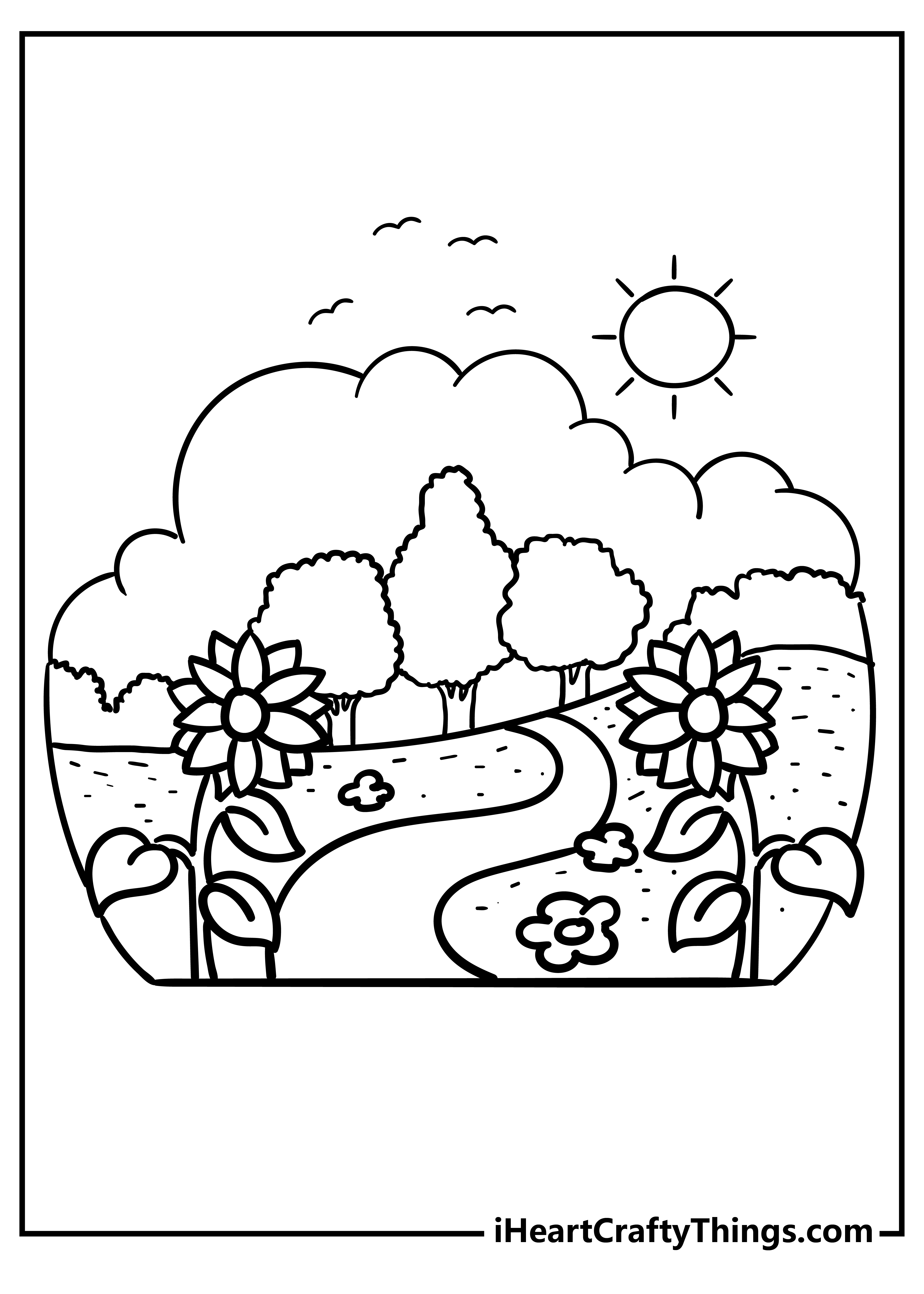 Such a peaceful scene awaits you in this next picture. We have a peaceful tree that has some birds sitting in a nest, and it makes you calm just looking at it!
If we were coloring this one, we would certainly keep the colors very cool and calm to suit the feeling this scene gives off.
Will you go with that approach or create some contrast with brighter colors?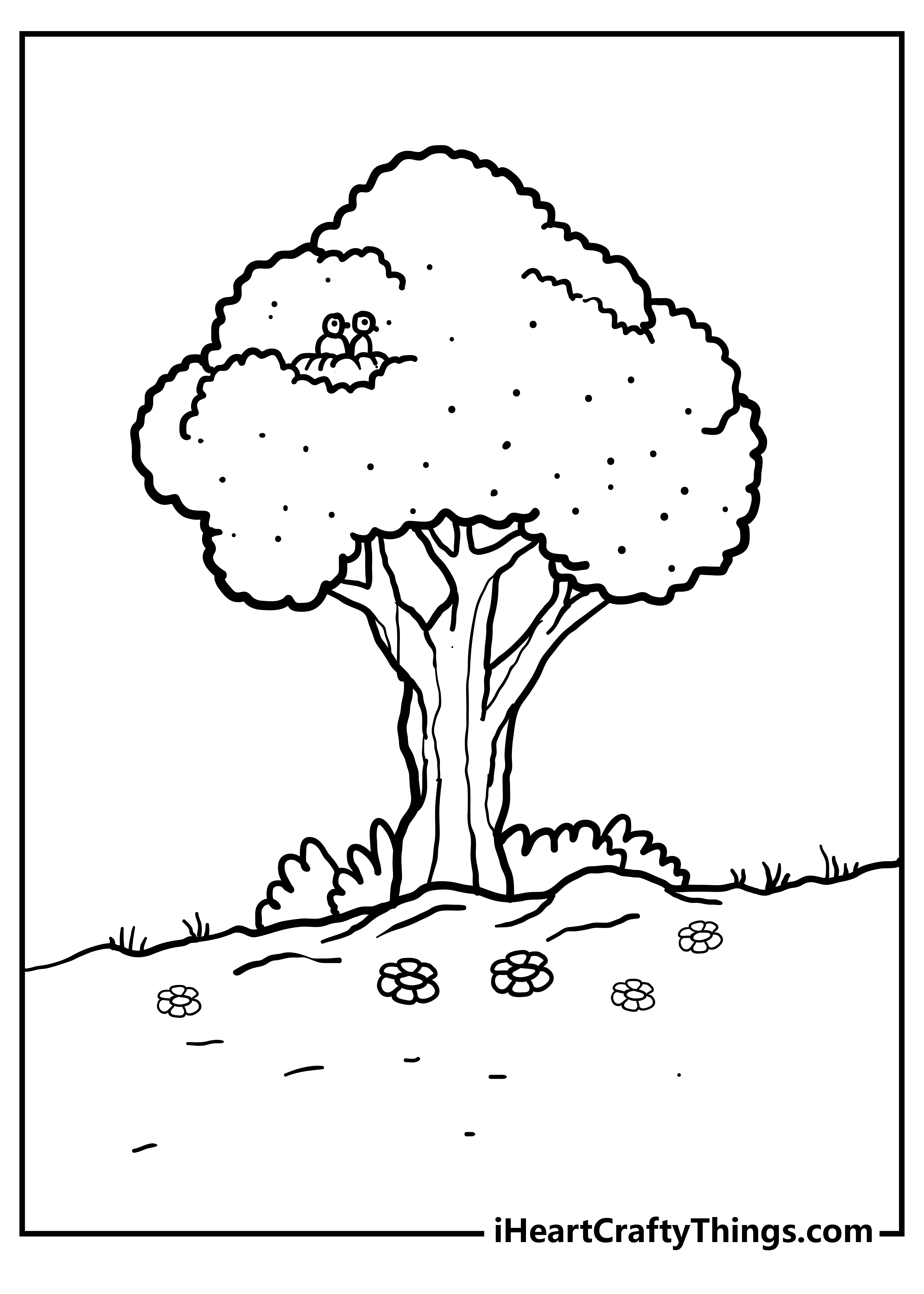 You can practically hear the wind whistling through the flowers and leaves in this picture.
We think it would be fun to color in some wavy, light blue lines to visually represent the breeze moving through the picture.
What other creative ideas can you think of that would finish this picture off?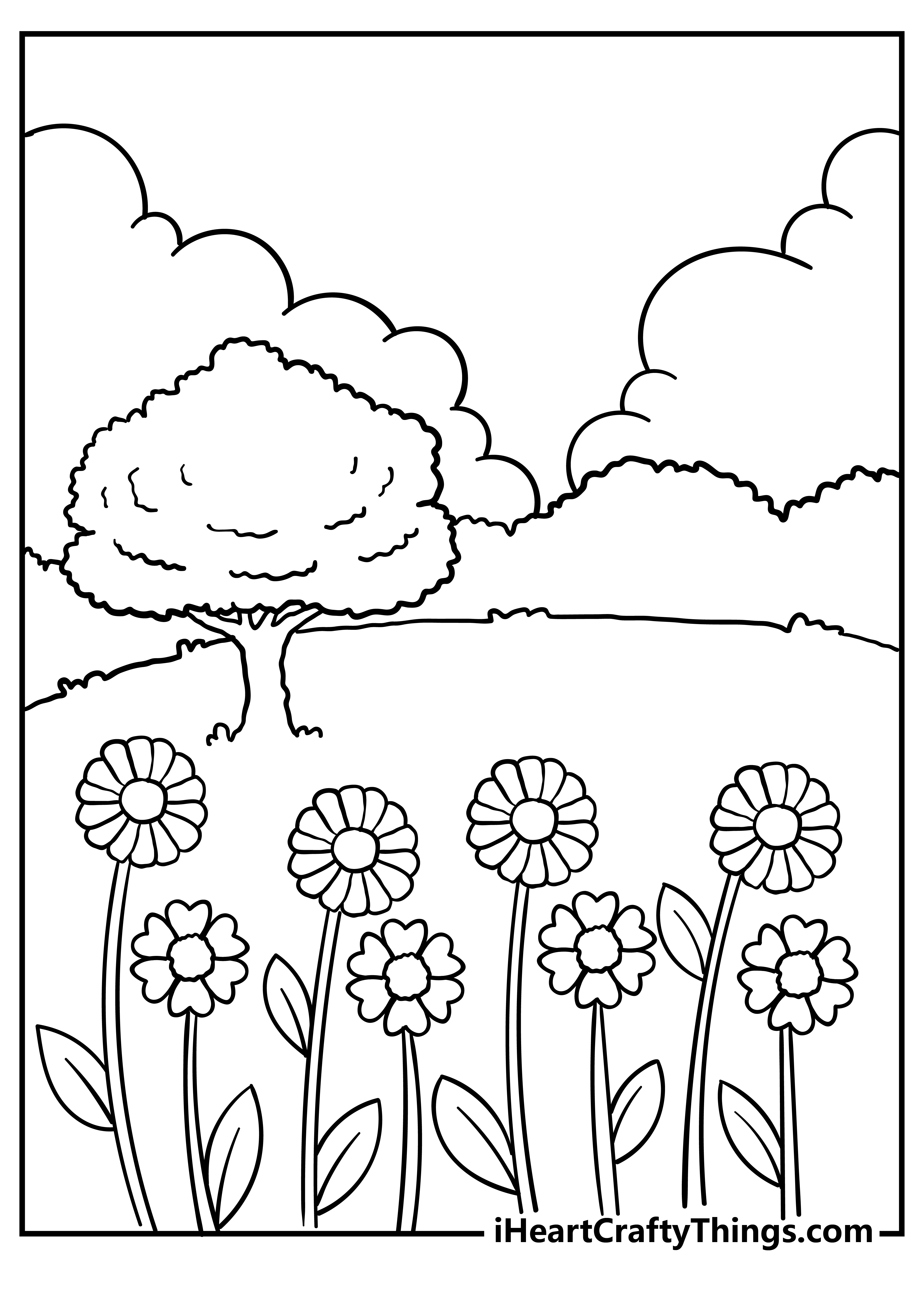 The tree in this image is really cool and unusual. It is a large, mighty tree that looks like it would probably be at least a few hundred years old.
We would use some darker colors of brown and greens for this image in order to convey the age of this great tree. How will you color it?
A mountain view is the kind of view that anyone can love! It inspires such a sense of wonder as you look up into the mountains, and this page captures that amazingly.
There are so many colors that would suit this one brilliantly, so be sure to let your creativity take over as you work some magic on it!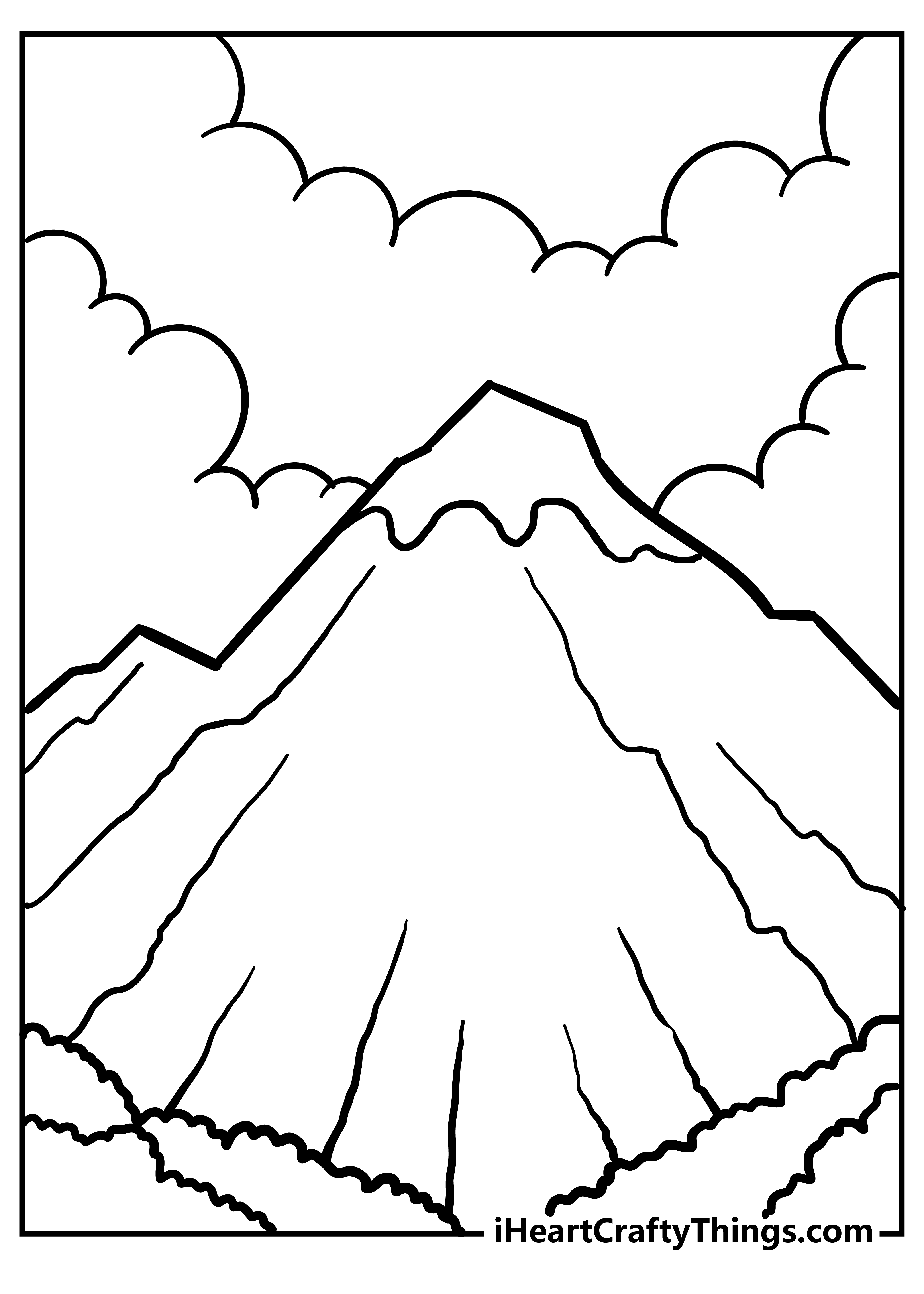 The previous scene took in a majestic mountain, but for this final nature coloring sheet we are zooming in a bit to enjoy a smaller scene.
Despite this smaller scale, there are so many great little details that you can color in, so we think it would be great to work in as many different colors as possible!
How will you close off this collection?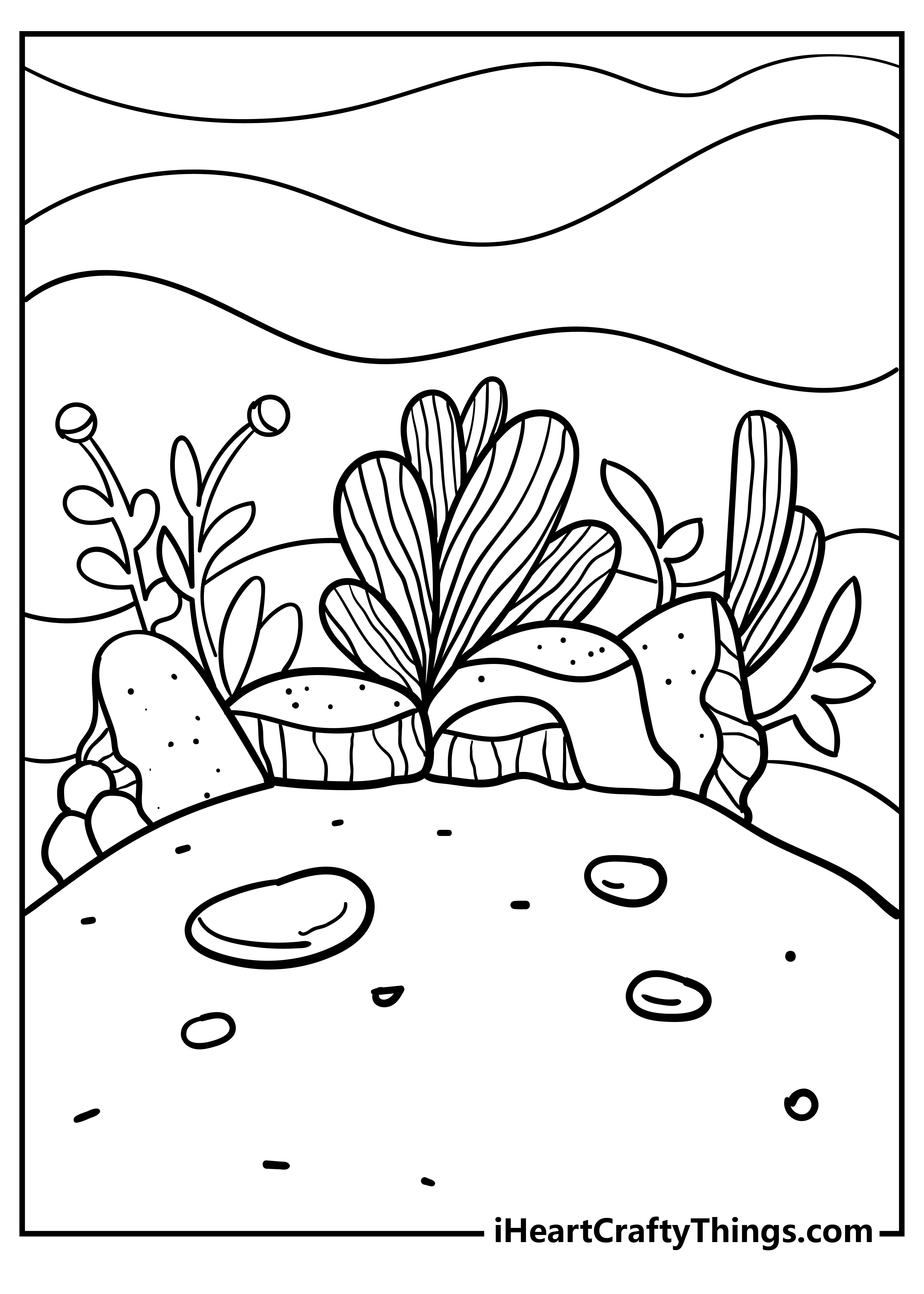 Nature Coloring Pages – Which will you choose?
This collection of free nature coloring pages for kids provided a wonderfully colorful outdoors adventure without having to leave the house!
We hope that you enjoyed bringing these scenes to life with your colors, and we're sure they will all look incredible.
When you're ready to show off your awesome artworks, be sure to share some of your finished pages on our Facebook and Pinterest pages for us to see!