On this page, you will find 20 all new Thomas the Train coloring pages that are completely free to print and download.
A popular children's show, Thomas and Friends has been a household name for many years now.
The show follows the adventure of Thomas, a tank engine, and his friends in the imaginary town of Sodor. Every vehicle in Sodor has its characteristics.
Thomas the Train is the main protagonist and the most famous character in the series. He is the no. 1 blue engine.
Thomas is a cheeky little engine who often gets into trouble because he likes to assume the responsibilities of bigger engines.
Thomas the Train is the lead character of the series that sent all kids obsessed with trains.
We created 10 Thomas the Train Coloring Pages for kids of all ages to enjoy! They are free to download and you can print them anytime to make coloring more fun!
20 Brand New Thomas the Train Coloring Pages – Free to Print and Color
Our main character is moving at full speed in this Thomas the Train coloring sheet! Here we can see him doing what he does best, and he seems to be feeling pretty happy and content.
There is a lot of detail to Thomas' design here, but the background and the train tracks have been left vaguer.
This means that you could add some of your own details or maybe even create a background setting for this page.
Do you think you will do that or will you focus purely on Thomas as you color?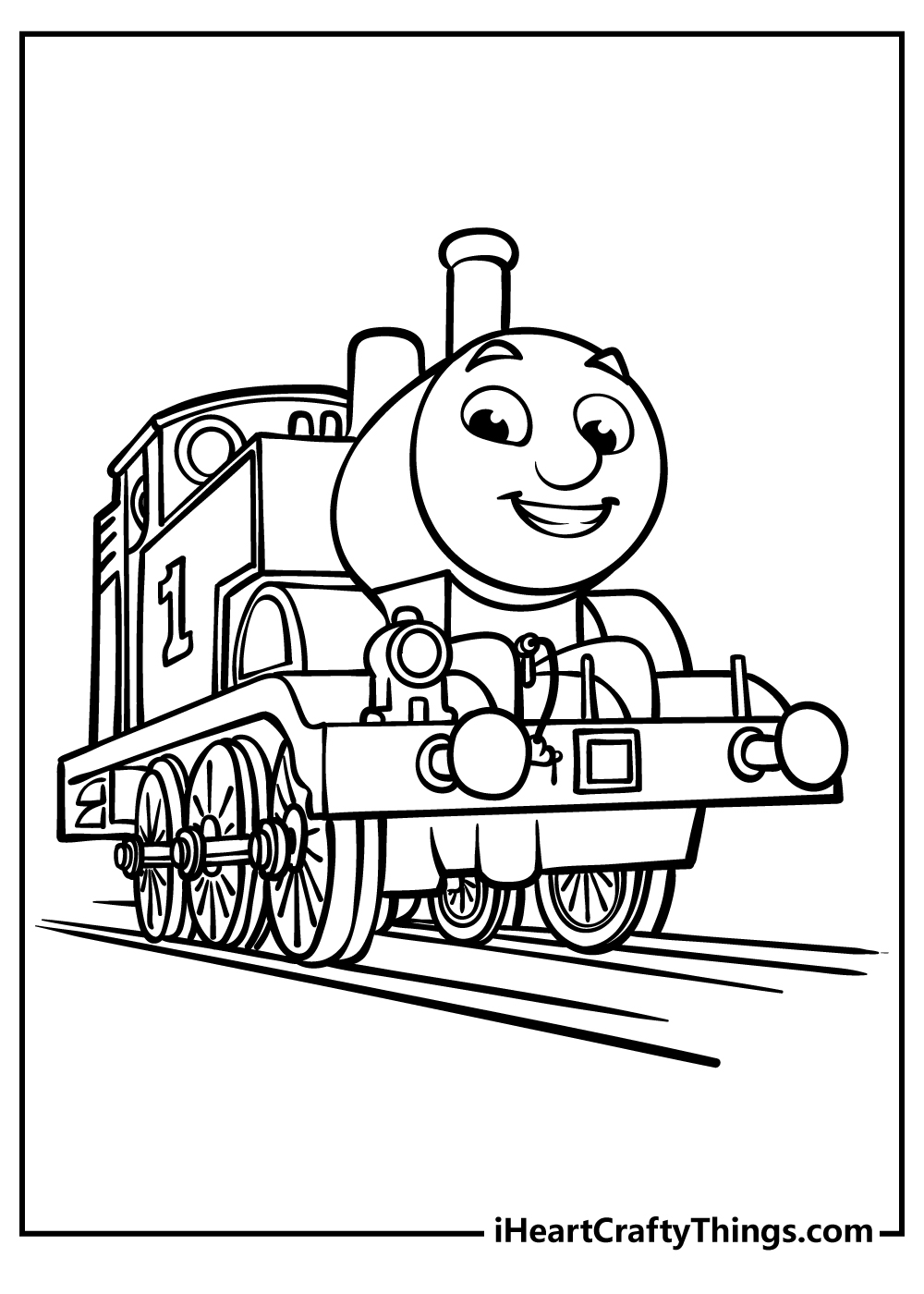 Next, we have another portrayal of Thomas speeding along the tracks while looking quite pleased with himself. It's also another picture that you could finish off with a nice background!
He is shown to move through some beautiful countryside settings, and you could use one of these settings as inspiration for a background here.
Or, if you can think of another location where Thomas could be traveling through, you could create one of your own!
Drawing a unique background without a reference can be hard, so you can look up pictures of landscapes for inspiration. What are some interesting environments you can think of?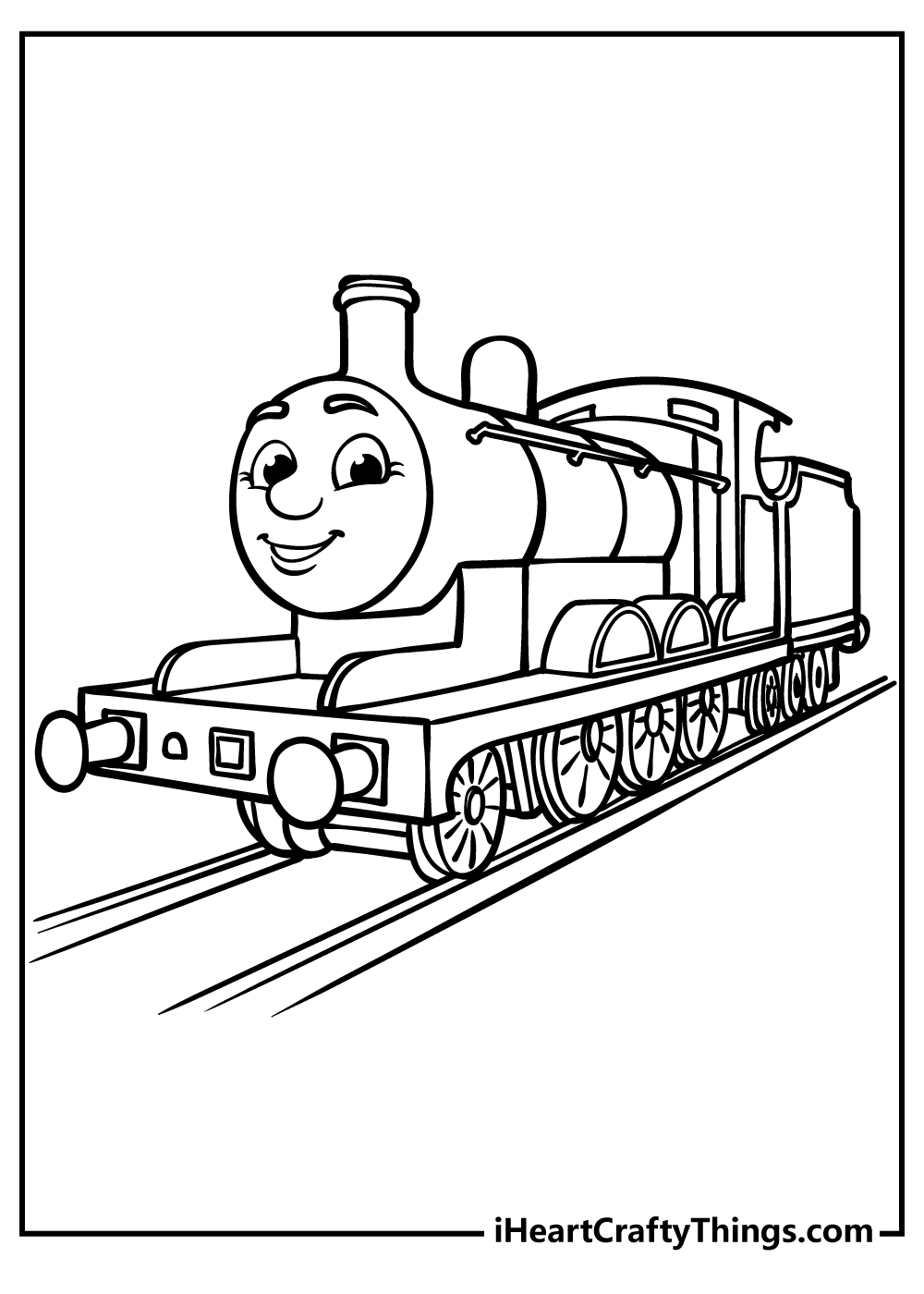 Thomas the Train has an iconic blue color, which is also the official color of the North Western Railway. His blue color has red and yellow accents.
On this Thomas the Train coloring page for kids, Thomas is seen happily working. Thomas likes to work hard every day and makes sure he is a Really Useful Engine.
If you've got a kid who's a big fan of the show, this free printable will be an easy one for him.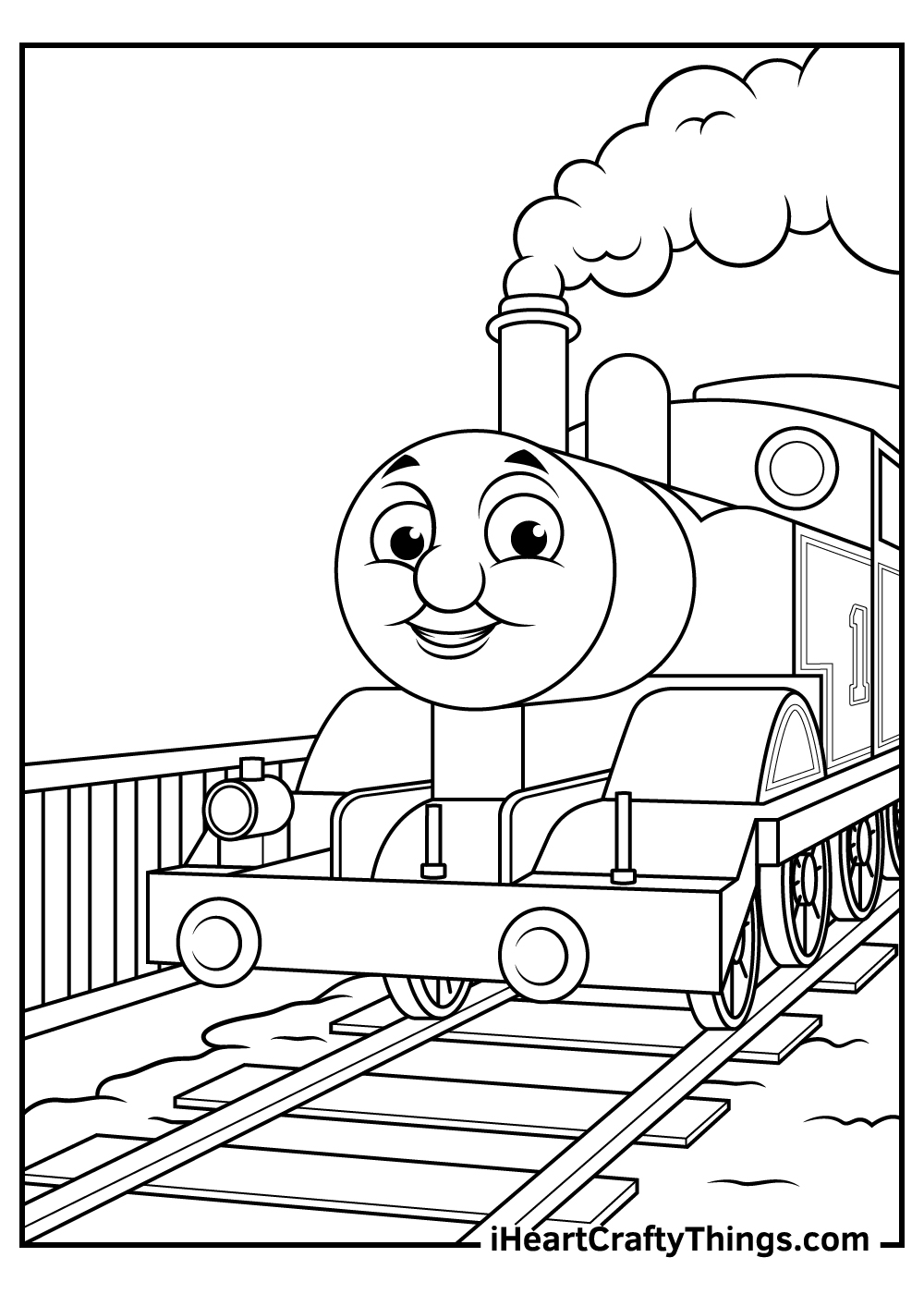 Did you know that Thomas is not a prominent character in the first series of the Railway Series? He came in next in 1946 and eventually became the most popular character.
In this free printable, Thomas the Train is seen working on his usual day. Mountains and clouds are behind him.
We're full steam ahead for some coloring fun with this next page! Thomas is chugging along here, and the big column of steam he is letting off shows he is operating at full capacity.
He is known for his primarily blue color scheme, so if you use that for him here then you can contrast it with grays for the steam above him.
You could also try out using different art tools for different sections. For example, maybe you could try some paint for the steam while using colored pens or markers for Thomas himself.
That's one combination you could use, but what else could you try?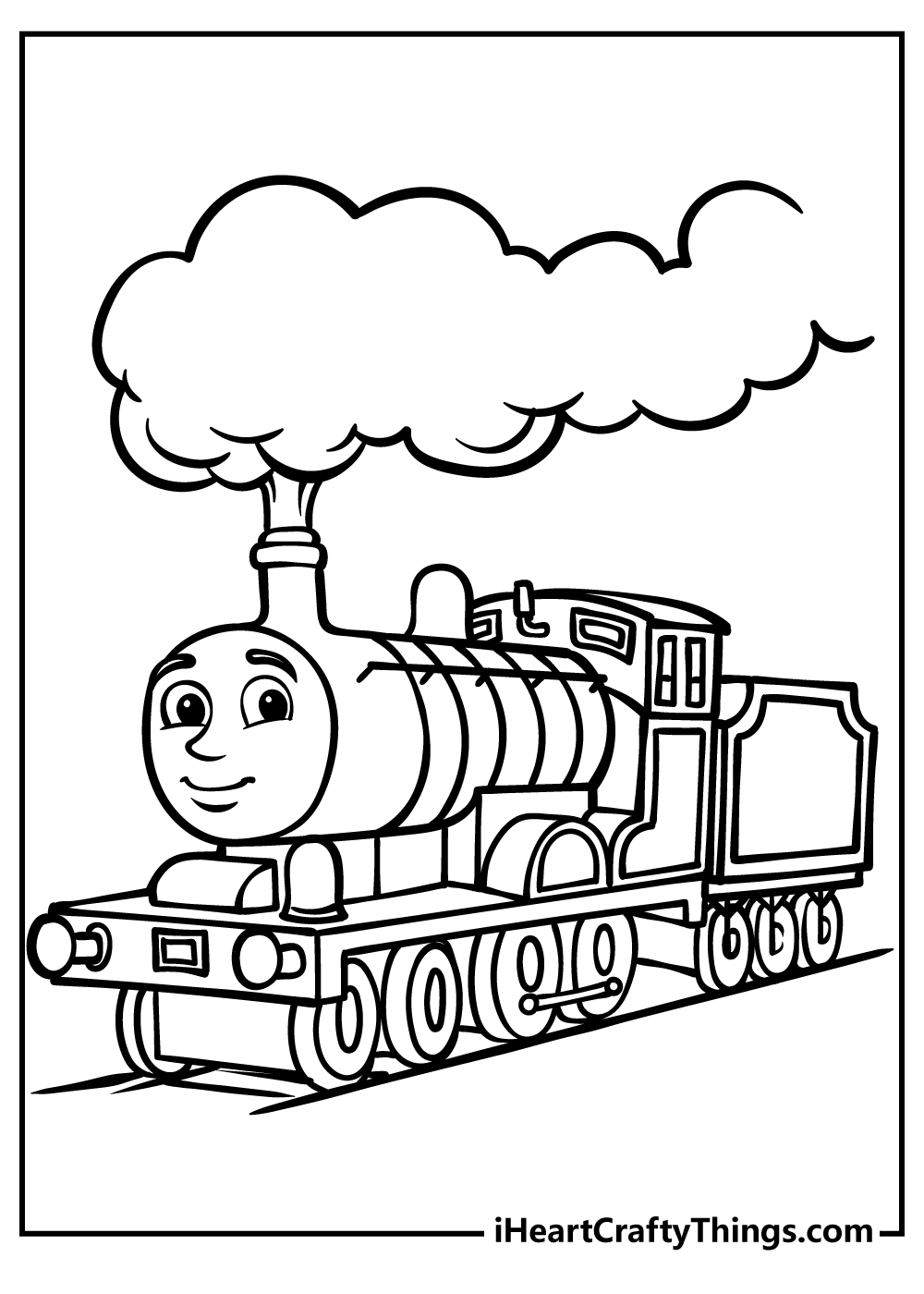 It's time for a close-up as we take on this next page in this collection of free Thomas the Train coloring pages for kids!
This view gives us a great closer look at the details on Thomas, and you can have lots of fun adding colors to all of these details.
When you color this page, you could use some pictures of Thomas as he normally looks if you want to make him look accurate.
Or, you could pick some colors of your own and mix it up to create a bit of a makeover for Thomas!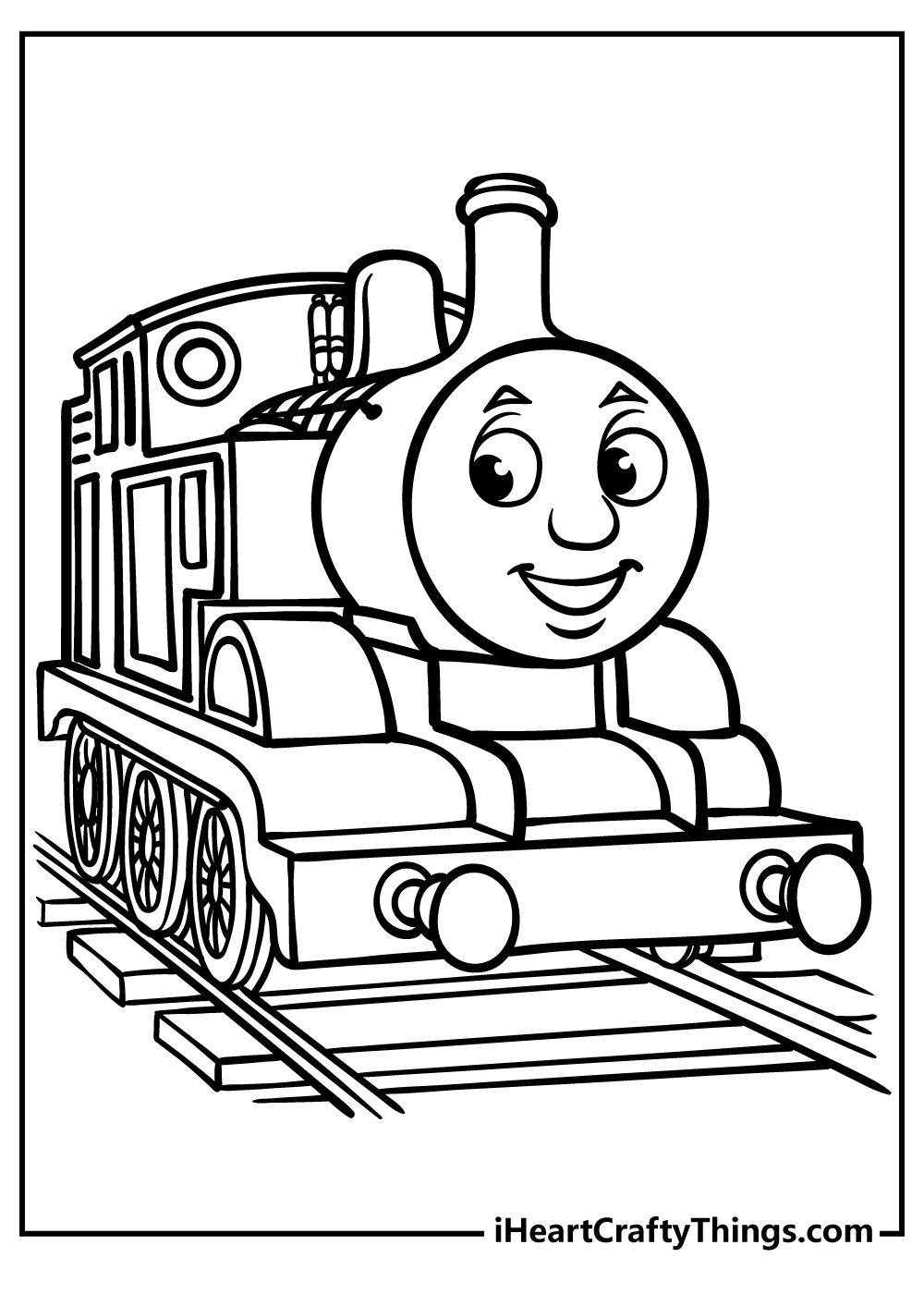 Fun Fact: Thomas the Train can be found on the London Brighton and South Coast Railway 0-6-0 E2.
This image from our Thomas the Train coloring pages features a basic Thomas portrait perfect for kids who are just starting on coloring.
Big bold lines are used in this image. It's possibly nighttime as there are large stars in the background.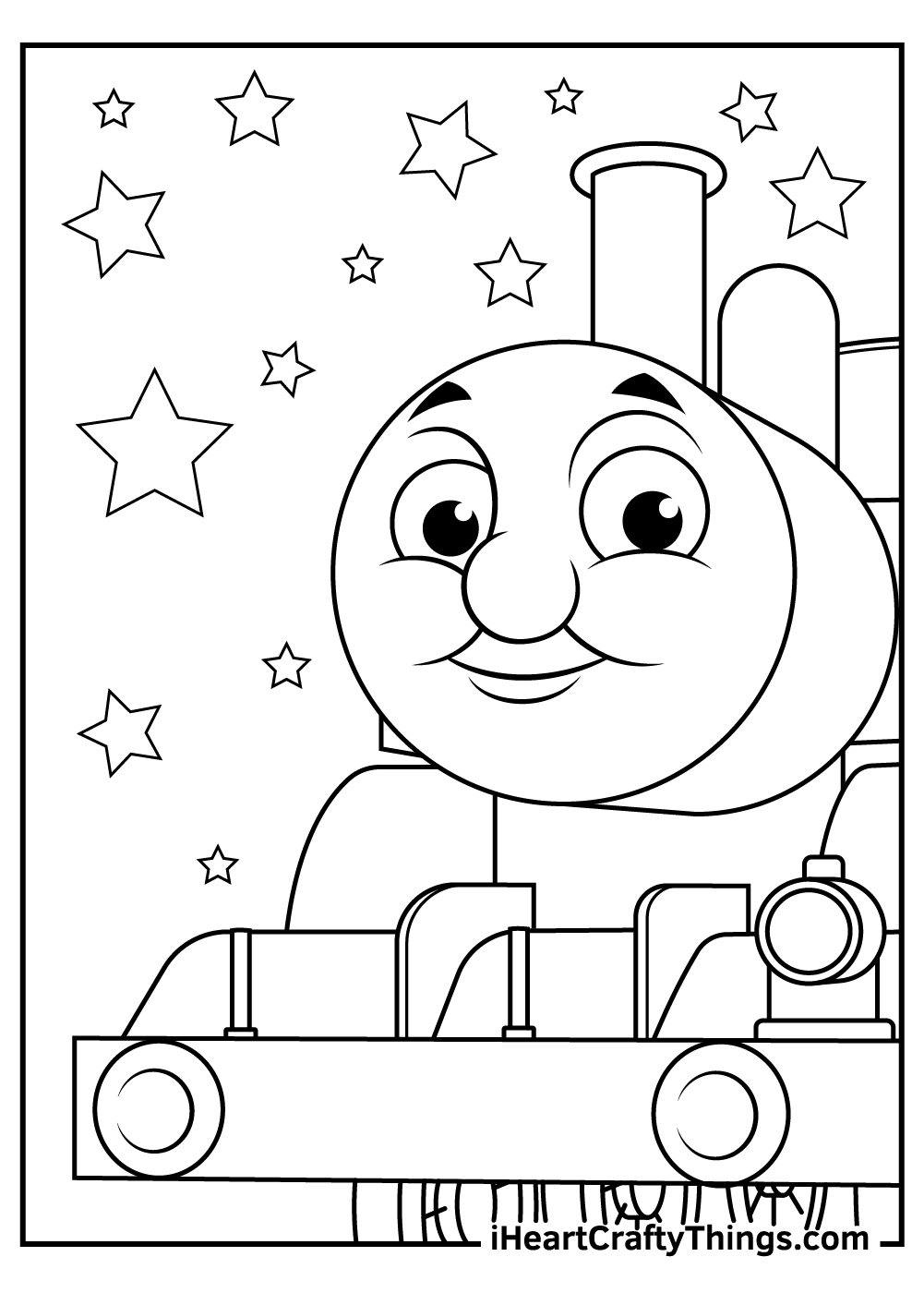 Thomas is cheeky and this often gets him into scrapes. His characteristic of being overly eager to do the things assigned to bigger engines always lands him in trouble.
But this doesn't stop him as he gets back up on his feet again – ready to work.
As seen in this Thomas the Train coloring page for kids, he is on and about his usual day working.
The printable is pretty straightforward and contains big bold lines that beginners can start with.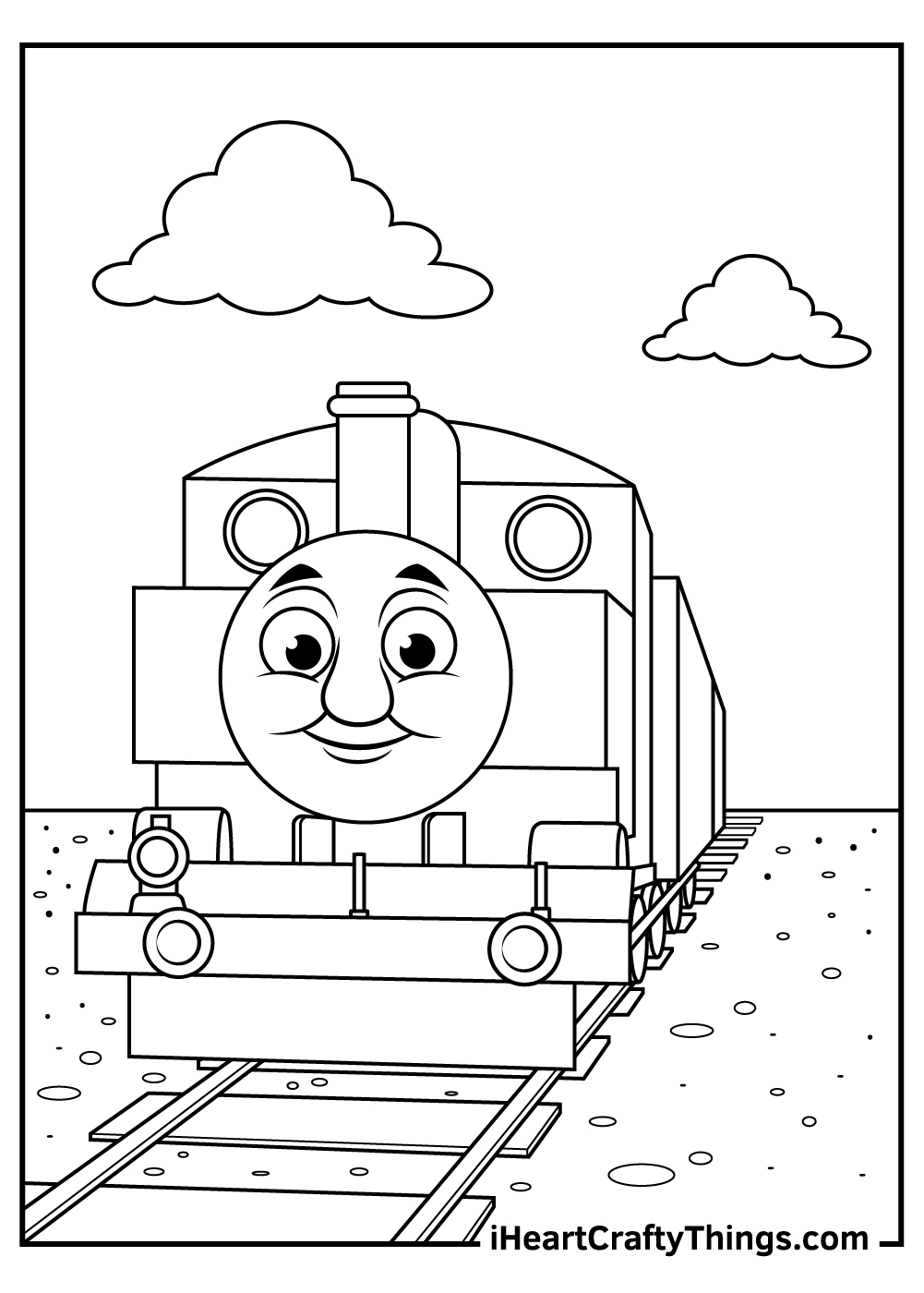 It's fair to say that Thomas is our favorite living train, and the number on his side as shown here just proves that to us he is number 1!
It is a bright and happy portrayal of this famous character, and for that reason we would probably use some bright and vibrant colors for this particular page.
If you were to go for that bright look, you could use some mediums that allow for vibrancy such as colored pens or maybe some acrylic paint.
These would also be great for capturing some of the smaller details in this picture.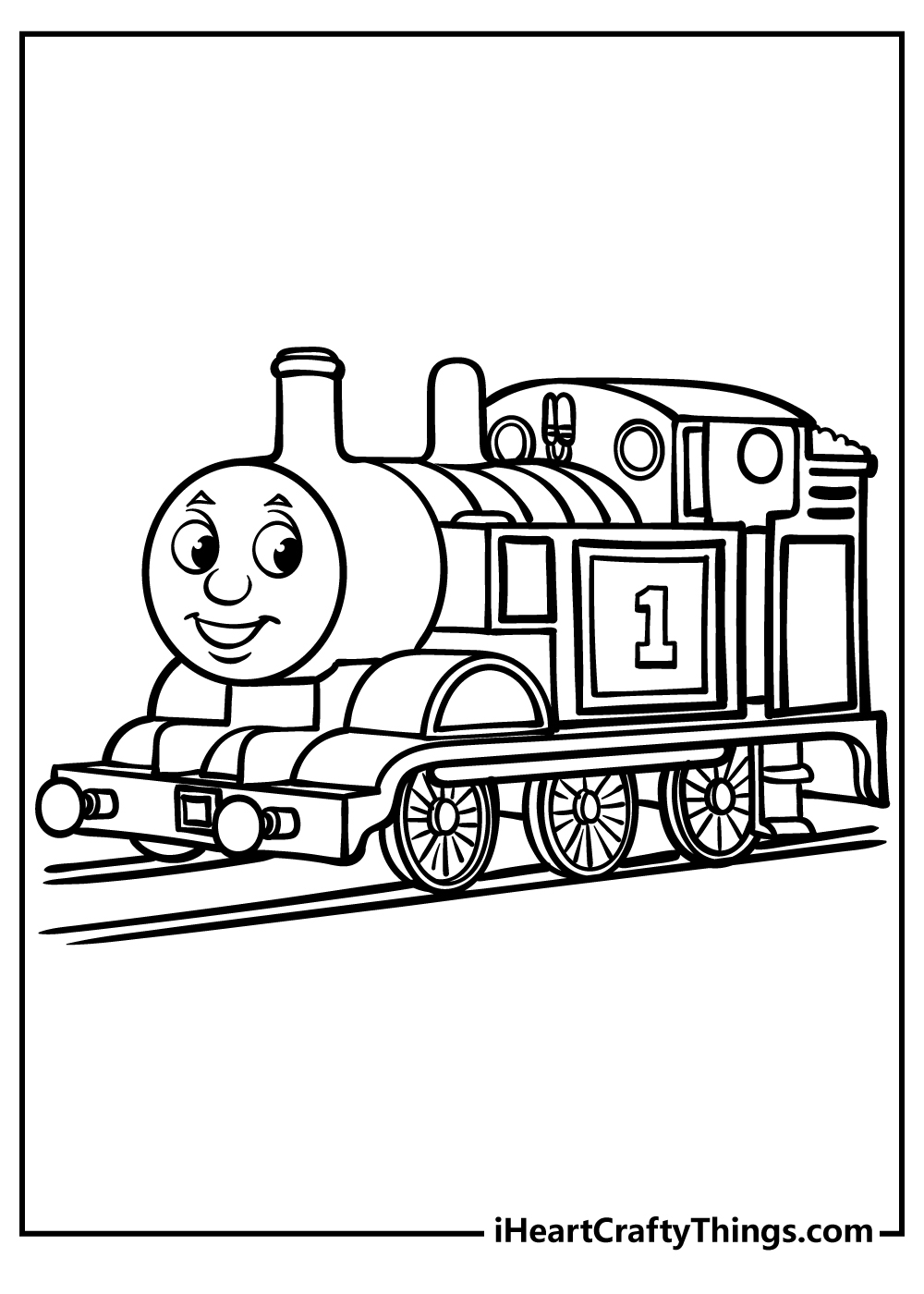 Next, we have a really unique view, as this time we are seeing Thomas head-on!
In real life you would probably want to quickly jump out of the way if you were in this position, but for this picture it just gives us a better look at his facial features and other details.
There is also room for some of your own interpretation, and you could add some details to Thomas or the areas surrounding him.
This would also give you the chance to have even more fun details to color in! What else could you add to this image?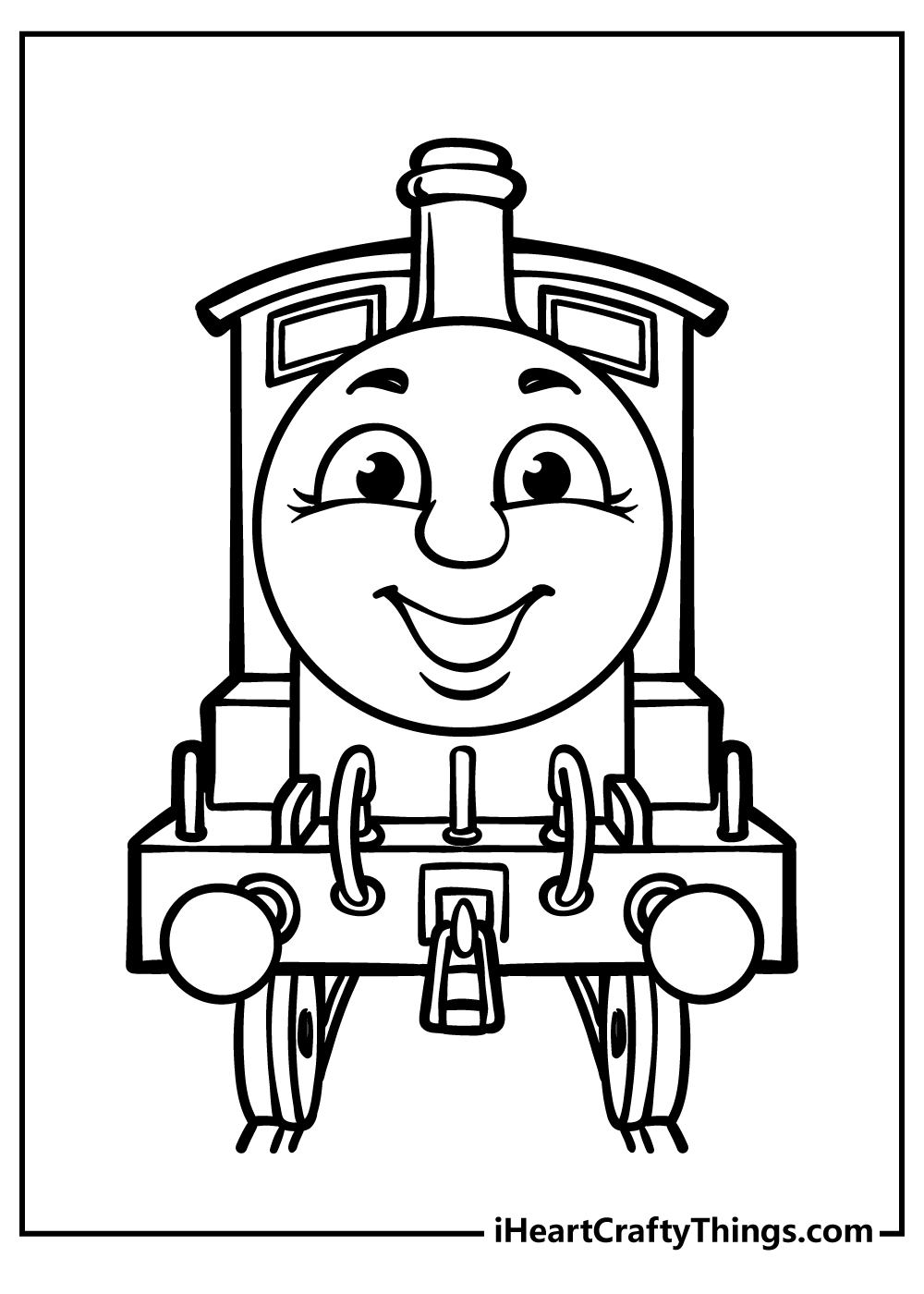 Ringo Starr of The Beatles, Alec Baldwin, and Pierce Brosnan were just some of the famous voices who provided the narration for Thomas and Friends.
Our Thomas the Train coloring pages provide kids with access to easy-to-color illustrations while giving them a friendly and familiar character that they can look at fondly while doing the coloring activity.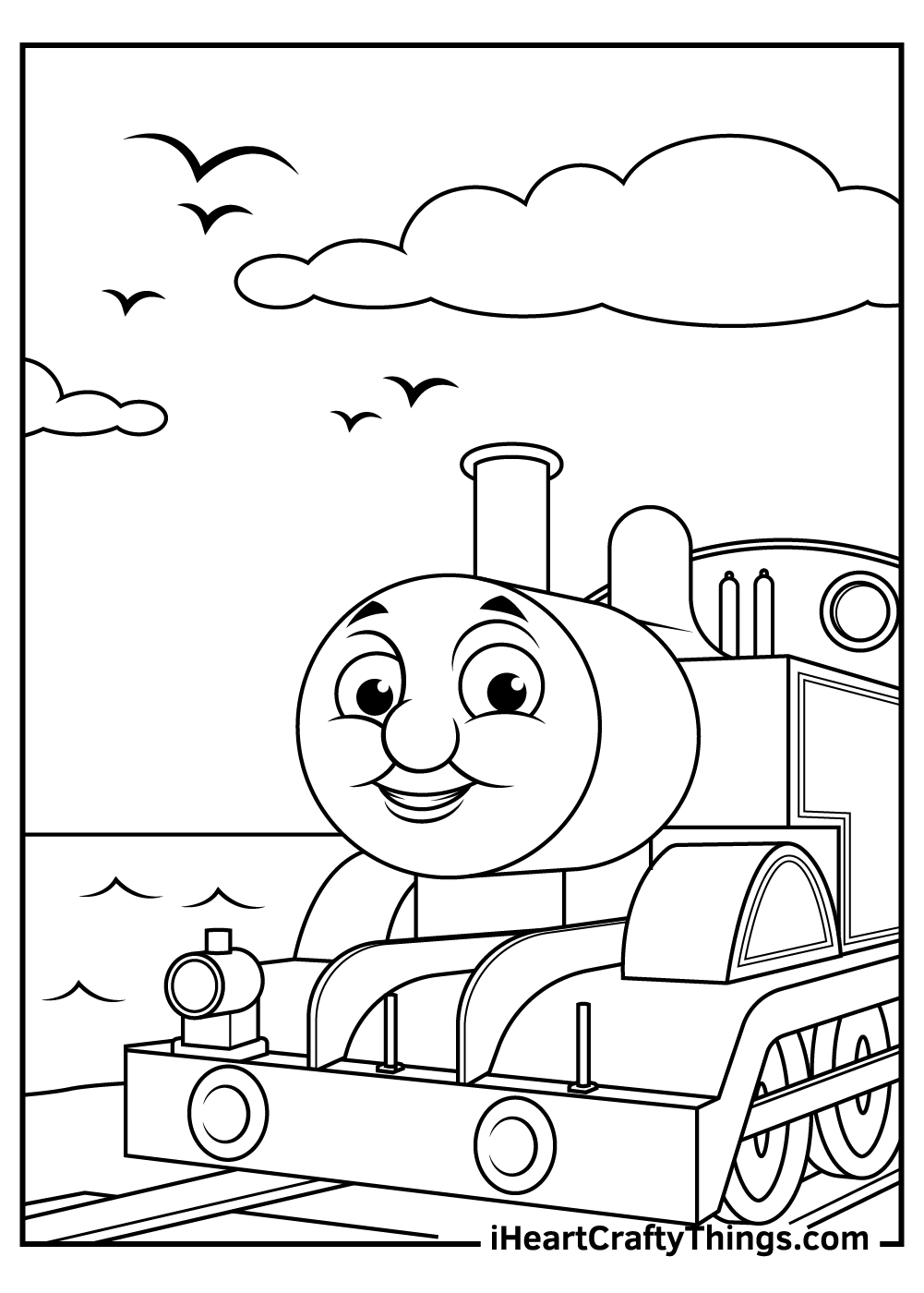 Thomas has his character and personality but it doesn't mean he works alone. His driver's name is Bob and they go on adventures together.
Seen on this coloring page is the full feature of Thomas. This illustration is simple and basic.
This little engine character has been around for years and has sustained the appeal it has to its viewers. Why do you think it's a hit among kids?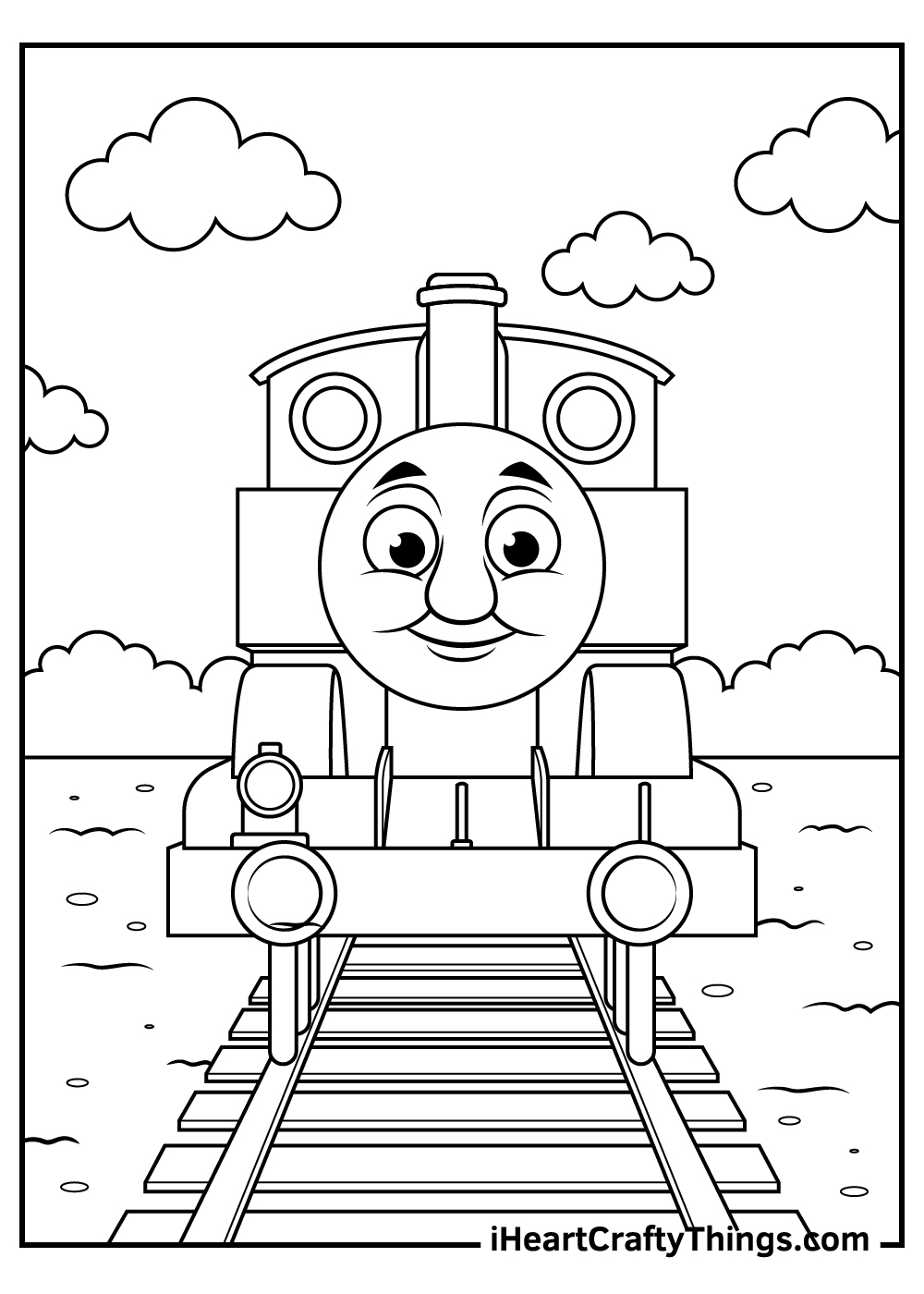 This next Thomas the Train coloring printable shows our tank engine hero happily moving along the tracks.
Once you have colored Thomas, you could add some more to the scene if you want to take this image even further.
If you printed this on a big piece of paper without the border, then you could add more train tracks and draw some of his friends on them.
That's one way you could build a scene around Thomas, but can you think of any more background ideas you could try?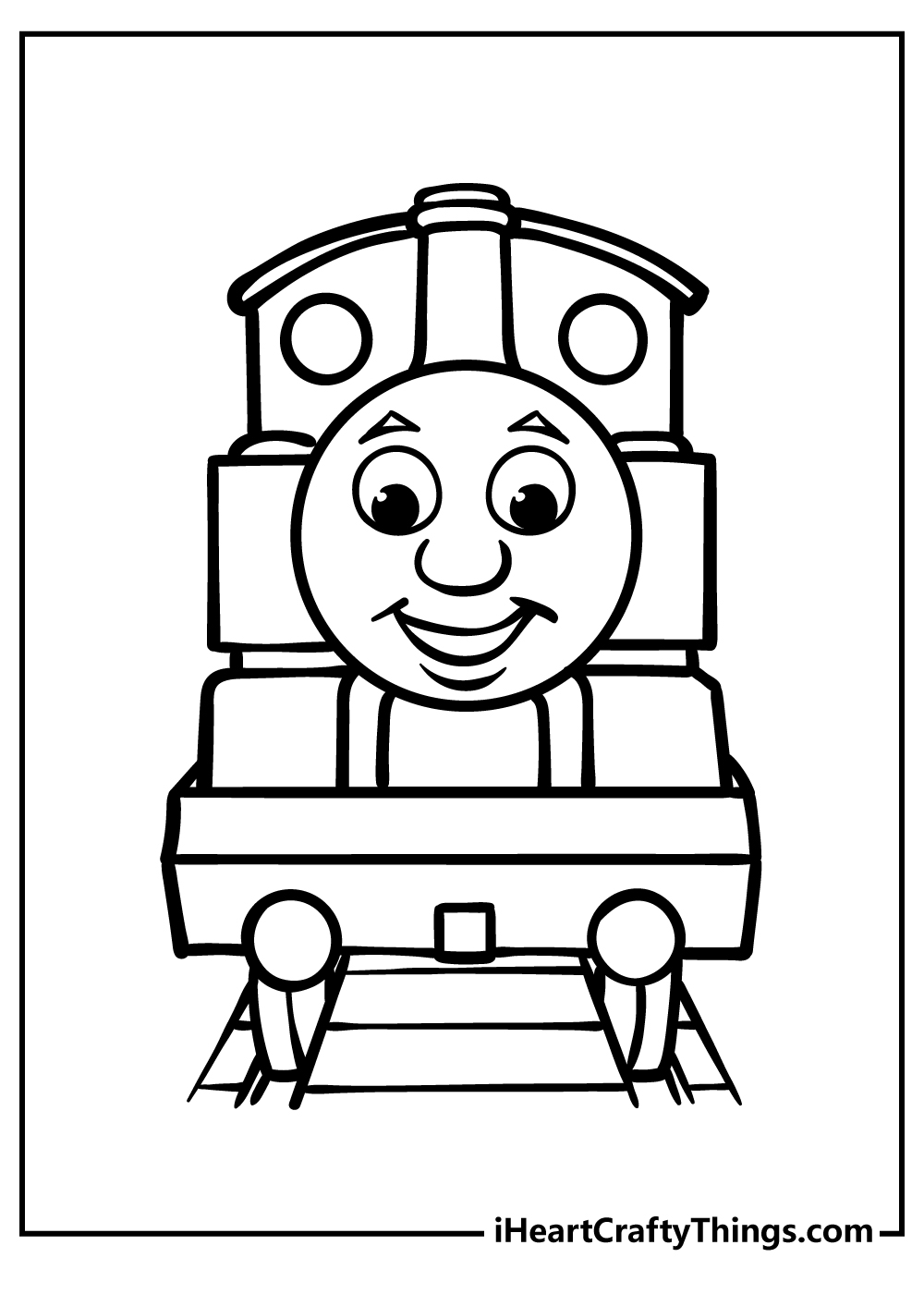 Next up, we have a page that is simply packed with details! The train himself has many sections and details, but the track is also quite intricately drawn.
Some of the trains in the series look similar apart from some smaller details and colors, so you could choose any one of them for this page!
That would also be a great excuse to use some colors such as red or green for this train if you want to use a favorite color.
Which character from the Thomas the Train series will you choose to turn this character into?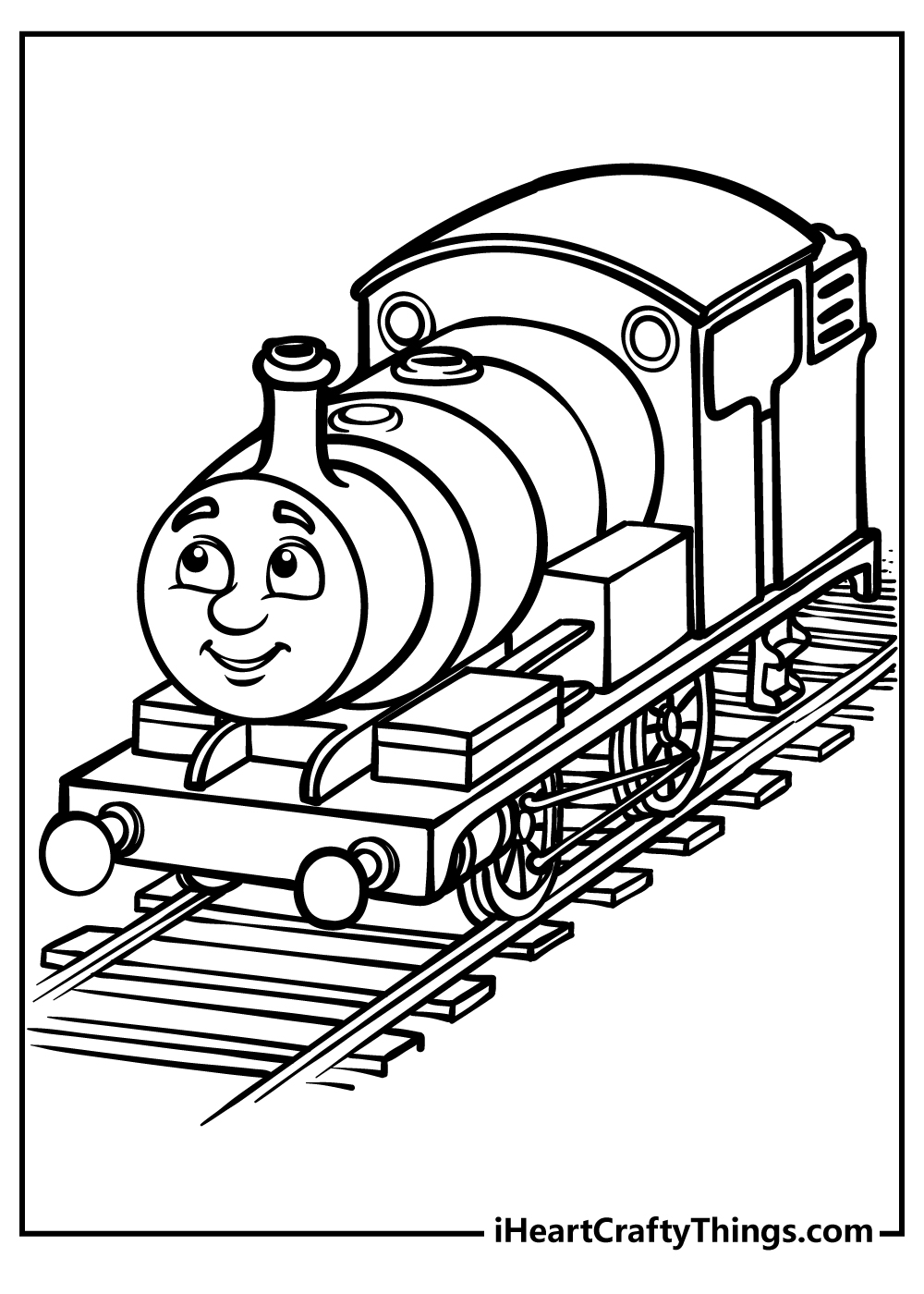 Thomas the Train has a blue tank engine with six small wheels, a short stumpy boiler, and a stumpy dome as well.
In this printable, Thomas the Train looks like he is at the beach, trying to possibly relax from work or doing something adventurous with his friends.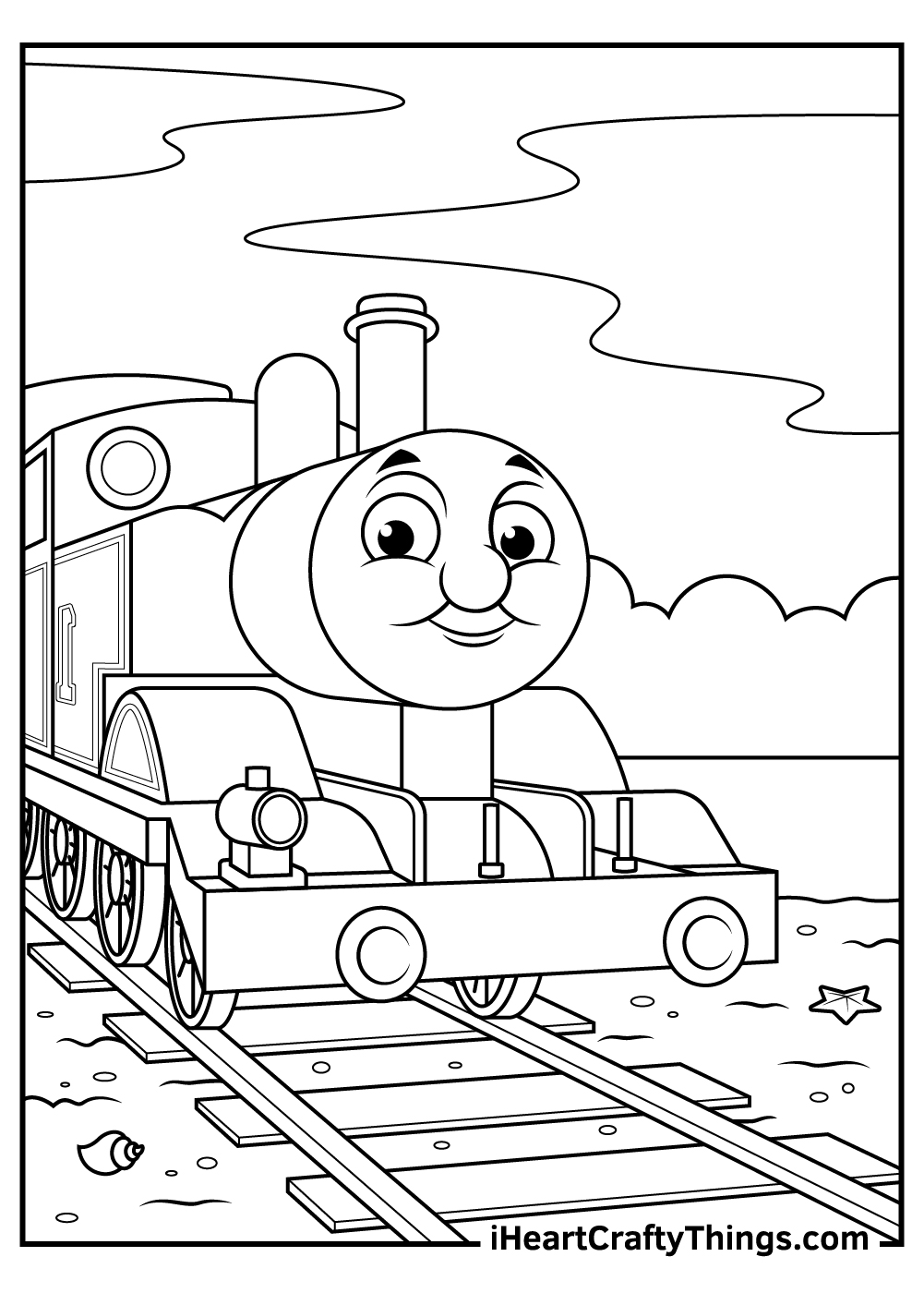 Thomas just turned 1!
Even though they're trains, they also get to celebrate their birthday. It started as a book in 1945 and has now evolved into endless TV hits, movies, and toys around the world. In reality, Thomas is more than 75 years old now!
Or this isn't probably a birthday cake, but a celebration cake for being the no. 1 blue engine. What do you think?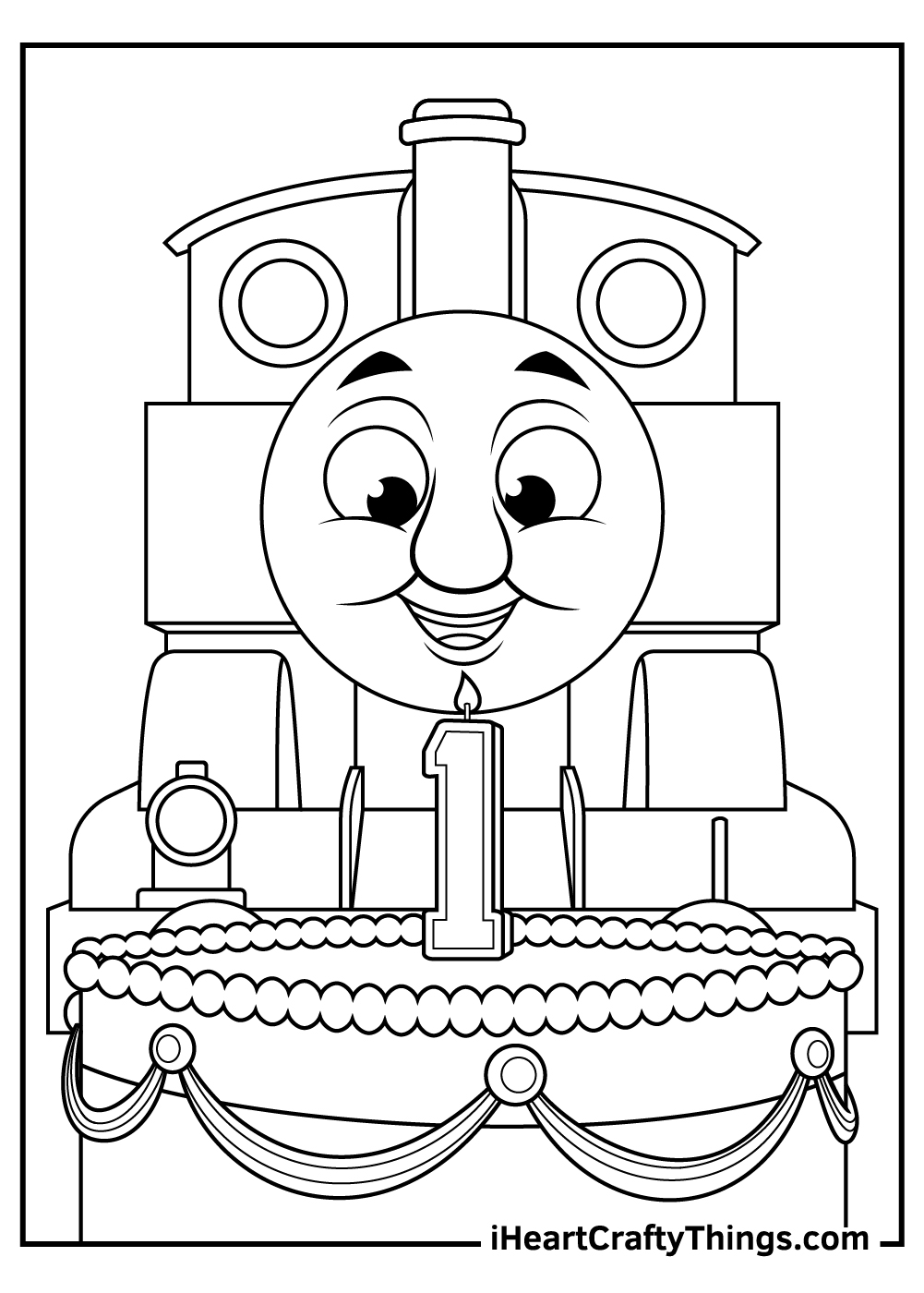 In this Thomas the Train coloring page for kids, our main protagonist is seen leaving the train station. There are bricked walls behind him
This printable is a challenging one and apt for more advanced kids as some various lines and shapes need precision.
Once done, this page can be turned into a poster as the work put into it will surely make one proud!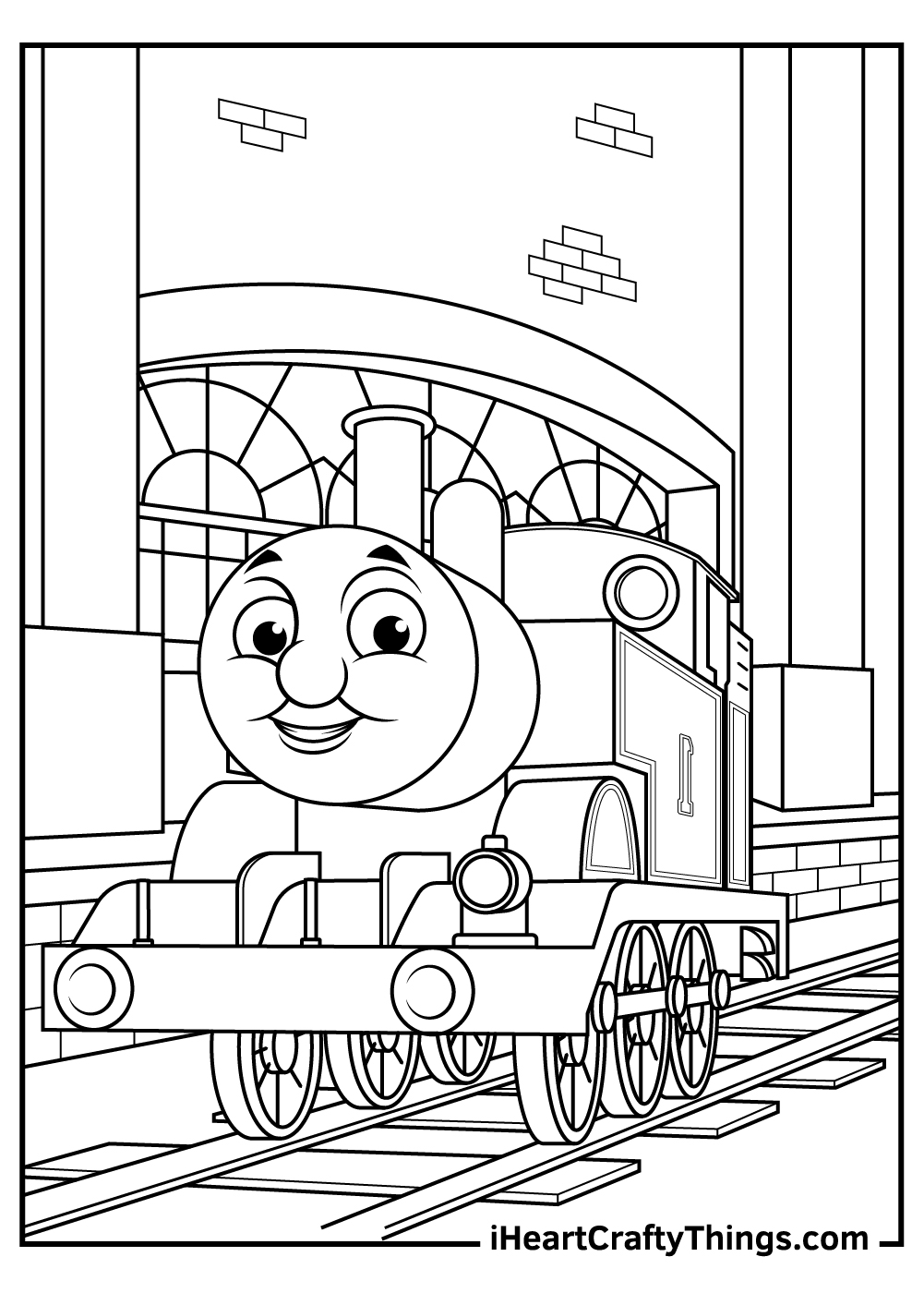 If you were standing in this next scene, you may have to cough with all the steam! Thomas is really moving here, and there is plenty of smoke and steam in the scene for you to color.
Where do you think he could be heading in such a hurry?
For this page, maybe you could try out some new art tools and mediums that you're not as familiar with.
It can be fun to experiment, and you can also print out multiple copies so you can try out any ideas!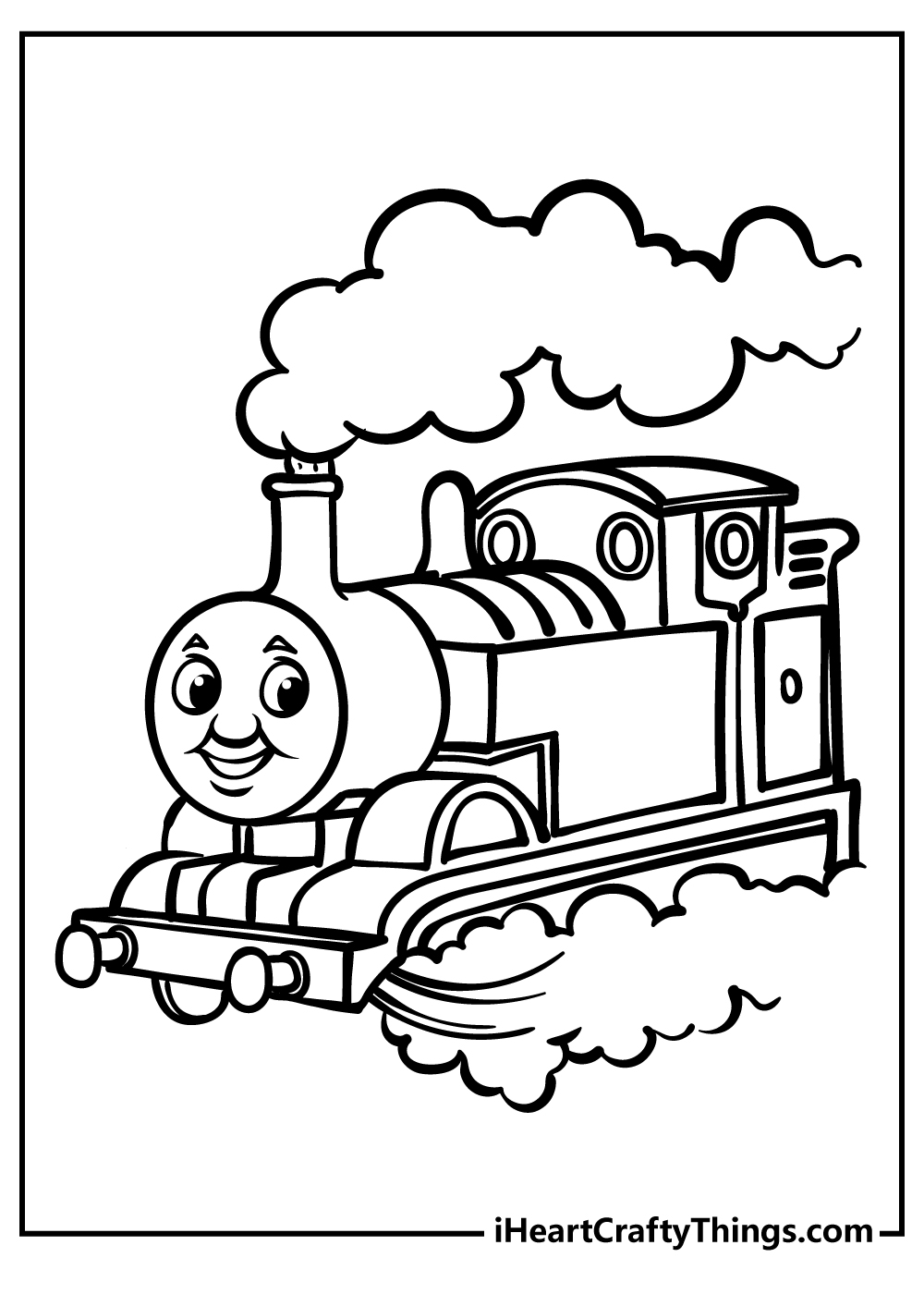 This Thomas the Train coloring page seems to show our favorite train undergoing some maintenance, as he is on a platform with his wheels off.
This kind of maintenance is essential to keep trains up and running, so it's easy to see why he is looking so pleased here!
Maybe you could finish off the scene by drawing some human characters performing the maintenance on Thomas.
If you do that, will you use characters from the series or create some of your own? We look forward to seeing what you choose!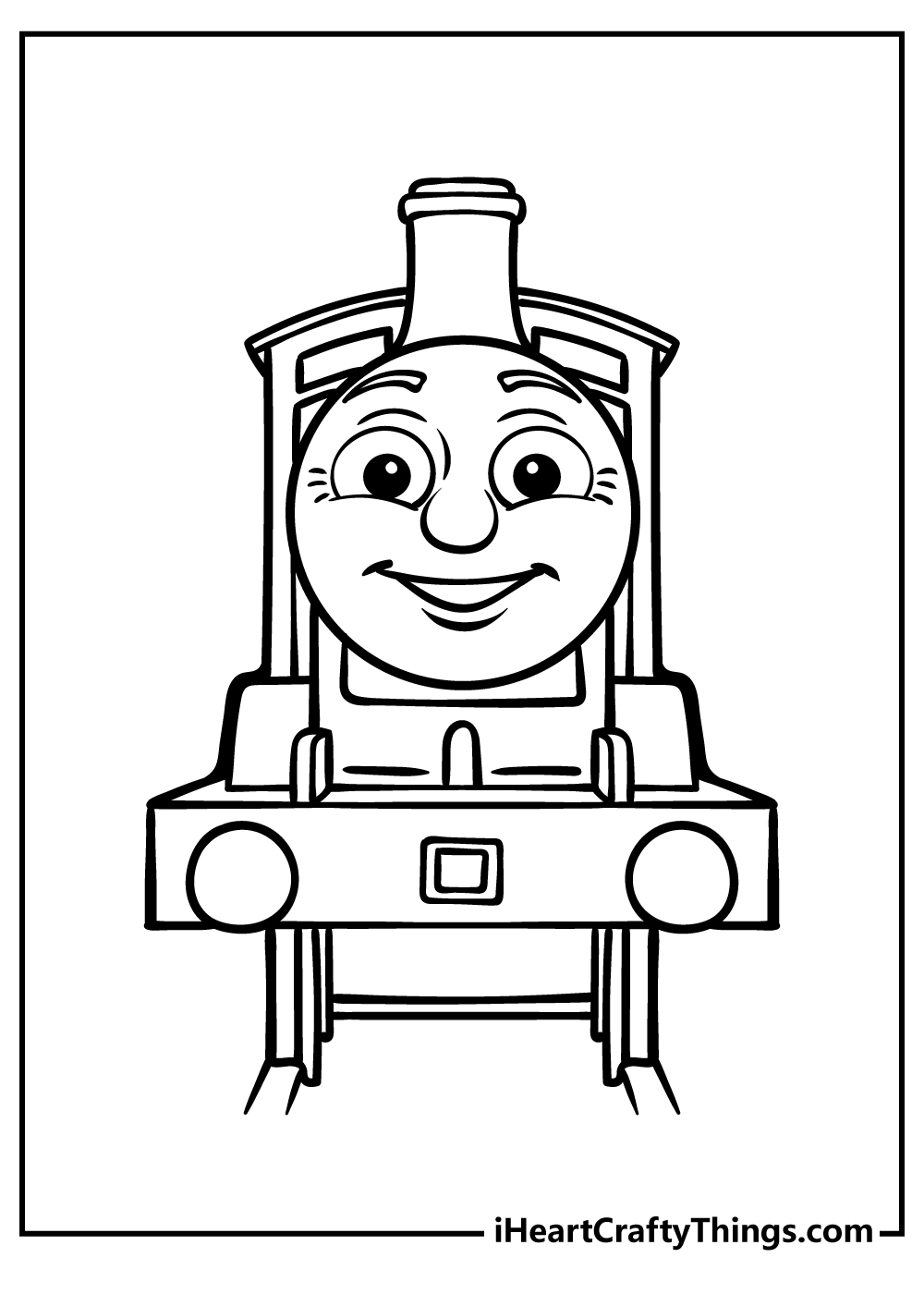 Hooray to Thomas for being the no. 1 blue engine!
Here he is in this last image of our Thomas the Train coloring pages with stars shining above him.
It's possibly night time and he's about to go get his night's rest to gear up for work in the morning.
Kids with little coloring backgrounds will get to enjoy this printable as bold and simple lines are used in this illustration.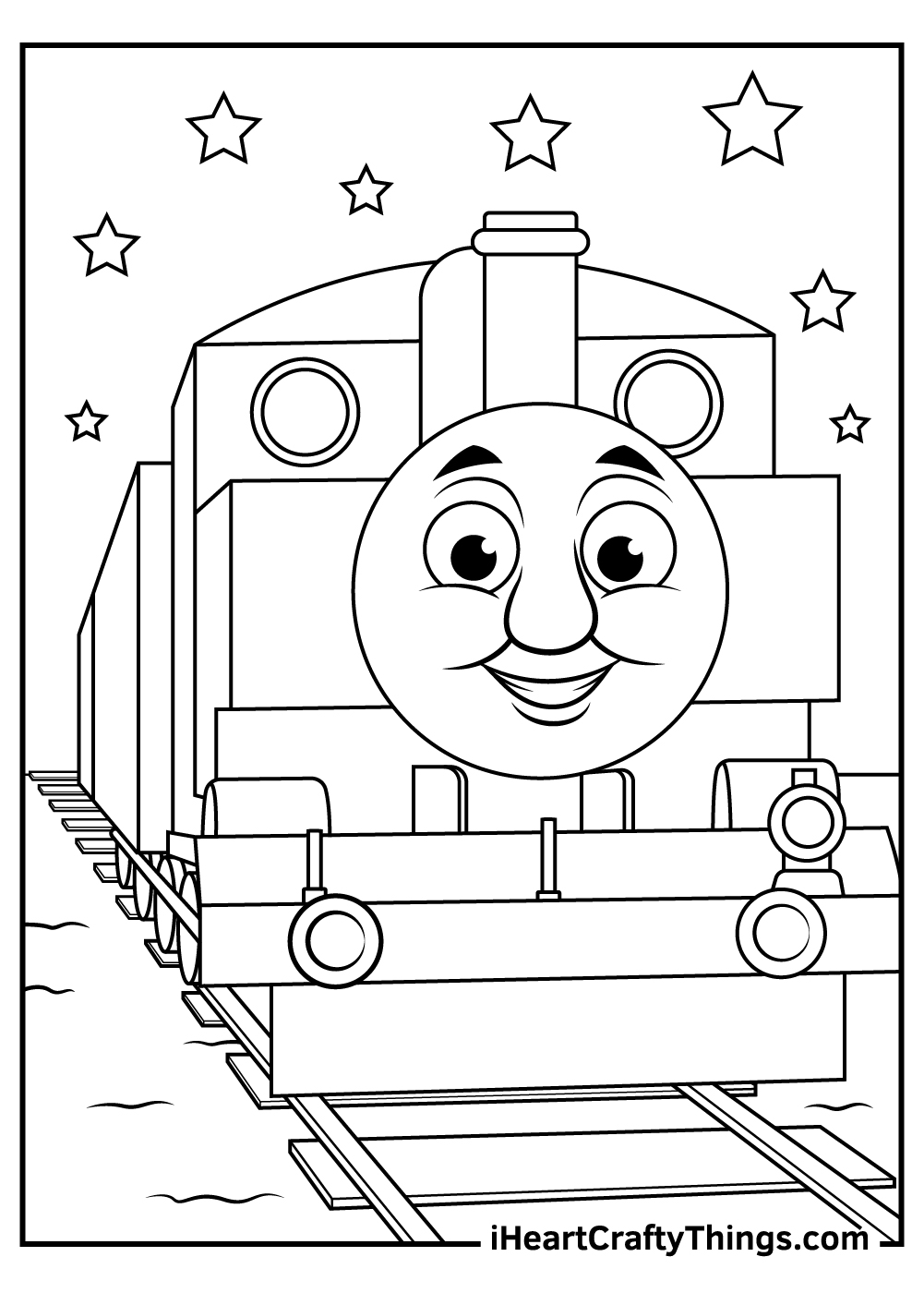 Thomas the Train Coloring Pages – Fun and Easy Free Printables
Much to the delight of children around the world, Thomas the Train (or Thomas the Tank Engine previously) has been around for years, continuing to entertain and influence kids.
Originally from a book series, the character has evolved into popular TV series, multiple movies, games, and of course, toys. Thomas and his friends are wildly popular among children that their influence on kids is truly remarkable.
This set of Thomas the Train coloring pages highlights Thomas and his iconic features. It aims to provide comfort to children who are starting to color as well as more advanced ones. It's a combination of easy-to-color illustrations and complex images.
Surely a comfort to kids everywhere, these free Thomas the Train printables will be enjoyable.
Download these pages for free and share them with friends or family looking for fun and easy coloring pages.