A motorcycle is a two-wheeled vehicle oftentimes called a motorbike or bike. Its design varies to accommodate different purposes. A motorcycle can be used for commuting, long-distance travel, racing, cruising, or off-road riding.
Many activities around the world are being held using motorcycles. There are motorcycle races that have been an integral part of sports. Social activities such as creating and joining motorcycle clubs and rallies are also present.
Among all the other automobiles, motorcycle coloring pages are one of the most popular among kids. Kids tend to be fascinated by this two-wheeled vehicle that is used to transport one person from one place to another. And if your kid isn't familiar with motorcycles, now is the time to introduce it to them.
We created these 15 new amazing motorcycle coloring pages designed for both toddlers and older kids. The illustration that can be found in this collection ranges from regular motorcycles to sports bikes and then police motorcycles. The variety of motorcycles found here can be a great introduction to the world of motorcycles.
Download these printables for free to have an enjoyable learning activity for kids!
REMEMBER: You can get the COMPLETE set of these coloring pages >> HERE
15 Brand New Motorcycle Coloring Pages – Free to Print and Color
A classic motorcycle, this motorcycle has been around since the 1950s. It's a typical cruiser motorcycle bike and a great beginner's motorcycle too.
This image will immediately capture any kid's attention!
The details of this bike are also something to take note of – the large gas tank, twin valves, and a large round head motorcycle lamp.
Introduce the cool features and let the kids bring this motorcycle coloring page to life.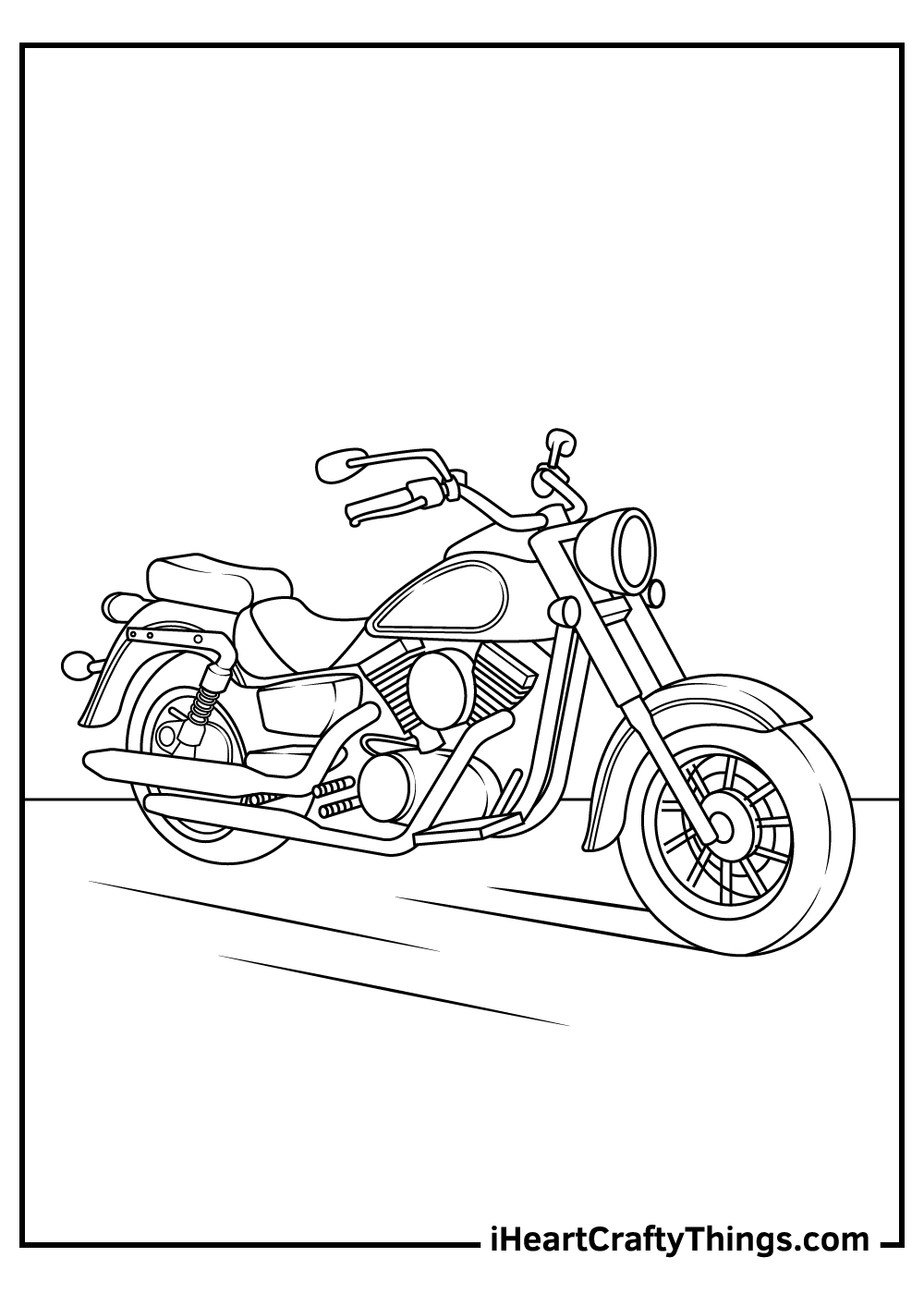 This motorcycle coloring page is amazing for those who love adventure. Here we have a cruiser motorcycle parked in front of beautiful mountain scenery.
You can see the large engine, the long front fork, and the low seat of the motorcycle, as well as the saddlebag and the luggage rack.
This printable is very detailed and has a lot of elements to color in. You can use bright colors to make this motorcycle look dynamic and stunning.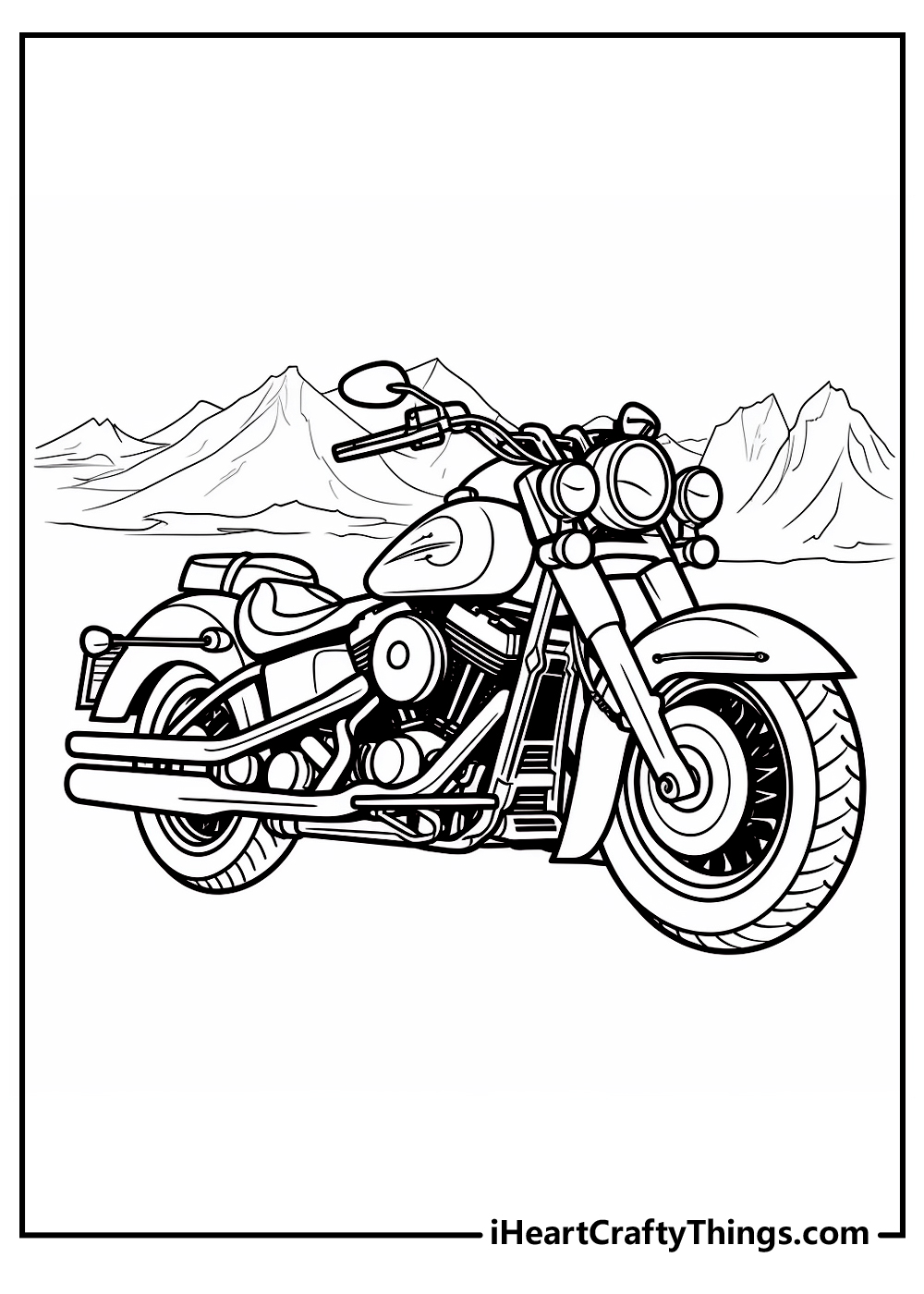 Motocross is an off-road motorcycle racing sport held on off-road tracks.
In this motorcycle coloring page for kids is a motocross bike, the type of motorcycle used in the motocross. They are specially designed for dirt tracks to use raw power. It is designed with narrow gears for sharp turns and twists.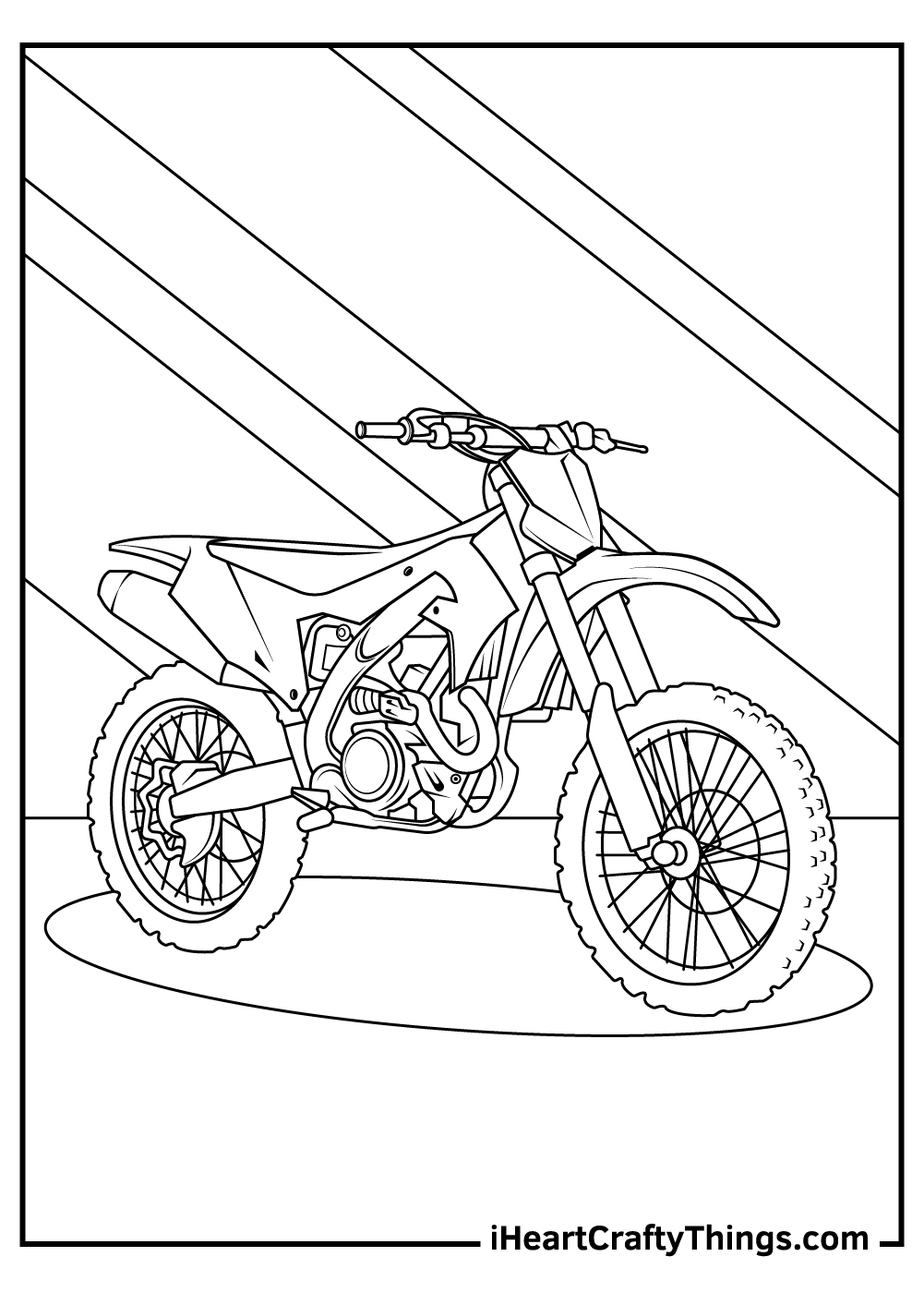 The next printable from our motorcycle coloring pages set is a modern cruiser type of motorcycle.
Cruiser motorcycles are packed with more horsepower than usual, got stronger breaks, and better suspension. Modern muscular styles like this one have premium finishes.
What colors could work on this modern motorcycle?
REMEMBER: You can get the COMPLETE set of these coloring pages >> HERE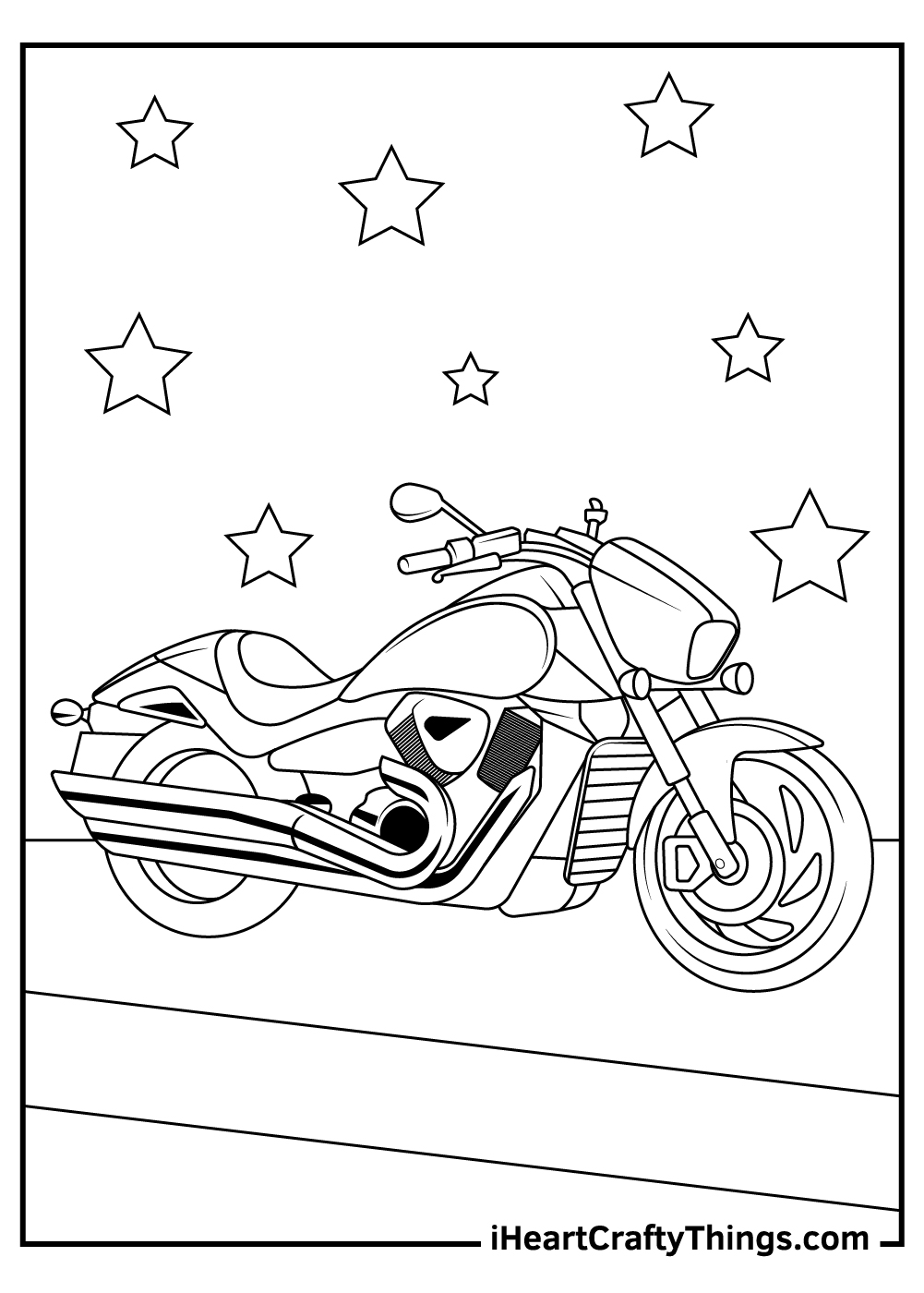 This next motorcycle coloring page is sure to make you feel thrilled and stylish. It features a motorcycle with a lot of chrome details and a large exhaust pipe.
There's also a large headlight, sweeping handlebars, a big front wheel, and a smaller rear wheel. This coloring page is very sleek and has a lot of shine. You can use metallic colors to make this motorcycle look cool and elegant.
So, grab your coloring tools and start coloring this amazing motorcycle.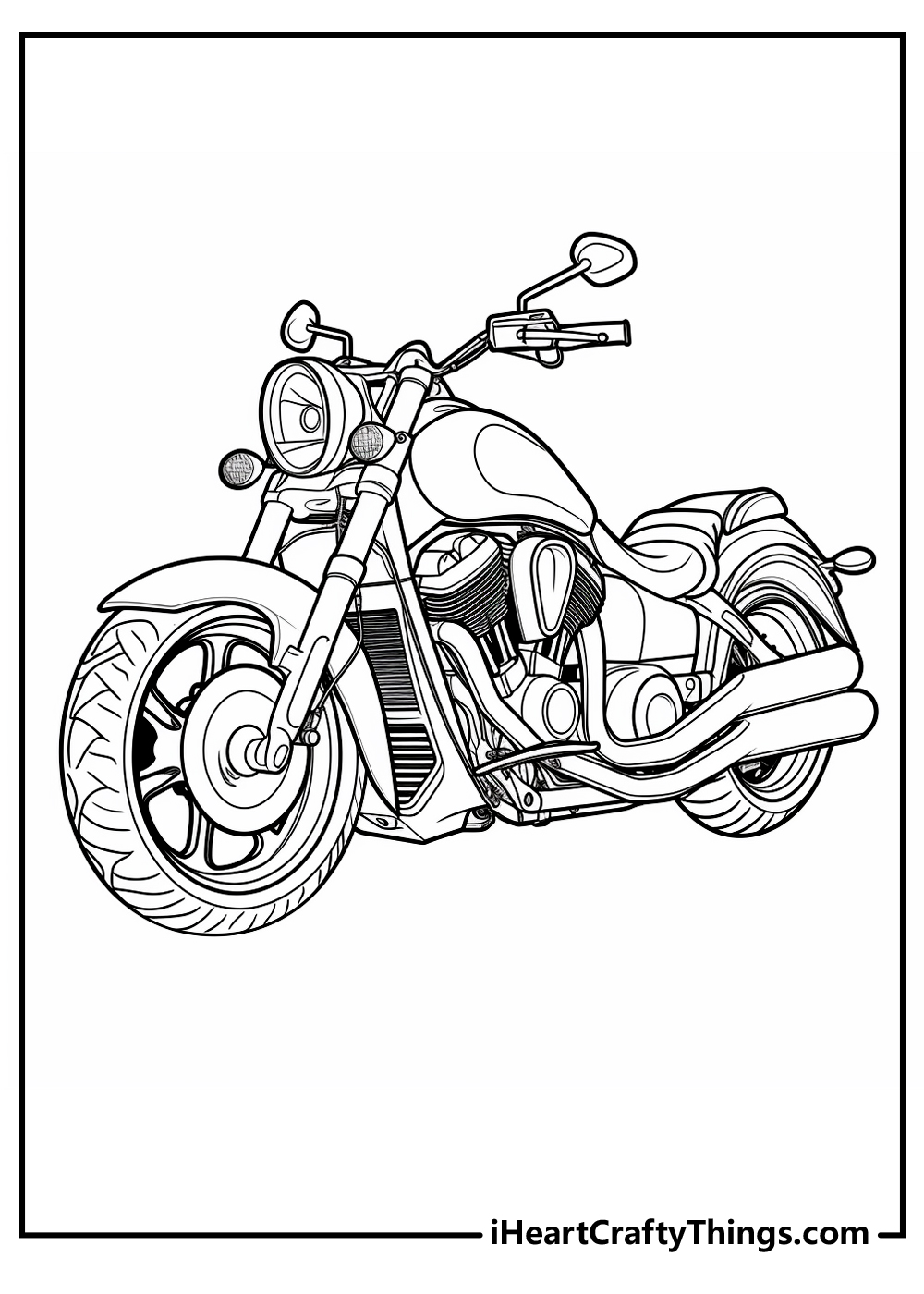 A sports bike is a motorcycle type that is built for speed, acceleration, and braking. It is built with high-performance engines inside a lightweight frame.
And for durability and action, a modern sports bike doesn't contain actual rubber in its tires as synthetic ones work far better.
This type of motorcycle is one of the more popular types. This modern sports bike should get your kids excited about coloring.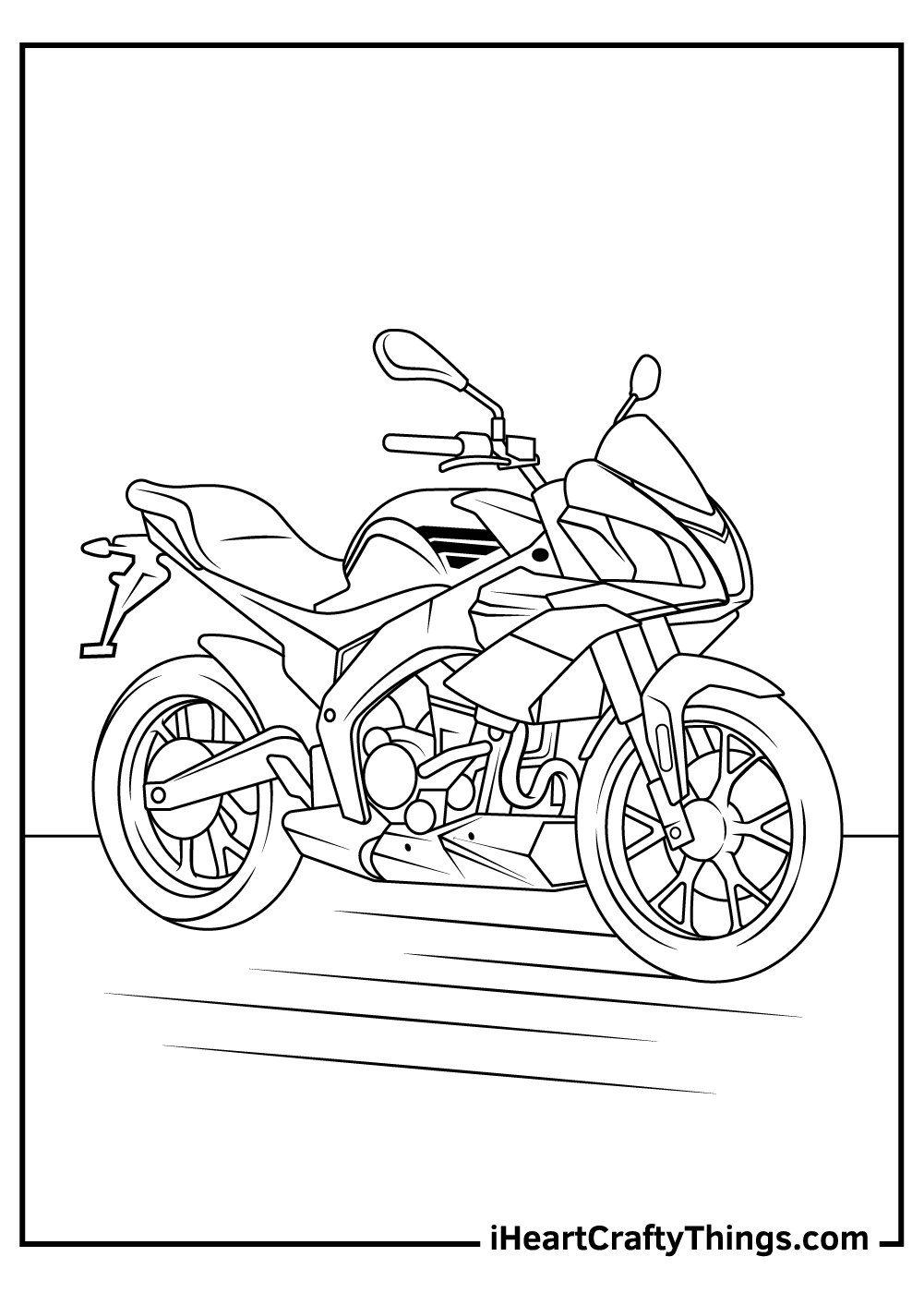 Motorcycle racing is a worldwide famous sport.  It includes many varieties like road racing and off-road racing (includes circuits, open courses, and track racing), like the illustration on this motorcycle coloring page for kids.
The page is a racing motorcycle with its rider learning in for a turn. It's a typical look of racers in a circuit.
This motorcycle coloring page has simple lines and details making it easy for little kids to color.
REMEMBER: You can get the COMPLETE set of these coloring pages >> HERE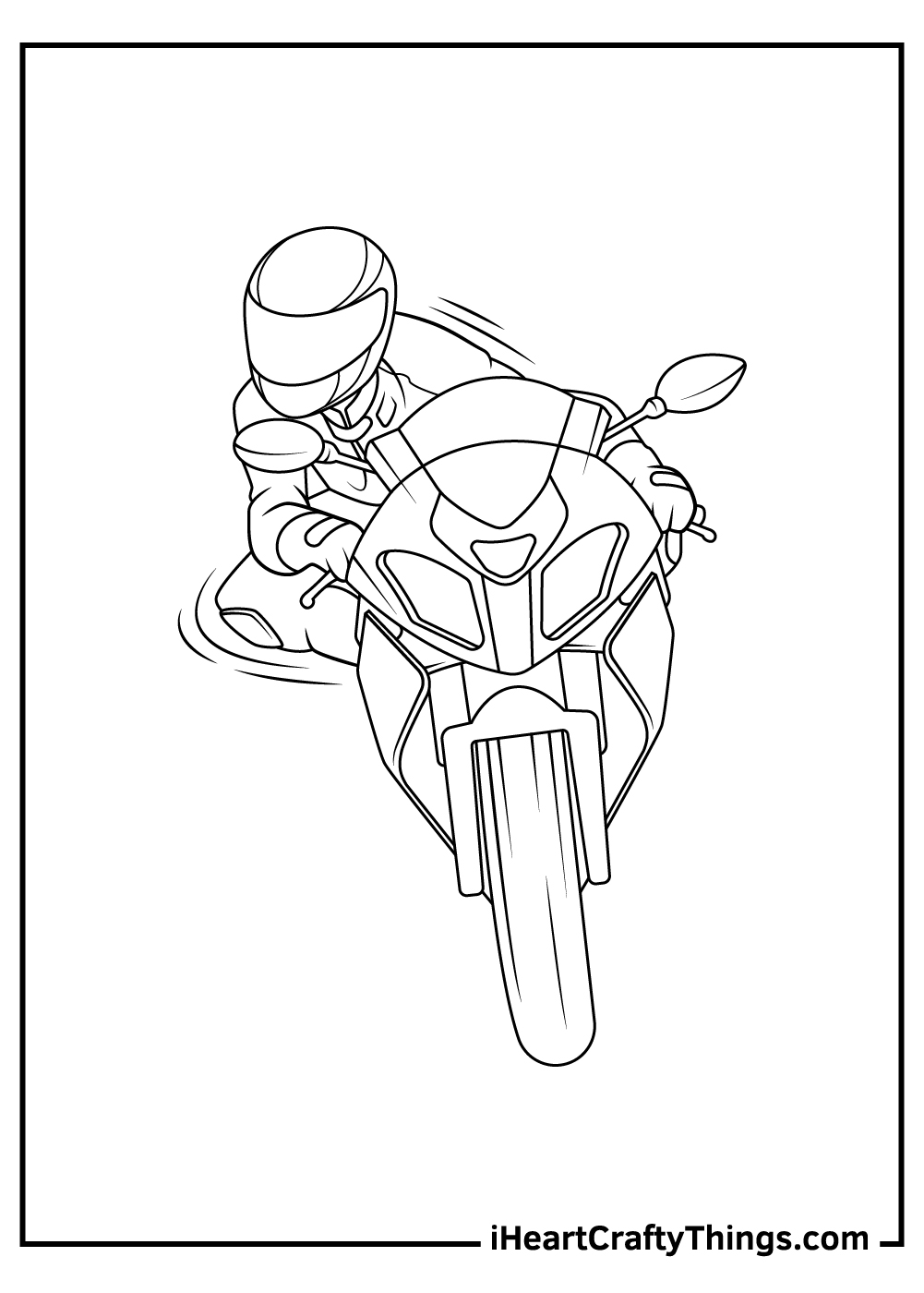 Rev up your engines for this sleek motorcycle coloring page. This curvy bike has a rounded front wheel that's bigger than the back wheel.
With its sporty body shape, this looks like a super-fast crotch rocket motorcycle.
Use red, black, orange, and yellow crayons to give this speed machine some bright blazing colors.
Draw daring flames shooting back from the exhaust pipes to make it look extra fast. Add some bold racing numbers on the sides too.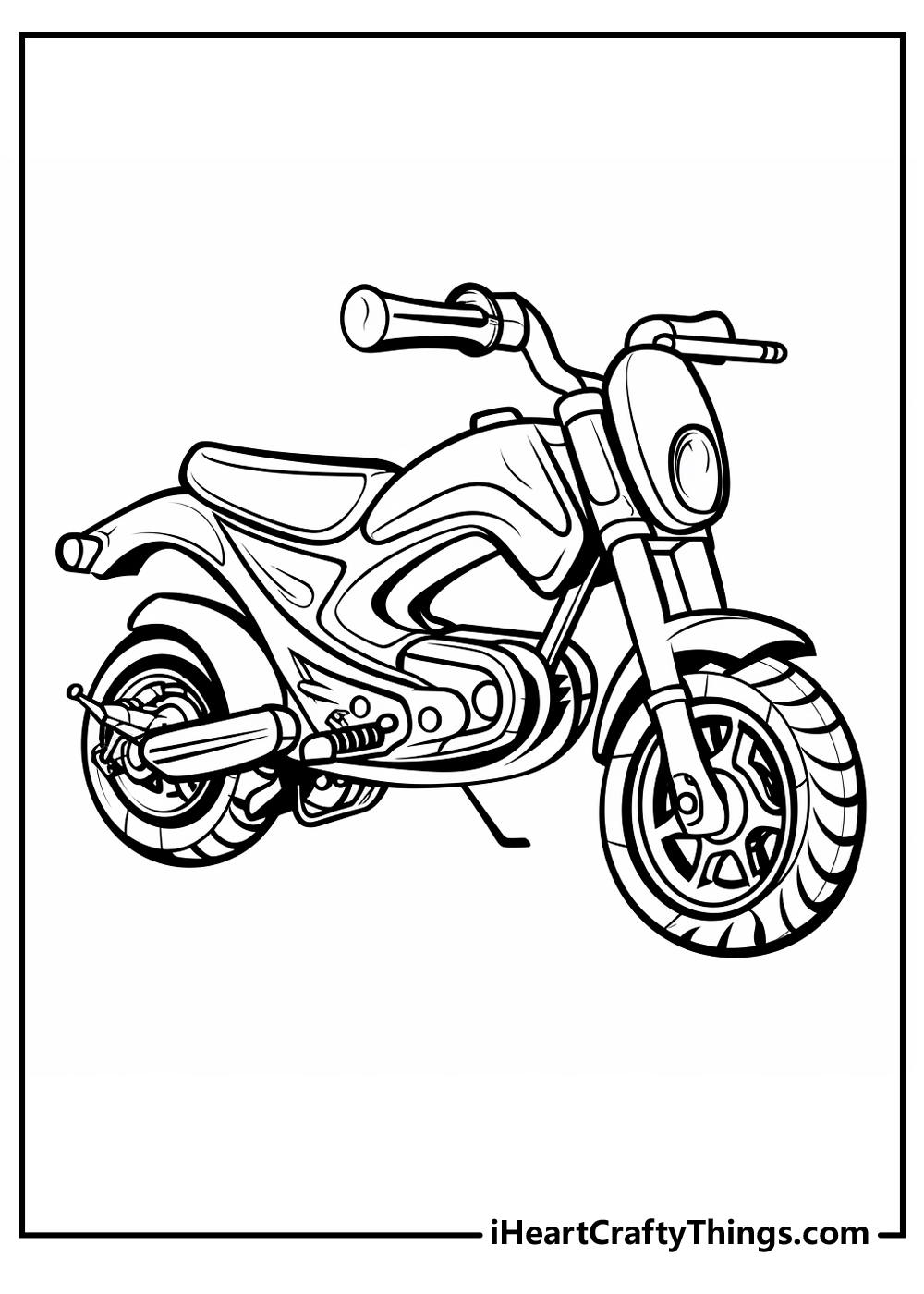 Motorcycles can be customed made for specific job functions or needs such as those with the military, blood bikes, ambulance, as well as pizza delivery.
A typical police motorcycle is seen on this free motorcycle printable.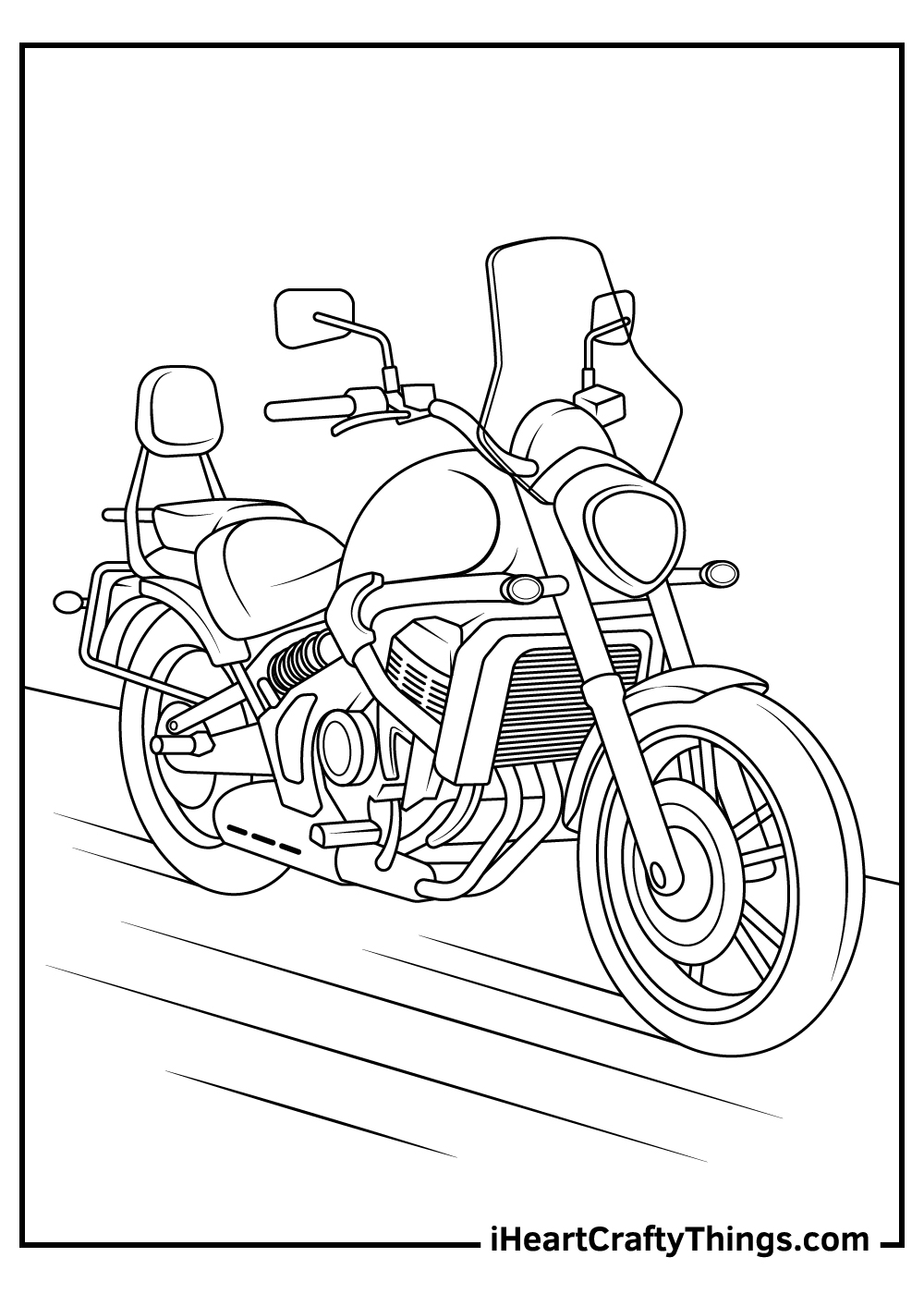 Scooters are a type of motorcycle popular around the world used for personal transportation. They are affordable, easier to operate, and can be parked conveniently. It is a great economical personal vehicle.
Thie modern scooter from our motorcycle coloring pages is made simple for kids who are beginning to color can enjoy.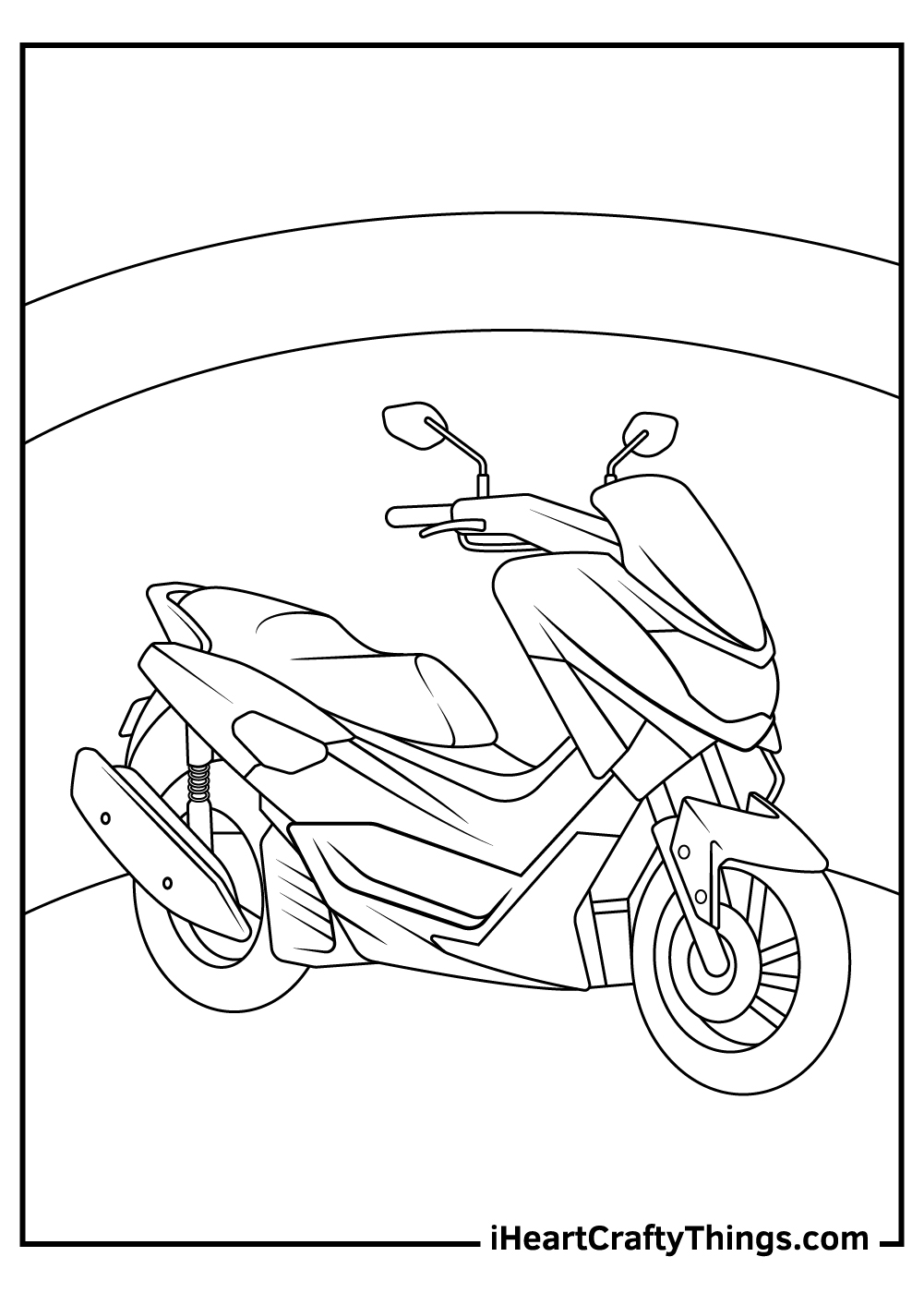 Here is another image of a sports bike being used, possibly in a racing event or simply in someone using it on the road.
There are three common types of sports motorcycles – lightweight, middleweight, and superbike. Lightweight is entry-level, beginner bikes. Middleweight is mid-sized and can qualify for racing. Superbikes are those that have a liter-class or literbike.
These motorcycle coloring pages do have a lot of learning points for kids to learn from!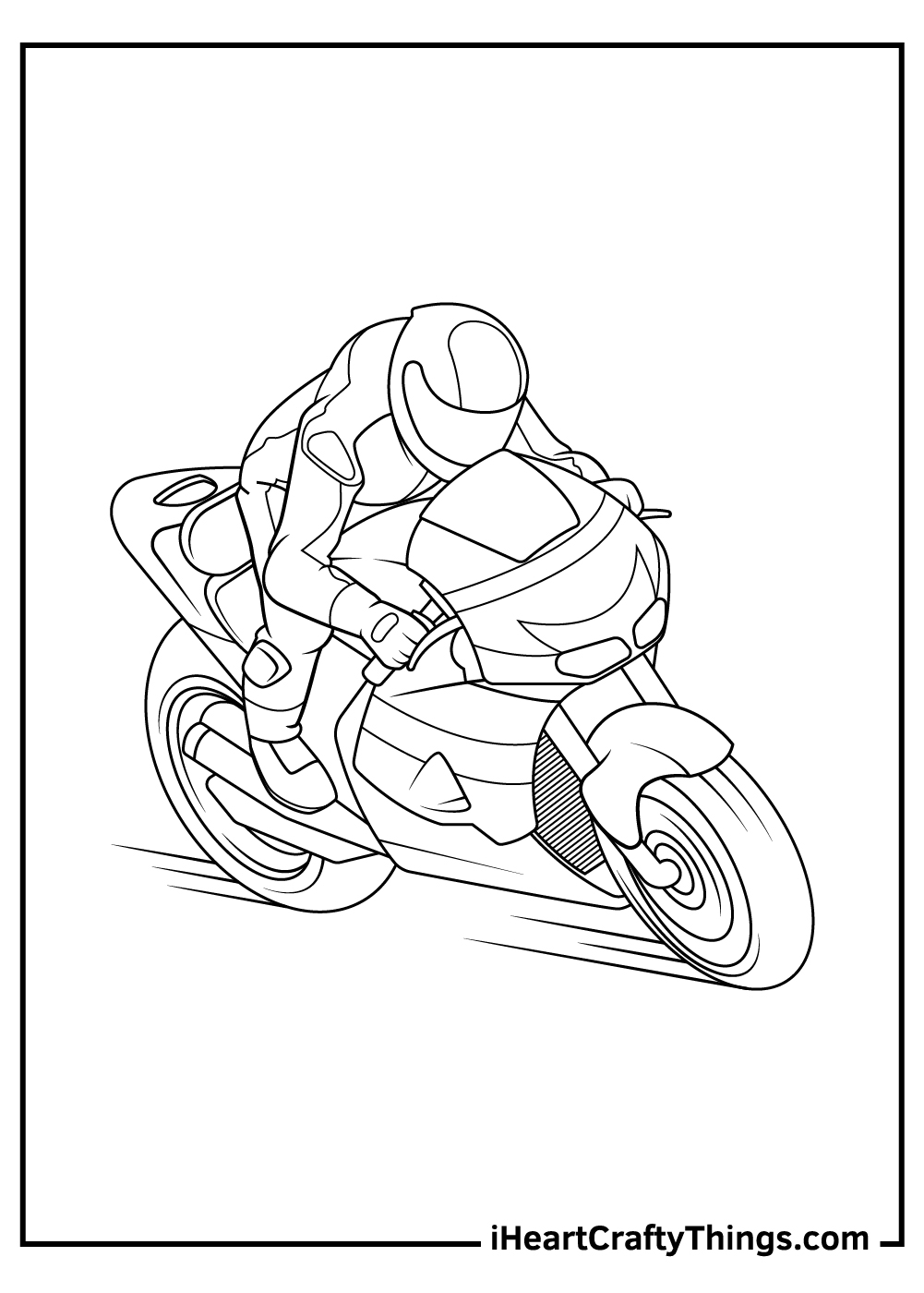 This motorcycle coloring page shows a dirt bike motorcycle with a large engine and exhaust pipes. Dirt bikes are often used for motocross, enduro, rally, or trial competitions.
It has a lot of colorable details including its round headlight, the single seat, and the high handlebar.
The knobby tires look like they are designed for rough terrain. Also, this bike is very rugged and has a lot of texture. You can use earthy colors to make this motorcycle look realistic and tough.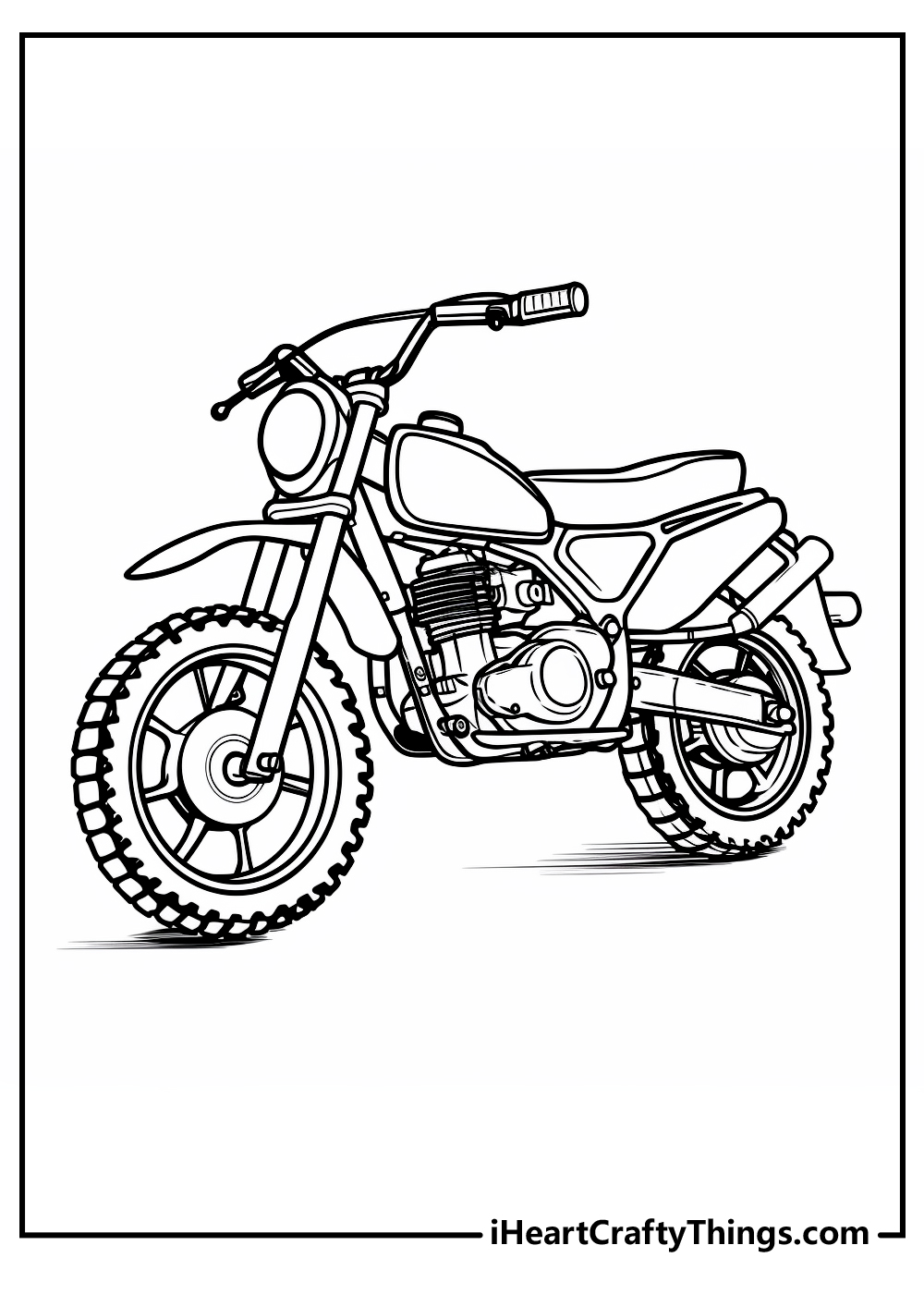 This famous sporty motorcycle takes track riding to a whole different level. It's got the amazing horsepower and can be quite expensive. But the performance is truly amazing!
The coloring part of this free motorcycle printable is simple. It's suitable for kids who are new to coloring.
This powerful bike, once filled in with colors, is indeed very appealing to the eyes!
REMEMBER: You can get the COMPLETE set of these coloring pages >> HERE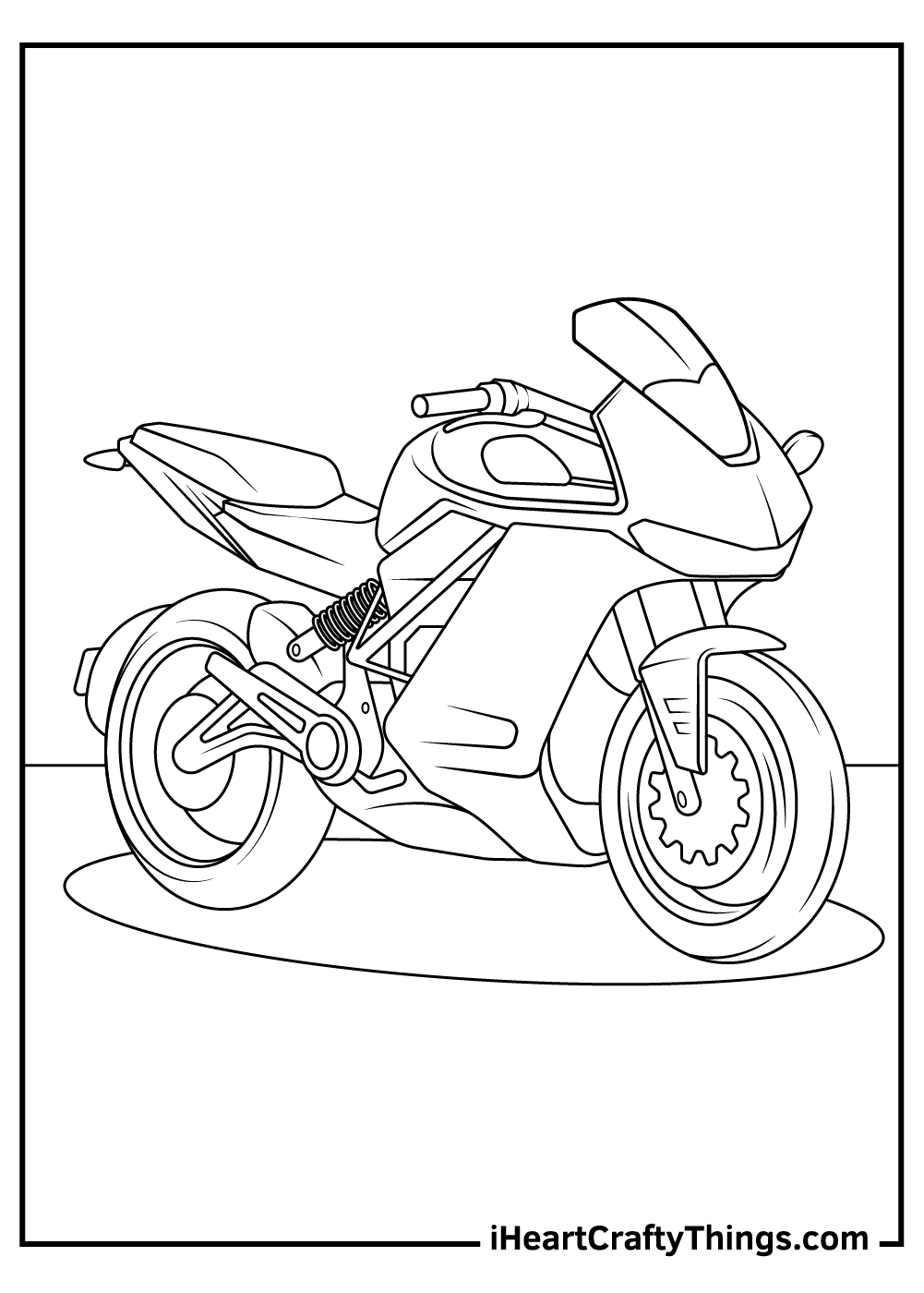 A typical motorcycle rider with his complete gear on. The rider is wearing a helmet, jacket, gloves, and shoes. It's important to let kids know that proper gear is important in riding motorcycles and that motorcycle safety should always be observed.
Our motorcycle coloring pages can be converted to posters once all the colors are put in. The images here can be a great accent to a child's room especially if they're big fans of motorcycles.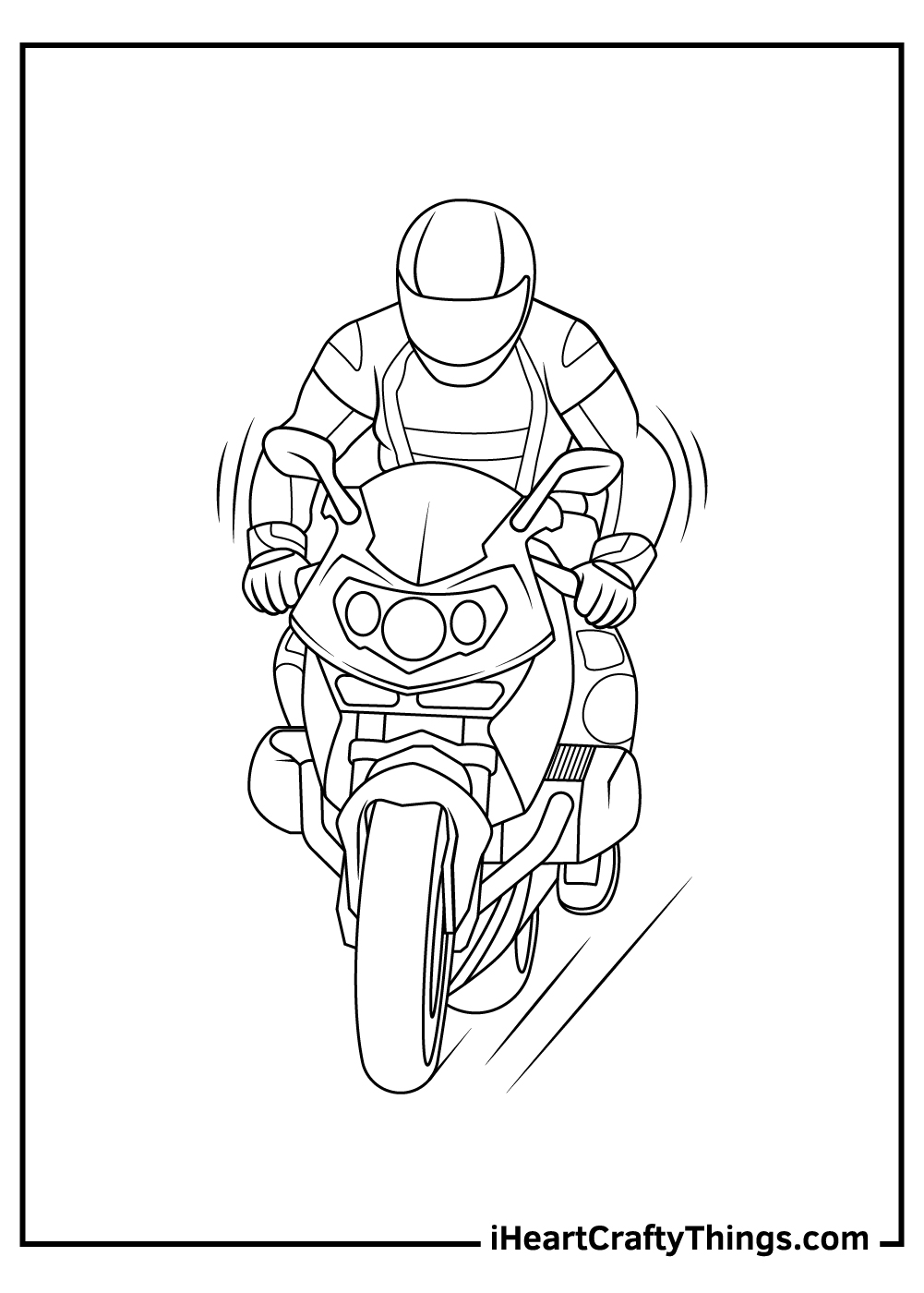 This motorcycle coloring page is perfect for designing your dream bike before you hit the highway. This bike has a big gas tank and a comfortable seat perfect for hitting the open roads.
The front wheel has a star-shaped rim for a stylish look. Color it with shiny chrome or metallic colors.
Use black and gray crayons on the engine and pipes. Add some bright red and orange flames shooting out the back as the engine roars.
You can also add glossy paint colors, custom details, and your own unique flare.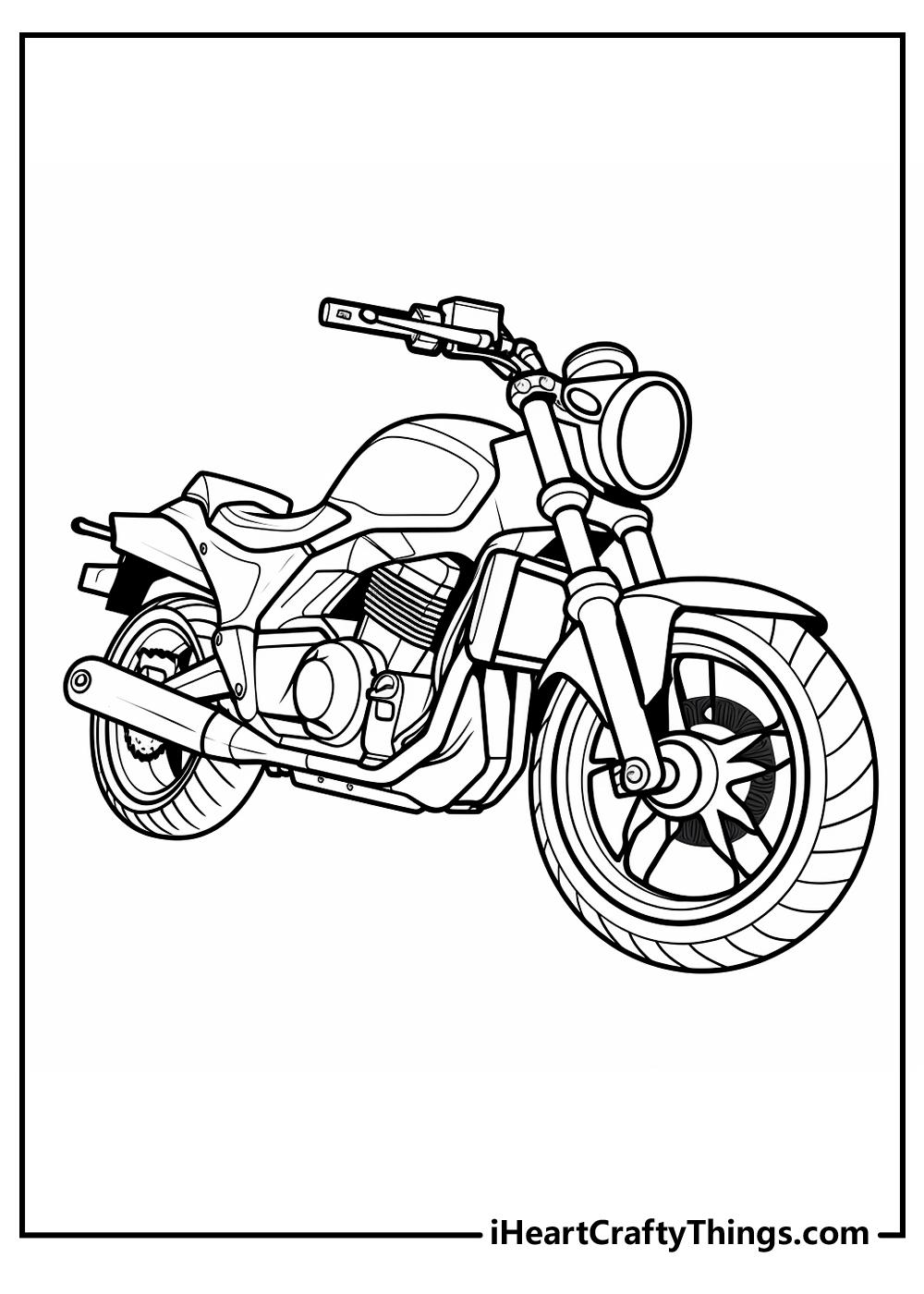 Motorcycle Coloring Pages – Simple and Enjoyable Free Printables
A motorcycle represents many things to many people, like strength and power. It's a powerful vehicle that fascinates children. With its many different uses, it comes in different shapes, sizes, and colors. This makes it an appealing subject for coloring pages.
We hope you enjoyed your coloring activity with our motorcycle coloring pages. It contains simple motorcycle illustrations as well as complex, detailed ones.
These pages are packed with amazing facts on a motorcycle that you can share with kids while doing this activity. The complexity of other pages will also allow him to focus. Coloring activities are a great way for kids to use their imagination and creativity.
Download these pages for free and if you like them, share them with friends and family.
REMEMBER: You can get the COMPLETE set of these coloring pages >> HERE