Riding a bicycle is fun and enjoyable. It also reduces stress and puts us in a good mood. There are various kinds of bikes, each with a different use and purpose. There are bicycles that are meant to be used on the road and off the road. Bicycles also exist in a wide range of colors, making it a fun subject to color.
We have crafted and compiled 10 bicycles coloring pages for you to enjoy. With these bicycles coloring sheets, coloring activities with friends and family is made more fun and easy. Simply choose the image you like, download it, print it out, and finally—the most fun part—color it!
Feel free to let your imagination run wild and unleash your creativity! Mix and match a variation of colors to make these bicycles coloring pages colorful!
Have fun and use your artistic skills!
REMEMBER: You can get the COMPLETE set of these coloring pages >> HERE
Bicycles Coloring Pages – All-New Fun Printable Sheets
In this bicycles coloring page, there's a bicycle parked outdoors. The bicycle in this image is not your ordinary bike, rather it is a combination of a bicycle and a scooter. It enables you to enjoy two kinds of rides in one vehicle—so cool!
There are bushes of greeneries and blooming flowers in the background. The location must be a garden or a park. Either way, it looks like a good place to wander around in a bicycle.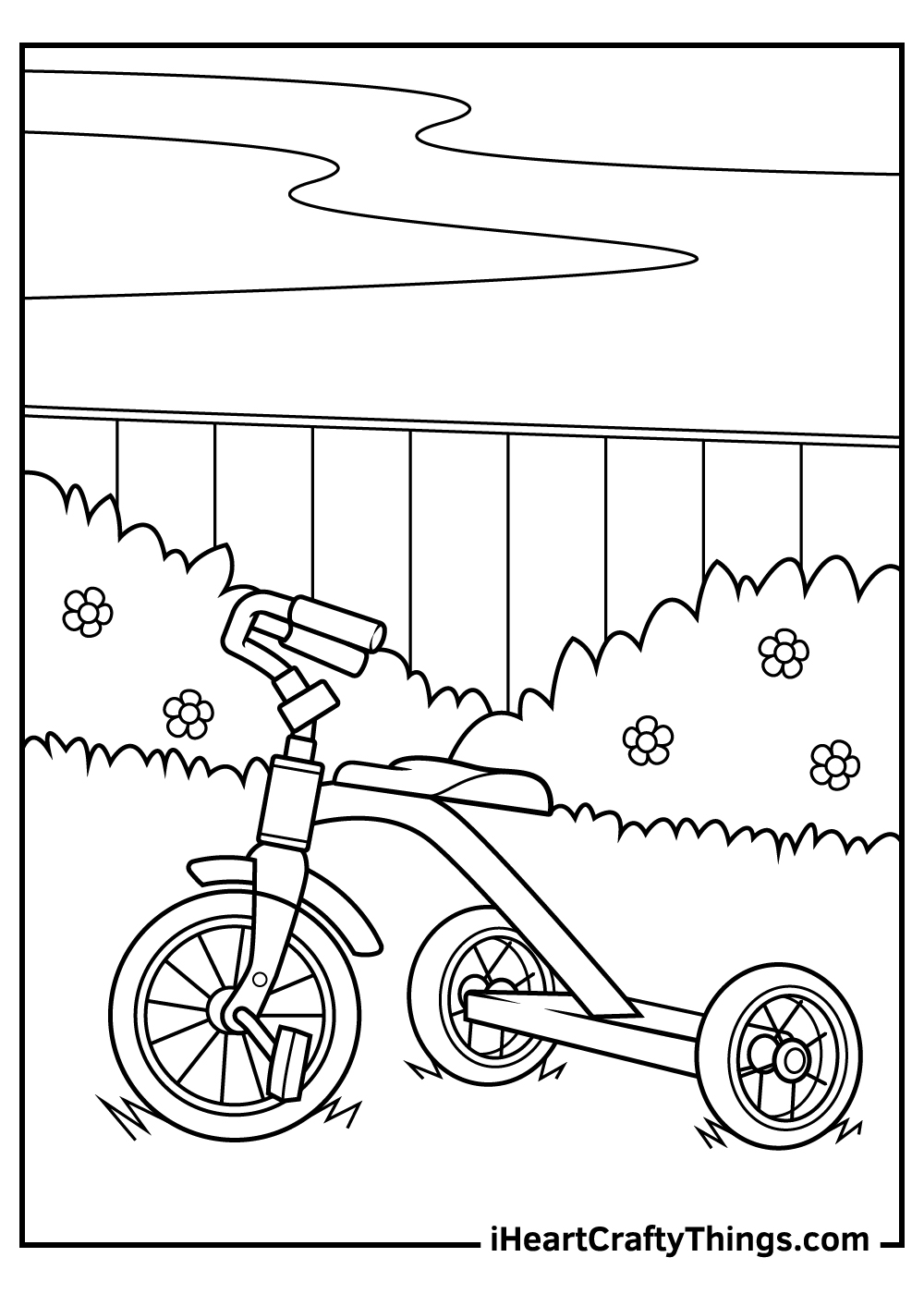 It's a good day to go out for a bicycle ride on this bicycles coloring page! The lady wearing a summer hat is strolling around in her bicycle.
Her hair is floating mid-air as the wind breeze blows. It must be a windy summer day!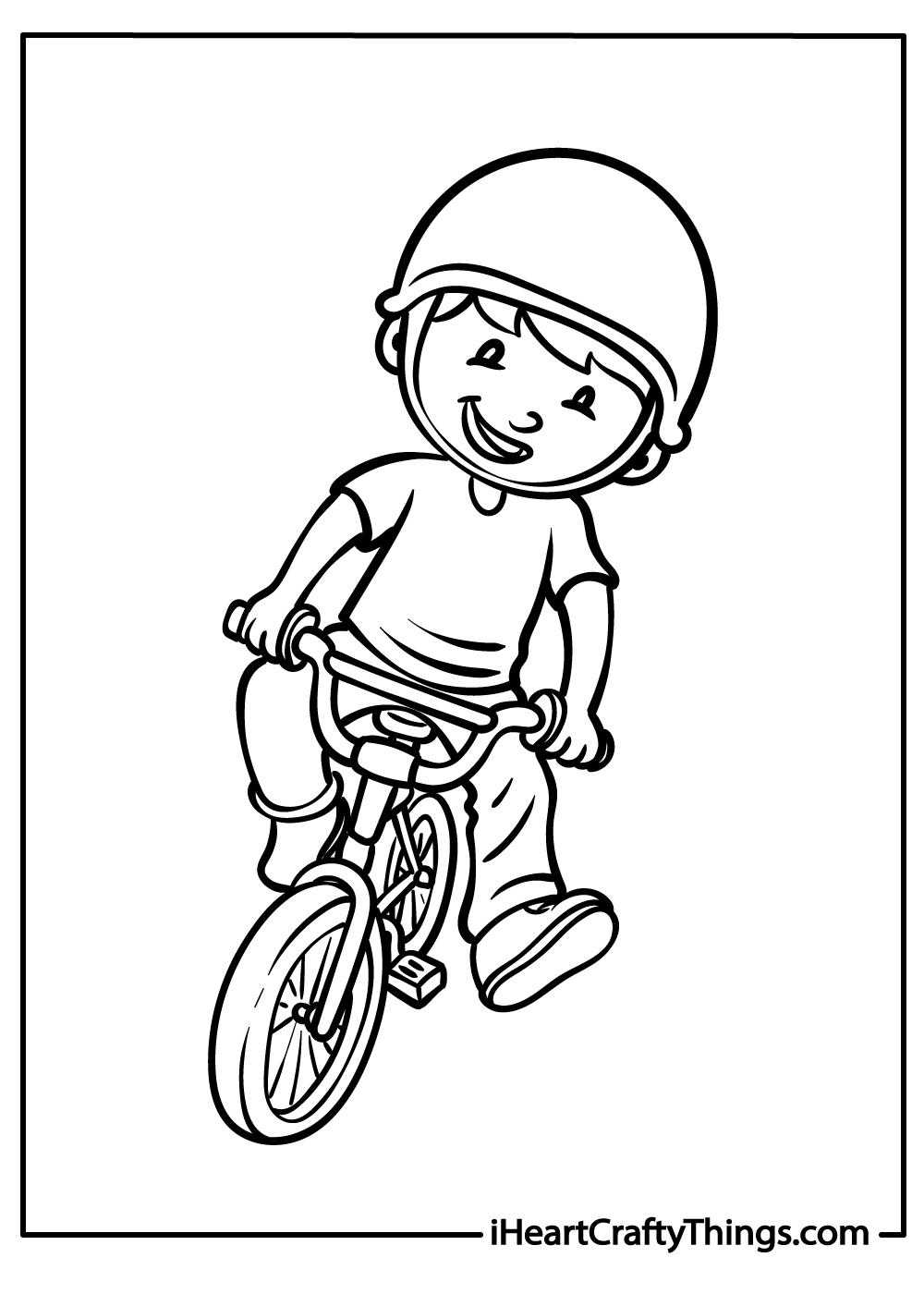 It's a beautiful day to go for a bicycle ride! This fun coloring page shows a happy child with a smile riding a bicycle.
Look at his eyes as they light up with excitement.He seems happy and it's as if he's looking at the sky.
The bicycle has two big wheels, handlebars, and a seat for the rider.
You can use bright, cheery colors like blue, pinks, and yellow to capture the joyful feeling of this scene.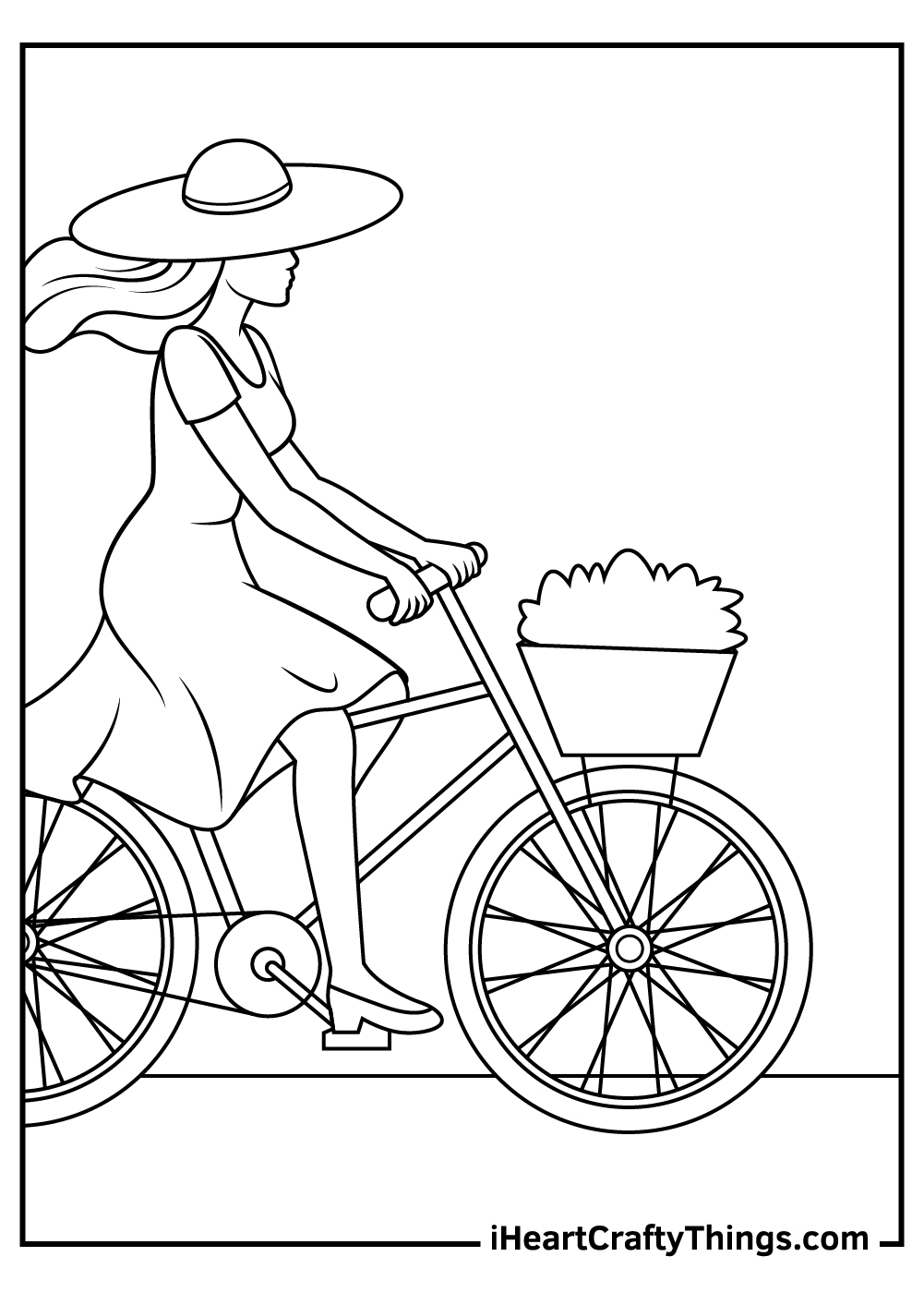 It's nighttime on this bicycles coloring page! The bicycle in the image appears to be running swiftly on the road.
With the cold breeze of wind and picturesque night sky views, cycling is definitely much more enjoyable at night. What colors will you use to create a colorful night sky?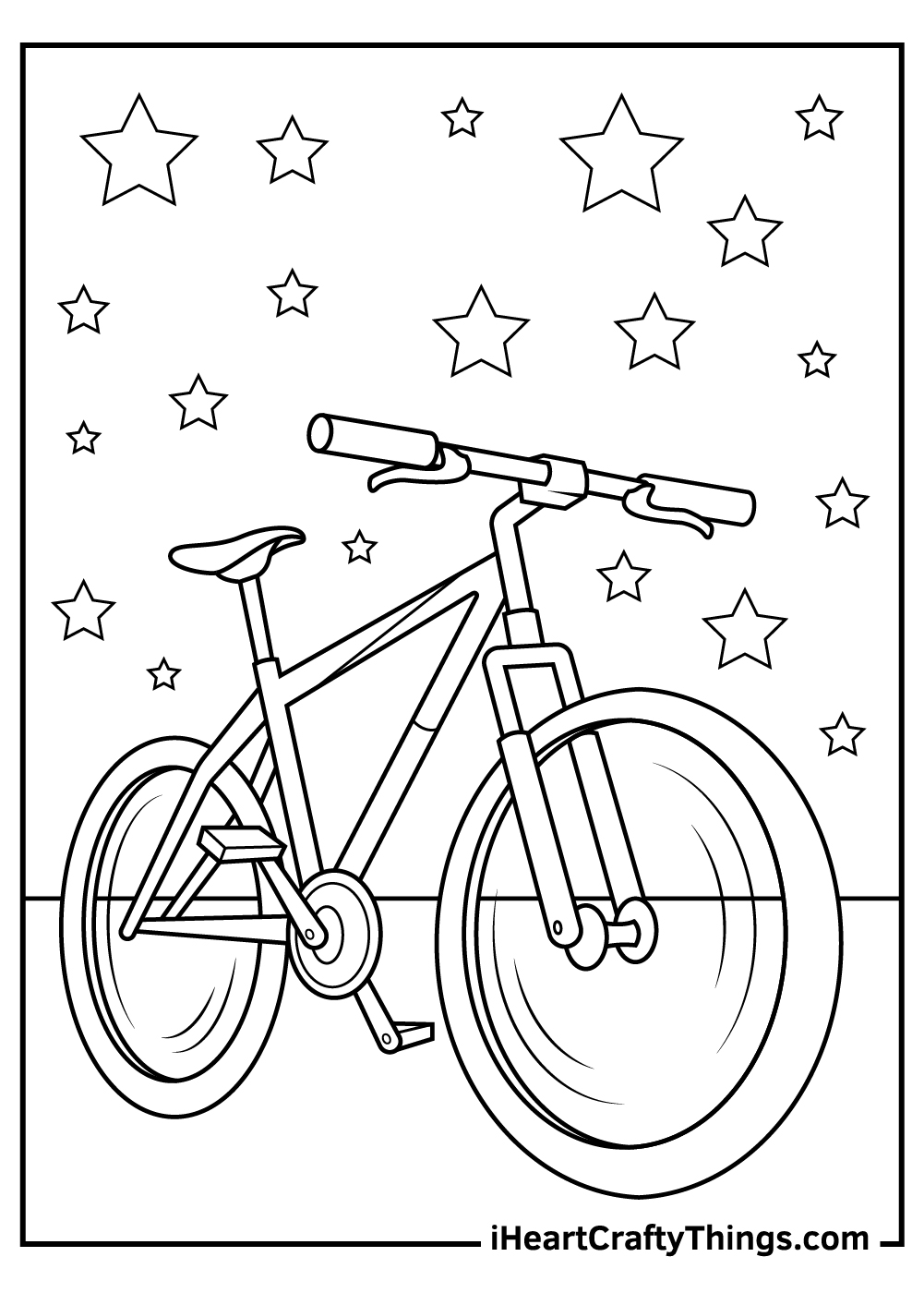 A young little boy is enjoying his ride on this bicycles coloring page. It's a clear cloudy day outside, which is a good time to go out and ride a bike!
He has a huge smile on his face—he must be having a lot of fun roaming around in his bicycle!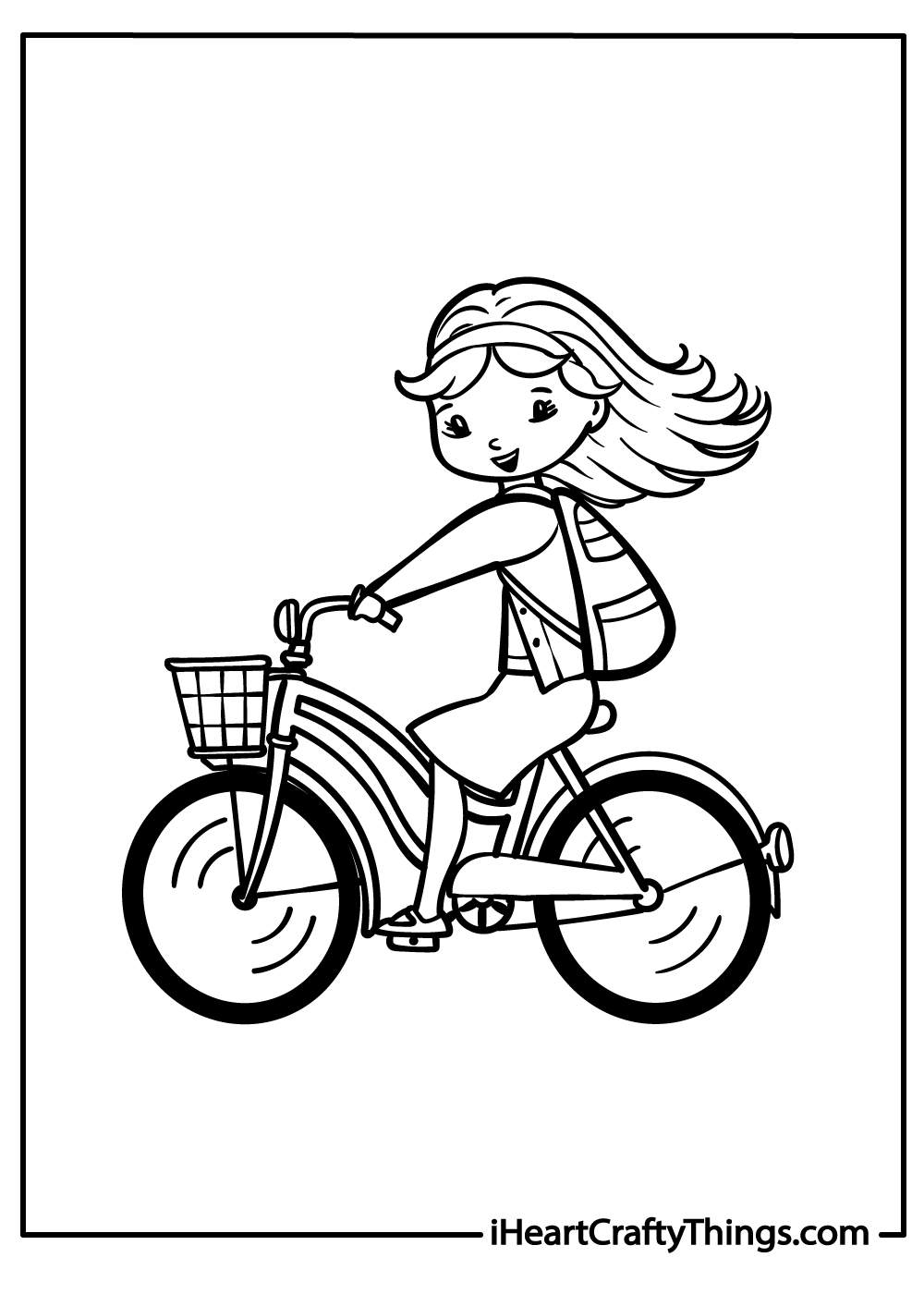 Are you ready for a fun and relaxing bike ride? This coloring page features a young girl who loves to ride her bicycle. Her bicycle is a cruiser style with curved handlebars and a basket on the front.
Can you imagine where she is going? Maybe she is on her way to school, or to meet her friends, or to explore a new place.
You can decide by coloring this page with your favorite colors.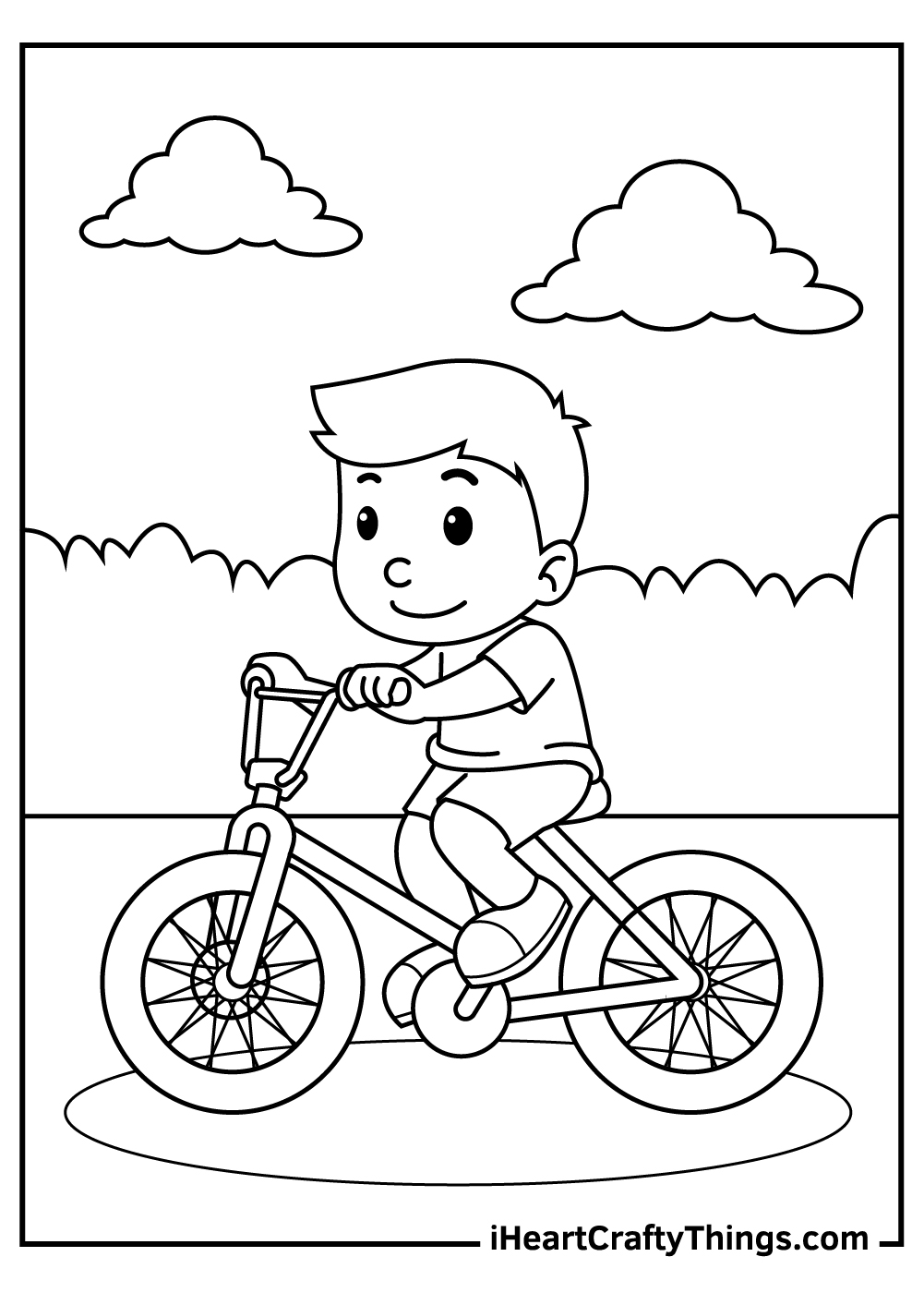 This bicycles coloring page shows a young little girl enjoying riding a bike. She has a delighted facial expression with her eyes closed and a wide grin on her face. It surely looks like she's having a good time!
There's grass and blooming flowers everywhere. She's probably cycling in a park! Imagine riding a bike in a beautiful place like this? That would be so much fun!
REMEMBER: You can get the COMPLETE set of these coloring pages >> HERE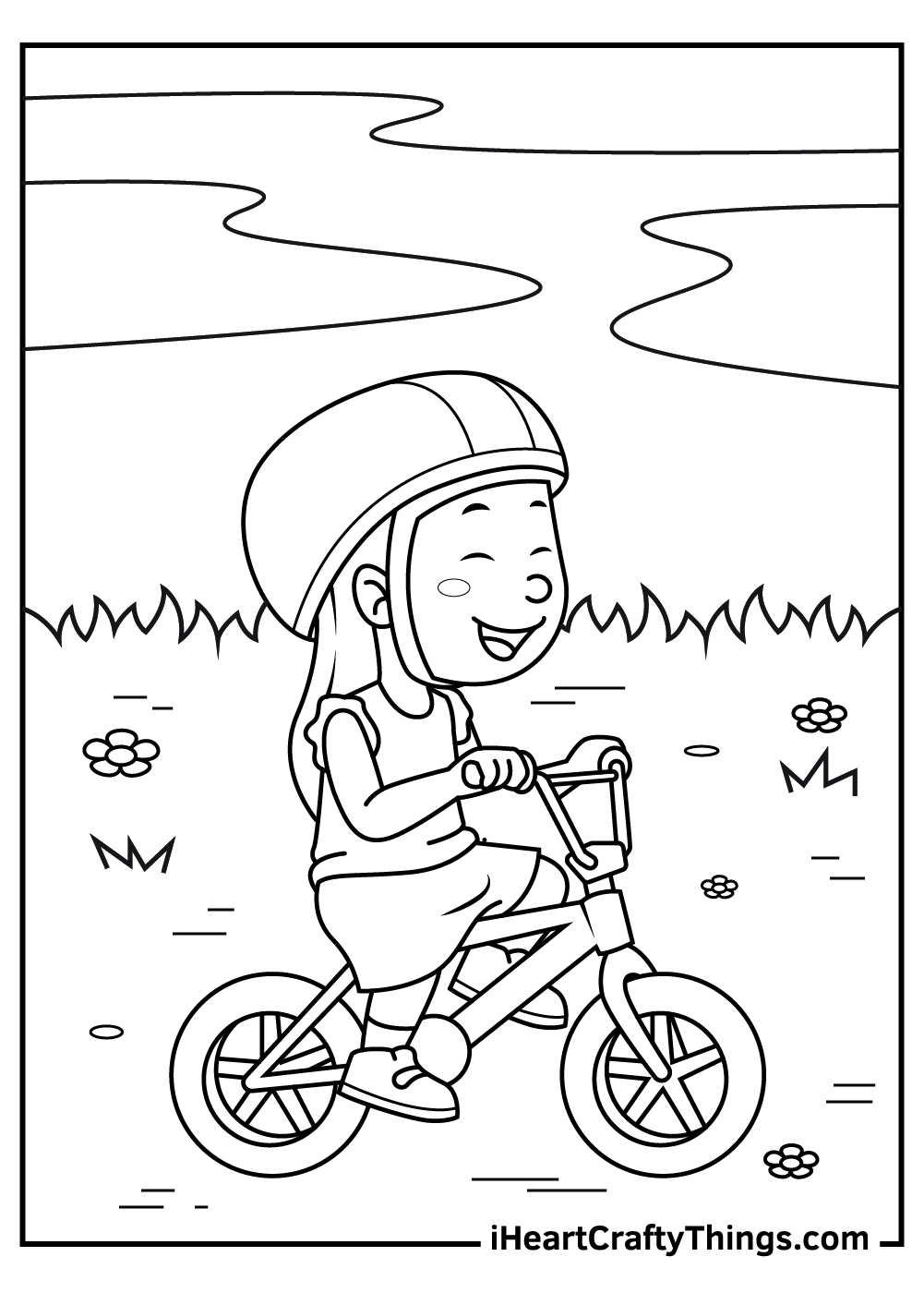 Wearing a helmet is essential when riding a bicycle. Follow the example of the little boy shown in this bicycles coloring page. He's wearing a helmet to ensure his safety as he goes out for a ride. He has a huge grin on his face, enjoying his adventure.
There are lots of stars floating around in the background. We think the golden yellow color would perfectly fit the stars to create a beautiful glowing effect. What colors will you add to this printable?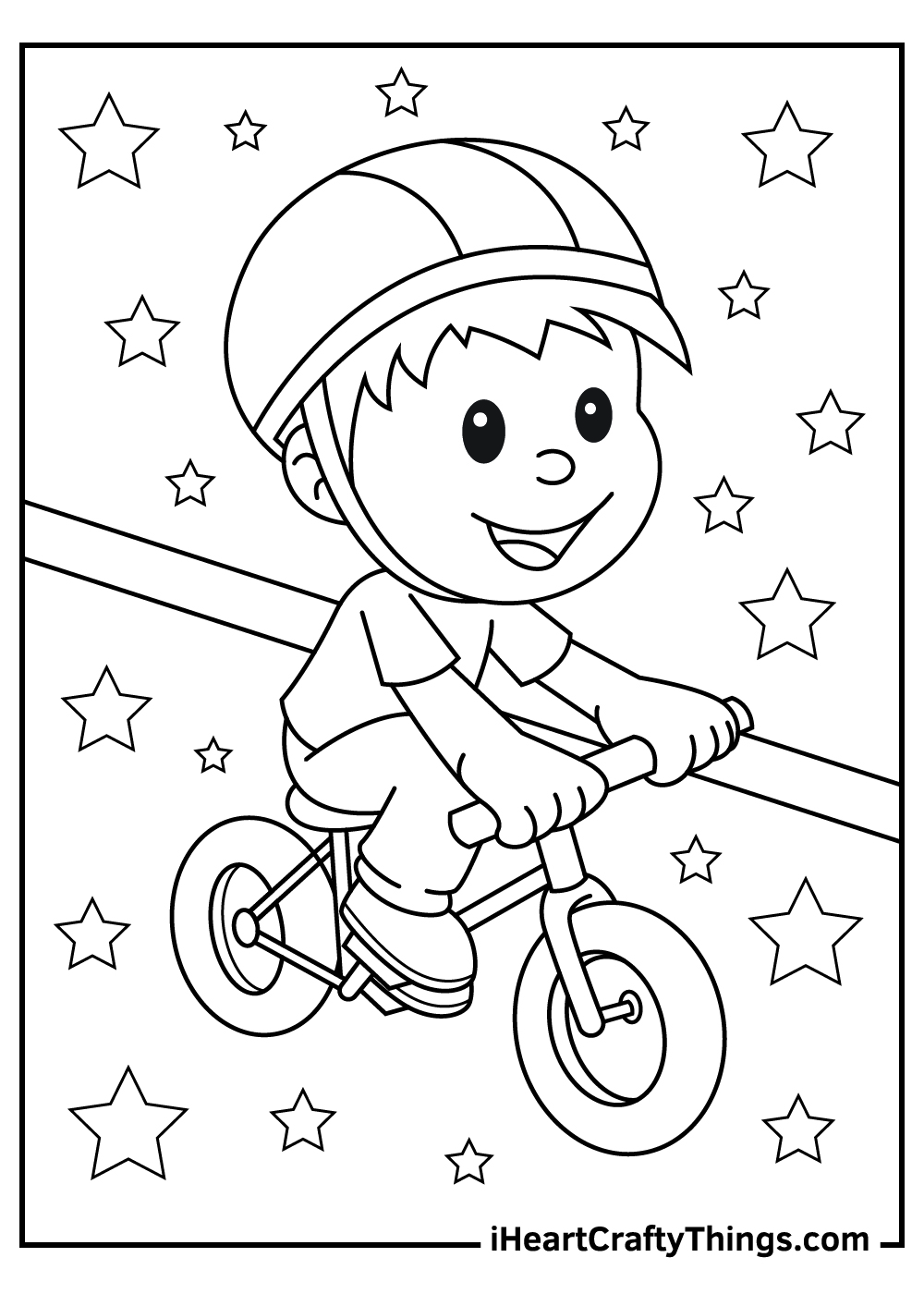 In this bicycles coloring page, the bicycle is in motion. It seems to be moving at full speed. Can you imagine how fast it is going?
Bicycles can actually go up to 45 miles per hour, but the official highest speed recorded for a bicycle is 62 miles per hour.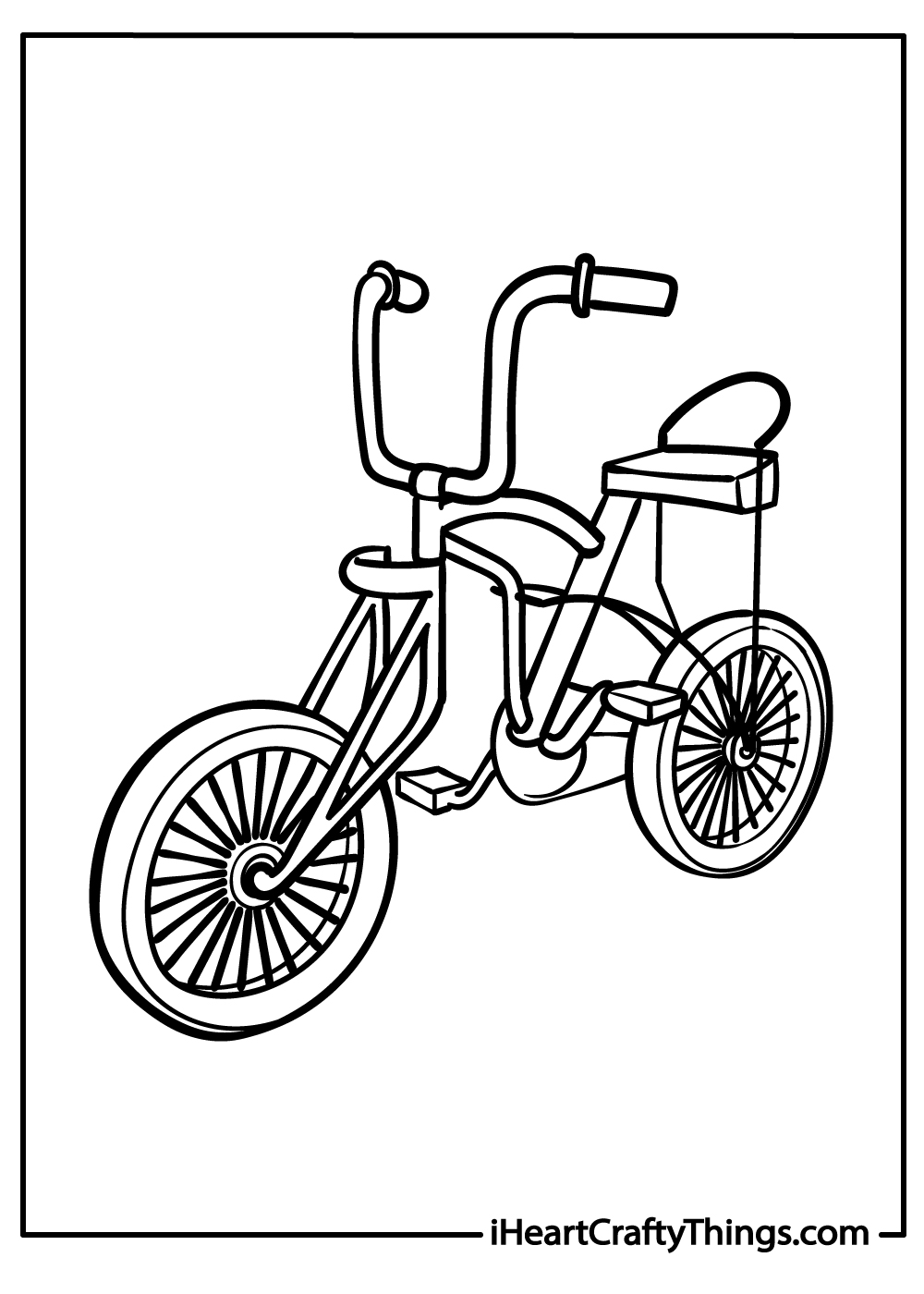 This bicycle coloring page is great for preschoolers and toddlers who love to explore the world on their own. The front wheel is larger than the rear wheels and has pedals attached to it.
There is also a basket on the back of the bicycle, where you can store your toys, books, or snacks.
You can add splashes of color to the frame and give the wheels a spin.
Decorate the woven basket in back with patterns or stickers to hold toys, books, snacks, or whatever cargo you can imagine.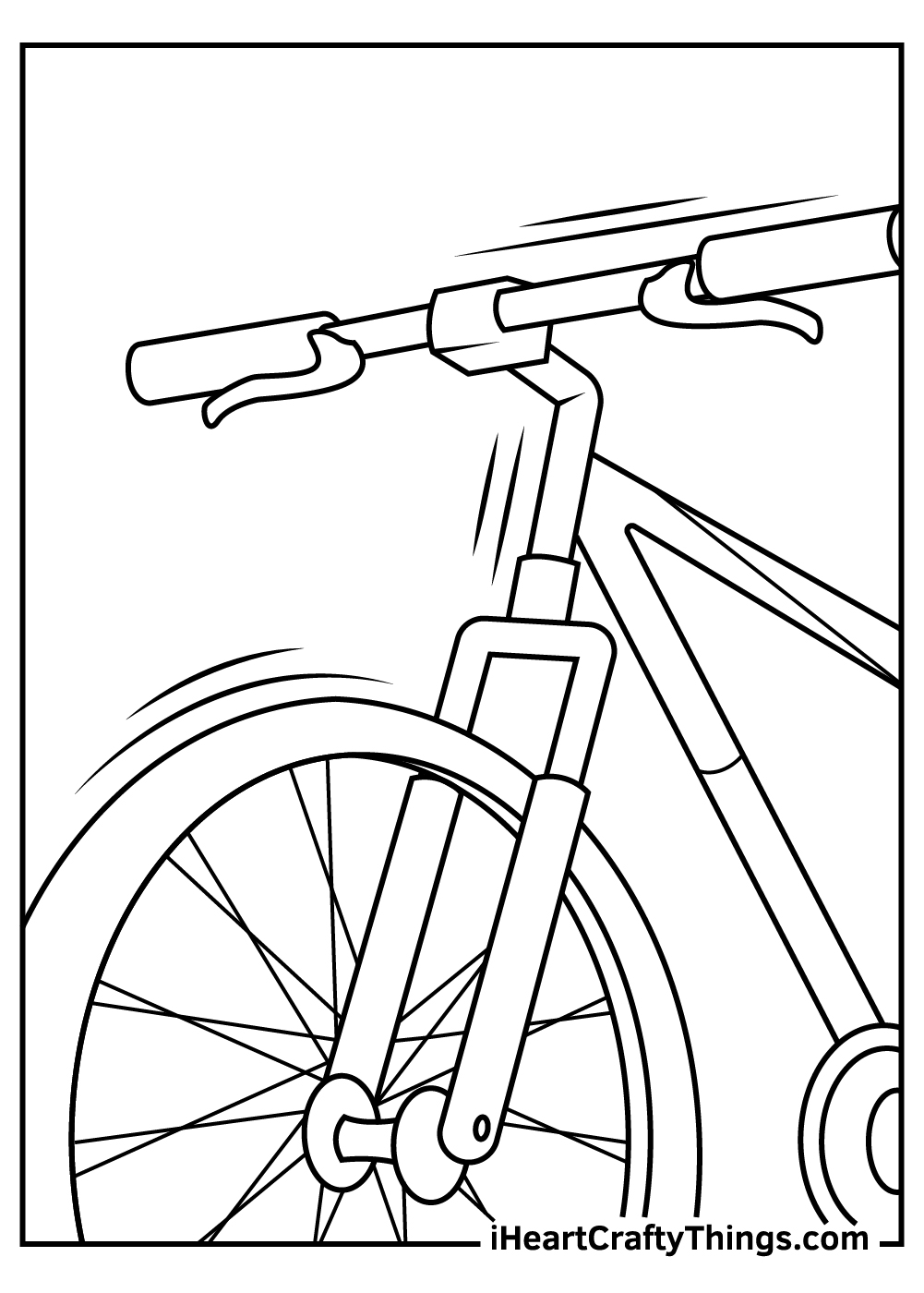 The young little girl shown in this bicycles coloring page says hello! She looks adorable with her huge gleaming eyes and wide grin. She's having a good time riding her bicycle for sure!
Her bicycle has a storage basket mounted in the front, which has a plant placed inside it. Imagine having a bicycle that looks exactly like this—so cool!
REMEMBER: You can get the COMPLETE set of these coloring pages >> HERE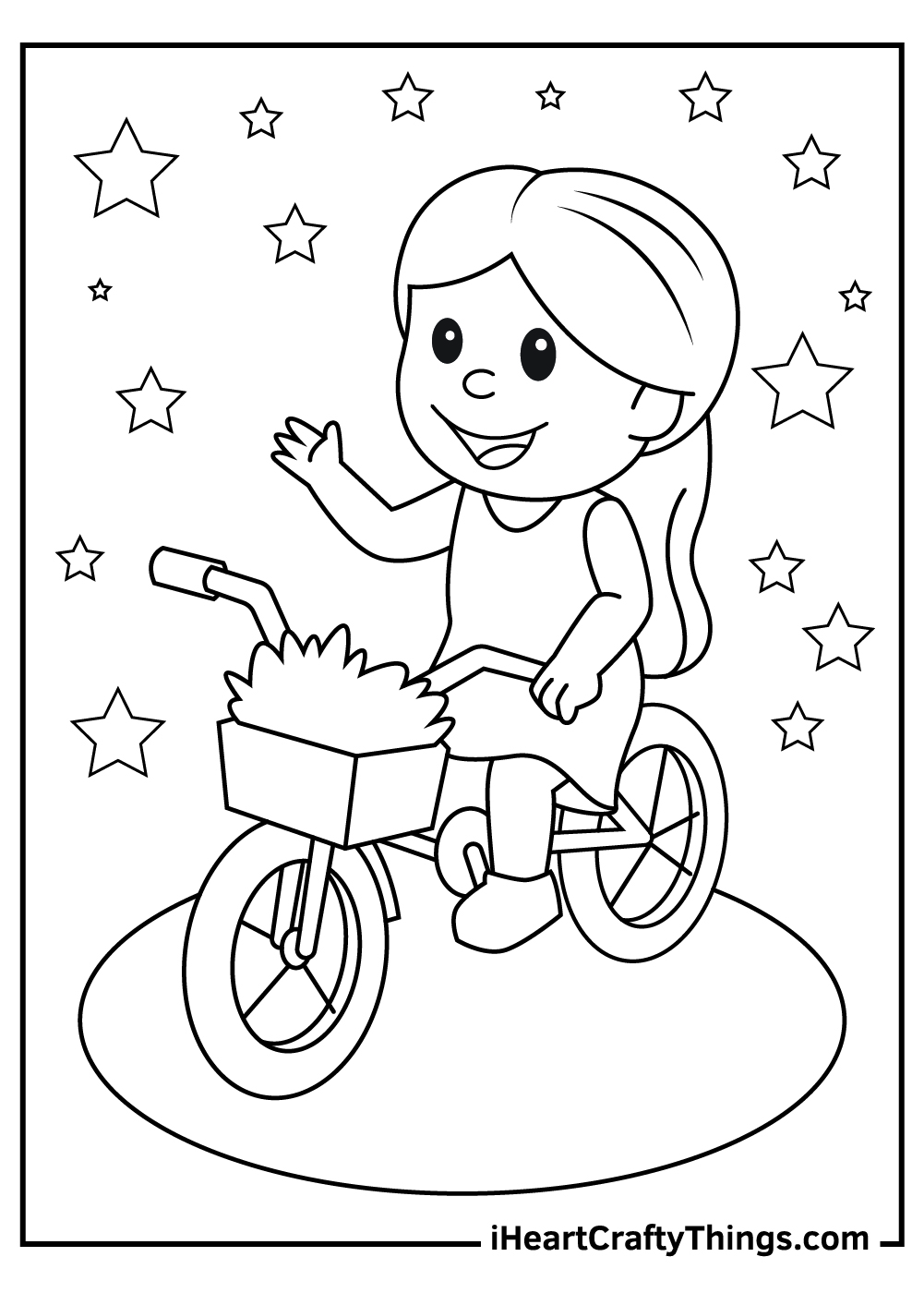 The little boy on this bicycles coloring page is enjoying his bike ride on a cloudy day. He is in full gear, wearing shoes and a helmet for his safety.
His eyes are gleaming and he has a huge grin on his face. It seems like he's having a great time!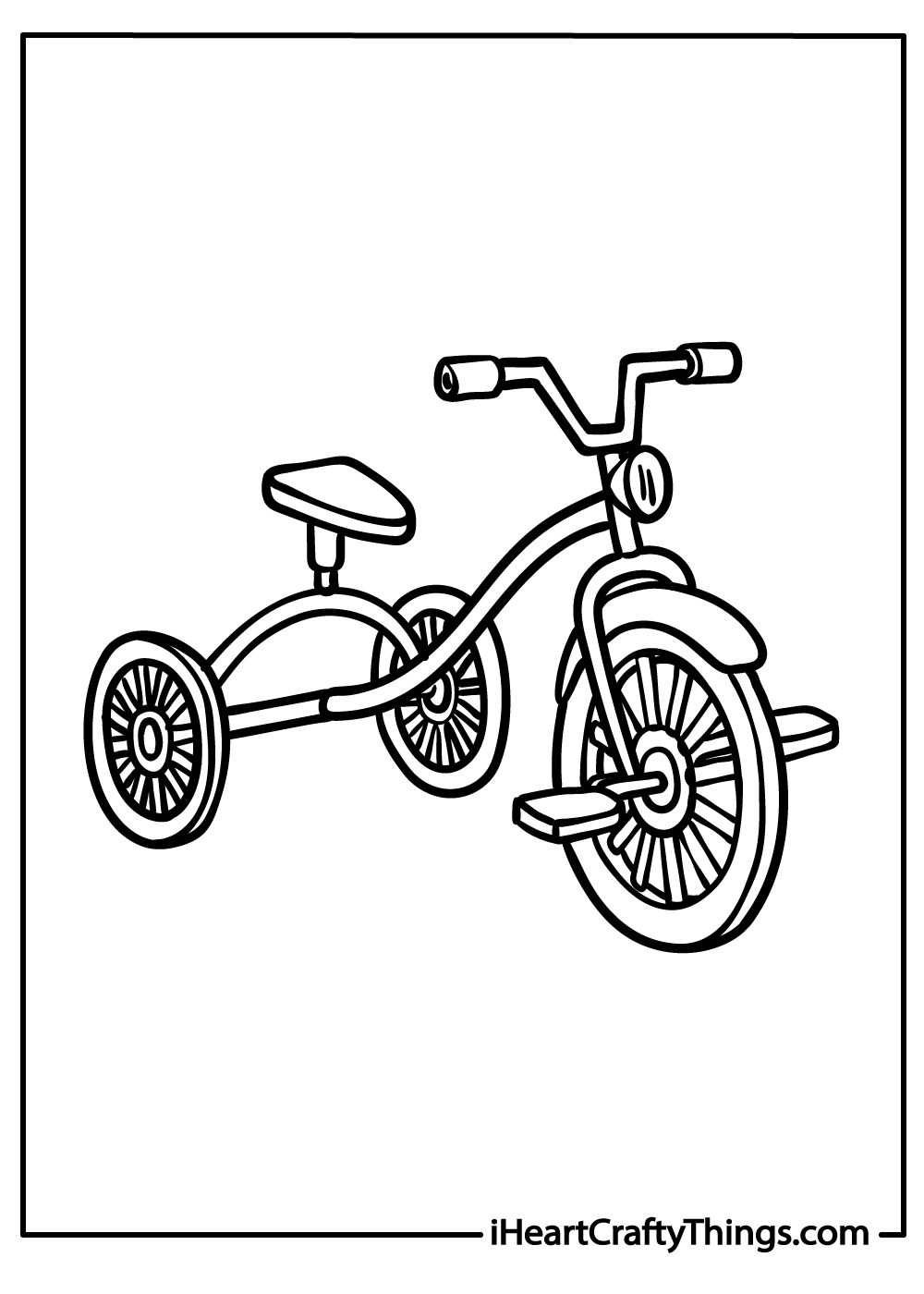 Pedal down the fun lane with this delightful tricycle coloring page! A tricycle is a type of bicycle that has three wheels instead of two.
This tricycle also has a fender over the front wheel to protect it from mud and water. Also, the front wheel is bigger than the rear wheels.
This jaunty three-wheeler has a curved handlebar and a comfy seat, just waiting for an imaginative little rider.
You can color the oversized front wheel and fender with your brightest colors. Add patterns or stickers to make this tricycle your own.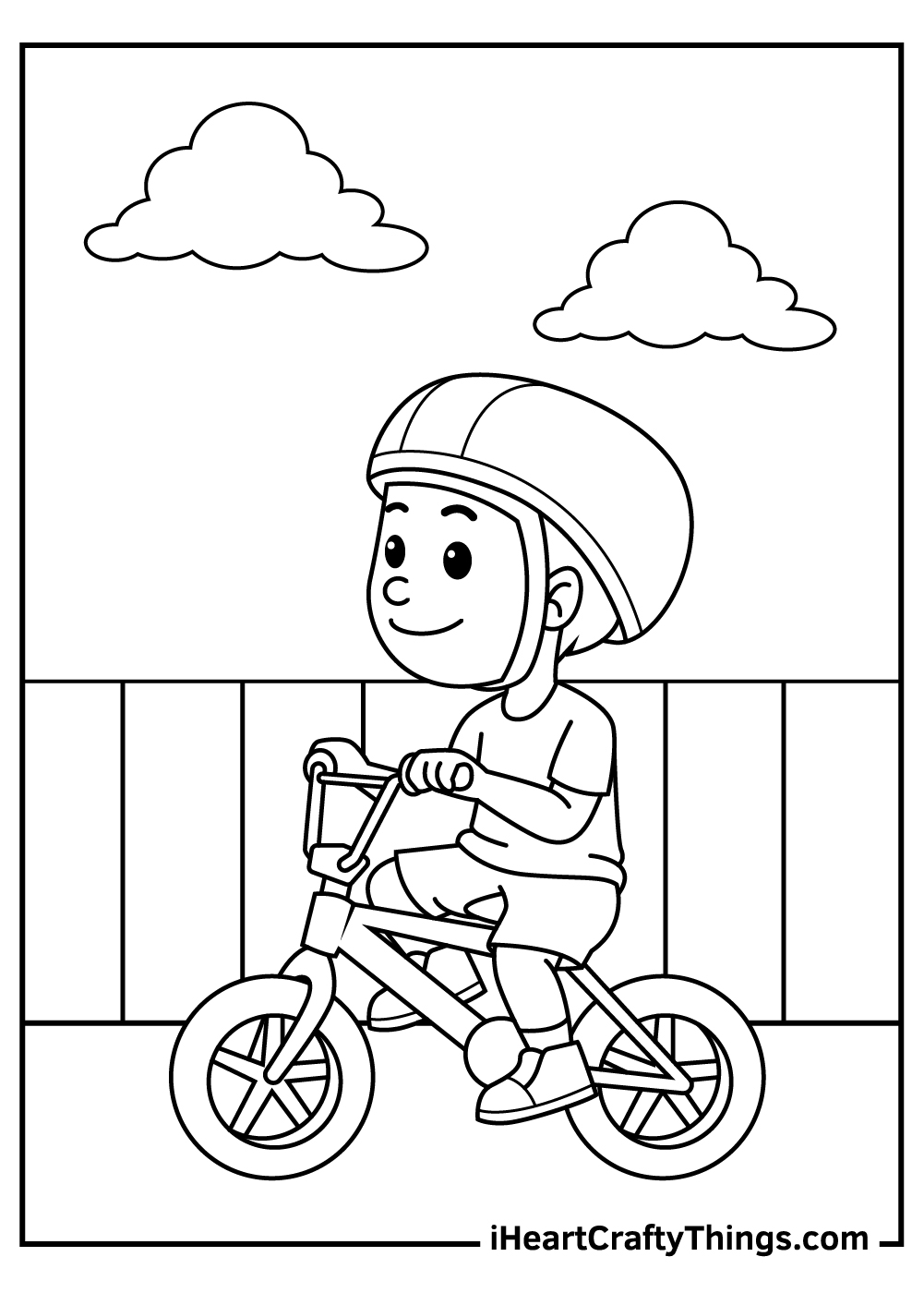 The best place to ride a bicycle is somewhere peaceful and quiet, like the one shown in this bicycles coloring page. When cycling in natural sceneries like grasslands or a meadow, you can have an enjoyable bike ride without the hustle and bustle of the city traffic.
The little girl in the image is having fun riding her bicycle in what looks like a park. There are trees and bushes of greeneries surrounding her. It must be fun cycling on this place!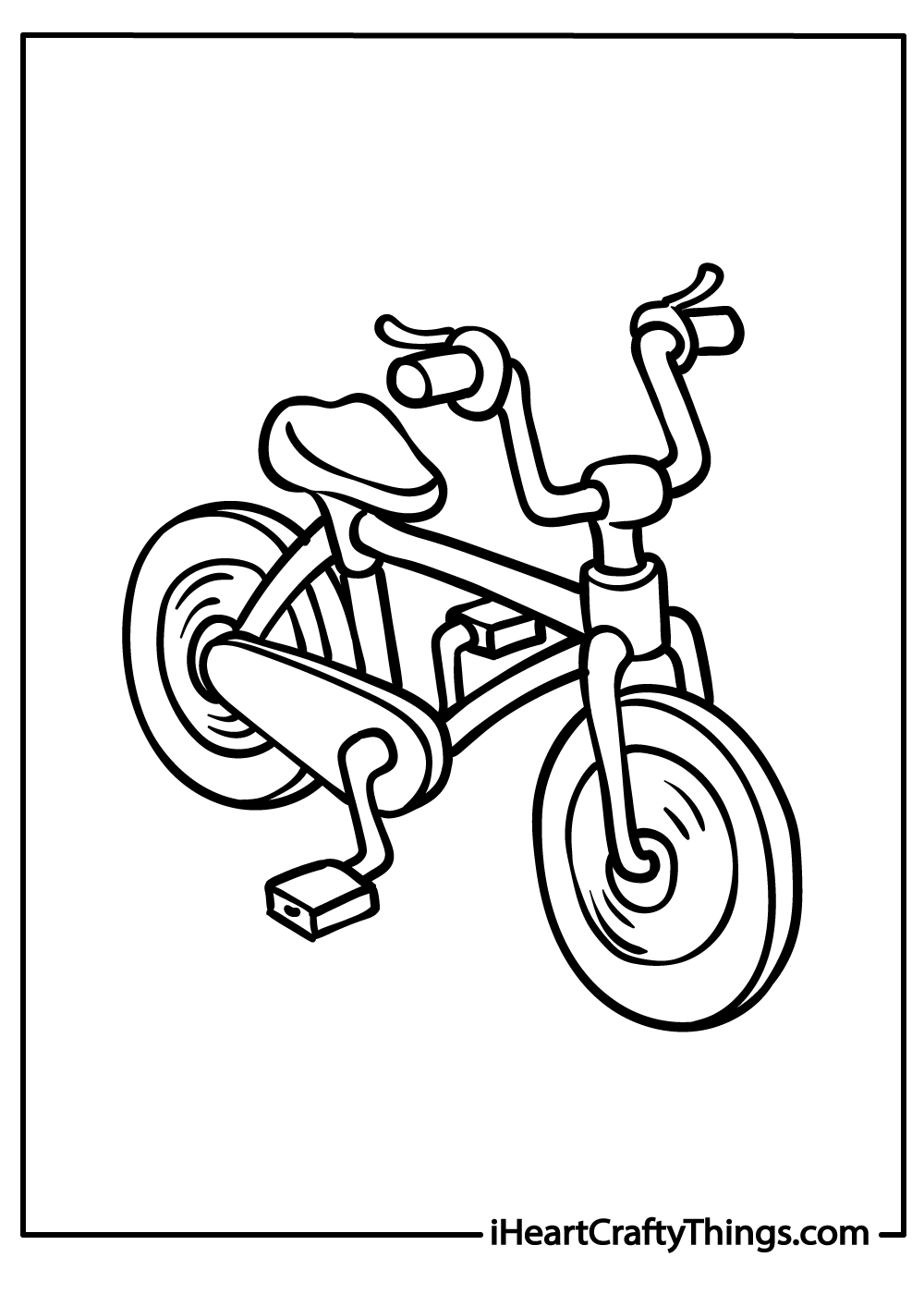 This bicycle coloring page features a super fun bicycle built for speed, and ready for you to color in. It has a curved frame, two large wheels, a seat, and handlebars.
Use your wildest crayon colors to give this sweet ride some style. You can make the wheels orange, pink and purple. You can even add exciting details like stickers, lights, or a basket.
Or make it look just like your own bicycle at home. The same colors and details.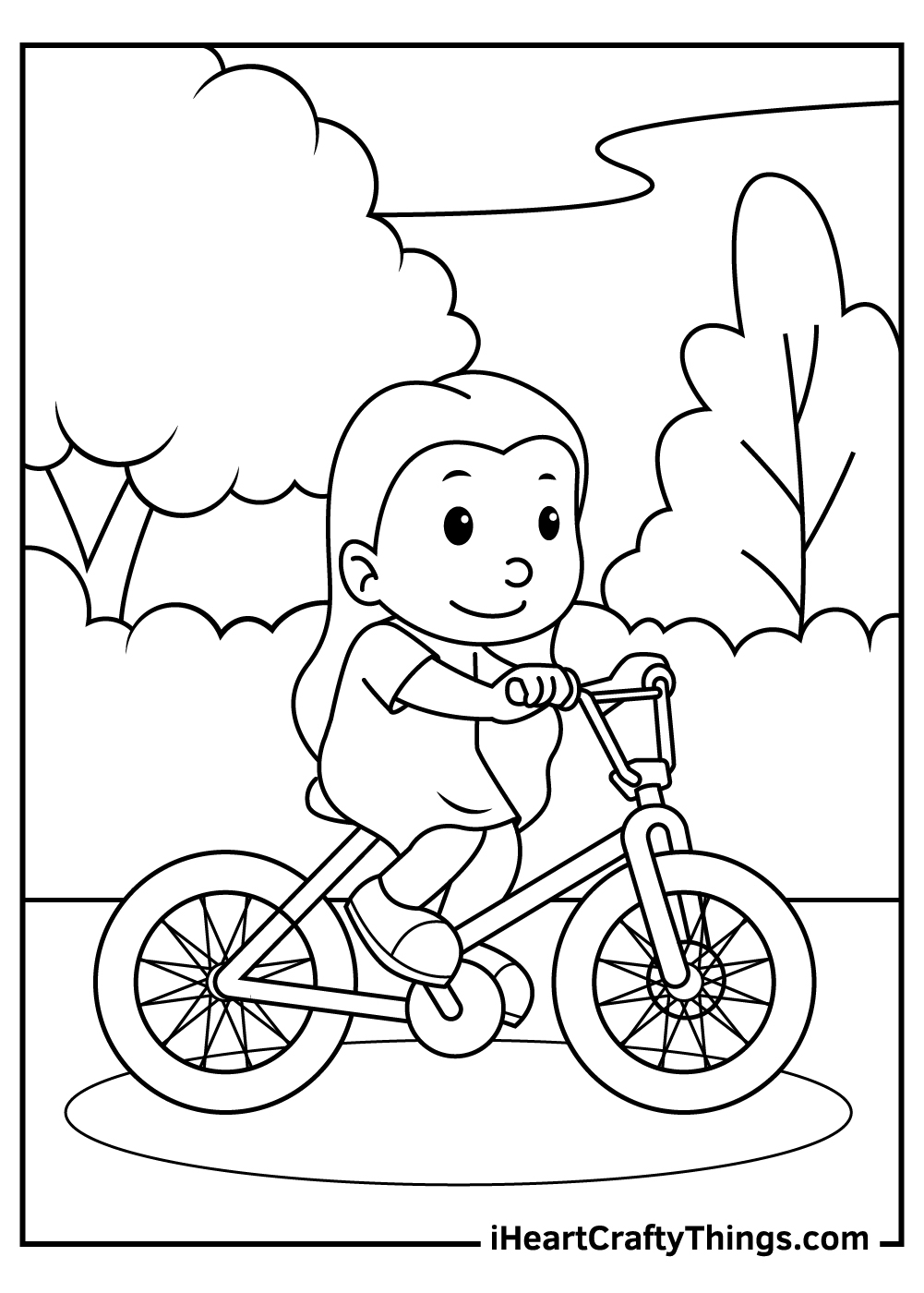 Bicycles Coloring Pages — Which bicycle color do you like?
We hope you enjoy these bicycles coloring pages. It contains simple bicycle illustrations as well as complex, intricate ones. With these bicycles coloring sheets, you can use any color you like and create your dream bicycle.
Remember, all of our crafts and coloring printables are 100% free for you to download, print, and color. We are regularly updating our website and uploading new content. So, don't forget to keep re-visiting our website to continuously enjoy all-new coloring printable pages.
Once you've finished coloring your bicycles coloring printables, you must be very proud of yourself for creating a masterpiece—as you should be! Make sure to show off your work and share it on our Facebook page. We're sure it looks awesome!
We are excited to see all of your colorful creations!
REMEMBER: You can get the COMPLETE set of these coloring pages >> HERE