On this page, you will find xx all new 40 Cool Car coloring pages that are completely free to print and download.
Whether they are cool and sleek sports cars or old clunkers with thousands of miles, people love their cars like they are a member of the family.
Some car enthusiasts build and design their own cars from scratch. Others just appreciate the beauty of a unique make and model.
Cars have also taken over a lot of pop culture. From street racing movies like Fast & Furious to cars that are famous in their own right, like K.I.T.T. from Knight Rider, we can't get enough of these awesome vehicles.
The different sizes, shapes, and designs of cars make them a great subject for printable coloring pages that you can design and enjoy for free.
At long last car lovers and car owners can enjoy these brand new awesome coloring pages that you can download and print for free. Have fun and use your imagination!
Car Coloring Pages – 40 Brand New Printable Sheets
We're cruising for some coloring fun with this car coloring sheet! This car is cool-looking and fancy, but not in a super showy kind of way.
It would be the perfect ride for a drive through the country, and that seems to be the kind of setting suggested by the background details.
You could add even more background details to make a more complete scene as well!
You could draw some trees or mountains for a few ideas, but what else could you add to the background?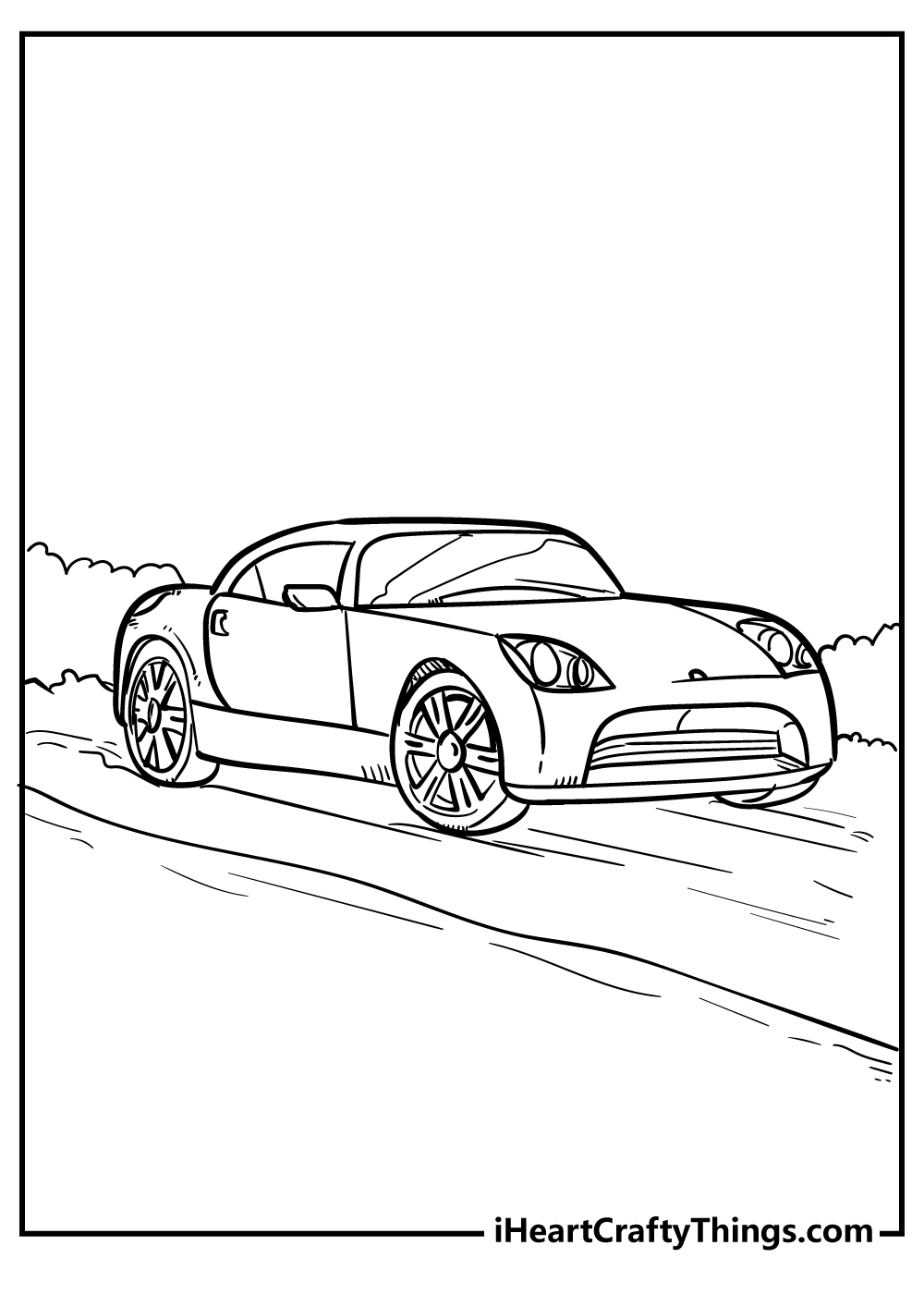 This next car is really cool! It's got such a sleek and classic design, and it's the kind of car that motoring enthusiasts around the world dream to own one day.
If you love this kind of car, this is the perfect opportunity for you to color it to show what it would look like if you could have one of your own.
There are no wrong choices for this, and you should use any colors that you think would look awesome on a fancy car like this!
What colors do you think would suit this flashy ride?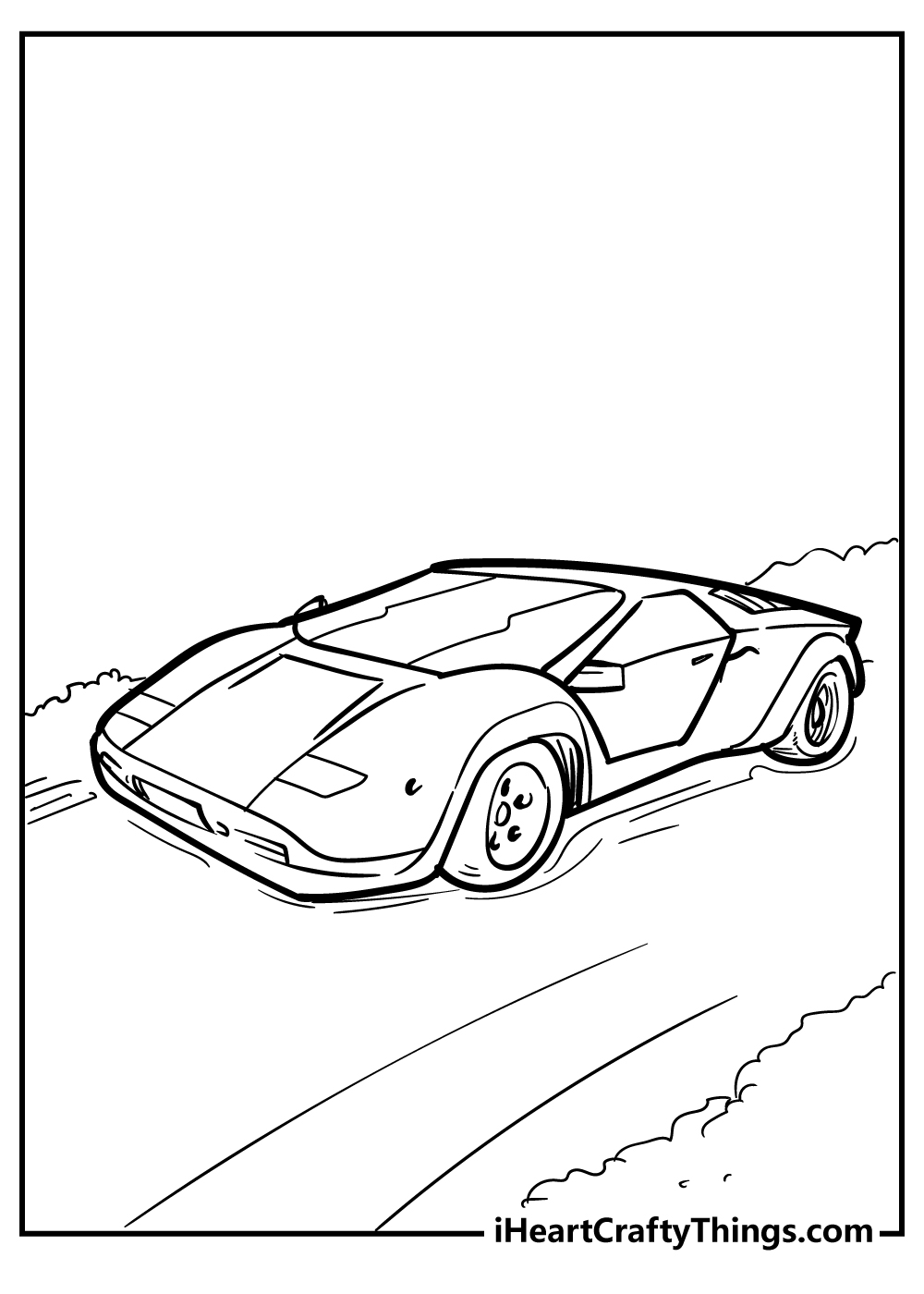 Classic cars are a  passion for many people. They love to buy, drive and show off these vintage pieces of history.
This coloring sheet shows a car that may have been popular decades ago driving through an overpass.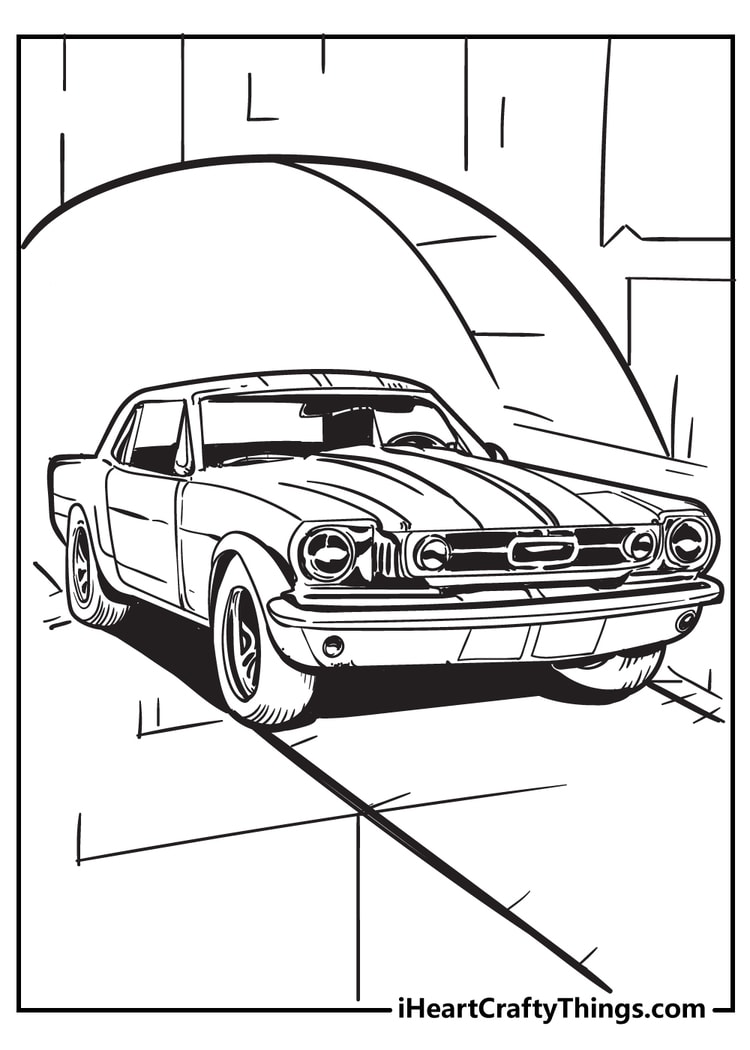 Some cars seem like they have a personality of their own. Here is a car that is revving up to zoom forward.
It is hunching back almost like a dog wagging its tail, and the car's headlights look a bit like eyes.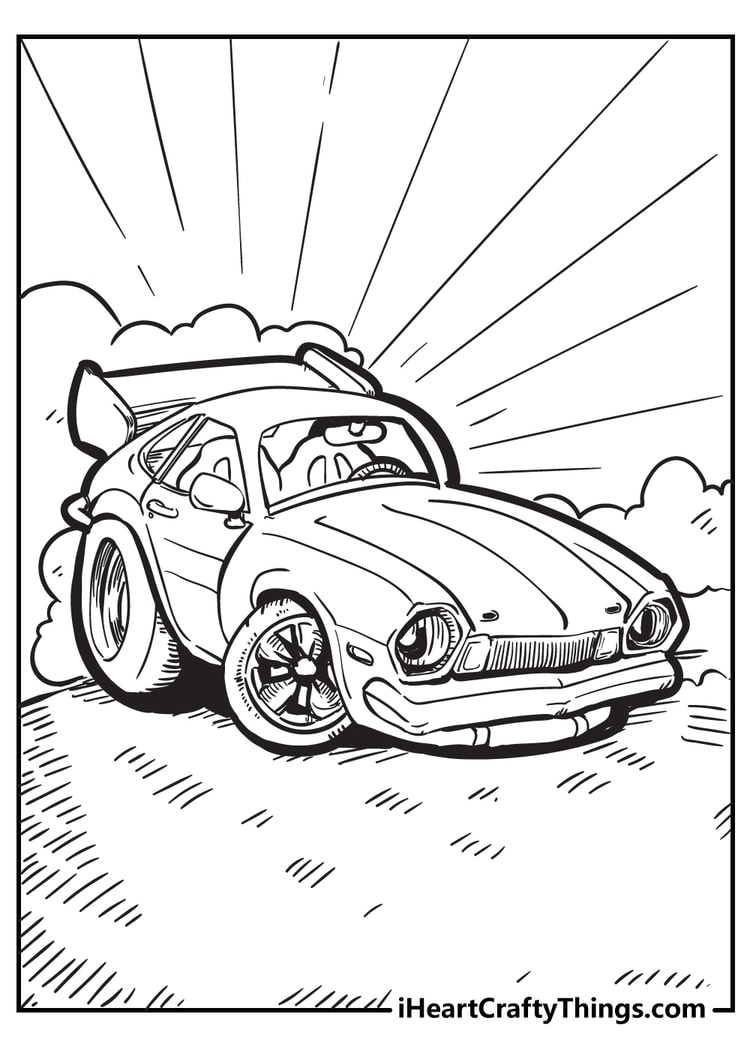 It's time for another calm ride through the countryside with this next page we have for you.
This car has a vintage feeling to it, but it's the kind of car that has a good balance between being fancy but still attainable.
If we were coloring this page, we would go for a milder, softer color scheme done with mediums such as watercolor paints.
We think that would suit the more humble look of this particular car, but that is just one way of doing it!
What are some other ways that you would like to color this car?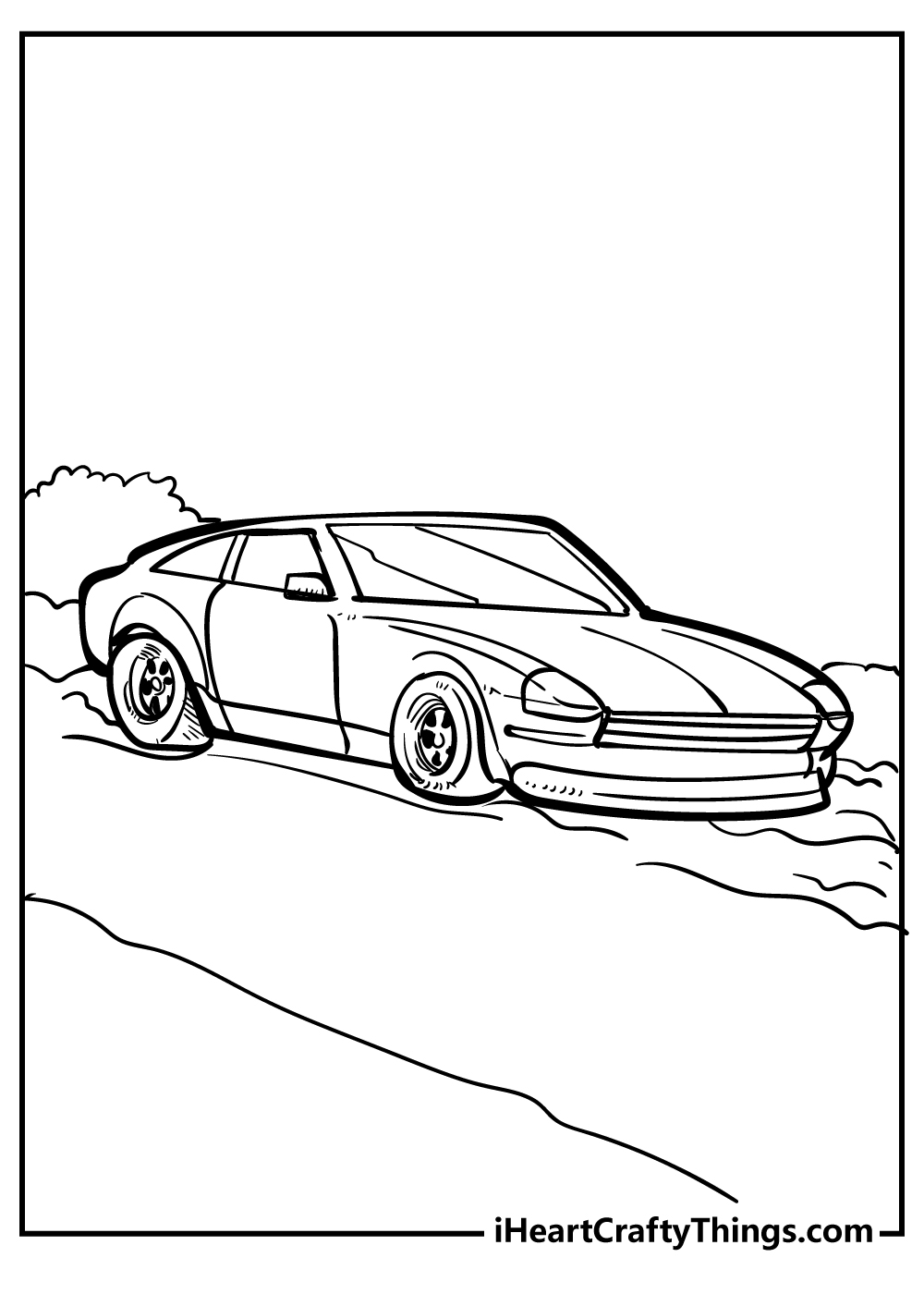 There is some high octane driving going on in the next page of our collection of free car coloring pages for kids!
This awesome car is traveling at full speed and leaving a big dust cloud in its wake.
The car has got a design and shape that is optimized for speed, so it's easy to see why it has left a cloud of dust behind it.
You could mix mediums to make this picture even cooler as well.
For example, you could use some softer watercolor paints for the dust cloud, and then use some sharper mediums like colored pens for the car itself.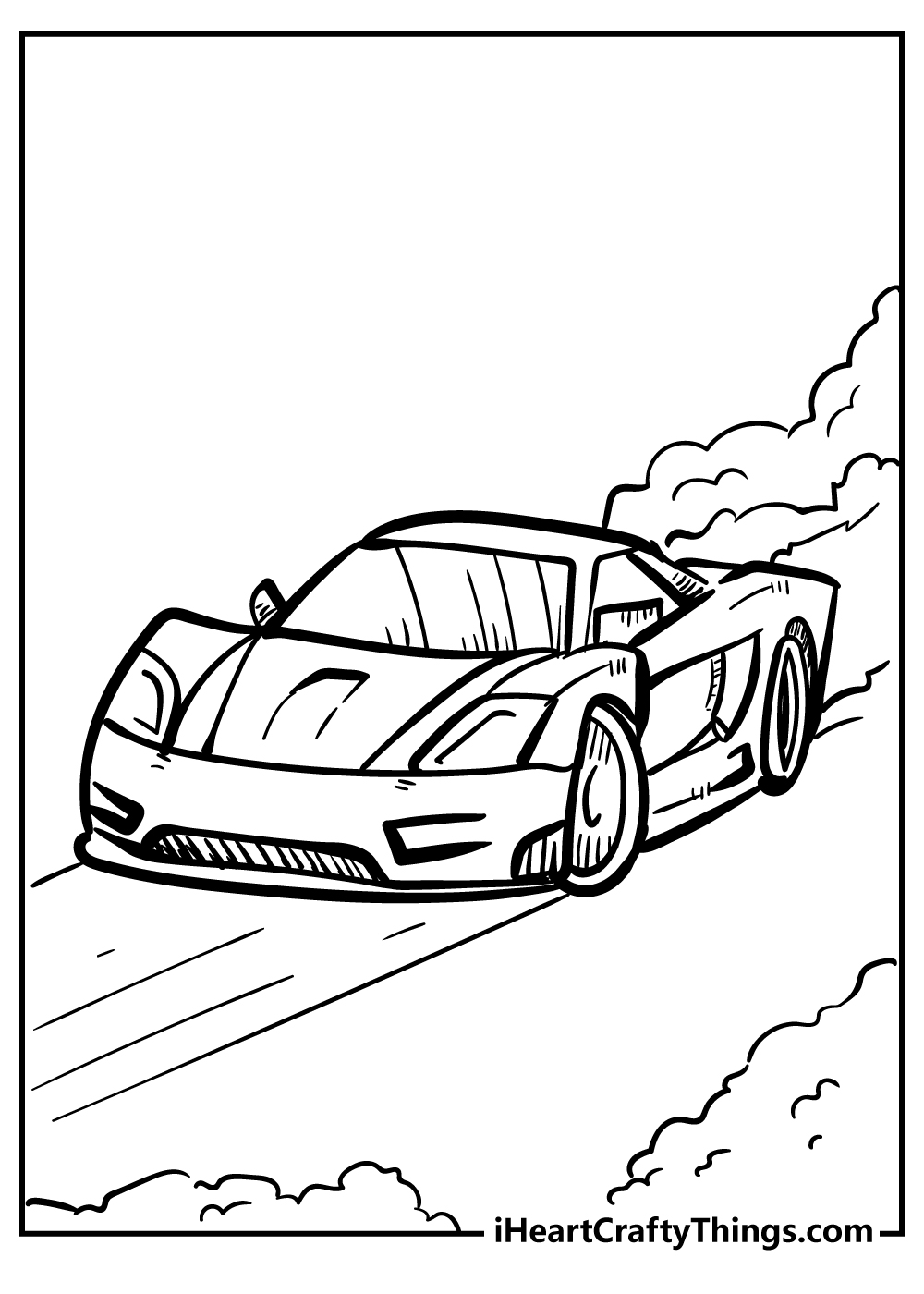 Some cars were made for speed and racing. They are meant to be fast and are given special modifications for this purpose.
The car in this coloring sheet has a spoiler on the back to help it stay low to the ground and grip the road.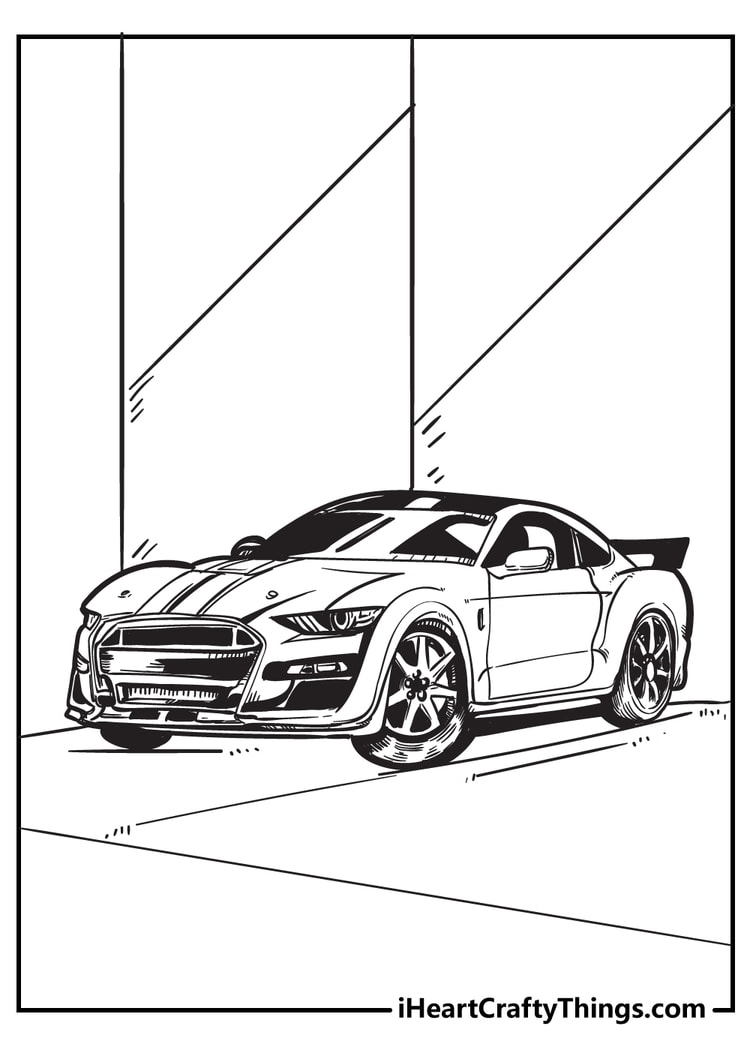 There are so many awesome cars of all different shapes and sizes to explore.
Remember that all of these car coloring pages are completely free to print, so feel free to print and color as many as you want.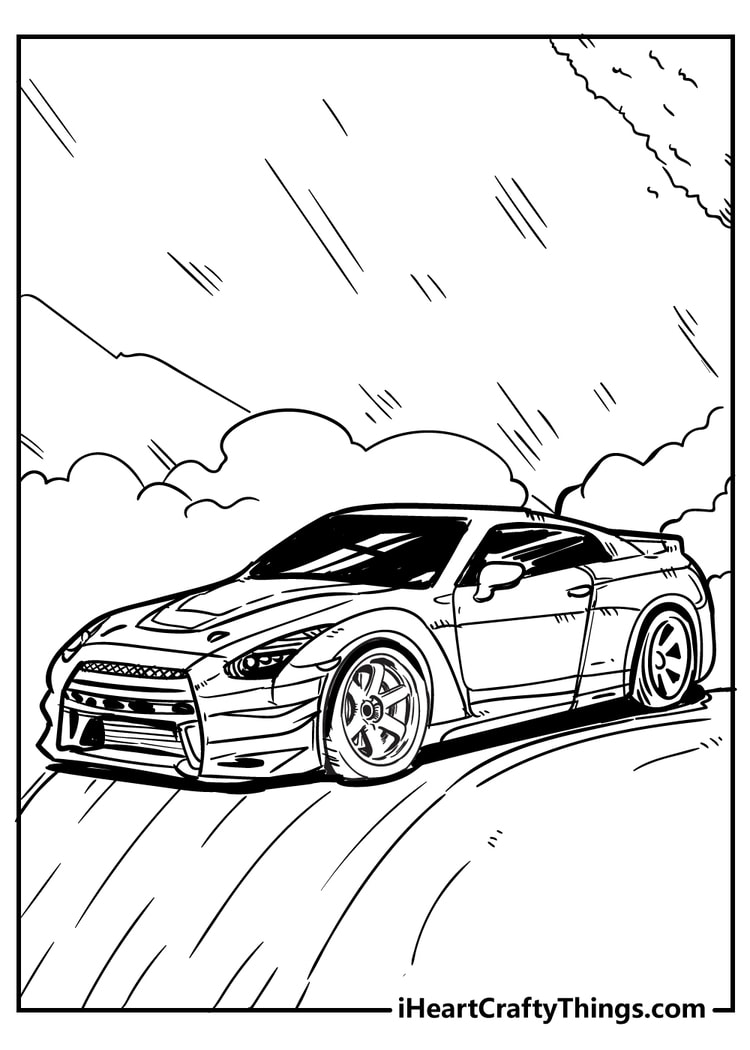 When it comes to speed, one of the ways that cars are adapted is so that they have as little wind resistance as possible.
This car shows off this concept, as it is quite flat and smooth, meaning it's better suited to going at great speeds.
There is a bit of background detail here, but there is also a lot of empty space for you to add some details of your own.
What are some cool landmarks or features that you could add to finish off the scenery for whoever is driving this car?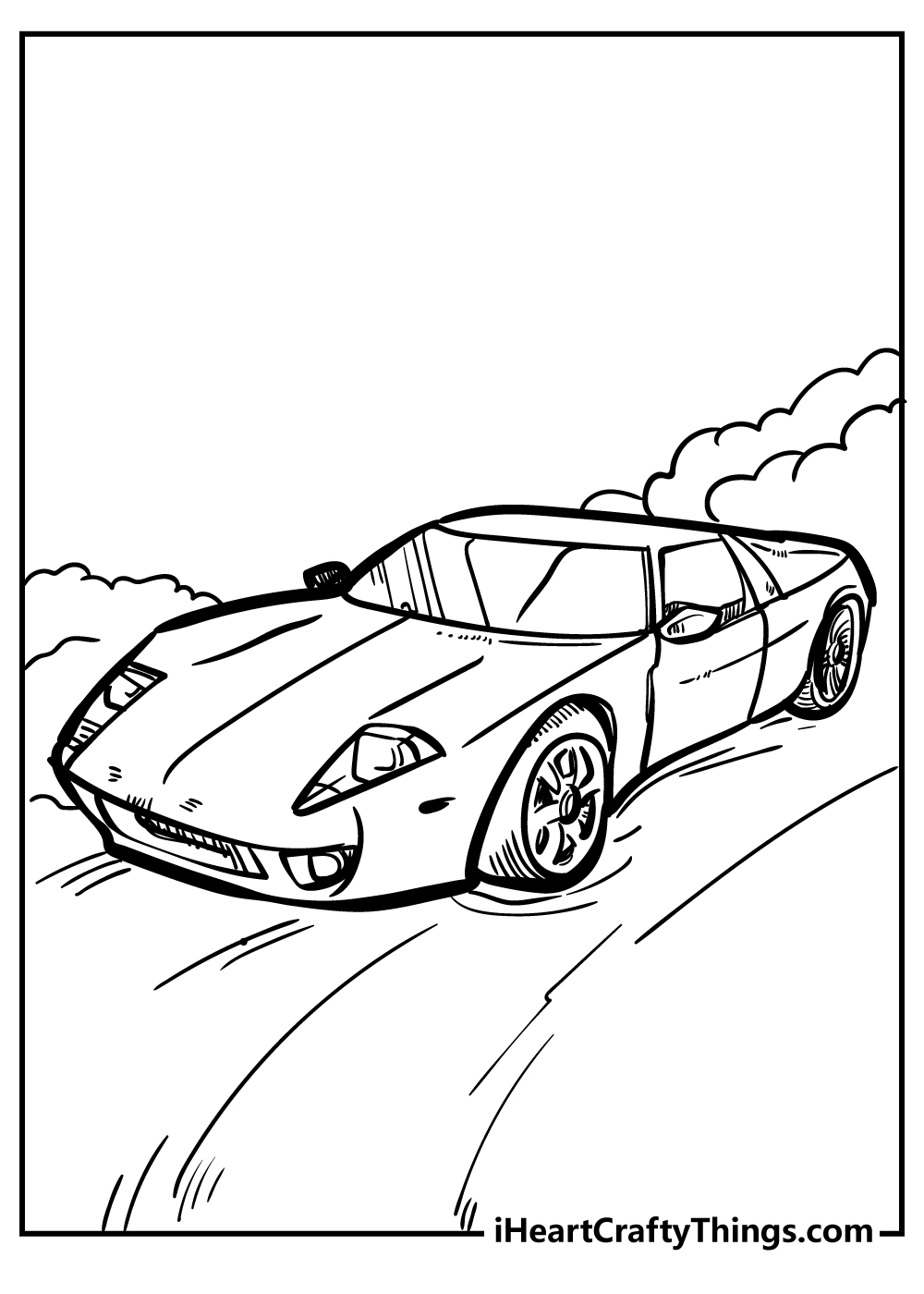 Maintaining control is important when it comes to high-speed driving, and the car featured on this next page seems to be on the verge of losing control!
It has lots of lines around it, which makes it look like it is turning and swerving wildly. For this reason, we would try to capture the drama of the scene by using lots of bright, contrasting colors.
Then, we would keep the colors in the background vaguer with lots of strokes to make it look like it is whizzing past. What are some ways that you could capture the feeling of this scene?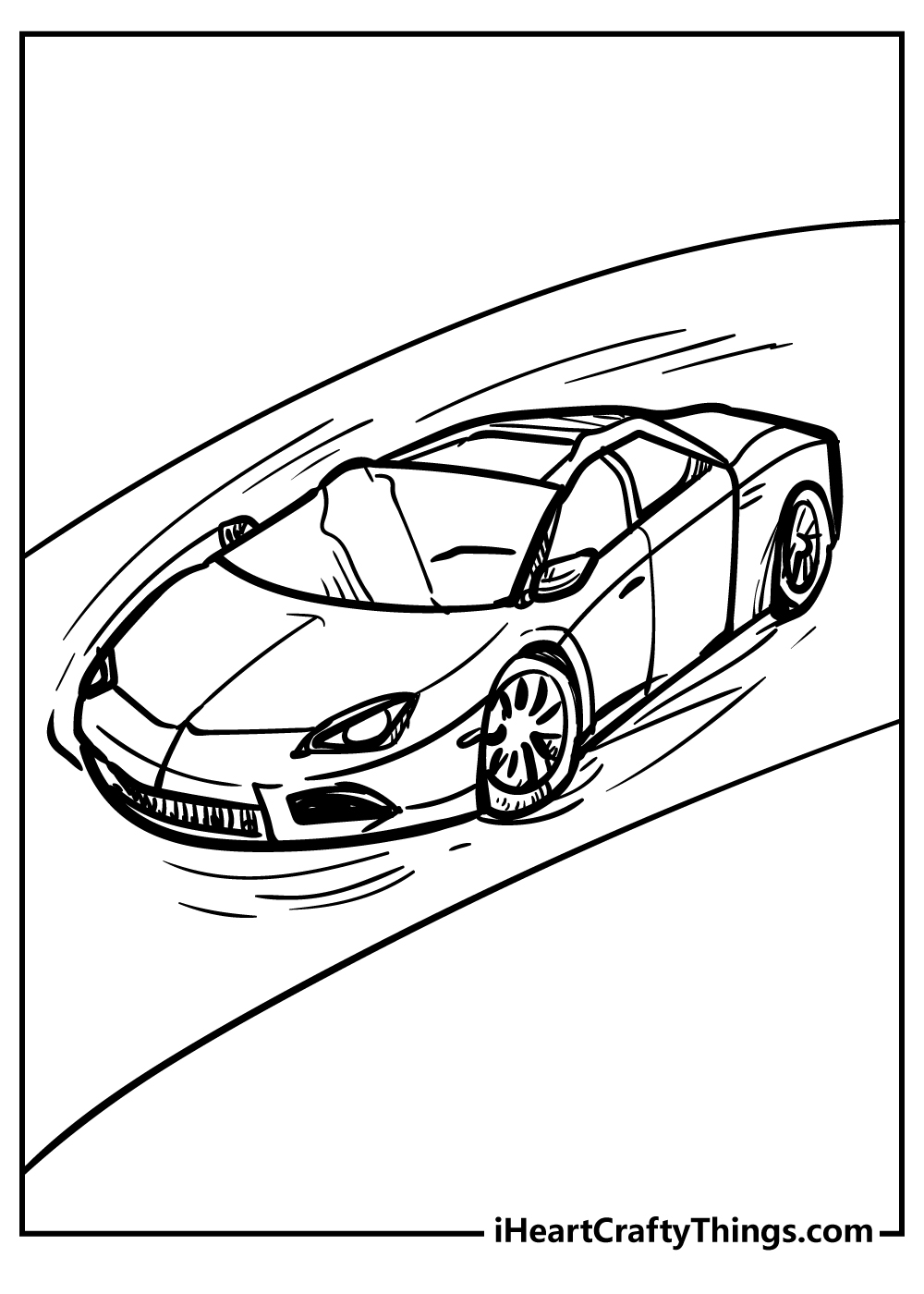 The little car in this coloring page also has a spoiler on the back. It appears to be moving very fast as it speeds across the open road under a cloudy sky.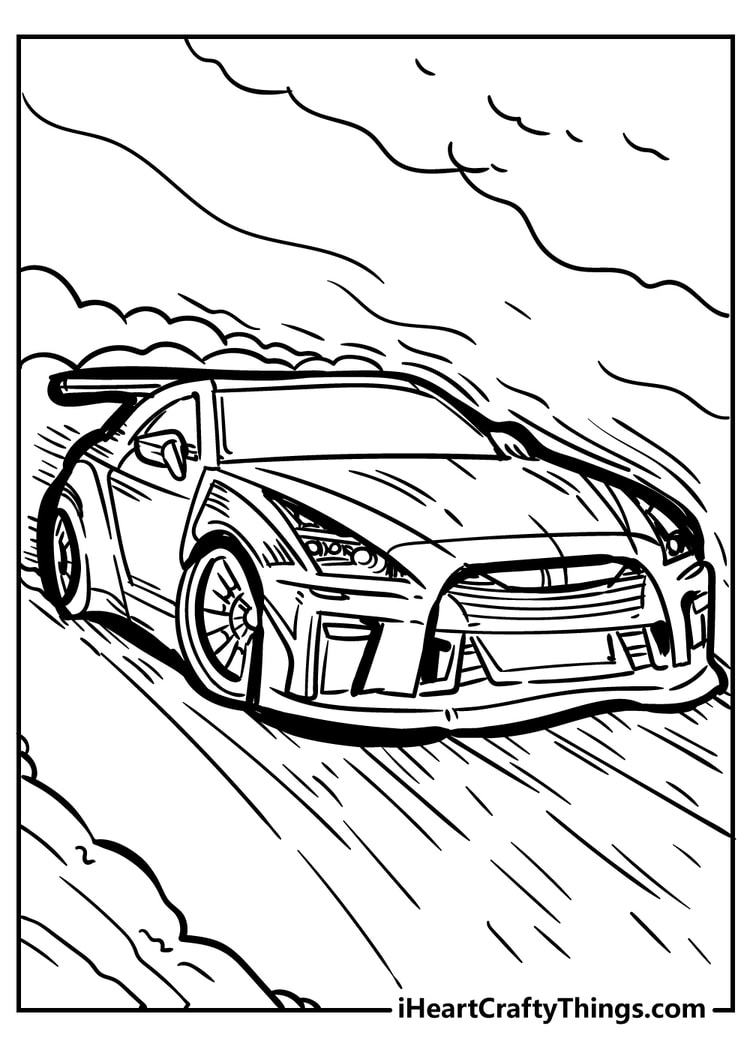 This car maneuvers along a winding road at great speed with tufts of clouds billowing behind. It takes a lot of skill to handle sharp turns with ease.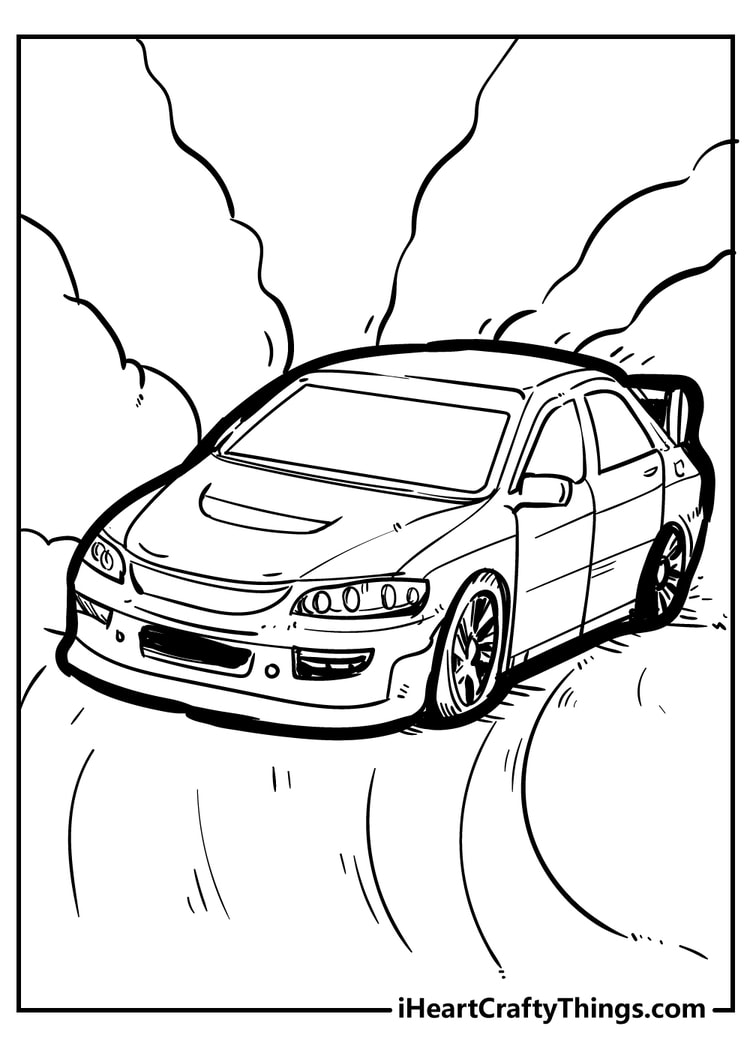 Car lovers enjoy discussing every specific detail of their car. Most cars have little symbols that let everyone know the brand, make, or model.
The car in this coloring sheet has a small symbol on the front that perhaps could be a backward 'L' for Lexus.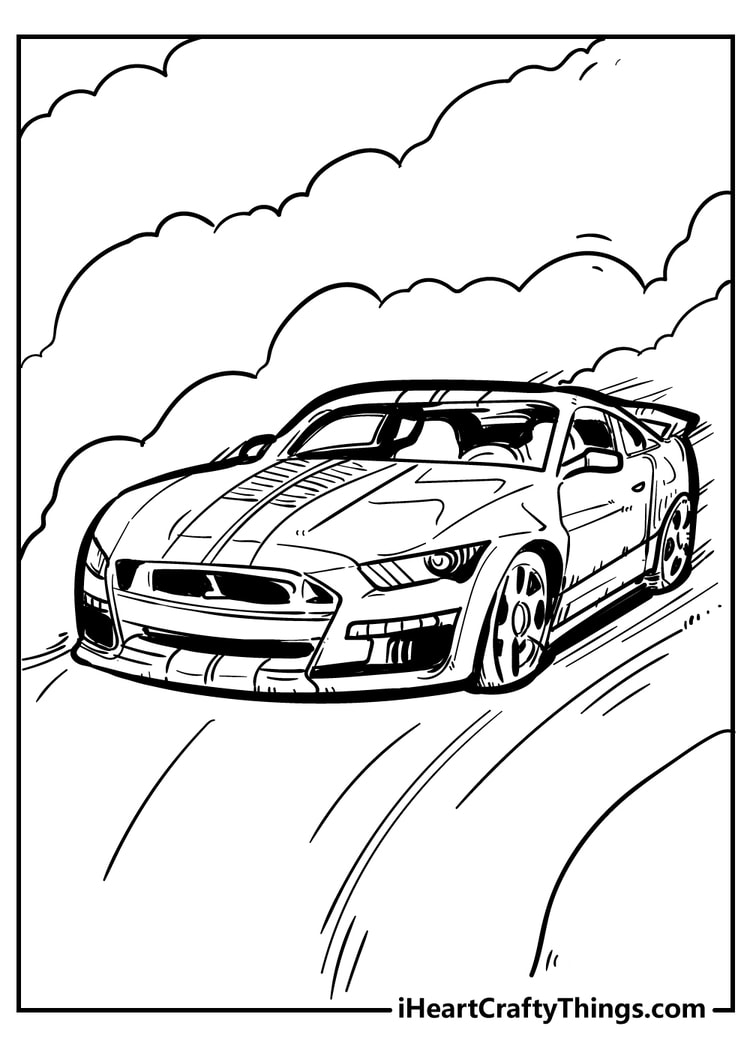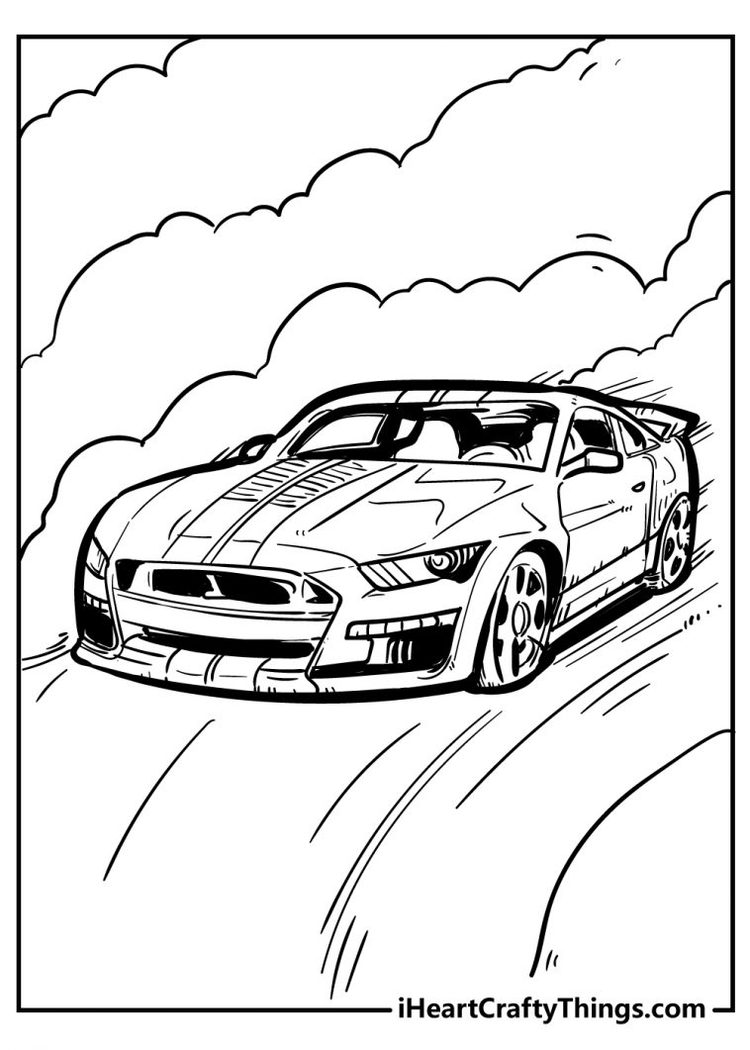 This next car coloring printable features another less flashy, vintage design. When looking at this car, we think that a nice light blue color would be perfect for the color of the car.
That would help to emphasize the classic look of the car, but it is just one idea you could go with. If you think this would look great with some bright red for instance, we're sure it would!
Then you can finish off the page by coloring in the rest of the background in any way that feels right to you.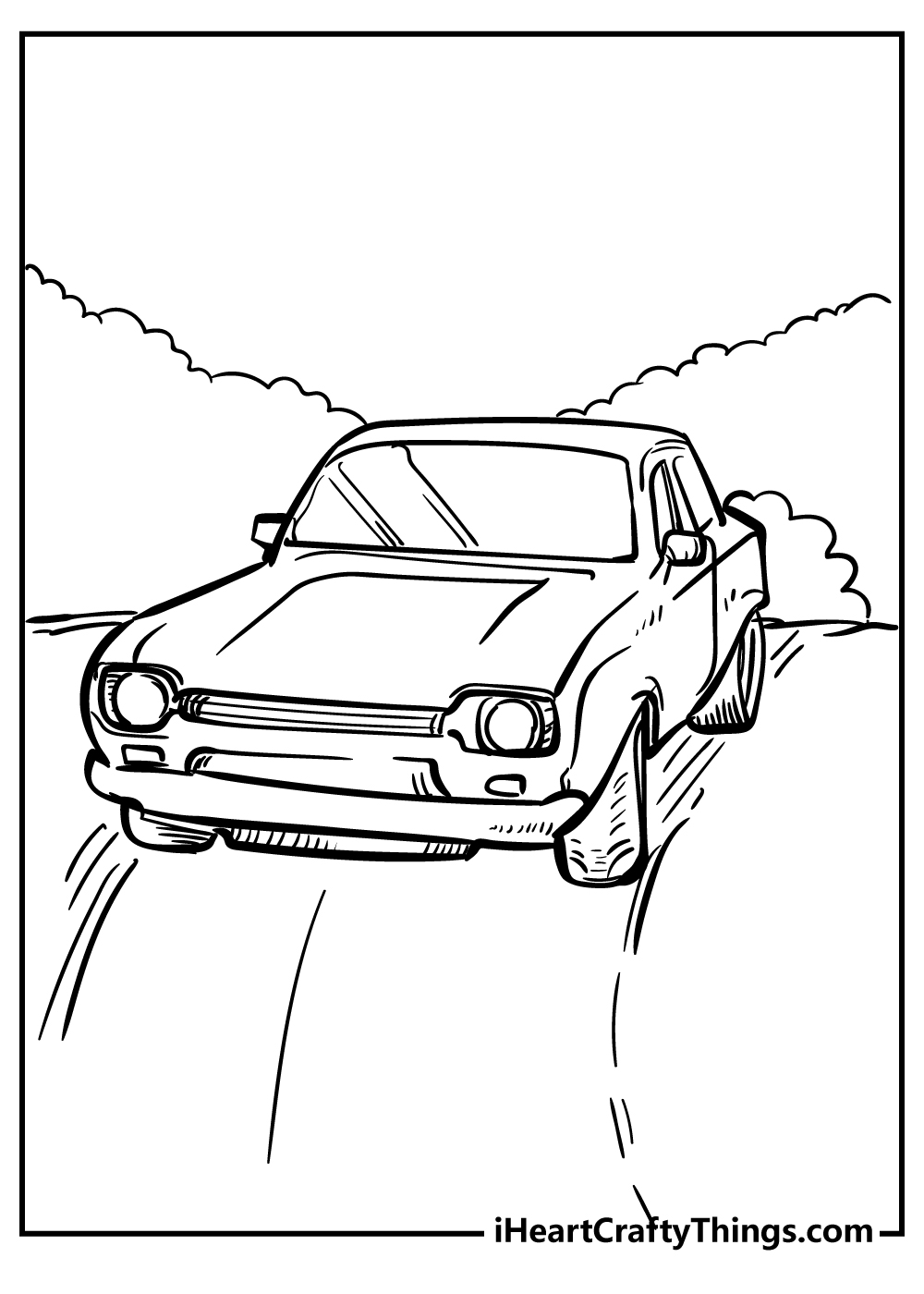 Next, we have another car that is surrounded by some wavy lines, and these show that it is traveling at great speed and maybe swerving a bit.
In some of the previous pages, we have mentioned how you can show speed using certain art techniques.
One of the easiest ways to do this is to use lots of strokes of color to make the background look less distinct.
This is one way to show speed on a static image, but you could also add some more intricate details and colors if you prefer!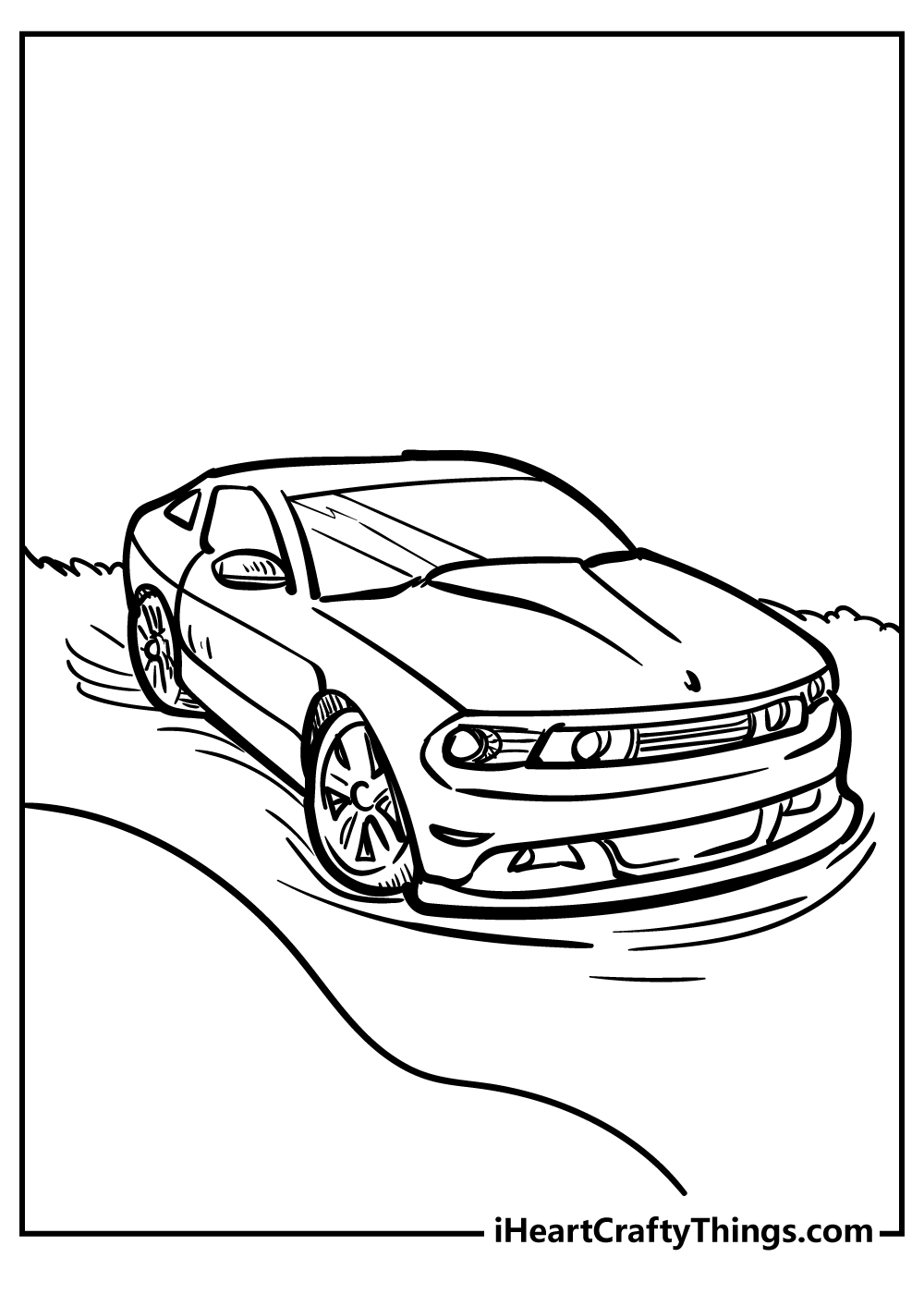 Some cars are more simple, like the one in this coloring sheet. People may prefer a car that is durable and safe over speed and flashiness.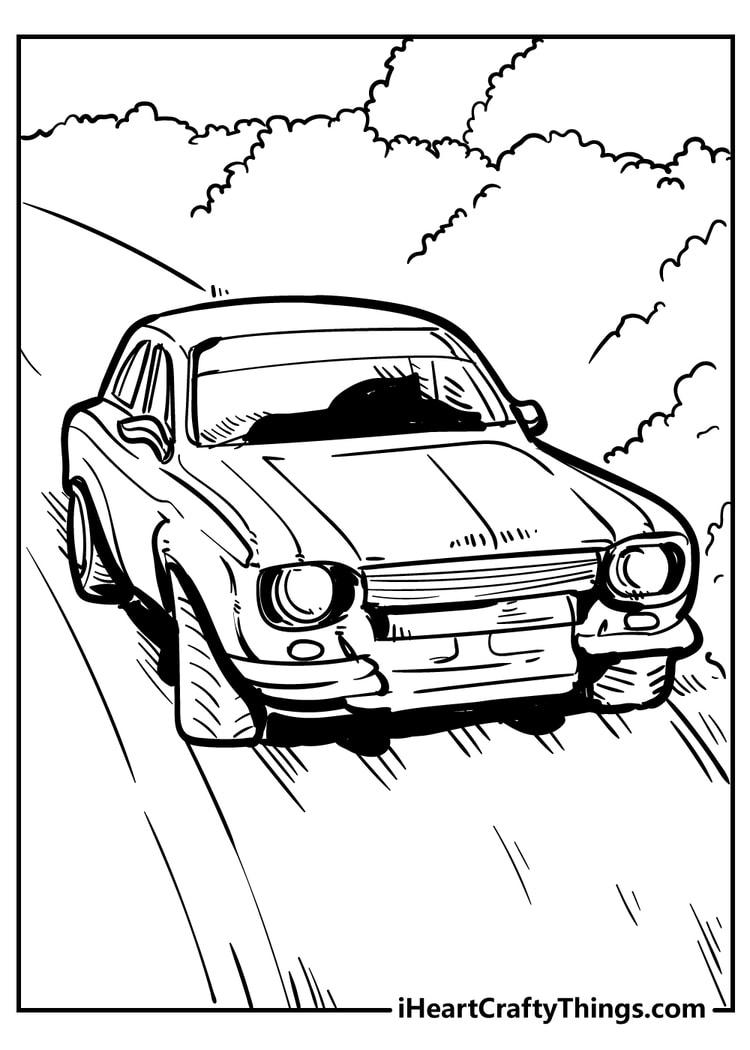 Other cars are very small and cute, like the one in this coloring page.
It bounces along a dirt road with birds flying high above the clouds. What color will you make this car?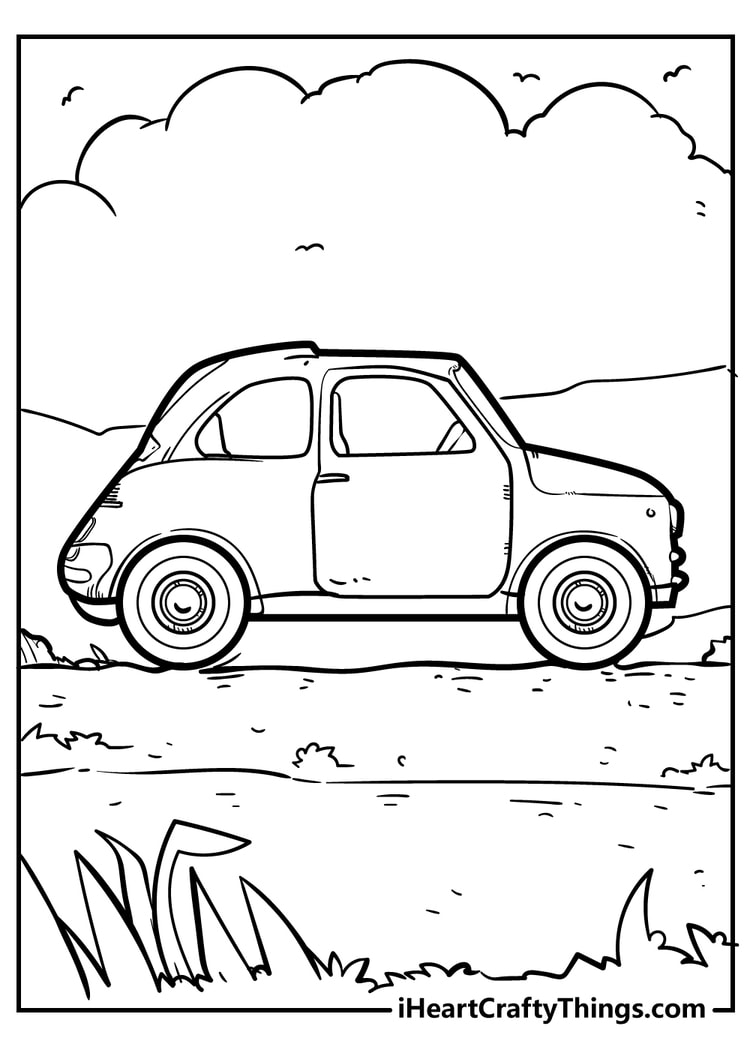 One of the most dramatic and eye-catching features a car can have is gull-wing doors, aka doors that lift up from the roof rather than to the side.
The fancy car in this coloring page could be a Porsche with gull-wing doors. It sits impressively in front of a forest of trees.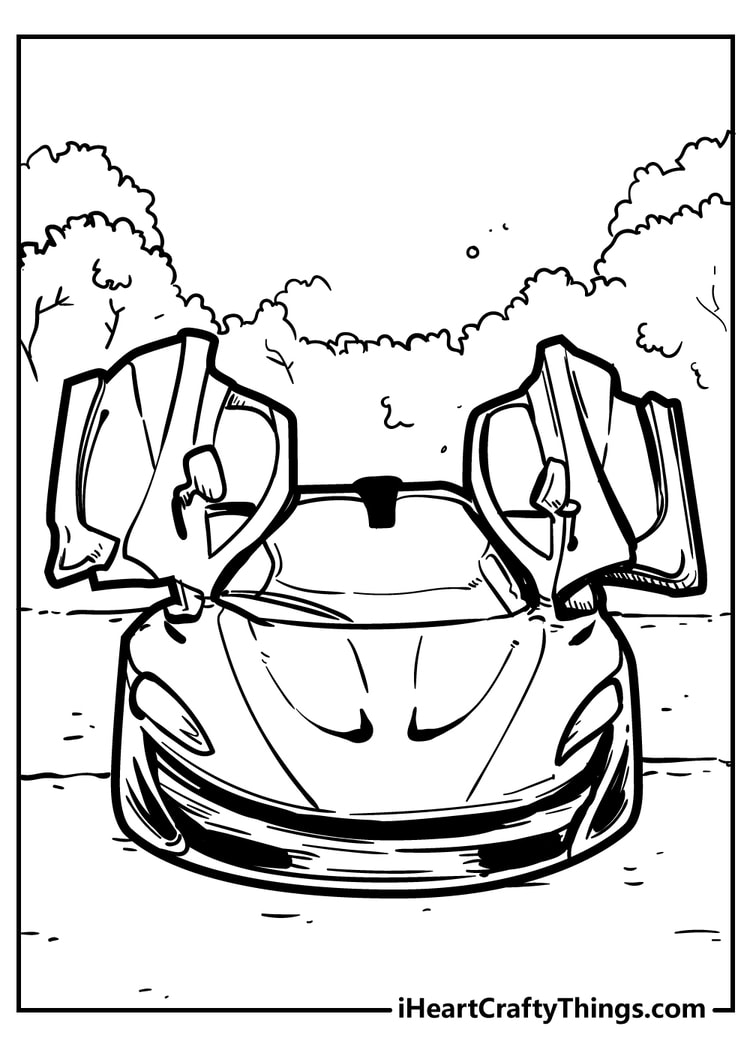 Let's head out for a leisurely drive for this next page. This car looks really cool and fancy, but it seems to be taking it slowly as it drives through this environment.
When driving like this through a beautiful countryside, you really have the opportunity to admire the scenery and take things at your own pace.
For this page, we think that drawing a tranquil countryside setting in the background would be perfect for the mood of this drive.
You could even add structures like windmills to make it even more picturesque! Will you draw a background setting for this one?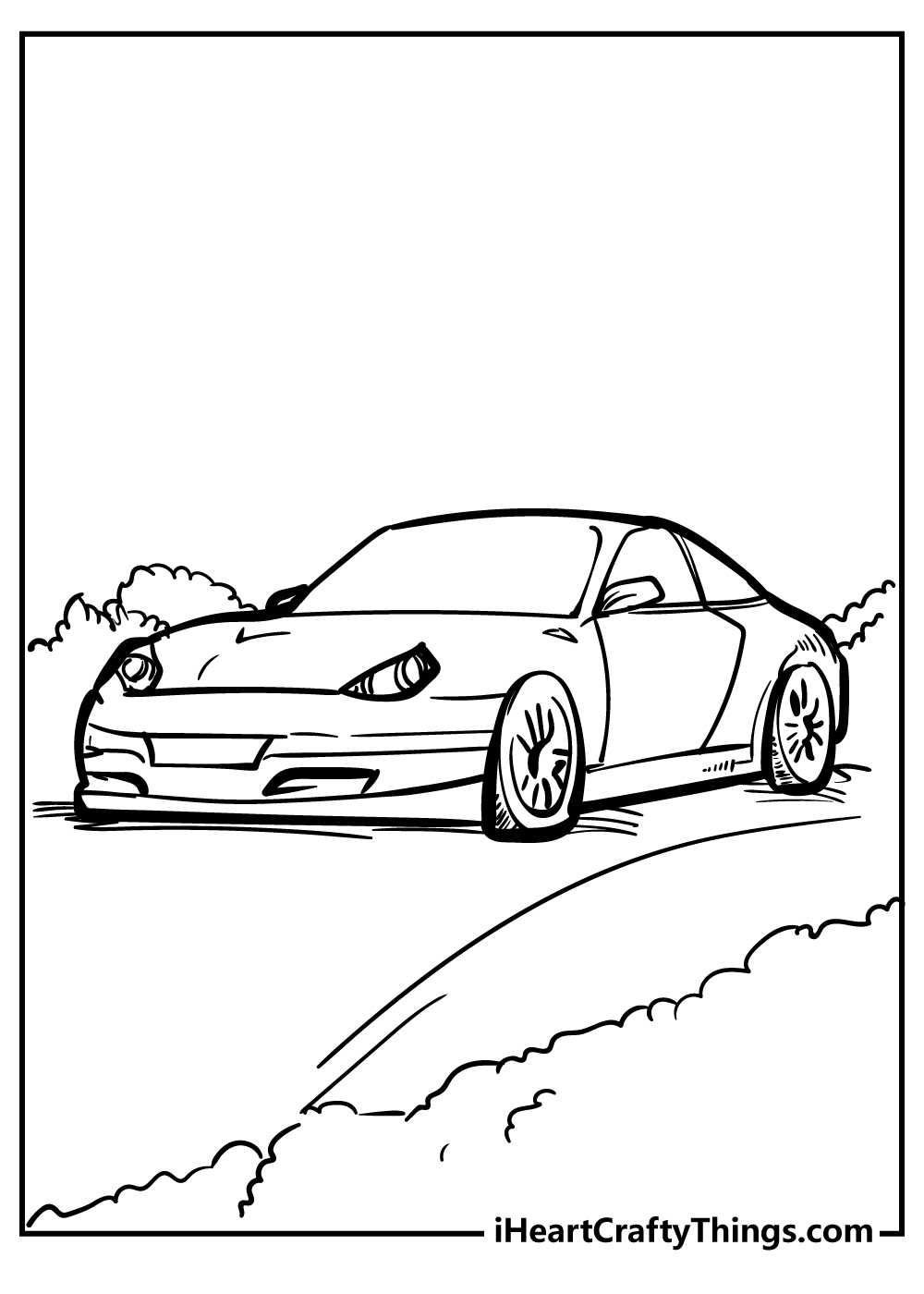 This car coloring page depicts another fun drive that looks like it's being enjoyed at a slower, more appreciative speed.
There are also some great details on this car, and you can have fun coloring all of these smaller elements.
We always recommend colored pens, markers or small paintbrushes for details such as these, but they are far from the only ones that you could use.
This is all about creating your ideal version of this car, so don't be afraid to let your inspiration take over as you create your very own perfect driving scene!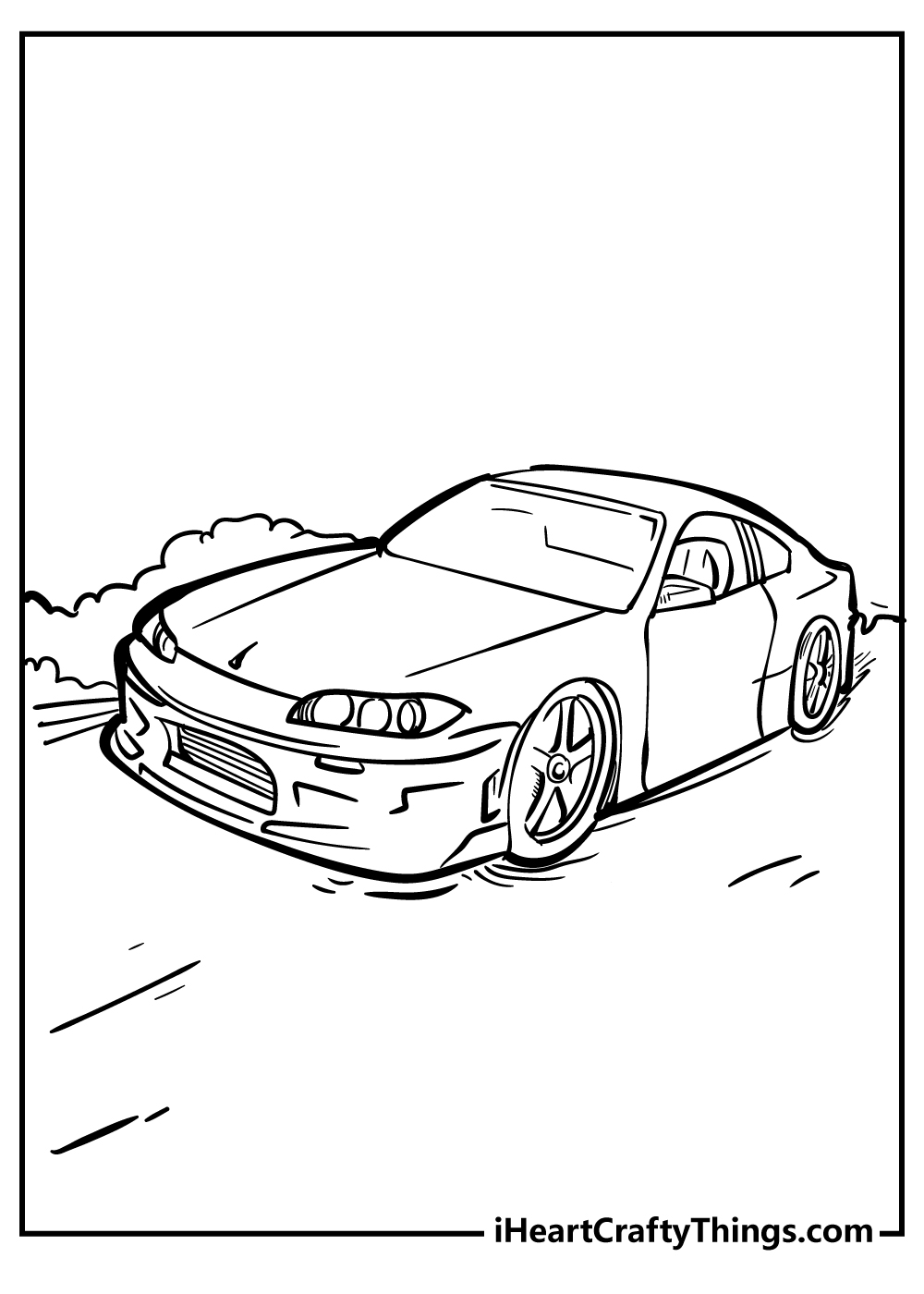 We love the imagination our coloring page designers put into this printable. The car's wheels spin and twist in all different directions.
It seems to lift off of the pavement and flames shoot out of the back end and tires.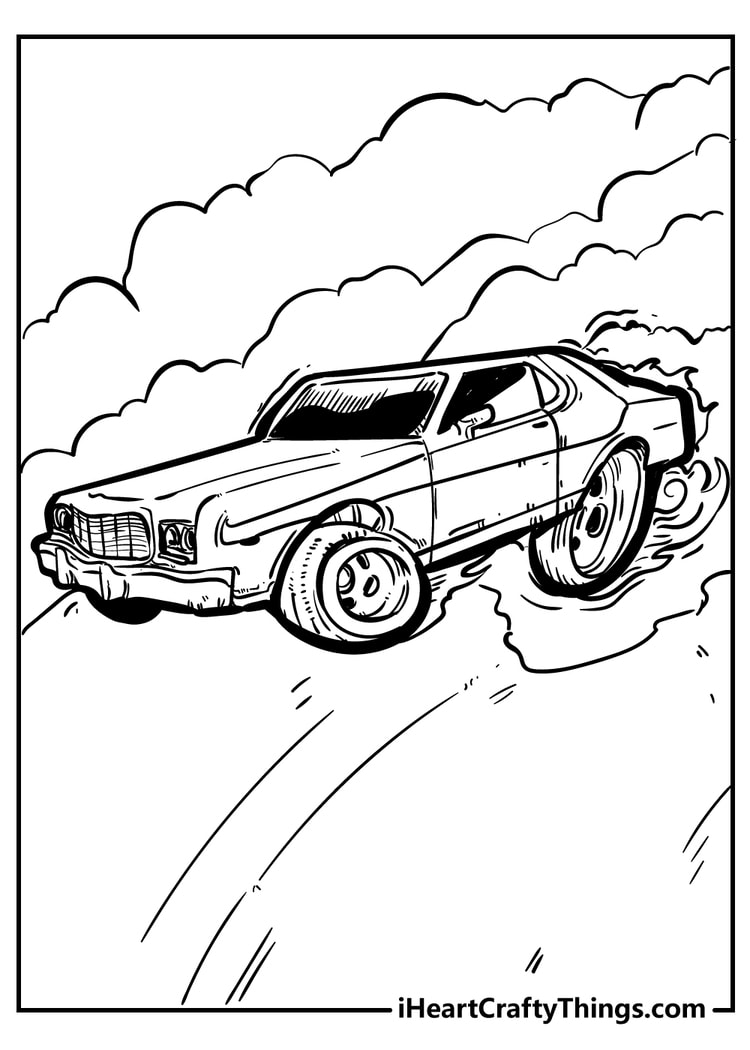 This car's wheels also seem to have a mind of their own. The front wheels twist wildly to the side as it whips past a forest of pine trees.
The car looks like it might fly off the ground. We hope it isn't going too fast!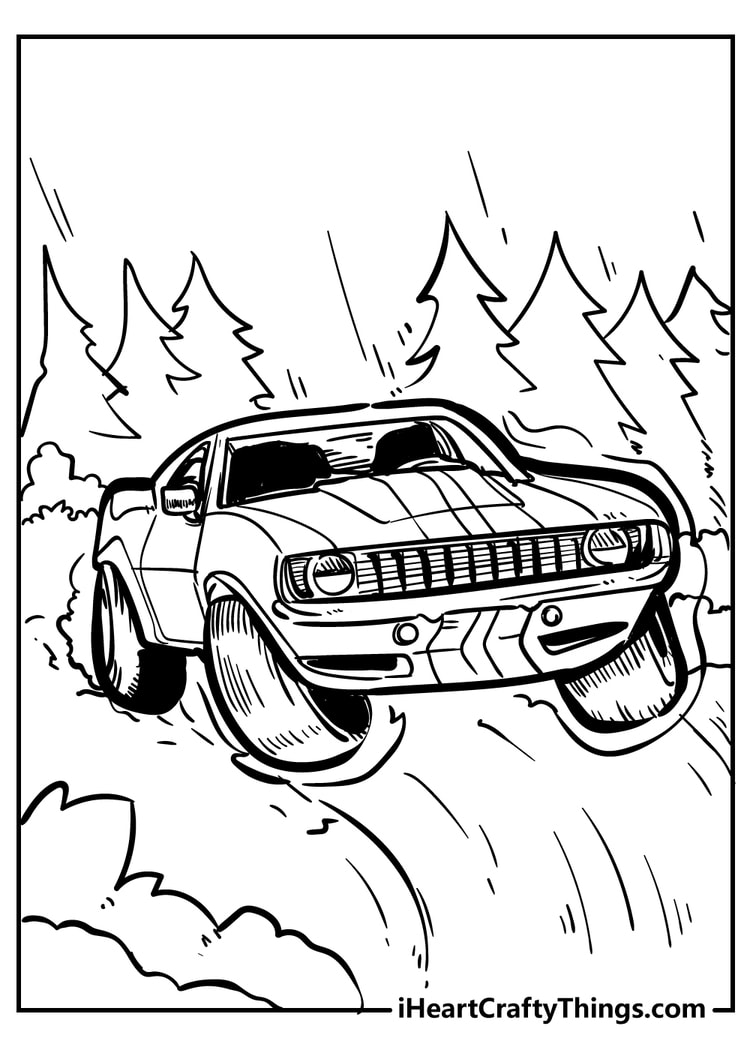 Some of the biggest car enthusiasts like to customize their cars with special paint jobs and other added features.
The car in this coloring page sits low to the ground and has a spoiler and flames painted on the back end. What a cool car!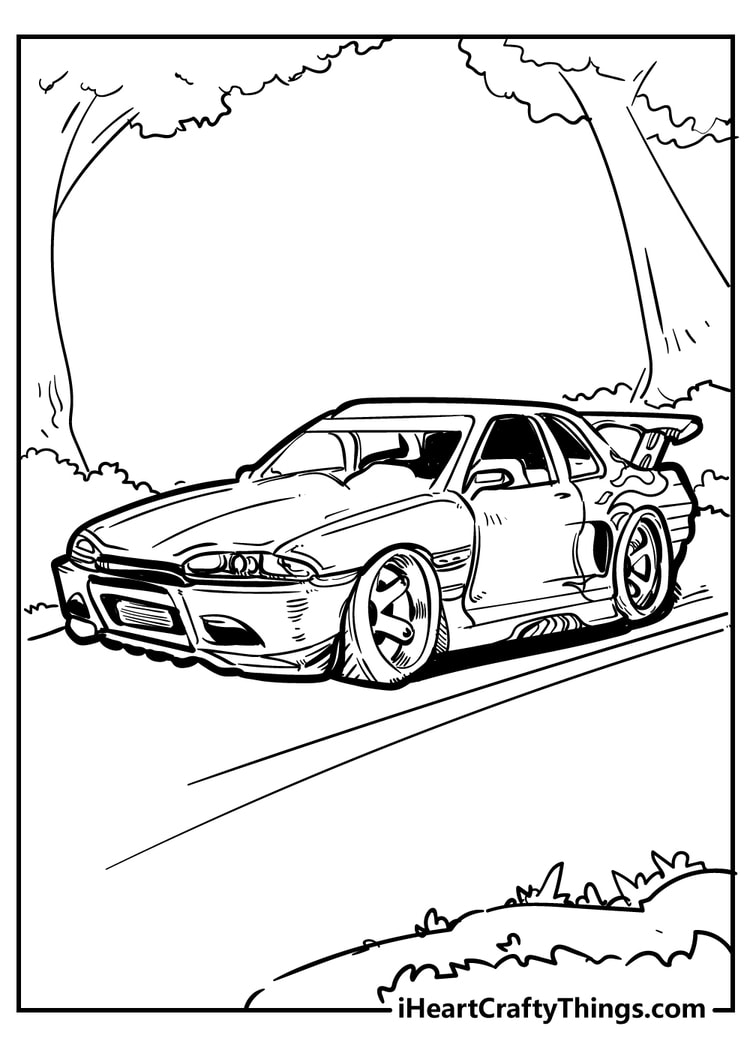 Sports cars have an appearance and function that sets them aside from all the rest. They are smaller, sit low to the ground, and have high powered-engines so that they are made for speed.
The car in this coloring page meets that definition and looks a lot like a Corvette.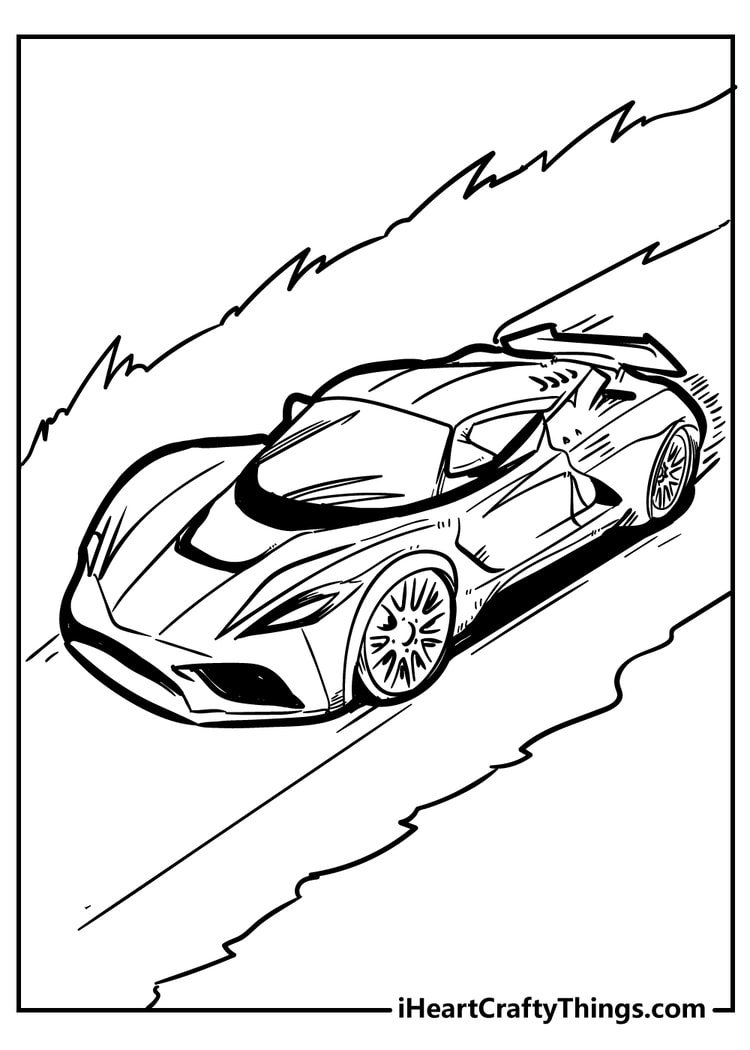 Taking a drive is a great way to see the great outdoors and explore new places and beautiful scenery.
In this coloring page, a car has come across a huge volcano in the background. It seems to have found a beautiful place to park.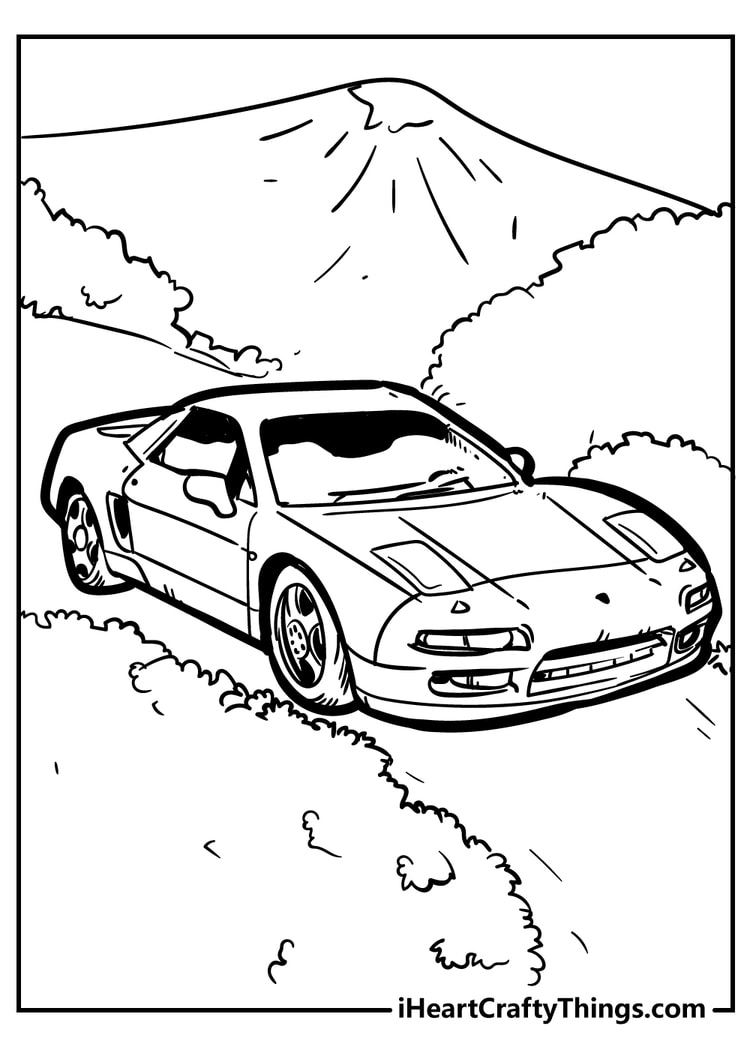 There are so many car coloring pages to enjoy. Remember – when you finish coloring your printable sheet, post your completed masterpiece to our Facebook page.
Every month we pick the best uploads and the winner gets a special prize!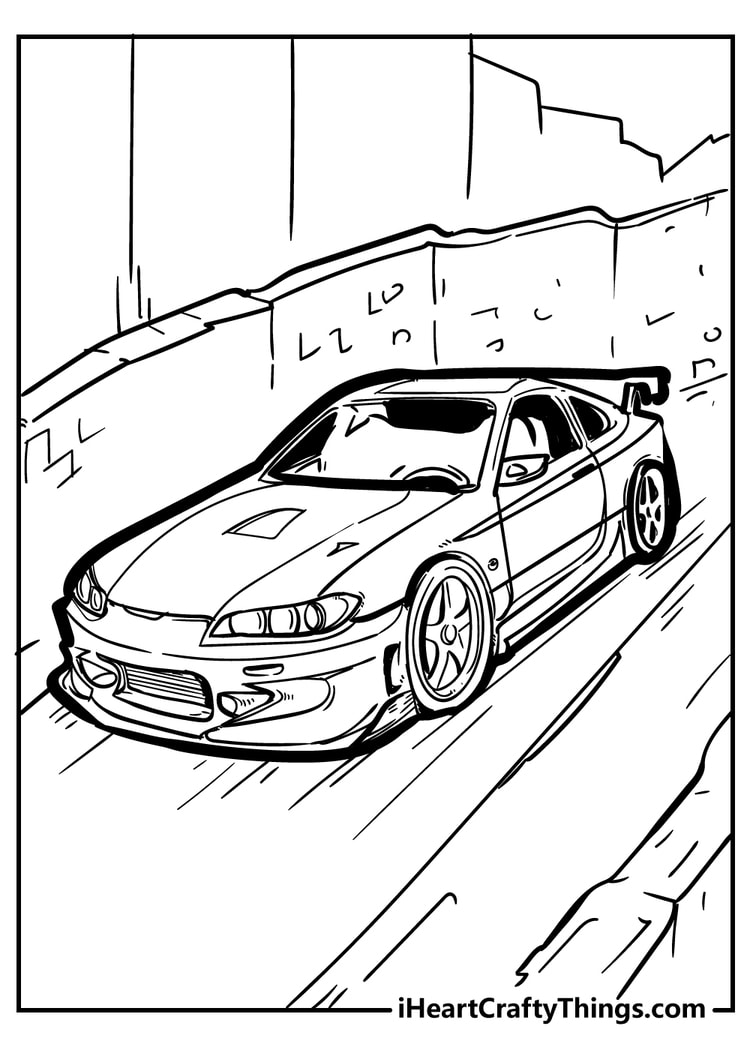 The make is an important detail to any car owner and there are dozens of car-makers with their own unique style.
Manufacturers like Toyota are some of the biggest car-makers around. Who do you think made the car in this coloring page?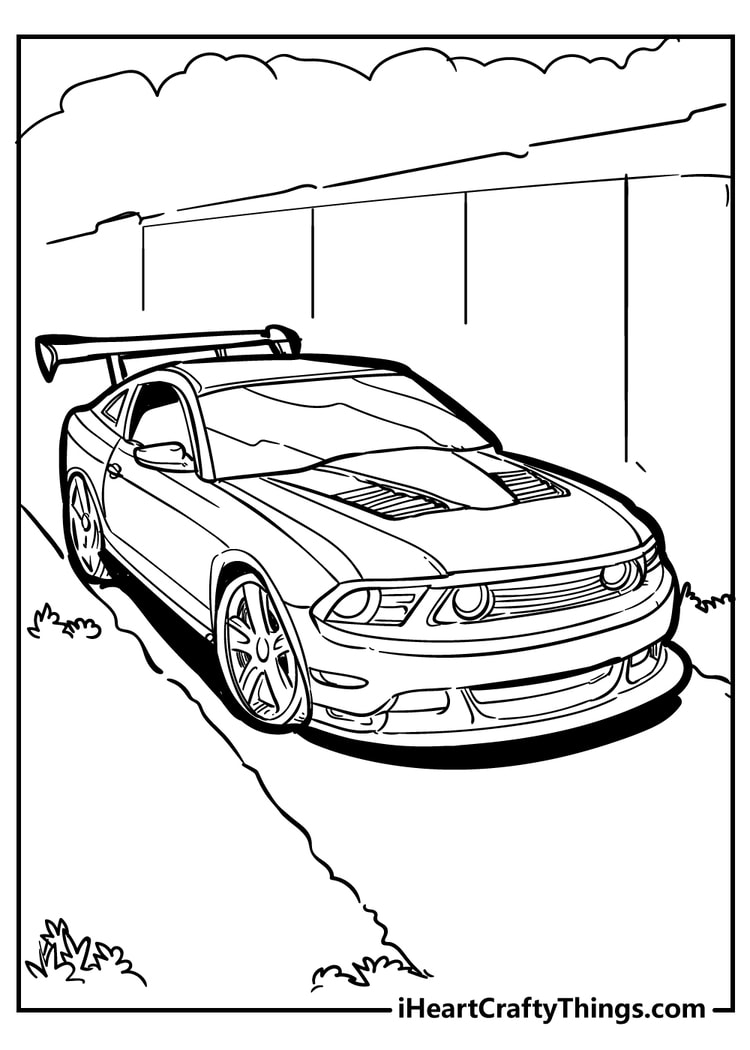 The model is also important to car owners. It is used by the car-maker to categorize its products.
The car in this coloring page looks like it could be made by Dodge. The model might be a Challenger or a Charger.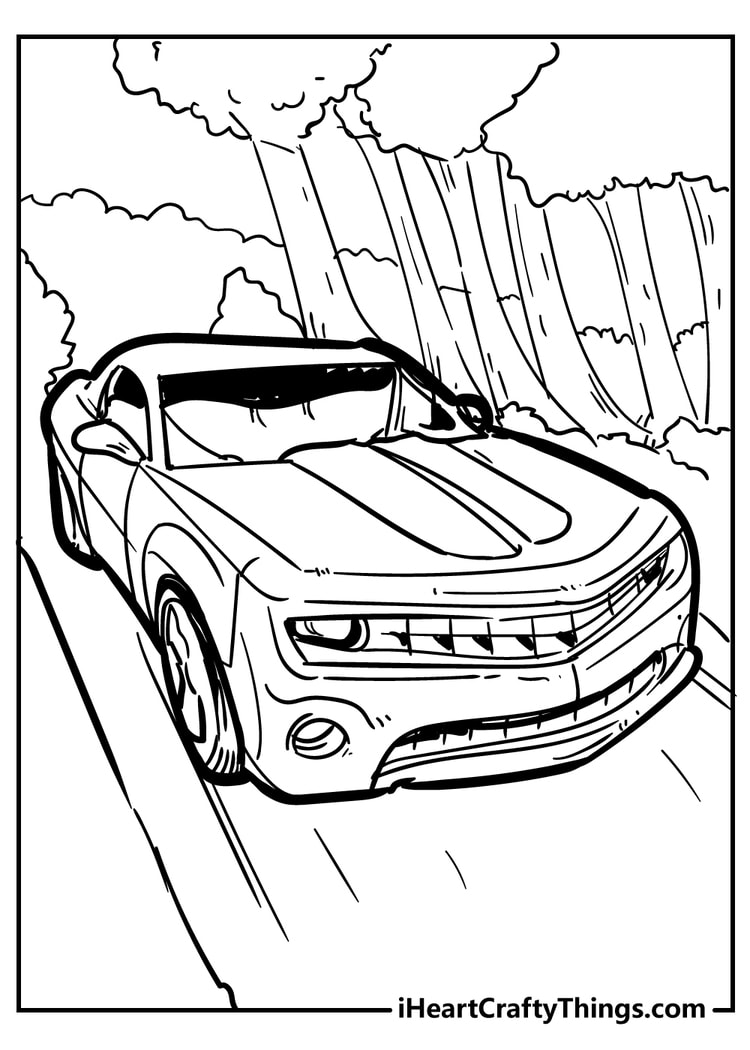 Car enthusiastic who love speed and style might add racing stripes to their cars. The stripes were originally used to help people identify racecars as they zoomed through the fields.
The one in this coloring page has two large stripes from the front bumper all the way down the back of the car.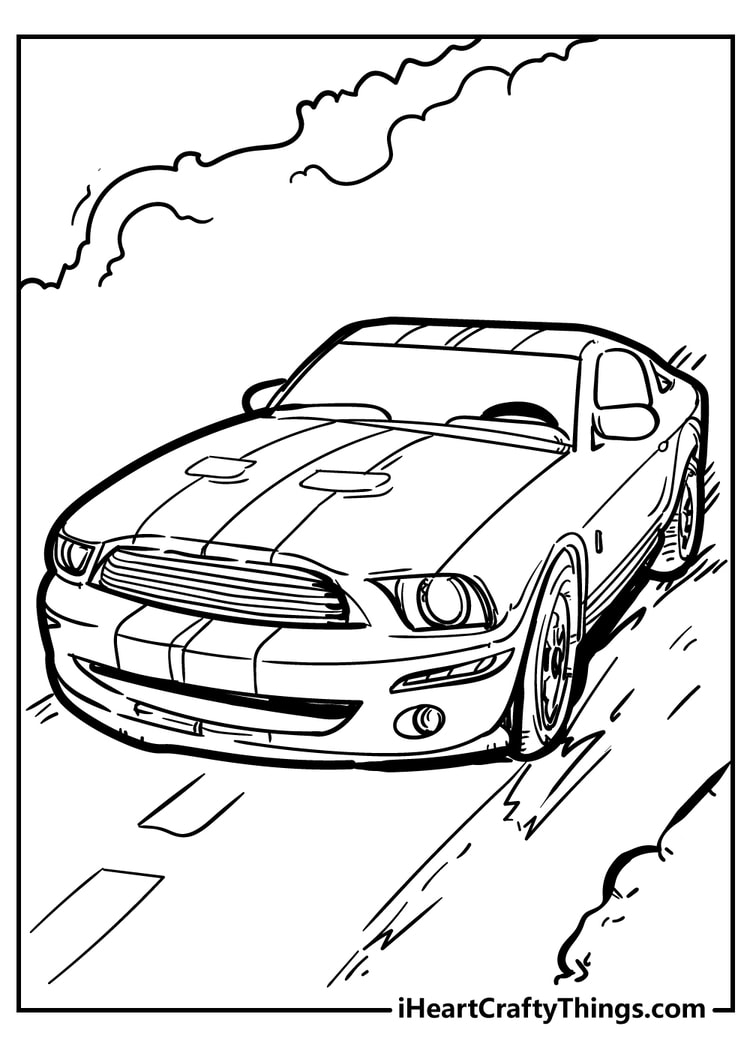 There are all kinds of gadgets and gizmos on cars these days. The car on this printable has something covering the front grille that looks like a very small ladder.
We wonder what the purpose of this interesting design could be.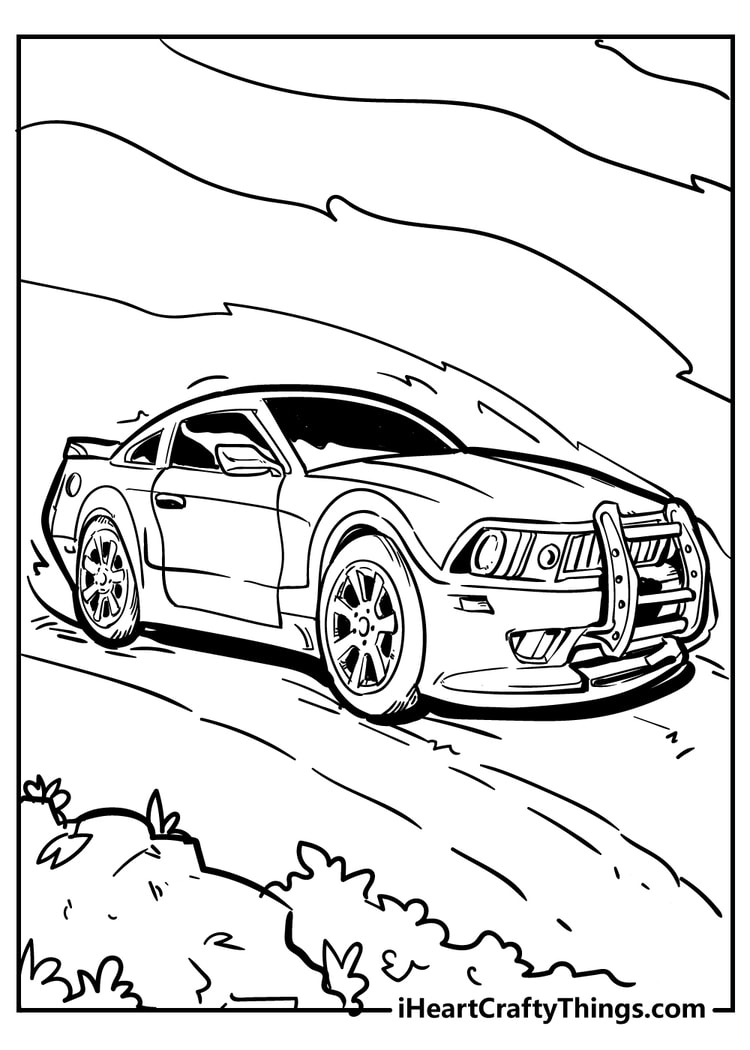 This little car looks sleek and simple as it drives through the city. It's hard to tell from looking just how fast a car could be.
Although this one looks simple, it might still pack a powerful punch.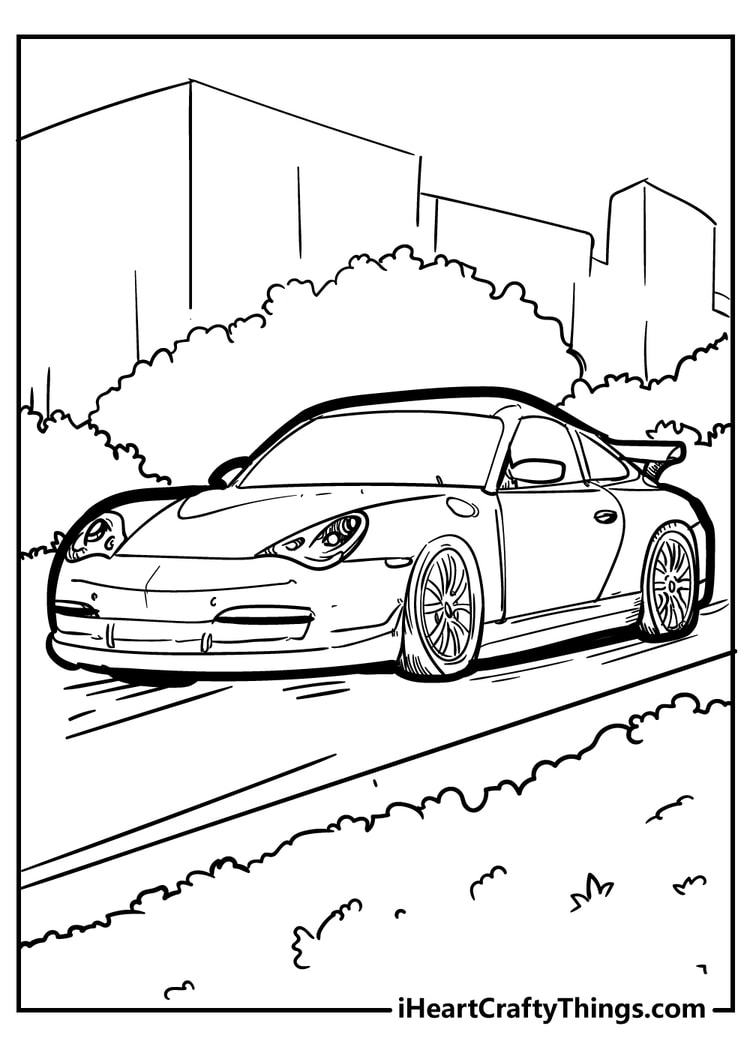 The doors on the car in this coloring sheet are a little different than the gull-wing doors from before.
They are actually called Scissor doors because of the way they swing up close to the car's side, like a pair of scissors. This feature is commonly associated with Lamborghinis.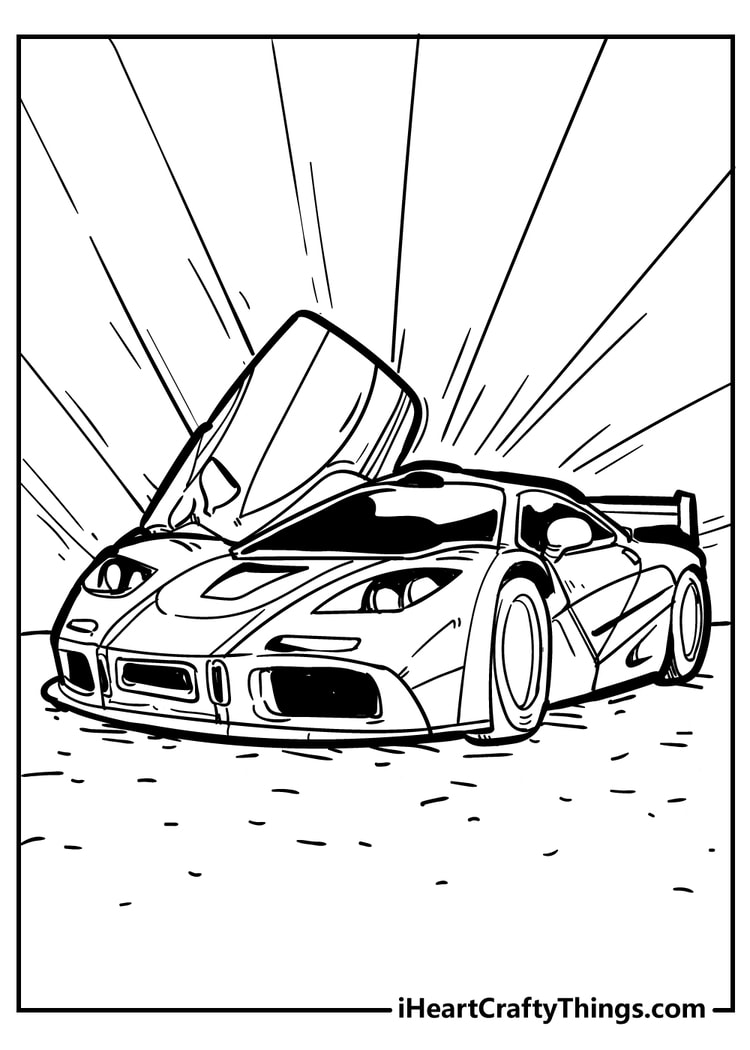 Whether you're a car expert or novice, there are a lot of things to appreciate about the many different and unique cars from around the world.
How will you design this car coloring page?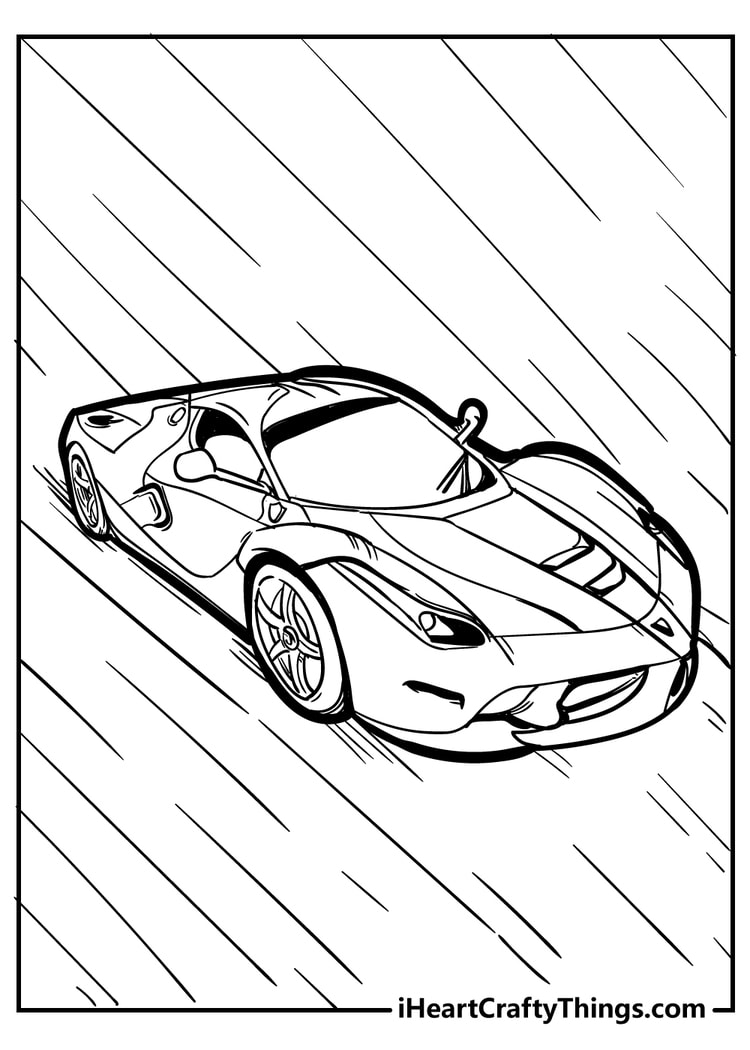 Another fun feature that some cars have is that they are convertible, or able to be driven with or without a roof in place.
The car in this printable zooms away with the top down, leaving a trail of exhaust in its wake. Let's hope it doesn't start raining.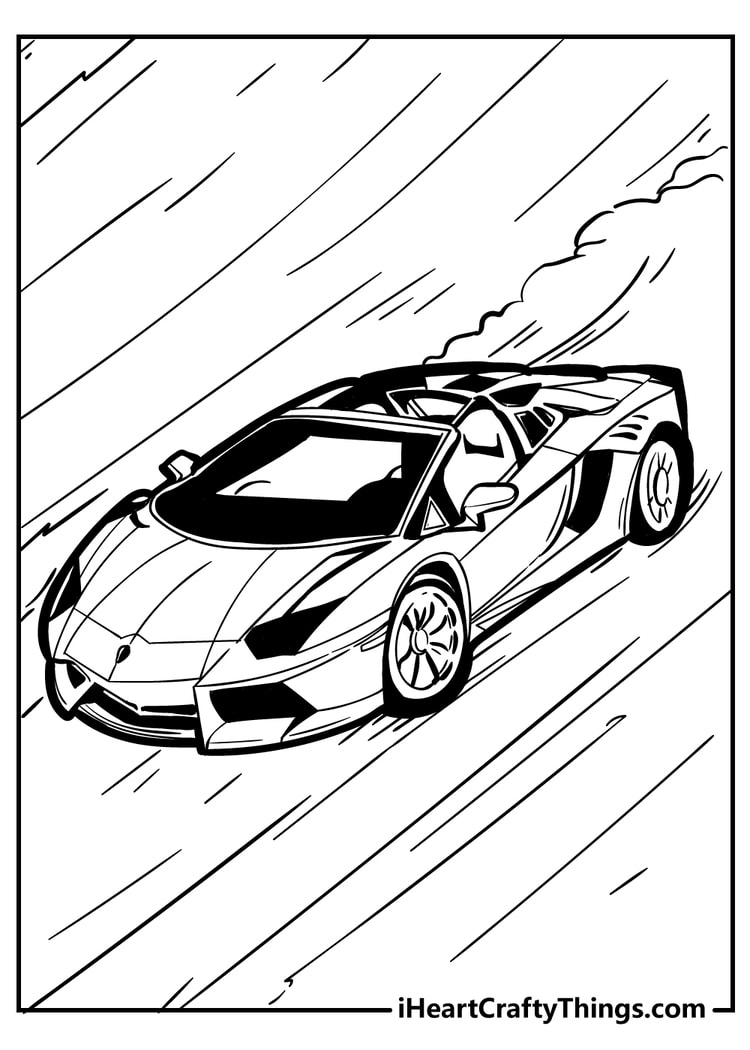 A nice long car ride can be a welcome escape from the hustle and bustle of the city. The driver here seems to be doing just that.
His car speeds away from the big sky-rise buildings and past a sign pointing to some unseen location.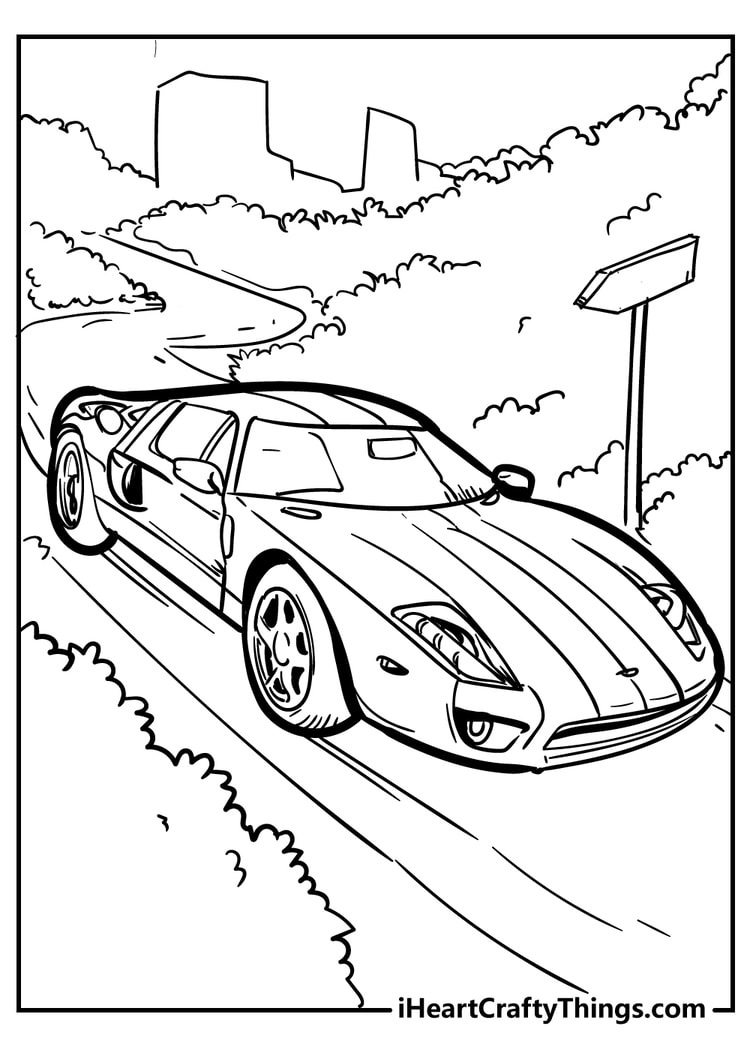 No matter how big or how small, every car owner's vehicle of choice has a special place in their hearts.
Some people even think a person's car says a lot about them. What do you think this car says about its driver?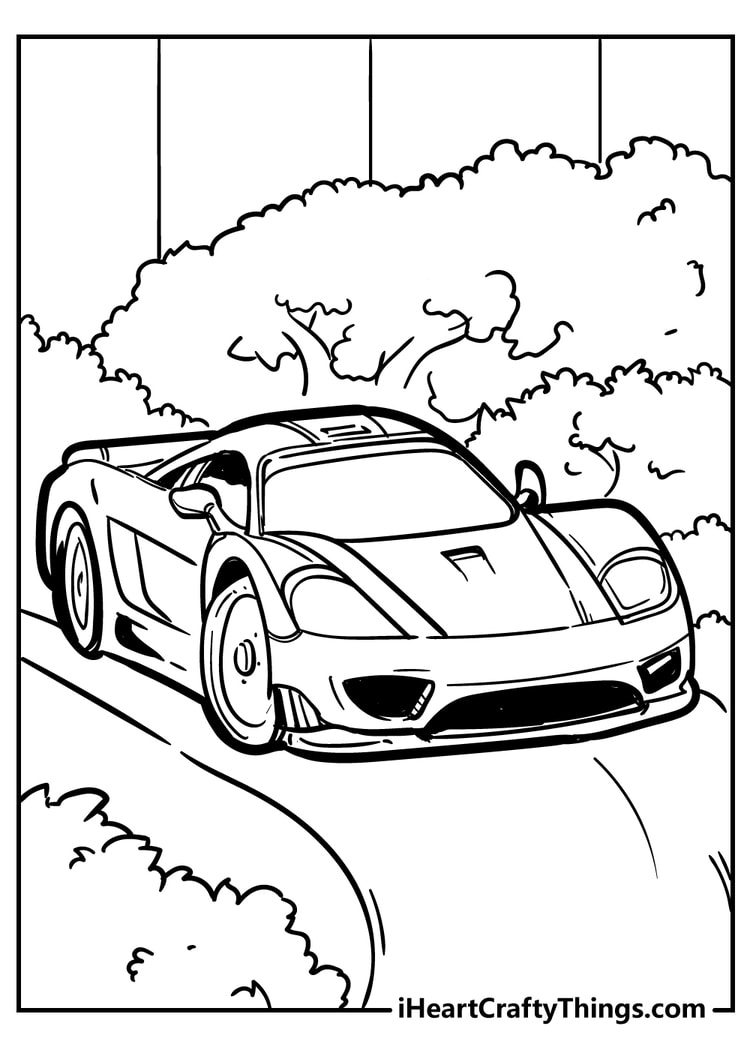 This car has another pair of awesome non-standard doors.
The doors on this car might be Butterfly doors, which are very similar to the Scissor doors we have seen before. We can't get enough of these cool and unique cars.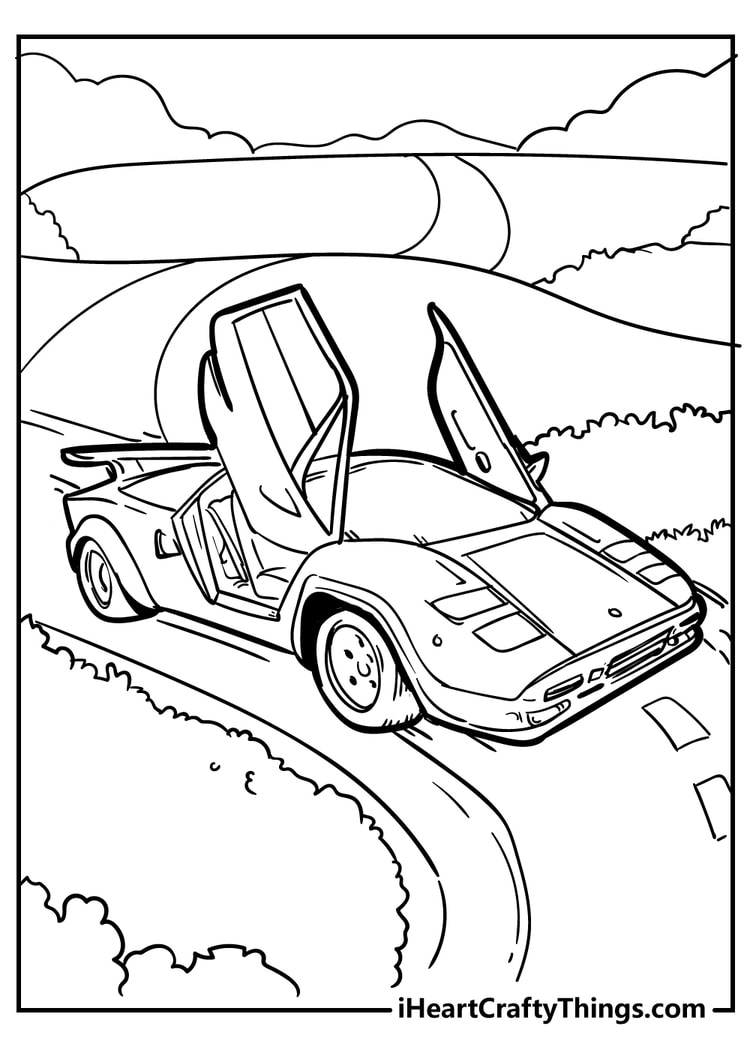 Professional Nascar racers have numbers painted onto the sides of their cars.
Since cars are constantly moving and changing positions, this helps the announcers and scorekeepers to keep track of which car belongs to which racer.
This car is given the number 22, which belonged to a racer named Joey Logano.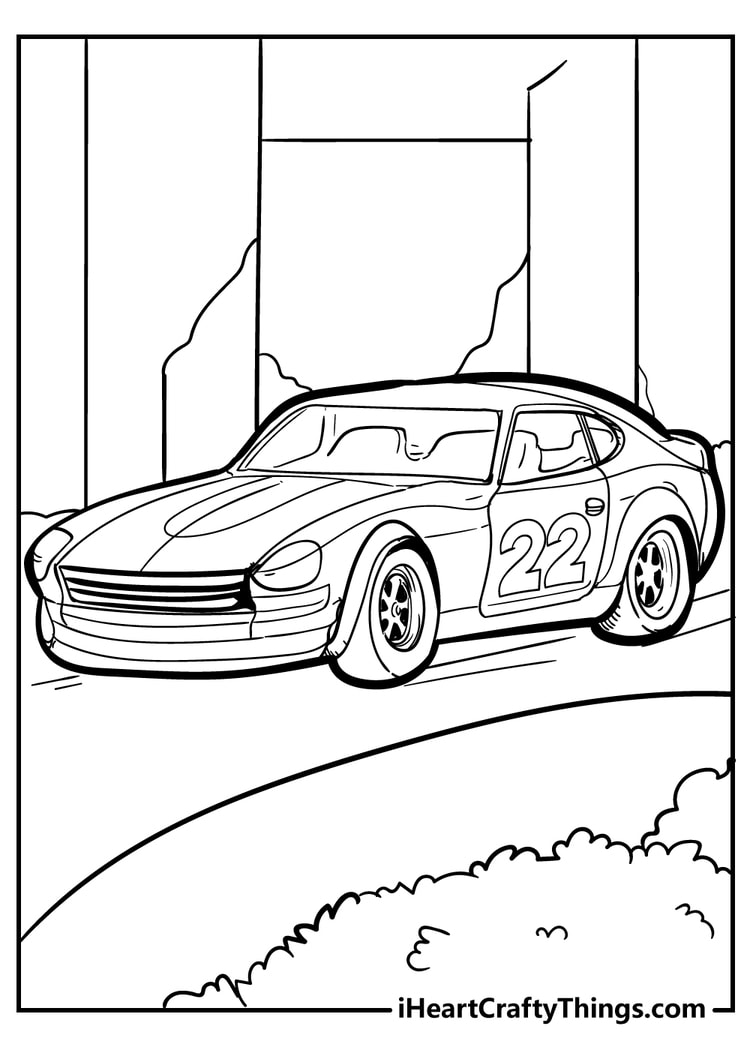 Sometimes it can be hard to tell one car from another. They have all kinds of emblems and symbols with lots of different meanings.
The car in this coloring sheet has a small upside-down triangle on the front. Perhaps it is a Pontiac, which sometimes has a similar emblem.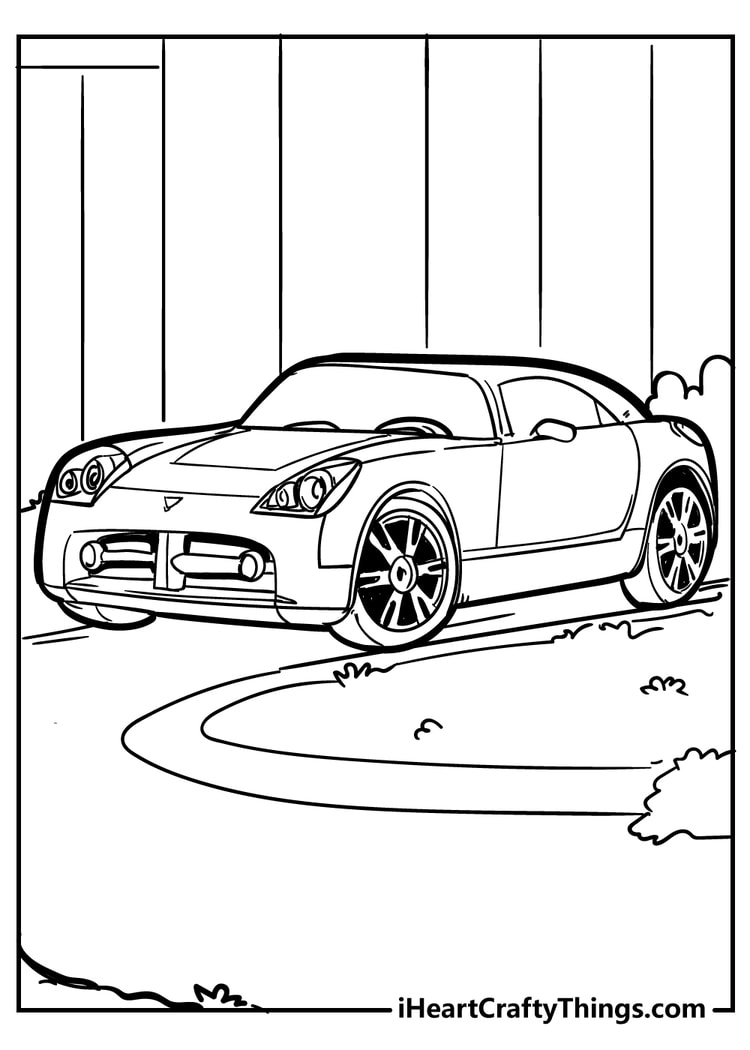 Sports cars were made for speed and this coloring page really shows this aspect. It travels so fast that flames shoot out from all over.
This car also has an interesting design that gives it an almost snake-like appearance.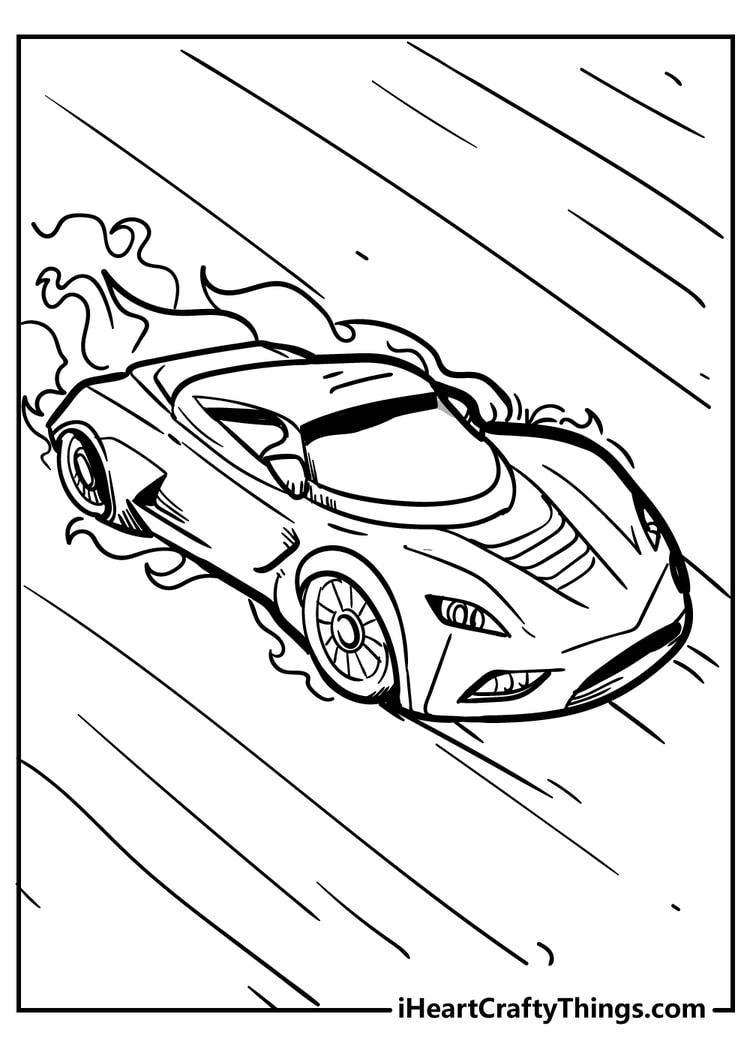 How To Take These Cool Car Coloring Pages Even Further
With this collection of free cool car coloring pages, we have a few small background details to give the pictures a sense of place. While these details are great, you can add to them yourself!
When imagining the sports cars you would love to own, it's great to think of the model, color and details you would like. It can also be fun to imagine where you would like to drive your fancy car.
You can do this by adding some background details to your favorite coloring pages. Even the ones that have the start of a background, you can add some more specific details.
For example, maybe you would like to drive along a country road while looking at windmills and rolling hills. If that's the case, then you could draw in these details.
You can also think of the weather details for the background as well. It could be a beautiful sunny day, or you may like to drive through a dramatic thunderstorm.
Adding these details will serve two purposes. One is that it will make the pictures even more dynamic to look at.
The other is that you will have many more details to add color to. You can not only design your dream cool car but also the conditions you would like to drive it through.
You could even take it a step further and draw yourself or your favorite racing driver inside the car driving it. These are just a few of the ways that you could add to these pictures.
Now it's time for you to show off your ideas and show off how you would like to finish off these cool pictures!
Remember we are constantly updating our catalog of coloring pages and printable sheets.
Keep checking back to see which new pages have been uploaded and which new characters and images are available for you to print and color. There is so much more to come.
We hope you have enjoyed bringing these cool cars to life with your unique imagination.
Don't forget to post a photo of your finished car coloring pages on our Facebook page. We can't wait to see all the creative ways you'll color these super fun images.