Airplanes are very popular subjects for children's coloring pages because they love these interesting machines that fly above the clouds and allow people to explore the world.
Does your child daydream about flying an airplane from one place to another or spend their days watching the Airport Diary cartoons?
Feed their imagination and wanderlust with our airplane printables available in a wide variety, including funny cartoon airplanes and realistic aircraft.
10 Brand New Airplane Coloring Pages – Free to Print and Color
Does your kid dream of becoming a pilot one day? Then they definitely prefer to draw and color realistic aircraft that defy speed limits rather than cartoon-looking planes.
They probably even have a favorite plane they want to pilot one day.
This coloring sheet features a rapid airplane that flies above the clouds. Please encourage your child to improve their coloring skills and use their imagination to bring the image to life.
Coloring pages are educative and allow your kid to learn a lot about airplanes while using their artistry to color each part of the plane in the most realistic way possible.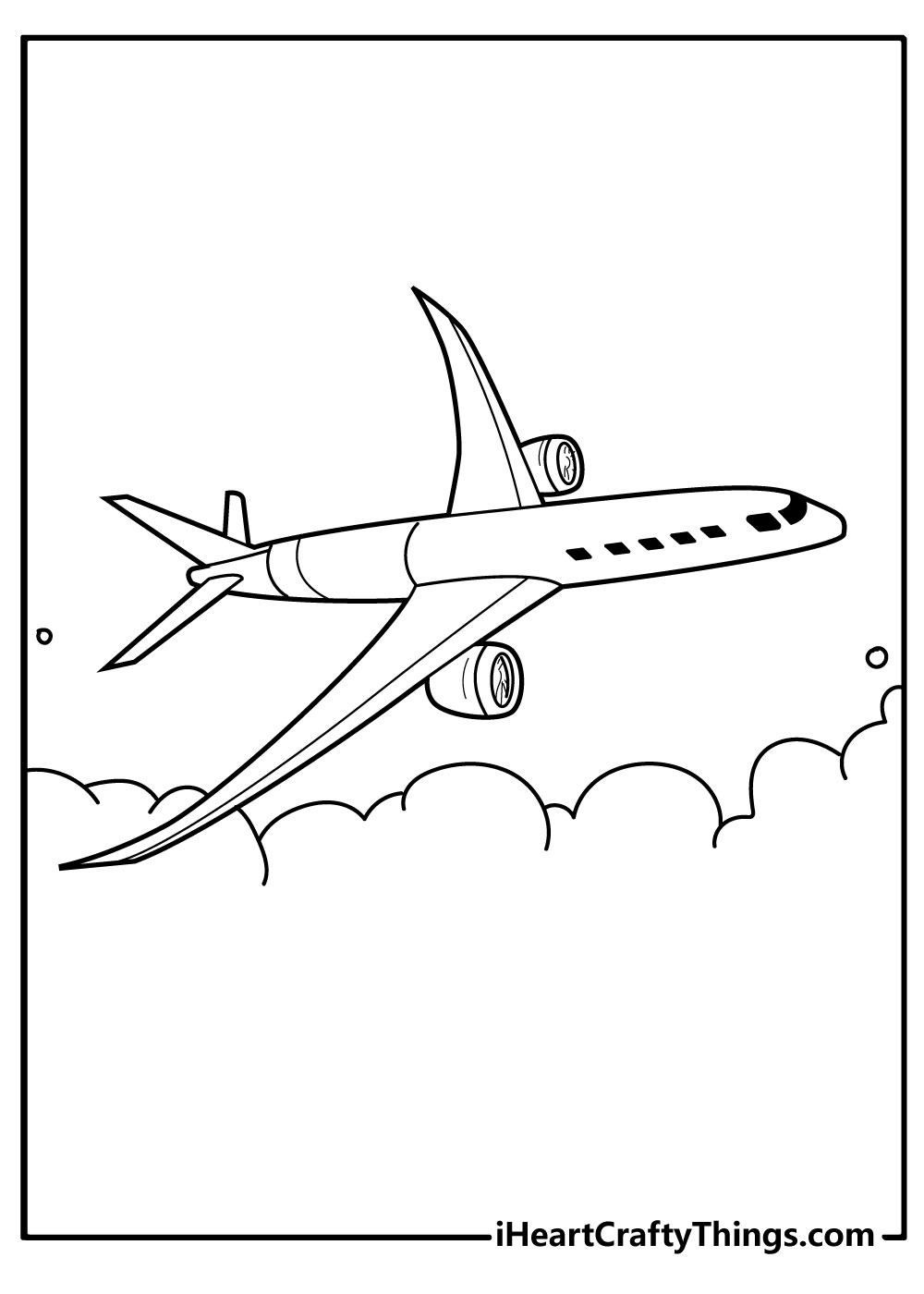 Have you recently taken your child on an airplane trip?
Now they're probably fascinated about the machinery able to travel through the air that took them from their home to an exotic destination in a couple of hours.
If your children cannot stop talking about the plane they flew in, encourage them to color this airplane sheet to resemble the aircraft they traveled by.
This airplane printable page features a big plane that crosses to reach its destination, and it's a perfect choice for a kid who cannot stop talking about planes.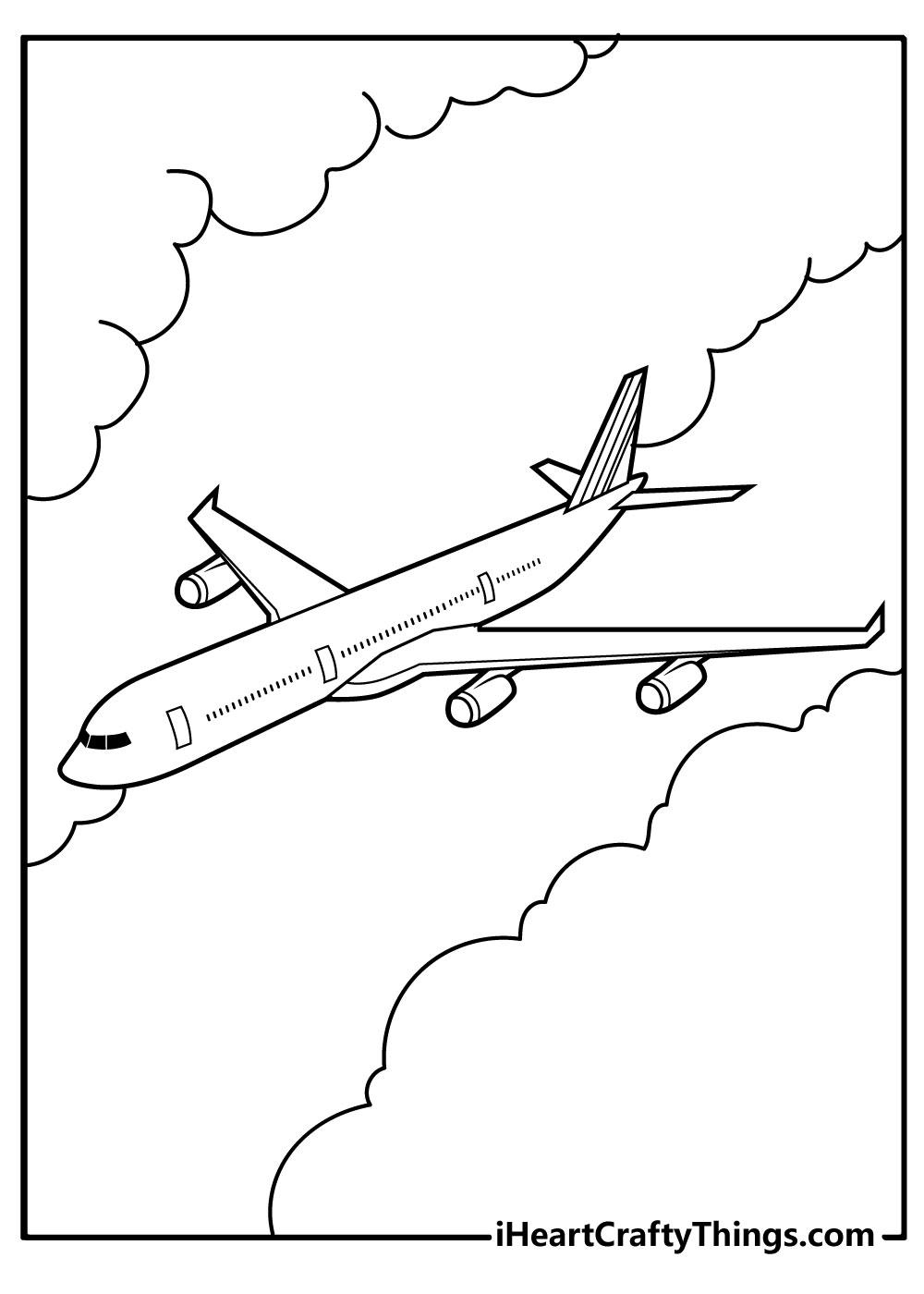 As we grow up, we all are fascinated by the planes we see high in the sky and their gleaming wings. Aircraft seem depicted from another world, a world children would be more than happy to explore.
But because they don't have the opportunity to fly by plane too often, they're more than happy to explore their passion by drawing and coloring aircraft.
Here is an airplane coloring page your kid can paint to feed their imagination and creativity.
This imposing airplane crosses the mountains to take the passengers in the adventure of their life, and your child can bring it to life with their favorite colors.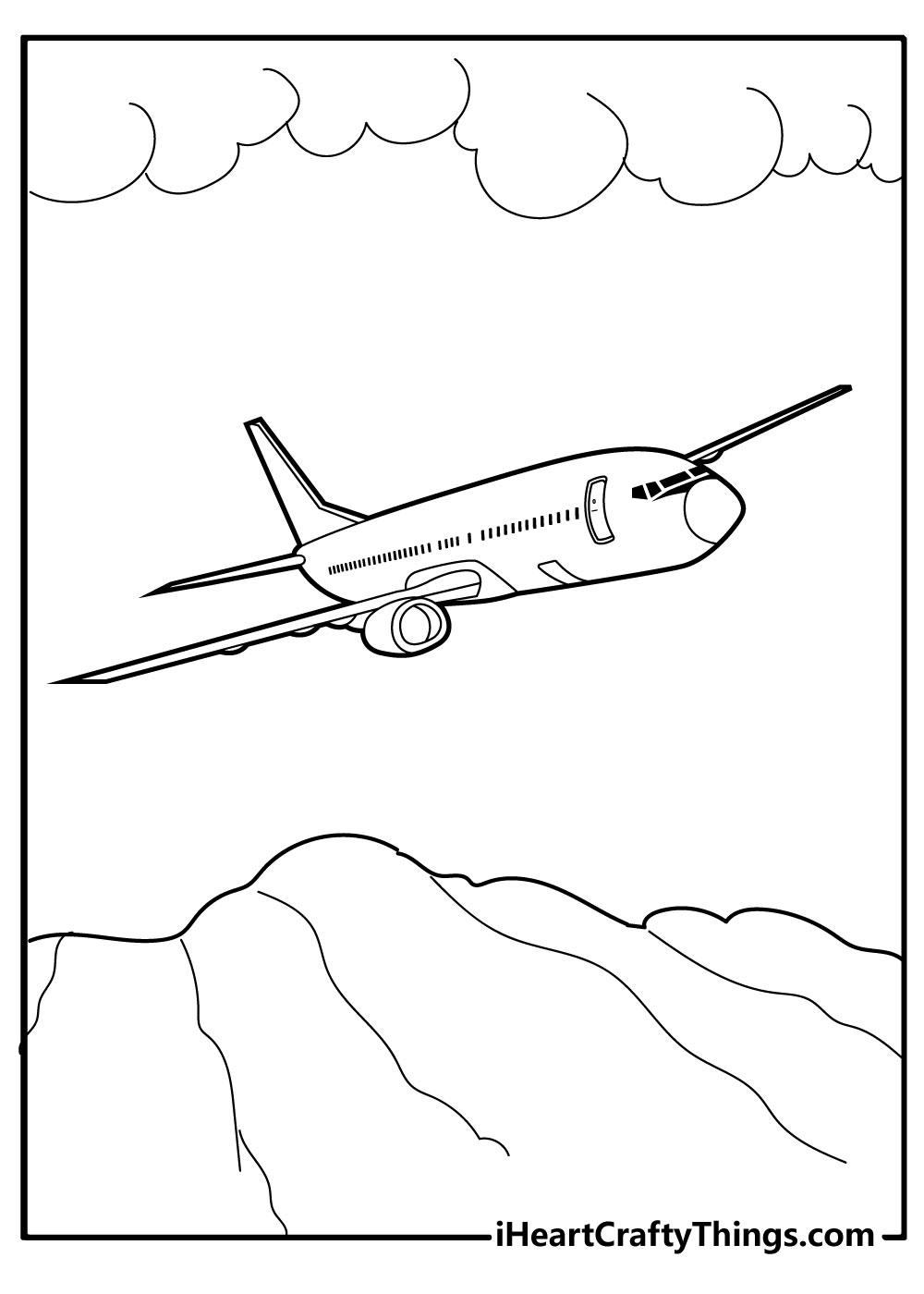 How many times did your child question you about how airplanes work today? Every time they see a plane crossing the sky, they're bewildered at the magic of a metallic bird flying over their heads.
And who can blame them for being fascinated with planes? They truly are amazing!
We love this coloring sheet because it features a superfast plane with intricate wings flying over the ocean. Print it for your little avid aviator, so they can paint it in their favorite colors.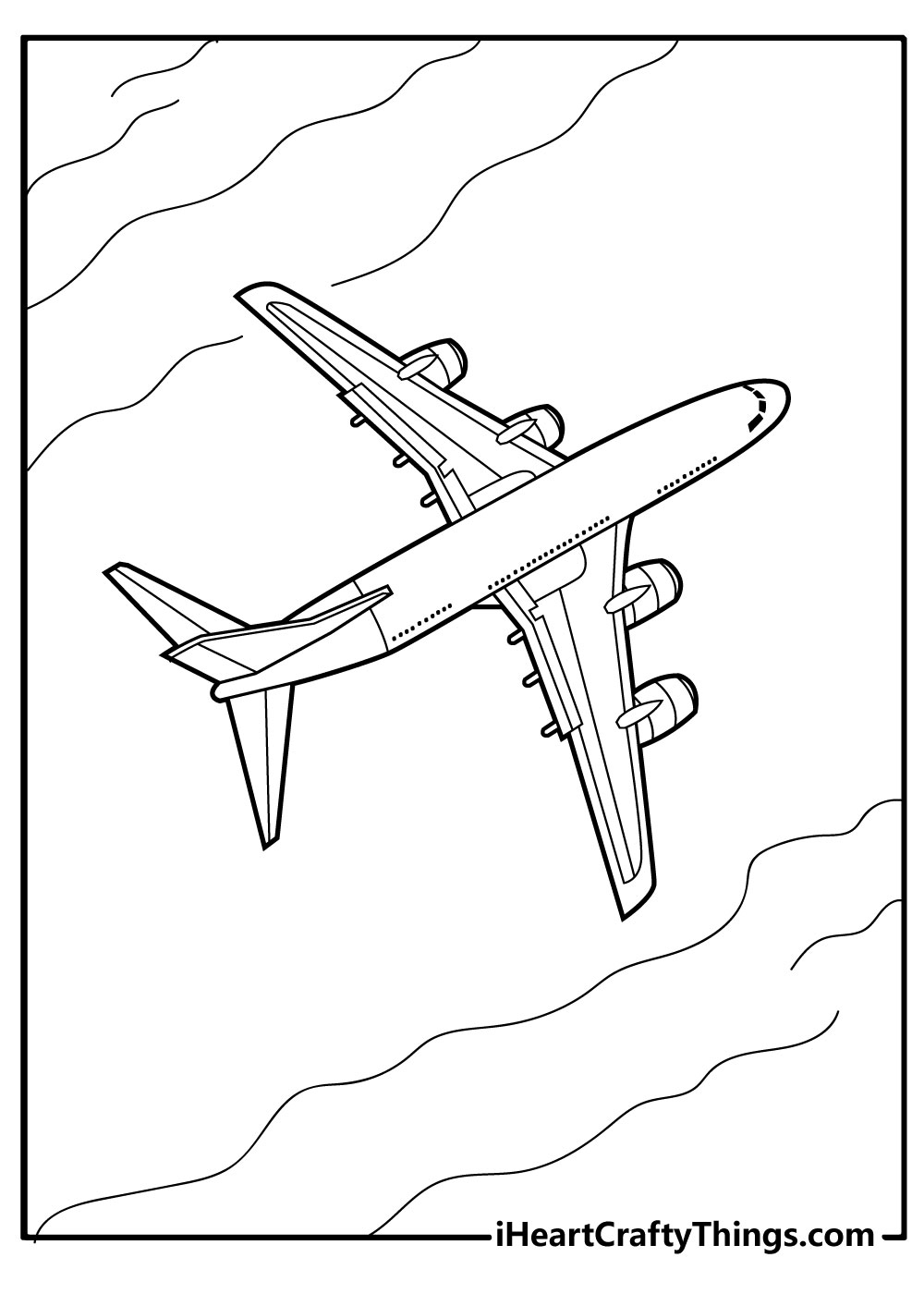 Do you have a little airplane fanatic running around the house with a papercraft? Settle them down with our airplane coloring sheet that features a supersonic airplane crossing the skies.
The airplane pictured in this printable is perfect for a speed devil who cannot stop talking about fast planes flying mega fast and cutting the clouds.
This page is a great distraction for a future aviator because it includes a realistic drawing similar to those on TV.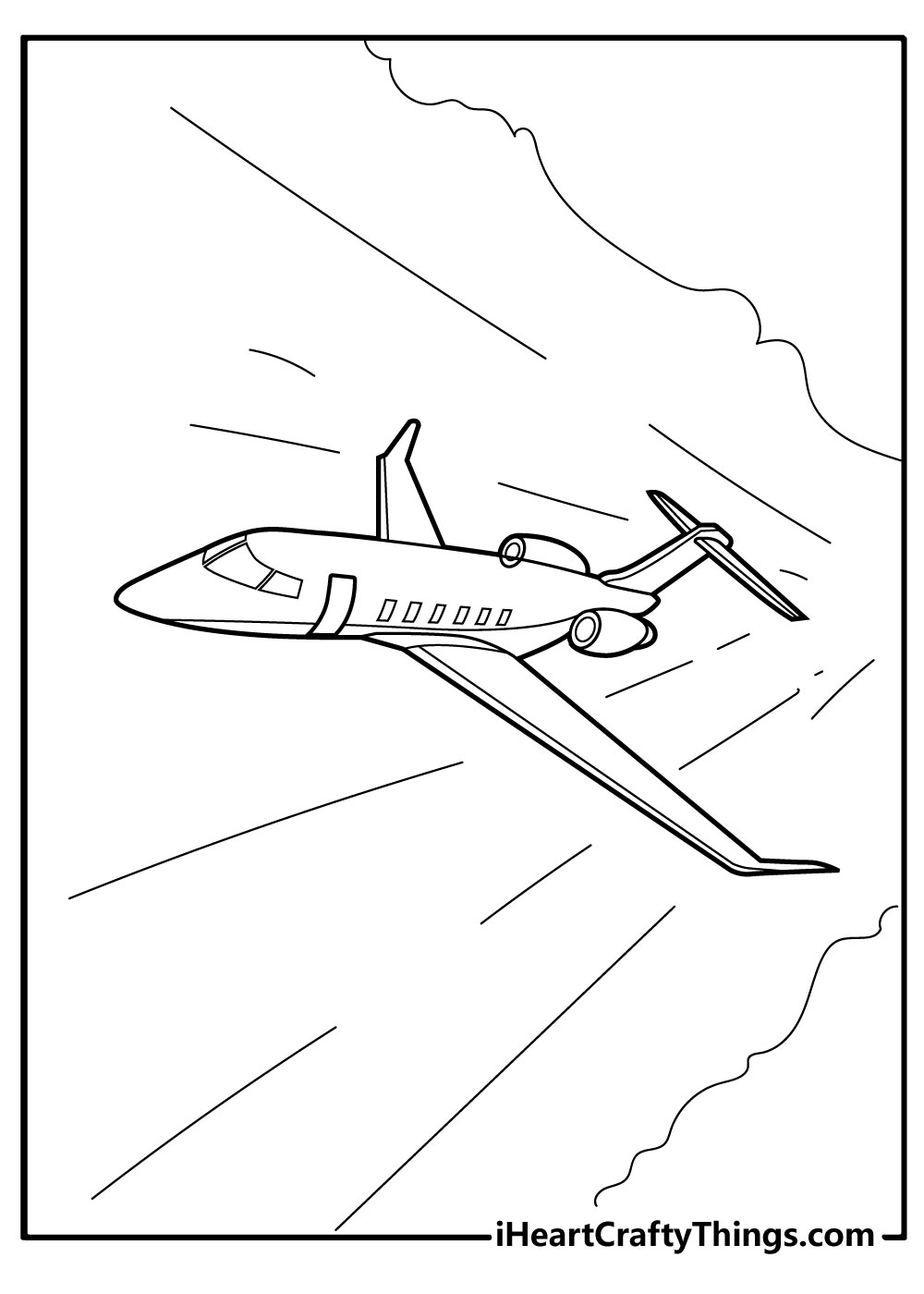 There's something fascinating watching an airplane taking off the ground. Where does it head?
How far will it fly before it touches the ground again? Both adults and children raise their heads to see planes flying when they hear them because they're some of the most mysterious machines we have ever seen.
If your children share your enthusiasm for admiring airplanes flying, here is an airplane printable sheet depicting one floating among the clouds.
Please encourage them to paint the clouds during a beautiful sunset to make the result look more interesting.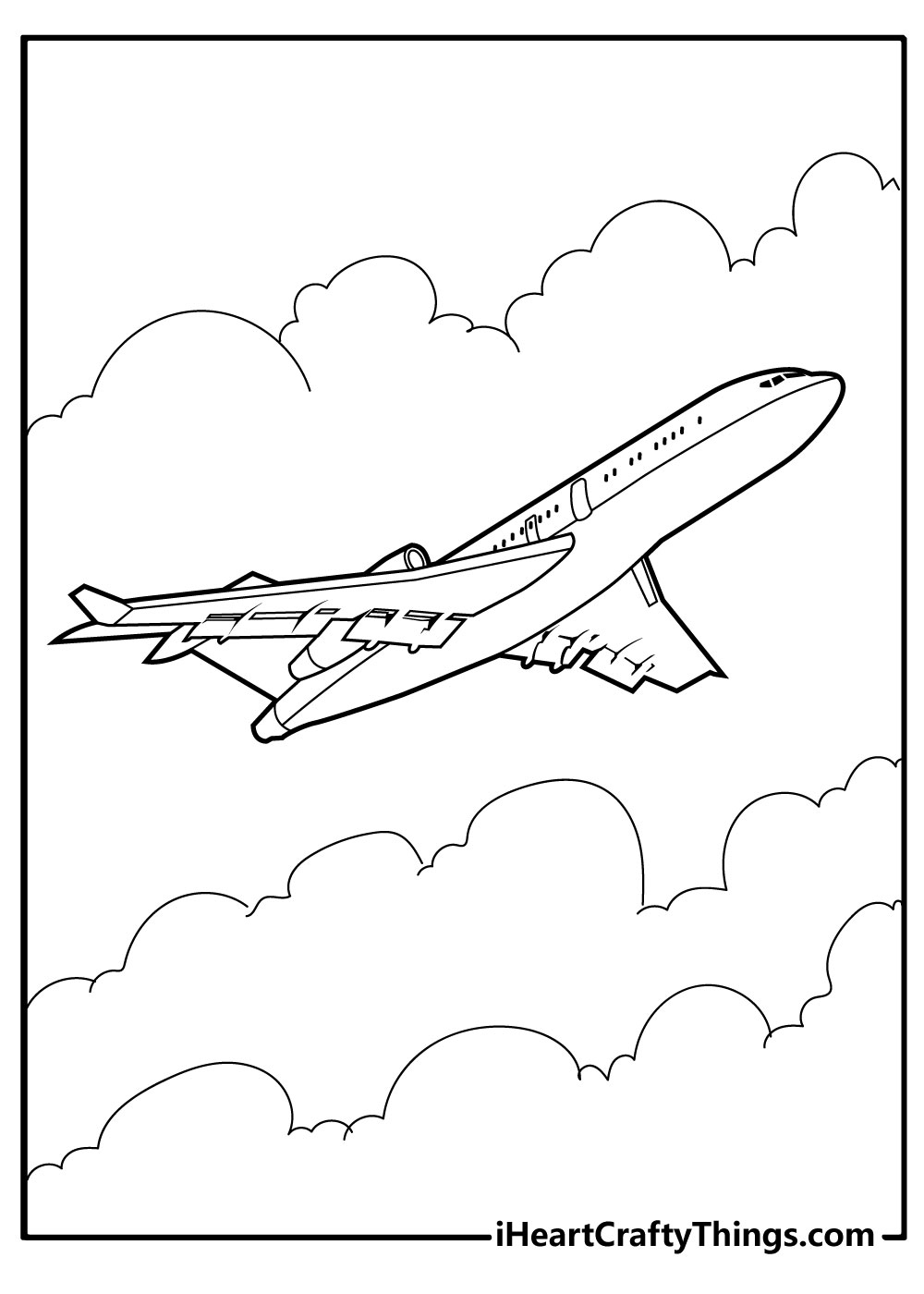 Children are very fond of airplanes because their favorite TV characters use them to fly from one place to another fast.
If you ask them why they love them so much, they'll probably tell you that planes are both magical and fascinating because they fly above the ground even if they're pretty big.
Here is a wonderful depiction of the front of an airplane crossing the sky you can print for your children to paint.
This airplane printable sheet features an aircraft that flies at high-speed thanks to its powerful jet engines.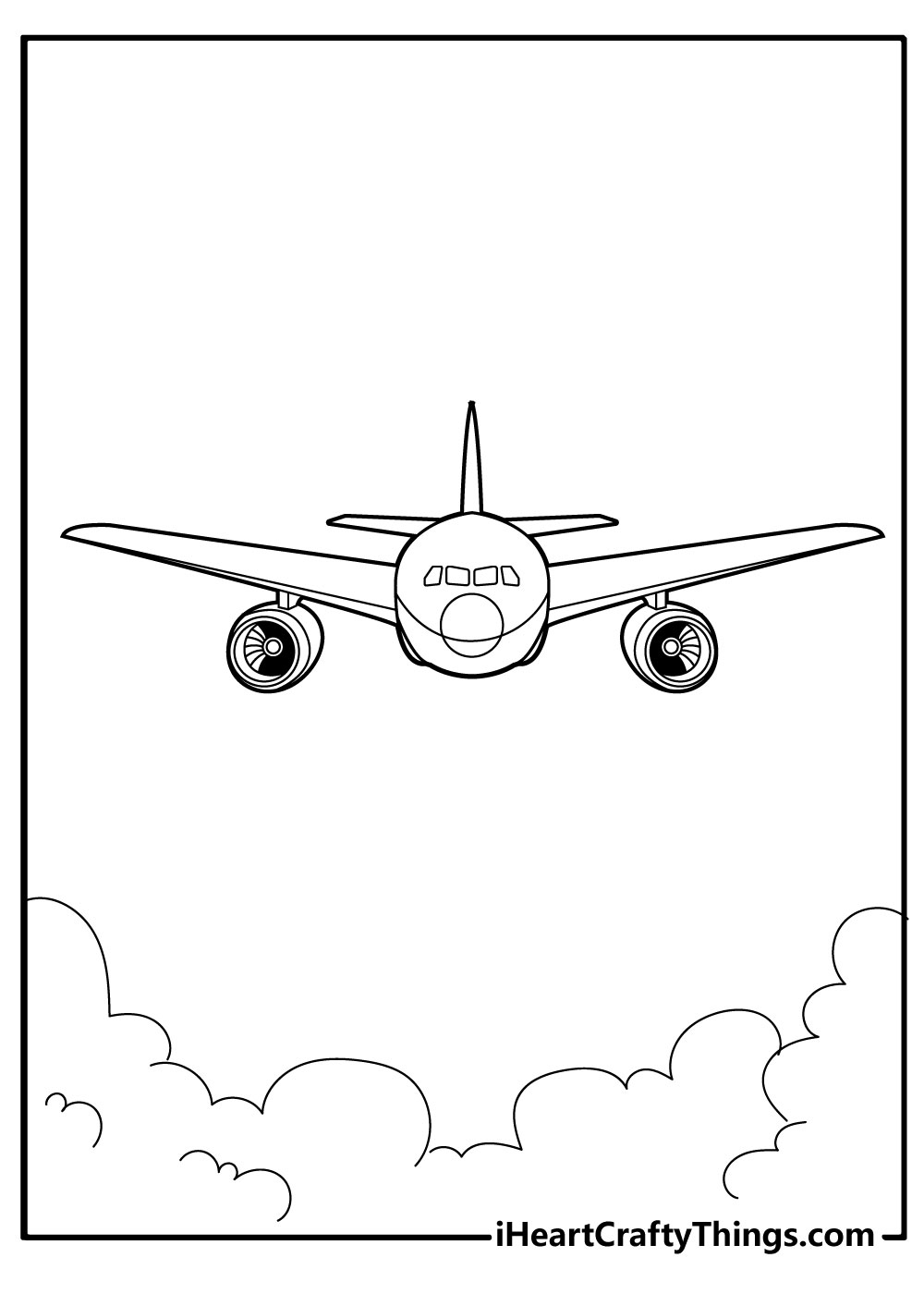 The planes we see crossing the skies these days look very different from the first machines designed to travel by air.
This coloring sheet features an antique airplane flying among the clouds on what can be a nice, warm day, or thunderous afternoon, depending on your child's imagination.
Download the airplane printable for your kid to fill it in hues they find appropriate.
Make sure to show them a couple of pictures of antique airplanes to help your children imagine how they look before they draw them.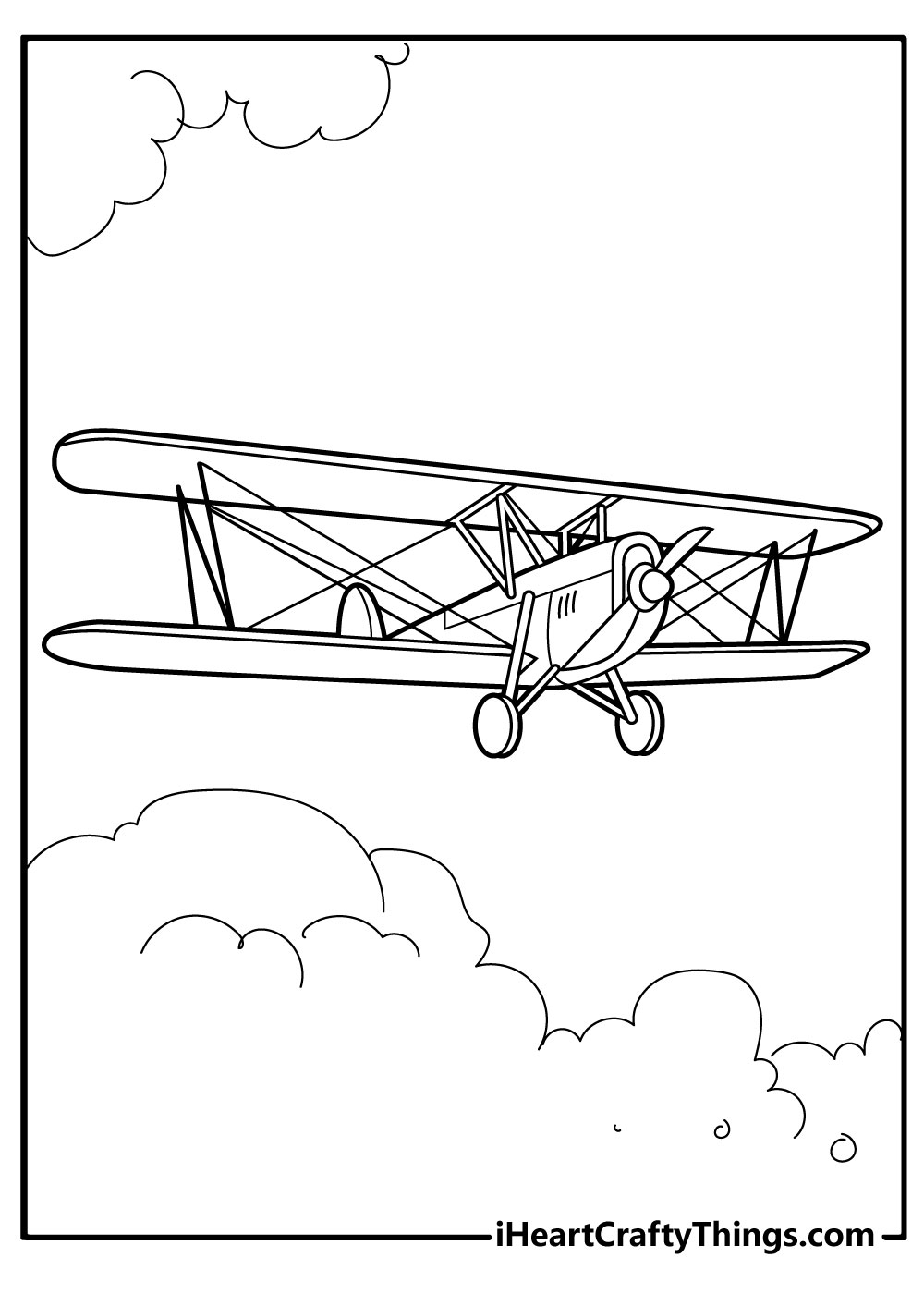 Do you remember the summer days when you spent your time laying on your back on the green grass, admiring the airplanes flying above your head?
There's nothing more enjoyable than the wind blowing in your hair and watching the white clouds of smoke airplanes leave behind. Some resemble animals, others flowers, or even faces.
If your child is as enthusiastic about admiring flying planes as you were, they'll love this airplane coloring page because it features an aircraft's belly, as they'd see it if they'd lay on their back.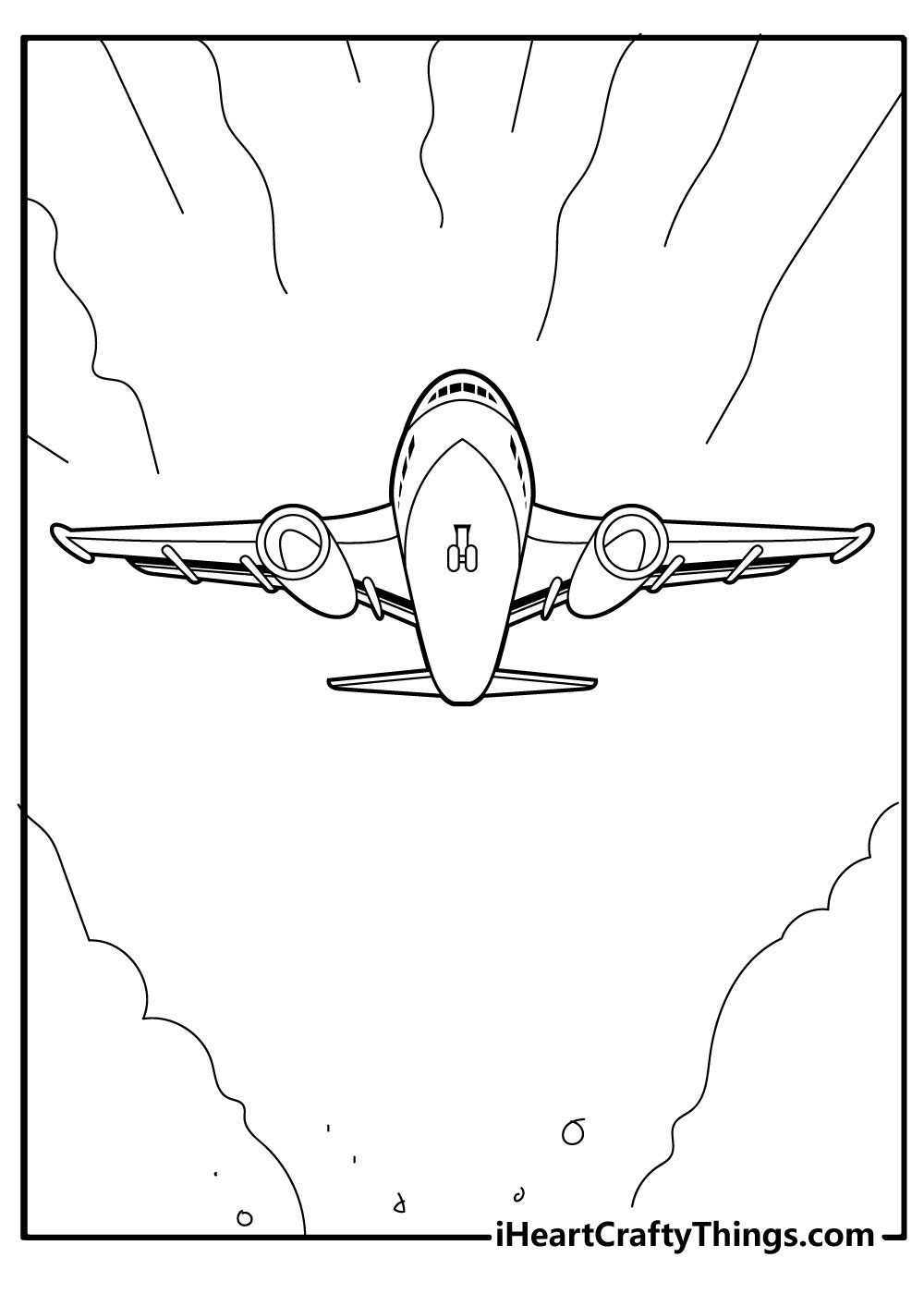 Here's a coloring sheet of a light antique airplane flying through fluffy clouds.
If your children love drawing and coloring airplanes, download and print sheets of antique planes to help them differentiate between models and educate them on the history of airplanes.
As we stated earlier, airplanes looked quite different in the beginning and were smaller than those flying in the sky nowadays.
The model featured in this printable sheet is such an example. Please ask them to draw the puffy clouds in cotton-candy colors to make them look whimsical.
Your kid's imagination will definitely take a flight with our airplane coloring printable sheets.