In the past few decades, there have been major advances in the technology we use to take to the air and cross oceans.
We take them for granted at times, but each of these vehicles represents an incredible technological achievement.
Helicopters are among the most incredible, and they offer a great deal of mobility in the air. This collection of helicopter images will provide plenty of coloring entertainment for you to enjoy!
We have many different examples of incredible helicopters for you to have fun coloring, and you're sure to find a few that catch your eye.
You could pick a few that you like or really go for it and color the whole collection!
The entire collection is totally free for you to print out and have a great time working on. You don't need to stop there, as you can also share the collection for others to enjoy!
With all that said, get ready for takeoff as we begin this collection of free helicopter coloring pages for kids!
When you have completed your favorite helicopter pages, please remember to share some of your favorites on our Facebook and Pinterest pages!
10 Brand New Helicopter Coloring Pages – Free to Print and Color
The first helicopter that we have for you to color is a really cool-looking one. You have quite a lot of options for aspects that you could add to this one!
The background is clear, and you would have a lot that you could add if you wished to draw a background. It could either be parked on the ground, or you could portray it in the sky.
These are some ideas, but you could also just color a solid color background instead if you prefer! Will you create some kind of background for this picture?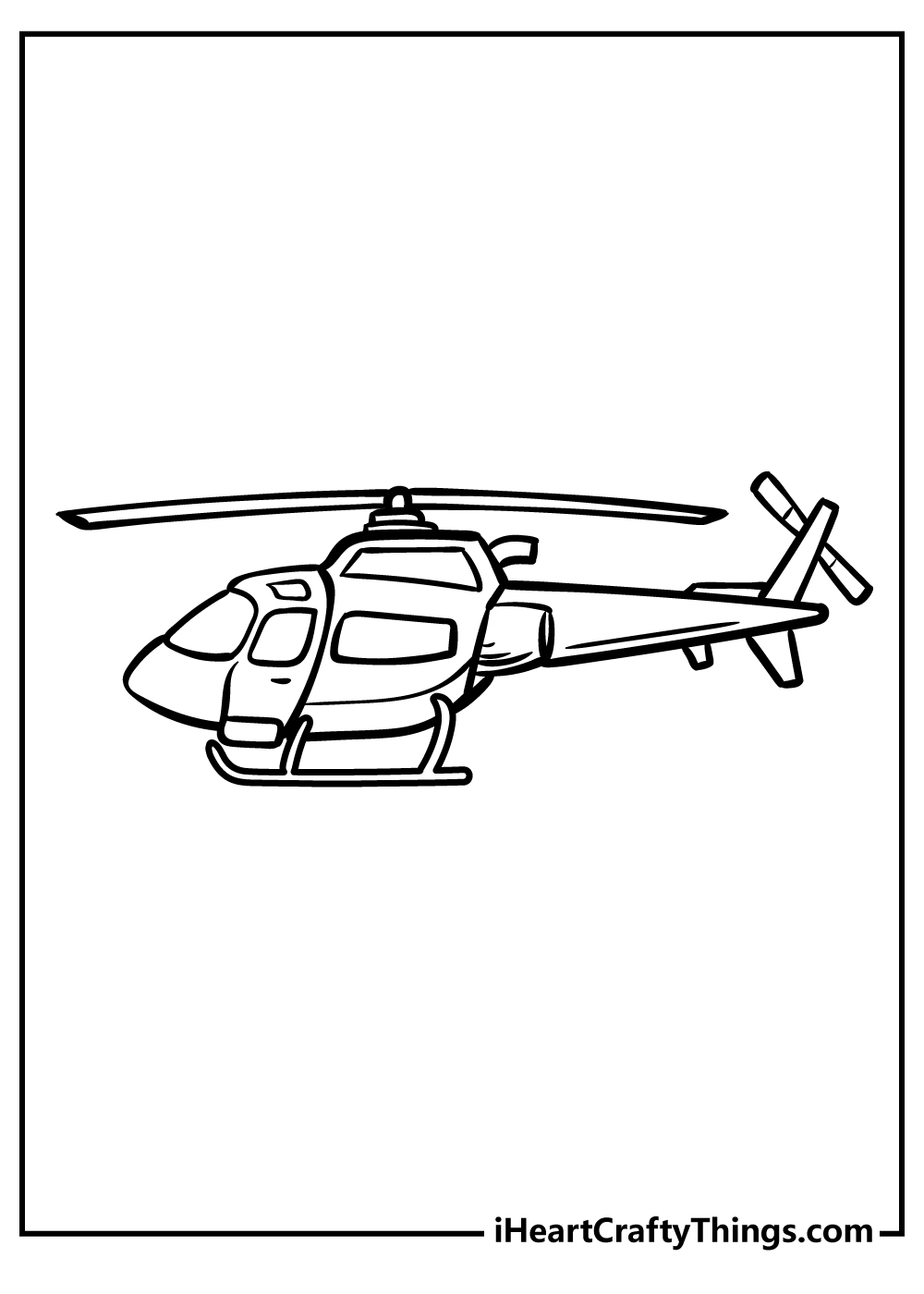 Our second free helicopter coloring page for kids features a helicopter that has taken flight!
The rotors at the top of this one are at full speed, so it's safe to assume that this one is soaring through the air.
If you wanted to portray that it is high in the sky, you could draw some details such as clouds, birds and other things you would expect to encounter in the sky.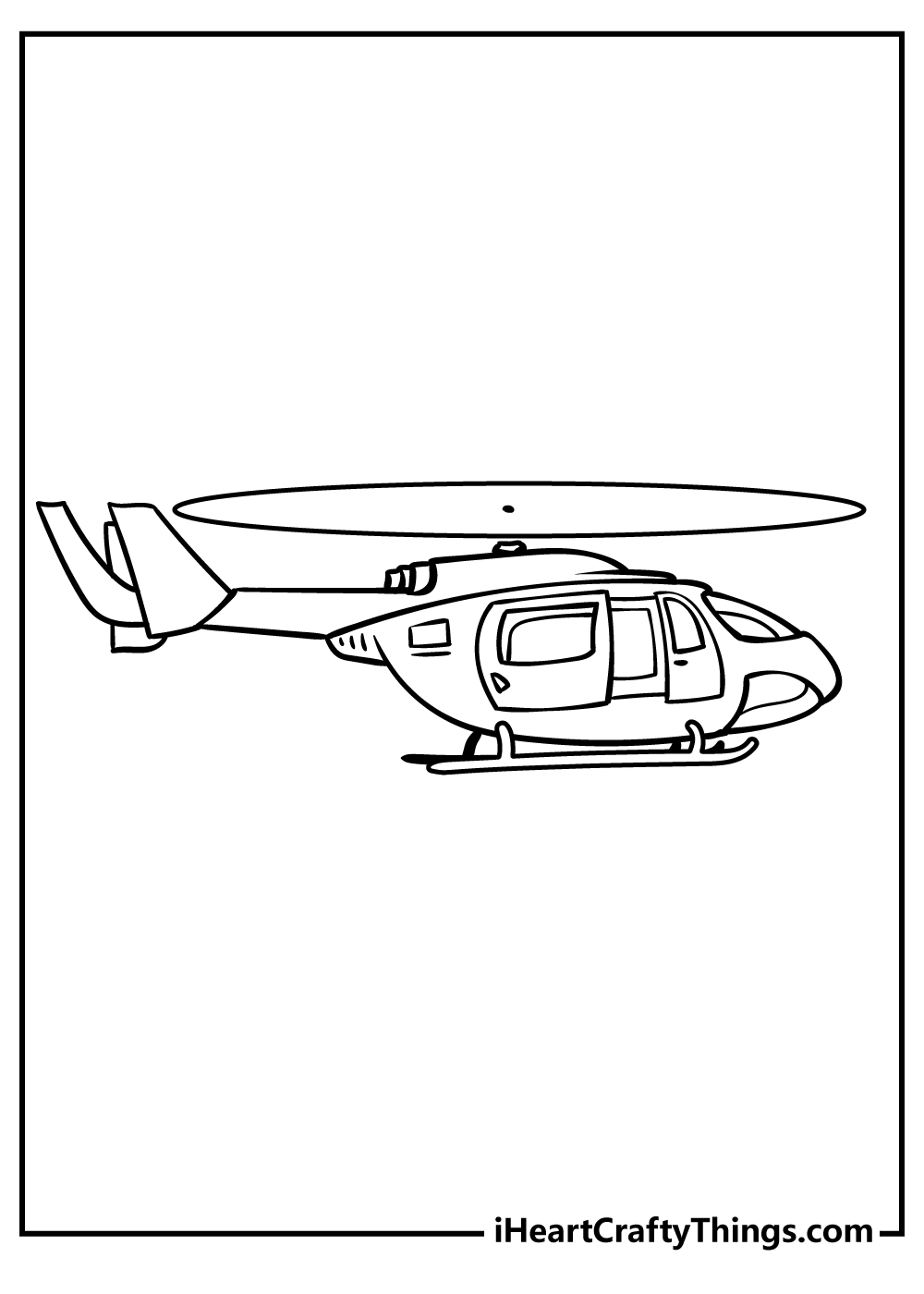 The third helicopter that we have for you looks like it means business! It has some missile launchers mounted on the sides, which would suggest that this may be an army helicopter.
If you agree with this observation, then you could show it by coloring a camouflage pattern for the paint of this helicopter.
If you find that a bit challenging, you could look up some camouflage patterns online as inspiration.
Do you think you'll go for a camouflage pattern or will you go for a different approach when coloring this image?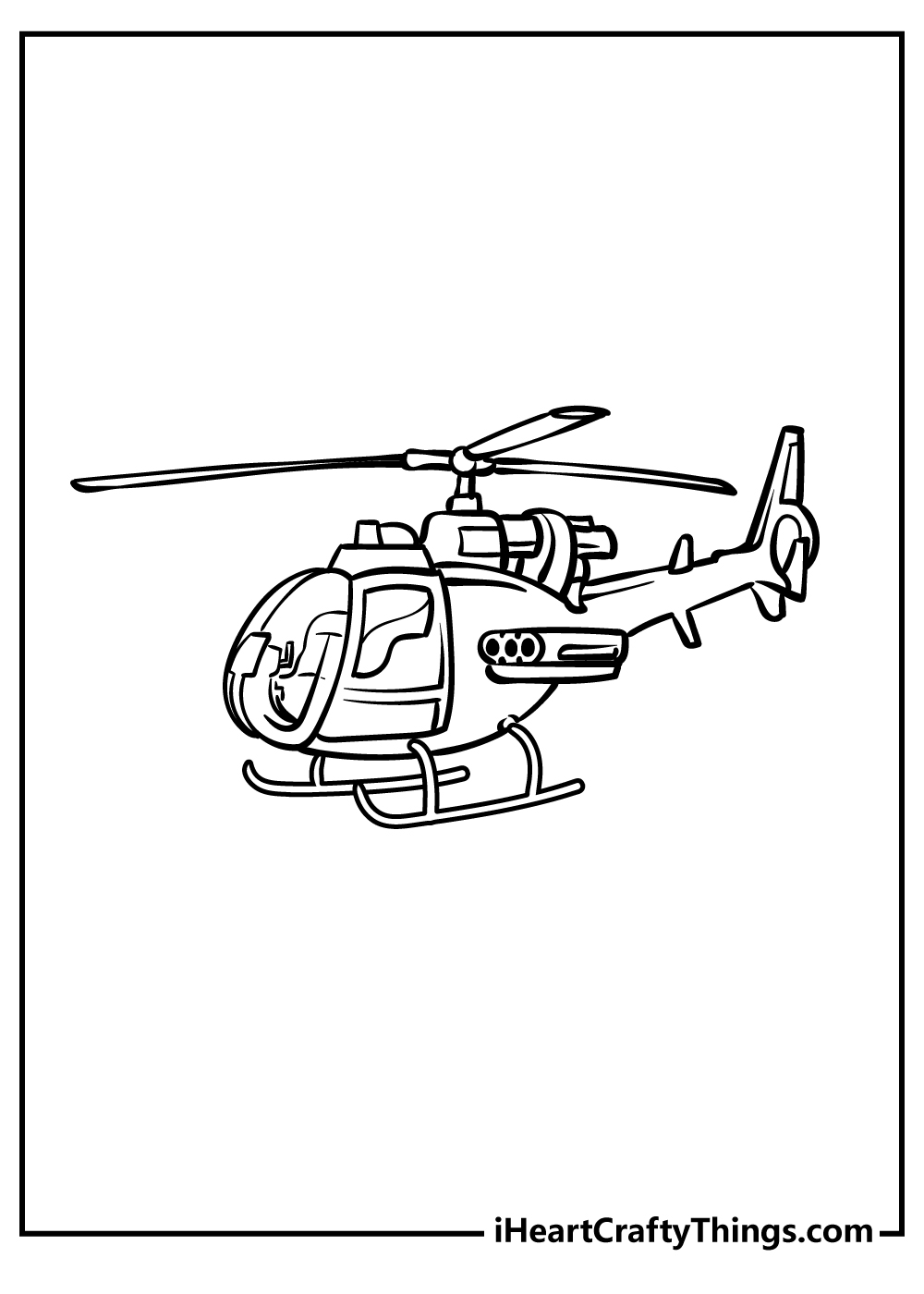 For this fourth free helicopter coloring sheet that we have for you, we have a helicopter that is high in the air.
It also appears to have a searchlight mounted at the front, so this means it could be a helicopter that is used in rescue operations.
For a striking, dramatic image you could color the background a dark black and then add a bright cone of yellow coming from the lap at the front.
This is just one idea you could try, but what else can you think of?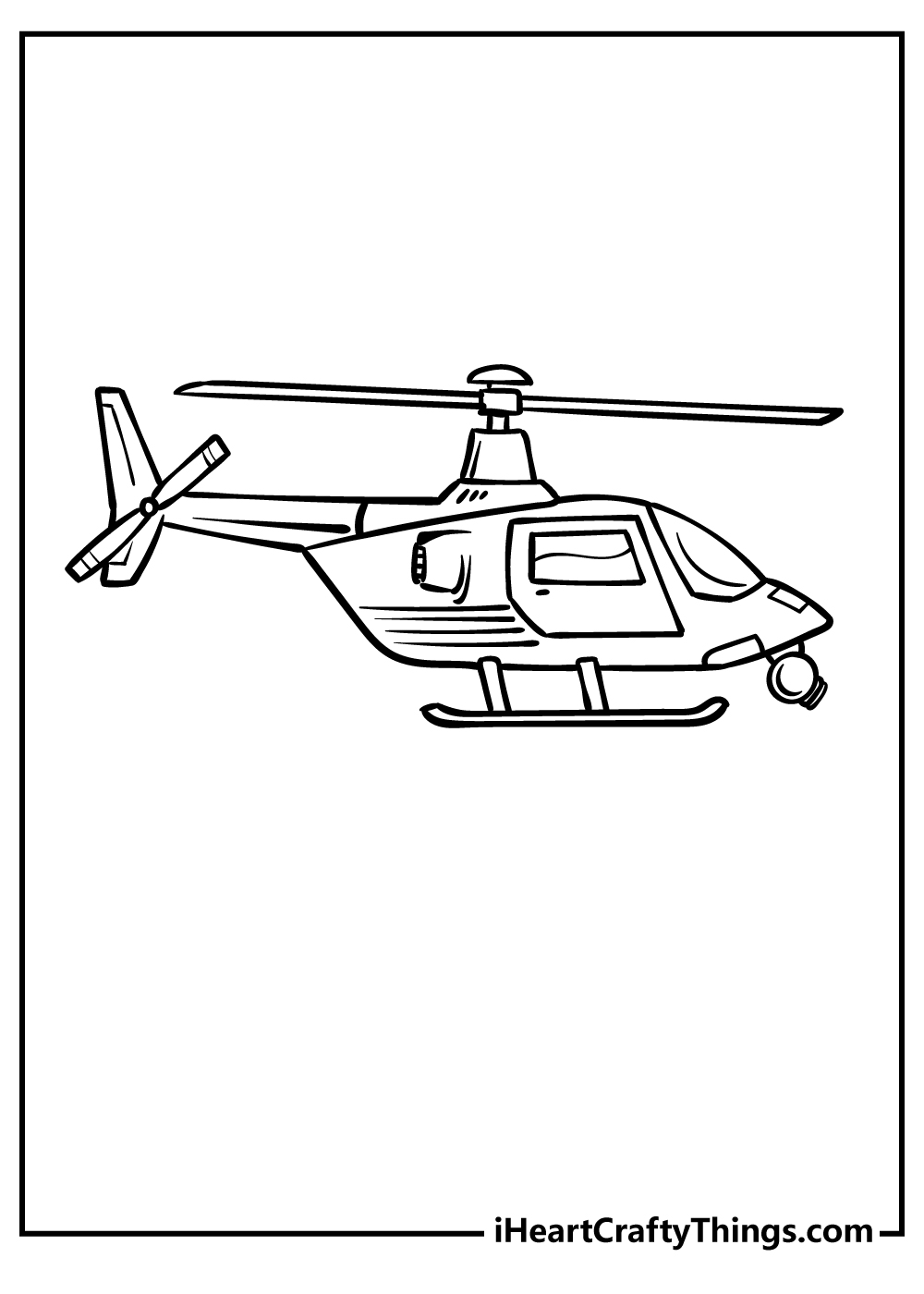 We have a bit of a different angle for this next helicopter. This time we're seeing it from below, and it gives us a view of the underside of the aircraft.
This is a bit different to the previous pages we have had, and this gives you some new details for you to color.
With the way that this one is positioned, it would be safe to assume that this helicopter is either in the air or taking off.
Will you draw a background to show where this one is?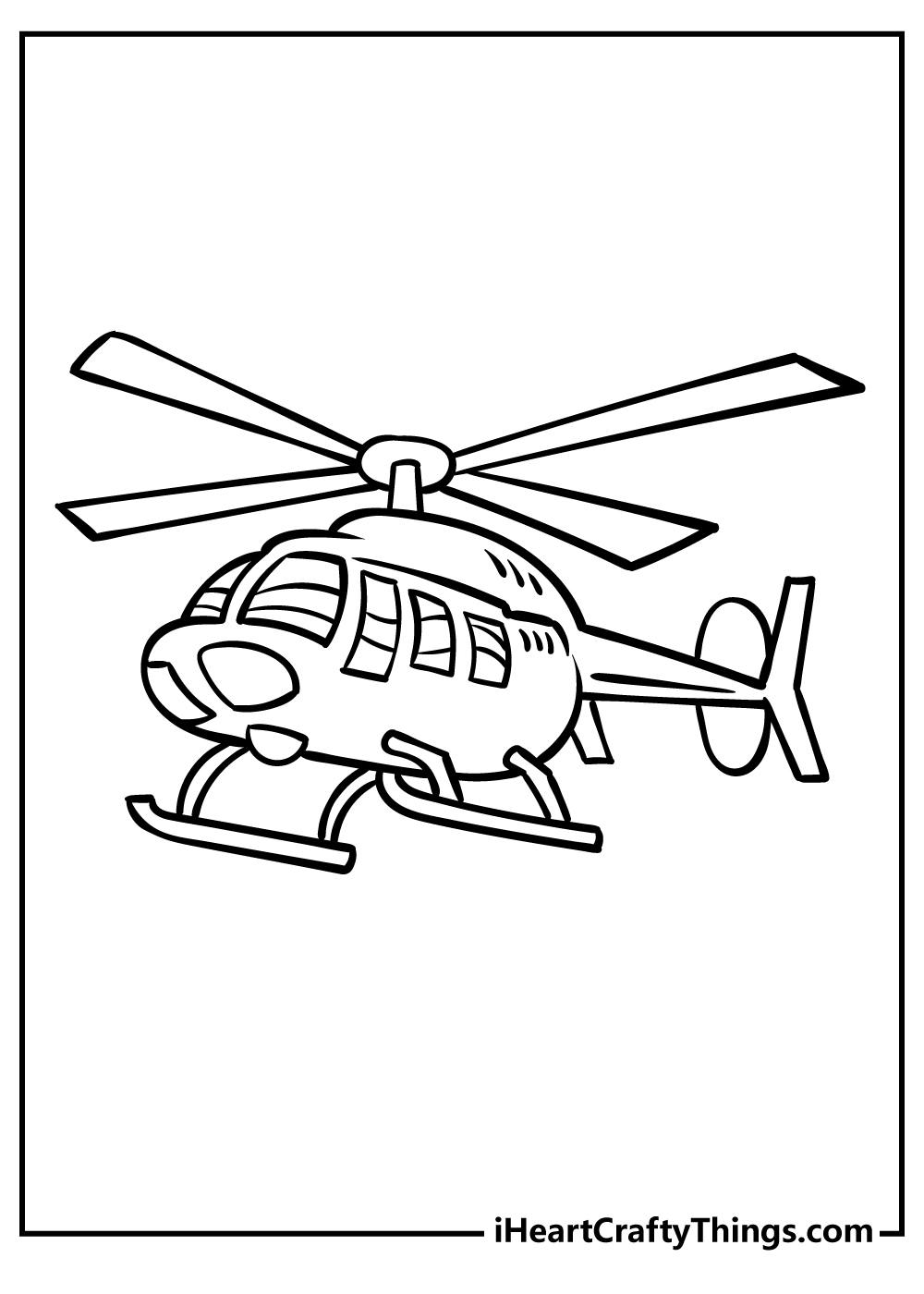 The next helicopter we have for you is rather small and nimble. This one looks like it would have a great amount of mobility, and it has some great details for you to color.
As always, you could also add some extra details of your own to create an image that is completely unique to you! It will be great to see how you choose to finish off this one.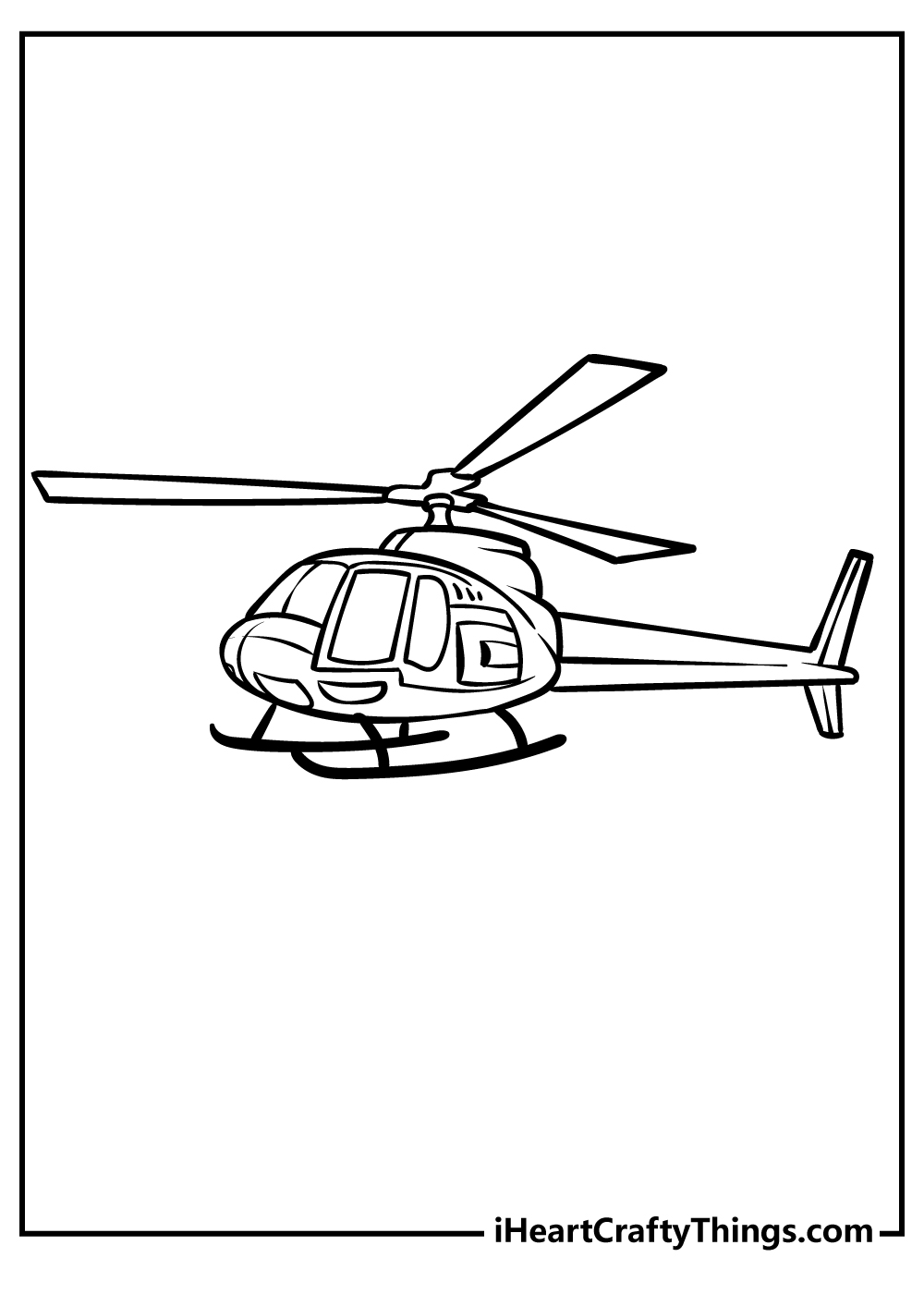 For the seventh helicopter coloring printable that we have for you, we have another incredible aircraft for you to color.
This one is also viewed from above, which gives us a great view of all the details on this helicopter.
It's another one where you could choose to have it in the air or on the ground depending on the background elements that you add.
What are you thinking for this one?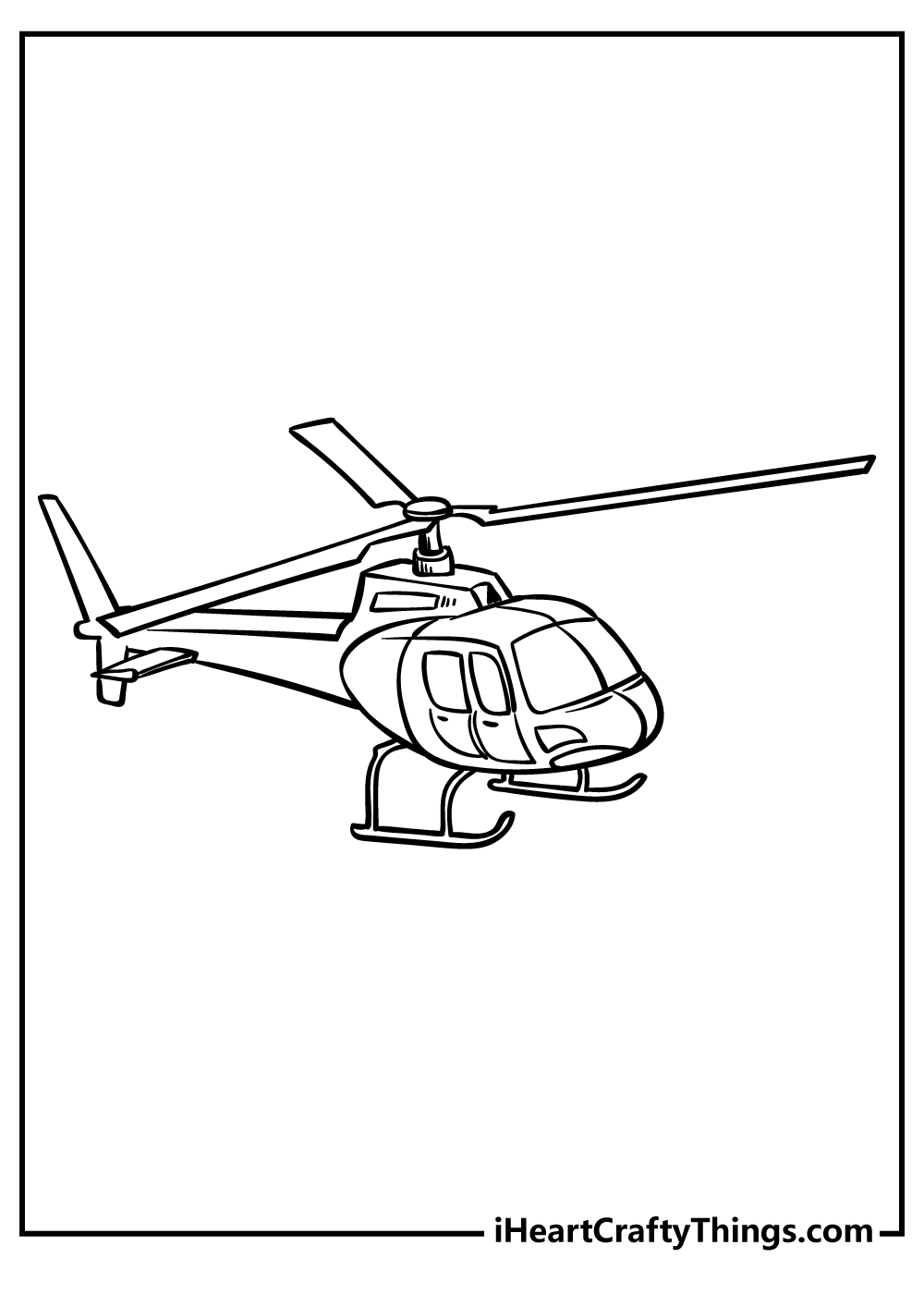 We have a bit of a different design for you to color on this next page. This helicopter has a large, rounded window over the cockpit, and that allows for great visibility when flying.
Because of this, it could be fun to draw a beautiful landscape below the helicopter to show what kind of incredible view the pilot would be admiring from the cockpit.
If you chose to do this, you could again look up some inspiration online to help you out!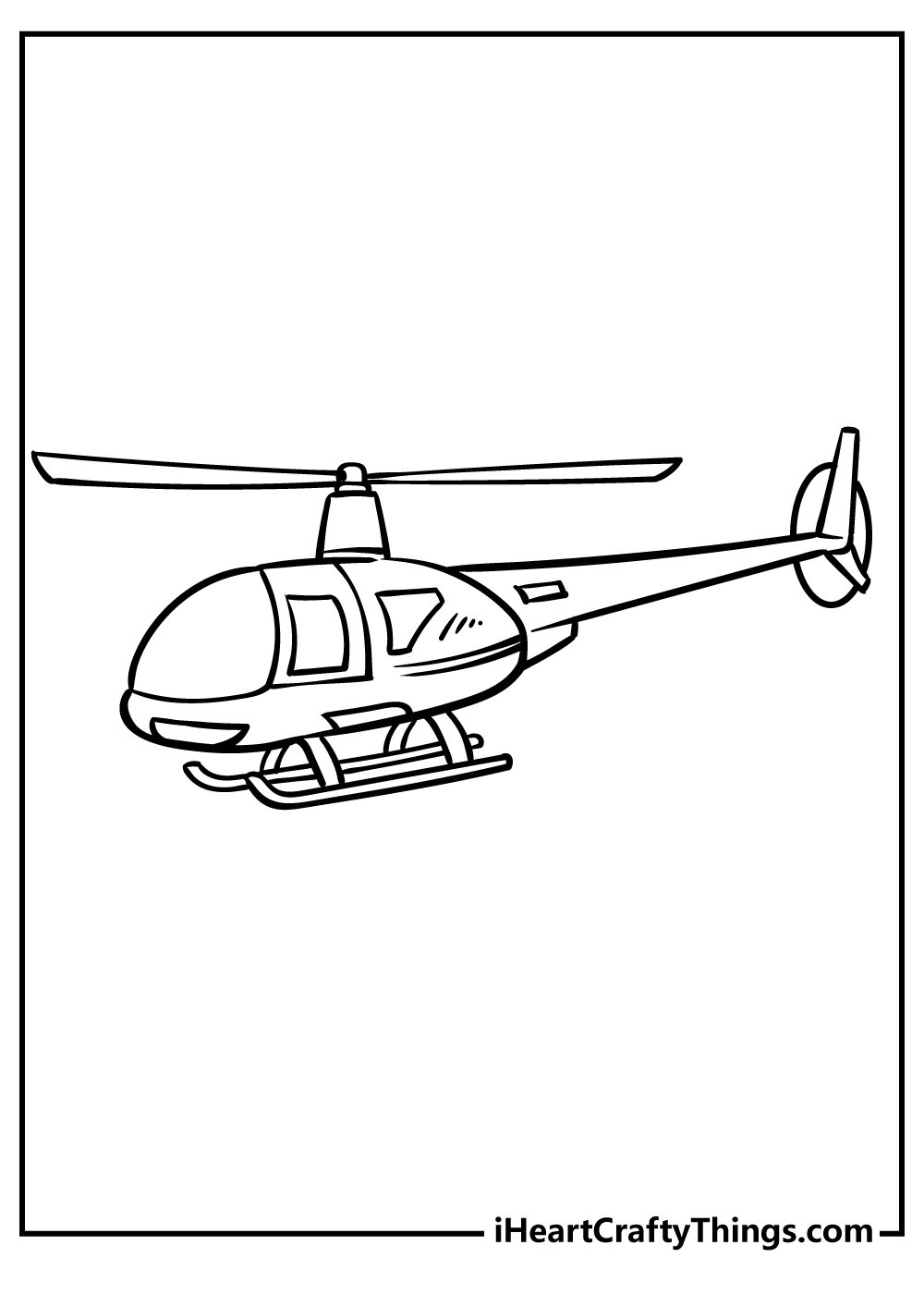 The aircraft in this next helicopter coloring sheet is highly detailed, and it looks really cool! This high level of detail also lets you spend lots of time getting in there with some intricate color details.
For this one, you could use some colored pens, pencils and brushes with thin tips to help you color the finer details.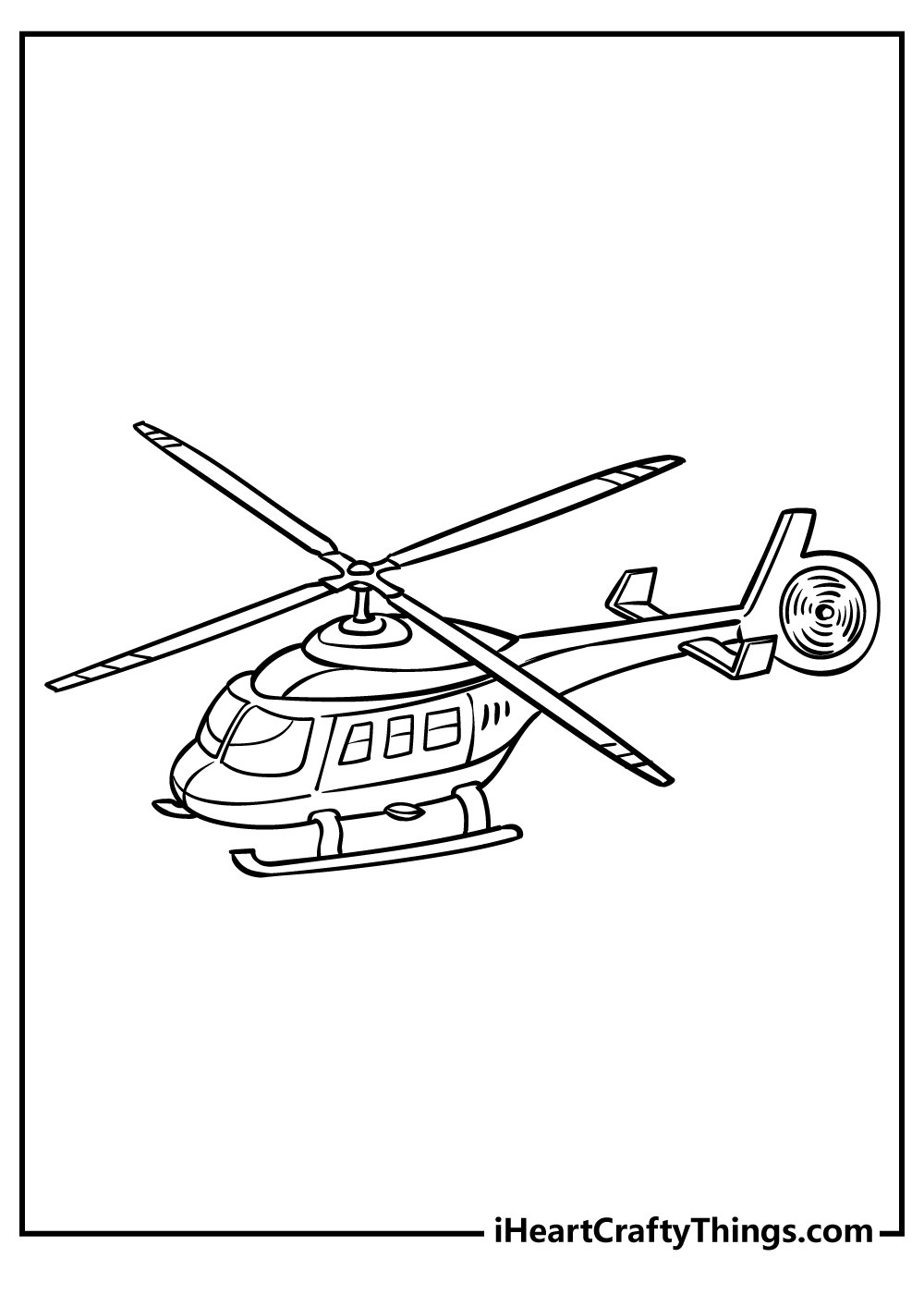 You have reached the final page in this collection, and we have one more great helicopter for you to color.
Helicopters will often feature colors and flags of different countries they represent, so you could draw and color the flag of a country onto this one.
Which country would you choose if you were to add that kind of detail?
Don't forget to show us how it turns out by sharing it on our social media platforms!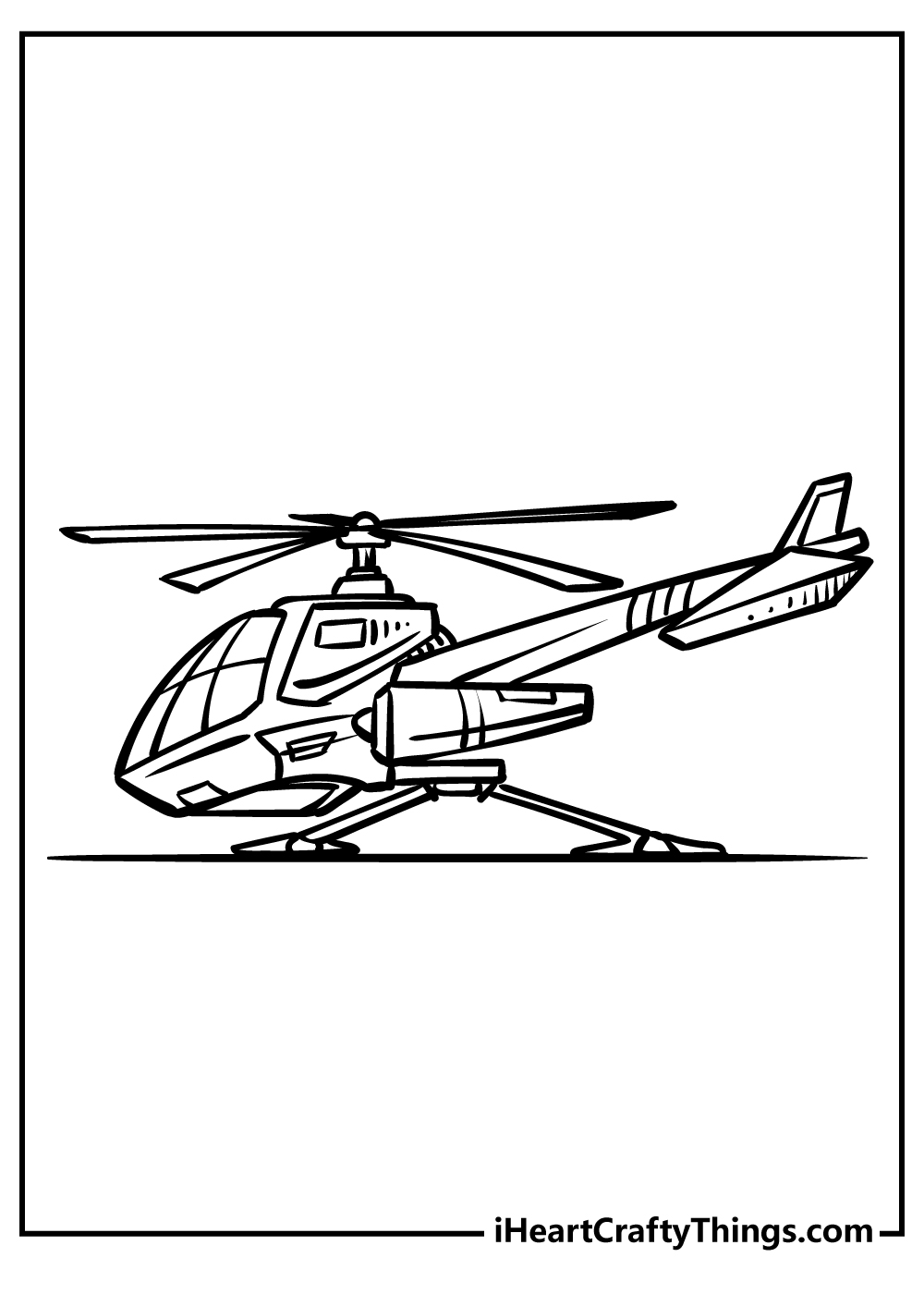 Helicopter Coloring Pages – Which will you choose?
This collection had so many great aircrafts to color! We hope that you really enjoyed this aviation journey as we went through this collection of free helicopter coloring pages for kids.
These helicopters came in many different styles and scenarios, so you can get out all your favorite colors and mediums for them all.
This doesn't have to be the end, though. If you enjoyed this guide, you'll want to head to our website!
Here we have many different coloring page collections to enjoy, and we will bring out many more soon. Keep checking in to make sure you never miss out!
We would also again like to remind you that we would love to see some of your finished helicopter coloring pages!
You can show off your artworks by sharing them on our Facebook and Pinterest pages for us to admire.