The humble truck is a vehicle that can take many forms, yet can fill in for many needs that society may need.
Whether it's for moving important cargo or transporting people, these powerful machines can do pretty much anything!
This awesome collection of free truck coloring pages for kids will let you get behind the wheels of your own colorful trucks!
You'll be able to decide what colors these incredible machines are and color in the terrain that they are travelling in these pages.
You could try out different mediums and color variations for an incredible collection of diverse trucks.
You could use paints like watercolors and acrylics to give these truck printables a bright set of different color types and intensities.
Once you've colored in your favorite free truck coloring sheets, we hope you'll share them to our Facebook page for us to enjoy. We always love to see your incredible color creativity!
REMEMBER: You can get the COMPLETE set of these coloring pages >> HERE
10 Brand New Truck Coloring Pages – Free to Print and Color
The first image in this collection of free truck coloring pages for kids shows a big truck carrying cargo through a city.
You could have this picture take place during the day by using bright blues for the sky and light blues for the buildings.
You could also make it a night time drive by keeping the sky dark and making the windows of the buildings yellow to show light shining in the buildings.
What will you decide for this first truck coloring printable?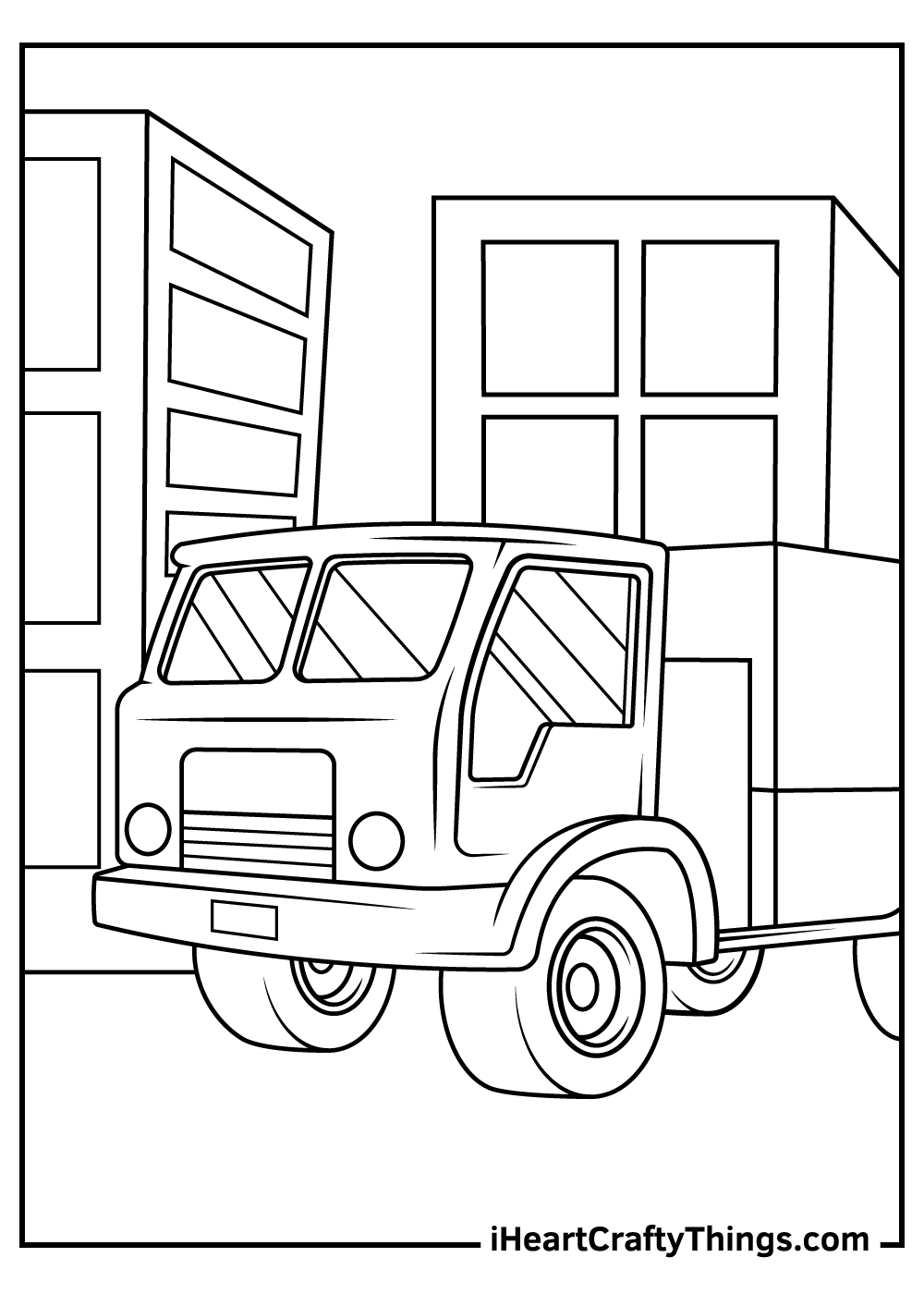 This much smaller truck is the focus of this truck coloring sheet. There's been room left for you to decide what kind of terrain this truck is driving on by using your colors.
Will it be a snowy road, a rough dirt one or a paved city street? It's up to you to decide with your colors!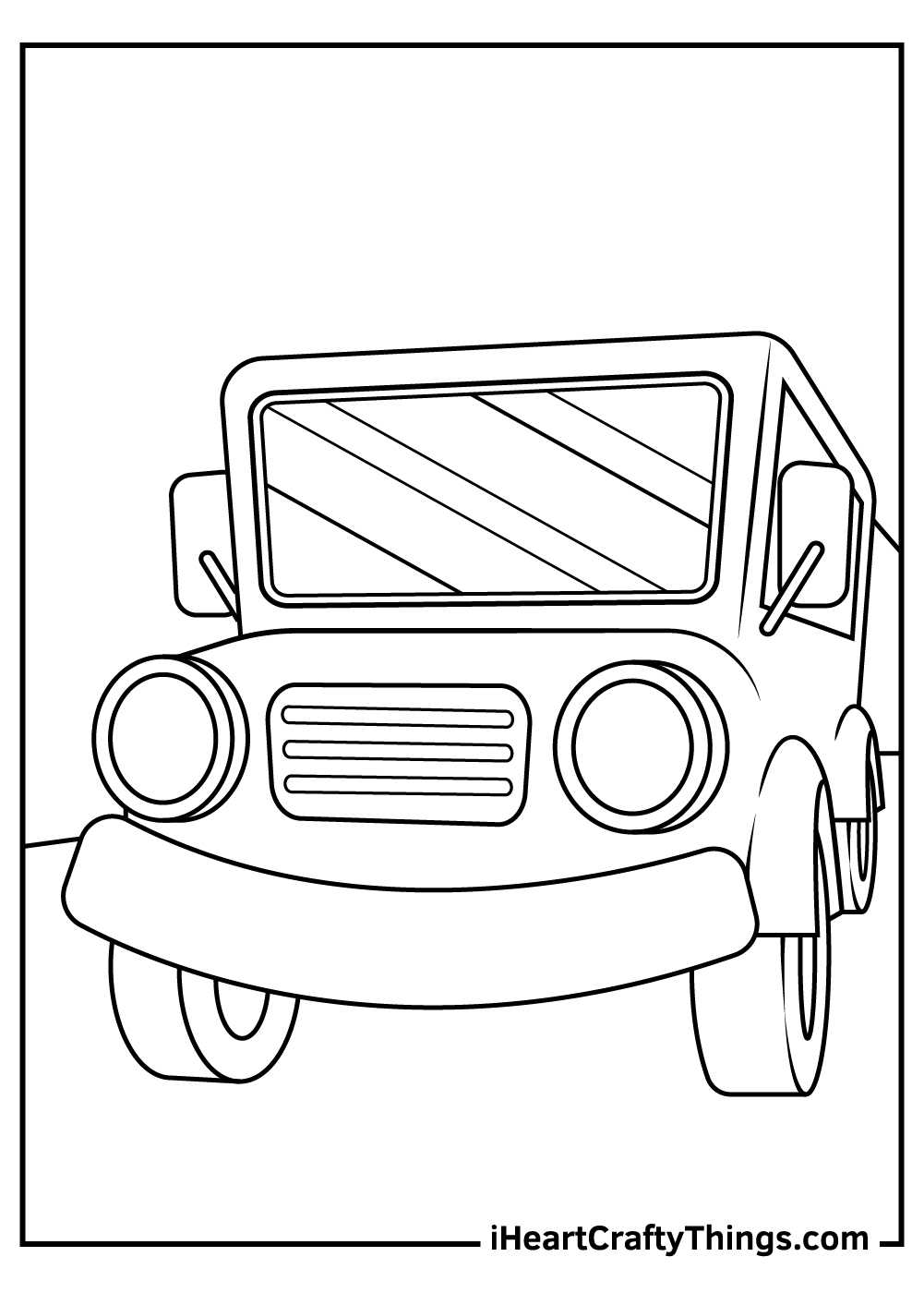 This heavy duty truck is ready for coloring action in this next truck printable!
The background behind this truck is segmented, so you could use some bright and powerful colors like reds and yellows to show the strength behind this mighty truck.
Which of your favorite colors will you use for the background?
REMEMBER: You can get the COMPLETE set of these coloring pages >> HERE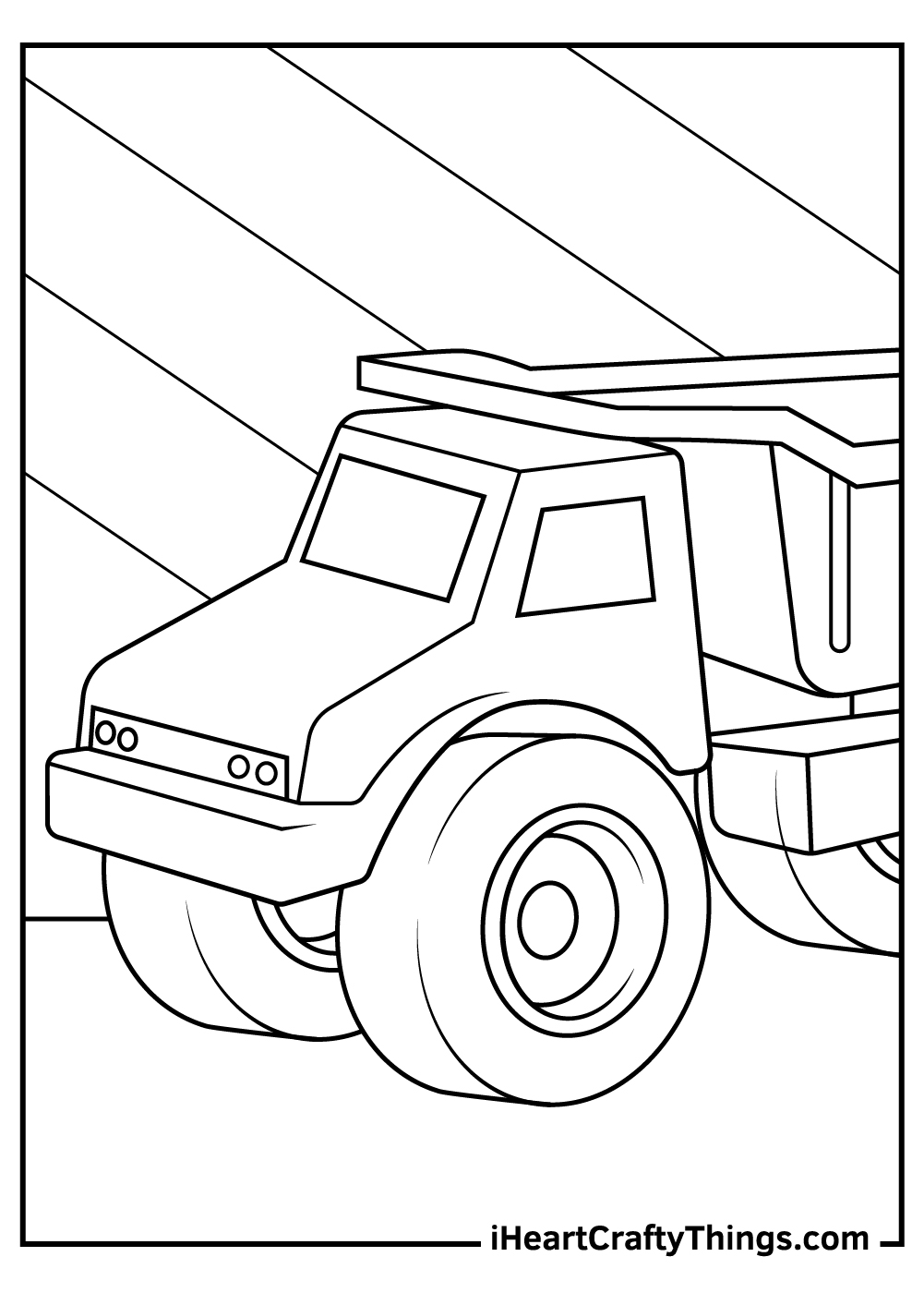 The background of this truck coloring page has some star shapes to create a burst of bright colors to make this image pop!
You could also use other favorite colors for the stars and the background, and that could suggest the urgency this truck is facing to make it to its destination in time.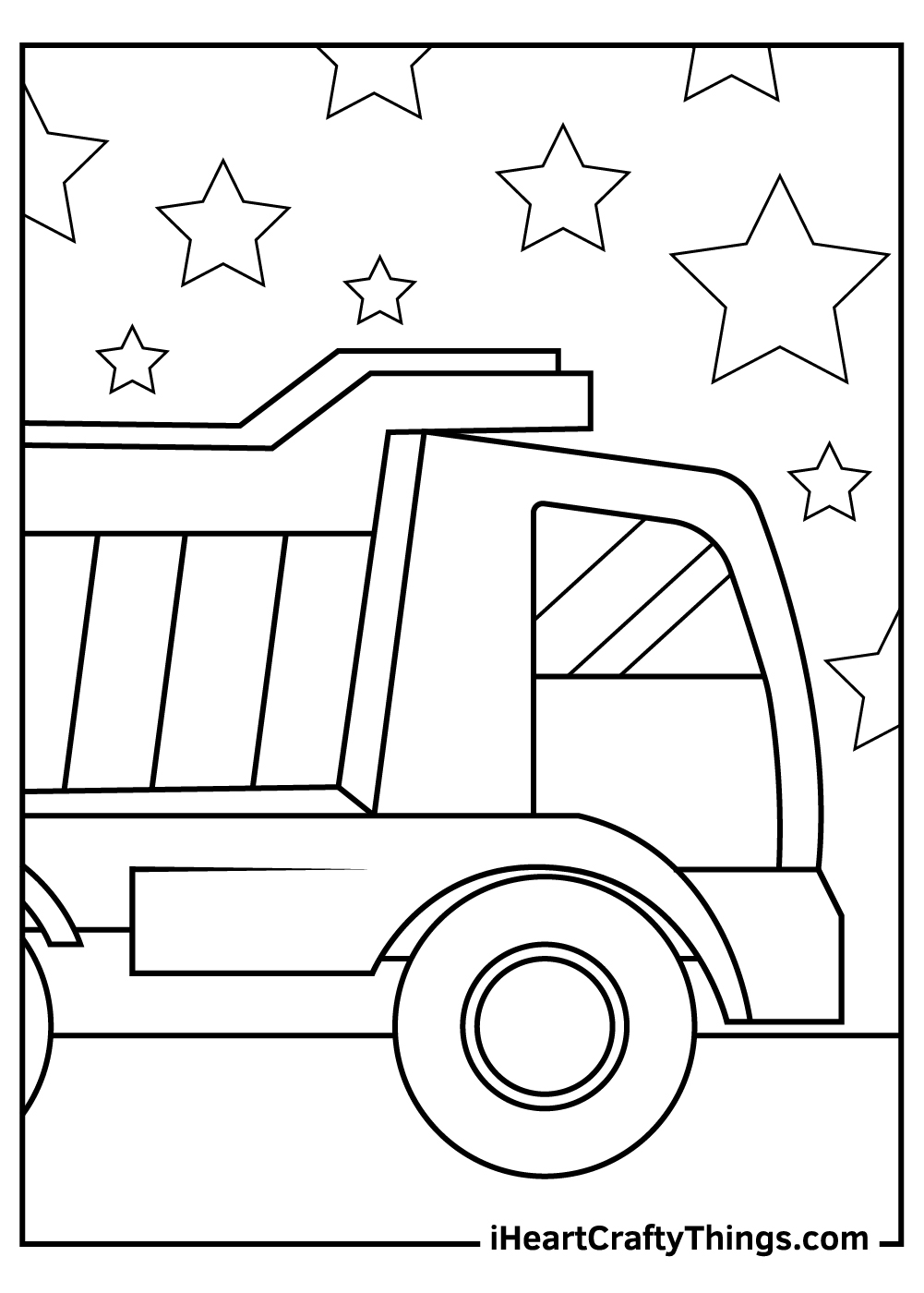 We have a great front view for this truck printable. The word truck is written in bold letters beneath it, so now it remains to be decided how to color in the letters!
Will you use your favorite color for all of the letters or use different colors for each one?
We're sure to see some cool and interesting variations on how the word is colored in!
REMEMBER: You can get the COMPLETE set of these coloring pages >> HERE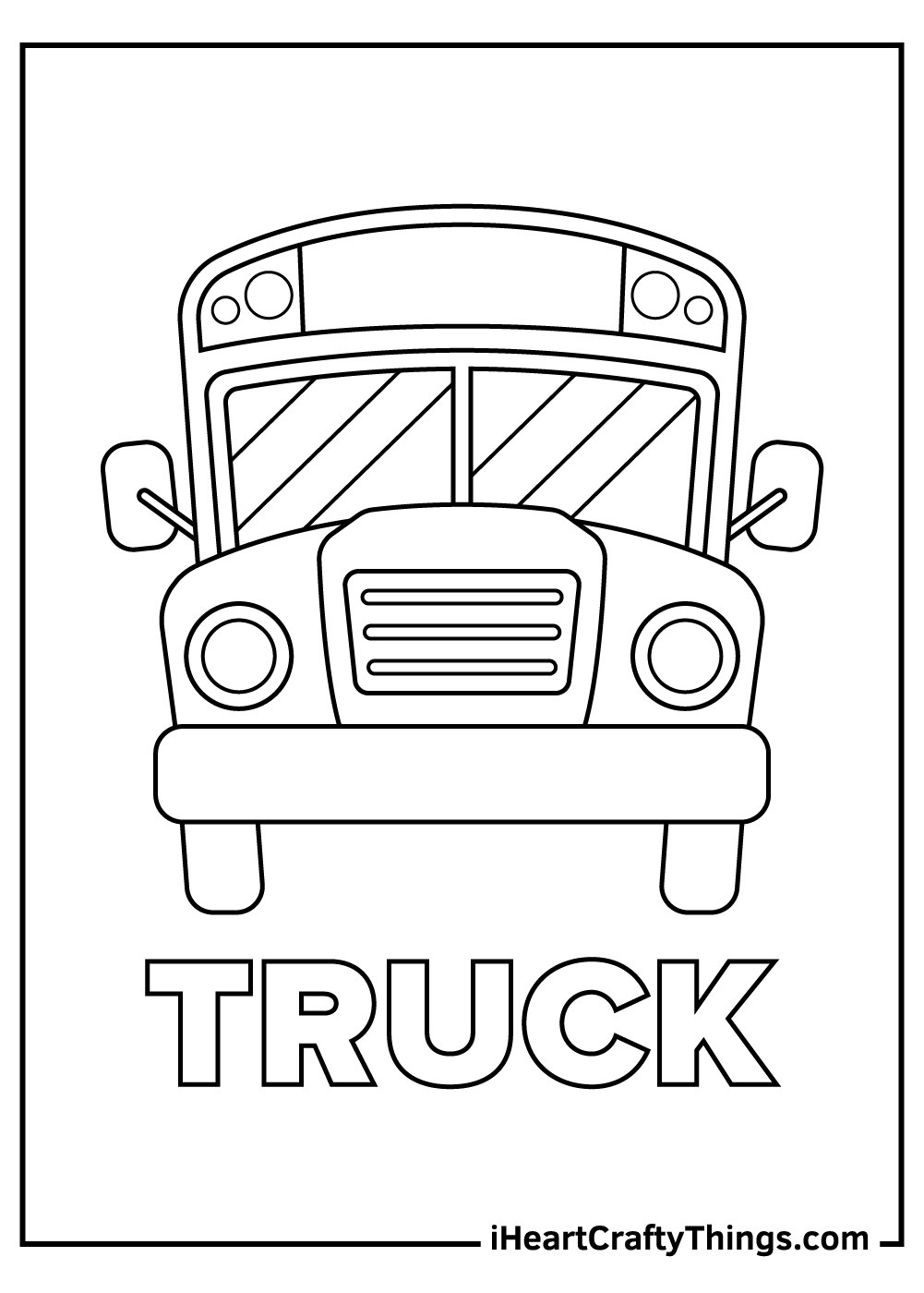 The next truck we have in this free truck coloring sheet has a heavy duty one in a circle. The way it's in the circle makes it look like it's in a spotlight while on display in a showroom, don't you think?
I think it would look really cool to have the circle in yellow while coloring in the background in a much darker color to really make it look like this awesome truck is on display.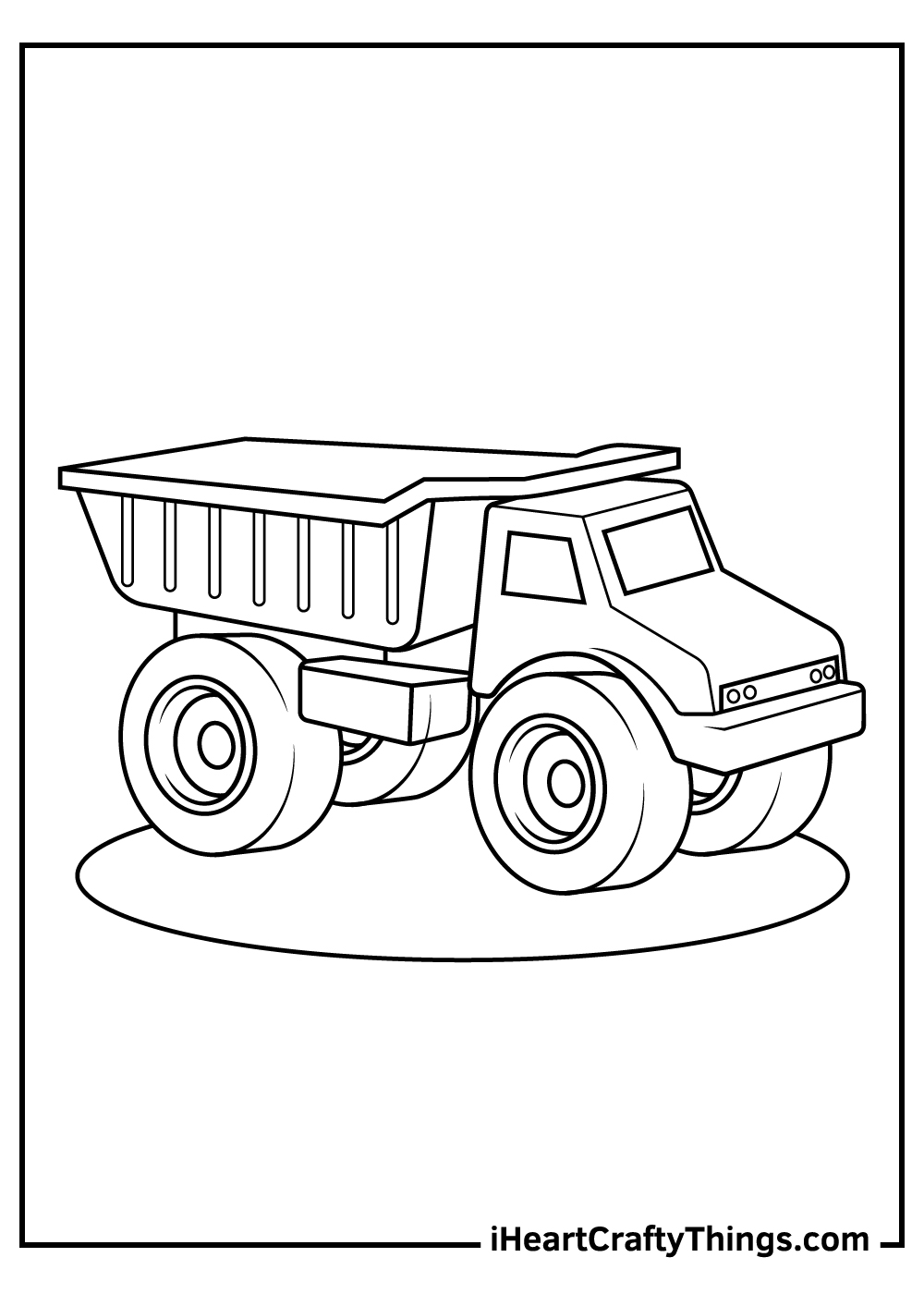 For the next truck coloring page, we have a truck looking very happy as it drives down a pleasant road!
It seems to be driving along a field, so that leaves room for some great bright greens for the grass and some reds, yellows and pinks for the flowers on the road.
How will you color in this peaceful terrain?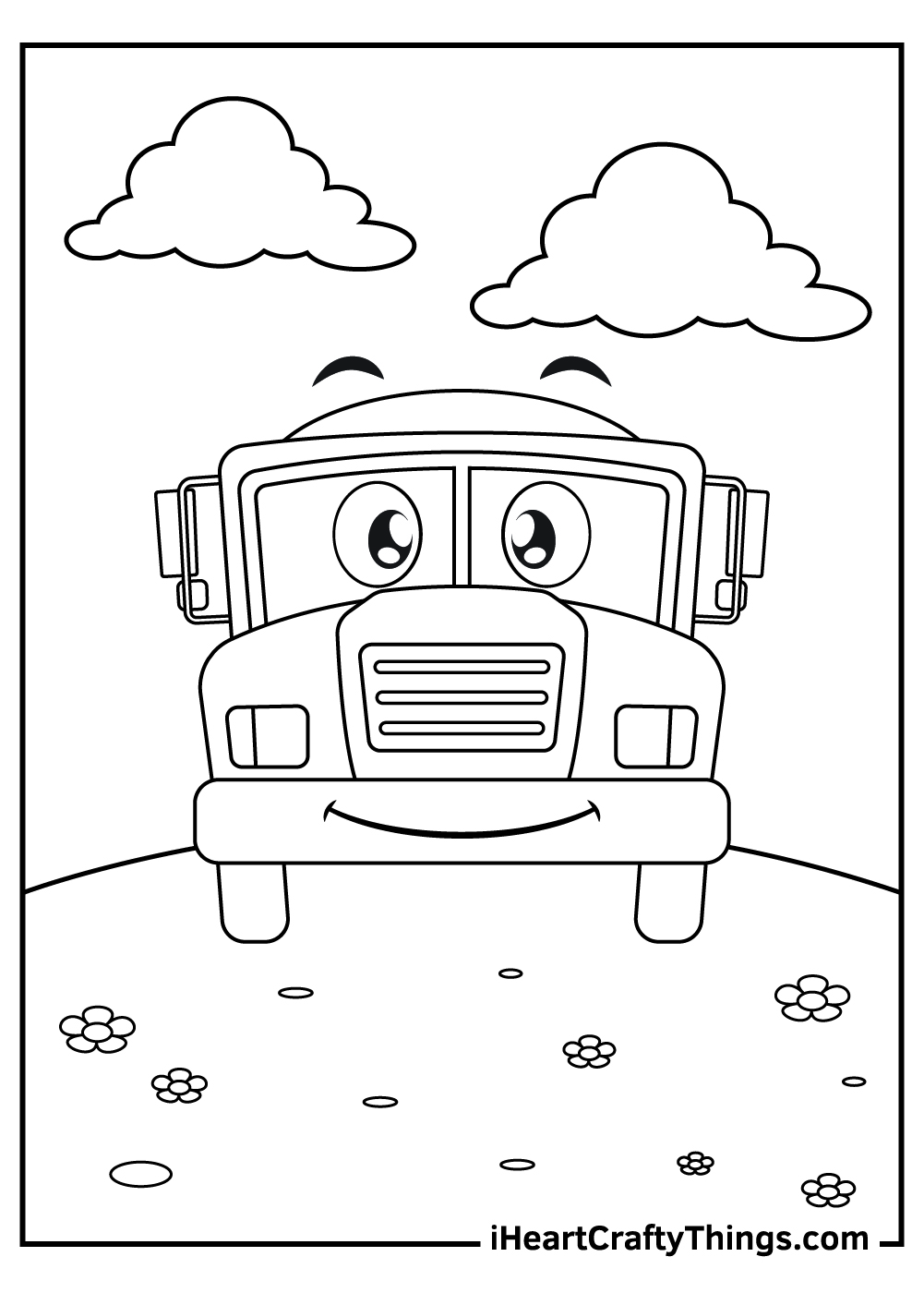 It's a beautiful day for driving in this bright and cheerful truck printable.
The sun is smiling down, so I would color it in with a bright and vibrant yellow while making the sky a lighter blue to show what a beautiful day it is.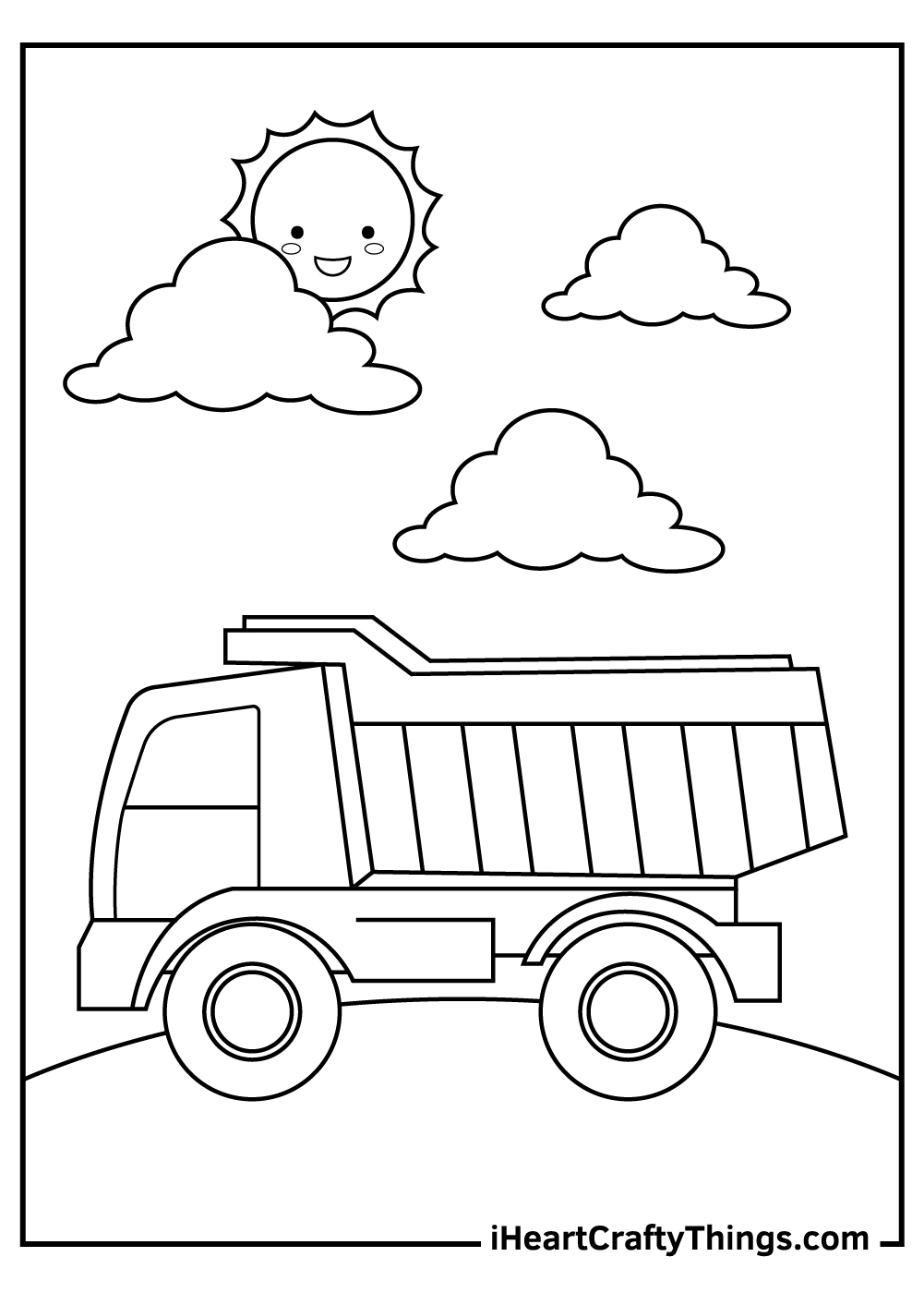 We have what looks to me like a large cargo truck for this truck coloring page.
The background is segmented again in this one, so you can alternate some of your favorite bright colors to make the background pop with color.
Once you've chosen your background colors, what colors will you use for the truck that will make it stand out from the background colors?
REMEMBER: You can get the COMPLETE set of these coloring pages >> HERE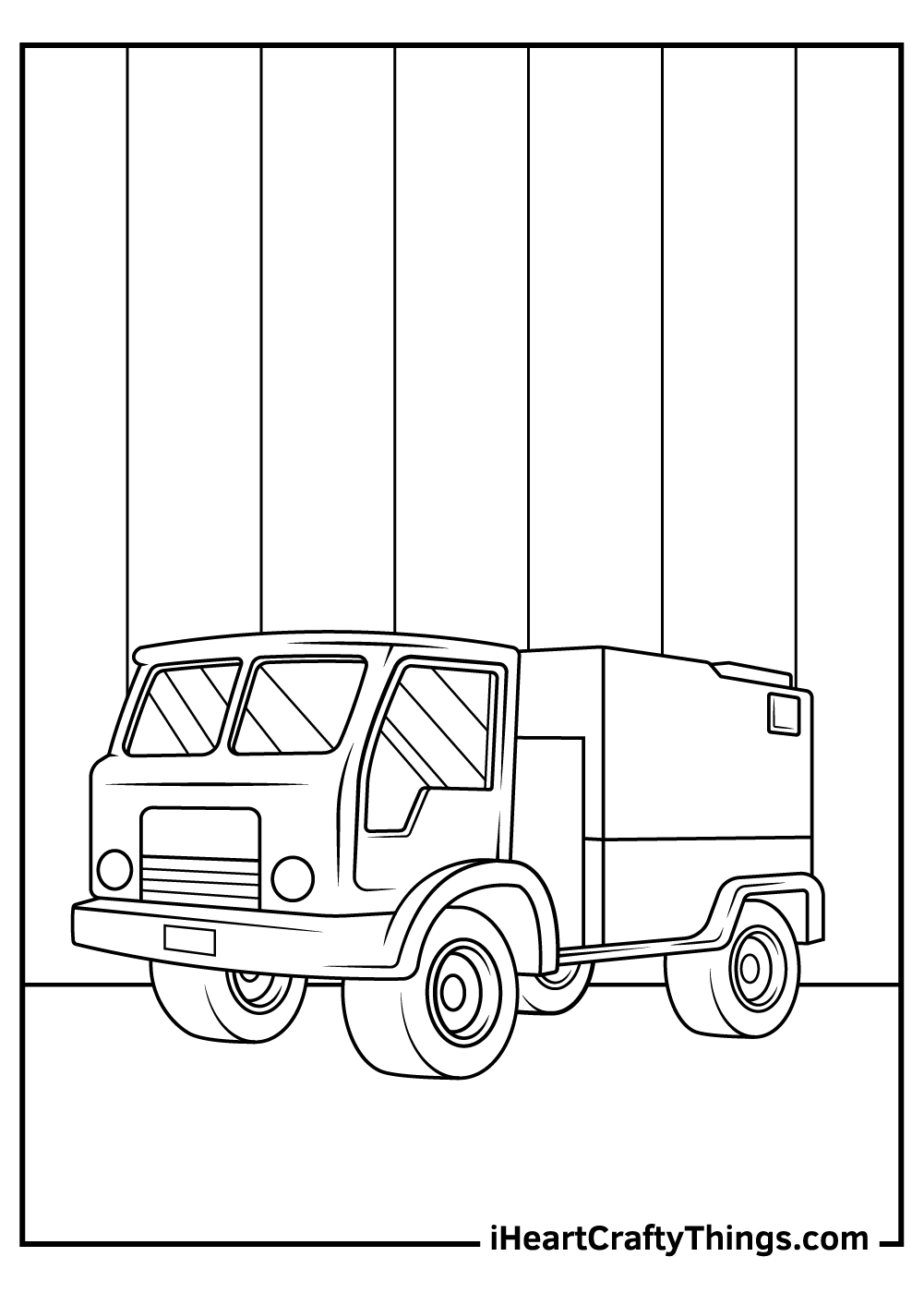 For our final free truck coloring sheet for kids we have another truck heading fast to its destination! The way the sky is drawn in makes me think of a sunset time of day.
For this reason, if i were coloring this in I would use some more yellows and oranges to suggest that this truck is taking a dusk trip.
It could be any time of day that you choose, though, so will you make this an orange dusk scene or use some bright blues for a midday look?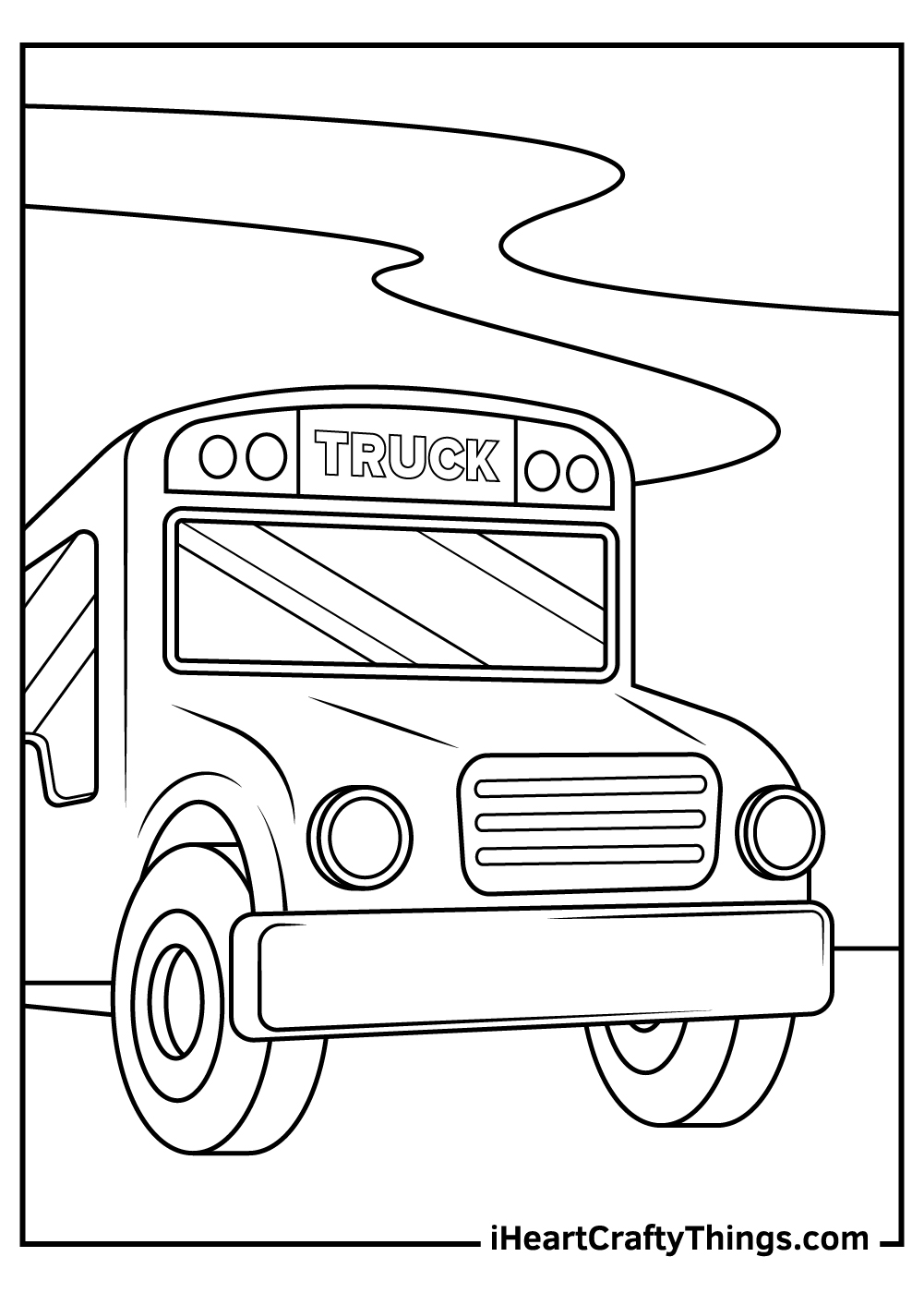 Truck Coloring Pages – Which will you choose?
We hope that you had a great time of coloring fun with this collection of free truck coloring pages for kids!
All of our coloring pages and printables are totally free for you to print and have a great time with, so why not print out multiple copies to really experiment?
You could try out colors you didn't get to use or play around with some paints, colored pens or pencils for some awesome unique looks to ones you colored in a different way initially.
Please be sure to like and share our Facebook page! It's the best way to never miss out on our fun coloring pages and printables we'll be releasing.
Lastly, please share your completed truck coloring printables once you've finished them for us to see.
We can't wait to see your colorful trucks once you're done!