On this page, you will find 15 all new Fire Truck coloring pages that are completely free to print and download.
There are few things worse than an unwanted fire breaking out, and it can cause a lot of damage if not taken care of properly.
The first call you should make when you see a fire is to the fire department, and they will race over in their special fire trucks to take care of it.
This collection of free fire truck coloring pages for kids is here to celebrate a wide variety of these famous vehicles!
All 15 pages are free for you to enjoy, and it would be fun to share them with others as well!
15 Brand New Fire Truck Coloring Pages – Free to Print and Color
This first truck of this collection of free fire truck coloring pages for kids may be simple in design, but it has a real charm to it!
The simplicity makes it really great to look at, and we think that some lovely bright and vibrant colors would be perfect in fitting with the style.
How will you get this collection started with your colors?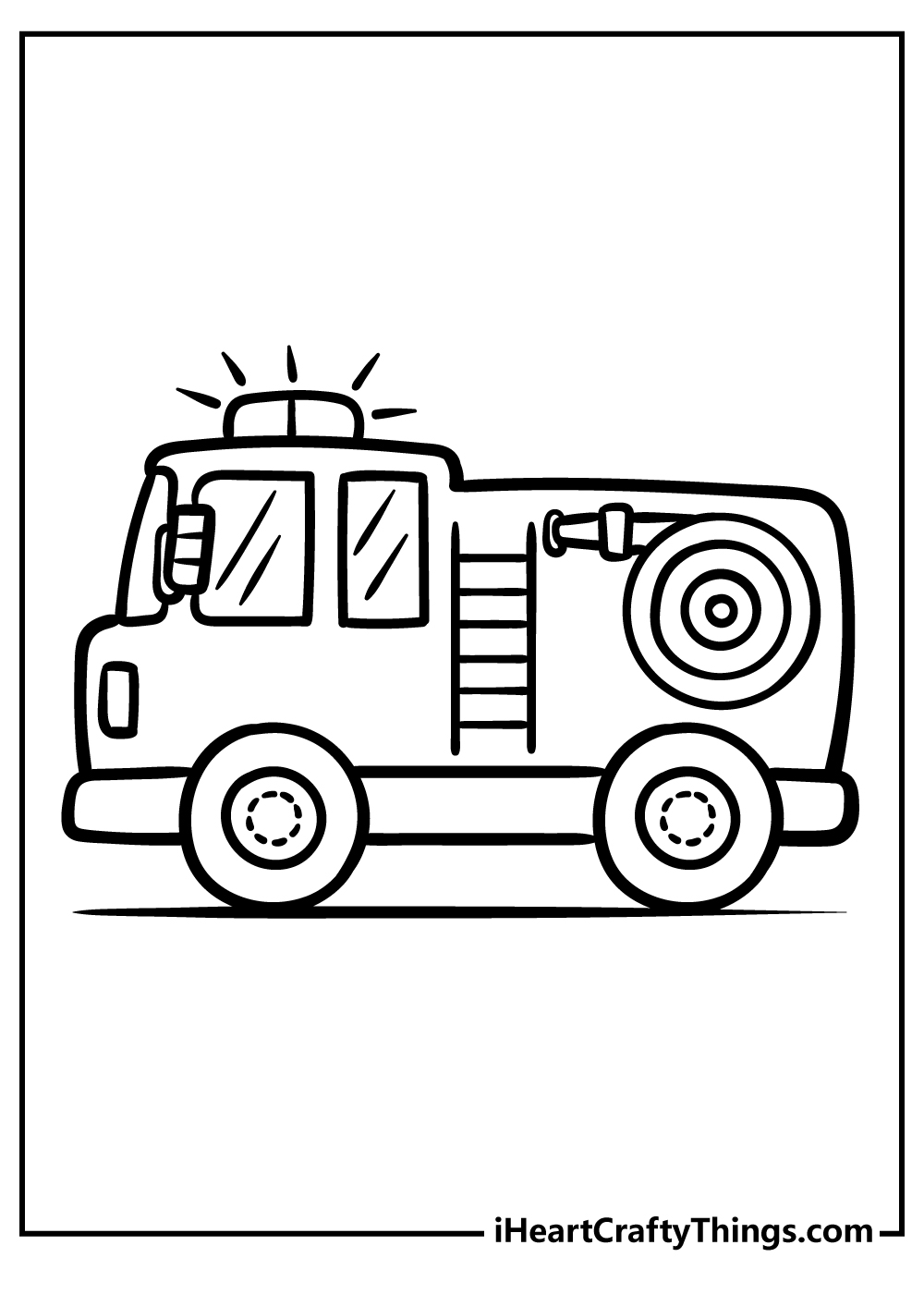 The second fire truck that we have for you to color is also done in a relatively simple style, but there are many more details to color in with this one.
Some of these details are very fiddly, so you can use colored pens or pencils in order to color some of these smaller parts easily.
This one may take more time to color, but it will be worth it with all of the color details you'll get to admire!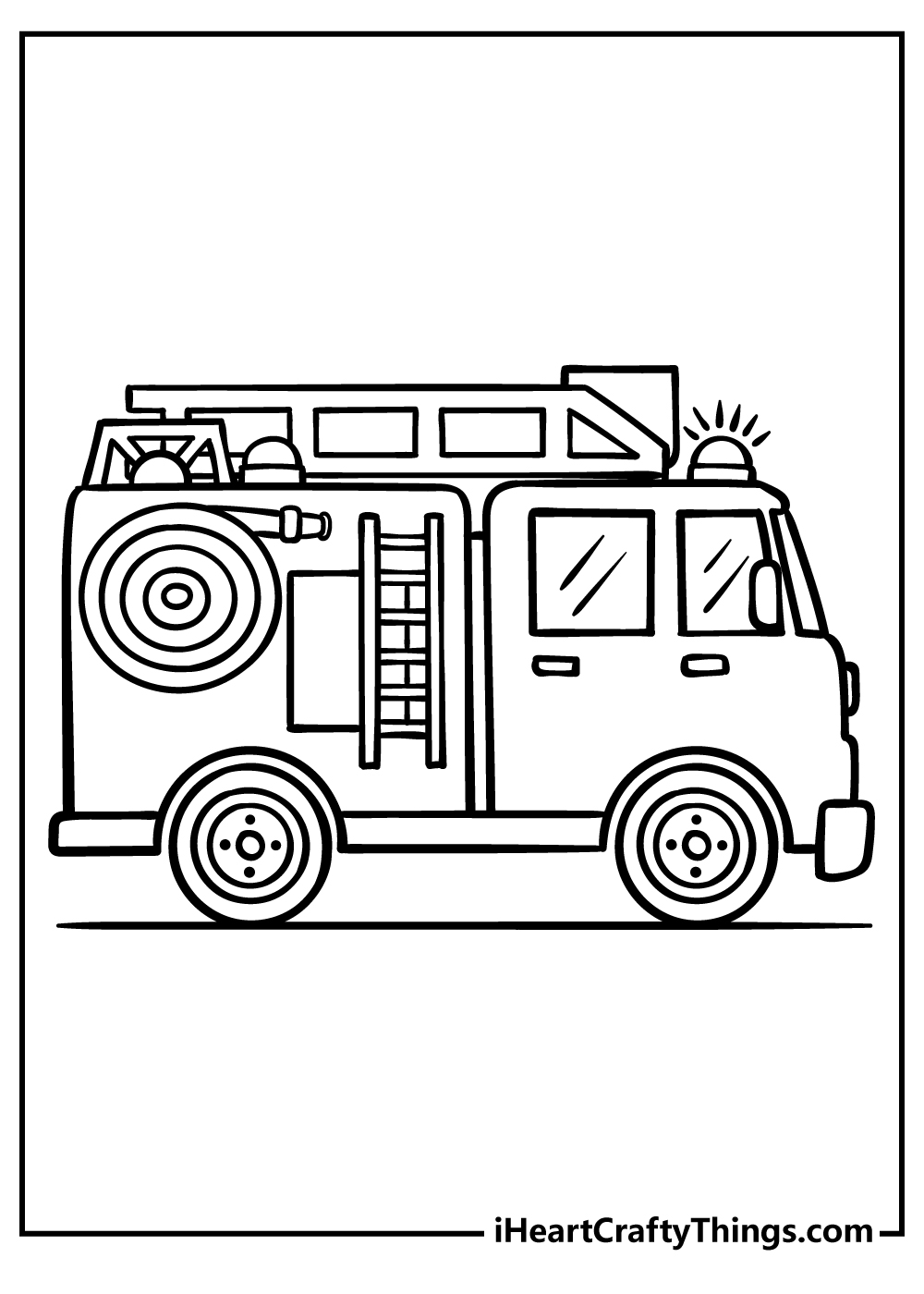 We have another mixture of simplicity and complexity with this next fire truck. The design overall is really fun and cartoony, but some of the details are quite intricate on this one as well.
The way the wheels are makes it look like it's going at great speed, so you could add some dashes of color behind it to make it seem like the background is whizzing by.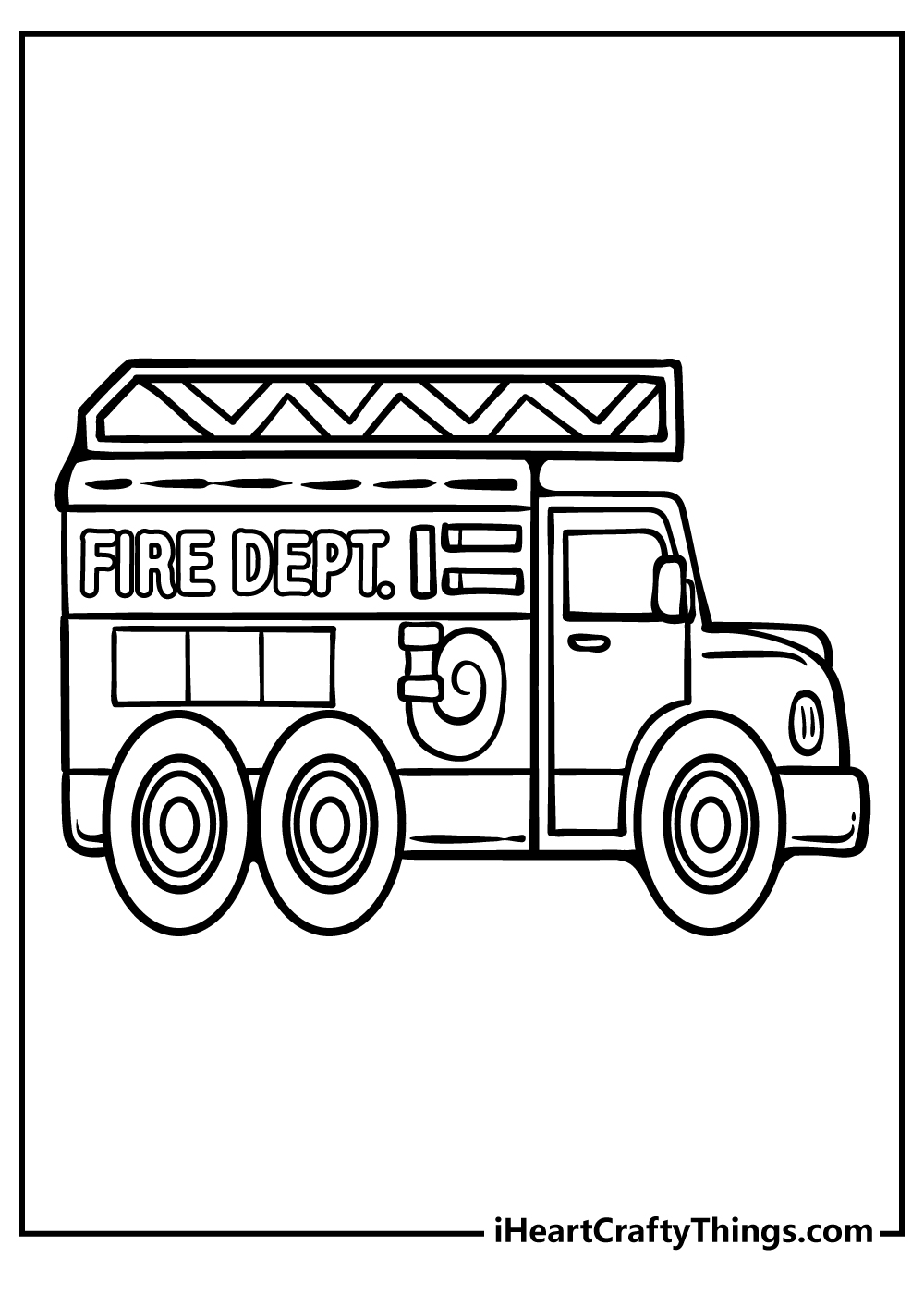 This fourth fire truck is drawn in a more realistic style, and it is situated in a really unique angle that gives us a great view of the front and side of this awesome truck.
Fire trucks are traditionally bright red, but there are many other colors you could use as well, as you don't necessarily have to go for realism!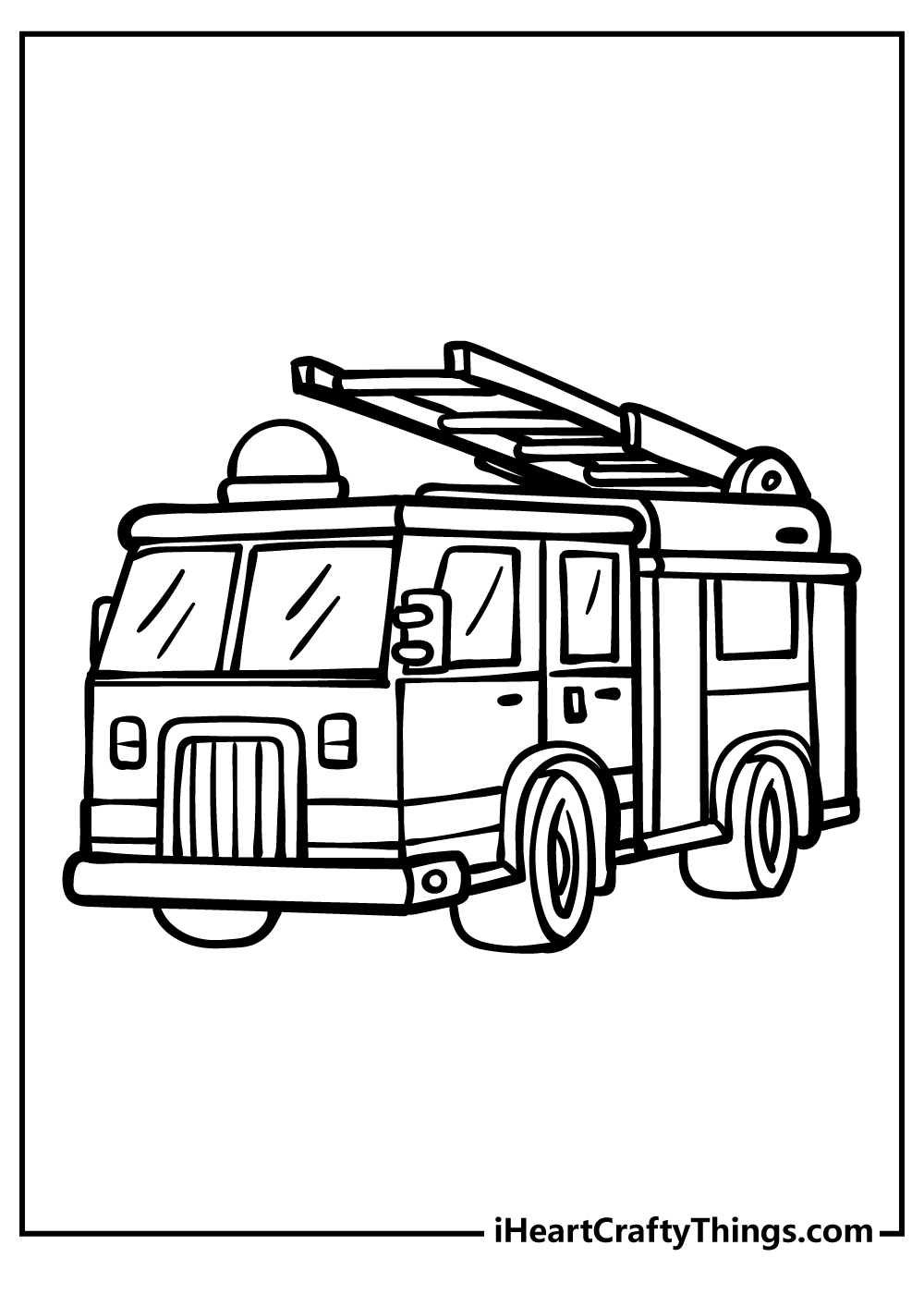 Our next fire truck coloring sheet features a truck that is in a similar position to the previous one, but is a different design.
Because the design is so different, you could go for a completely unique color scheme if you decided to color the previous one.
What would you do to differentiate this truck from the previous one?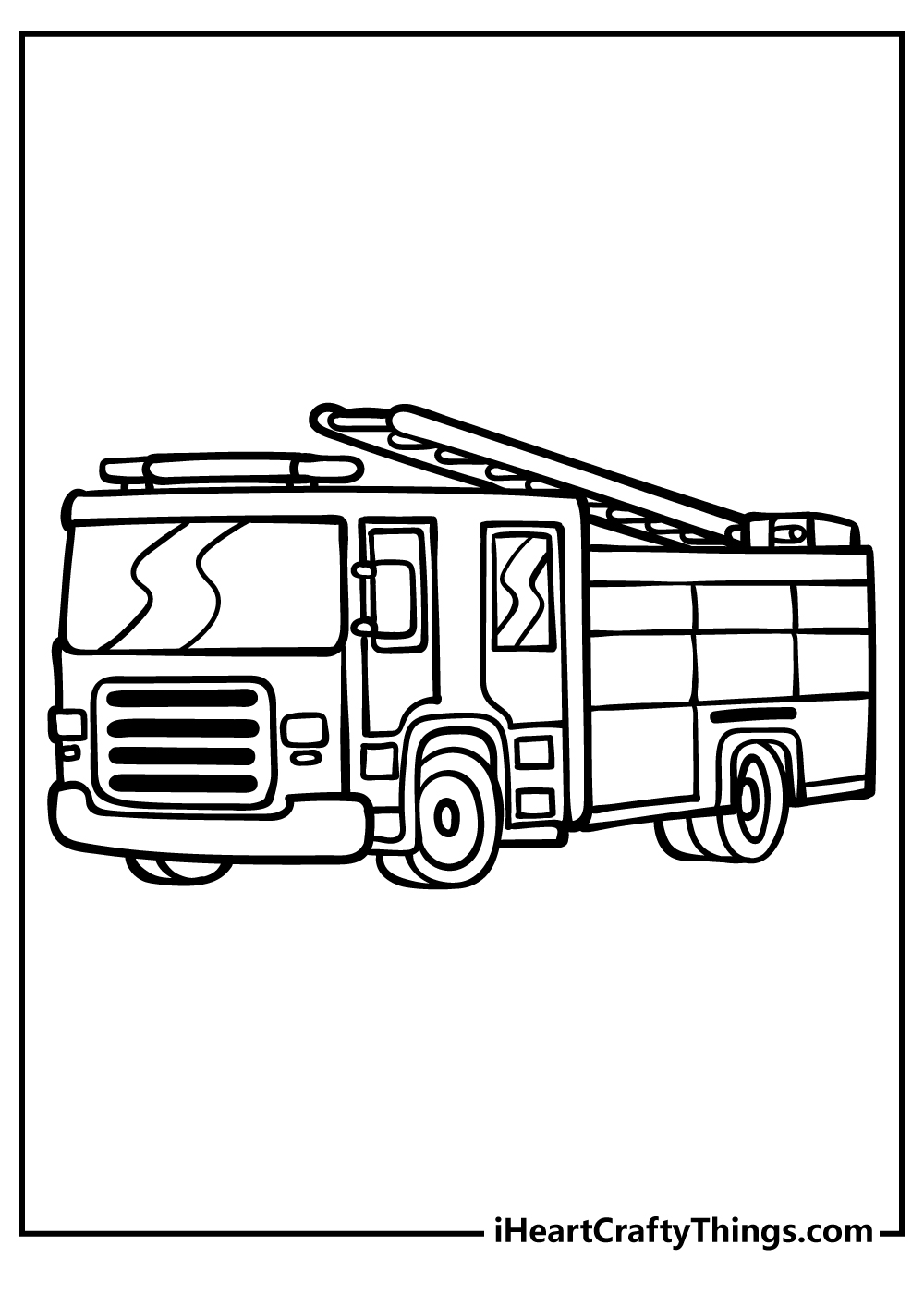 There is a really interesting design to this next fire truck! This side view shows us the ladder on the side with a section on top that could be extended to help firemen reach high places.
With that in mind, one idea would be to draw a building behind it that extends out the frame to show that the firemen may be putting out a fire at a skyscraper.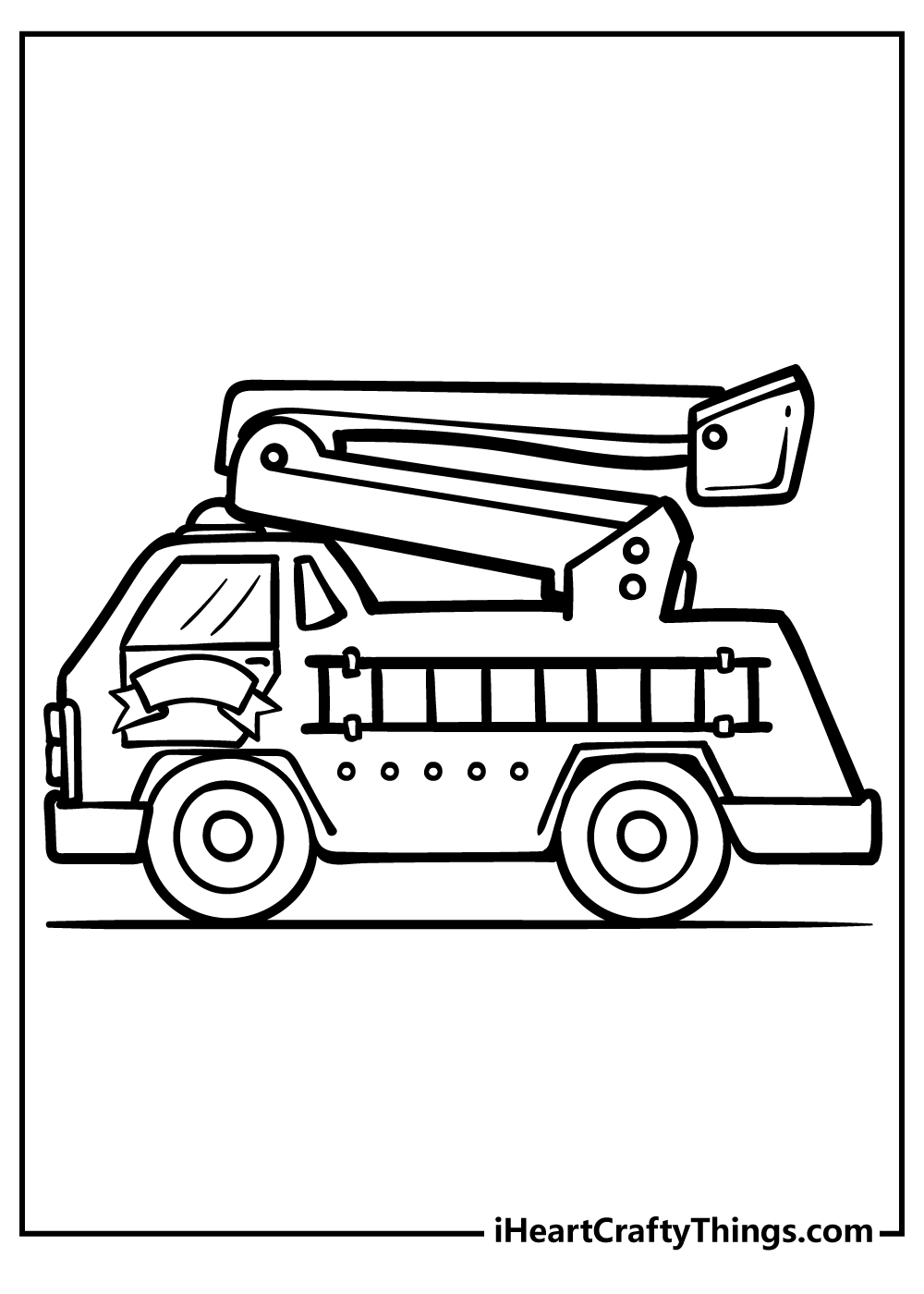 The design of this next fire truck is really small and compact, and it makes for a really charming design!
This is the first truck of the collection that has someone behind the wheel, so that gives you an extra element to color.
It could also be fun to draw another fireman on top of the ladder hanging on as they drive!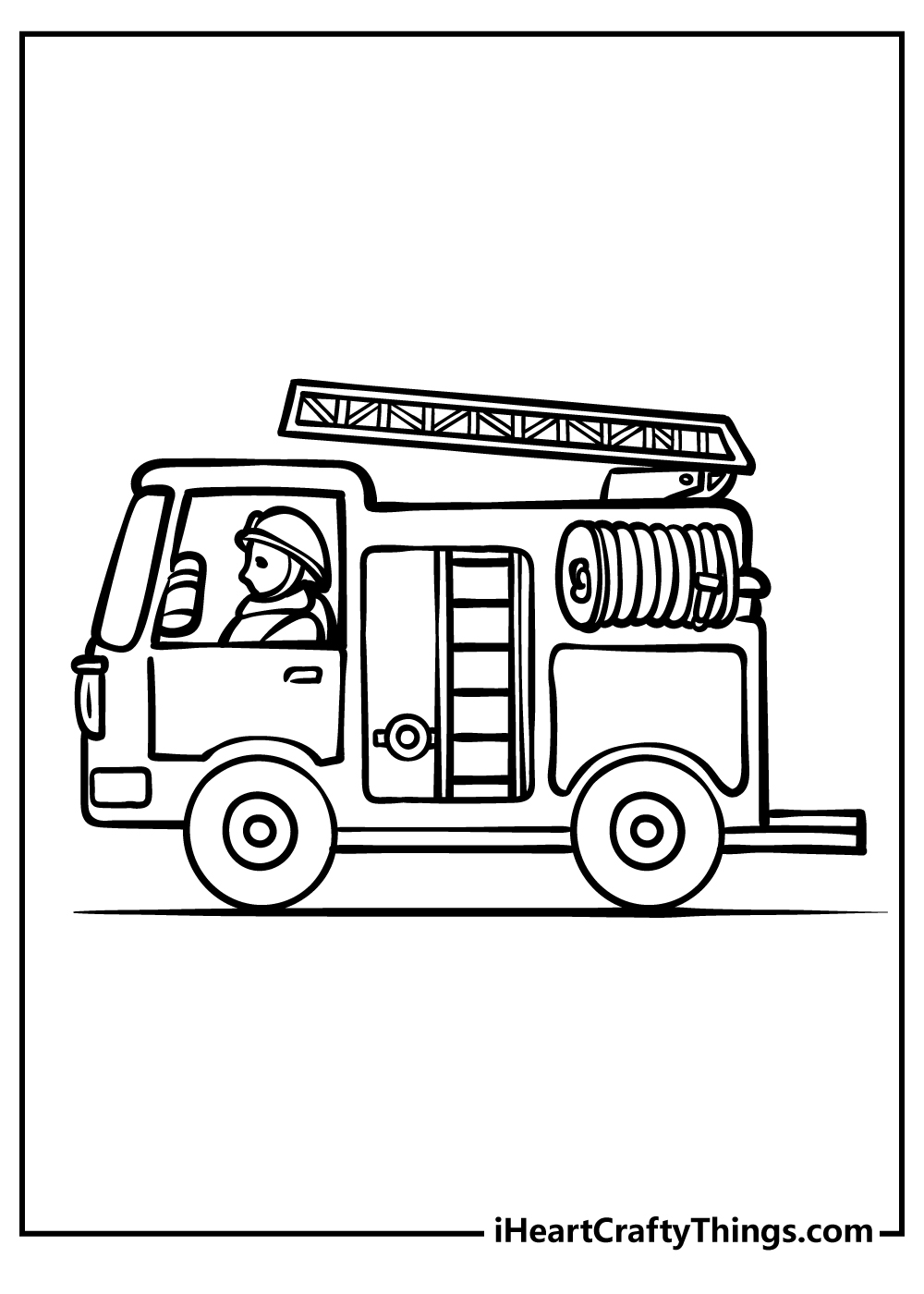 We have another interesting angle shown off in this next image. This truck is quite long, and would be able to carry many firemen.
The front windows of the truck are quite large, so you could draw some firemen in helmets behind the window for an extra fun detail! What other fun additions can you think of?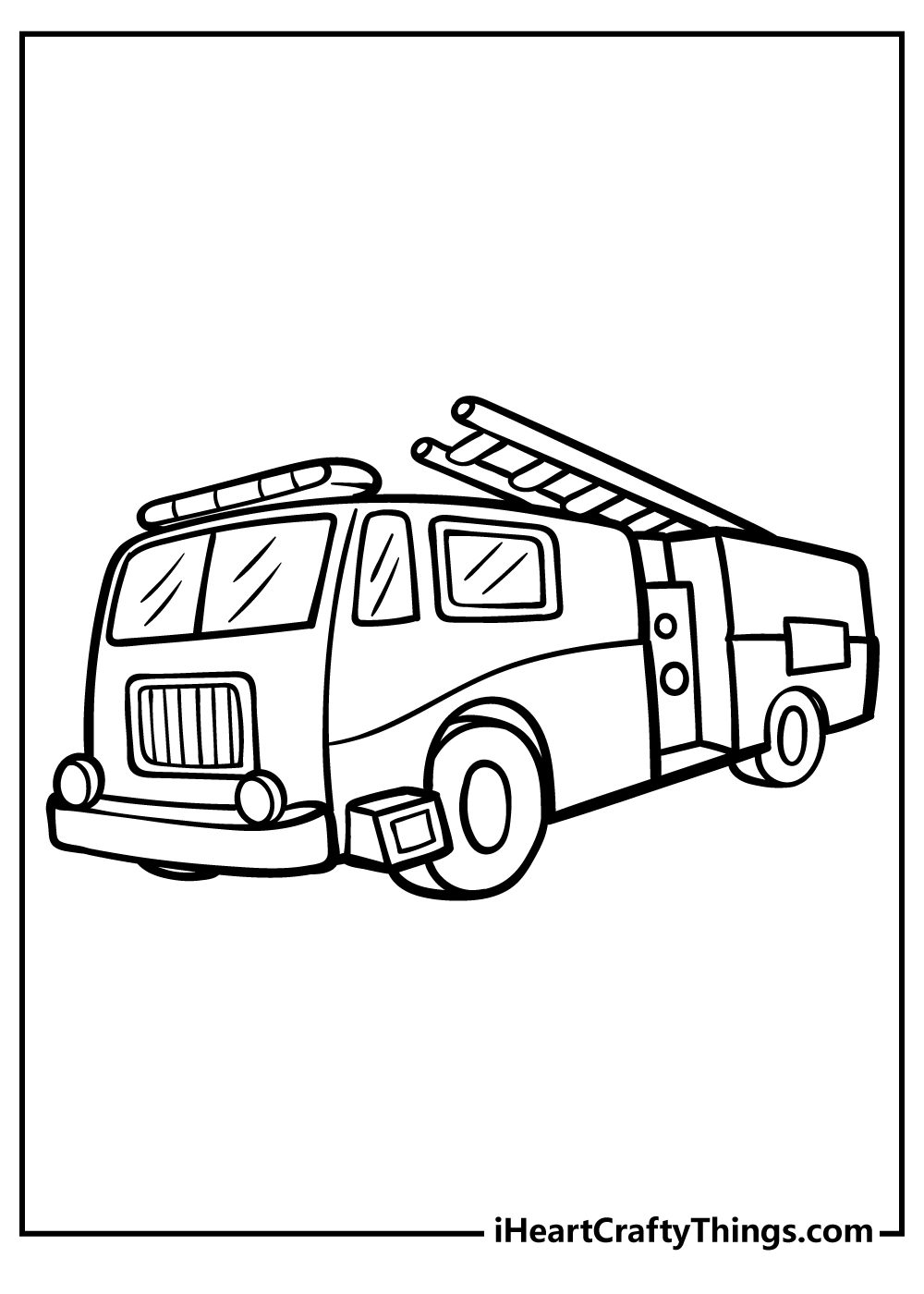 There are so many details on this next fire truck, and this may be the most detailed truck yet!
It is a drawing that you can really take your time with as you complete all of the smaller details and add in some great color variety.
Fire trucks are often traveling fast, but don't be afraid to take your time with this one!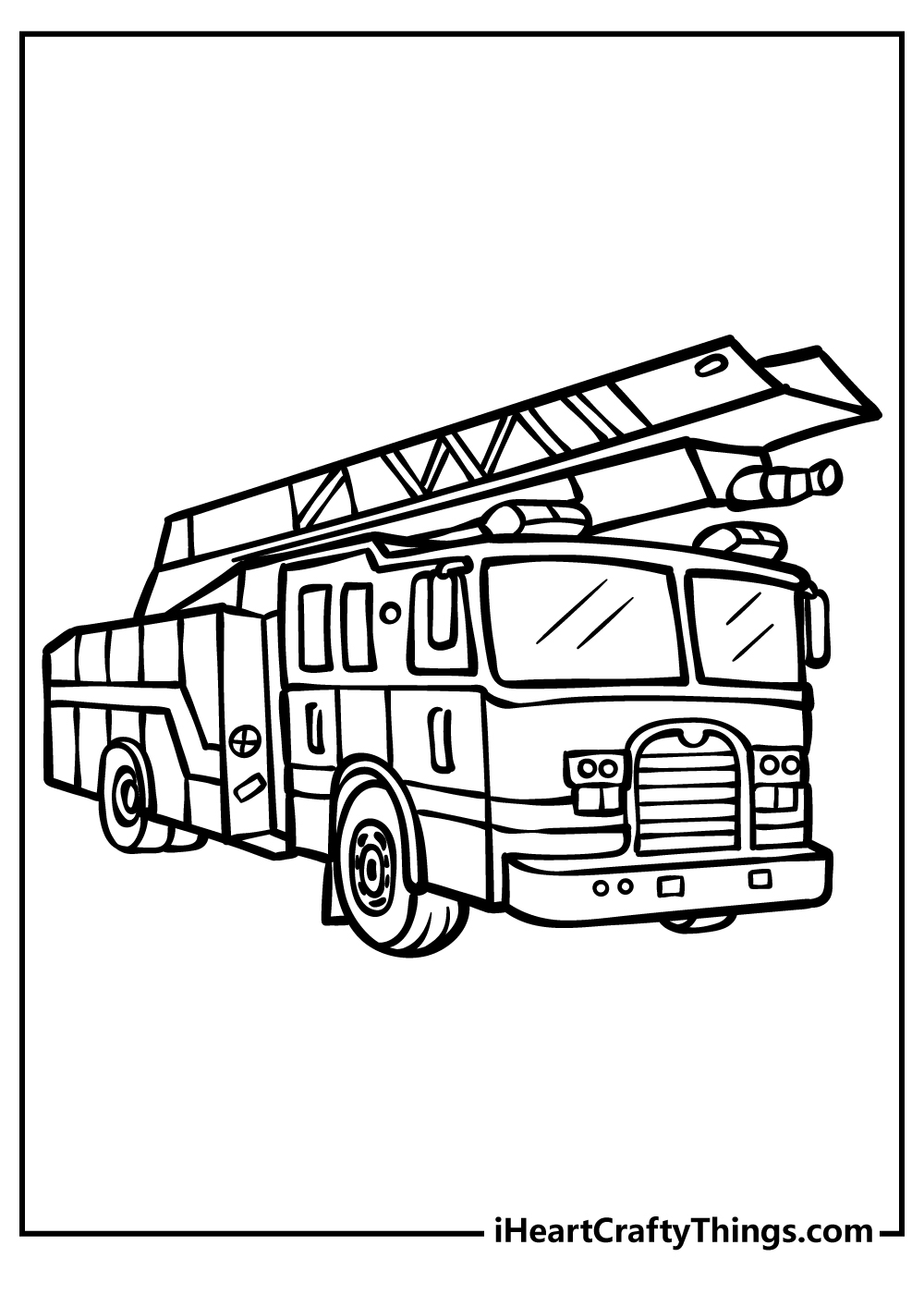 We have another side view of a smaller truck in this tenth fire truck printable. Once you have colored all of the incredible small details on this truck, you can fill in the background as well!
Do you think you will create a background scene or use some solid colors instead? We can't wait to see how you color this tenth page!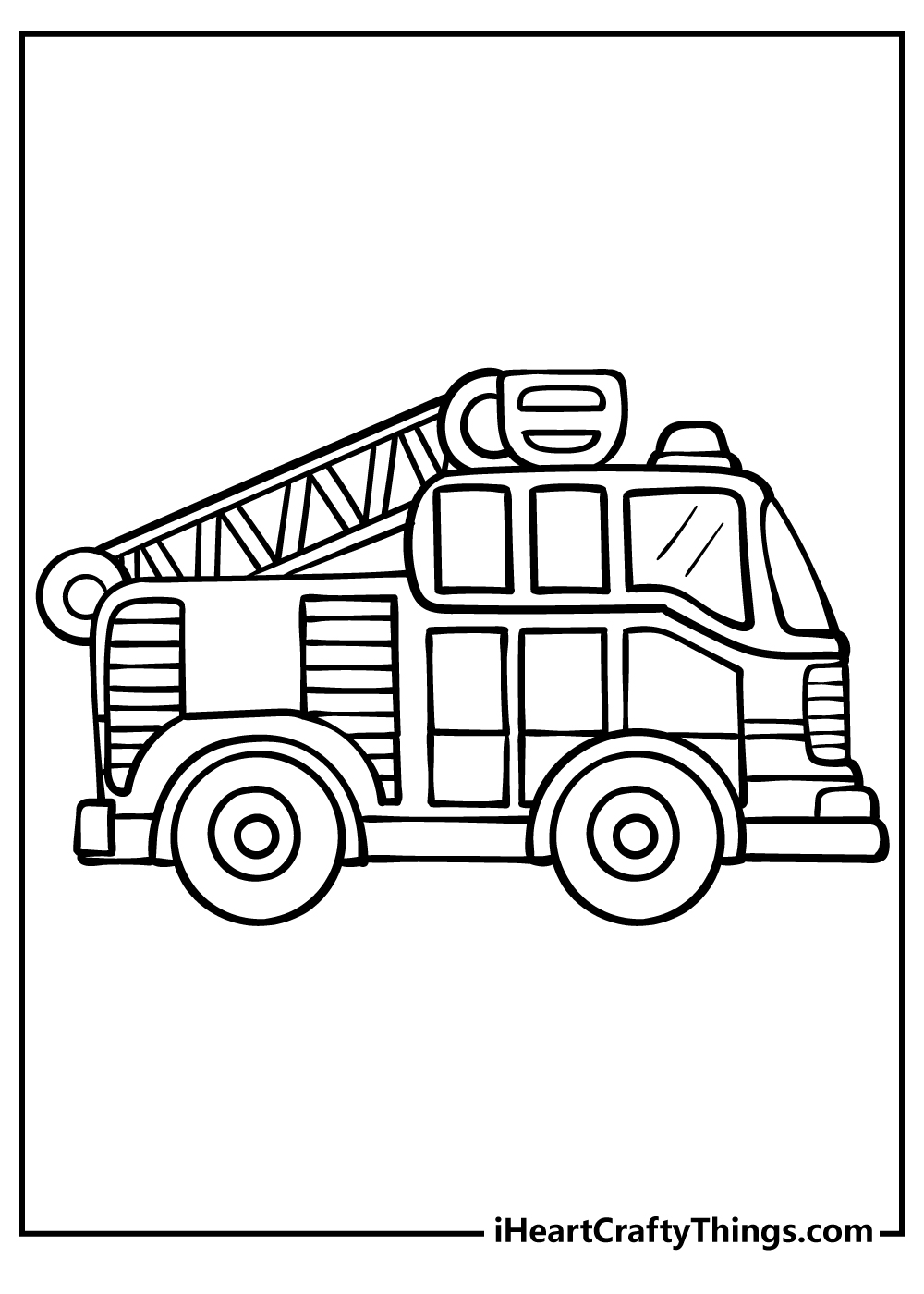 When looking at this next fire truck, you may notice that there is a large hose nozzle at the top by the hose.
It makes for a really cool and intricate detail that you can color in, and the truck itself is also packed with various small details!
We're sure this one will look incredible when it's done.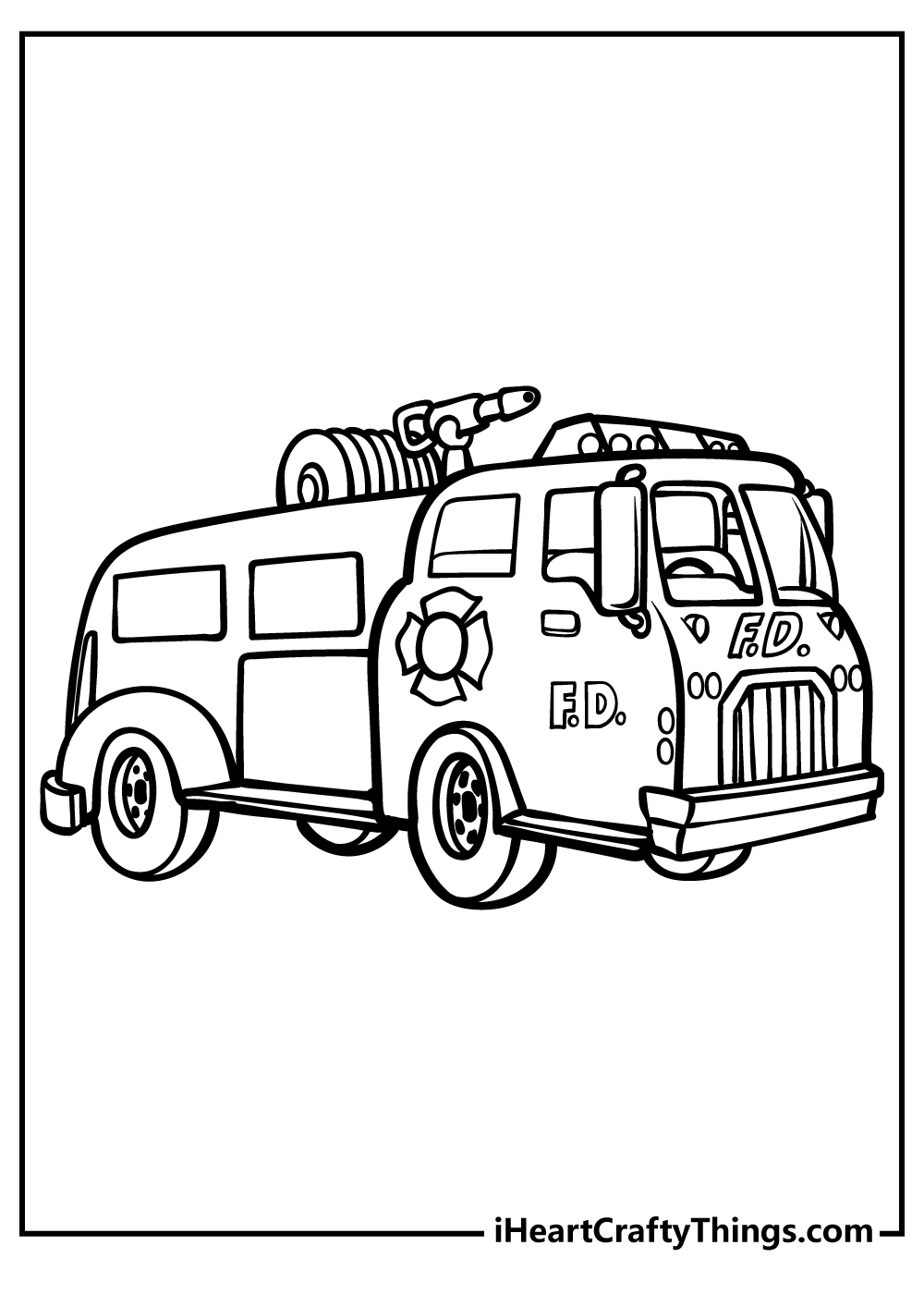 The ladder on this next fire truck is pretty long, so it would make reaching high places to rescue people in peril much easier!
It's also another picture with large blank windows, so you could draw a fireman or two sitting inside for an extra touch.
How will you put your own spin on this cool fire truck?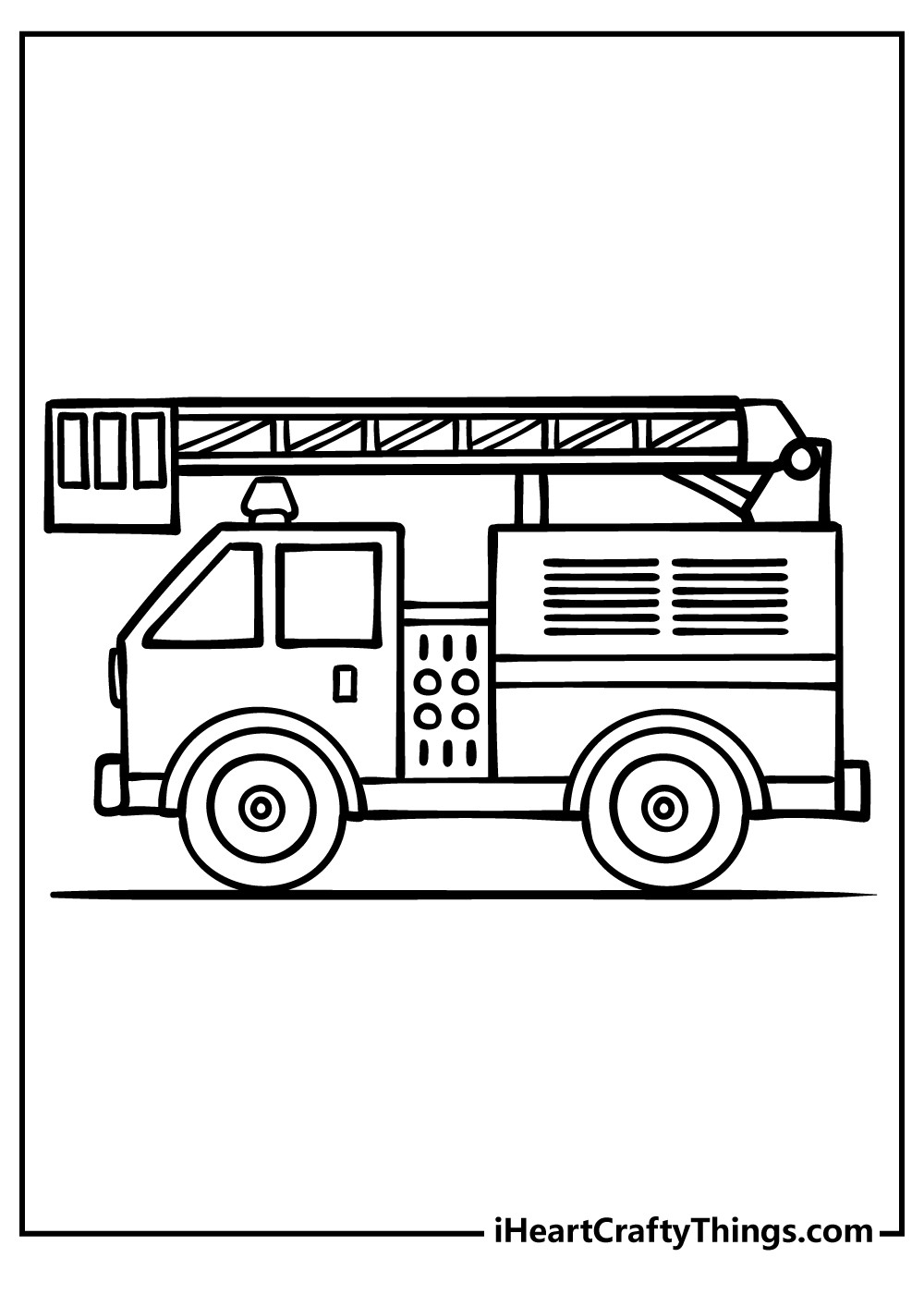 For this next fire truck, we have one that has a really great old-fashioned and vintage design.
Because of this, if we were coloring this one we would use some lighter colors using some mediums such as watercolors or maybe some colored pencils to suit the older look.
How will you color this vintage truck?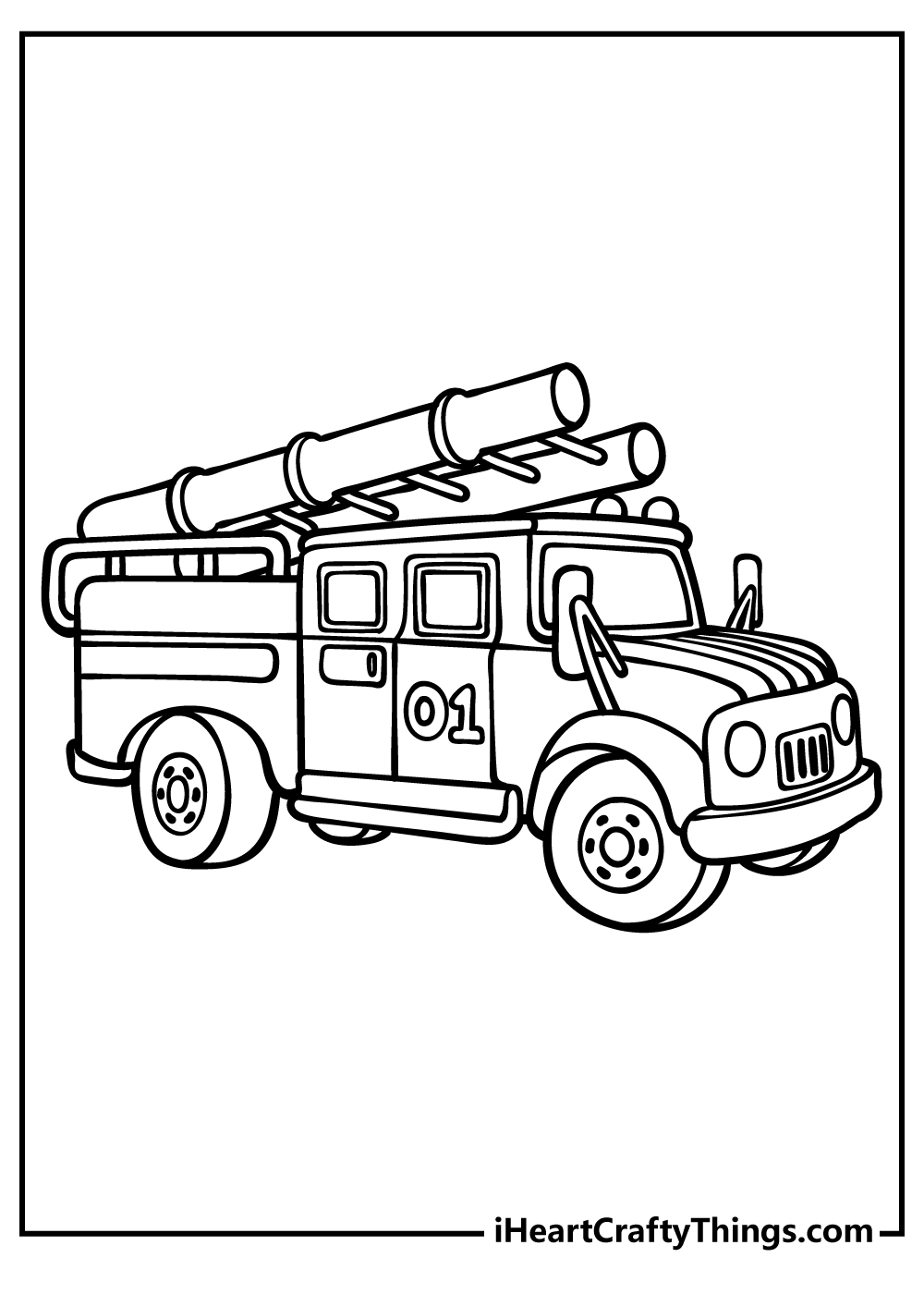 This next fire truck is another one that has a really interesting design with a lot of details.
We think this one would be great if you incorporated lots of different colors into the design to create a really striking fire truck that stands out from the rest!
Which colors would you use to make a wonderfully unique truck?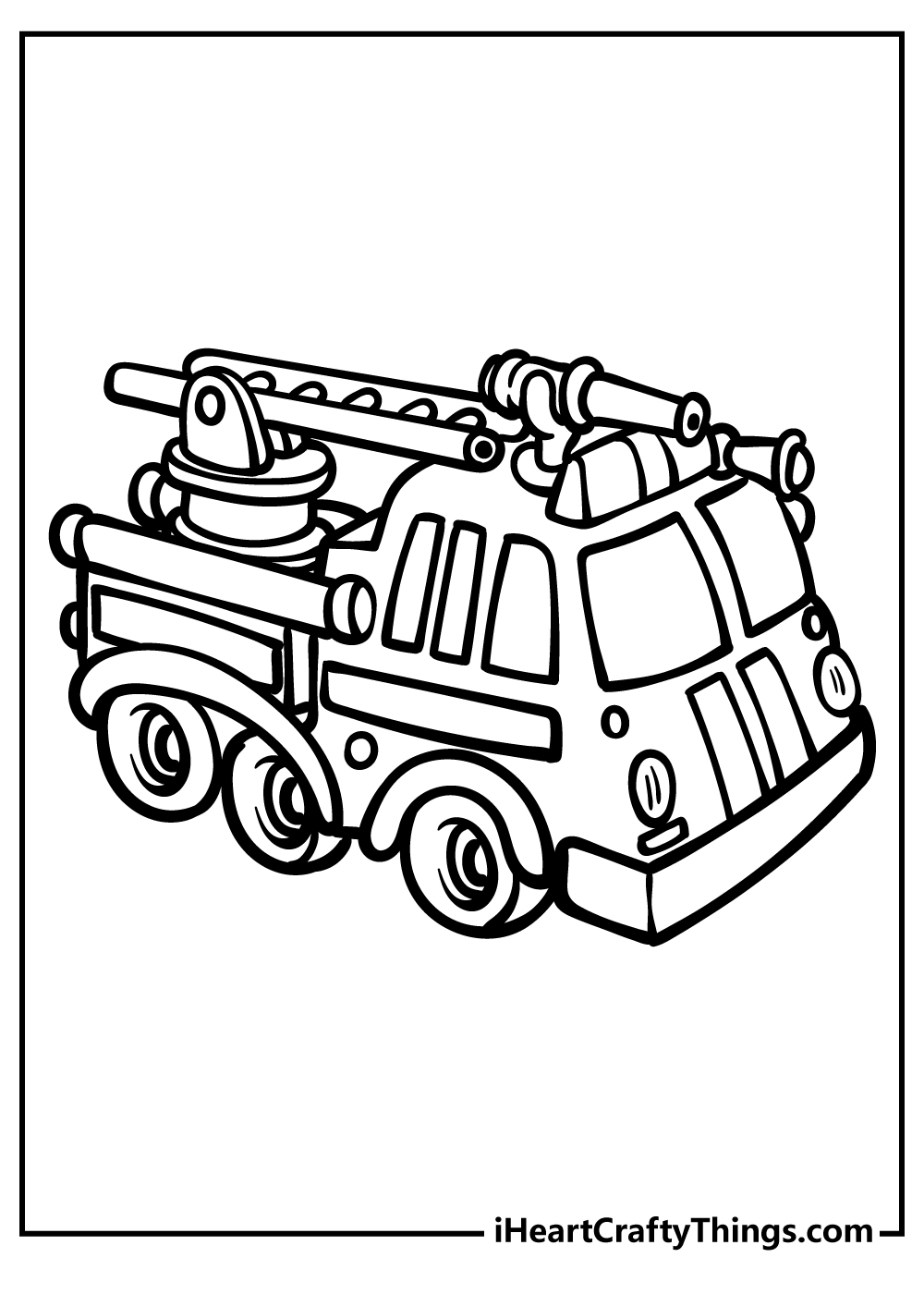 The final fire truck coloring sheet that we have for you is another simpler design that you can work your color magic!
There are plenty of blank windows here, and you could also have some fun drawing some firemen into each one to make it look like it's full of brave folks who will soon be saving the day!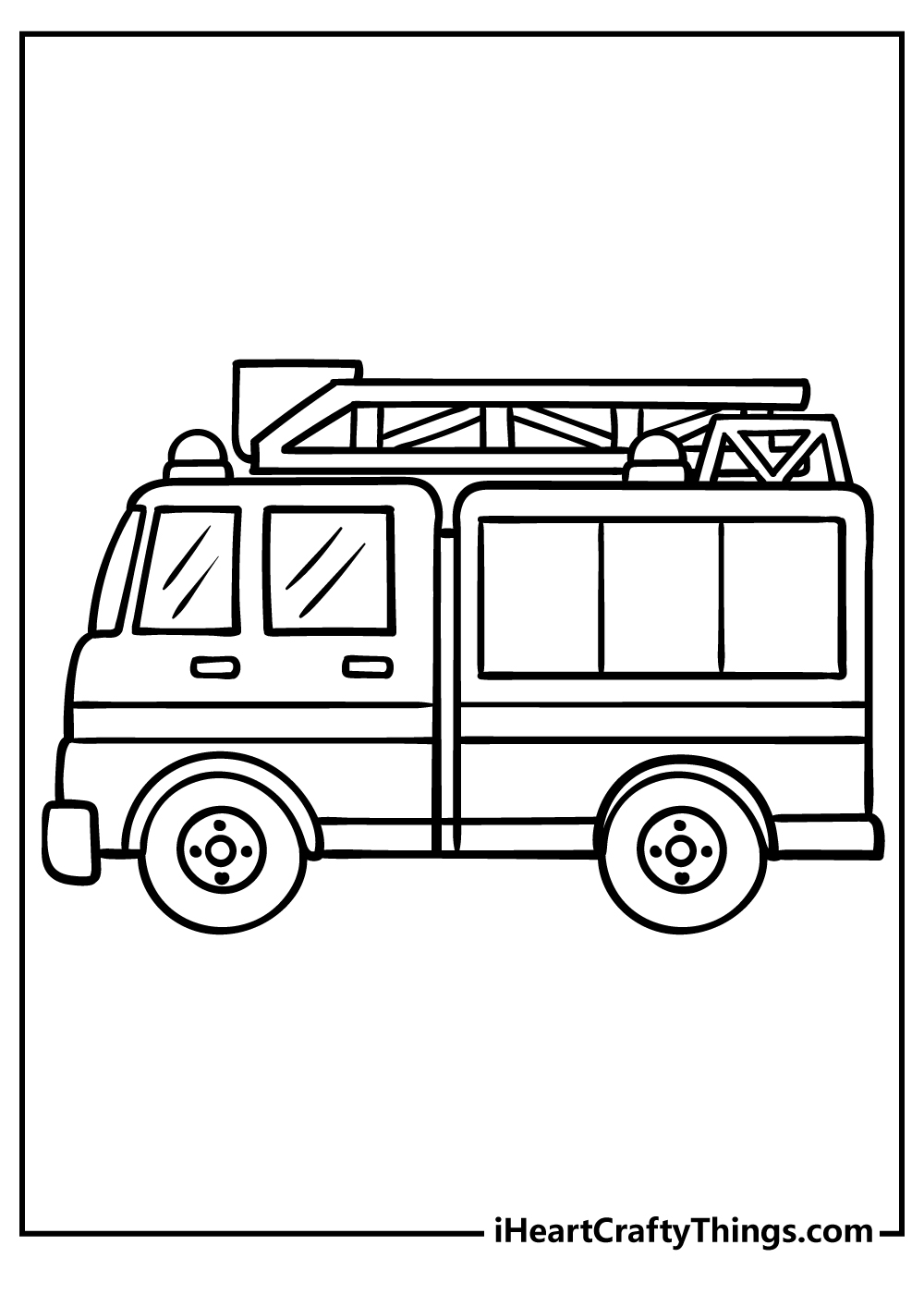 Fire Truck Coloring Pages – Which will you choose?
That brings you to the end of this awesome collection of free fire truck coloring pages for kids!
We hope you enjoyed the variety of different trucks on display, as we wanted to make sure you would be able to be as colorfully creative as possible!
When you have colored your favorites and shared the collection with others, you can also share some of your finished pages on our Facebook and Pinterest pages for us to see!