Children have always had a special fascination with cars. They're curious about how they work, they love to organize races, and obviously, they also enjoy drawing and coloring cars.
Sports cars are definitely a favorite for children of all ages. And when you say sports cars, Lamborghini is one of the first brands that come to mind. Lamborghinis are cool, edgy, and incredibly fast.
So, if your child likes sports cars, he will love our brand-new collection of Lamborghini coloring pages.
Download and print them for free to fuel your child's passion for four-wheeled vehicles and encourage his creative skills.
15 Brand New Lamborghini Coloring Pages – Free to Print and Color
Lamborghini is an Italian brand famous for manufacturing some of the most amazing luxury sports cars.
Their vehicles are known for their speed, power, and beauty. But did you know that Lamborghini originally produced tractors and they still make them to this day?
Well, the car on our first coloring sheet is definitely not a tractor. In fact, it's one of Lamborghini's most elegant and powerful models they've ever made.
We're sure you're going to have a great time coloring it.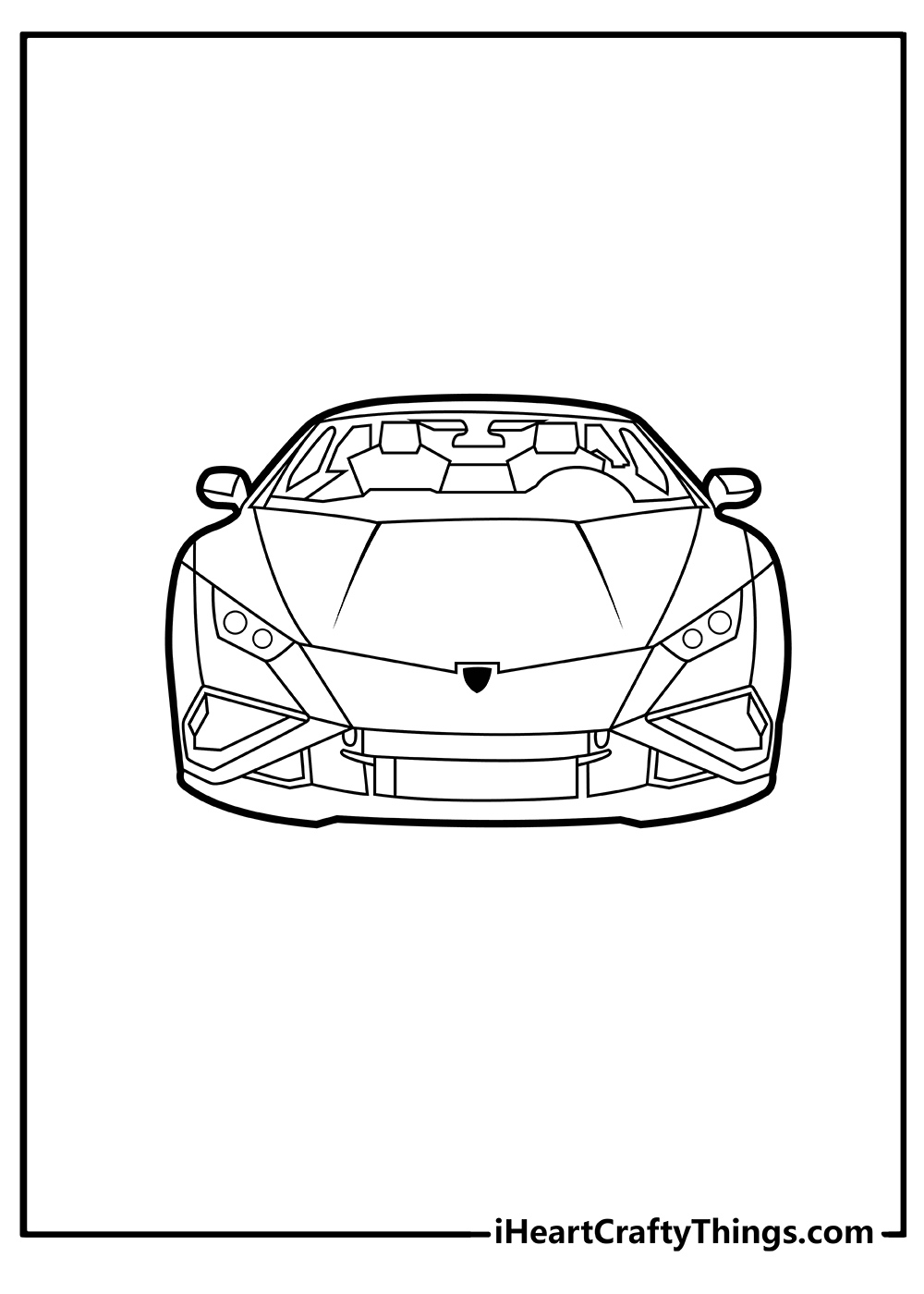 Get ready to add some color to this incredible Lamborghini! Looking at all the beautiful lines and sleek features, you can tell this is one powerful sports car.
Lamborghinis are built for speed, with engines that allow them to go over 200 miles per hour! Just imagine this car racing down the track. What colors would you choose for a Lamborghini built to win?
Maybe bold reds and oranges to make it look fast even when standing still.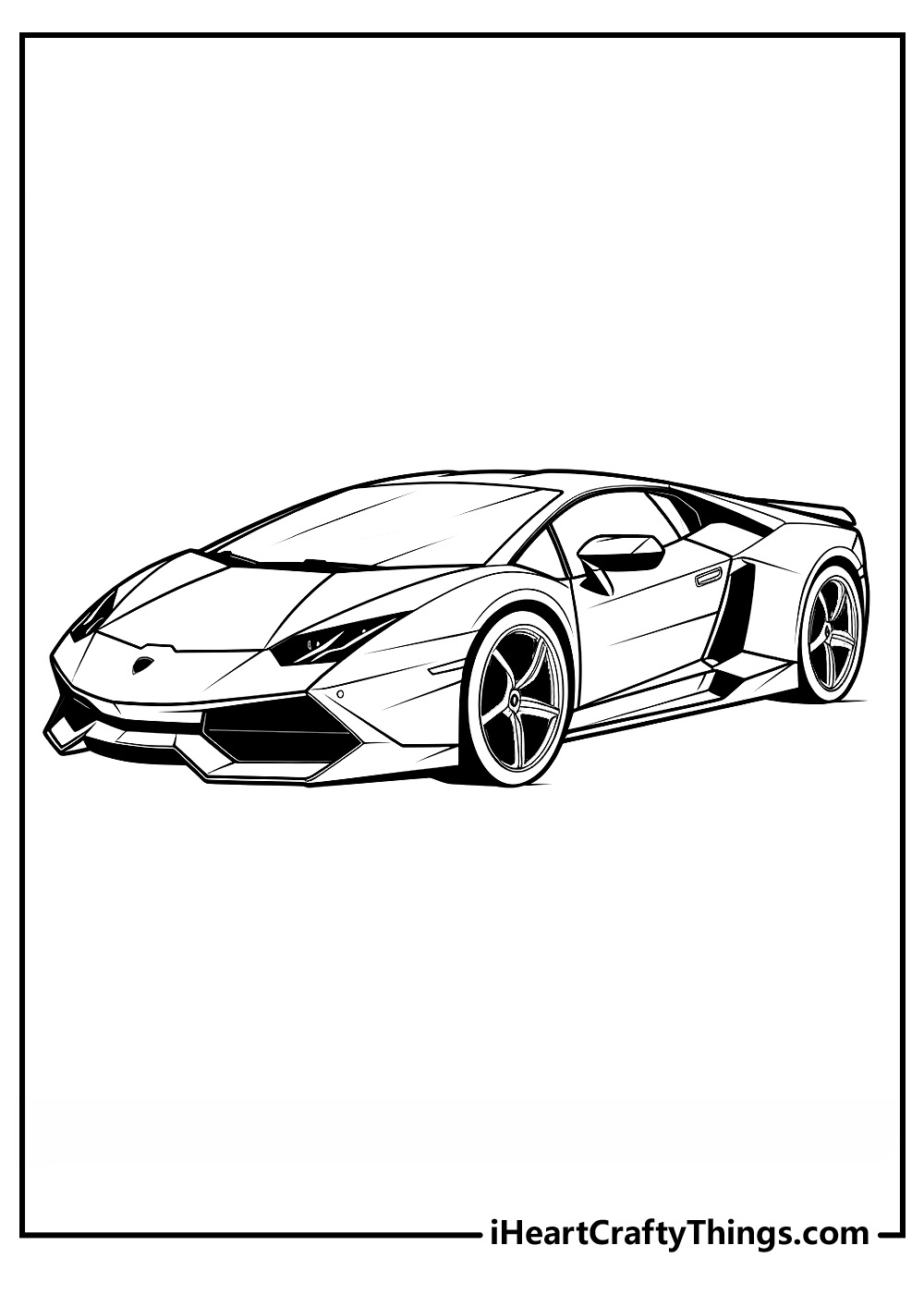 Lamborghinis are known for their amazing designs, as the company works with some of the world's most famous designers when creating their cars.
You can see that in our next coloring printable where we have a side view of a breathtaking Lamborghini model on a clear background.
With its sleek and clean lines, this car definitely stands out from the crowd.
Color is also an important design element, so it's up to you to choose a color that will make this car look even more striking.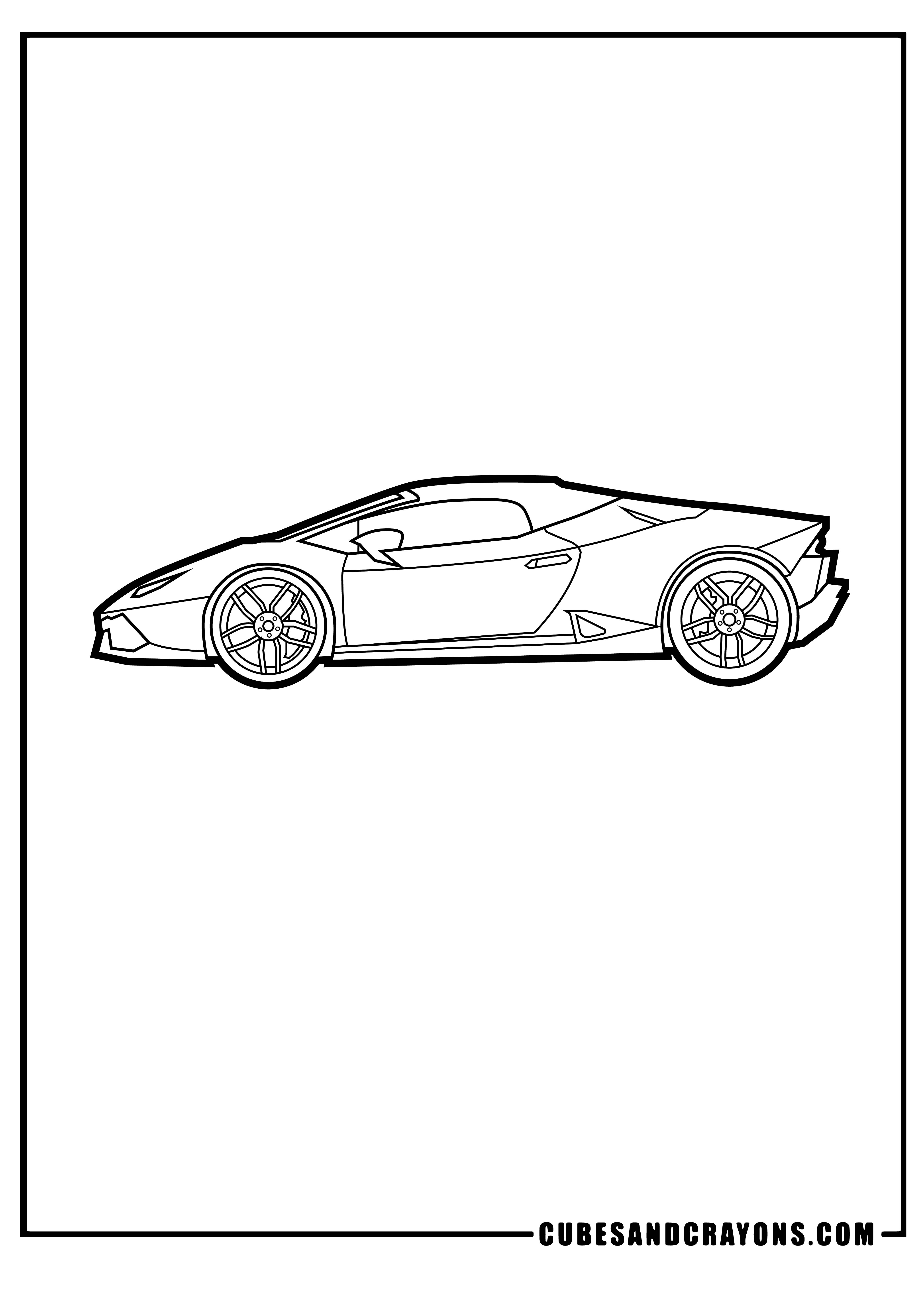 The iconic Lamborghini model featured in this coloring printable looks like it was specifically designed to break speed records.
But even though the Italian brand has a reputation for speed, it wasn't until recently that they decided to enter the motor racing industry.
If this Lamborghini is as fast as it is beautiful, we're sure it can win many races. We can already see it speeding around an imaginary race track and winning the first position.
The only thing left to do is choose a color worthy of such an amazing car.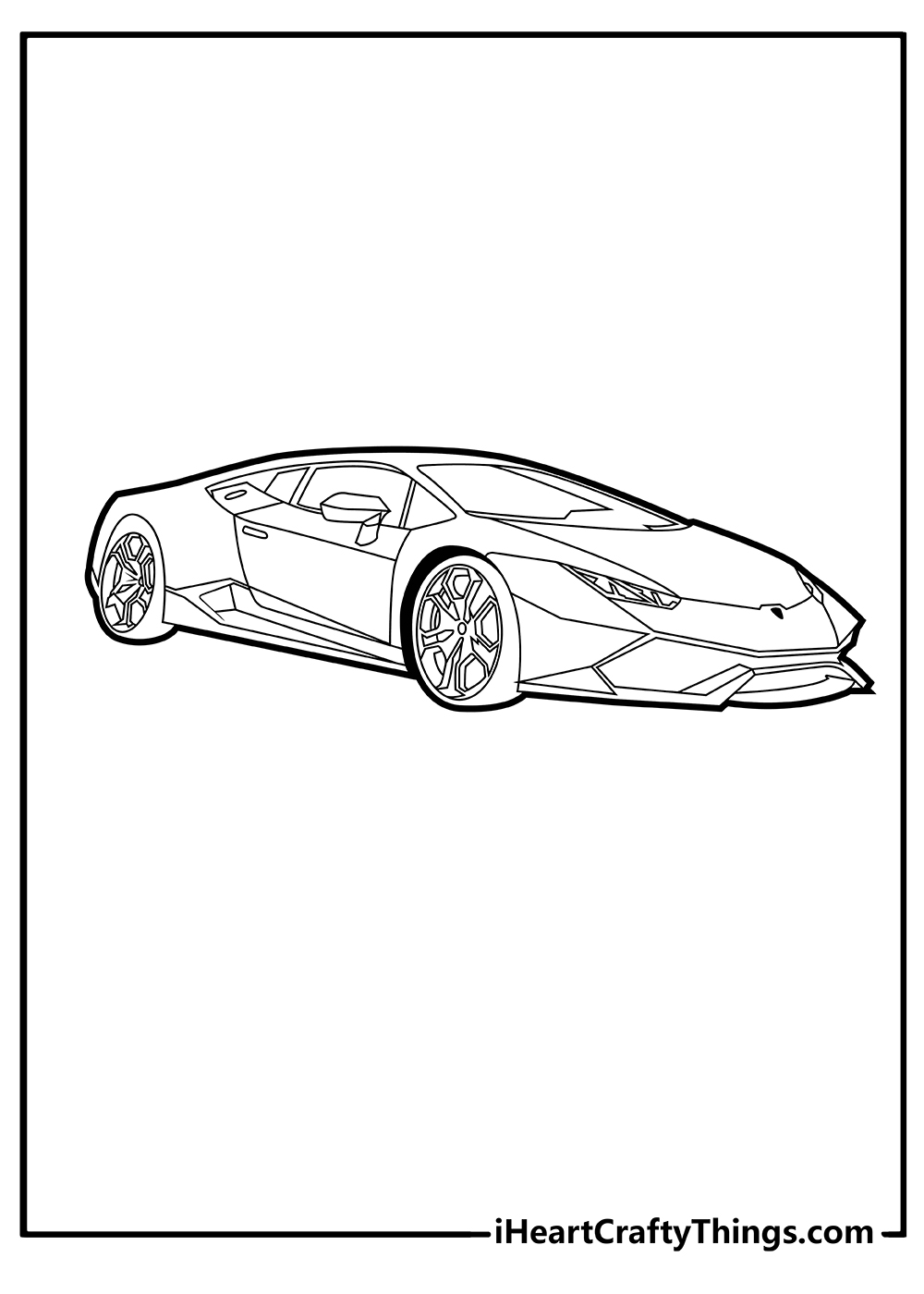 Look closely at the stylish details on this elegant Lamborghini. From the headlights to the rims, you can see how every element is designed to make the car both beautiful and powerful.
Consider using bright, bold colors to highlight all the amazing features. Or make it sleek and mysterious with deep blues, blacks, and grays.
Since Lamborghinis come from Italy, you could use the colors from the Italian flag – red, white and green.
Use a light touch around the intricate car logo. When you're finished coloring, you'll have a true work of art ready to speed away!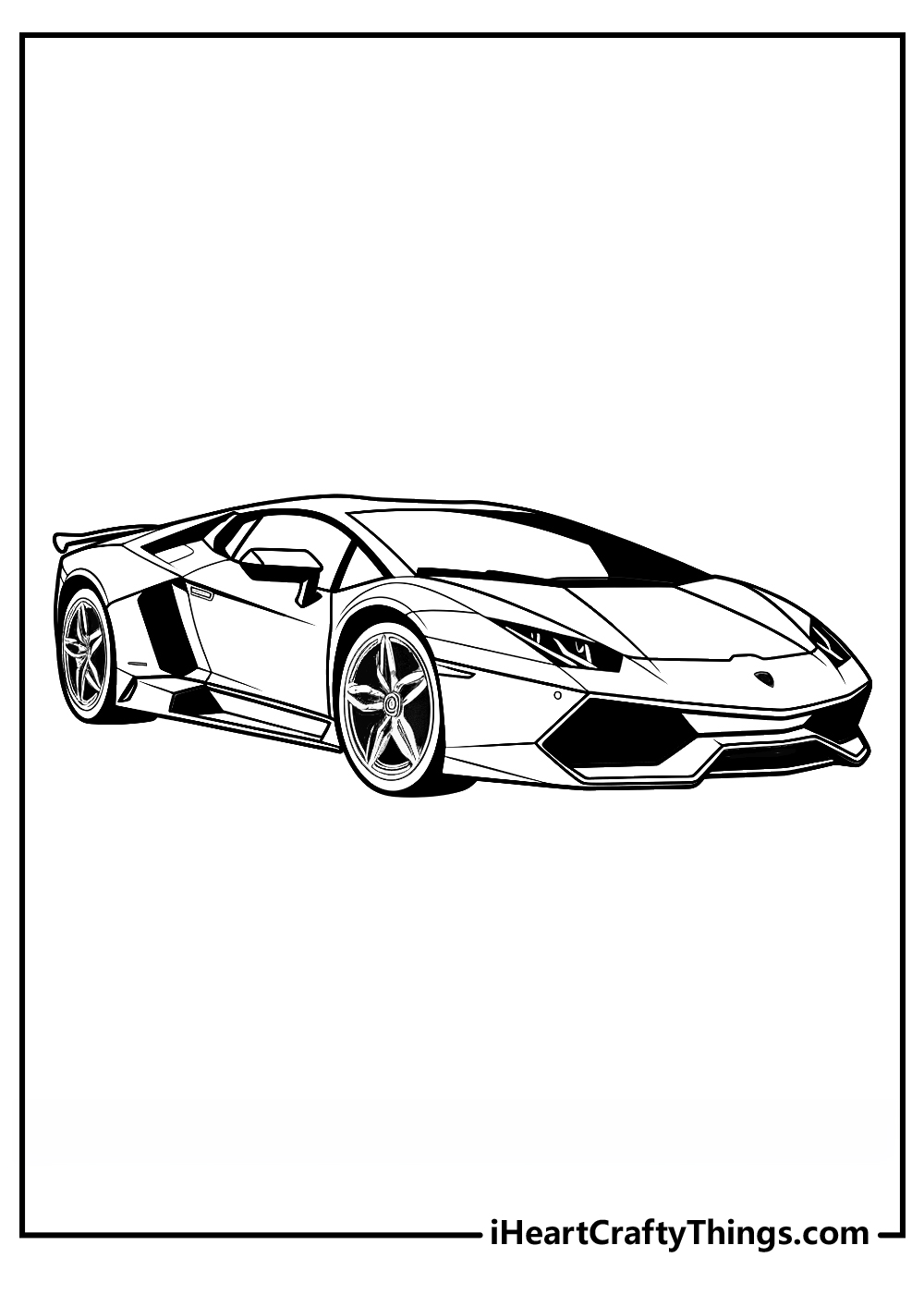 When it comes to car design and appearance, opinions usually differ. But we think we can all agree that Lamborghinis look absolutely stunning from every side and angle.
If you don't believe us, take a look at this cool Lamborghini printable.
This picture of a Lamborghini taken from above, focusing on its backside, is a perfect example of an impeccably designed car.
The only element missing here is color, but we're sure you have plenty of ideas and you can take care of that.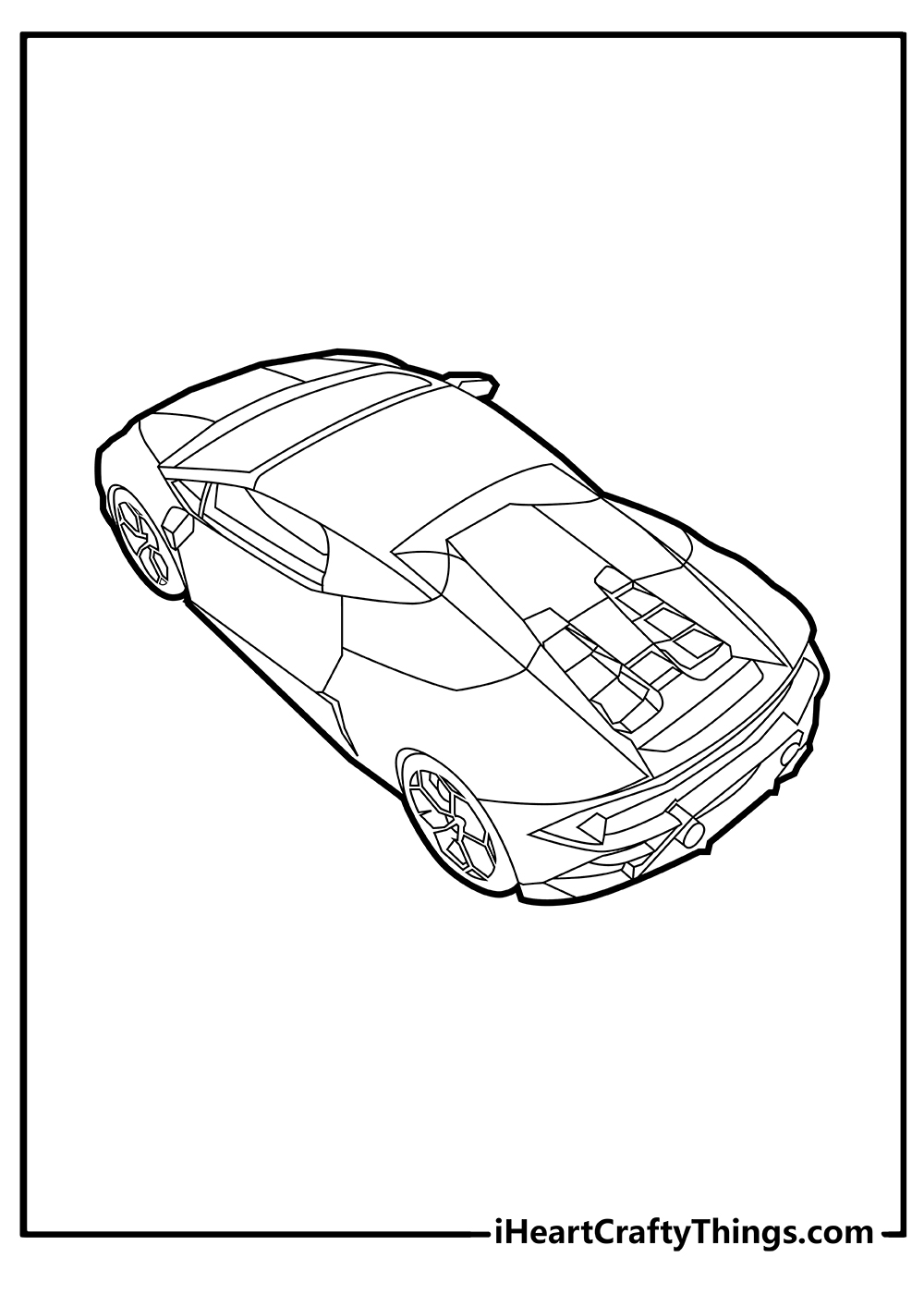 Lamborghini doesn't shy away from using bold colors. In fact, they're quite famous for the bright hues they use.
Some of the most popular colors for Lamborghini are Verde mantis, orange, purple, yellow, and blue.
Here you have a Lamborghini model pictured from one side that you can get creative with.
You can use one of the colors that we've mentioned above, or you can bring a personal touch and choose a color that's less predictable. We're sure the final result will be amazing either way.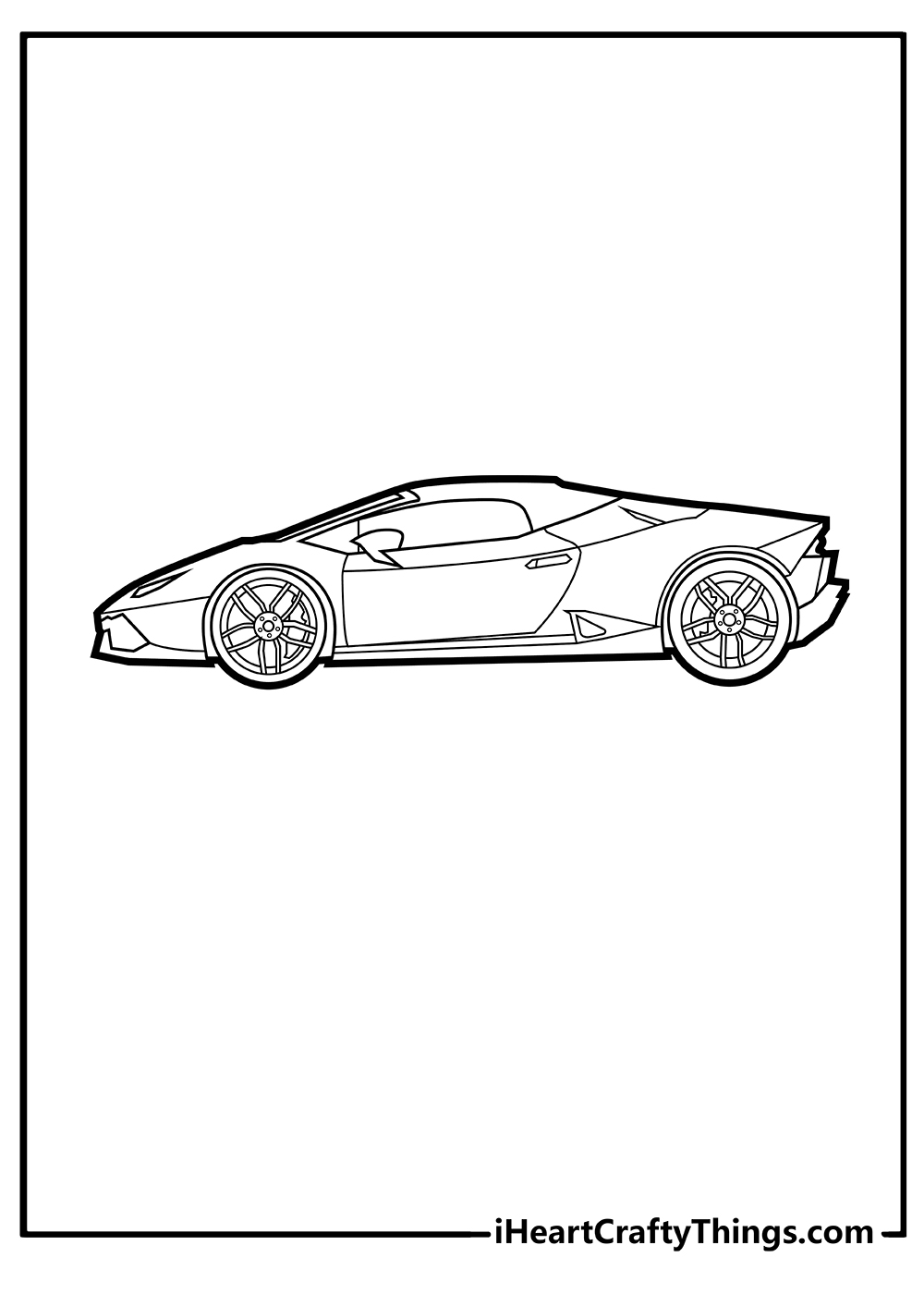 Imagine yourself zipping down the highway behind the wheel of this incredible Lamborghini! As you color it in, think about the places you could drive it.
Racing through a futuristic city with skyscrapers all around you? Or cruising along the coast with the ocean breeze in your hair?
However you choose to color this luxury vehicle, make sure to stay inside the lines around the little details like the headlights and door handles.
Use your most vibrant crayons, markers or colored pencils to bring it to life!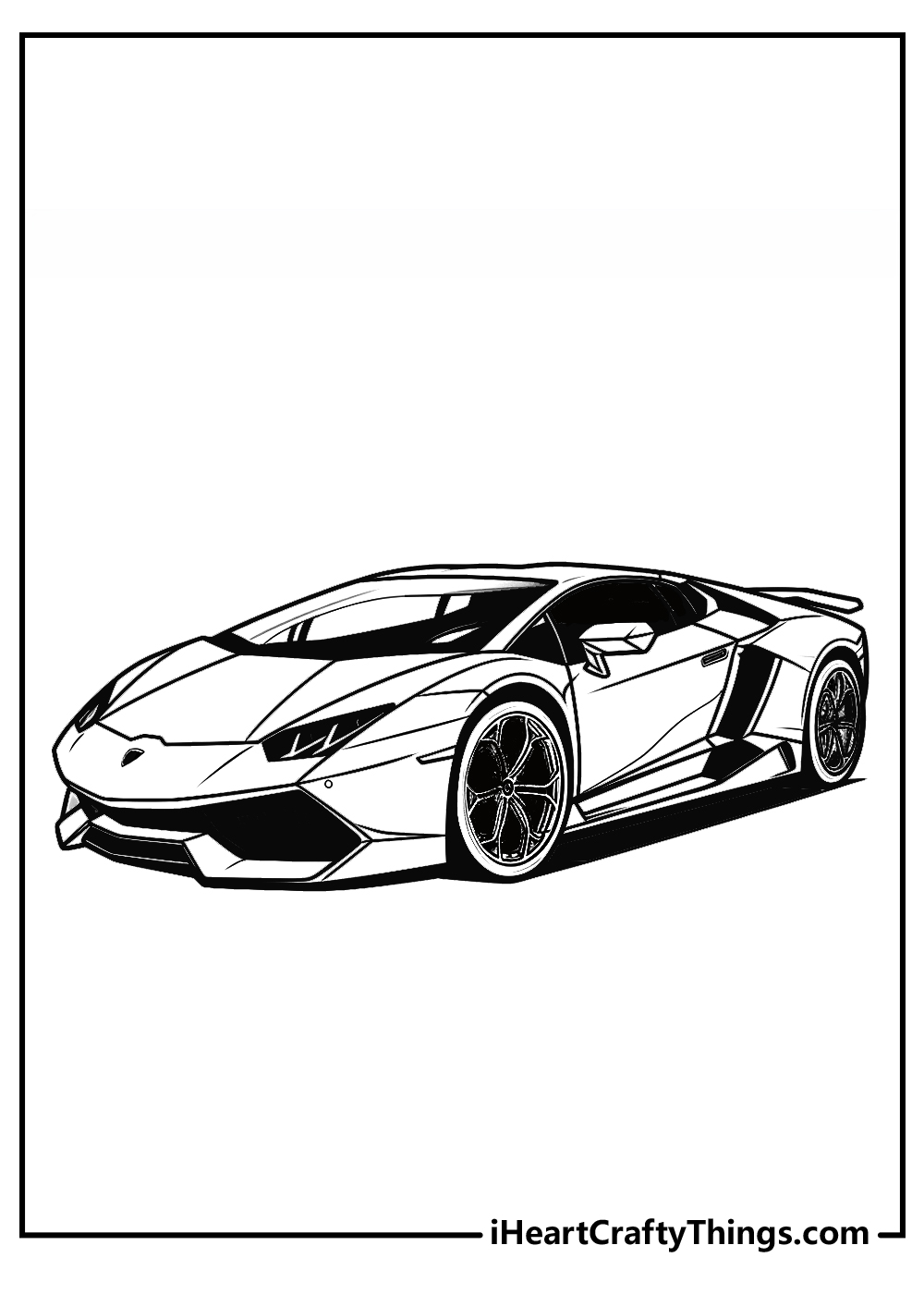 Lamborghinis are not the kind of cars that you get to see on all roads. They're exclusive vehicles created for those who enjoy luxury, style, and extravagance.
Some people have a soft spot for sports cars with character and personality, and Lamborghinis have plenty of that.
You can tell that by looking at this Lamborghini coloring sheet right here depicting one of their models captured from the front.
There's no way this car can go unnoticed when it hits the road. You can color it in a bright hue for an even more powerful effect.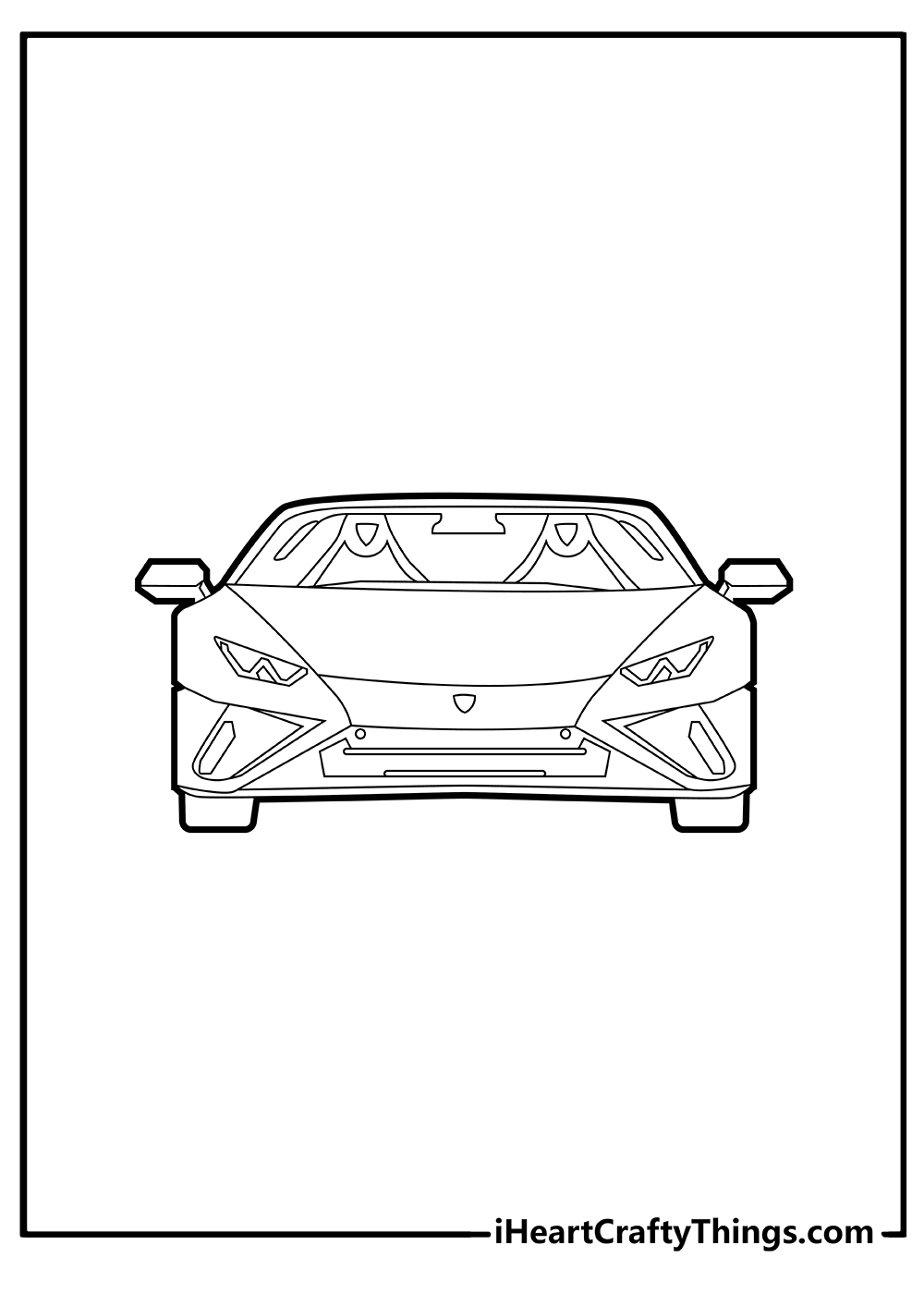 Here's a fun fact about Lamborghini: many of the models produced by them are named after bulls. Islero, Diablo, Murcielago, Gallardo or Aventador are just a few examples.
Bulls are strong and powerful creatures, so we believe these names are a perfect fit for Lamborghinis.
When you look at the Lamborghini featured in this coring printable, you can almost picture a fierce bull entering the arena. How about coloring it in bright red, just like a bullfighter's muleta?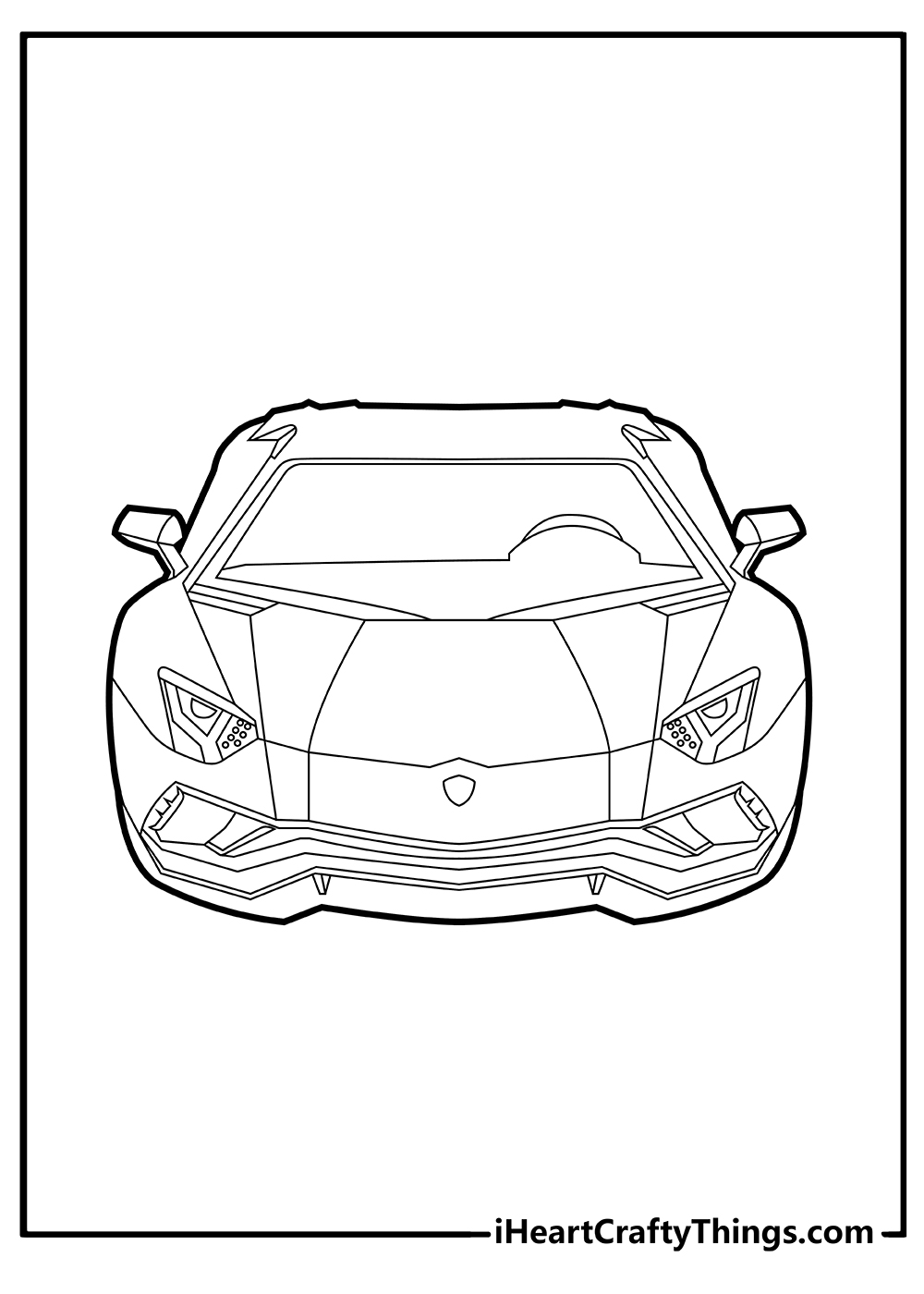 It's time to give this powerful Lamborghini a custom paint job! Since Lamborghinis are all about creativity and self-expression, don't be afraid to use unexpected colors.
Bright neons, shimmery golds, deep purples – anything goes!
You could even give it bold racing stripes or lightning bolts for maximum impact. As you color in the windows and sleek headlights, imagine showing off your unique Lambo at a car show with other coloring artists.
Wherever you take this eye-catching Italian speed machine, nobody will be able to take their eyes off it thanks to your one-of-a-kind design.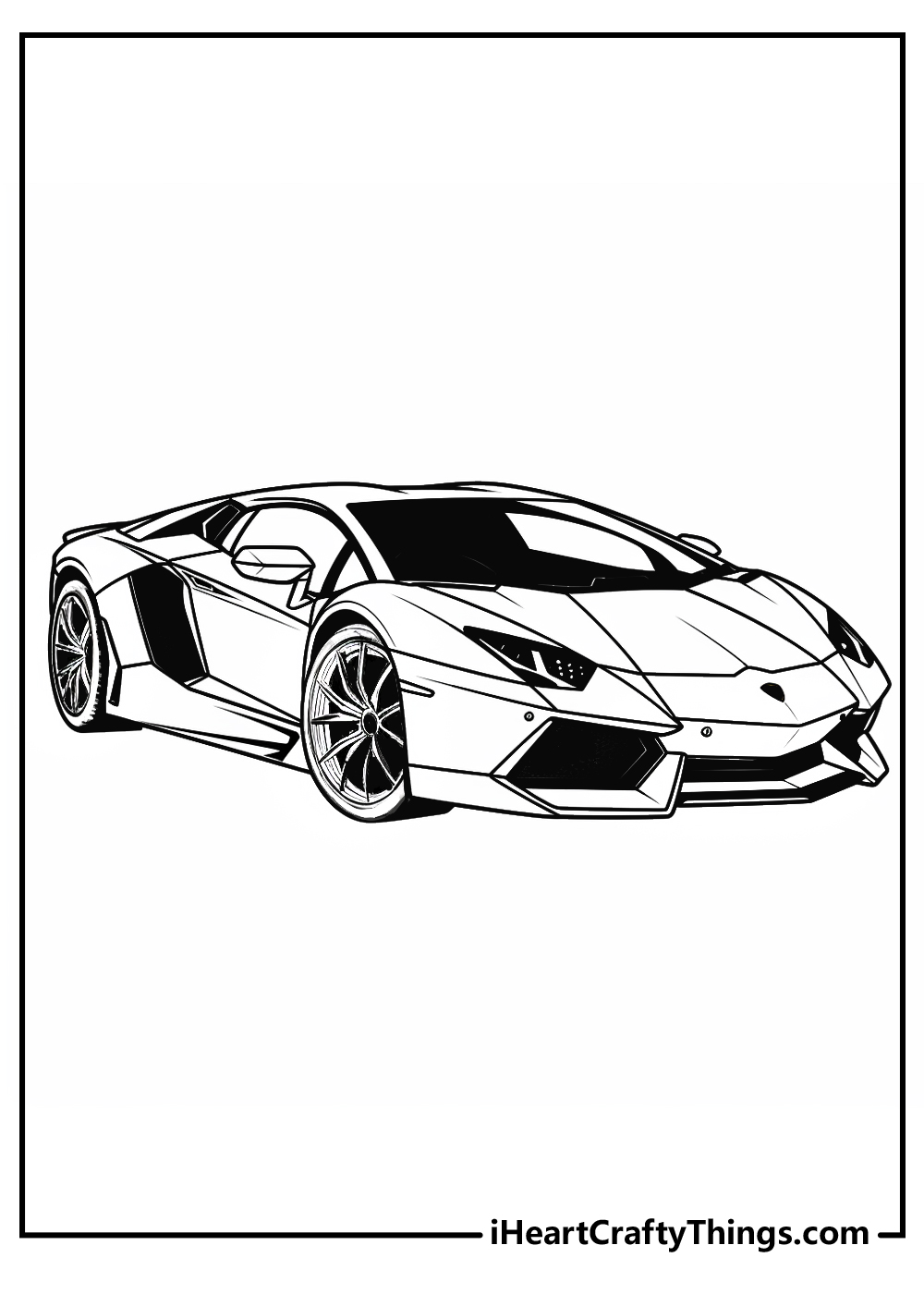 The cars manufactured by Lamborghini are designed to impress. Innovation and originality are two aspects that define these sports cars.
They use groundbreaking materials and technology; they're sophisticated and they constantly push towards the future.
It's no wonder this Lamborghini model pictured on this coloring sheet with its trademark scissor doors wide-open looks as if it came straight from a sci-fi movie.
Maybe silver or electric blue would be a great color to enhance its futuristic appearance.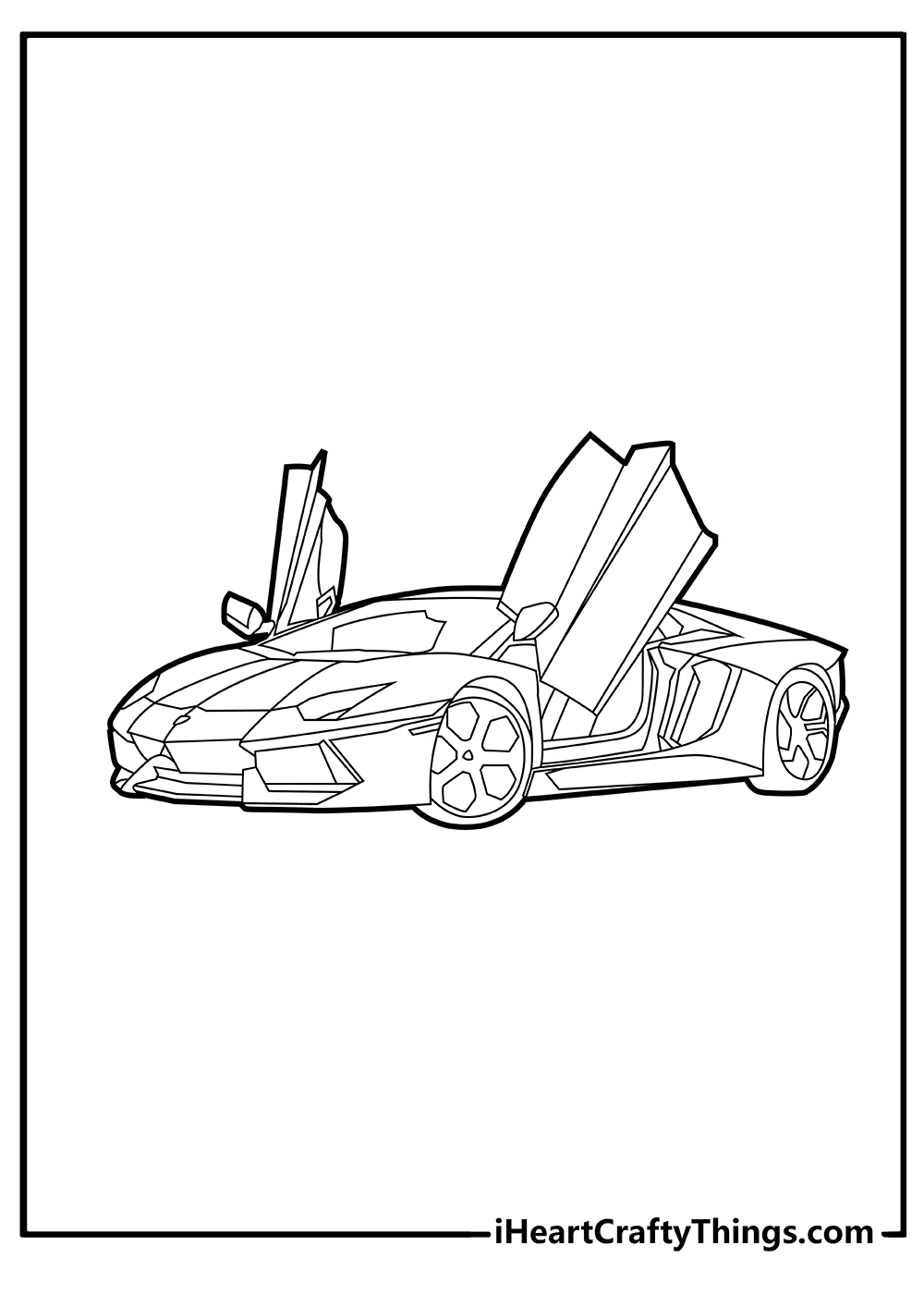 Wondering where designers take their inspiration when creating new car models?
They get their ideas from all sorts of places, but some Lamborghini designs have been inspired by fighter planes. That explains their unique and unusual look.
When people get behind the wheel of a Lamborghini, they can imagine they're driving a plane.
The model pictured in this coloring page is not going to take off, but it's guaranteed to turn heads wherever it goes. All it needs is a bit of color and it's ready to go.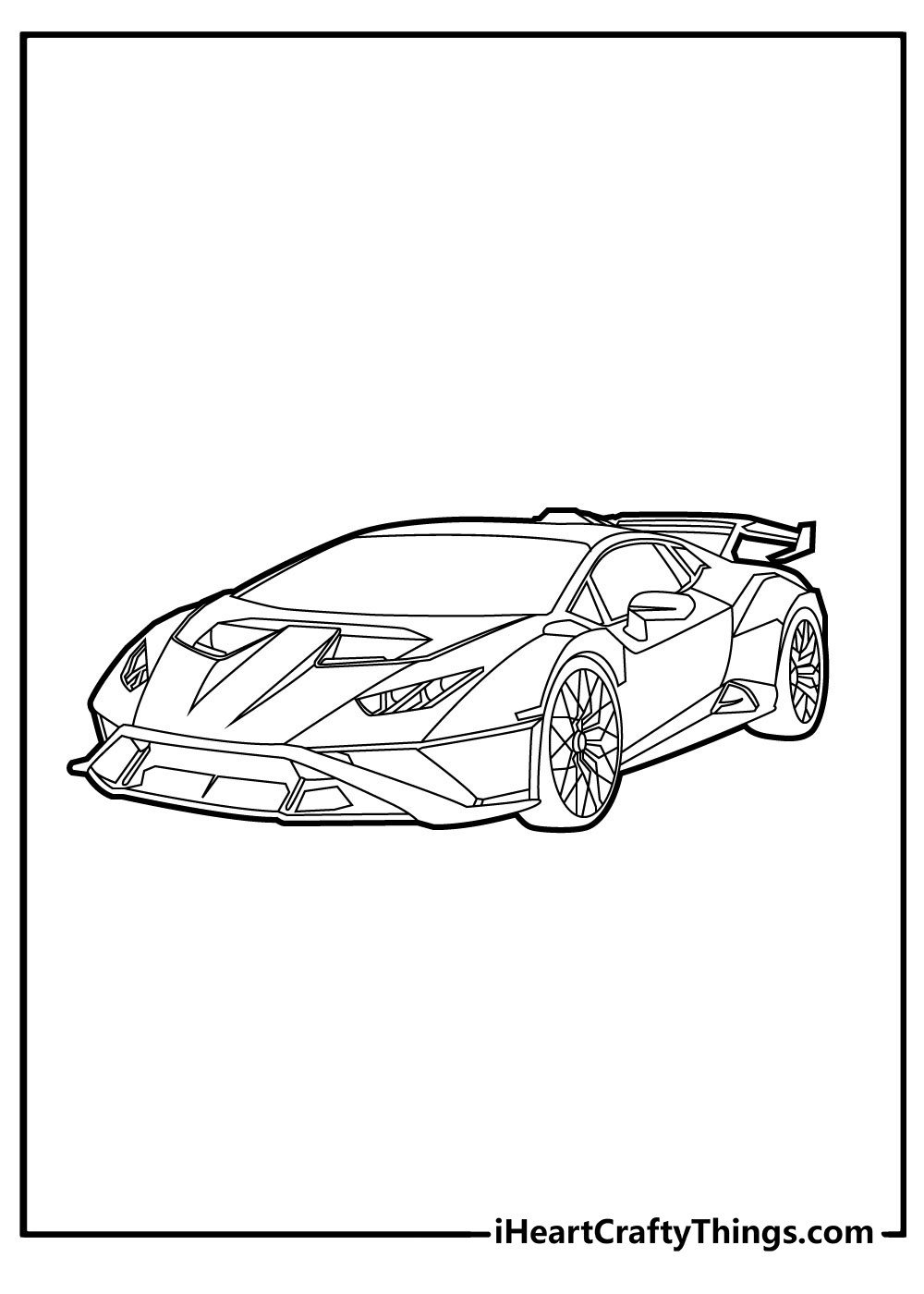 Over the years, Lamborghini has become synonymous with luxury and speed.
So, it comes as no surprise that Lamborghinis have appeared in many movies, usually in thrilling car chase scenes that keep viewers on the edge of their seats.
This Lamborghini printable features a model that we believe is fit to become a star of the silver screen.
Maybe you can take part in the action by choosing a nice color that will help this car get into character.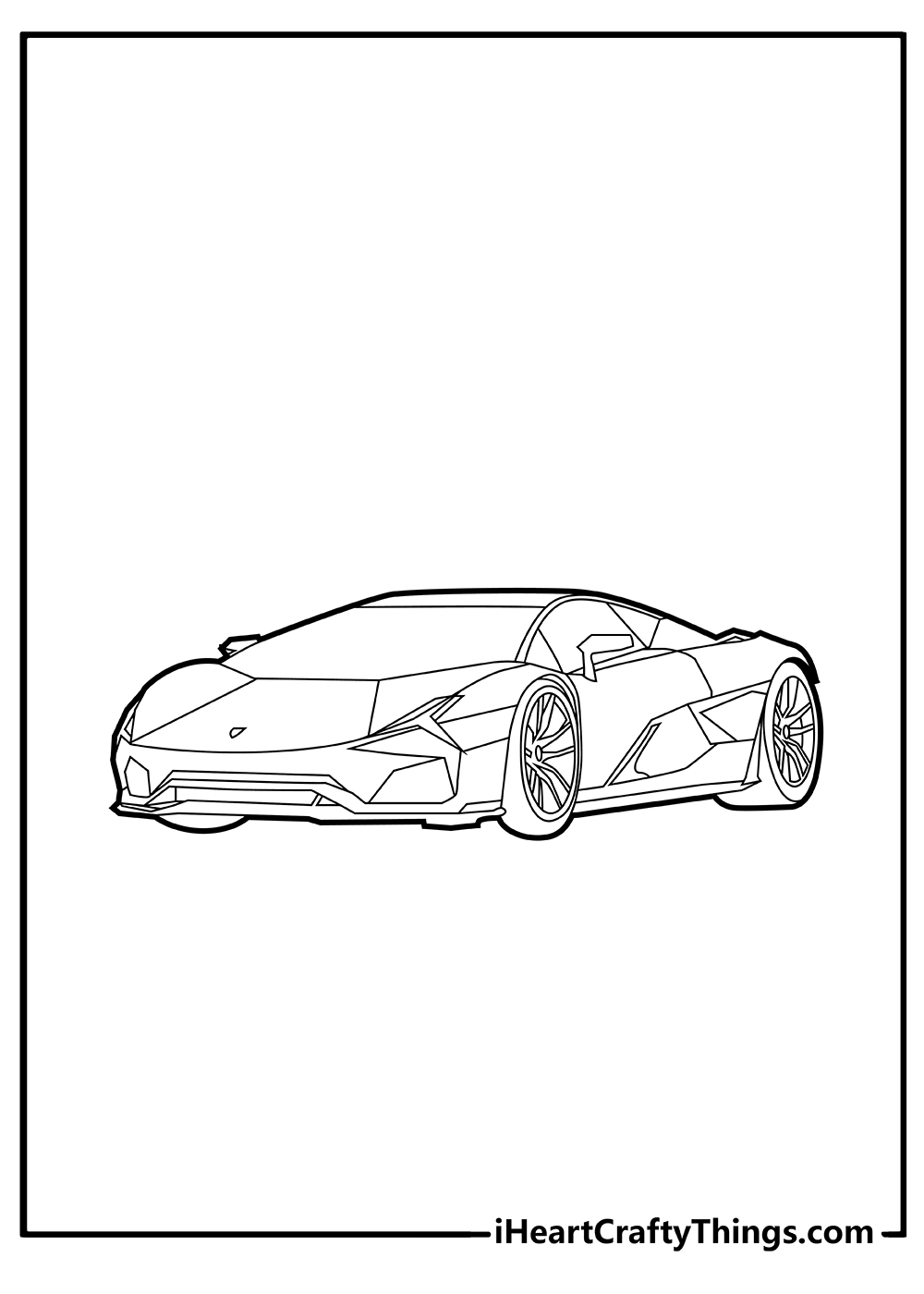 This shiny new Lamborghini just rolled off the lot, and you get to choose its colors! Imagine yourself in the driver's seat, racing to the dealership to pick out options.
Custom leather seats? A high-tech sound system? The only limit is your imagination! Give it a bright paint job that reflects your personality. Add details like racing stripes or cool rims.
However you customize this luxury vehicle, it will look amazing thanks to your artistry and flair.