It can be hard to understand what's going on in our own heads at times, and sometimes it seems like our emotions have a life of their own!
The wonderful movie Inside Out explores this feeling in a really fun and creative way. Different emotions have different fun and colorful personas to help explore emotions in a fun way!
These free Inside Out coloring pages for kids are perfect for having some coloring fun with your favorite characters from the movie.
Each character has a unique color scheme that you can stick to, but you can pick your own colors for some fun character variations as well!
You could also explore new mediums such as paints, colored pens and pencils for some color variety.
Once you've colored in your favorite Inside Out printables, please be sure to share them to our Facebook page for us to see! We can't wait to see how you bring these colorful characters to life.
10 Brand New Inside Out Coloring Pages – Free to Print and Color
For the first character in this series of Inside Out coloring pages, we have the fiery character Anger.
His name says it all, as this character represents anger for the main character.
Anger has a primarily red color scheme, so maybe you could use yellows and oranges for the background to give off a fiery feel.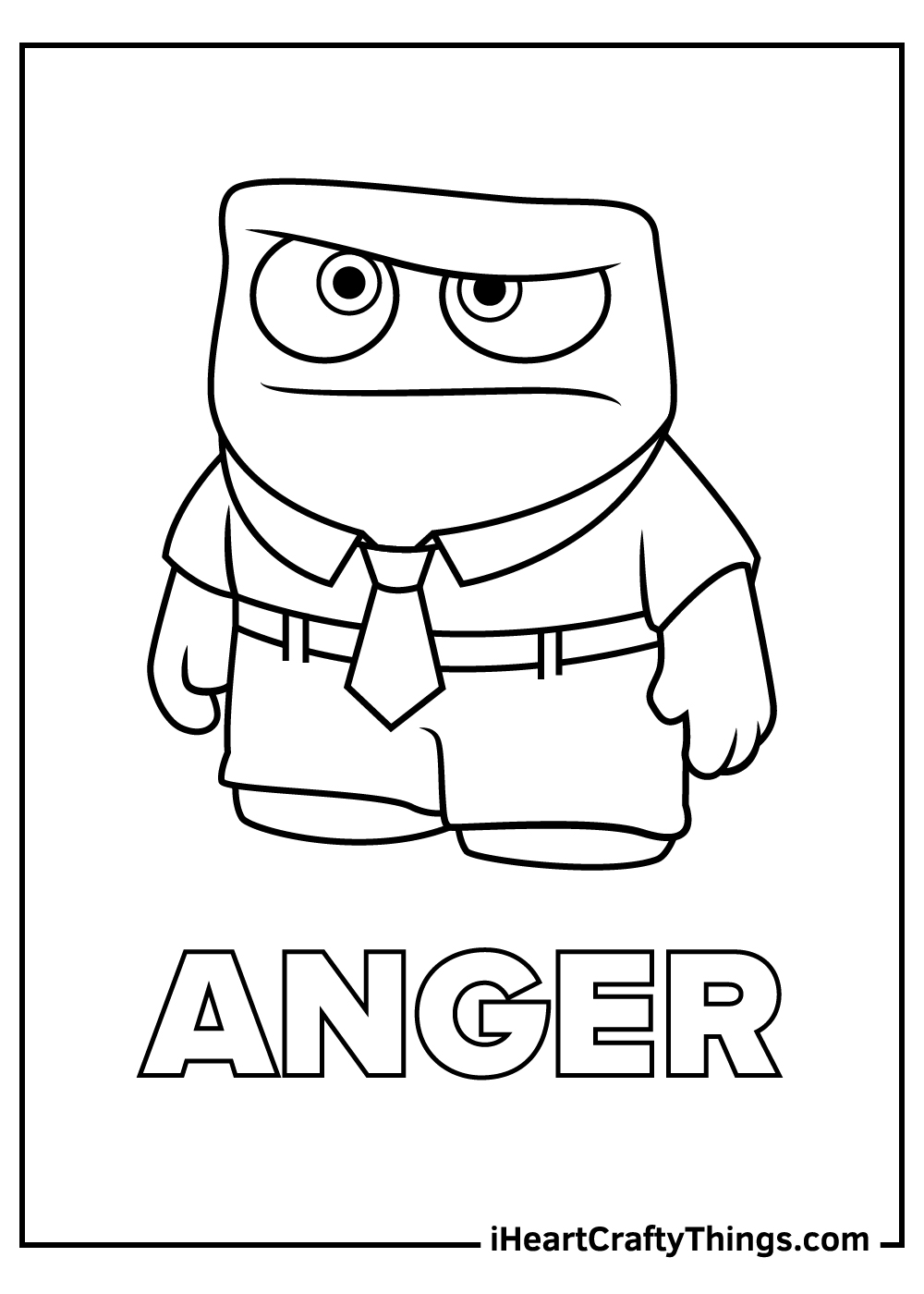 The happy and jolly imaginary friend Bing Bong is the star of this Inside Out coloring sheet! This colorful character has pink as his primary color.
With his wild and imaginative design, you could also incorporate plenty of fun colors into the mix.
I think that the background would look great with plenty of bright colors for this happy character!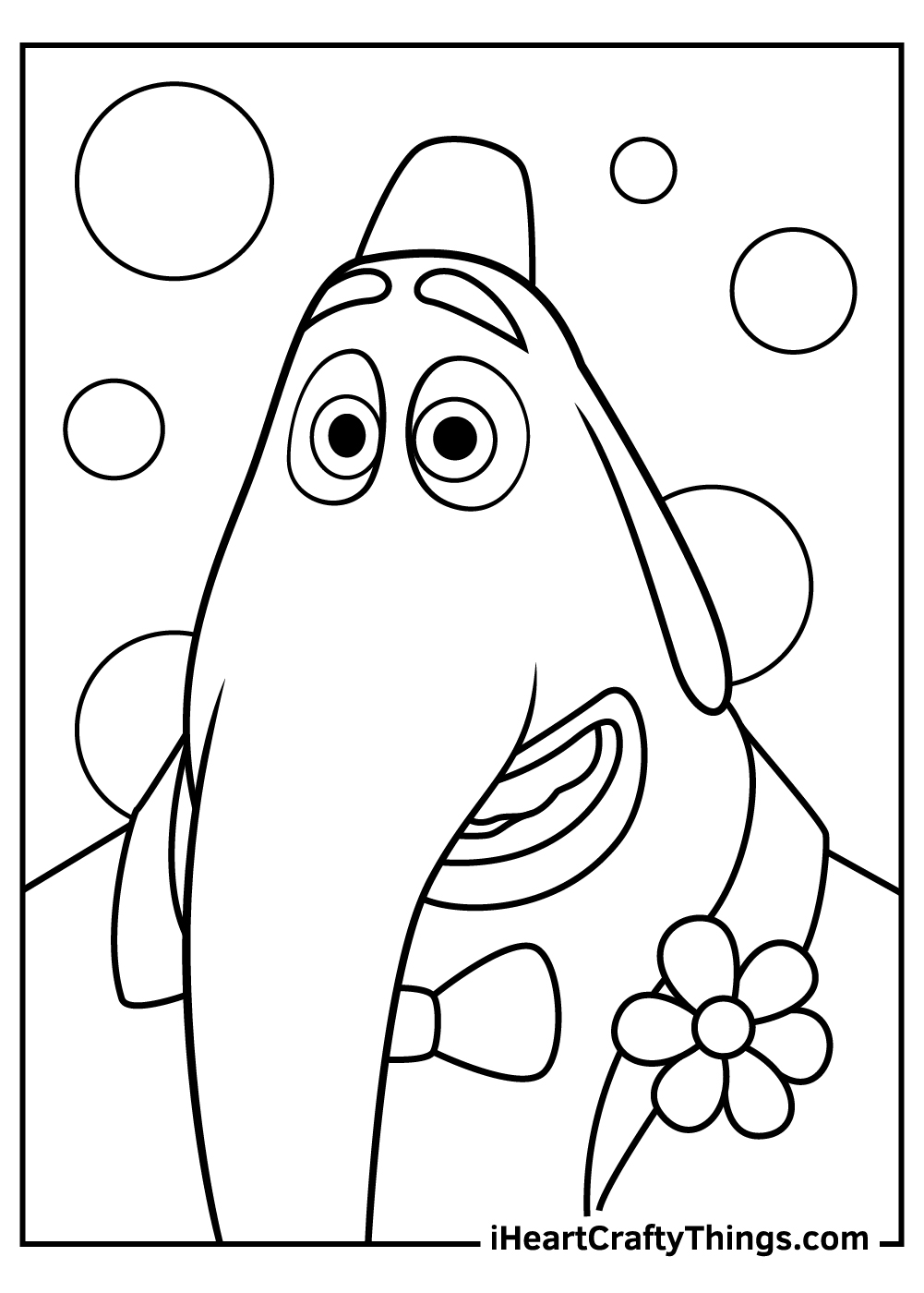 Our next Inside Out coloring printable features the gloomy Sadness. This sorrowful character has an appropriately blue color scheme with a white sweater.
For the background of this picture, I would use some different shades of blue and some purple for the colder color look of this sad character.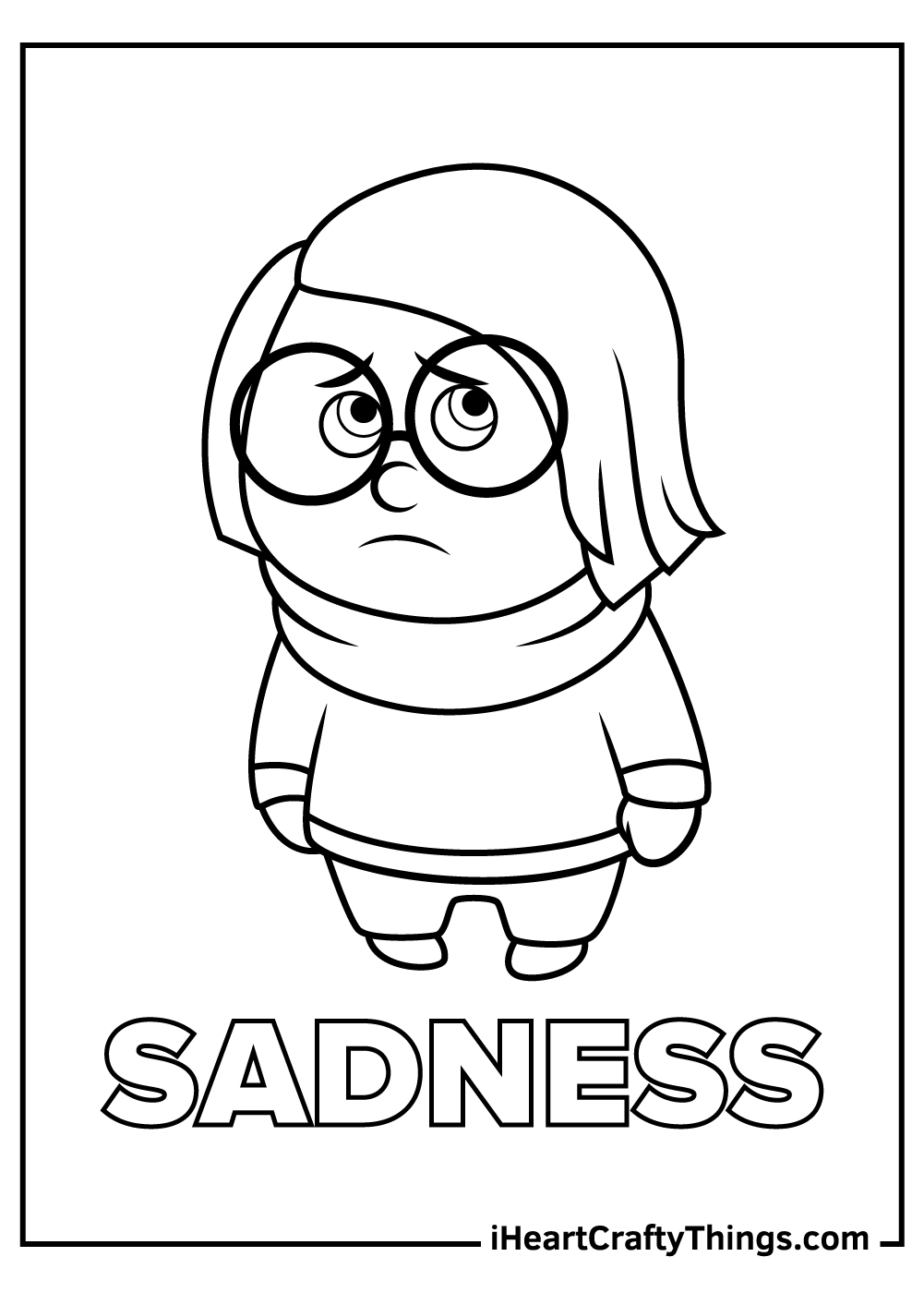 This Inside Out coloring page features the cowardly Fear. This scared character has lighter purples for his colors, and the background of this page is divided into different sections.
Yellows and greens are complimentary colors to purple, so you could alternate them for the background or maybe use different shades of purple for it.
What colors will you choose for this timid character?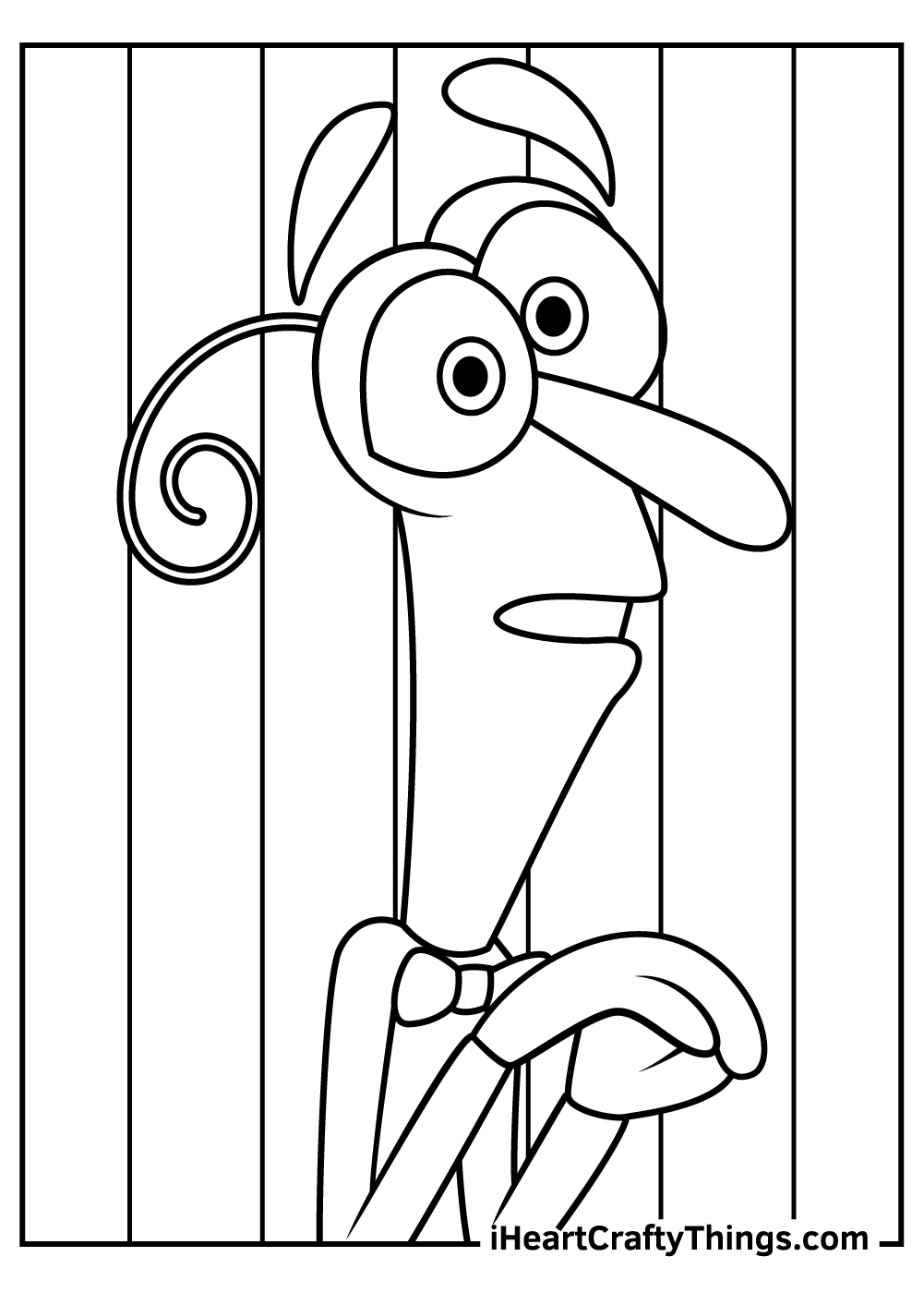 It's time to get out your happiest and brightest colors, because Joy is the star of this Inside Out coloring sheet! Joy's colors include yellows, greens and blue for her hair.
For this bright and cheery character, I would suggest using your favorite vibrant colors for the background and for coloring in the letters of her name.
We can't wait to see how you bring this joyful character to life!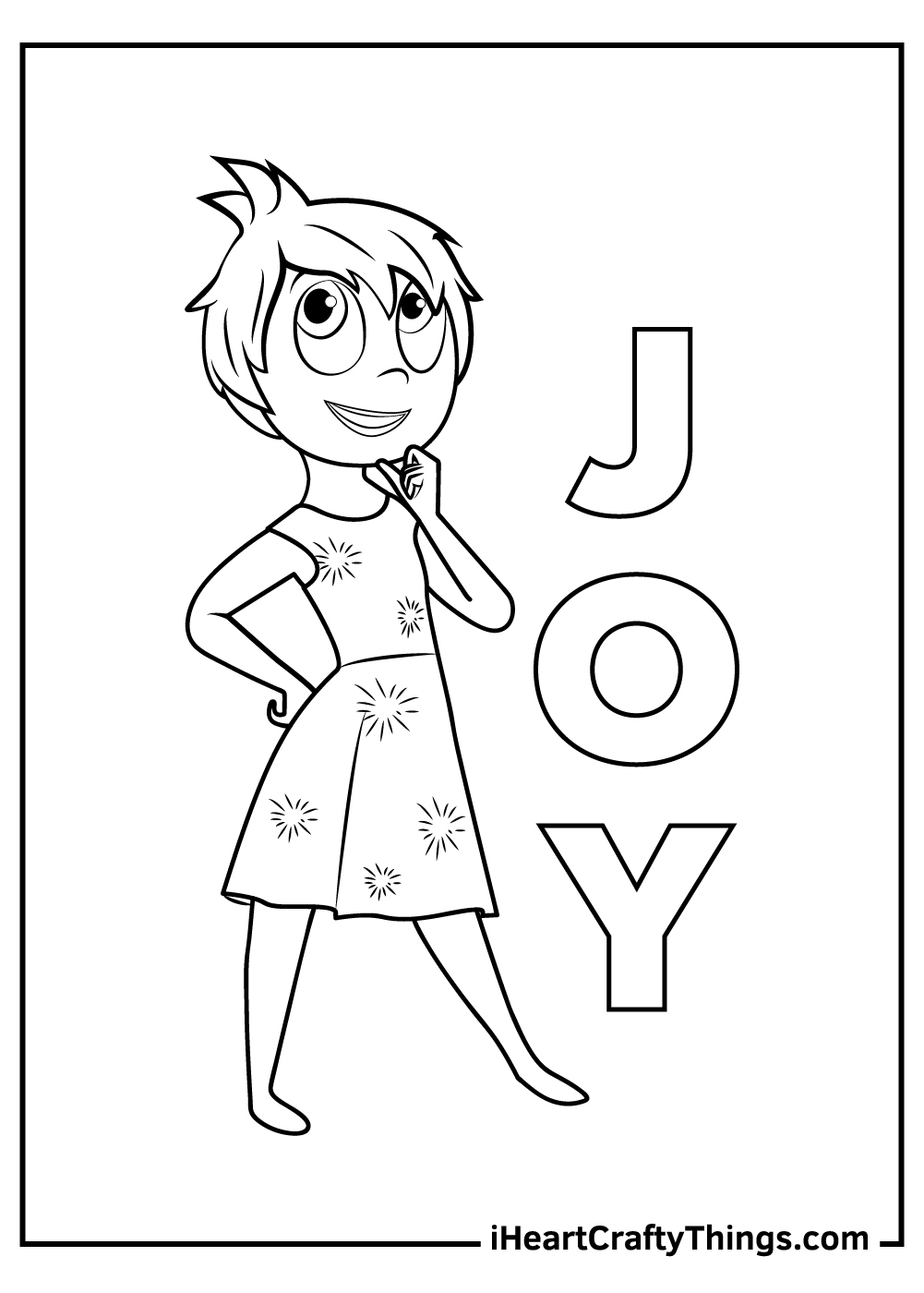 We have a closeup of our pal Anger again for this free Inside Out printable! He's looking a lot more fiery in this image, so for this one I would use some paints to give this a different look.
Using some watercolors could be great to make the fire on top of his head have a softer look.
What medium will you use to represent this hot headed character?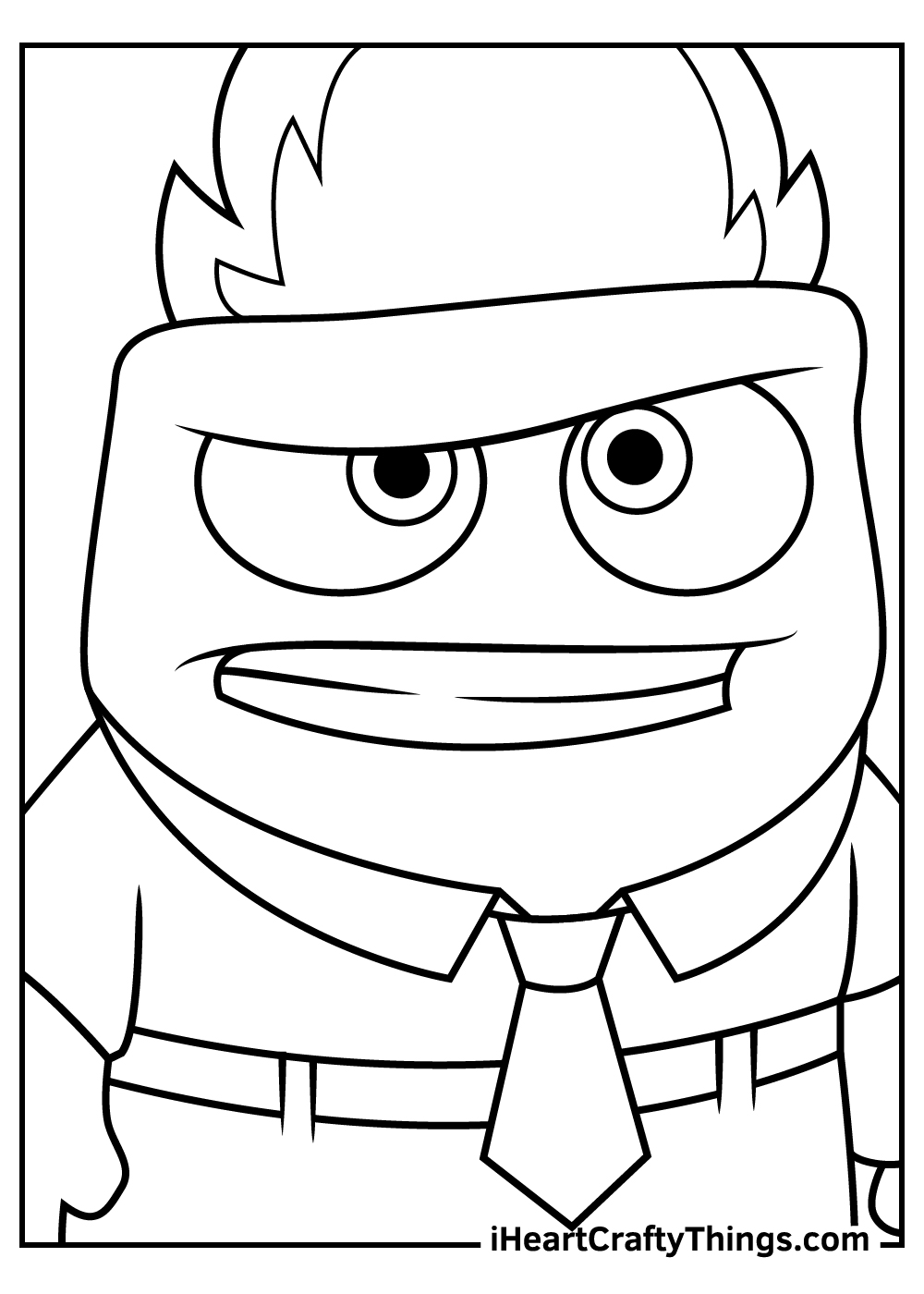 The sarcastic and frequently annoyed Disgust features in this next free Inside Out coloring sheet. Her color scheme is made up almost entirely of greens with a little bit of pink mixed in.
Disgust has shiny looking hair, so maybe you could use some green glitter or glitter glue to give it a sparkly look for this picture!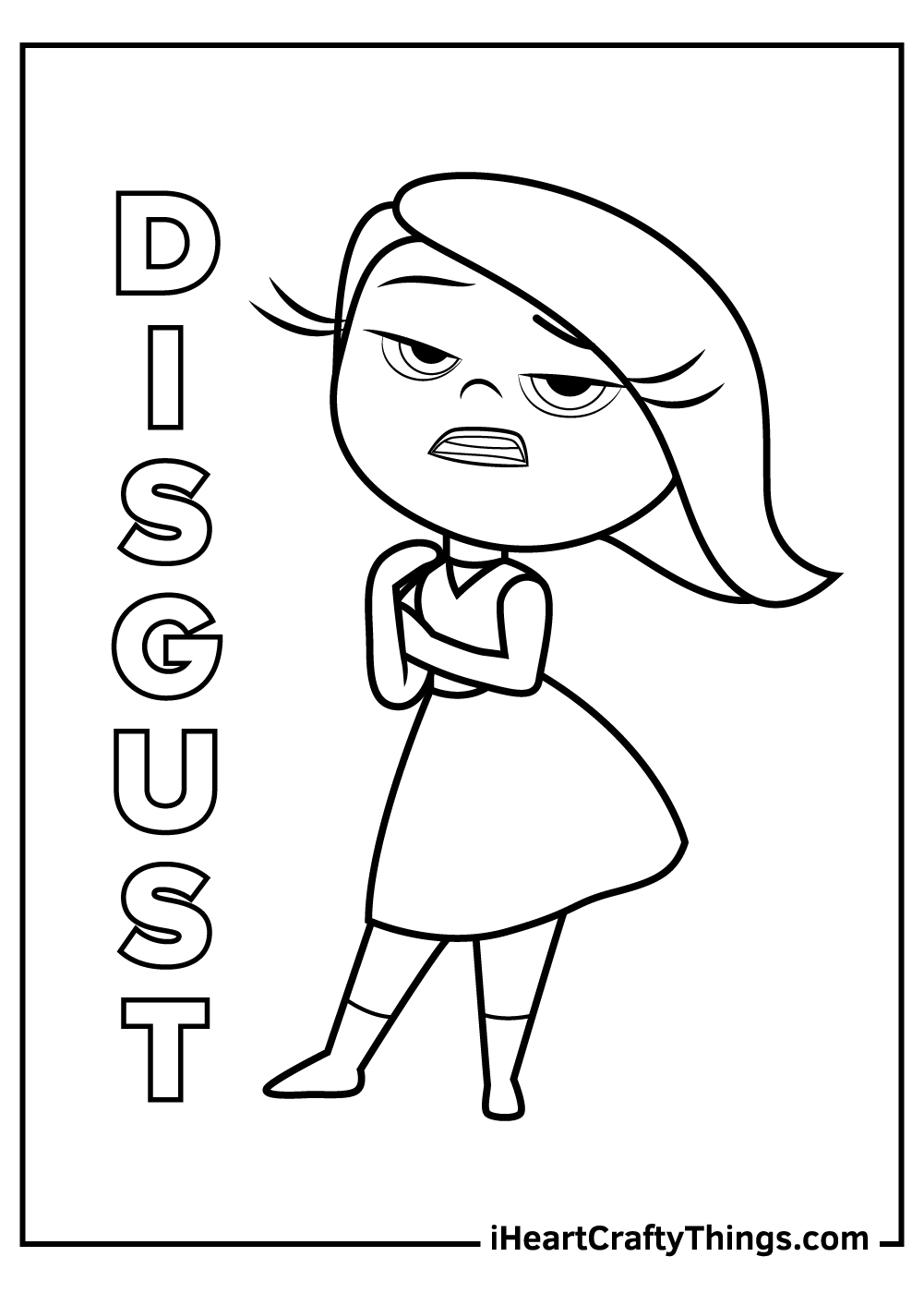 Sadness is back again to say hello in this Inside Out coloring sheet. If you already colored her in earlier, maybe you could use some paints or another medium that you didn't use before to color her in this time.
You could also try to use some different colors to give Sadness a unique look to how she appears in the film.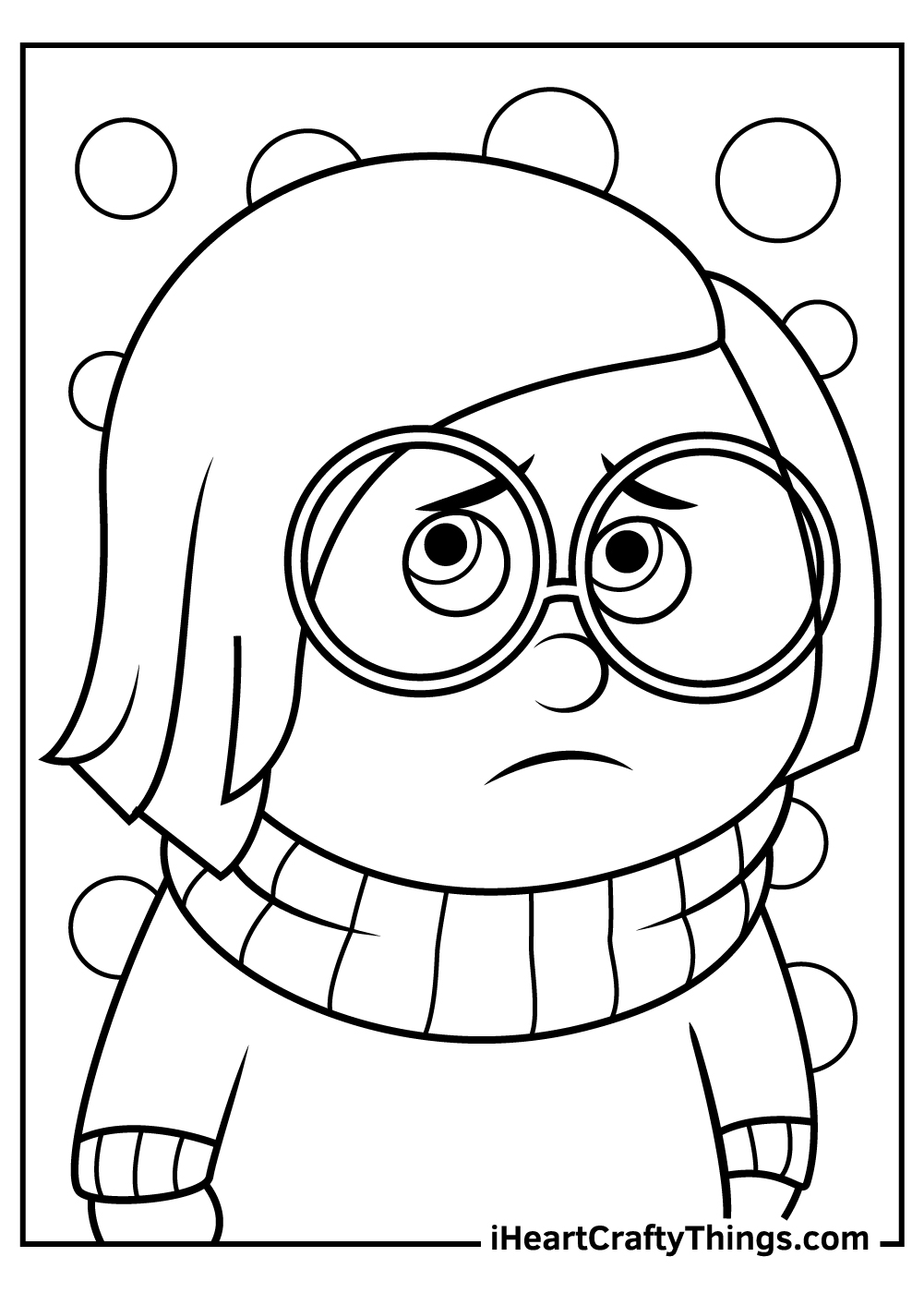 We have Fear posing with his name in his return for this Inside Out coloring printable. What colors will you use to color in his name?
You could use purple and blues alternating to show off his color scheme or pick some other colors that you feel suit the character.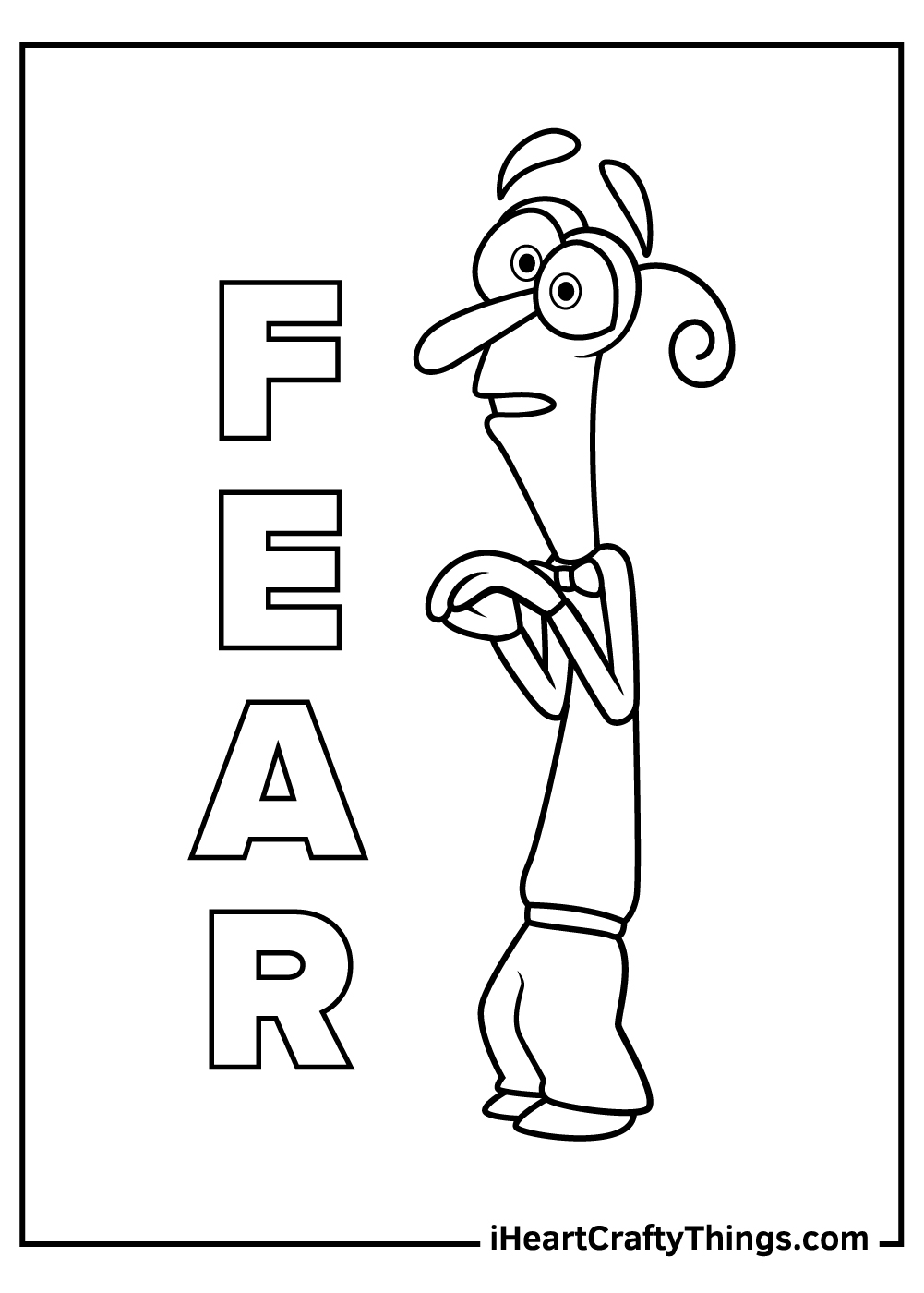 Disgust is back again for this final free Inside Out coloring page for kids!
She's also got a background separated into segments, so the only decision left to make is what colors you'll choose for the background.
Maybe you could color in the character with one medium and use another for the background.
For instance, you could use crayons or colored pencils for the background and then use acrylic or watercolor paints for Disgust herself.
Whatever you decide, we hope you'll share your finished picture to our Facebook page!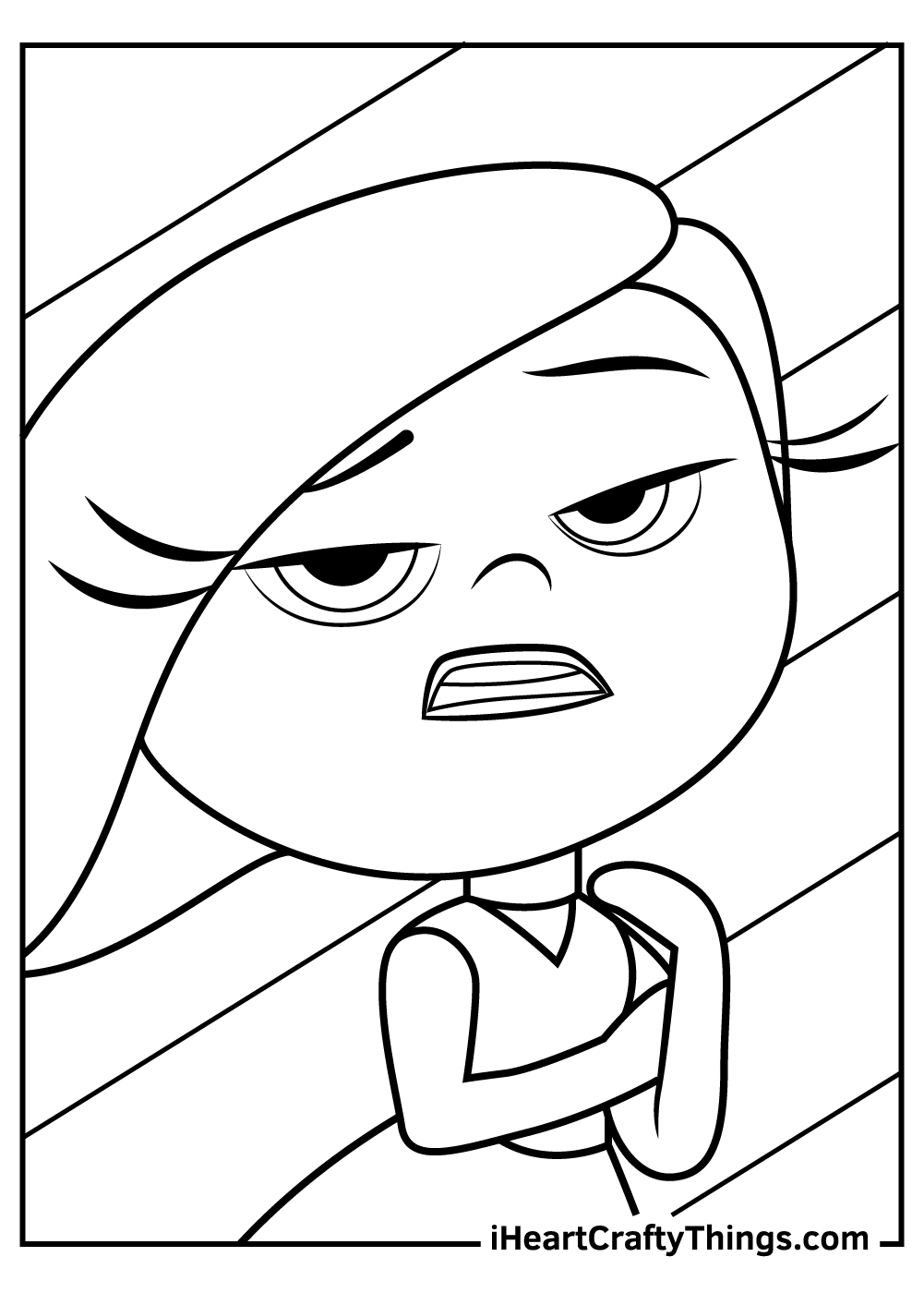 Inside Out Coloring Pages – Which will you choose?
We hope that you had a wonderfully colorful time hanging out with the emotions in these free Inside Out coloring sheets for kids!
Remember that all of our coloring pages and printable art are always free for you to print and have a great time coloring in.
You could print out a few copies to share with your friends or have some spares that you can use to try out different art mediums and color choices.
Please remember to like and share our Facebook page to never miss out on any of our awesome coloring pages and printable goodies!
Also, we would love it if you would share your completed Inside Out printables to our Facebook page for us to admire! We always love to see your beautiful and colorful artworks.