There are many different brands of high speed luxury sports cars, and everyone has their favorite. Out of all of them, it's hard to think of a brand more famous and iconic than Ferrari.
These beautiful sports cars are a culmination of style, performance and quality, and they have been a favorite of car enthusiasts for the many years they have been in production.
These free Ferrari coloring pages for kids are the perfect way to have tons of coloring fun imagining what your very own Ferrari could look like.
Whether you stick to the iconic Ferrari red coloring or use your own favorite colors for these Ferrari printables, we can't wait to see how you complete these awesome coloring pages!
Once you've colored in your favorite Ferrari coloring sheets, we hope you'll share them to our Facebook page for us to see.
We'll look forward to seeing how creative you've all been with these cool Ferrari printables!
Here are my RECOMMENDED Art Supplies!
10 Brand New Ferrari Coloring Pages – Free to Print and Color
For the first image in our series of Ferrari coloring pages for kids, we have a front view of an awesome Ferrari with a segmented background.
You could alternate the colors of the Ferrari logo which are green, white, red and yellow for the background, but what color will you choose for the car itself?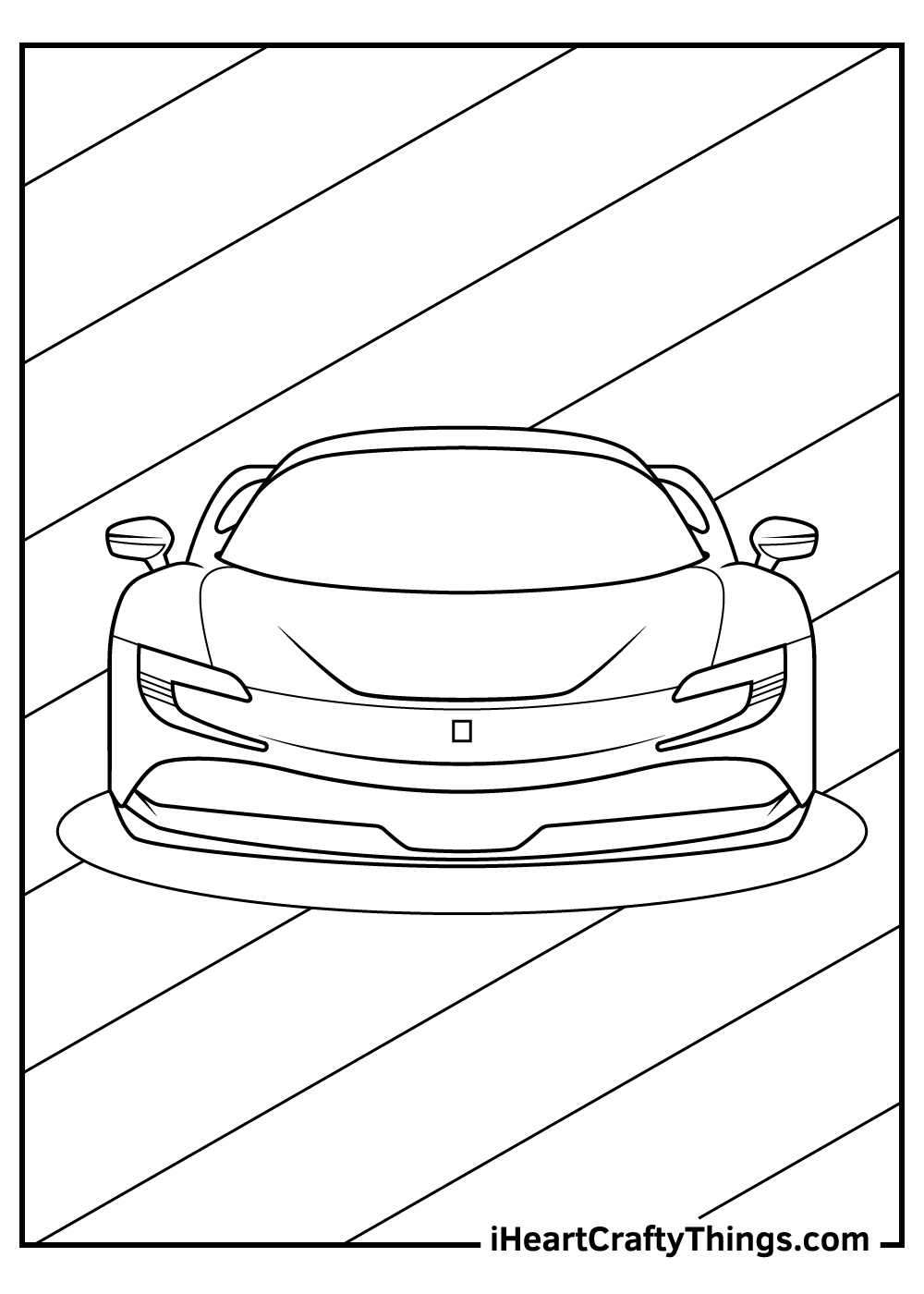 There's a great view of the car in this second Ferrari coloring sheet.
There's a brilliant looking sky above it, and I think it would look amazing with some rich oranges and yellows for a sunset look to this Ferrari printable.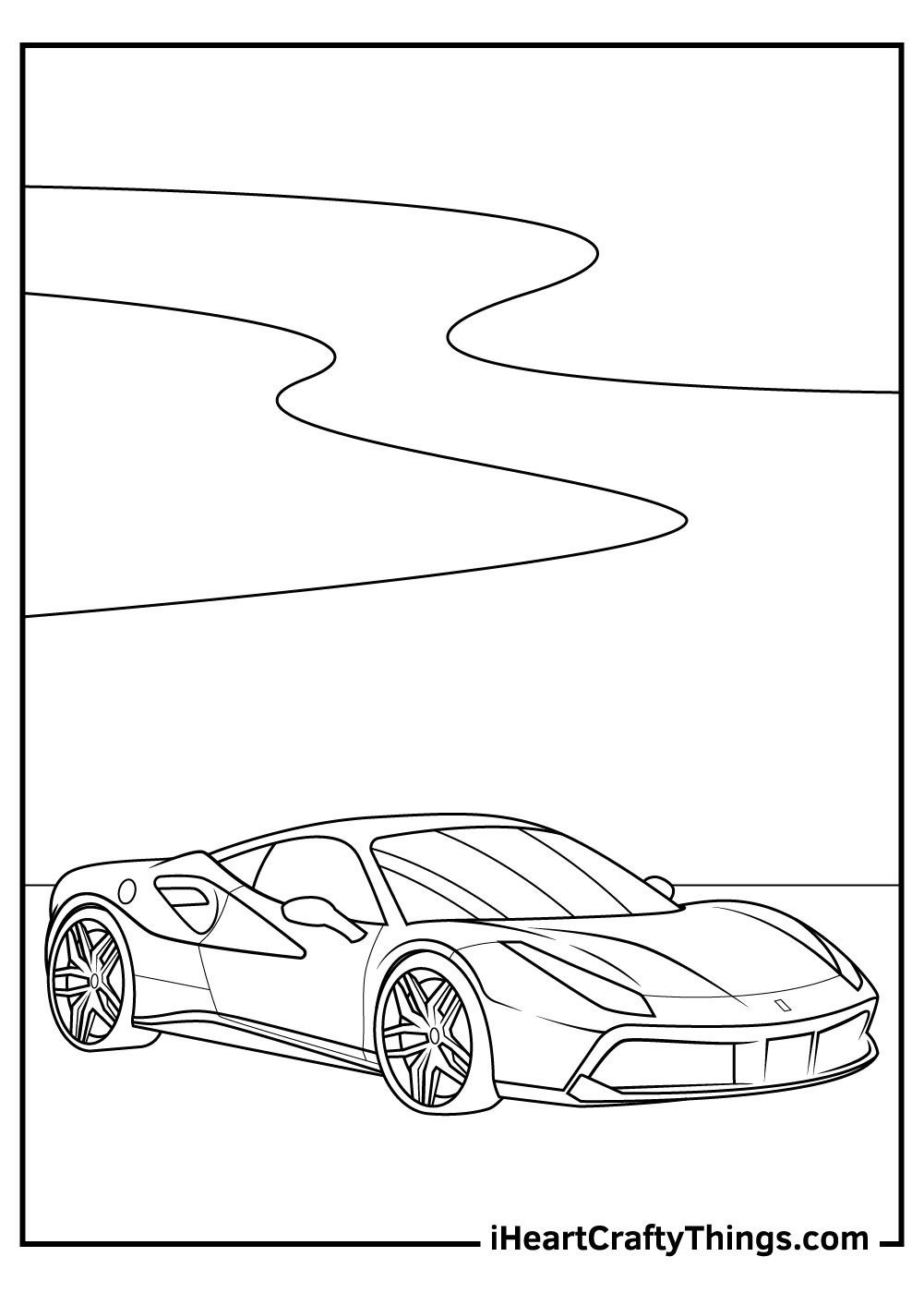 This next Ferrari is looking sparking with some stars posed above it!
For this image, you could try to use some red glitter pens to give the car a shiny, chrome appearance that would be really striking to look at!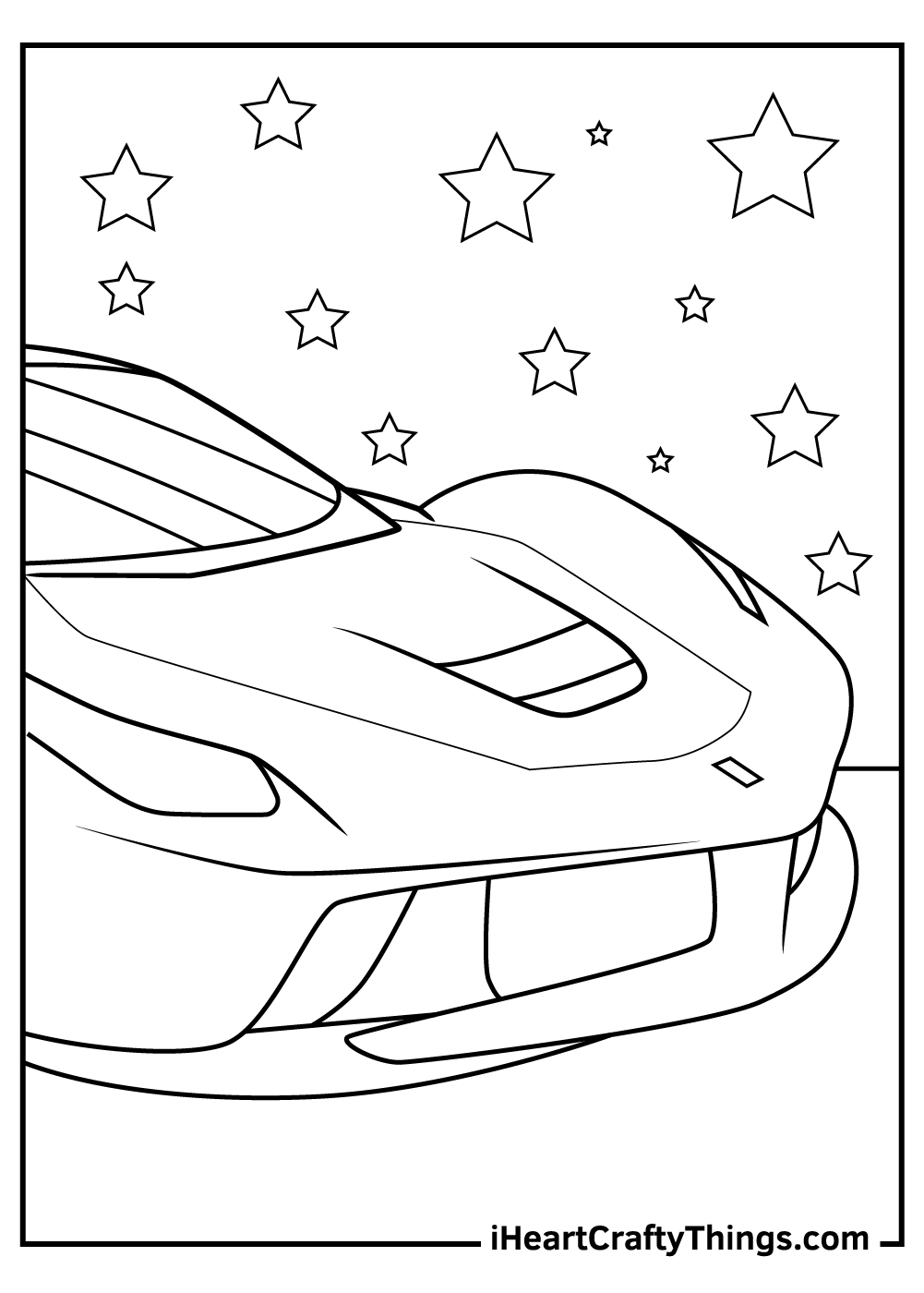 It's time for some high speed coloring with this next Ferrari coloring page! This next car seems to be going at great speeds, which makes me think that some more intense coloring would be great for this background.
I would use some reds and yellows for the background contrasted with a deep black and grey scheme for the road to make a stunning contrast.
The only question would be what color to make the car to really finish off this Ferrari coloring printable.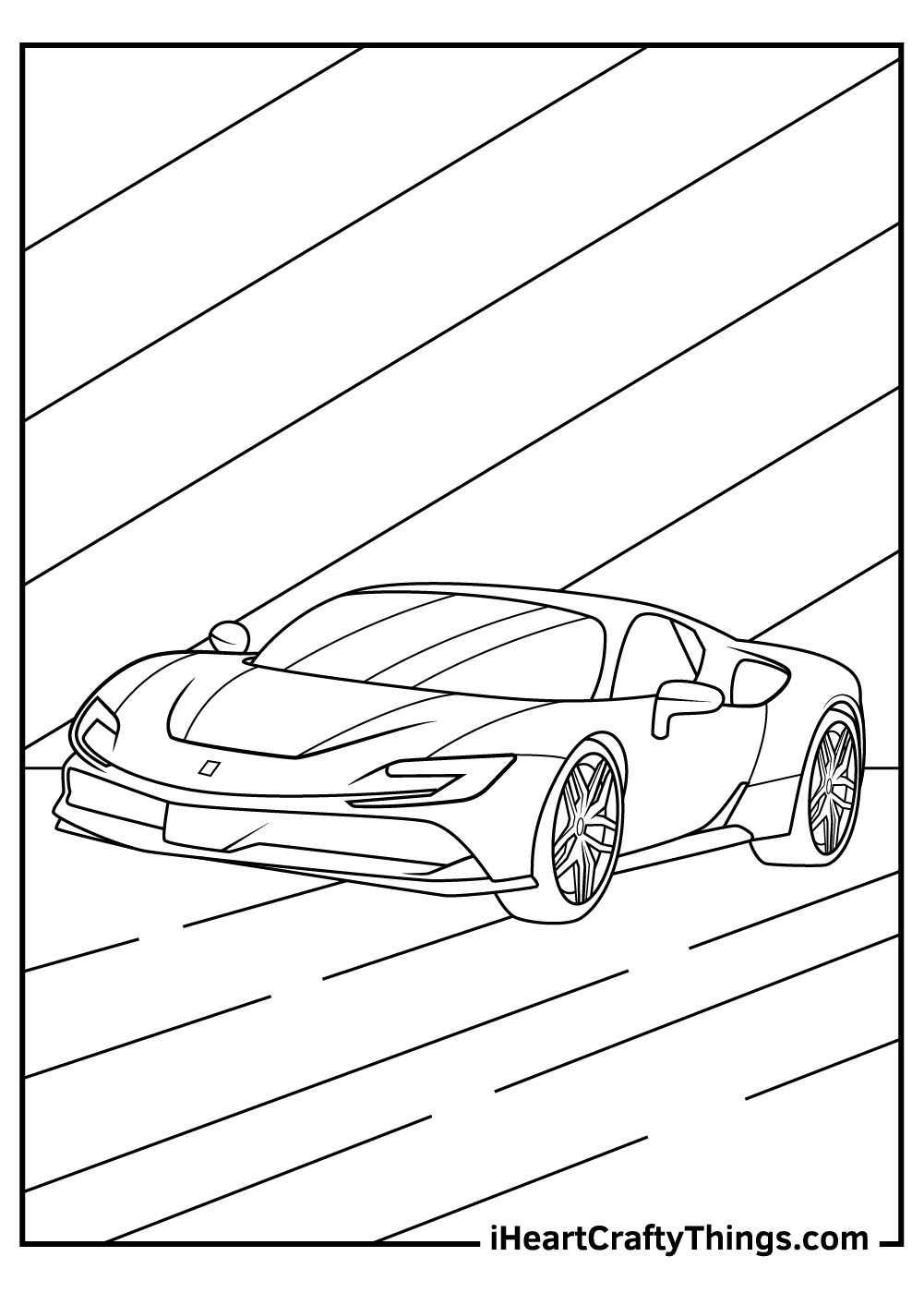 We have a great closeup for a dramatic view of the car for this cool Ferrari coloring sheet.
For this image, I think it would look great to use your favorite color for the car so that you can imagine what it would be like to see this in your garage.
Maybe you could use a darker blue for the background to make the Ferrari really stand out.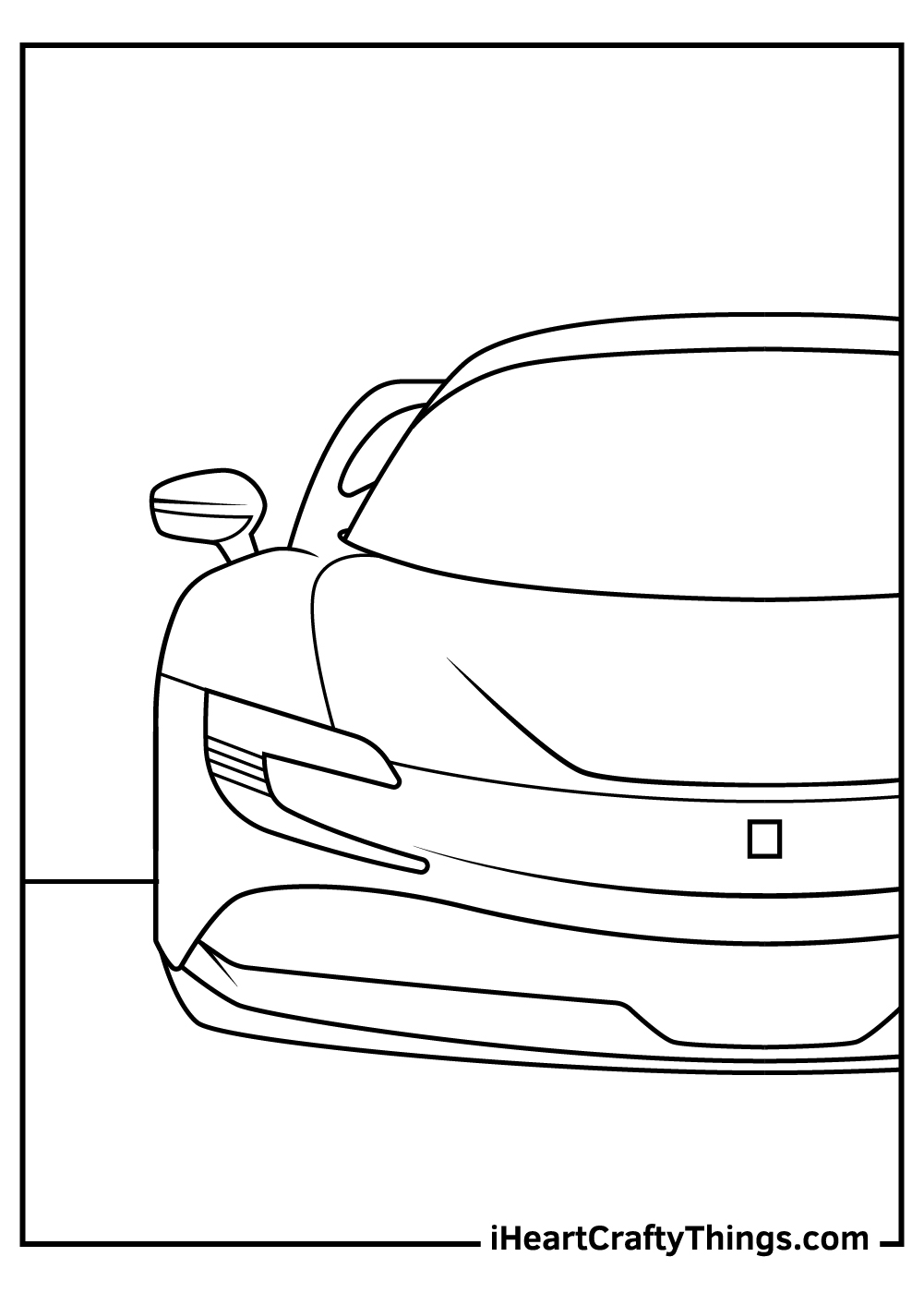 The view of this Ferrari coloring page makes me think of looking down from the stands of a racetrack to see the cars speeding by.
I would use a lot of bright and cheerful colors for this page to recreate the buzz and roar of a crowd at a racetrack.
How will you color in this image?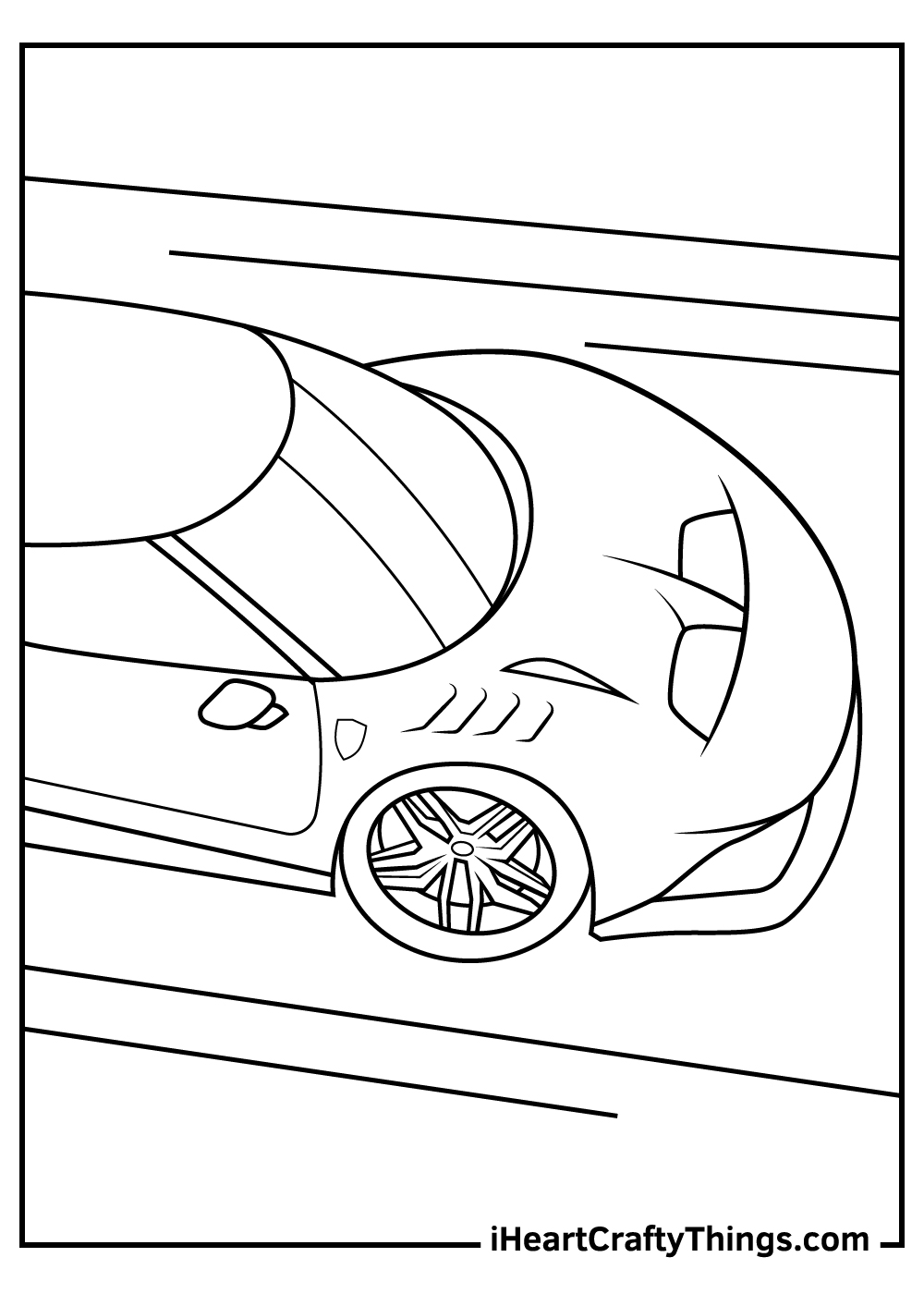 I bet that this Ferrari printable would make for an awesome poster for your wall once you've colored it in!
I would make this Ferrari the classic bright red and then alternate reds, yellows and greens for the background, but I'm sure any colors you choose would look fantastic!
Maybe you could use some colored pens and paints for an even brighter look.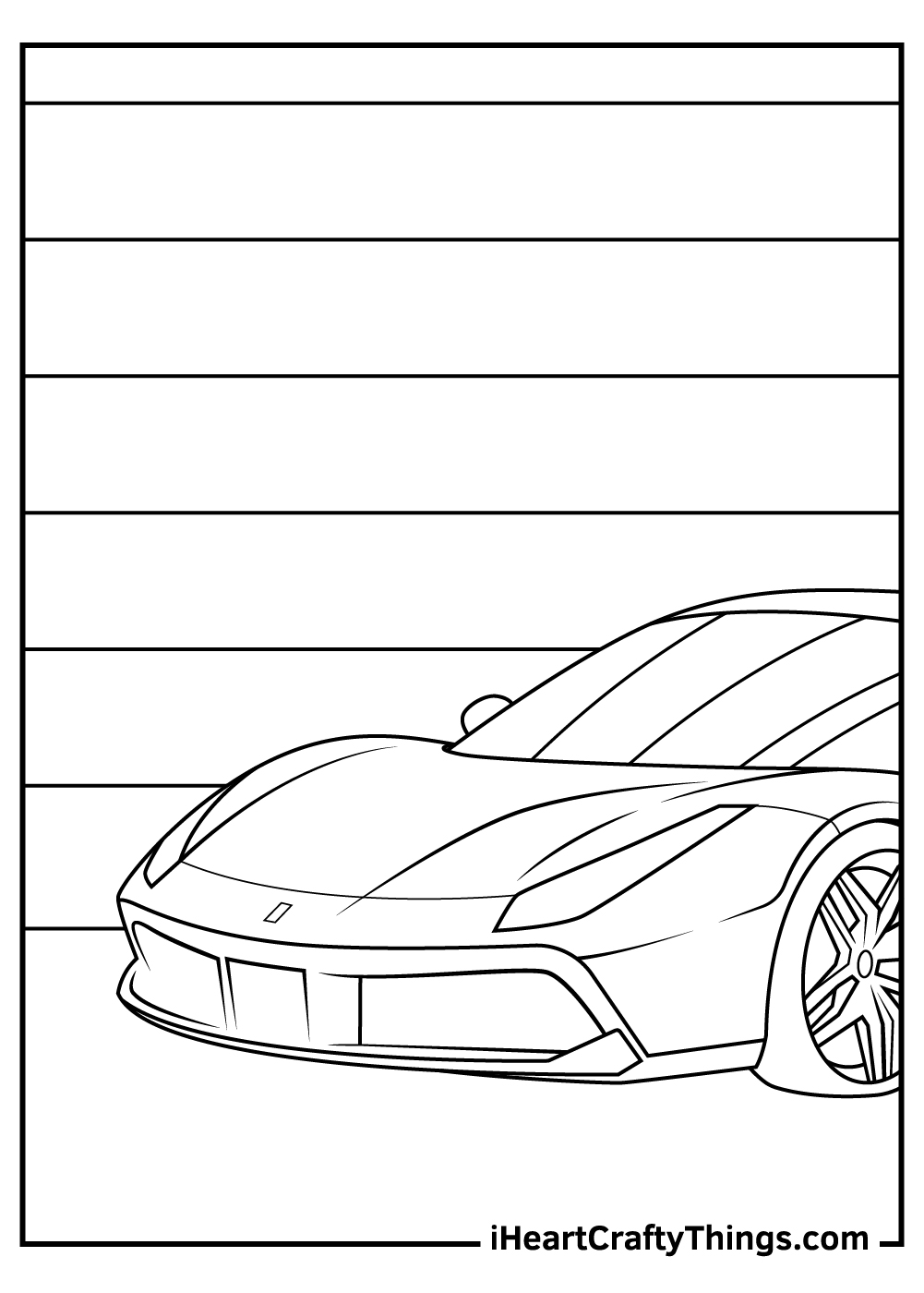 This next Ferrari coloring page looks like a fancy showroom to me! We have a great view of the Ferrari in this image, so you could color it in with that Ferrari red again, or you could once again pick your favorite color for this one.
If I were coloring in this printable, I would use a nice blue for this one, but what color would you like your own Ferrari to be?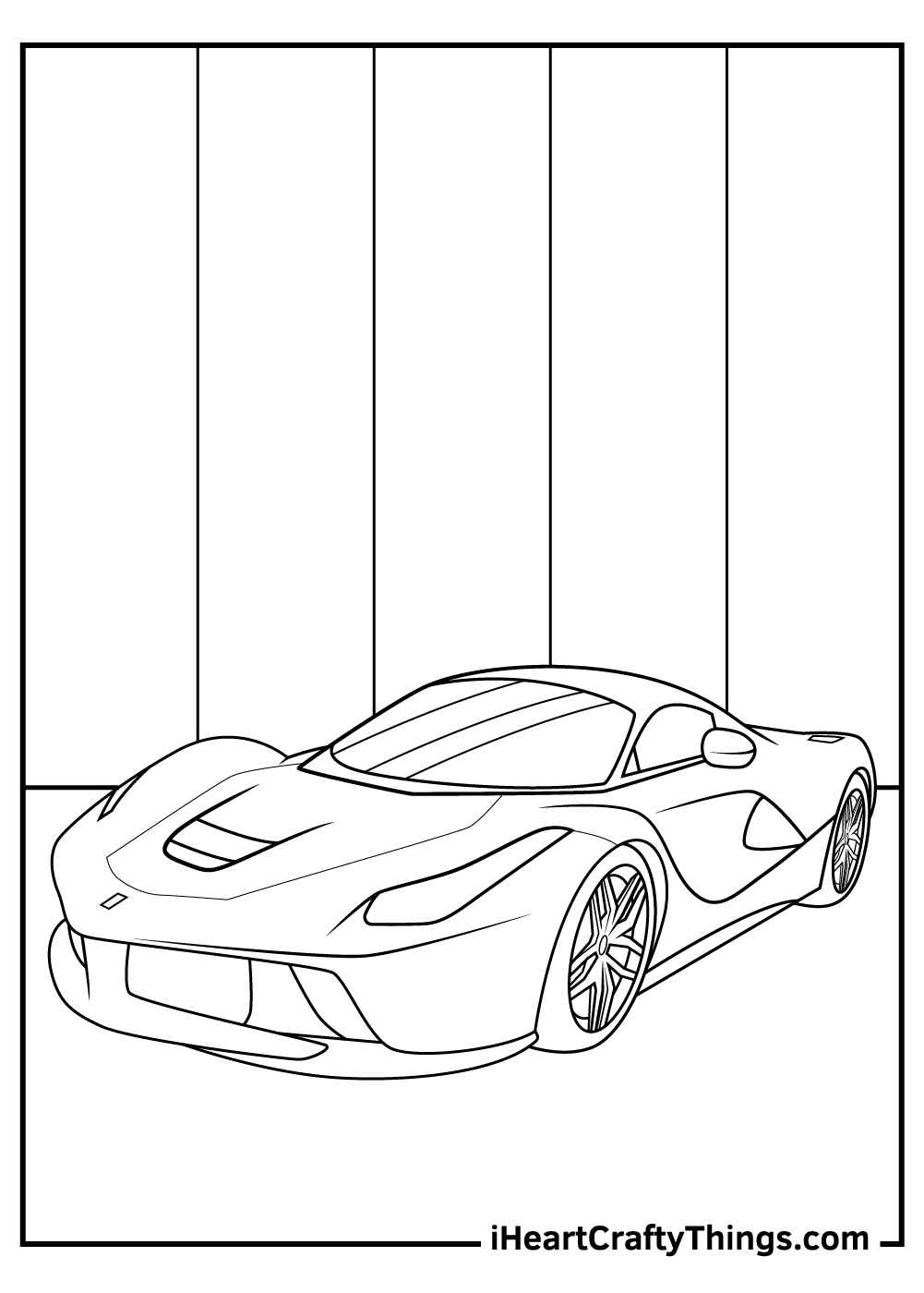 We have a fantastic landscape background as this Ferrari speeds through the countryside. It would look great to have some rich browns for the mountains in the background contrasted with a brilliant bright blue for the sky to show that this is a great day for driving!
You could use some darker blues for the section behind the car to create a seaside drive look for this free Ferrari coloring sheet.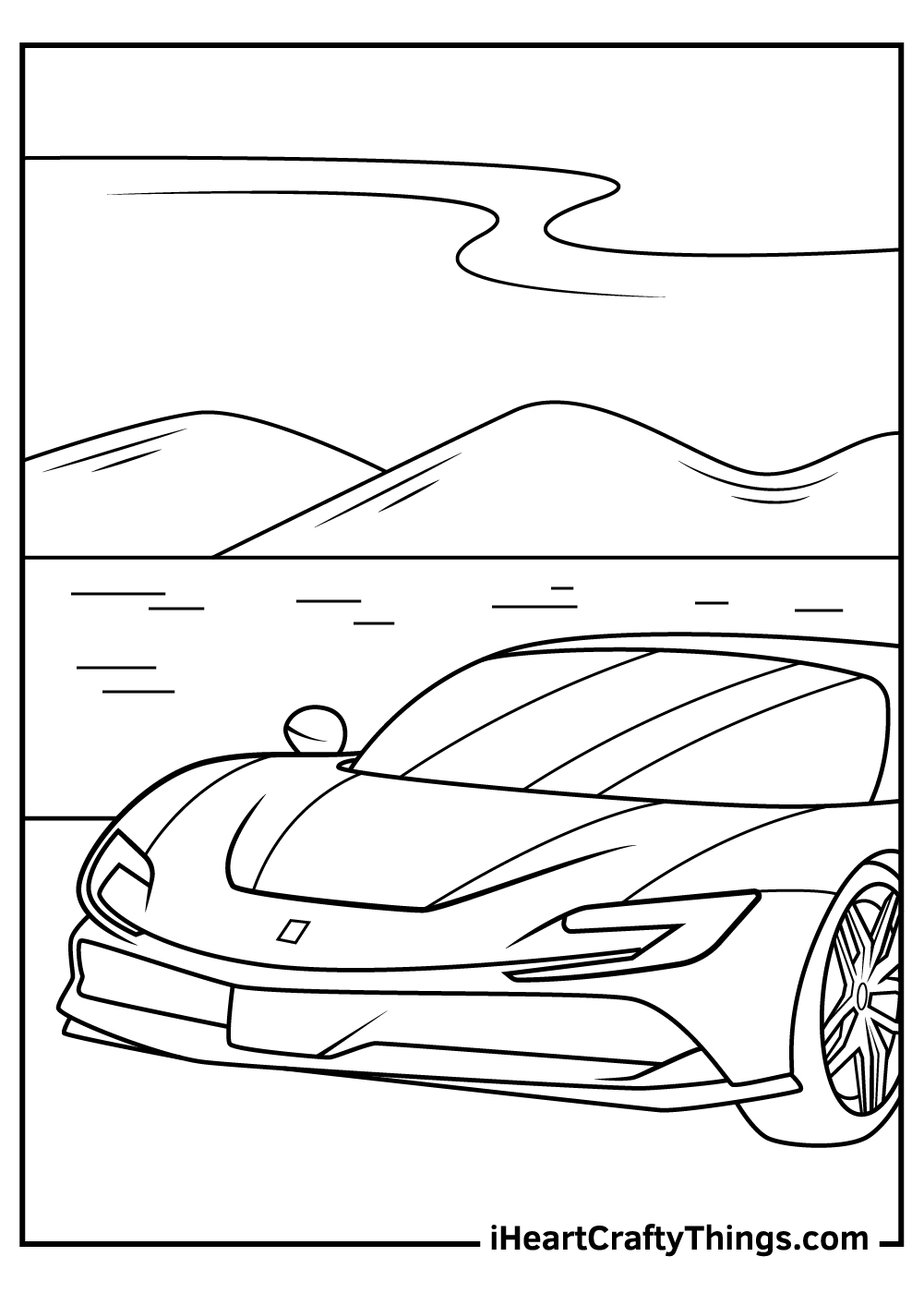 Our final free Ferrari coloring page for kids has a closeup on the classic Ferrari logo. If you look at the logo, it has green, white, yellow and reds on it, and the green white and red part mirror the Italian flag to show where these beautiful cars come from.
Will you use the standard Ferrari logo colors or create your very own variation for this last free Ferrari printable?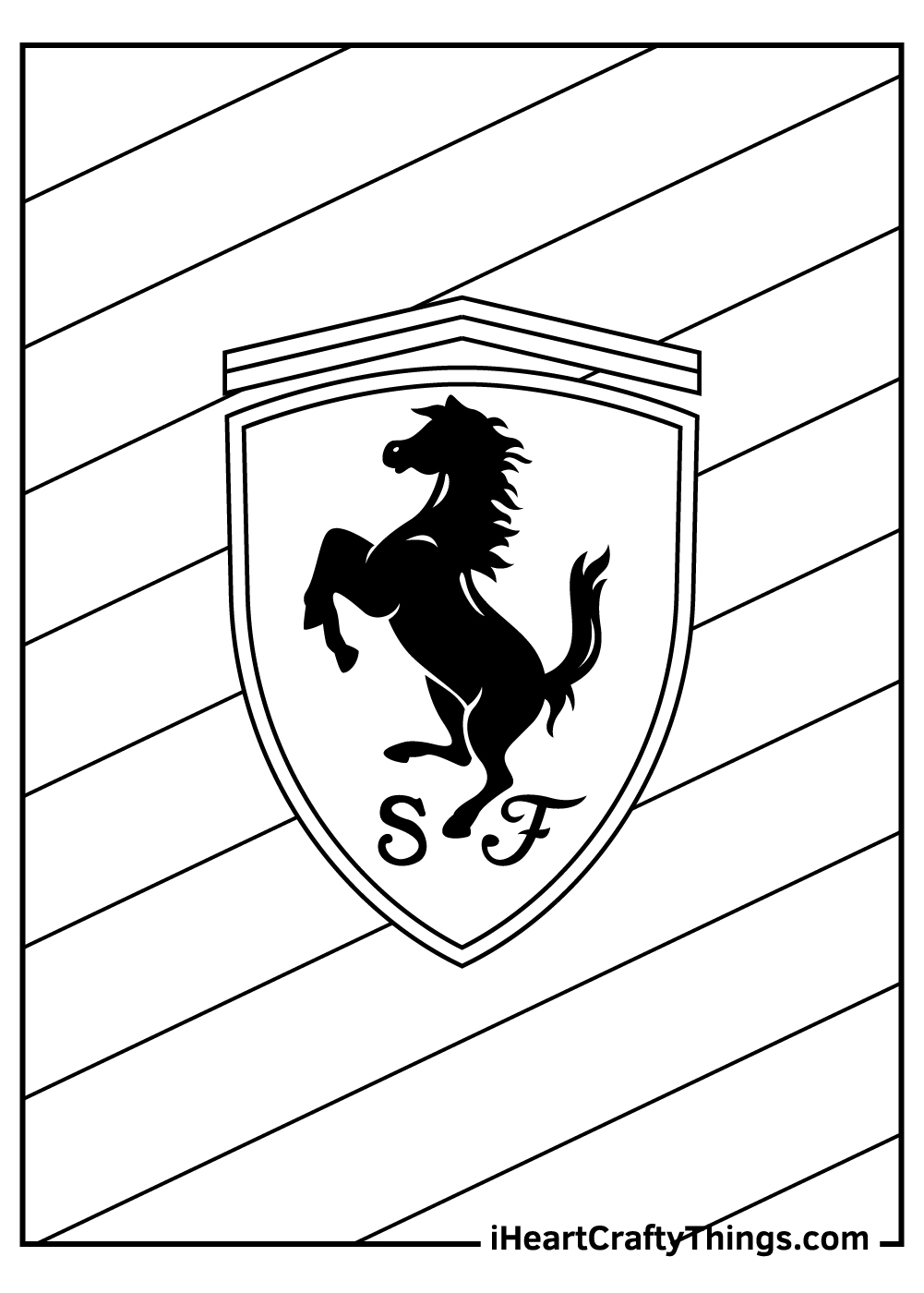 Ferrari Coloring Pages – Which will you choose?
Hopefully these free Ferrari coloring pages for kids provided you with hours of high speed coloring good times!
Remember that our coloring pages and art printables are totally free for you to print and enjoy as much as you like, so feel free to print out multiple copies of your favorites to share with your friends or to create some different color variations.
You could also try out some different mediums like paints and colored pens to give these Ferrari printables an intense color style that will set them apart!
Please be sure to like and share our Facebook page to make sure you and your friends never miss out on our awesome free coloring pages and other printables that we'll be bringing out.
Also, we'd love it if you share your favorite Ferrari coloring sheets once you've colored them in! We can't wait to see your awesome sports-cars once you're done with them.