On this page, you will find 15 all new Race Car coloring pages that are completely free to print and download.
There is something so thrilling about going at high speeds. Years ago, people would have to use horses or carriages to experience this thrill, but these days a race car is the best way to go about it.
Not everyone gets to drive one though, so this collection of free race car coloring pages for kids is a great way to experience some thrills from the comfort of your home!
There are 15 pages to choose from here, or you could create a complete set and color them all!
It's free no matter which approach you take, so we hope you enjoy coloring and sharing these pages with others.
15 Brand New Race Car Coloring Pages – Free to Print and Color
We will begin this collection of free race car coloring pages for kids with a really slick and cool vehicle!
When coloring any of these race cars, you could use any colors or art mediums that you can think of.
This is all about creating your own perfect race car, so you can let your creativity flow as you begin this first page.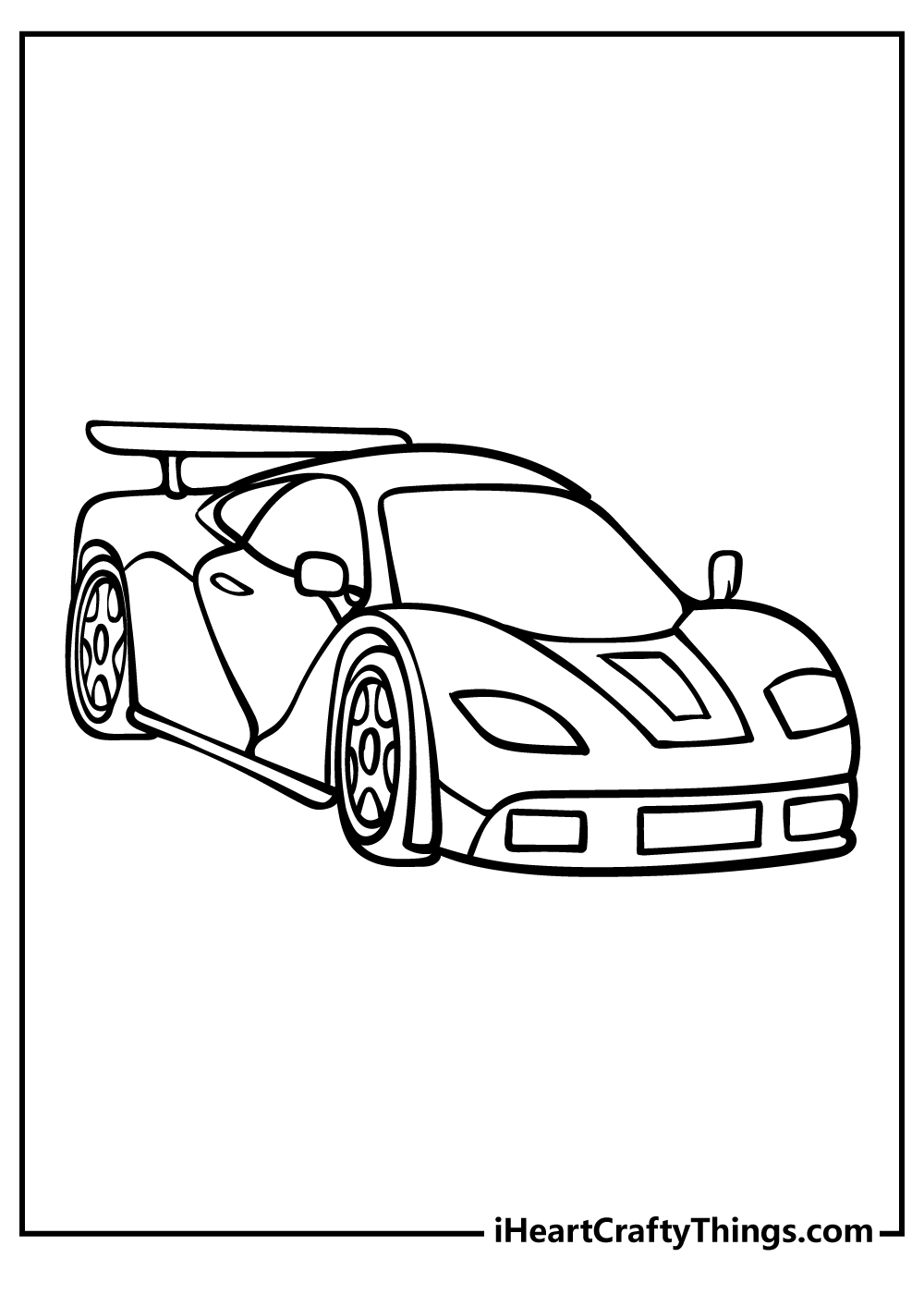 This second car that we have for you certainly looks like it's ready for some high speeds!
It not only has a cool design, but it also has lots of details on it that you can have a great time adding some color to.
You could go for a unified color scheme or use as many different colors as you like when finishing off this car, so how will you go about it?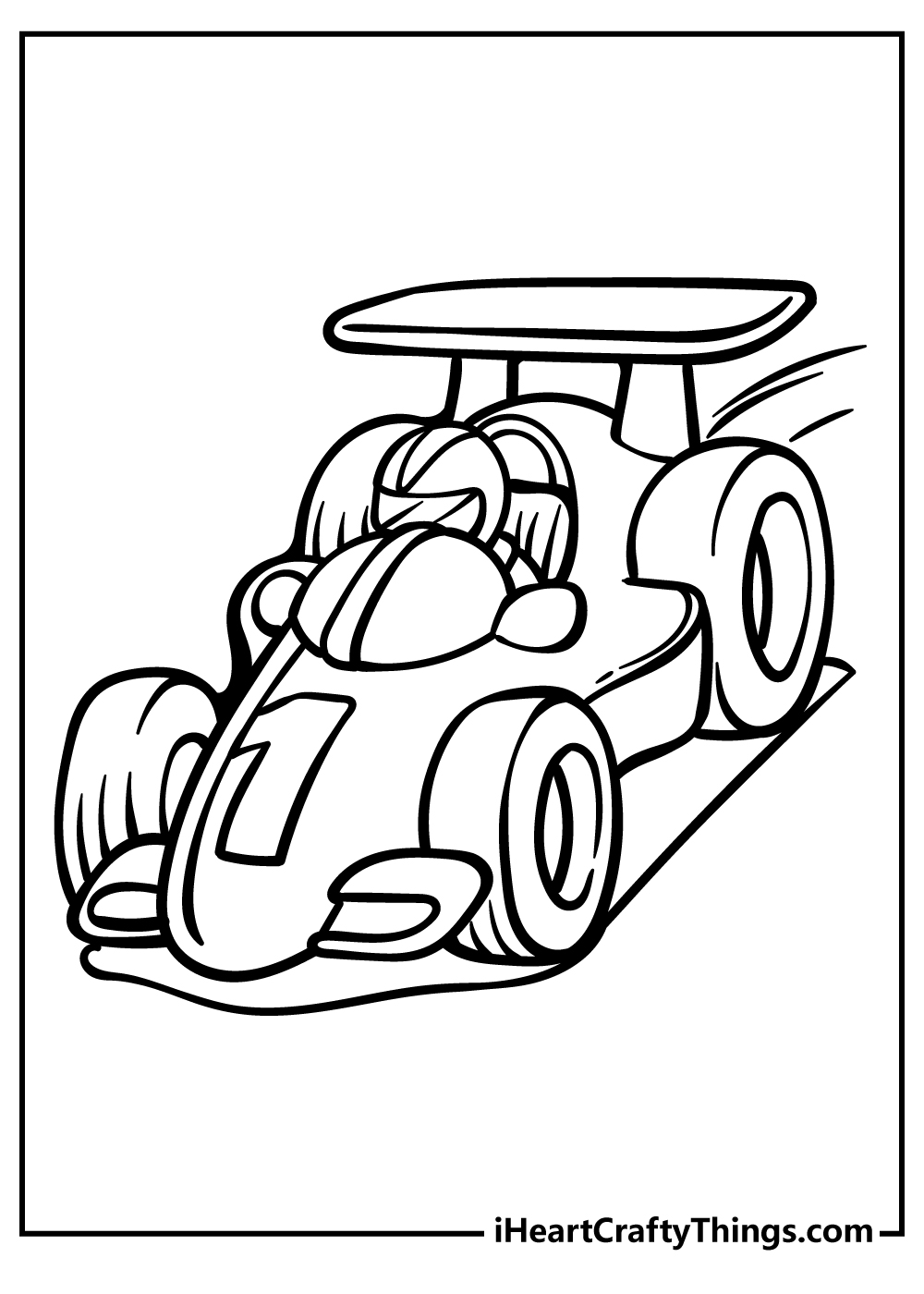 Race cars will sometimes have decals or decorations on them, and a common visual feature for these decorations would be hotrod flames.
This particular one has some awesome flame effects on its bumper, and it makes it look like the car is roaring ahead even if completely stationary!
These flames are a great chance to add some bright reds and yellows to whatever color scheme you choose for this car.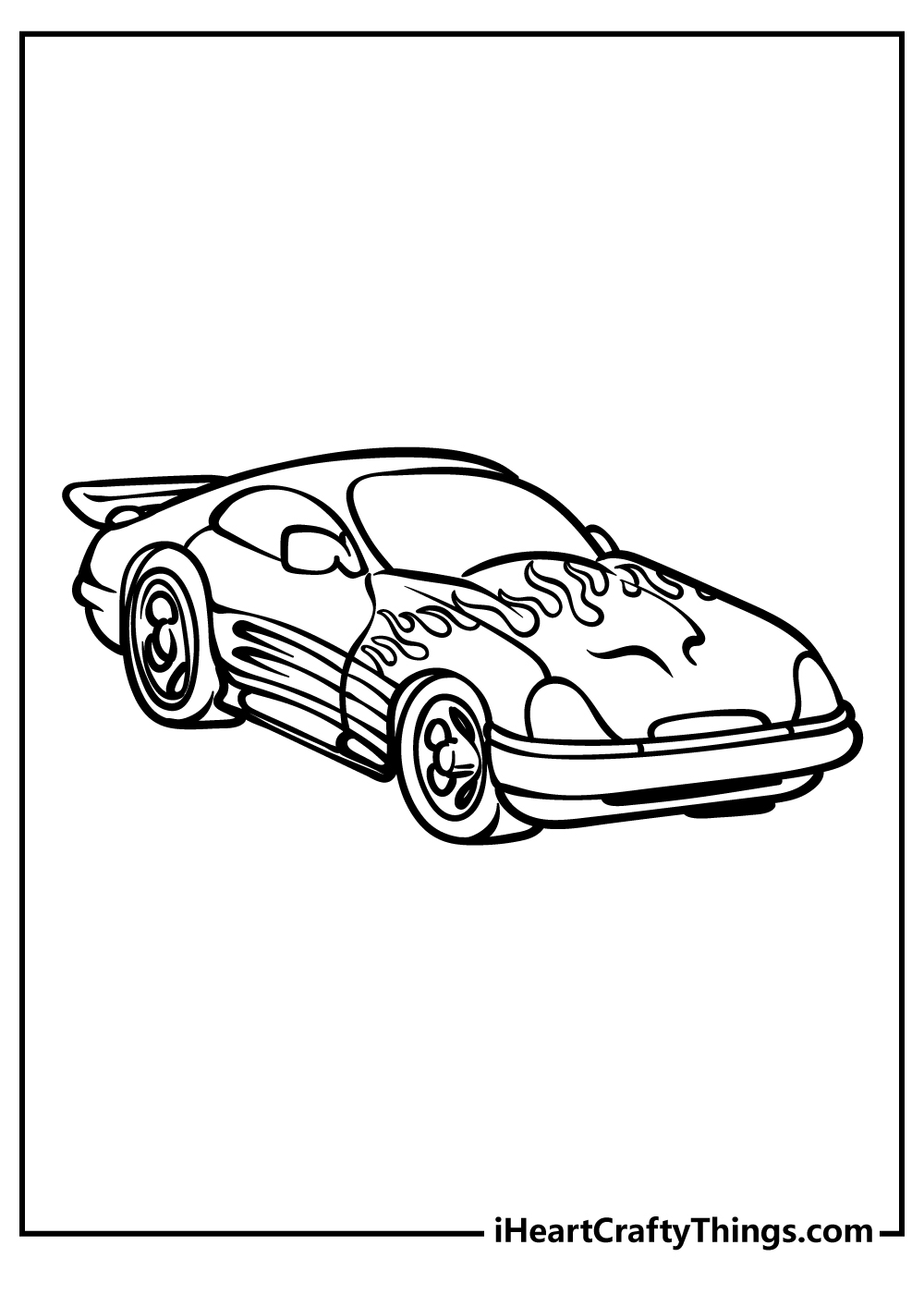 The view we get of this next race car gives us a great look at some of the smaller details of the design.
Some of these details are so small that they could be a bit tricky to color, so that's why you may want to use mediums such as colored pens or pencils to color in some of these smaller details.
What other mediums do you think would give you the precision you need?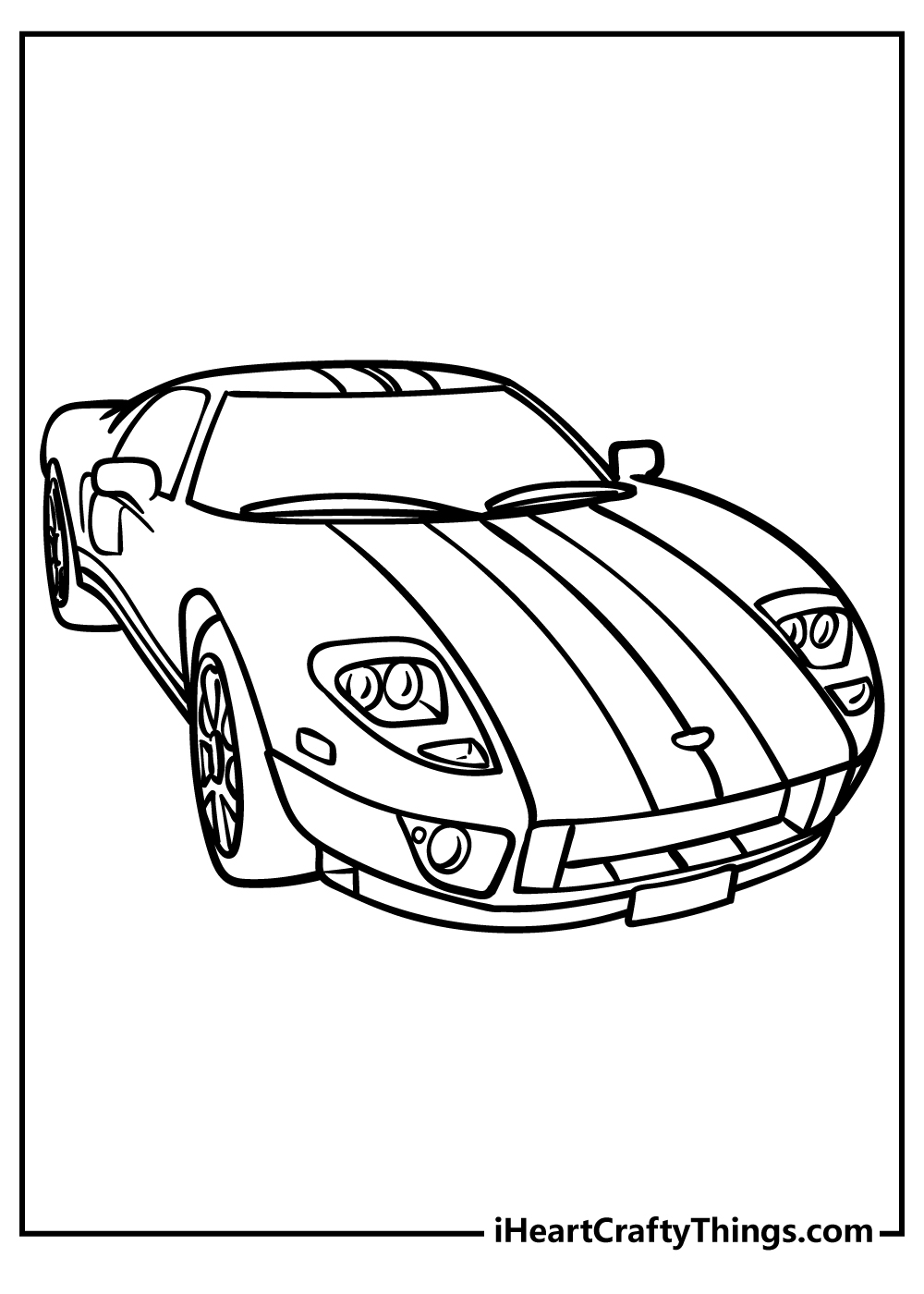 We love the detailing on this next race car coloring sheet! While the car itself is highly detailed, the background has been left fairly blank and open.
Coloring this car is one part of the fun, but you could also draw some background details and other elements to personalize this image even further.
Where would you have this car be driving if you were to add a background?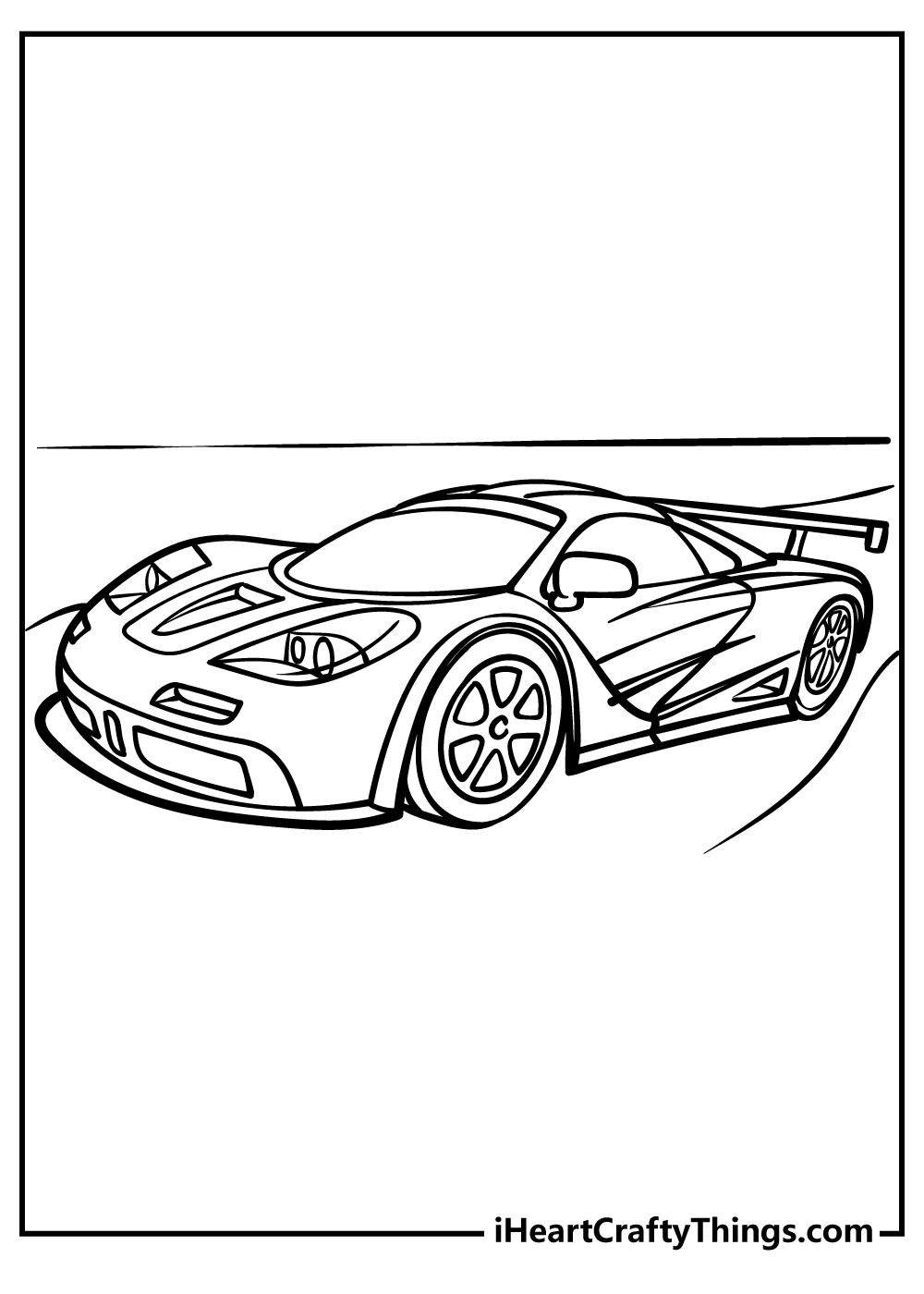 With this next car, we get a better look at the helmet of the driver, as there is no roof for this particular vehicle.
For an extra fun touch, maybe you could try to draw your own face inside the helmet to make it look as if you are speeding along in this awesome race car!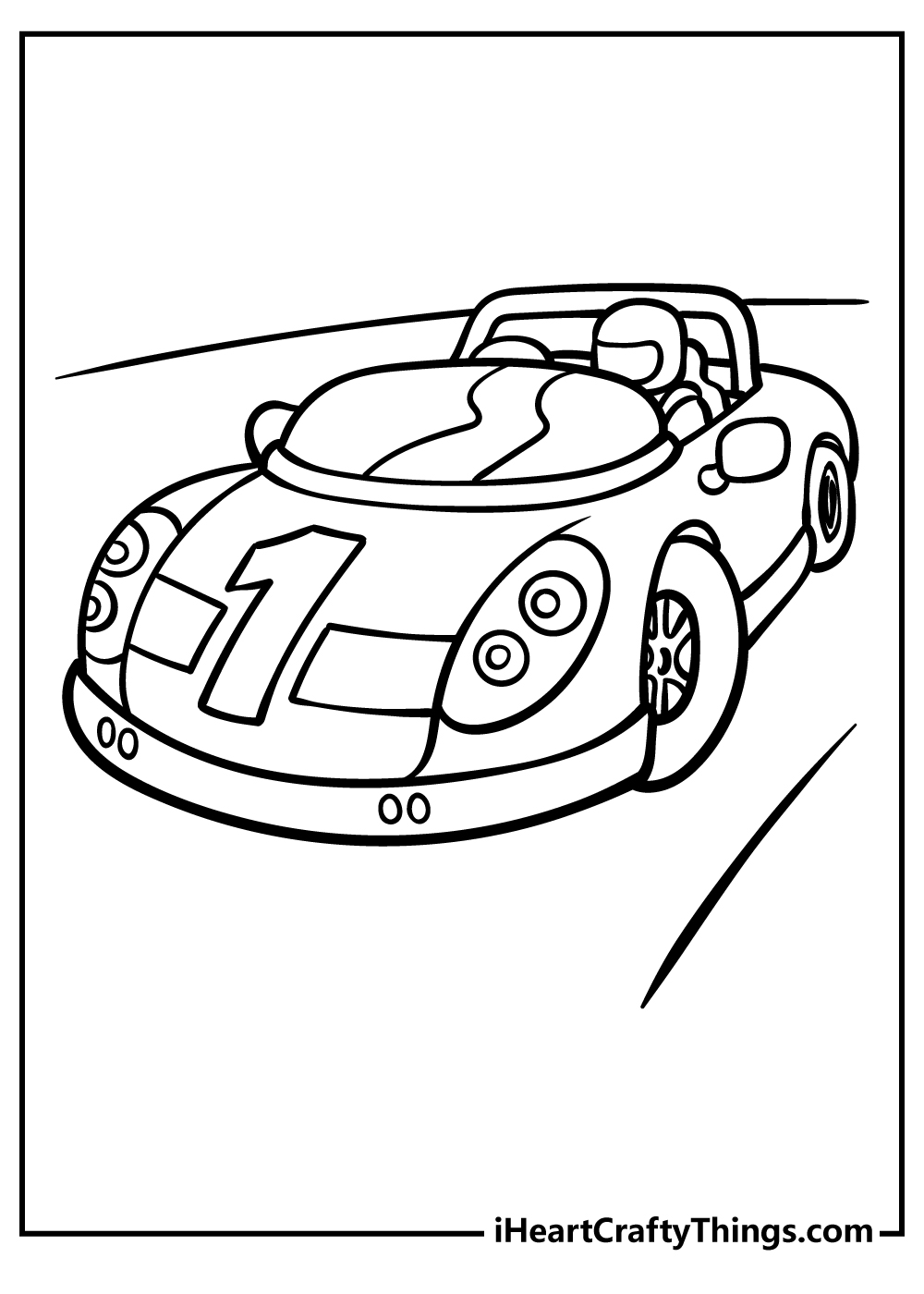 We have a really fun and creative car for you up next. This car is a lot more cartoony than any of the previous ones in the collection, and it is being driven by a fun cartoon character.
For this one, we would go for some bright and vibrant colors to complement the cartoony feel of the image.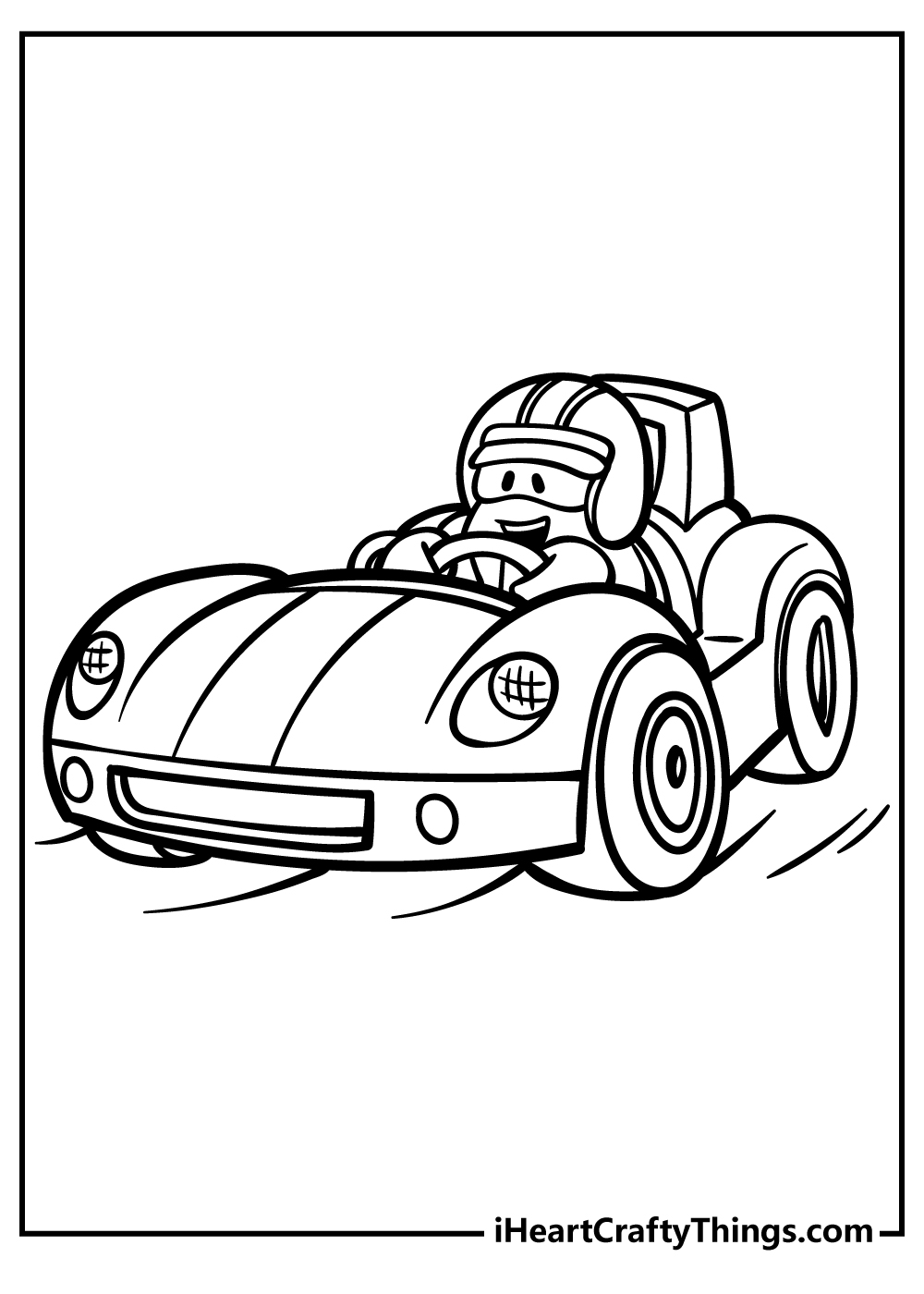 There's another open roof car for you to color for this next picture!
It's another one that has a lot of empty space for the background, so you could draw some kind of background to show the track or the location that is driving on.
Do you have a favorite real-life road or track you could use as inspiration?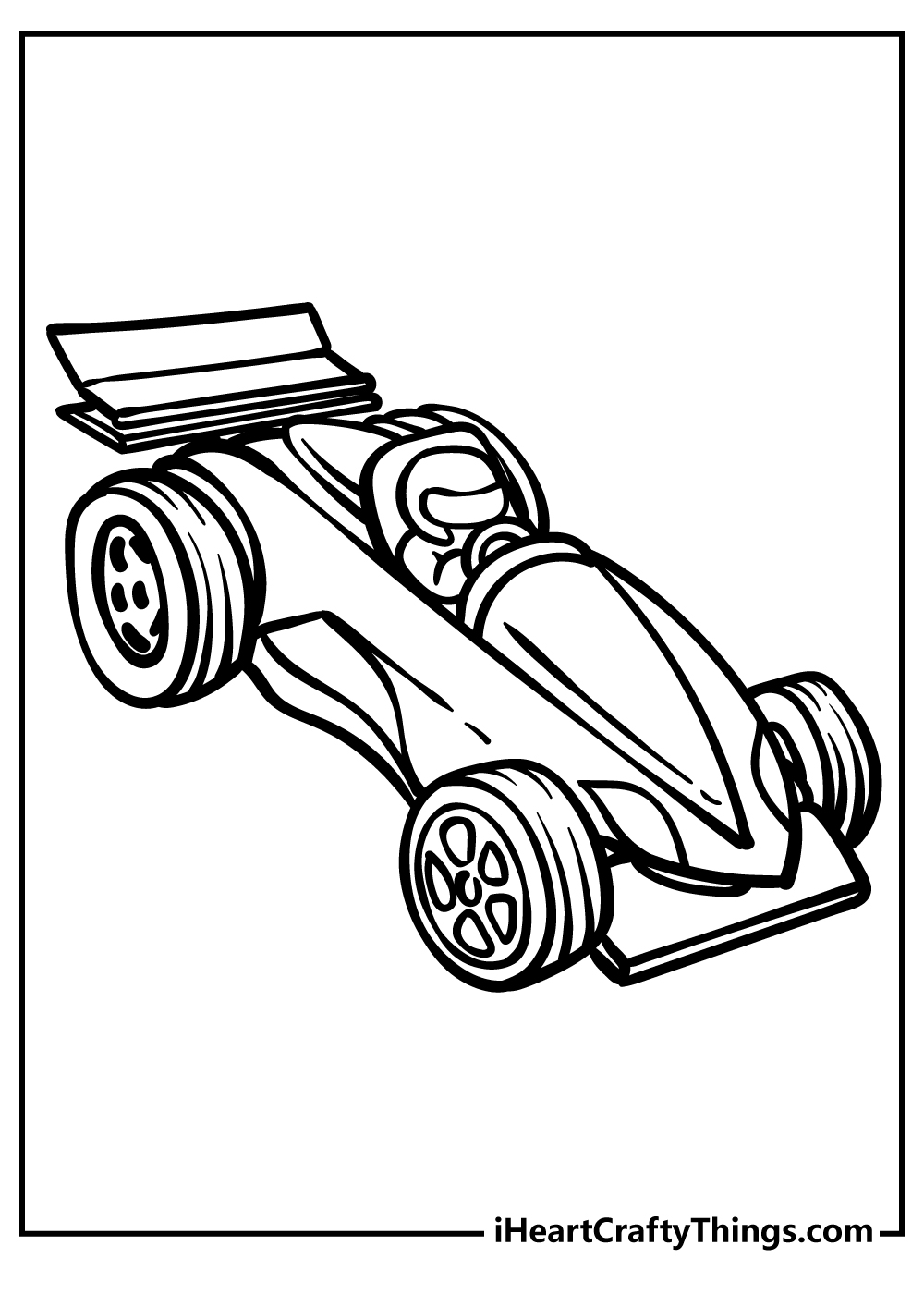 This ninth race car coloring printable we have is unique in that it shows a brand new view of an incredible race car.
This time, we get a great side view of the car, and it allows for different details to be colored. You could also draw your own cool decals or decorations onto the side of the car for more details!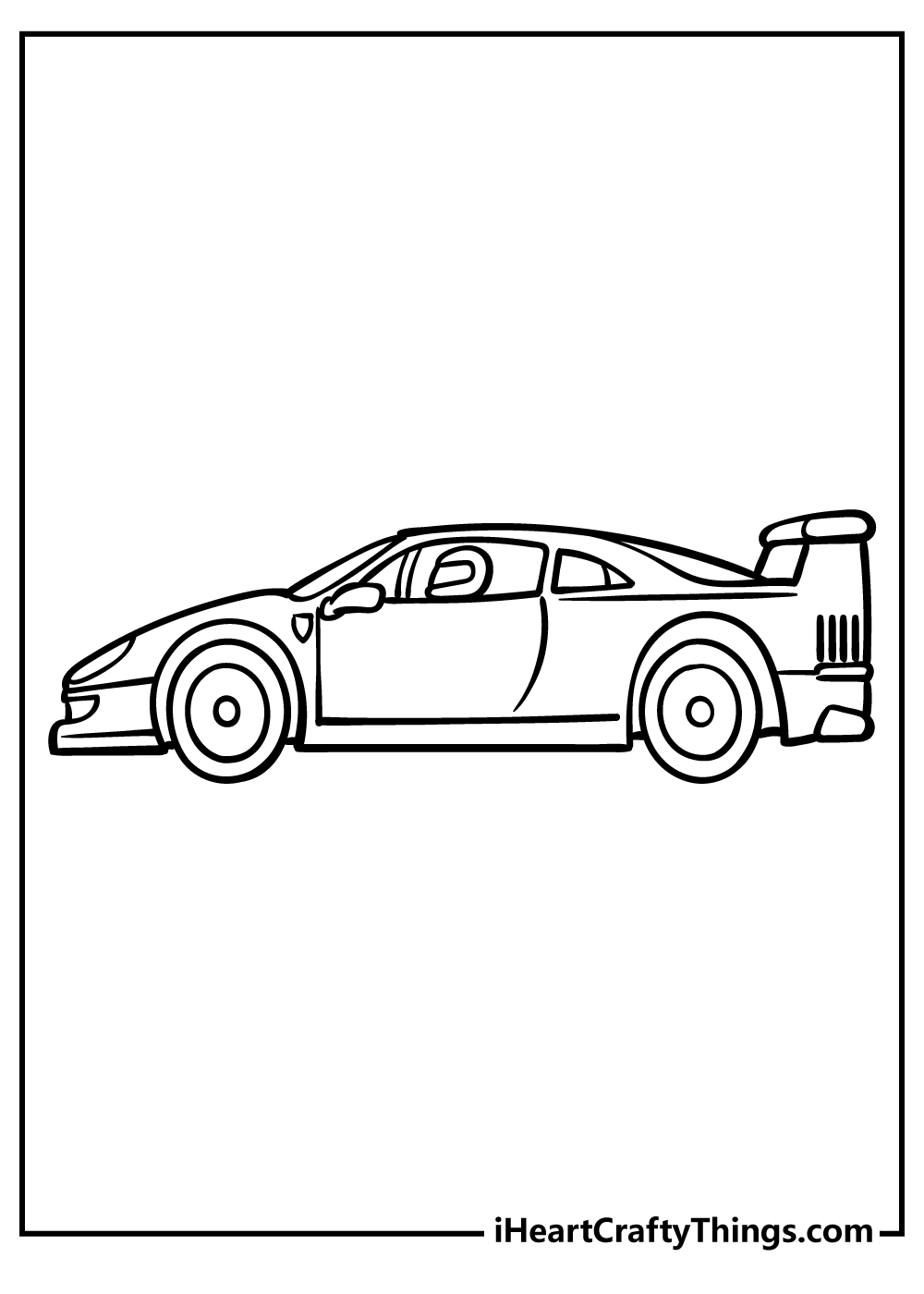 There are so many awesome details to color on this next race car! It may be the most detailed one yet, and so that means it's one you can really take your time with as you color in all the details.
It's also another one where we would recommend art tools that allow for greater precision, so what are you thinking of using?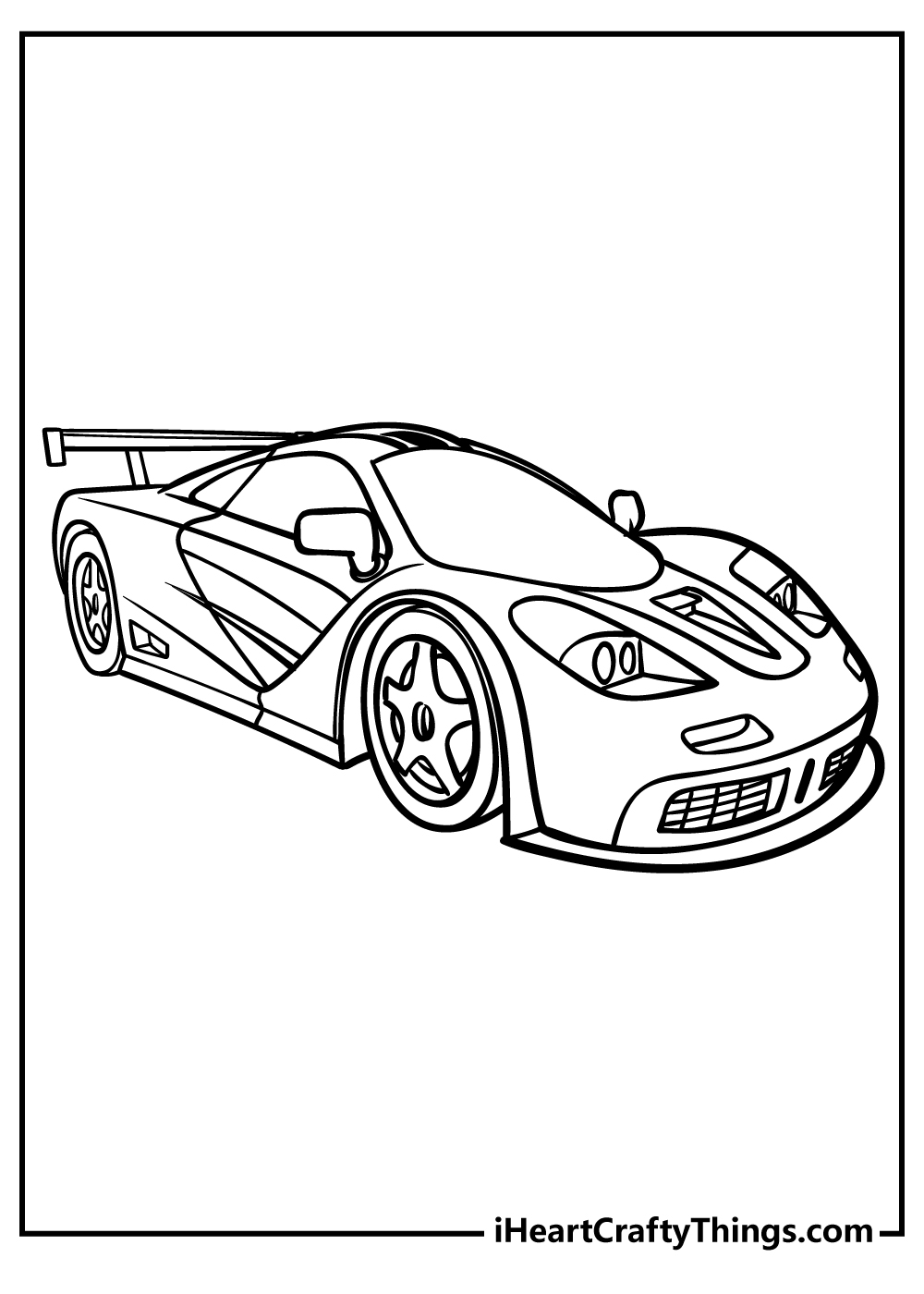 The eleventh race car that we have for you seems to be going at a bit of a slower pace in this image.
If you were to draw a background, this slower speed would give you a chance to create a more detailed background that has a lot of smaller details to appreciate.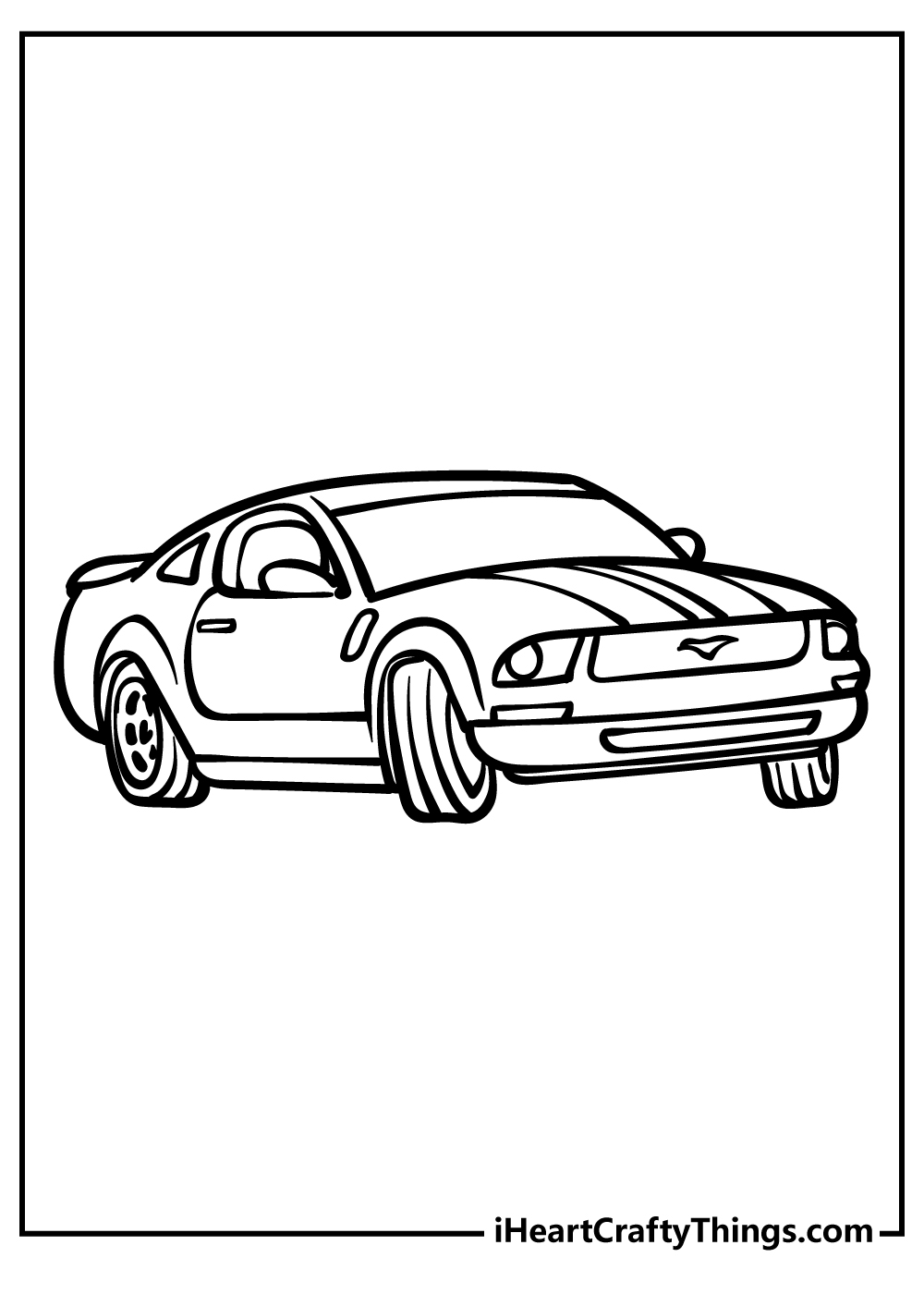 The design for this next race car is a lot more vintage in design, and it helps it to stand out from some of the other cool designs we've seen so far.
Because this design is more old-fashioned, we would use lighter colors done with watercolors to give the image an older feel that looks a bit like an old photo.
What ideas do you have for this vintage speeder?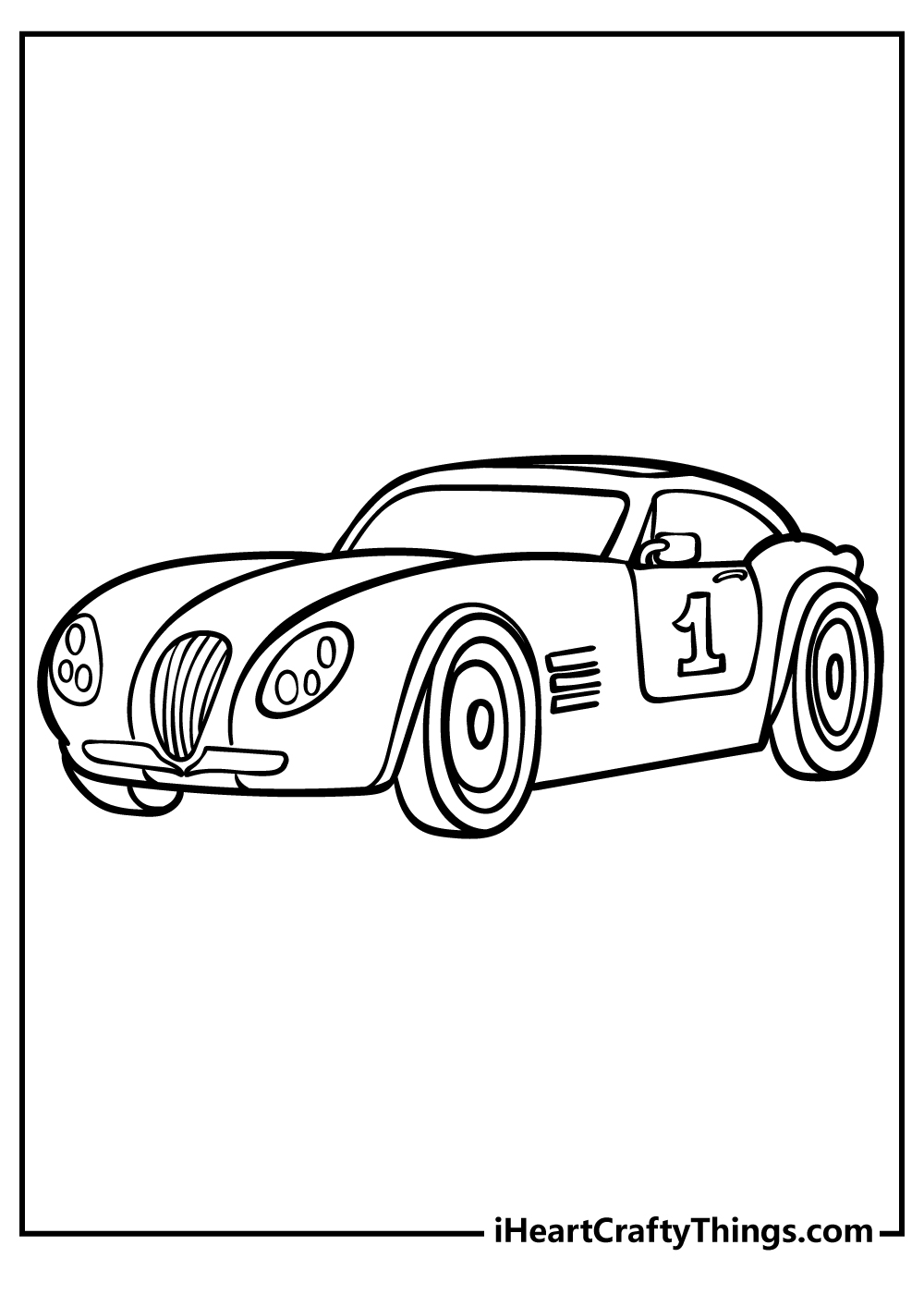 If you thought the previous race car was vintage, this one turns the clock back even further!
This one definitely takes inspiration from race car designs from many decades ago, and it is truly a thing of beauty.
Another fun idea would be to use shades of grey for this image to really make it look like an old photograph!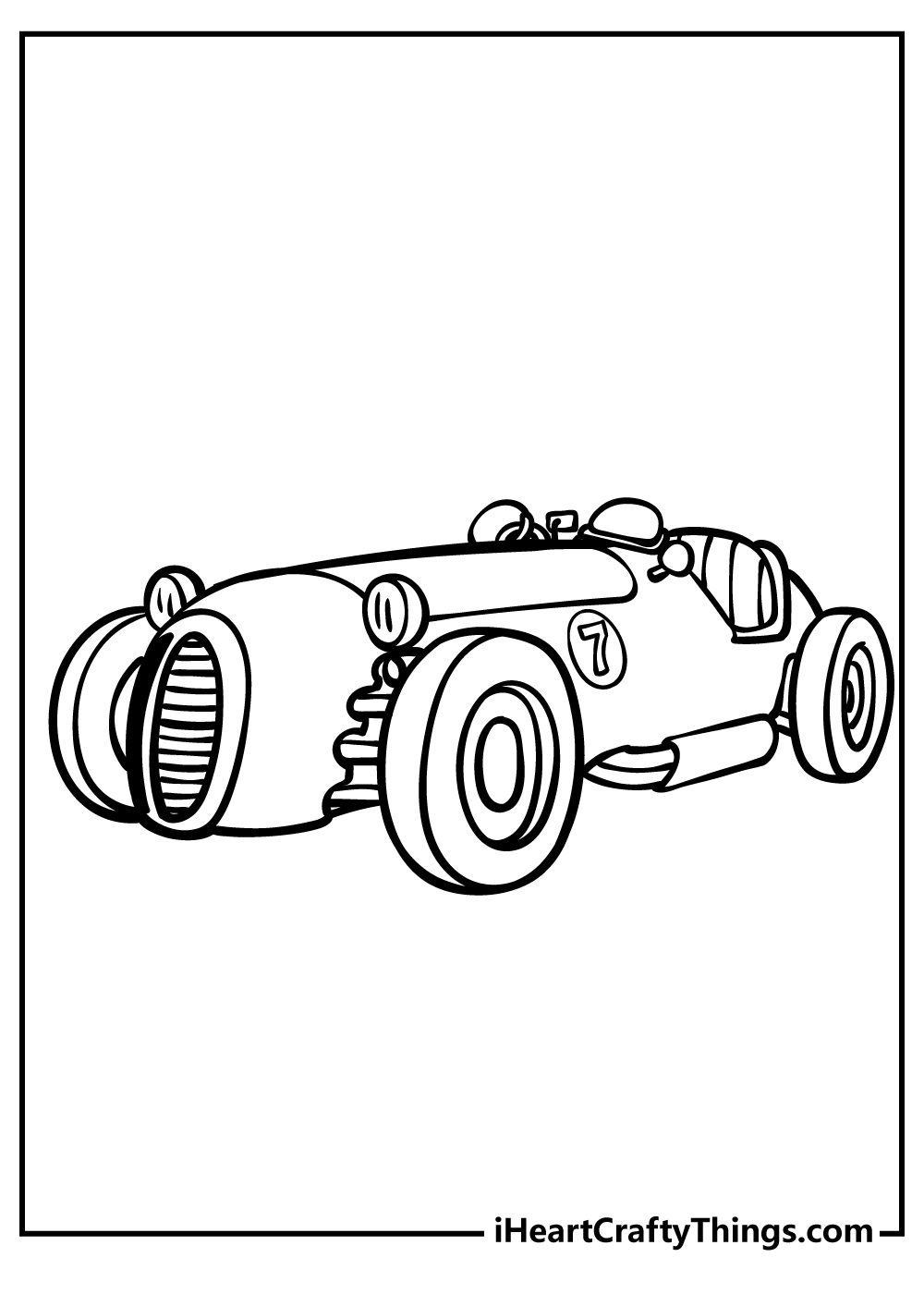 We have another interesting view of an awesome race car in this fourteenth image. It's another one that has no roof and is thin and nimble, and there are some incredible details on this one.
Even the wheels are detailed, so there is plenty of fun to be had as you bring this picture to life.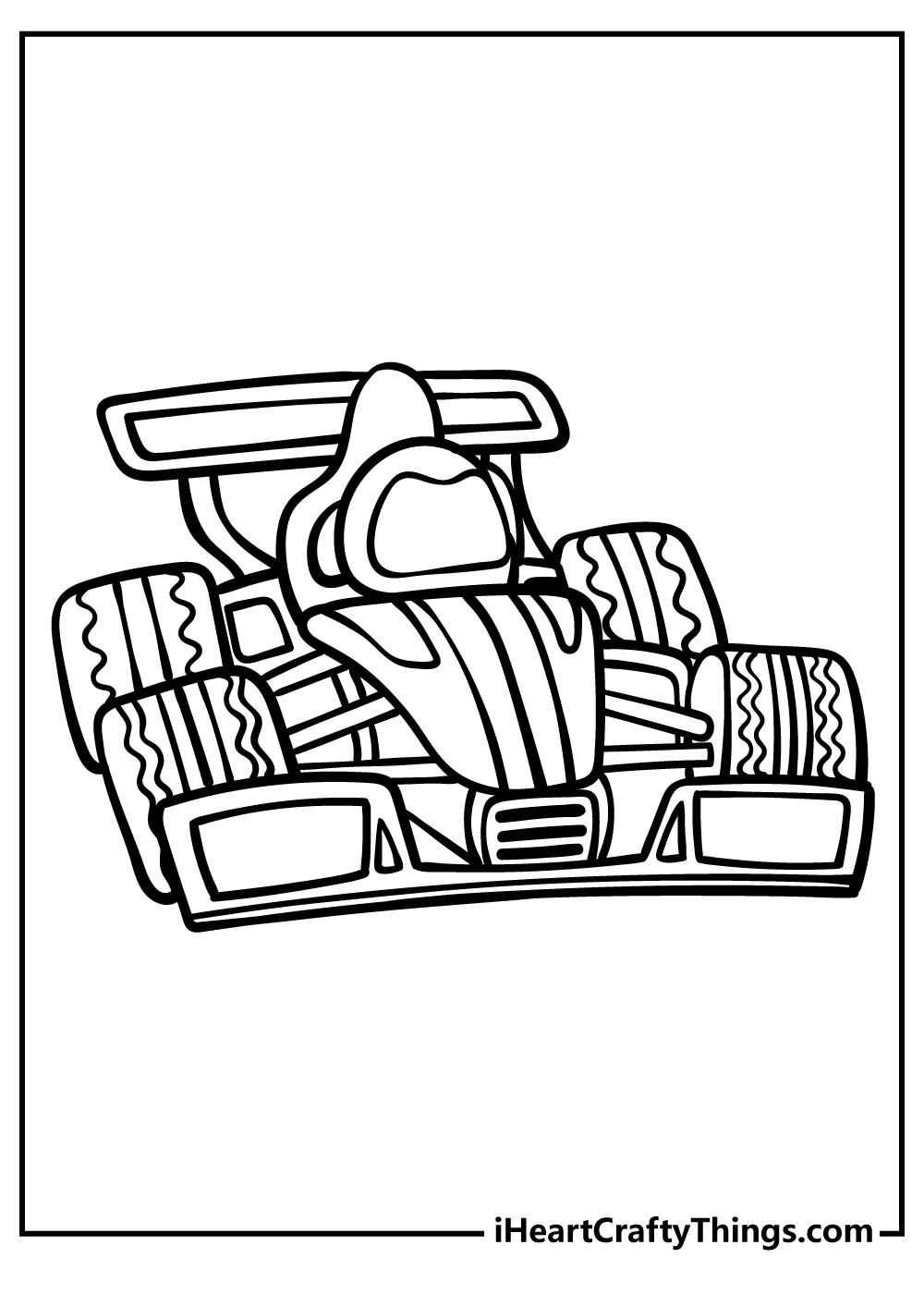 To conclude this collection of race car coloring sheets, we have a car that's going at some high speeds!
The details of smoke and dust behind it really sell the speed, and you can use all of your favorite colors, mediums and techniques to make this incredible final race car even cooler!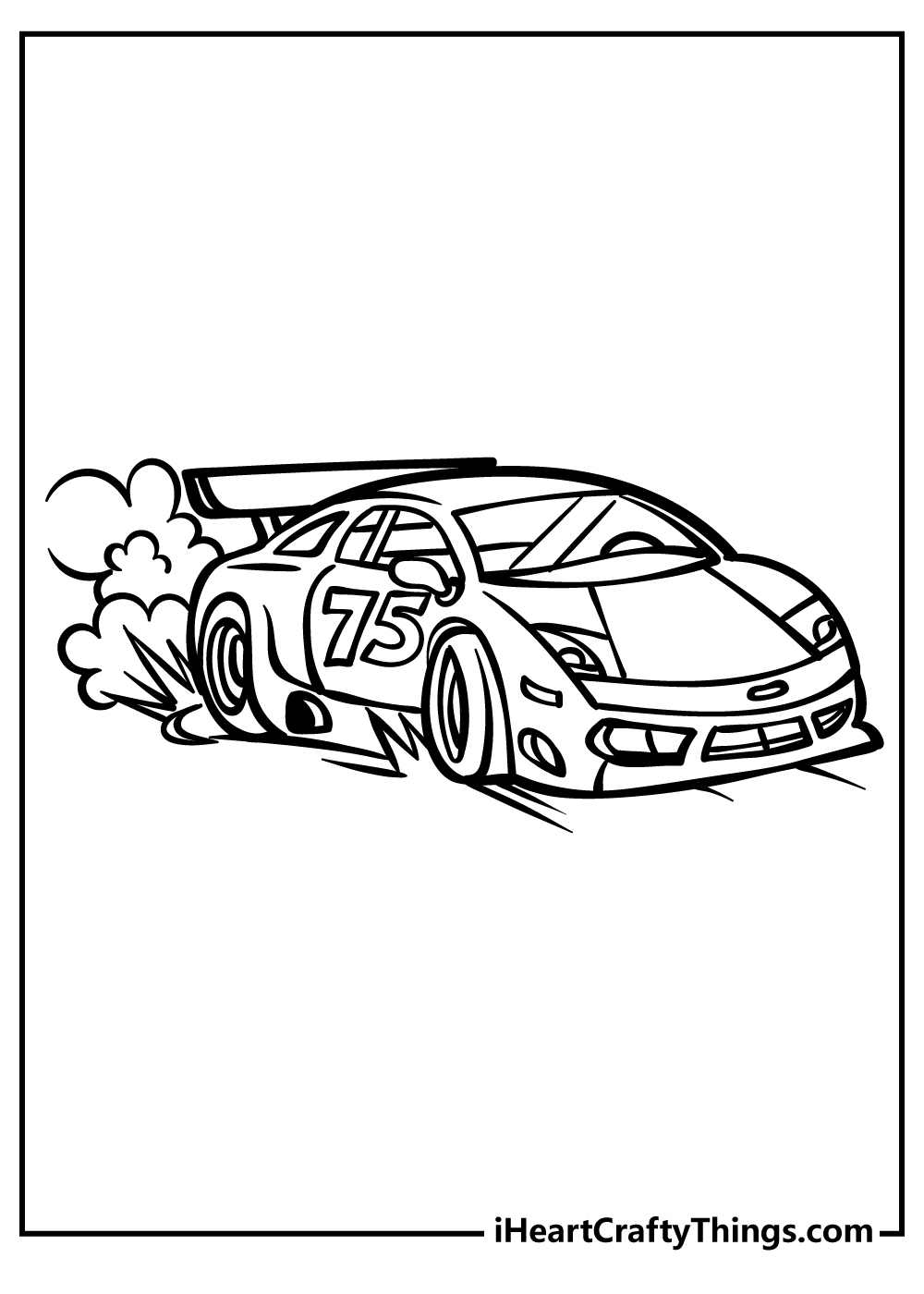 Race Car Coloring Pages – Which will you choose?
We hope you have enjoyed speeding through this collection of free race car coloring pages for kids!
There were so many cool cars covering all eras of racing to enjoy, and there are so many ways you can get creative with your colors.
Don't forget to share the collection with your friends, and then also be sure to share your finished pages on our Facebook and Pinterest pages!