On this page, you will find 15 all new Ambulance coloring pages that are completely free to print and download.
Going to the hospital is never a fun experience, but it can be a vital one when seriously sick or injured.
When an emergency is happening, you need a way to get to the hospital as soon as possible, and that is where an ambulance comes in!
These specialized vehicles help people get the help they need, and we will be celebrating them in this collection of free ambulance coloring pages for kids.
With these printables, you will have plenty to choose from! You can either pick out some favorites or color in every single one! Every one of these printables are free for you to print and enjoy as many times as you like.
We have a big selection of awesome ambulance coloring sheets for you to enjoy, and you should get to use all of your favorite colors and art mediums!
You can also share your favorites with friends and family for some extra fun.
With that, let's begin this collection of free ambulance coloring printables! We hope that you have a lot of fun coloring these important vehicles.
When you have completed your favorites, you can also share the results on our Facebook and Pinterest pages. We would love to see how they turned out!
15 Brand New Ambulance Coloring Pages – Free to Print and Color
We have a really fun image of an ambulance for you to color in this first free ambulance coloring page for kids!
This first one is drawn in a rather cartoonish style, and that means it could be fun to use some bright, vibrant colors to fill it in.
The background has been left blank, and you have a few options if you would like to fill it in.
You could fill it with a favorite solid color, or you could draw a background setting to color! What will you do to fill up the background?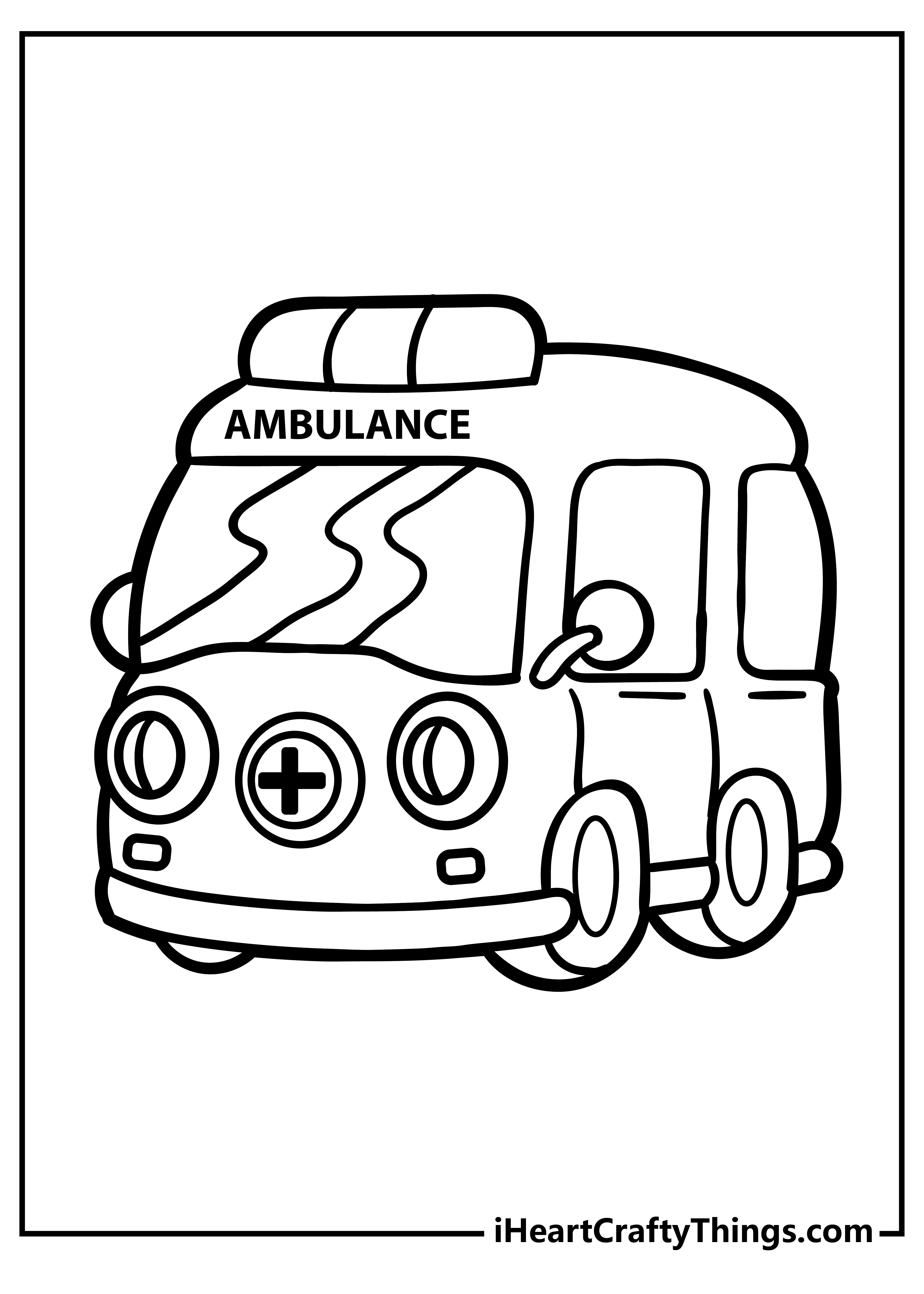 This ambulance coloring page features an amazing ambulance rushing to help someone in need. You can see the ambulance speeding on the road, with its lights flashing and its siren blaring.
The driver is focused on reaching the destination as soon as possible. The background also shows some trees and a blue sky.
You can use bright colors to make the ambulance look more urgent. You can also use different strokes to create motion and speed effects.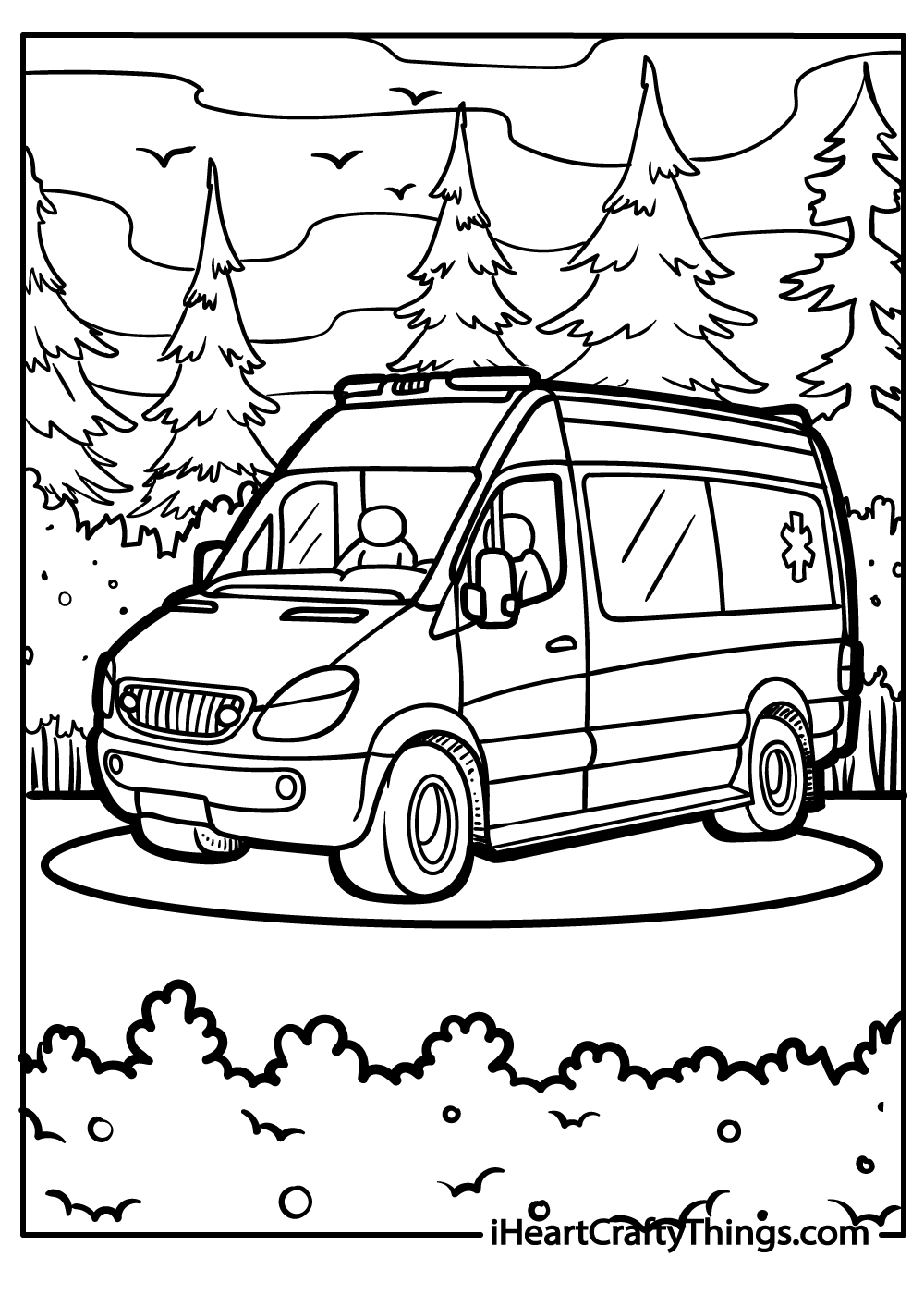 In this second free ambulance coloring sheet, we are featuring an ambulance seen at a side view.
Ambulances can come in a wide selection of color schemes, so you could show what you feel the perfect ambulance should look like with your colors and extra details.
What color scheme do you think would best suit this emergency vehicle?  We will be interested to see what approach you take when coloring in this printable!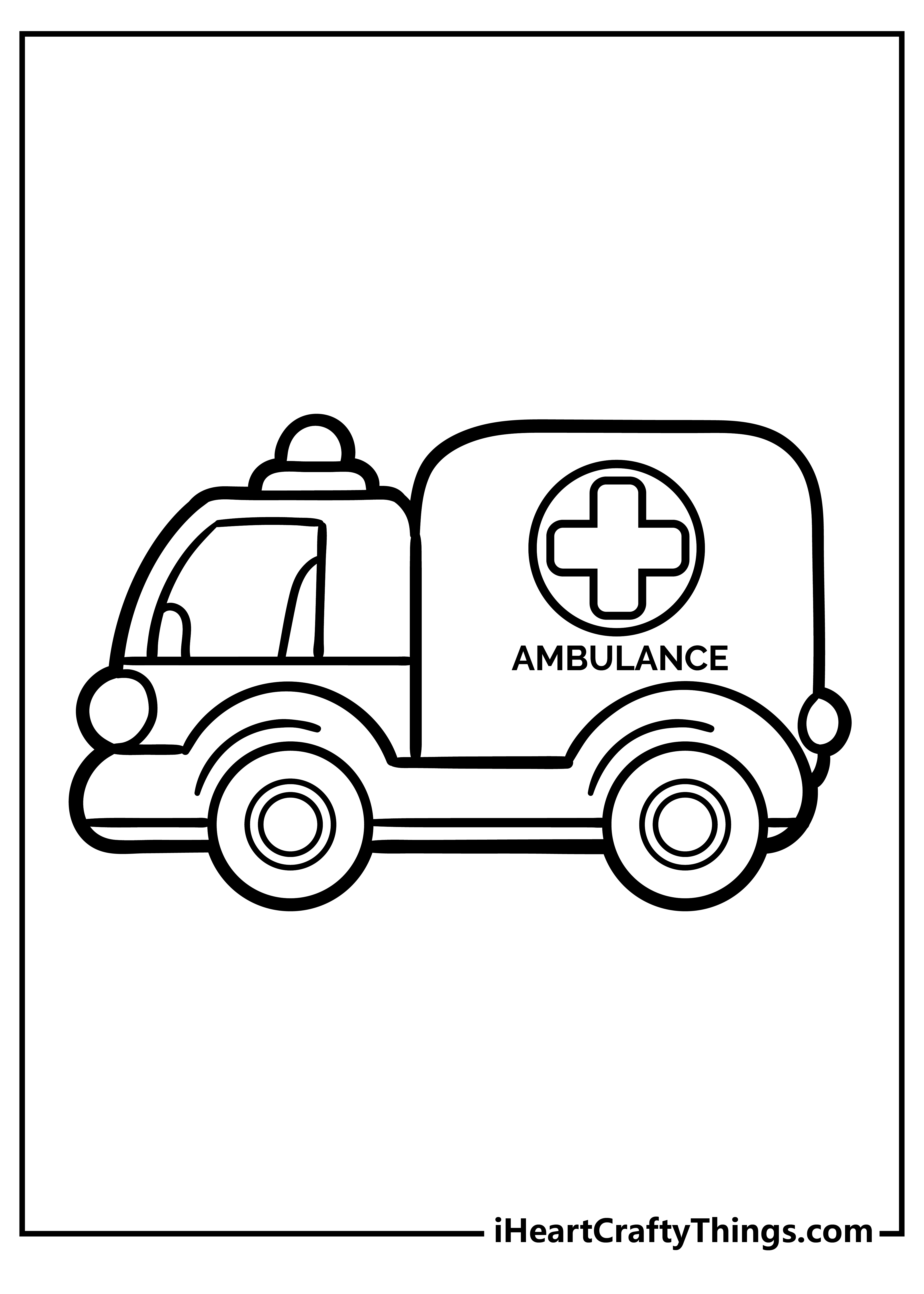 This is an interesting perspective we have to color in this third ambulance coloring printable. The ambulance in this one is heading towards us at an angle.
The windshield is rather large on this one, so you could draw some people sitting behind it to show who is driving this ambulance.
That is just one way that you could add your own extra details and personalization to the picture, but there are many more things you could do as well! What have you got planned for this printable?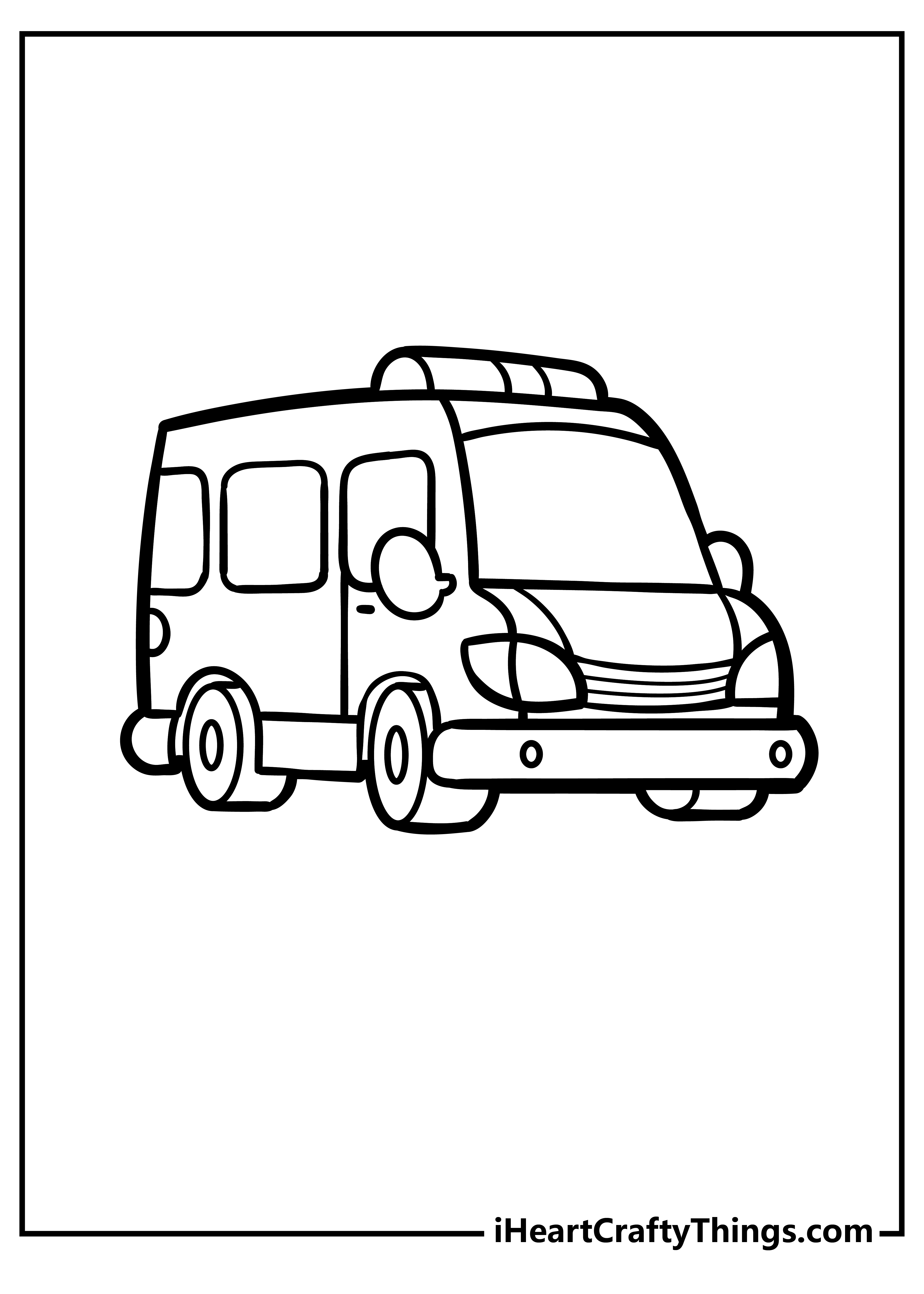 This emergency vehicle looks like it's racing to a scene. See the ambulance speeding down the road, lights flashing and siren blaring.
It's focused on getting help to those in need as quickly as possible.
Use beautiful colors and bold strokes to bring this scene to life. Make the ambulance vibrant with strong reds or intense yellows to capture the urgency of its mission.
For the background, cool blues and leafy greens could portray the serene landscape whooshing by.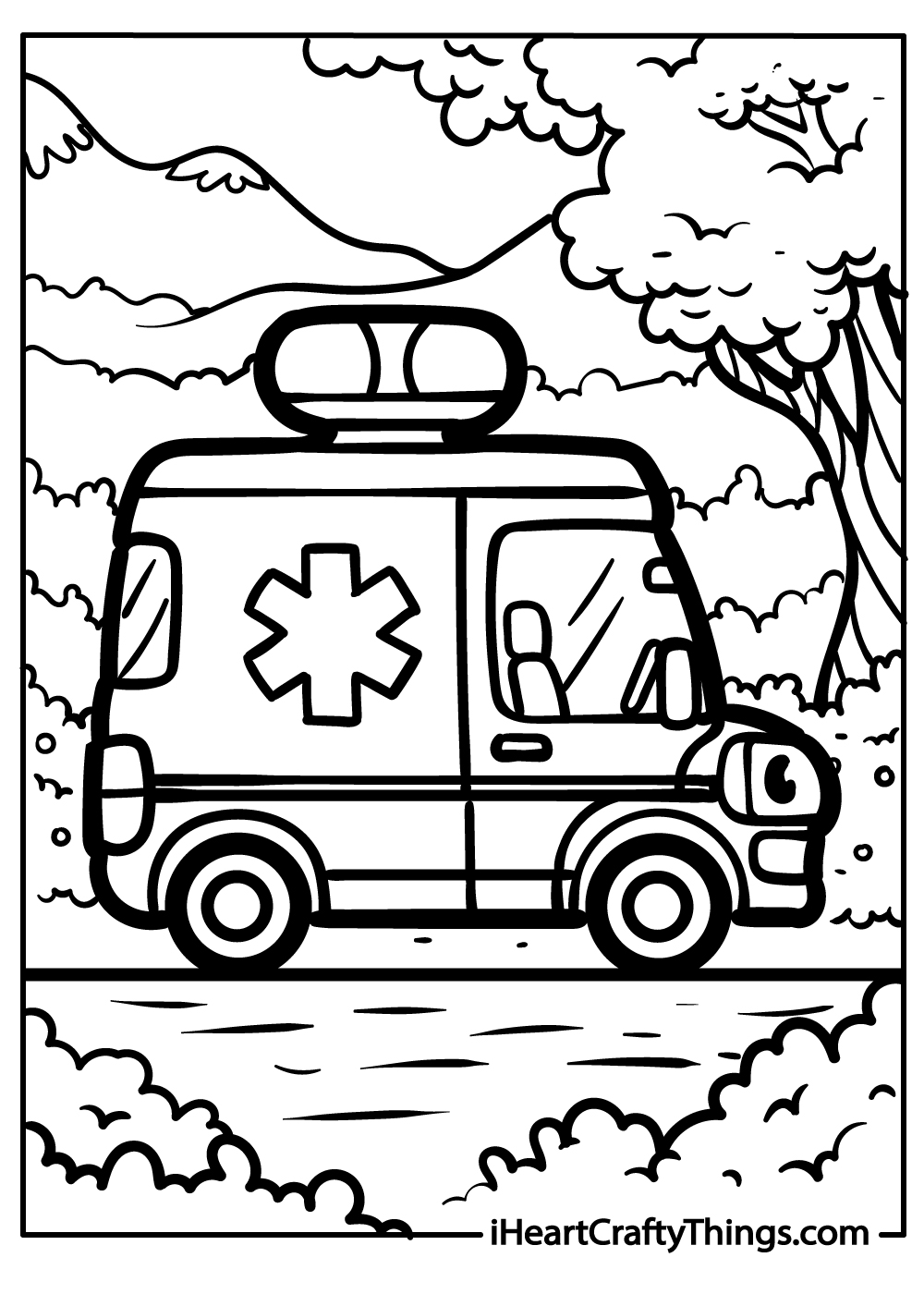 We have another charming depiction of an ambulance for you to color in this ambulance coloring page. This one is also drawn in a simpler style, and it is a side view.
This is quite a cute little ambulance, and we think that some bright, happy colors would suit it well.
That would be one approach, but you should definitely use any colors that come to mind as you fill it in!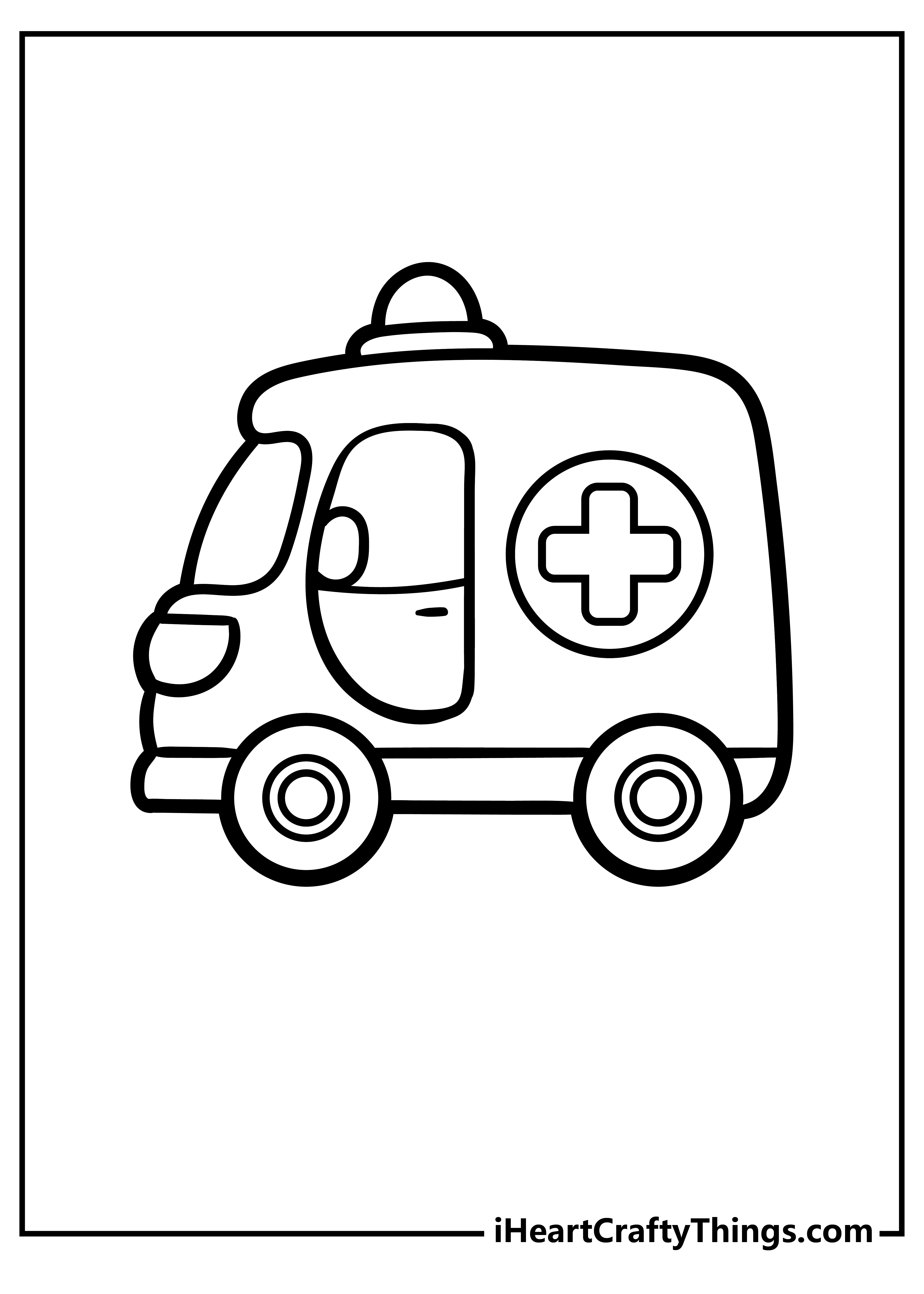 There's another side view of an ambulance to color in this free ambulance coloring sheet. This one is drawn in a more realistic style to the previous one, however.
For that reason, if we were coloring this one we would use lighter, more muted colors to fill this one in.
If you did want to use brighter colors, that would work too, though! What approach will you take when coloring this fifth printable?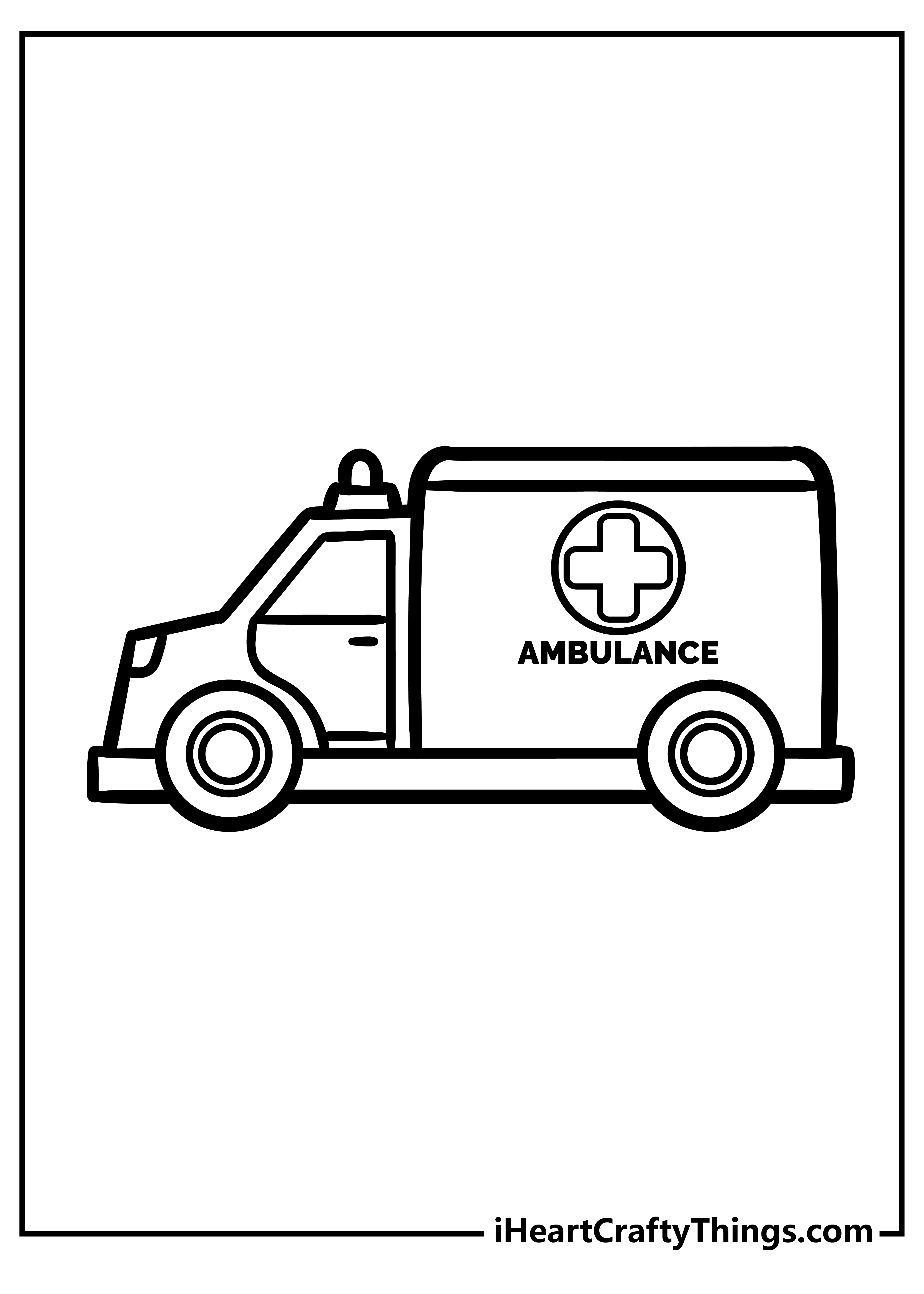 Look at this awesome ambulance coloring page. It features a realistic-looking ambulance with lots of details to color.
You can see the front and side view of the ambulance, as well as the siren, the lights, and the "ambulance" logo.
Color the page in your favorite colors. Use red for the logo as well. Try shades of orange, black, purple and green to make it realistic and unique.
In the background, draw an exciting cityscape or countryside to match your vision.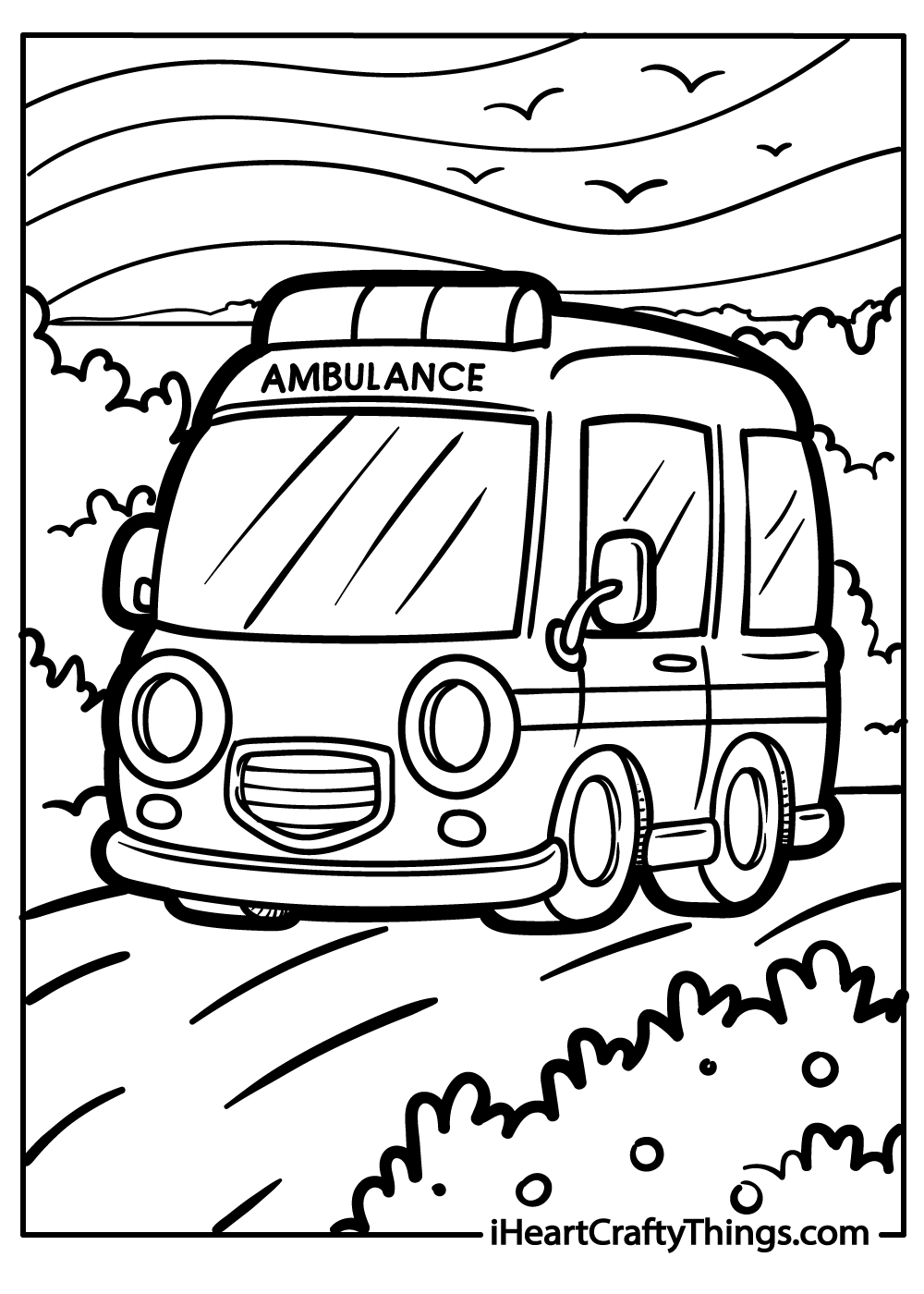 This is another cute ambulance to color in this ambulance printable! It's another side view, and it is also drawn in a fun, simple style.
The cross on the side will often be colored with bright red in real life, so you could do that for this image for a bright splash of color contrast.
There are many ways to color this printable, so let your creativity flow!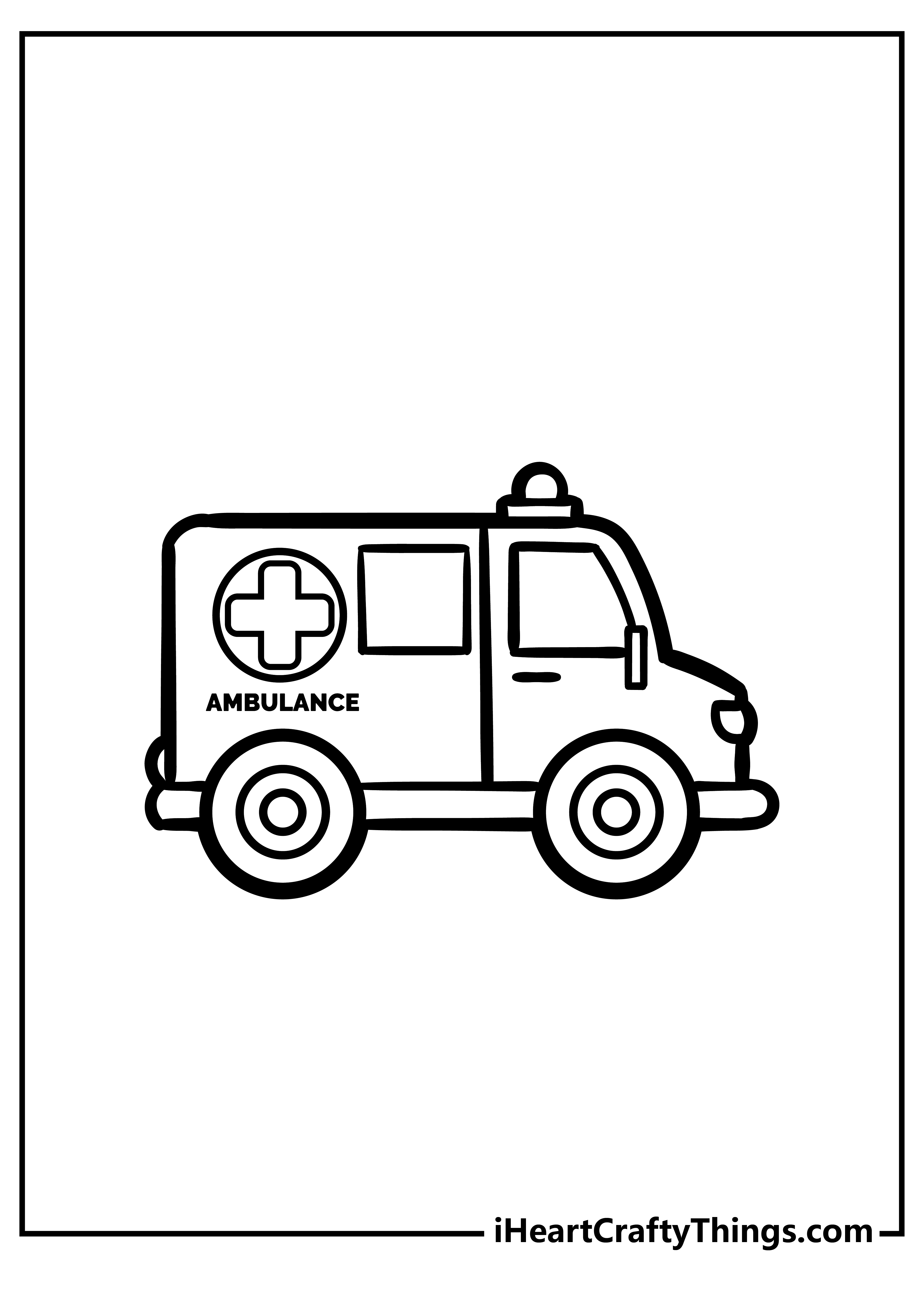 There's quite a squared, angular design shown in this next ambulance coloring page!
If we were coloring this particular printable, we would probably use some more muted colors like blues and greens to fill in the ambulance and the background.
You could use this approach as well, but if brighter colors came to mind then you should definitely go where your inspiration leads!
What art tools and mediums will you use to color this cool ambulance?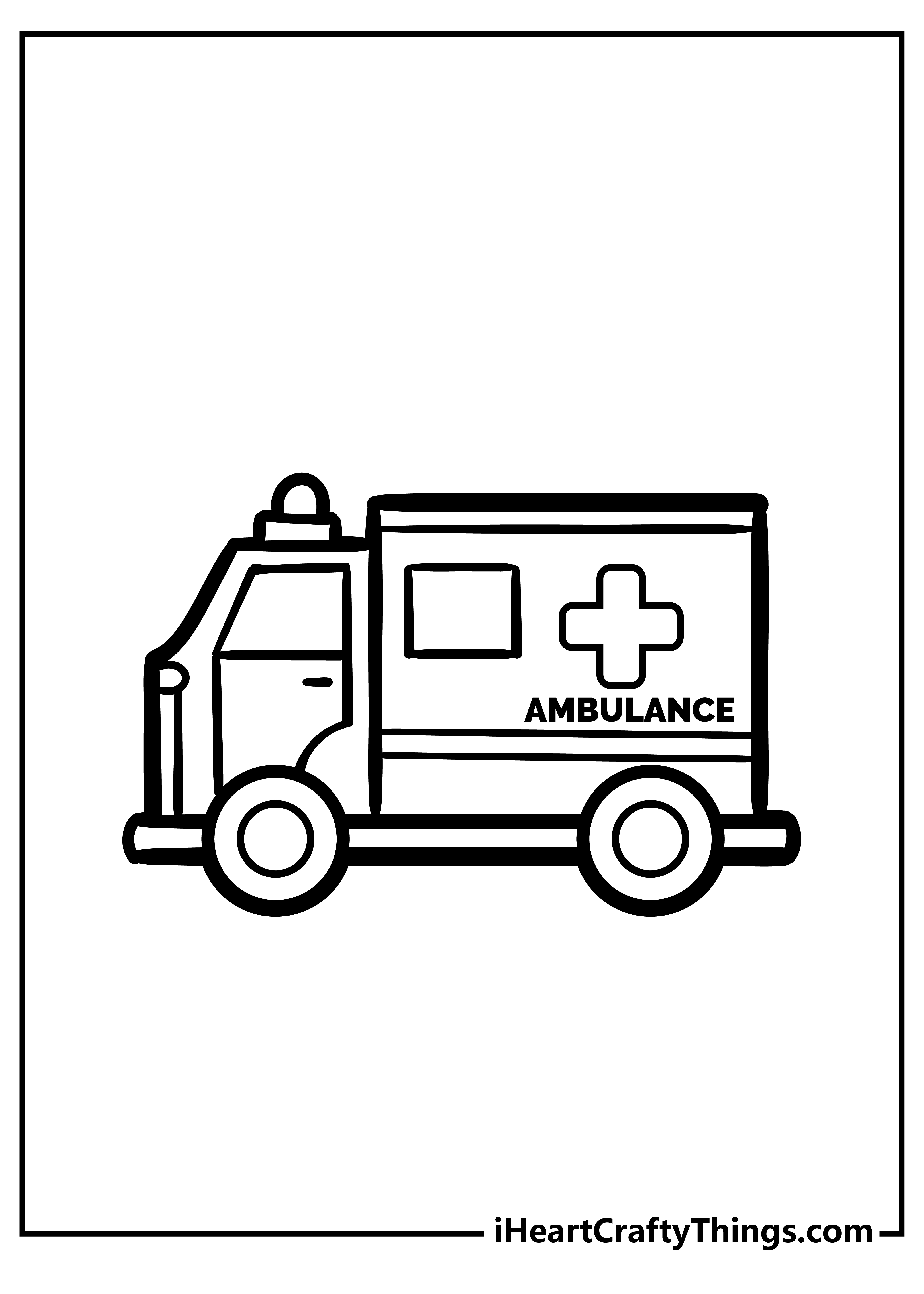 This ambulance really wants to save someone's life. It is driving fast on a road with some buildings and trees in the background.
You can color the ambulance with colors like, white, red, and blue to make it stand out. For the background, you can use some green, brown, and gray colors to create a city scene.
You can also add some details, such as people, cars, or signs, to make the image more realistic.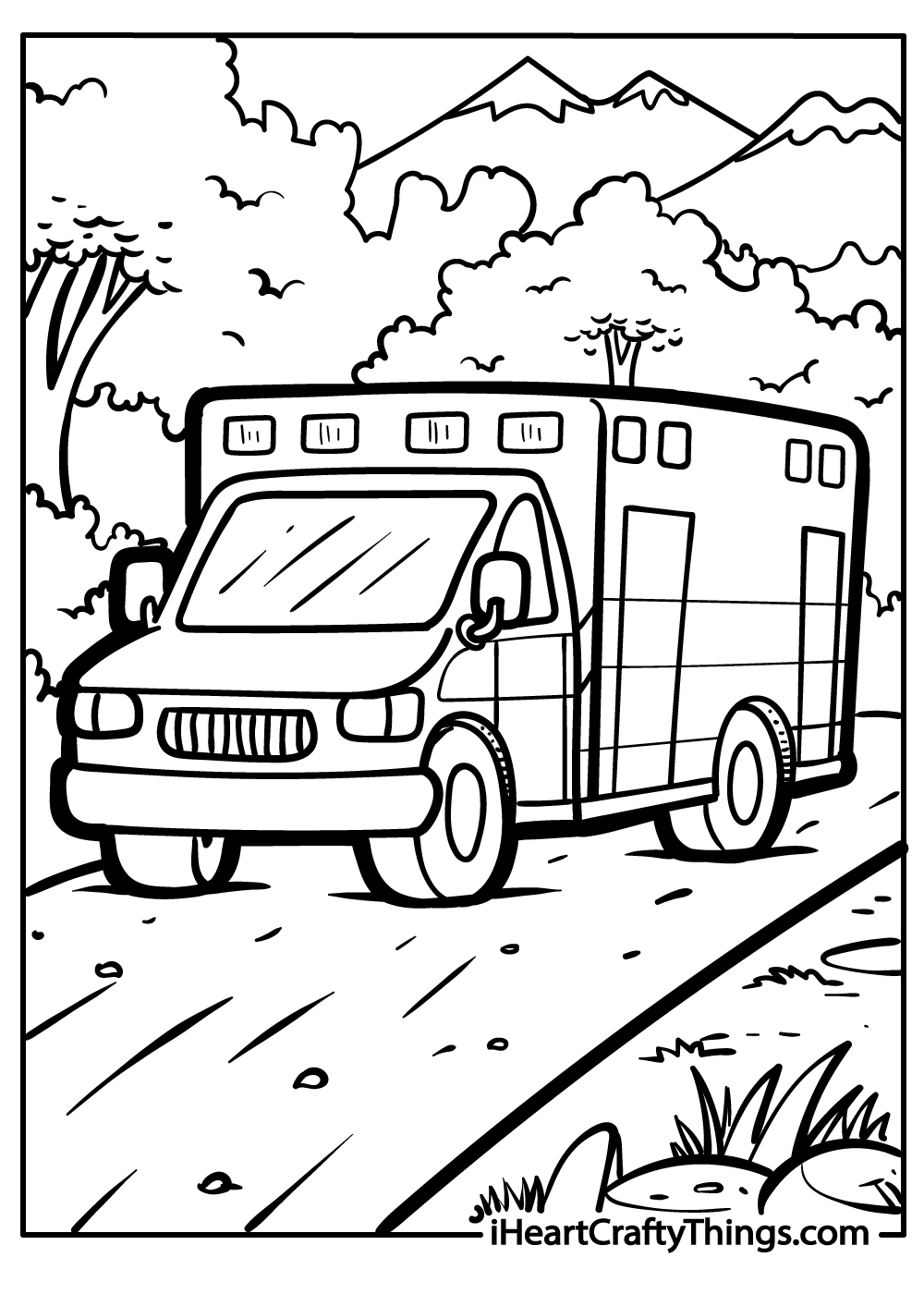 We love the design shown off in this eighth free ambulance coloring sheet!
This ambulance has a really imaginative look to it, and we think that this one would be a fun one to draw some extra details to.
Maybe you could design an animal ambulance driver to sit behind the windscreen of the ambulance to give this picture an even more whimsical feel!
Who do you think would be driving this imaginative little ambulance?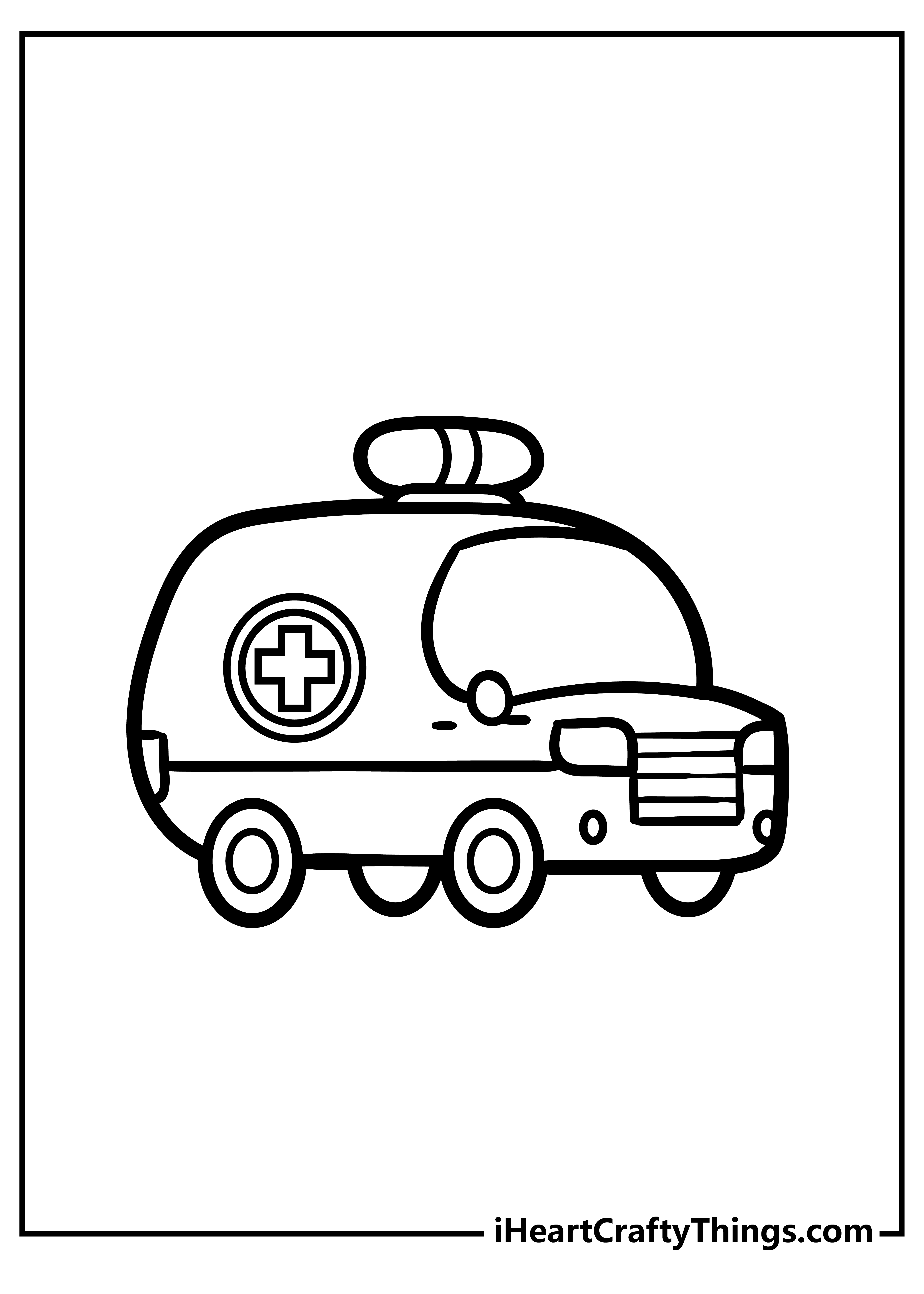 Buckle up, we're going on an emergency rescue adventure! This coloring page features an ambulance zooming down the street with its siren blaring.
The boxy vehicle has a big red cross on the side so everyone knows it's here to help.
Use your most vibrant crayons, markers or paints to color the ambulance. Try bright reds, oranges and yellows for the emergency lights.
Don't forget the little details like the headlights and bold white stripes along the sides. For an extra challenge, add flashing lights and motion lines to show the ambulance racing by.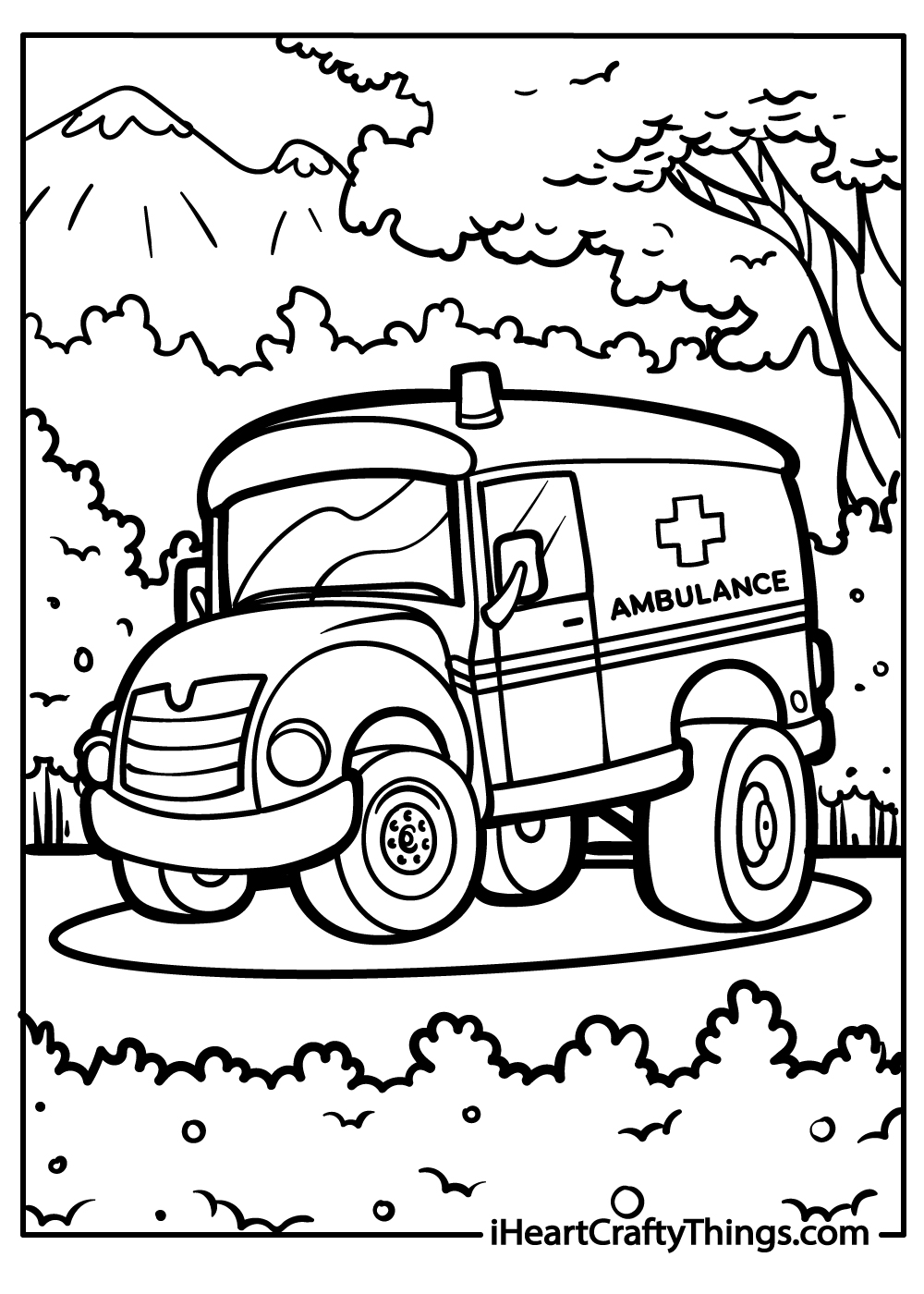 This ambulance is on the move! We get a feeling of high speed from this particular ambulance coloring page.
If you wanted to suggest that this ambulance is moving at high speeds, you could use little dashes of different colors going horizontally in the background to create the illusion.
Of course, you could also draw a stationary background with more details if you prefer! How will you finish off this one before moving on to the final coloring page?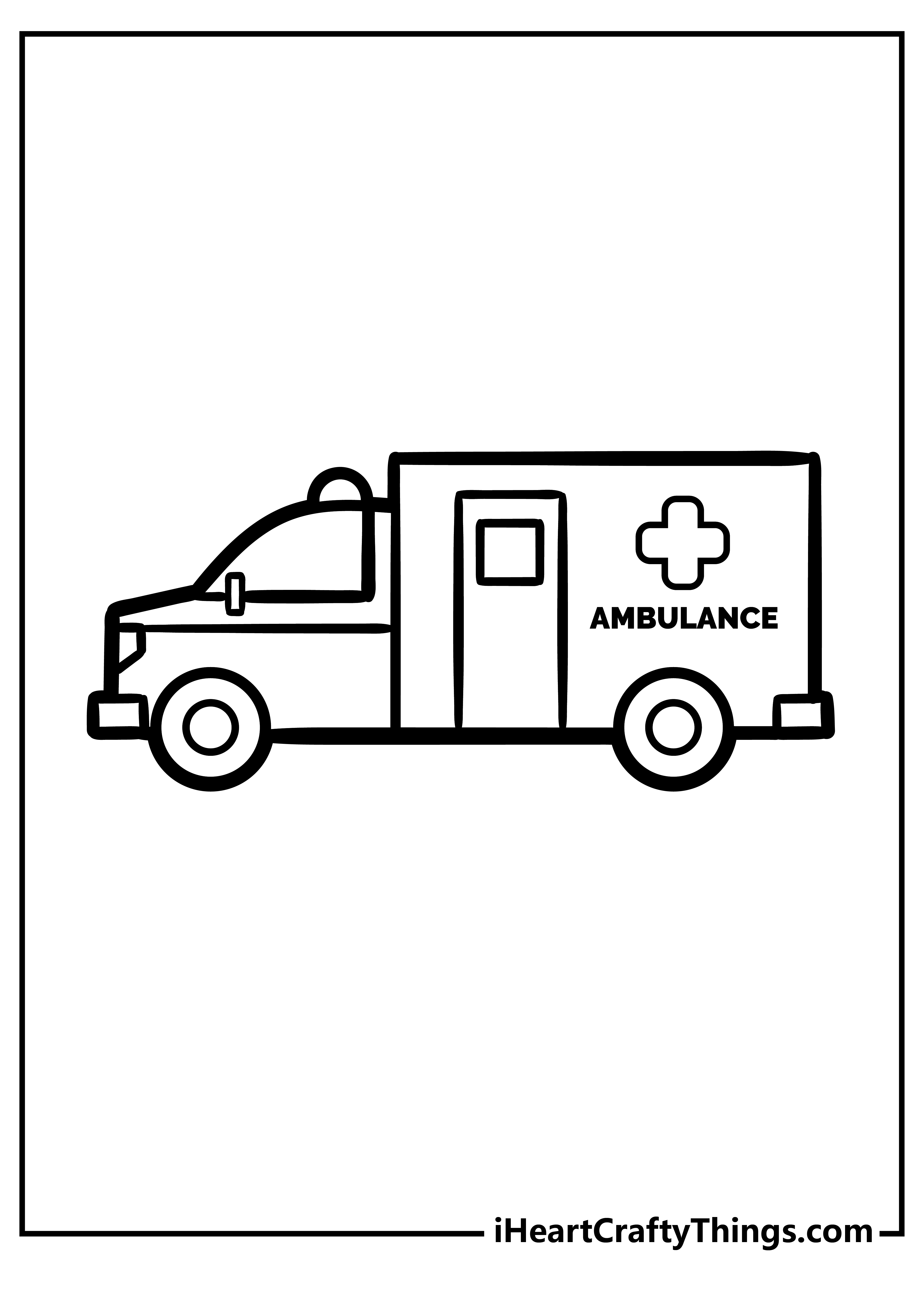 The angle in this final ambulance coloring printable presents another interesting angle.
Once again, we have a bit of a three-quarters view of this ambulance, and it makes for an interesting composition!
When coloring, remember that you don't have to stick to the same art tools and mediums that you're used to.
These pages are free to print multiple times, so you could print a few copies to experiment with different art tools!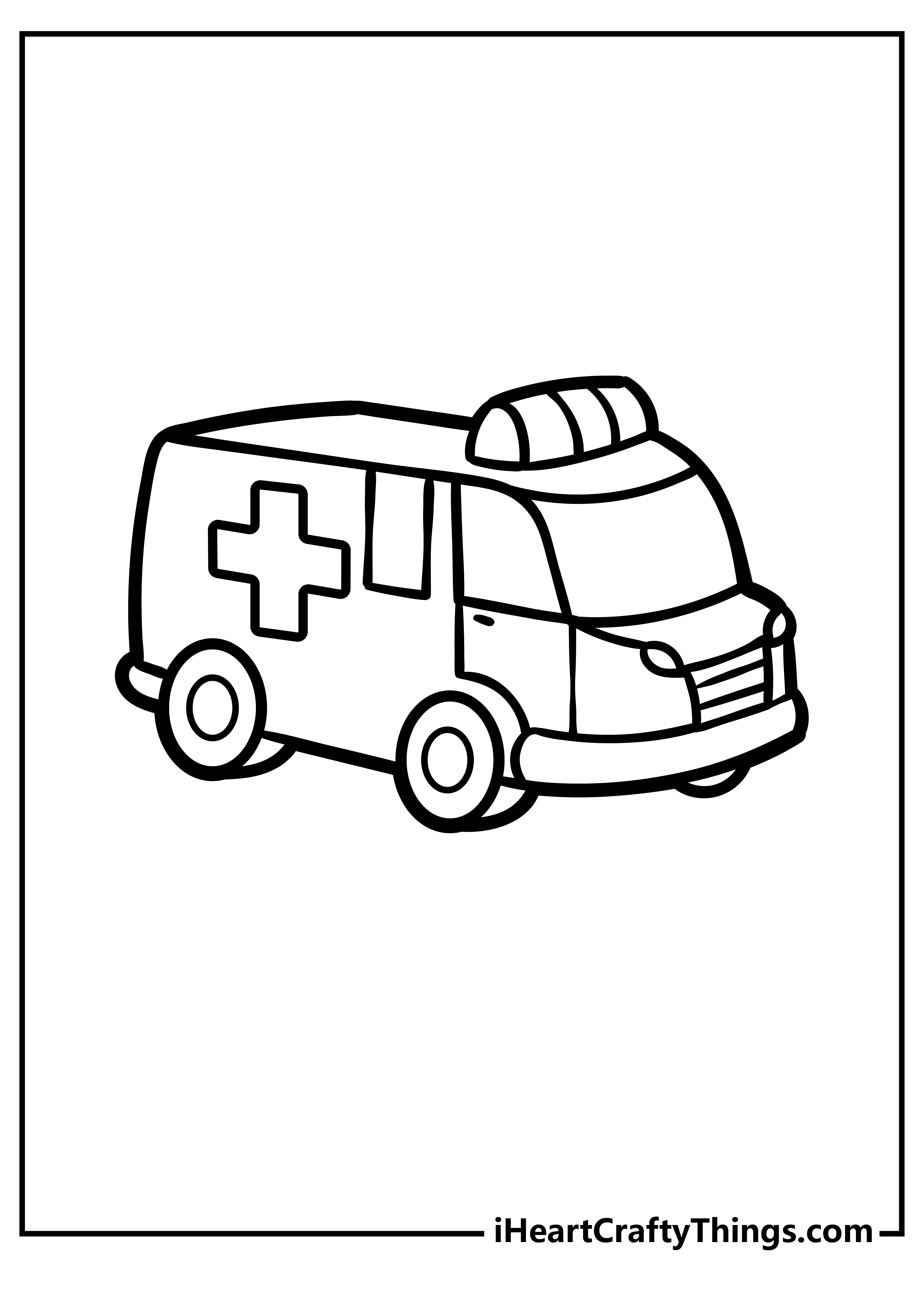 Ambulance Coloring Pages – Which will you choose?
That finishes off this collection of free ambulance coloring pages for kids! We hope that you had fun not only coloring these vehicles but also drawing some extra details and elements to the pages.
Remember to print out as many copies as you like, and be sure to share them with others so they can join the fun!
When you're ready for some more coloring pages to enjoy, you can find many more on our website.
We plan to bring out many more, so keep checking in to make sure you don't miss out on any of the fun!
We always love to see how you went about finishing off these coloring sheets, so we hope you will share your finished pages!
You can do this by sharing your favorite pages on our Facebook and Pinterest pages. We can't wait to see some of your incredible artwork!