There are many different vehicles that can be enjoyed, and each of these vehicles serves a specific purpose. Some may be designed for style and luxury while others are built to get you from A to B.
Then you have Jeeps, which are designed to navigate even the toughest of terrain.
These vehicles are not only powerhouses, but they are also really cool looking with many different variations to admire.
Chances are that there is a specific Jeep design to fit your taste no matter what it may be! This collection is all about celebrating these incredible vehicles.
These 10 pages feature different Jeep vehicles in a variety of different styles and scenarios.
The best part is that every one of these pages is free for you to print and enjoy as many times as you like! You can also share the collection with other car lovers in your life.
We hope that you have a great time unleashing your creativity on these incredible pages!
When you have colored some of your favorites from the collection, remember to share them on our Facebook and Pinterest pages for us to see! We will look forward to seeing your great color choices.
10 Brand New Jeep Coloring Pages – Free to Print and Color
We have a simple yet effective design for our first Jeep coloring page for kids! This one may not be super flashy, but it definitely looks like it would get the job done!
Jeep vehicles will often come in earthy browns or greens, and while you could go for that kind of approach, you could use any other colors you can imagine!
How do you think you will color this first vehicle that we have? It will be very interesting to see how you kick off this collection!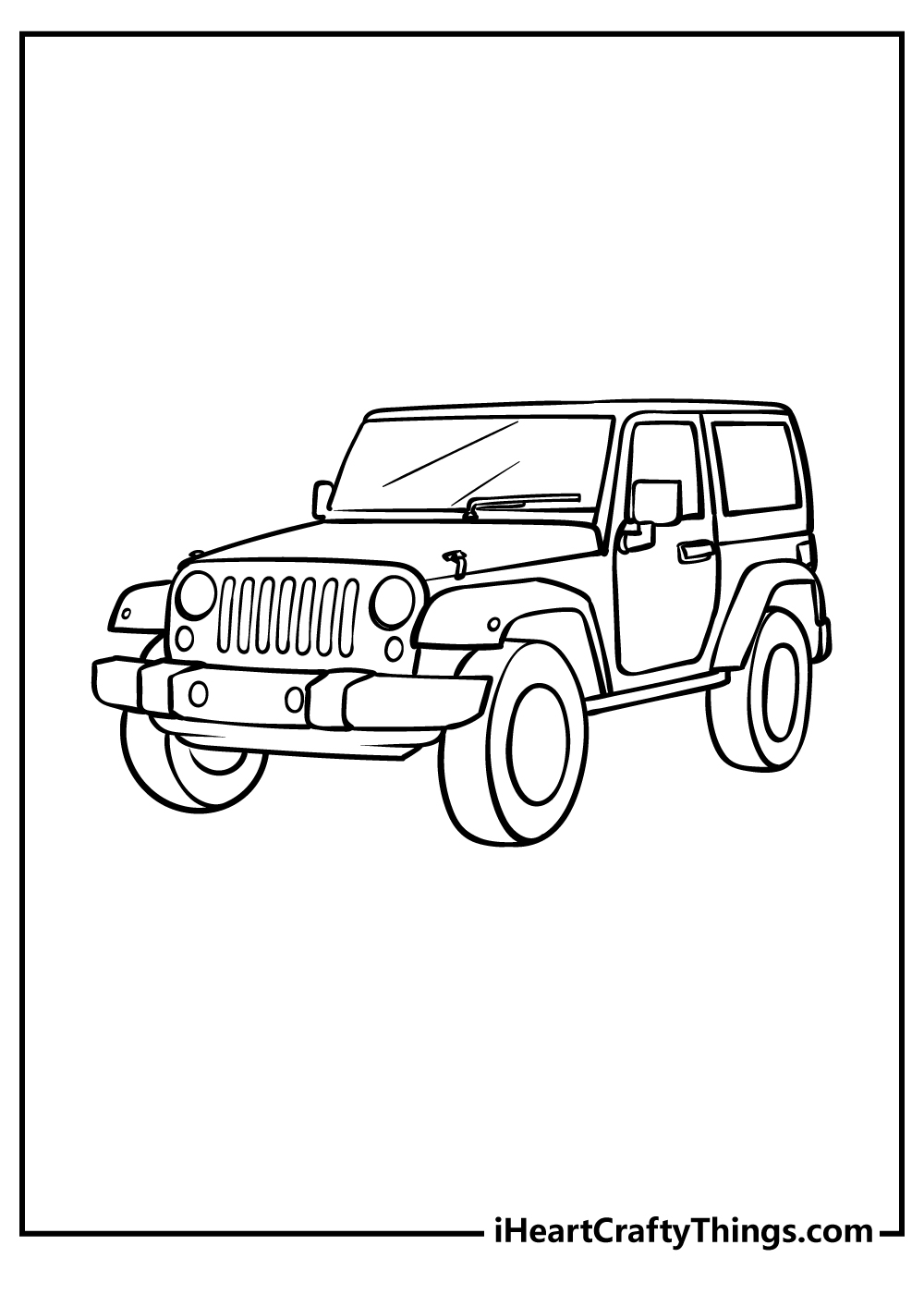 The second Jeep that we have for you is very highly detailed! We have a great view of all these small details, and this gives you room for lots of color expression.
When coloring detailed images such as this, you have various art tools and mediums that can make your life much easier.
Some examples would be colored pens, pencils and thin-tipped brushes, as these can give you lots of precision when coloring. Will you use these mediums or do you have something else in mind?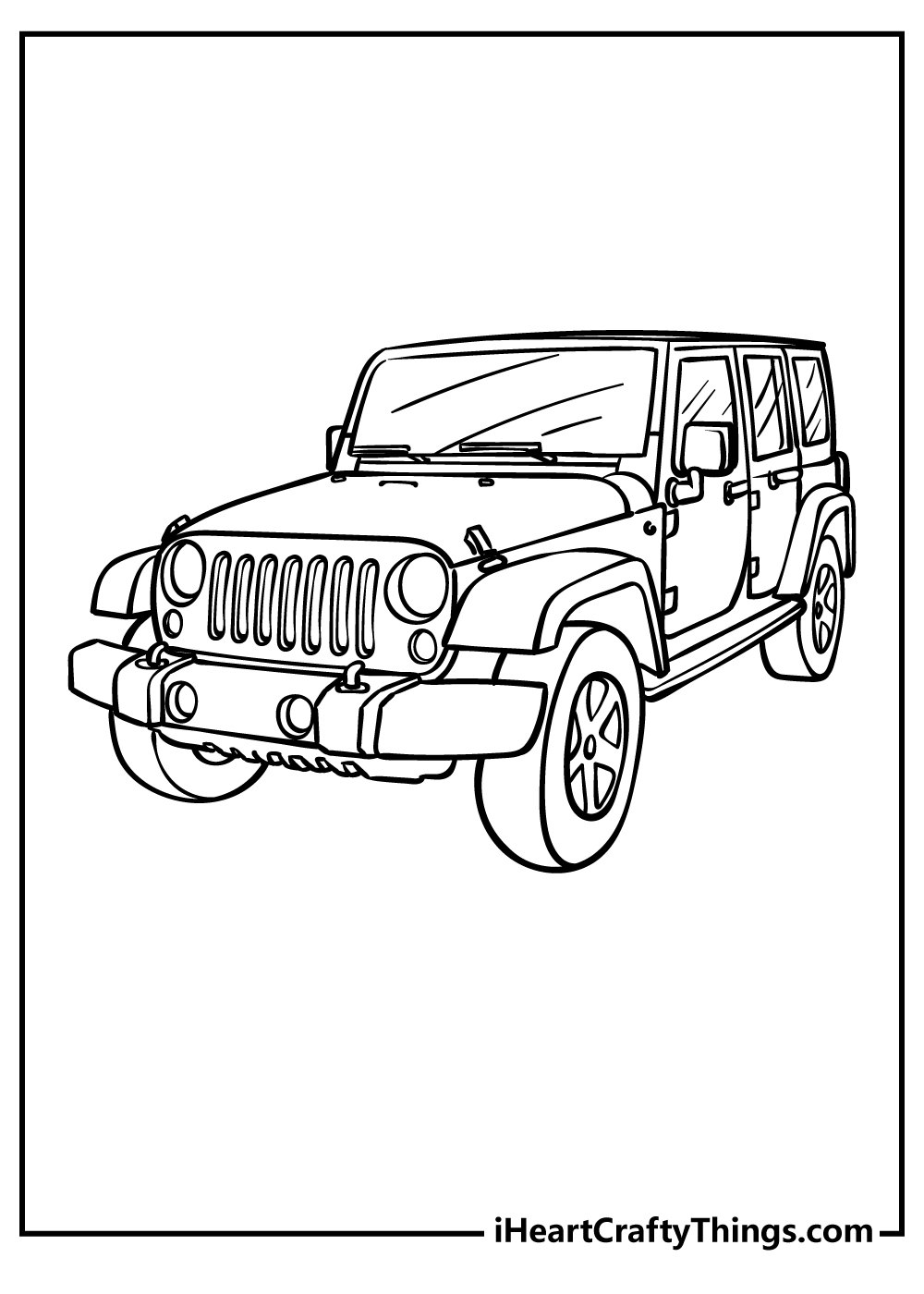 In this third Jeep portrayal, we have one of these hardy vehicles as seen from a side view.
There is a lot of empty space in the background of this image, so you could show what kind of tough terrain this vehicle is navigating by drawing some background and terrain details.
What kinds of environments do you think this Jeep vehicle could be navigating?
Perhaps you could draw a snowy hill or some harsh desert terrain. The only limit is your imagination!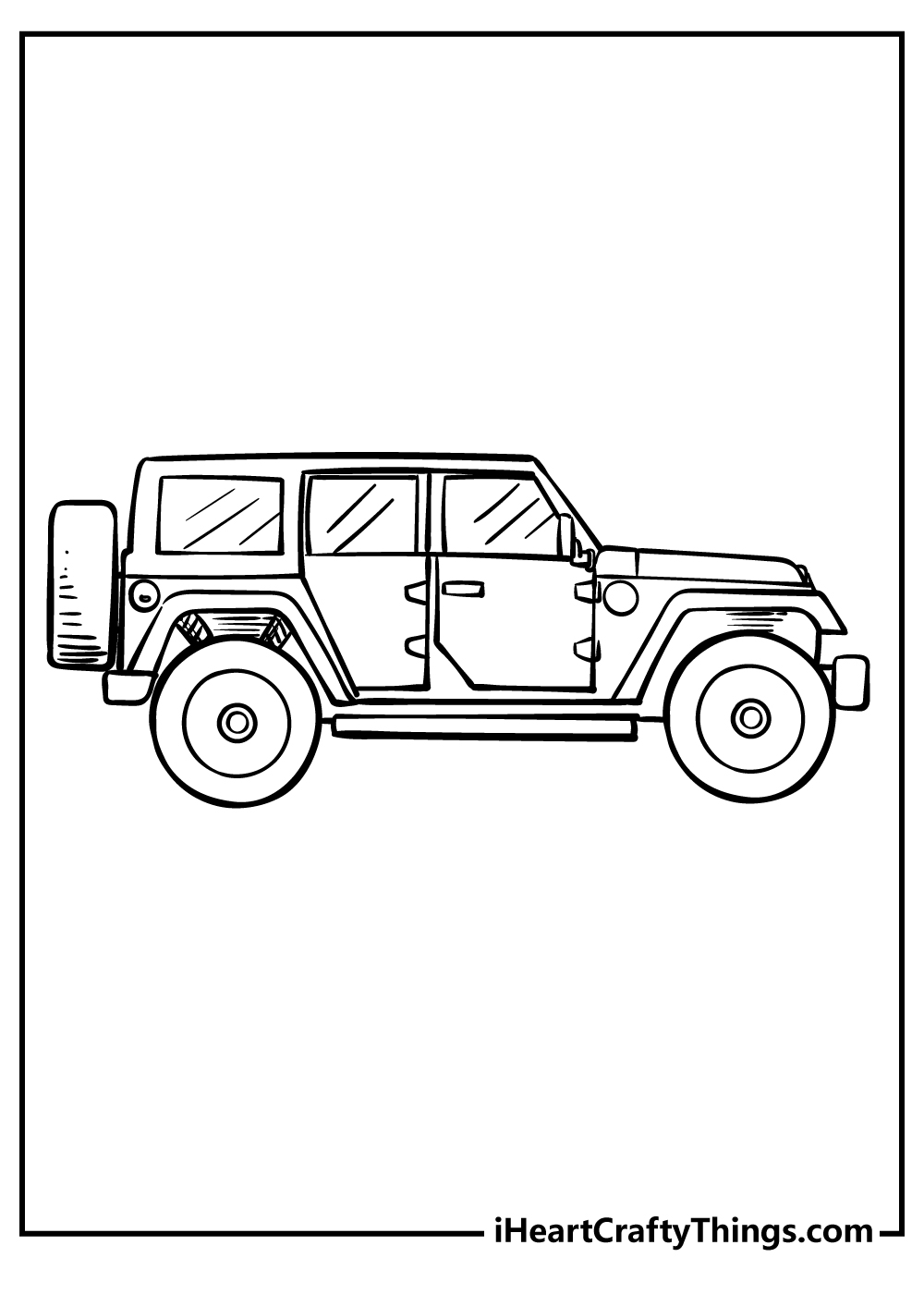 We have another highly detailed Jeep vehicle starring in this next Jeep coloring sheet. This one is a bit more compact, as it only has one door on the side.
What colors came to mind when you first saw this Jeep? You could use solid colors for this vehicle, but you could also go for some camouflage patterns as another idea.
How will you color this one?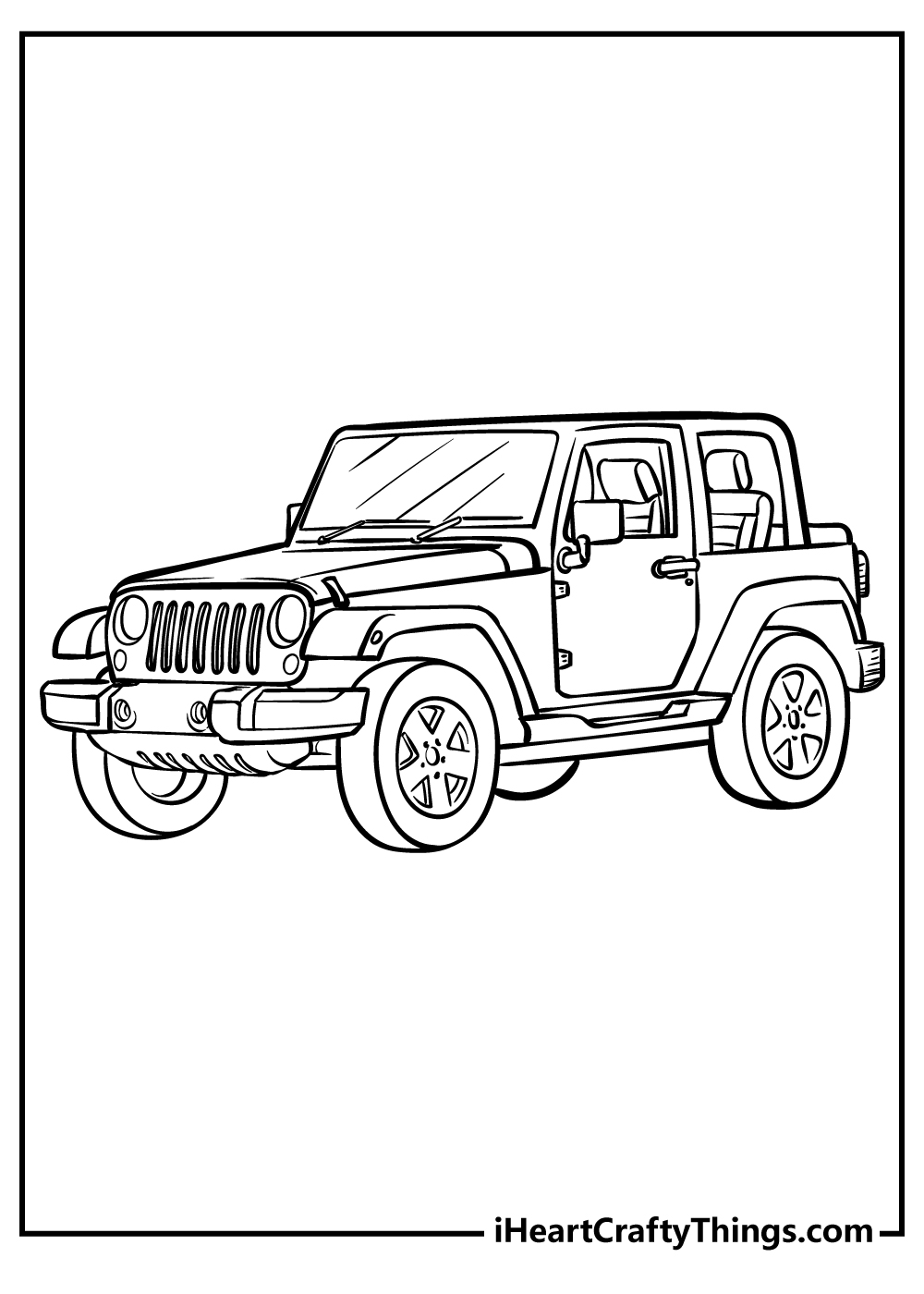 This next Jeep vehicle looks like it would be perfect for riding over some sand dunes! We have another great side view of this one, and it has really big wheels on the side.
There are roll bars over the top of this vehicle, and these serve a dual purpose of looking cool and providing extra safety.
This would be another one that would look great with some background details!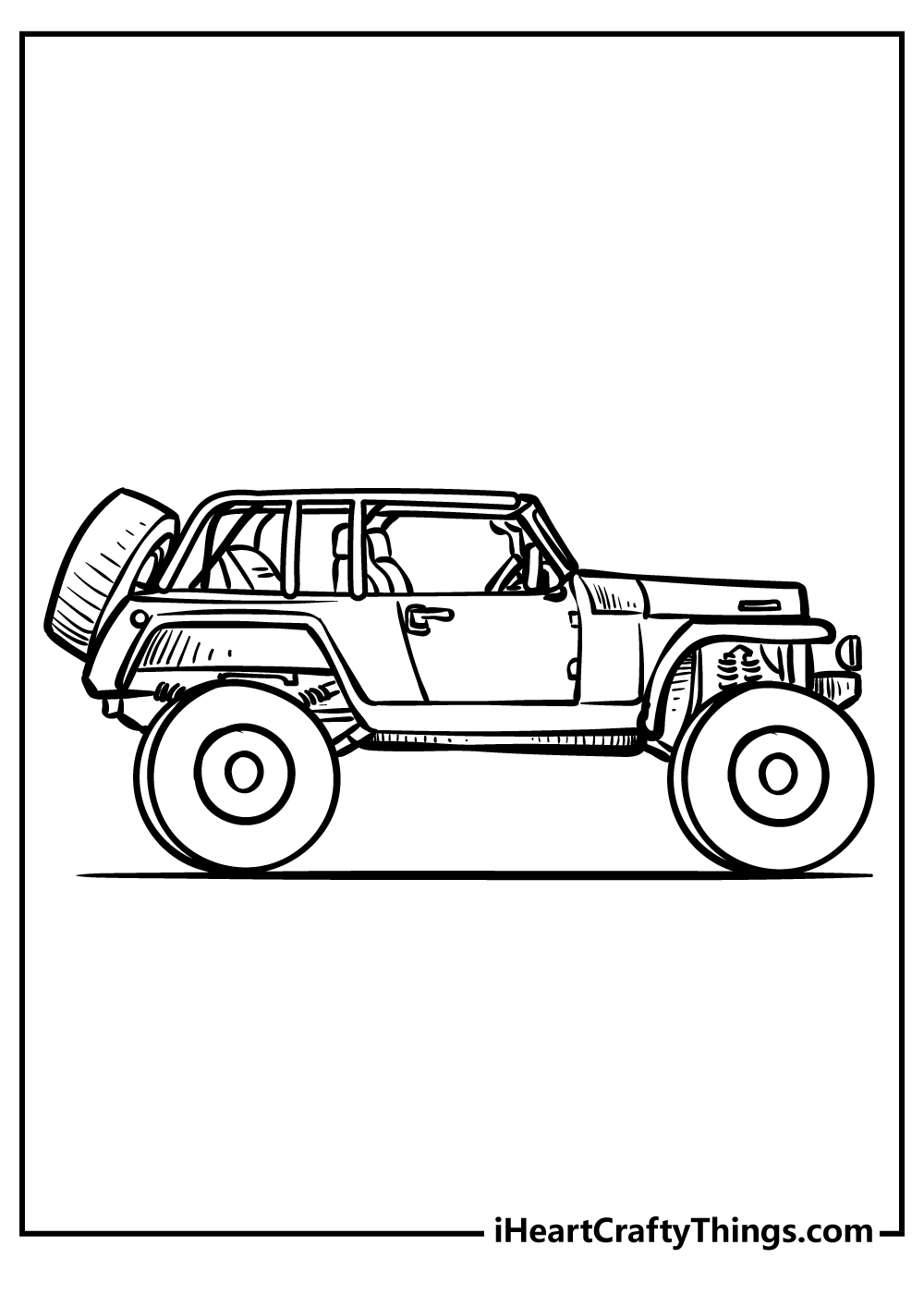 It's time for a brand new viewpoint as you take on this next page. This time we're viewing it head-on, and because of this we get a better view of some additional details on this area of the vehicle.
If you want to go the extra mile, you could also draw some tread details onto the tires of the vehicle and add other small touches such as these. What other details would you add to this Jeep?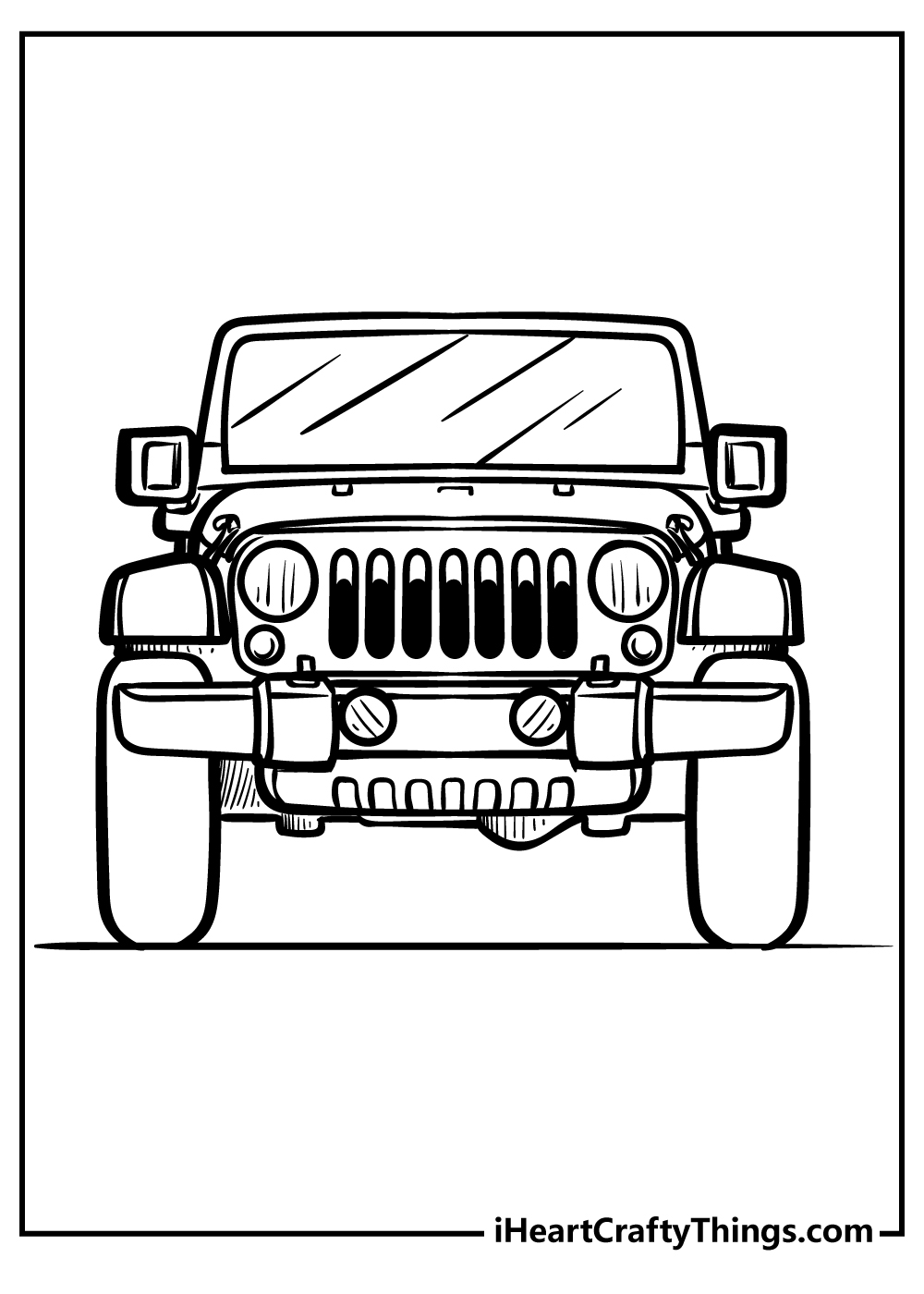 The vehicle on this seventh Jeep coloring printable also has a rollbar above it, and it looks very open. This one would be perfect for a safari or exploring some unknown terrain!
What would you be looking at if driving this particular Jeep? You can show off what you think that could be by drawing a background for this one as well.
If you're not used to drawing environments, you could look up some photos online to help inspire you when designing the background.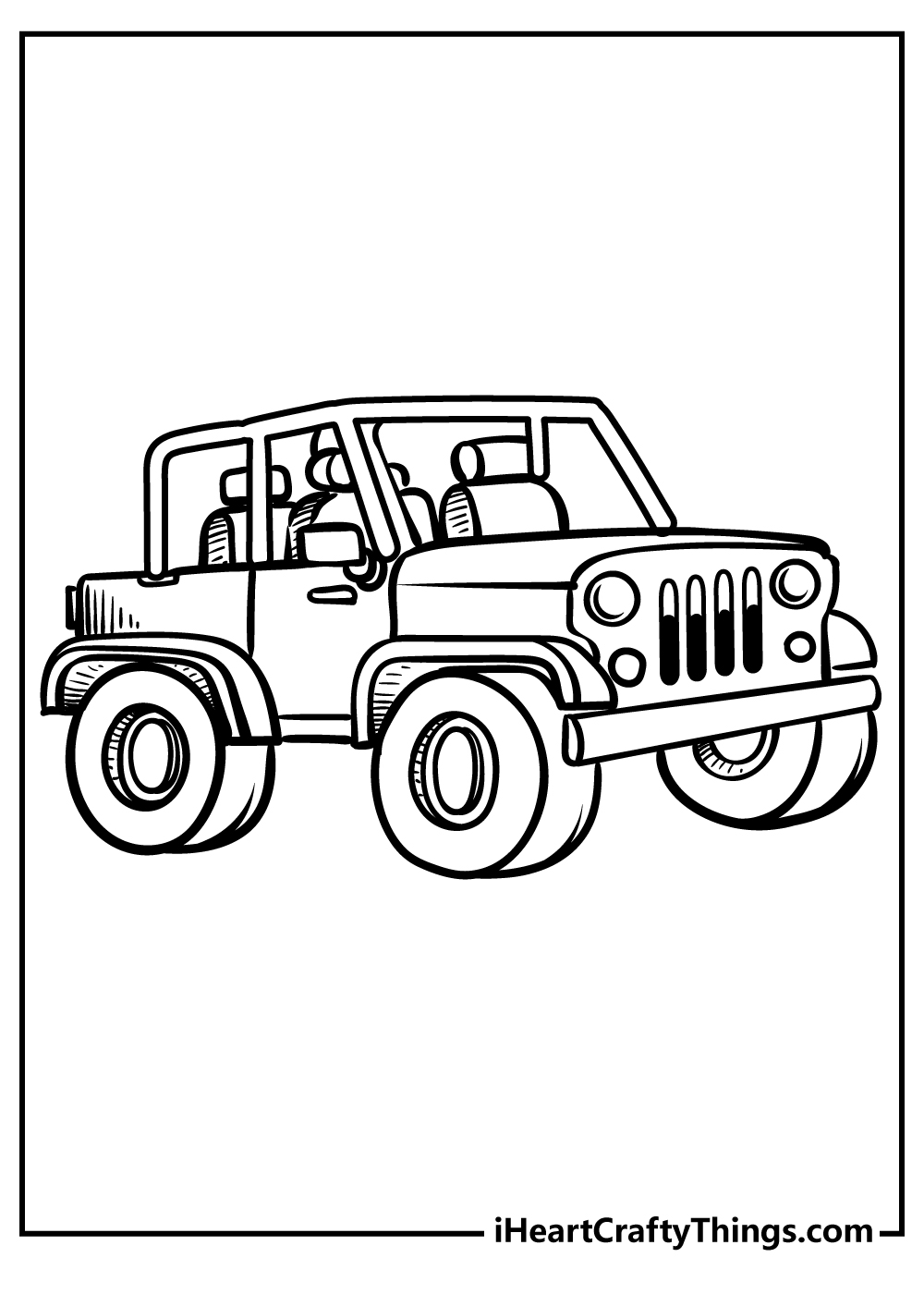 Another simple yet effective Jeep is up next for you to color! This is another one that may not be flashy, but would still be loads of fun to drive.
If you want to fill the background, you have more options than drawing an environment.
You could also use some solid colors or patterns behind the Jeep to fill the background, and there are other ideas you could try as well!
What else can you think of to fill in the background of this page?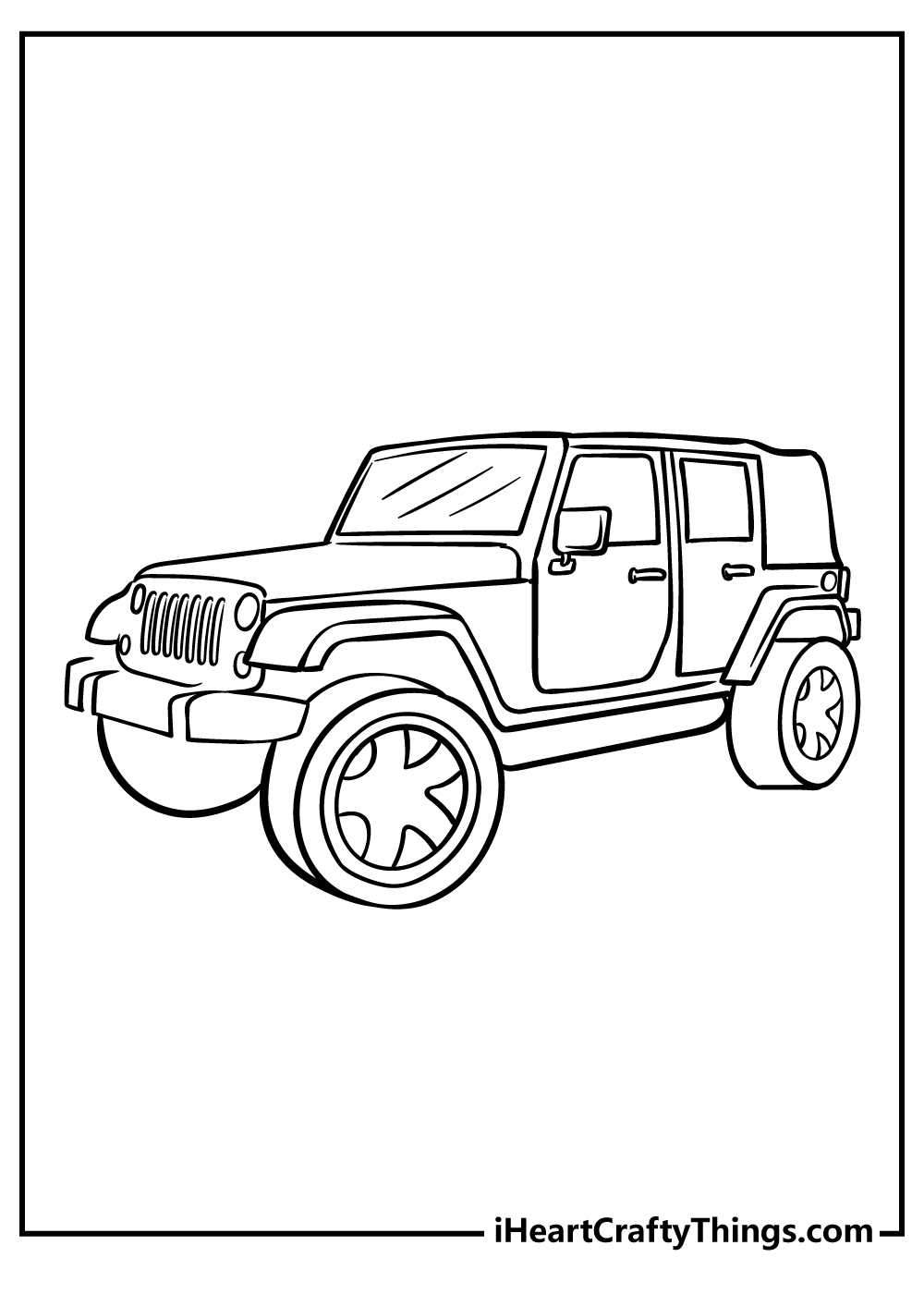 This next Jeep has a bit of a vintage look to it. It's another one where we think that it would be perfect for an African safari!
If you agree with this idea, you could draw a stunning landscape and have some amazing African animals in the background.
If not this kind of setting, what other landscapes would you have this cool Jeep navigating?
If you can't settle on one idea, remember that you can print out as many copies as you like, and that will allow you to experiment.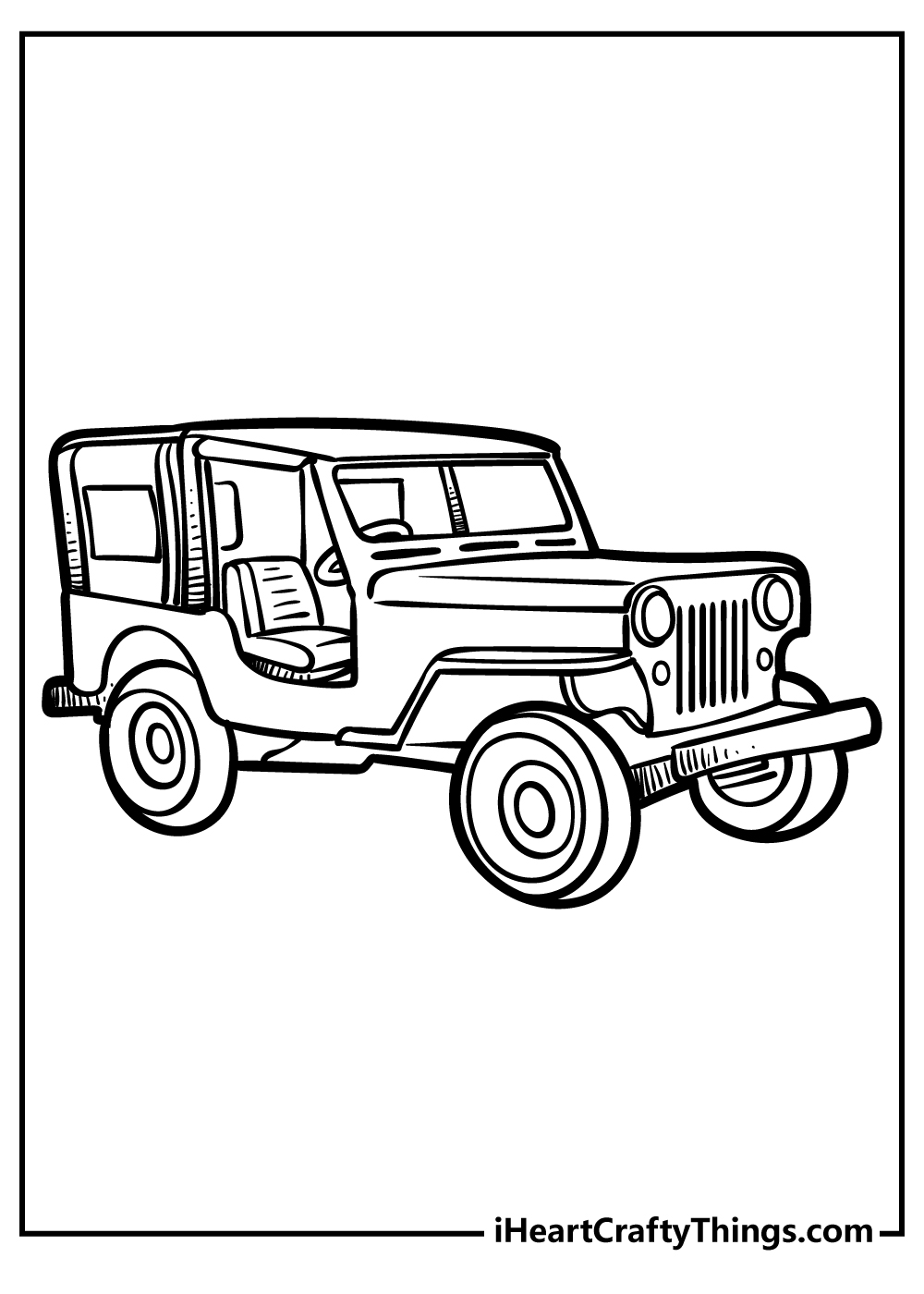 You have now arrived at the final Jeep coloring page that we have for you in this collection, and it's a really cool one!
This Jeep is another one that is highly detailed, so we would again recommend some art tools and mediums such as colored pens or pencils when coloring this one in.
If you have some art tools lying around that you don't normally use, then you could try them out for this final page! How will you close off this collection with your creativity?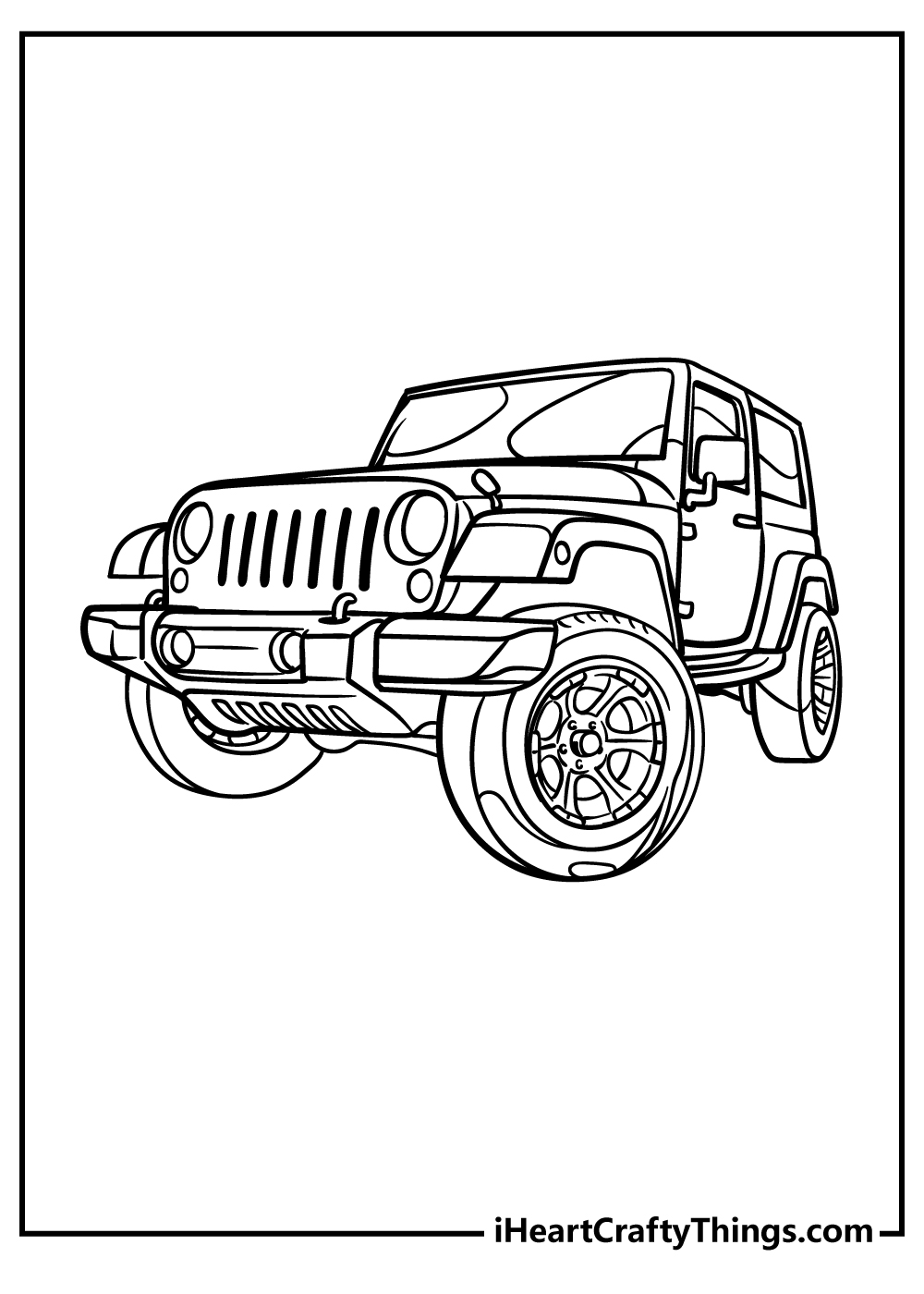 Jeep Coloring Pages – Which will you choose?
This collection of free Jeep coloring pages for kids was quite a journey to take on! We hope you enjoyed coloring all of these amazing Jeeps while adding your own awesome details and additions.
Remember to share these pages with your fellow vehicle lovers so they can color them too!
When you would like a new coloring challenge to take on, you can find many more coloring page collections on our website to enjoy. We look forward to seeing you there often!
Lastly, it's always great to see the results of your creativity, so we hope you will share some of your finished Jeep coloring sheets on our Facebook and Pinterest pages!