Halloween is one of the funnest holidays that is celebrated around the world.
This spooky occasion is an excuse to put up awesome scary decorations and dress up as your favorite characters!
It's also a time where you get to go to different houses to trick or treat in order to get some delicious candy.
This practice is what we will be focusing on in this collection of free trick or treat coloring pages for kids!
This spooky collection will feature 10 pictures that are based around the joys of trick or treating!
There will be tons of small details and pictures to color, so you should get to use all of your favorite colors and art mediums in this collection.
Every one of these scary printables are free for you to choose, print, color and have a great time with!
It would also increase the fun if you were to share this collection with friends and family to enjoy with you.
Now it's time to grab your favorite colors, art tools and sweet snacks as you dig into this collection of free trick or treat coloring sheets!
We hope that you will also share some of your finished artworks on our Facebook and Pinterest pages.
10 Brand New Trick Or Treat Coloring Pages – Free to Print and Color
This collection of free trick or treat coloring pages for kids will begin with a really fun picture!
We have written out trick or treat in big, bold letters, and then we surrounded it with some classic symbols of Halloween.
These include some pieces of candy and some spooky bats to really complete the scary mood of the season!
What fun colors will you choose for this first page of the collection?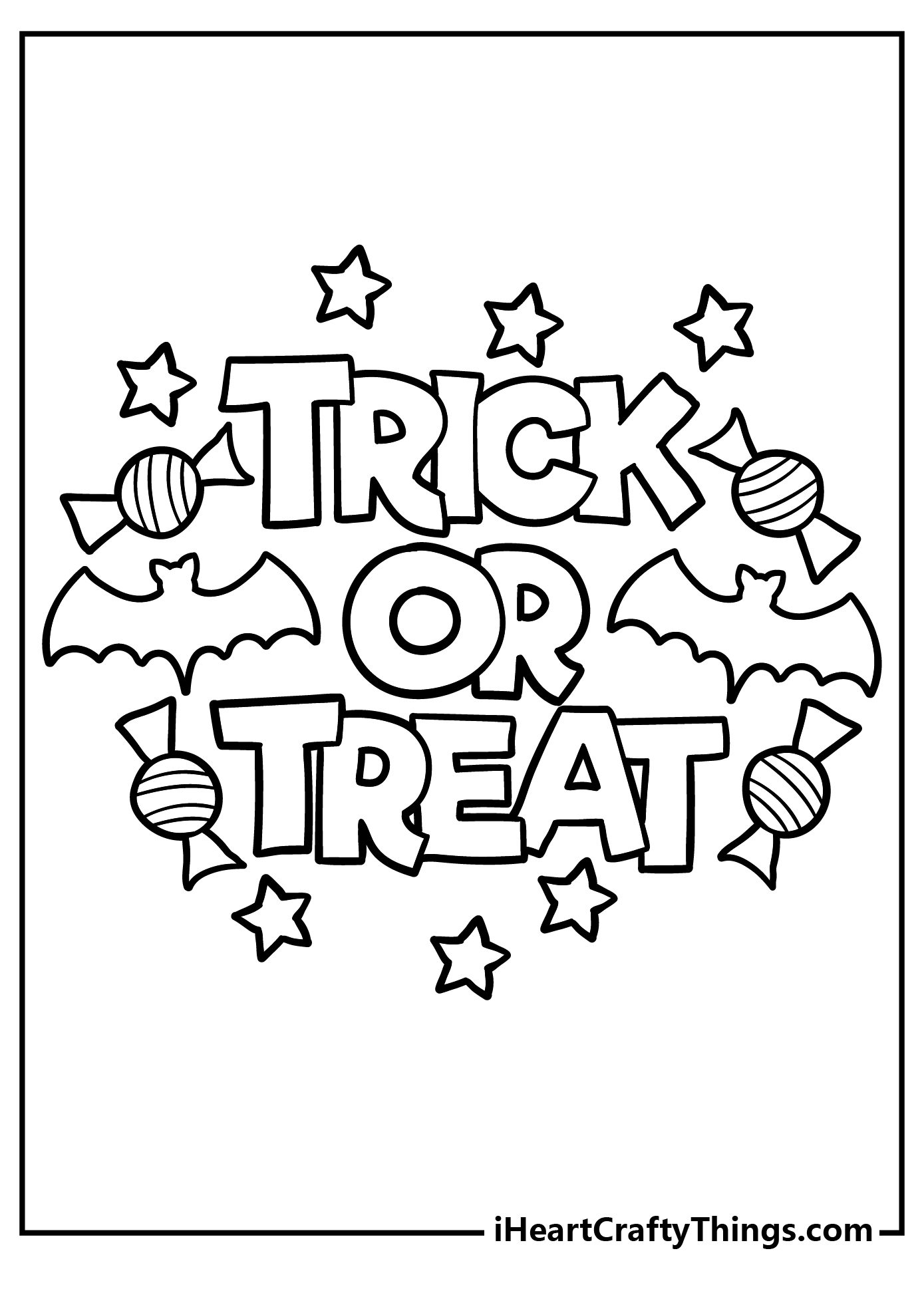 Jack-o-lanterns are possibly the most iconic symbol of Halloween, and we have one as the focus of this next page.
Each word of trick or treat has been written in a different font, and it makes for a really cool picture.
Above the phrase, we then have that spooky jack-o-lantern that we mentioned, and it really has a cool design!
There are also many stars and other shapes surrounding the image, and this leaves you many opportunities for many different color details.
We can't wait to see how you color this one in!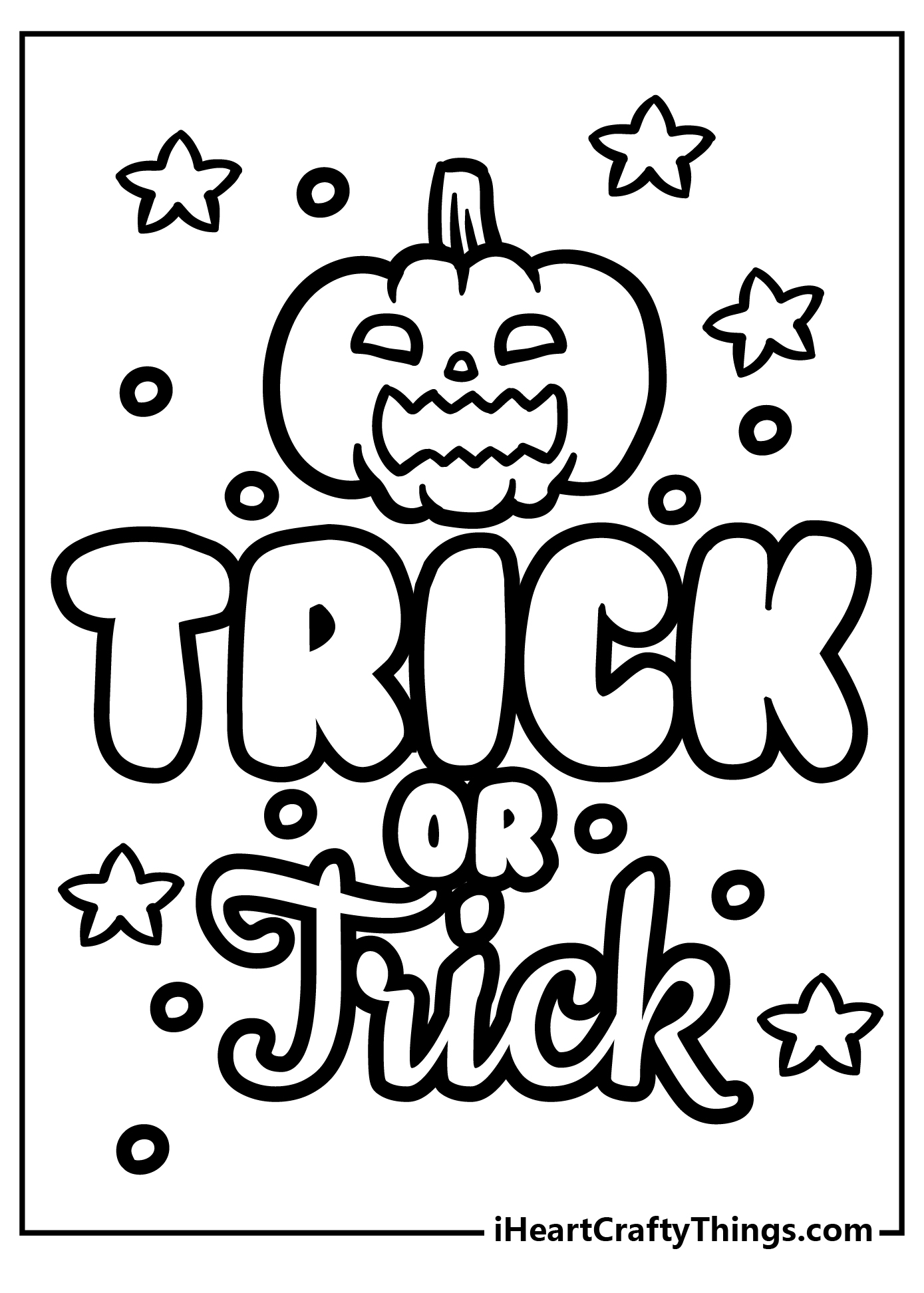 It's time for some more jack-o-lantern fun with this next scene! This pumpkin also has a really cool design for you to color.
The pumpkin allows for some brilliant orange colors, and you can also work in some yellows and greens for other parts as well.
There are also some other great little details to color such as little bats and more candy, so this image should really pop with color once you have finished with it!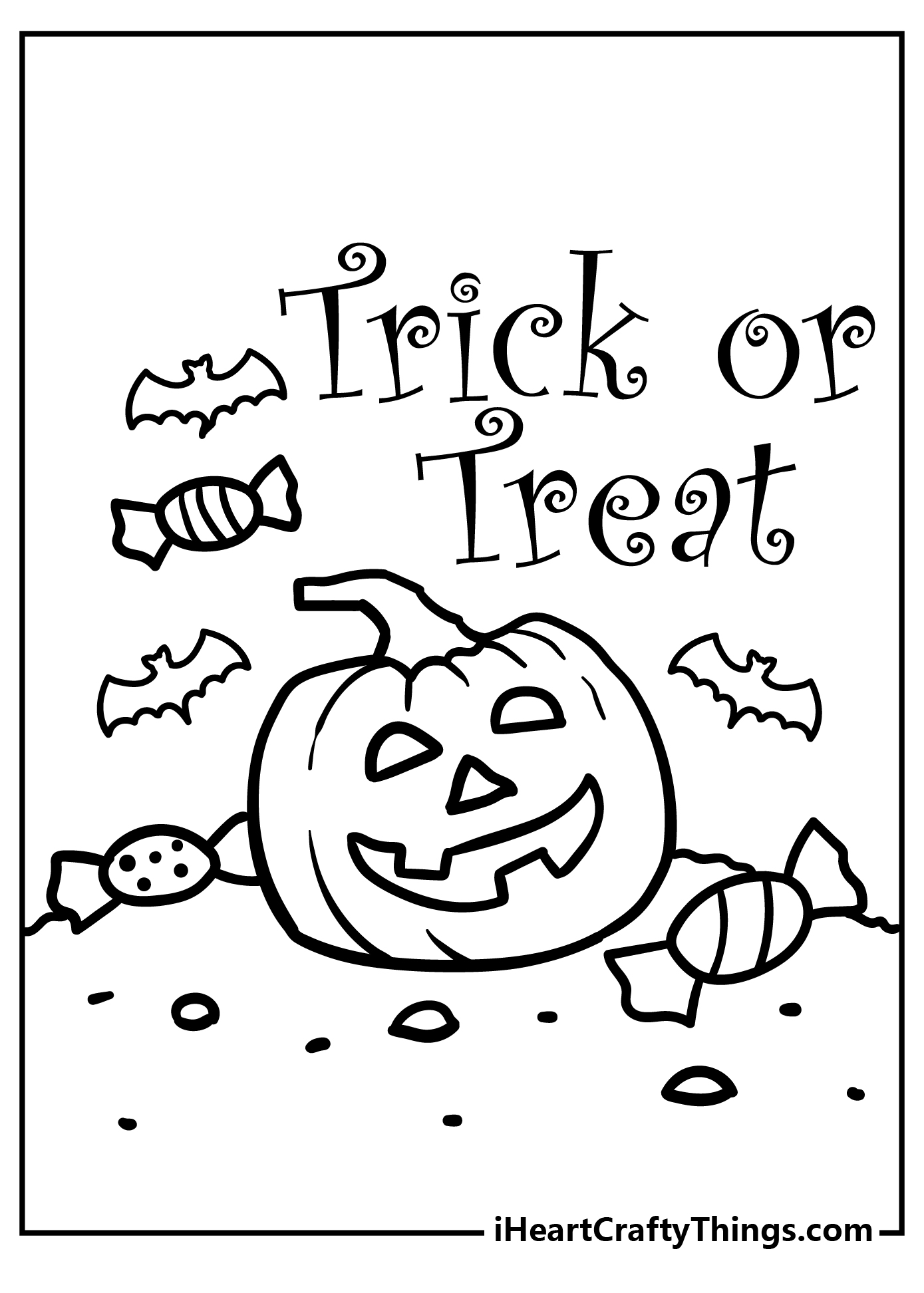 This next free trick or treat coloring sheet features another great Halloween arrangement! We have a bit of a close-up of the jack-o-lantern in this one, and there are some great small details to color.
For the smaller elements of the pumpkin, you may want to use an art medium that allows for precision such as a colored pen, pencil or thin-tipped paintbrush.
What colors and art tools came to mind when you first saw this image?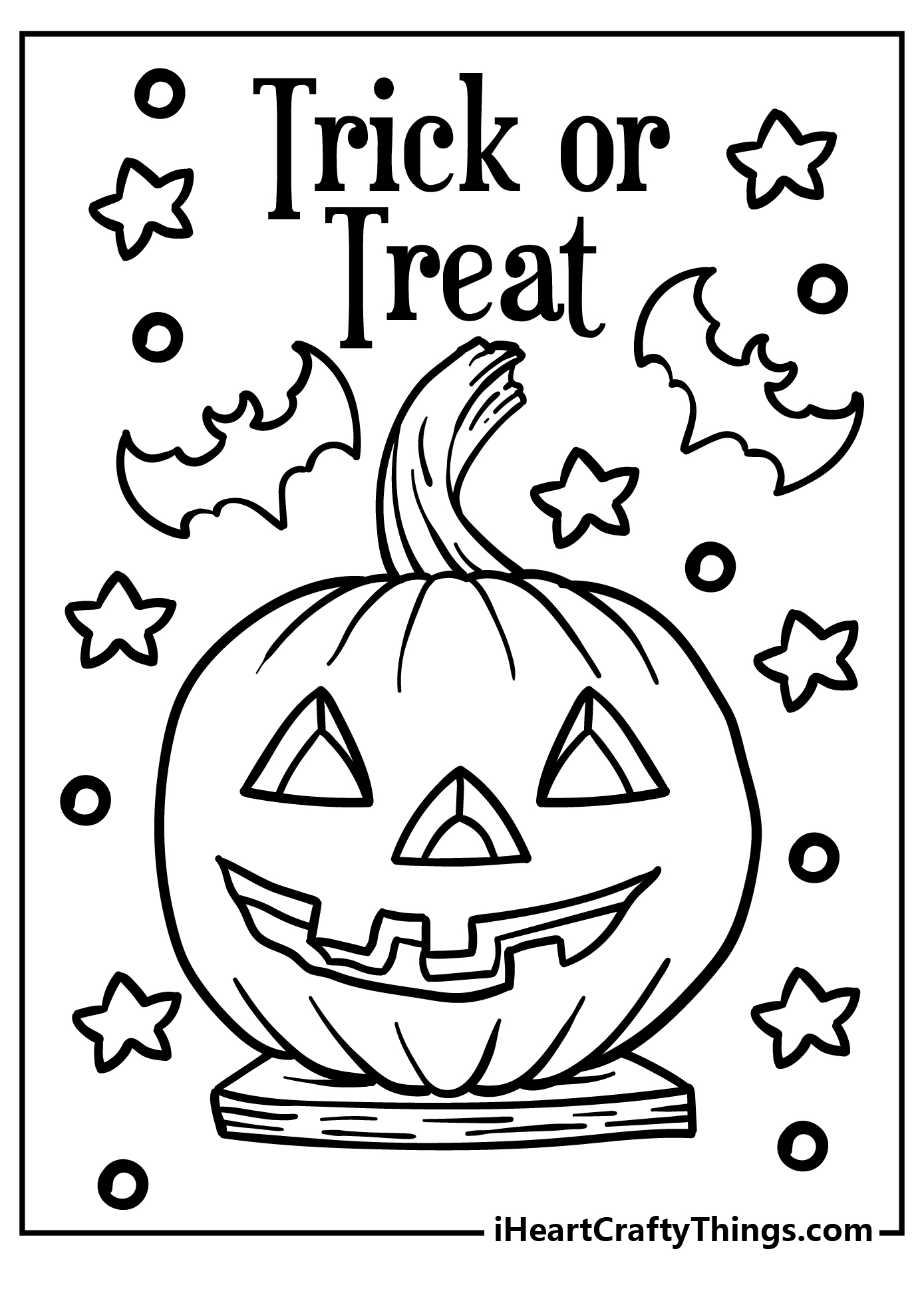 The next page that we have for you is really fun! This one features a cute little ghost emerging from a jack-o-lantern while wearing a witch's hat.
There are so many Halloween symbols and elements in one for this picture! We also wrote trick or treat in a really cool, fancy font, so that should be really fun to color as well.
You could also draw some more little pictures and pattern details to show off some other things that remind you of Halloween into the background!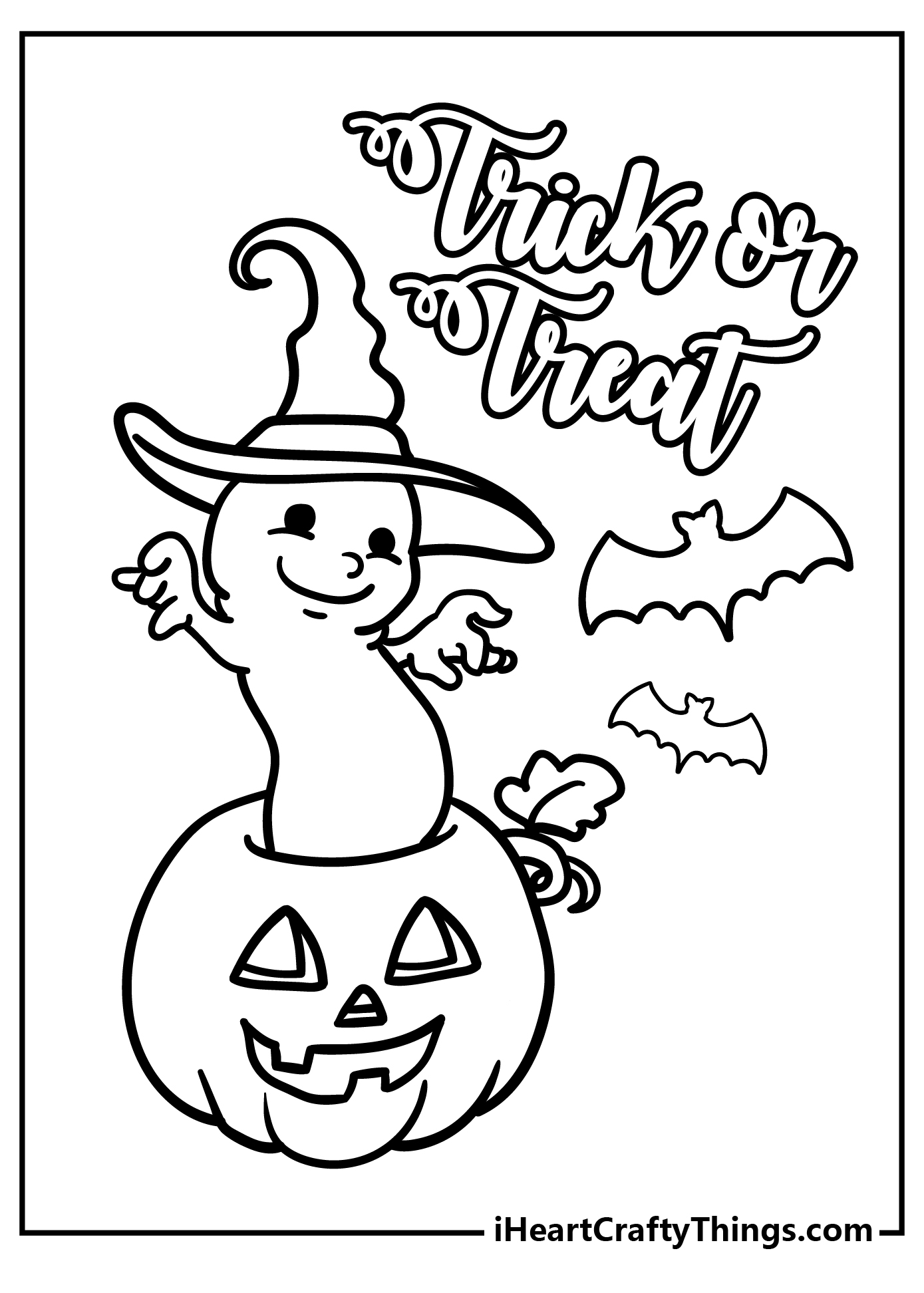 Now it's time to color in an awesome Halloween costume in this next free trick or treat coloring printable.
Ghosts are a popular thing to dress up as for Halloween, and the person in this page has done just that.
The basket hanging from their arm further indicates that they are out on the town for some trick or treating fun!
The font for the letters spelling out trick or treat are also so cool, and the dripping effect they have makes the phrase look extra spooky. What scary color choices will you go with for this one?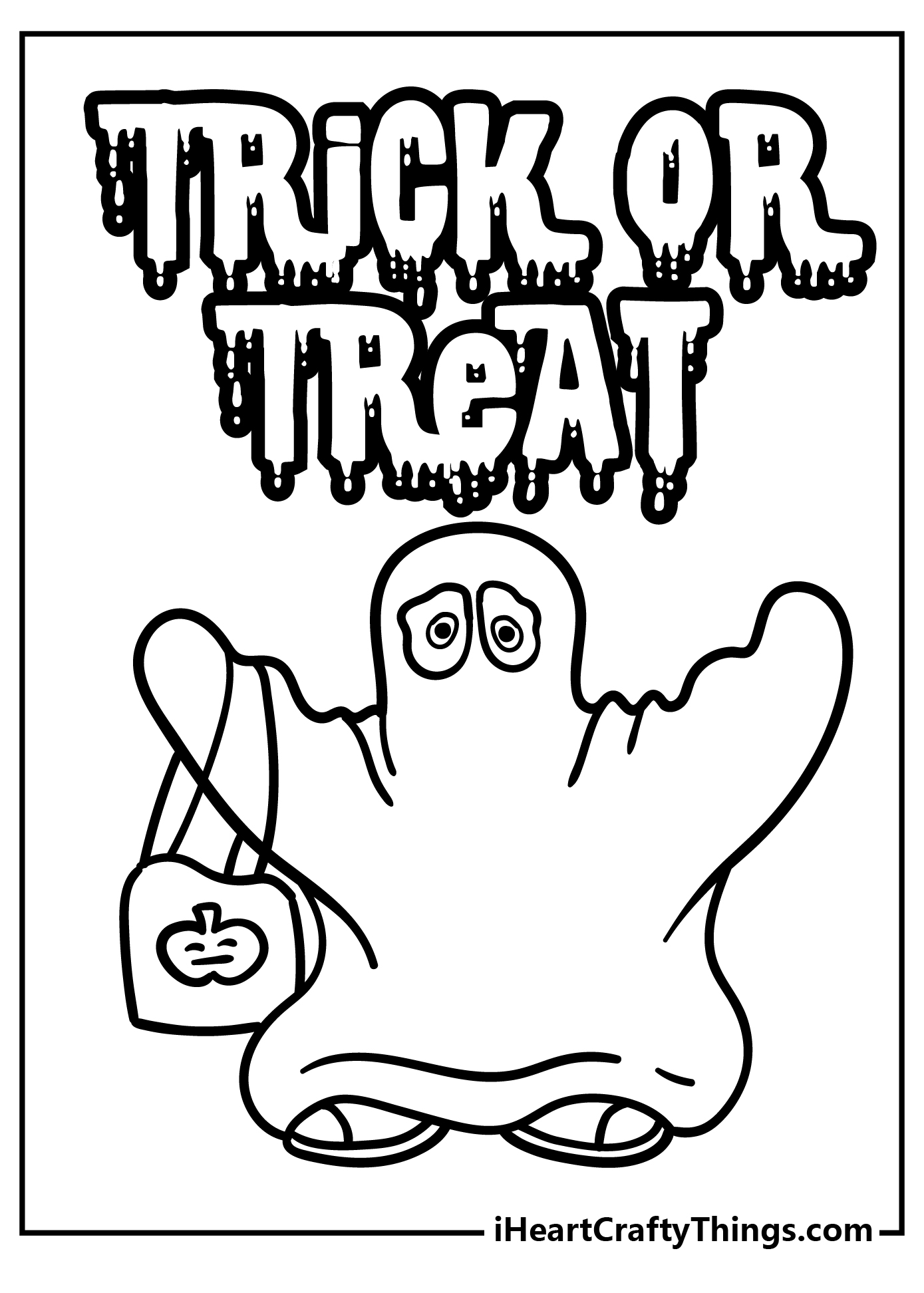 There is a jack-o-lantern scarecrow out on the town in this next picture! Halloween evening is where all the spooky creatures come out to play, and this one seems to be having a great time.
There is a lot of empty space in the background, so you could have some fun drawing some extra background details to finish off this evening Halloween jaunt!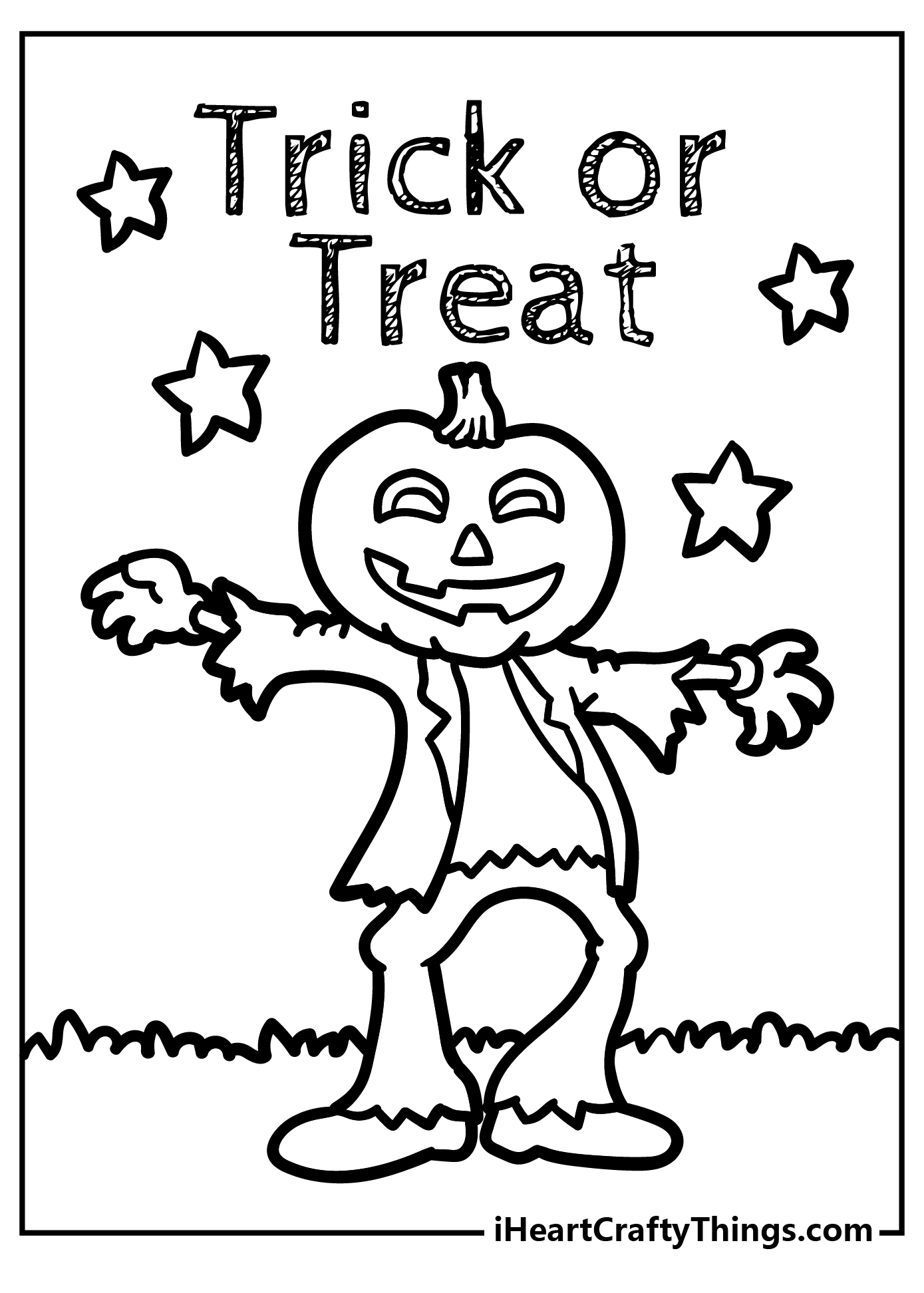 This next trick or treat coloring page features another kid in a ghost disguise.
This kid is trying its best to look as scary as possible, but the little cat next to it is not fooled, judging by the look on its face!
This is a really fun Halloween scene, and you can really make it even better with the awesome colors and extra details that you add to it.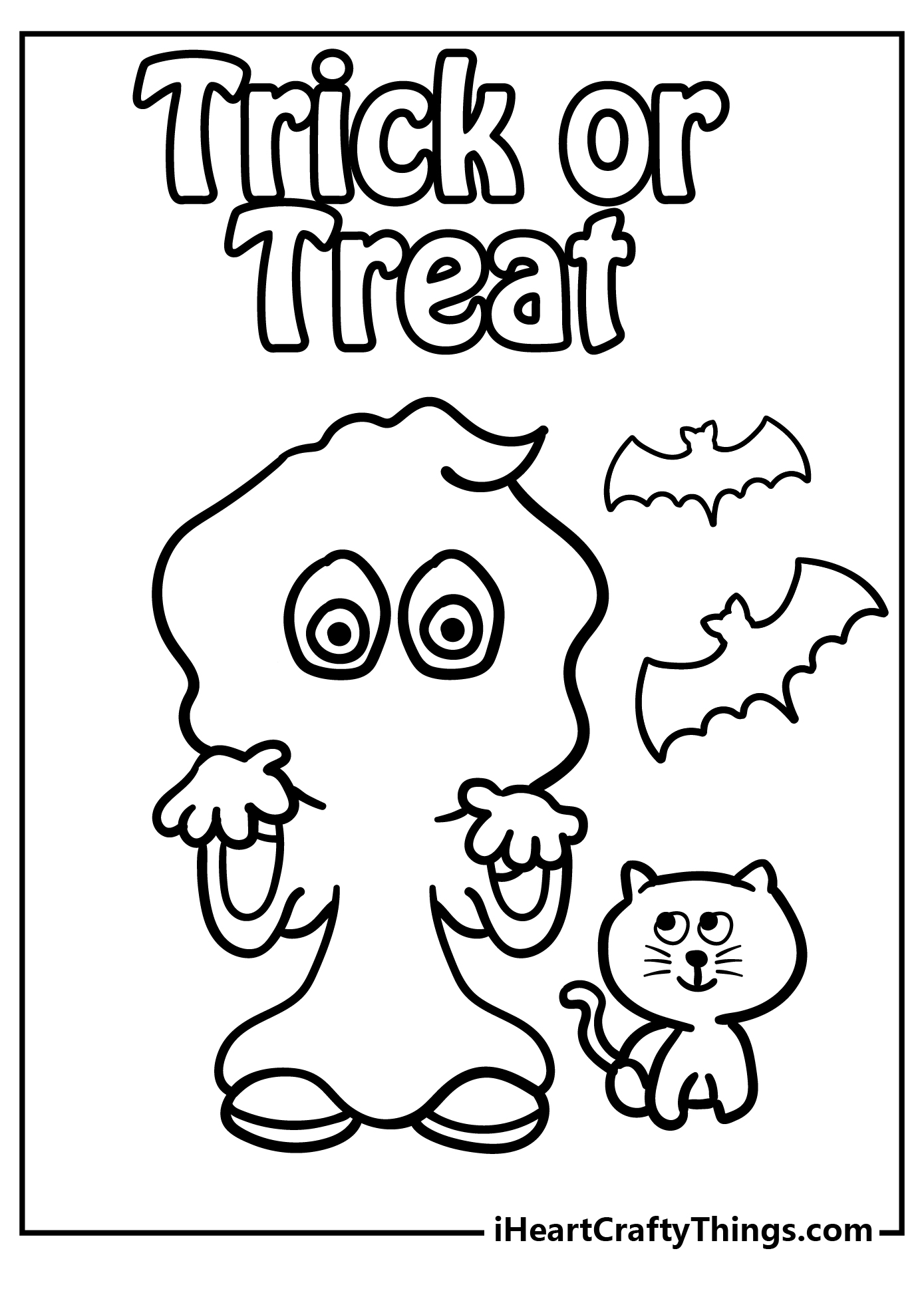 We're nearing the end of this collection, and we have a few more fun pictures for you to color. This next one is a fun little composition, and there are tons of great details for you to color!
There is another witch's hat with some symbols on it, and behind it is a spooky ghost.
For this image, we think that some watercolor paints would look really great to add a softer look to the scene, but this is just one idea of many! What else can you think of to color this one?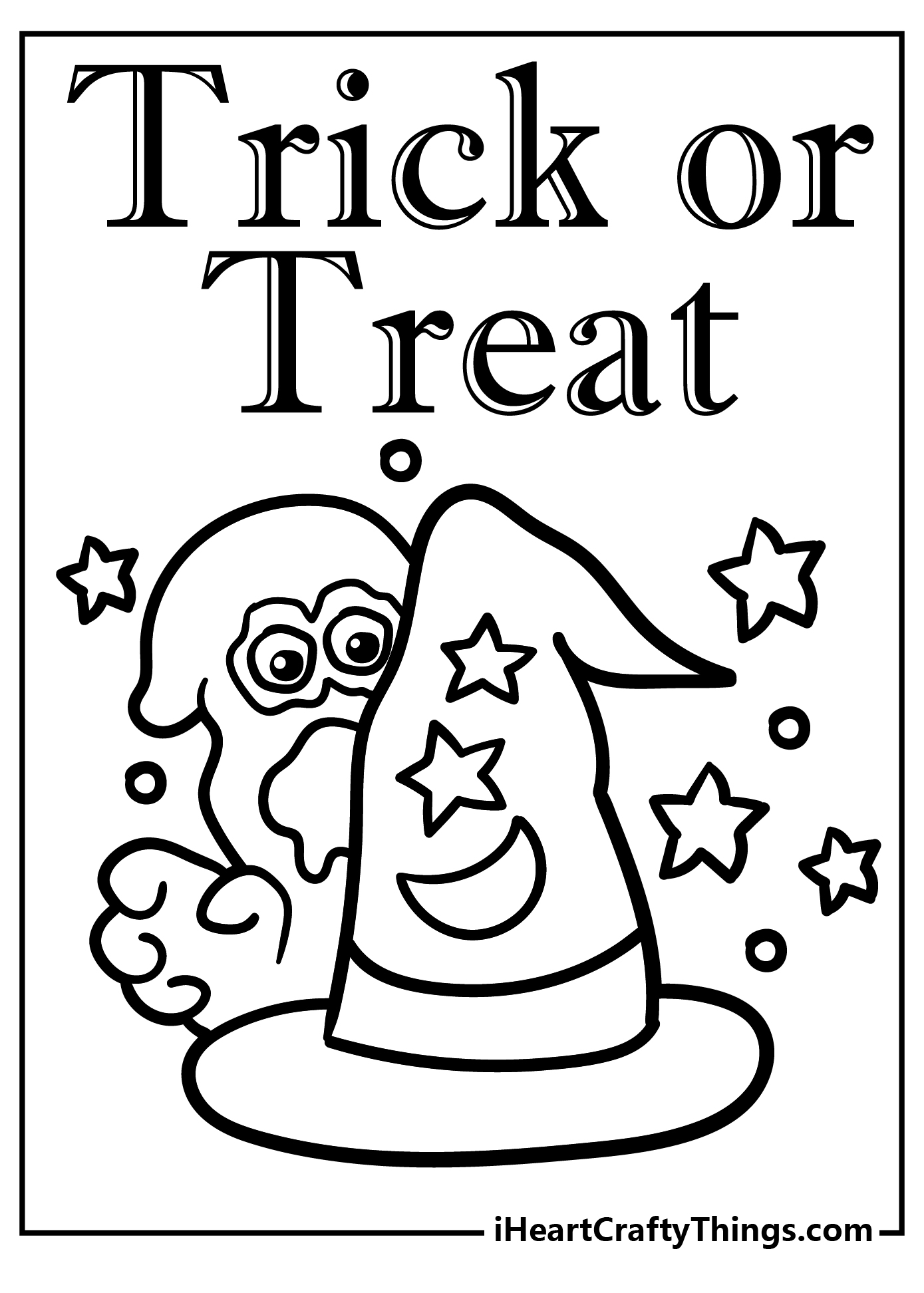 Our final trick or treat page gives you one final Halloween scene for you to work your creative magic on!
The words are again written in a spooky block font, and it really creates a striking look for the focal point of the picture.
Some little ghosts and other symbols of Halloween surround the words, so you have lots of fun details to color in for this one.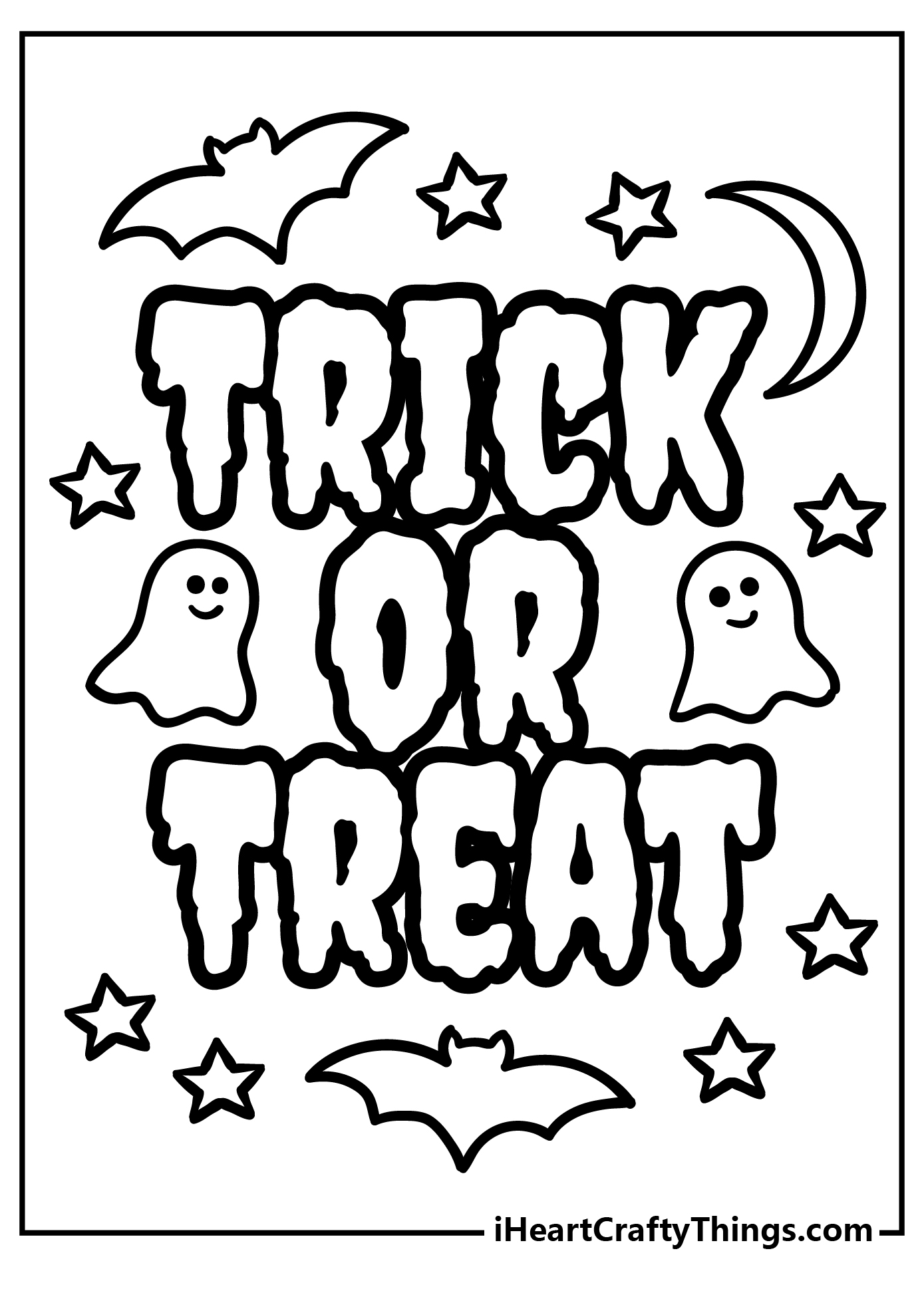 Trick Or Treat Coloring Pages – Which will you choose?
There may have been some spooky moments in this collection of free trick or treat coloring pages for kids, but we hope that it was a lot of fun for you to work on!
Every page has something cool to color, and you can pick your favorites or color in every single one.
This coloring collection is one of many that we have in store for you, so make sure to visit our website for more creative goodies!
We will be bringing out new ones often, so keep checking in to never miss out.
We always love to see how your finished pages came out, so please be sure to share some of your completed trick or treat coloring pages on our Facebook and Pinterest pages!