On this page, you will find 15 all new Wizard of Oz coloring pages that are completely free to print and download.
Some stories manage to become classics that are beloved the world over.
The Wizard Of Oz is an example of this, as it is a story that is known and loved worldwide and has been adapted into countless forms of media.
It started out as a book written by L. Frank Baum in 1900, and it was adapted into a famous film in 1939.
This collection of free Wizard Of Oz coloring pages for kids seeks to capture the magic of this timeless classic!
This charming collection of 10 pages features some of the most famous characters and moments from this story for you to enjoy.
You'll be able to share them with your friends and family to have fun with as well!
Every page in the collection is free to print, color and enjoy, and we hope you have a wonderful time working your colorful magic on them!
This is a wonderfully colorful and vibrant story, so you have lots of opportunities for great colors.
Once you have colored in your favorite images from the collection, we hope you will share some of your favorite finished pages on our Facebook and Pinterest pages.
We can't wait to see how they turn out!
15 Brand New Wizard Of Oz Coloring Pages – Free to Print and Color
We will begin this collection of free Wizard of Oz coloring pages for kids by coloring in the main character!
The young girl Dorothy is the character we follow through this story, and she is posed with her beloved dog Toto in this image.
You could color her to make her look as she does as portrayed by Judy Garland in the film, but you could also create a unique look for her.
The background is left blank, and you could show what your favorite Wizard of Oz moment is by drawing a background for this page.
Do you recognize this lovely girl in a princess costume? That's Princess Ozma, the ruler of the Land of Oz. She is a kind and wise princess who loves her people and her friends.
In this Wizard of Oz coloring page, Ozma has long blonde hair and wears a dress with a striped skirt and a crown on her head. She is standing in front of the Emerald City.
She has many adventures in the magical world of Oz, and sometimes visits Dorothy in Kansas through a magic mirror. How would you color this charming princess?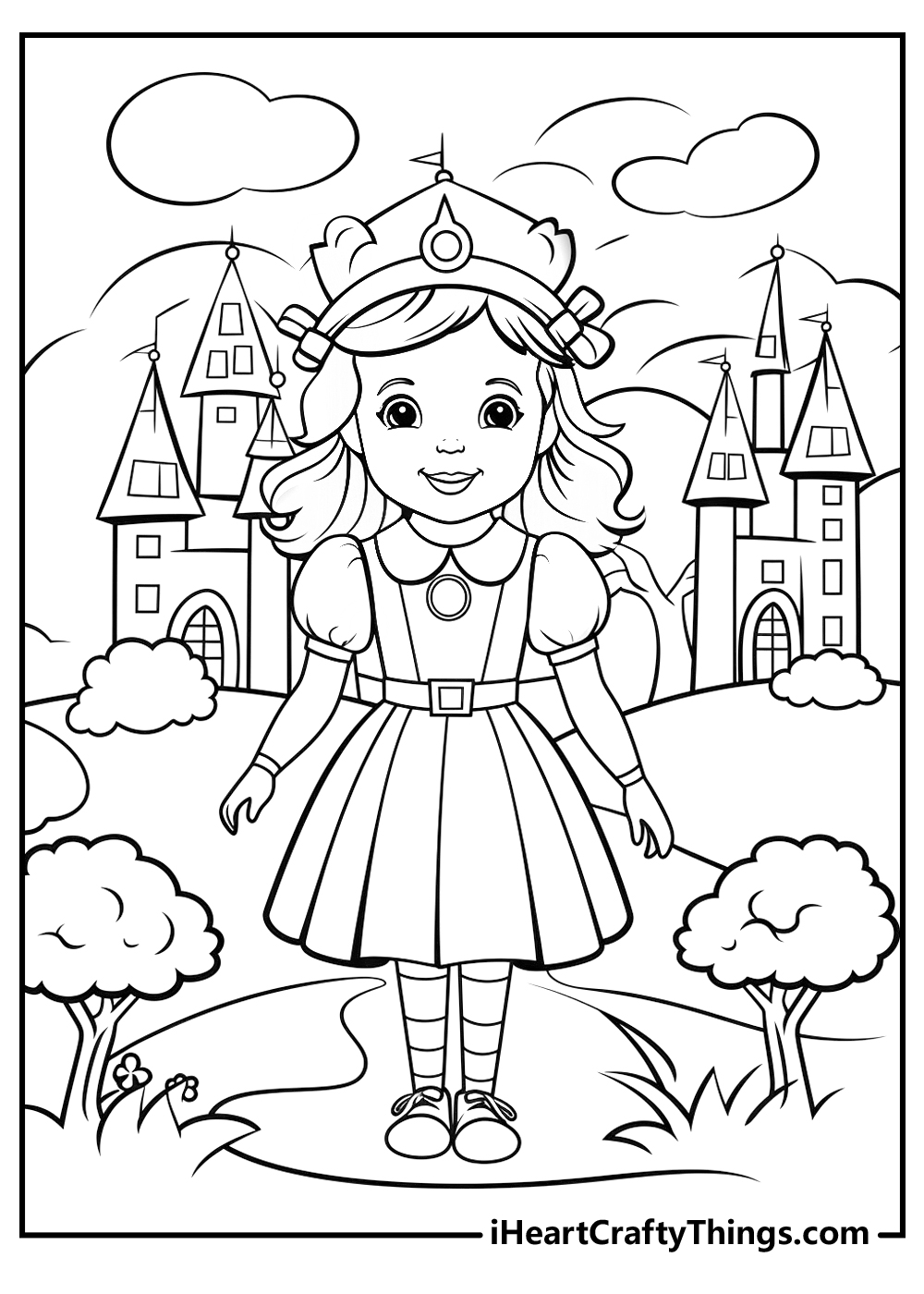 The Tin Man is up next for you to color in this fun page! This character is one of the companions who joins Dorothy on her quest, and he is promised a heart by the Wizard of Oz.
He is usually portrayed as being entirely grey, but even if you stick with that color you can get some great color variety by using brighter choices for the background.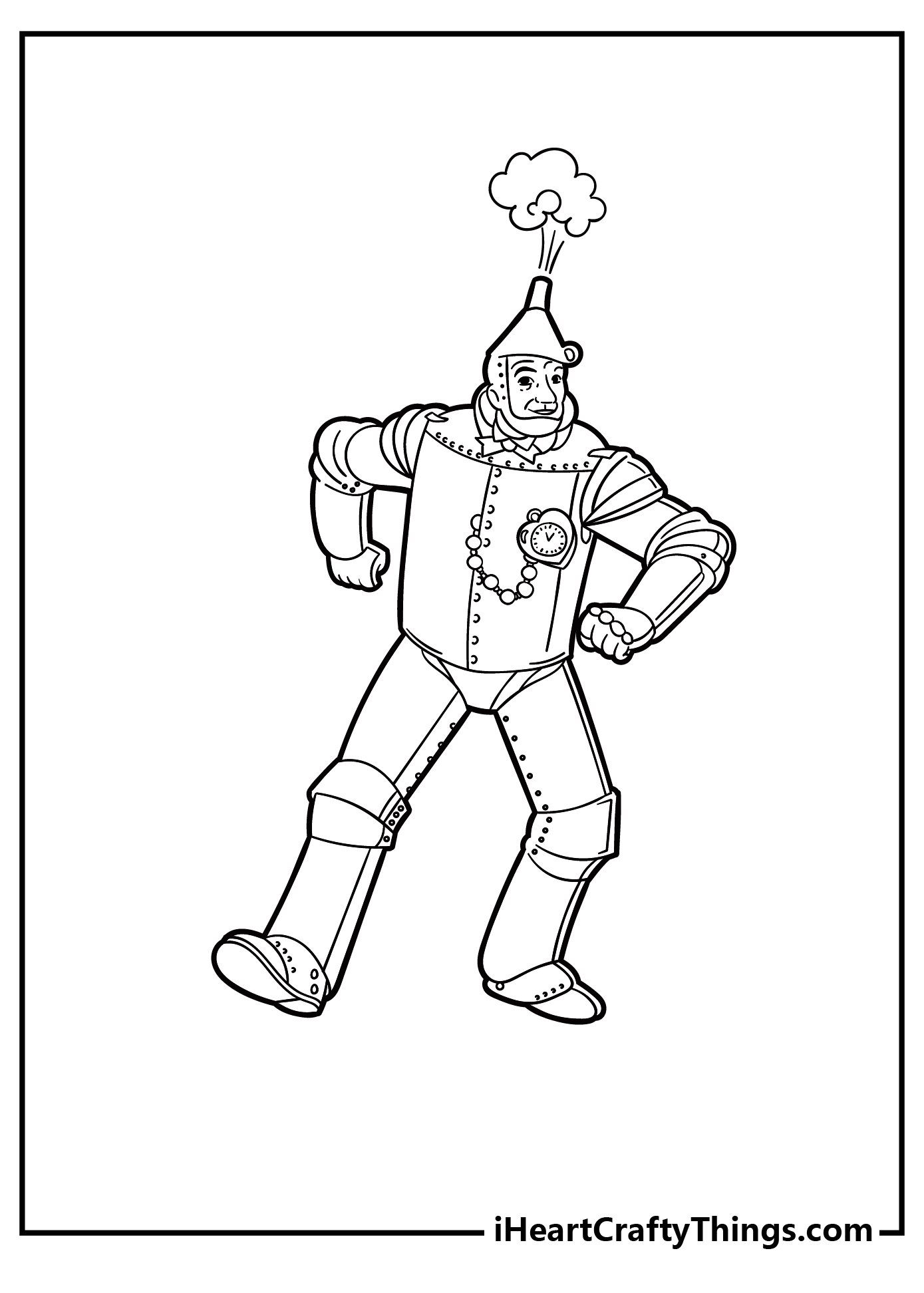 You typically expect lions to be brave, but that is the irony of the Cowardly Lion character.
He is also up next for you to color, and he is living up to his name with the nervous expression that's on his face.
You could use some lovely warm colors to color him, and you could also take this image even further by adding some background details to finish the scene.
How will you color this lion character?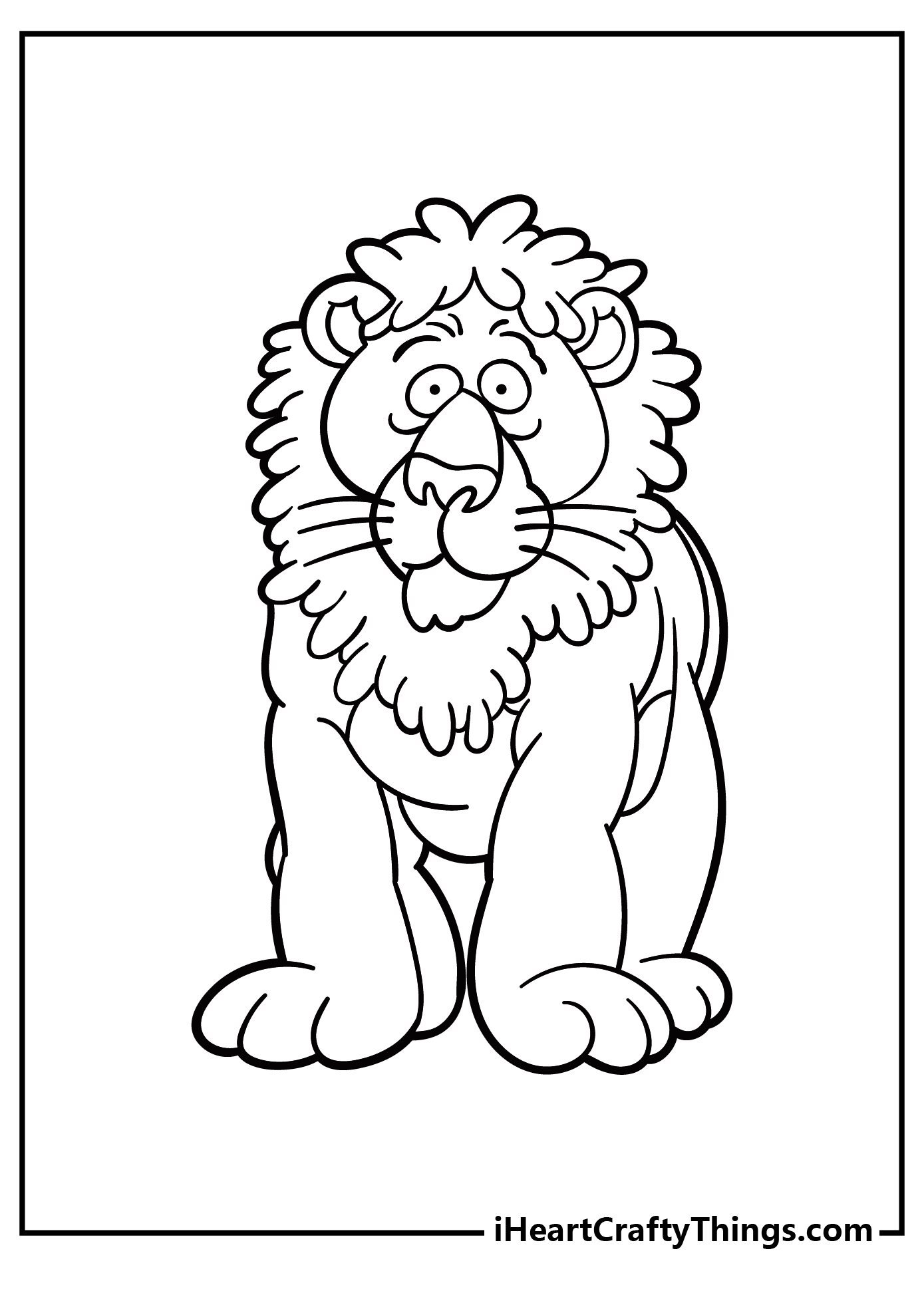 Look at this wonderful picture of Dorothy in front of a fairy tale castle. She wears a pretty dress with a bow at the neck and a headband on her hair.
Dorothy is smiling brightly with rosy cheeks as she stands in front of a towering castle.
The castle has tall towers with pointy rooftops and fancy flags flying from them. Use your most vivid colors to make the castle pop.
You can color the bushes and trees around Dorothy too. Maybe even add a rainbow or hot air balloon in the sky.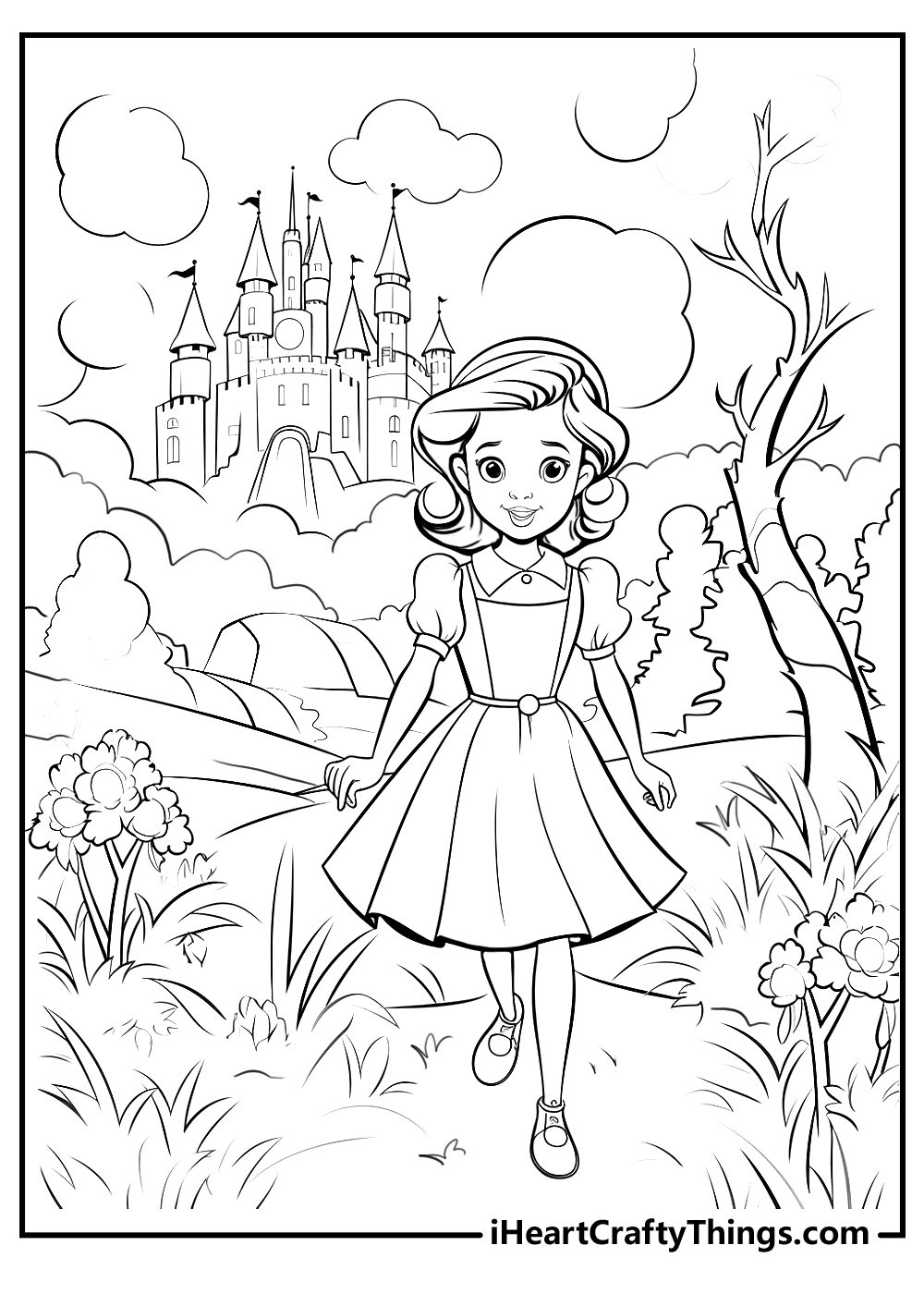 We have a really cute portrayal of Dorothy for you to color in this fourth Wizard of Oz coloring sheet!
She is drawn in a charmingly simple style, and yet it still manages to capture her character really well.
We think that some brighter, more vibrant colors would look perfect for this one, but what colors came to mind for you?
Maybe you could draw some more characters in the same style for her to be standing with!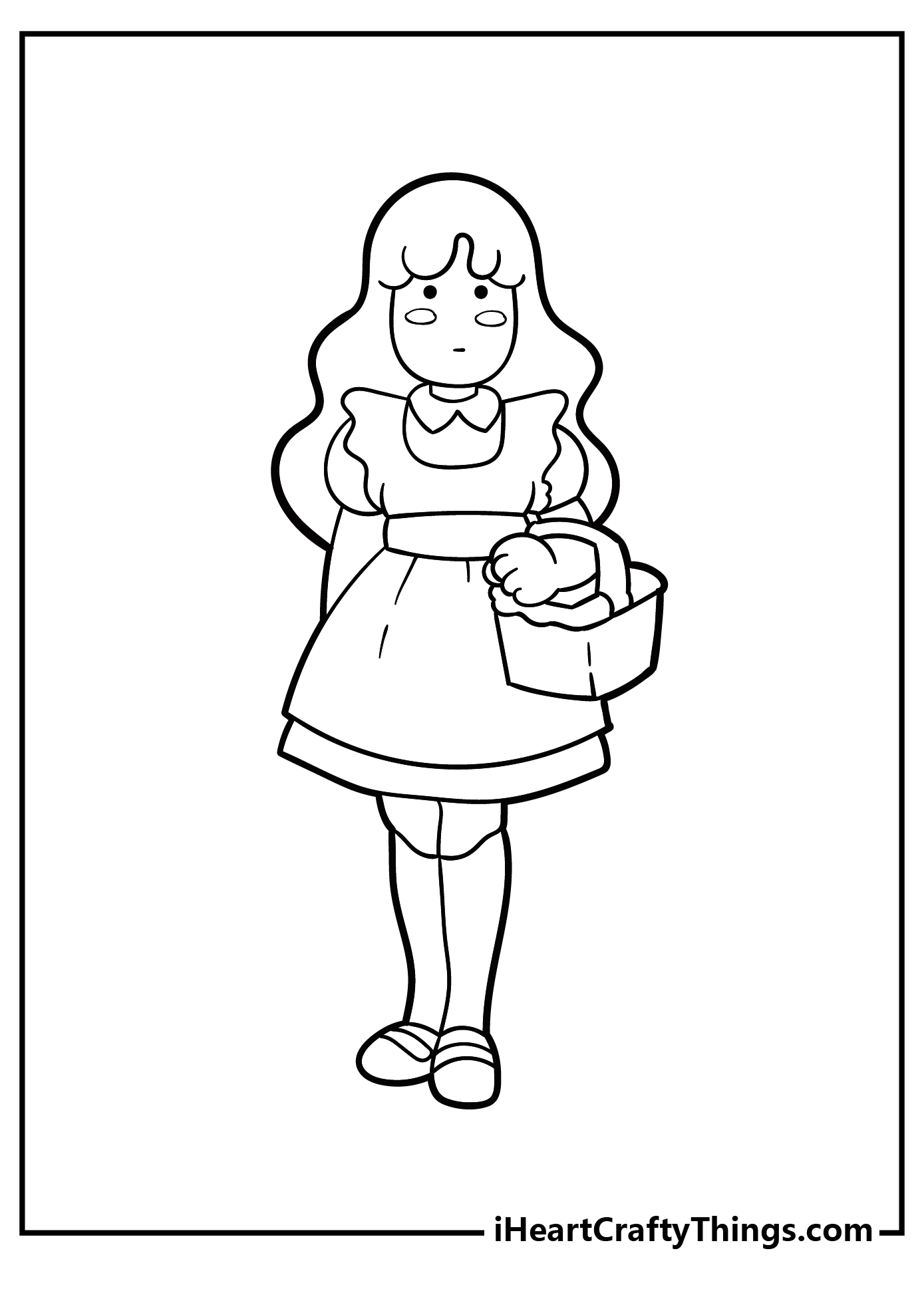 There's another classic character for you to color with the Scarecrow! This character also joins Dorothy, and he is seeking a brain from the wizard.
You could use some beautiful yellows and browns to color him in if you wish to keep his colors consistent with the film.
Will you go with the colors he appears with in the movie or will you use some unique colors to create your own unique variation?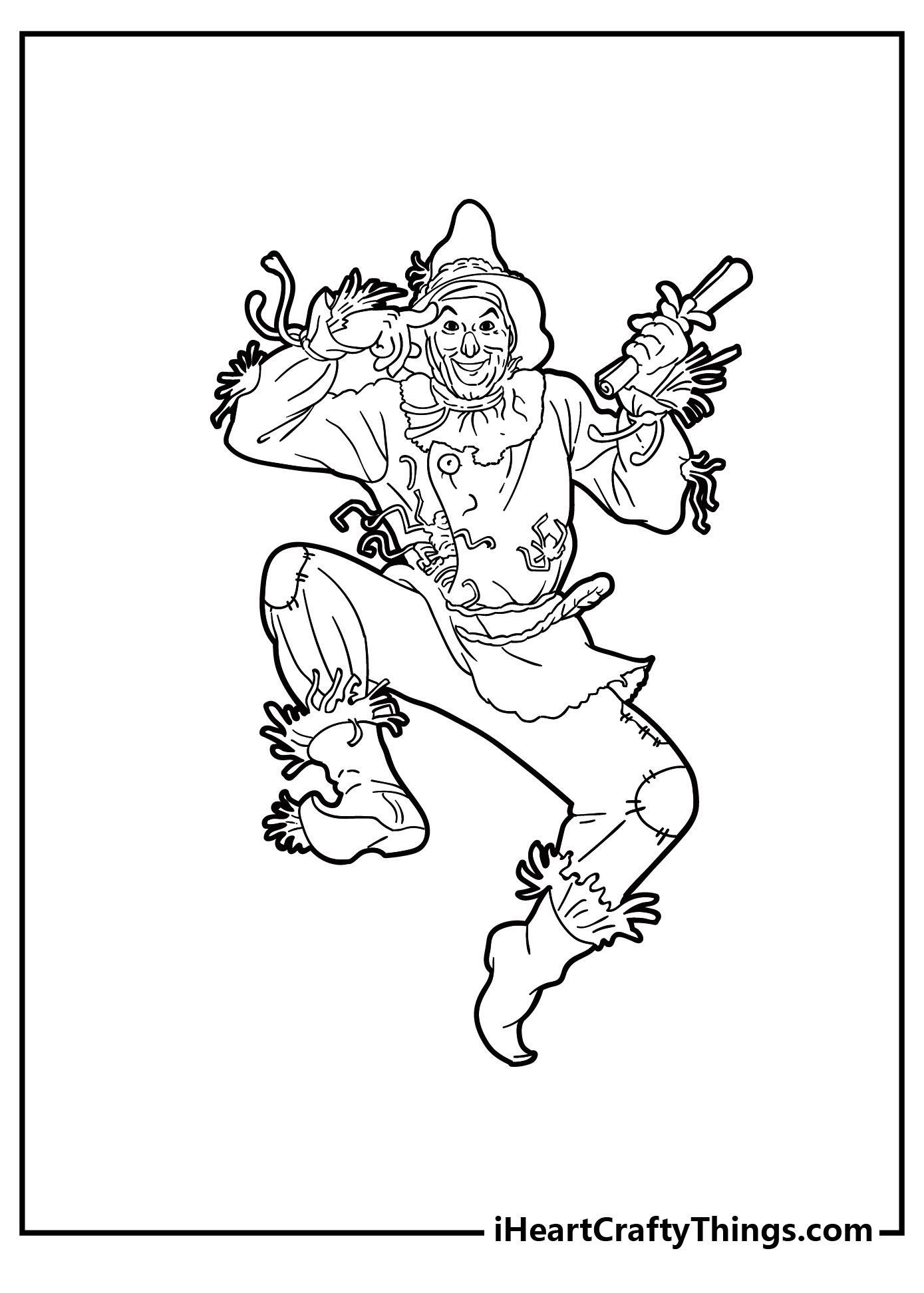 This is a lovely picture of Dorothy picking some flowers in a garden. She wears a simple blue dress with a white collar and a bow at the waist. She has short brown hair and a headband.
Here in this Wizard of Oz coloring page, Dorothy is holding two baskets full of beautiful flowers, one in each hand.
There are also some trees and small bushes around her. Maybe she is visiting one of her friends in Oz. How would you color this beautiful picture?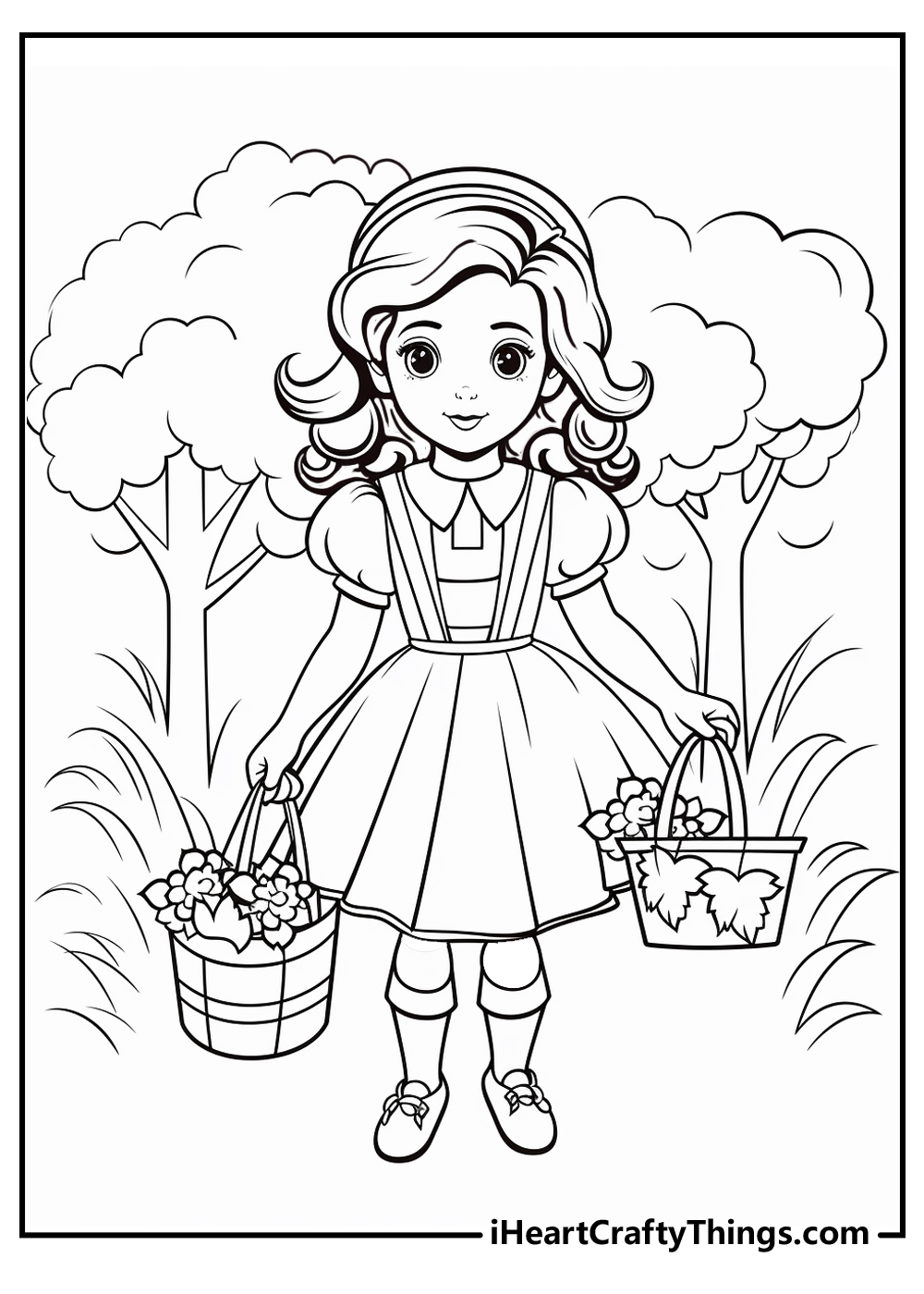 The Tin Man is back in this picture! He is also drawn in a charming Cartoon style, similar to how Dorothy looked in her last appearance.
For this reason, we think this picture would make a great companion piece to that picture.
He is also holding his trusty ax, and you could use a bright color such as red for the ax to contrast the greys of his body.
Will you draw a background for this one as well or maybe use some solid colors for it instead?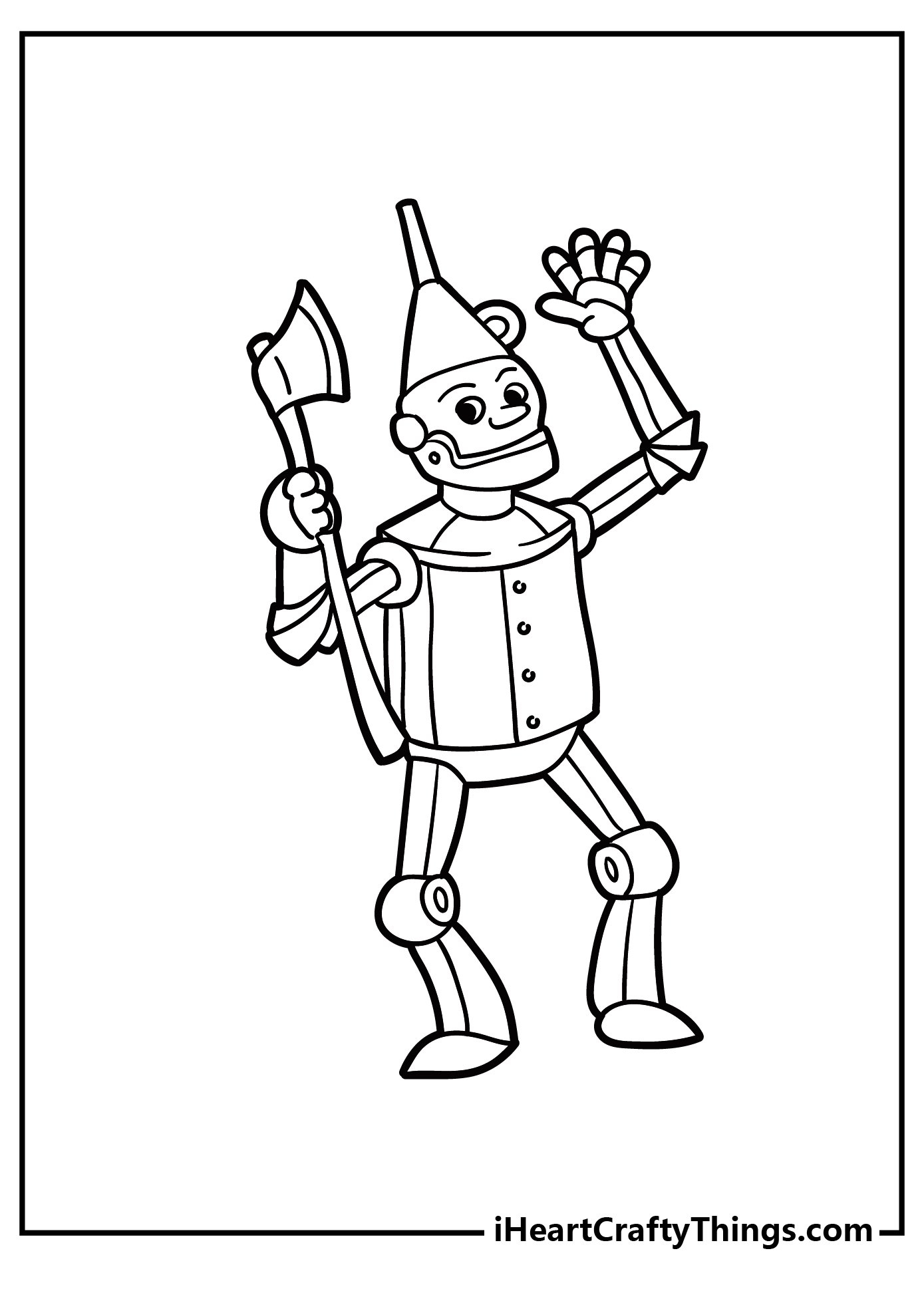 Dorothy is looking very calm and relaxed in this Wizard of Oz coloring printable!
This image really gives off a lovely relaxed vibe, and we think that you could help to portray that feeling with the colors you use.
We think some milder colors would look nice for this one. We would also use some art mediums such as watercolor paints or colored pencils to further emphasize the softer look.
This is our suggestion, but do you think you will take it or maybe go for a different approach to the color and intensity?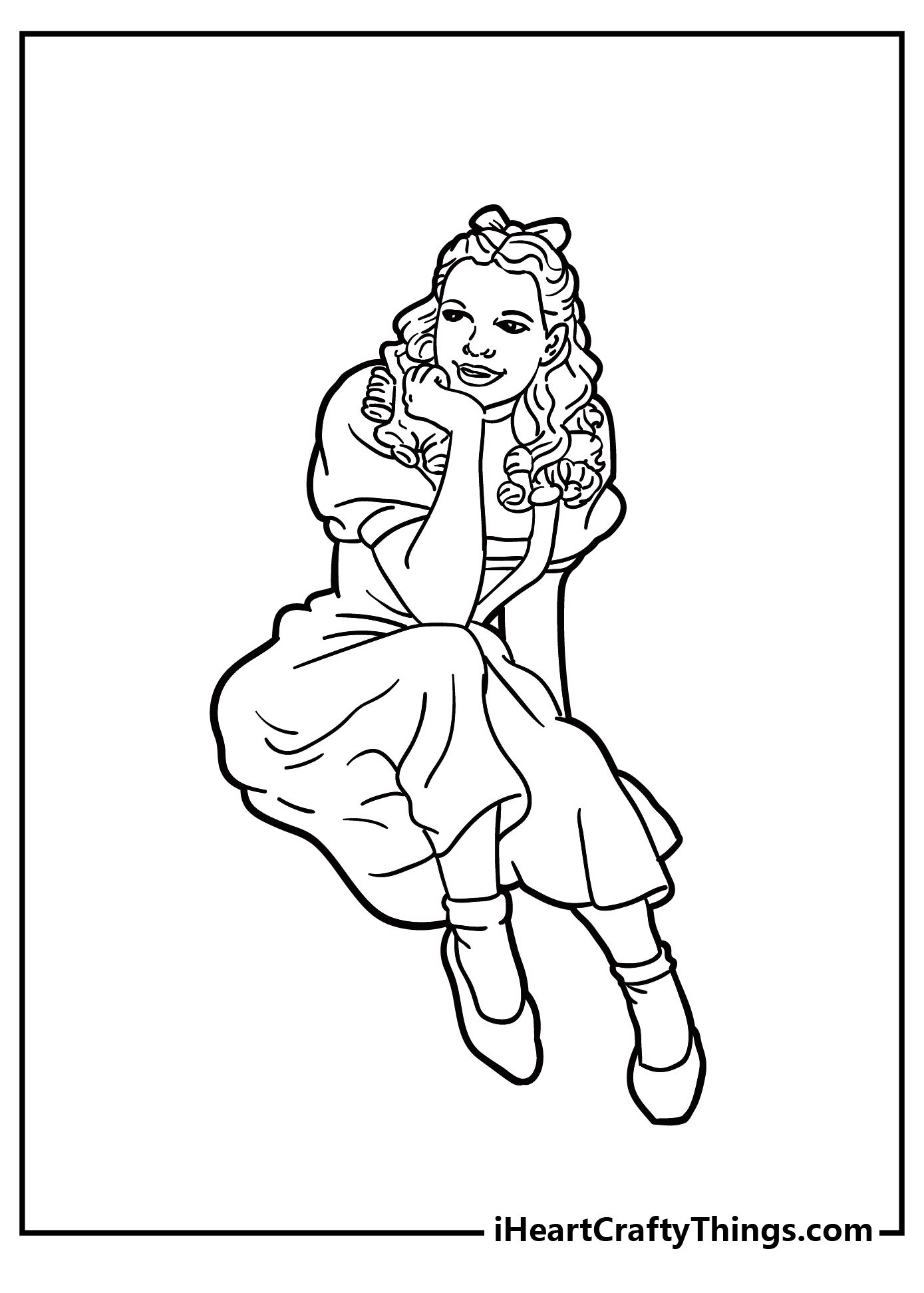 This Wizard of Oz coloring page features the adventurous and kind-hearted Dorothy standing in a garden. She wears a pretty dress with a buttoned bodice and a wide brimmed hat with a ribbon.
She has short hair and a soft smile. She is standing in a beautiful garden with many flowers, bushes and clouds in the sky.
What do you think she is doing? Maybe she is just enjoying the view or looking for her friends.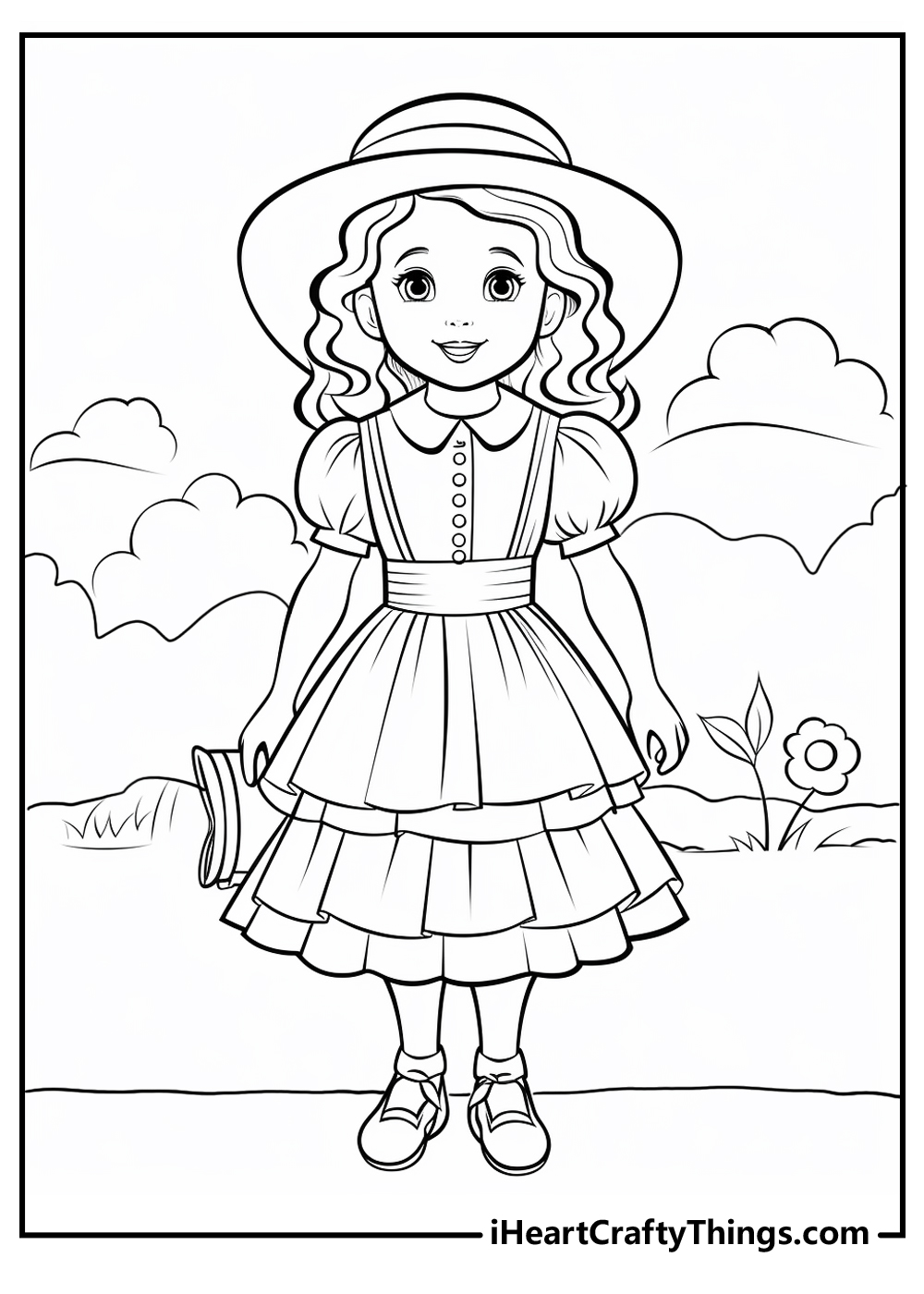 This next page features a sweet scene between Dorothy and the Lion. He's looking very sad, and she seems to be consoling him.
He learns a valuable lesson about having bravery in the face of fear during the story, but he also has to go through some hard times.
What colors do you think would suit the sadness portrayed in this one? We would again use some light colors and mediums to fit the mood, but there are other approaches to take as well!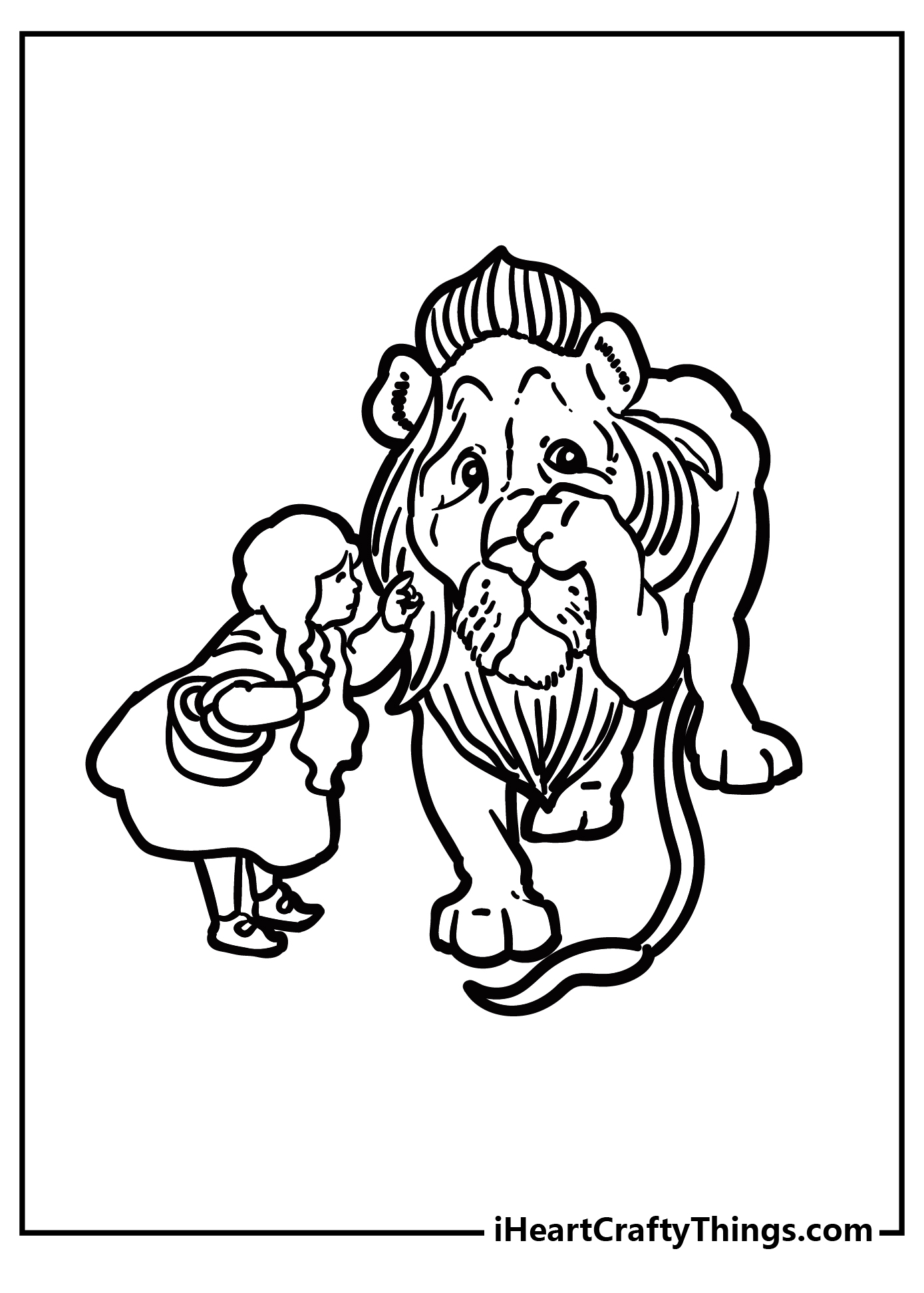 Bring the heartless but kind-hearted Tin Man to life in this magical coloring page.The Tin Man's metal body can be colored any way you like – try metallic colors like gold, silver, or copper.
Don't forget the funnel hat on his head as well. His outfit has lots of lines and rivets for you to color in, and you can even draw a heart shape on his chest to represent the heart he yearns for.
The background is blank so you can add in a colorful landscape or the yellow brick road.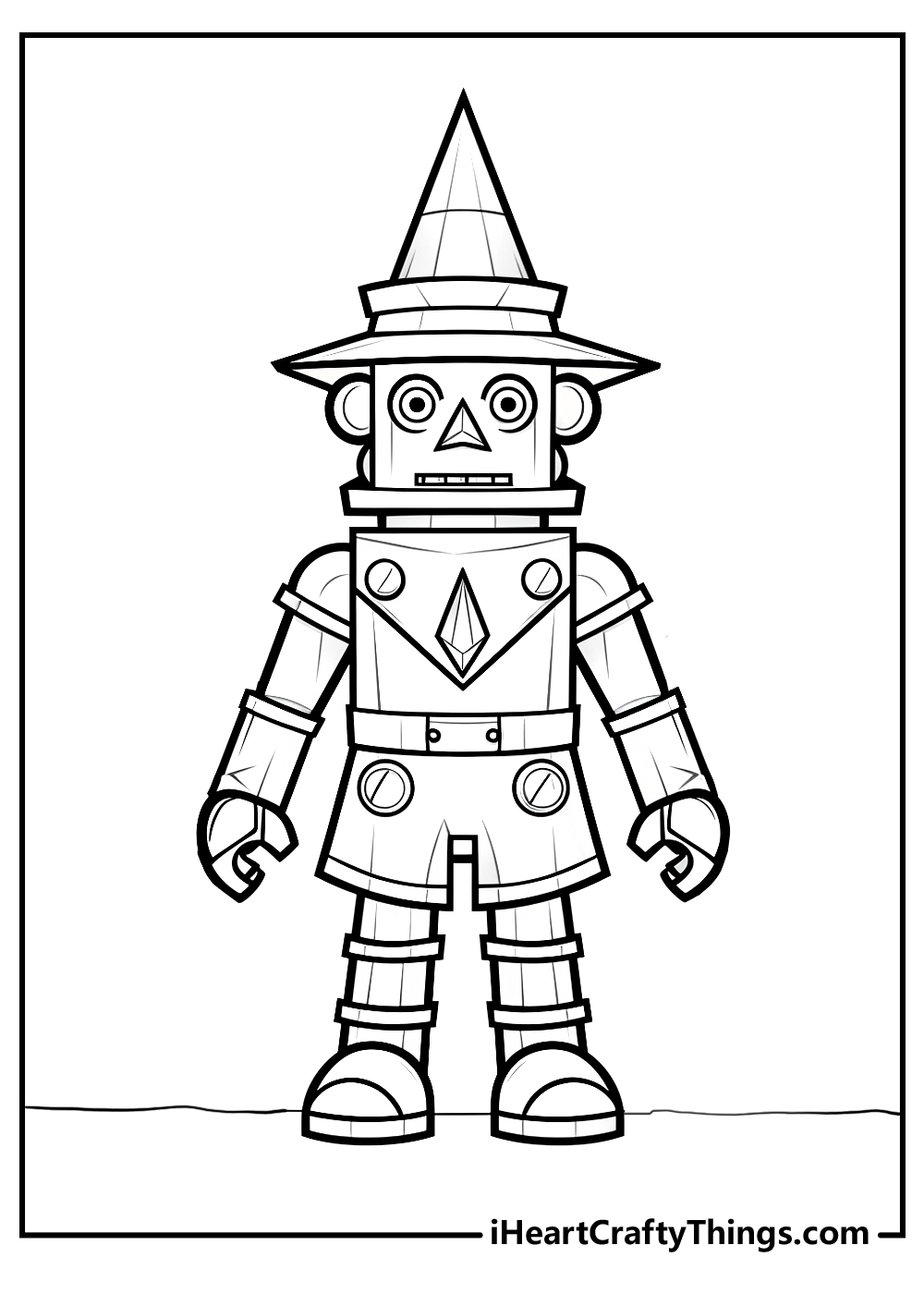 The gang is all united in this charming picture! We have the Lion, the Scarecrow, Dorothy and the Tin Man all posed together and drawn in the same style in this one.
They all seem to be looking at something, and they are maybe beholding the kingdom of Oz for the first time!
There are also some fun details you could draw for the background. One idea would be to draw the famous yellow brick road behind them, but what else can you think if for a background?
We can close off this collection of free Wizard of Oz coloring pages by coloring one more portrayal of the Tin Man.
He's looking very happy in this image, so maybe this is soon after he achieves his goal of gaining a heart!
We think it could be very thematic to incorporate a heart pattern for the background, and this would also be great for some bright colors.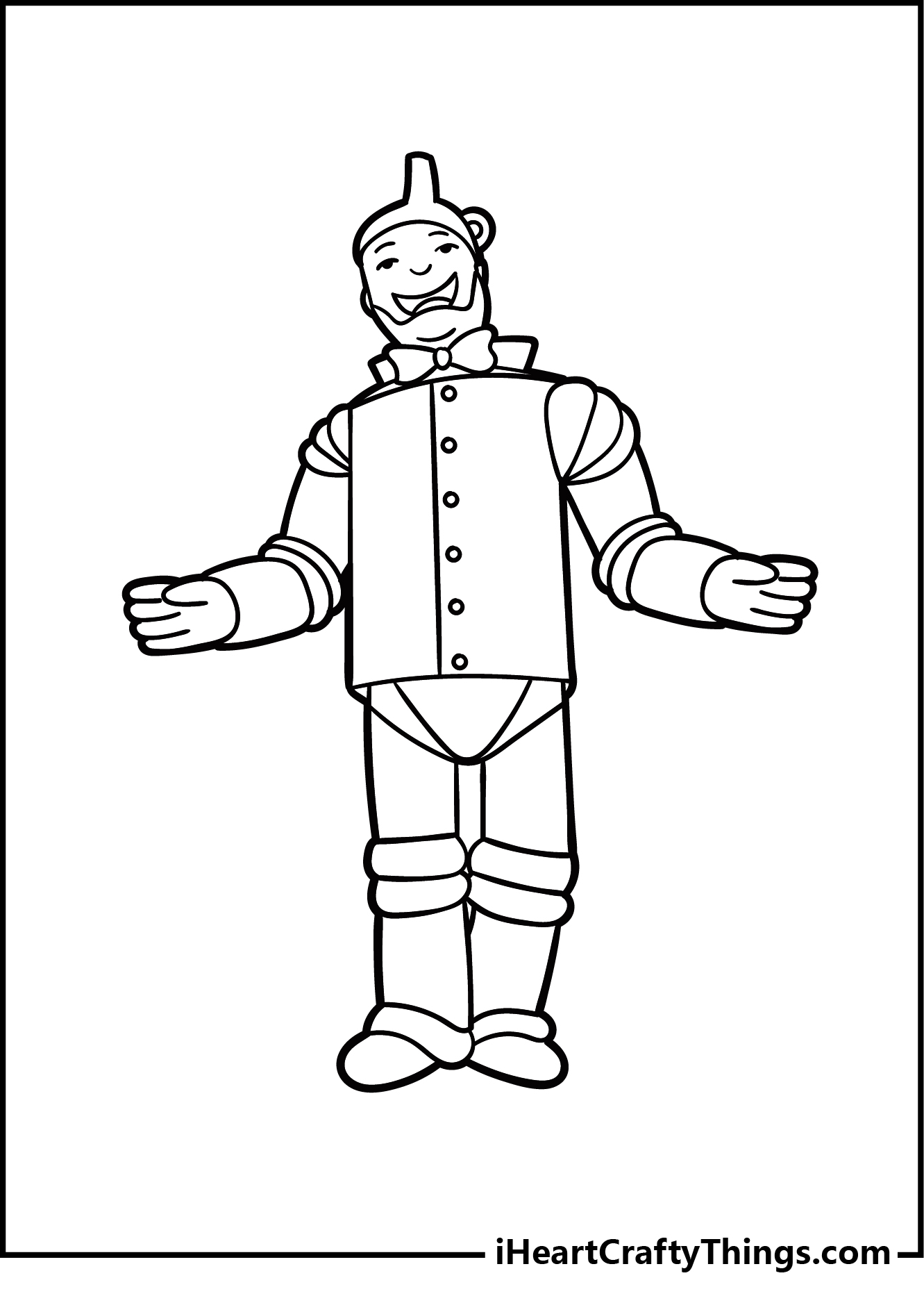 Wizard Of Oz Coloring Pages – Which will you choose?
Hopefully you had a wonderful time taking this trip down the yellow brick road with this collection of free Wizard of Oz coloring pages for kids!
We tried to feature all of your favorite characters for you to have fun coloring throughout this collection. It will be great to see how you portray them!
When you're ready for more, we have more coloring page collections featuring more classic characters and other subjects on our website! We can't wait to see you there soon.
We also hope you will share your favorite finished Wizard of Oz coloring pages on our Facebook and Pinterest pages for us to enjoy!