On this page, you will find 15 all new Husky coloring pages that are completely free to print and download.
When it comes to choosing what dog breed to go with when adopting a dog, the amount of choice can be rather suffocating!
There are so many different dog breeds that it can be tough to pick a favorite. Many people love huskies, and they are well known for being high-energy dogs with tons of personality.
This collection of free husky coloring pages is here to celebrate this lovable breed!
We have tons of cute husky printables for you to bring some color to.
Whether you keep them looking realistic or use some bright, stylistic colors, there are no wrong ways to go about coloring these cuties.
You'll definitely want to share this collection with your fellow dog lovers!
Every single one of these husky coloring sheets are totally free for you to print and enjoy as much as you like!
That means you can really have fun choosing your favorite art tools, mediums and techniques to use when coloring.
We also hope you will share the results of your coloring on our Facebook and Pinterest pages when they're done!
These free husky coloring pages were designed to capture the spirit of this lovable breed, and we hope you have a great time working on them!
15 Brand New Husky Coloring Pages – Free to Print and Color
We are starting this collection of free husky coloring pages for kids with an adorable husky puppy!
This little one is looking so cute, and it is drawn in a charming cartoon style.
This little husky is looking very happy, and we would suggest some bright cheerful colors to suit the mood of this picture.
Remember that you can also color the background or add some details there to finish off the image! What kinds of final touches can you think of for this incredible husky?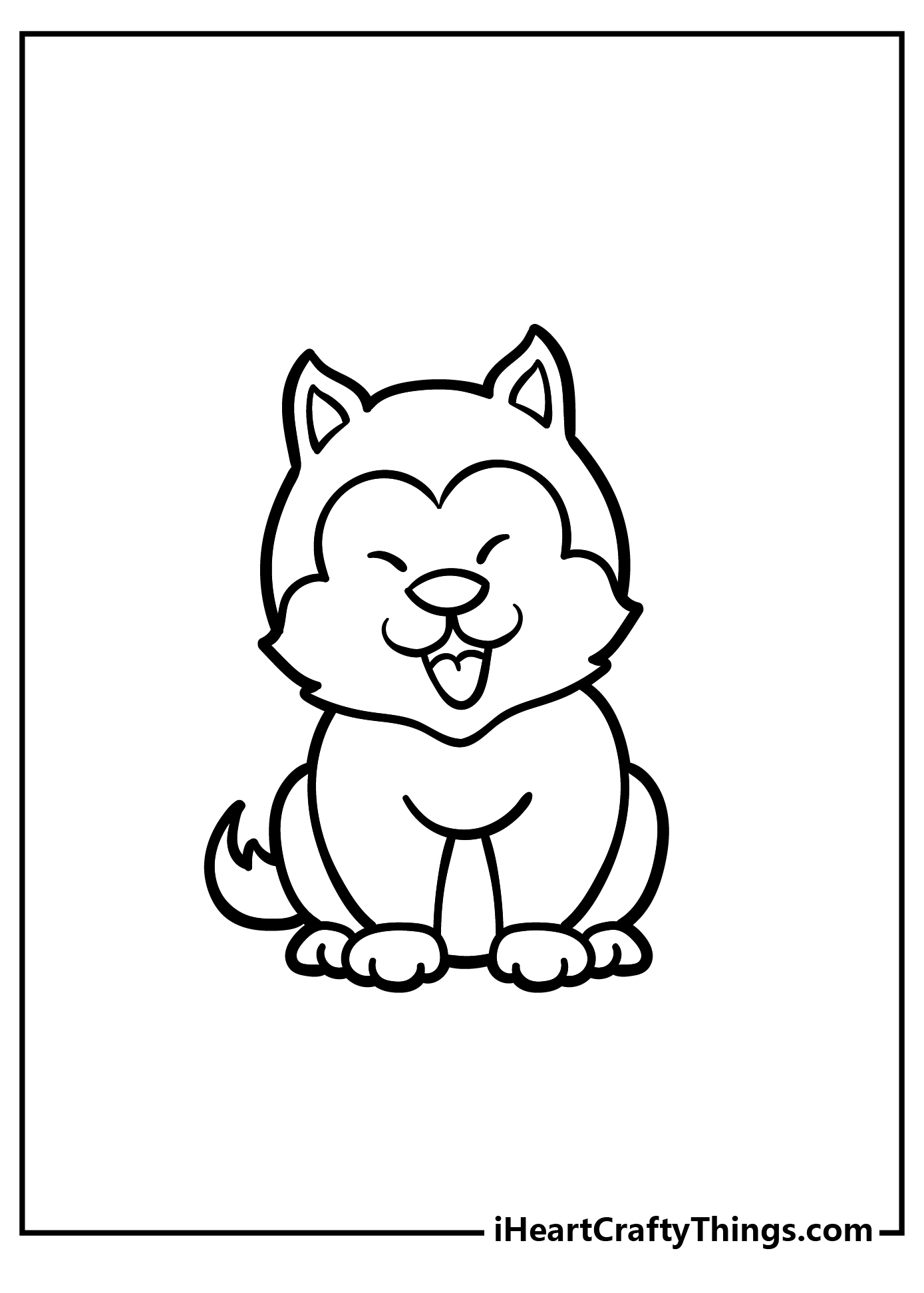 This husky coloring page features a lovable husky sitting on a grassy hill. Huskies are one of the most popular dog breeds in the world, and for good reason.
They are smart, loyal, and courageous. They also have a beautiful fur coat that can be black, tan, red, or gray.
What colors will you use to fill in this furry friend? Don't forget to add some details to the background, such as trees, bushes, and clouds.
How do you think this dog is feeling? Is he happy, sad, or curious?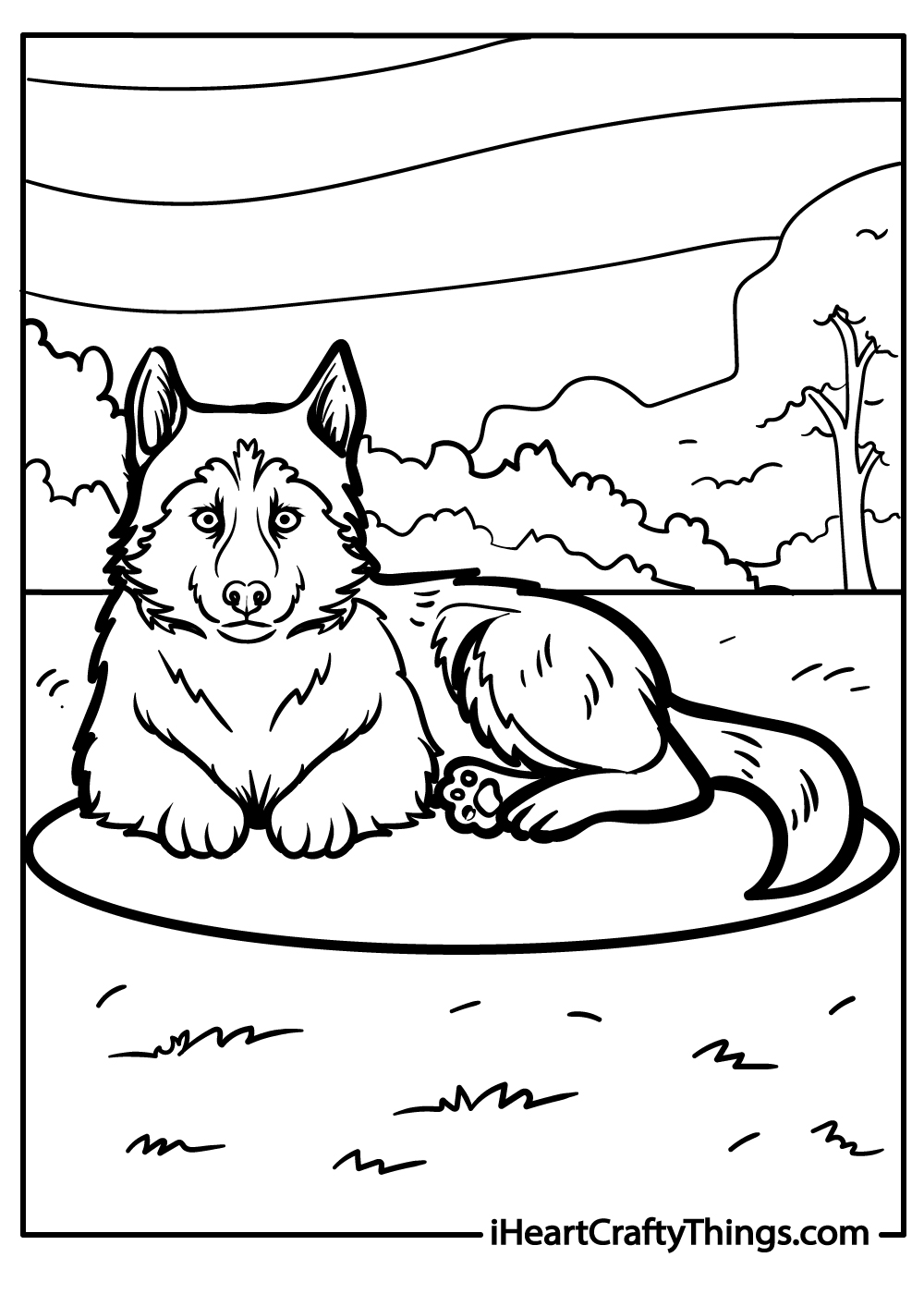 This next little pup in this husky coloring sheet looks like it is trying to look vicious, but that is hard to do when you're so cute!
You can still give it points for trying, however, and you could help it along by using colors to match the feeling it is trying to convey.
We would recommend some bright reds and yellows that would convey that this little guy means business! What colors do you think would suit the mood of this printable?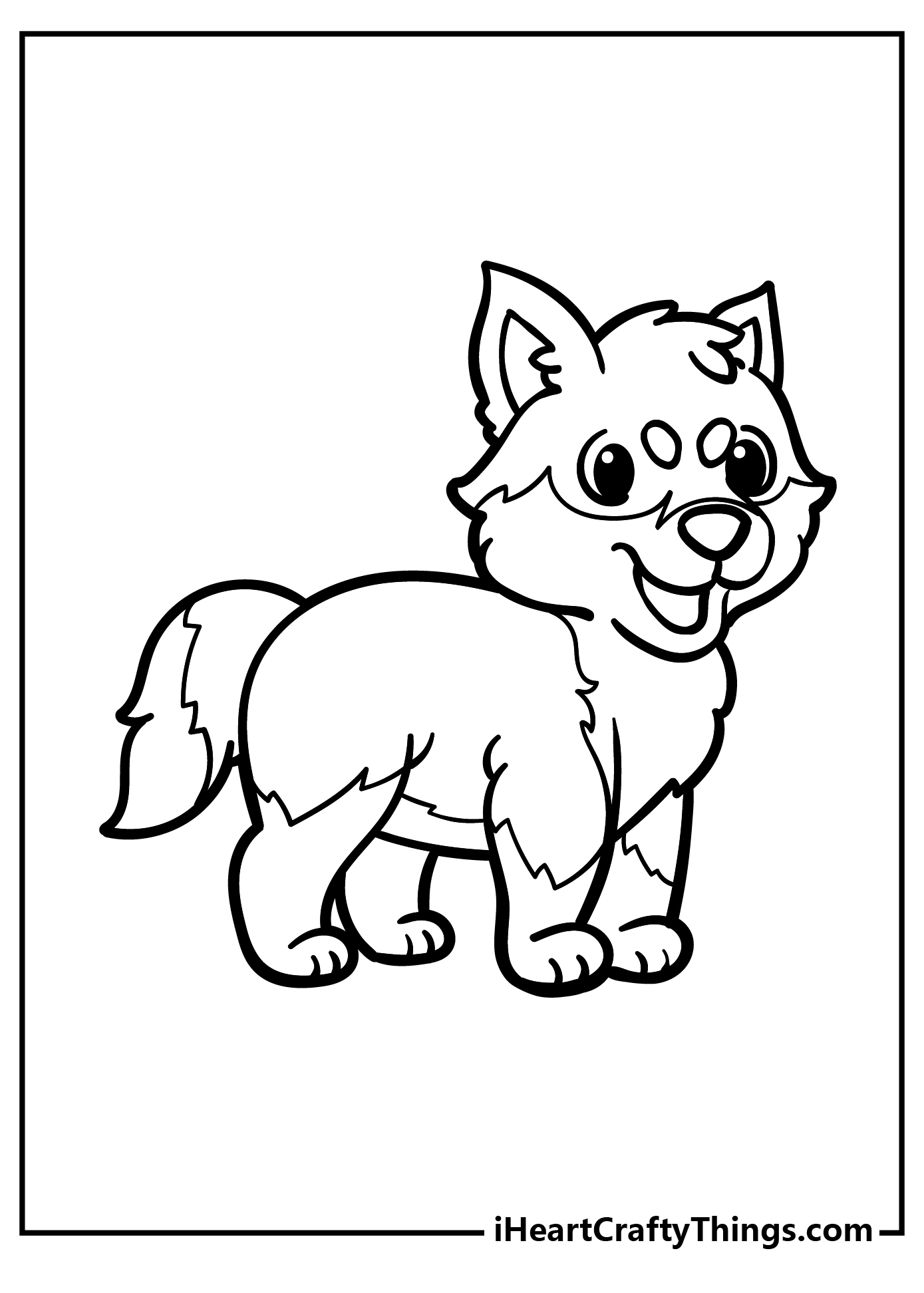 Here's another cute little husky for you to have some fun coloring! In this next husky coloring printable, we have a very furry pup to color in.
When coloring something that has a lot of fur, you can use lots of small strokes using mediums that allow for precision. These help to create the illusion of flowing hair for the image.
If you wanted to try this, we would recommend colored pens, pencils and markers. A paintbrush with a thin tip would also work really well for this purpose!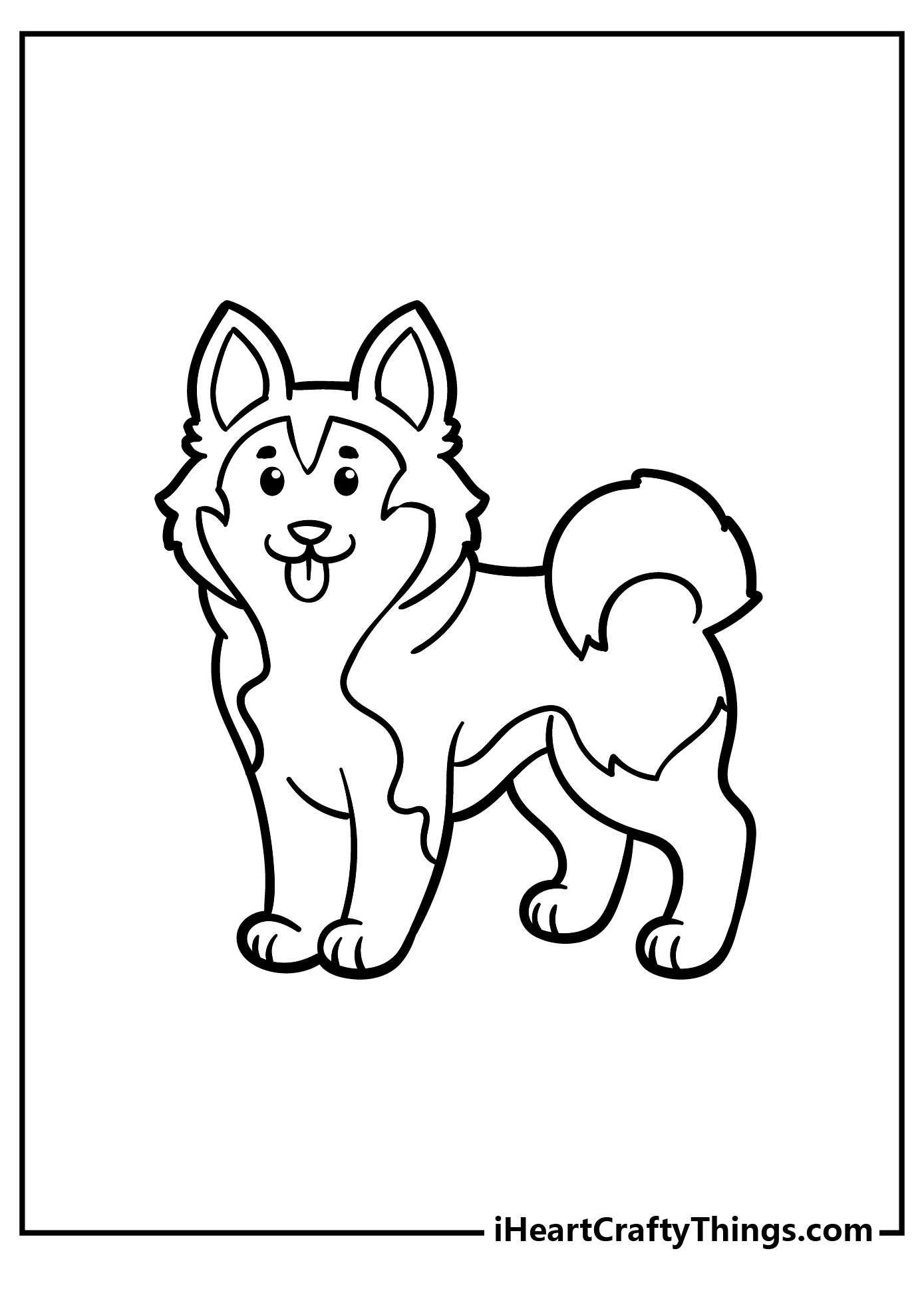 This husky iis standing in a grassy field with hills, trees, and birds in the background.
You can use realistic colors to make the husky look like it belongs in nature, or you can use bright and fun colors to make it stand out.
You can also use colors like pink, purple, blue, or green to create a rainbow effect on the husky's fur. You can also add some glitter or stickers to make the husky sparkle.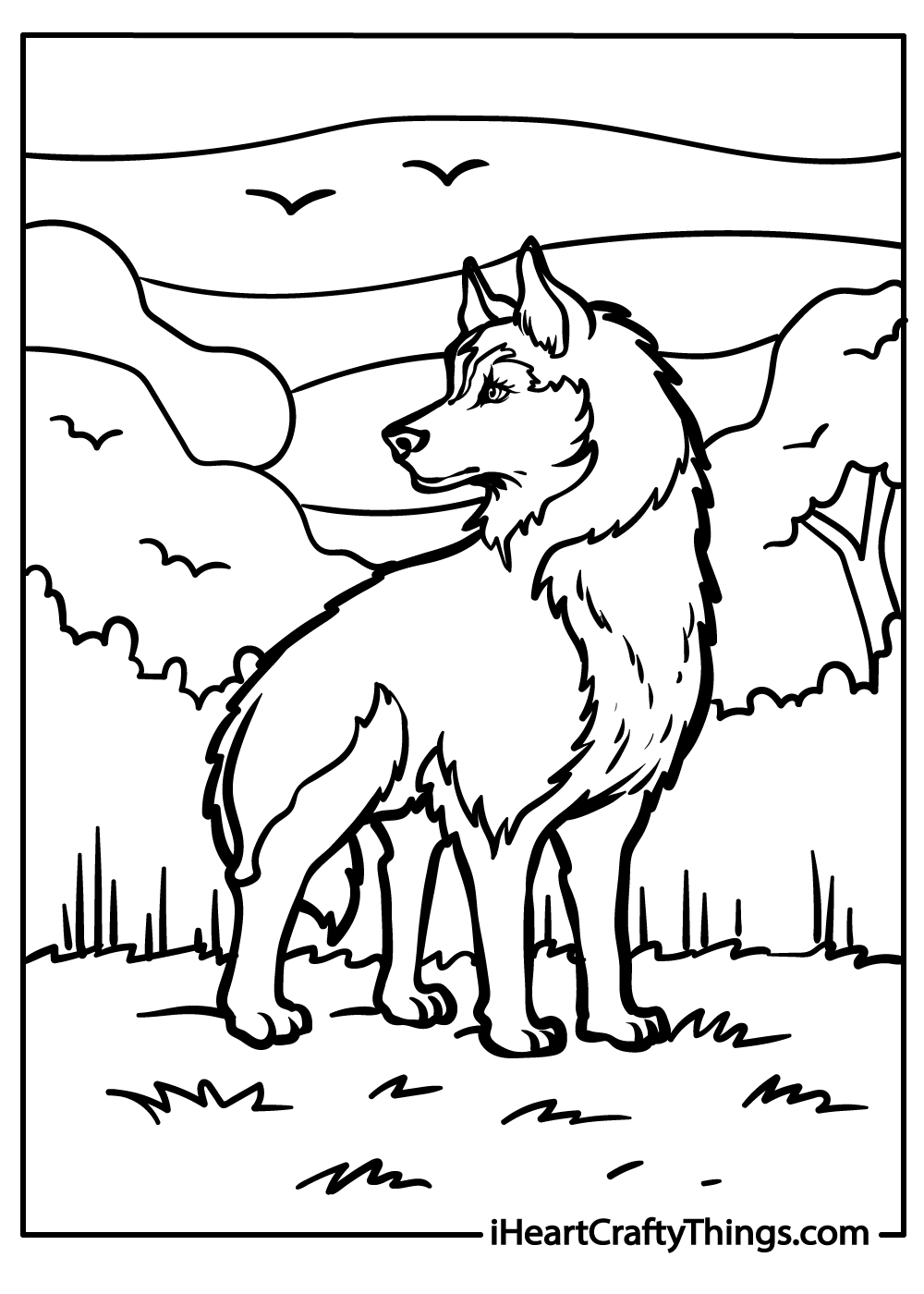 It would be hard not to love this next dog we are featuring in this husky coloring page! This husky looks so happy and friendly and has its tongue hanging out.
Anyone who has met a husky can attest to the fact that they are lively and love to play, but this one looks to be taking a breather!
For that reason, we would use some milder blues and greens to represent this rare calm moment if we were coloring this printable. Do you think you will also use these kinds of colors?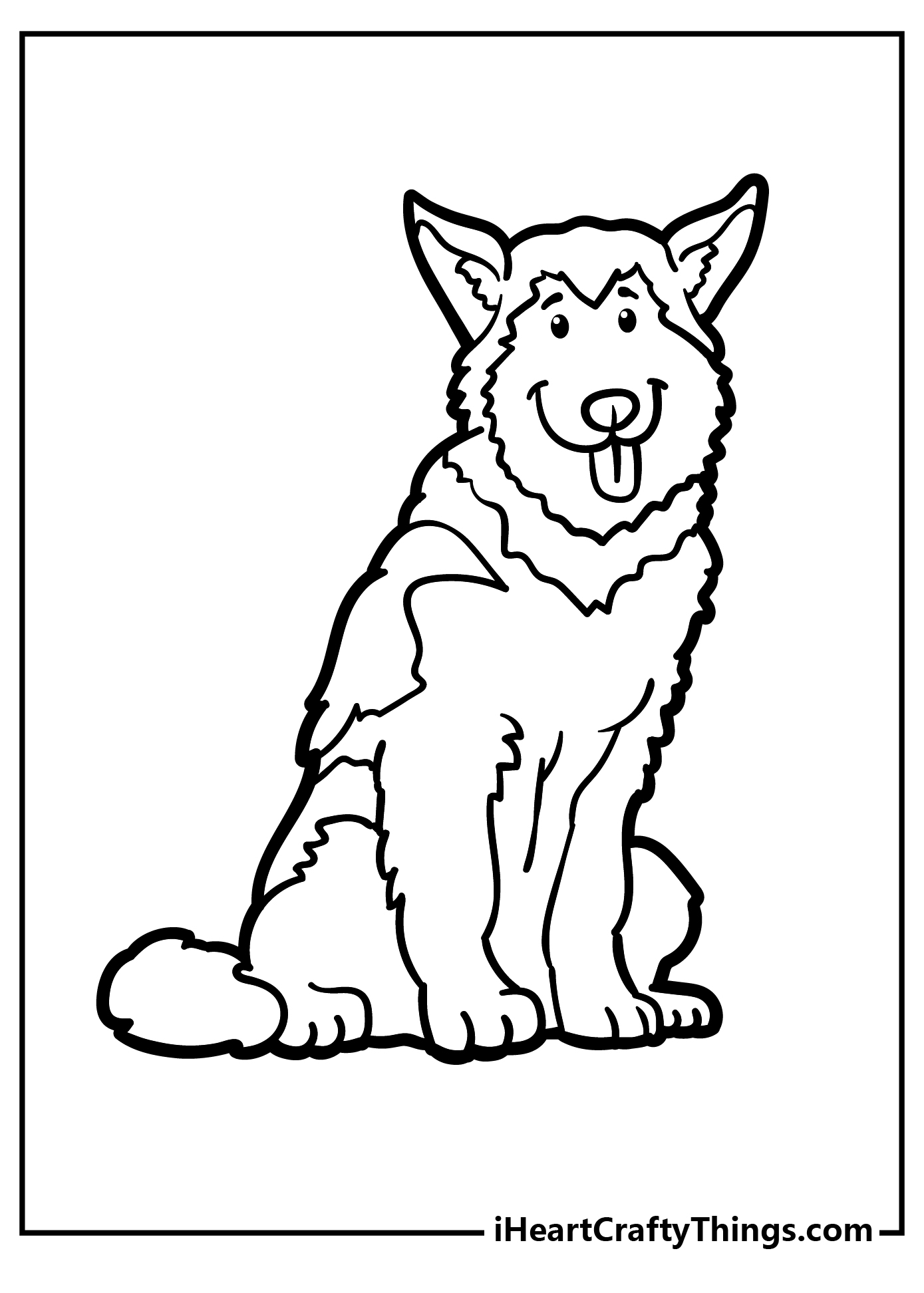 For this next free husky coloring sheet for kids, we have a pup that seems happy and ready for some adventure!
This one looks like it is ready for anything, and you could complete this mood by adding a background.
A background would be a great way for you to show off the kind of adventure this little husky would be embarking on.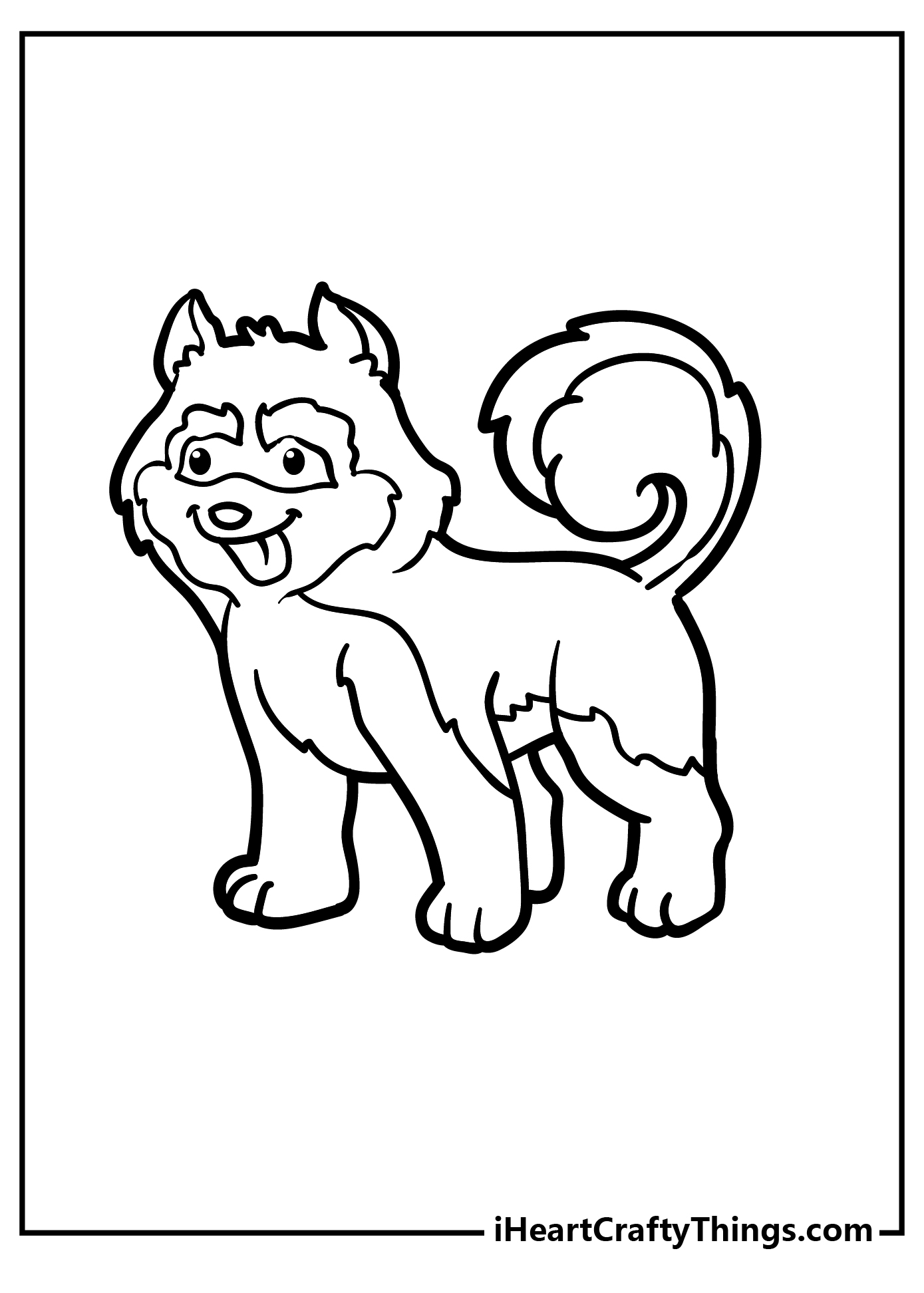 In this husky coloring page, this pupis sitting in a cozy spot in the forest, surrounded by trees and bushes. The husky looks calm and relaxed, as if it is enjoying the peaceful and beautiful scenery.
For me, I would color this husky to make it look like it belongs in nature. You can also use bright and fun colors to make it stand out.
What kind of background would you add to complete the scene? We love seeing coloring pages of our friends, so be sure to share them on our Facebook page.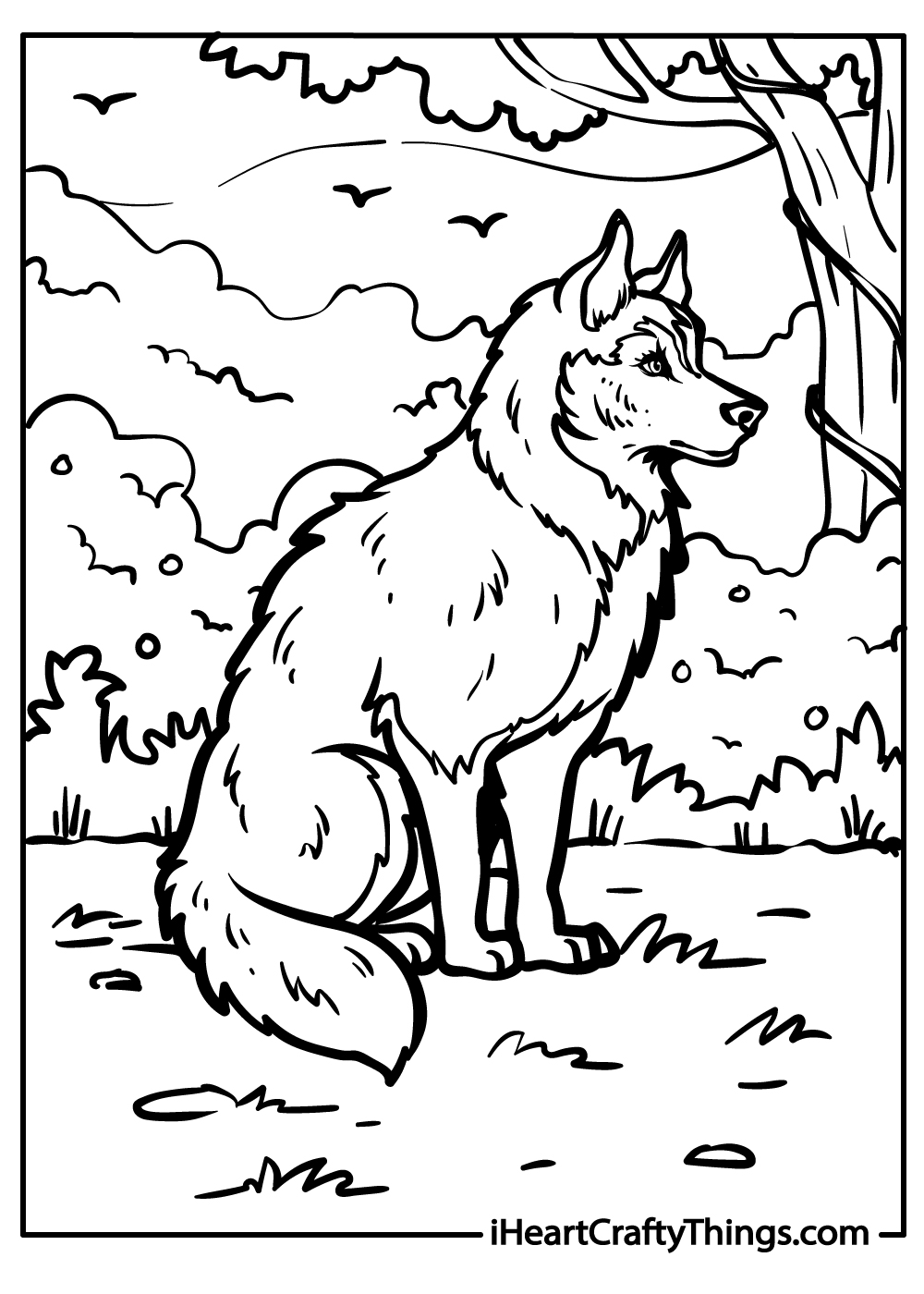 Huskies are high-energy dogs, and they love to leap through the air performing tricks. That is certainly what is happening in this sixth husky printable that we have for you.
This adorable dog is full of energy as it jumps around. This is another one where we would use some bright, vibrant colors to suit the high energy of this moment.
You could also use mediums such as colored markers or acrylic paints to really make the colors pop.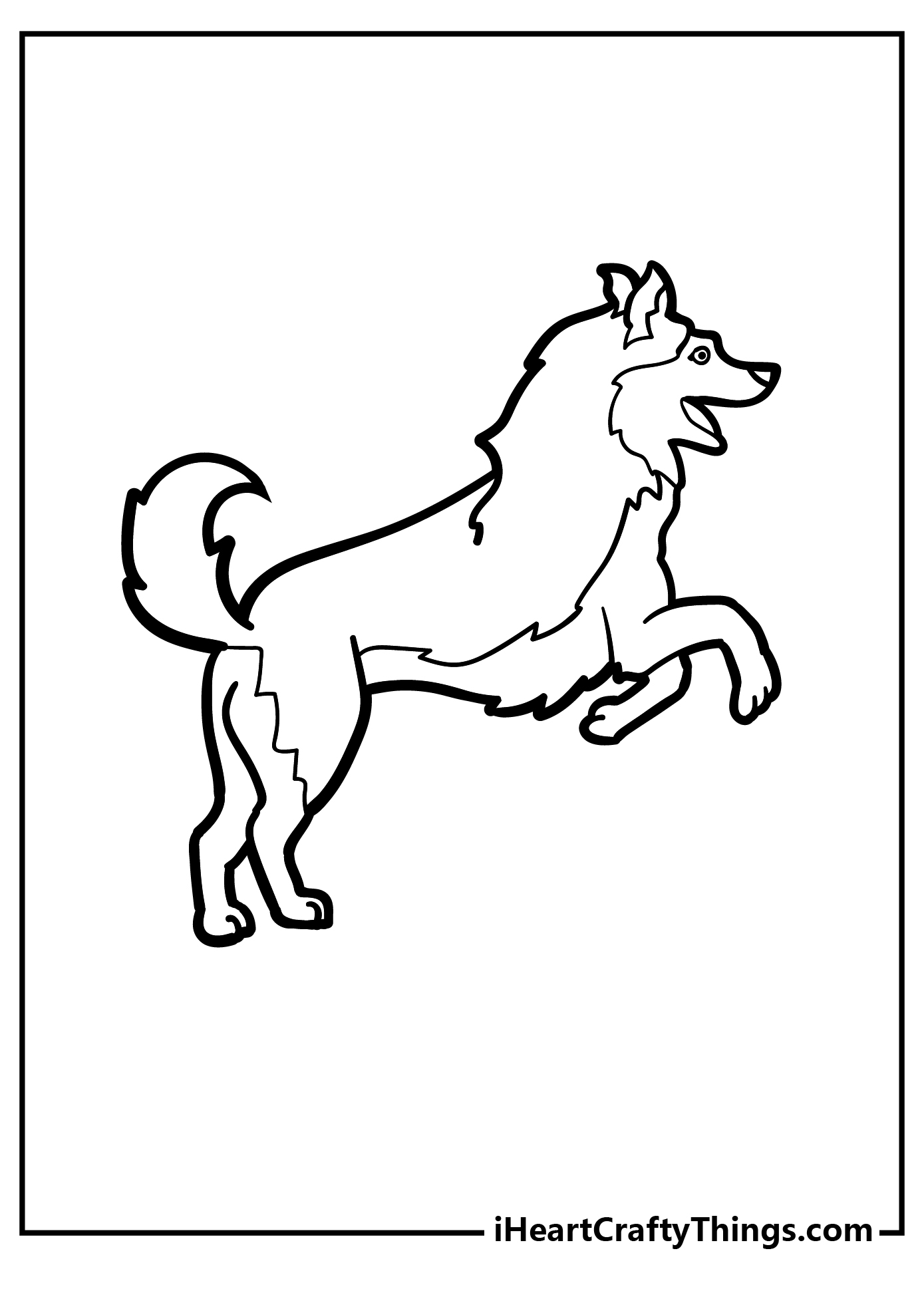 We have another fluffy fellow for you to color in this cute husky coloring page!
This one is very furry and fluffy, and for that reason we would recommend a similar technique to the one we did for a previous fluffy husky.
That suggestion was to use small, thin strokes of your chosen medium to give off the illusion of hair on this dog.
Do you think you will try this technique or use some solid colors instead?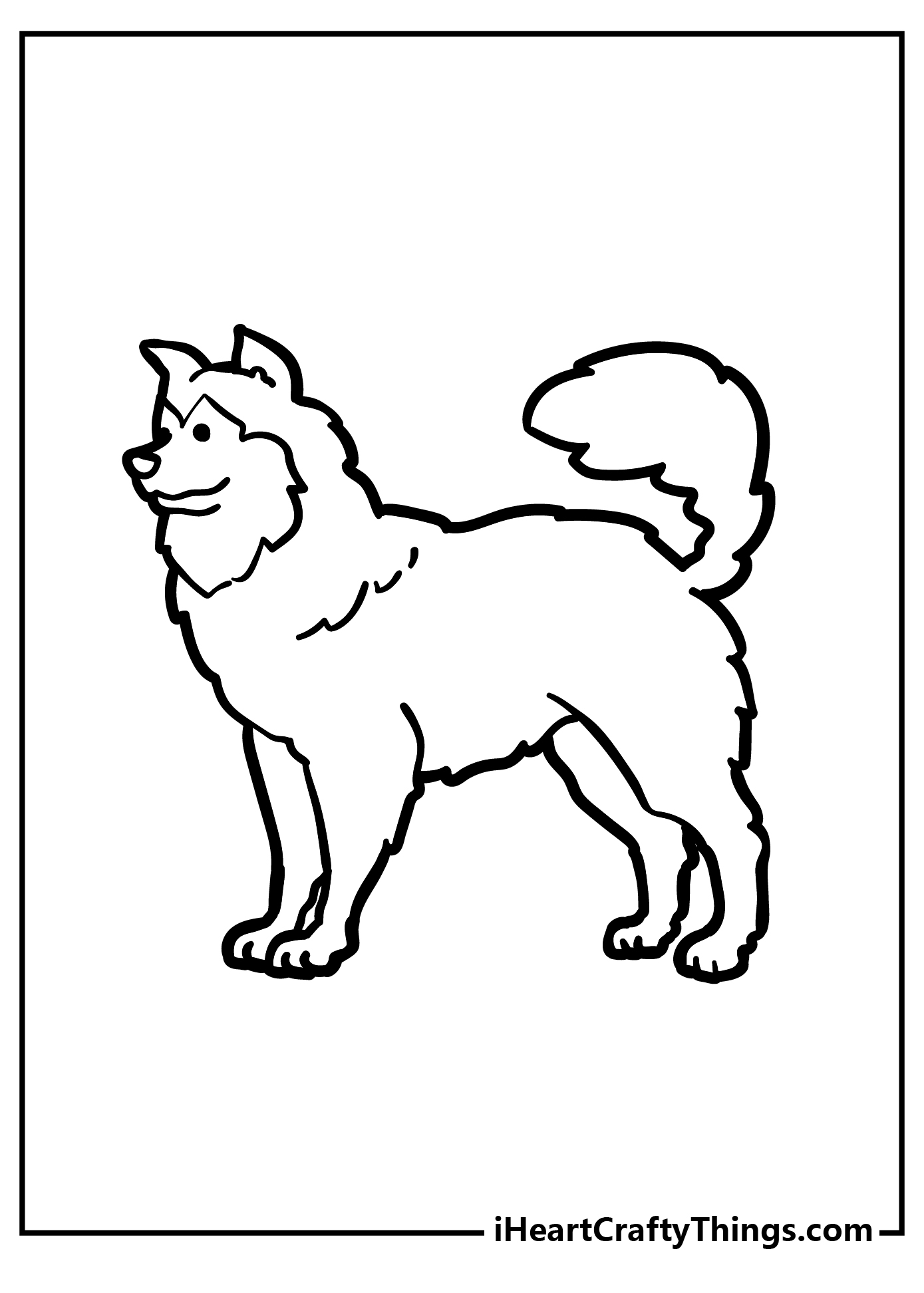 Get ready for fuzzy coloring fun with this playful husky! His fluffy coat is outlined with wavy lines perfect for practicing different coloring techniques.
Use your greys, whites and blacks to emulate husky fur patterns. Don't forget those adorable speckled markings.
Mix up the shades on his snout and belly for dimension. And color those sharp ears in perky pastels or your own creative shades. For an extra challenge, try coloring the intelligent blue or green eyes.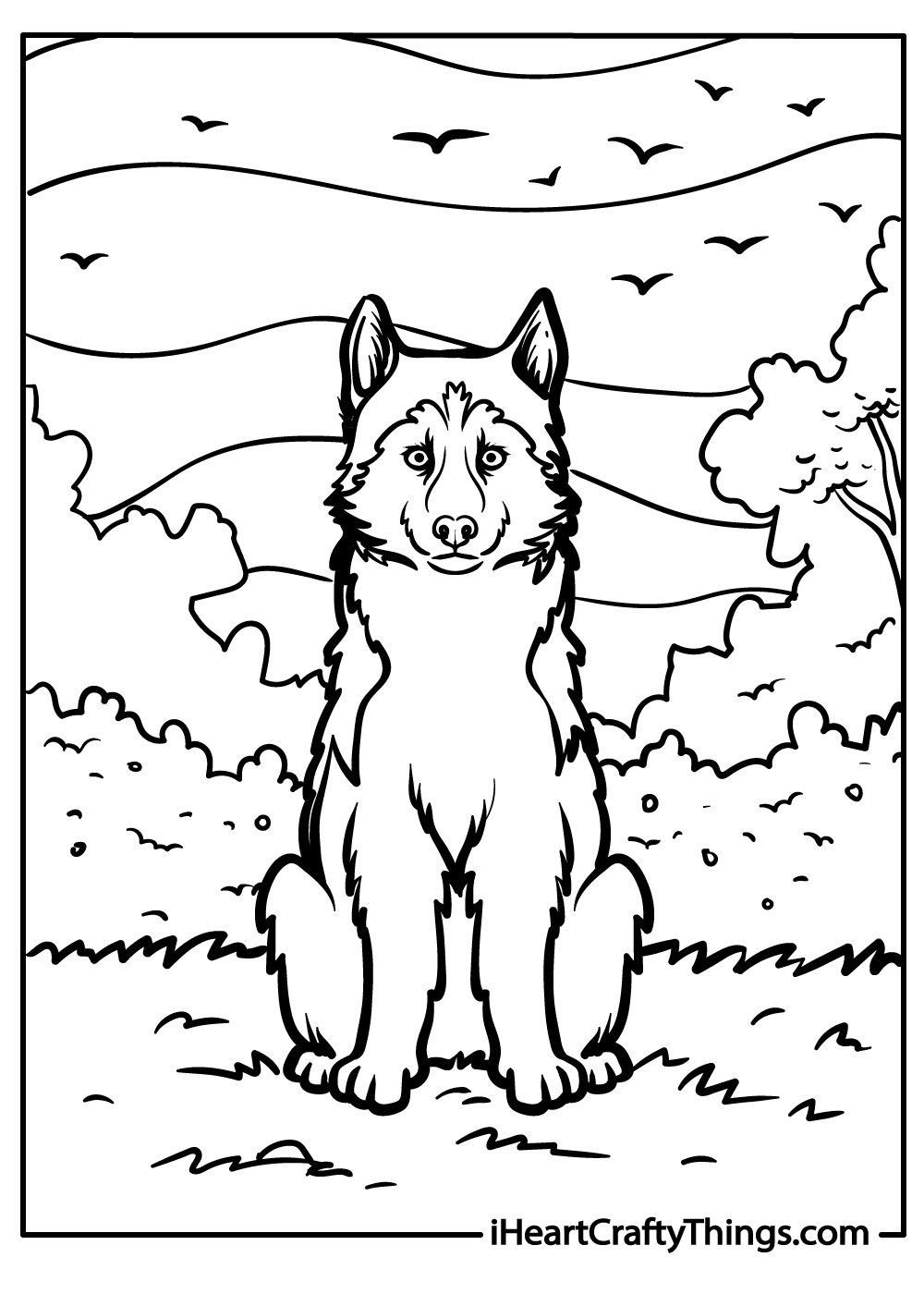 How cute is the puppy in this next free husky coloring sheet? This little one is so adorable and looks like it would be ready for a big hug!
This is another fluffy husky, and we would use some dark, cozy colors such as dark blue or purple for the background of this one.
That's what we would do, but what colors came to mind when you saw this adorable little pup?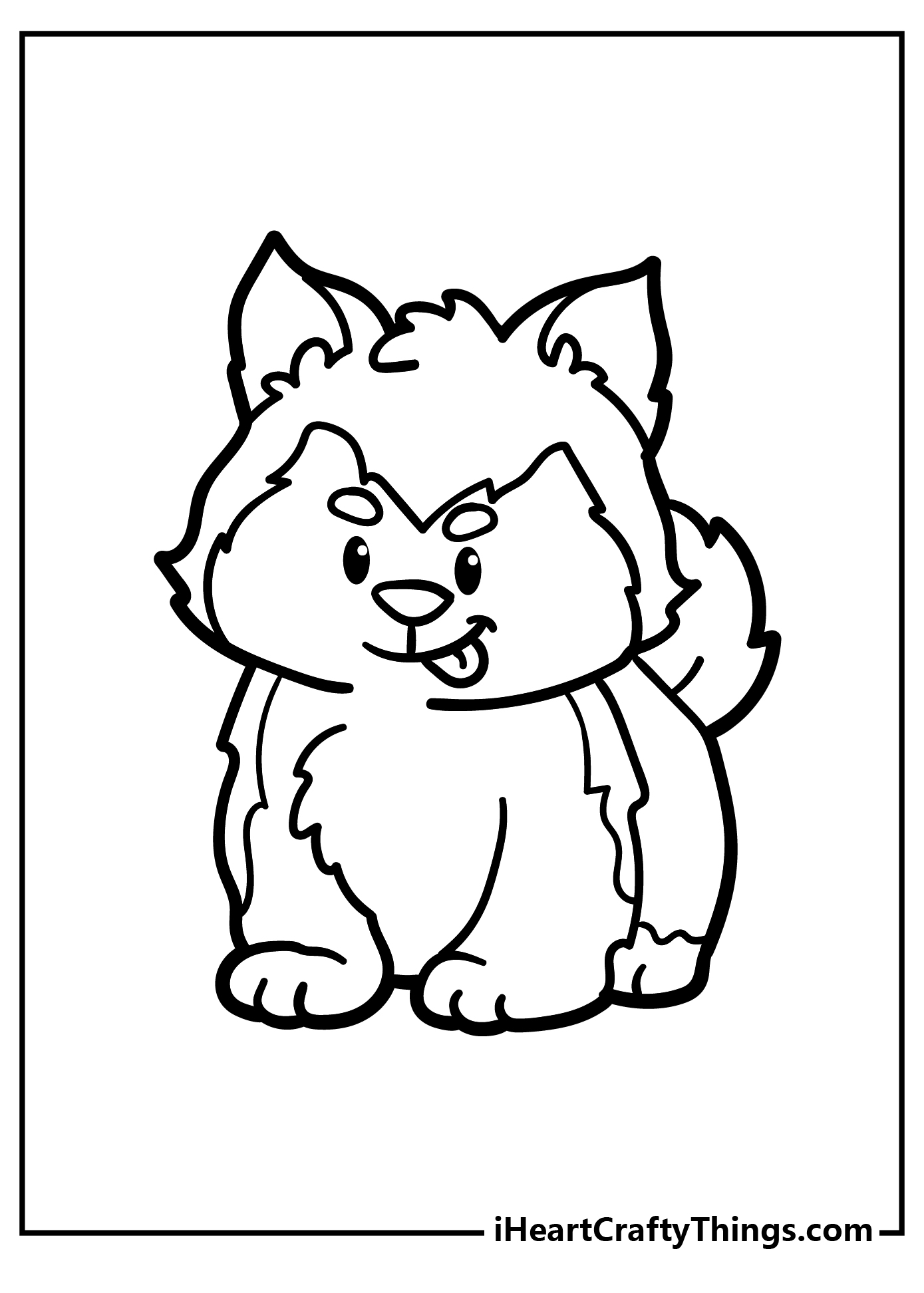 This second to last free husky coloring page features something a bit different! There is a close-up of the face of this husky, and the style is a bit more stylish and unrealistic.
For that reason, we think this printable would be great to use some bright, stylish colors on.
Colors don't always have to be realistic, and you could create a stunning picture by using all of your favorite colors.
This would be a fun one to share to see how different people would color this coloring printable!
This coloring page shows a lovely husky sitting in a field. See how he tilts his head to the side in a playful manner.
I would use gray, black, brown or white crayons to color his thick, bushy coat. The possibilities are endless for the field too. Make it green with colorful wildflowers like daisies and poppies.
Add chirping birds or fluttering butterflies overhead. Or go vibrant with rainbow grass, polka dot hills and floating balloons! Let your creativity shine as you color this cute husky scene.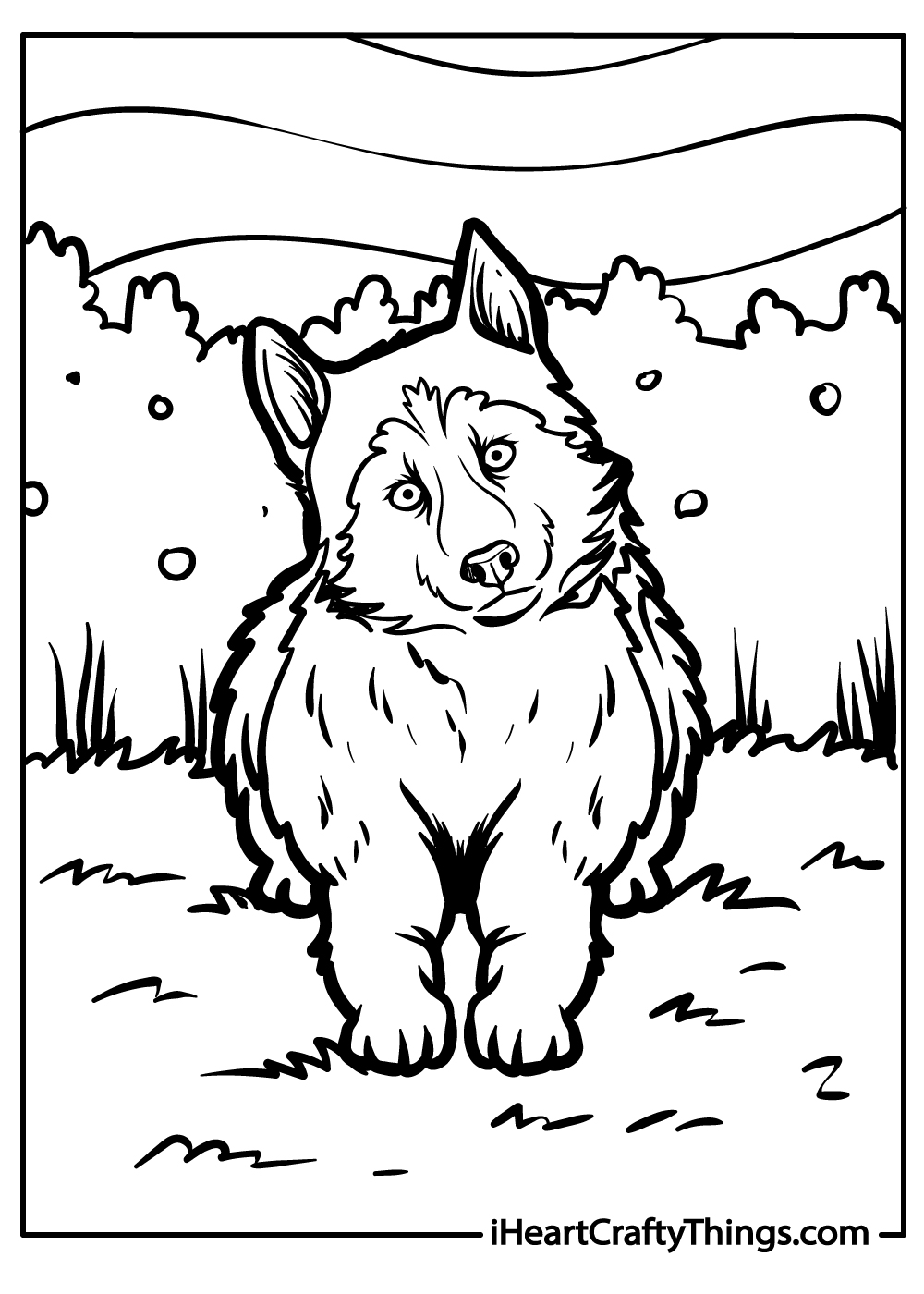 You have reached the final image in this series of free husky coloring printables! This is another cute little dog, and it looks like it is chasing a butterfly or maybe a thrown ball.
This would be a fun image to draw in what you think this little husky could be chasing!
Then, you can finish off by adding your color choices using your favorite art mediums and techniques!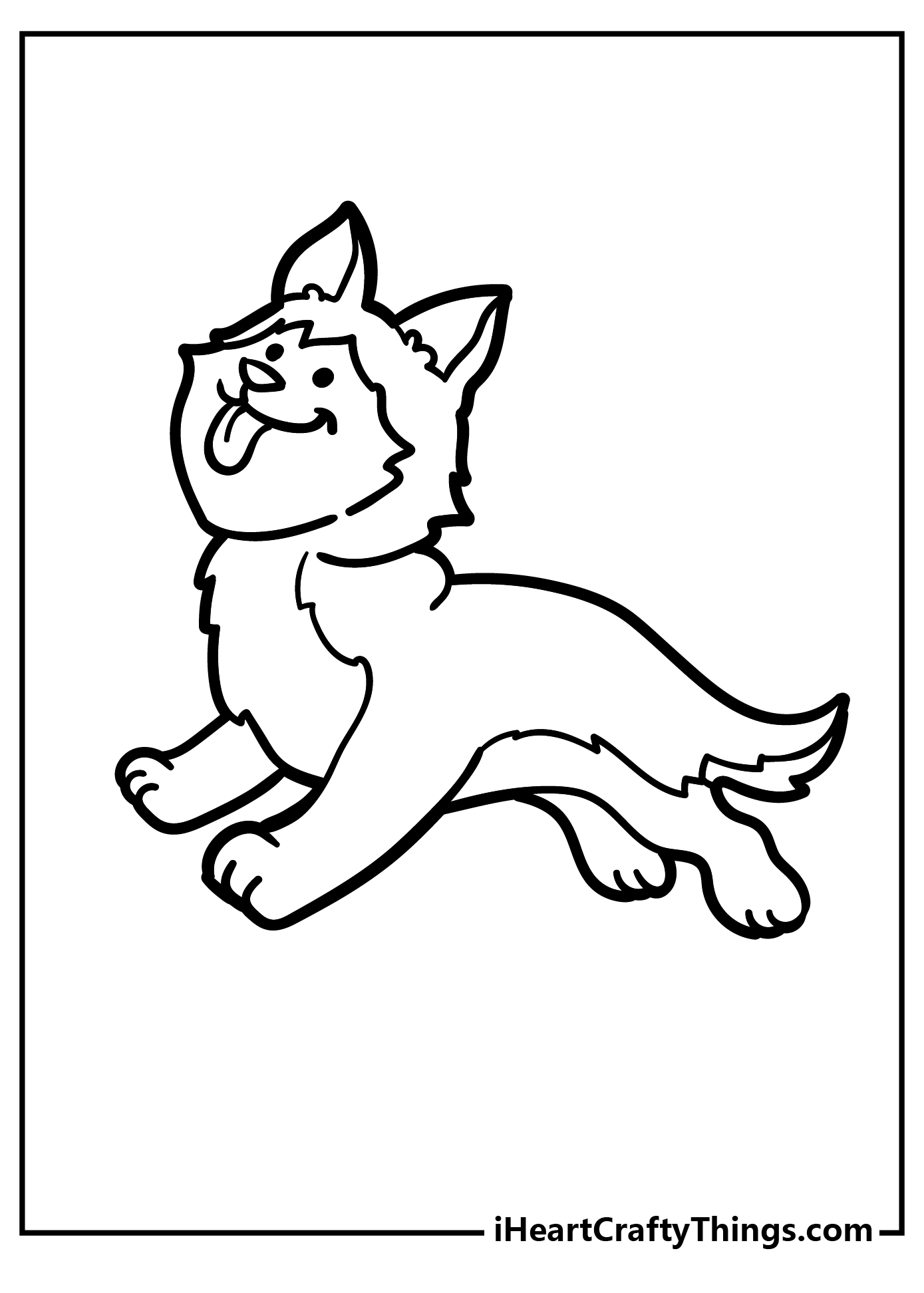 Husky Coloring Pages – Which will you choose?
We had a great time putting this collection of free husky coloring pages for kids together, and we hope that you had an equally fun time working on them!
All of these adorable pictures are free and ready for you to share with your friends and family. It can be great fun to all color the same images and see how each person tackled it!
We also have many more sets of coloring pages for you to enjoy on our website. Be sure to visit us there often to make sure you never miss out on the coloring fun that we have in store for you!
Lastly, you can share your wonderful finished husky coloring sheets on our Facebook and Pinterest pages. We always love to see the results of your colorful creativity and can't wait to see them!