Corgis are taking over the world, winning the hearts of dog lovers everywhere. Corgis are cute, fun, and affectionate, just like our designers depict them in these corgi coloring pages.
Discover our printable Corgi coloring sheets that will help your children have a lot of fun while coloring these adorable Corgis and learning more about this breed!
10 Brand New Corgi Coloring Pages – Free to Print and Color
Corgis are well-known to be affectionate and loving dogs. Plus, they are hilarious with their compact and cute look.
Our first Corgi coloring page shows a dog from this breed having a lot of fun with two butterflies flying around him.
He looks incredibly friendly, and we can see from this page that he wouldn't hurt the two winged-beauties.
Your child will have a lot of fun coloring this printable sheet because it features so many design details that invite them to let their creativity run wild.
They can use brown, red, white, and black shades to color this Corgi and bright shades to color the butterflies.
Advise your little one to use green for the grass and shades of blue for the sky in the background.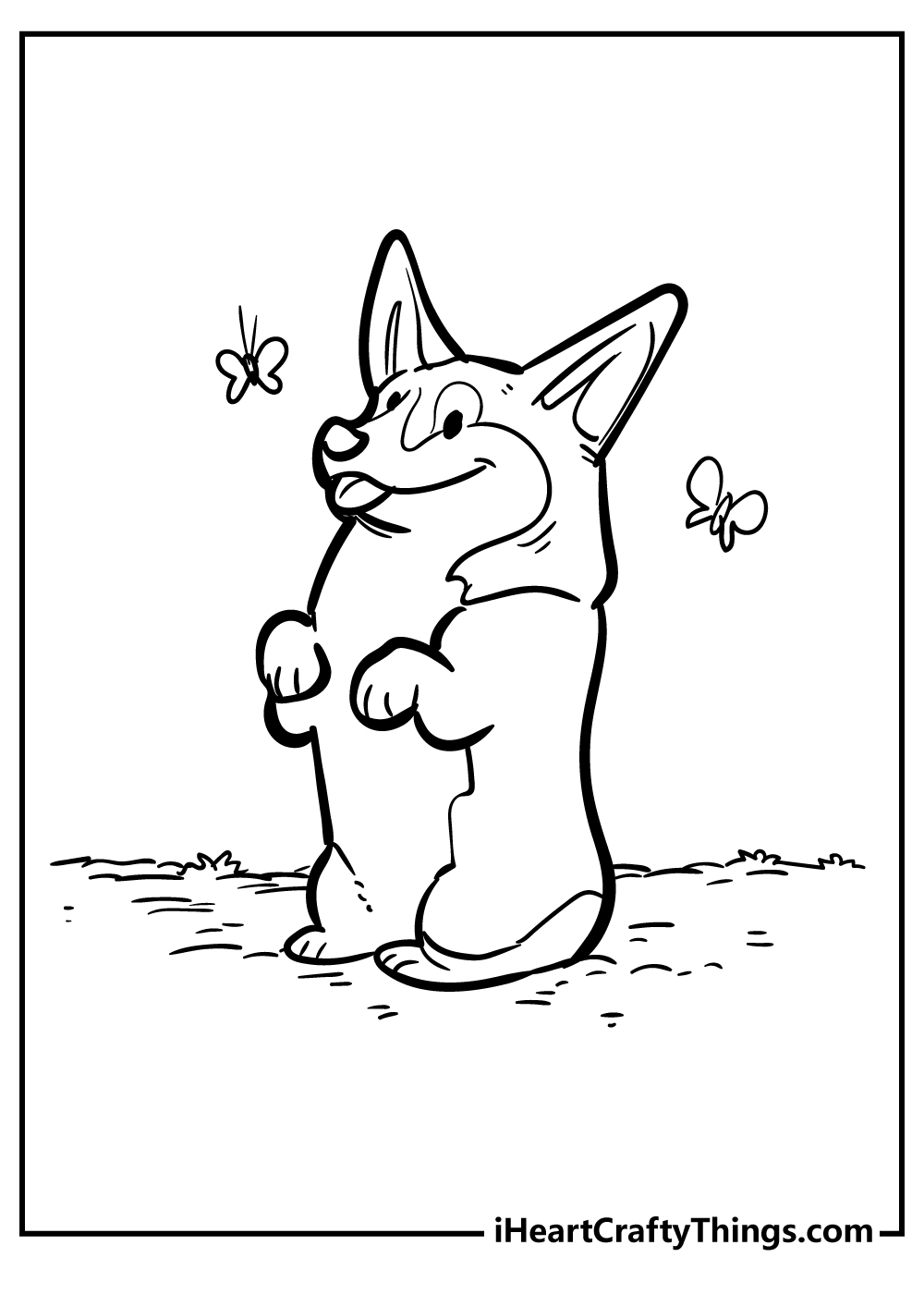 Corgis always look like they are smiling, and all Corgi owners agree on this one.
These dogs always look like they are happy to be around their owners and seem to enjoy everything that happens around them.
Our next Corgi coloring sheet captures a Corgi in a very good mood. He is sitting down with a friendly look on his face and with his cute tongue sticking out.
Do you think he is tired from playing in the park all day long?
Invite your little ones to prepare their crayons and enjoy their time coloring this page. They can use shades of brown and beige to color this dog, or they can get creative with brighter colors.
We are sure that Corgis look fantastic in purple, red, blue, or pink shades. Why not?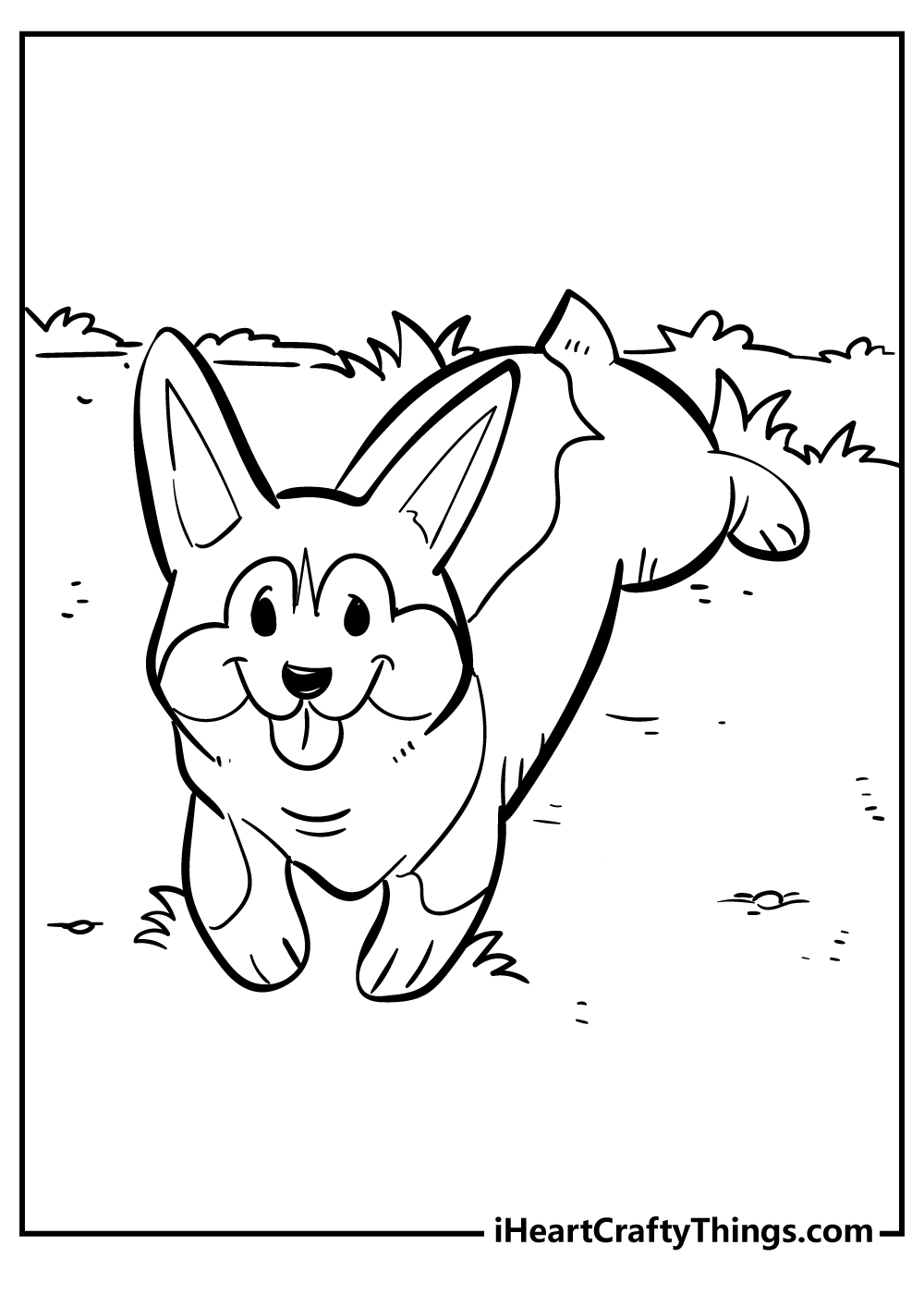 All dogs are superheroes, and their superpower is changing our lives for the good. Corgis, too, make their owners laugh, get a lot of unconditional love, and never feel lonely.
Our next Corgi-inspired coloring sheet captures a Corgi that looks like he is flying just like a superhero.
He might just run fast in the park while playing with its owner, but why limit your little ones' creativity?
It looks like an enjoyable time for the Corgi on this page. So, print this coloring sheet featuring an adorable Corgi and invite your children to have fun while coloring it.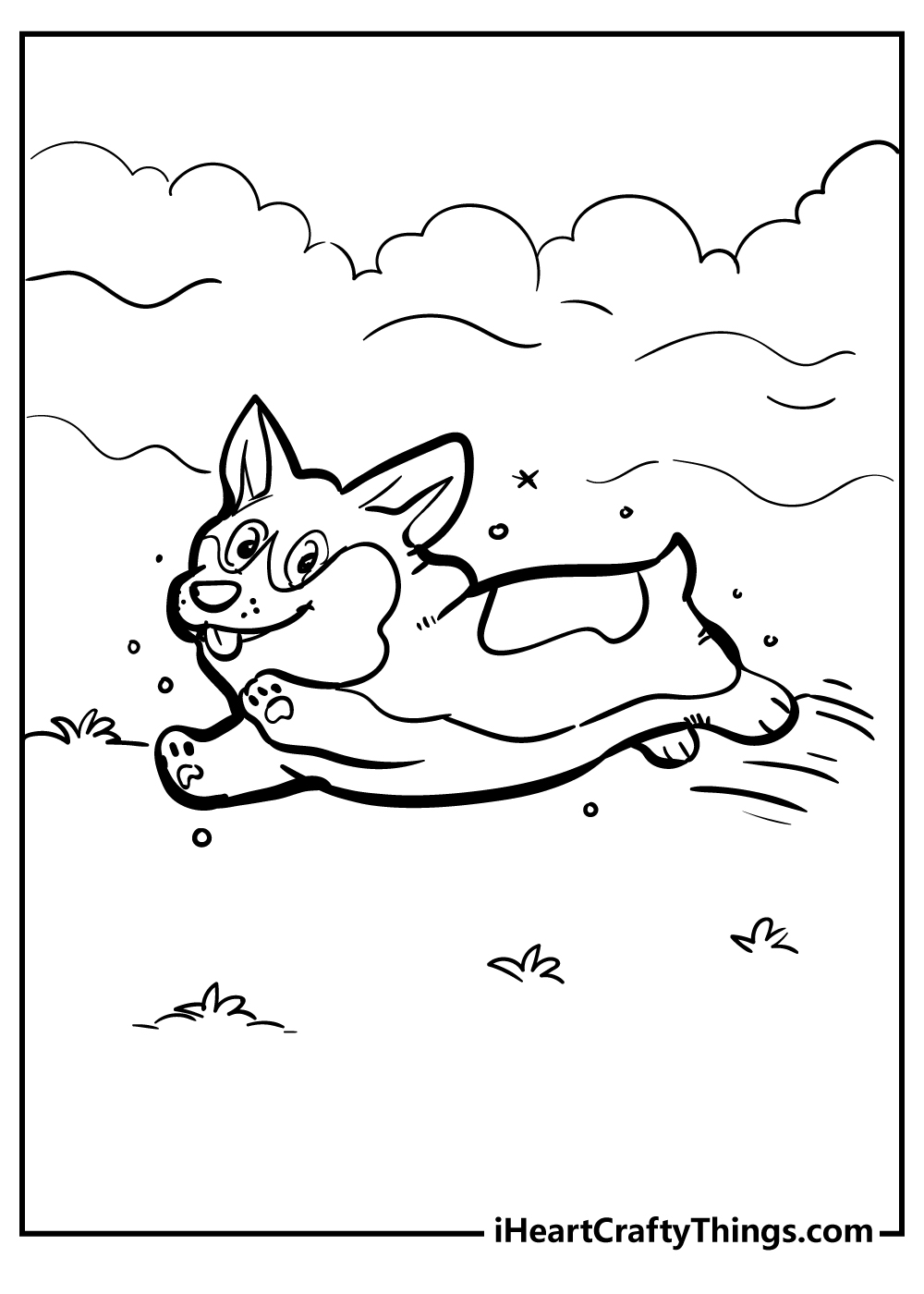 Corgis, like dogs everywhere, love a good fetch game with their owners. Corgis have a lot of energy, and they need a lot of play to burn it off.
This coloring sheet captures a Corgi having fun while trying to catch the ball. He looks thrilled to play with his owner. Don't you think?
Invite your little one to imagine what it is like to play with this adorable Corgi while giving this page some color. There's really no rule to creativity and imagination.
So, your child can use whatever colors they like most to give this coloring sheet featuring a Corgi a personal touch.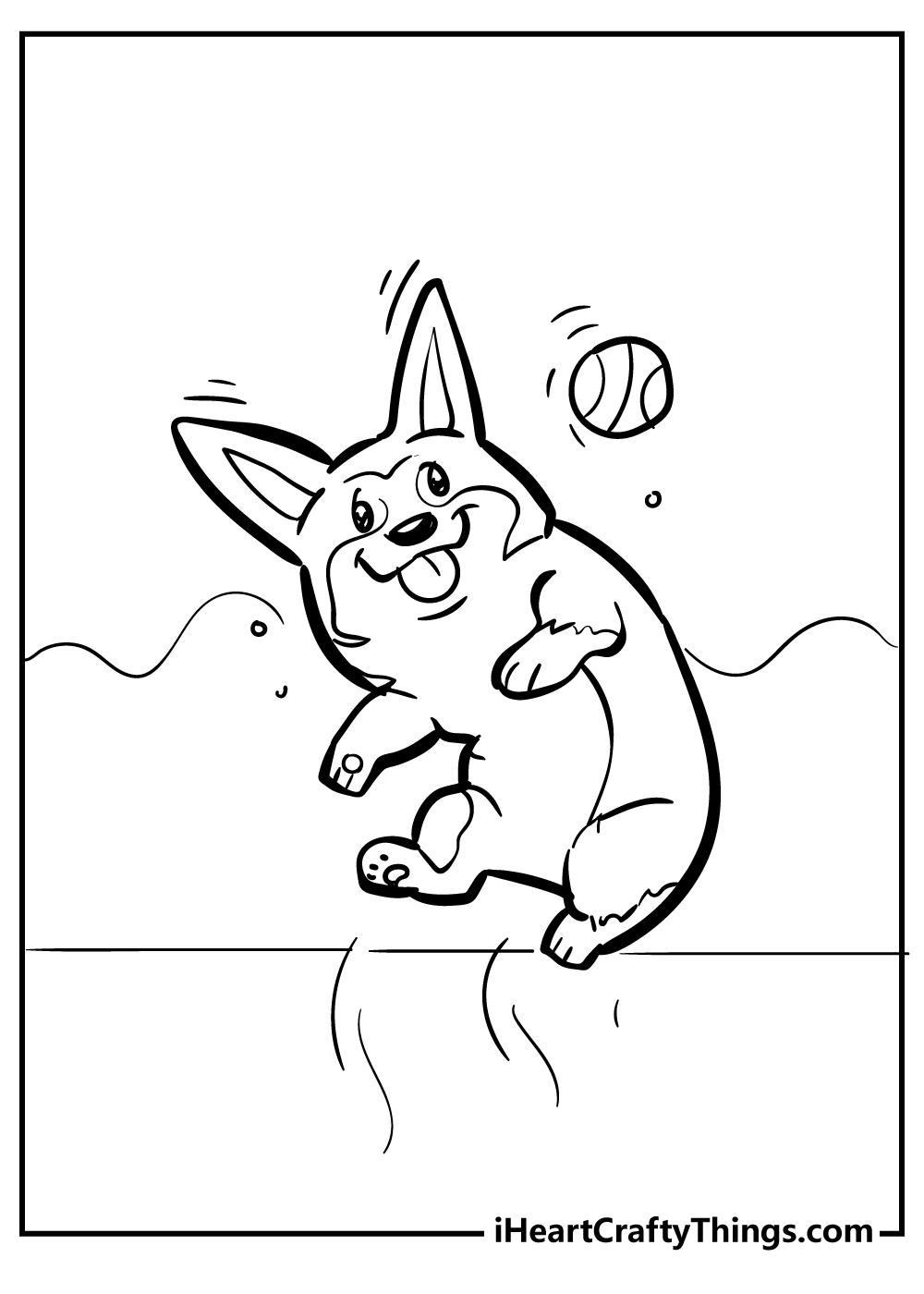 While they are highly active, Corgis need a good rest after playing all day long as well.
Our next Corgi coloring sheet features an adorable Corgi taking a rest. Yet, he is not too tired to notice the delicious treat in front of him.
This coloring page leaves plenty of room for your child to experiment with colors. They can color this cute dog using brown, black, beige, and white shades.
Give the grass on this page some green color and get creative with shades of blue to color the sky.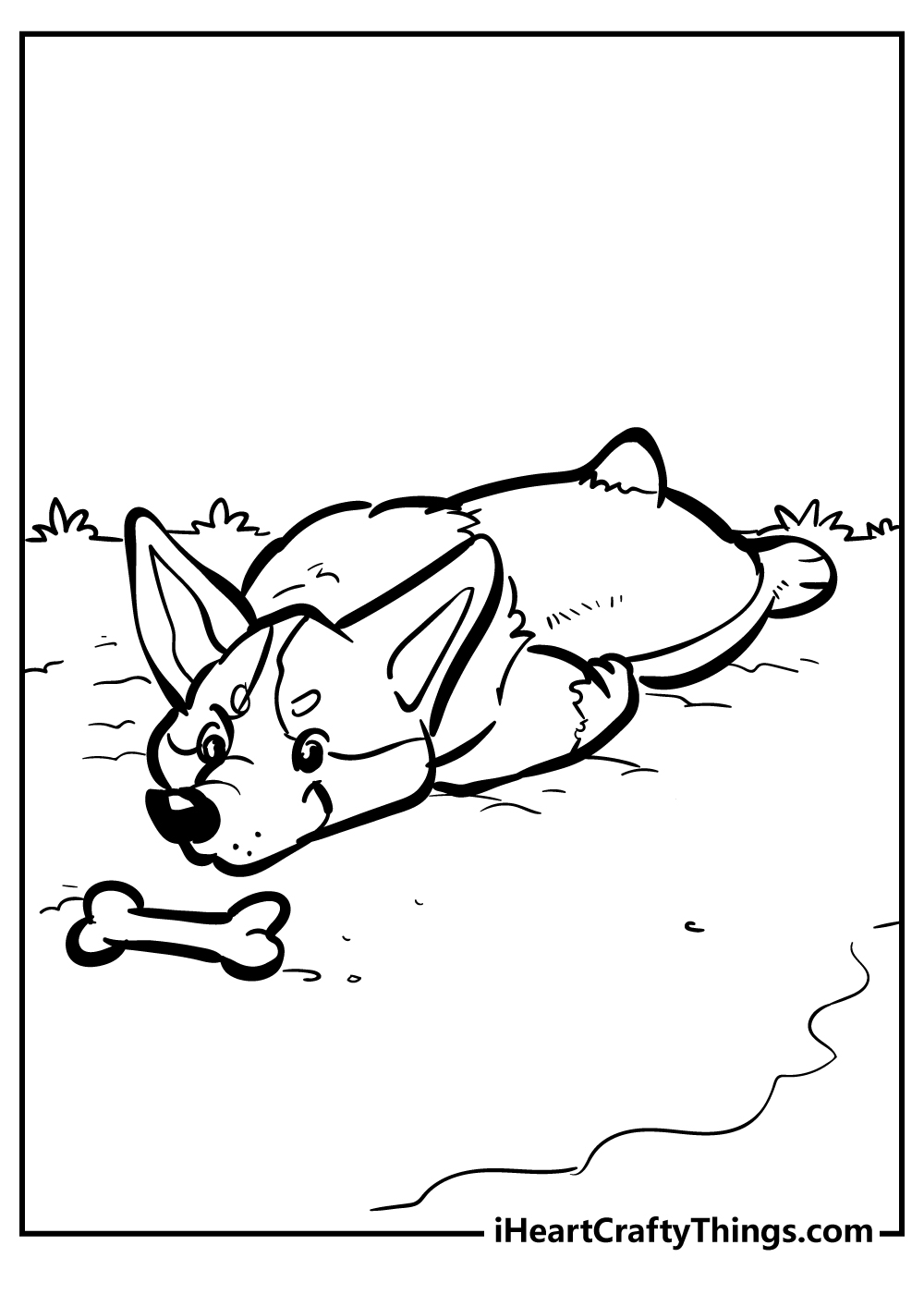 Didn't we say that Corgis always look happy? This coloring sheet perfectly captures the joyful personality of Corgis.
Our next coloring page depicts an adorable Corgi sitting and looking up, probably at his owner. His big, cute eyes would melt any heart. What do you think?
Invite your little one to color this page and imagine what can be the reason why this dog looks so happy. Does your child think that he is seeing his owner?
Or maybe he is delighted to get a treat? Imagination has no limit, so encourage your child to create a funny background story for this cute Corgi.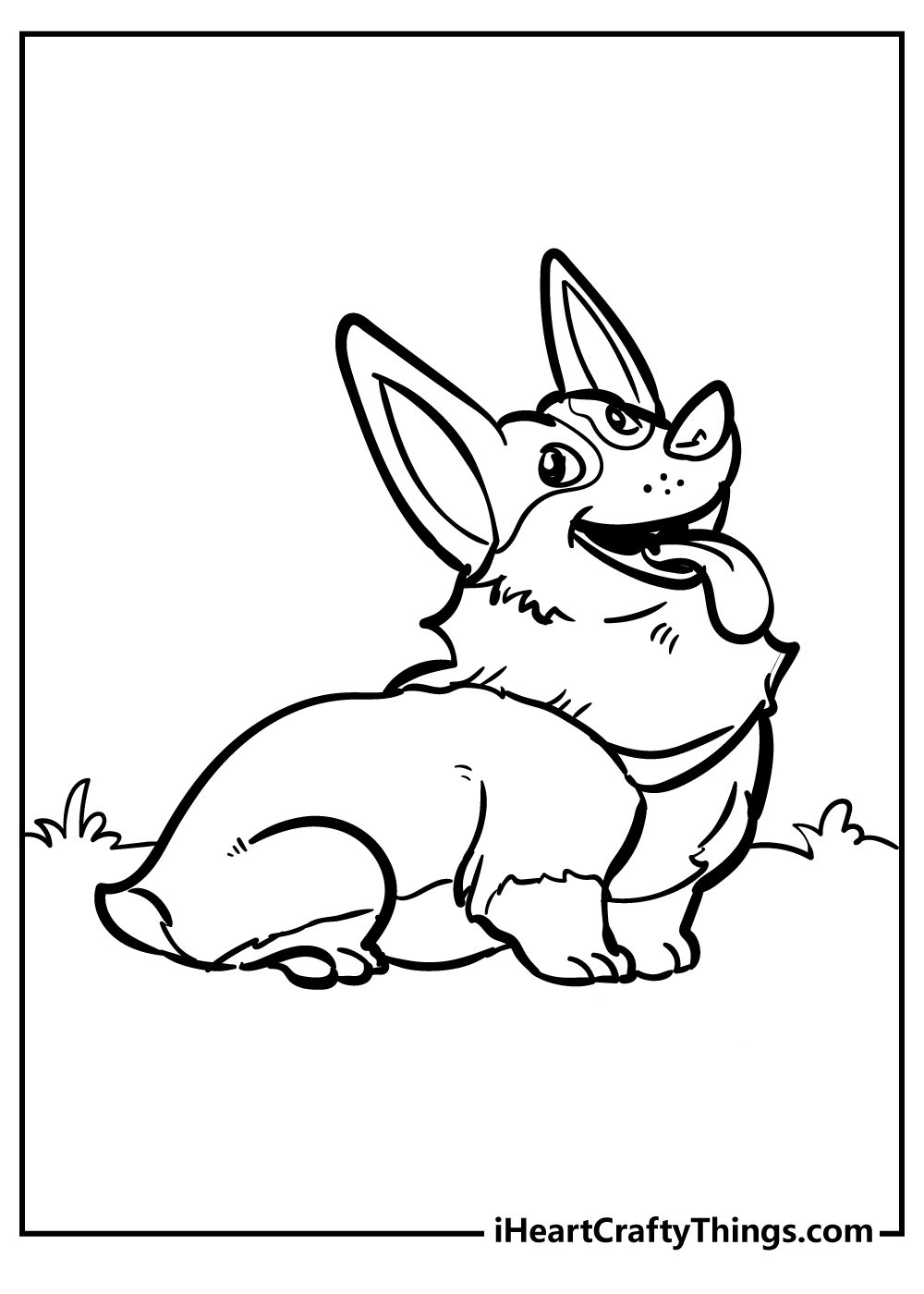 Corgi cups are an adorable gift you can give to a dog lover. But how about a Corgi in a cup? That's even more adorable!
Our following Corgi-inspired coloring sheet captures a small Corgi puppy sitting in a cup and looking extremely curious to find out the colors your little one will use on this page.
This coloring page features so many design details that your child can color. For example, they can color the Corgi using brown shades and choose a contrasting color for the mug.
This coloring sheet is a great creativity exercise for your children!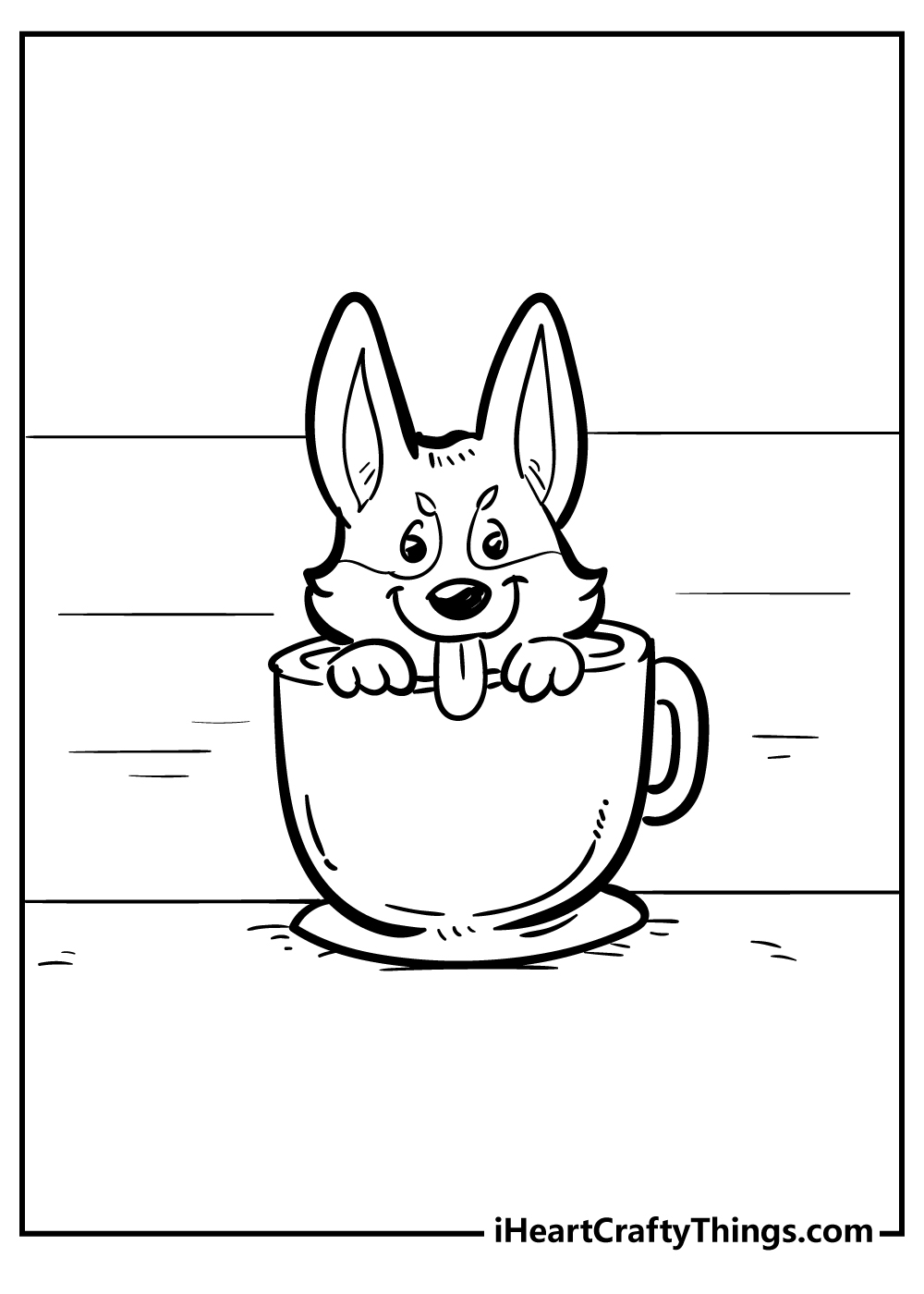 Although Corgis also make great indoor dogs, they have plenty of energy, so they always appreciate some time spent outdoors.
We believe that our designers perfectly captured this in our next Corgi coloring sheet.
This printable coloring page captures an adorable Corgi in the park. This Corgi looks very curious about exploring the surroundings. He seems to look around him to decide where to run next.
Invite your little one to color this printable sheet using their favorite shades.
Although Corgis' color scheme consists of shades of brown, black, and white, the Corgi on this page will also look fantastic in brighter and bolder colors. A purple, red, or blue Corgi? Why not?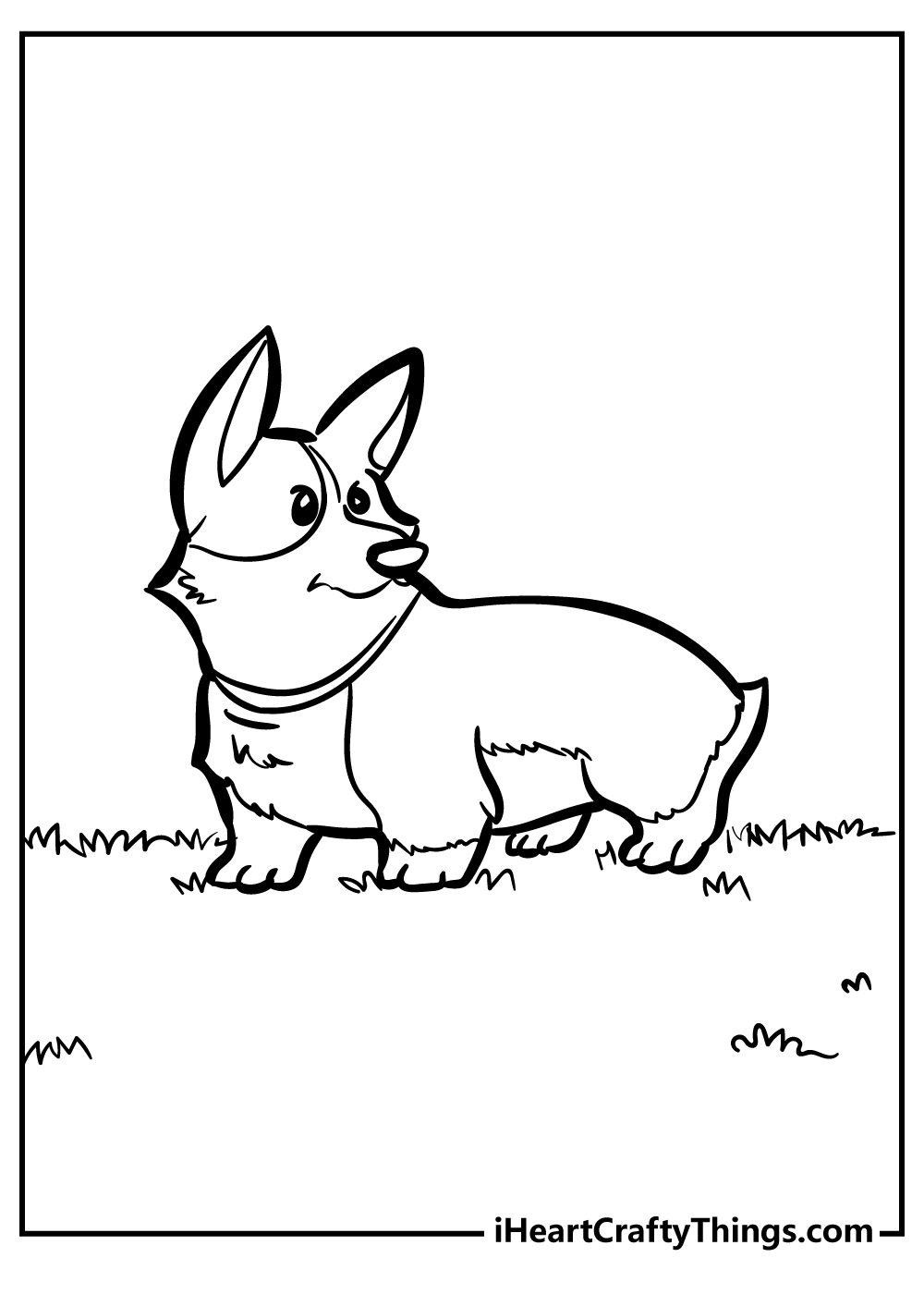 Corgis are very popular for their cute and furry behinds. They shake their furry tails whenever they walk or when they are thrilled.
Our next coloring page perfectly captures just how cute Corgis look from behind.
This Corgi coloring sheet features a Corgi sitting down and looking really curious to see who will give him some color.
This printable sheet is an excellent exercise for your little ones to try their coloring skills. Shades of brown, black, white, and even some bolder hues will look amazing on this page.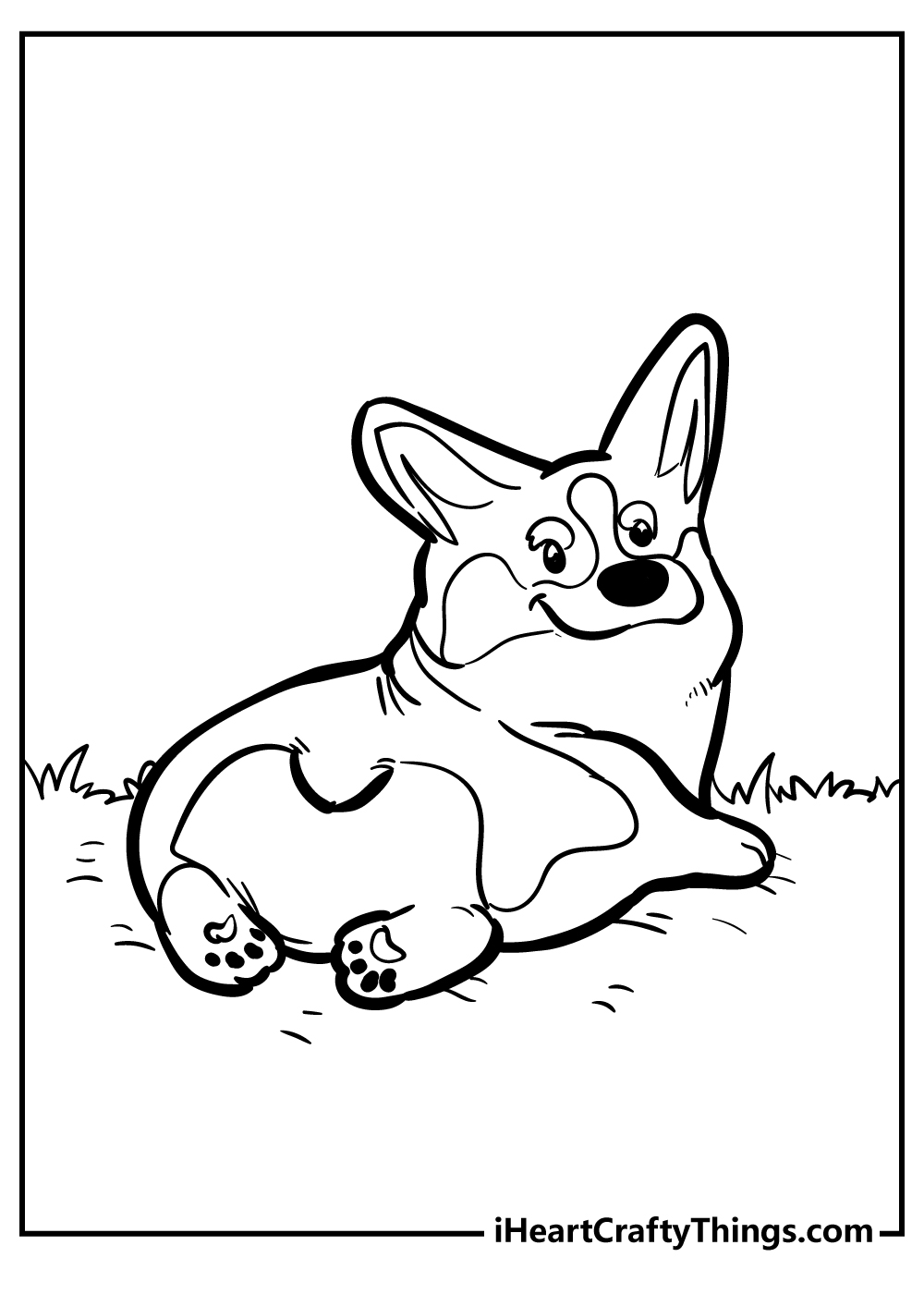 Our last Corgi-inspired coloring sheet captures a friendly-looking Corgi sitting in the park and enjoying a nice day outdoors.
Besides the cute Corgi in the center of the page, this coloring sheet features plenty of design details your child will enjoy coloring, such as the butterfly, the ball, the trees, and the complex background.
Print this free Corgi coloring sheet for your child and invite them to experiment with colors.
We constantly update our coloring sheets collections, so visit us again for more fun printable pages!