With so many different dog breeds to choose from, it can be hard to pick a favorite! Different people appreciate different things about each dog breed, but there are some that are common favorites.
German Shepherds are a breed that are popular around the world, and because of their intelligence and capabilities they are useful in many different scenarios.
This collection of free German Shepherd coloring pages is here to celebrate these incredible dogs!
Within these 15 pages, we have a huge variety of different poses and scenarios featuring these amazing dogs for you to color.
We know that you will do an incredible job bringing some color to these wonderful dogs!
When it comes to this collection, every single page is free for you to print, color and enjoy as many times as you like!
This is the case whether you pick some favorites or color every single page. You can also share the collection with others to enjoy as well!
Now you're ready to make some new doggy pals in this collection of pages! When you have chosen and finished your favorite pages, you can share your artworks on our Facebook and Pinterest pages.
We will look forward to seeing some of your amazing artworks!
15 Brand New German Shepherd Coloring Pages – Free to Print and Color
Our first page in this collection of free German Shepherd coloring pages features a really cute dog to get the series started!
This adorable German Shepherd is drawn in an adorable cartoon style, and it radiates a lot of happiness and friendliness.
Do you think you will use some realistic colors for this first German Shepherd, or will you choose some more stylistic colors to fit the mood of the image?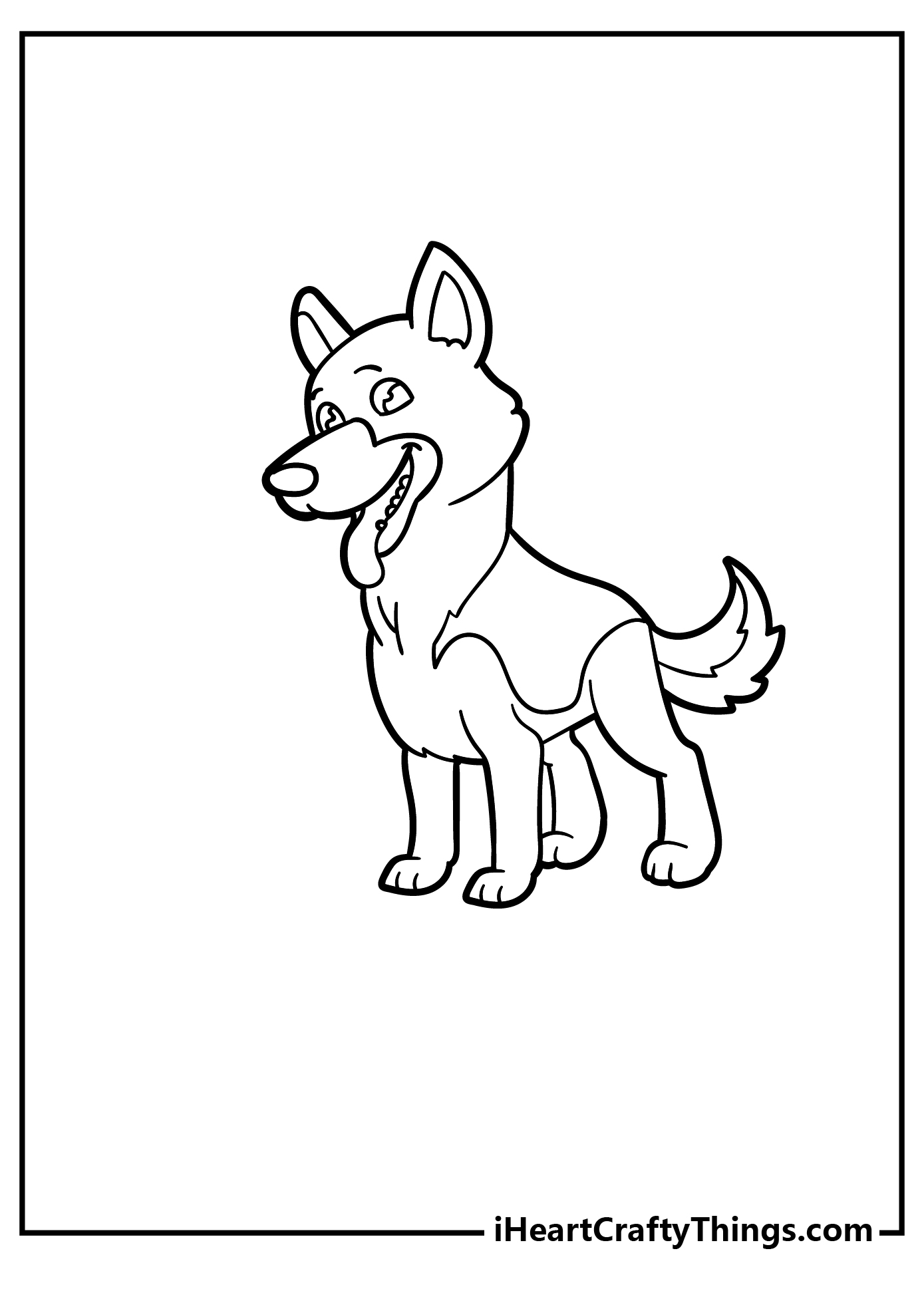 Our second German Shepherd coloring sheet is drawn in such a fun, whimsical style! It's looking very cute and happy in this image, and it's got a wonderfully cartoony look to it.
We think that some bright colors rendered with some vibrant art mediums to suit how cartoony this image is.
Do you agree with this idea, or do you think you will go with something else instead?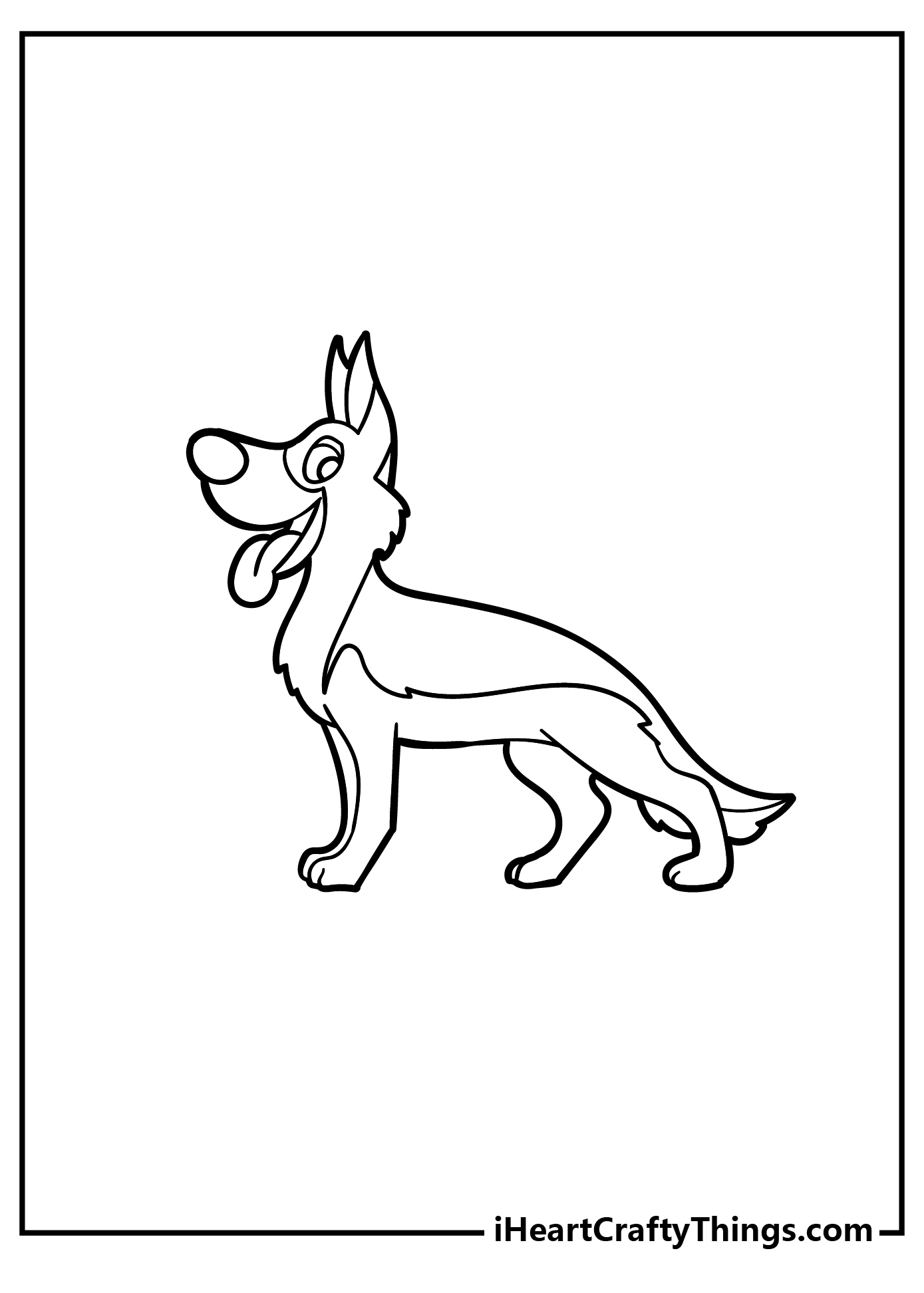 This happy German Shepherd puppy has perky ears and a big smile that shows he's ready to play.
As you color his fur, think about how you can show his playful personality with your color choices.
German Shepherds are very smart dogs who can learn all kinds of cool tricks like shaking hands, rolling over, and playing dead.
Maybe this cheerful puppy is getting ready to show off a fun trick he just learned! However you color his coat, whether it's realistic browns and blacks or bright fun colors, this energetic dog looks eager to play.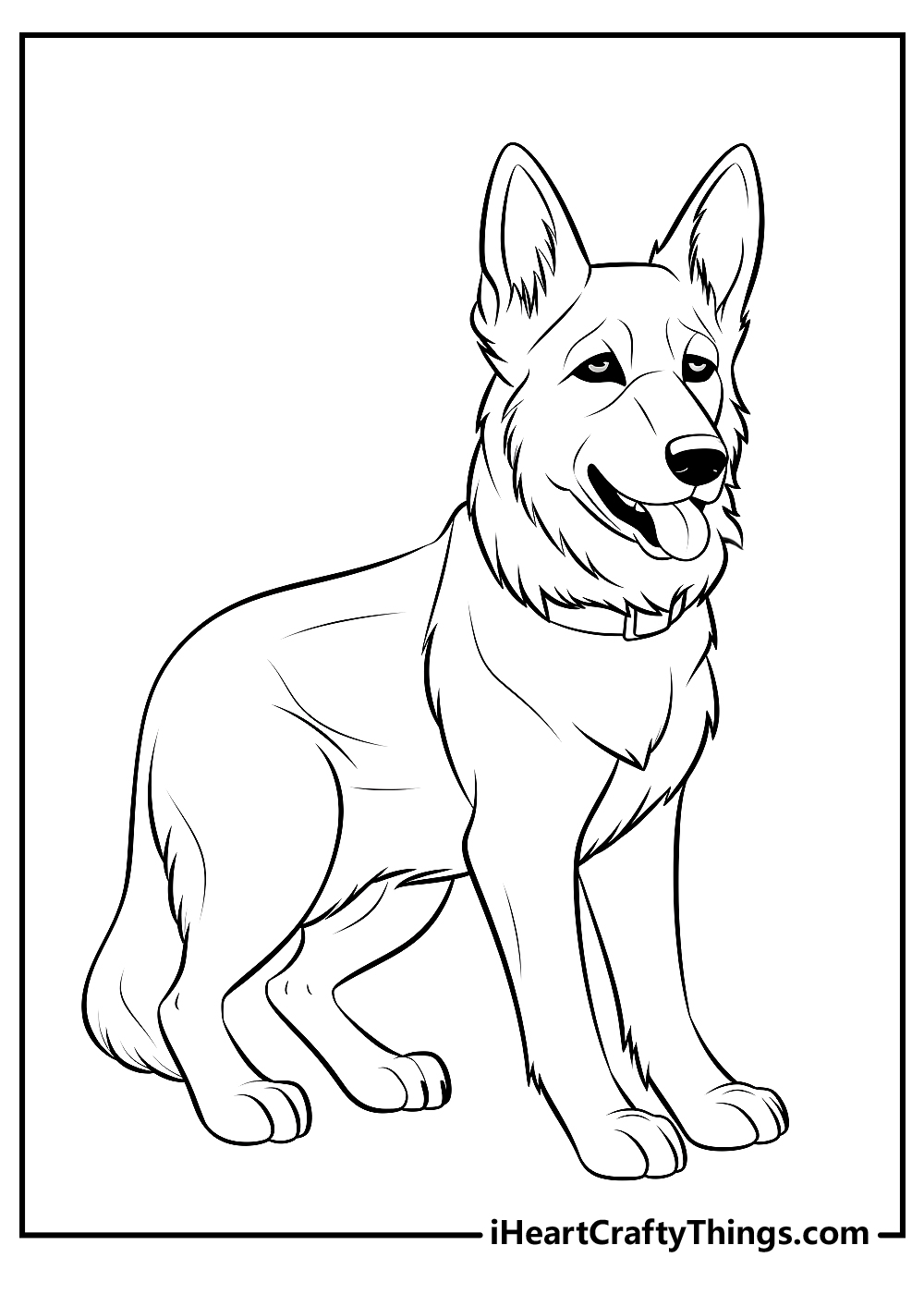 This next little guy is drawn in a really interesting style. The way it is drawn makes it seem like this German Shepherd could be a puppy or at least a bit younger.
Now all that remains to decide is how you will color it in!
We think that some lighter colors done in some watercolor paints or maybe some colored pencils would look great for this particular one!
This is just one approach you could take, so how will you go about coloring it in?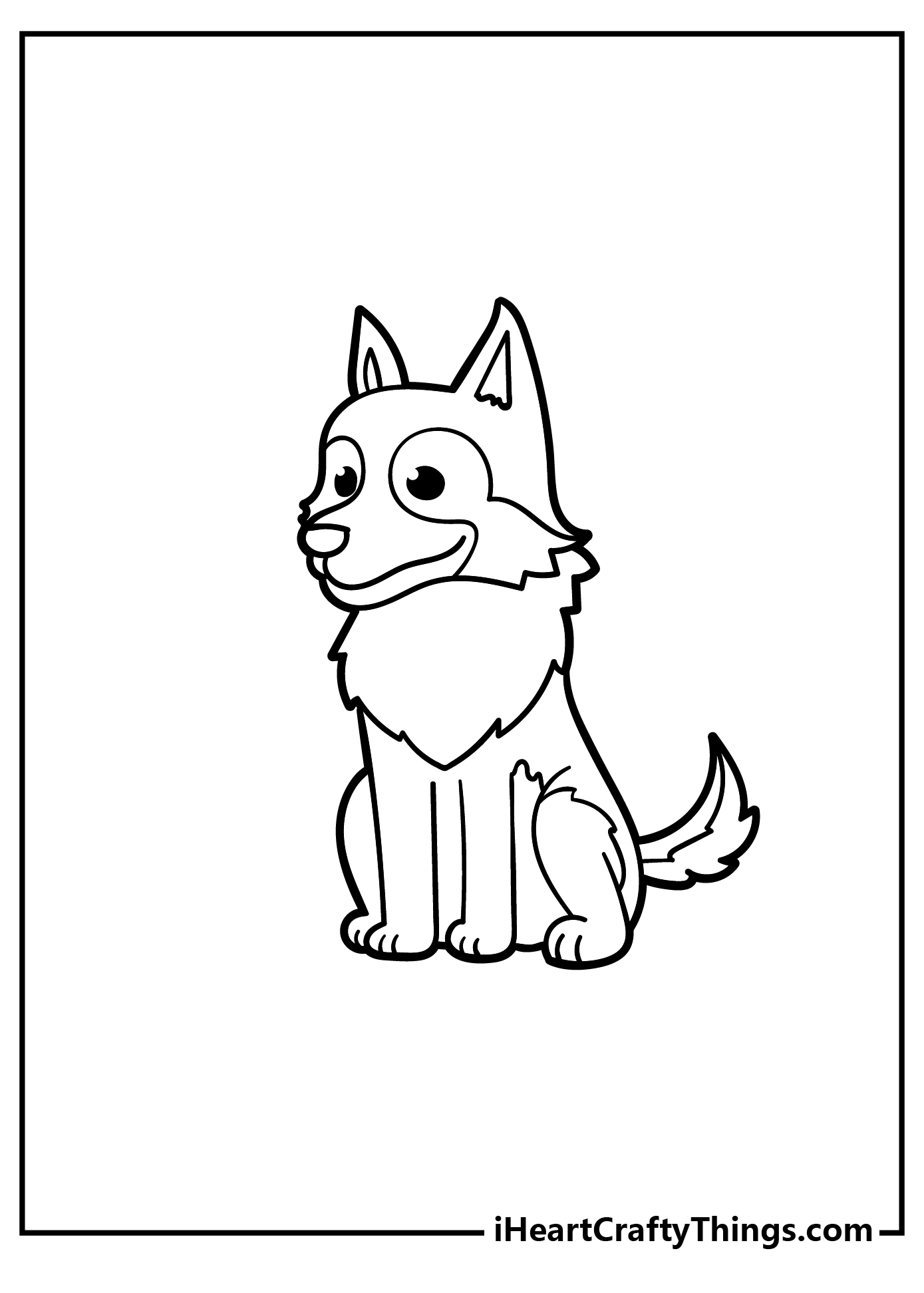 Here's another German Shepherd coloring printable that features a dog drawn in a very interesting style! This one is also very cartoony, but in a different way to the previous ones.
This looks like a German Shepherd that would be going out on some kind of adventure! If you think so as well, you could show us what kind of adventure this German Shepherd could be on.
You could do this by drawing a fun background showing what kind of setting it is in. Where do you think this German Shepherd could be?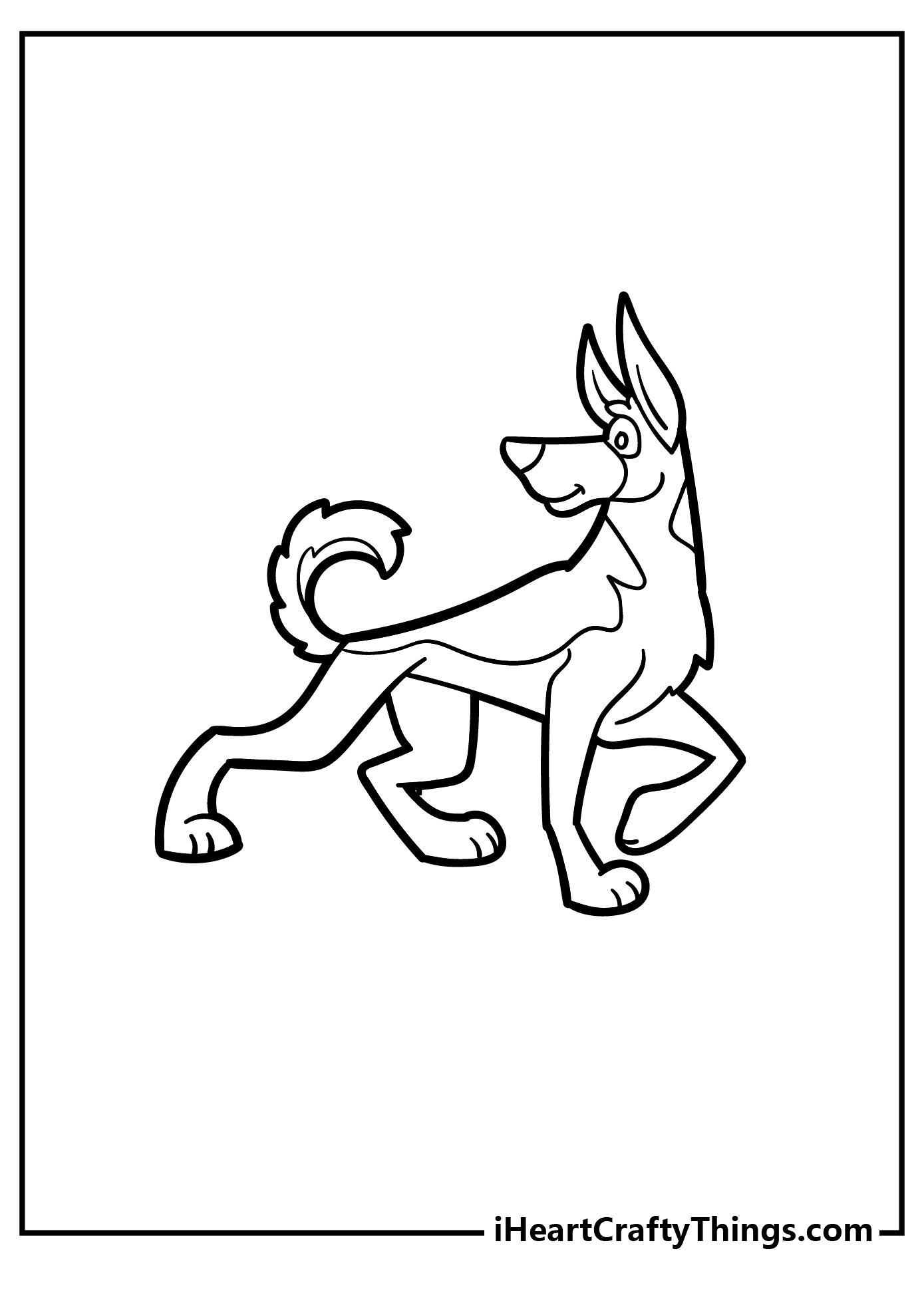 This proud German Shepherd is lookingret, ready to guard and protect. His fur is thick and lush, perfect for adding depth and texture as you color. Will you stick to traditional black, brown, and tan?
Or get creative with patterns and colors like spots, stripes, or swirls?
His ears are perked up, listening for anything out of the ordinary. And his eyes are focused, watching everything around him.
However you color him, this German Shepherd looks ready for serious business.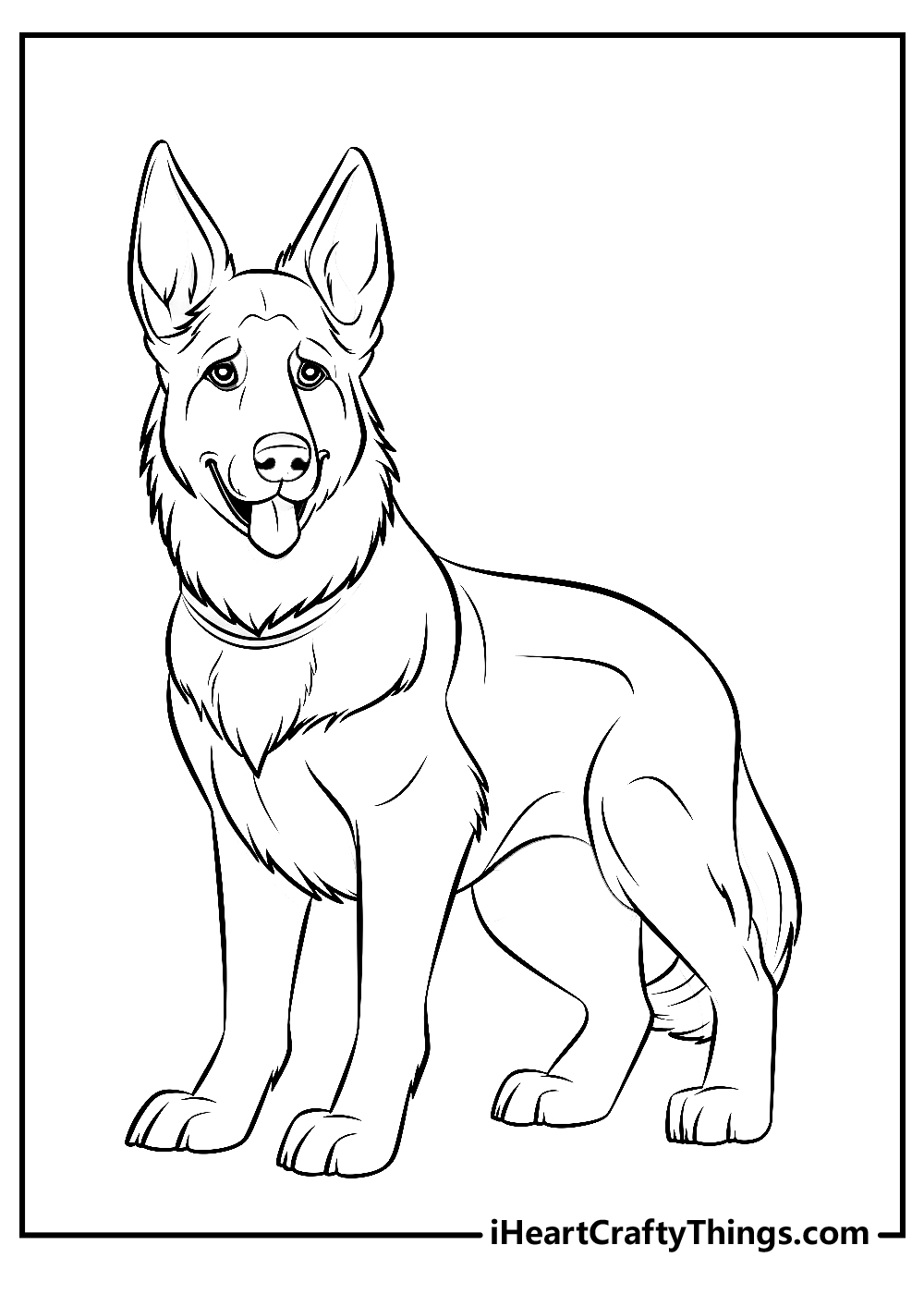 This next German Shepherd is really cute! This one is drawn in a slightly more realistic style, but it has still got a nice style to it.
It also looks like an example of a German Shepherd that is a bit younger, and there is a sense of adventure to this one as well.
This is another one where we think some watercolor paints would be amazing and would suit the softer feel of this composition. What will you choose?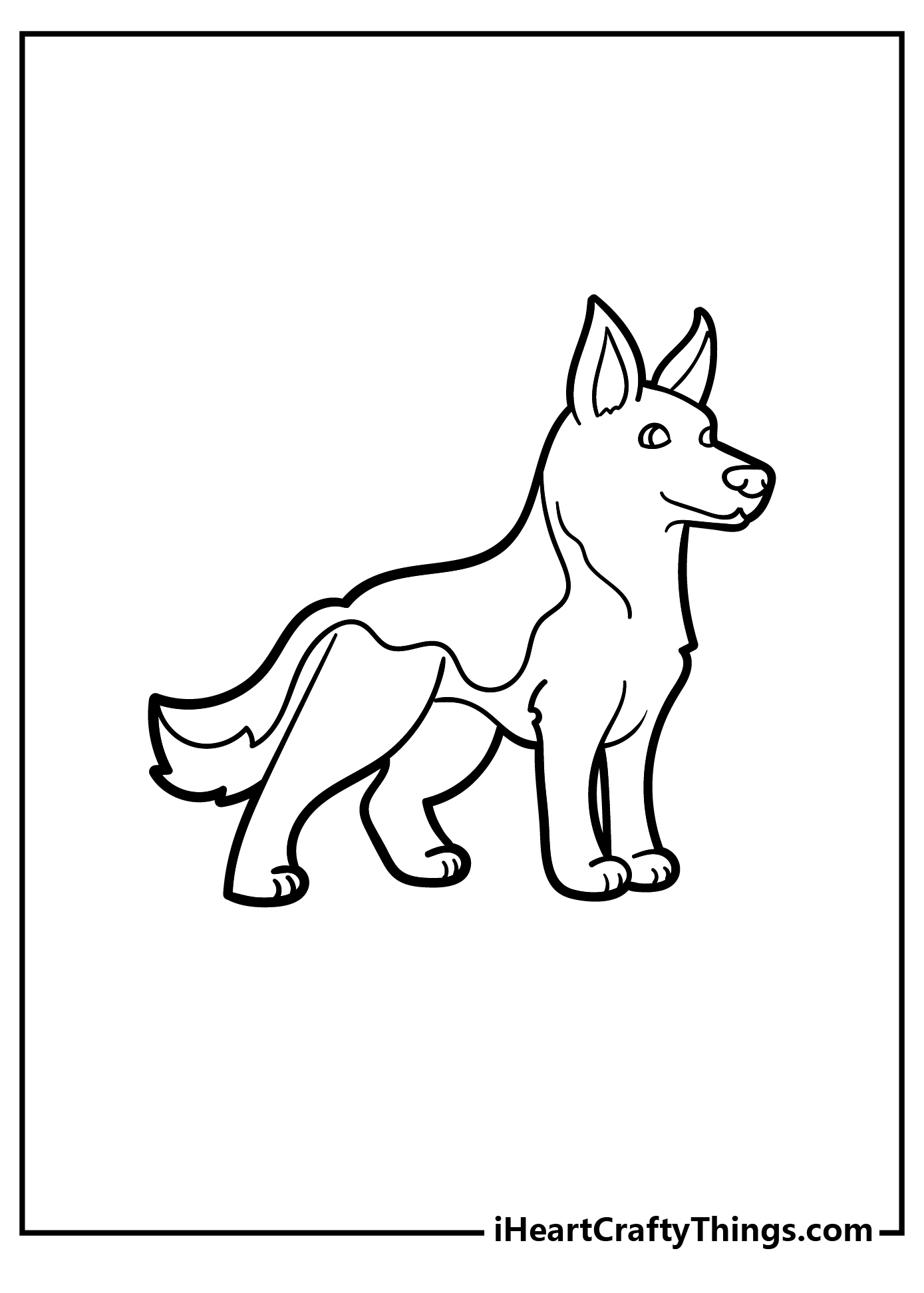 What a happy feeling we get from this next picture! This German Shepherd is looking really happy as it smiles out at us, and it's a picture that brings a happy feeling to you.
We think that this one would look amazing with some bright, happy colors!
You could even create a background that features some hearts, stars and other cheerful shapes to suit the mood given off by this dog.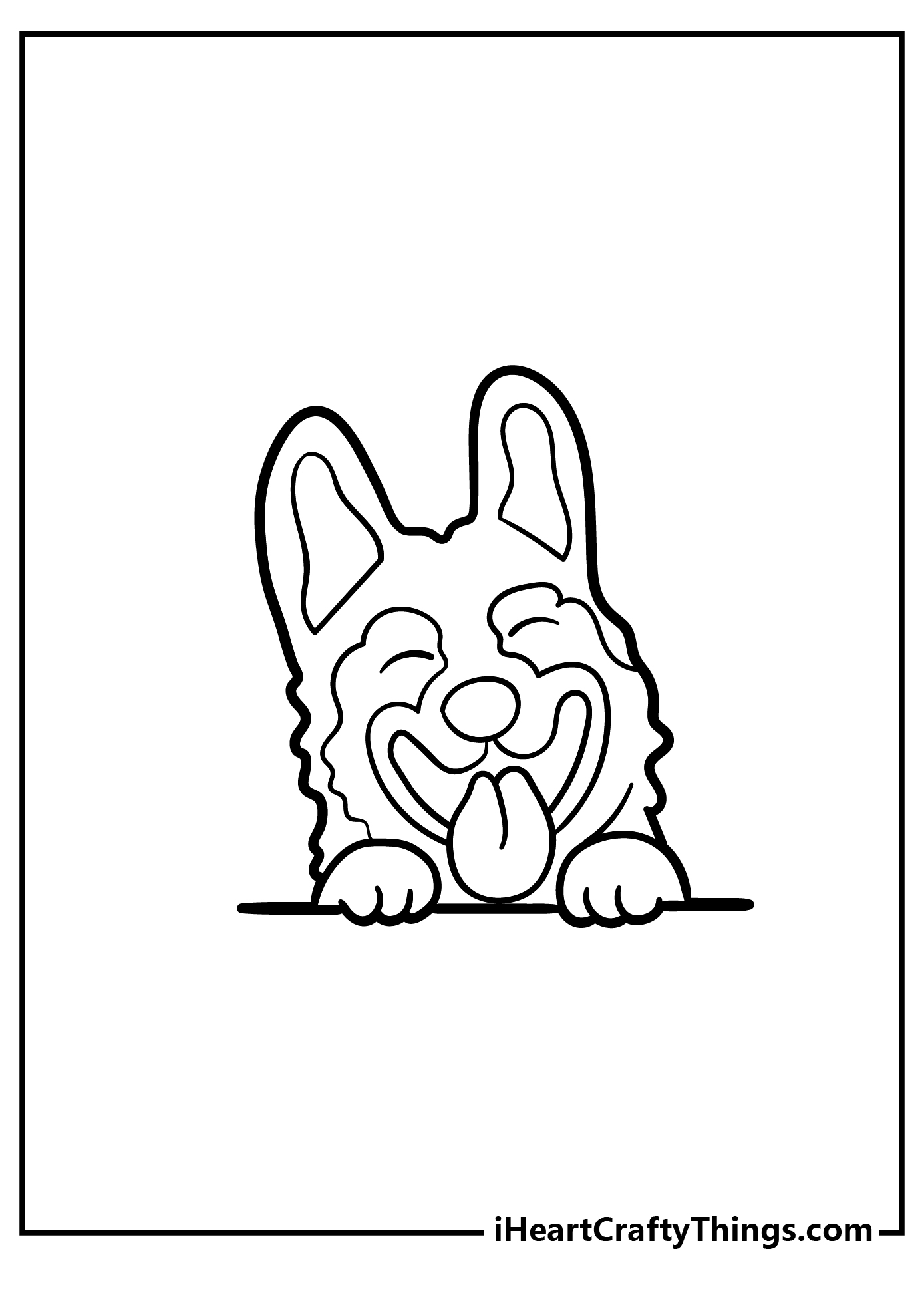 We have another fun image to color in this seventh German Shepherd coloring page! This dog is also drawn in a more exaggerated style, and it makes for a really interesting portrayal.
It is running along having a great time, and it looks as if it could be chasing a toy!
For an extra fun detail, you could draw a Frisbee, ball or another toy that it could be chasing. What toys do you think this German Shepherd could be chasing after?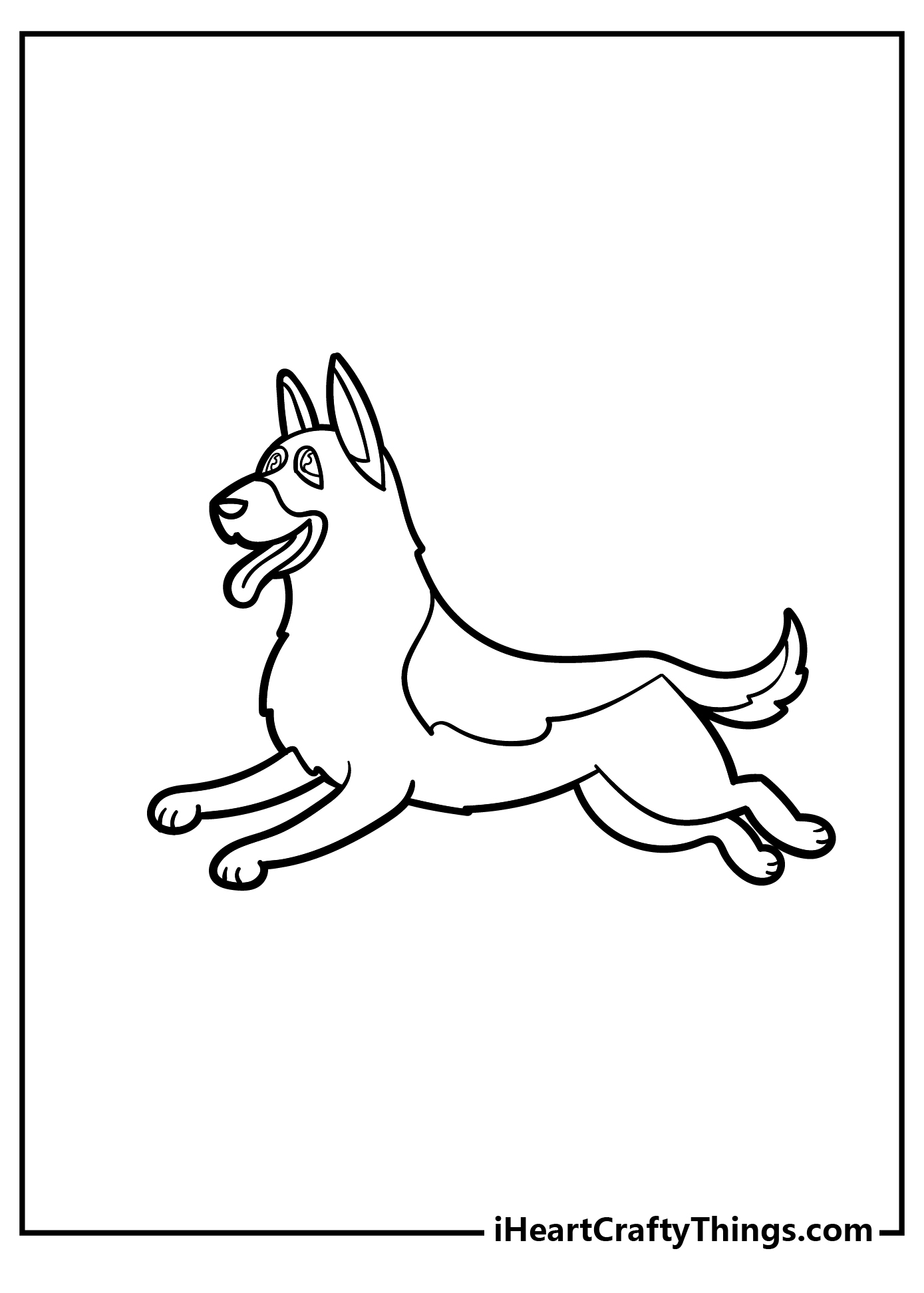 With an adorable head tilt, this curious German Shepherd puppy has noticed something interesting! His floppy ears and bright eyes make him look eager to explore.
As you color his super soft and fluffy fur, think about what has caught his attention. Is he hearing a funny new sound or smelling something delicious?
German Shepherd puppies are very playful and affectionate.
You can use warm browns and blacks for a natural fur look, or get creative with fun, bright colors and patterns that show his sweet personality.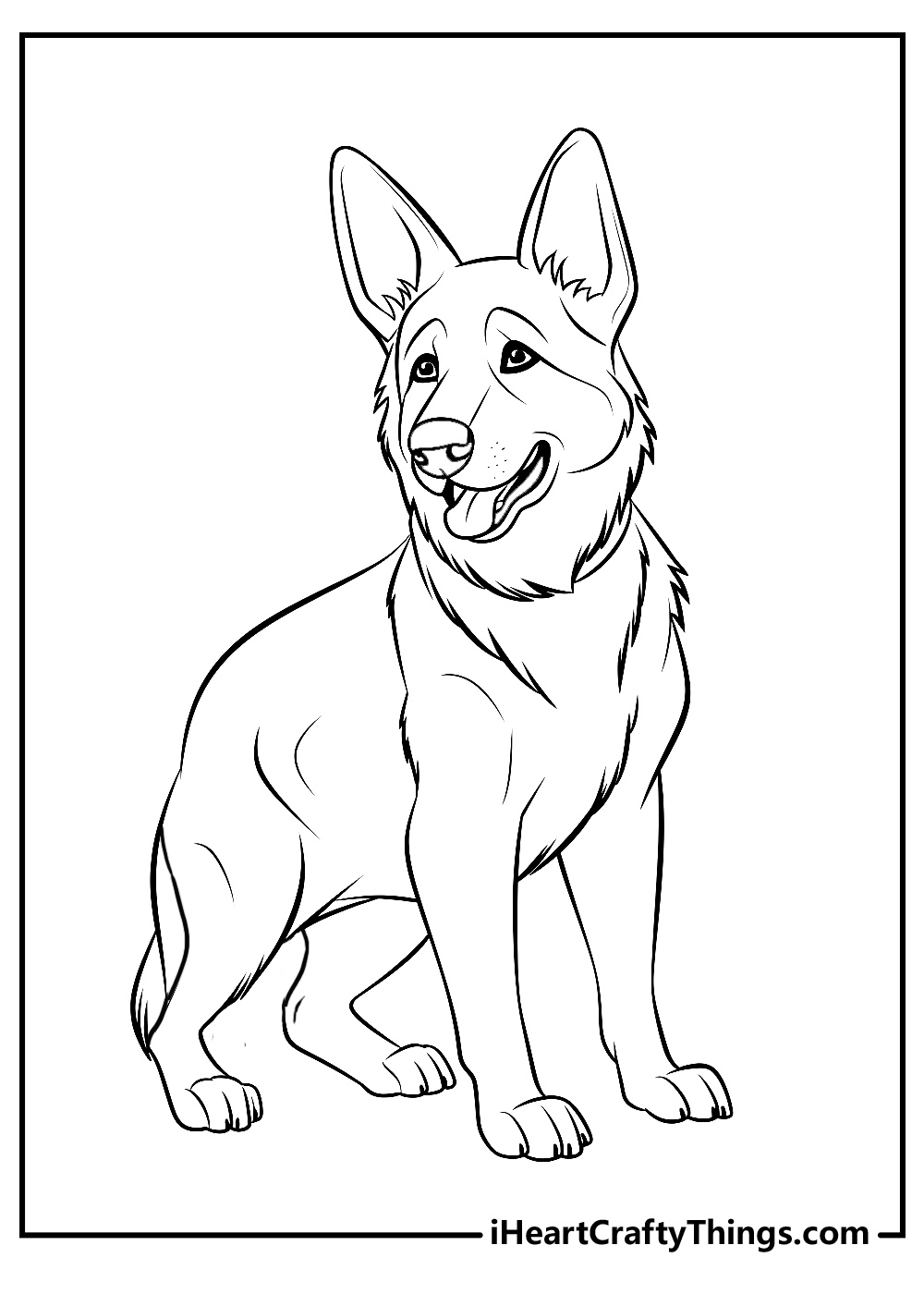 In this eighth image featuring a German Shepherd, we have another really interesting portrayal of this amazing breed!
This one isn't drawn in a cartoony style as some of the others was, and is instead drawn in a stylized form.
It really helps to capture the personality of this breed, and you could capture it even more with the colors and mediums you choose!
It will be interesting to see how you color this one in.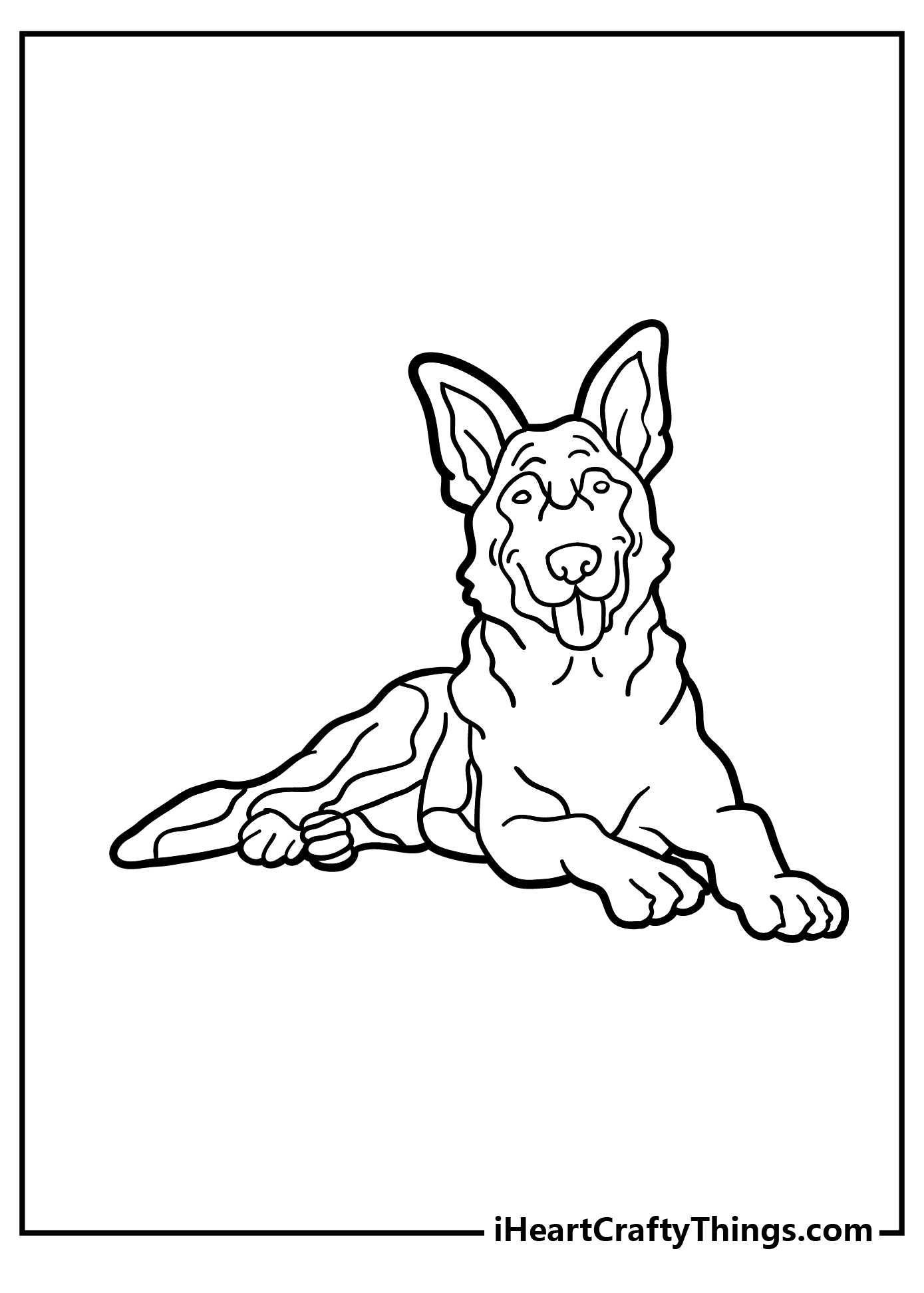 The German Shepherd in this page is looking very alert! It is poised as if it senses something nearby, and it makes you wonder who or what it could be detecting.
You could give an idea of where this German Shepherd could be and what it is hearing by adding some background details to this page.
There are many possibilities that you could go for, so what would you add to finish this scene?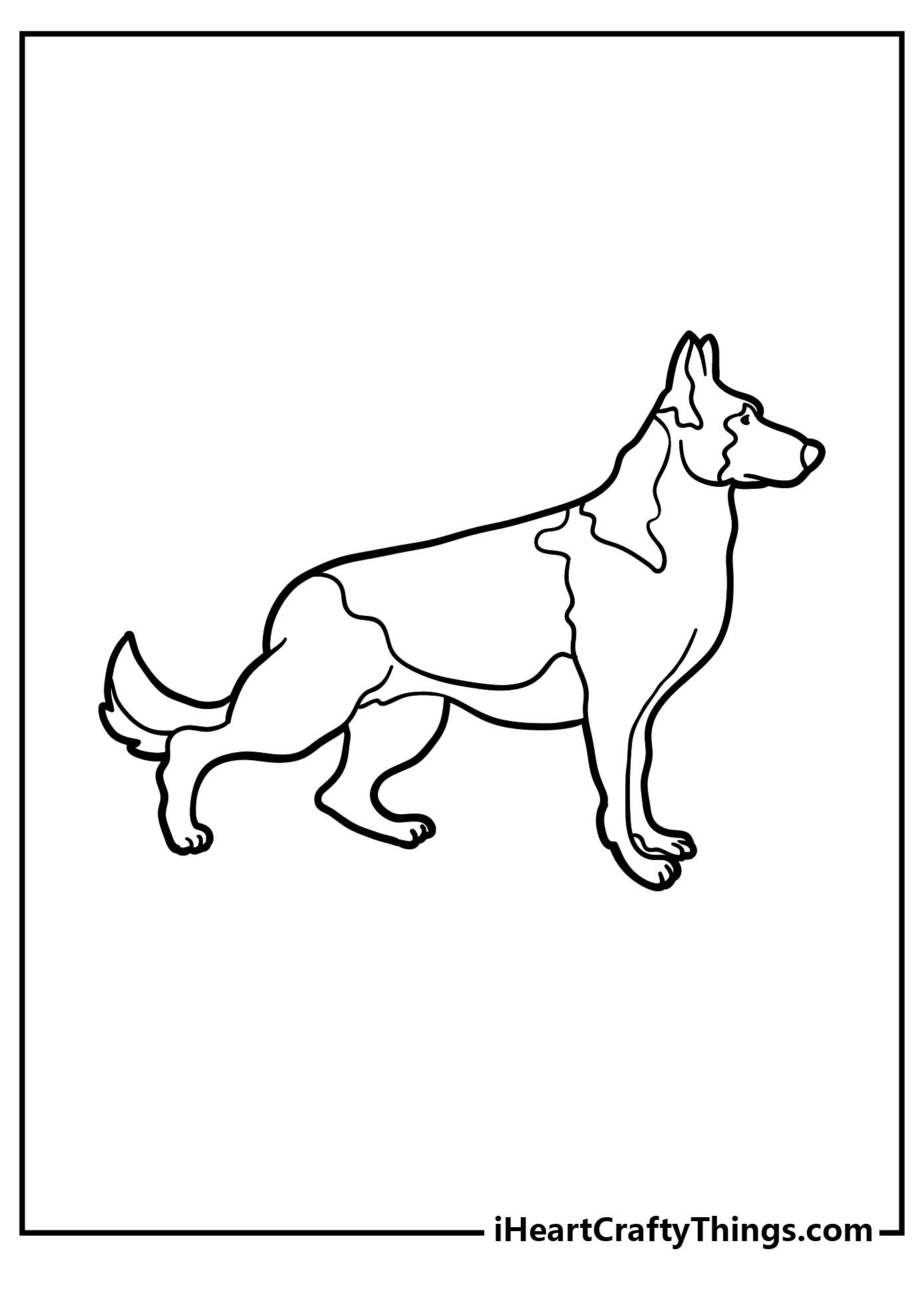 With his long, elegant coat flowing gracefully in the breeze, this handsome German Shepherd looks so noble and majestic.
The fur on his chest and legs is thick and full, perfect for practicing different textures and shading as you color.
Imagine what his life is like. Does he spend his days herding sheep on a farm? Or is he a pampered show dog who gets bathed and brushed every day?
Let your creativity shine through as you color his coat.
Whether you opt for natural browns and blacks or go wild with colorful spots, stripes and patterns, this regal dog looks healthy, strong and ready for any adventure!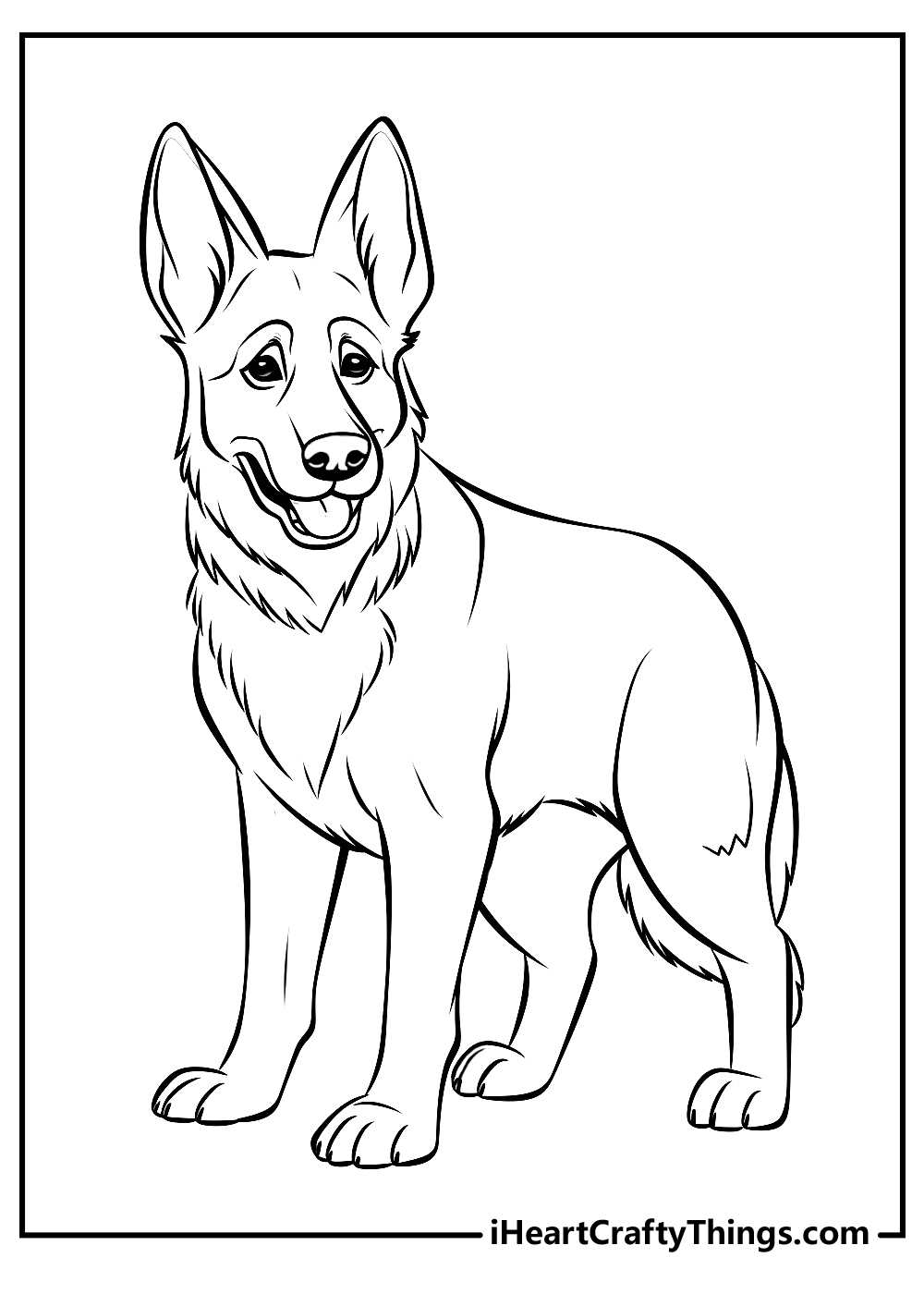 This German Shepherd coloring page shows a playful dog that is having fun. You can see how happy this dog is by its wide smile and wagging tail.
It has a thick and fluffy coat that keeps it warm in the cold weather.
You can color this dog with some cool shades of white, gray, and black, or you can use some bright colors to make this dog pop out from the snowy background.
How will you color this cheerful German Shepherd? We would love to see your wonderful creations and paintings.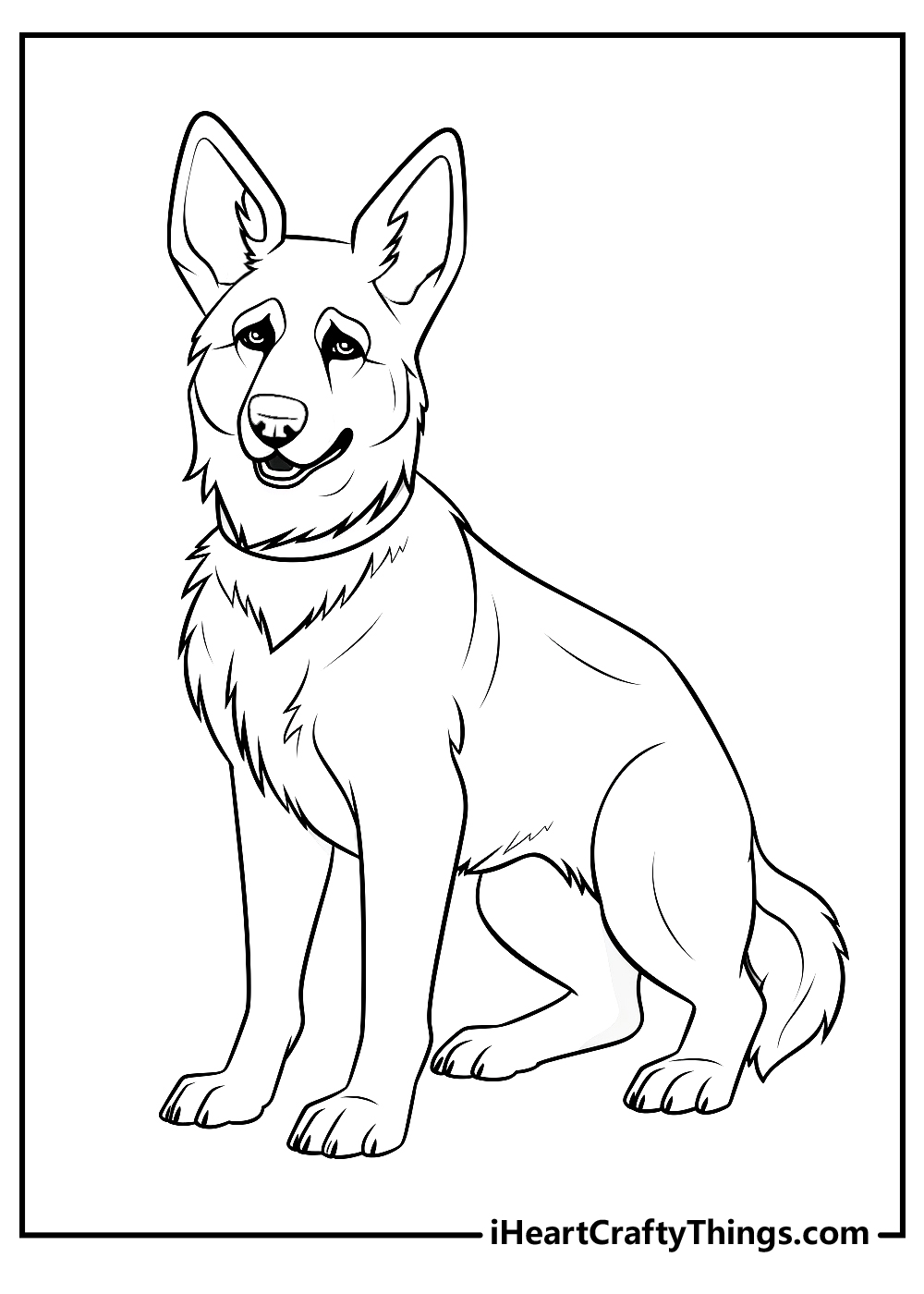 You have arrived at the final German Shepherd coloring sheet of the collection, and we're ending things on an adorable note!
This is another one that looks like it could be a puppy, and it is really cute, especially with the way its tongue is out.
Now you get to show off your creativity as you demonstrate how you think this German Shepherd should look.
Will you keep the colors more realistic or go for an entirely stylistic approach? We can't wait to see how you express your creativity with this image!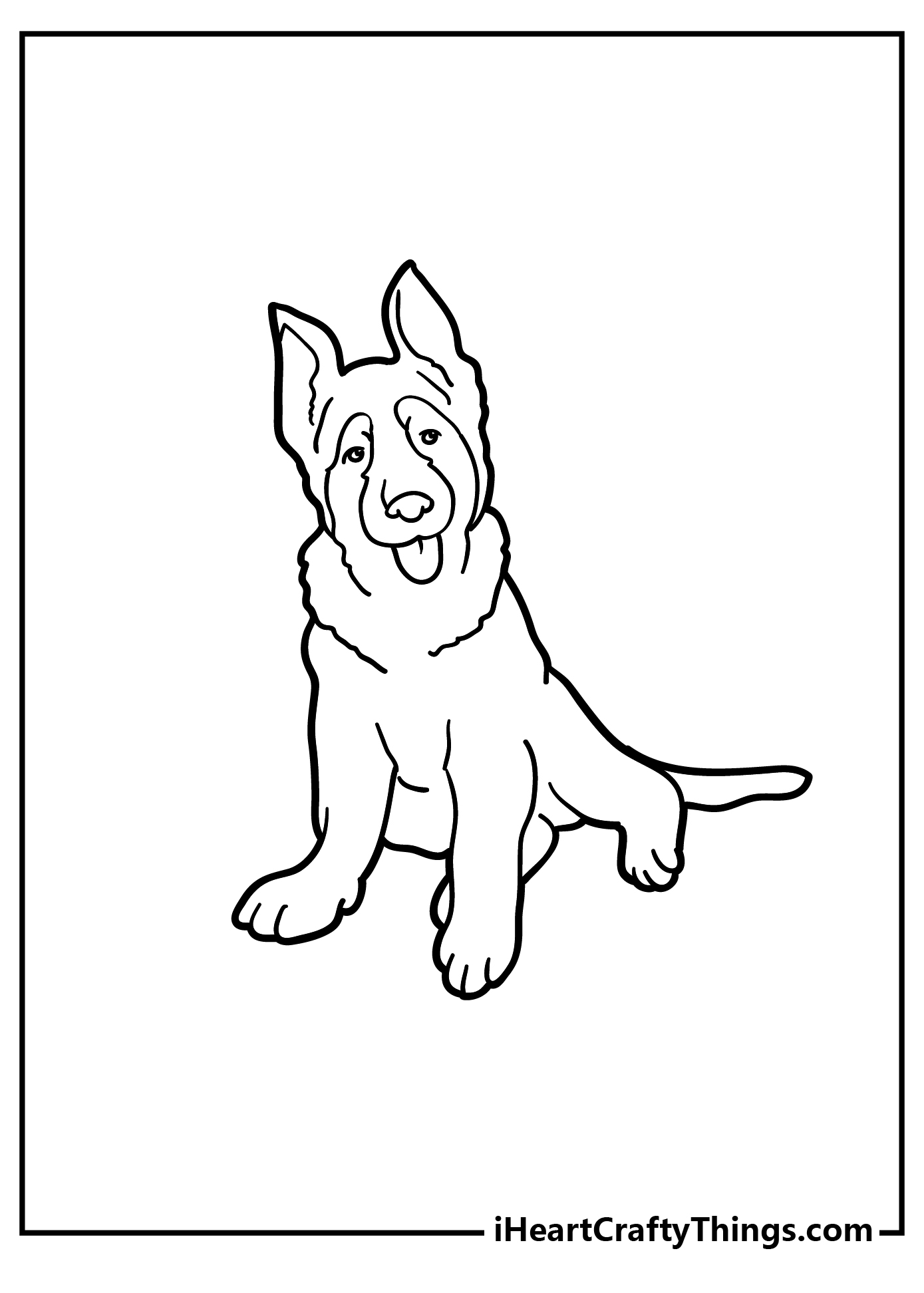 German Shepherd Coloring Pages – Which will you choose?
It's fair to say that German Shepherds are one of the most beloved dog breeds in the world!
We hope you had a great time celebrating them in this collection of free German Shepherd coloring pages for kids.
There were so many great representations of this lovable dog to enjoy, and we're sure you made them look amazing with your color choices!
If you had an amazing time working on these pages, you can head to our website to check out the many coloring page collections that are waiting for you there!
You can keep checking in to catch the new collections we have coming soon, too.
Also, please share some of your finished German Shepherd coloring pages on our Facebook and Pinterest pages for us to check out!