Pugs are a dog breed with physically distinctive characteristics, including wrinkly, short-muzzled face, short curled tail, and muscular build. Pugs come in four primary colors: black, silver, fawn, and apricot. They may be naturally mischievous and stubborn, but they can also be very affectionate and loving at times.
The extreme popularity of pugs has created a huge demand for free pugs coloring pages. You asked for it, and we delivered.
Finally, we have created and compiled 10 Charmander coloring pages for your coloring activity needs. Feel free to mix and match various colors to customize your pugs coloring sheets!
With these pugs coloring printables, coloring activities with friends and family are made more fun and easy. Simply choose the image you like, download it, print it out, and finally—the most fun part—color it!
Use your imagination and creativity to bring these charming pugs to life!
REMEMBER: You can get the COMPLETE set of these coloring pages >> HERE
Pug Coloring Pages — 10 Free Printable Sheets
If some people have the so-called "resting bitch face", so can dogs. Pugs naturally have a sad facial expression, as shown in this pug coloring page.
It may look like this pug is in a bad mood because it appears to be frowning, but that's actually what its face looks like on a daily basis. This pug could be in a really good mood, but its facial expression would remain the same.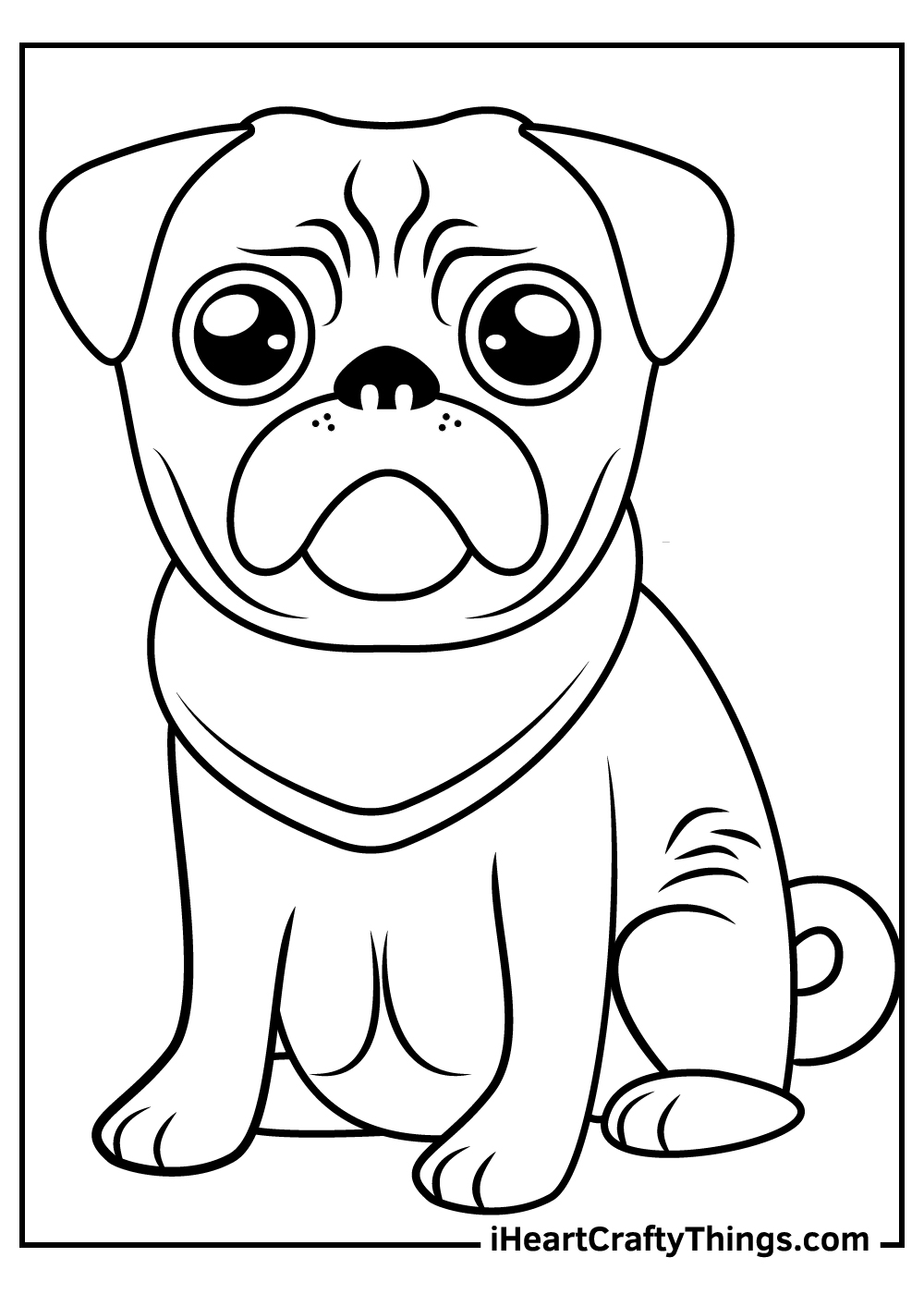 This pug coloring page shows a charming pug with its typical glum facial expression. The pug is looking at the bag of popcorn with a frown on its face. It's funny how there's literally food in front of this pug but it seems like it's not interested in it at all. Perhaps it's just this pug's poker face.
Nevertheless, the pug in this image looks beautiful and healthy with its well-built body. What colors will you use for this printable?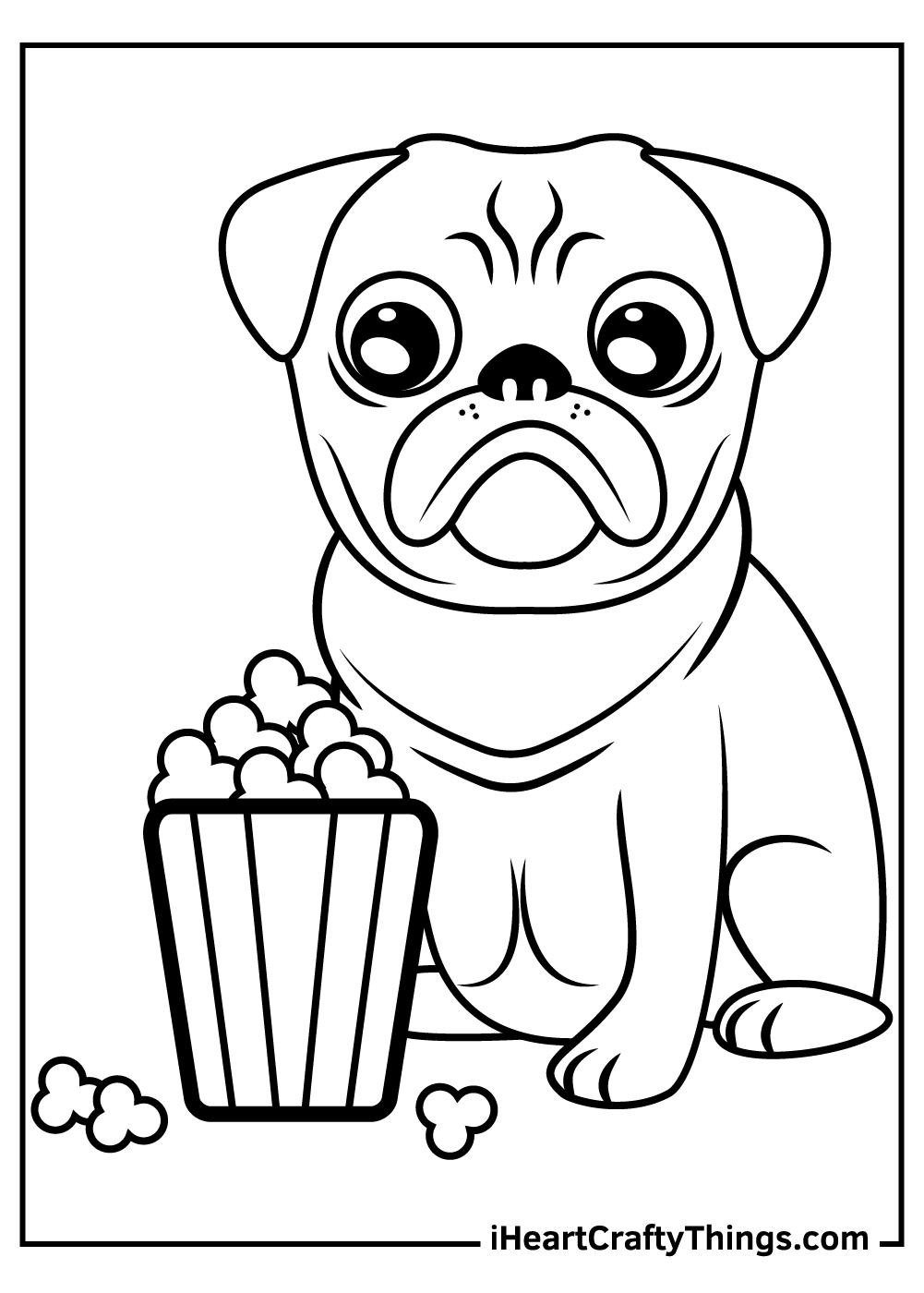 Dogs are naturally curious creatures. Sometimes, they would sit down and observe their surroundings with their watchful eyes, just like what the pug is doing in this pug coloring page.
This pug looks unbelievably cute with its tongue sticking out of its mouth!
REMEMBER: You can get the COMPLETE set of these coloring pages >> HERE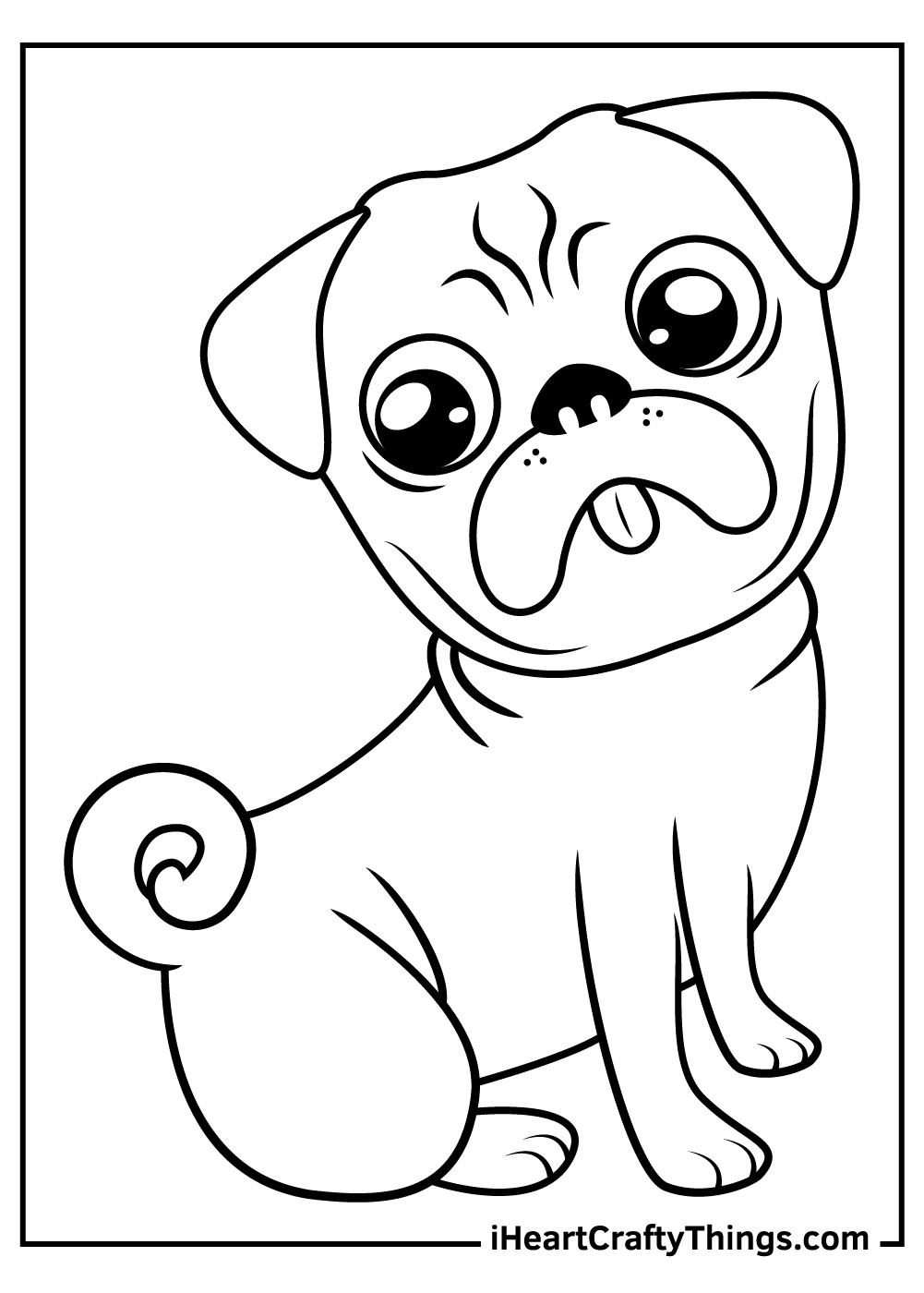 It's a very special day on this pug coloring page! This adorable pug wearing a party hat is celebrating its birthday.
It looks extremely pleased with its huge sparkling eyes and wide smile. It looks like this pug can't wait to blow its birthday cake and lick the icing!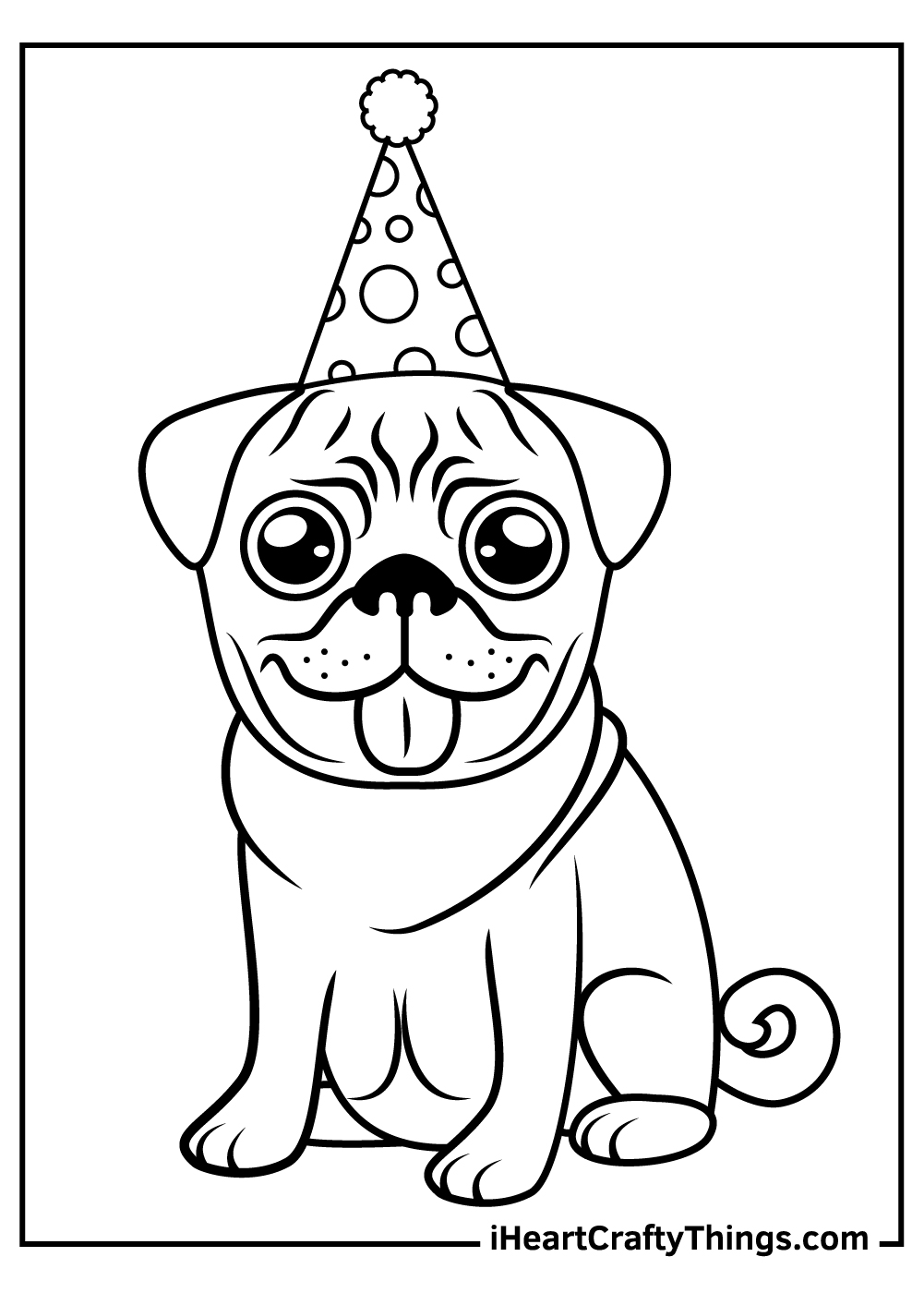 This adorable pug has a special message for you! In this pug coloring page, there's a phrase "I wuv you" written on it with paw marks surrounding the text. The pug looks straight at you with its gleaming eyes and delightful smile—so cute!
It seems like this pug is proud of itself for the artwork it has specially created just for you. How sweet! This pug certainly hopes you appreciate it!
REMEMBER: You can get the COMPLETE set of these coloring pages >> HERE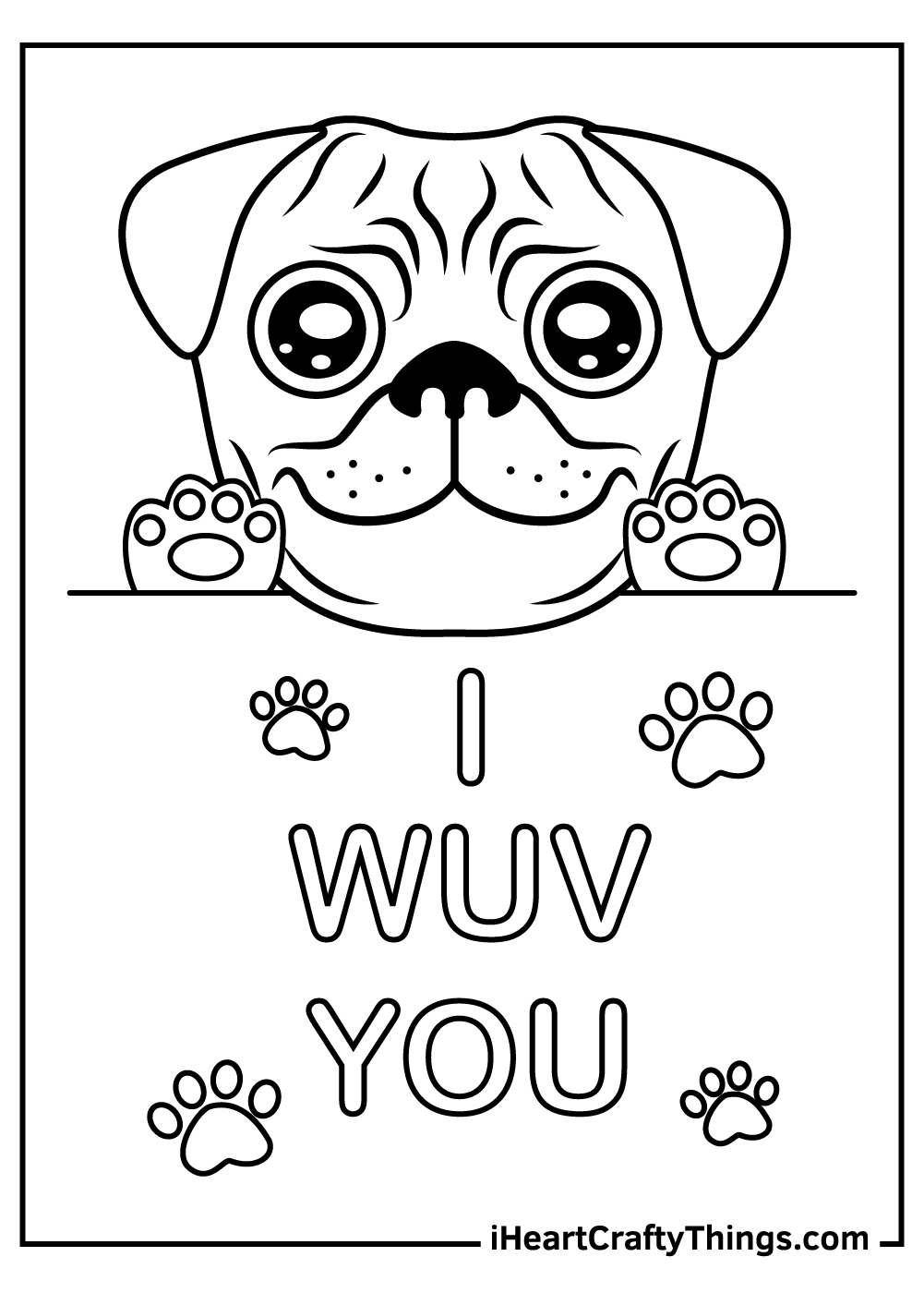 This pug coloring page perfectly captures the rare moment when a pug actually looks pleased. Its huge eyes are gleaming and its tongue is sticking out of its mouth, looking very happy. It also looks extremely adorable wearing a huge bow tie with stars design!
Can you imagine having a pet that looks as cute as this pug? Having a pet pug will surely brighten up your day!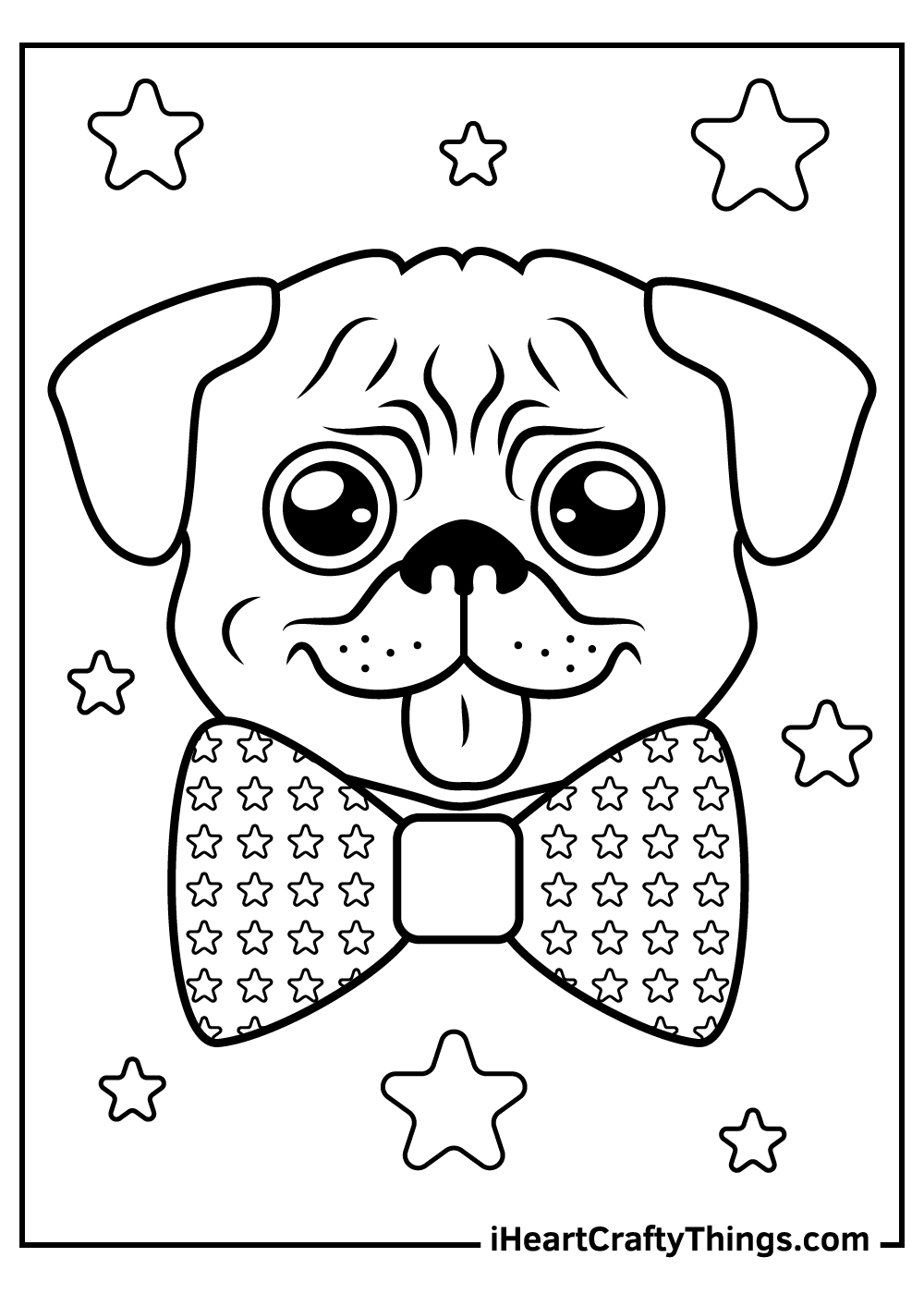 We all know that dogs love munching on bones, and the pug on this pug coloring page is no exception.
This pug is holding a massive bone with his jaw, carefully holding onto it for dear life. Its eyes remain watchful and its posture vigilant, always ready to fight anyone who attempts to take the bone away.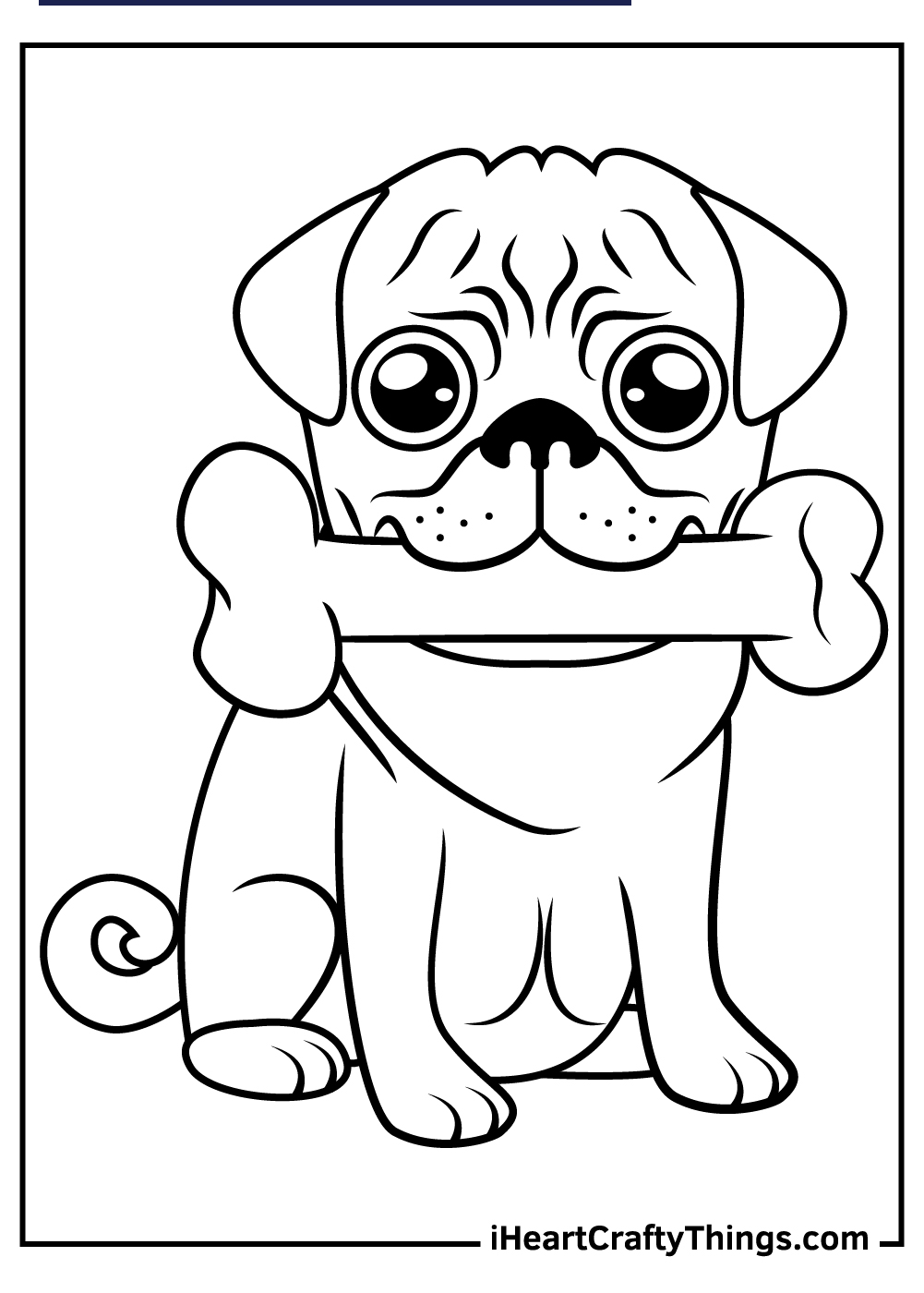 This pug coloring page shows three faces of pugs. Two of them are sticking their tongues out of their mouth, while the other one is holding a large bone with its jaw. The pug in the middle is wearing a party hat, looking very much like a birthday celebrant!
We suggest coloring these three pugs with different colors to make the image more vibrant and colorful. What colors will you use for these cute pugs?
REMEMBER: You can get the COMPLETE set of these coloring pages >> HERE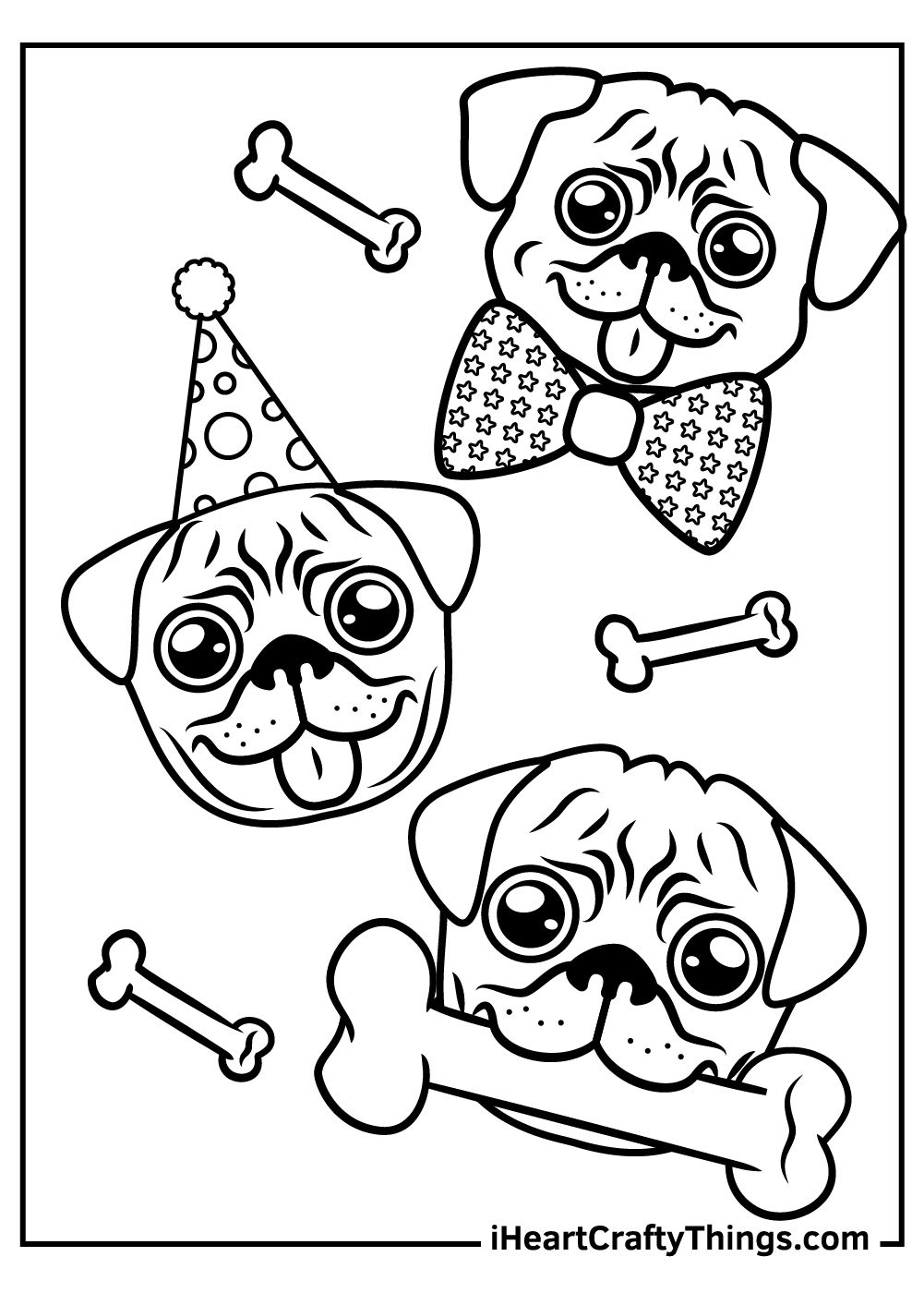 In this pug coloring page, there's an adorable pug peeking at the slice of pizza above the table. The pizza has various toppings, including pepperonis, mushrooms, and olives—so yummy!
This dog's tongue is sticking out, tempted to take a bite of the pizza but it seems like it's fighting back the urge to lick the pizza because it knows the pizza belongs to someone. Hopefully, someone comes to get their pizza from the table before this pug decides to take it away.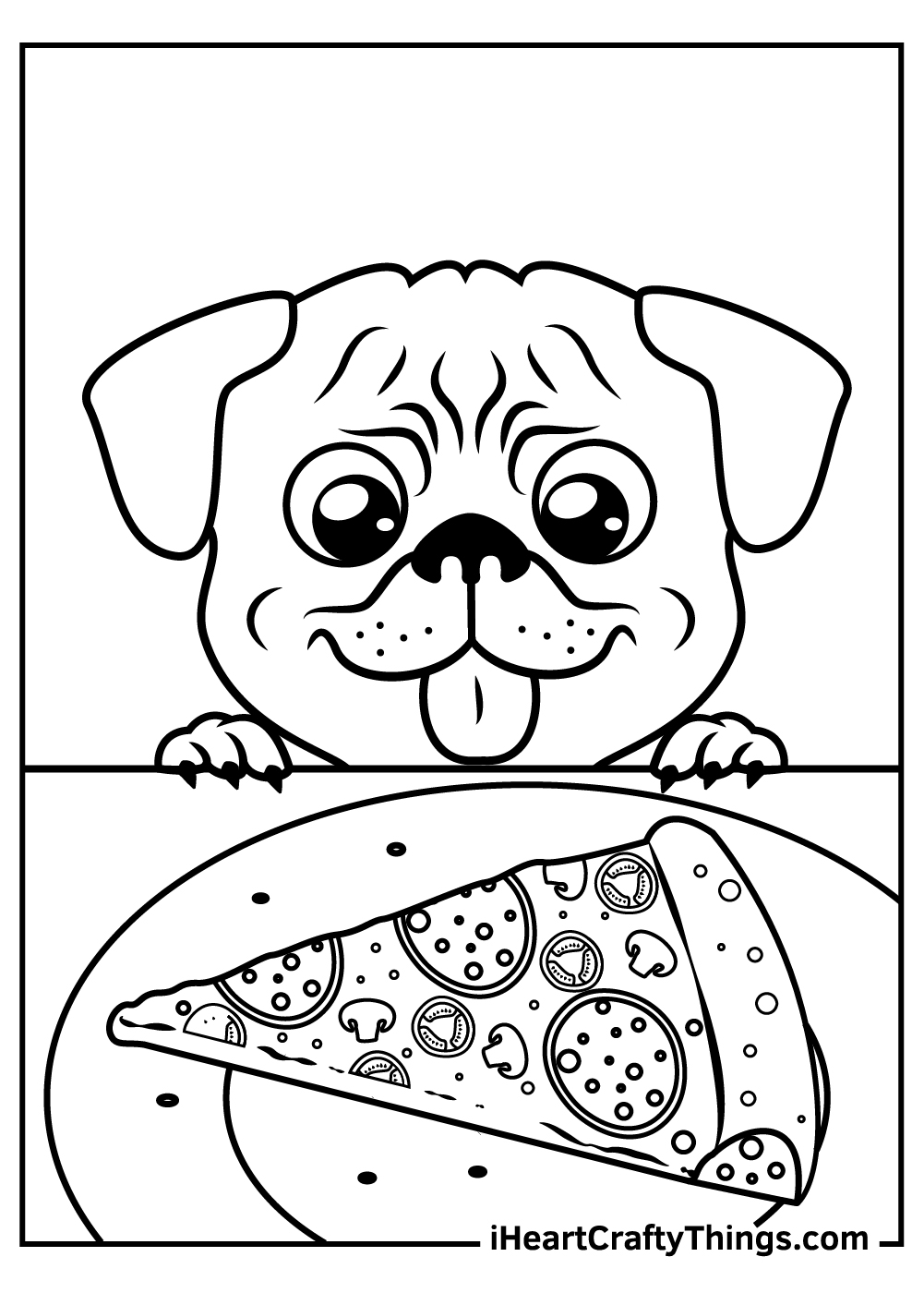 Is it a pug or a pirate? It's an adorable pug dressed as a pirate! In this pug coloring page, the pug is in a full pirate costume.
It is wearing a large pirate hat and the signature eye patch. With its sullen facial expression, this pug definitely looks like a real pirate!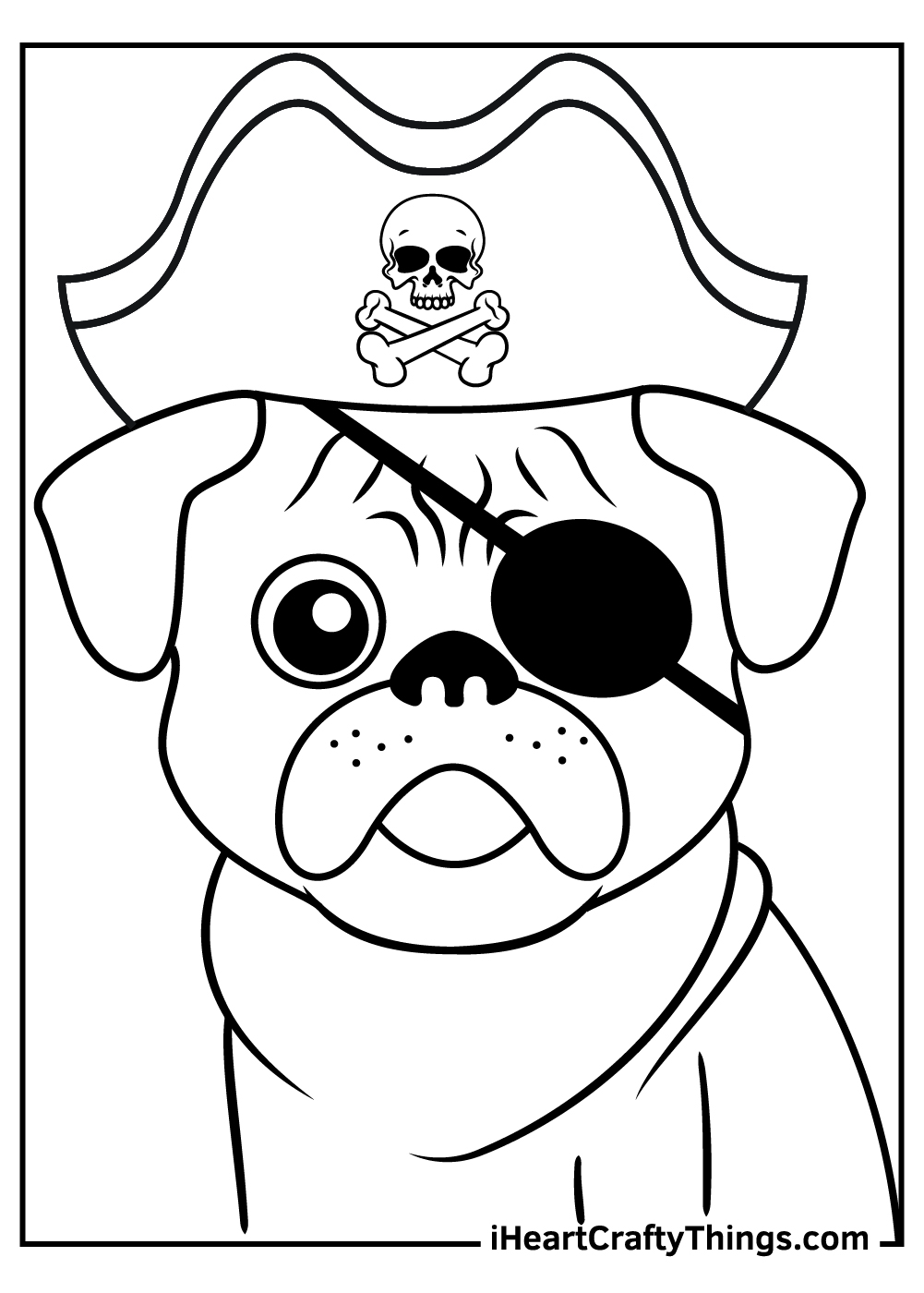 Pug Coloring Pages — Which pug color is your favorite?
We hope you enjoy these pug coloring pages. It consists of simple and intricate illustrations of pugs. Coloring these pug coloring sheets is the perfect activity for kids of all ages whose favorite dog breed is a pug or who love dogs in general.
Remember, all of our crafts and coloring printables are 100% free for you to download, print, and color. We are always updating our catalog and uploading new content to our catalog. So, don't forget to keep re-visiting our website to continuously enjoy all-new coloring pages.
Once you've finished coloring your pug coloring printables, you must be very proud of yourself for completing a masterpiece—as you should be! Make sure to show off your work of art and share it on our Facebook page. We're sure it looks amazing!
We can't wait to see how your imagination has brought these cute pugs to life!
REMEMBER: You can get the COMPLETE set of these coloring pages >> HERE