Car enthusiasts are very particular when it comes to their motoring tastes. Some favor style, some favor muscle and horsepower while others like a combination of these aspects.
For fans of this kind of vehicle powerhouse, hot rods provide the perfect mixture of style and pure power for car lovers to enjoy.
This awesome collection of free hot rod coloring pages for kids will give you an incredible selection of these amazing vehicles for you to enjoy.
You will get to use some amazing bright and beautiful colors when completing this collection.
Every one of these incredible hot rod coloring pages are free for you to print out as many times as you like!
This let's you experiment with all sorts of different combinations and styles that you want to try. You can also share this collection with other car lovers you know to enjoy as well.
Prepare for some high-speed coloring good times as you drive into this collection!
When you have finished coloring your favorites from this series, please share some of your finished pages on our Facebook and Pinterest pages. We can't wait to see how they turned out!
10 Brand New Hot Rod Coloring Pages – Free to Print and Color
The first page in this collection features an awesome vintage styles hot rod for you to color!
This one looks like it is from a classic style of car design, and it would be sure to turn heads as it drives down the street! It also has the classic hot rod flames on the side, and that allows for some great, bright colors.
Ill you go for those bright colors or keep the colors more muted for a vintage feeling? We can't wait to see what you choose!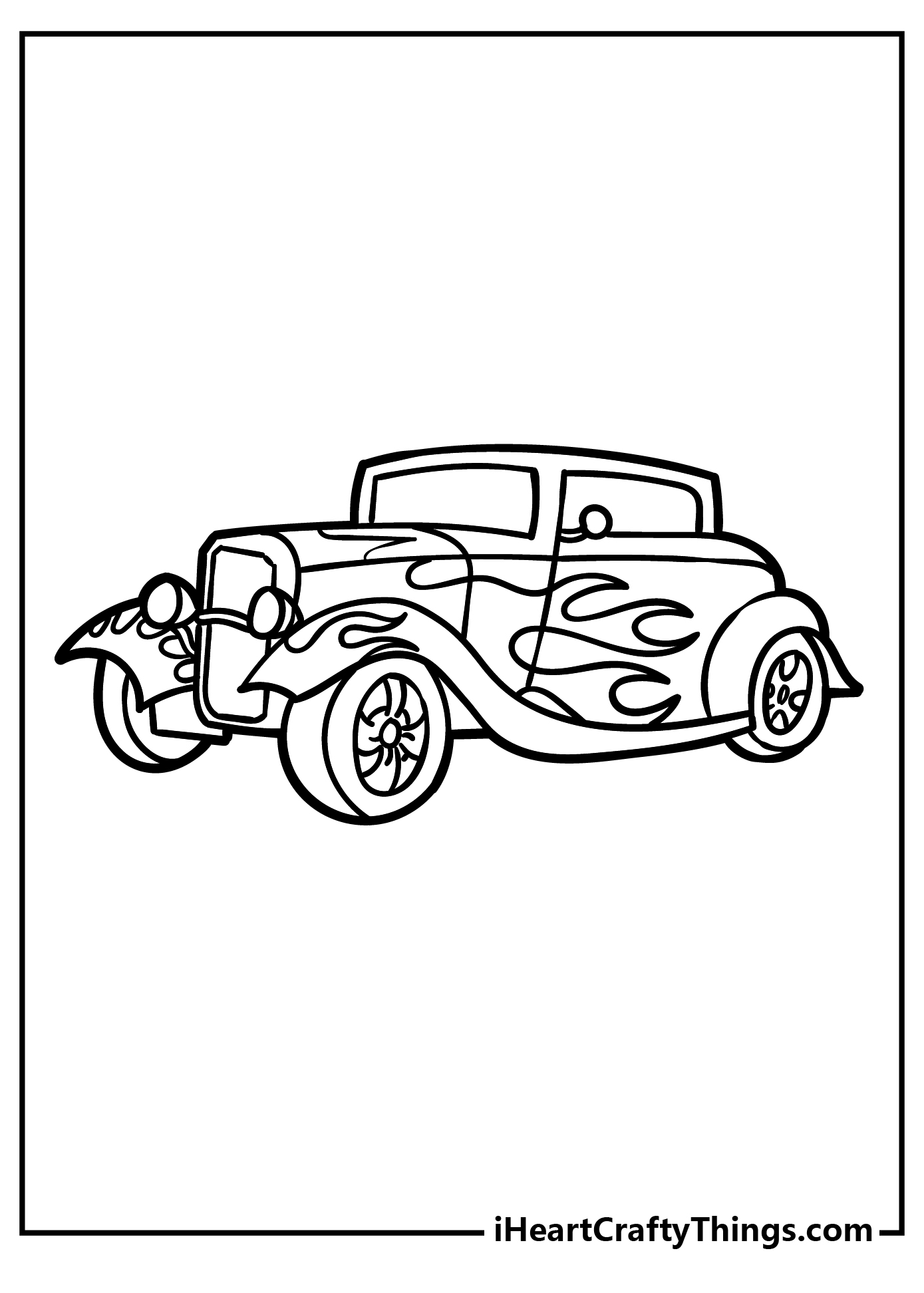 This second free hot rod coloring page for kids that we have for you is full of power!
This one is more engine than anything else, and that would be sure to satisfy the power needs of even the toughest drivers desire for power!
We can only imagine the mighty engine roars this beast would provide. This one feels like it would benefit from the brightest, loudest colors in your collection.
Which colors and art mediums do you think would suit this beast of a hot rod?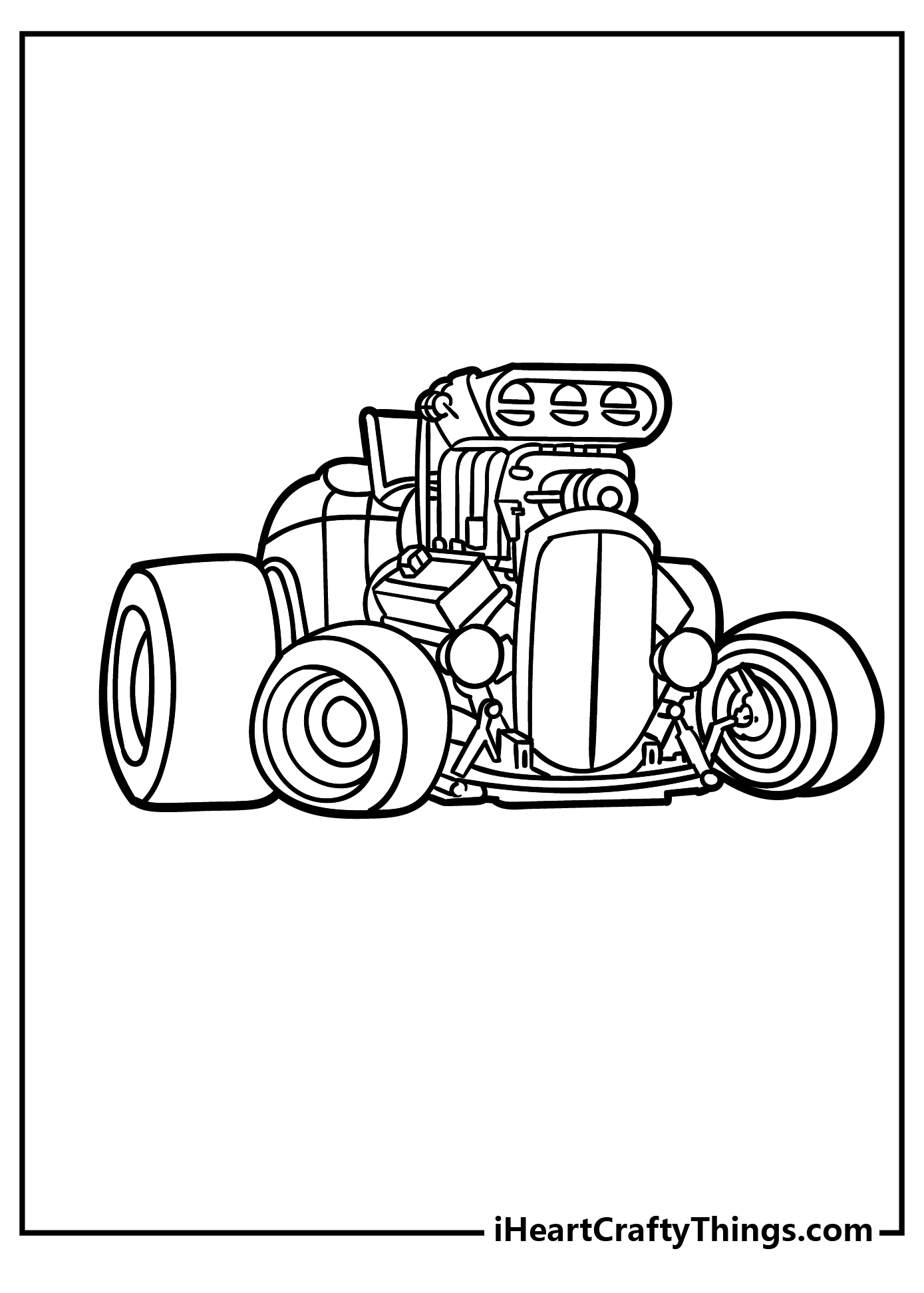 Our next page features a hot rod that is a lot sleeker than the previous one. This one may not have the raw power of the second page, but it makes up for it with some elegant style!
The sleek design of this car is complimented nicely by the flames on the side, and it could look cool to have a combination of hot and cold colors.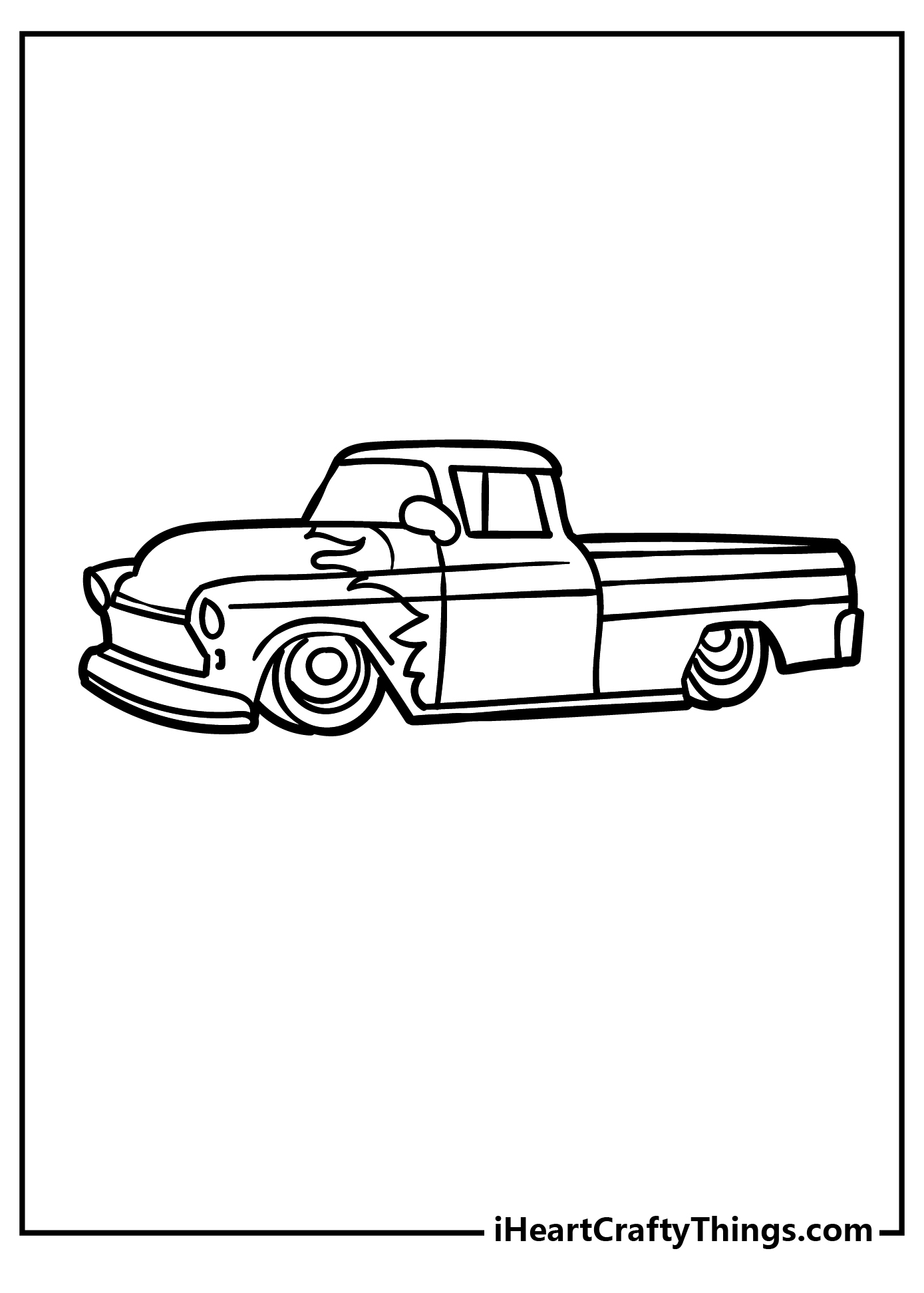 We have another understated design for you to enjoy in this next hot rod coloring sheet! This one also has a sleek, vintage design to it that we love.
Now, the only question is what colors will you choose for it? If you were coloring this one, we would go for some lighter blues and greys, as we think that would compliment the style of this car.
Do you think you will go for a similar approach or are you thinking of something else?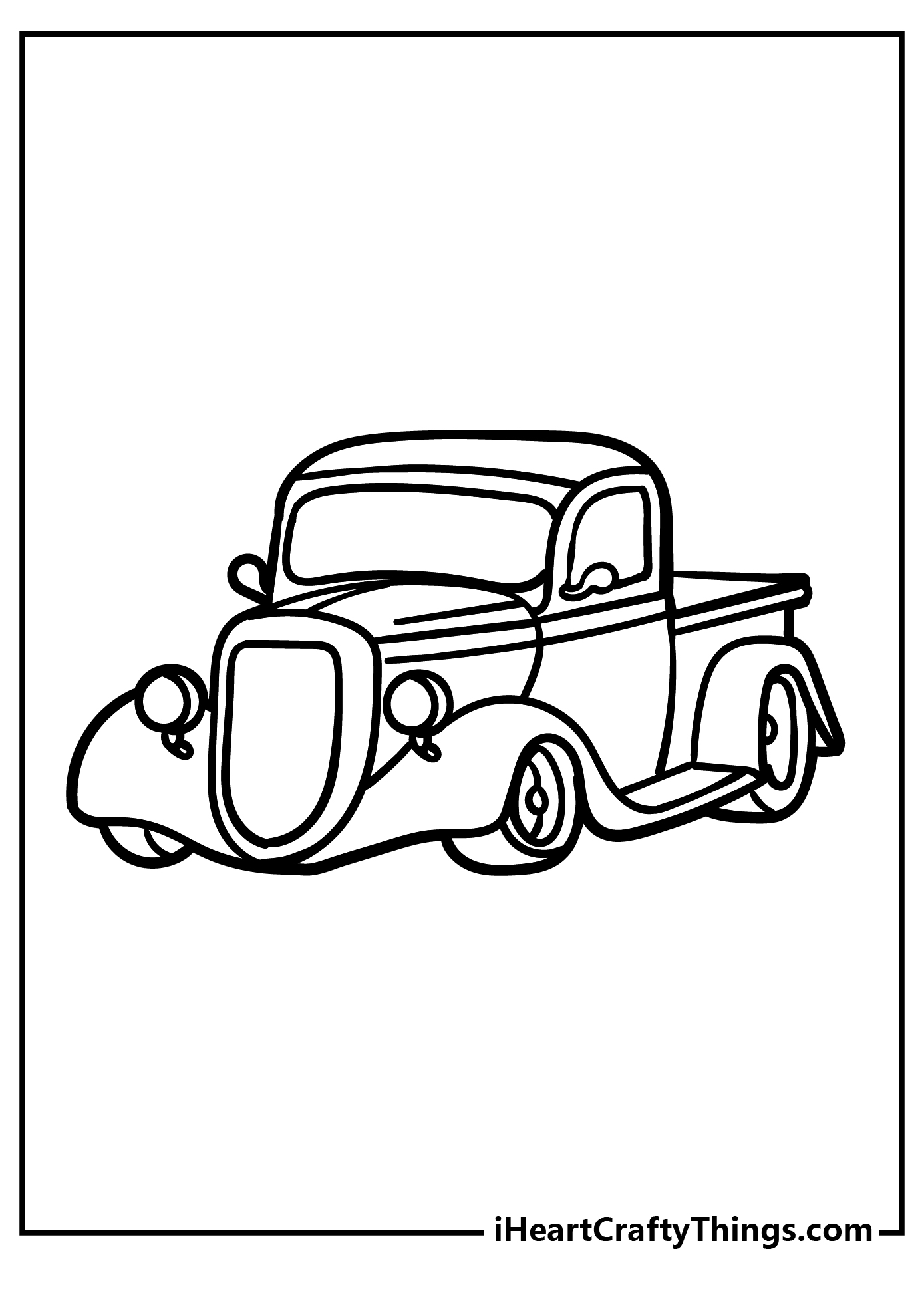 This next hot rod also oozes classic vintage style! With this one, you have another vehicle that makes up for what it lacks in power with the elegant style it displays.
What colors came to mind for you when you first saw this one? This is another car that we would also use lighter colors for if we were coloring it.
Bright, loud colors would also look great, so it's all up to your personal preference!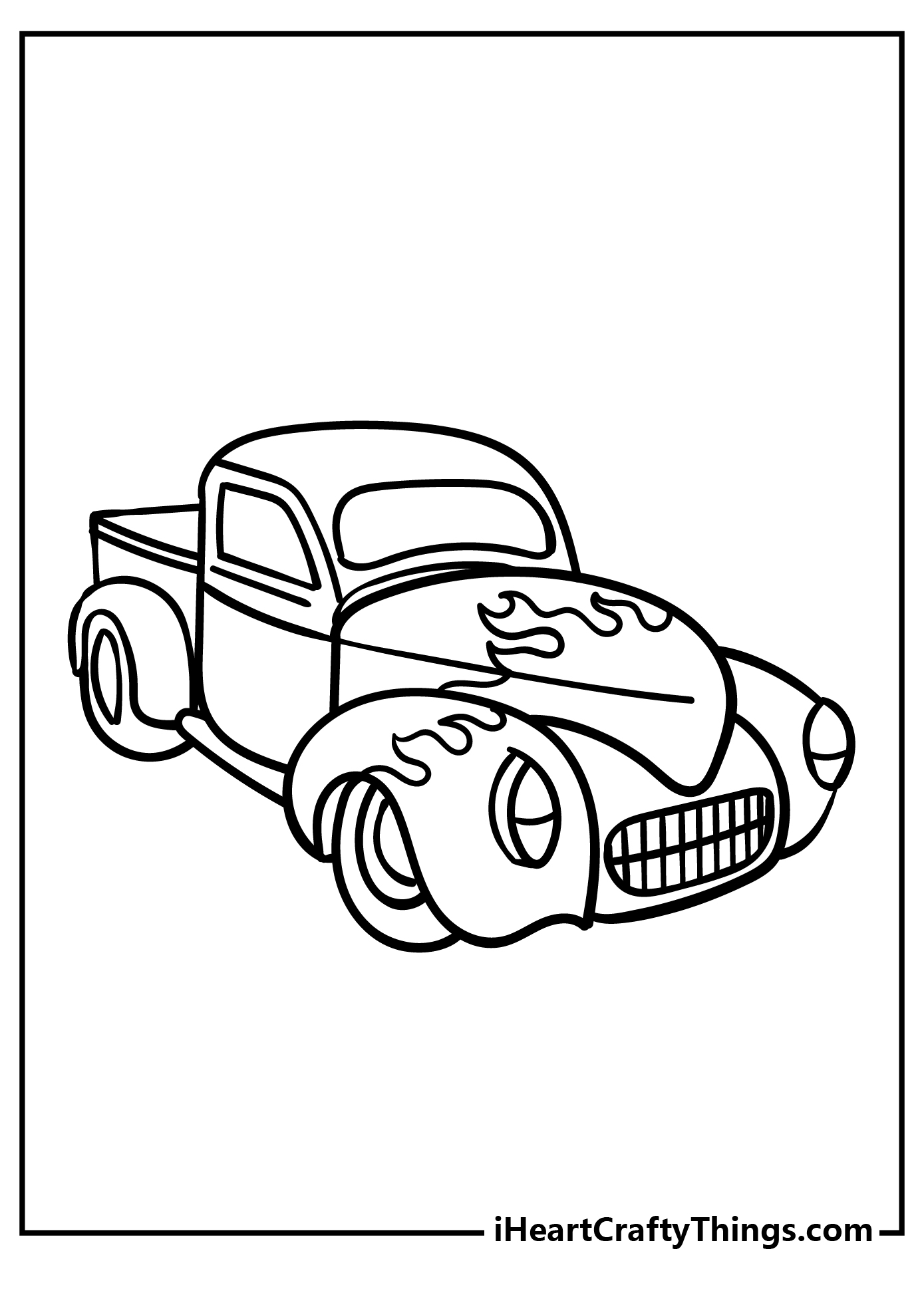 Now here's an awesome car we have to color in this hot rod coloring printable!
This one has some more hot rod flames, and that's always a welcome addition because it allows for some bright, striking colors.
If you want bright colors, you can also choose certain mediums to compliment this style. Some examples would be some acrylic paints or especially some colored pens and markers.
What favorite art tools will you choose for this one?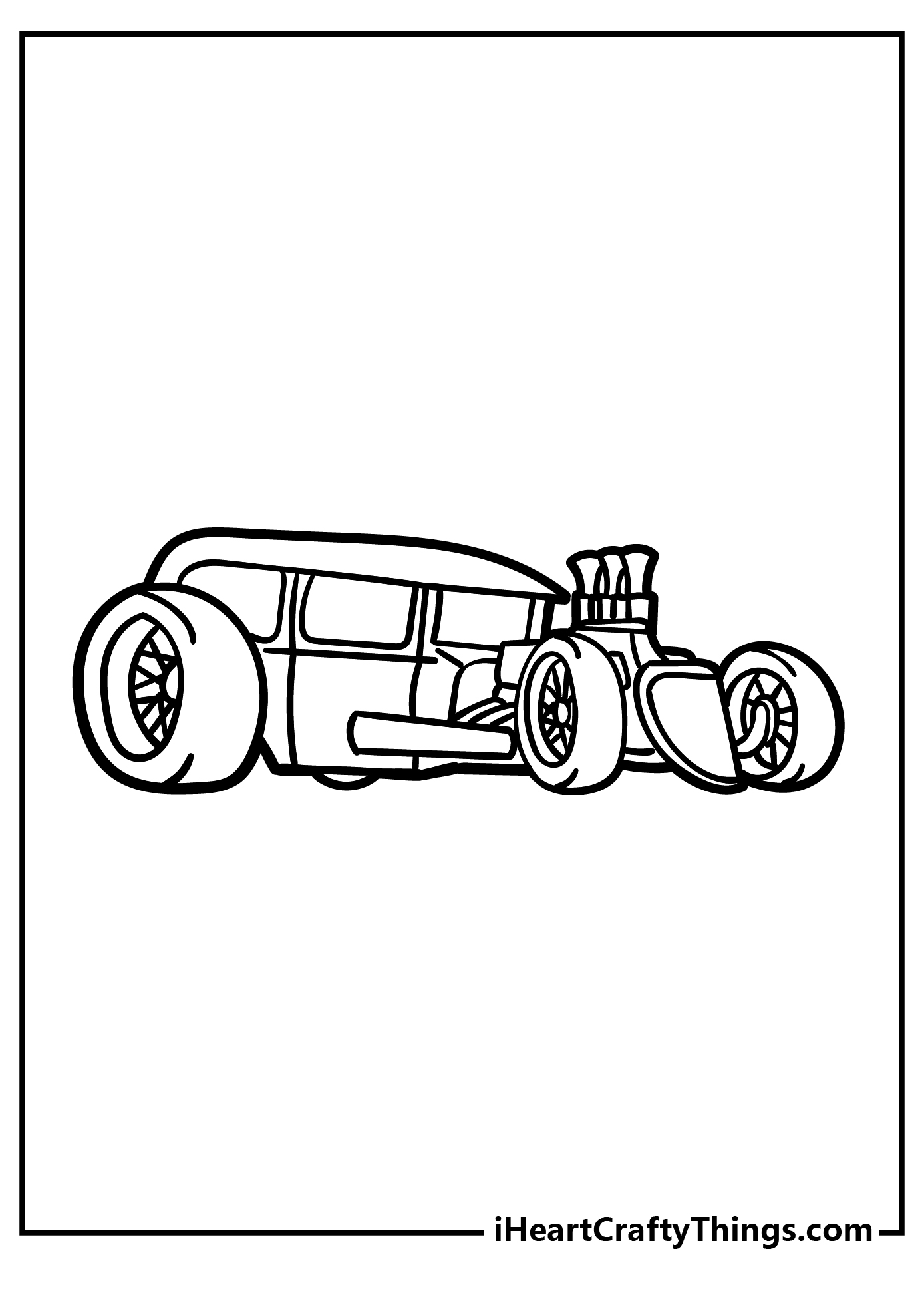 The next vehicle we will be coloring has a very interesting design! It's another one where the engine takes up a lot of space in the design.
That may make for a less elegant design, but it makes up for it with increased power and a mighty roar!
The wheels at the back are also huge, which must make driving it around even more fun. Will you draw a background with some extra elements for this mighty car?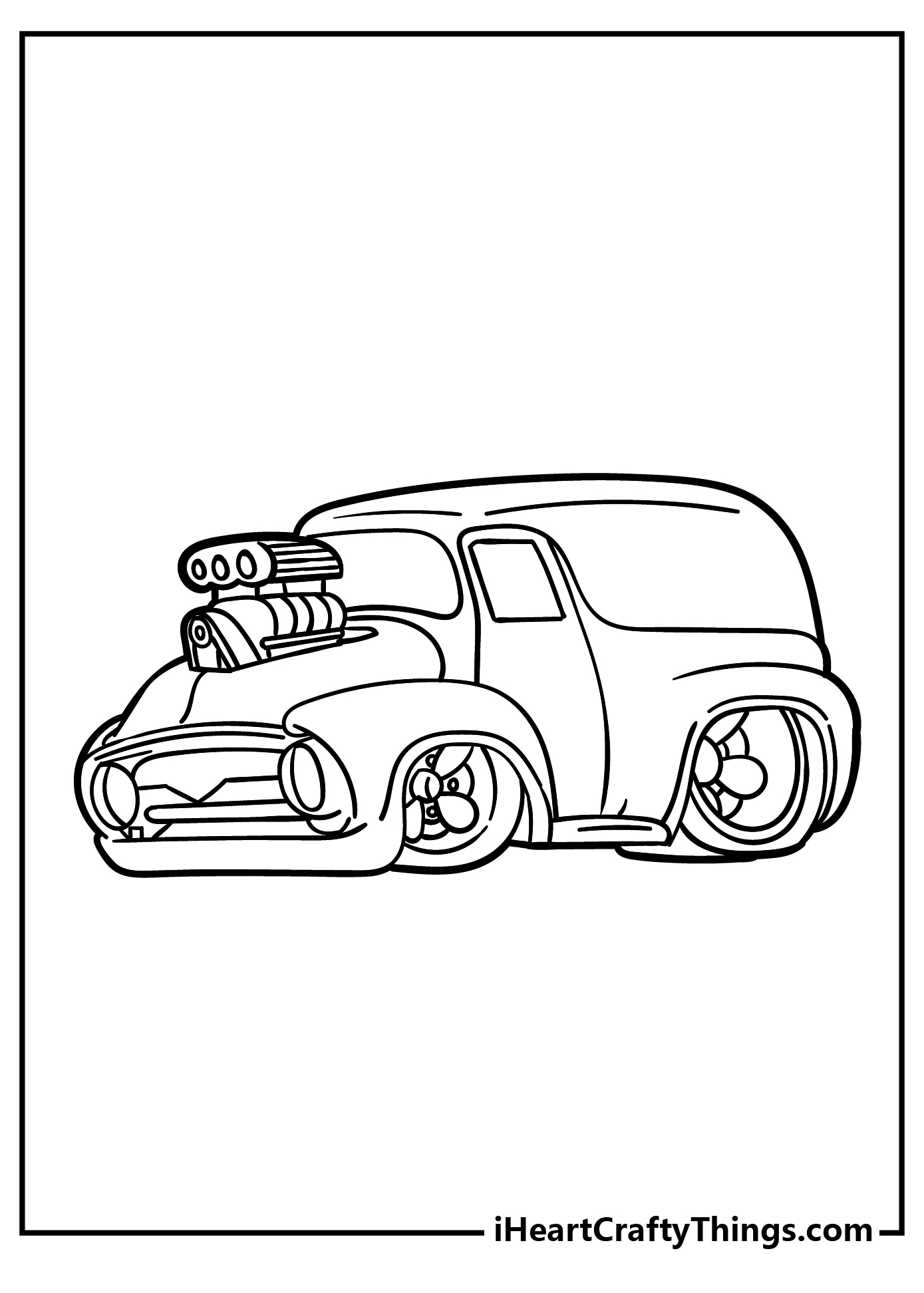 Here's another rather unusual design that we have for you in this next hot rod coloring page. This one has a van-like design, which you may imagine would affect how it handles!
It compensates for its less aerodynamic design with a massive engine at the front, so it would be interesting to see how this one handles!
What colors are you thinking of using for this unusual hot rod?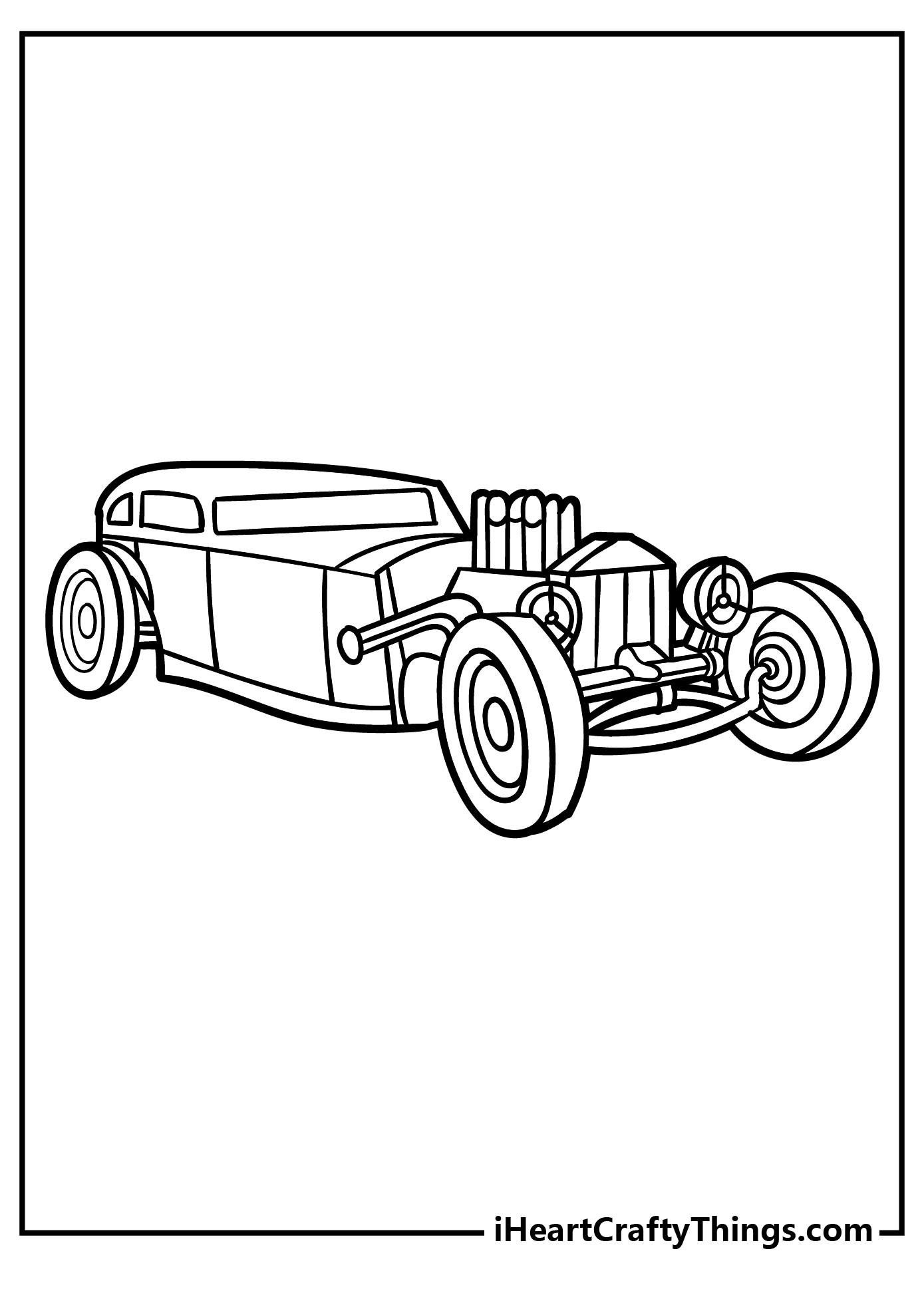 We have one more vintage-style hot rod for you to color before we reach the final page of the collection.
This one looks like it is from many years ago as well, and it is also dominated by a large engine. The style of this one is incredible, and it's waiting for you to finish it off with some colors!
What kind of approach do you think would best suit this classic hot rod? You could also draw some flames or other details onto the sides to bring a modern touch to this beauty.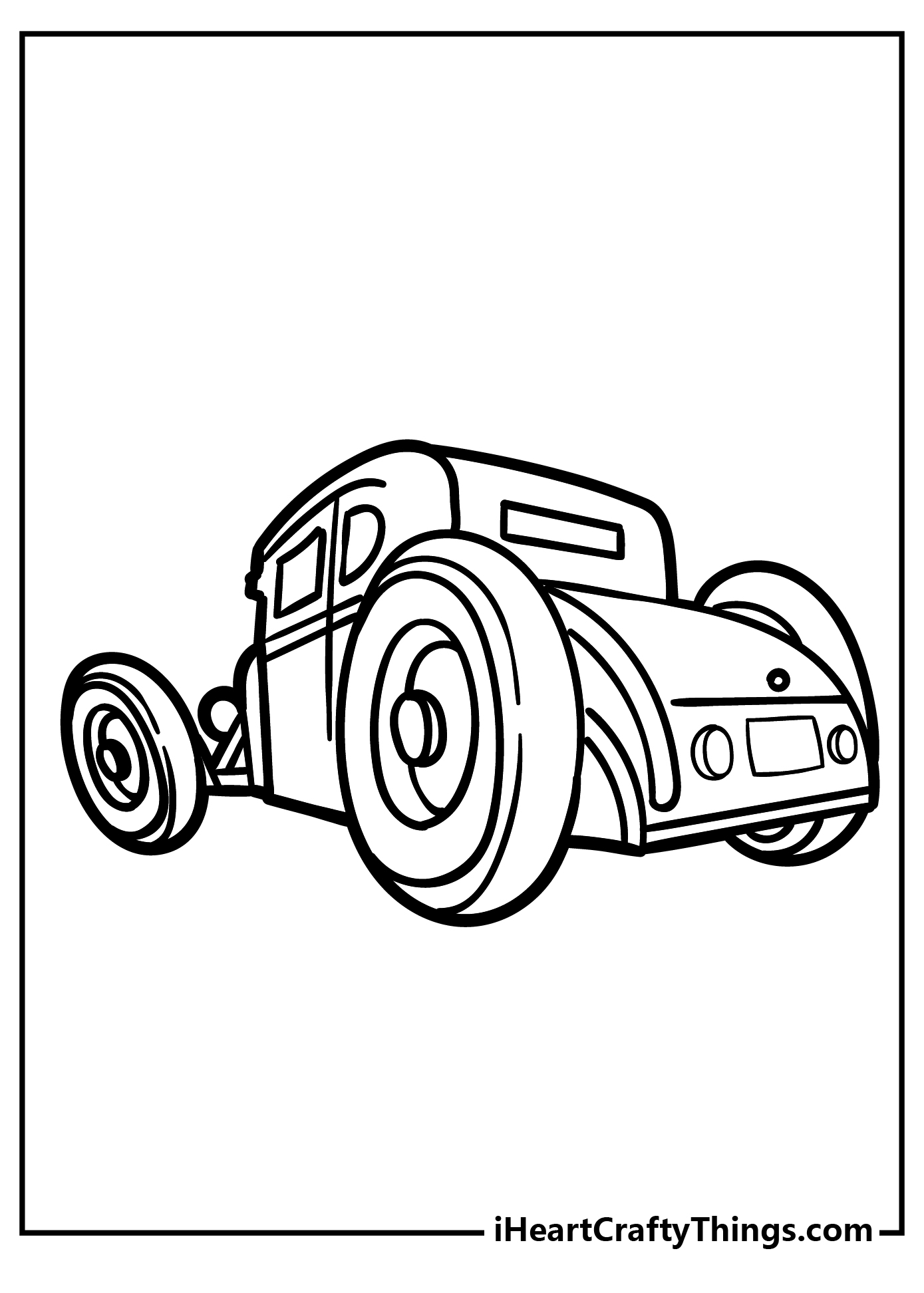 What a cool angle we have for you to color in this final page! This hot rod is also rather vintage in style, and we are afforded a unique view from behind as it drives off.
This would be a great one to add some background details to!
For an extra fun touch, you could glue some cotton wool behind it to make it look as if it is spewing smoke! What mediums or crafts will you use for this one?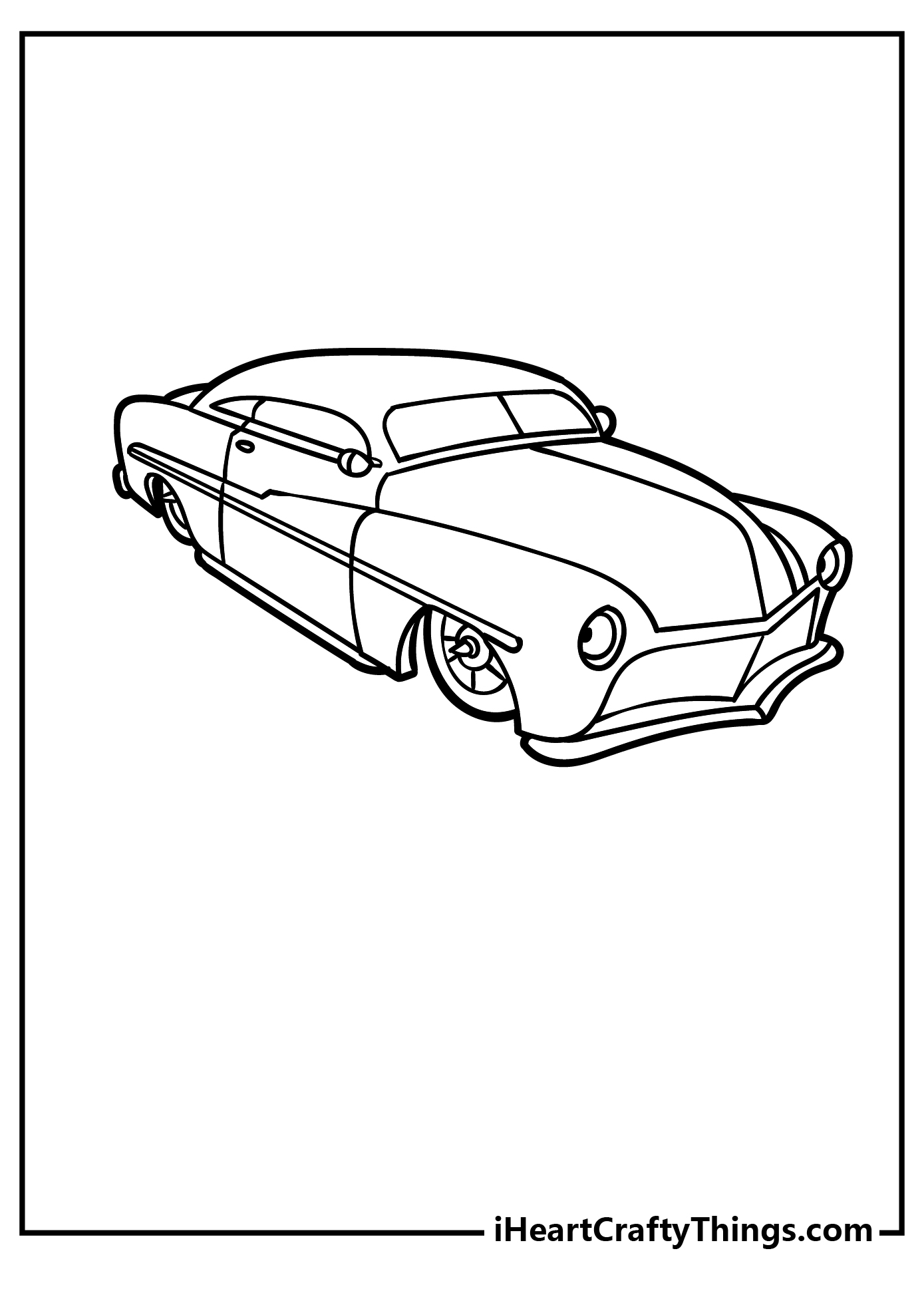 Hot Rod Coloring Pages – Which will you choose?
There is a great deal of style and power contained within the pages of this collection of free hot rod coloring pages for kids!
We hope that working on this collection provided a lot of coloring thrills for you to enjoy, and we know you will have done an awesome job on them.
If you had a great time working on these pages, you will be able to find many more coloring page collections on our website to enjoy! We can't wait to see you there for some more coloring fun time.
It would be fun to see how you colored these hot rod coloring sheets, so please share some of your finished pages on our Facebook and Pinterest pages!