On this page, you will find 10 all new Tractor coloring pages that are completely free to print and download.
Children enjoy playing with all sorts of vehicles and machines. They are fascinated with cars, trucks, construction equipment, and all things that have wheels and move around.
So, we're sure your child will be just as excited to discover our tractor coloring pages.
This wonderful coloring collection that you can download and print for free will help your little one develop his creativity and imagination.
10 Brand New Tractor Coloring Pages – Free to Print and Color
Tractors have been around since the 19th century, but the first machines that were built were very different from the tractors that people use these days.
They were heavy and bulky, and they were powered by steam engines.
Modern-day tractors are a lot smaller and lightweight, and they are used in agriculture, construction, road building, and so on.
The first tractor coloring page in our collection depicts a tractor on a field. Its main purpose is to pull farm equipment.
After coloring the tractor and the field, you can also add some clouds and birds in the background.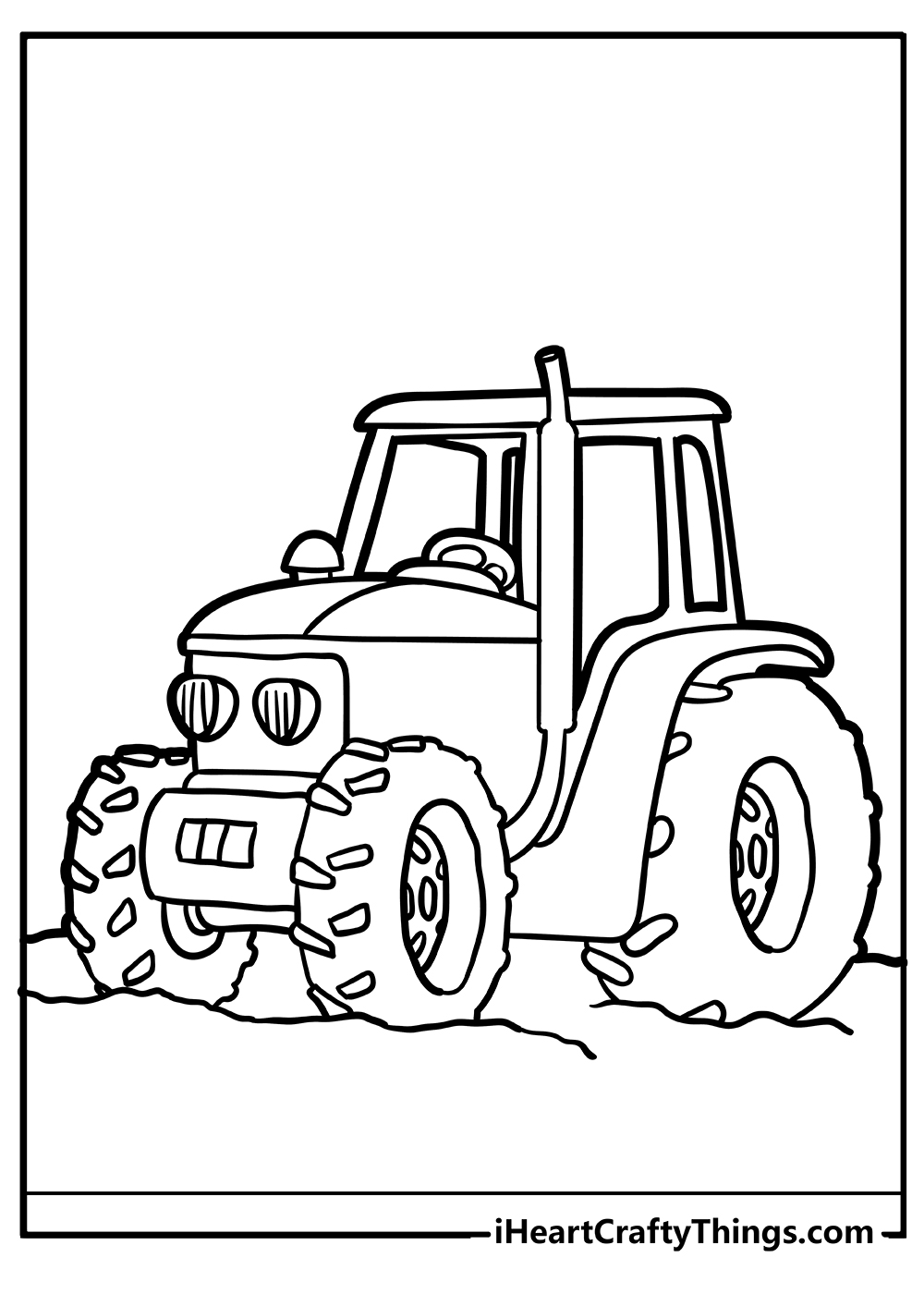 Every farmer needs a tractor that they can rely on. These pieces of machinery can help farmers perform all sorts of tasks, from routine landscape maintenance to spreading fertilizers or cultivating the land.
The tractor featured on this coloring sheet looks quite simple, but despite its basic appearance, it's capable of handling a variety of agricultural attachments.
It also makes for a great coloring subject as you can get creative and use different shades for each component. So, grab your crayons and get ready to practice your coloring skills!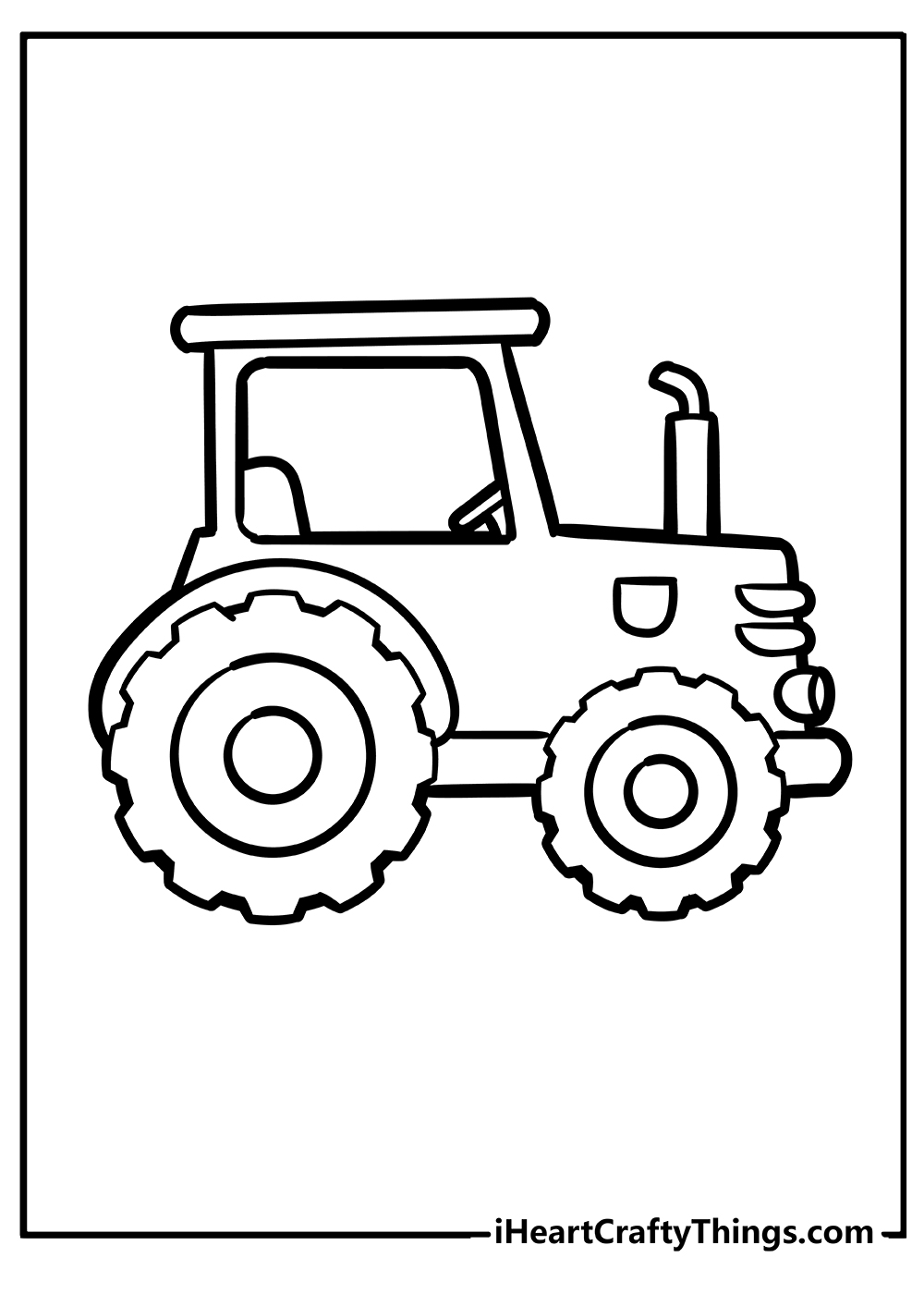 Have you ever wondered why the rear wheels of a tractor are so much bigger than the front ones?
The explanation is pretty simple: the huge rear tires provide better leverage and traction, turning the tractor into a pulling master.
They also help the tractor get past obstacles on bumpy terrain, carry heavy loads, and avoid getting stuck in the mud.
The tractor depicted here looks very solid, with its massive rear wheels. Color them in any shade you like and then continue with the rest of the components.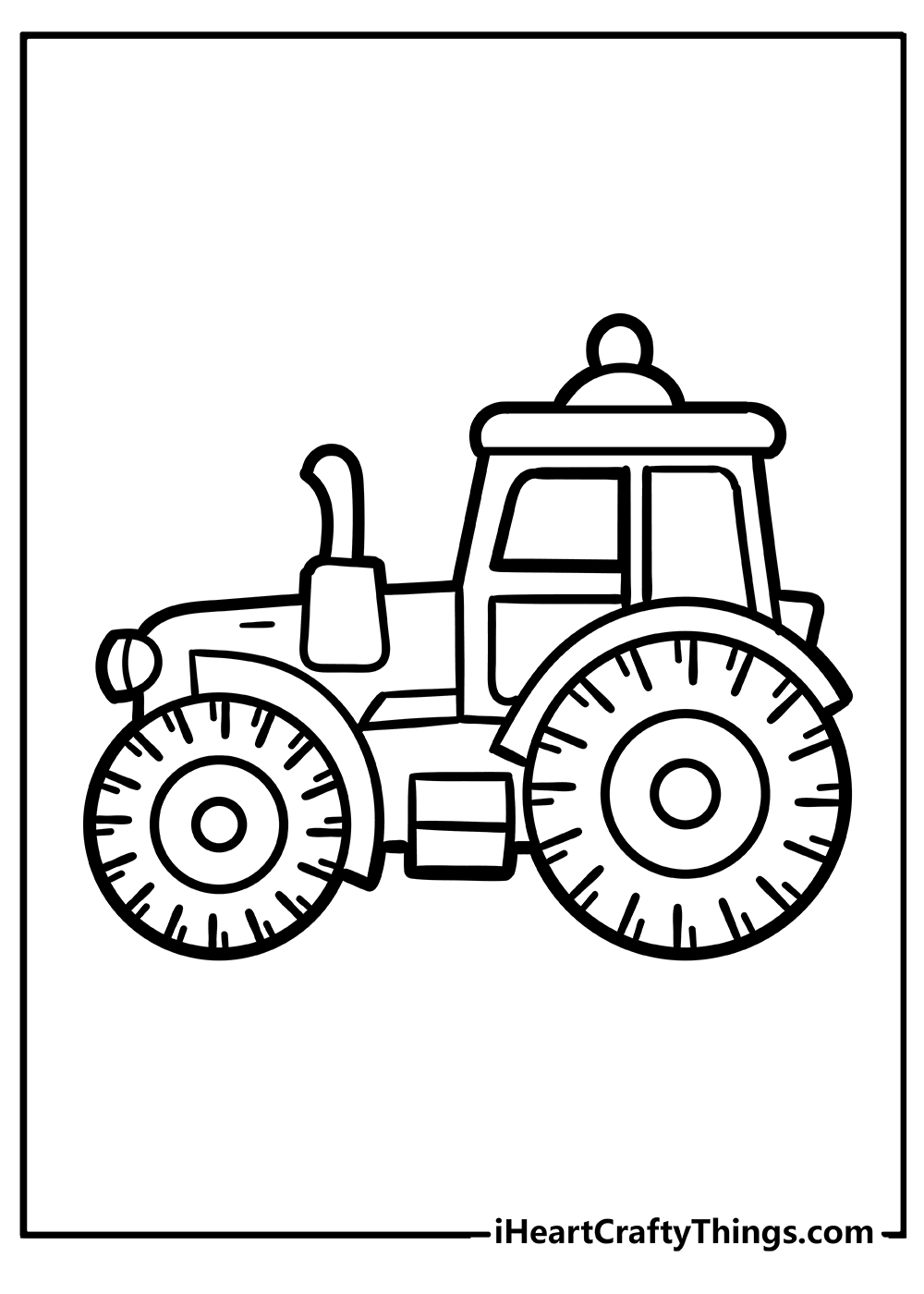 There's a lot of work to do on a farm. Farmers have to take care of the landscape, plant and harvest crops, raise animals, fix farming equipment, etc. You can never get bored working on a farm.
On our next tractor coloring printable you can see a tractor pulling a trailer on a field. There's also some greenery in the background.
The farmer is not in the picture, so we assume he decided to take a short break. While he's resting you can get to work and color the tractor, the trailer, and the lovely farming scenery.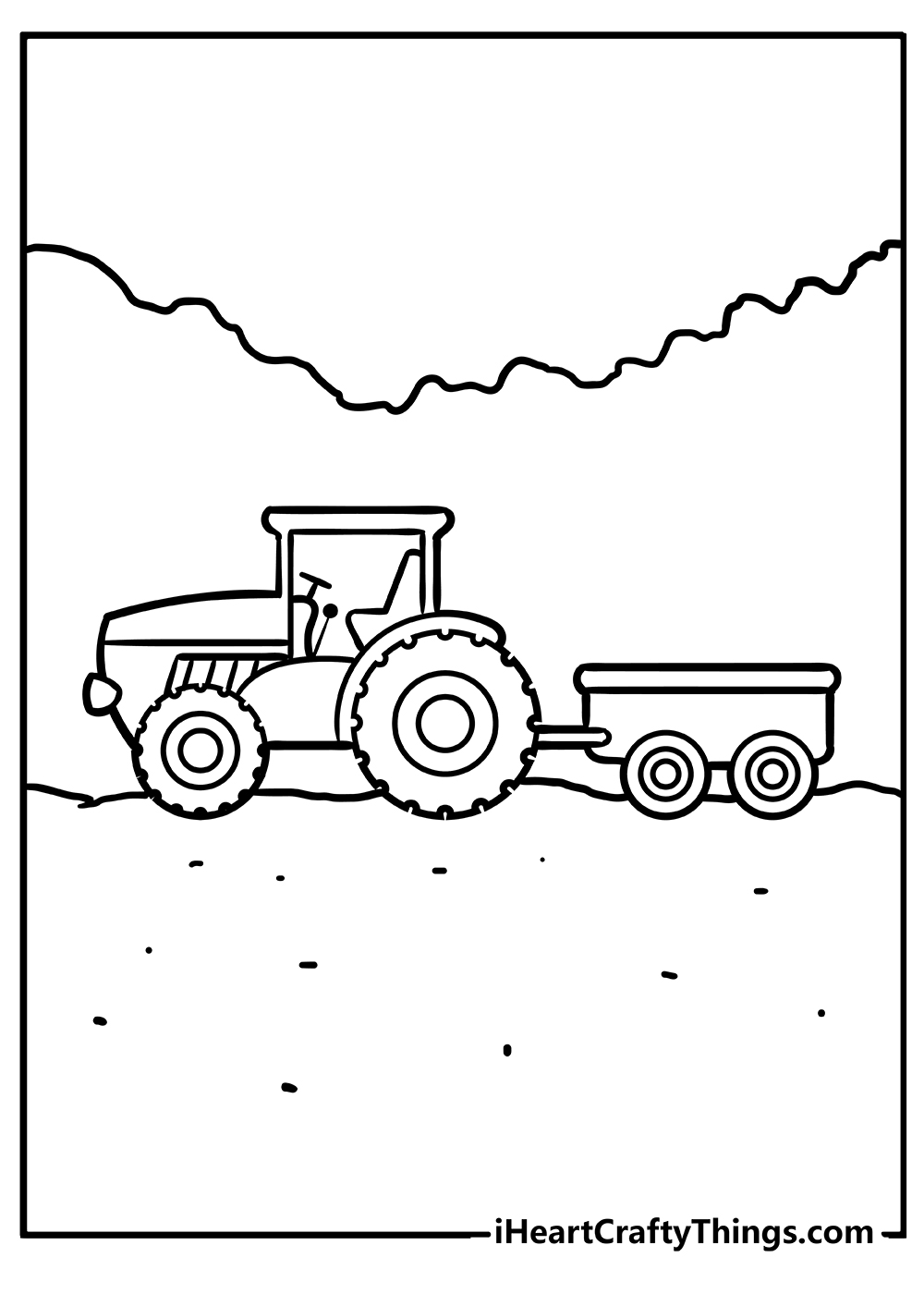 Tractors are heavy-duty machines that can pull all types of farm equipment for plowing, planting, harvesting, and cultivating crops.
Different tractor models have different towing capacities, but they can all haul a variety of heavy objects.
As you can see on this coloring page, the tractor has a hook on its rear to attach different pieces of equipment to it.
Maybe this tractor is on its way to pick up a rotary mower, a landscape rakes, a disc harrow, or a spreader. In the meantime, you can pick the shades you want to use to color it.
Tractors may be strong and powerful, but they are not very fast. That's because they weren't designed to compete in a race.
Tractors are usually used for transporting, hauling, cultivating, and all sorts of similar tasks.
On this tractor coloring sheet, we have a sturdy tractor going downhill on rough terrain. There are rocks on the ground and a few bushes in the background.
We don't know exactly where it's going, but it seems to be in a hurry.
Fortunately, you can take all the time you want when coloring this sheet. You can experiment with different color combinations and explore your creativity.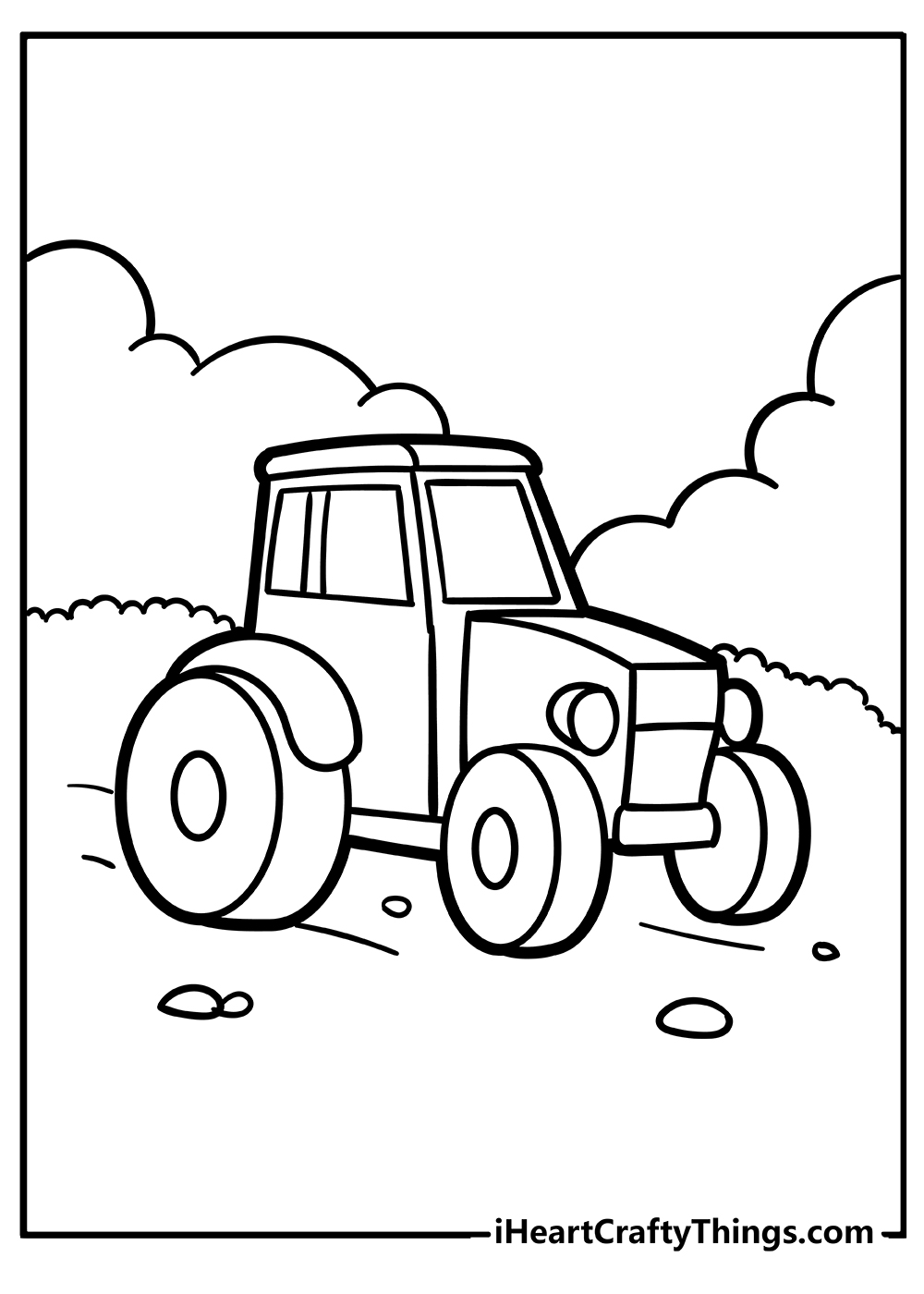 A tractor isn't considered the star of all farming tools for nothing. They're massive, powerful, and can perform a wide variety of tasks, from land clearing and cultivating to fence building or snow removal.
Apart from that, tractors also look very imposing, just like you can see on this coloring page. The tractor pictured here is parked on a field, with a patch of vegetation behind it.
Its big tires are the reasons why it works perfectly on this muddy field. You can use the traditional bright red to color it and make it stand out.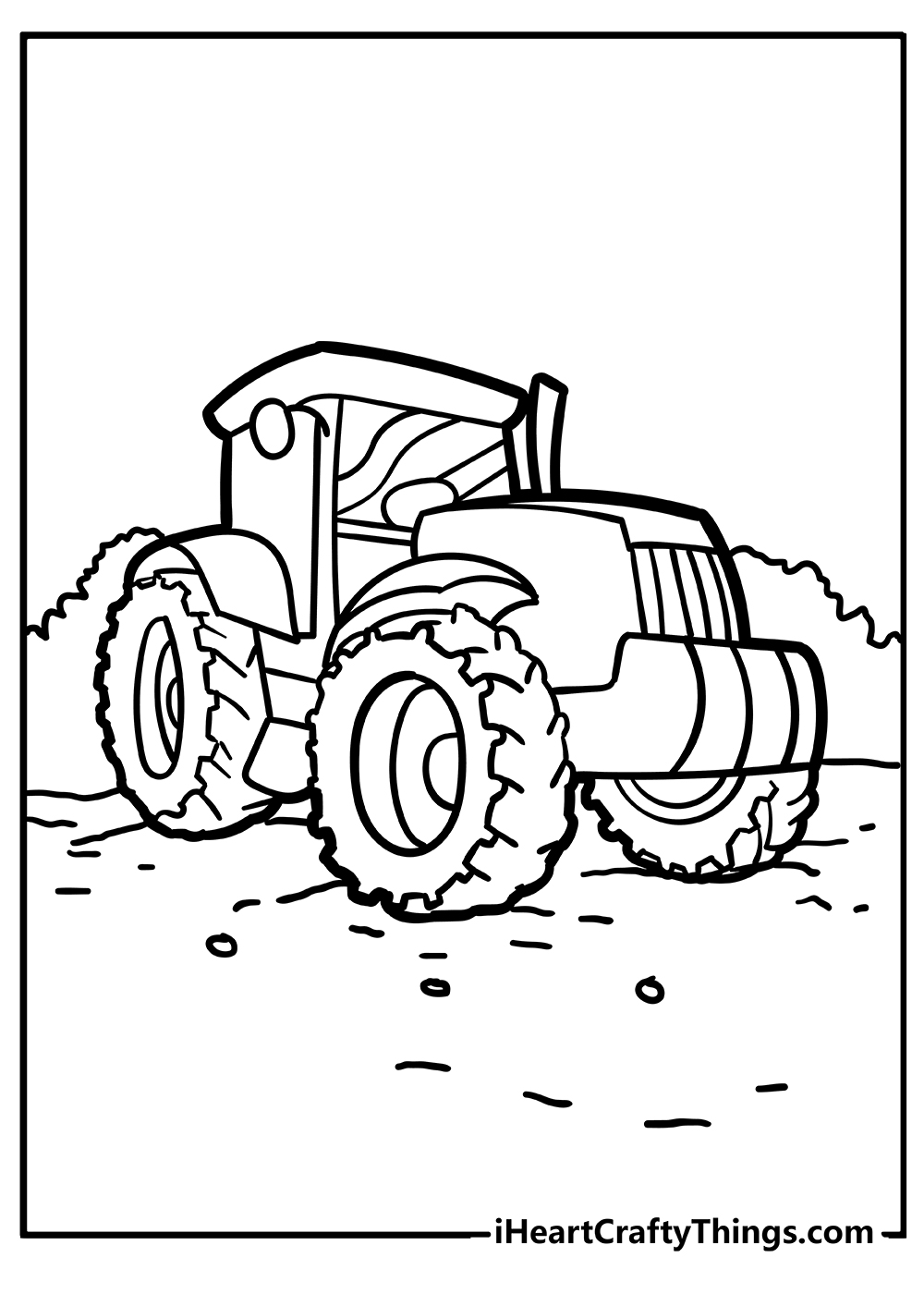 Here's an interesting fact about tractors that you probably didn't know: back in the day, they used to have metal wheels instead of the rubber tires they have now.
It would be pretty odd to see a tractor with steel wheels on a field, don't you think?
This next tractor coloring printable shows a side view of a tractor on a typical farm setting. It's standing in the middle of a field surrounded by greenery.
There are no metal wheels in sight, so it's definitely a modern-day tractor.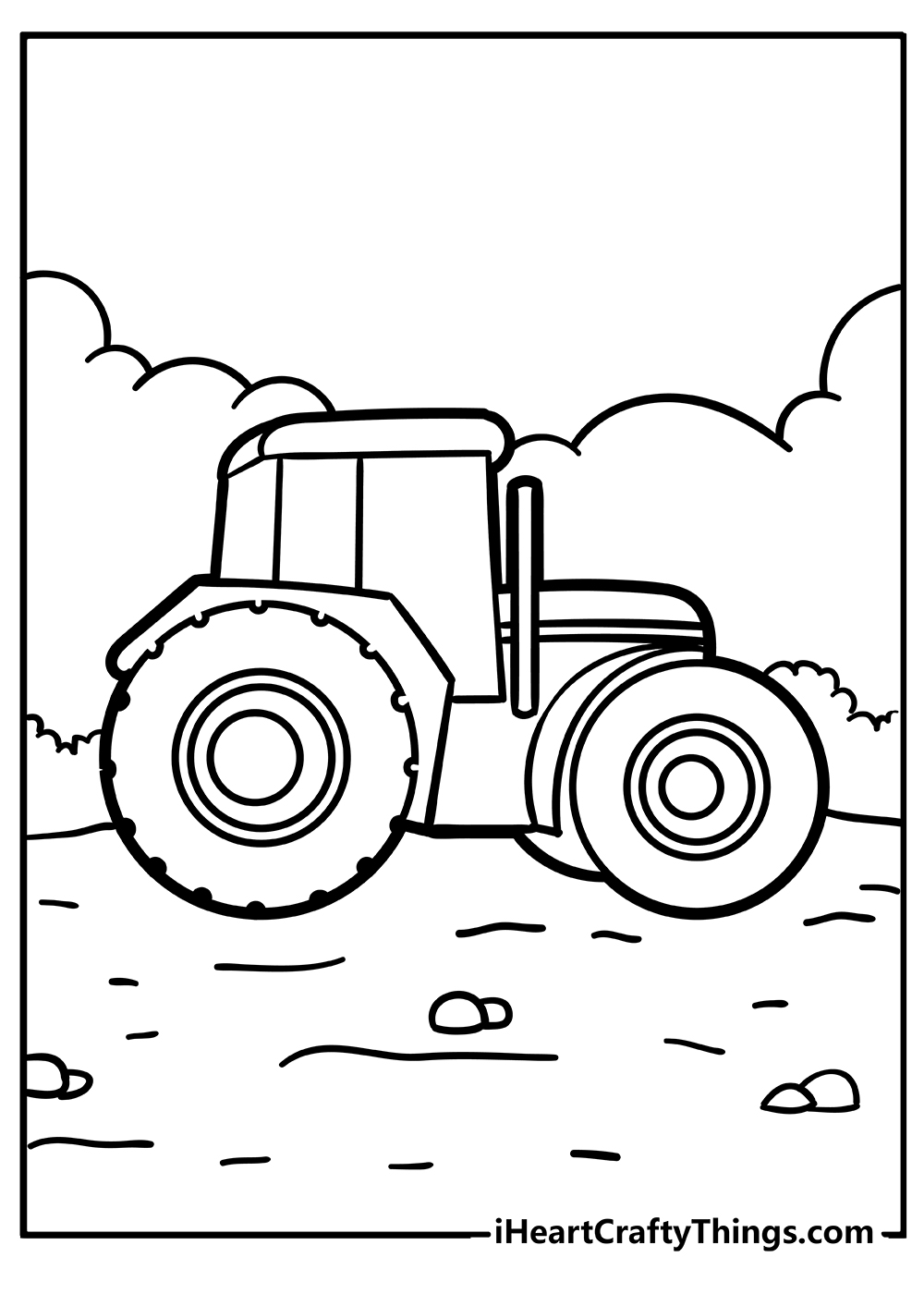 Although tractors come in many different colors, red is definitely the shade that most people associate with this heavy-duty machine.
But have you asked yourself why red is such a popular color for tractors?
It's because red makes tractors more visible to people working nearby. So, the color is used as a safety measure.
The tractor featured here on a field can be red or any color you like. A brighter shade would look great against the greenery behind it.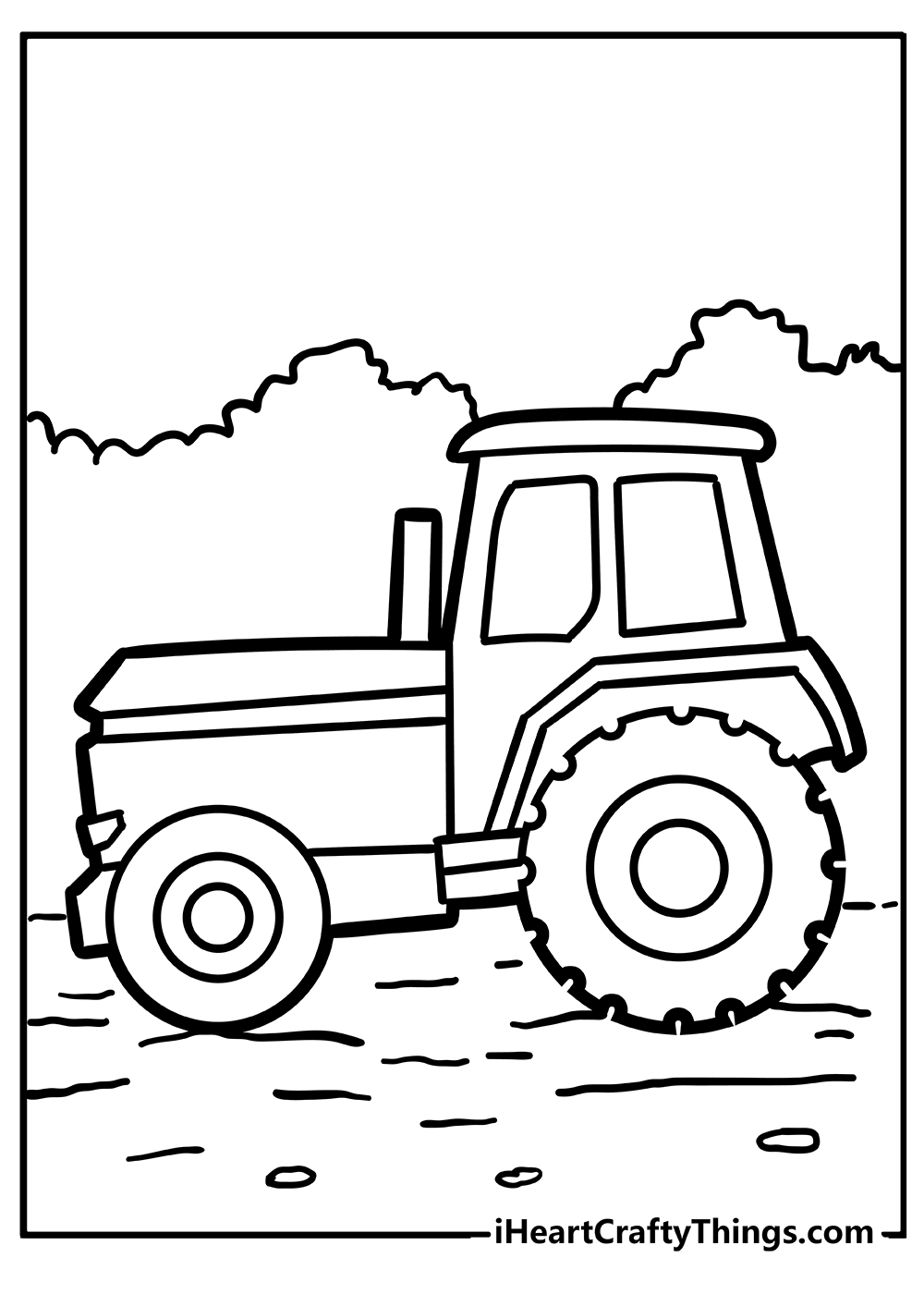 Not all tractors have a cab unit. Many models are available with a cab or open station. Cabs are used for providing comfort and protection, but an open station tractor is more compact.
On our last tractor coloring sheet, we have an open station tractor with a high mountain as a backdrop.
The farmer can enjoy the nice weather while working on the field. We're sure you'll have a great time coloring both the tractor and the landscape.
If you enjoyed our tractor coloring pages, check out the rest of our printable collections for some more creative coloring ideas.