The police are a very important group in modern society, as they help to keep citizens safe while responding to various dangerous situations.
They can't be everywhere at once, however, so they need special vehicles to help them get around.
This collection of free police car coloring pages for kids will be showing off a selection of these special vehicles for you to have fun coloring!
There are 15 images before you, and each one is free for you to choose and enjoy as you please!
So get ready for some awesome coloring fun, and be sure to share these pages with some friends to enjoy as well!
15 Brand New Police Car Coloring Pages – Free to Print and Color
This first page in our collection of free police car coloring pages for kids gives us a great view of one of these vehicles.
It is a fairly realistic and detailed depiction of a police car, so you can have lots of fun really getting in there with your color details to create an incredible picture!
Which colors will you choose for this first car of the series? We can't wait to see what you decide to go for!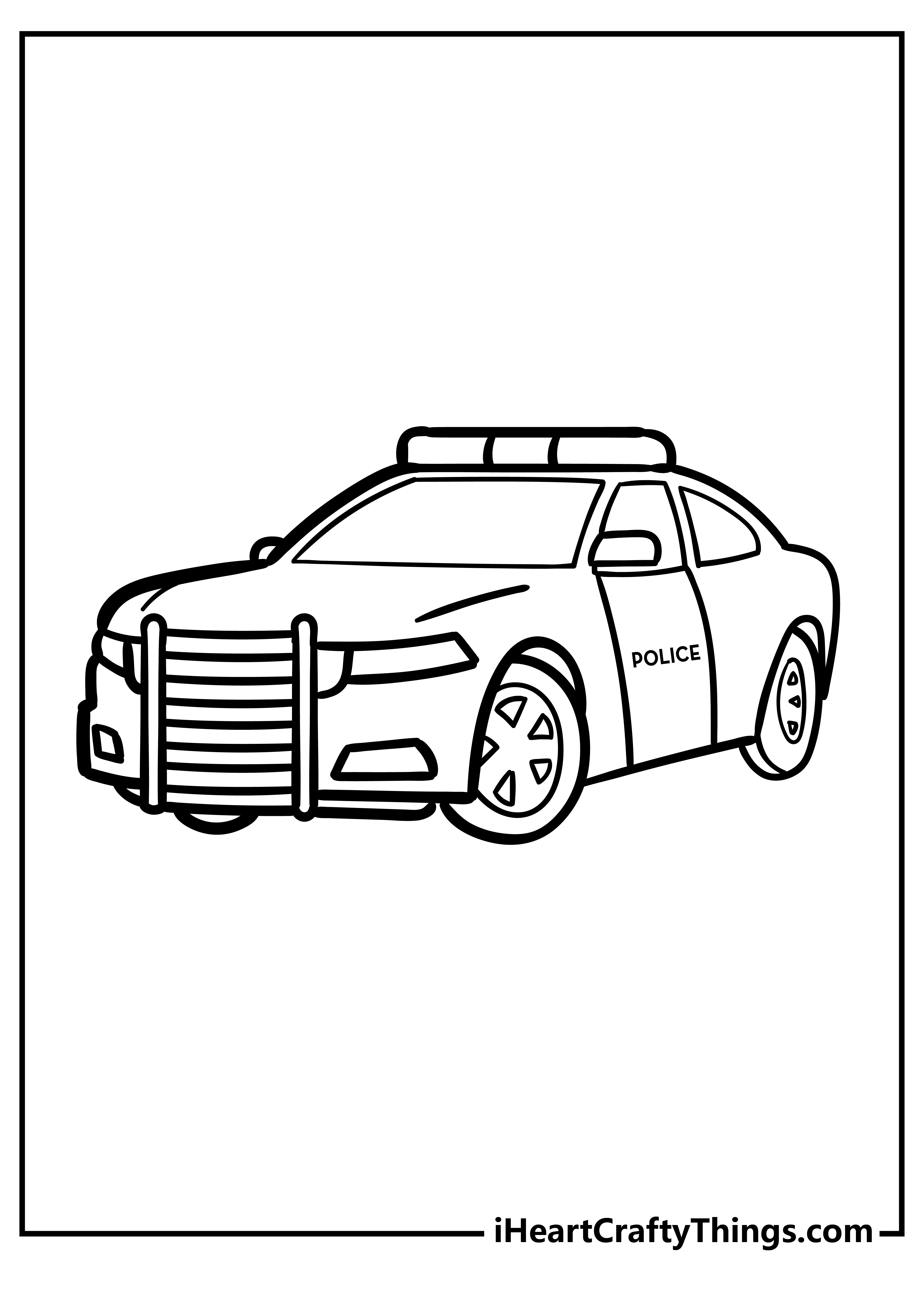 Now it's time for a side view in this second image. When you have colored this car as you like, you could also draw in some extra details, and one idea would be to draw an officer behind the wheel!
That is just one idea of many, so what else can you think of for this cool car?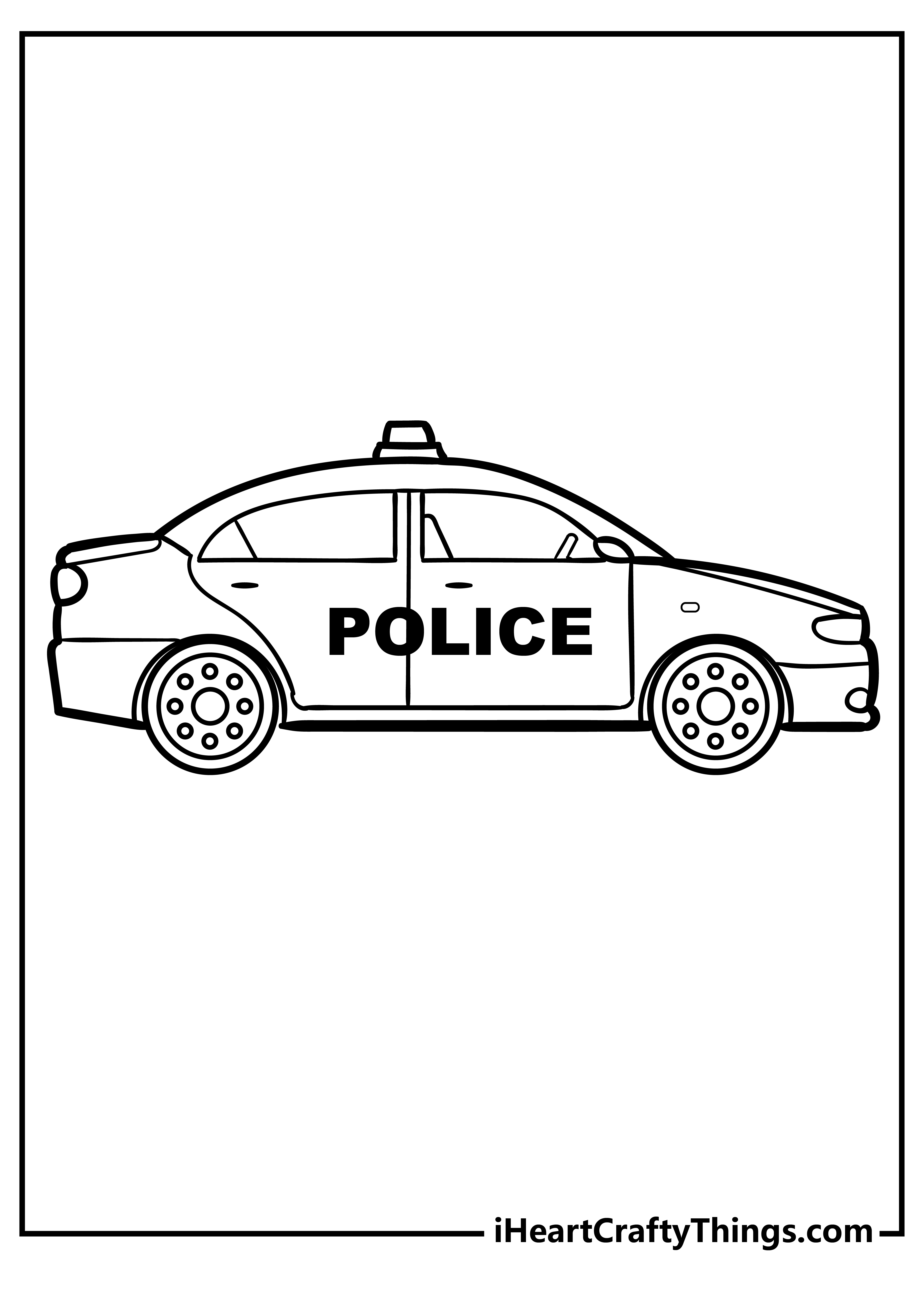 This next police car may be a bit less realistic, but there is still lots of coloring fun to be had here!
In fact, the cartoony style of this car allows you to use all sorts of bright and wacky colors to really make it stand out.
We would use some colored pens or bright paints to make the colors pop on this one, but you should go for any colors and mediums you like for it!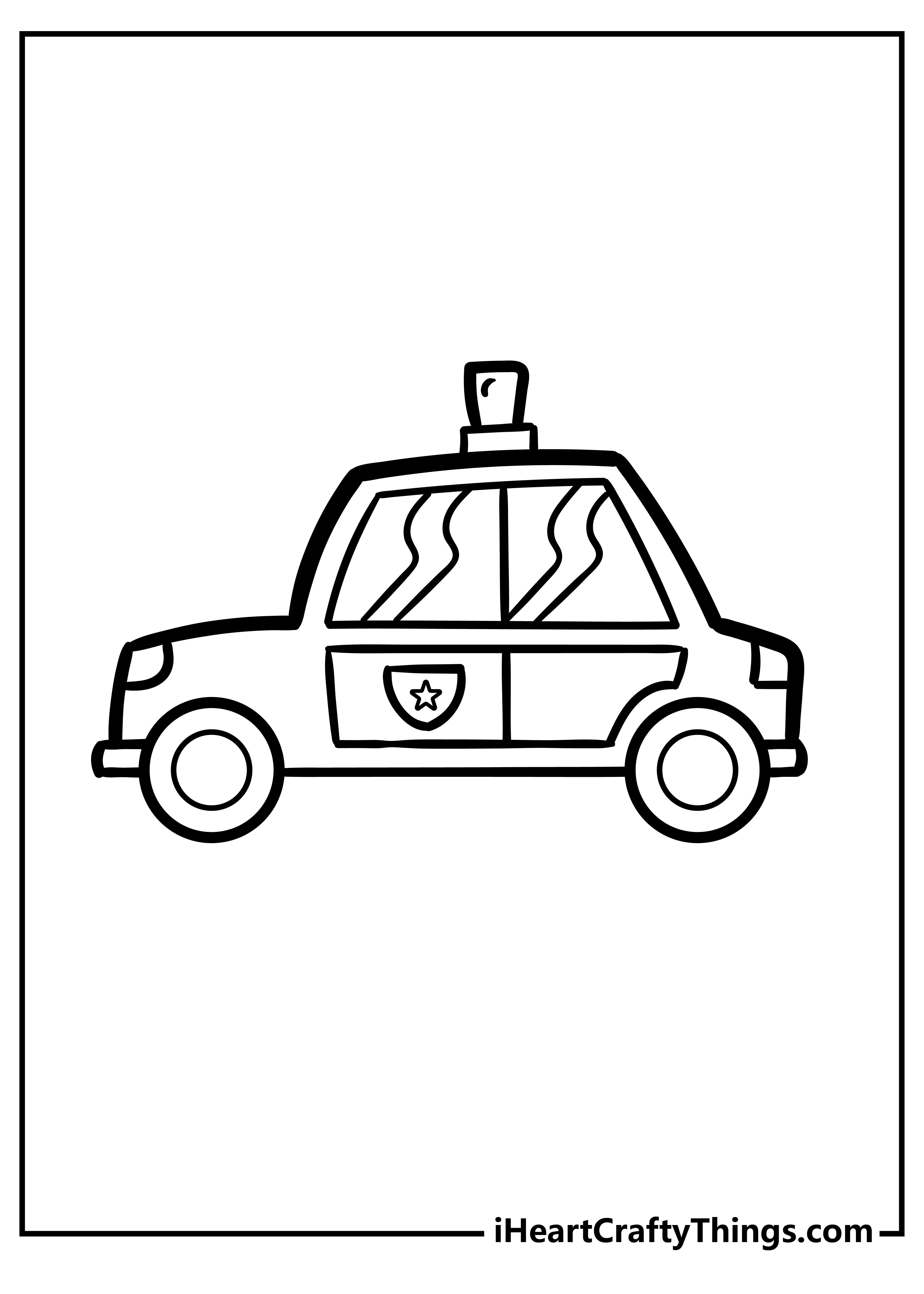 We have another more stylistic take on a police car for you to color, but this one is done in a very different style to the previous cartoony car we had for you!
This would be another fun picture to add some details to, and the style of the car means that any background elements could be equally cartoony.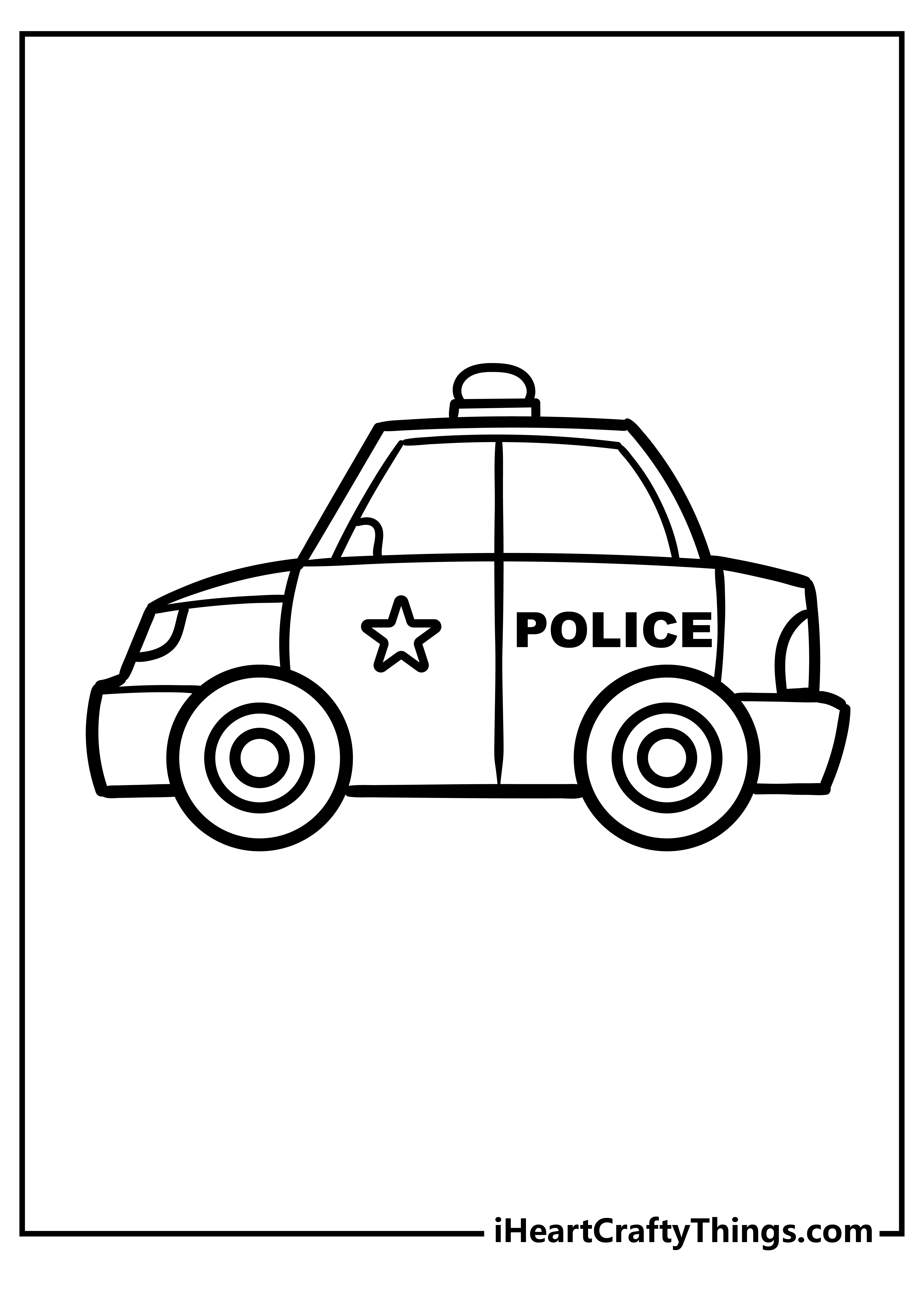 The fifth police car coloring sheet that we have is a really unusual one! This car wouldn't be practical in real life, but it's definitely a really fun design to look at.
We think this page would be lots of fun to add a wacky police character behind the wheel. The more fun and cartoony you make the design of such a character, the better!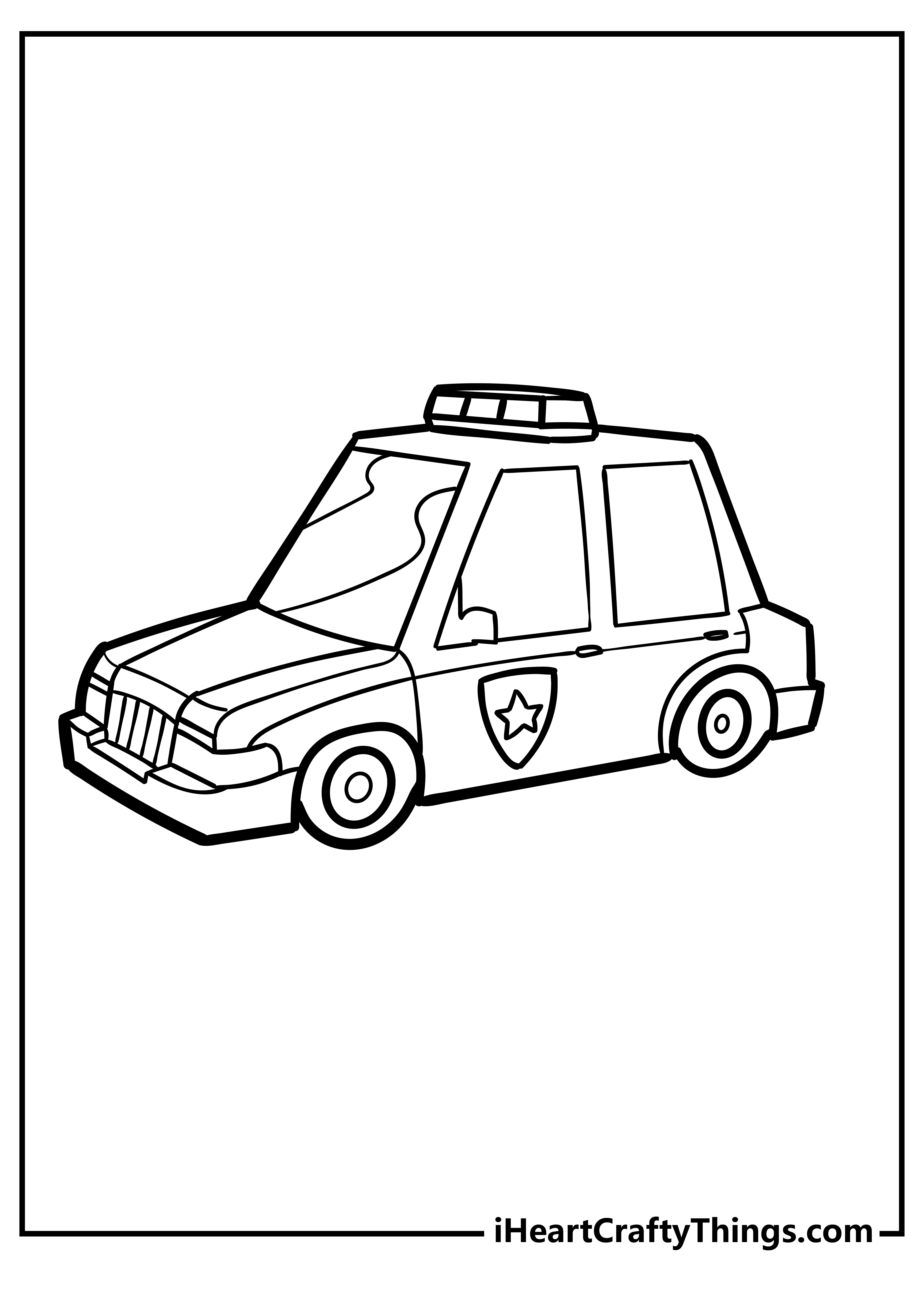 We're back to a slightly more realistic police car portrayal in this sixth image.
There are some smaller details on this car, so you could use art tools such as colored pens or pencils to help make coloring these smaller elements much easier.
What other mediums can you think of to use for this car?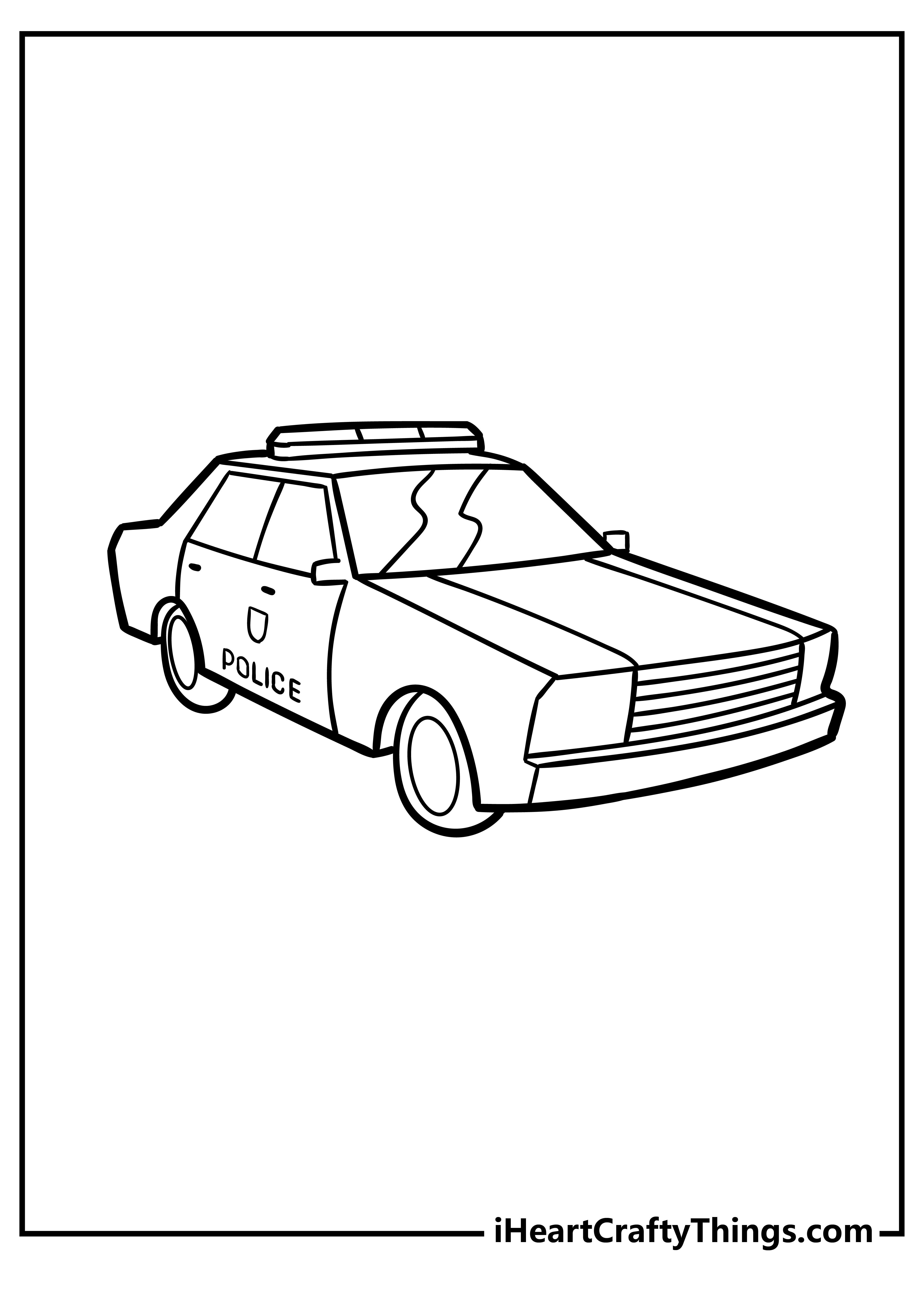 This is another hilarious police car design that we have for you!
We think that some bright and vibrant colors would help to complement the wacky design of this particular police car, so you can really go wild with the colors you use.
When you have added your chosen colors, do you think you will design a fun scene to finish off this page?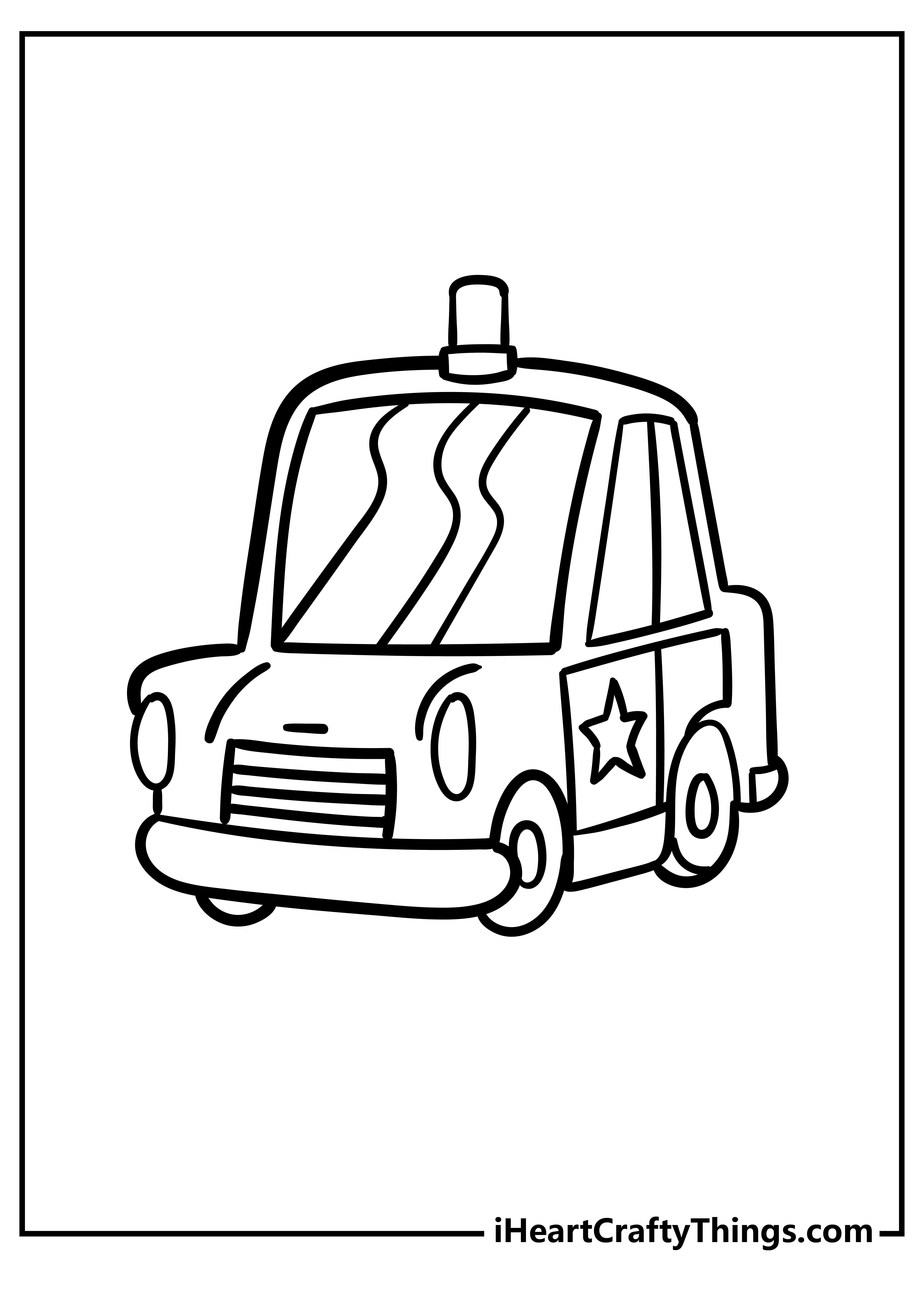 In this eighth image, we have another police car that wouldn't work so well in real life but nevertheless makes for a really intriguing design!
Such a fun design needs some fun colors, so don't think you need to stick to the whites and blues that many police cars have.
You could use any wild and wacky colors you like to finish off this funny car!
There is a lot of empty space in the background of this police car coloring printable, and that opens up all sorts of possibilities.
This car looks like it was really built for speed, so you could draw a background whizzing behind it once you have colored it in. where do you think such a fancy police car could be heading?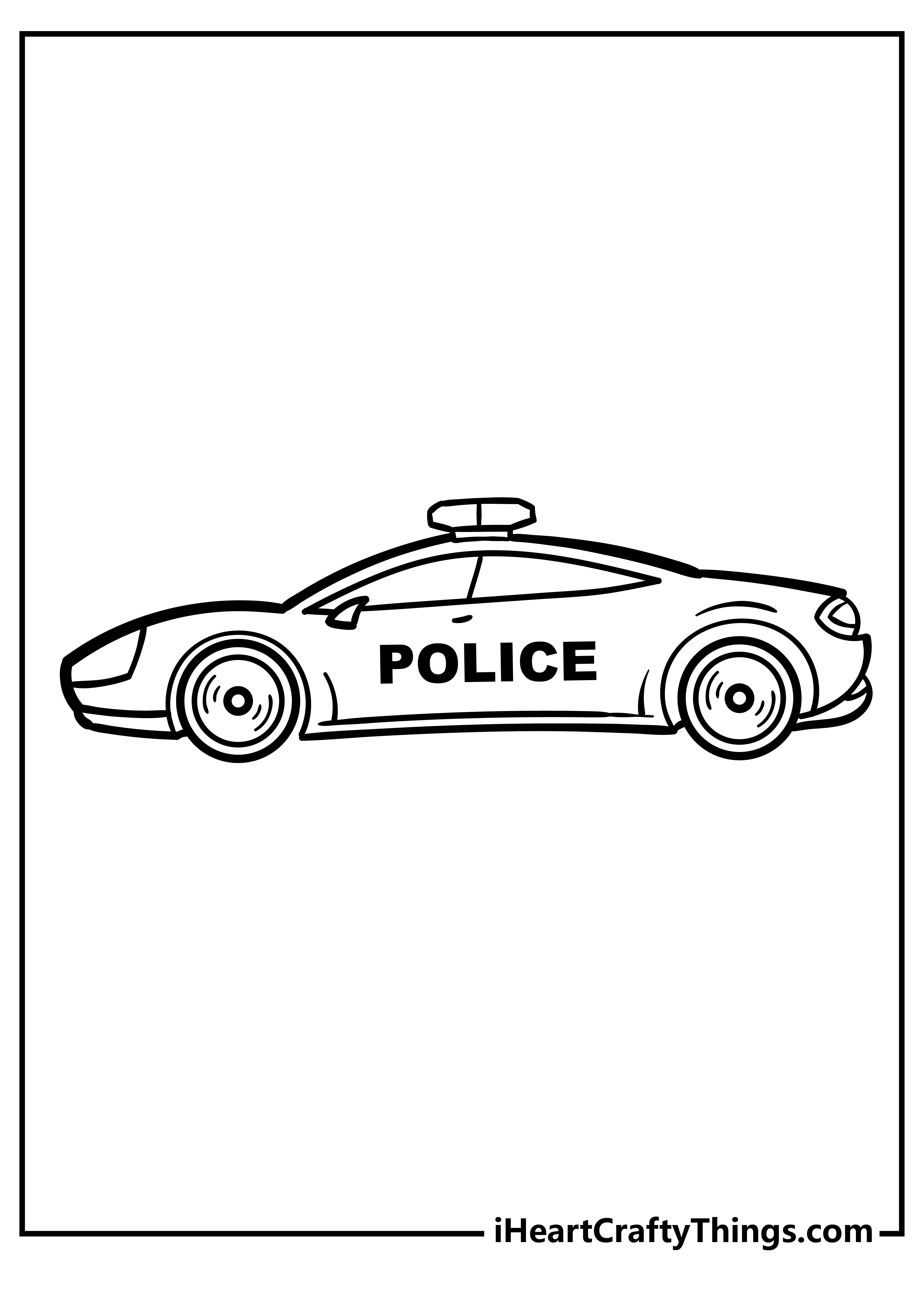 The previous police car looked like it could be a sports car, but this one is a lot more humble! While it may not boast the speed of the last one, it makes up for it with a lot of character.
You could draw a background that is shown in a bit more detail for this one, as it is unlikely to be traveling as fast as the previous car was!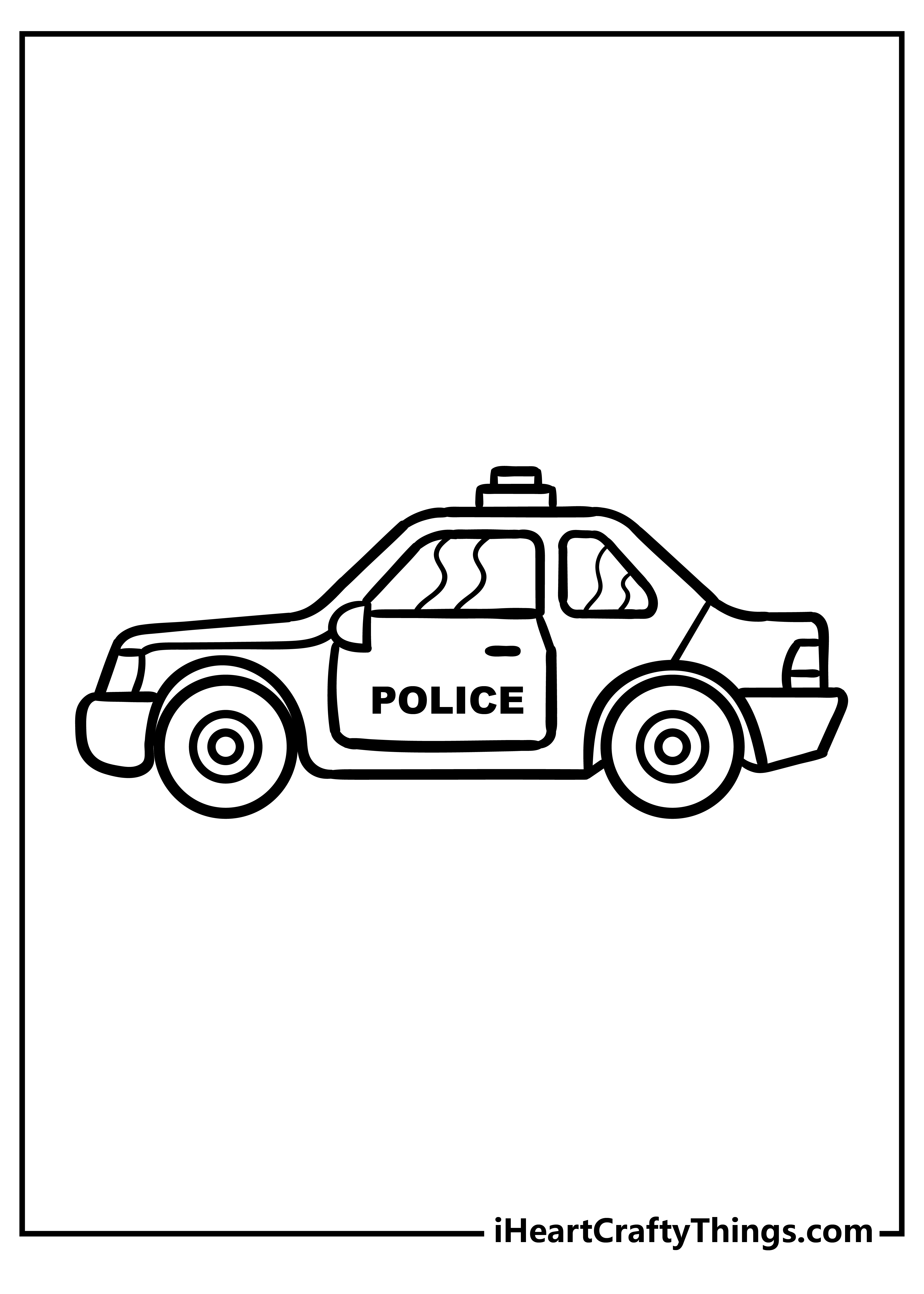 We're presenting an interesting view of this next police car, as it is drawn at a different angle from any of the previous cars.
It's another one that has loads of smaller details to admire, so you can really take your time with this one and carefully add some awesome color details.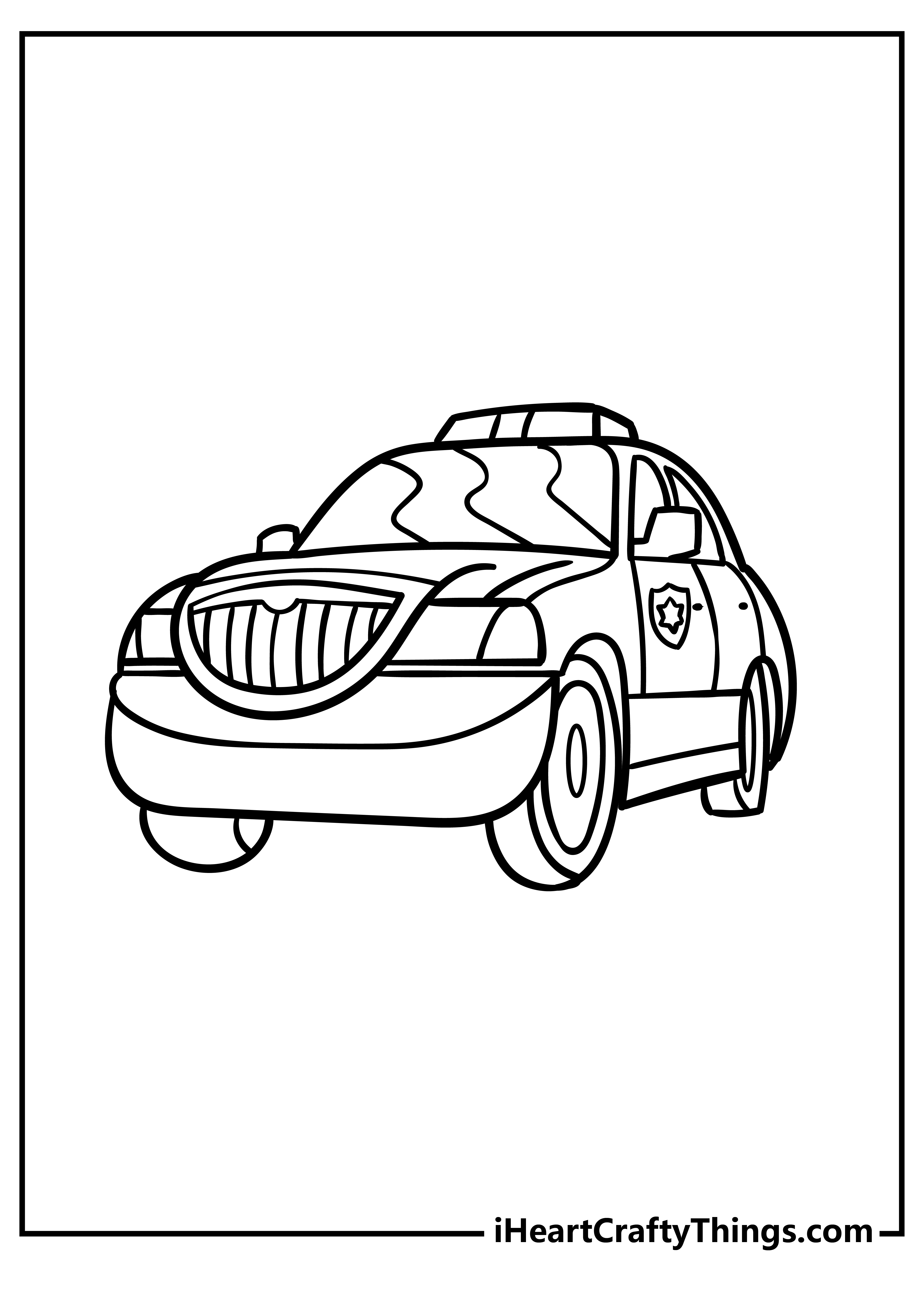 There is another more cartoony police car design for you to enjoy here!
This one also has a lot of empty space in the background, so you could draw a cartoon background that would suit the style of the car's design.
Can you think of a fun and creative cartoony background that would suit this particular car?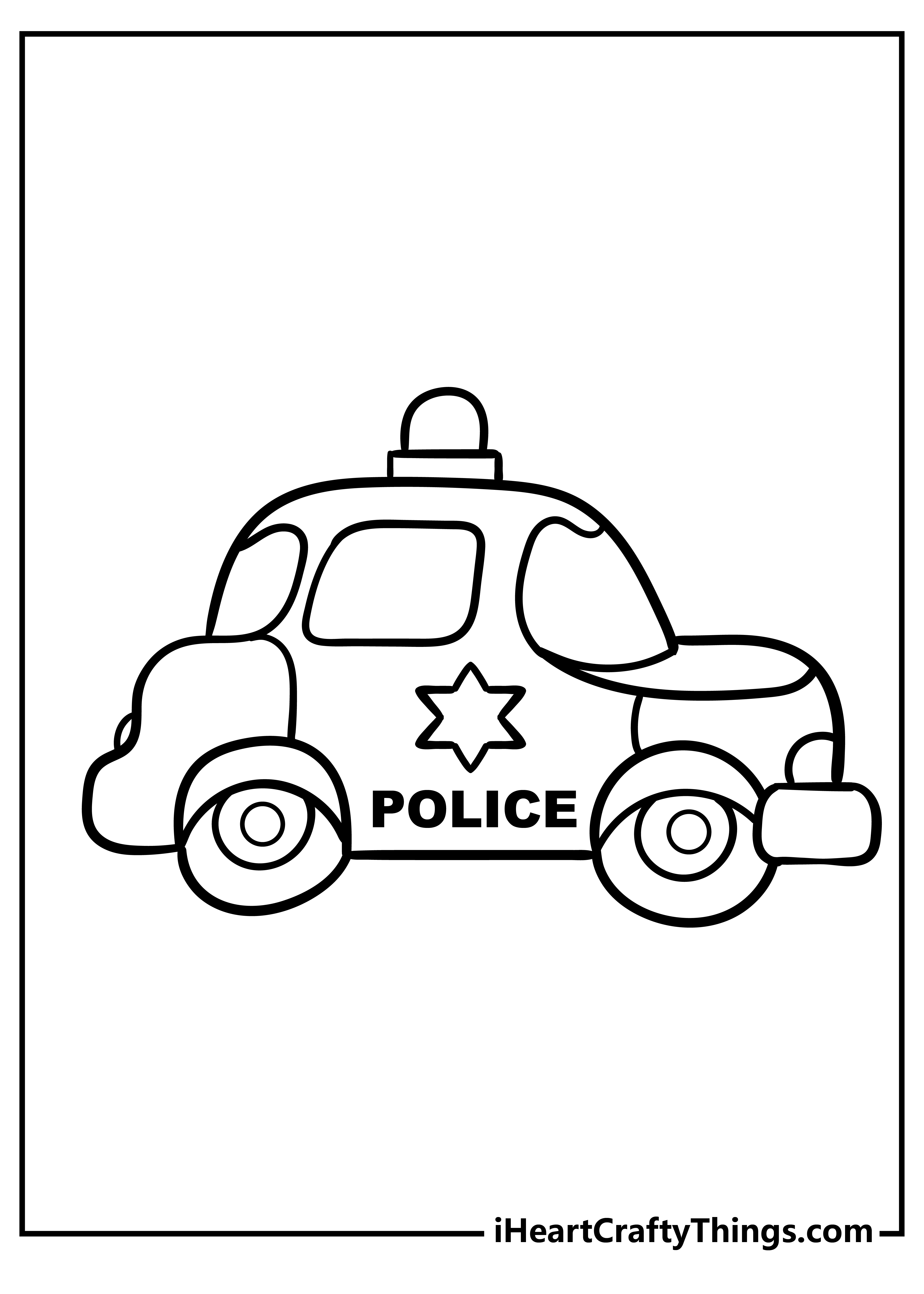 The details on this next police car are really great! Because this design is more realistic, we think that using some equally realistic colors would be perfect.
You could look up some pictures of real police cars in order to get some inspiration for how you could color this police car!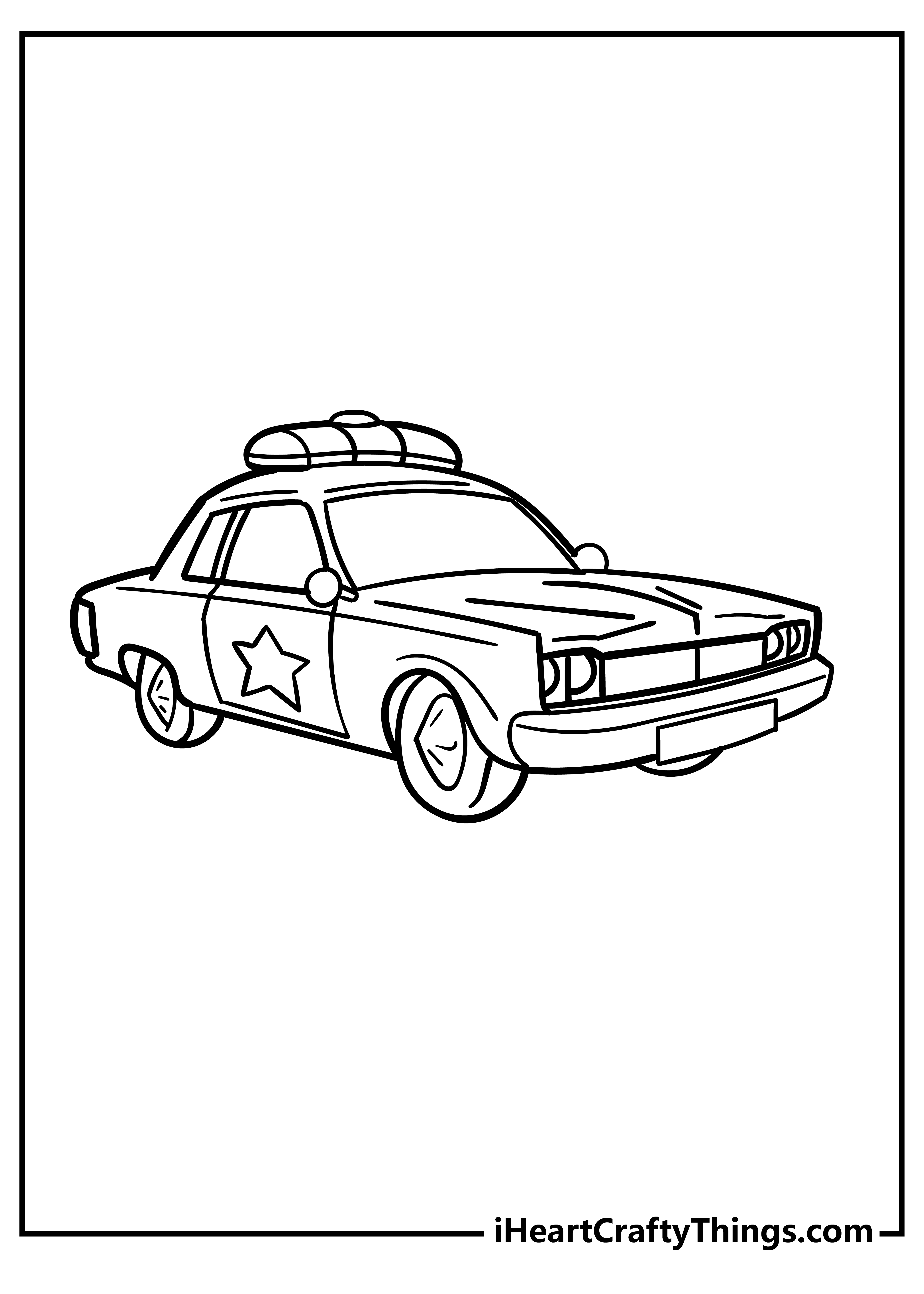 Now this is certainly an unusual design for a police car, even compared to some of the weirder ones we have seen in this collection!
We really love the design of this one, and we think you should unleash all of your color creativity as you finish it off. It will be great to see this one when it is done!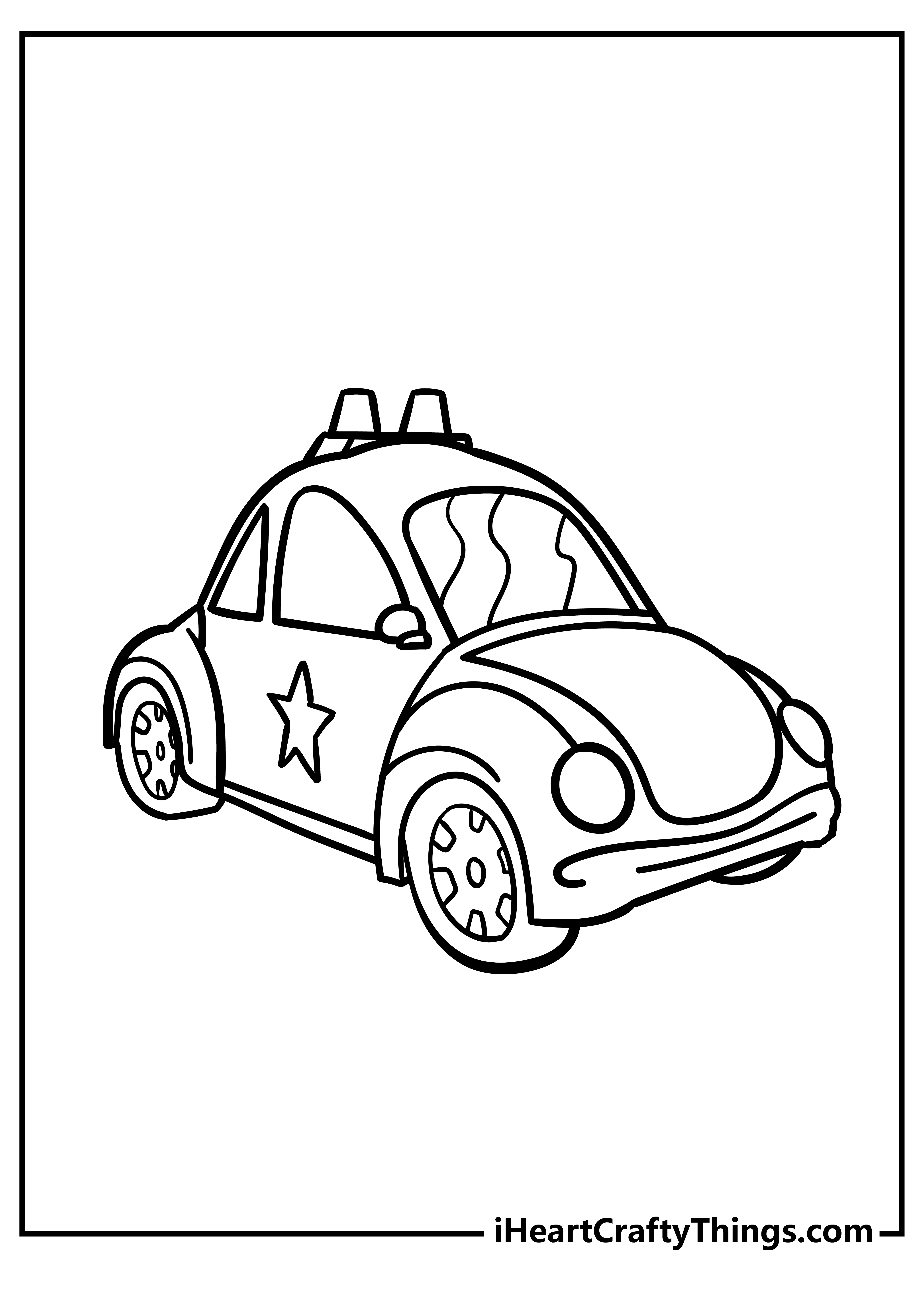 We are finishing off this collection with a final weird and wonderful police car coloring sheet!
There have been some imaginative designs throughout this entire collection, and we would be very interested to see the fun and creative ways that you finish off these wonderful designs!
Police Car Coloring Pages – Which will you choose?
We hope you had an incredible time enjoying this collection of free police car coloring pages for kids!
We had cartoony creations and realistic portrayals, so you can use all of your favorite colors and styles as you work through the collection.
When you have colored your chosen pages, please do go ahead and share some of your favorite finished pages on our Facebook and Pinterest pages!
We will be looking forward to seeing what an incredible job you did on this awesome collection.