There are many different sports and activities that millions of people around the world tune in to watch or play themselves.
Of all these sports, few match the excitement and thrills of hockey.
It is a sport that captivates scores of people worldwide, and we are here to celebrate it in this collection of free hockey coloring pages for kids.
The 15 pages in this set cover a wide range of different hockey scenarios that capture the excitement that this sport provides in real life. Fans of the sport won't want to miss this one!
All of these awesome hockey scenes are free for you to print and enjoy as much as you like! You don't have to keep all the fun to yourself, as you can share the collection with all the sports lovers in your life.
Now it's time to grab all your art gear as you prepare to tackle these amazing pages!
When you have colored your favorite pages from the collection, you can share them on our Facebook and Pinterest pages to show off your artworks.
15 Brand New Hockey Coloring Pages – Free to Print and Color
The player who's up first in this collection is really going for it!
It must be quite a thrill to be skating along the ice at great speeds as you maneuver the puck around, and this player is right in that moment.
You can capture the excitement of this scene with the colors that you use!
We think that using lots of small strokes of color in the background would make it look like this player is whirring along the ice. What colors and techniques will you use for this picture?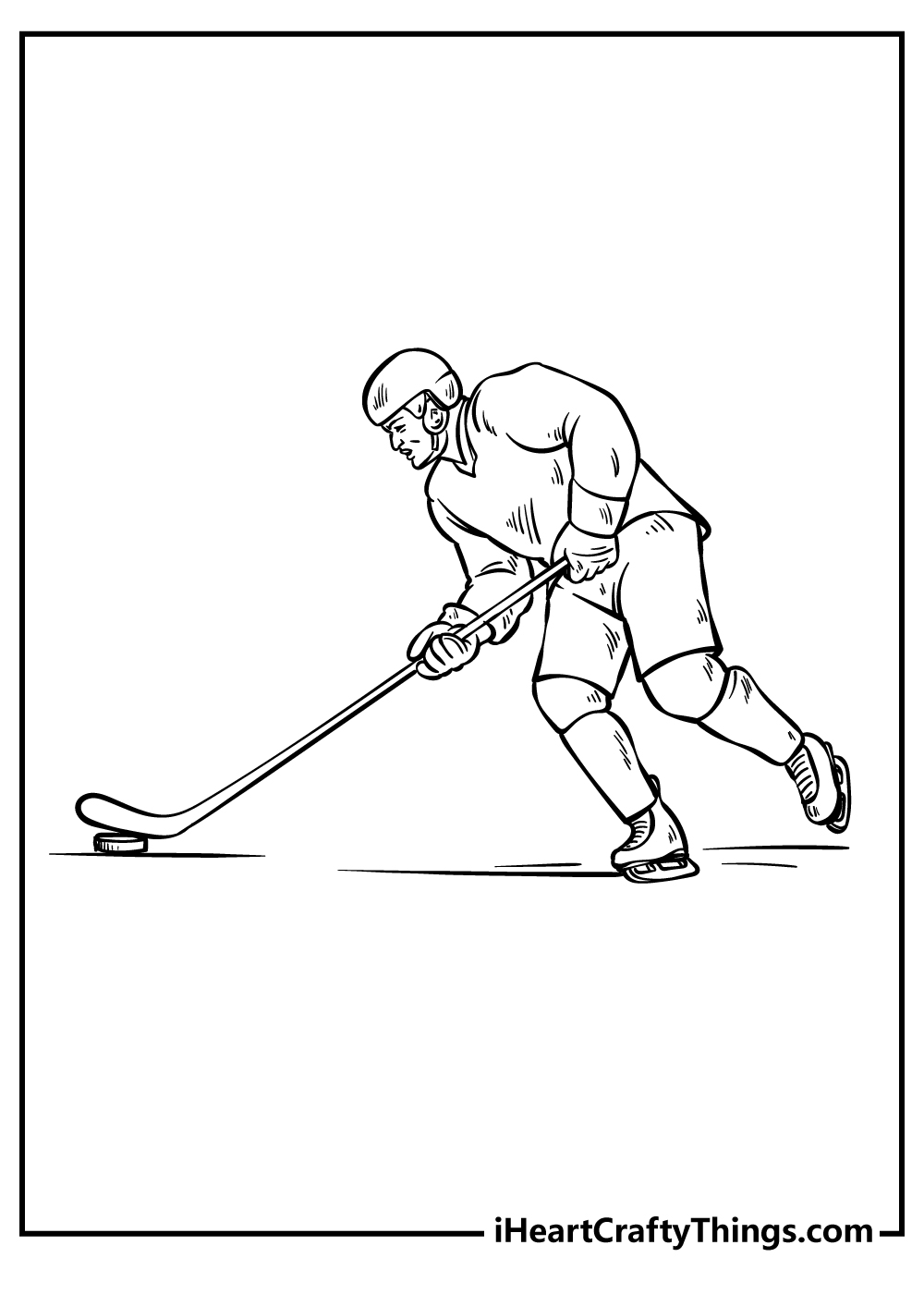 This coloring page features a child ice hockey player who is ready to score a goal. He's wearing a helmet, jersey, gloves, and ice skates.
You can choose any colors you like for the jersey and the helmet. You can also draw your own team logo on the jersey and the helmet.
What team do you think the child plays for? How do you think the game will end?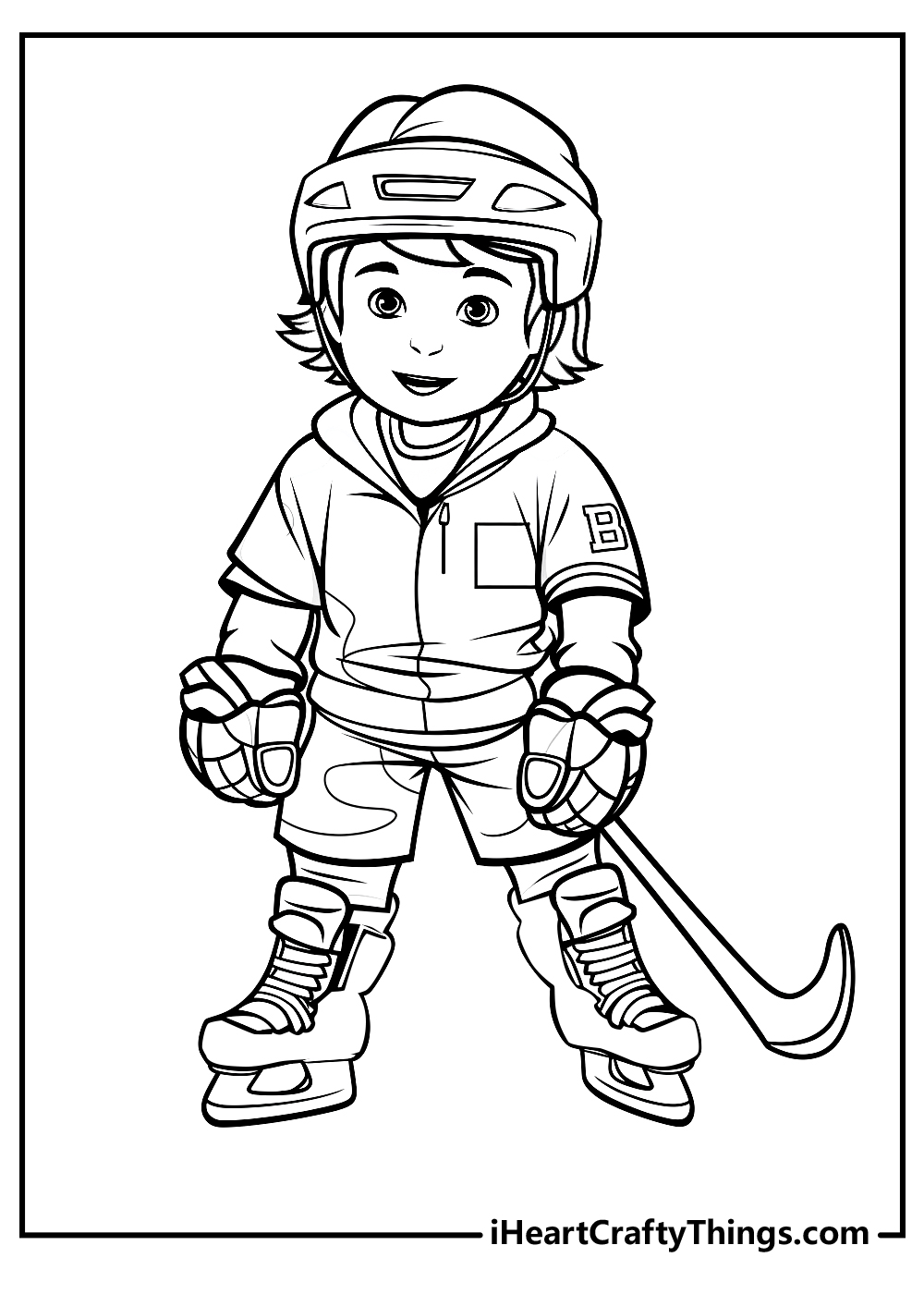 There's another action-packed moment for you to color in this next free hockey coloring page for kids.
This player is right in the middle of striking the puck, and he looks like he's going for the goal! There is a sense of action and urgency in this picture, and it suggests that there is a lot riding on this strike.
You can portray the feeling of this moment by using some intense, bright colors. You could also go for a colder color scheme to suggest the gravity of the situation. What approach will you take?
Next, we have a young boy who is having fun playing ice hockey. He is holding a hockey stick in his right hand and has a happy expression on his face.
You can use the bright red, blue, yellow, and orange for his clothing and equipment.
You can also add some details to the background, such as ice, snow, or other players. Use your imagination and creativity to make this coloring page your own.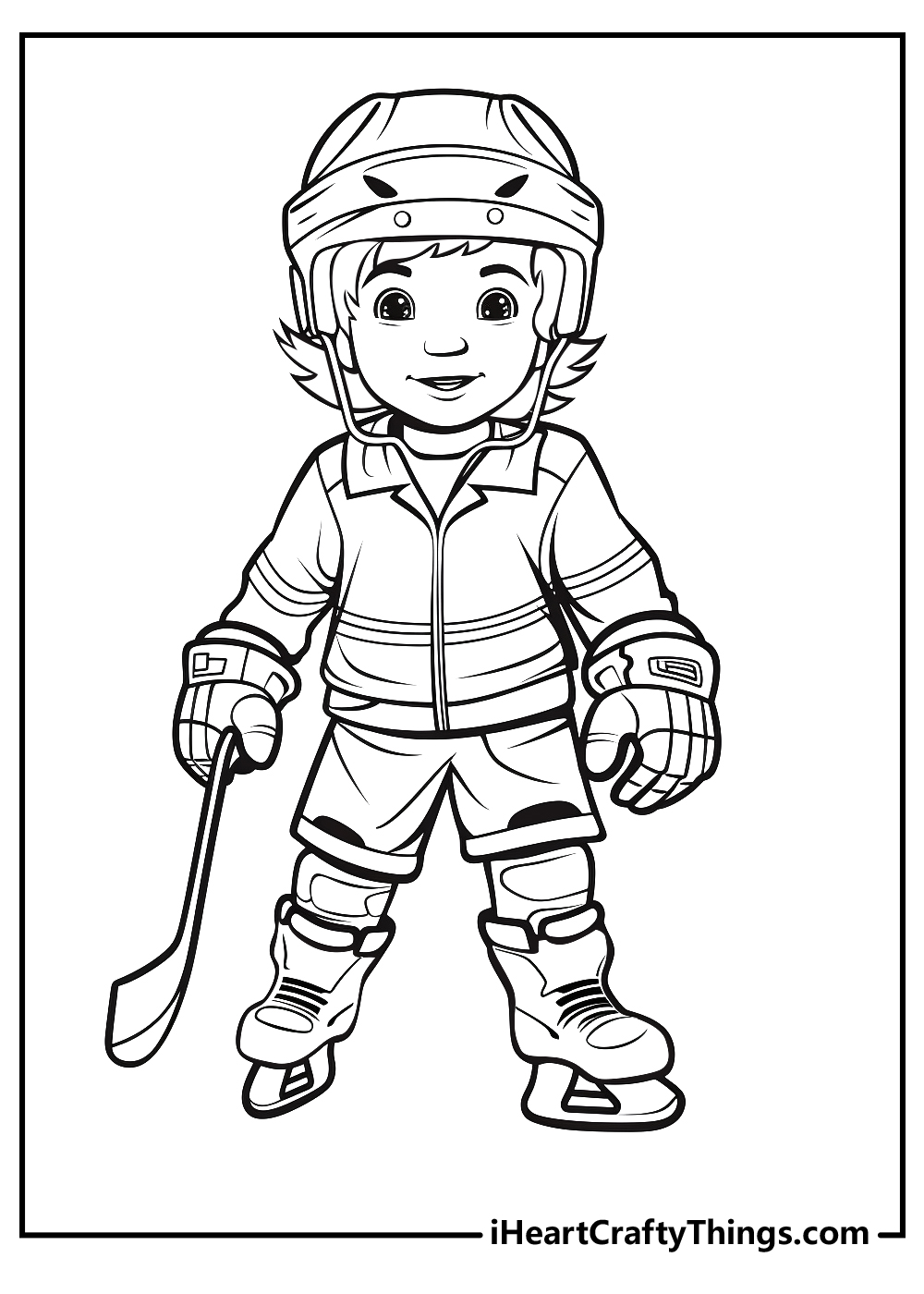 On this third page, we have a goalie that has just intercepted a goal attempt. He has whacked the puck away at great force, and this is a moment that probably had the crowd going wild!
For this image, you could draw a background to finish off the scene nicely. Some examples would be to draw the net behind him, or you could even draw that crowd that we mentioned earlier.
Will you draw a background for this image? If so, what will it look like?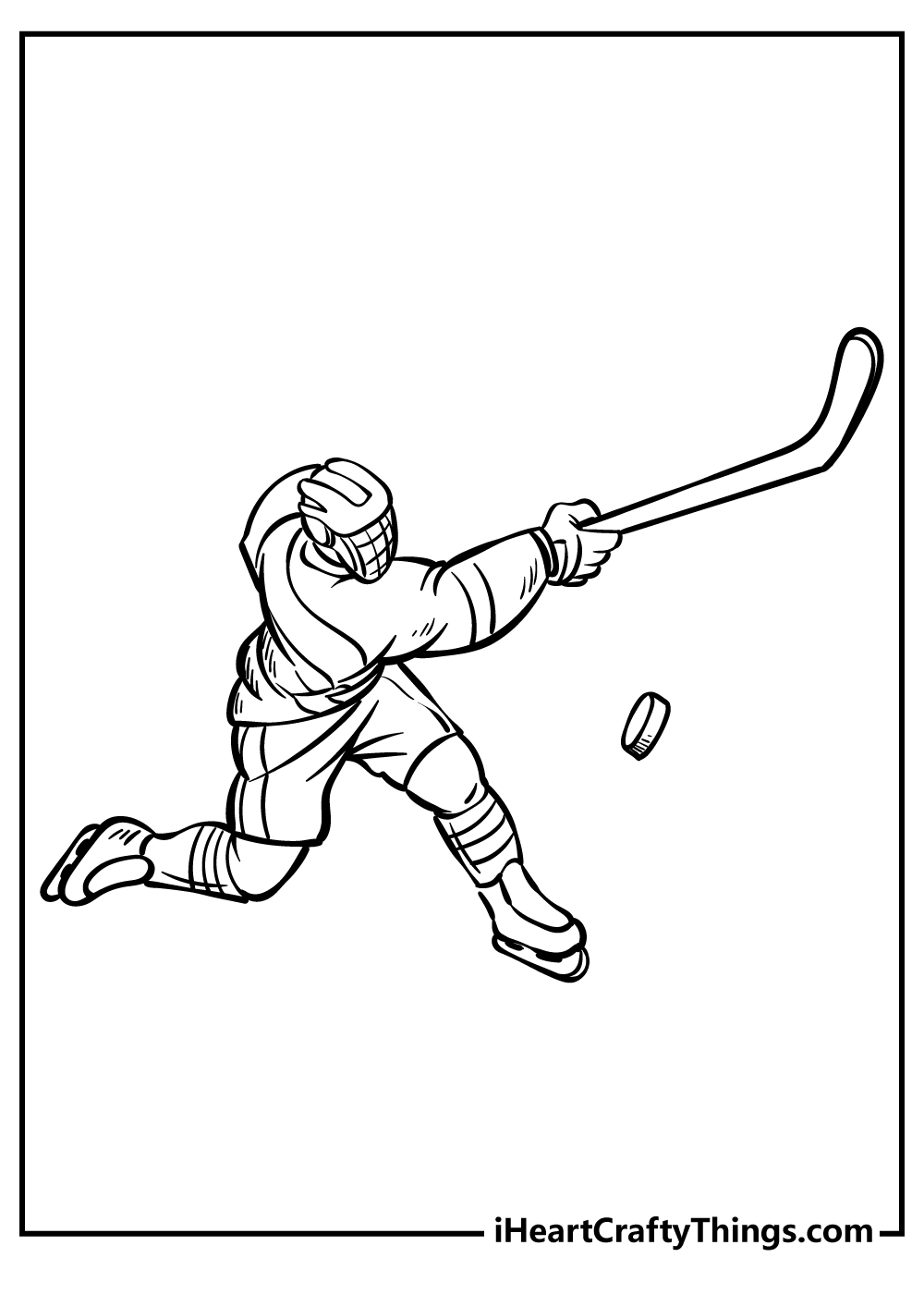 There's an intense facial expression being shown by the player in this next hockey coloring sheet.
He seems to be in a rather intense moment here, and we think this would be another image where drawing a background could look really cool. What setting would you think of adding for this picture?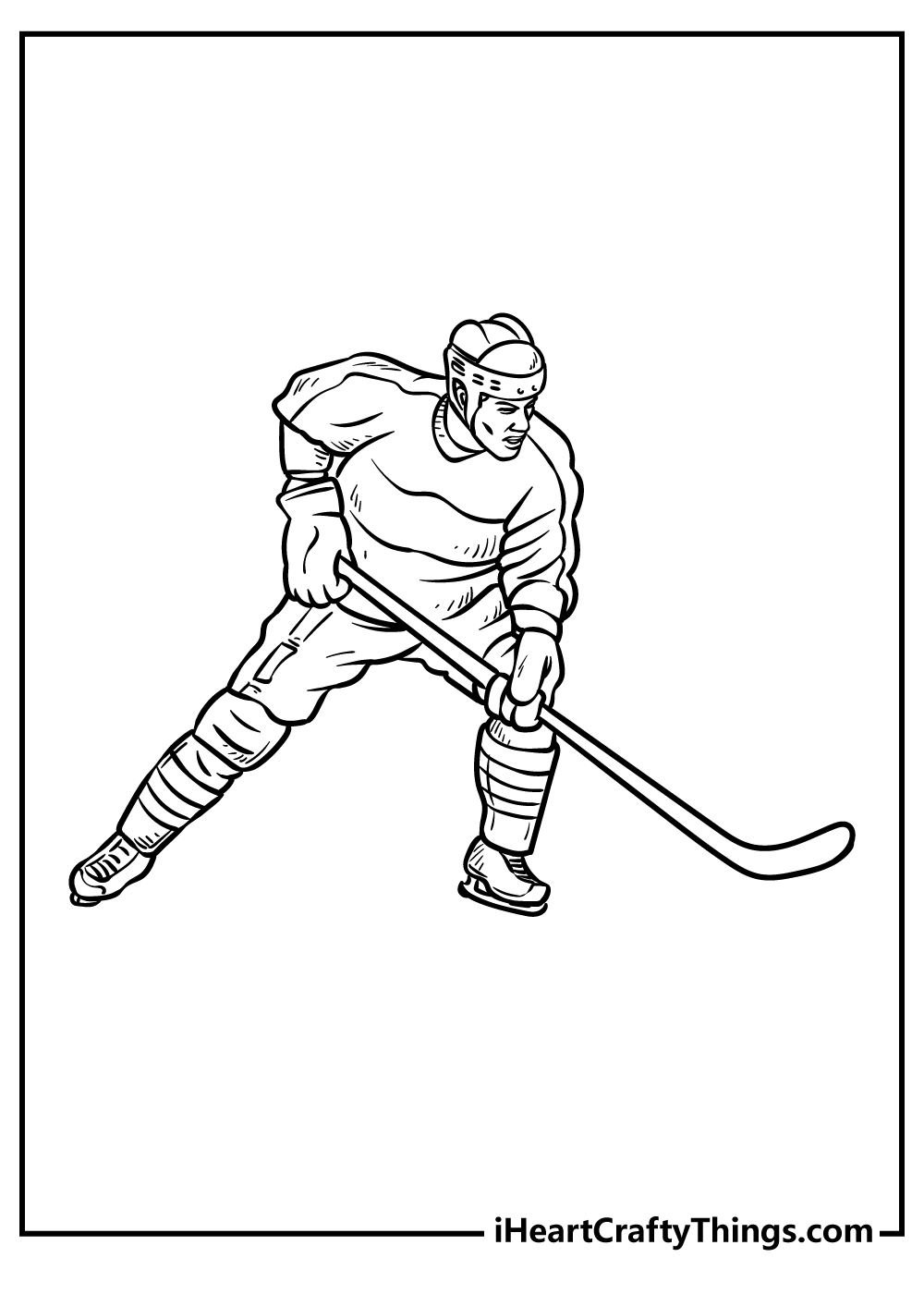 This coloring page shows a determined young hockey player gearing up for game time.
He's wearing his favorite jersey and holding his trusty hockey stick, visualizing the icy rink where he'll soon be skating.
What position do you think this boy plays? Choose your own colors to bring his uniform and equipment to life.
Add some action and excitement by drawing a big crowd cheering him on. However you color it, this page celebrates the thrill of the ice for hockey.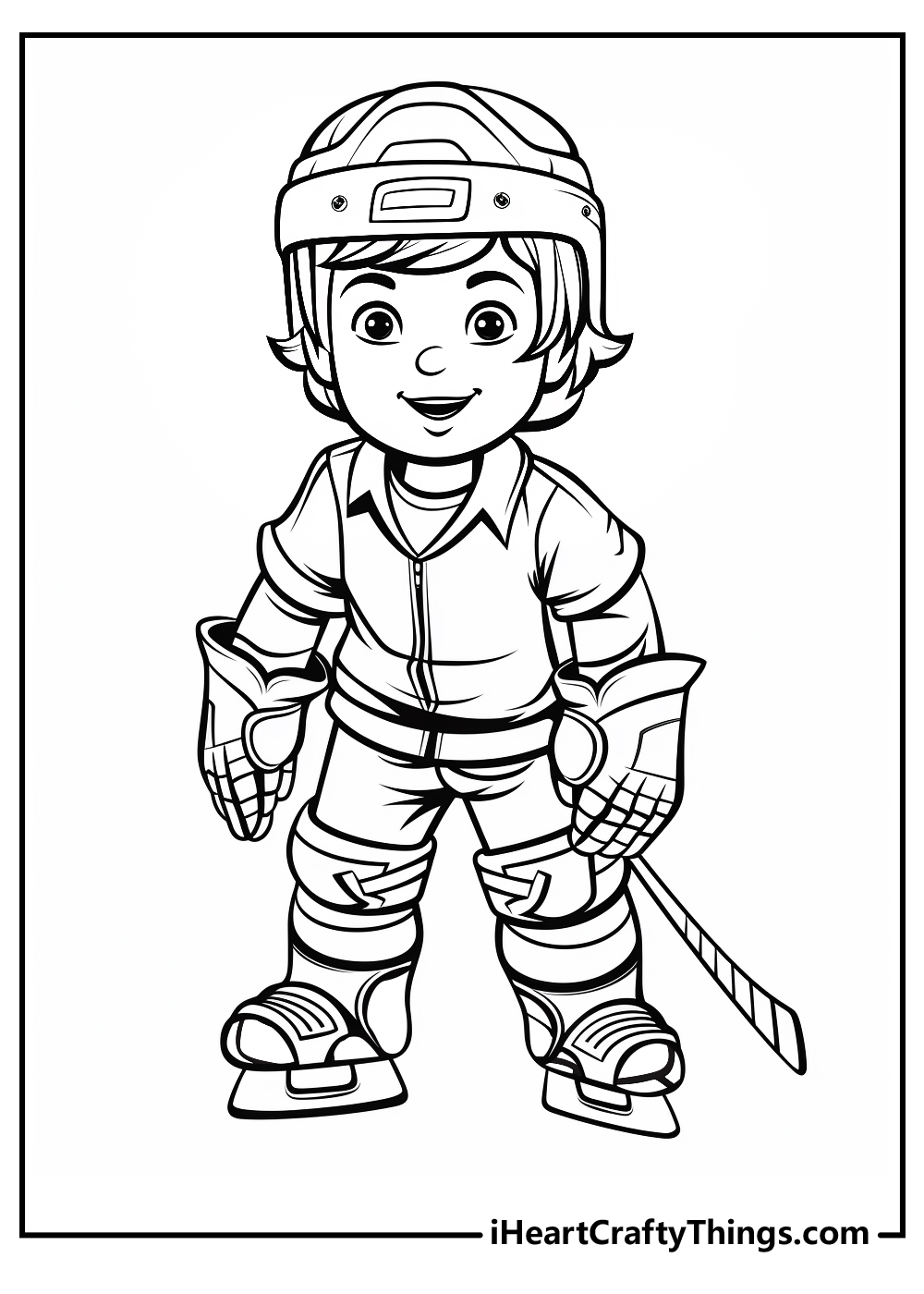 We have another awesome scene for you to enjoy in this next page!
This player is also going at high speeds after the puck, so this could be another one where using some intense colors would really look great.
It looks like this player could be intercepting the epuck, so maybe you could draw some other players in the background to finish off the scene.
If you wanted to do that, then you could use some of the pictures from other pages in this collection as inspiration!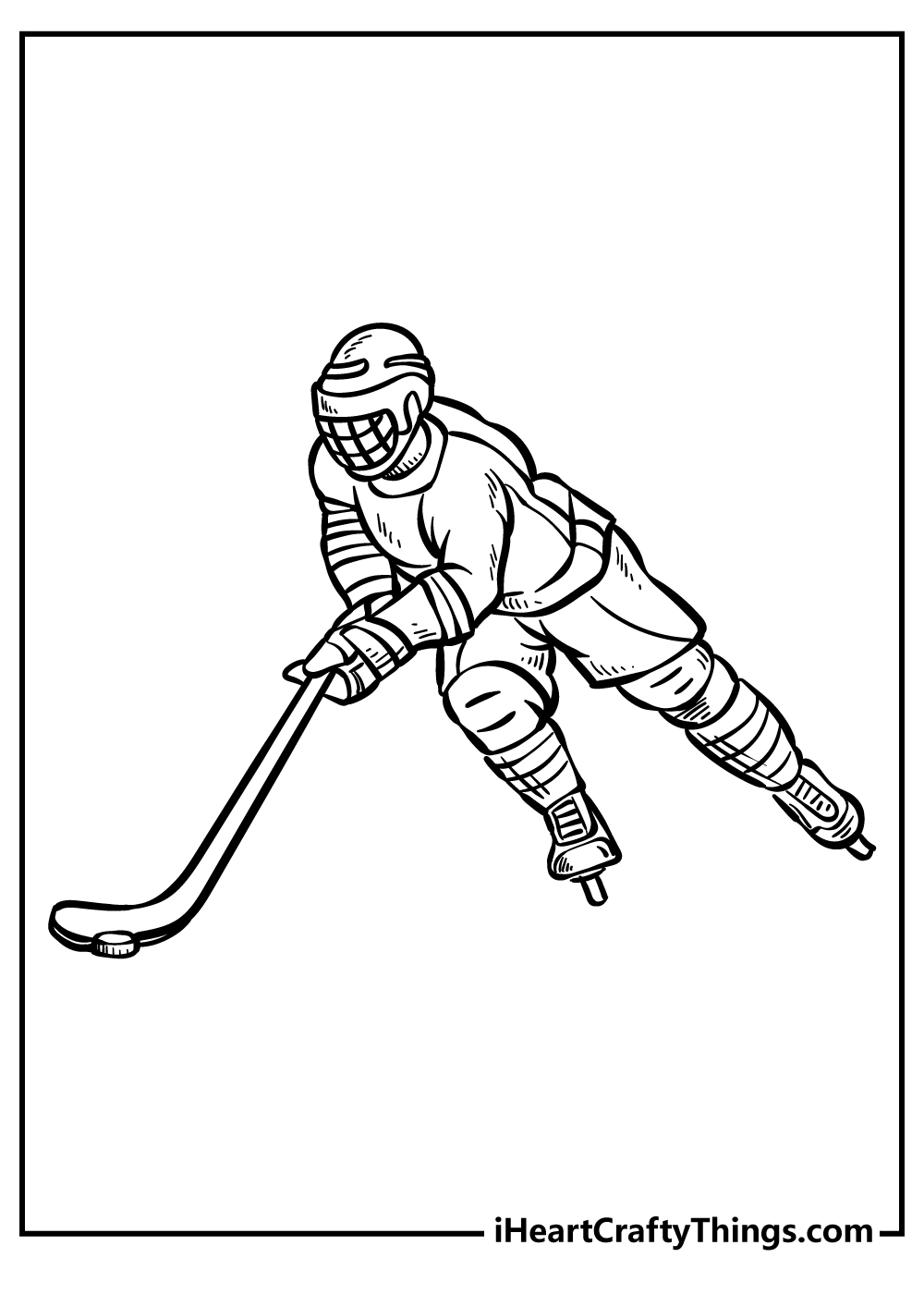 The previous few hockey coloring printables have been quite action packed, but here we have a player that's having a bit of a quiet moment.
He's looking rather calm, and he may be waiting for the game to start. This is one where we would use some cooler, milder colors to fit the calm mood of the image.
You could also draw a background for this one, and you could show why he is looking so calm and relaxed in this one!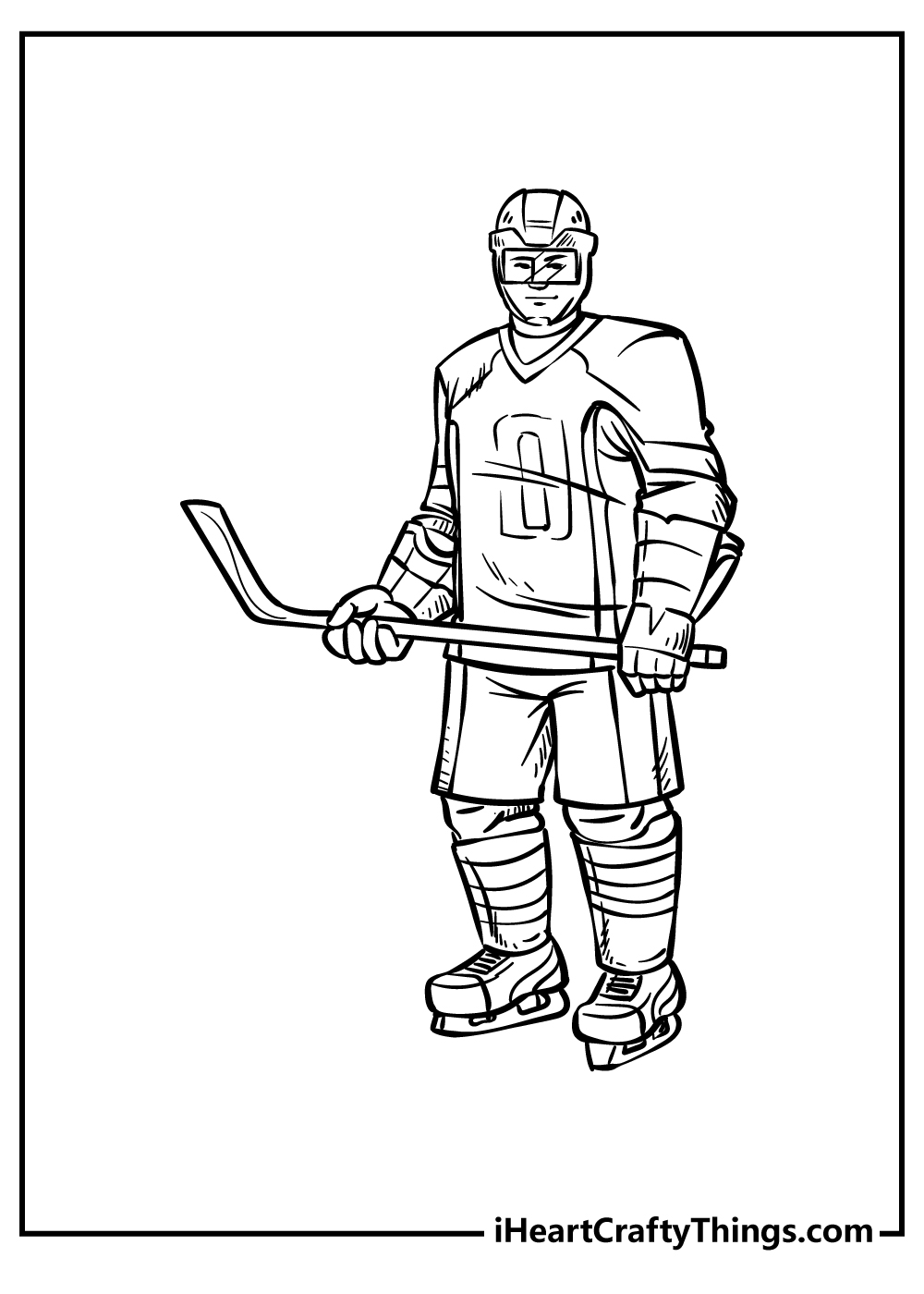 We're ramping the action up again in this next page! This player is swooping in to intercept the puck, and it looks like quite a daring move he is pulling off.
It would require great skill to pull off this move, and now you can highlight the tension and drama of this moment with your colors!
What colors do you think would best suit this moment?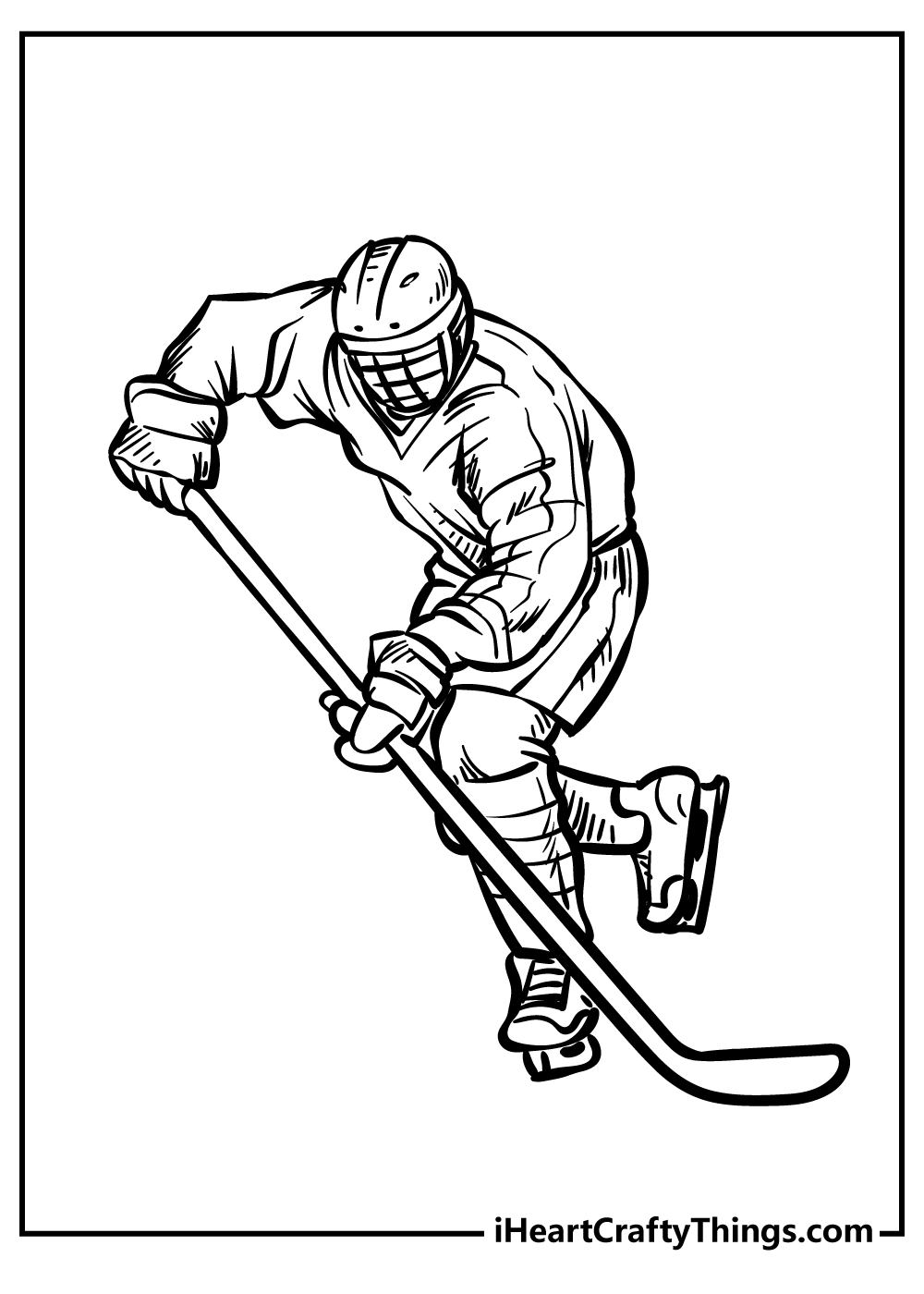 This young boy looks just about ready to play street hockey with friends in his neighborhood.
He wears safety gear like a helmet, pads, and gloves while expertly maneuvering the ball down the street with his stick.
His big smile shows how much fun he's having playing his favorite sport outdoors.
In the background, you can color in apartment buildings, trees, parked cars and his cheering friends. Use bright colors to bring this fun street hockey scene to life.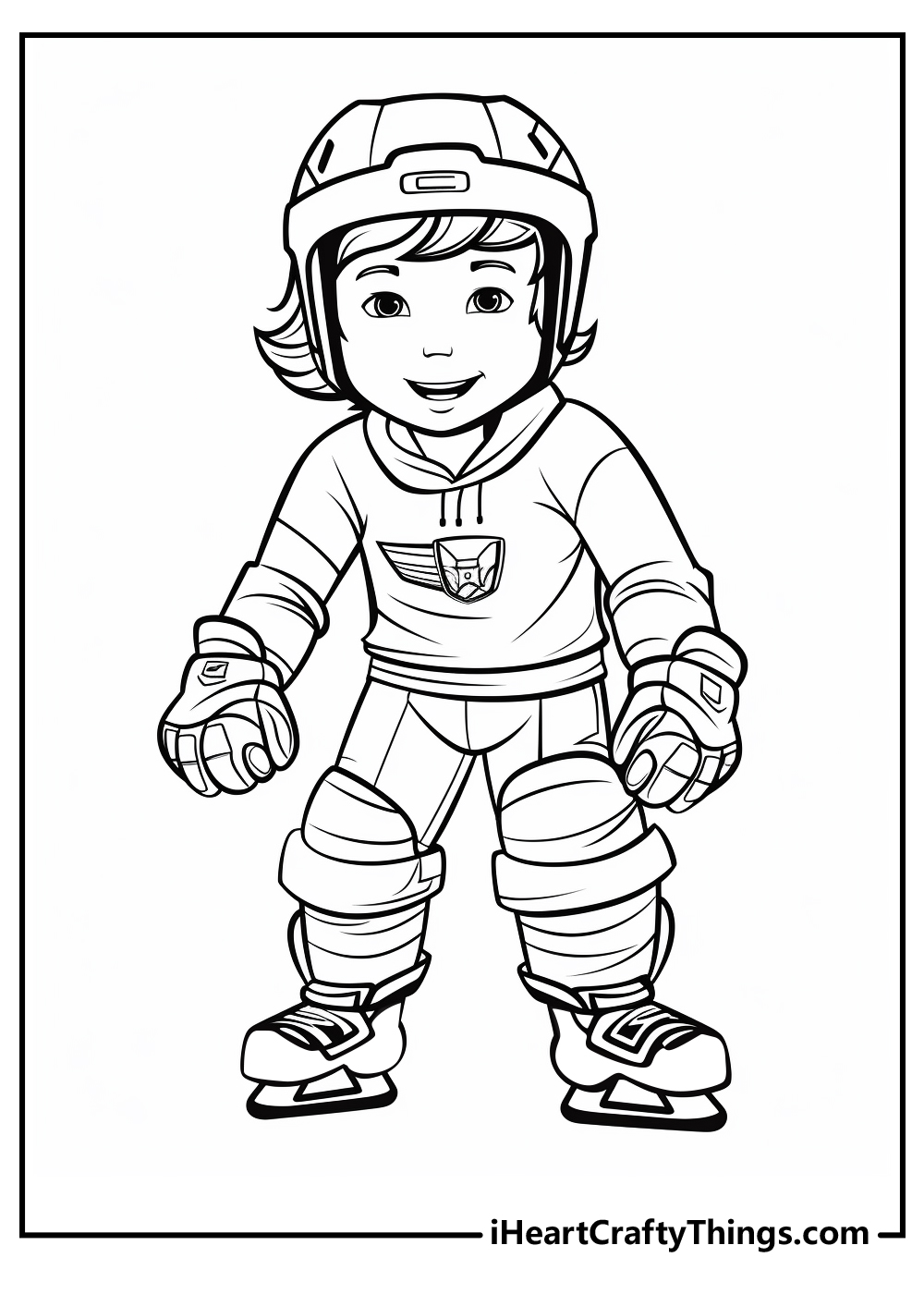 There are some more great details to color on this next page. This player is pulling off another cool move, and in this one we get a really good look at the details of his uniform.
If you have a favorite hockey team, you could find the player from that team that also plays as number 18 and write their name on the shirt!
Then you could finish it off by using that teams colors for this uniform.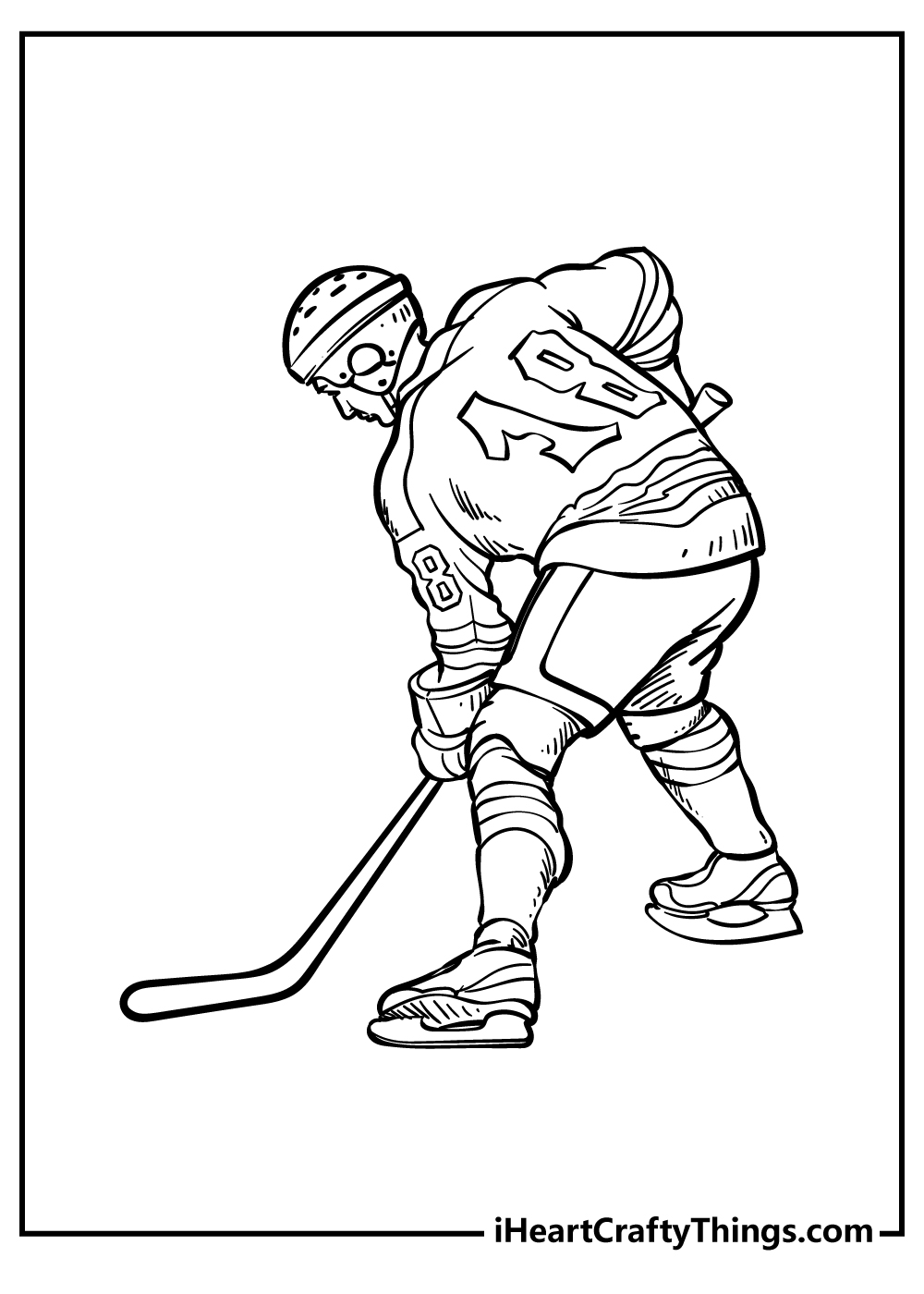 Our ninth hockey coloring sheet features another great moment for you to color. This player is also swooping in for the puck, and there are some more great details to color in here.
It would also be another great picture for you to add some more details of your own to!
If you have a favorite venue for watching live hockey games, you could draw some details from that venue into the background of this image to make it look like it's being played there.
What hockey venue would you choose to depict in this particular picture?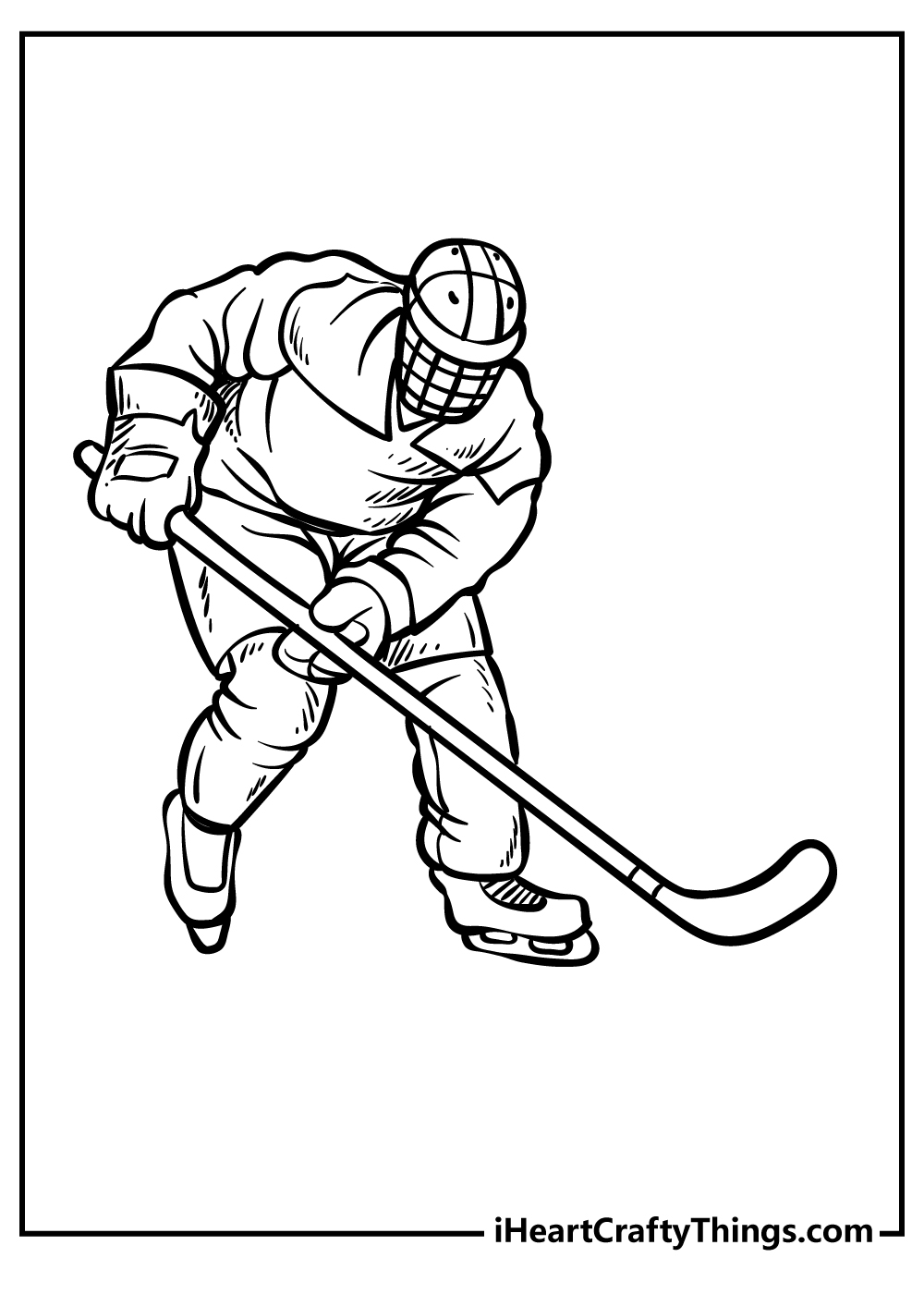 Look at this energetic young hockey player ready to take the ice. He has a big smile as he holds his stick, eager to start the game.
His jersey has the number 15 and his team's logo proudly displayed. Color his equipment and uniform your favorite colors, like red, white, and blue.
Add some details to the background too, like a frosty ice rink, falling snow, cheering fans, or the scoreboard. Think about how excited and determined this hockey player must feel!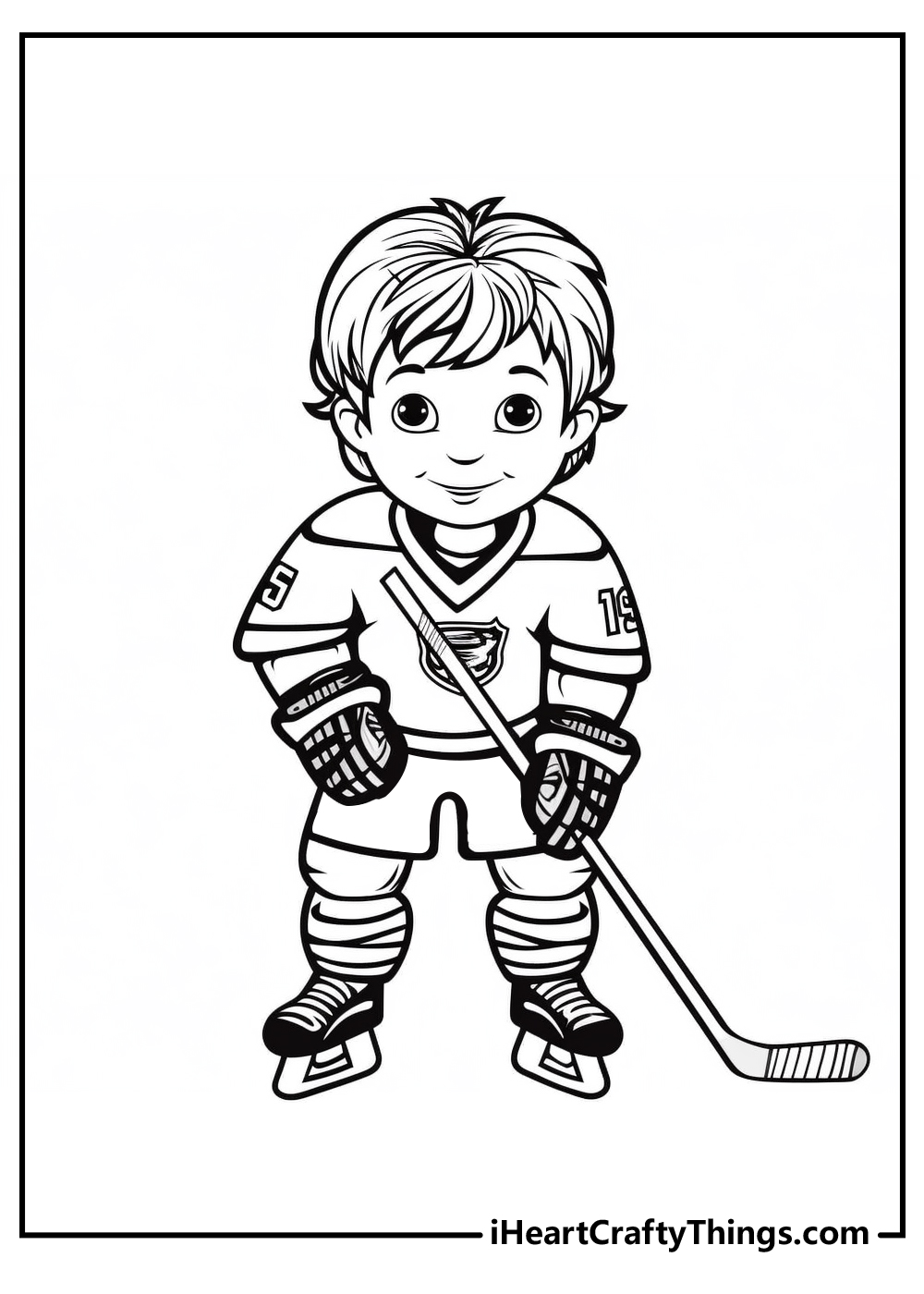 You have reached the final page in this collection, and it's another awesome scene to color! Seeing as this is the final page, you could try and branch out with the colors and mediums you use.
If you have been sticking to a certain set of colors and art tools for this collection, you could try and use ones you're less familiar with for this final picture!
What will you choose to close off the collection?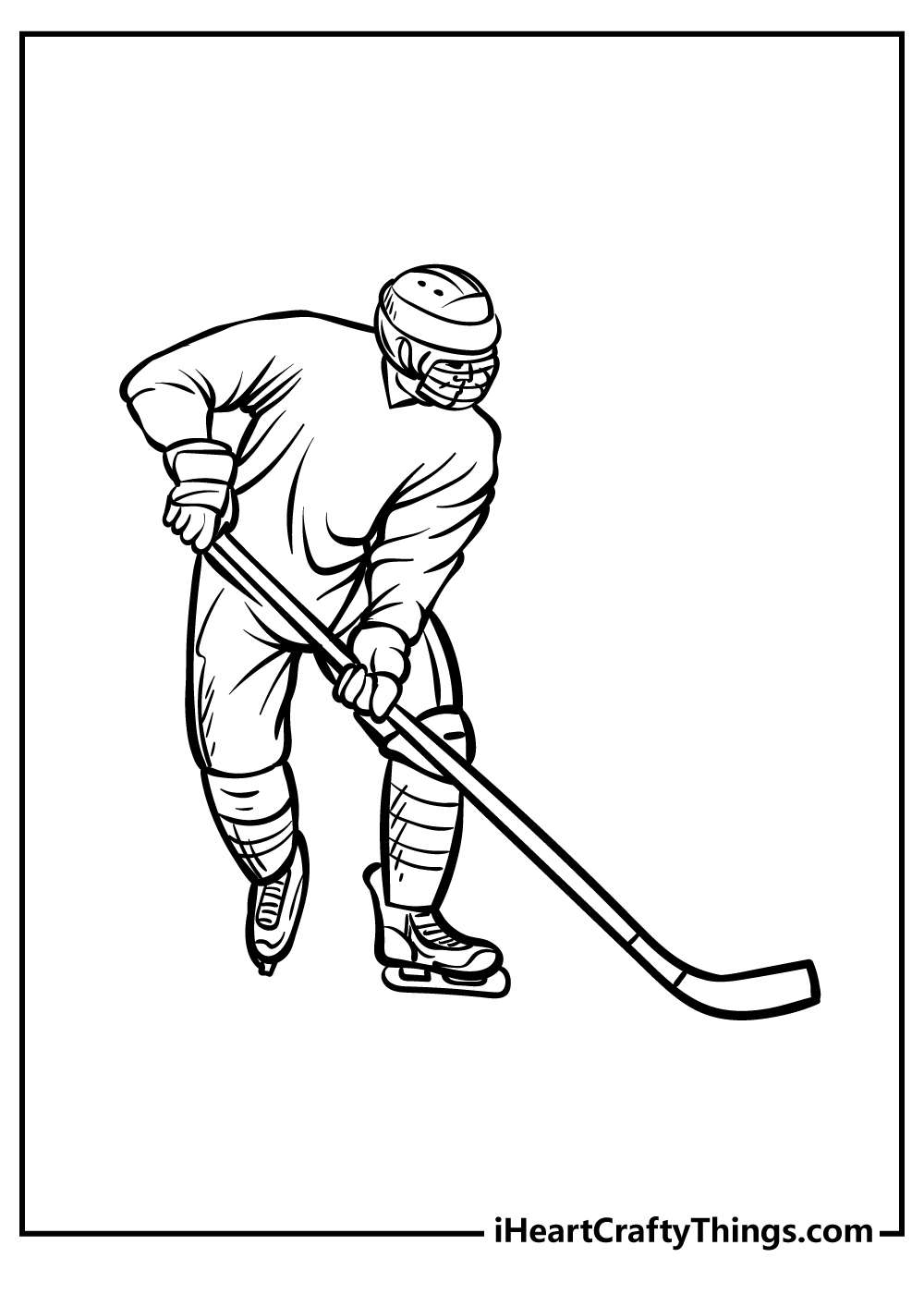 Hockey Coloring Pages – Which will you choose?
This was a truly awesome collection of free hockey coloring pages for kids!
Any hockey fan would find a lot to love in this collection, as there are tons of great scenes focused on this incredible sport.
You will also get to use all of your favorite colors depicting your favorite teams and players!
Then, you can head to our website for more drawing fun to enjoy when you're finished with these.
We have a massive selection of coloring pages and other fun activities that we update regularly, so keep checking in!
We would love to share in the hockey excitement, so please be sure to share some of your finished hockey coloring pages for us to see when they're done.
We can't wait to see your creativity on display!