On this page, you will find 15 all new Frankenstein coloring pages that are completely free to print and download.
There are many different iconic monsters and beasts throughout all of fiction.
There are a few that have endured for many decades since their creation, and they have gone on to terrify audiences around the world.
Frankenstein is an example of this, as this creation has bright nightmares to many! He first appeared in 1818 in the novel by Mary Shelley, and has since gone on to star in many films and other forms of media.
We will be paying tribute to this iconic monster in this collection of free Frankenstein coloring pages for kids! There is a scary amount of coloring fun in store for you, so we hope you're ready!
These awesome coloring pages are all free for you to print, color and have tons of spooky fun with. But why keep all the fun for yourself! You can also share these pages with other people to enjoy as well.
With that in mind, put down your pitchfork and grab your favorite art tools as we embark on this scary coloring adventure!
Don't forget to share your finished pages on our Facebook and Pinterest pages, as we would love to see how you colored in this famous monster.
15 Brand New Frankenstein Coloring Pages – Free to Print and Color
Before we start this collection, it's worth noting that we are technically coloring Frankenstein's monster instead of Dr. Frankenstein himself.
However, the monster is often called Frankenstein by fans, so that's what we will call him in this collection for simplicity.
With that out of the way, let us begin this first page. Here we have a really classic portrayal of this monster.
Frankenstein has appeared in countless film adaptations, and his very first movie appearance was all the way back in 1910, almost a century after his book debut.
There are lots of line details and shading elements in this first picture, and now it's up to you to show us how you will color this gruesome portrait!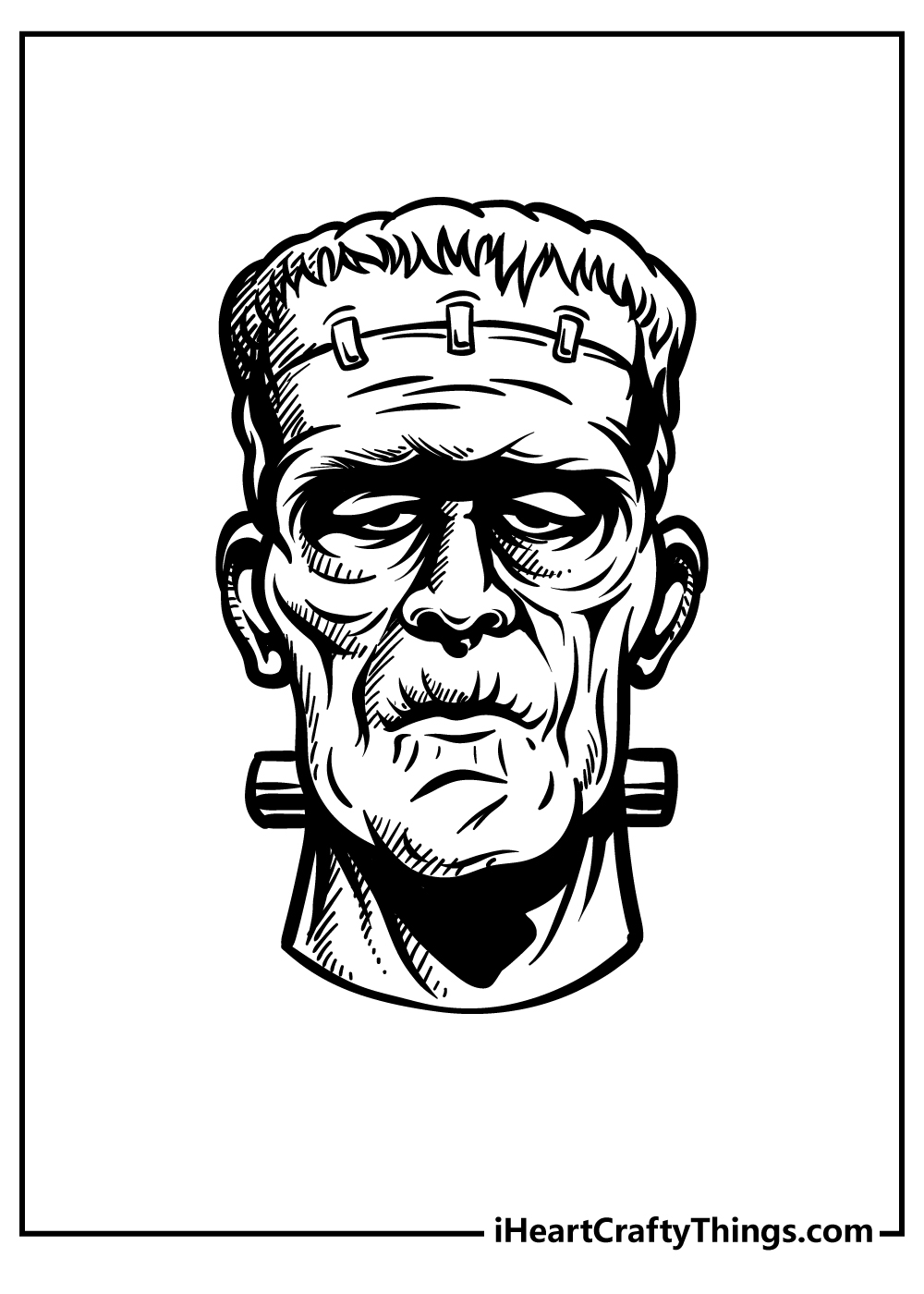 Frankenstein looks funny and scary in his signature suit and tie. He is holding two lightning bolts in his hands.
The background is filled with circles and lines that create a sense of electricity or energy.
What colors will you choose for this cool portrayal of Frankenstein boy?
Will you use dark and gloomy colors to match his scary appearance, or bright and cheerful colors to show his playful personality?
Have fun playing around with these free Frankenstein coloring pages.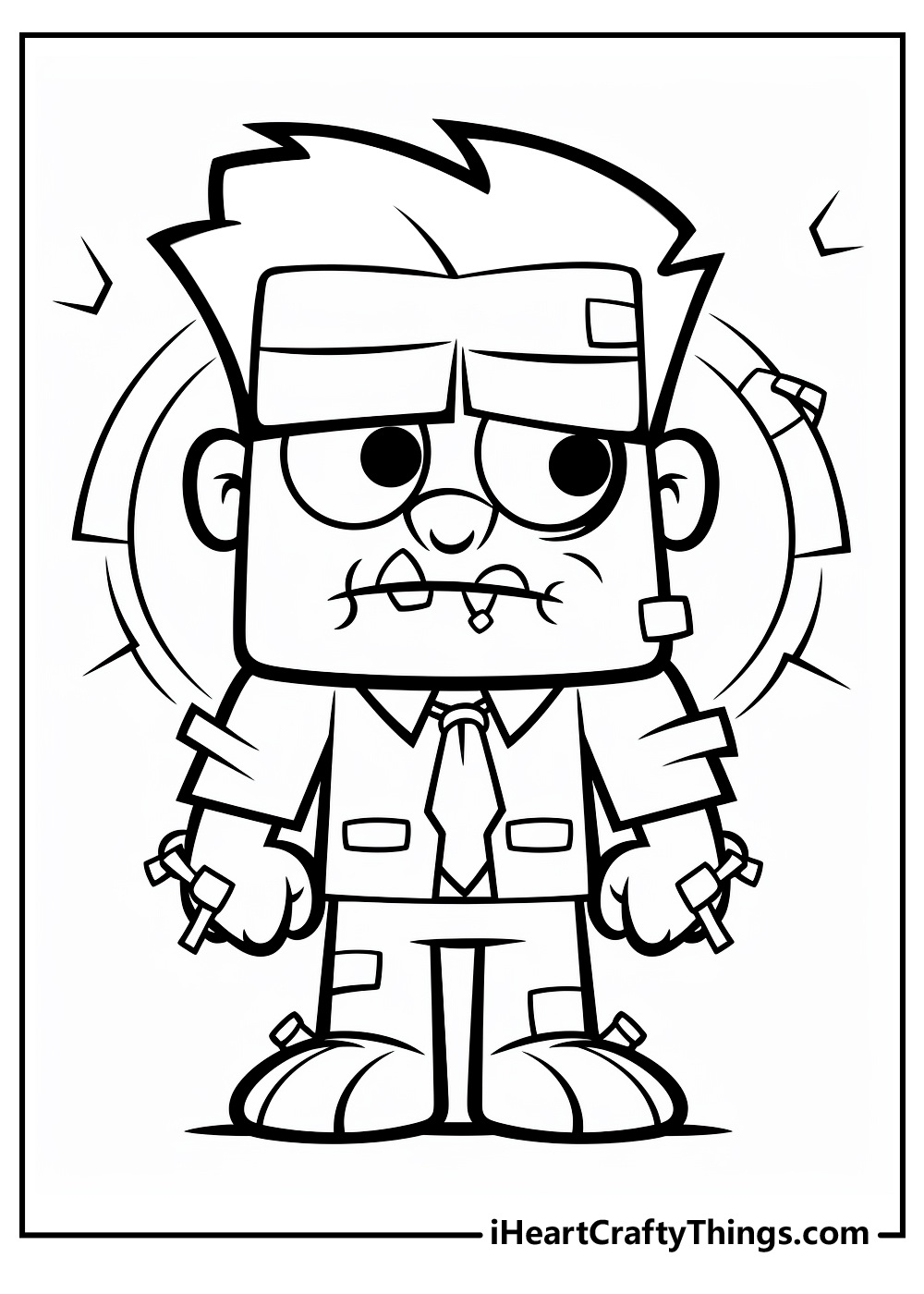 Our second Frankenstein coloring sheet features a slightly more realistic take on the famous character.
We say realistic, but hopefully none of us will ever see him in person to confirm! Because this is a more realistic portrayal, we would keep the colors a bit lighter and more muted.
We would recommend some light greys or greens for his skin, but it's completely up to you!
What colors will you choose for this cool portrayal of Frankenstein?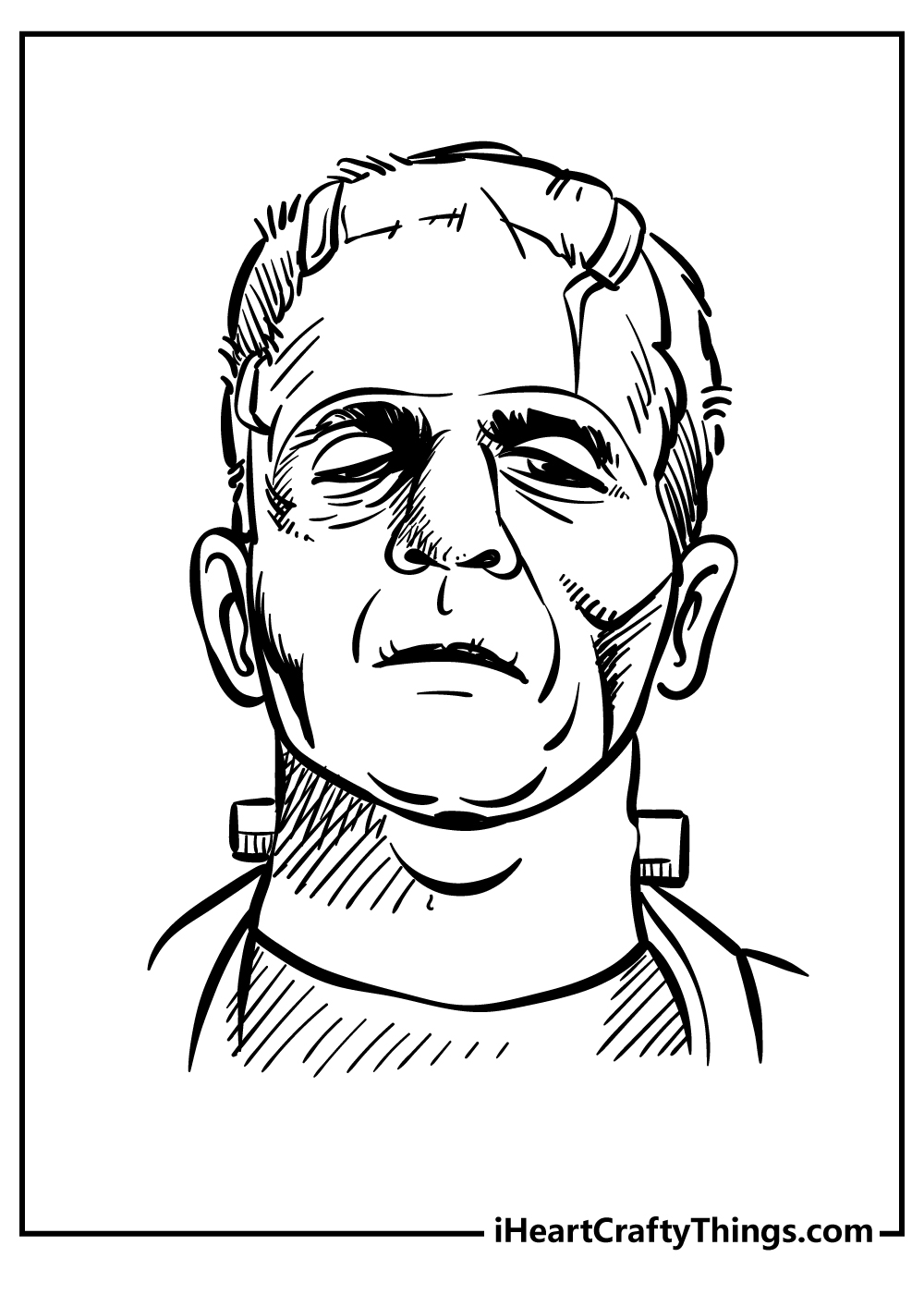 This next picture of Frankenstein is really fun! This one is a lot more stylized, and is done in a caricature style.
Unlike the last image which was more realistic, we think it would be fun to use brighter, more cartoony colors for this particular one.
Do you agree, or do you have something else in mind for this guy?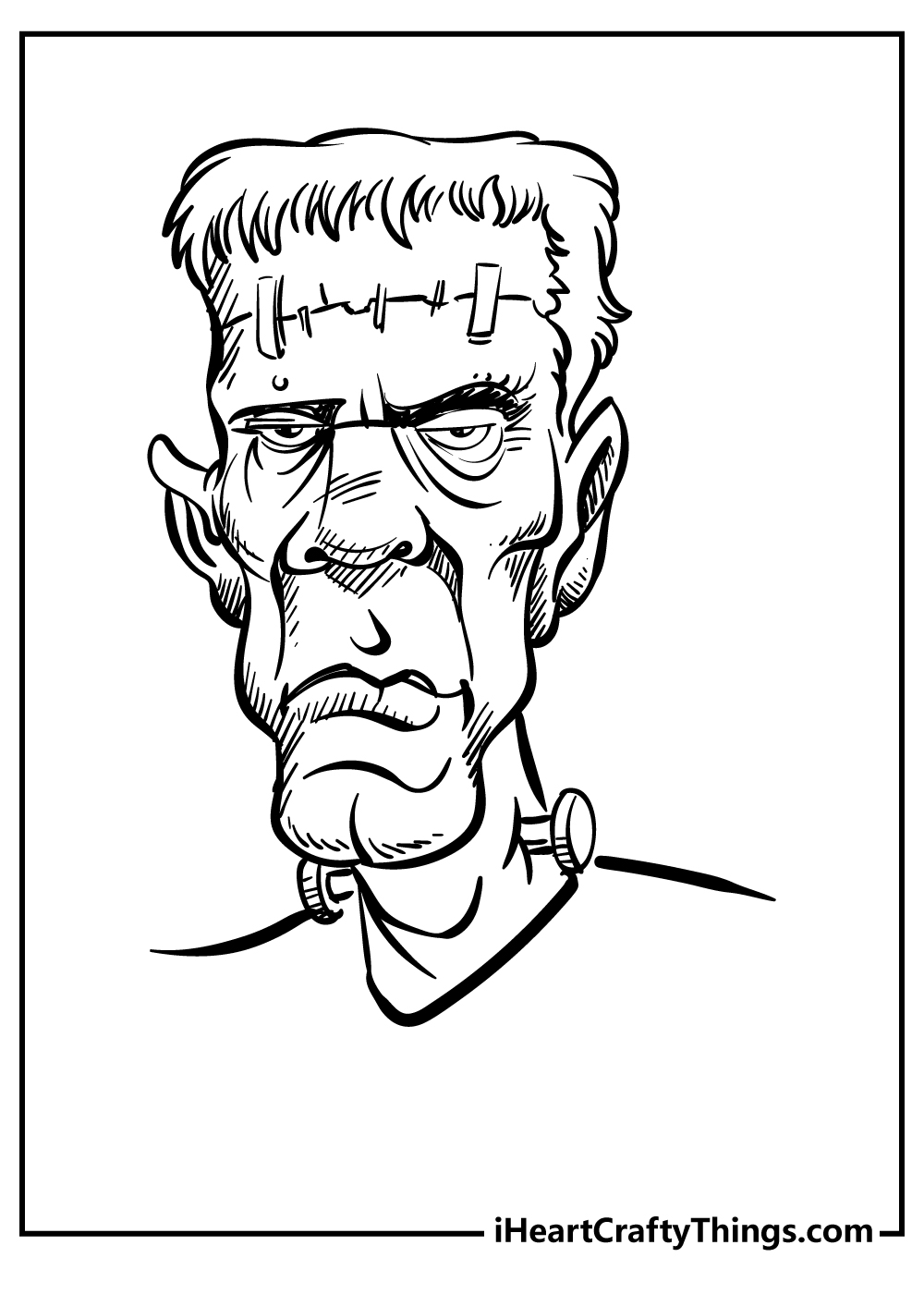 Are you ready for another fun and spooky Frankenstein coloring page? You can see his square head with a jagged hairline and a large forehead.
He is wearing a suit and tie and has large hands and feet. His pose and arms also look like he's ready to attack.
You can use realistic colors like brown, gray, and red to make him look more lifelike. Or you can use fantasy colors like blue, pink, and green to make him look more whimsical.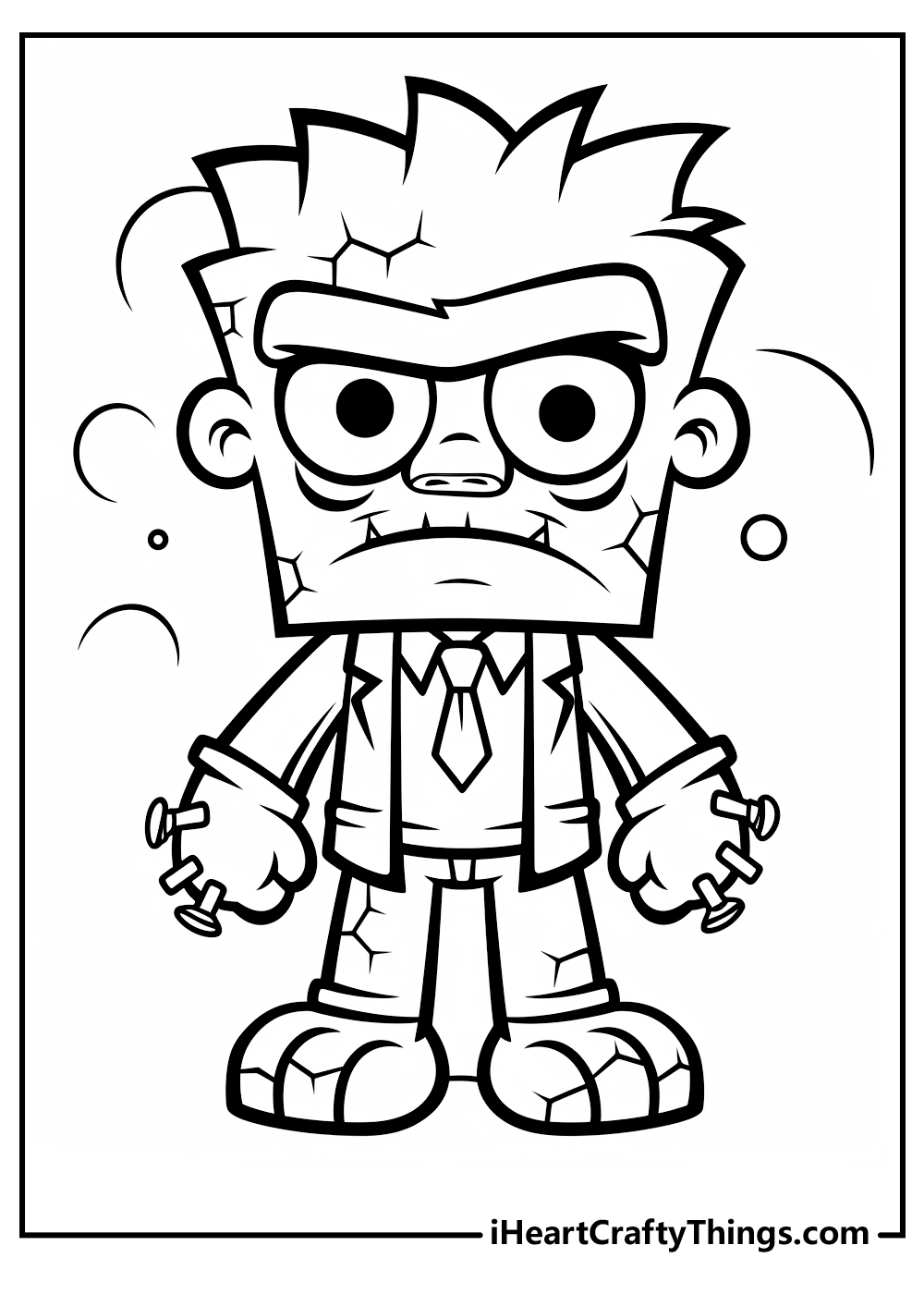 We're back to a realistic portrayal of the monster himself in this next picture.
This image really went to town with the details, and elements such as his stitches and the bolts in his neck are portrayed with gruesome detail!
We also really love the intense expression he has here, so how do you think you will go about matching the serious tone shown on his face?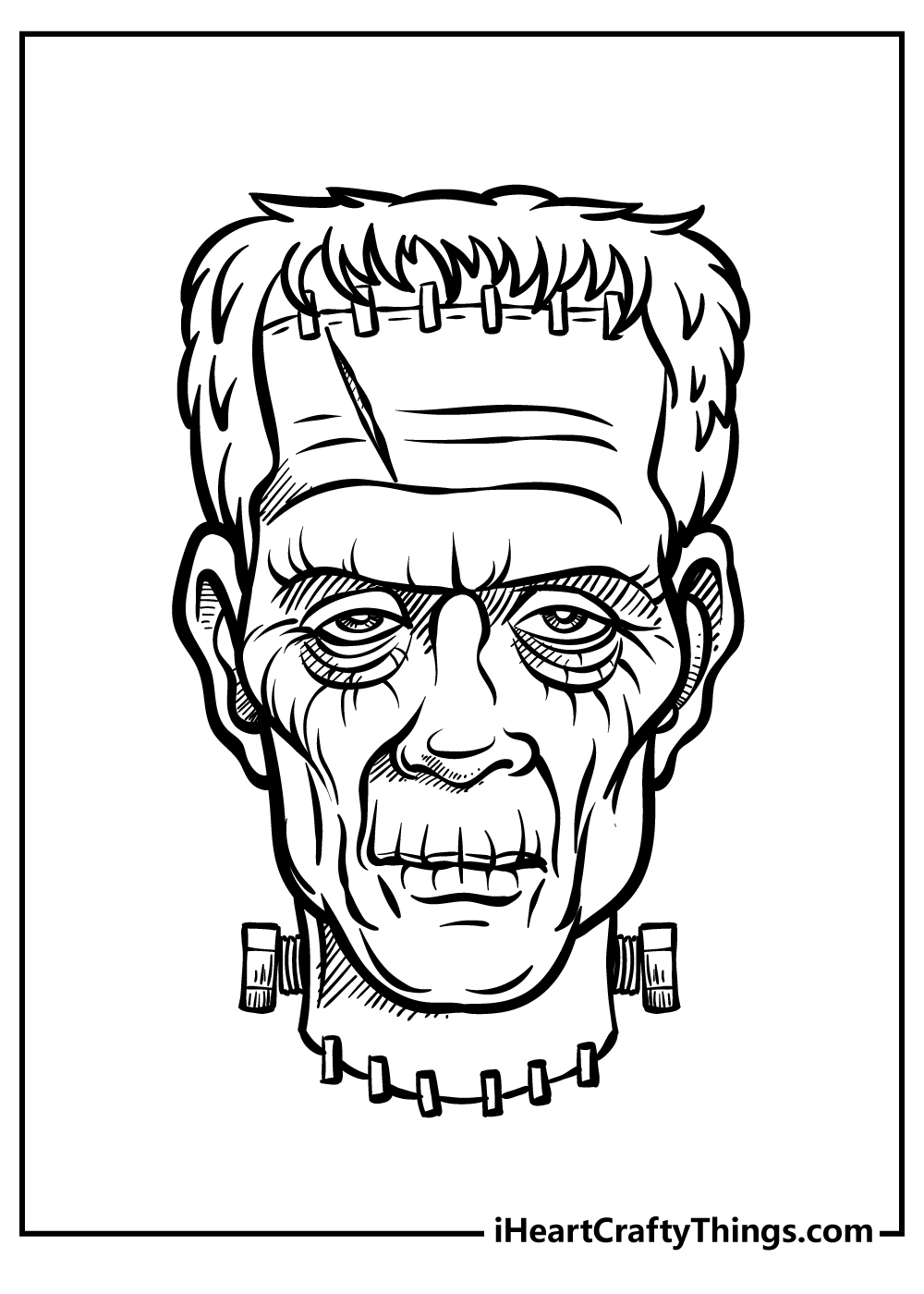 Someone's looking rather unhappy in this next Frankenstein coloring printable.
This portrayal of the character reminds us a bit of the horror writer Stephen King, and that would be an appropriate crossover to make!
When you have colored Frankenstein, you could also add your own details and elements to the image.
The background has been left blank, so you could add some spooky shapes or other details to the background.
What other ideas do you have that you could add to this scary picture?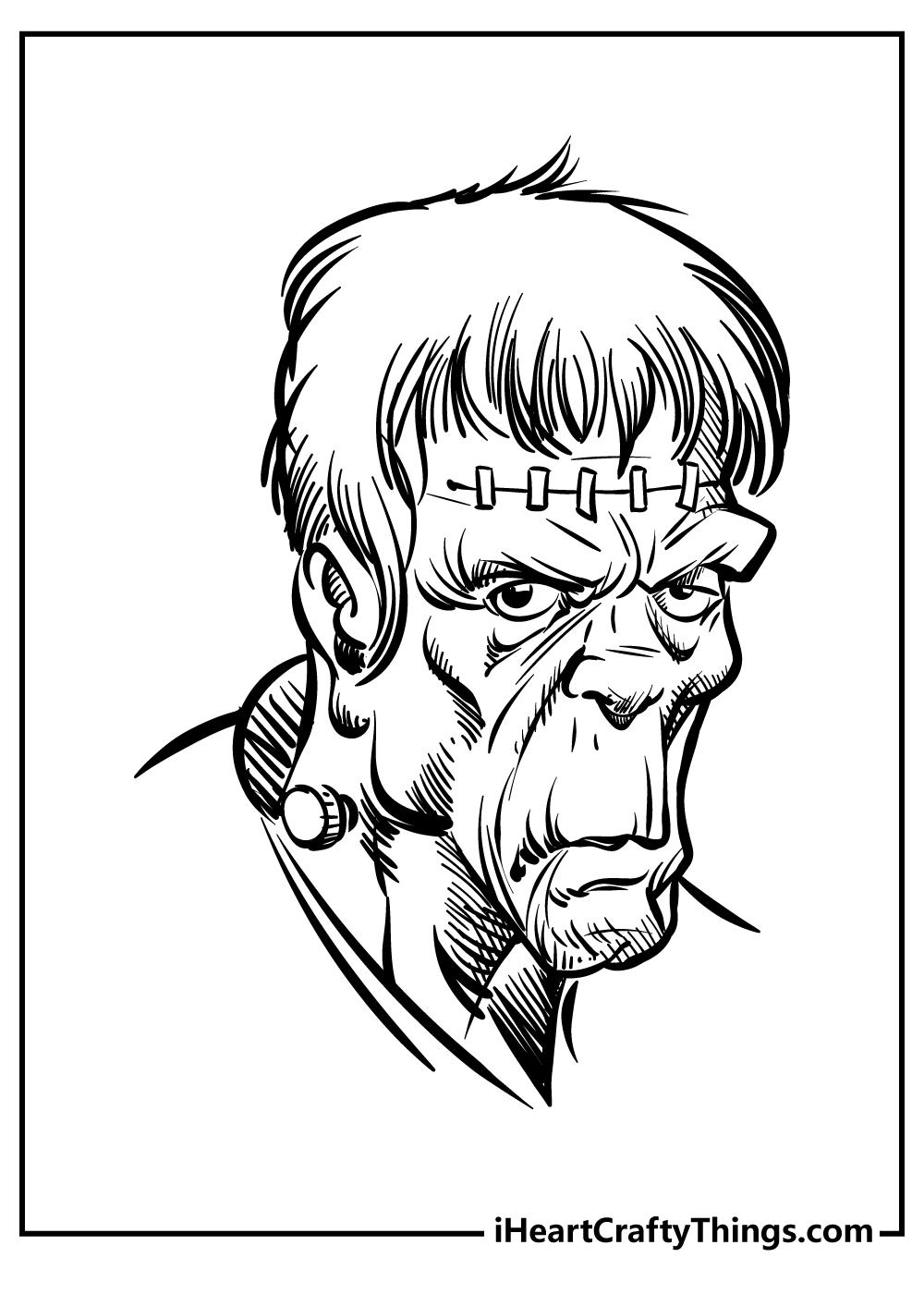 Wow, look at this weird and creepy Frankenstein. He has a square head with spiky hair and a large mouth with sharp teeth.
He has a creepy expression on his face. Is he trying to scare us? Well, I don't think you should be scared when coloring this boy.
He is wearing a tattered jacket and pants with a belt. His arms and legs are outstretched and his hands and feet are claw-like.
What colors would you use for this creepy Frankenstein coloring page?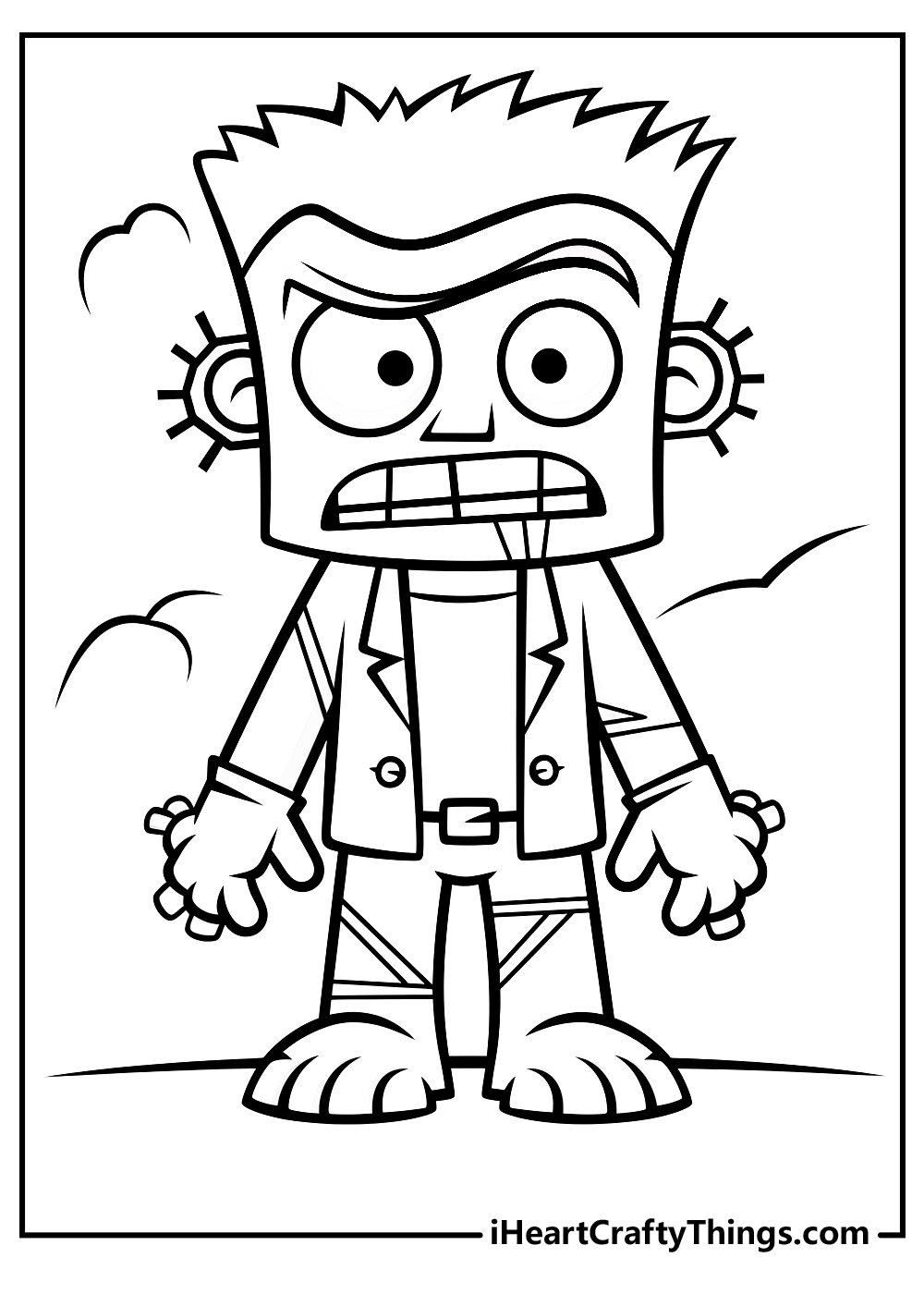 Now here's an intense picture! We love this next page, as it features a depiction of Frankenstein that is simultaneously stylistic and terrifying.
There is a lot of shading detail in this particular image, so we think that using darker shades of colors such as green and grey would be perfect for this one.
Do you think that you will go for colors such as these, or did other ones come to mind when you saw this one?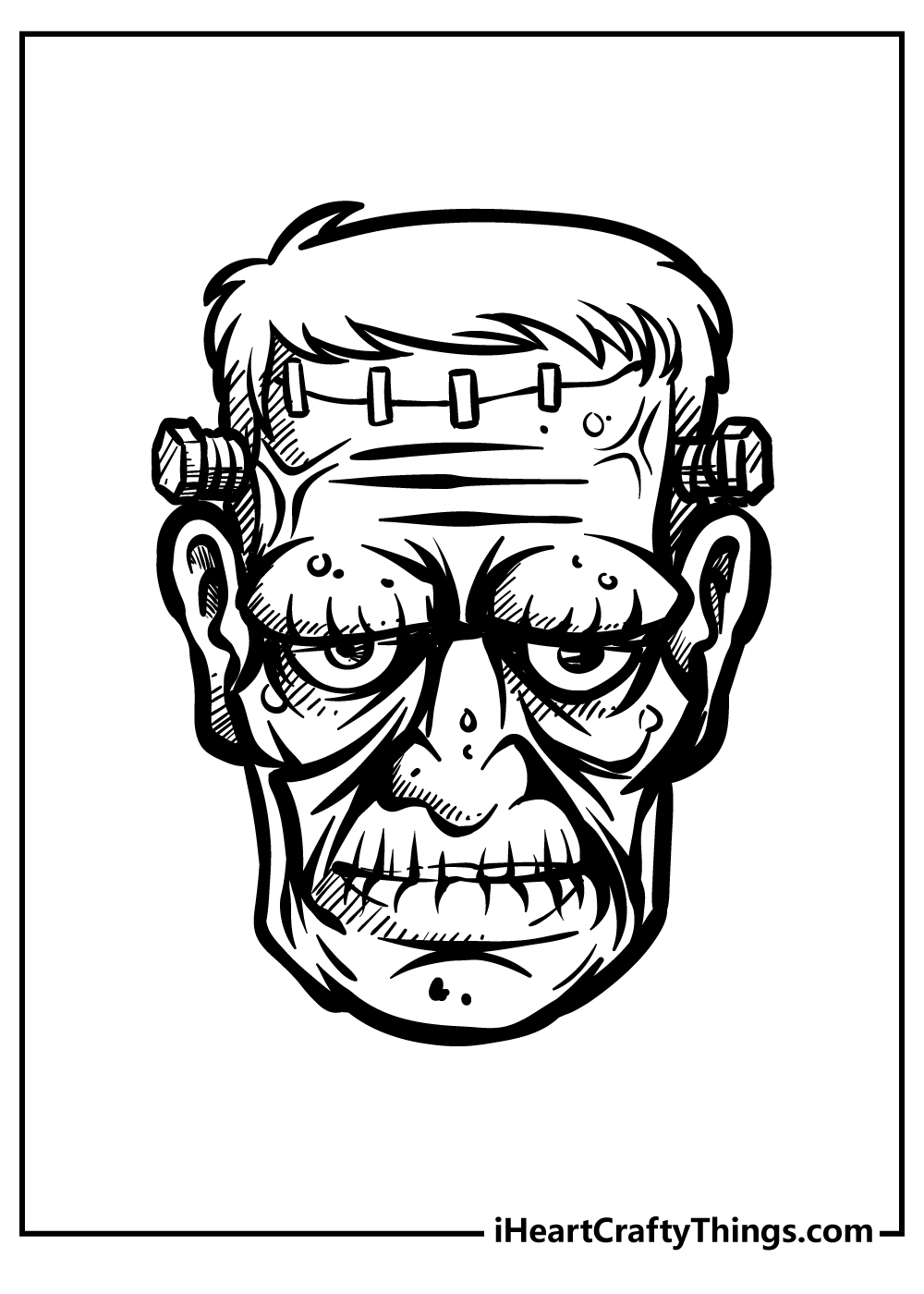 Dr Frankenstein must have been running out of materials when making this version of his monster! He seems to have a pumpkin for the top of his head, and he doesn't look pleased about it.
Still, it makes for a nice Halloween-themed depiction of the monster, and Frankenstein has always been perfect for Halloween!
The pumpkin top will also allow you to use some orange, and we think using duller shades of orange will make the pumpkin look old and a bit rotten.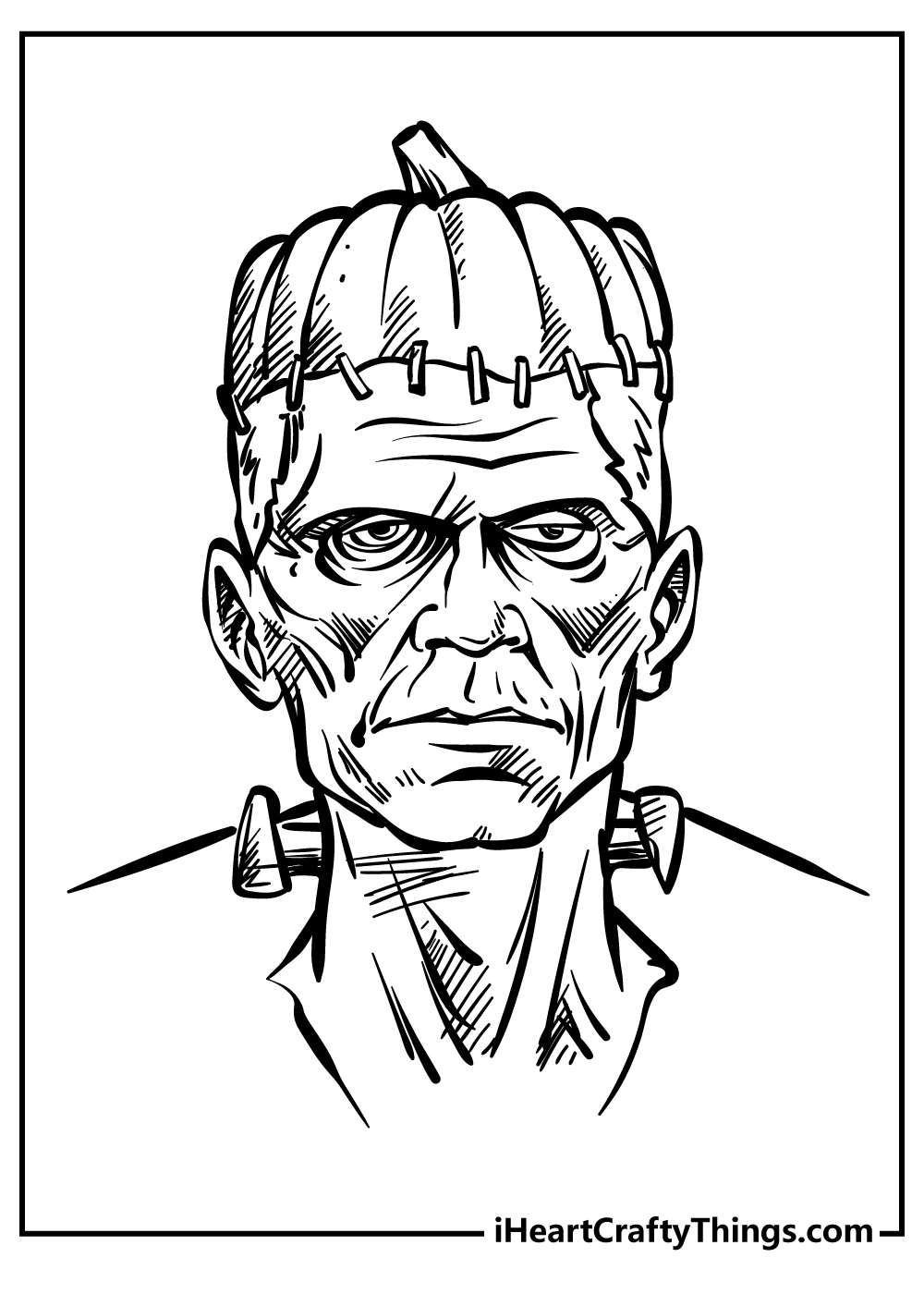 We have a hilarious depiction of the character to break things up a bit for this next free Frankenstein coloring page!
This is another cartoony depiction of the monster, and unlike all the other images in this collection he actually looks pretty happy.
To suit the mood of this portrayal, we would again recommend some bright, zany colors for this one. As always, it's completely up to you!
We can't wait to see what colors and art mediums you choose for this fun picture of Frankenstein.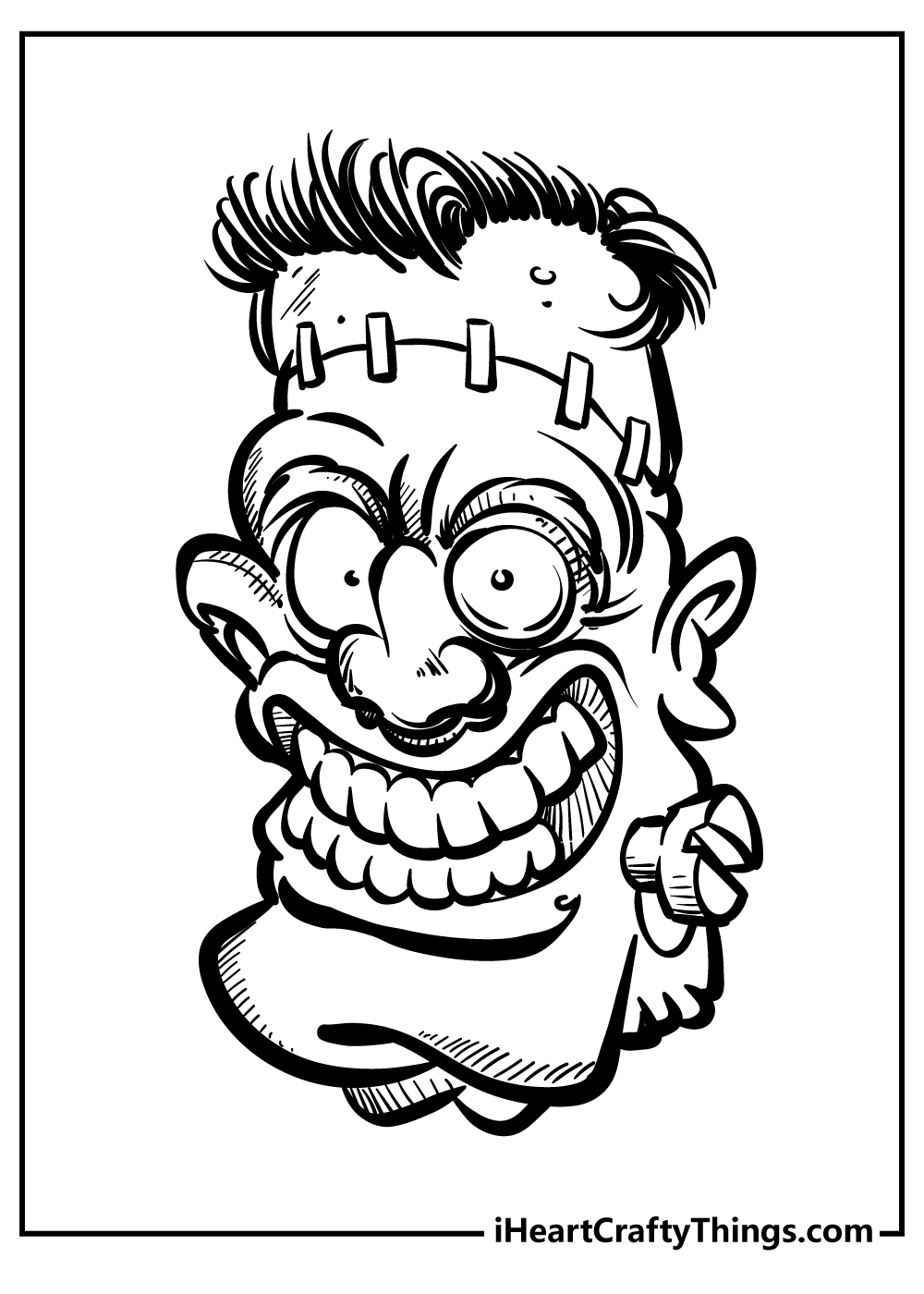 Wow, look at this Frankenstein coloring page. This is not your typical Frankenstein, but a funny version of him.
He is a man who has a square face, and a mustache. He also has a scar and a bandage on his face, but they don't make him look scary at all.
He looks more like he is angry or annoyed by something.
Maybe he is mad because his Frankenstein costume is not working well, or maybe he is just having a bad day. What do you think is bothering him?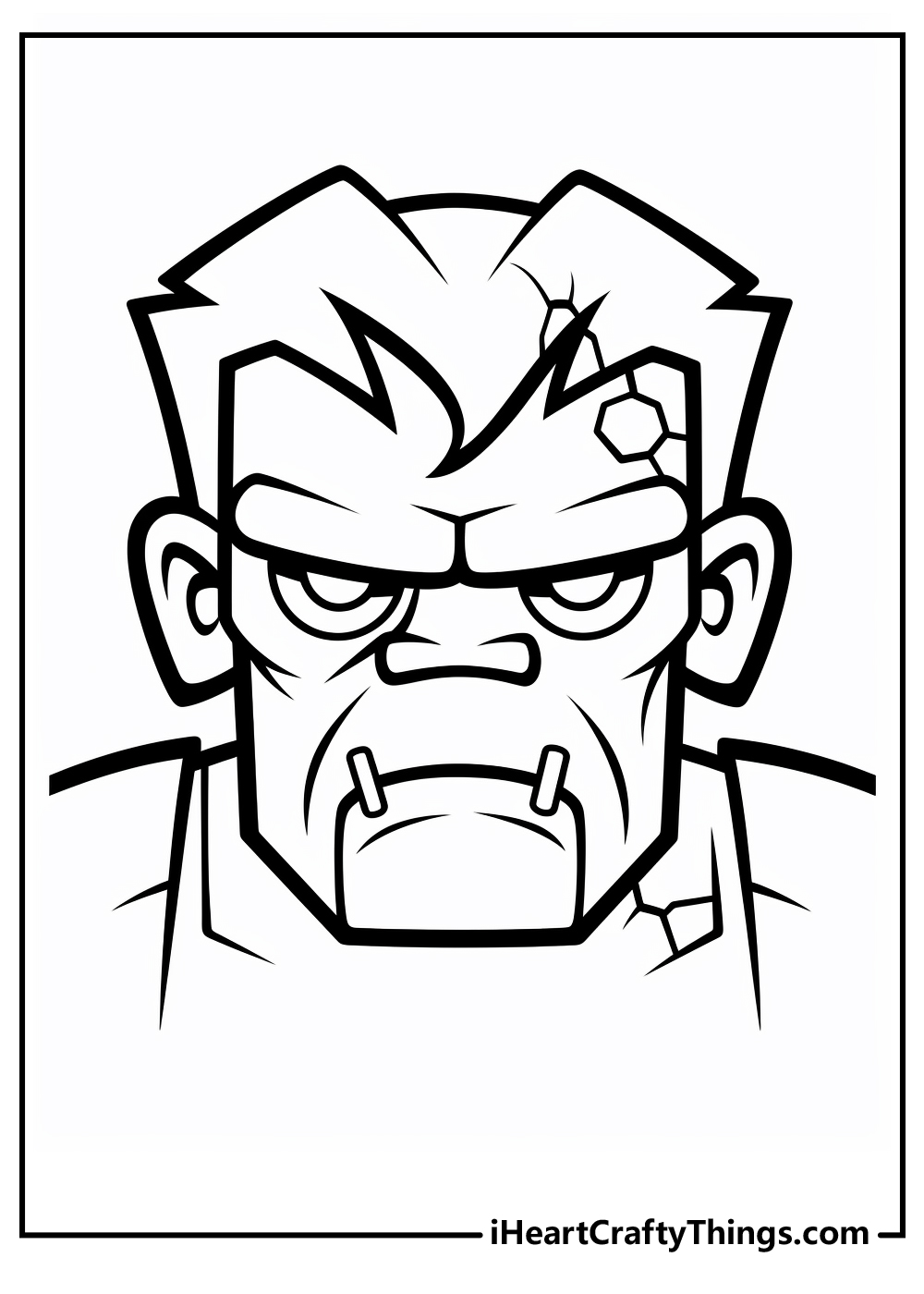 We're back with another classic portrayal of Frankenstein in this page.
Perhaps the actor most well-known for playing Frankenstein was Boris Karloff, and this page shows a portrayal that looks a lot like his version of the character.
His Frankenstein films were usually in black and white, so it could be fun to color this picture in shades of grey and black to make it look like a still from an old movie.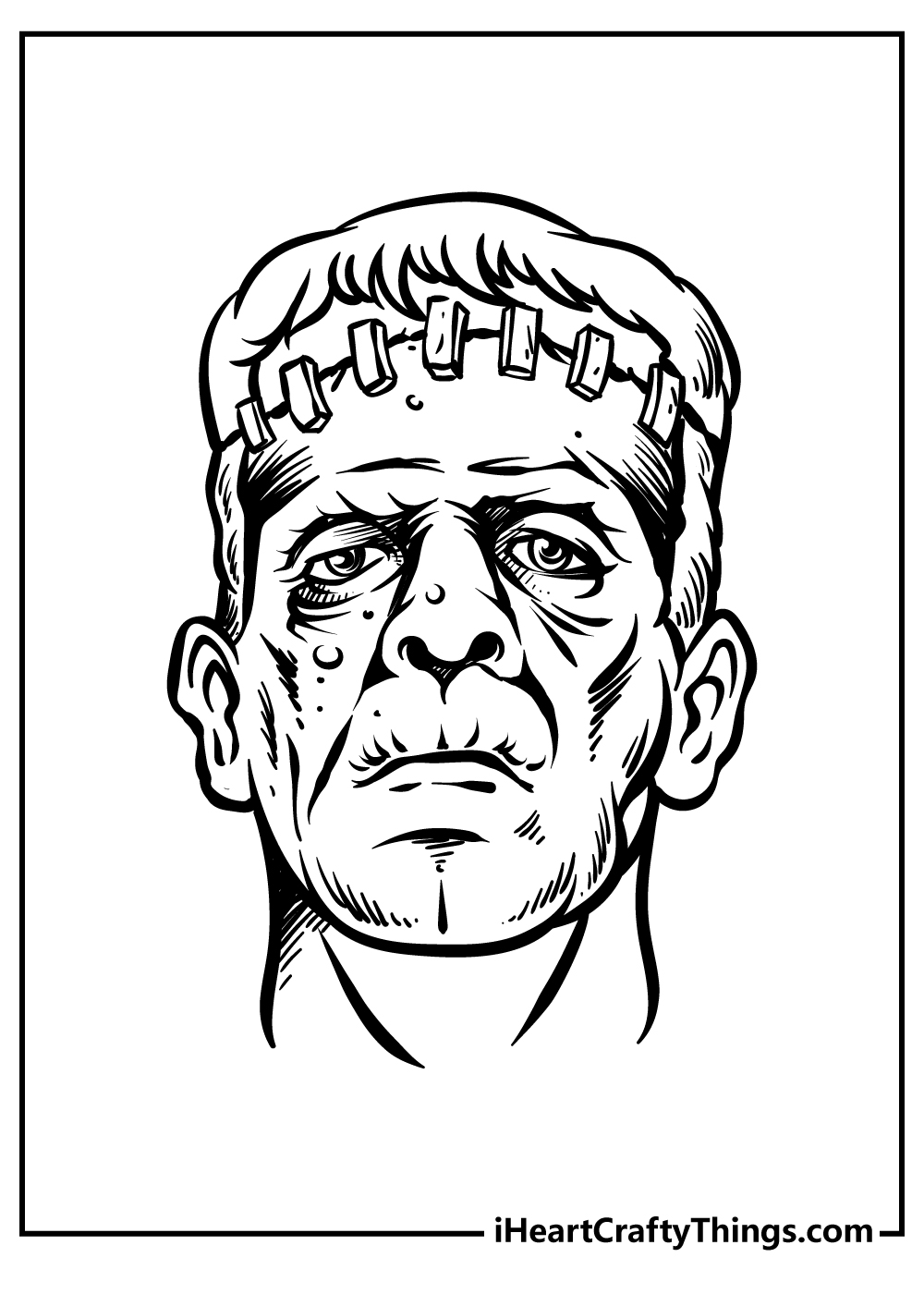 Get ready for some electrifying fun with this Frankenstein coloring page. Our stitched-together friend looks really angry as he's having a monstrously bad day and could use some coloring cheer.
Start by giving him wacky mismatched skin tones like purple, green and polka-dotted blue. Don't forget bolts on his hands, stitches across his face and a curly cue hairdo.
Make his eyes googly, his lips pouty and his eyebrows extra furrowed to capture his hilariously grumpy mood.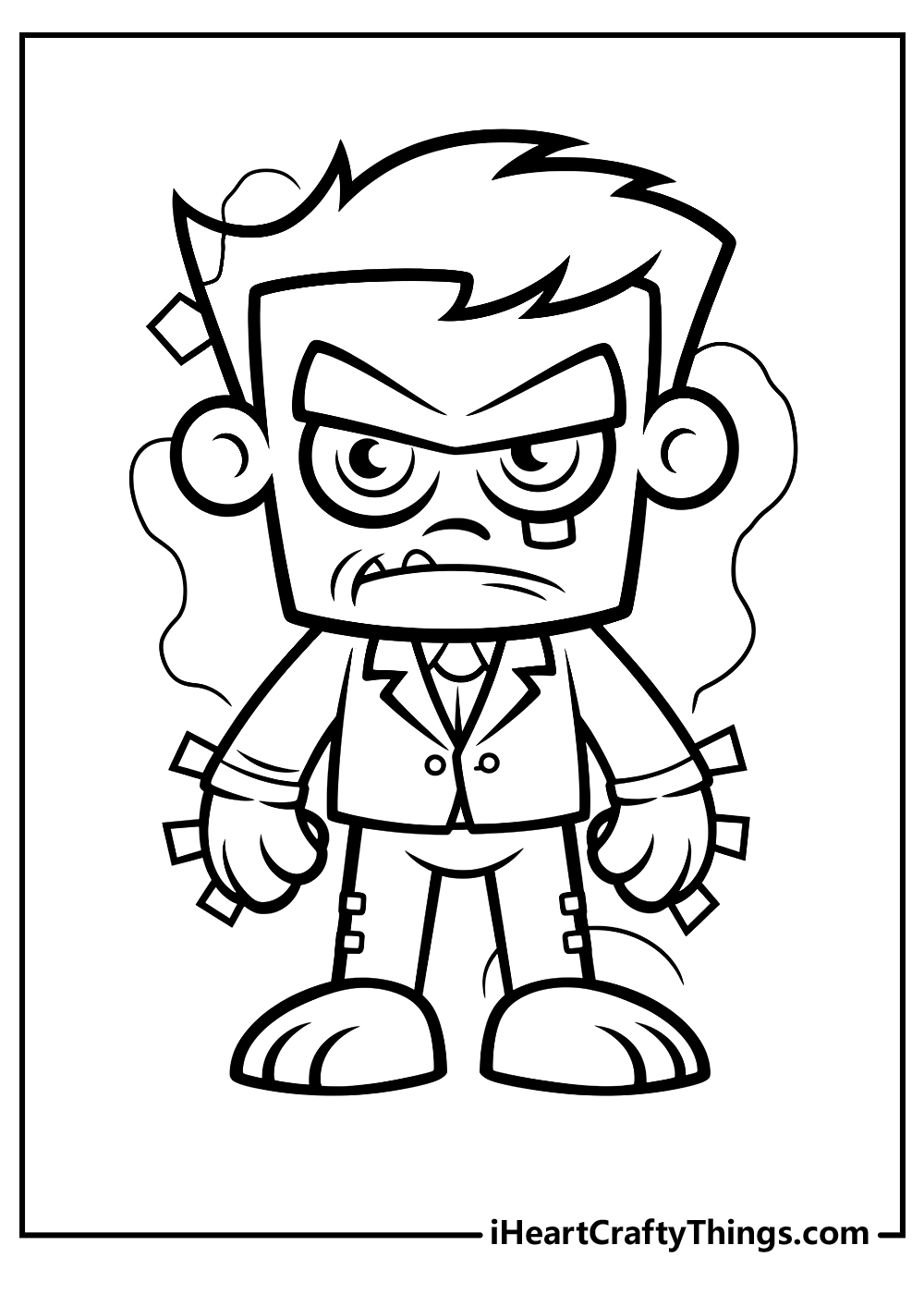 Our final Frankenstein coloring sheet of this collection may be the scariest one yet!
This one looks like an even more zombified version of the monster, and there are so many great details for you to color in.
This is an image where we think that using art tools and mediums that allow for precision would be a great idea.
We would recommend colored pens, markers, pencils and thin-tipped brushed for all the details, but what art tools and mediums will you choose?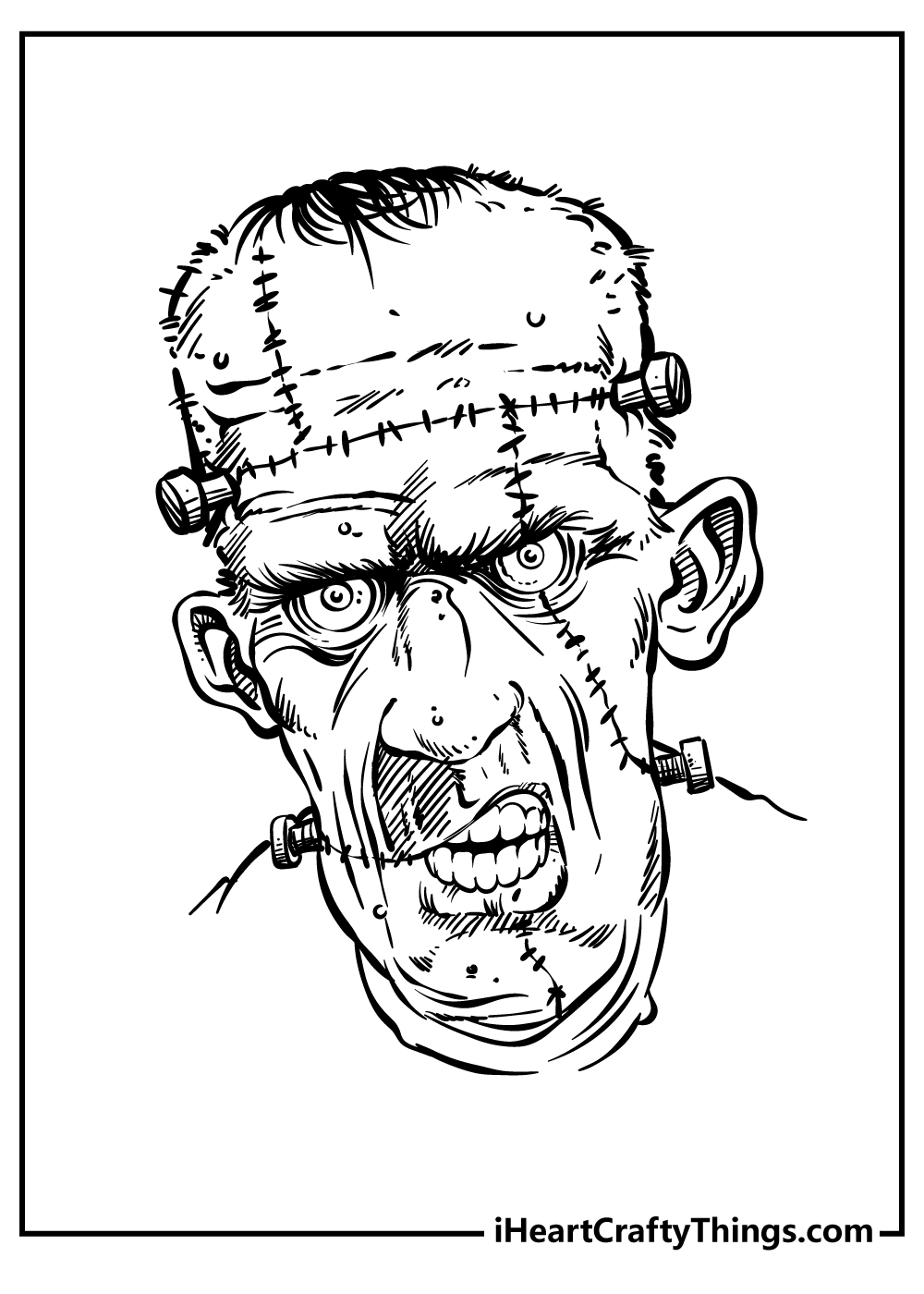 Frankenstein Coloring Pages – Which will you choose?
We hope you had a scarily great time working on this awesome collection of free Frankenstein coloring pages for kids!
We tried to provide a wide array of styles for this character for you to color. Remember to print out as many copies as you like and to share them with friends and family!
We have many more collections of coloring pages and other goodies for you to enjoy on our website! Remember to visit us there often to never miss out on the fun.
It would be amazing to see your finished Frankenstein pictures, so please share some of your favorites on our Facebook and Pinterest pages for us to see.