On this page, you will find 20 all new My Little Pony coloring pages that are completely free to print and download.
My Little Pony not only appeals to children, but it has also gained massive following of teenagers and young adults.
The first episode aired in 2010, but until now, these cute little ponies can be seen printed almost everywhere—from books to toys.
The popularity of this TV show has created a demand for My Little Pony coloring pages. There's a lot of Pony characters—Twilight Sparkle, Fluttershy, Pinkie Pie, and more! With these My Little Pony coloring sheets, you can color your favorite pony character!
These free My Little Pony coloring printables have made coloring activity more fun and easy. Simply choose the image you would like to color, print it out, and enjoy coloring it!
Coloring images and creating crafts is surely a great way to bond with friends and family.
Have fun bringing these cute pony characters to life!
My Little Pony Coloring Pages — 20 Free Printable Sheets
The adorable My Little Pony coloring sheet that we have for you to color now has such a great pony for you to color!
The series is filled with many bright and creative character designs, and now you get to make one of your own.
When coloring this pony, you could use an existing My Little Pony character as inspiration, but you could also create a new one using your own color choices.
If you were to create your own pony character, what would their name and abilities be? Maybe you could write the name in fancy letters if you decide to try this out!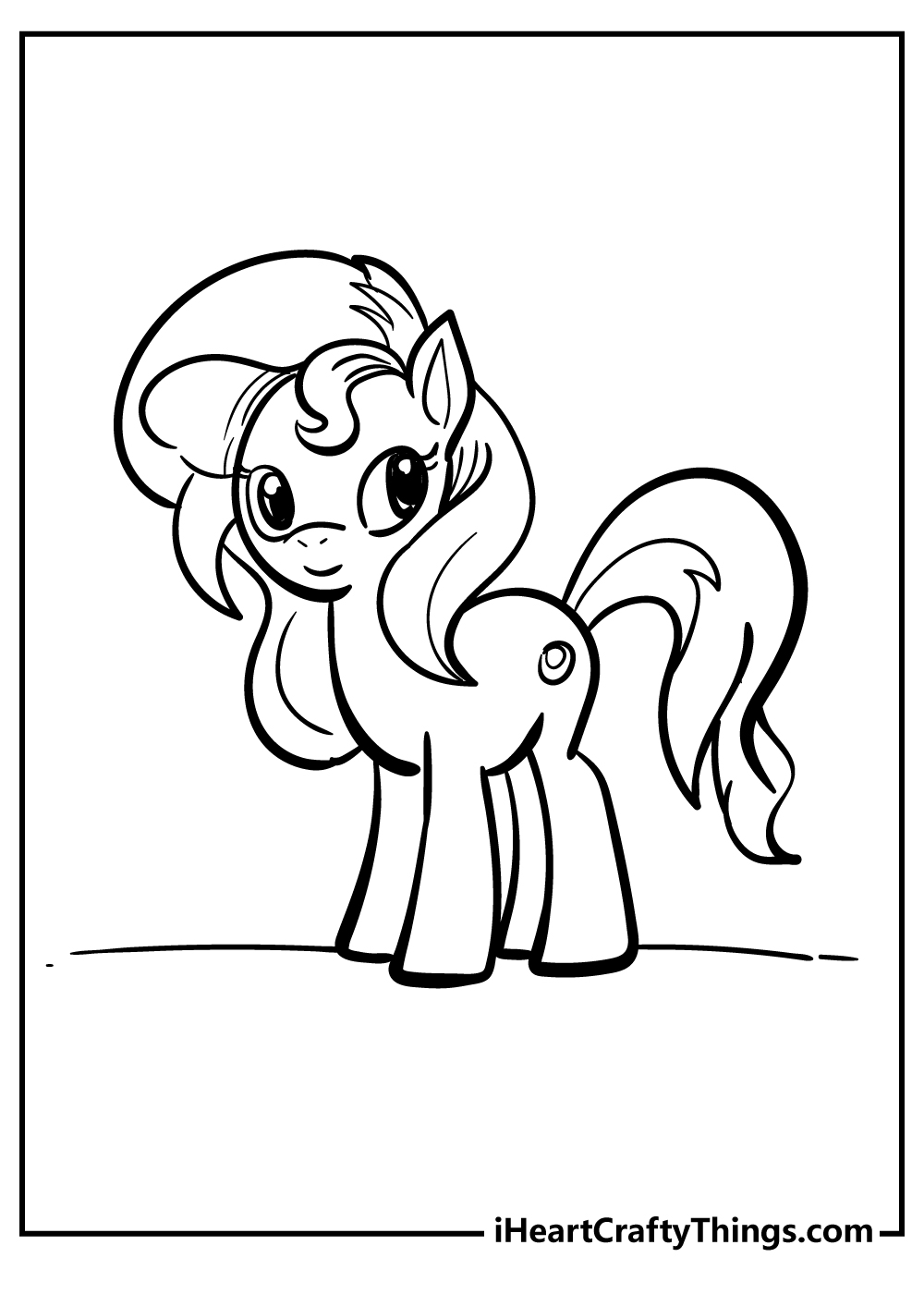 Next, we have a pony that is having some fun outdoors. Her hair is flowing in the wind, and this could be taking place in all manner of different environments.
The best part of a picture like this that has such an empty background is that you could draw one of your own! By doing that, you can show off where you think this pony is spending her day.
What kinds of fun places do you think she could be hanging out? Remember to print out multiple copies if you would like to try out a few ideas.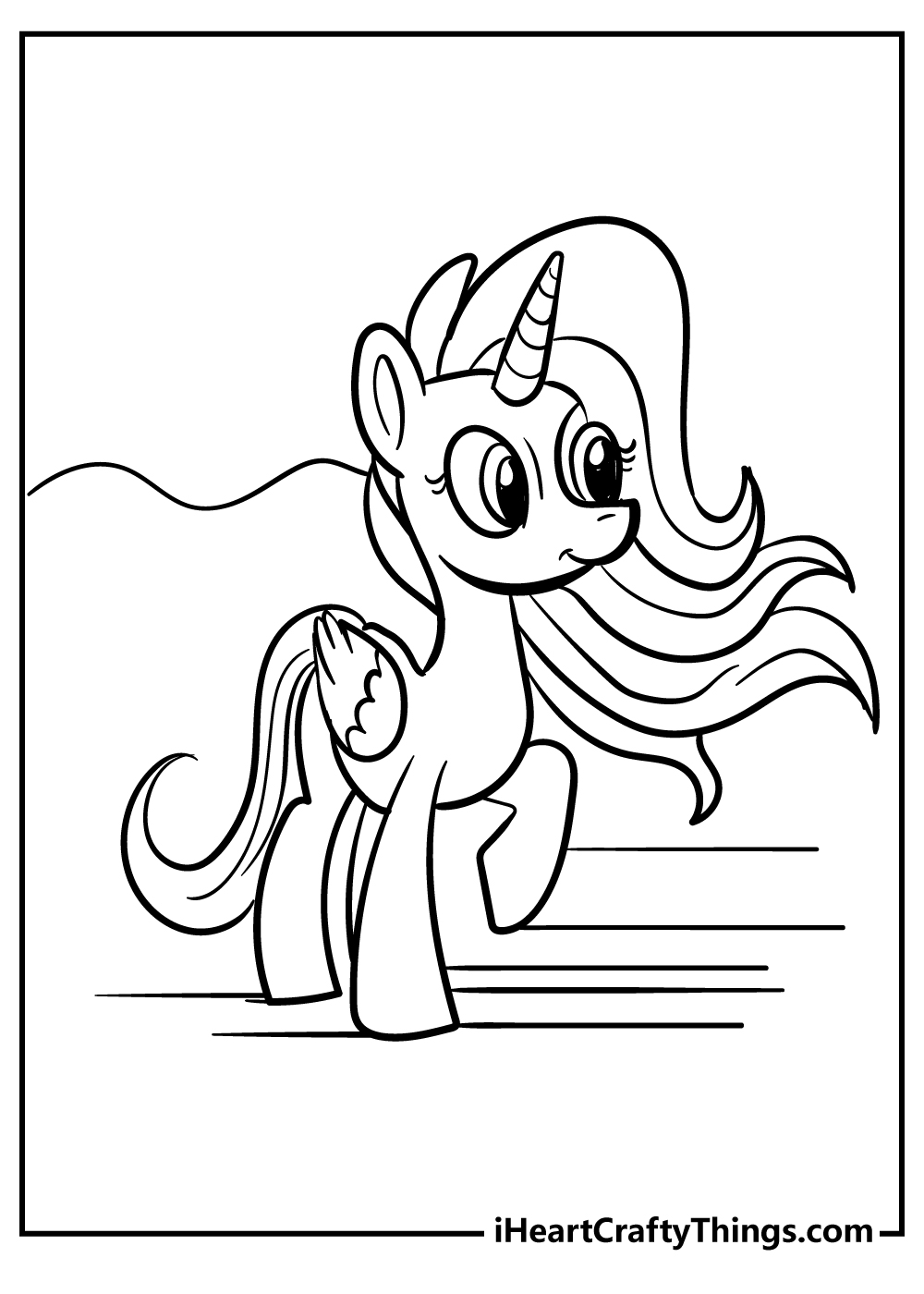 This coloring page exhibits the one-of-a-kind Twilight Sparkle! She's a unique pony known for her unique characteristics.
She has a pair of wings and a horn. With that horn on her forehead, she looks like a unicorn. She has the ability to fly high too!
She looks dazzling with those glittering sparkles all around her. There's a huge smile on her face, she must be in a good mood!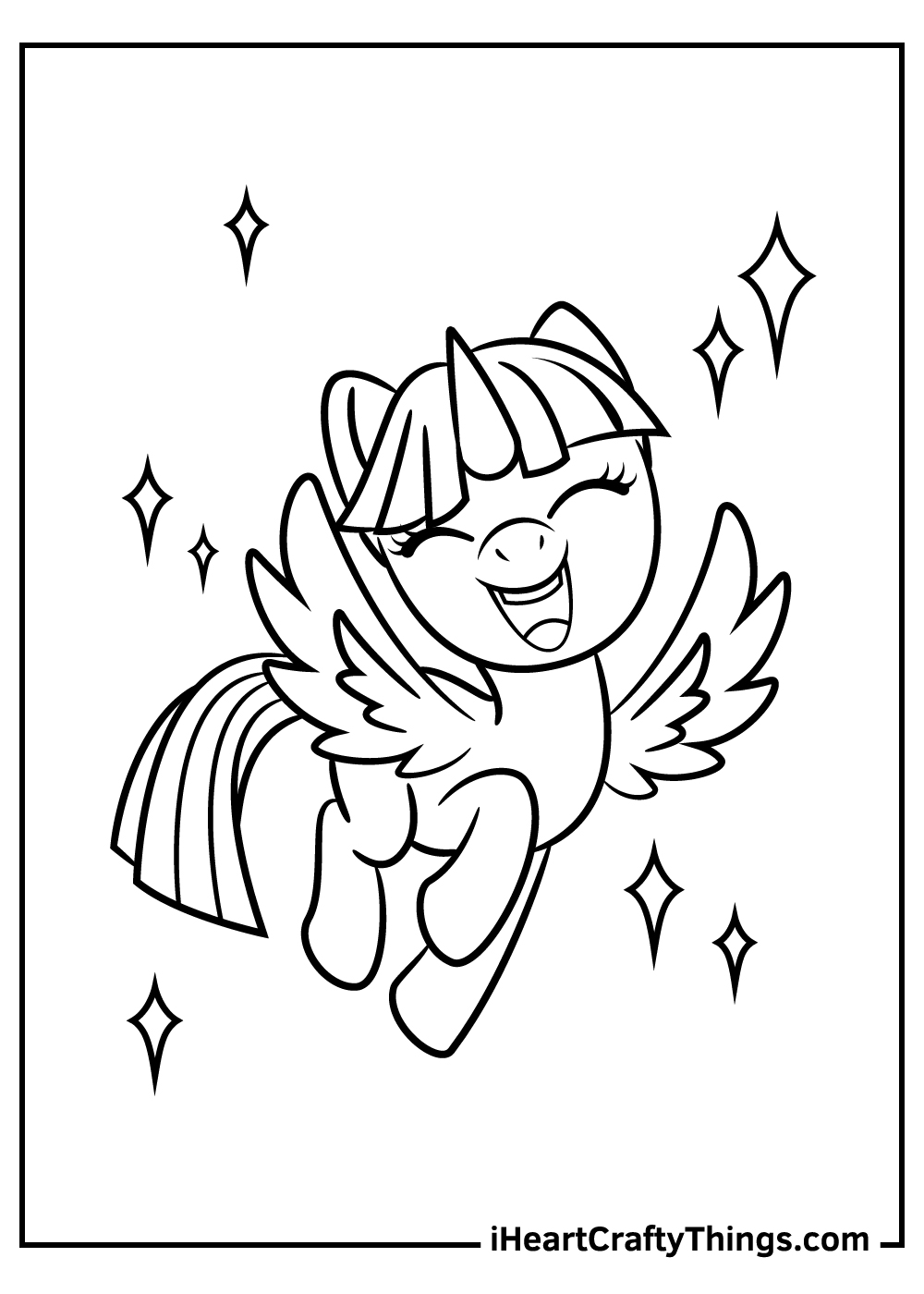 Look at the pony in this coloring page! She is posing for the camera like a professional model—how fabulous!
She even tilts her head and flutters her lashes. With those diamonds in her torso, it must be the pony named Rarity for sure!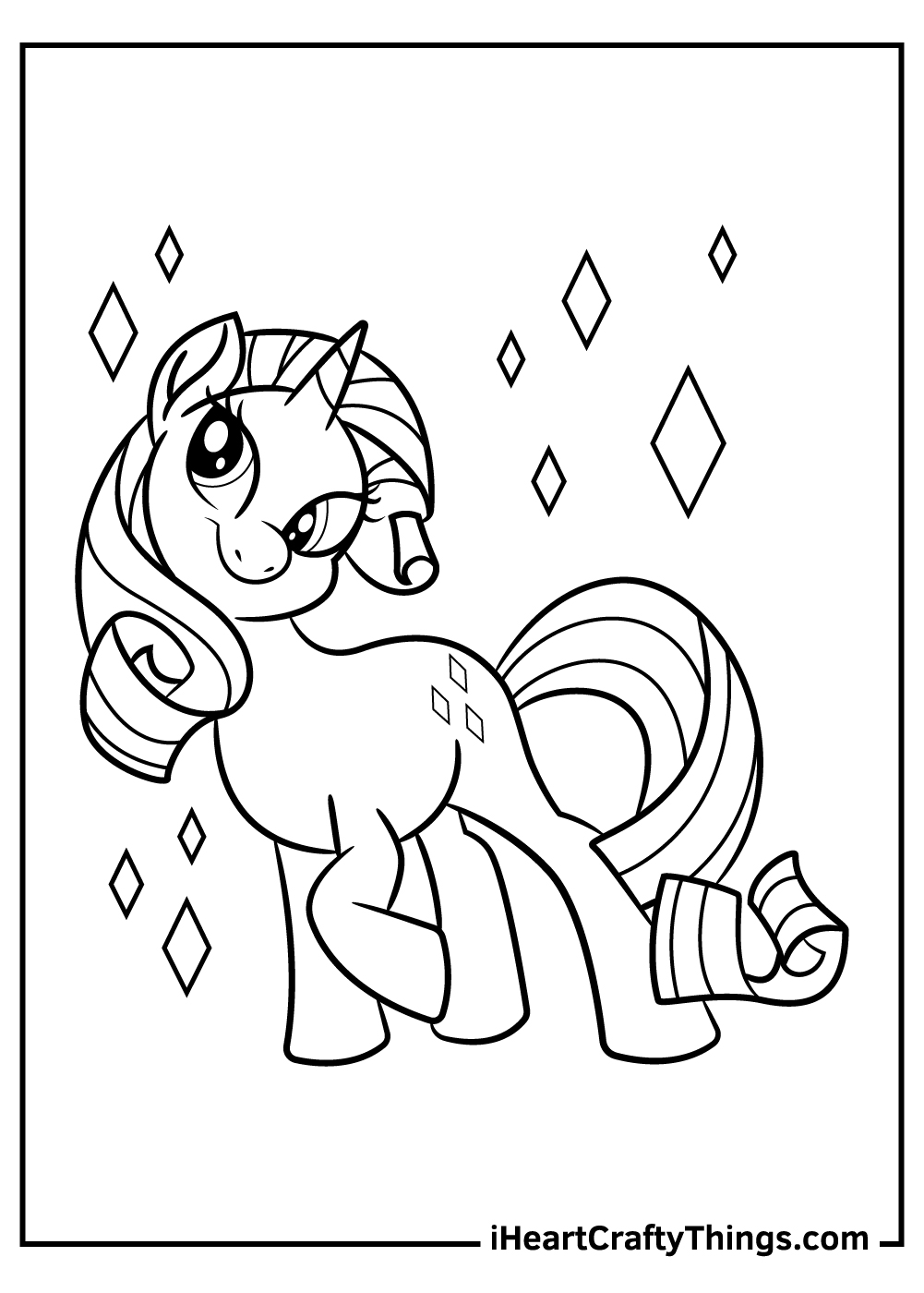 This cute pony has made a lot of friends in this coloring sheet. She looks like she's having a good time with her butterfly friends.
The butterflies surround her, probably inviting her to fly around with them.
We think the pony in this coloring page is Fluttershy, based on her long, sleek hair. Fluttershy is originally colored yellow and her hair is pastel pink.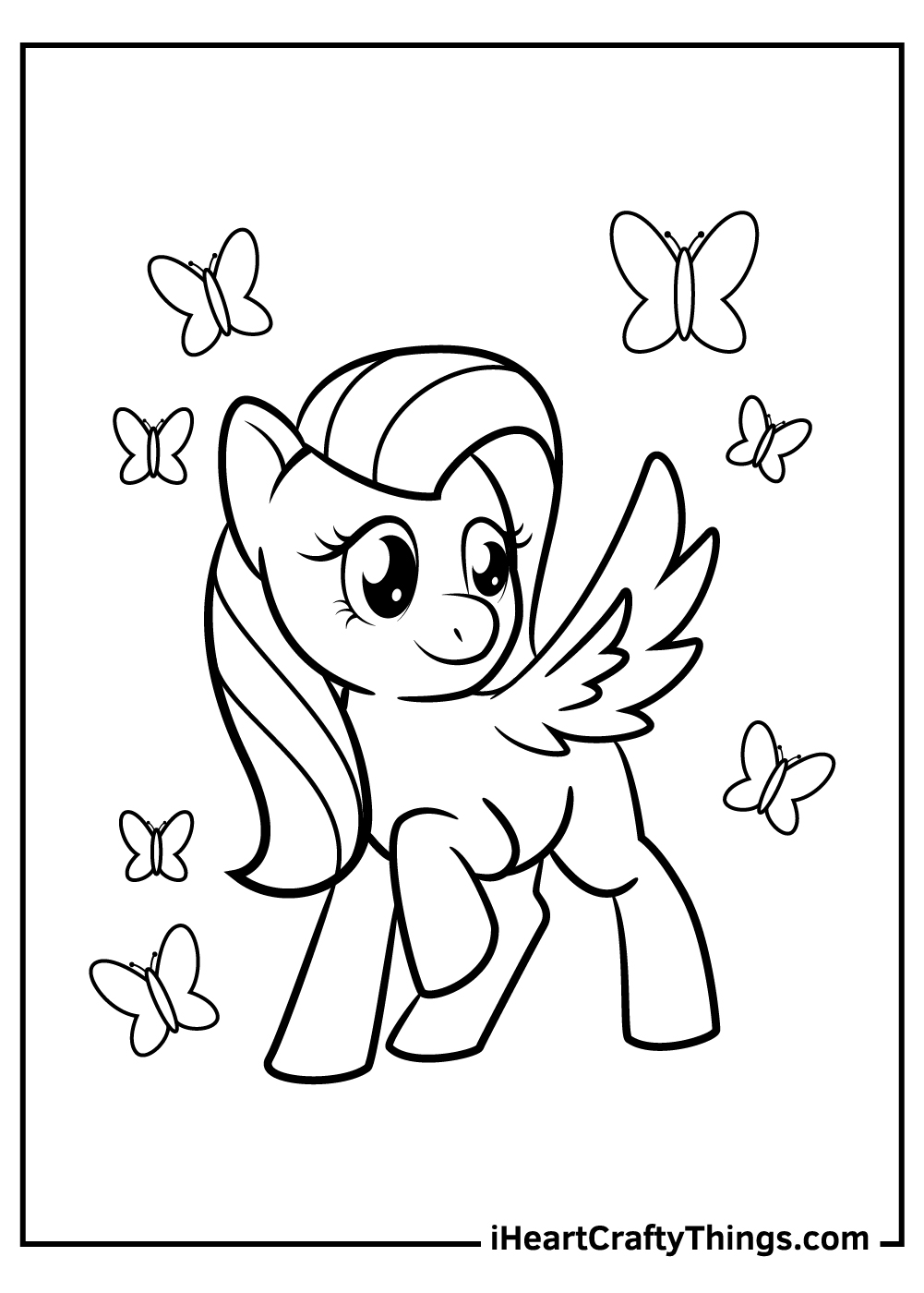 The pony that is starring on this page is not only adorable but is also super stylish! It is wearing a wonderfully elegant little outfit with a mane that has been styled as well.
We think this one would look great with some equally stylish colors and art mediums. If we were coloring this one, we would maybe use some watercolor paints for a soft look.
This medium is great for making an image look a bit more restrained and elegant, and we think that would suit this one perfectly!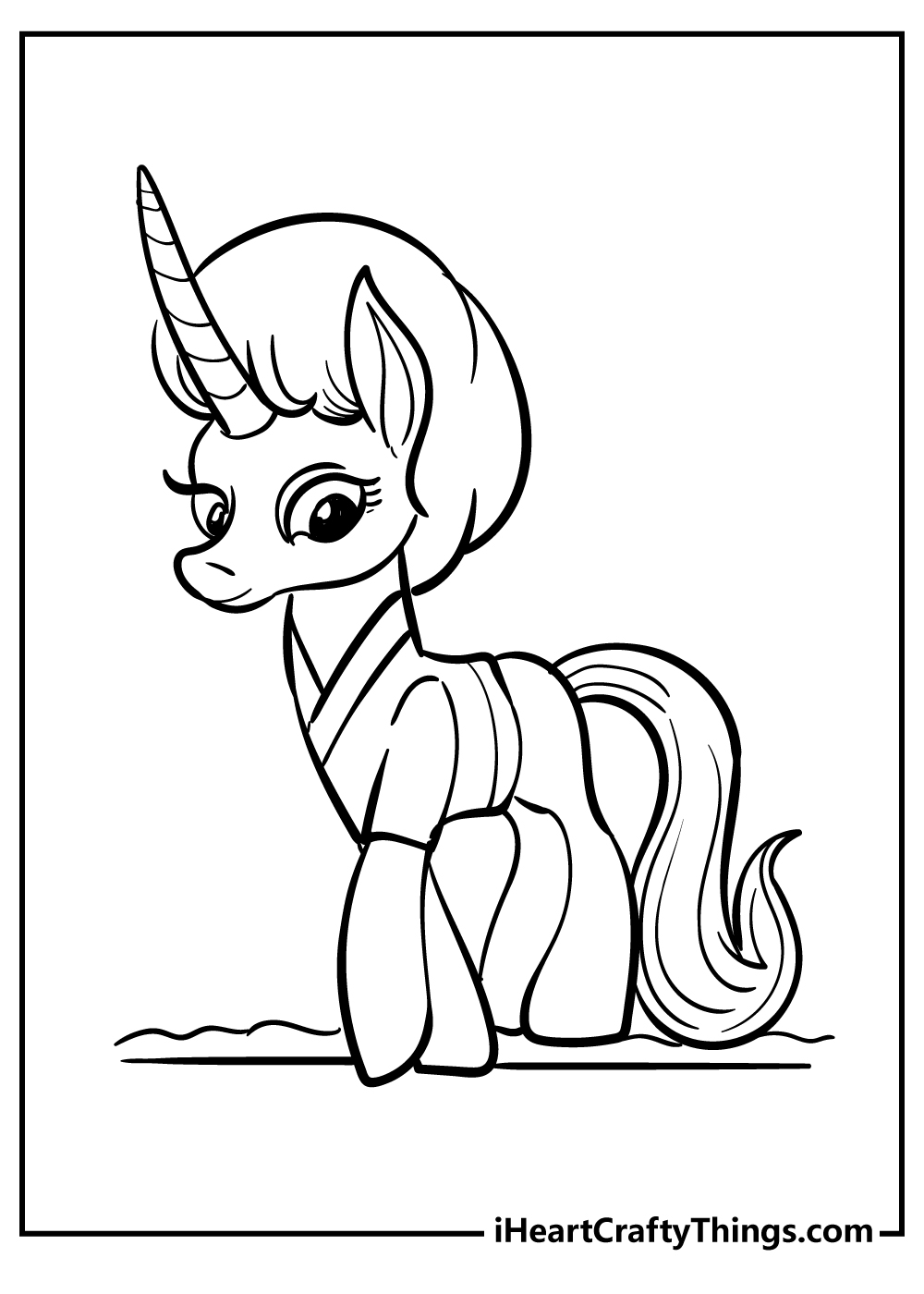 Our next picture in our collection of free My Little Pony coloring pages for kids features such a cute little pony design!
This pony is looking so calm and happy, and it's up to you to highlight this even more with your colors.
There are so many ways to color this cute pony, and you could once again either go with the colors of an established character or create your own.
Also, there is once again a blank background here, so you could create a fun scene by adding one of your own design!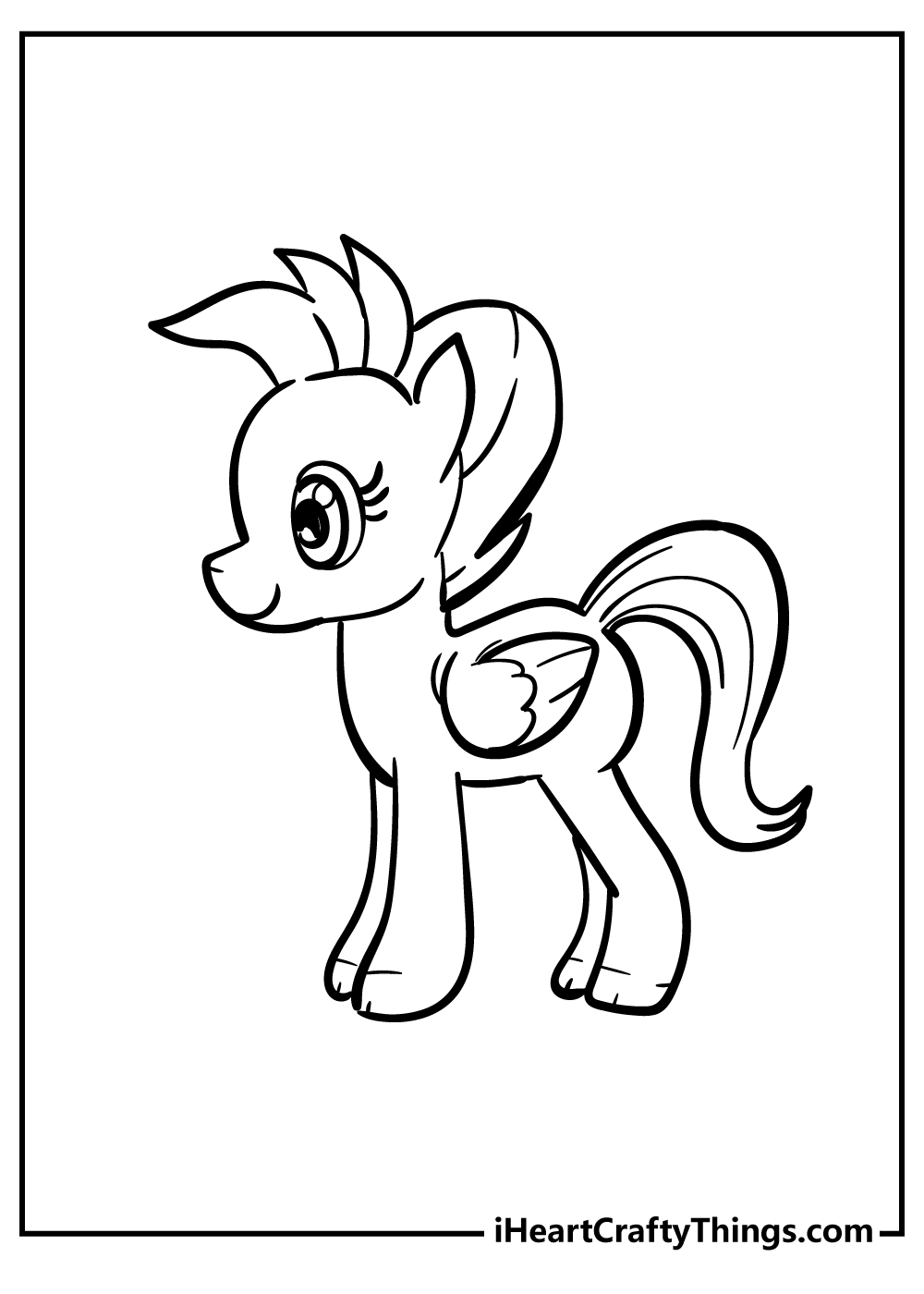 It's a good time to get moving and dance to the beat! In this coloring page, Twilight Sparkle is showing off her moves.
She spreads her wings wide open as her feet move around the floor. It looks like she is having a good time dancing!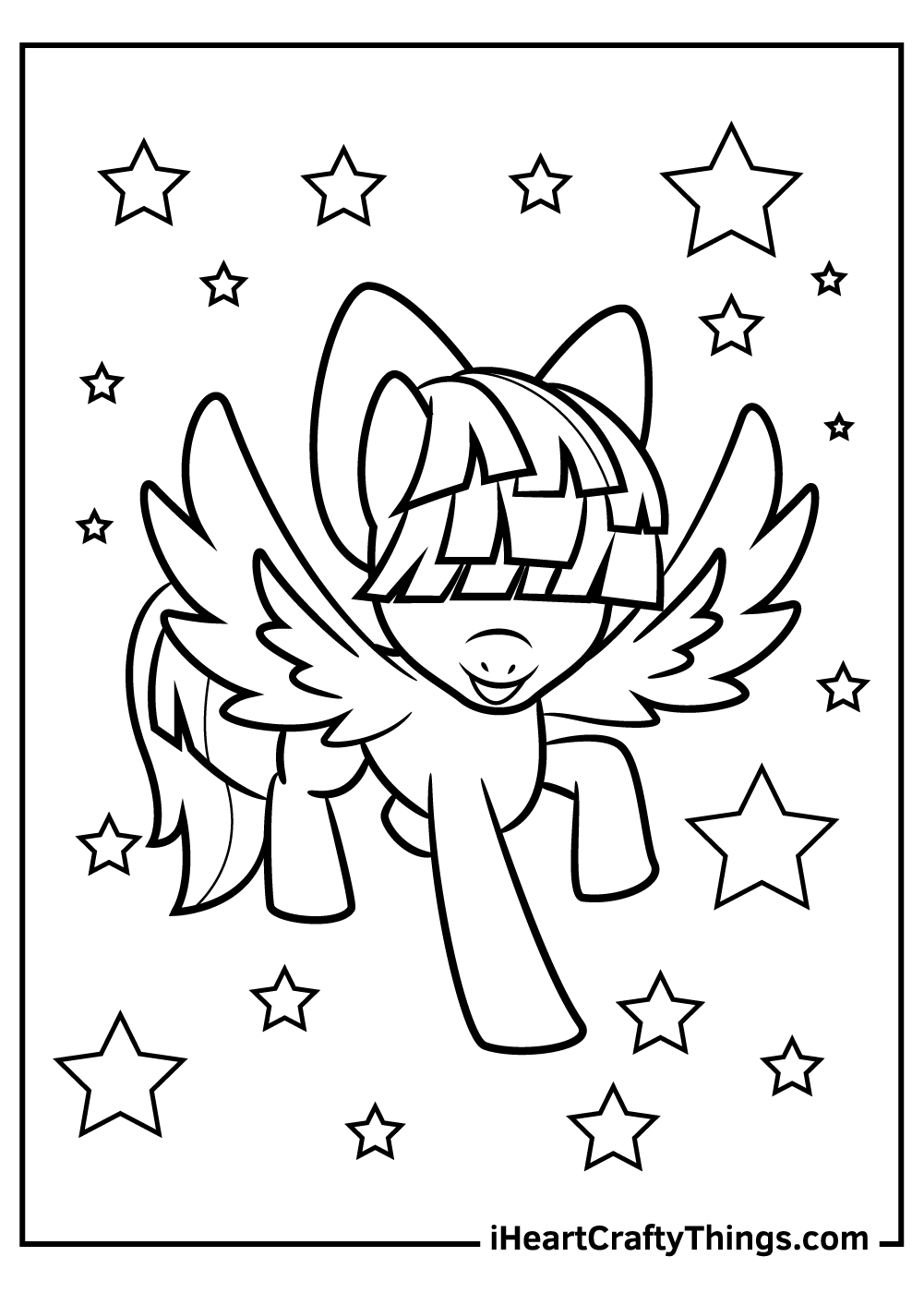 Imagine being able to fly in such great heights that you can reach the clouds. That must be so awesome! In this coloring page, the pony is floating up in the skies, just hanging out on the clouds.
With that distinct wings and unique hairstyle, the pony in this coloring printable is surely Rainbow Dash!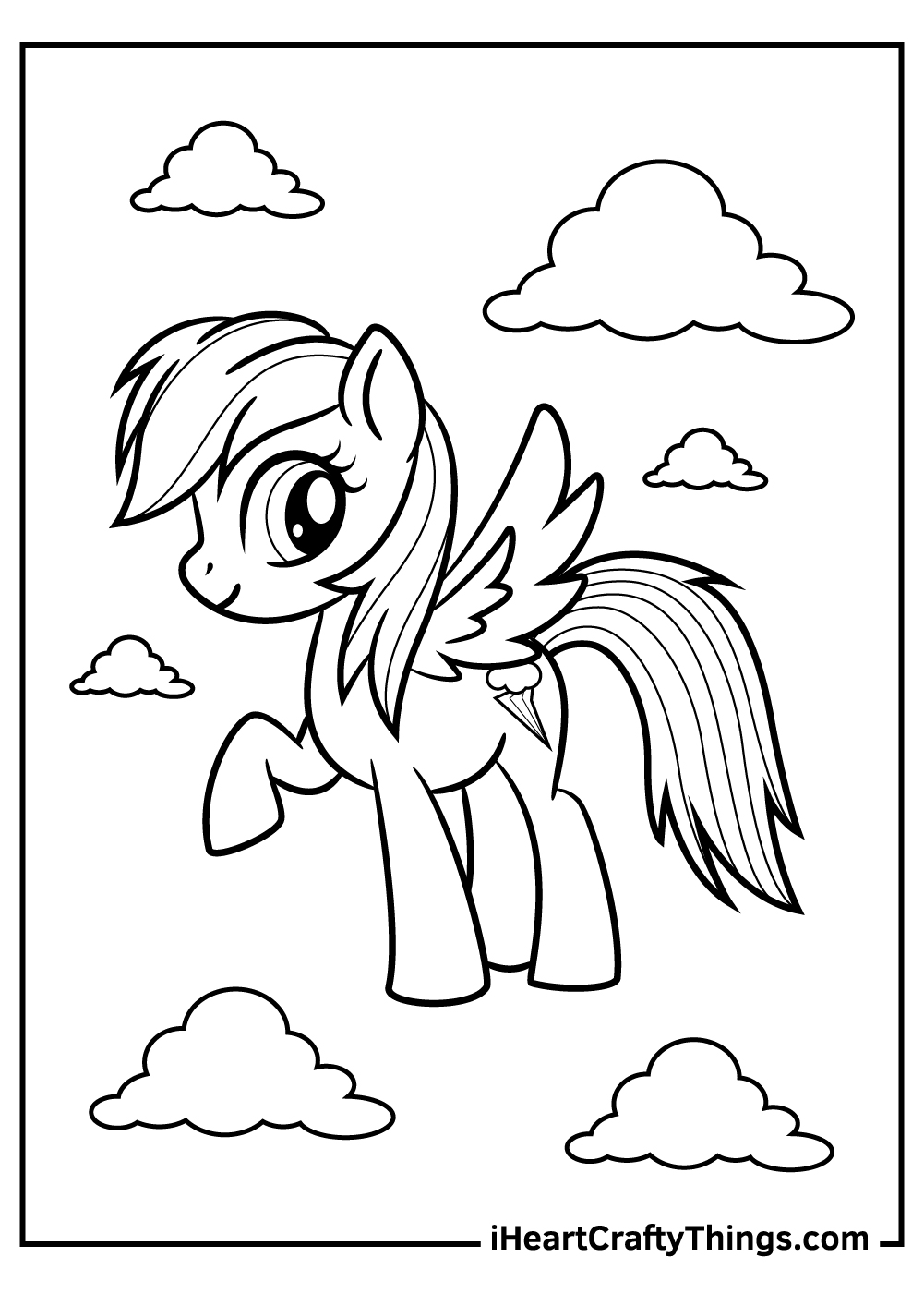 The pony in this coloring sheet is feeling glamorous! It looks extremely cute with those dazzling eyes and fluttering lashes.
Which Pony character is it? With those distinct curly, long mane and tail, it must be none other than Pinkie Pie!
Pinkie Pie is sitting on a puff cloud, just chilling. There's also a lot of glittering sparkles all around her, making her look even prettier!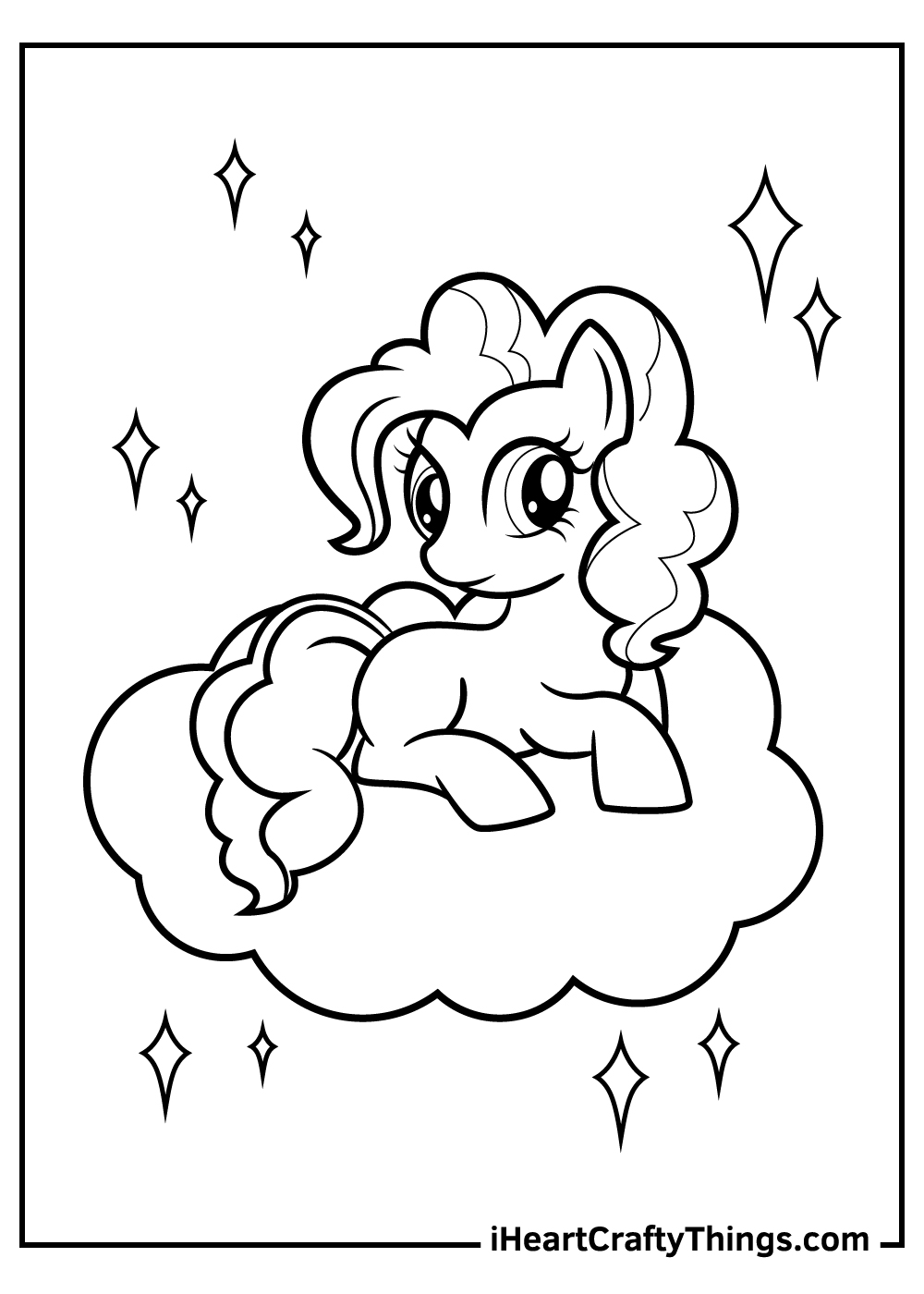 Now, we have a pony that is undeniably cool and that has a ton of attitude!
The pony has a really cool style to its mane, and there is a wavy background that you could turn into a variety of different settings.
This pony makes us think of an awesome rock star pony, so we would use some bright colors done in mediums like colored pens or markers.
That would help to create a picture that has a really loud feel to it that will match the design of the pony.
What kinds of colors come to mind for you when you look at this one?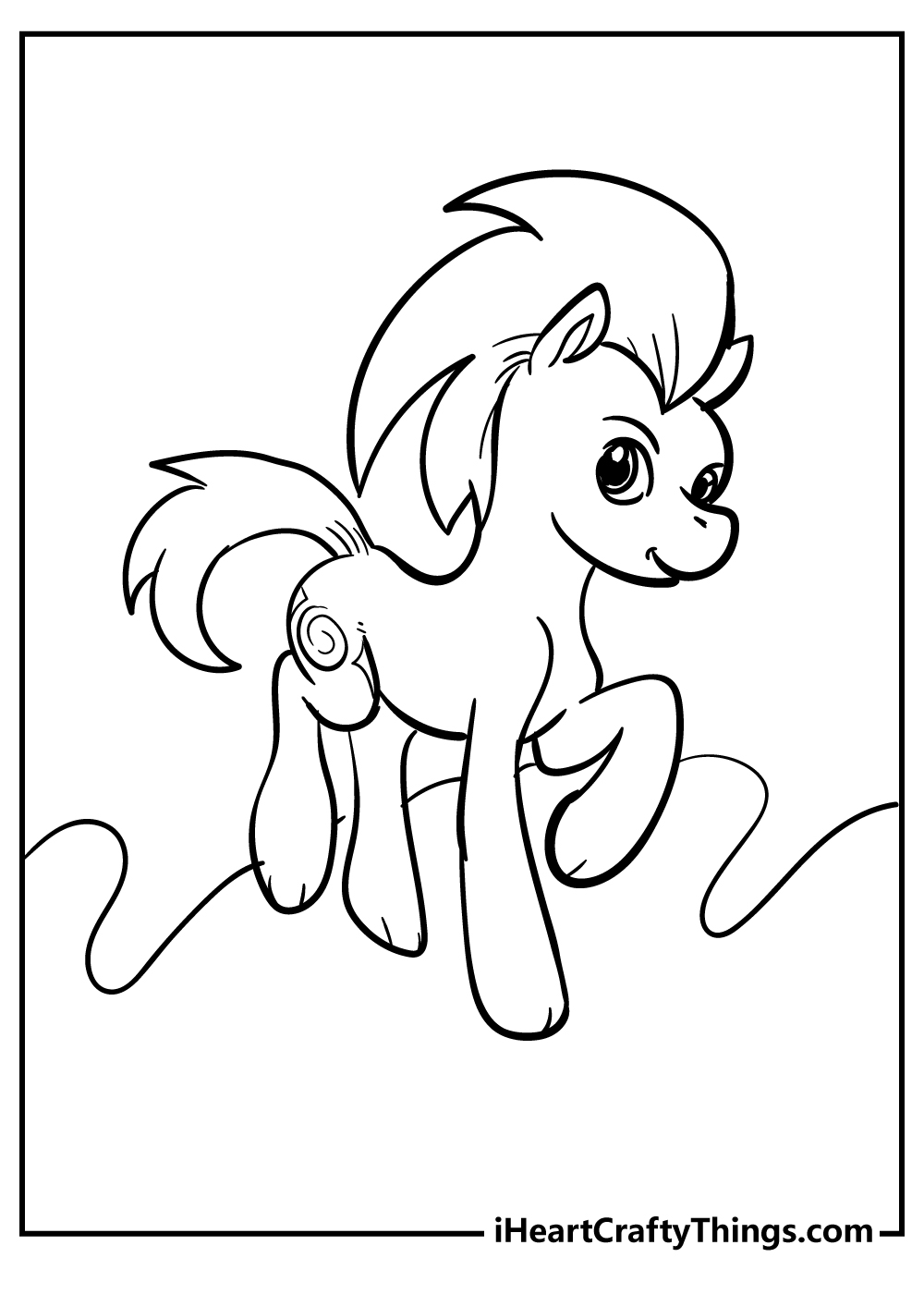 The design for the pony on this page is fairly simple compared to some of the previous ones, but that leaves you lots of room to get creative with it!
Even though the design is a bit simpler than some of the others, there is still a really sweet and confident look to this pony.
The best part about an image like this is that any color scheme would look great in its own way.
You could keep the colors bright and vibrant, but you could also go for a more subtle approach if you prefer.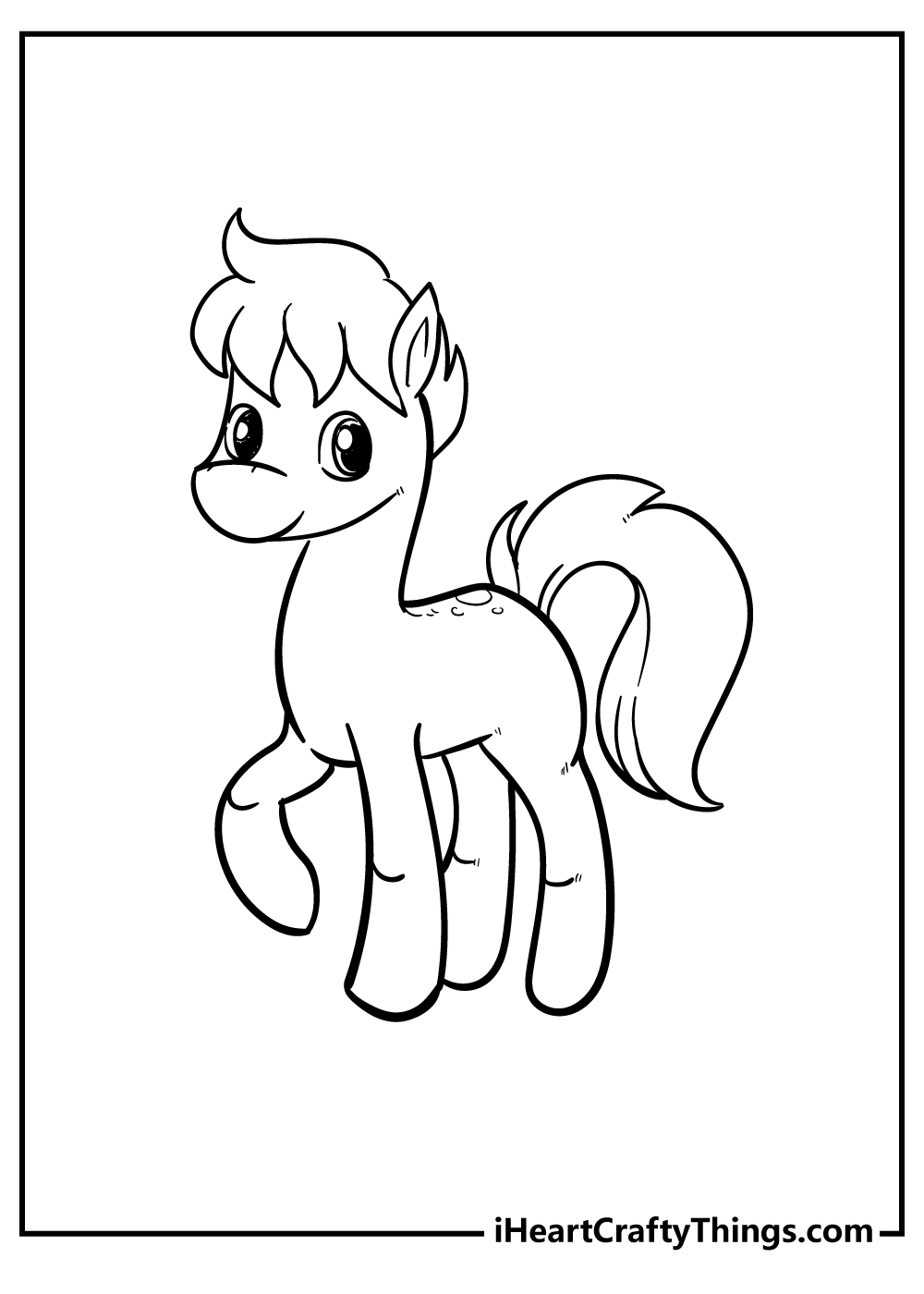 In this coloring page, the pony character Applejack is on an exciting adventure. She's wearing a hat and her tail is on a ponytail—looking adorable!
Where is she headed? We hope she gets to her destination safely!
She is wandering around the wilderness. There are trees everywhere in the background. Green is the best choice for coloring trees and greeneries.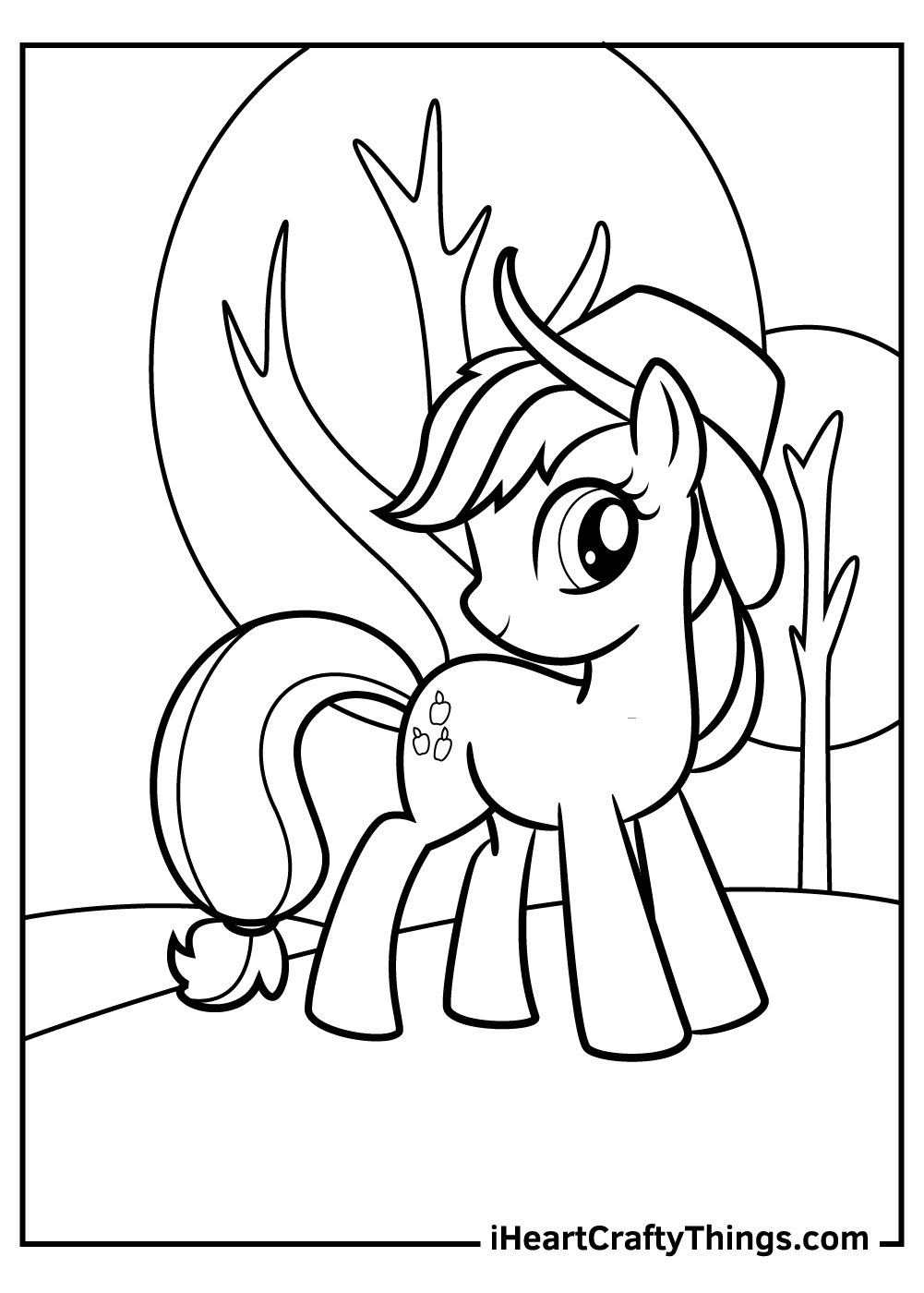 This coloring page perfectly captures the beauty of Twilight Sparkle. Her gleaming eyes are wide open, fixated at something in a distance.
Happiness radiates in her entire face as she smiles slightly. She looks extremely pretty with those sleek hair and long lashes!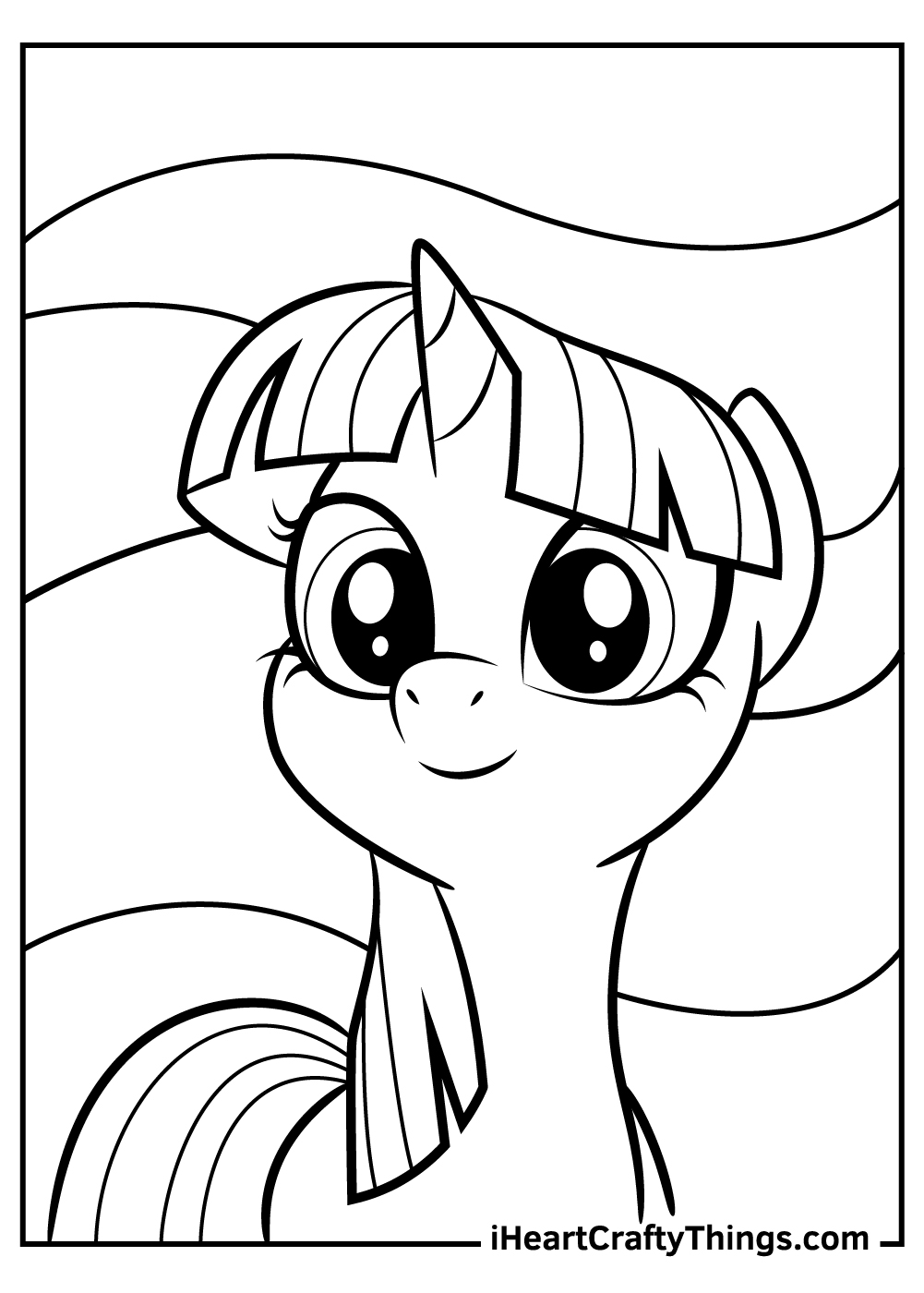 Another good shot of Rarity! In this coloring sheet, Rarity looks stunning as she poses with her head tilted to the side and her one foot up. She even has a sly smile on her face as she flutters her long lashes.
Look at her—she is definitely a pro in posing for the camera! There are lots of shining stars all around her, making her charm stand out more!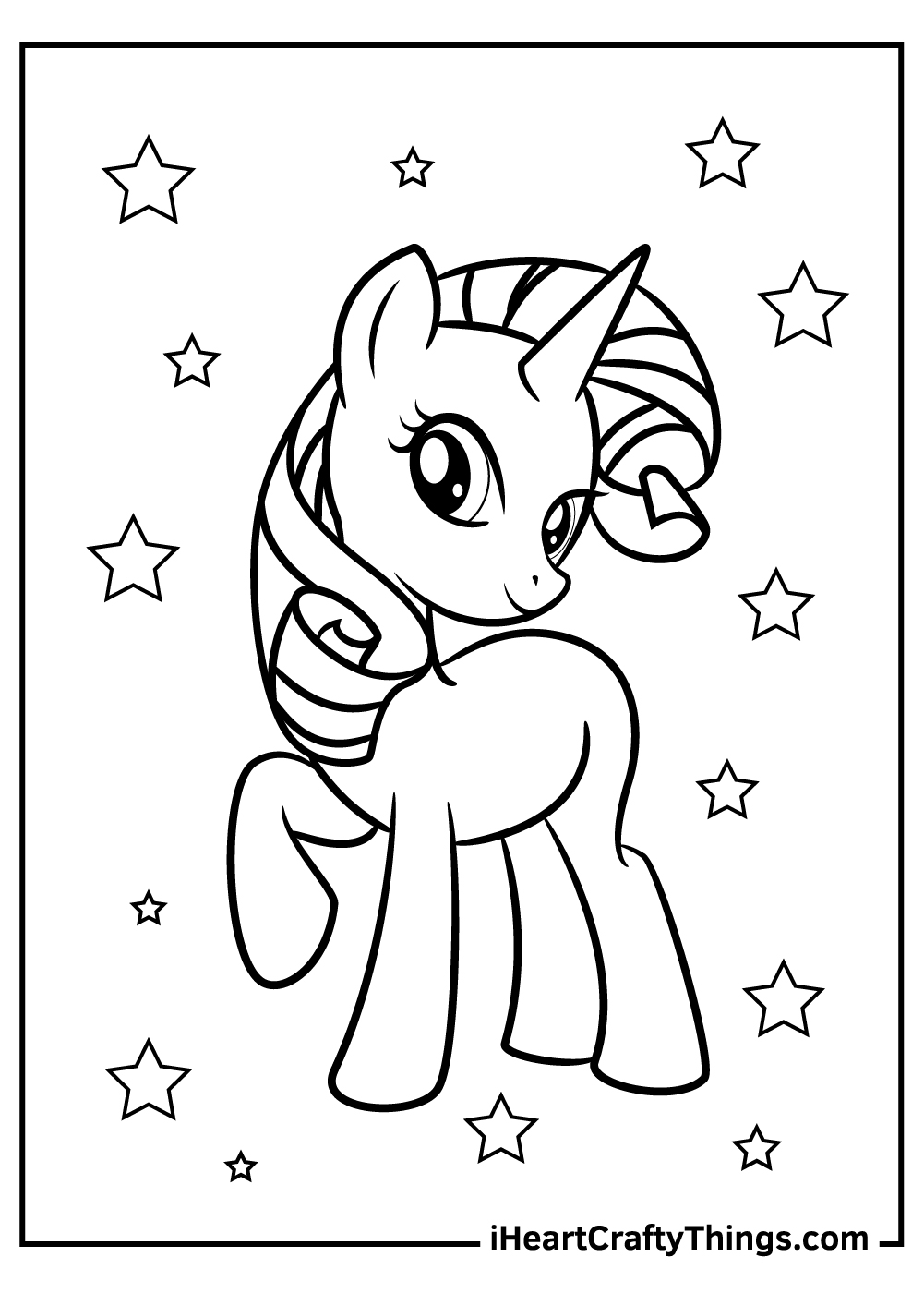 We love how excited the character on this My Little Pony coloring printable is! She is looking as if she saw something that has made her really happy, and we wonder what that could be.
You could show what you think could be causing such a happy reaction by adding a background scene or some other details.
We also think that this one would look great with a bright and happy color scheme that would suit the expression of this pony.
Do you agree with that, or do you have a different color scheme in mind?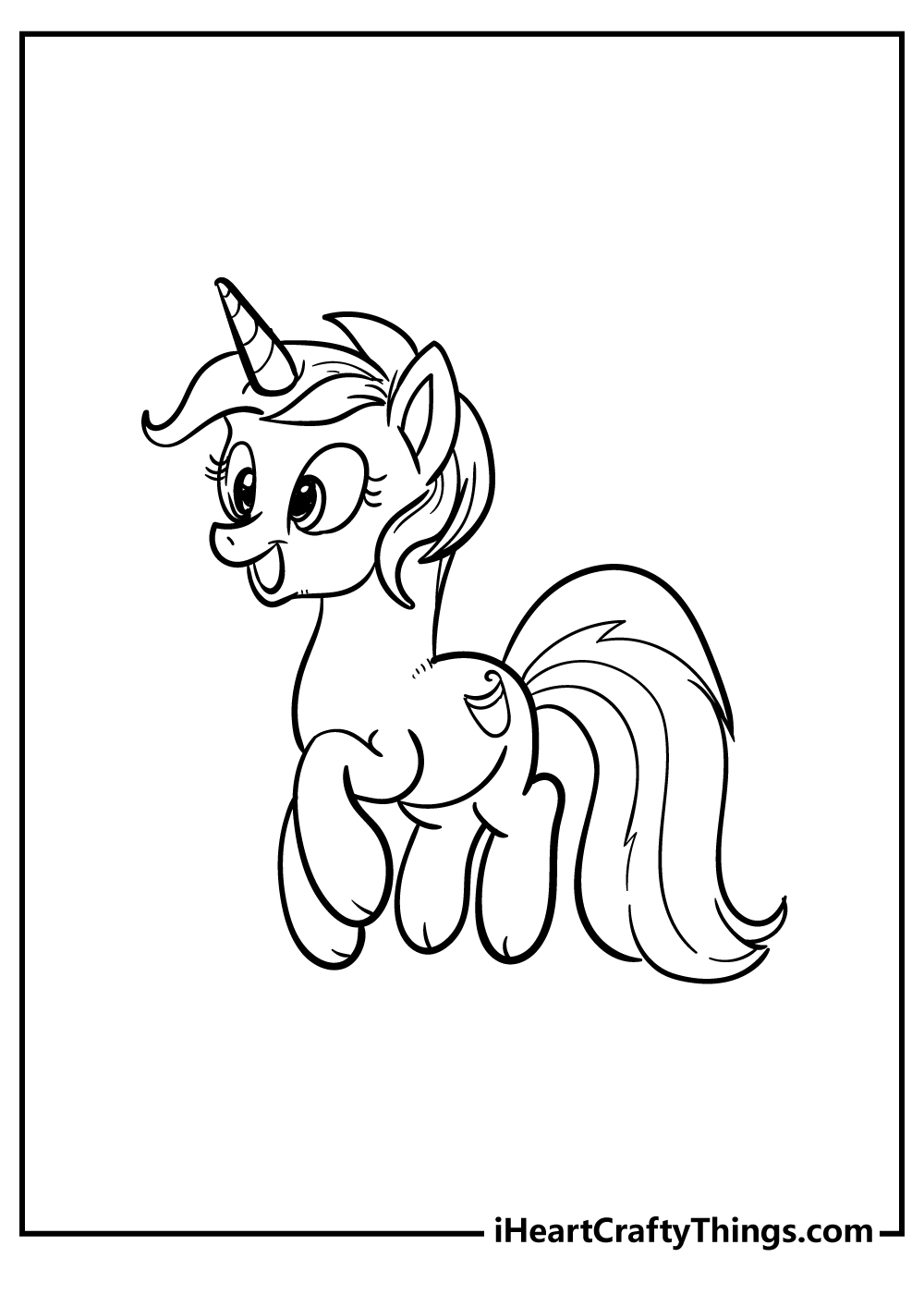 It's time to take to the skies for this next page! This pony is flying up into the air, and she seems to be enjoying the experience quite a bit.
Because she is flying up into the sky, we would use some bright blues behind her and maybe add some fluffy clouds to create a lovely setting.
Once you know how you will color this background, you can then choose how you will color the pony herself. What colors do you think would best suit this flying pony?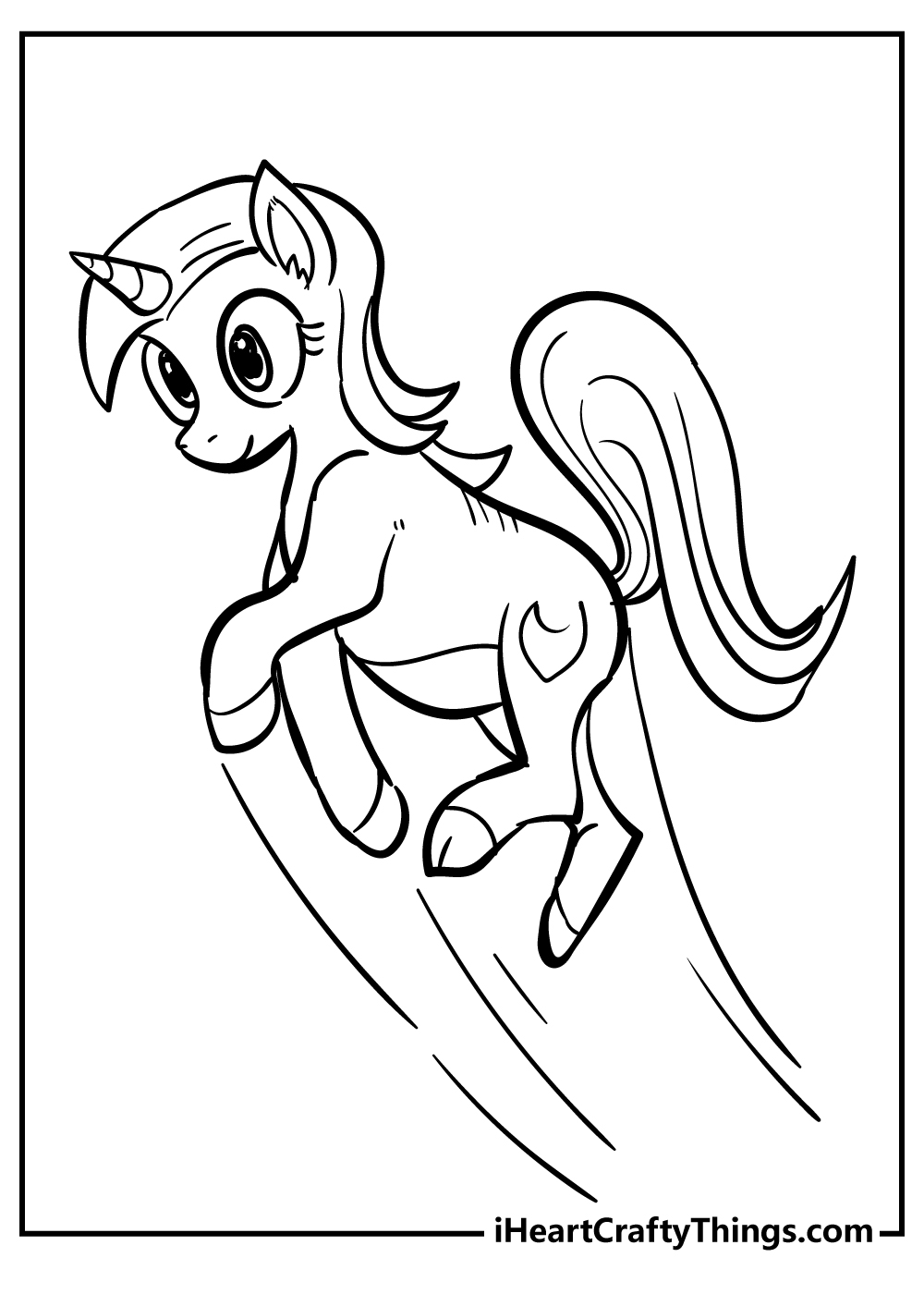 This coloring printable shows a young male dragon, a very unique character in My Little Pony. It's none other than Spike the Dragon!
He is Twilight Sparkle's best friend and assistant. Another fun fact—did you know that Spike has a huge crush on Rarity?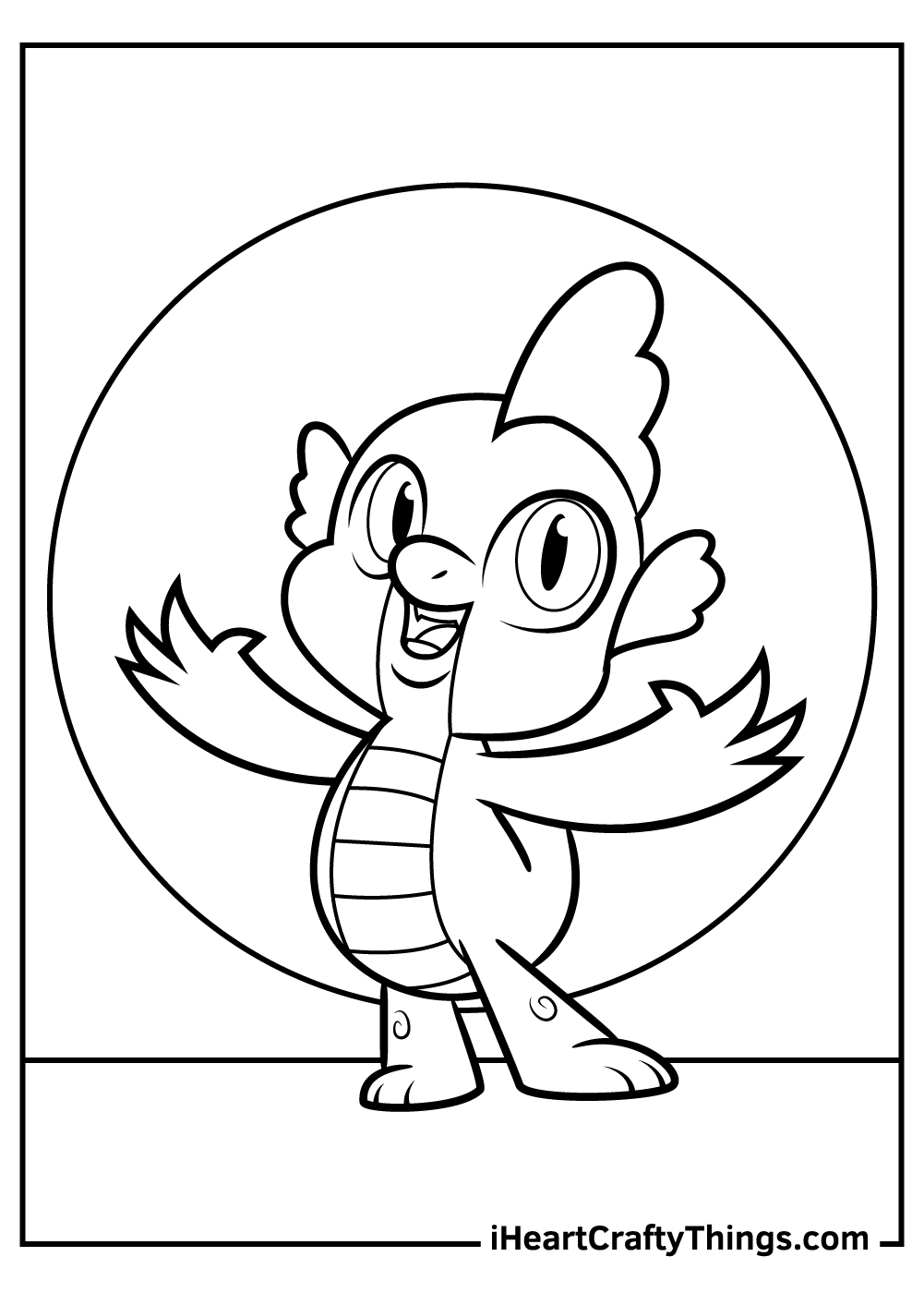 There is a really pretty pony that is ready to meet you for some coloring fun in this next image!
This pony is beautifully detailed and has plenty of great details on her design that you can use some amazing colors on.
A lot of these details are quite small and delicate, so you may want to use certain art mediums like colored pens or markers, as these allow you more precision.
These would also be great for some brighter colors if that is what you would like for this pony. For lighter colors, you could use some paintbrushes with thin tips or maybe some colored pencils.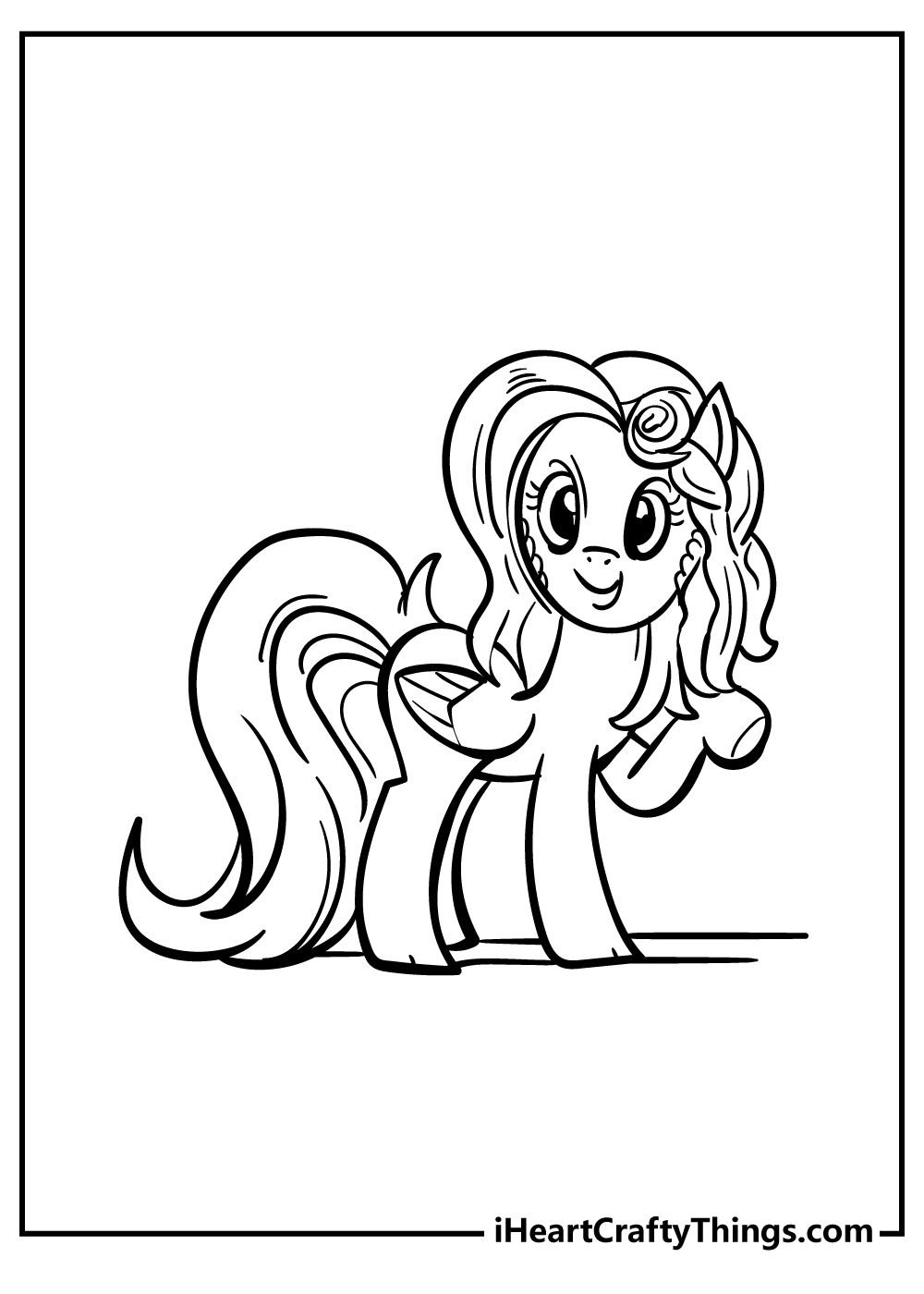 We have another My Little Pony coloring page that features a character with a lot of character and attitude in her design!
The facial expression on this one is really detailed, and you can read a lot into the character just from that alone.
With such a detailed design, it can be a challenge to decide what colors and mediums will best suit it.
We think that any colors you like will look amazing in their own way for this one, and we can't wait to see what you decide on!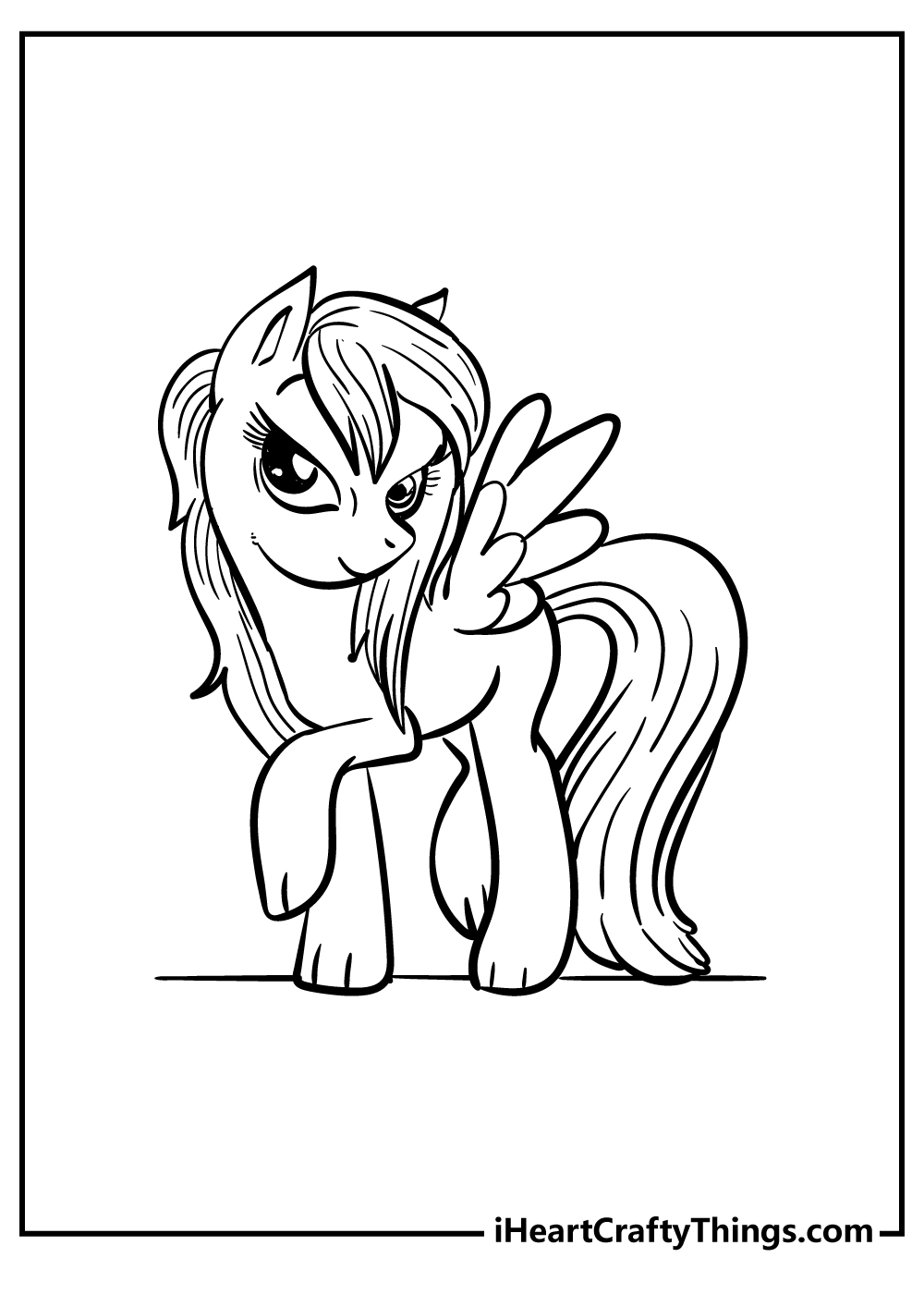 My Little Pony Coloring Pages — Which is your favorite character?
We hope you enjoy these My Little Pony coloring pages. Pick your favorite character and have fun coloring them.
You can opt to follow their original colors if you want. But feel free to mix and match colors to create a customized and unique pony character!
Remember, all of our crafts and printable sheets are 100% free for you to print, color, and enjoy. We are regularly updating our website and uploading new coloring sheets you can use.
So don't forget to keep re-visiting our site for free brand-new coloring printables.
Once you've finished coloring your My Little Pony coloring sheets, you must be very proud of yourself, as you should be!
Make sure to show off your masterpiece and share it on our Facebook page. We're sure it looks amazing!
We can't wait to see your colorful pony characters!