The My Little Pony series is full of many wonderful characters that delight fans worldwide.
It can be difficult to pick a favorite character from the series, but the lovable Rainbow Dash is a popular option.
This collection of free Rainbow Dash coloring pages for kids will provide tons of pony fun for all fans of this character!
These pages are all free for you to enjoy any way you like, and they can be shared with fellow pony fans as well.
So let's begin this colorful journey with the first page of the collection.
15 Brand New Rainbow Dash Coloring Pages – Free to Print and Color
In this first Rainbow Dash coloring page, this character is certainly living up to her name! She is dashing somewhere at great speed, and she seems to be having a great time doing so!
Because she is mid-run here, you could color the background with many strokes of colors to make it look like she's whizzing past the background.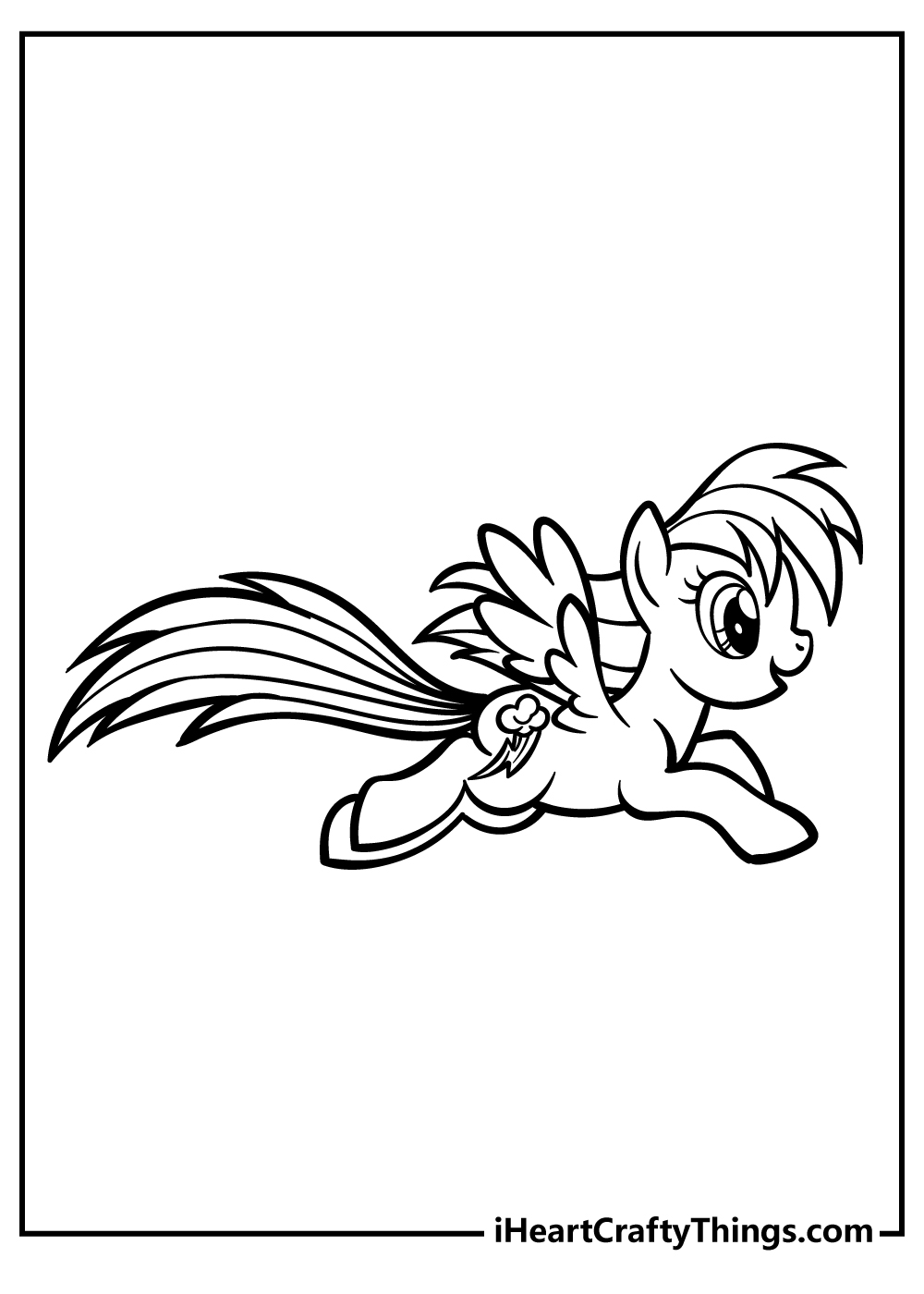 Our pony friend is looking a bit embarrassed in this next scene. What do you think could be causing her to feel this way?
You could show what you think could be bothering her by drawing a background setting to show what kind of situation it could be. There are so many possibilities if you were to create a fun scene!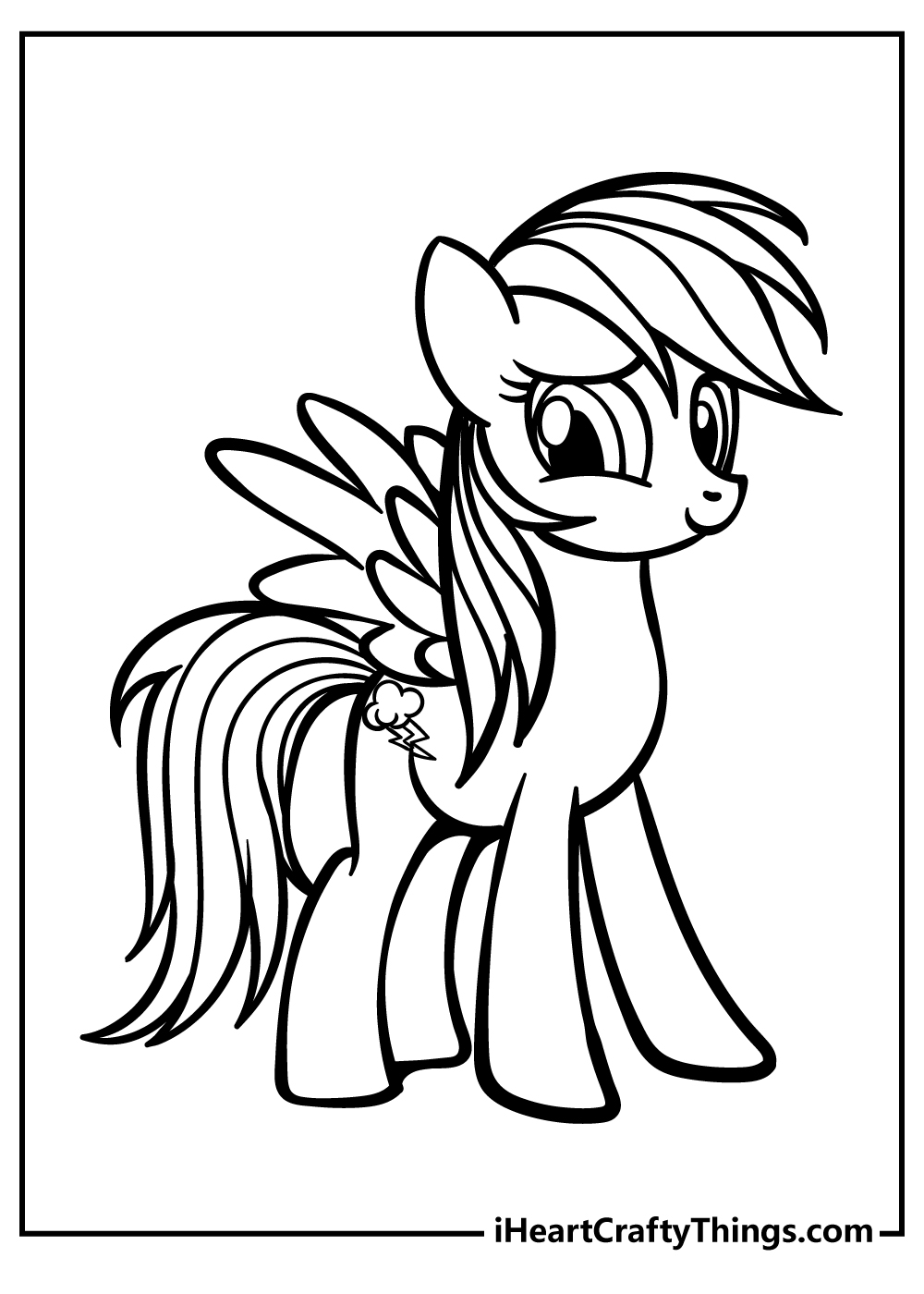 Rainbow Dash is again really living up to her name in this picture, as she is in front of a literal rainbow!
This not only gives you lots of room to add some brilliant colors, but also fits the theme of this particular pony. This should be a beautifully colorful page once you have finished working on it!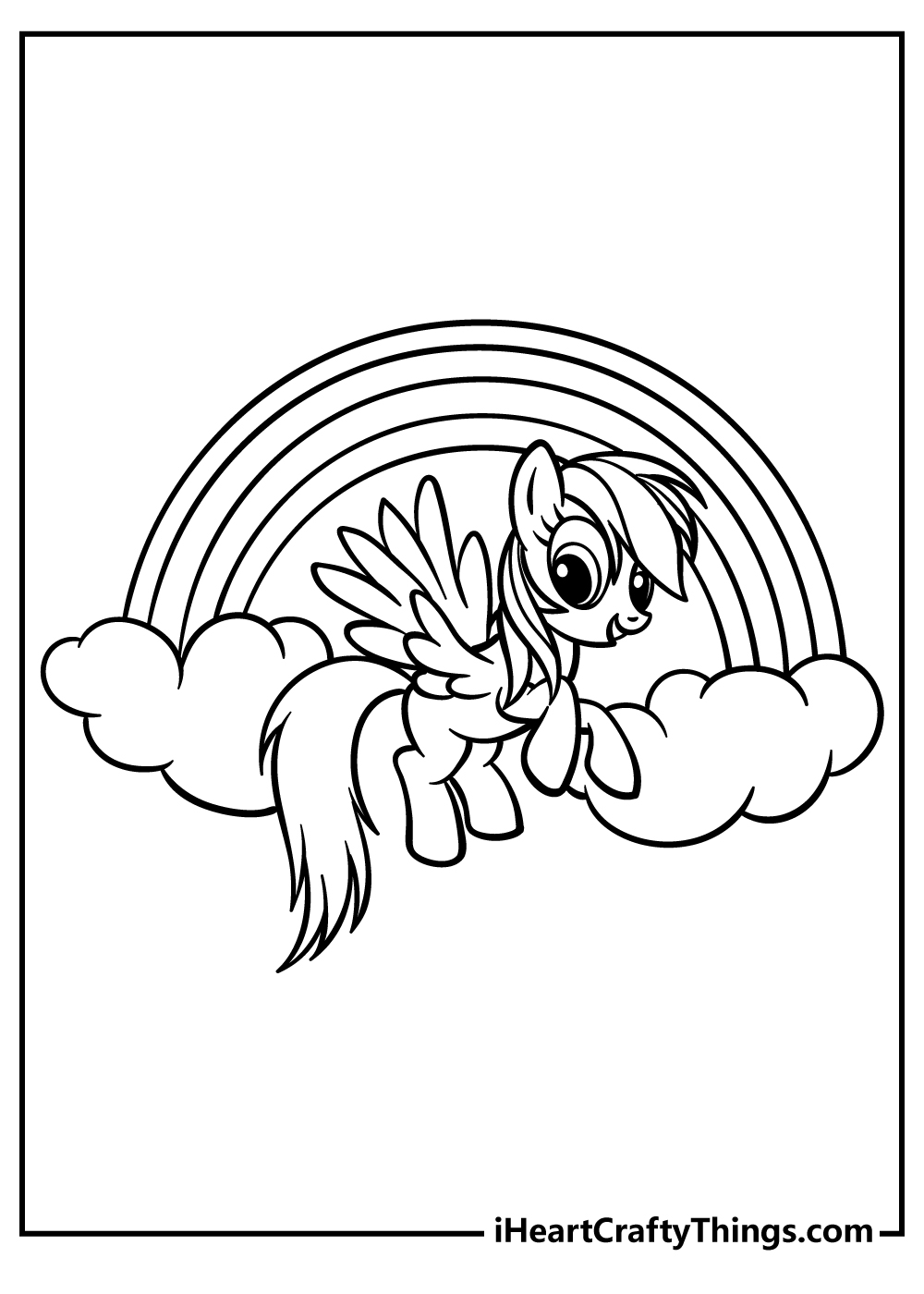 This next Rainbow Dash coloring page makes it look as if she is on her way to save the day! She is a character that will do anything for her friends, and no peril would be great enough to stop her.
This could be another good opportunity to show off how creative you can be by adding a background setting to finish off the scenario.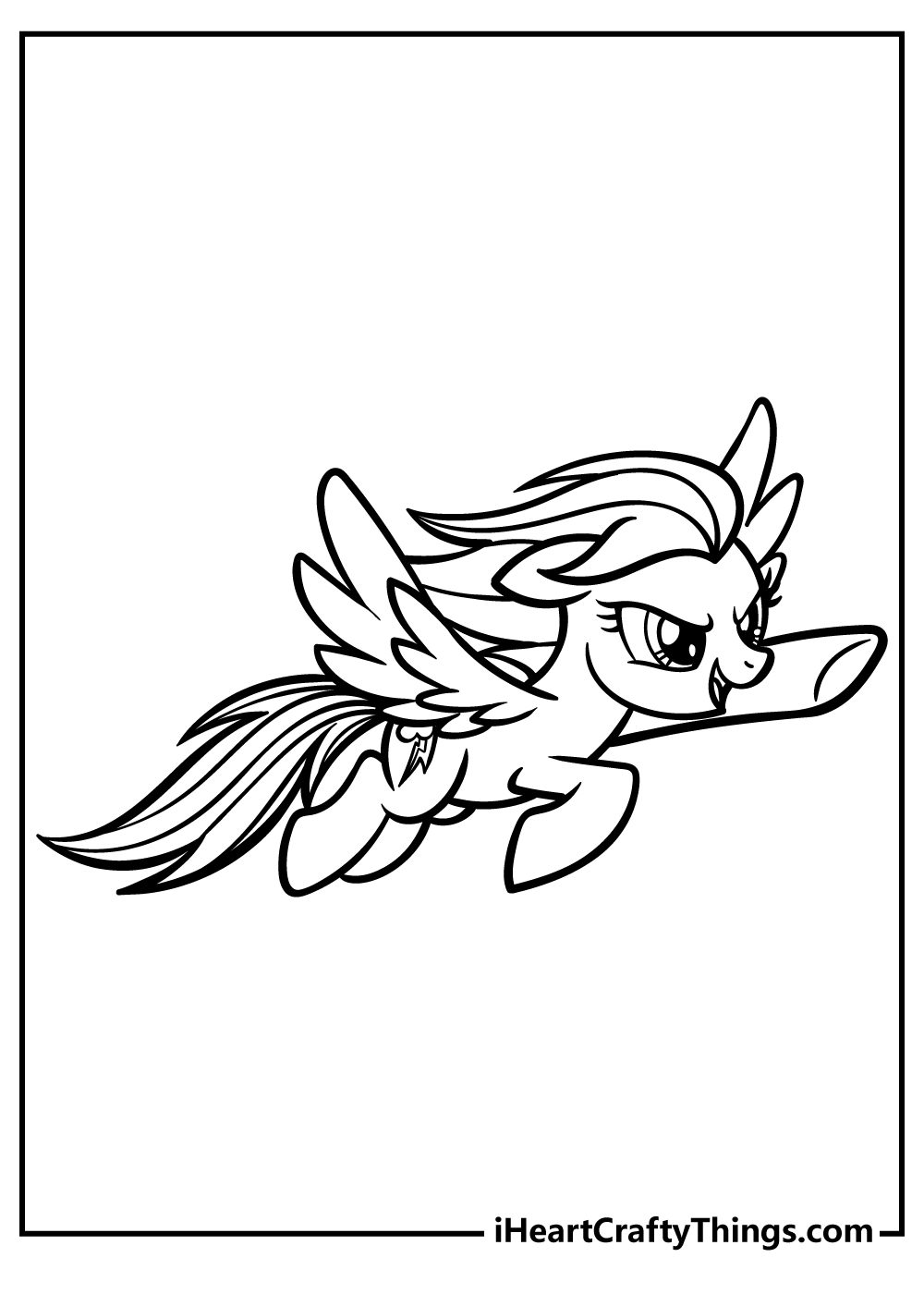 Rainbow Dash is looking like she's having a wonderful day in this next scene! The way she is looking down suggests that she has seen one of her pony friends.
If you're feeling extra creative, maybe you could draw one of your favorite pony characters running beneath her to show who has made her look so happy.
Which pony would you choose if you were to do this?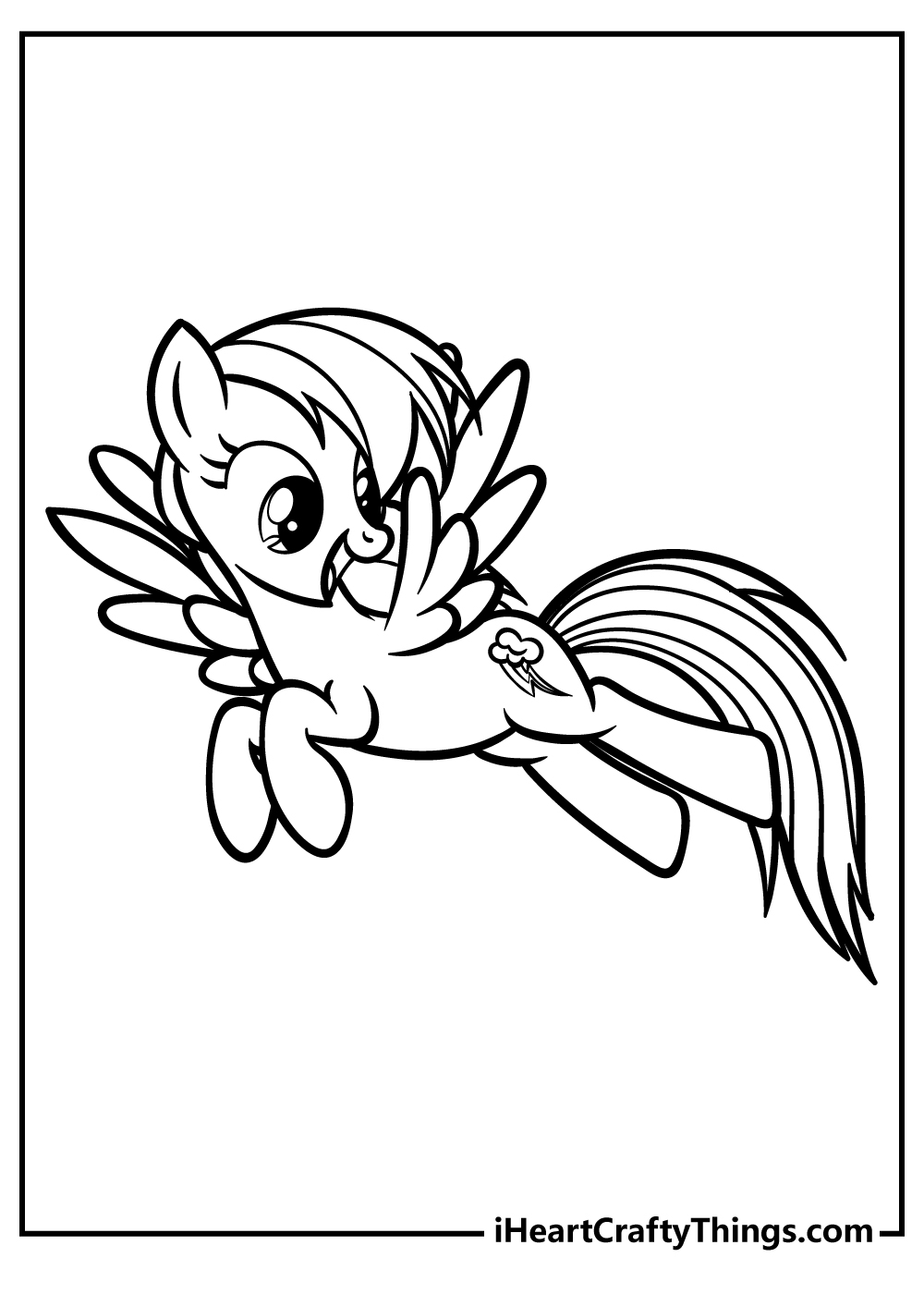 We have another picture where she is looking pretty brave and fierce! As fierce as such a cute character can look, at least!
As you know, this character is mostly blue with a beautiful rainbow color scheme for her hair and her tail.
When coloring any of these pictures, you could either stick with her usual colors or create a brand new look for this wonderful pony!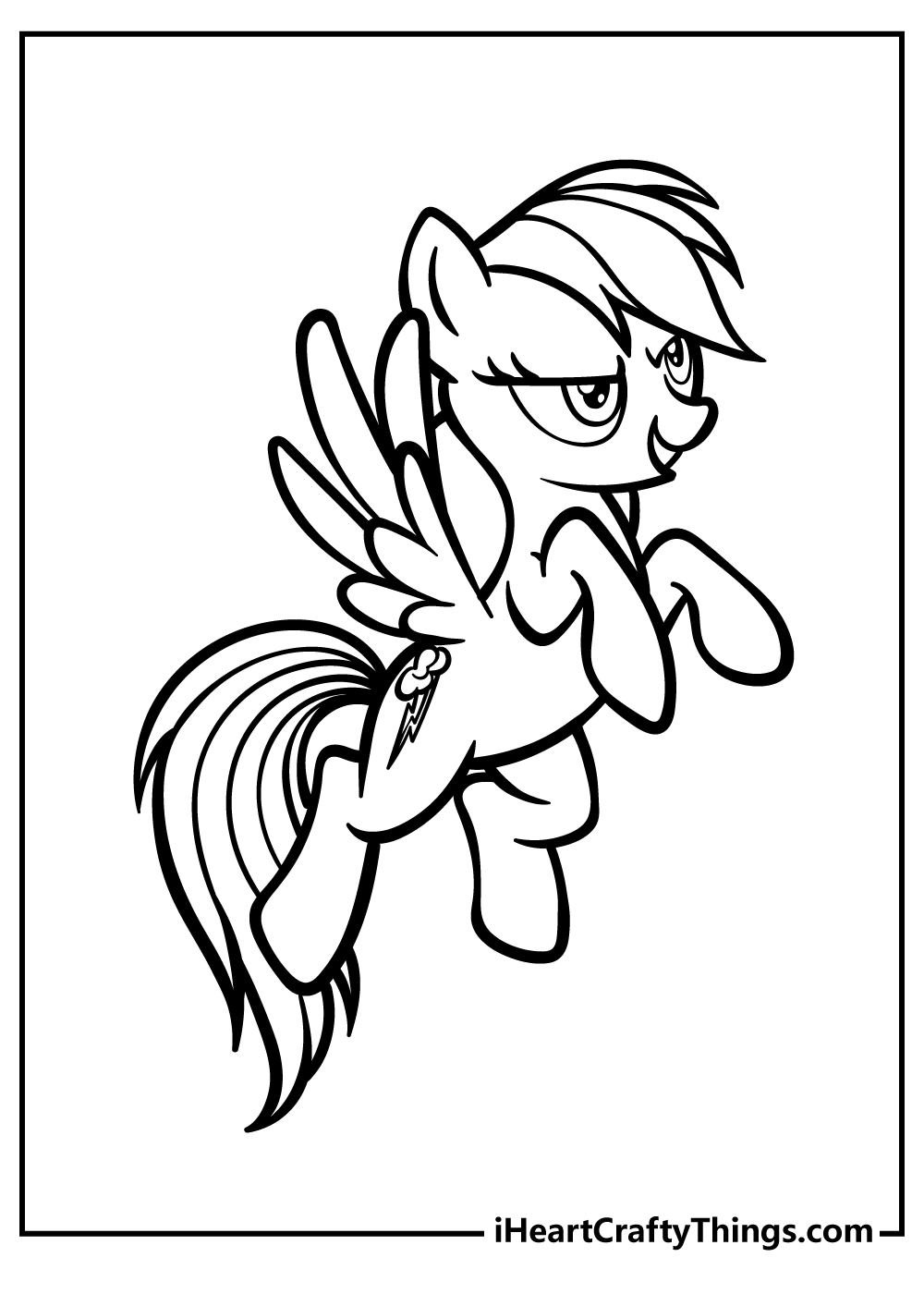 This seventh page in our collection of free Rainbow Dash coloring pages for kids is a really fun portrayal of this pony!
She has a rather sarcastic look on her face, and it looks like she is saying some kind of funny line.
If you have a favorite Rainbow Dash line or quote, maybe you could write it in a speech bubble above her head.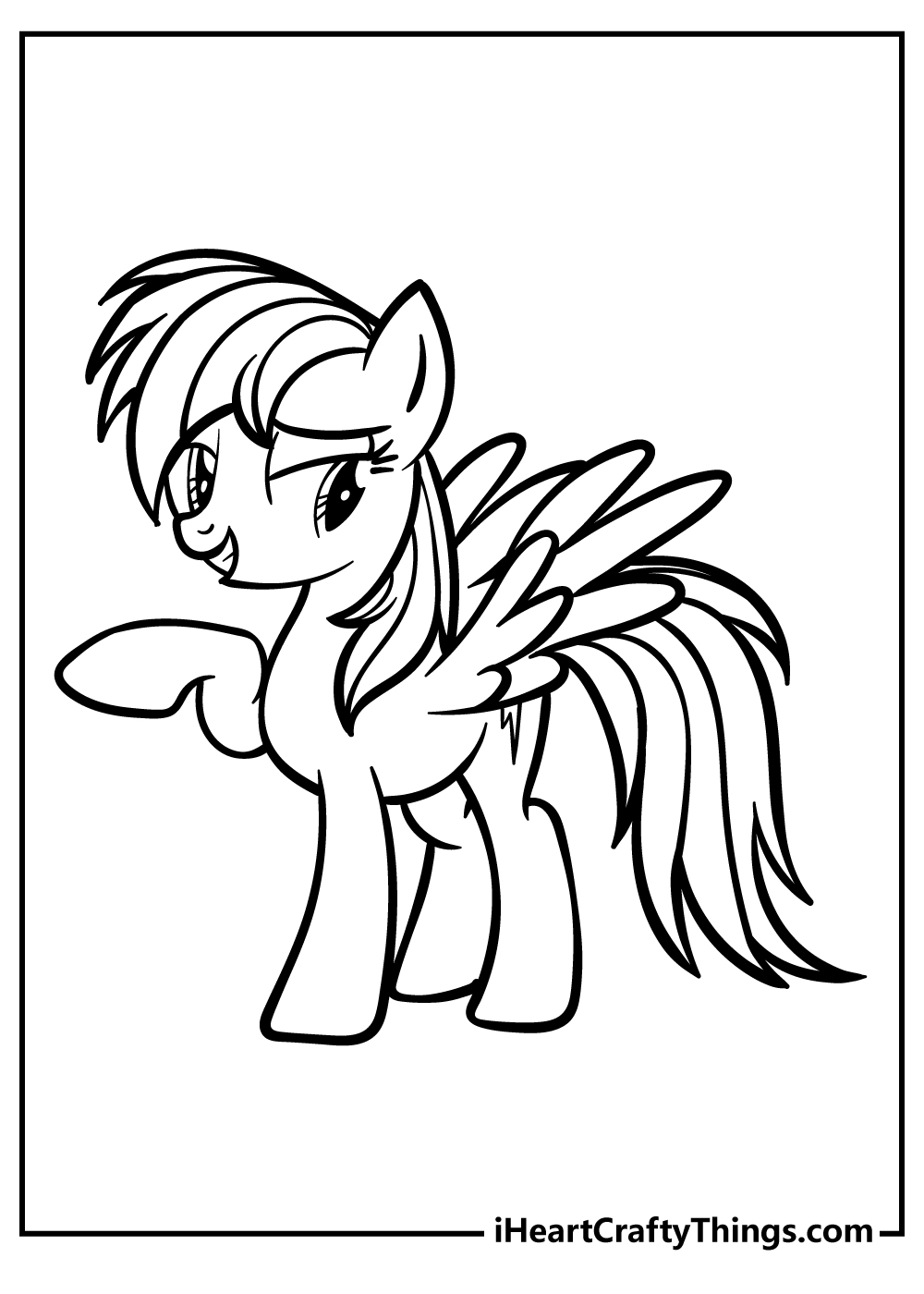 We love how much this next picture of Rainbow Dash captures her character so well! She is again trying to look fierce and confident, but it ends up being only partially successful.
Which colors and mediums do you think would suit this portrayal of this pony?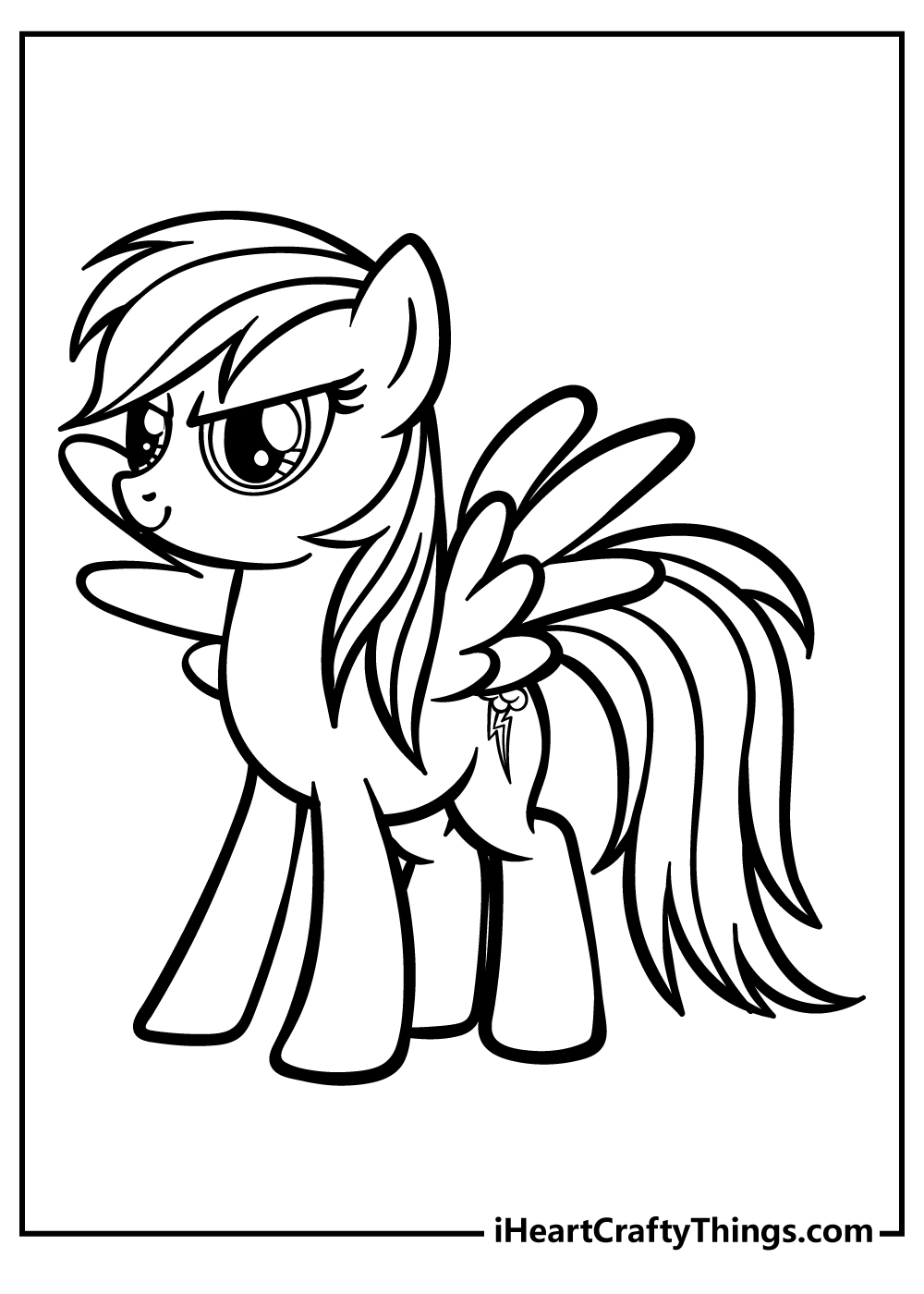 Rainbow is looking a lot calmer in this next picture, and she seems to be enjoying a happy, peaceful day.
The mediums you use can help to emphasize a mood, so we would use some colored pencils or watercolor paints for this one in order to create a softer, calm feeling for the scene.
That's what we would use, but what are you thinking of using?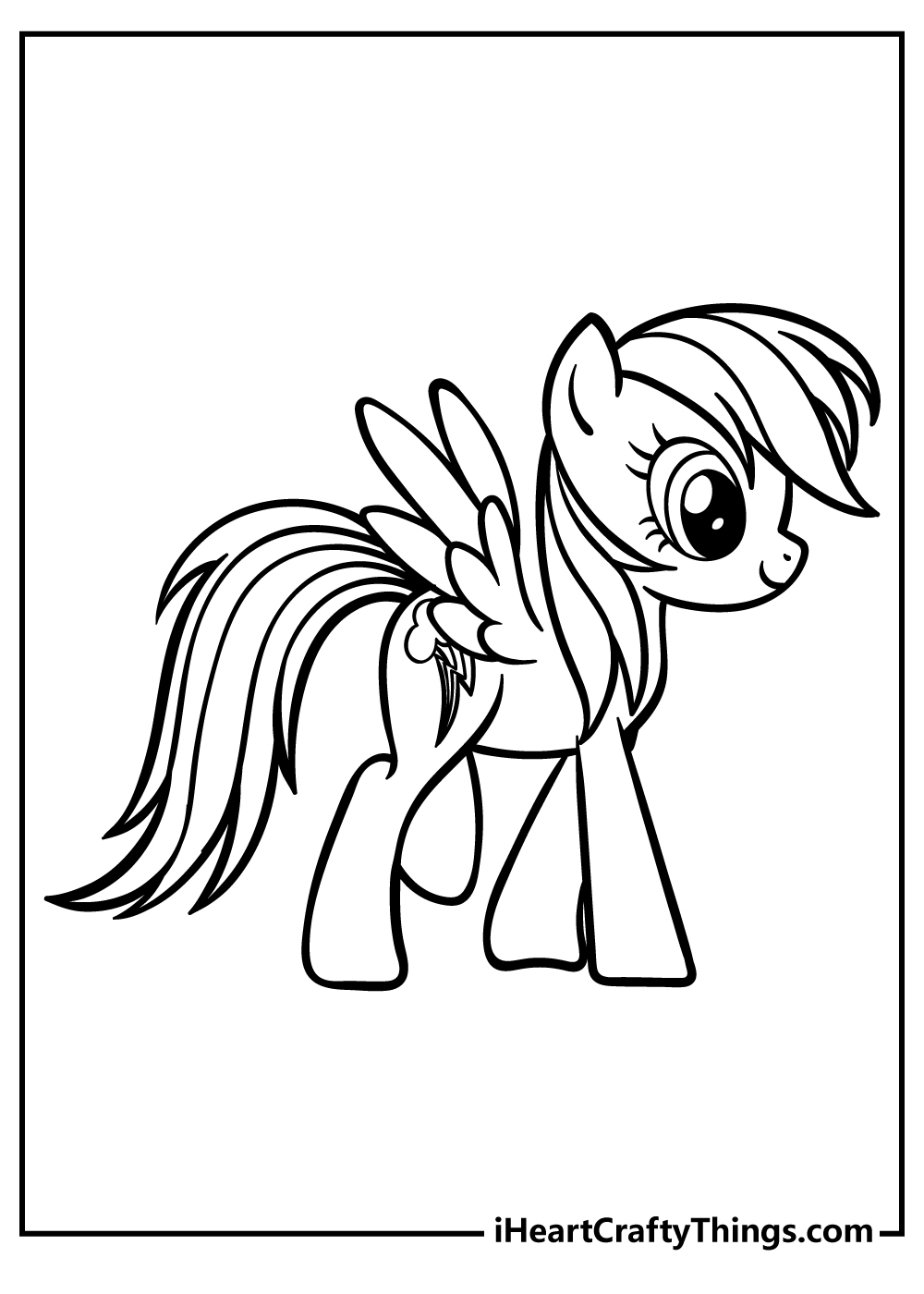 There's a bit of a different look featured on this Rainbow Dash coloring printable. In this one, her tail and hair is braided instead of flowing down, and it is a great look for her!
The braids also allow for some interesting color techniques and combinations, and you could use all sorts of interesting mediums and styles to color this one.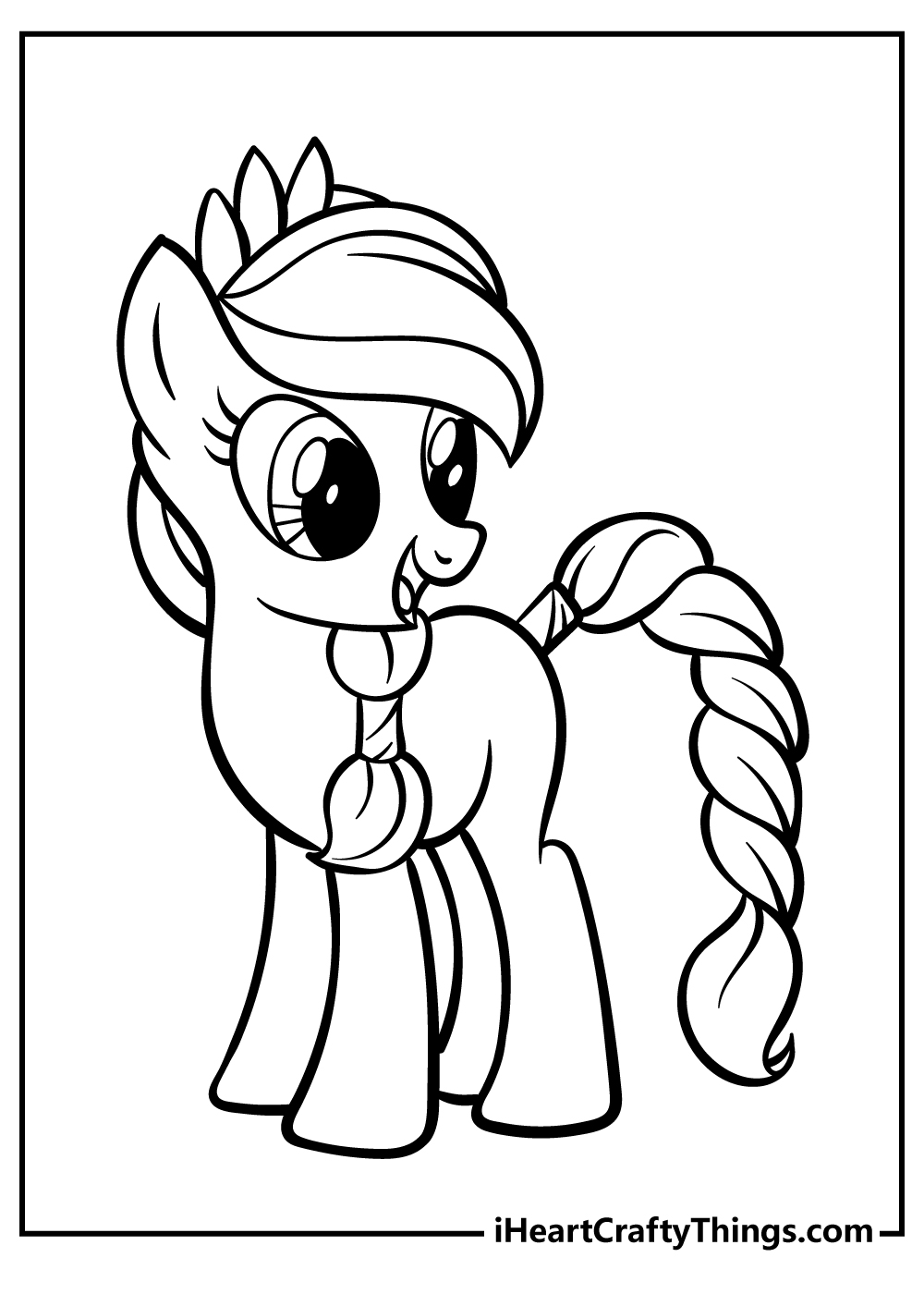 Here we have another portrayal where she is looking a bit shy! In this image, there is also a lot of empty space in the background.
We think this one would also be perfect for you to create a fun background for. What favorite My Little Pony location would you choose?
For this next page, we have something a bit different! This time, we're showing off what Rainbow Dash would look like if she were a superhero!
There is a lightning bolt emblem on her chest here, and you can have a great time coming up with a color scheme for this logo. The question is, which colors will you use for this superhero getup?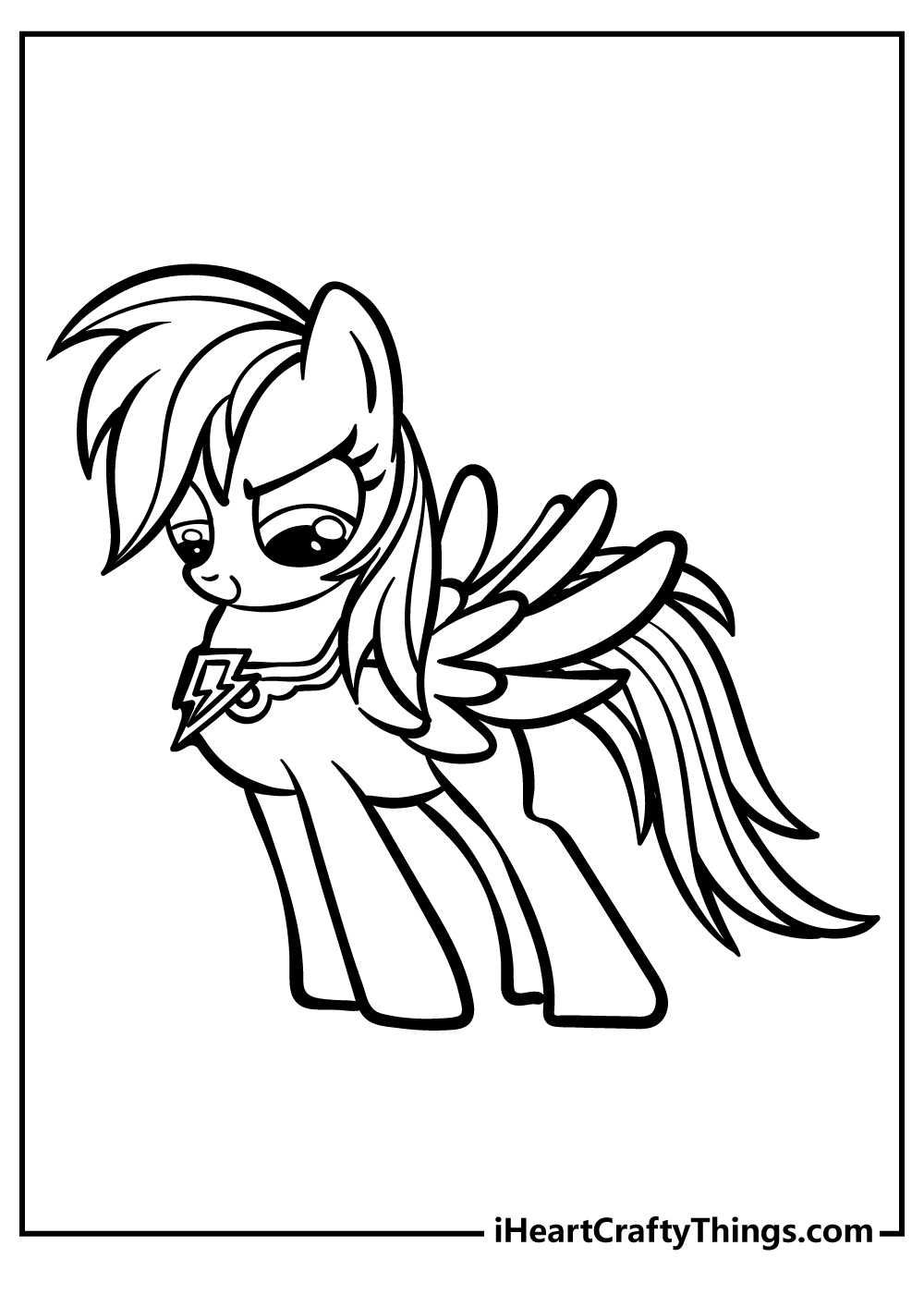 Here's another Rainbow Dash coloring page that features her trying to look really tough!
We would probably go for some colored pens or markers for this page, as that would help to give the colors a stronger, more vibrant look. As always, it's completely up to you though!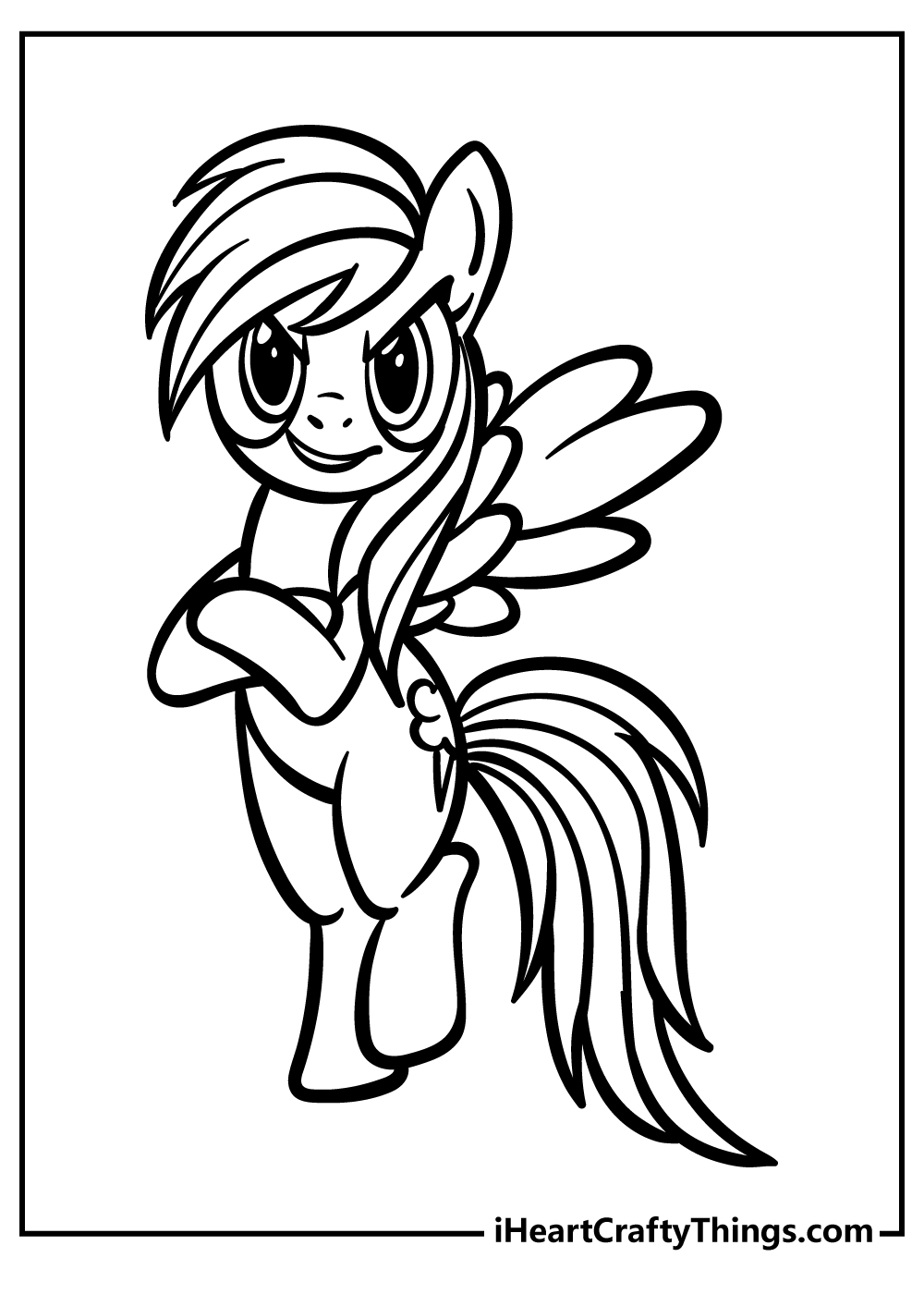 This is a really fun pose for Rainbow Dash. She looks like she is correcting someone here while feeling very confident about being right.
This one could be another fun picture to add a favorite quote to! By adding a line that she has said before, you could show what is making her look so confident in this particular picture.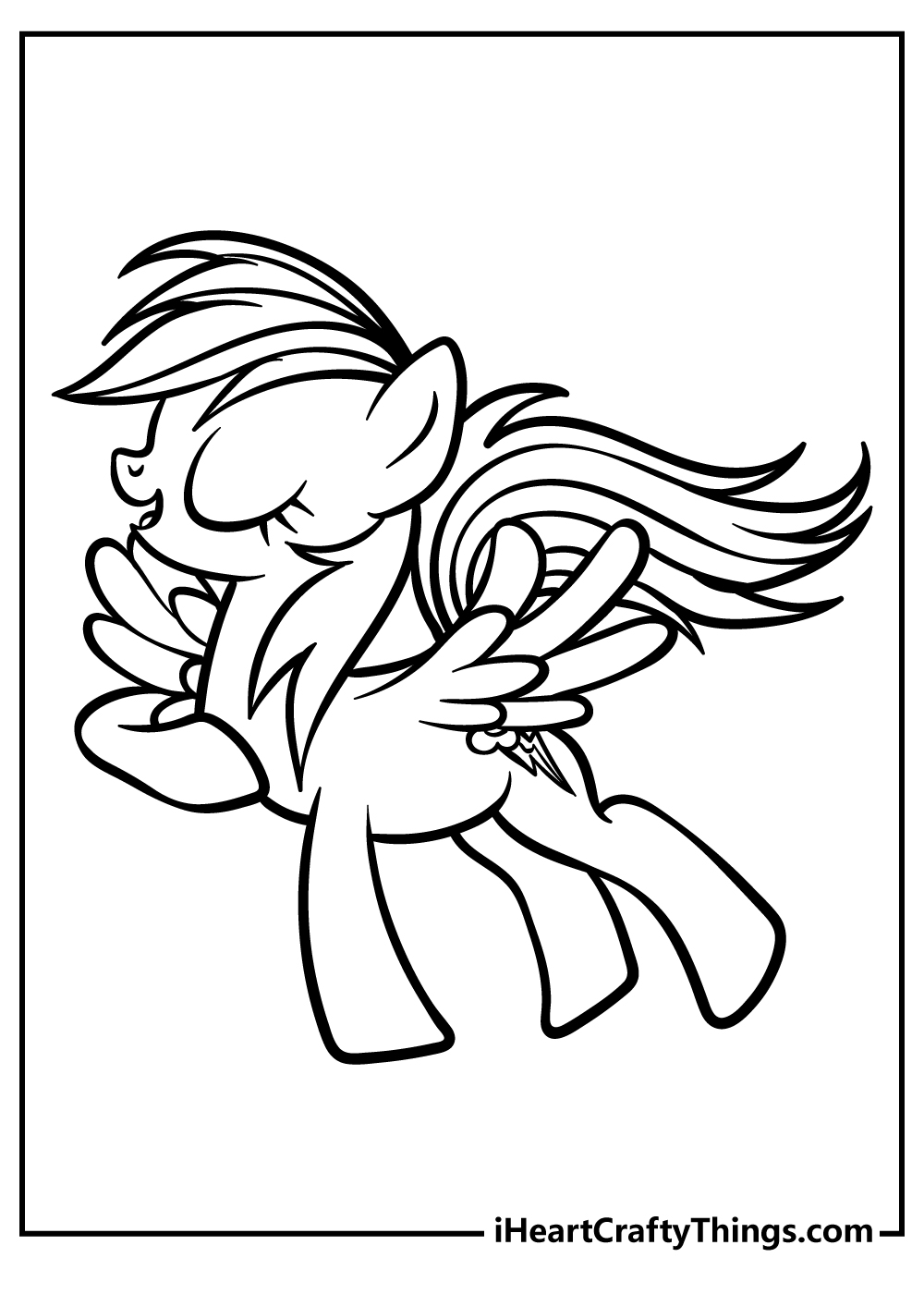 Now it's time for the final Rainbow Dash coloring sheet of the collection!
In this one, she looks as if she is barely stifling a laugh, which probably means something funny has happened to one of her friends. What do you think could be causing this reaction?
Once again, you could show us what your idea for this scene could be by adding a background setting to finish it off.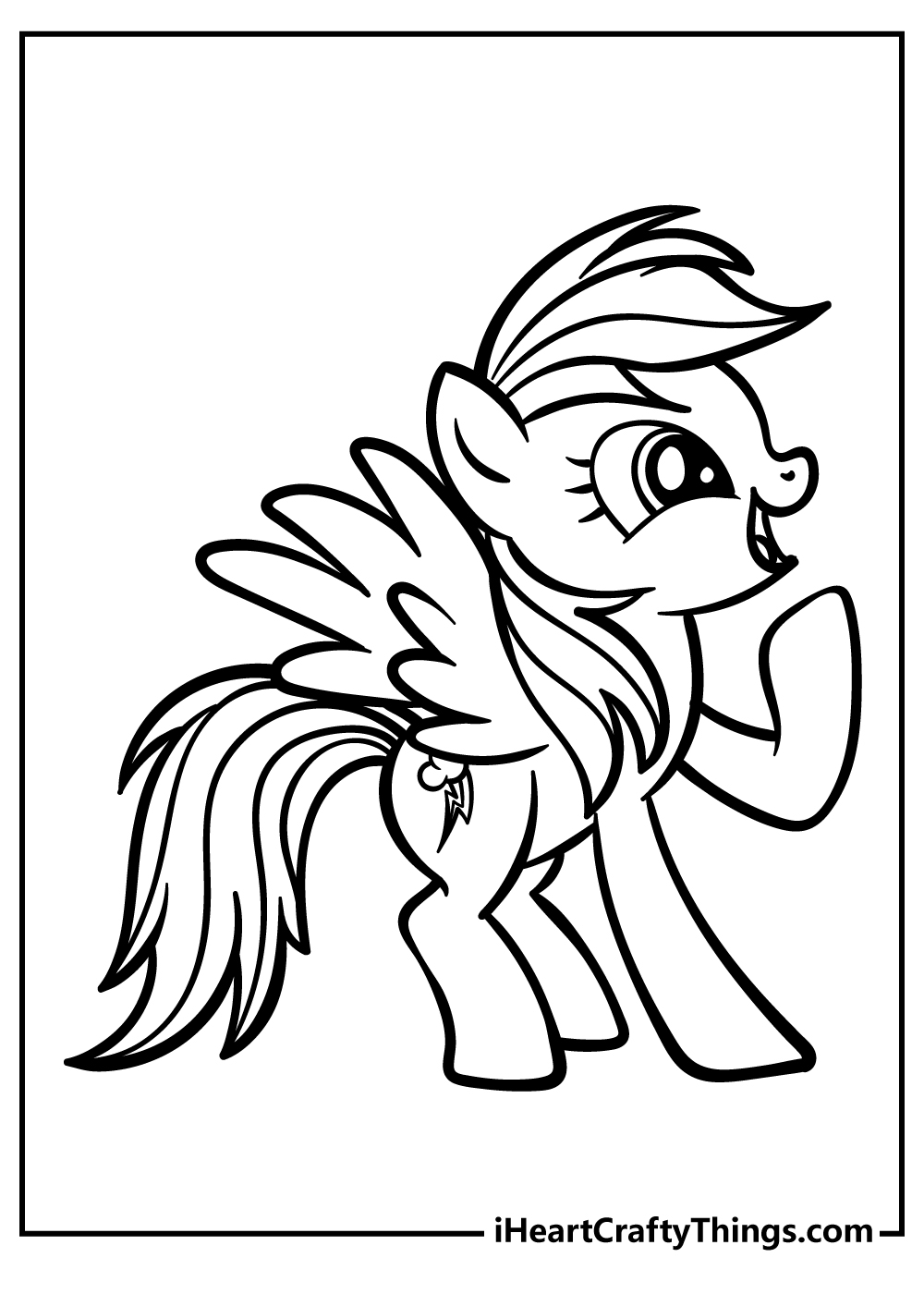 Rainbow Dash Coloring Pages – Which will you choose?
We hope you enjoyed this super colorful collection of free Rainbow Dash coloring pages for kids!
We tried to include a wide range of poses and scenarios for this classic character so that you would be able to use all of your favorite colors and art mediums throughout it.
If you enjoyed this collection, you will find many more on our website that are ready to enjoy! There are other creative goodies to enjoy too, and we can't wait for you to try them out.
We also really hope that you will share some of your finished pages on our Facebook and Pinterest pages for us to see and enjoy.