Aliens are, without a doubt, very fascinating creatures. Up until now, it is still a debate whether or not these extraterrestrial foreign creatures really exist. However, there are reported sightings of aliens as well as signs of life on other planets in outer space.
These unresolved mysteries about aliens are what makes them interesting. The extreme popularity of aliens has created a huge demand for free alien coloring pages. You've asked for it, so we delivered. Without further ado, we present to you—10 alien coloring sheets that are fun and enjoyable to color.
With these alien coloring printables, you can have a fun coloring activity with friends and family. Simply choose the image you like, download it, print it out, and finally—the most fun part—color it! Feel free to mix and match various colors to customize these alien images!
Have fun transforming these colorless aliens into colorful ones!
Alien Coloring Pages — All-New Fun Printable Sheets
This alien coloring page shows an alien wandering around outer space in a UFO. There are lots of stars in various sizes surrounding the spacecraft.
It looks like a beautiful night! We suggest using a variety of bright colors such as yellow, red, and blue for the stars to make it more colorful. That would be mesmerizing!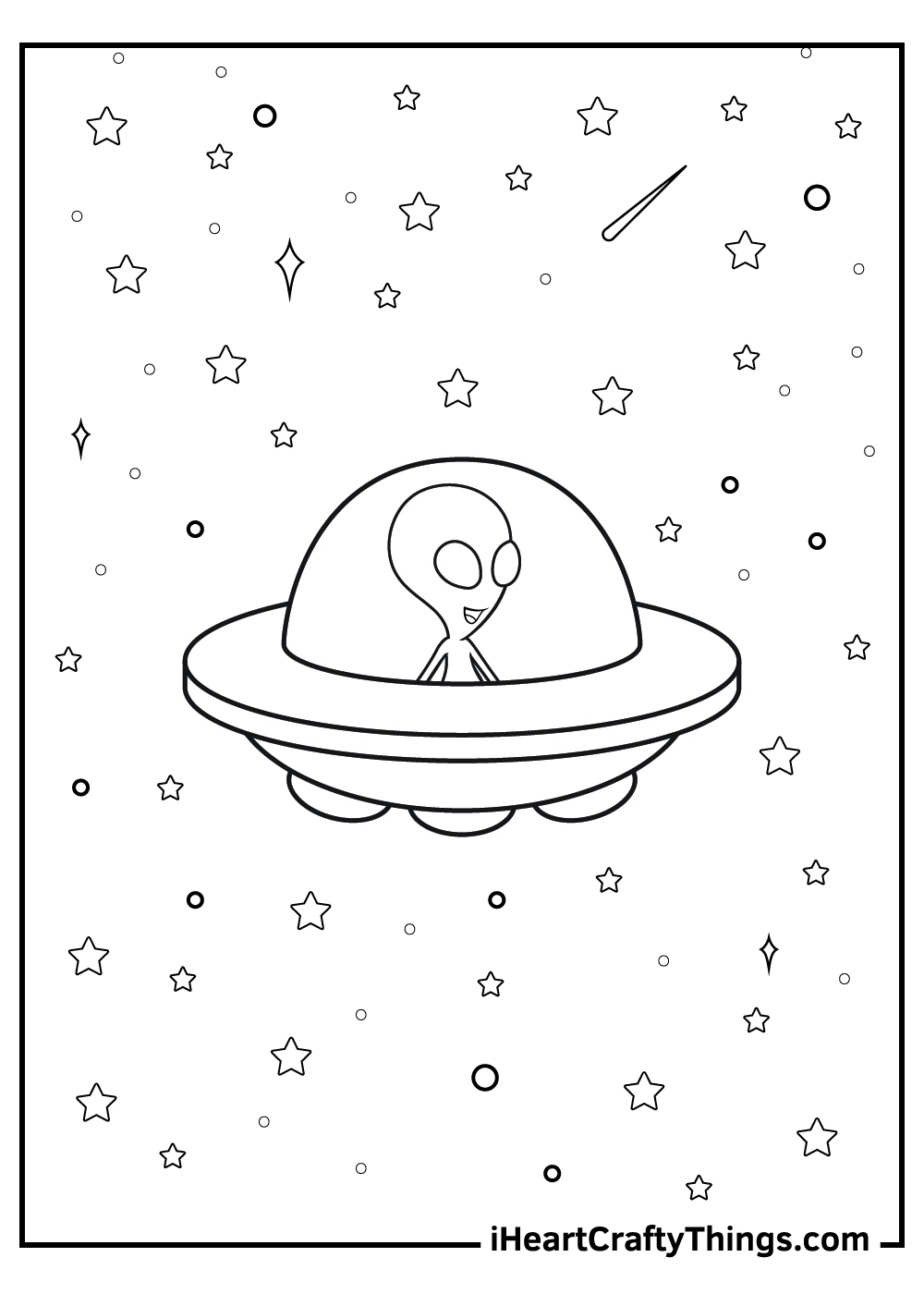 Aliens are believed to be living on another planet, as shown in this alien coloring page. The alien is waving its hand, probably saying hello to the Earth from another planet. Is the alien situated on Mars or Venus? Either way, the alien looks like it's living its best life!
We think the blue and green colors of the Earth would complement the dark color of outer space. What colors will you use to create a colorful cosmos?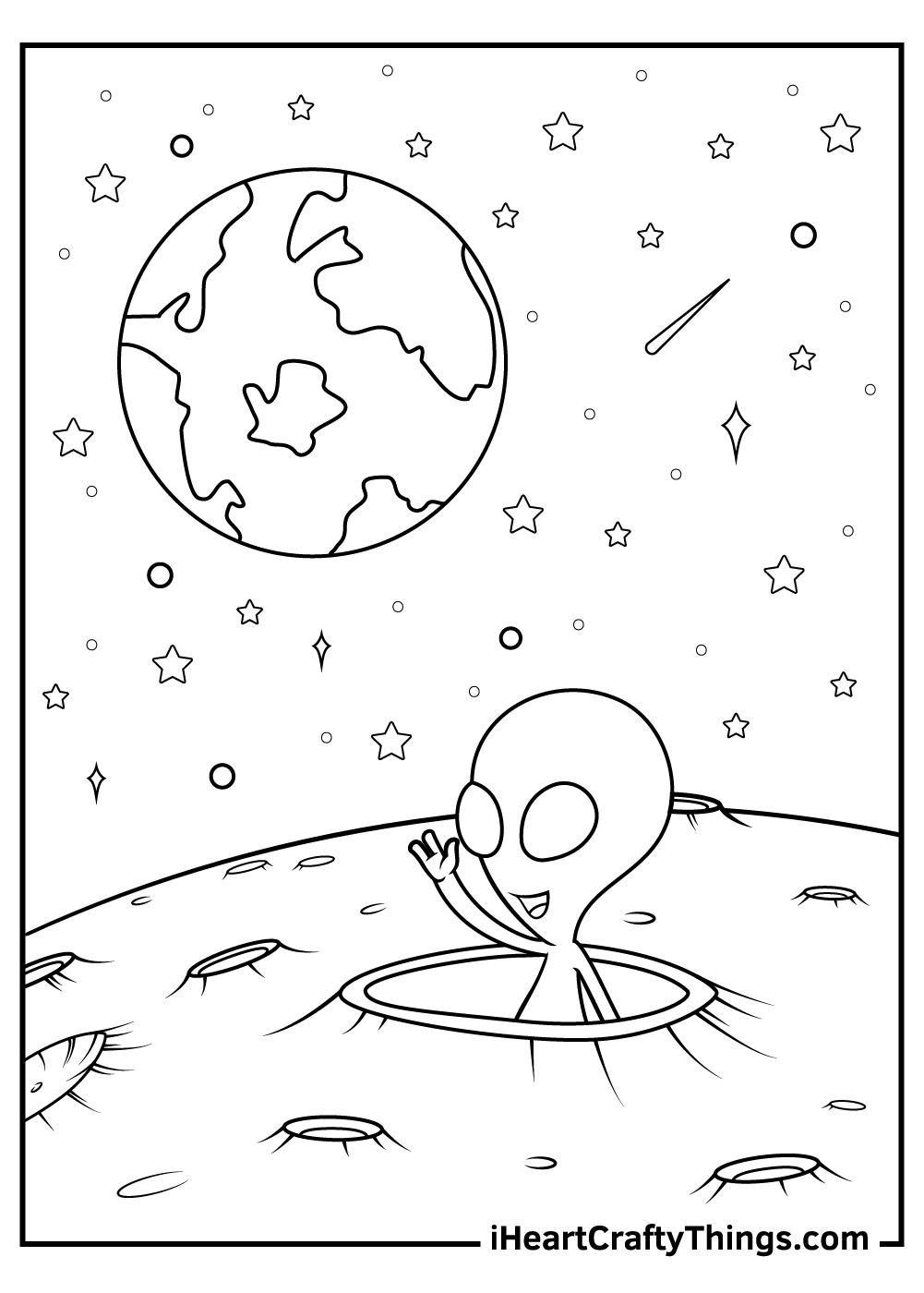 Aliens visit Earth not only for the sake of fun and adventure, but it is believed that they also abduct human beings or animals from Earth for unknown reasons.
This alien coloring page shows a cow in the middle of the fields being abducted by aliens. The cow floats mid-air as the UFO pulls it upwards. The cow looks extremely terrified!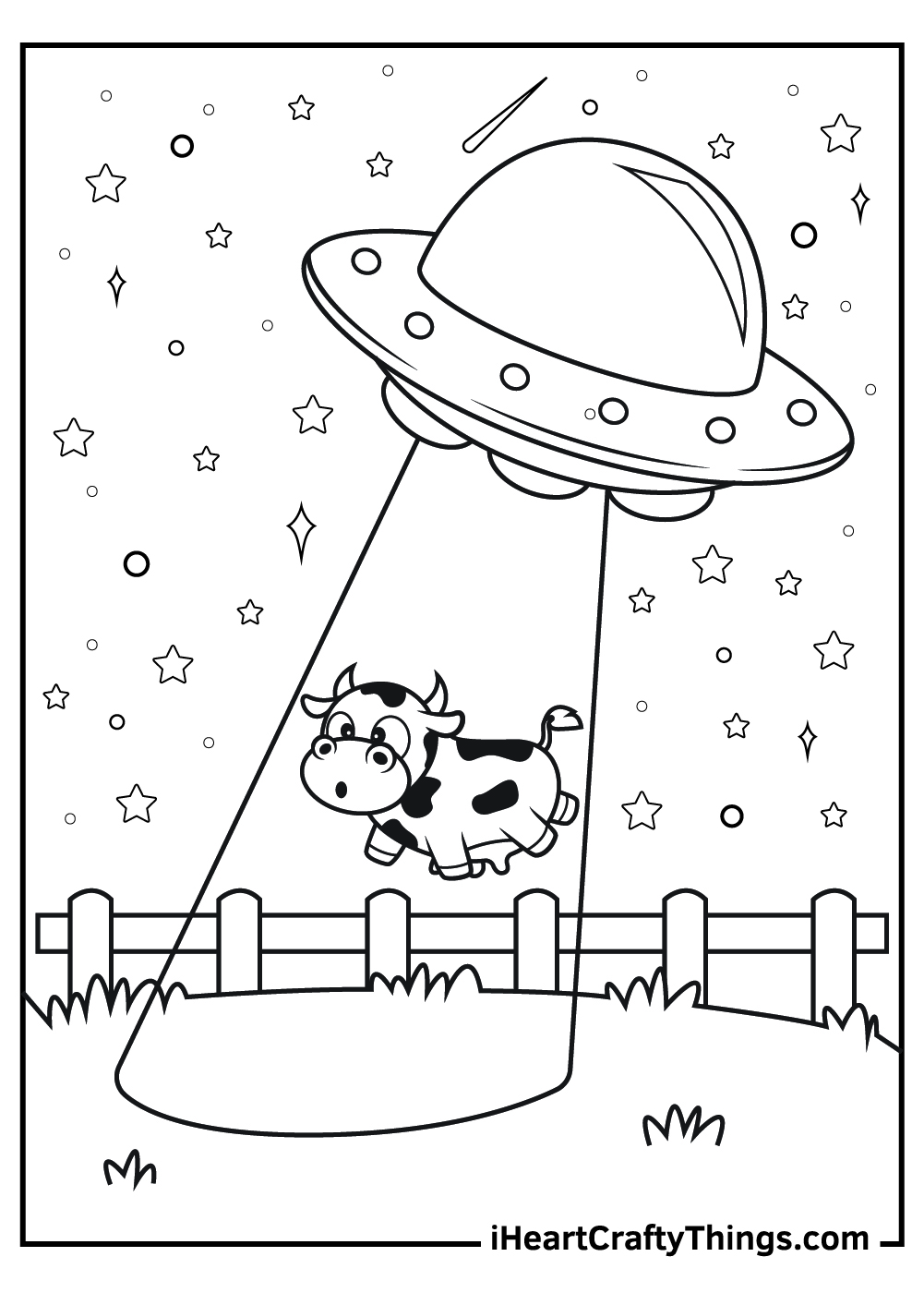 In this alien coloring page, it's nighttime and the moon is shining bright. A UFO lands on Earth on a beautiful night, and the alien inside the spacecraft is getting ready to go out.
There's grass and greeneries in the background, so the UFO must have landed somewhere remote like at the top of a hill. We think a combination of vivid green and brown is perfect for the lush natural scenery.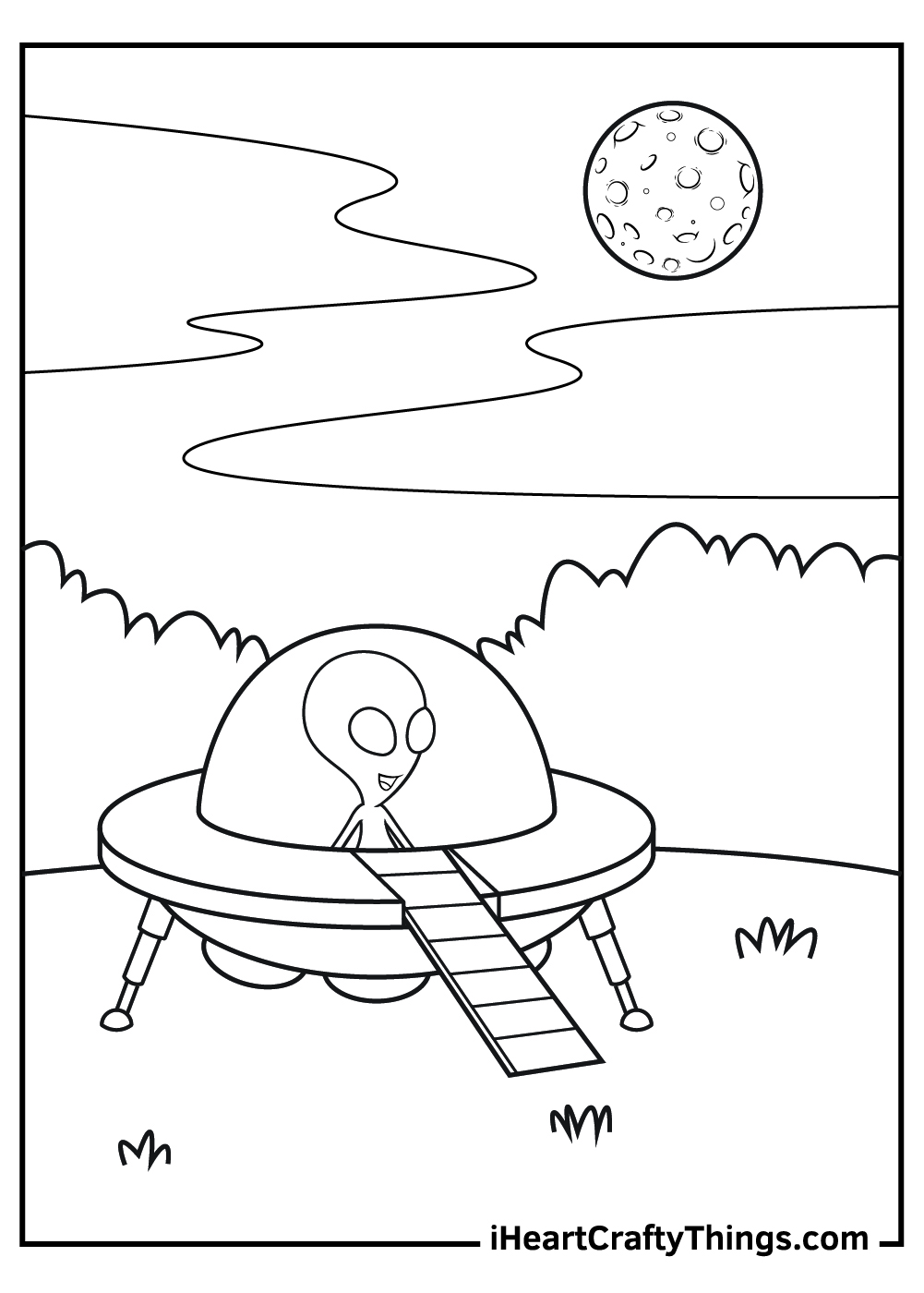 The UFO on this alien coloring page is in the middle of a take off, flying up high into the skies. The spacecraft is surrounded with clouds, so it must be a clear, sunny day!
Here's a fun fact: Did you know that UFO stands for unidentified flying object? It refers to any aerial phenomenon that cannot be identified nor explained.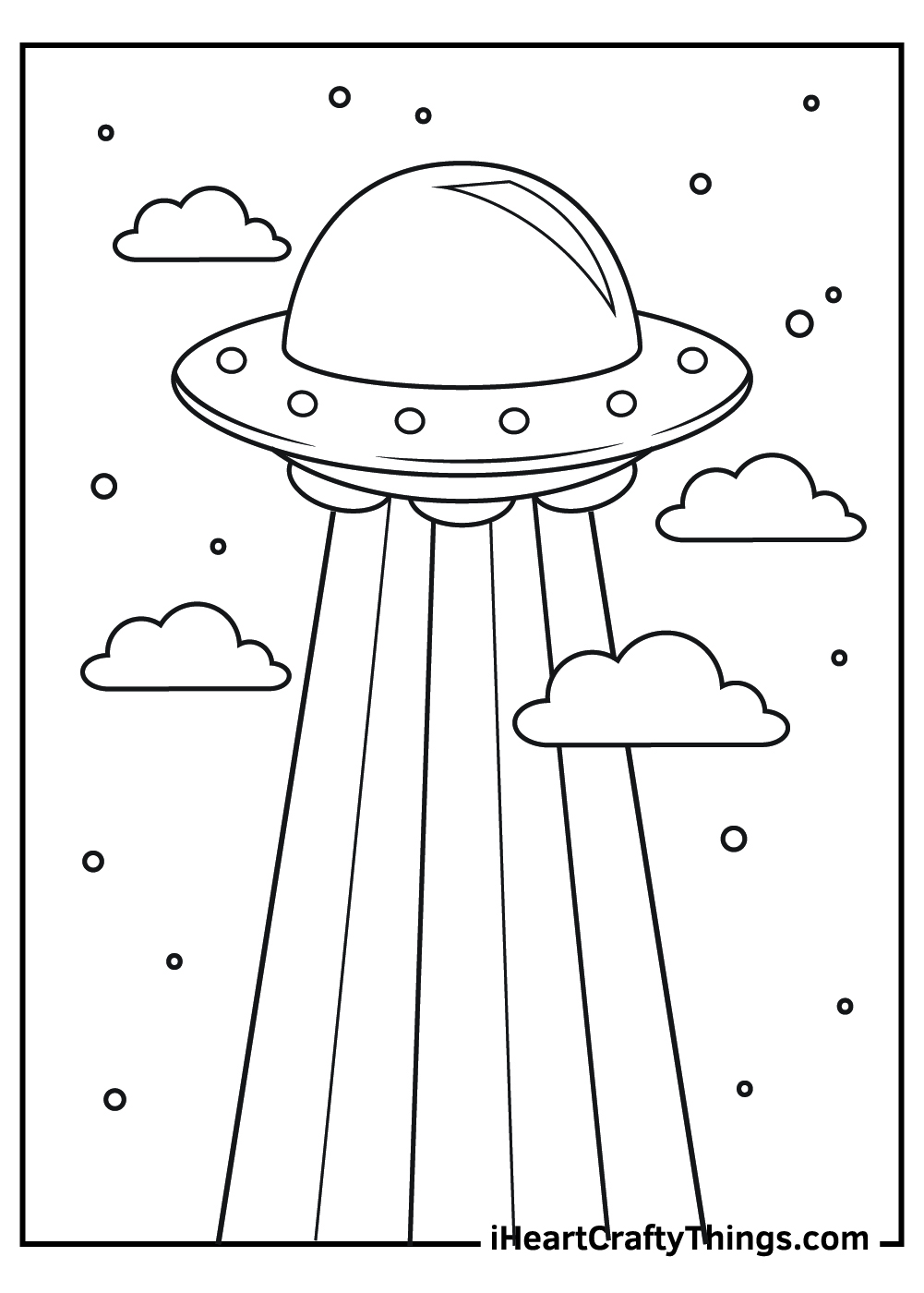 This alien coloring page shows a cheerful alien with a huge grin on its face. It is standing upright with both of its hands placed on its hips.
What could this alien be so happy about? Perhaps it's feeling excited to visit the Earth soon!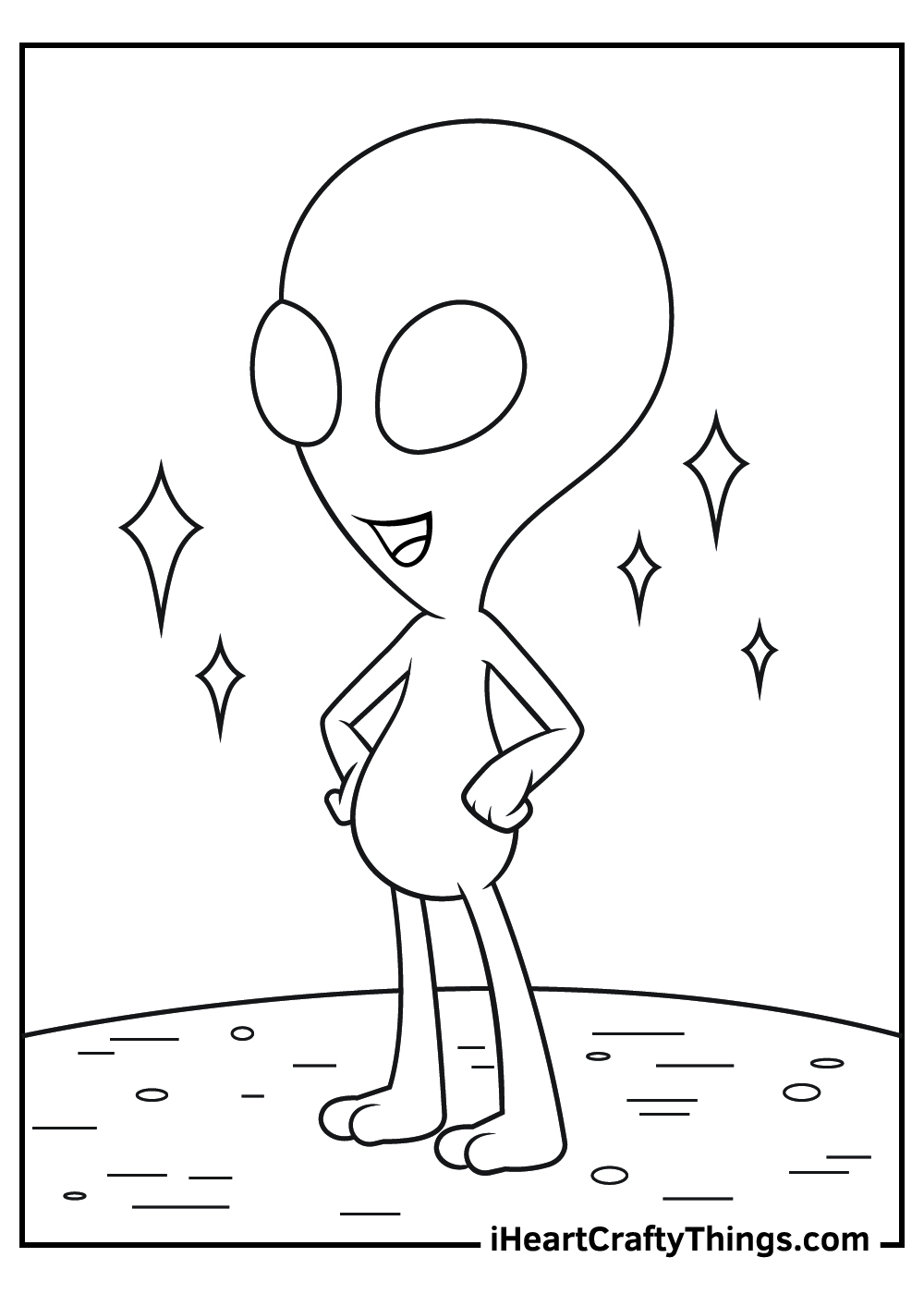 In this alien coloring page, there's a phrase "we come in peace" written on the image. Directly above the text is a UFO flying around outer space.
The spacecraft is surrounded with glittering stars in various shapes and sizes. What colors will you use to make these glowing stars colorful?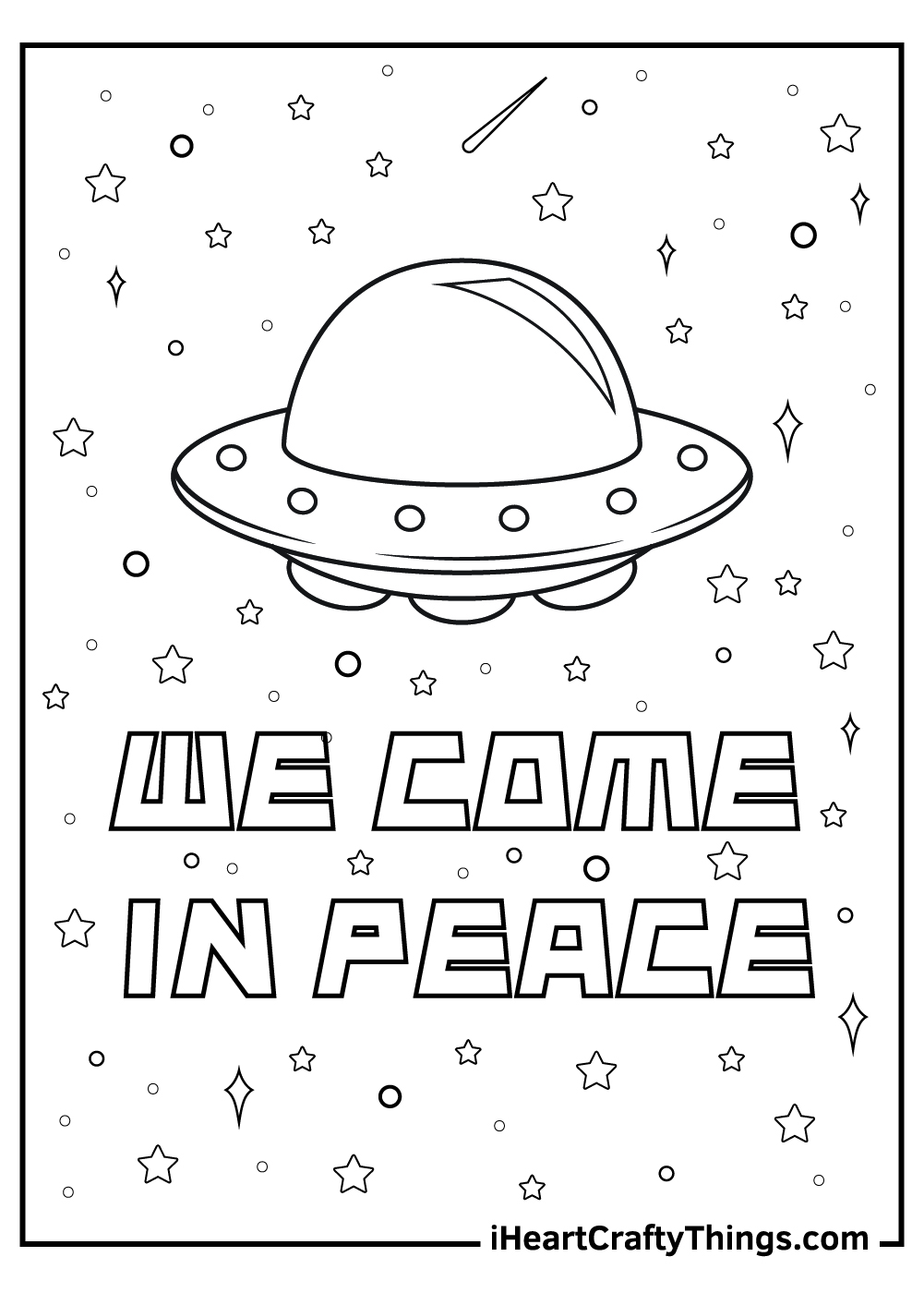 In outer space, there are three planets with rings surrounding it. However, the only planet with visible rings is Saturn, as shown in this alien coloring page. The planet Saturn is seen in a far distance as the alien riding a UFO flies away from it.
Saturn is originally a combination of yellow and brown in color, while the stars come in a wide range of colors such as red, orange, green, yellow, blue, and white.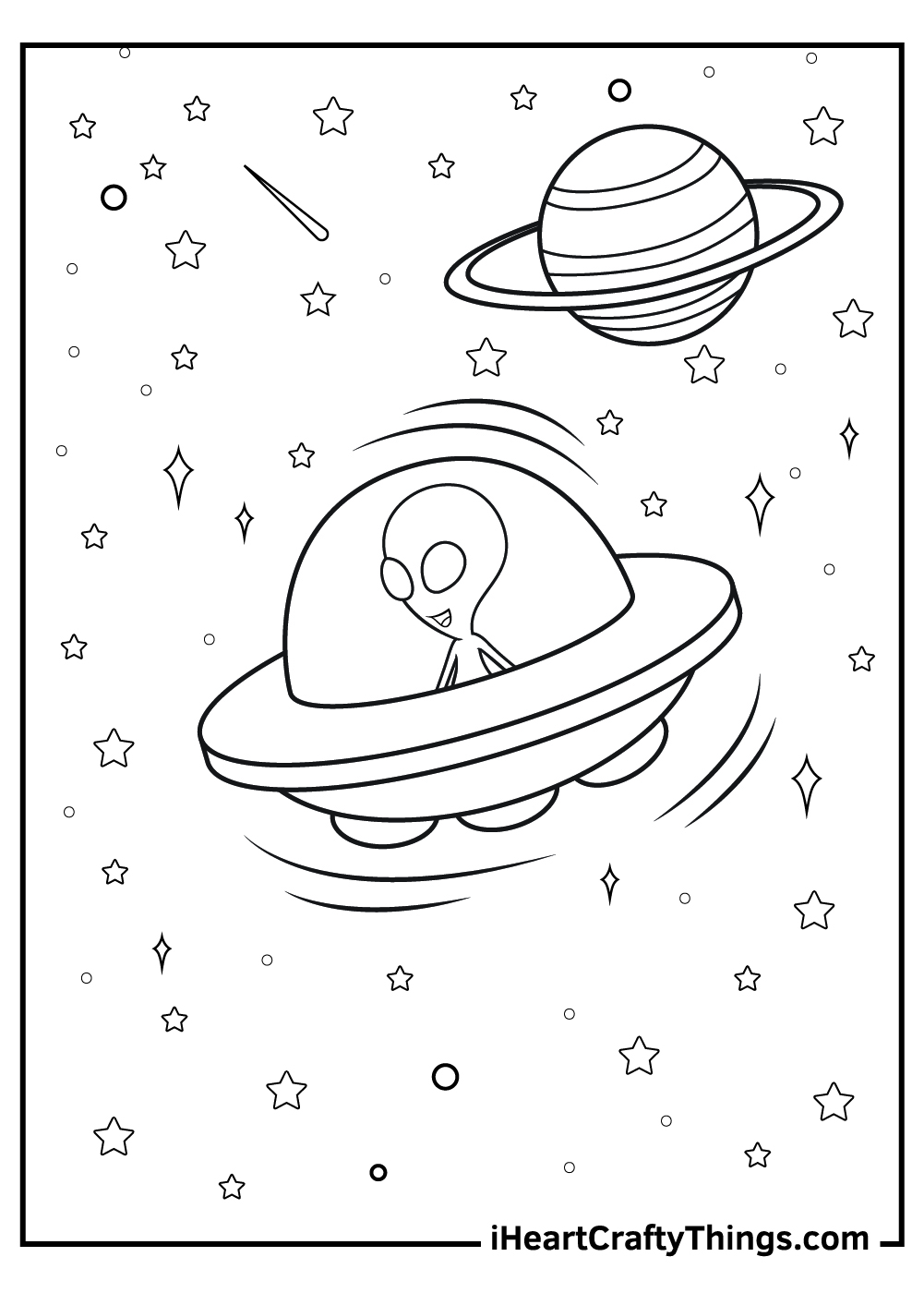 This alien coloring page shows an alien with the bottom half of its body is submerged in what looks like a crater of a planet.
The alien has a unique pair of ears that is shaped like trumpets. Its one hand is held up high, probably waving its hand to say hello. It looks extremely happy with the huge grin on its face!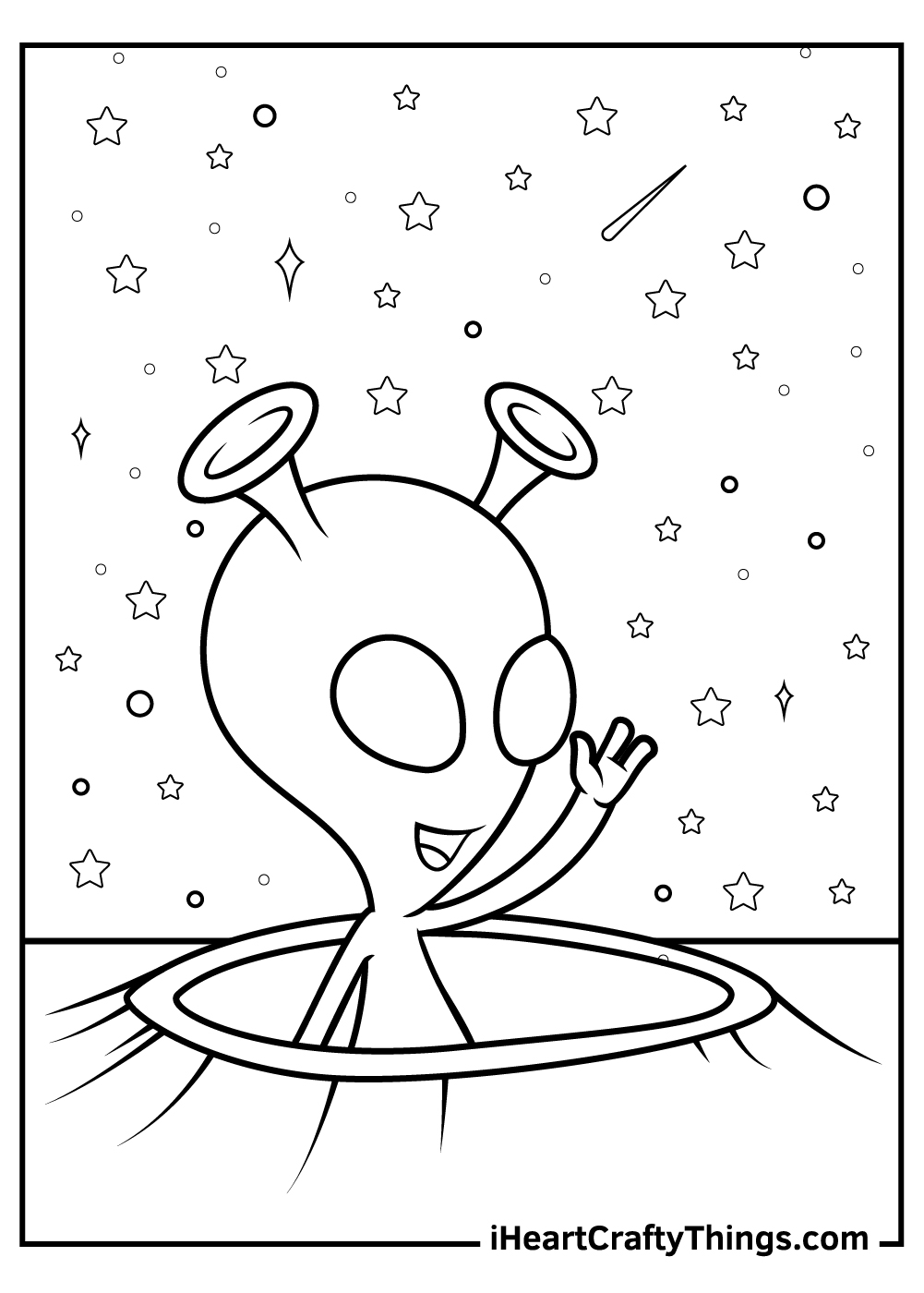 An alien's head has a distinct shape that is quite similar to an egg, as shown in this alien coloring page.
This image is filled with intricate illustrations of an aliens' head, full moons, and UFO spacecrafts. What colors will you add to this printable?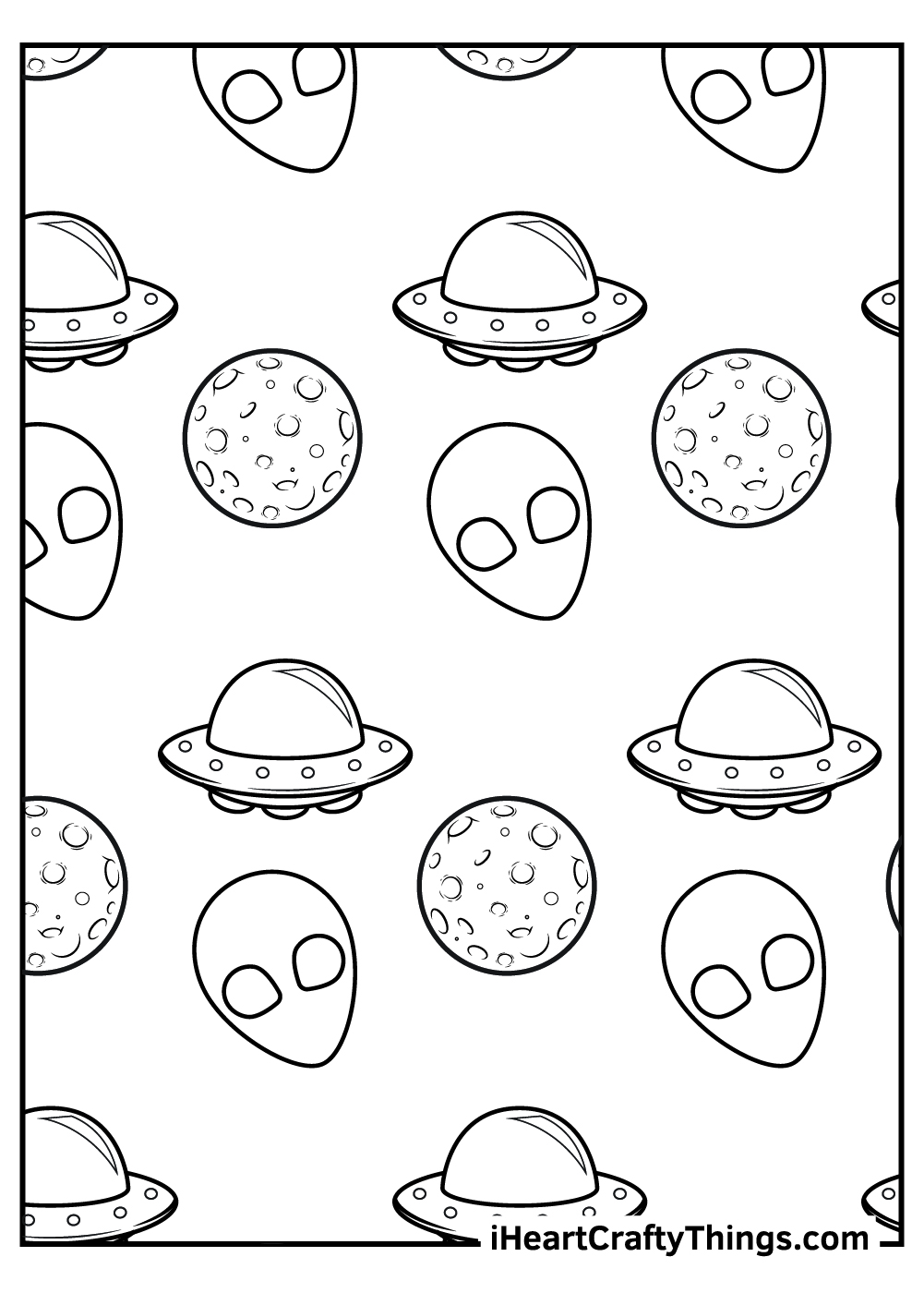 Alien Coloring Pages — Which image will you color?
We hope you enjoy these alien coloring pages. It consists of simple and intricate illustrations of aliens. Coloring these alien coloring sheets is the perfect activity for kids of all ages who are interested in extraterrestrial creatures.
Remember, all of our crafts and coloring printables are 100% free for you to download, print, and color. We are always updating our catalog and uploading new content to our catalog. So, don't forget to keep re-visiting our website to continuously enjoy all-new coloring pages.
Once you've finished coloring your alien coloring printables, you must be very proud of yourself for completing a masterpiece—as you should be! Make sure to show off your work of art and share it on our Facebook page. We're sure it looks amazing!
We can't wait to see all of your colorful creations!