Do your kids love science? Are they interested in space, space travels, stars, and planets? Do they want to travel to the moon or another planet someday? Become an astronaut?
Then it's time to take them on a space adventure with these new spaceship coloring pages designed to be both fun and easy, and a great way for beginners to practice!
Spaceships, or spacecrafts, are vehicles or machines designed to fly or travel in space. They are used for different reasons – for communications, observation, planetary explorations, transportation of humans or cargo, navigation, and more.
With the help of science fiction, space travel has become popular and kids from all ages are in awe and fascination with them. Whether it's through planet explorations or simply looking for other life forms, it has tremendously impacted their view of science and space.
We have compiled 15 new and simple illustrations that kids will surely find enjoyable especially if they love outer space. Download these printables for free and let children, especially beginners, enjoy these easy to colors pages.
REMEMBER: You can get the COMPLETE set of these coloring pages >> HERE
15 Brand New Spaceship Coloring Pages – Free to Print and Color
This spaceship has launched in space!
A simple spaceship image, this free spaceship printable is the perfect sheet to give little ones. It's designed simply with basic lines and outlines making it easy for any beginner to start coloring.
Let the kids decide what colors to use in the background as well as the stars. This printable is a great way to start this activity smoothly and ease into the next ones.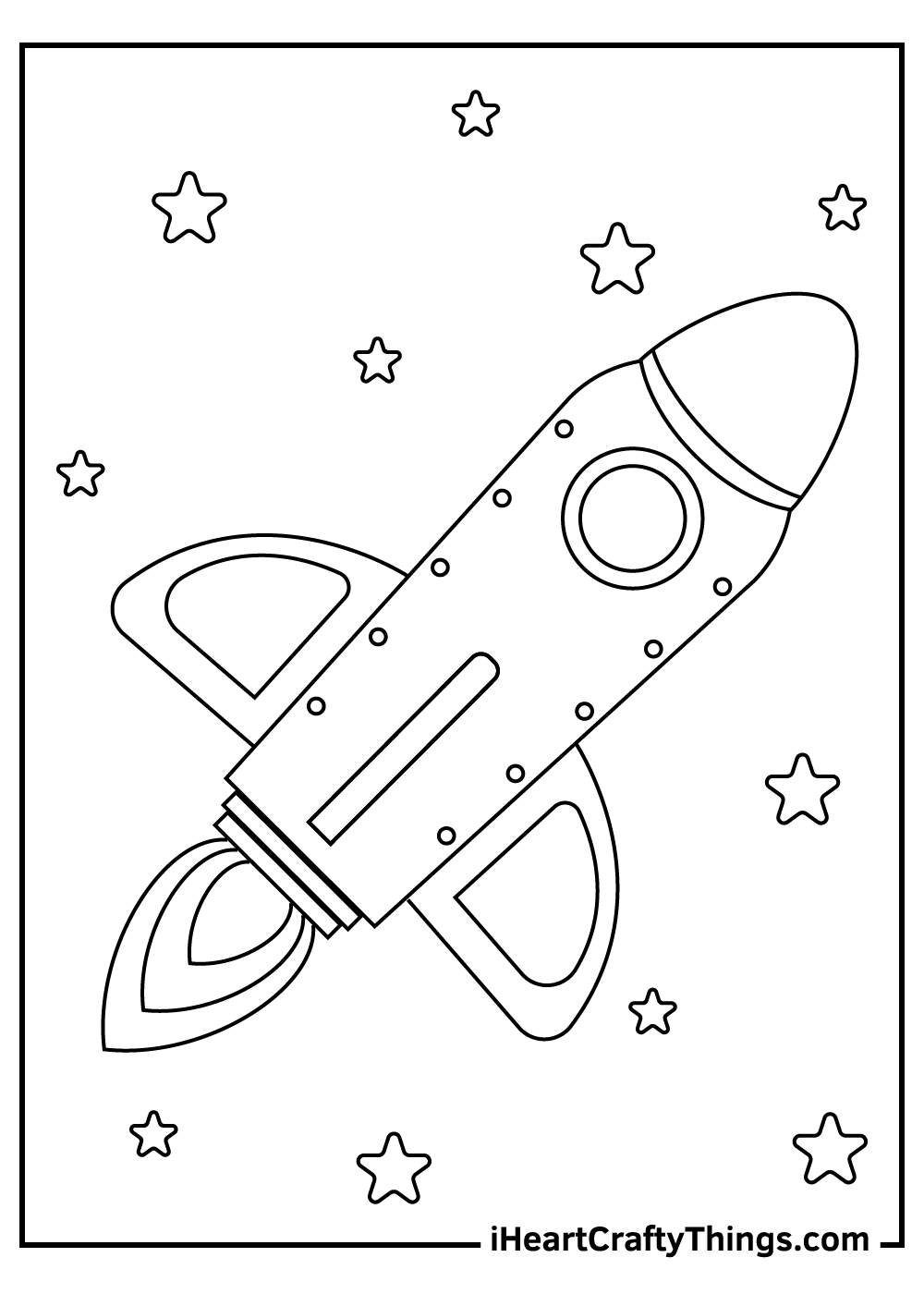 This spaceship coloring page is a cool and futuristic depiction of a spaceship. The spaceship has a sleek and aerodynamic design, with a pointed nose and a large body.
It has various raised sections and indented panels along the top and sides, giving it a complex, technical look.
Color this spaceship to soar past Mars. Choose emerald accents to explore alien jungles. Or try cosmic colors like purples, blues, and silvers to cruise the farthest reaches of space.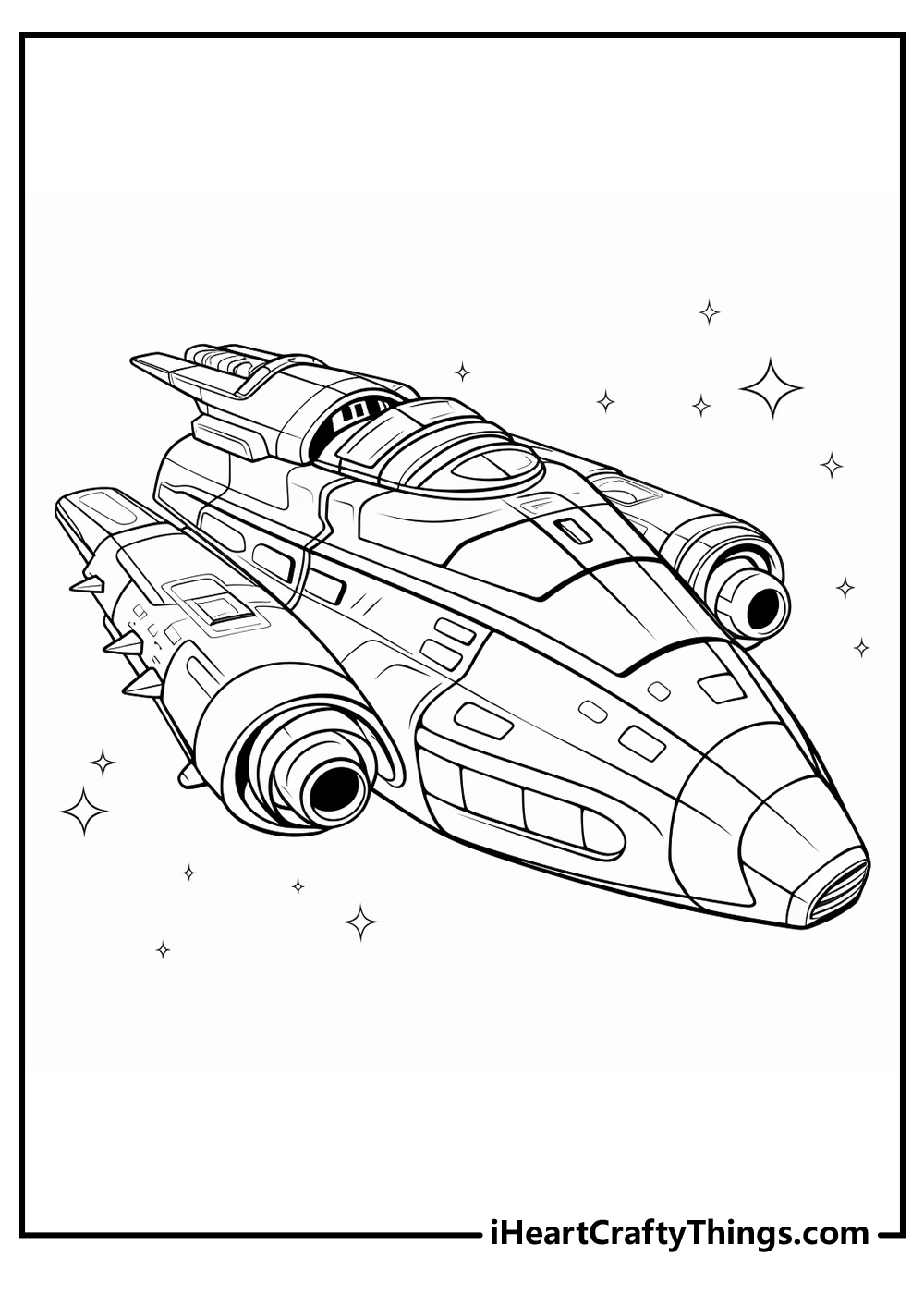 The spacecraft is launching.
This spaceship coloring page designed for kids has just launched and is not pivoting into space. The image contains simple lines that children can follow.
Encourage them to use bold colors and a bright blue background as this space vehicle leaves the Earth's atmosphere.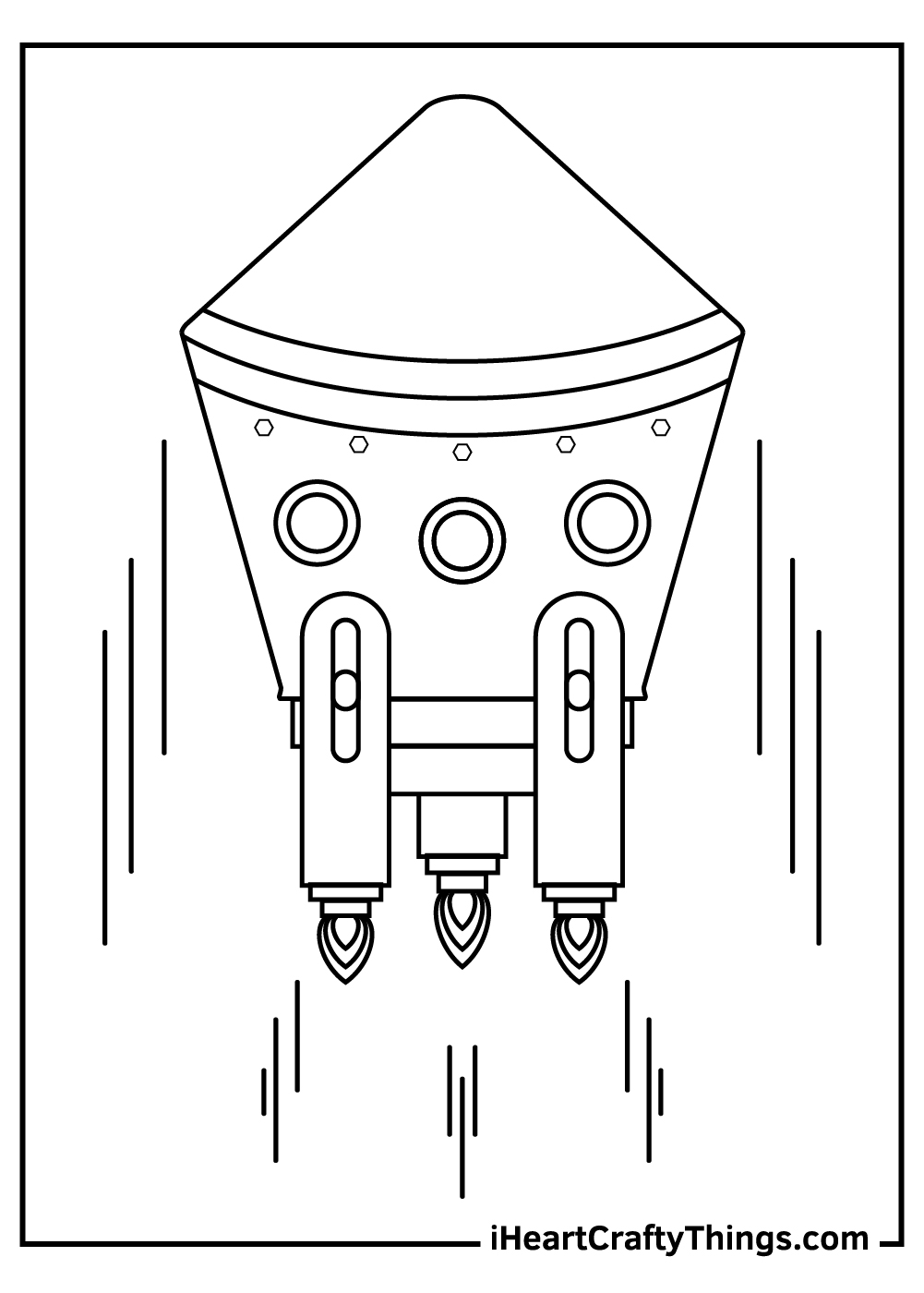 Spacecrafts are used to transport a crew with a mission to explore space. This may include space tourism, satellite telecommunications, or Earth observation missions, etc.
In this spaceship coloring page, the exploration vehicle is out in space with crews inside. They're on a space mission. With the simple outline, it will be easy for kids to color this piece.
REMEMBER: You can get the COMPLETE set of these coloring pages >> HERE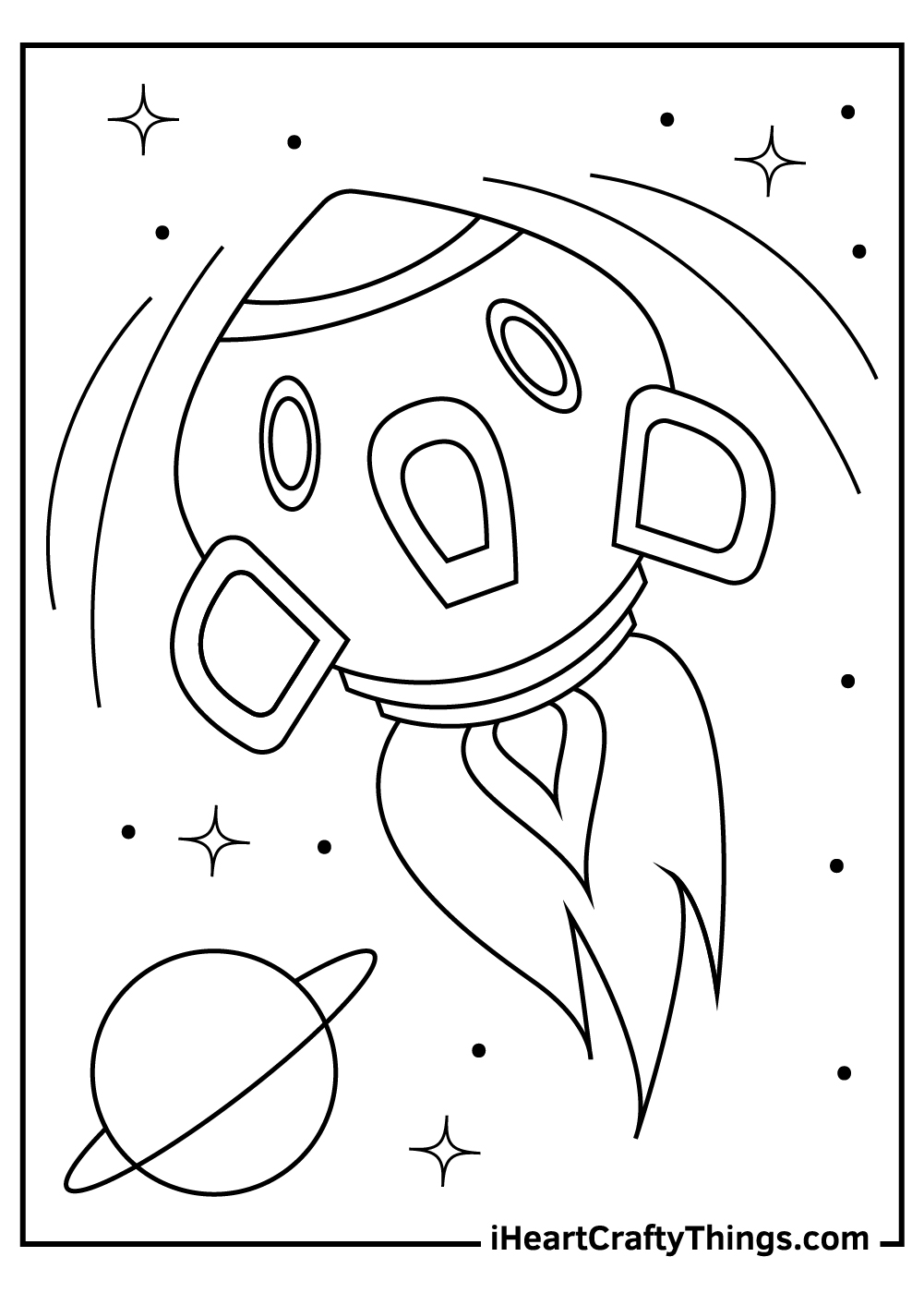 Here we have a spaceship that looks like it can travel faster than light. The space has a cockpit with a window and a door, where the pilot can sit and control the ship.
What do you think this spaceship is doing? Is it exploring new planets, meeting friendly aliens, or escaping from danger?
You can use your imagination and creativity to color this page however you like. The background shows some clouds and stars, indicating that the spaceship is flying high in the sky.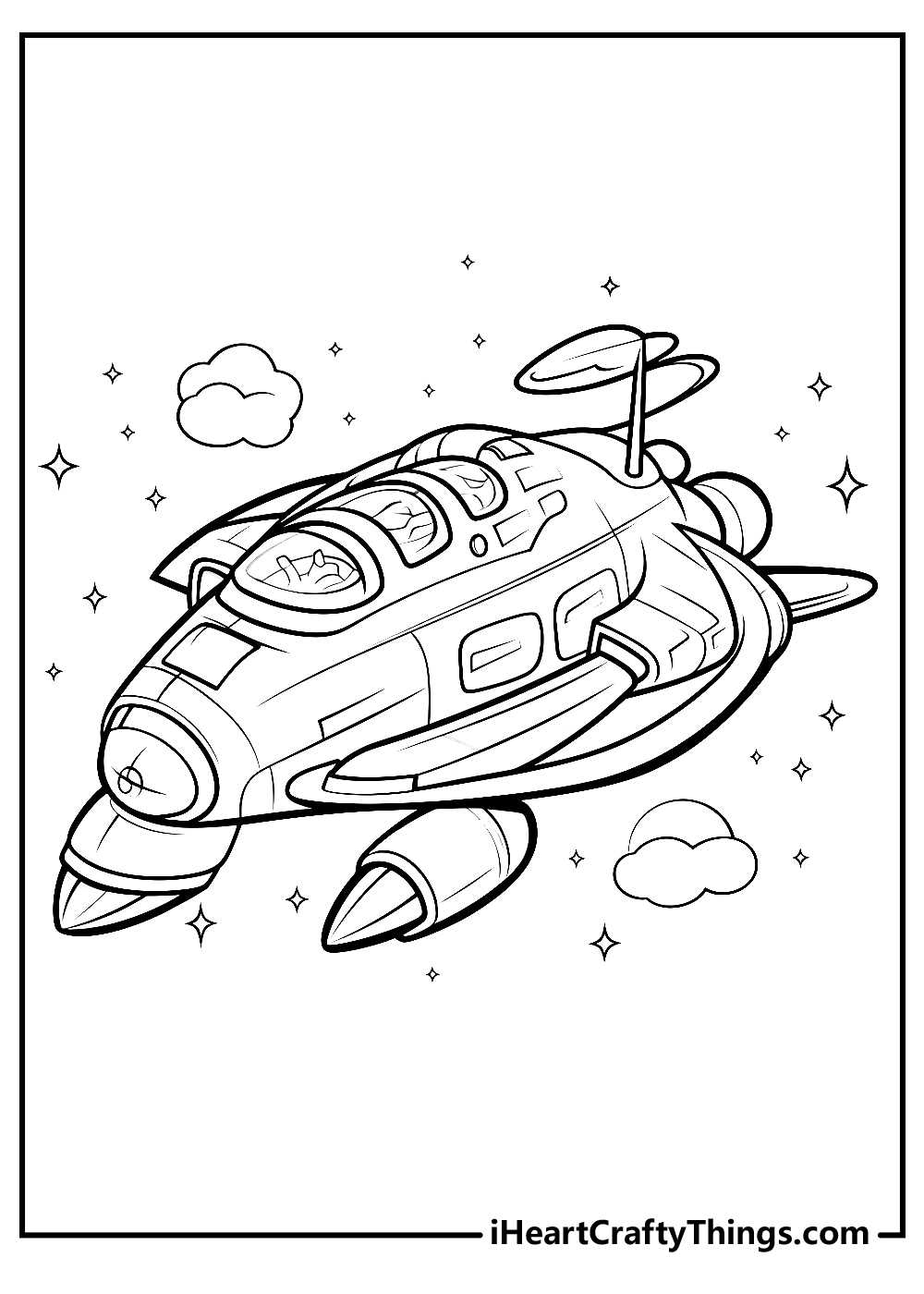 This spaceship flying in space will be a stunning page once all the colors are filled in!
It's a space-themed coloring set with stars in the background. Ask your child to fill in the page with bright and dark space colors.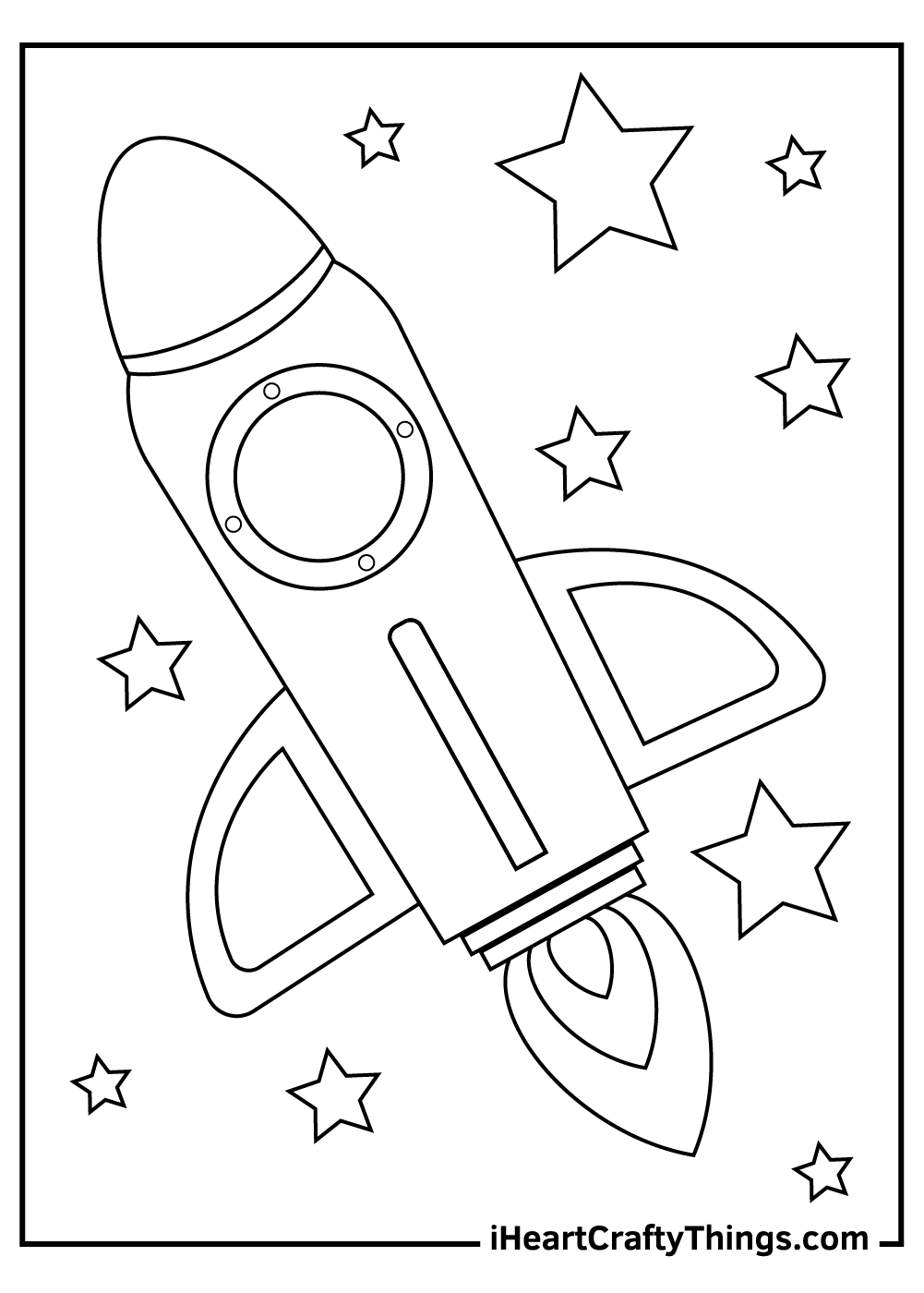 Humans aren't the only ones with spaceships! Other life forms also have tons of them!
Here, on this spaceship coloring page, you'll see a celestial spaceship or alien spaceship. The space vehicle is orbiting the other planets, looking for signs of other life forms.
It's time to take these spaceship coloring pages to the next level by using bright and dark colors on this page.
Bring this free printable to life with the magic of colors and let's see how an alien spaceship looks like through a kid's eyes.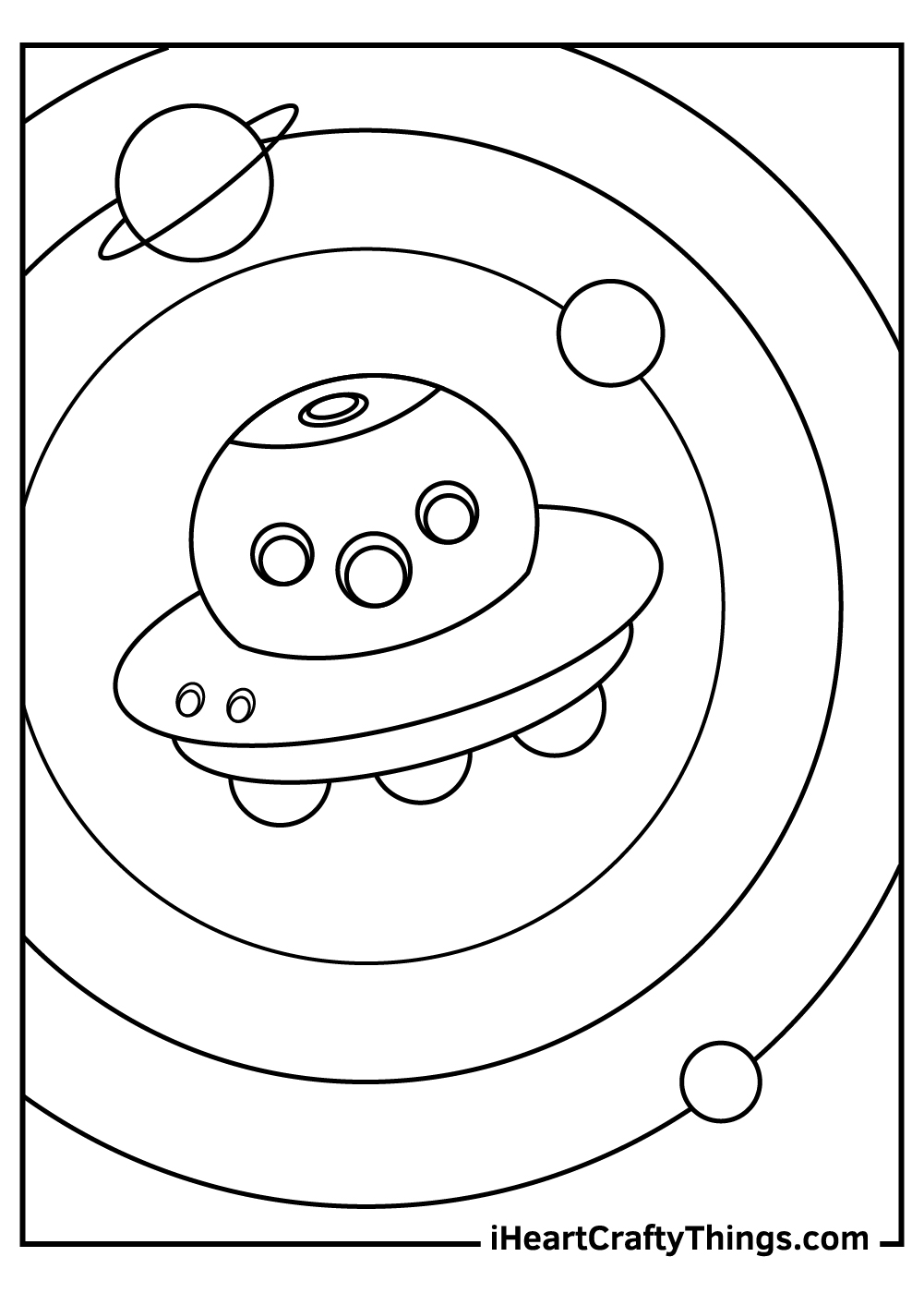 The next page of spaceship coloring pages features not one, but three celestial spaceships of other life forms.
Three spaceships are traveling in the universe, possibly looking for Earth or other signs of life on other planets. There is one big mother spaceship twill two small ones on the side.
For little kids beginning to color, this will be easy as the lines are simple that kids can just trace or follow.
REMEMBER: You can get the COMPLETE set of these coloring pages >> HERE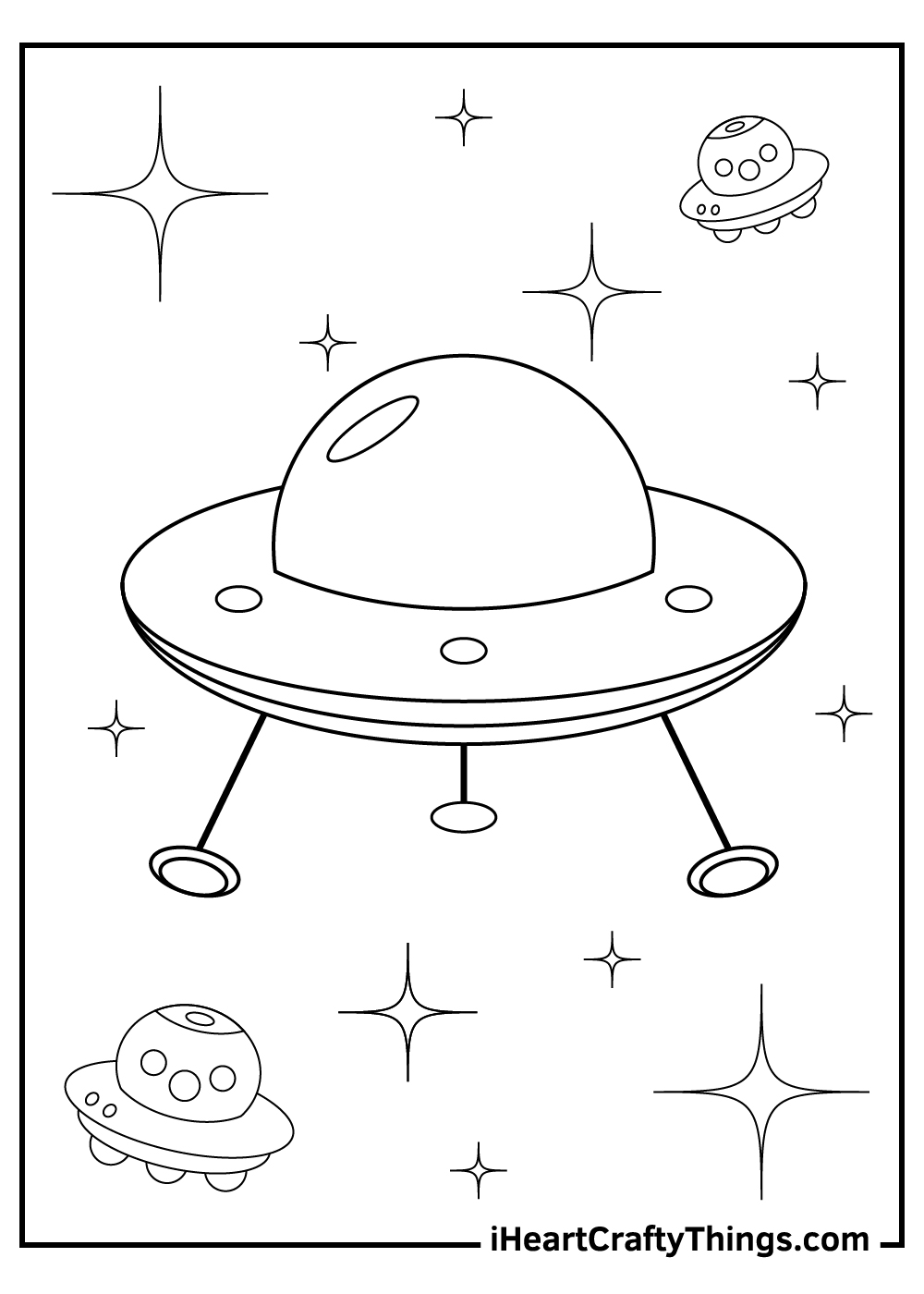 Blast off into outer space with this fun spaceship coloring page! This pointy spaceship is ready for an adventure. Where do you think it's headed?
Color the spaceship with bold reds, oranges, and yellows. Add blue, green, and purple colors for a beautiful galaxy. Draw yourself as an astronaut in the window waving hello!
This spaceship is fueled up and ready to go. Make it speed through space by adding motion lines behind it. Draw twinkling stars and cute aliens floating by.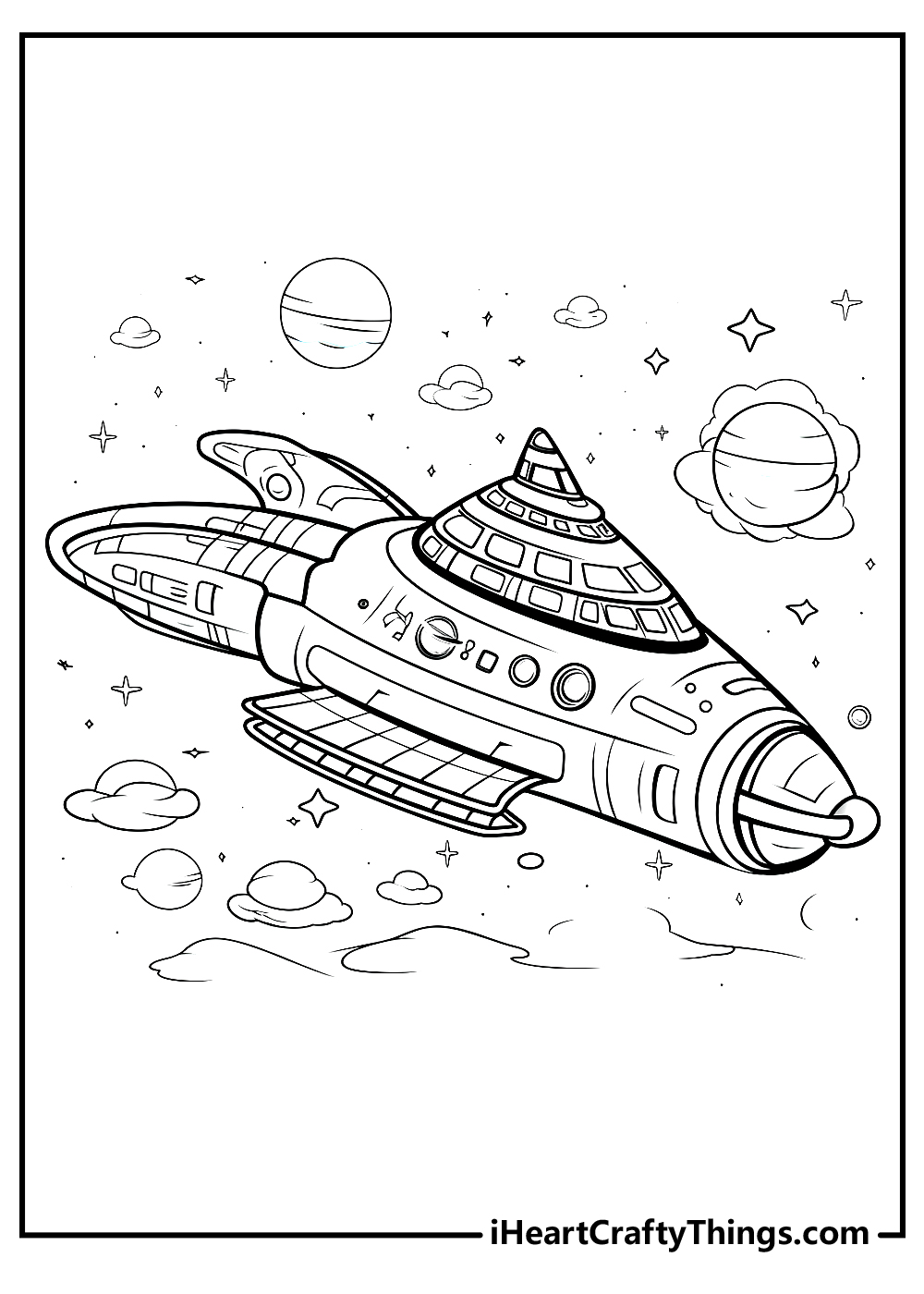 Another spacecraft is on its way to another mission.
Orbital spacecraft or spaceships are space machines used to orbit closely around the Earth and other celestial bodies. They are used either for observation, communications, meteorology, or navigation.
Like the one shown here in this spaceship coloring page for kids, a spaceship orbits Earth doing its intended purpose as a space machine.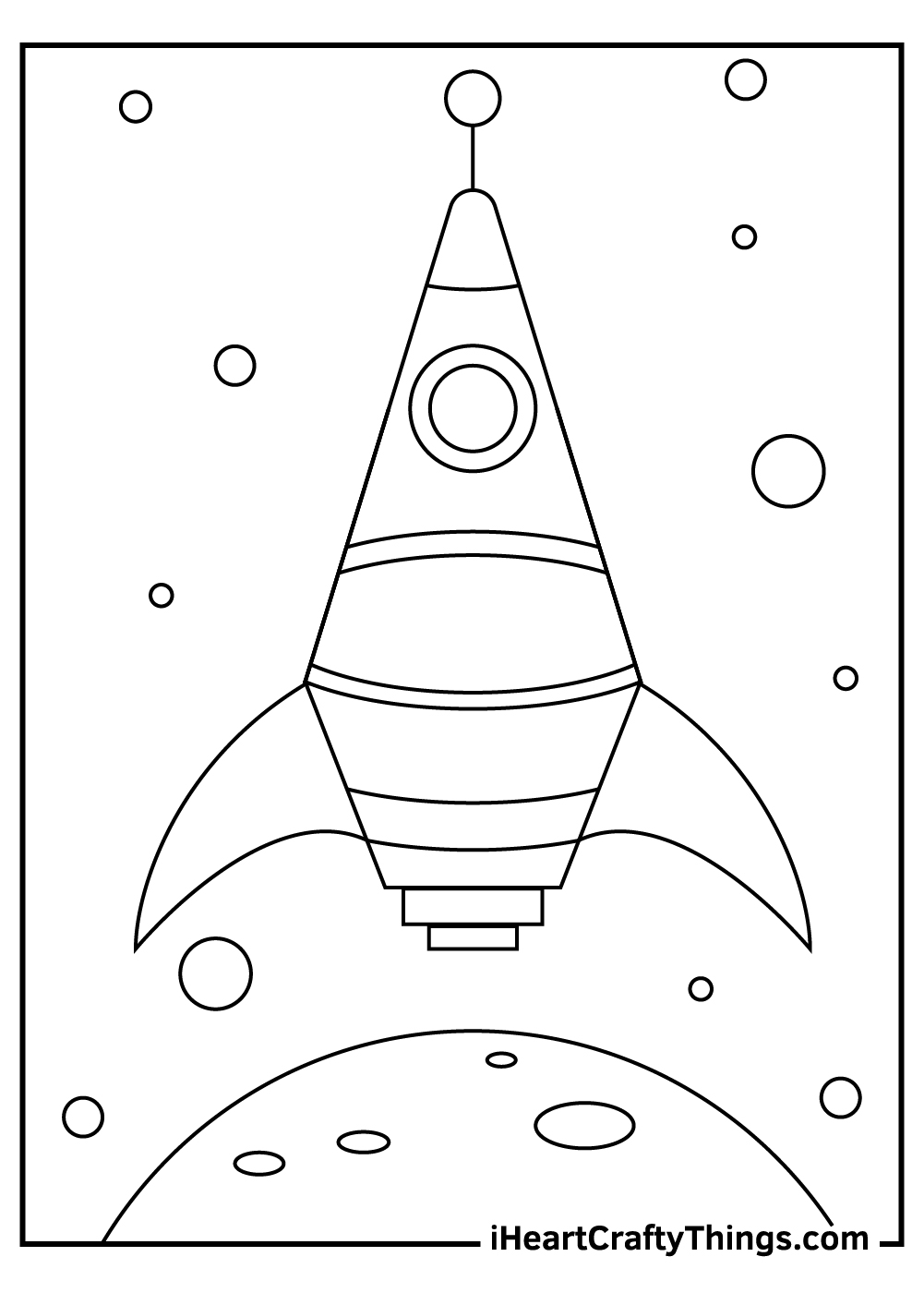 This spaceship coloring page features a futuristic spaceship that looks like it can handle any challenge.
It has a sleek design with multiple levels and antennas. It also has a lot of windows, where you can see the people inside.
What do you think this spaceship is doing? Is it exploring a new world, fighting an enemy, or rescuing someone in trouble?
This coloring page is simple, so you can add your own colors and patterns to make it more personal.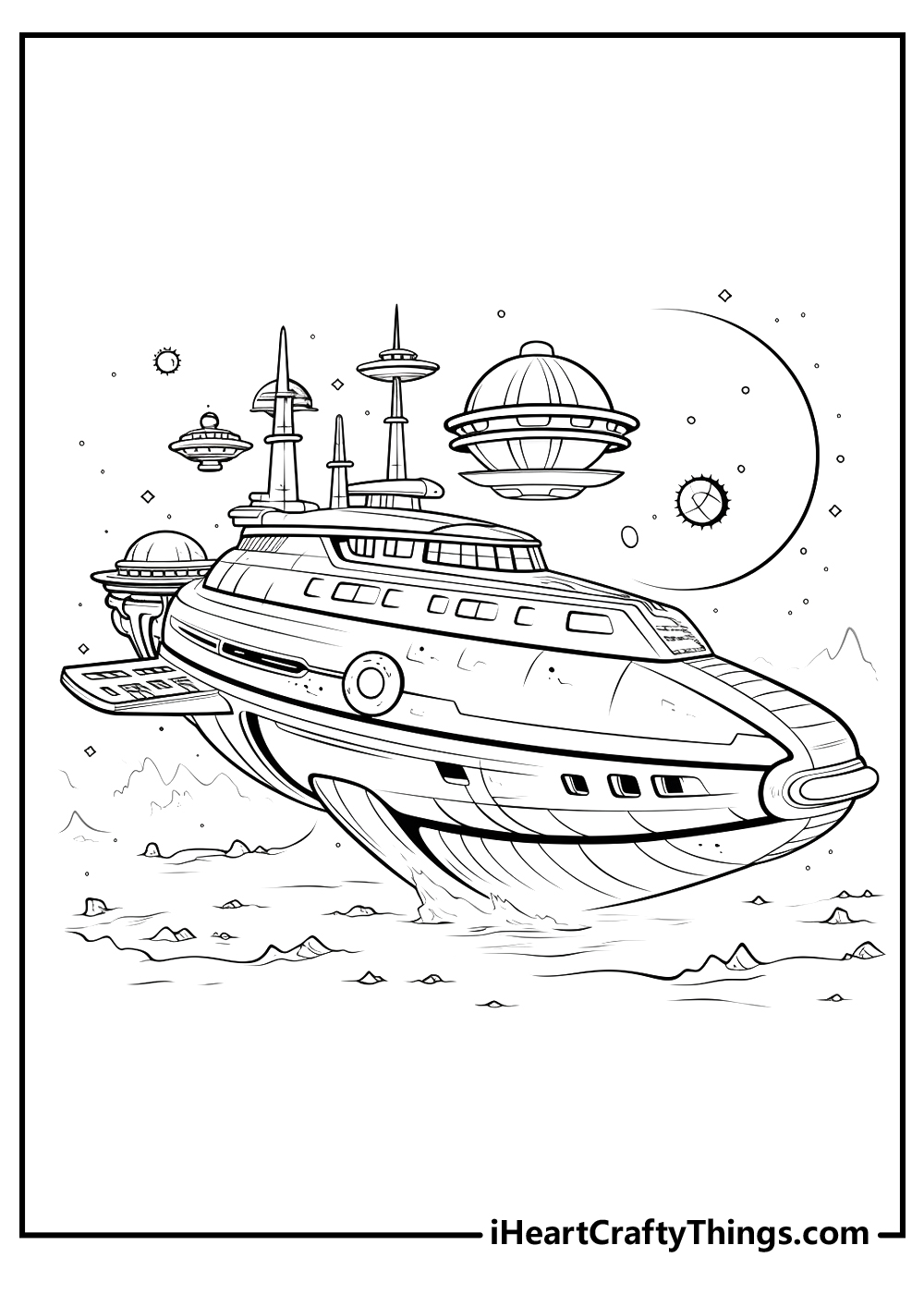 Have you ever wondered what celestial or alien spaceships look like?
With tons of science fiction works in movies, books, and TV, children can easily get inspiration for them. Use science fiction works to help kids achieve the perfect color and look of this free spaceship printable.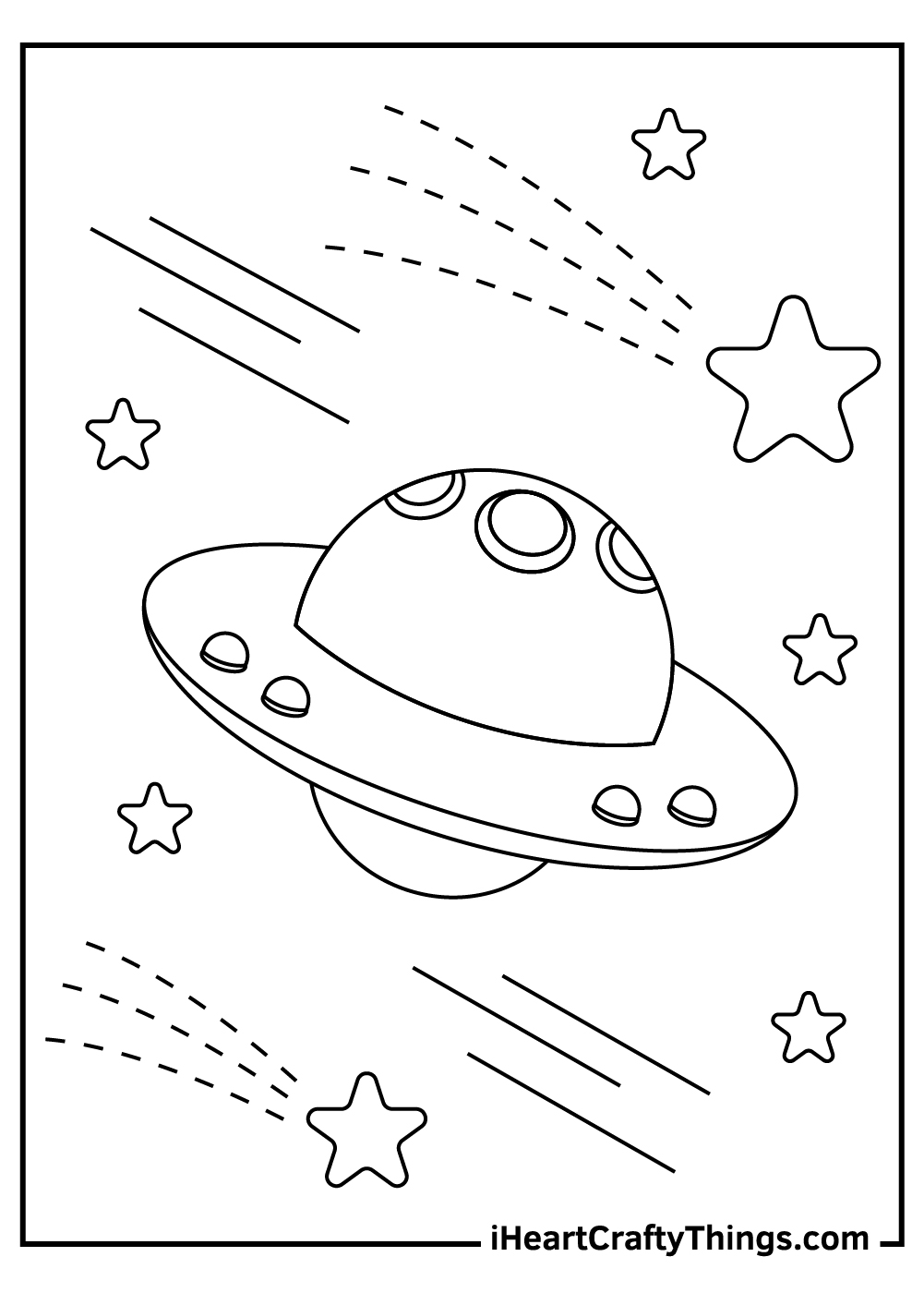 Another space mission is on!
This time, the spaceship is launching with its impact seen on the illustration.
All spacecraft vehicles cannot launch on their own. They need a launch vehicle, called a carrier rocket, to help them get into space.
What other colors do you think would work on this printable? Ask your kids to highlight the details of the impact to make it more appealing to the eyes and to add depth to its finished look.
REMEMBER: You can get the COMPLETE set of these coloring pages >> HERE
This last page of our spaceship coloring pages goes back to the basics. It's a spaceship at rest, showing the full view of what a spaceship looks like.
This spaceship image is a basic coloring page to help beginners get into the habit of coloring to prepare them for writing.
The image is filled with basic lines and outlines to allow their small hands to follow them easily. This is a good way to practice the fine motor skills in their wrists, hands, and fingers.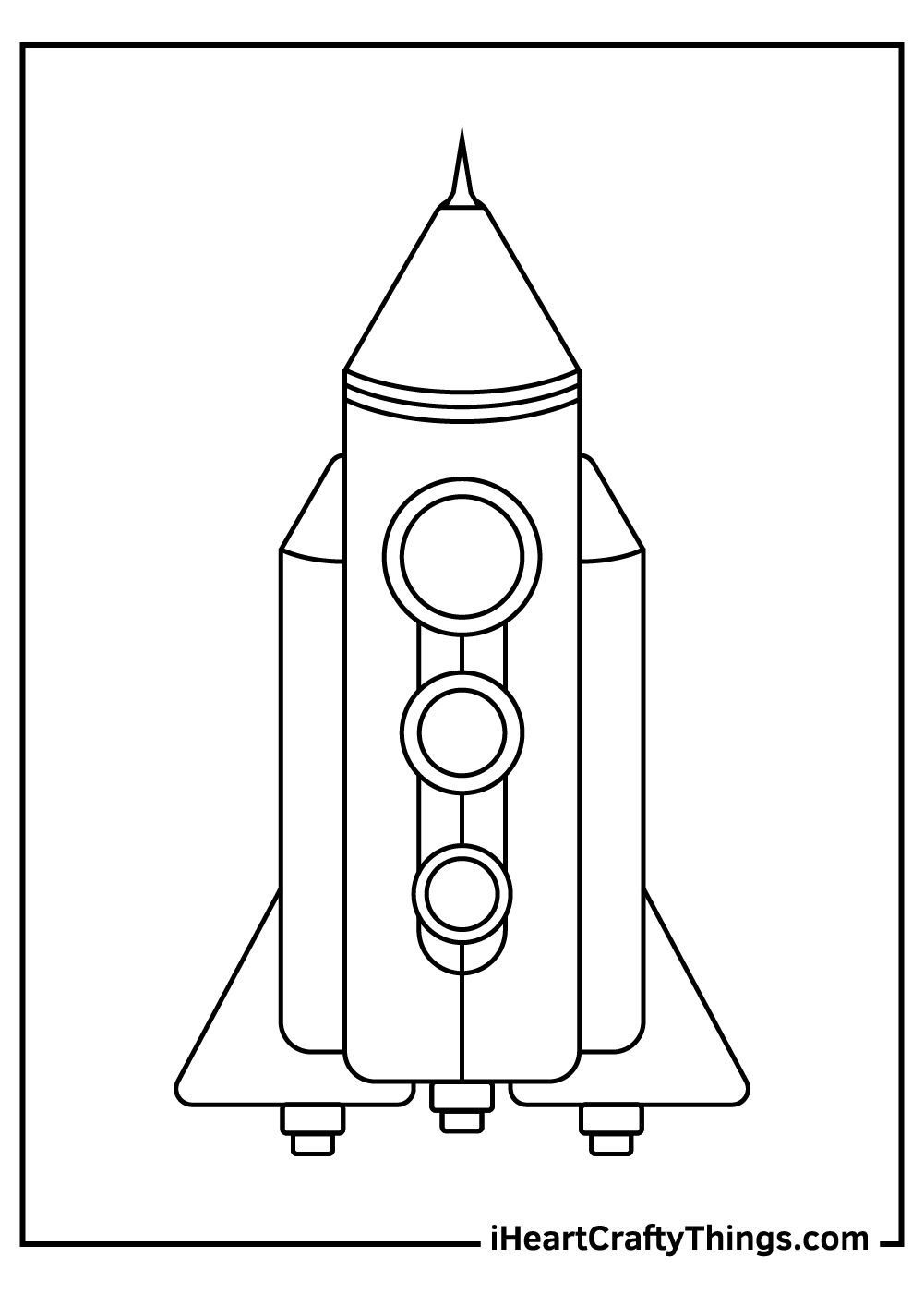 Are you ready for a thrilling space adventure? This spaceship has a sleek design with multiple engines and wings that make it super fast and agile.
It is equipped with multiple weapons and sensors on the front and sides that help it defend itself and explore new worlds.
This stellar spaceship is ready for an adventure. Use neon crayons to color crazy planets and moons in the background. Draw twinkling stars and asteroids whizzing by.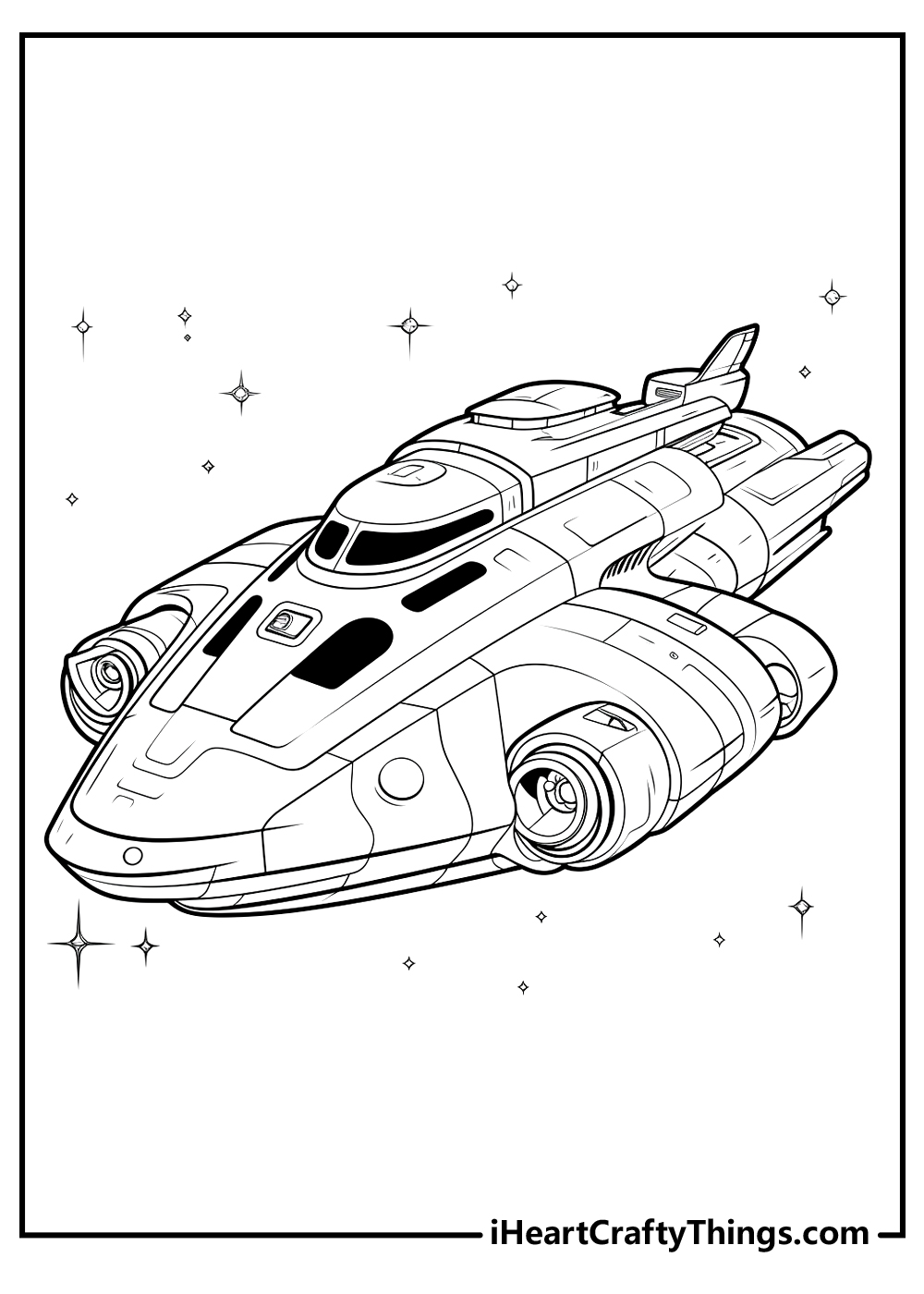 Spaceship Coloring Pages – Easy-to-Color Free Printables
Spaceships are a fascination among kids, girls and boys alike. Space travel is always fun and exciting to them. Sci-fi takes their imagination to a whole new level and using it as a basis for coloring activities will always be a good idea.
These spaceship coloring pages are sure to evoke their interest as well as their creativity.
If they love science, space, meteors, planets, and aliens – then they'll surely love these free spaceship printables.
Download these printables for free. Share the love for spaceships with kids through these coloring pages all while having fun and learning about these space vehicles!
REMEMBER: You can get the COMPLETE set of these coloring pages >> HERE