Nothing beats the wonders of the sun at daytime, and the marvels of the moon at nighttime. We see both of them every single day, yet we can't seem to get enough of their spectacular glamour.
The beauty of the sun and moon has created a huge demand for free sun and moon coloring pages. You've asked for it, and we delivered. So without further ado, we present to you: 10 brand-new, original sun and moon coloring sheets that you can enjoy with friends and family.
You can opt to color these images exactly how the sun and moon originally look like or you can use a customized set of colors and color them any way you like! Feel free to mix and match colors to your liking! Why not try experimenting with different coloring materials as well?
Allow your imagination to run wild and unleash your creativity!
Sun and Moon Coloring Pages — Free to Print and Color
The sun and the moon are always there for us wherever we are, whatever we do. The artwork in this sun and moon coloring page looks stunning, especially with the glowing stars scattered in the background.
What colors are you planning to use for this printable sheet?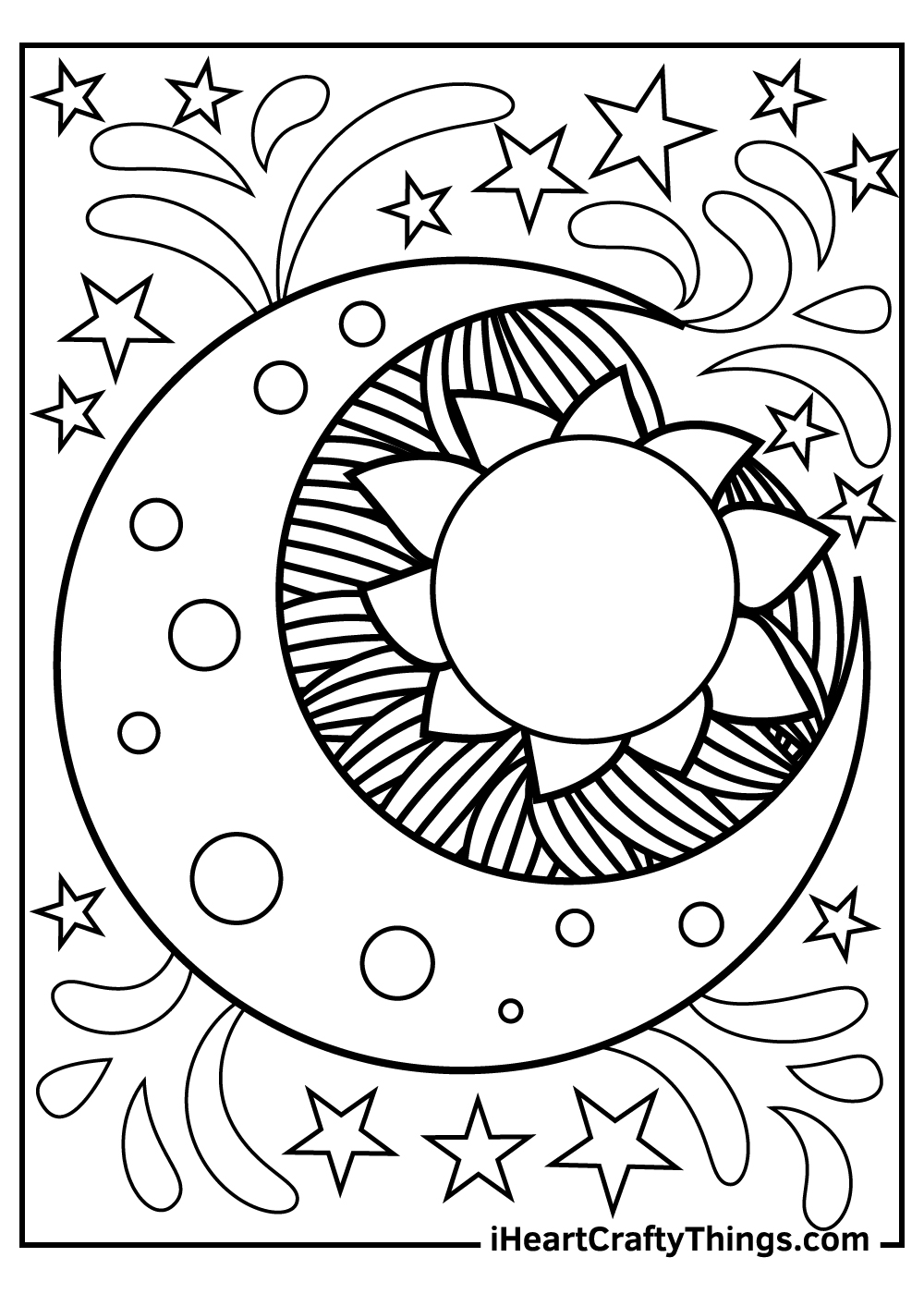 Here are my RECOMMENDED Art Supplies!
You can see an unusual depiction of the moon and the sun on this sun and moon coloring page. Here, you will see the sun with its conspicuous rays in the form of triangles.
Meanwhile, the crescent moon appears to contain several layers. The sun and the moon are surrounded with lots of clouds and stars—so aesthetic!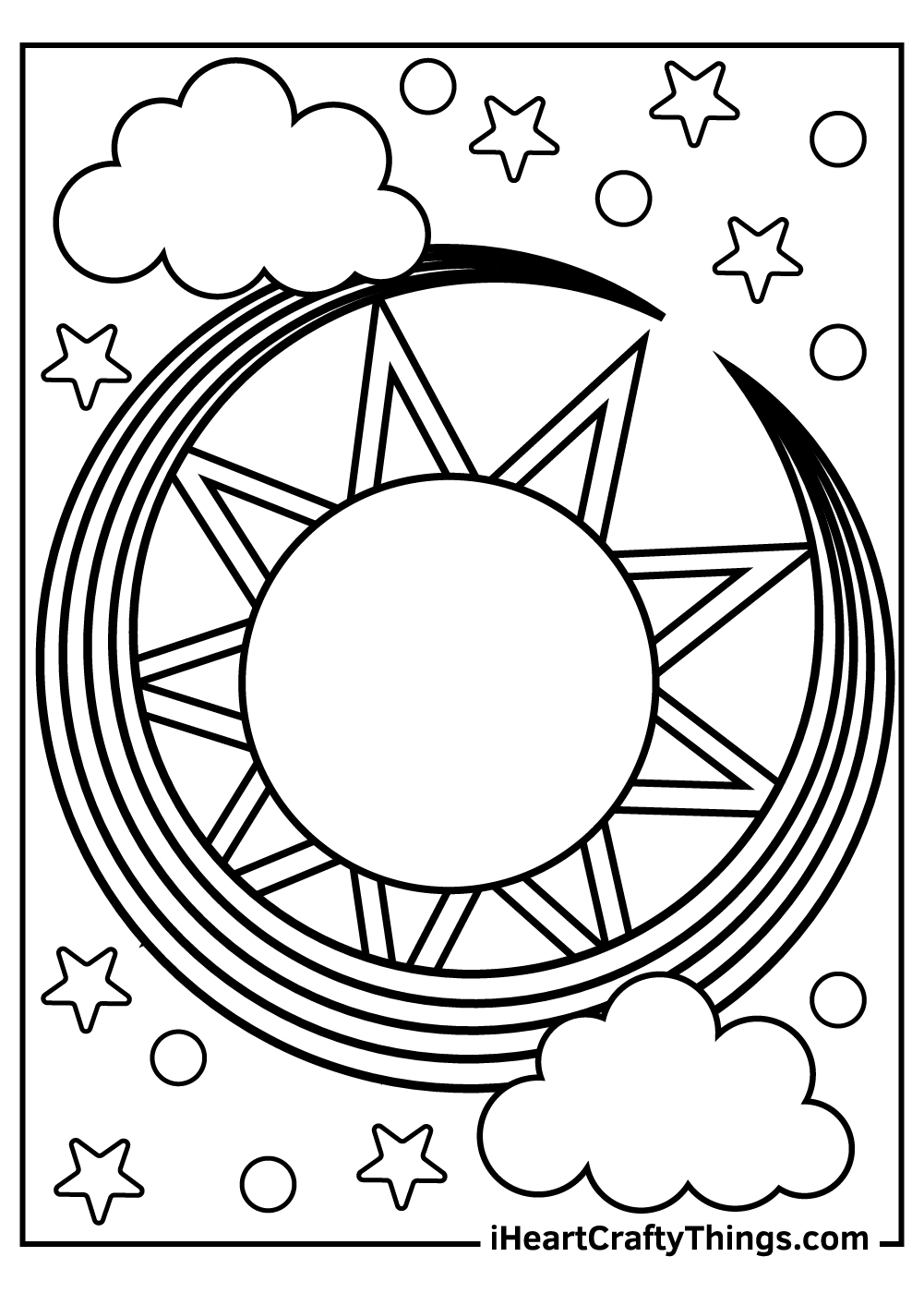 A moon with a face? Yes, that's exactly what this sun and moon coloring page is showing. The moon, a waxing crescent to be precise, is personified and is sleeping on this coloring page.
The background is filled with a lot of what seems to be artistic swirling patterns. The only thing missing here is the bright colors you would choose!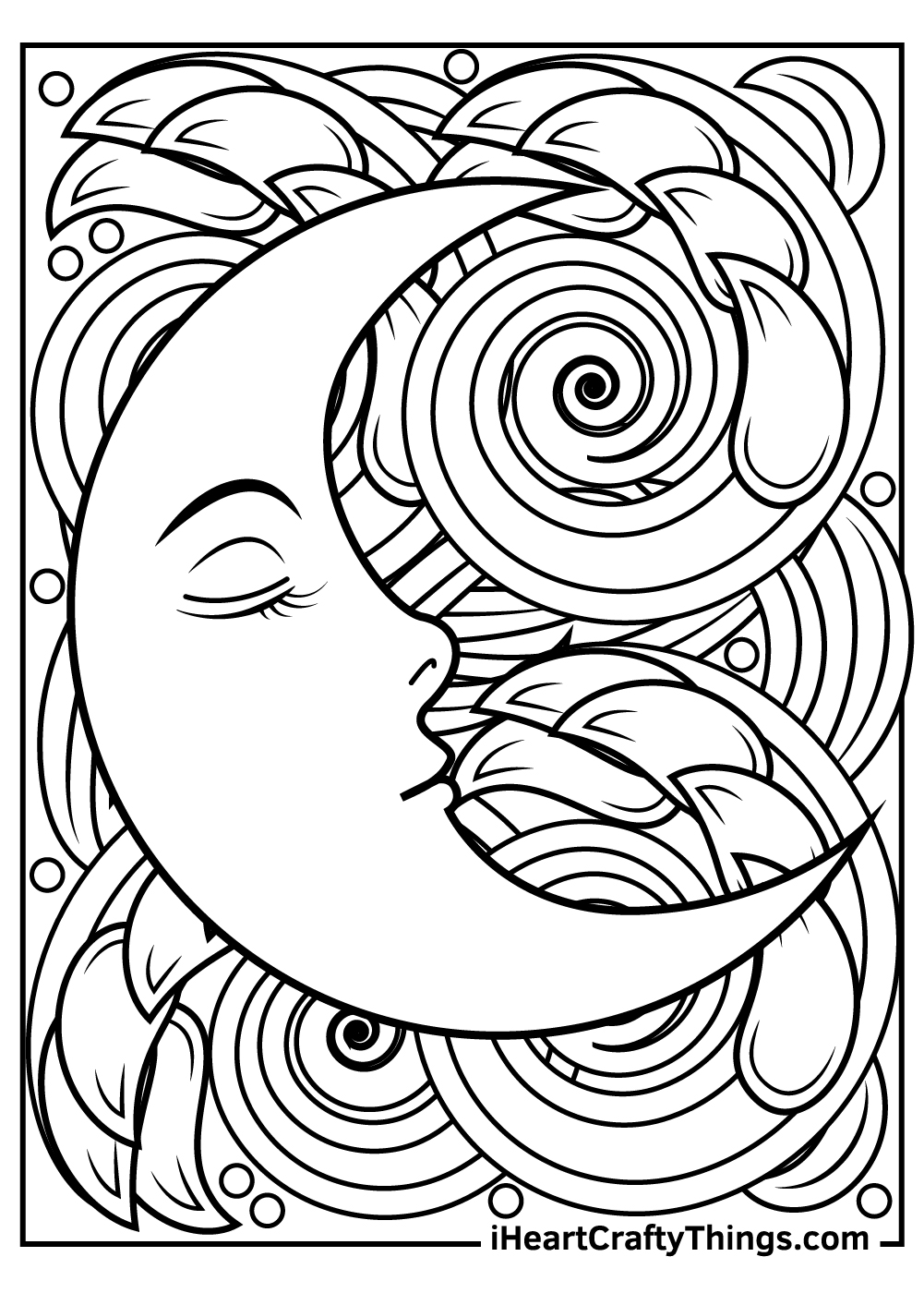 On this sun and moon coloring page, not only is the moon personified but the sun as well. The moon is taking a good night's sleep with all those stars and clouds surrounding it.
The sun, on the other hand, is shining brightly, smiling with all its triangular rays radiating from it!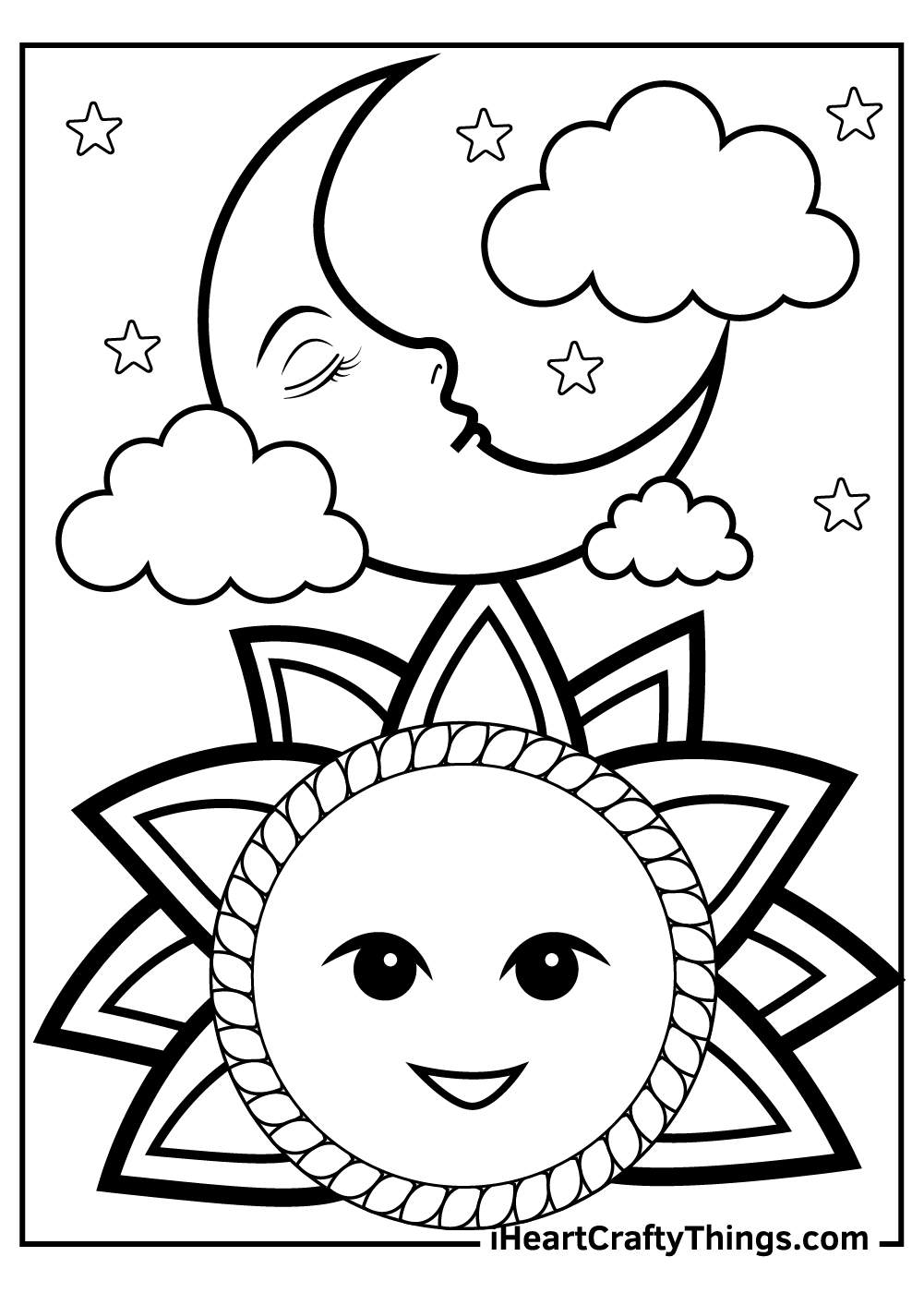 Here is another artistic sun and moon coloring page. On this one, the waxing crescent moon is sleeping while the sun is frolicking and basking under its many rays that are fiery and triangular in shape.
This is a special coloring page that features various patterns and shapes surrounding both the sun and the moon! Imagine how much more aesthetic this artwork would look once it's colored.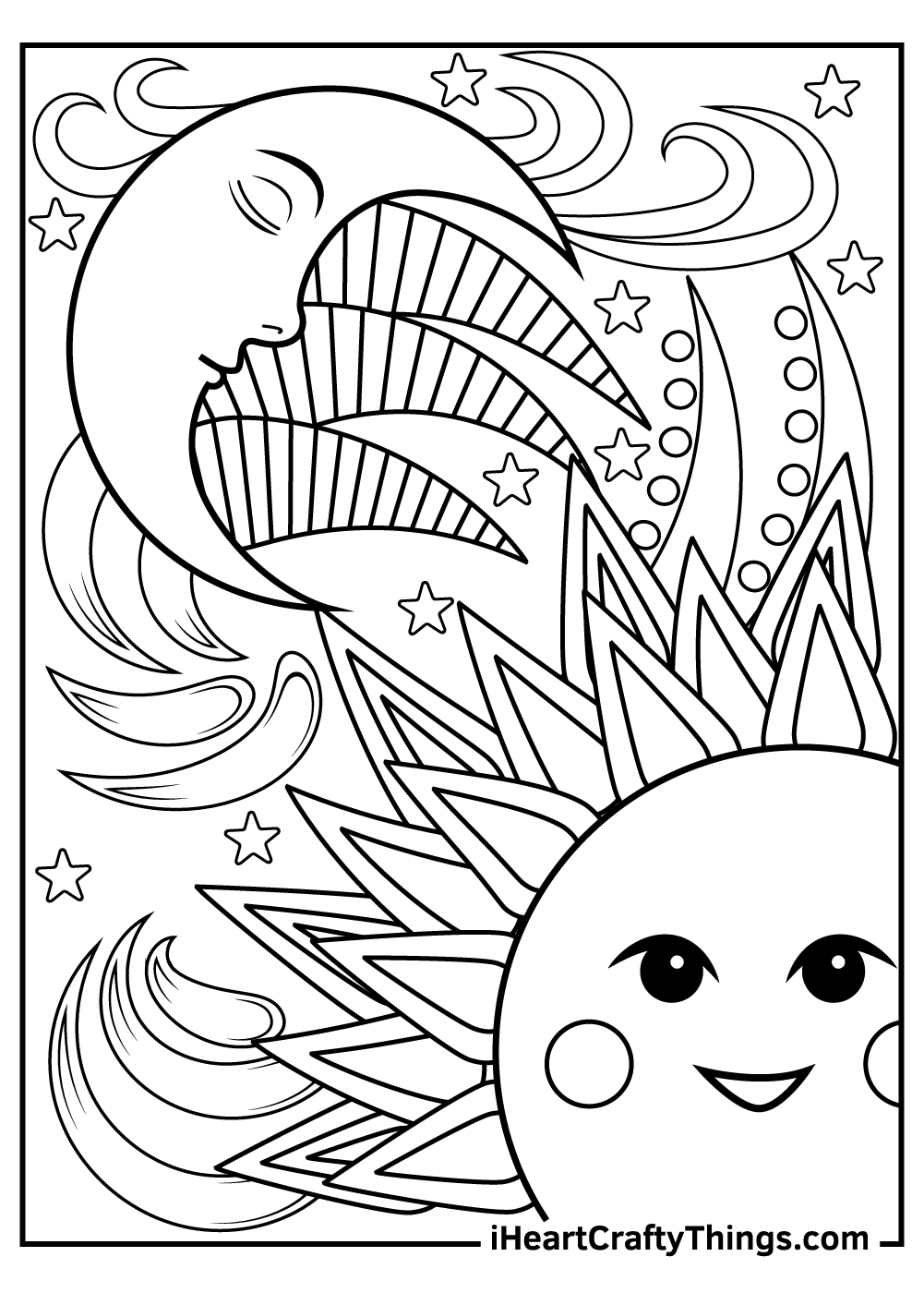 This sun and moon coloring page shows the sun with two kinds of rays. One ray is triangular in shape, while the other has its distinct swirls.
This gives you a good opportunity to experiment with various colors. If you look closely, you will see the waxing crescent moon right behind the peculiar-looking sun.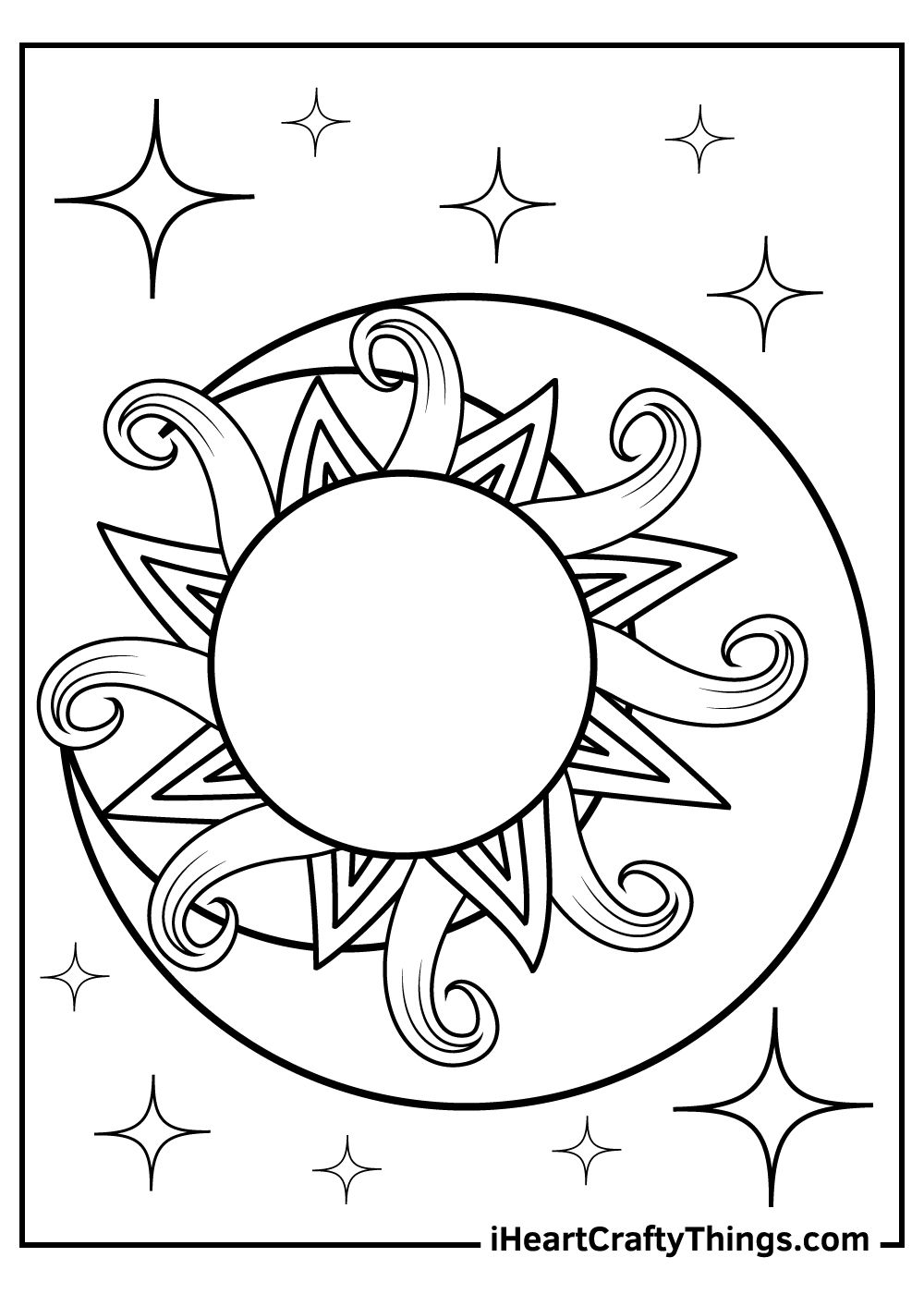 Why is the crescent moon always sleeping while the sun always has its eyes wide open? Whatever the reason, these depictions provide great contrast and backdrop for this fancy sun and moon coloring page!
We think using a wide range of vivid and vibrant colors for this artwork would look amazing!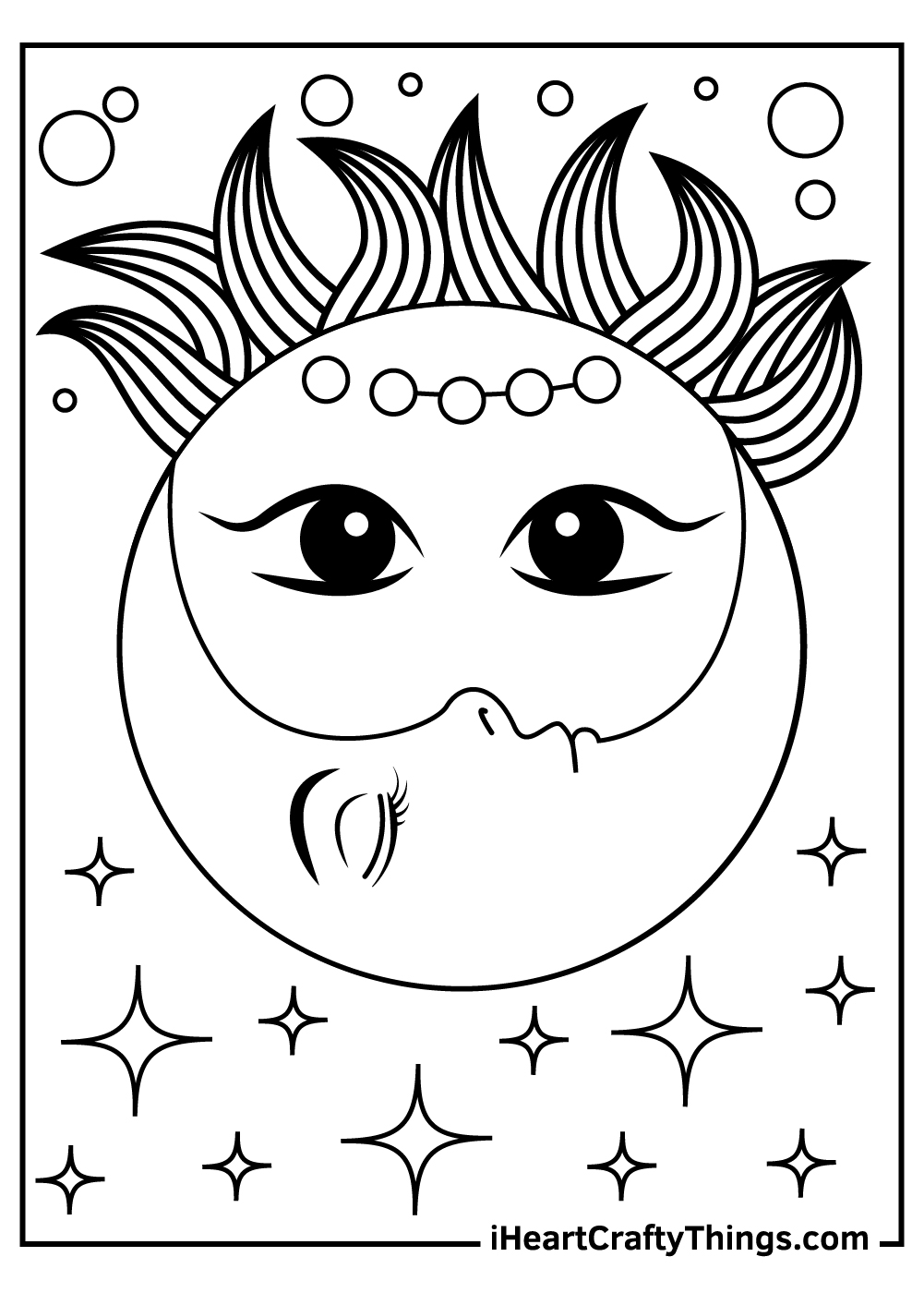 The sun and moon are depicted inside the "Yin and Yang" symbol, as shown in this sun and moon coloring page. Both of them are surrounded with lots of clouds.
In Ancient Chinese philosophy, yin and yang (which literally means "bright-black" or "positive-negative") is a concept of dualism, and it describes how clearly opposite or contrary forces may be complementary, interdependent, and interconnected in the natural world.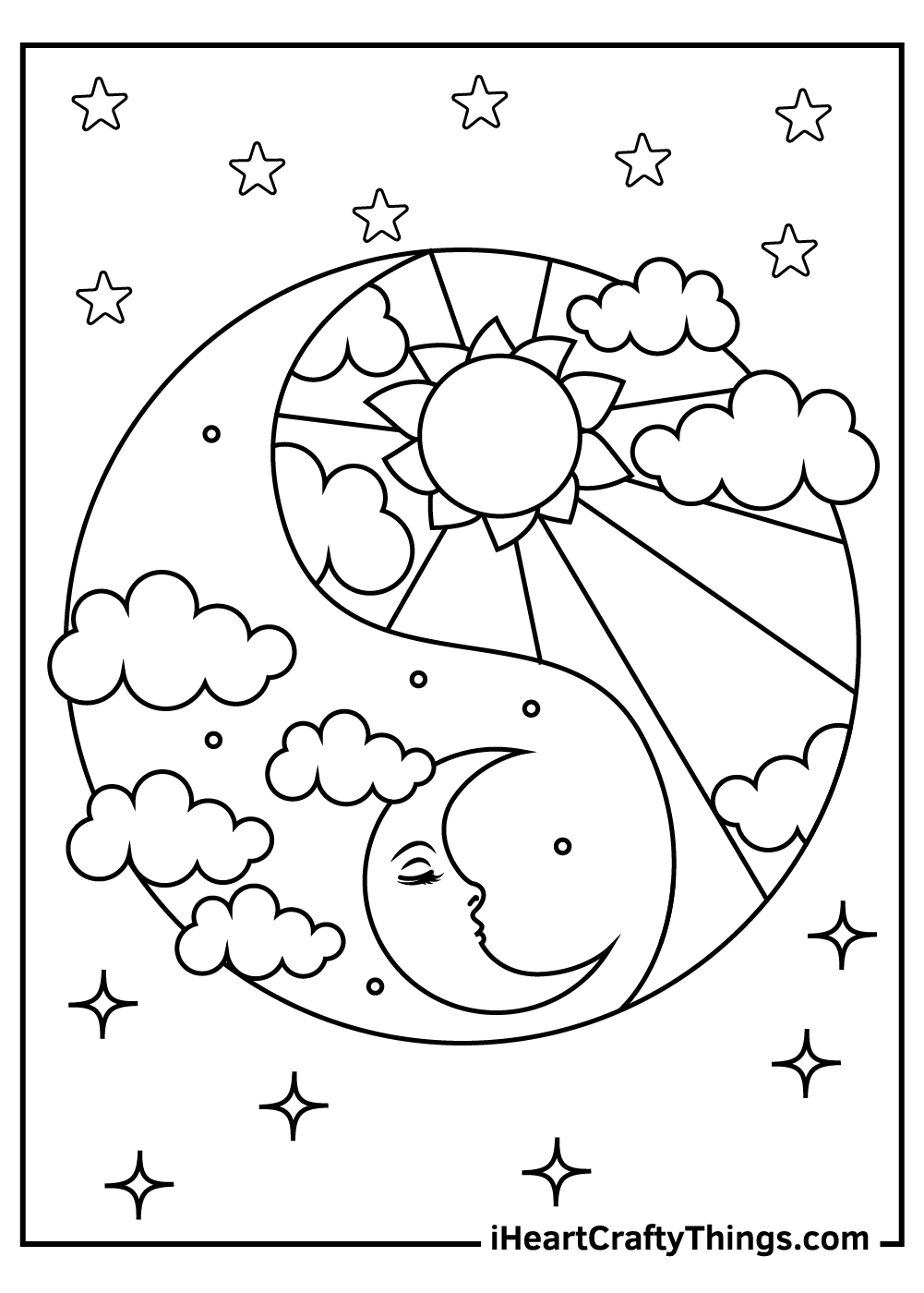 This symbolic sun and moon coloring page shows the sun and moon fused together as one. This unnatural fusion creates an interesting simultaneous day and night scenario.
The backdrop is complemented by a beautiful scenery showing a lot of stars, clouds, as well as mountains. Make this artwork look even more spectacular by coloring it!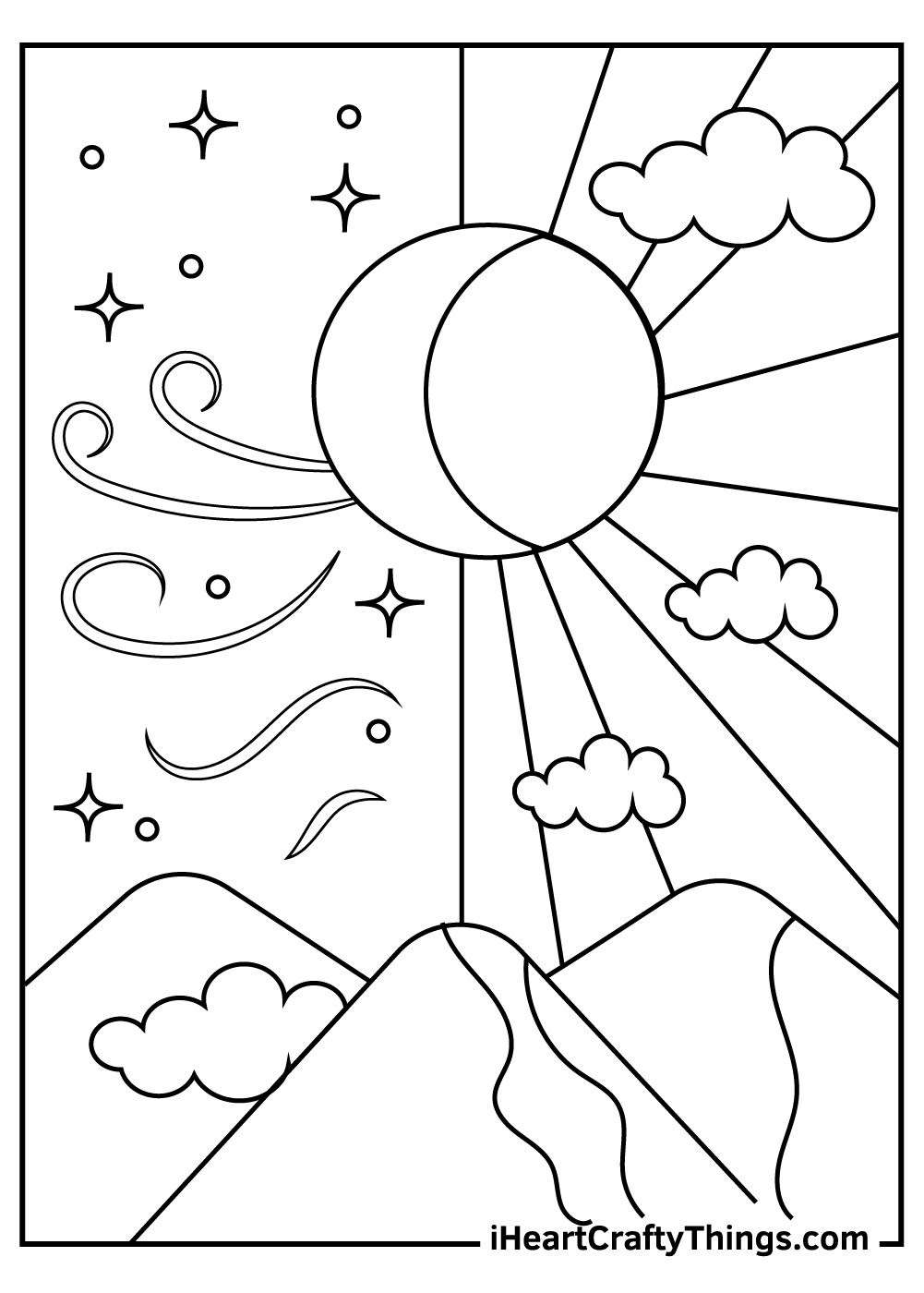 If you love artistic patterns, then this sun and moon coloring page is definitely for you! There are lots of patterns and swirls surrounding the moon and the sun.
With your creative imagination, this is going to be another intense, multi-colored coloring page. We are quite sure about that!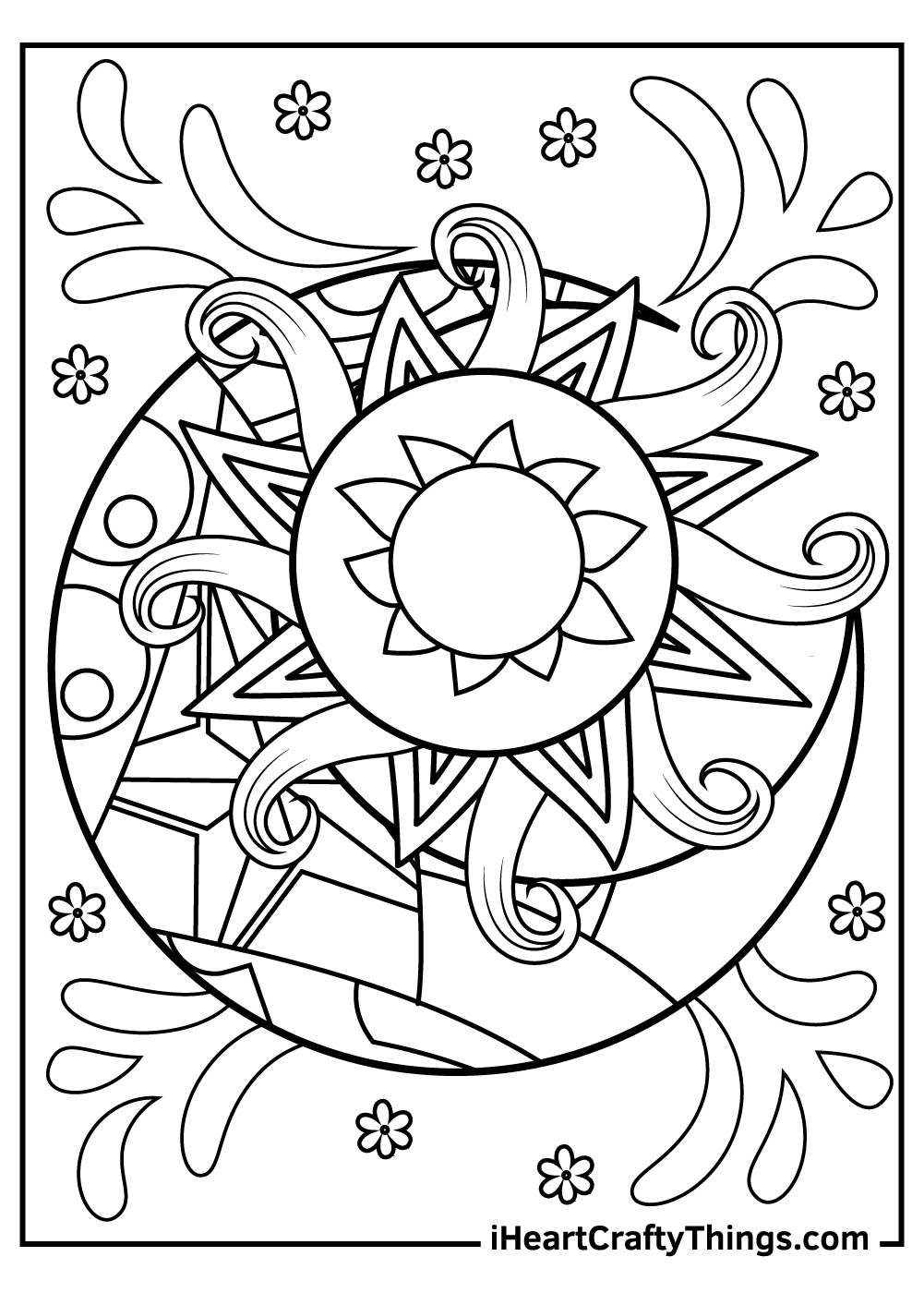 Sun and Moon Coloring Pages — Which image will you choose?
We hope you enjoy these sun and moon coloring pages. It consists of simple and intricate illustrations of the sun and moon along with other celestial objects. Coloring these sun and moon coloring sheets is the perfect activity for kids of all ages.
Remember, all of our crafts and coloring printables are 100% free for you to download, print, and color. We are always updating our catalog and uploading new content to our catalog. So, don't forget to keep re-visiting our website to continuously enjoy all-new coloring pages.
Once you've finished coloring your sun and moon coloring printables, you must be very proud of yourself for completing a masterpiece—as you should be! Make sure to show off your work of art and share it on our Facebook page. We're sure it looks amazing!
We can't wait to see all of your colorful sun and moon artworks!