Is there someone who brings sunshine to your life every day? If so, this You are my Sunshine Card is a perfect way to let them know just how special they are to you.
I am a huge fan of pop up cards. They are easy for kids to create and the concept allows for kids to use their creativity to come up with endless possibilities and ways to create a unique card.
When you open up the pop up card we are sharing with you today, a happy sun pops out and takes center stage on the inside of the card. It's a special surprise that is sure to brighten someone's day.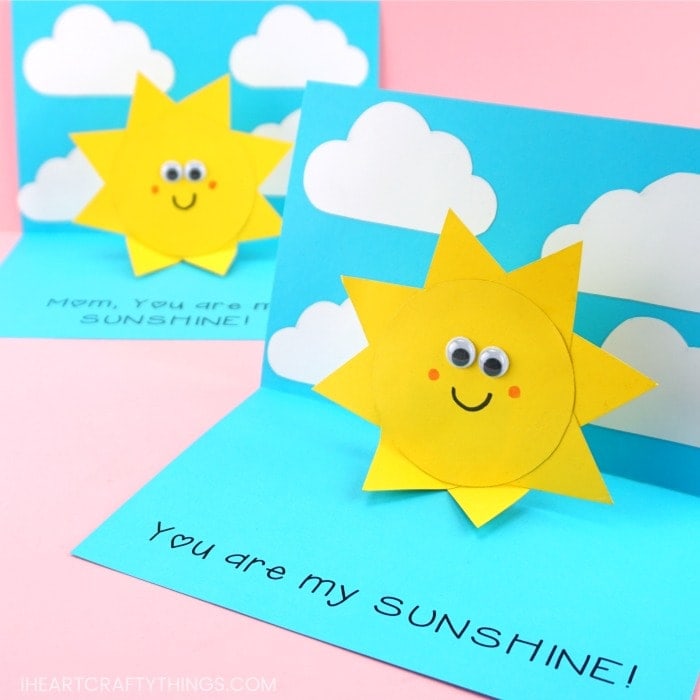 Our template makes this card super easy for kids of all ages to create. Even preschoolers can enjoy making this darling pop up card with little assistance. Simply print out the template, cut out the pieces and assemble your sunshine card by following our easy step by step instructions below.
Our template includes two different options with the "You are my sunshine" theme. One card is personalized for Mom and is a simple and perfect Mother's Day card that kids can make. The other card is general to be used as a greeting card for any time of the year for someone you love.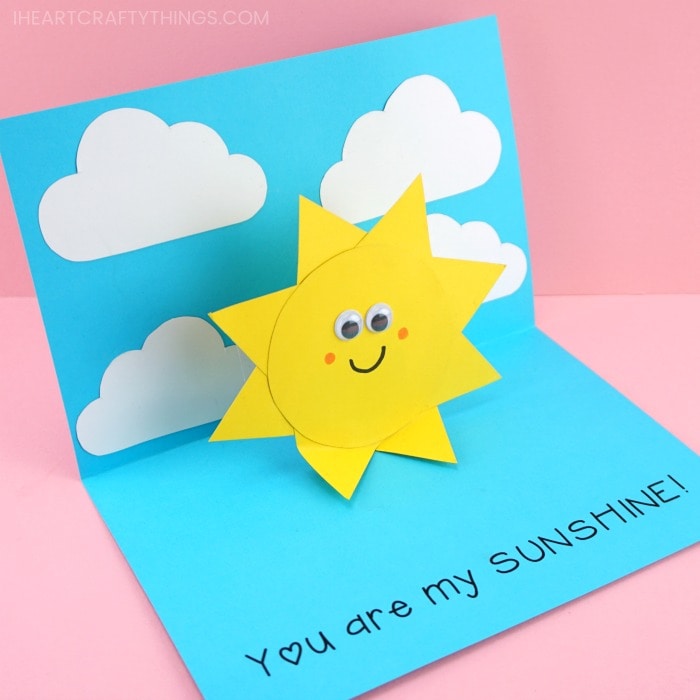 How to Make a You are my Sunshine Card
This post contains affiliate links to the products mentioned. Read our disclosure policy for more information.
Supplies needed for Pop Up Sun Card
Instructions for making the Simple Sunshine Card
Step 1: Download and print out the card template. The card pages of the template will need to be printed out on blue cardstock. The other pages can be printed out in a few different ways. The first way is to print off page 1 on white cardstock. Then use the circle and triangle pieces as a pattern and trace them on yellow cardstock for your sun. You can also have children color the pieces of the sun.
Another option is to print pages 2-3 on the appropriate colors (white cardstock for the clouds and yellow for the sun pieces). This option is especially helpful if you are making this craft in a classroom setting.
Step 2: After printing out the template, cut out the sun pieces and clouds from the template.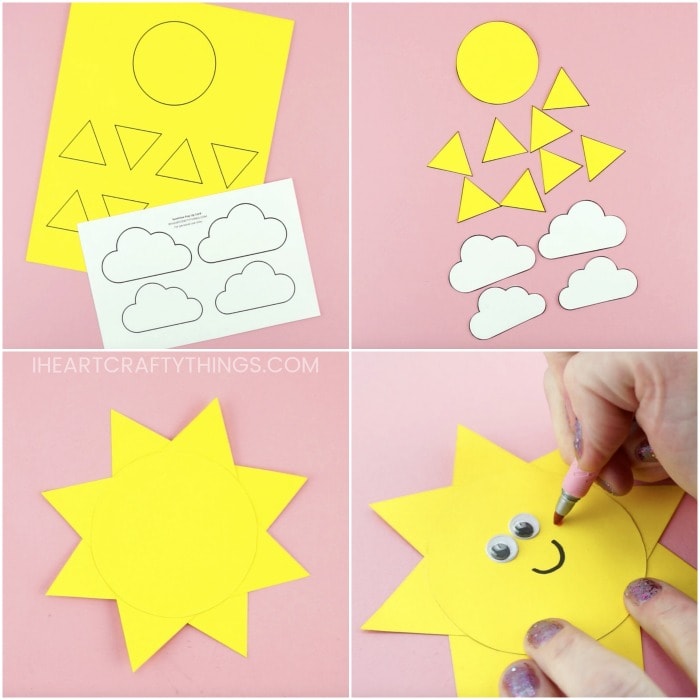 Step 3: Add glue on the ends of each triangle and glue them around the circle to make your sun.
Step 4: Glue googly eyes on your sun. Then use markers to draw a cute little smile and rosy cheeks on your sun.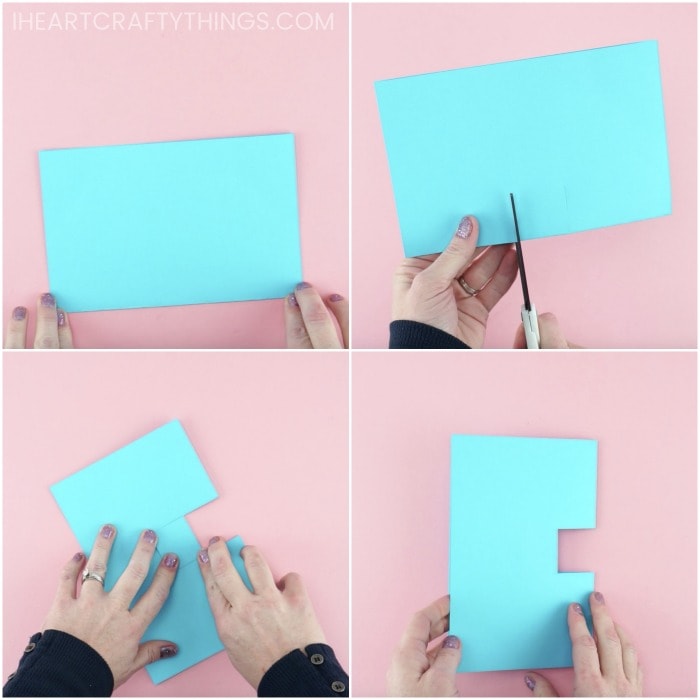 Now lets make the pop up card for your sun
Step 5: Grab your card printed out on blue cardstock and fold it in half making sure the message is on the inside of the folded card.
Our template has two different options for the card. One is perfect for Mother's Day that reads "Mom, you are my sunshine!" The other option is generic that will work for any recipient. It reads "You are my sunshine!"
This would be a great option for Grandma for Mother's Day. Or you could use it for Dad or Grandpa for Father's Day. Really, the generic version makes a great greeting card for anyone, any time of the year.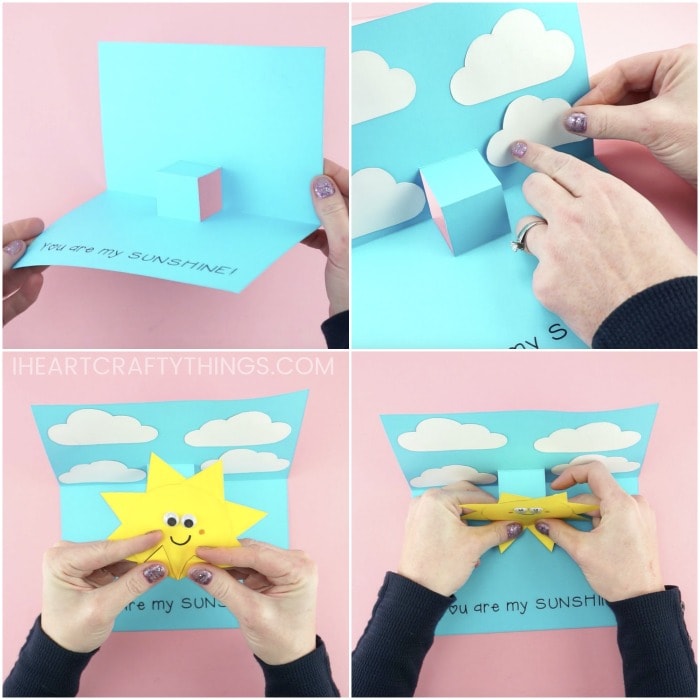 Step 6: Use scissors to cut two slits in the middle of the folded side of the card 1-inch apart from each other. Make each of the slits about 1 1/2-inches in length.
Step 7: Fold down and crease the section in the middle of the card that was created by cutting the slits.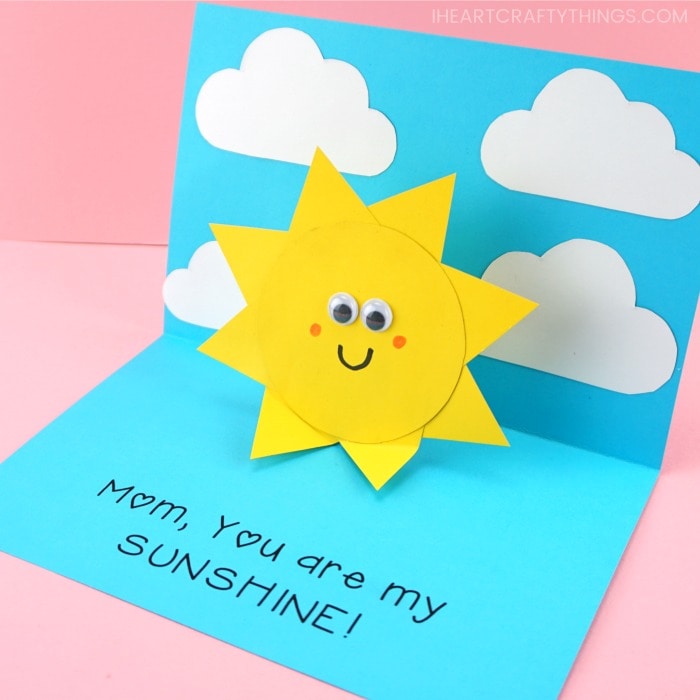 Step 8: Carefully open up the blue cardstock again. Invert the section of paper you just folded down and close your card again along the crease. When you open up the card, the inverted section should stand upright in the crease of the card, making the pop out for your sun.
Step 9: Glue each of your clouds on the background of your open sunshine card. There are two different sizes of clouds to add variety to the card.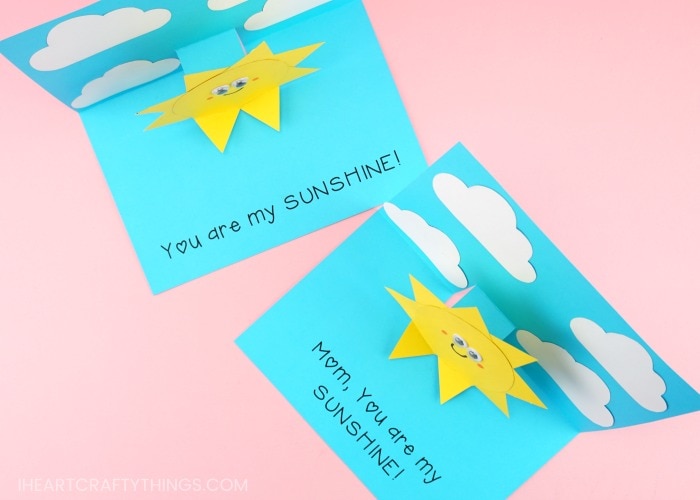 Finishing up your cute sunshine card
Step 10: Bend up the two bottom sun rays of your sun so it can lay flat against the bottom of the card.
Step 11: Use a glue stick to add glue to the center pop out section on the inside of the card and glue the sun onto it.
Add an extra special touch to your greeting card by using markers to write a personal message on the bottom of the card. This darling card is so cute, the recipient will want to keep it up on display for everyone to see.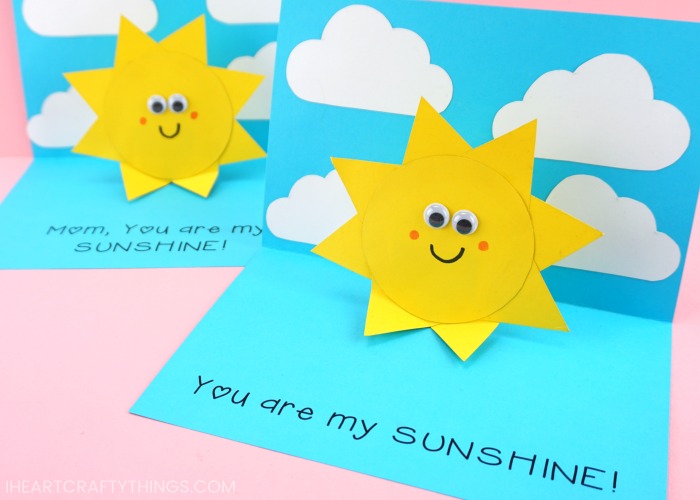 Video Tutorial: How to Make a Pop Up Sunshine Card
Watch the video below for a step by step guide on how to make this easy "You are my Sunshine Card" with our template.
Find more fun and easy card ideas and kids crafts by browsing the categories at the top menu bar of our website.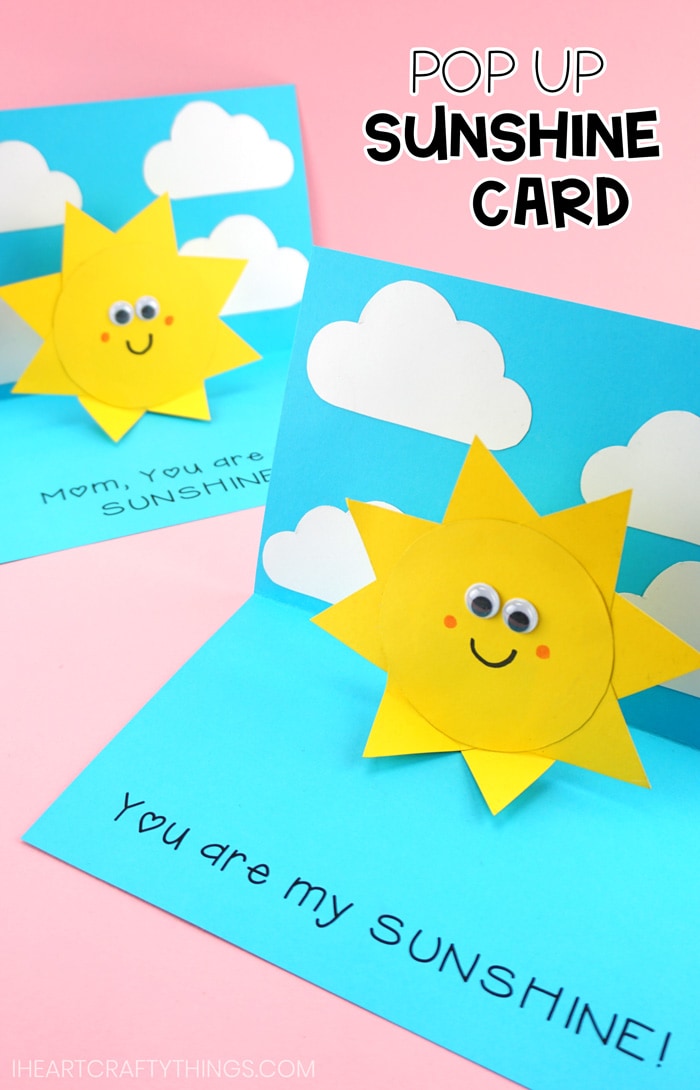 More Easy Card Ideas for Kids
This adorable pop up love birds card is such a sweet card to give to someone you love. Kids can make it for Valentine's Day or as a handmade card to give to someone at a wedding reception.
Here's another gorgeous card for kids to make for Mother's Day. The tulip flowers popping out of the flower pot give it a 3-dimensional effect that Mom will love. These are great for any time cards thank you cards, or simply to celebrate spring time.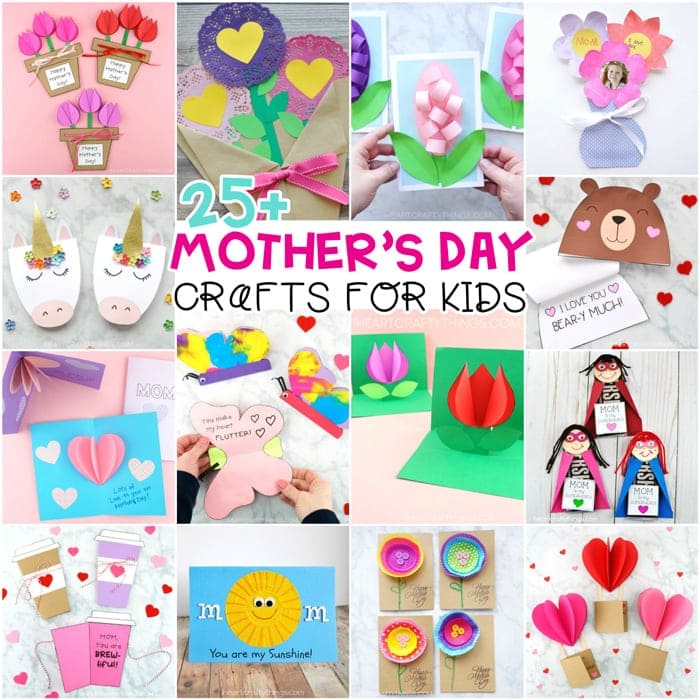 If you love adding dimension to your cards, you will love making this 3D hot air balloon card. It's a sweet and unique card for anyone you want to send happy thoughts to.
We recently shared this gorgeous Pop-Up Heart Card over at Oriental Trading's idea website, Fun365. Head over to get the template and learn how to make it.
Looking for more Mother's Day card inspiration? Here are 10 more fun and creative Mother's Day card ideas for kids and preschoolers to make for mom or grandma this year!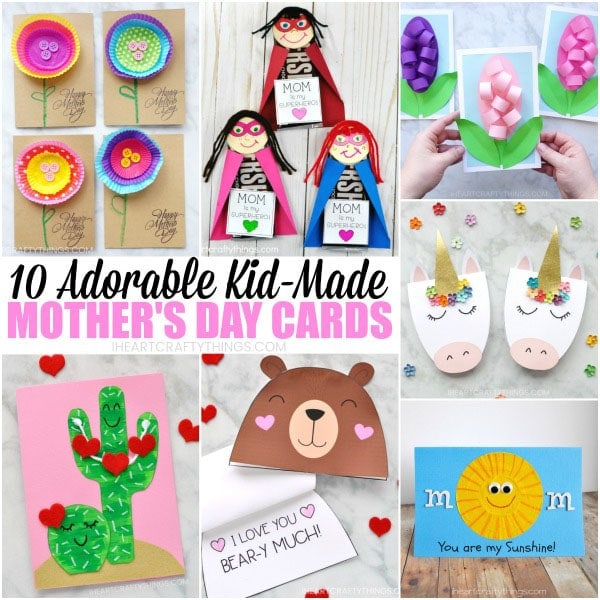 Looking for more fun arts and crafts ideas to make with your kids this spring? Check out over 150 spring craft ideas for kids. So many great crafts to keep the kids busy and entertained all season long.