Mom's have a special way of making a house a home. It is with that sentiment that we created this super cute Mother's Day birdhouse card.
Kids are going to have a blast making these gorgeous Mother's Day cards and Mom's, Grandma's and loved ones are going to feel super special receiving them.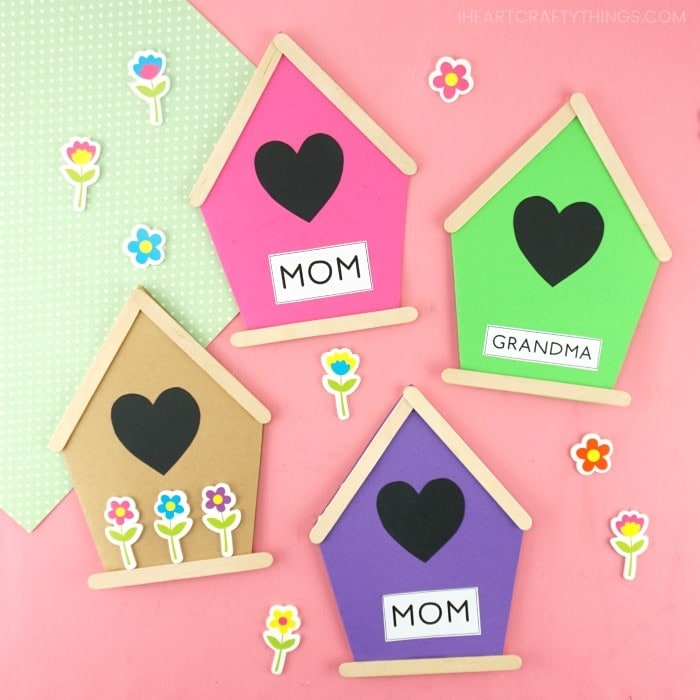 These birdhouse cards are not only darling but they are easy for preschoolers and kids of all ages to make with the help of our card template.
All you need is some cardstock, craft sticks and few other simple craft supplies and you'll have some pretty homemade cards created in no time at all for Mother's Day.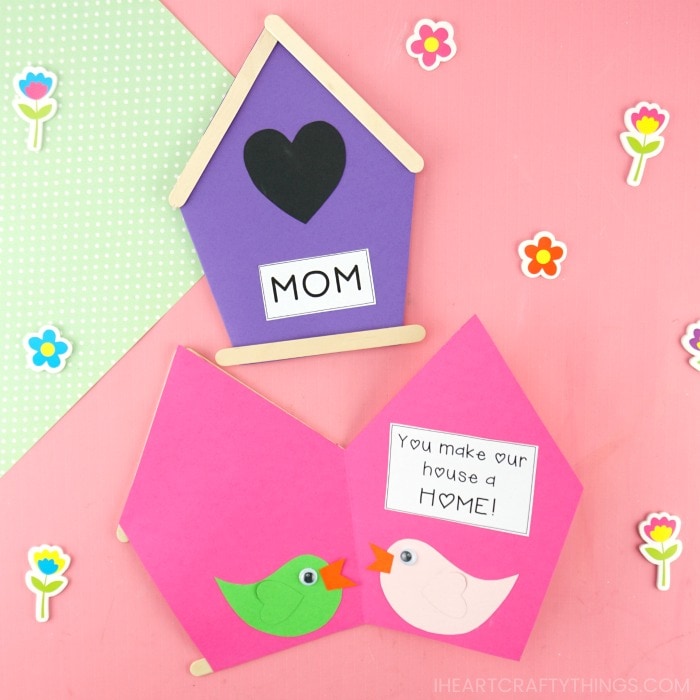 Mother's Day Birdhouse Card Idea
My favorite part of this colorful card is when you open it up and see a Mom bird nesting with her baby. The added bird heart wings and the heart on the front of the card is a fun way to add some extra love to the card too.
We know every family dynamic is different so our craft template includes options for personalizing your card in many different ways. There are options for Mom, Grandma and a blank name card for children to write any name of their choosing. We also have two different messages for the inside of the card: "You make our hous a home!" or "Happy Mother's Day!"
Read our simple step-by-step tutorial below to see how easy it is to make a birdhouse card. We also have a video tutorial inside this post that you might find helpful to watch before you get started.
Supplies needed to make this Mother's Day Card
Birdhouse card craft template <—– Get the Template HERE
cardstock paper (colors of your choice)
wood craft sticks
small googly eyes
tacky glue
glue stick
pencil for tracing
scissors
Mother's Day stickers, optional (We received our stickers from our friends at Orientaltrading.com. Any opinions expressed are 100% my own.)
How to Make your Birdhouse Card
1. Before you get started, download the bird house card template. Print out the birdhouse page of the template on colored cardstock paper.
2. Fold the page in half along the dashed line. Then use scissors to cut out the birdhouse shaped card.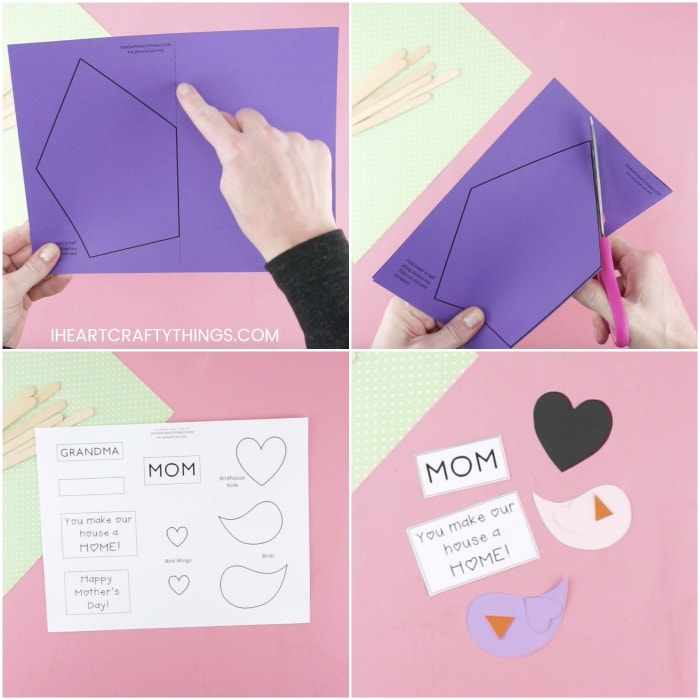 3. Print out the second page of the card template. The page comes with a few different options to use for the front of the card and inside of the card, dependent on who you are making your card for.
4. Cut out the different pieces from the template. Use the bird pieces and large heart as a template to trace the pieces on colored cardstock paper. We used black for the birdhouse hole and chose a variety of colors for our birds. You will also need to cut out small triangles from orange cardstock paper for your bird beaks.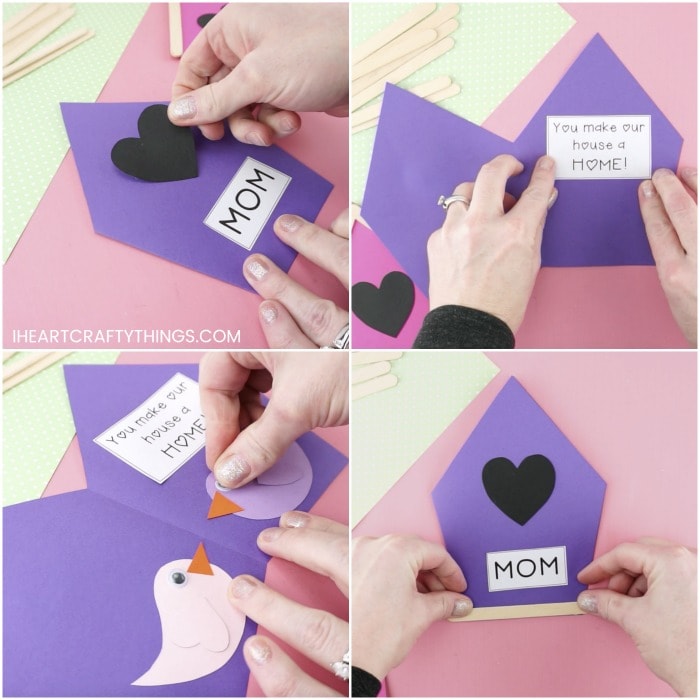 5. Glue the birdhouse hole heart on the front of the Mother's Day card. Then glue either the MOM, GRANDMA or blank card tag on the front of the card. We included a blank tag so the card can be personalized however you need. You can also leave off the name tag from the front of the card.
6. Open up the card. Choose which message you want to include on the inside of the card and use a glue stick to glue it inside the card.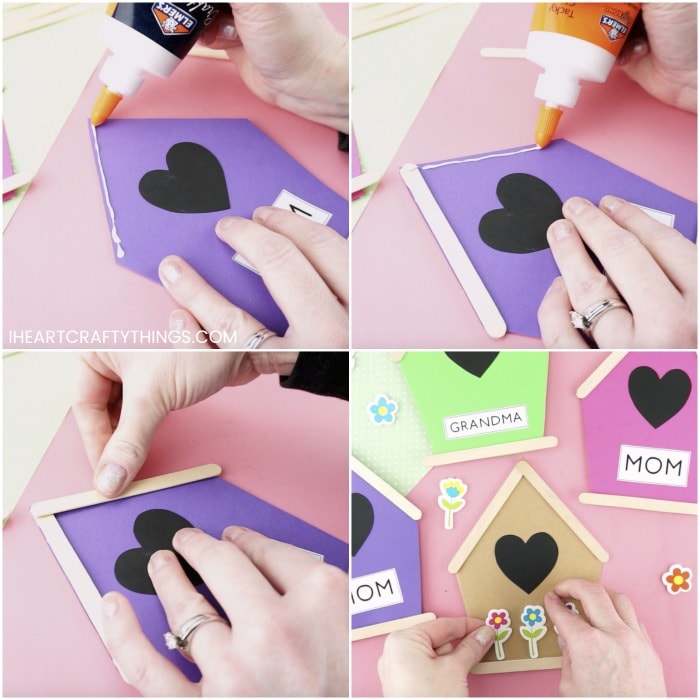 7. Glue both the Mom and child bird shapes on the inside of the card so they are facing each other. Then glue the bird wings, beaks and googly eyes on each of the birds.
8. Close the card. Add a line of tacky glue along the bottom of the birdhouse and place a craft stick on it.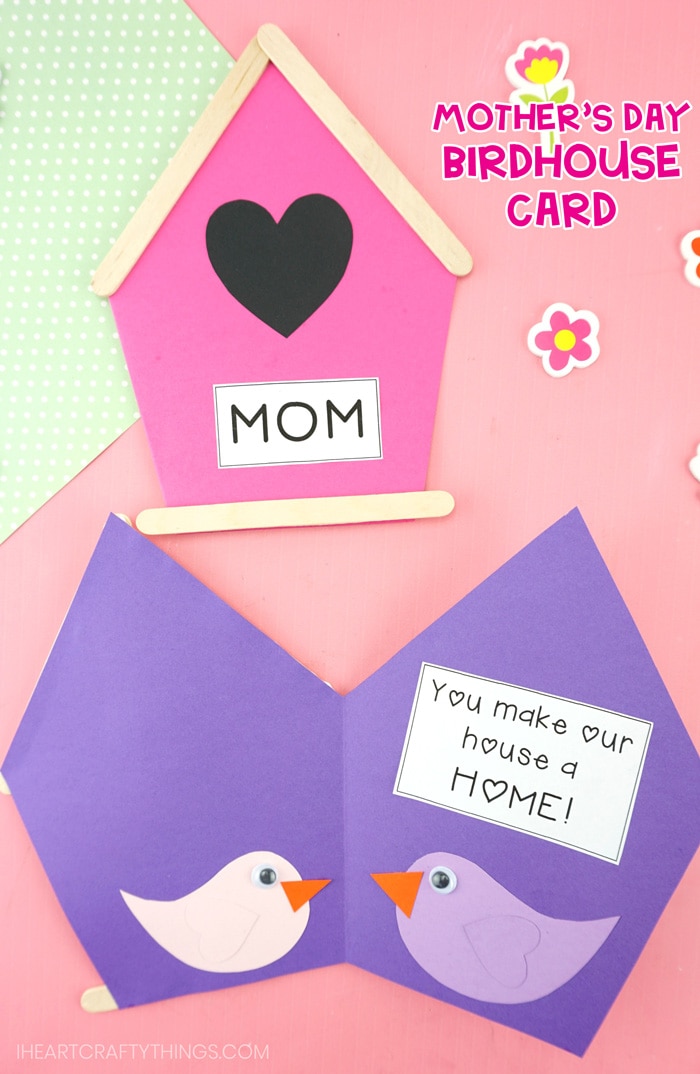 9. Add a line of tacky along along the birdhouse roof of the card and place craft sticks on it. One of the craft sticks will have to overlap the end of the other at the very tip of the birdhouse. Allow the glue to dry completely for handling the card.
For extra fun, kids can decorate their Mother's Day card with stickers. Our flower stickers came from Oriental Trading's Mother's Day self-adhesive shapes pack. There is a huge variety of different stickers in the pack that kids can use to decorate their card with.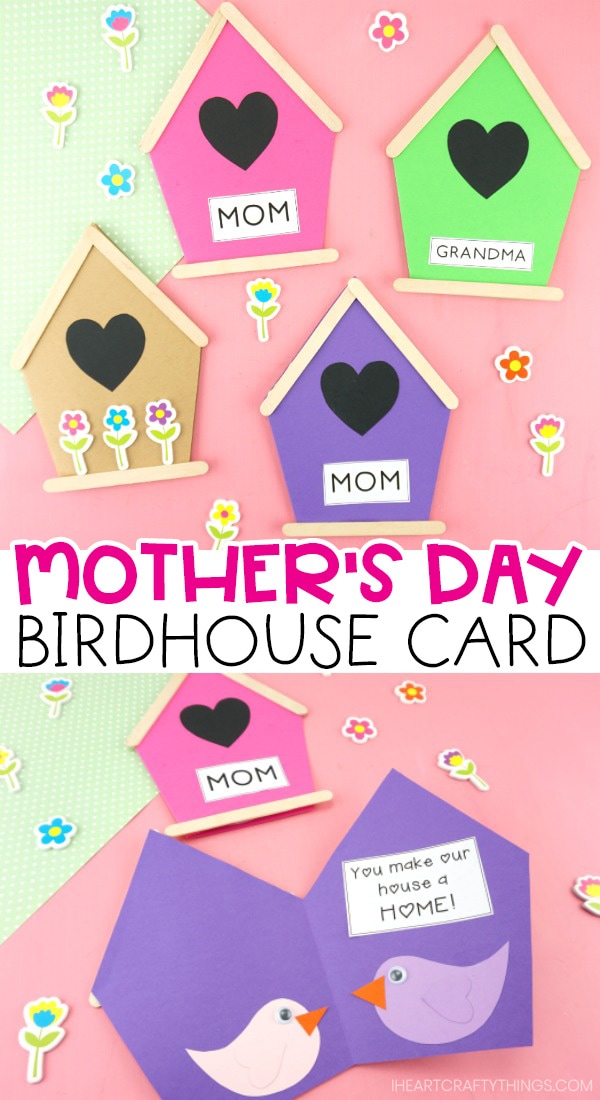 More Mother's Day Card Ideas for Kids
These butterfly, ladybug and bee cards are fun for spring or for Mother's Day. Which insect would your Mom love the most?
Mom will feel magical when she opens up this beautiful DIY Unicorn Card. Our template makes creating this card a breeze!
Want to give Mom or Grandma some flowers this year that won't wither in a few days? This simple Mother's Day Flower Vase Craft is a perfect choice!
Looking for more amazing Mother's Day crafts and card ideas? Check out our list of over 25 beautiful Mother's Day Crafts for kids.