Celebrate the arrival of spring by using our butterfly template to make this beautiful butterfly craft.
This simple butterfly craft is easy for kids to make and will look gorgeous hung on display at home or school for the spring or summer season.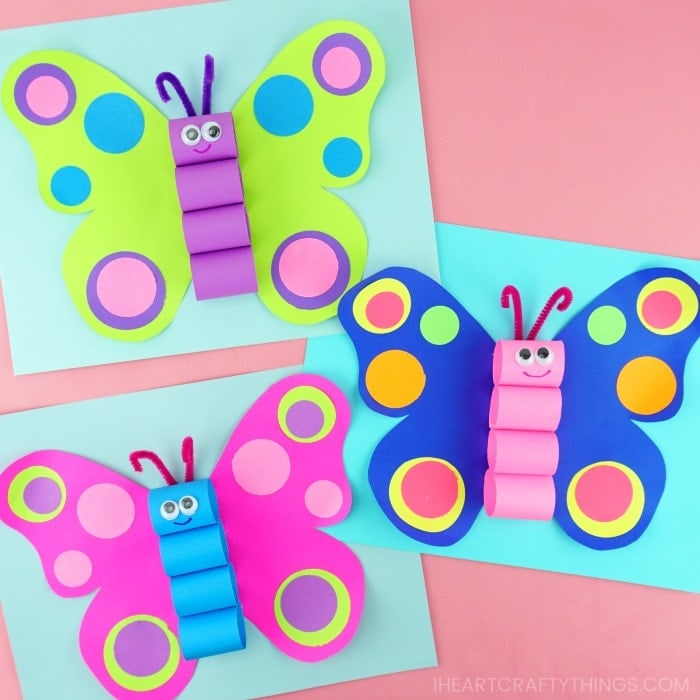 We created the butterfly body and wings in this kids craft in a way that they pop off the blue background, giving the colorful craft a fun 3D effect.
Children will love the ability to choose which colors they use with the butterfly template to create a unique and colorful butterfly craft.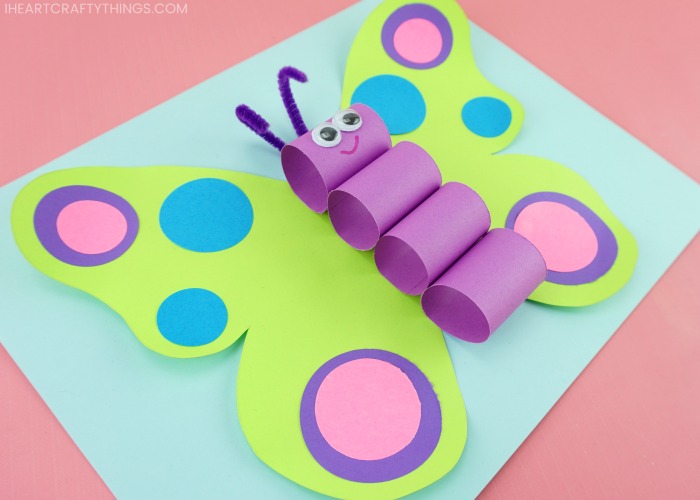 How to use the Butterfly Template to Make a Paper Butterfly Craft
Read our simple how-to instructions below for making a colorful butterfly craft below, and make sure to watch our full video tutorial inside this post before you get started.
You'll find that our butterfly wings template is very versatile and you can use it to create a variety of different butterflies. Scroll to the bottom of this post for more butterfly arts and crafts ideas.
Where do I get the butterfly template?
To simplify prep for this fun butterfly craft, we have created a printable template you can purchase in our shop or our TpT store.
Included with the template is printable how-to instructions and helpful tutorial photos. Click the blue button below to be taken to our shop to purchase the template.
The template is optional and if you prefer not to purchase it, you can easily follow along with our tutorial instructions below to see how to create your butterfly. We truly appreciate you supporting our website!

NOTE: If you are in the EU, please visit our TpT Store to purchase any of our templates.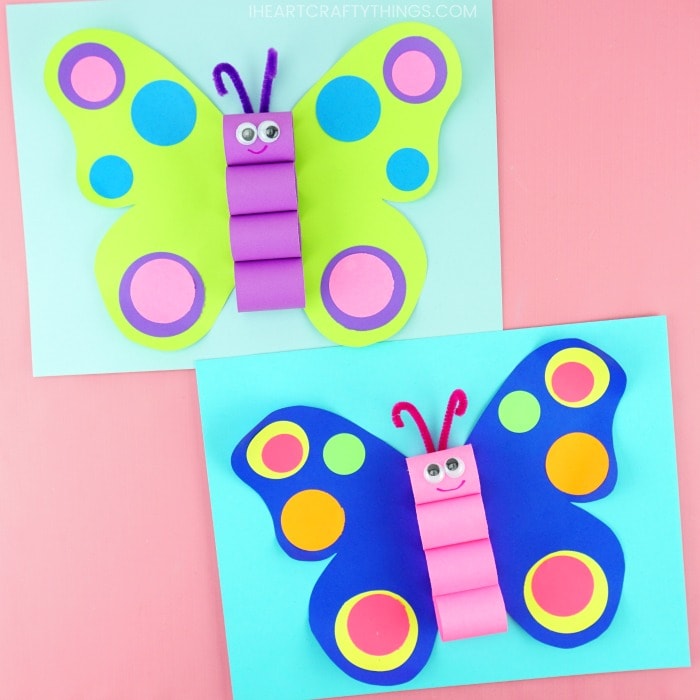 Supplies needed to make a colorful butterfly craft:
Printable Butterfly Template <—– Get the template in our shop
blue cardstock paper
24 lb. colored paper (colors of your choice) or construction paper
pipe cleaner
googly eyes
markers
tape
scissors
glue stick (we love extra strength glue sticks)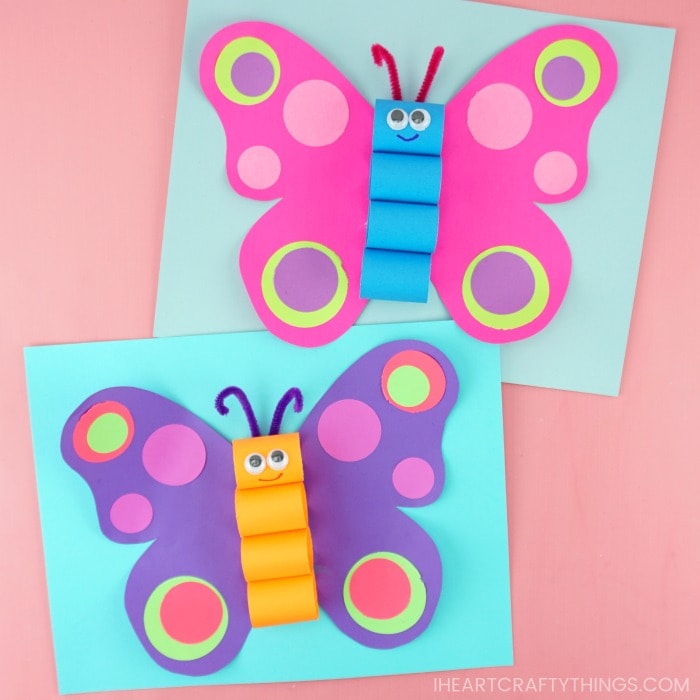 Instructions for making the beautiful butterfly craft
Step 1: Copy or print out the butterfly template on colored paper or construction paper. Several of the pages have more than one template on them to conserve paper so keep that in mind when printing them out.
You can also use the template as coloring pages for the kids to color and then assemble the butterfly craft. If you are having children color their template pieces with crayons, we've included an alternative wing spots page at the end of the template.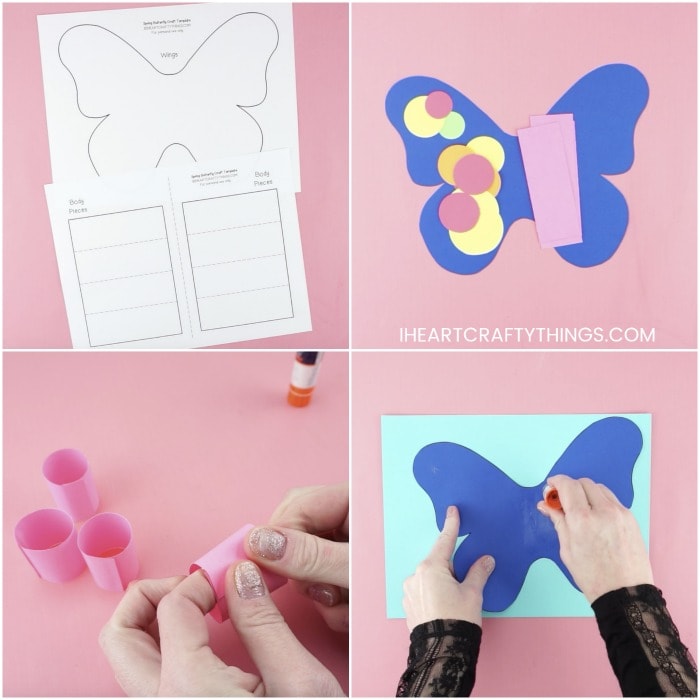 Step 2: Form the four body pieces into circles. To do this, add a line of glue at the end of each paper strip. Fold the strip into a circle, overlapping the two ends and gluing them together.
Step 3: Add glue in the center of the butterfly wings and glue it down in the center of a blue piece of cardstock paper. Leave the outside of the wings unglued from the blue cardstock to help give extra dimension to your butterfly craft.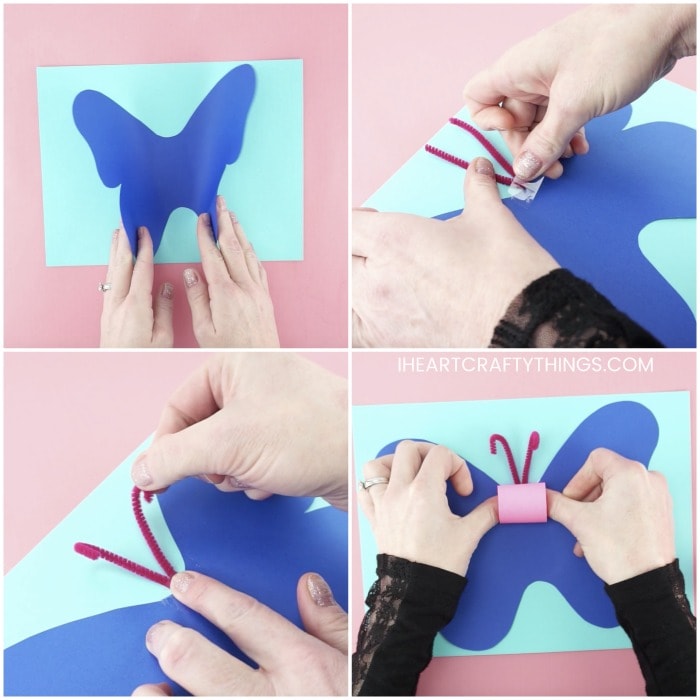 Step 4: Cut a pipe cleaner in half to make your butterfly antennae. Fold the pipe cleaner section in half and then tape it down at the top of the butterfly wings.
Step 5: Bend down and curl the ends of the butterfly antennae.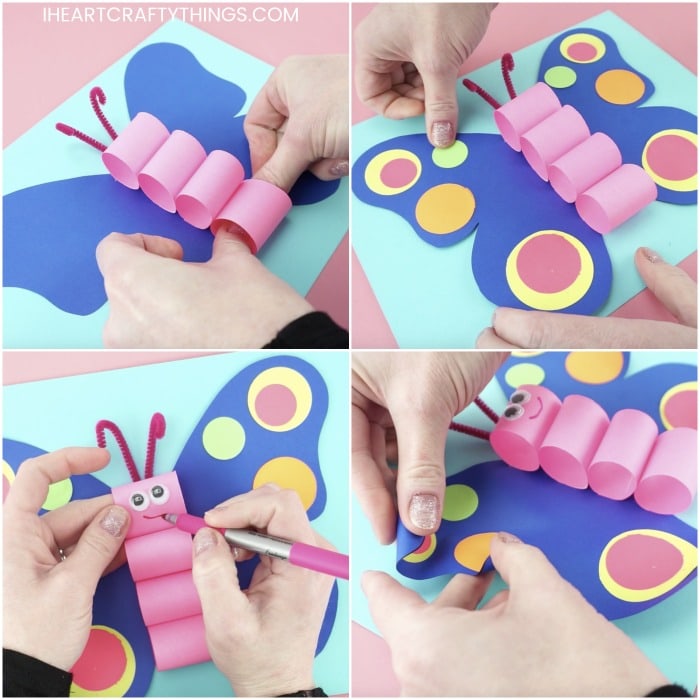 Step 6: Add glue along the back seam of each of the body pieces and glue them down the center of the butterfly wings to create the butterfly body.
Step 7: Glue each of the butterfly wing spots onto the butterfly wings.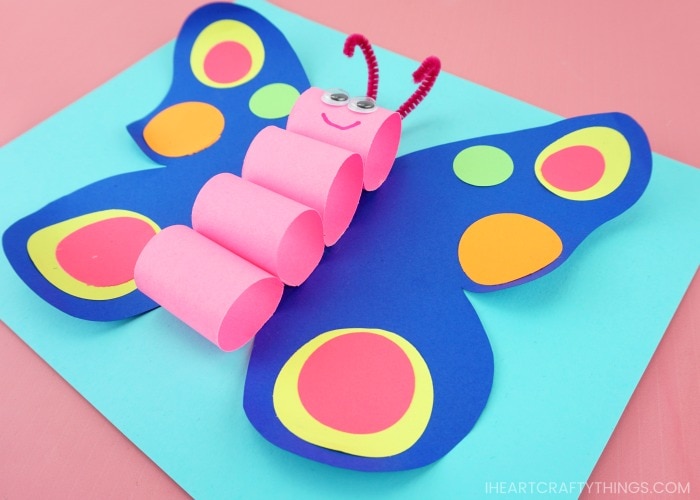 Step 8: Glue googly eyes on the top body piece. Then use a marker to draw a smile on your butterfly.
Step 9: (optional) To add extra dimension to the craft, bend and curl the ends of the wings in so that they pop off the page slightly.
Curling the ends around a pencil might be a helpful way for young children to complete this step.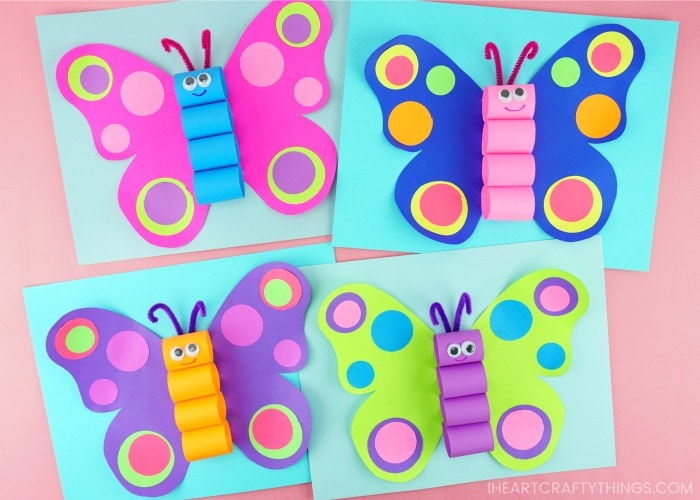 Now that your beautiful butterfly craft is complete, hang it up on display for a colorful spring decoration at home or school.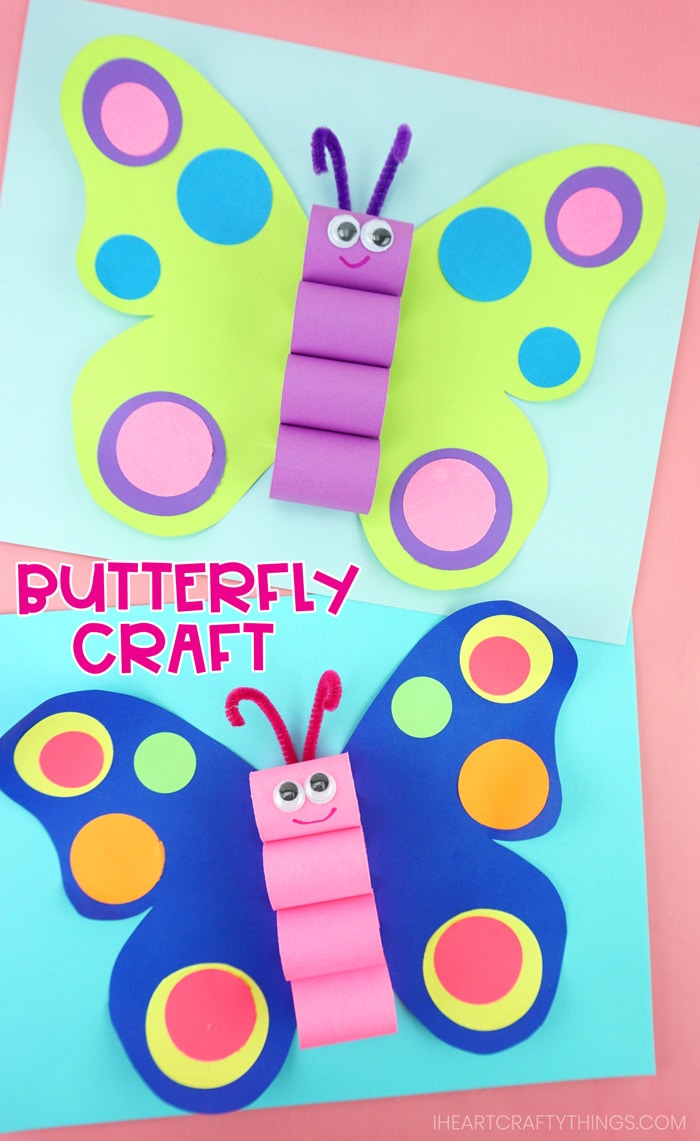 More Craft Ideas to Make with Butterfly Templates
We love making butterfly crafts every spring and have so many fun ideas on our website that you'll love!
Check out these fun butterfly crafts that all come with templates that make prep time a breeze and creating them super simple for kids.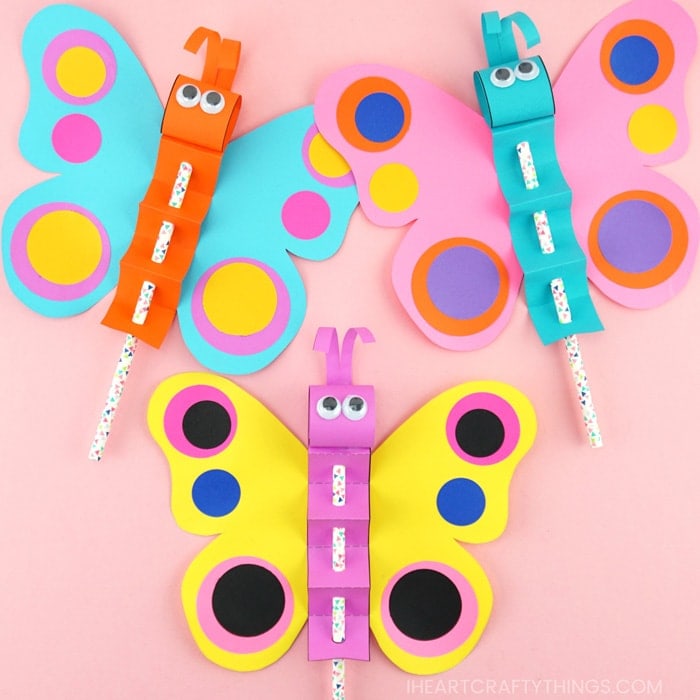 What makes this colorful paper butterfly craft so fun is how after kids make it they can play with it. The addition of the paper straw makes these pretty butterflies into stick puppets for kids to hold and play with.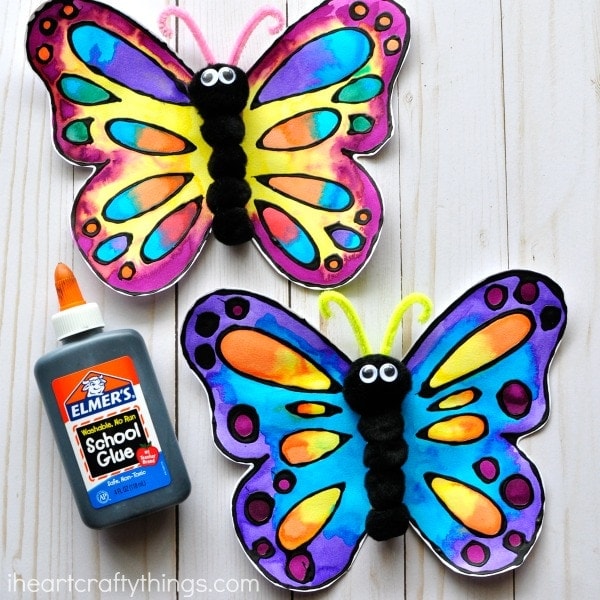 Have you ever tried black glue art? This black glue and watercolor butterfly craft is a great art project for kids to try out the fun technique.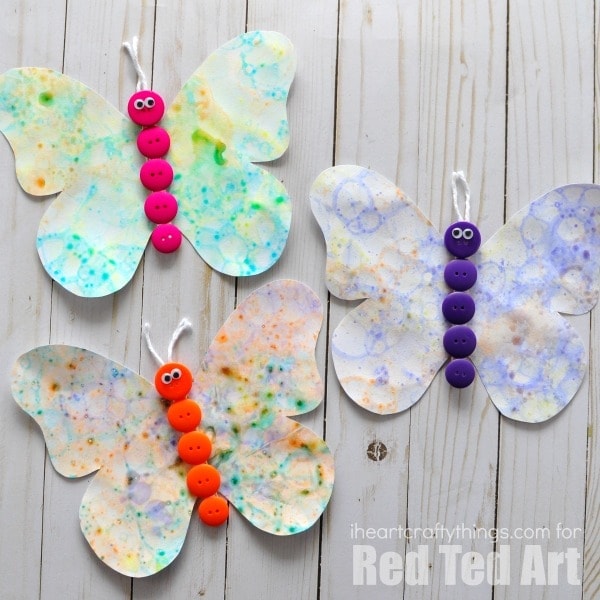 Bubble blowing art is such a fun activity for kids of all ages. Here's a fun way to turn your bubble art into a pretty butterfly craft.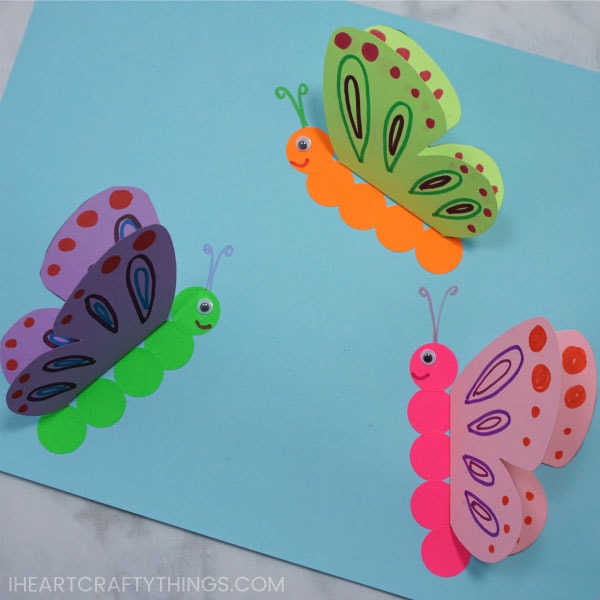 These 3D Paper Butterflies are surprisingly simple to make and the 3D effect makes the project so much fun!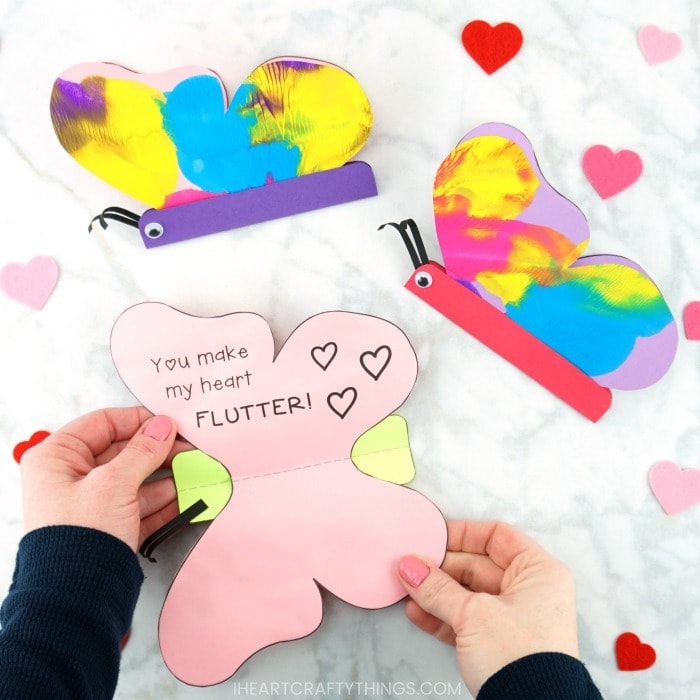 Make someone's heart flutter with joy with this adorable butterfly card! It's a fun card to make for Mother's Day, Valentine's Day or Grandparent's Day.
Looking for even more arts and crafts ideas for spring? Check out our list of over 150 amazing spring crafts for kids.